*Note: Click any month to view reports.
January

February

March

April

May

June

July

August

September

October

November

December
Report for November 25, 2023
We ended our season November 9, 2023. Unlike the last several years the great end of October fishing did not develop for us. From mid August right to the last week we had strong winds each week and some of those weeks we only could get out a few times to fish. But it was really bad the last three weeks of October. A good Chinook salmon bite was starting to take hold and then we had several consecutive periods of strong winds. From northeast to southeast and then a rea big straight east wind. We are talking 20 to 30 mph sustained blows. At the end we only fished the Milwaukee harbor with catches from 1 to 8 fish but most of the time it was 2 to 4 fish. Most of the catch was Brown trout. Now once we decided to concede on the last weekend of October things became a little more steady and a bit e did materialize in 80 to 100 feet of water for Chinook salmon and Lake trout were biting along in 30 to 50 feet of water south of town. We just cannot stay in that late because the marina closes. We expect to have better luck weather wise next year. We usually have some strong winds in September and October but this year was ridiculous.
We had a very good year that saw an 11.76 fish catch rate per trip. Compared to last year we were up in Rainbow and Brow trout catches. We were about the same in Chinook and Lake trout catches. We were down on Coho salmon but last year was a record Coho salmon year. That said we did very well on average for Coho salmon. The bait population seemed a little down from the past several years so we will see what happens in 2024. The salmon were down in size and the Coho salmon are were you could see it the most. That said the fish population was healthy and the fish we caught were in very good condition. I biggest fish we boated was a Chinook salmon that weighed 29.40 lbs. This fish was a beast. Our other big fish per species were a Lake trout at 27 lbs., Brown trout at 22 lbs, a Rainbow trout at 15 lbs and a Coho salmon at 11 lbs.
We will breakdown the months throughout winter and go over what happened and why it is good to book a trip during those months. The big Chinook came in June and the big Brown trout in April and the big Lake trout in September. We fish from April first through October and the fishing can be very good during any of those months. As of now we keeping our popular five hour trip at $600, including sales tax and any trip booked in 2023 will be at that rate. Below are pictures of the last two fish caught this season and the boat being pulled. We also have a picture of the big Chinook salmon and Brown trout for 2023. We also won the Brew City Pro tournament for in 2023 for $10000 and of course we had to put another picture up from that.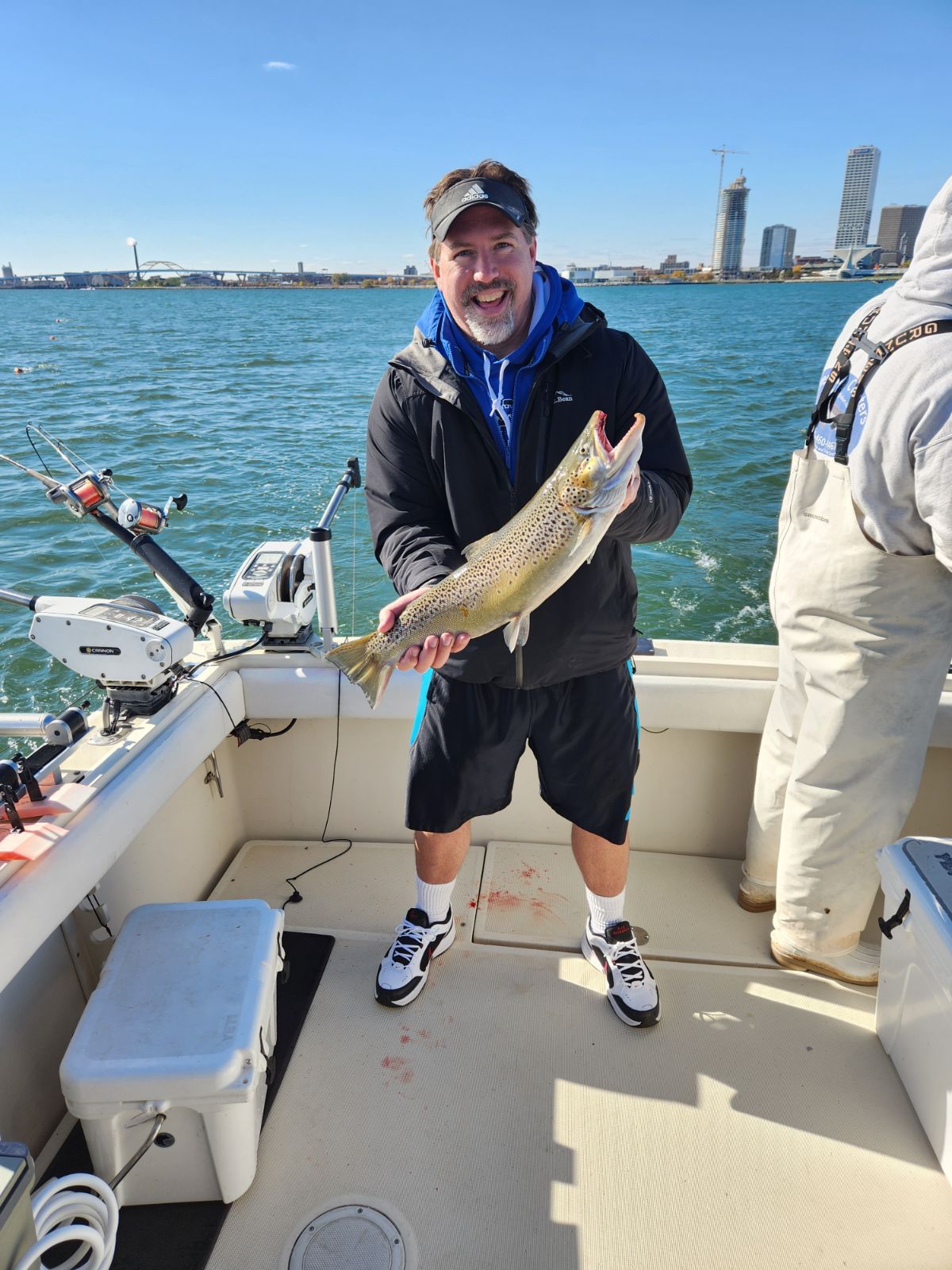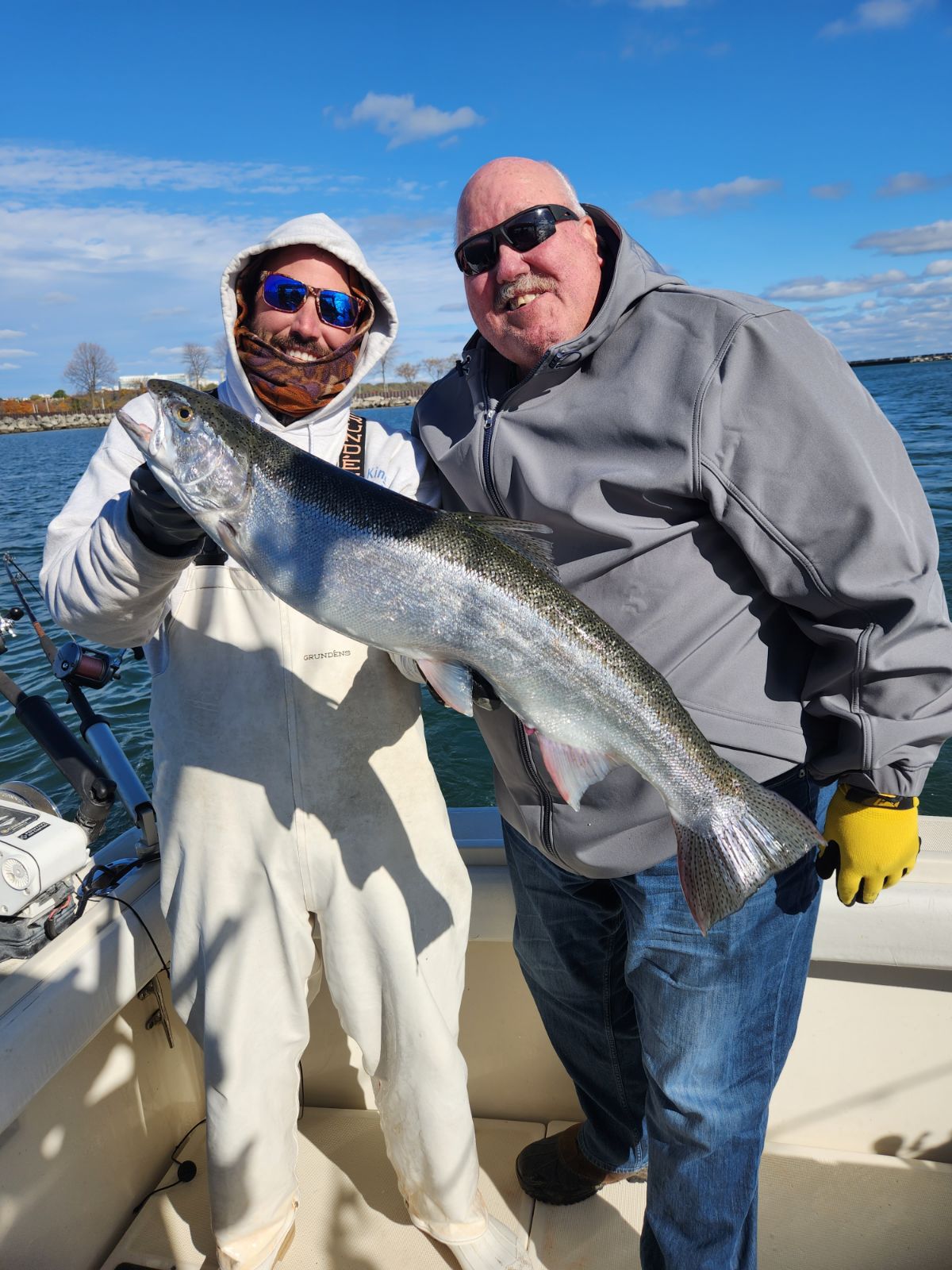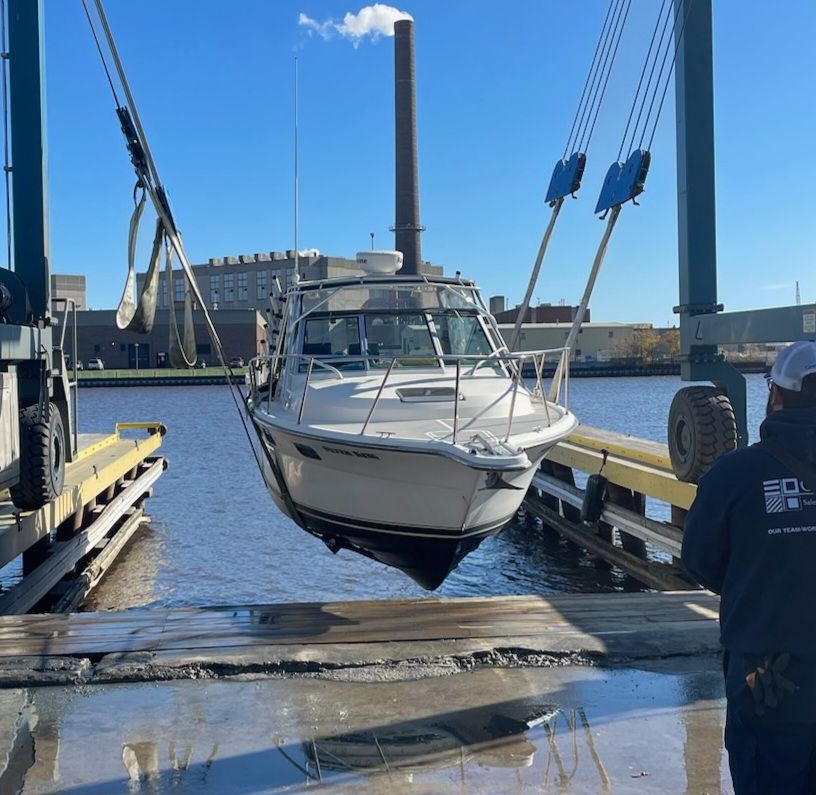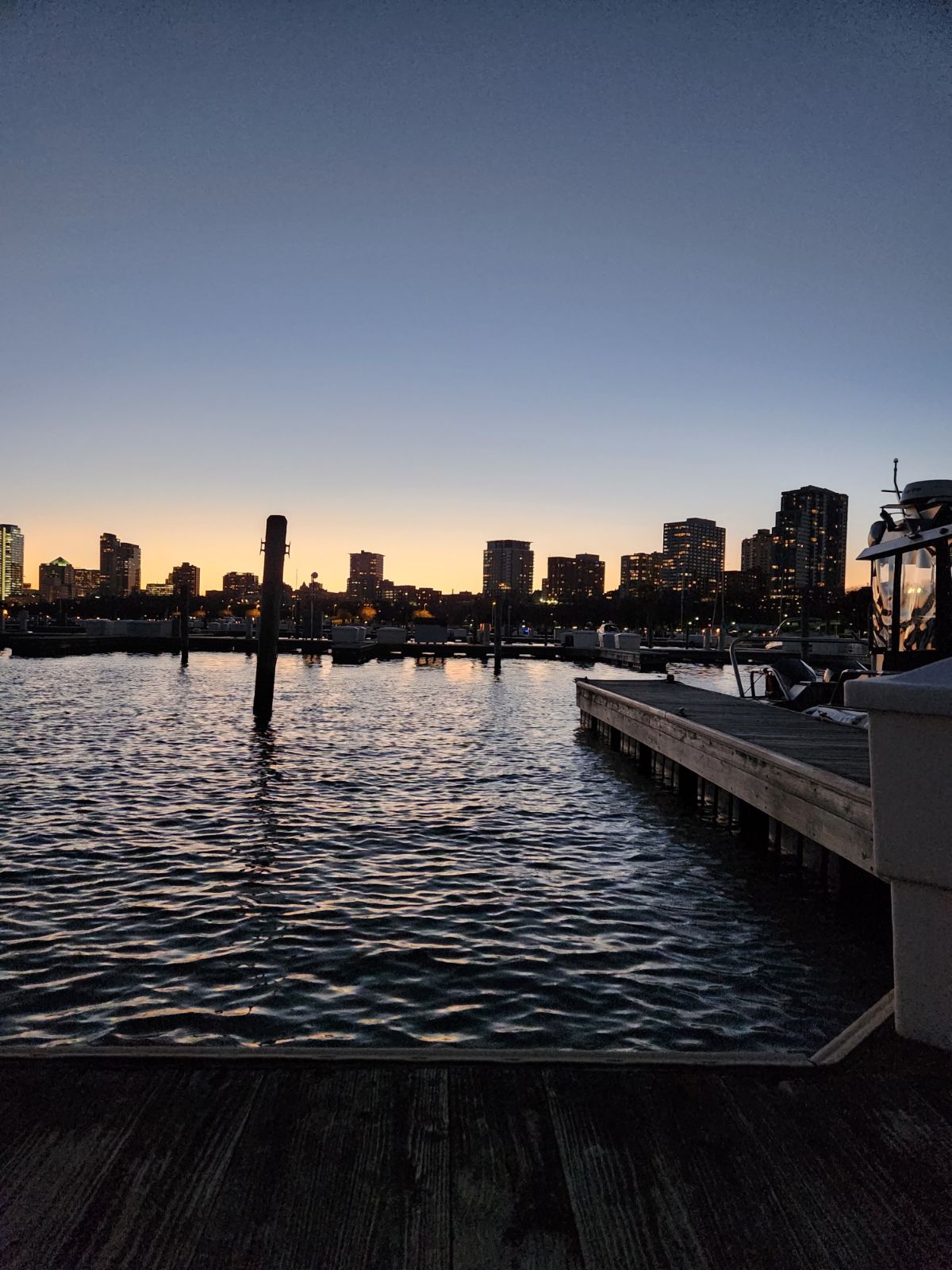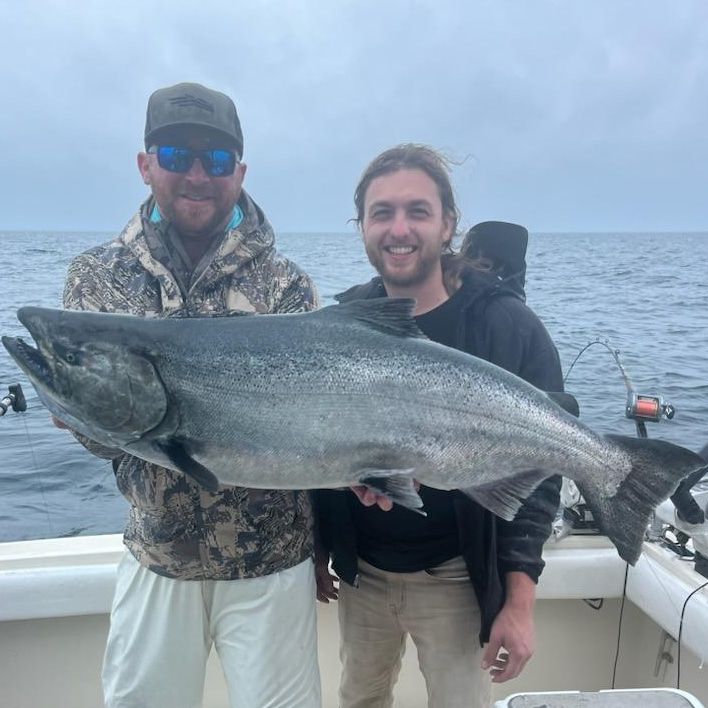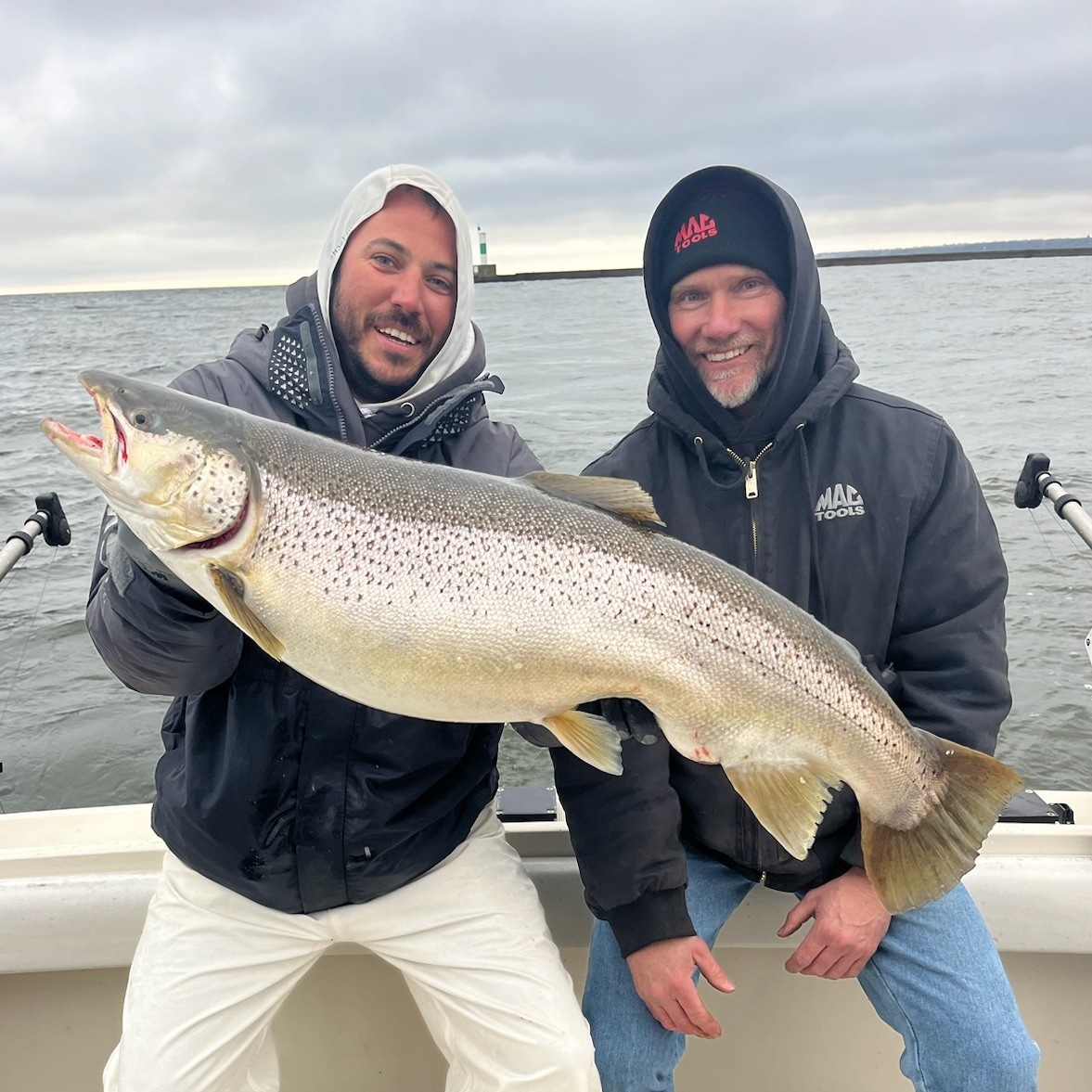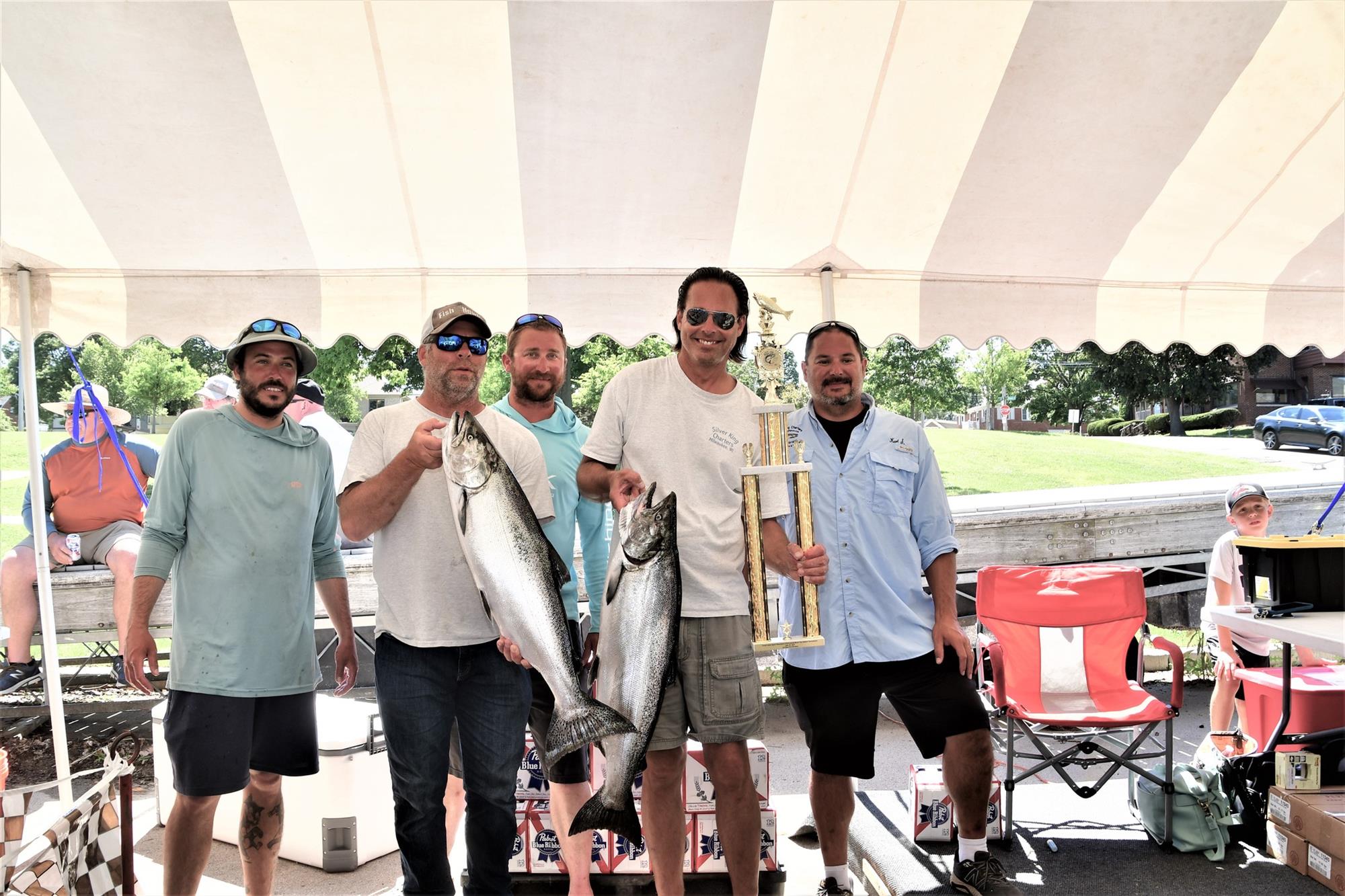 Report for October 19, 2023
Lake Michigan charter fishing is always subjected to weather and wind is the biggest variable. Since the middle of August we have had multiple days of strong winds that has caused many cancellations and difficult fishing in big waves at times. This stretch has rivaled anything we have had to deal with in twenty years. We are paying for the calm seas of May and June for sure. We have not had one week that did not include multiple cancellations during a week since mid August. The fishing was setting up for a good Chinook bite but back to back big blows out of the northeast and then east blew everything around. The last weekend saw 10 to 14 foot waves, with occasional 18 foot waves. This has made the water murky and warm. The water is 60 degrees from the surface down 70 feet. Might be warm deeper but we have not been out that far as of late. Before all of the super winds we are catching two and three year old Chinooks in 100 to 130 feet. The bite was good and we were catching 8 to 12 fish a trip. There was plenty of bait around. We hope this sets up one more time before we pull the boat. The last several trips we have fished the Milwaukee harbor and we are3 catching Brown trout there. The bite was going good until the mega blows last week. The water is starting to clean up and cool down. If the bite does not materialize out deep there should be good harbor and shoreline fishing for the last few weeks of the season.
We were running everything down 55 feet or deeper our in 100 plus feet. The boards were all still 250 to 450 foot coppers. But we are now in the harbor and we are back to 1, 2, 3 and 4 color leadcores. We are also using mono dipsies. We have spoons on everything. The top spoons are UV Blue Dolphin, Gold Hud, Silver Hud, NGK Green Bold and Orange NBK Gold. The best areas are just noth or south of the Main Gap and river. There is plenty of bait and fish around the harbor, so if conditions set up we should have a good bite.
Call Silver King Charters at 414-460-1467 to get one of the last trips of the year. We go until November 6th. We are also booing for the 2024 season. I have a few pictures from recent trips. The best is a 21 pound Chinook. At least we think it was a Chinook. It could have been a Conook, which is a cross between a Chinook and Coho salmon. This fish had no sex or not a spawner and was 43 inches long. A trophy for this time of year.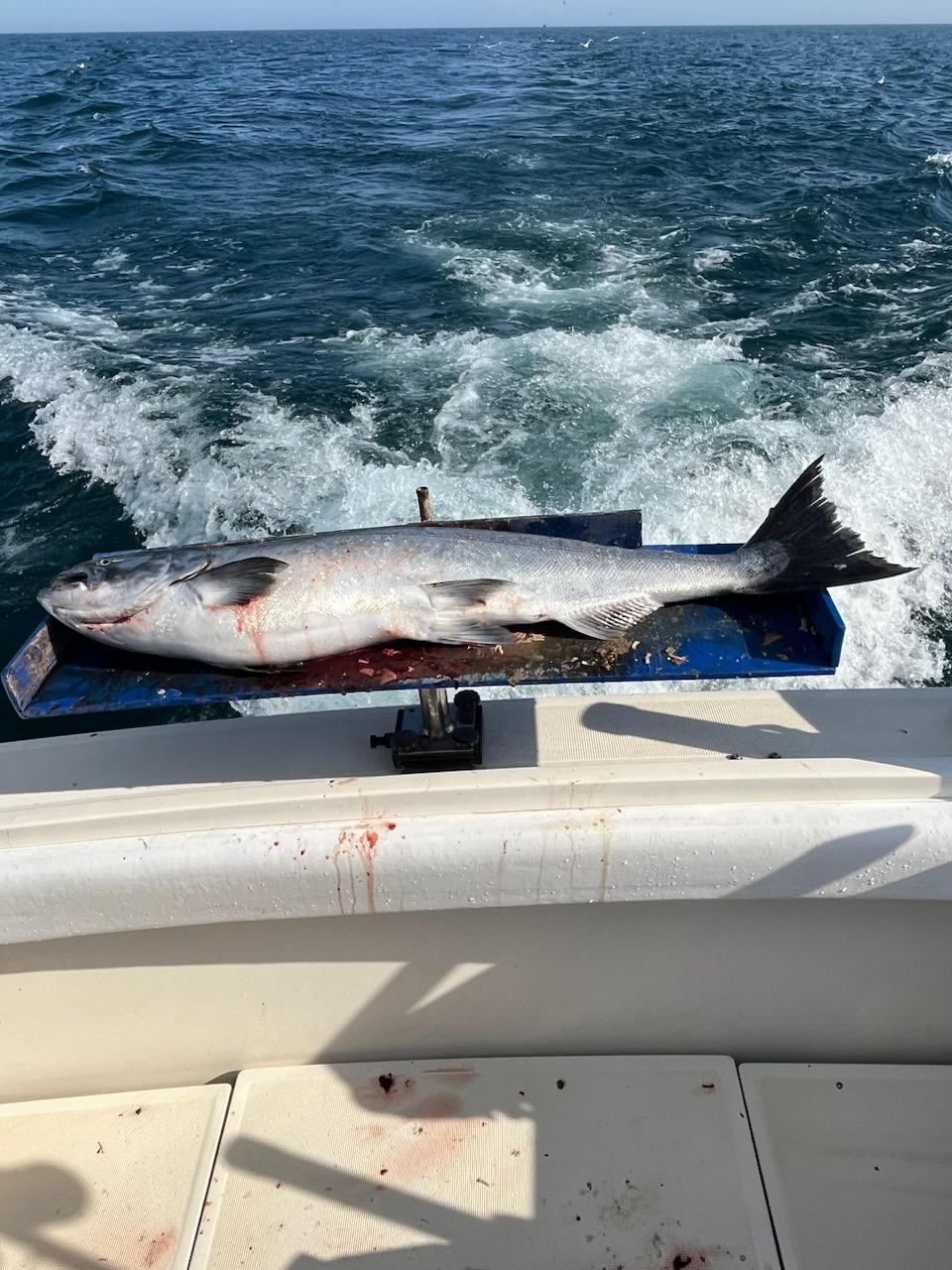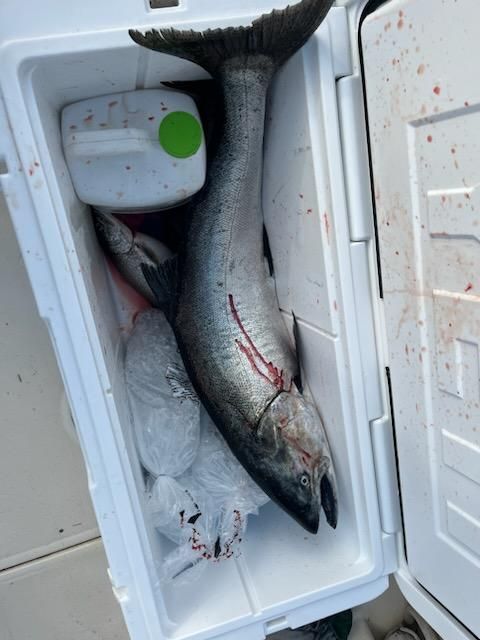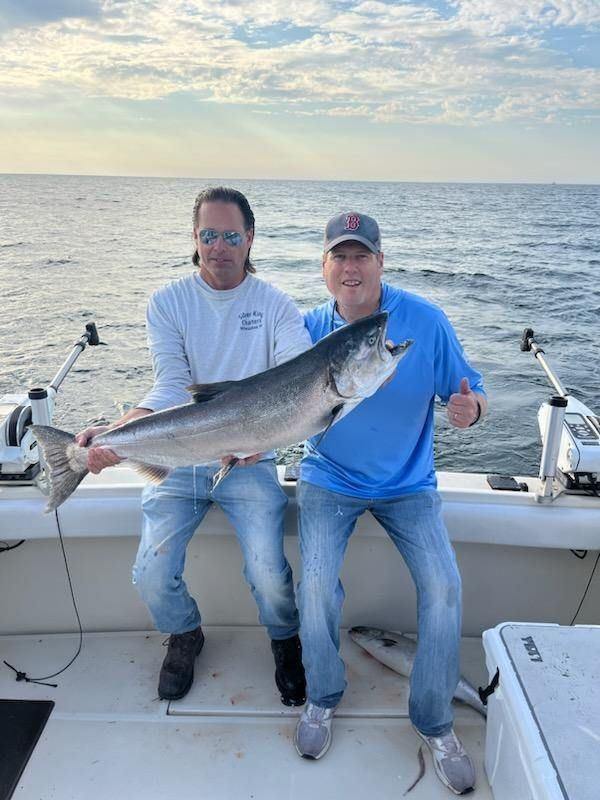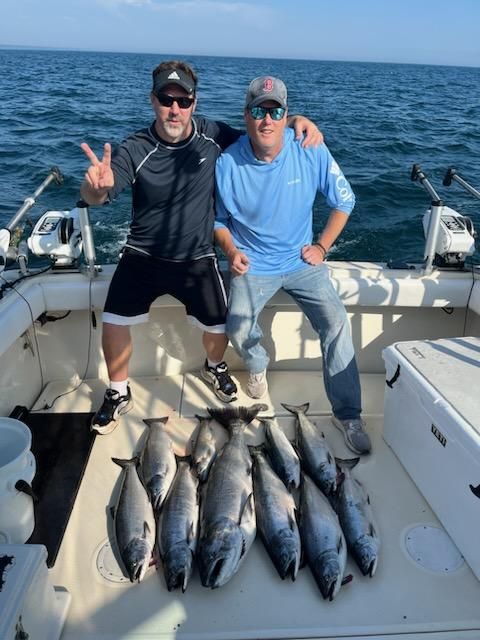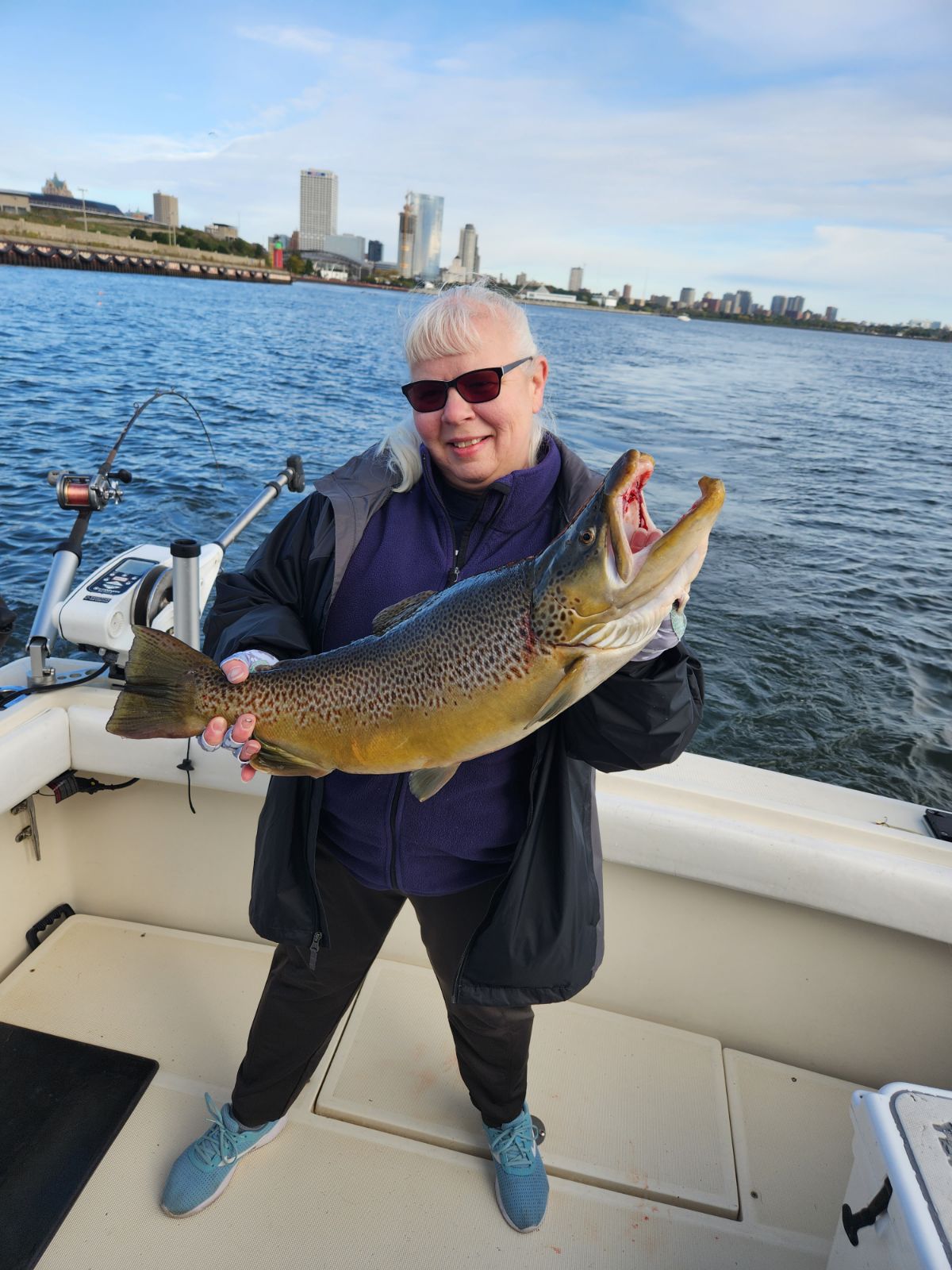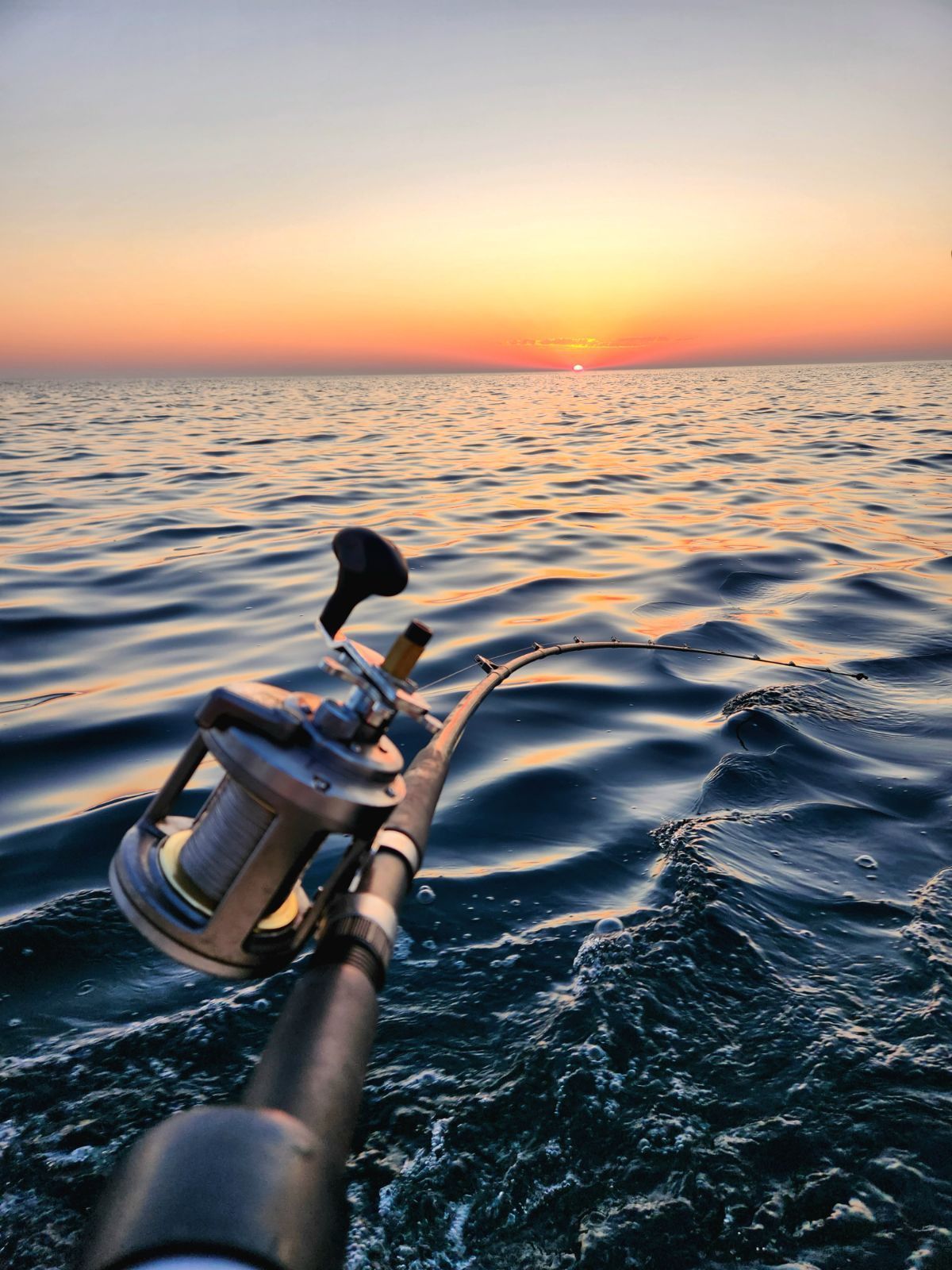 Report for September 20, 2023
We are coming to the end of the Lake Michigan charter for 2023 but we still have a month and a half left. The last four years we have had some outstanding fishing for Chinook salmon and Lake trout. For the first part of September we have been fishing in 120 to 200 feet of water. We have been fishing from the Main gap of the Milwaukee harbor to Atwater beach or 43.00 to 43.06. The water is 67 degrees on the surface and 65 degrees 100 feet down and it has been this way for most of the month. The Milwaukee harbor is 67 degrees from top to bottom and has hurt the bite for the entire month. We tried a couple times with very limited success. We have been caching a mixed bag of Chinook salmon, Lake trout, Rainbow trout and a Coho salmon on occasion. We have not caught a four year old salmon over ten days now. The mature Kings are mostly in the harbor or rivers now.
We are running a eight rod spread because the bites are coming 80 feet down or deeper. We have tow of the following running on our boards. A copper 300, 350, 400, or 450 foot set up. We have either a wonder bread RV Moonshine or a NBK green Stinger Stingray. The wire dipsies are the magnum size dialed in at a two setting. We have these set from 200 to 300 feet on the line counter. We are using either a chrome or white flasher with a Howie Super Frog or a Willy fly. The two side riggers have a two color leadcore or SWR set up on them, with Moonshine RV spoons. The best are the Agent Orange, Wonder Bread or Holdout spoons. Both are set in the 70 to 90 feet range with a 15 pound downrigger balls. Our back two riggers are set from 110 to 200 feet down using a 20 pound downrigger ball. We are using an 11 inch flasher that is either white, chrome or the chrome frog. We have a Howin super frog on this rigger This is the deepest rigger and is usually 135 to 175 feet down. The next rigger up is using the 8 inch flasher, with the some colors as the 11 inch flasher. We are using a Willy fly or Howie Super Frog set up. All are catching fish but the deep 11 inch flasher has done most or the damage.
Milwaukee charter fishing is setting up for some very good fishing for the rest of September and October. There is a lot of warm water and bait around and the salmon and trout are starting to set up on the bait. The last couple of years the water started to cool off and the bite just kept getting better. This is a great time to catch two and three year old Chinook salmon. We have openings throughout September and October, so give Silver King Charters a call at 414-460-1467. The pictures below are from the last couple of weeks. The first three pictures are what we think is a Conook, which is a cross between a Coho and Chinook salmon. The fish is between a Chinook and Coho in the second two pictures for reference. The Chinook is circled yellow, the Coho is circled blue and the Conook is circled red.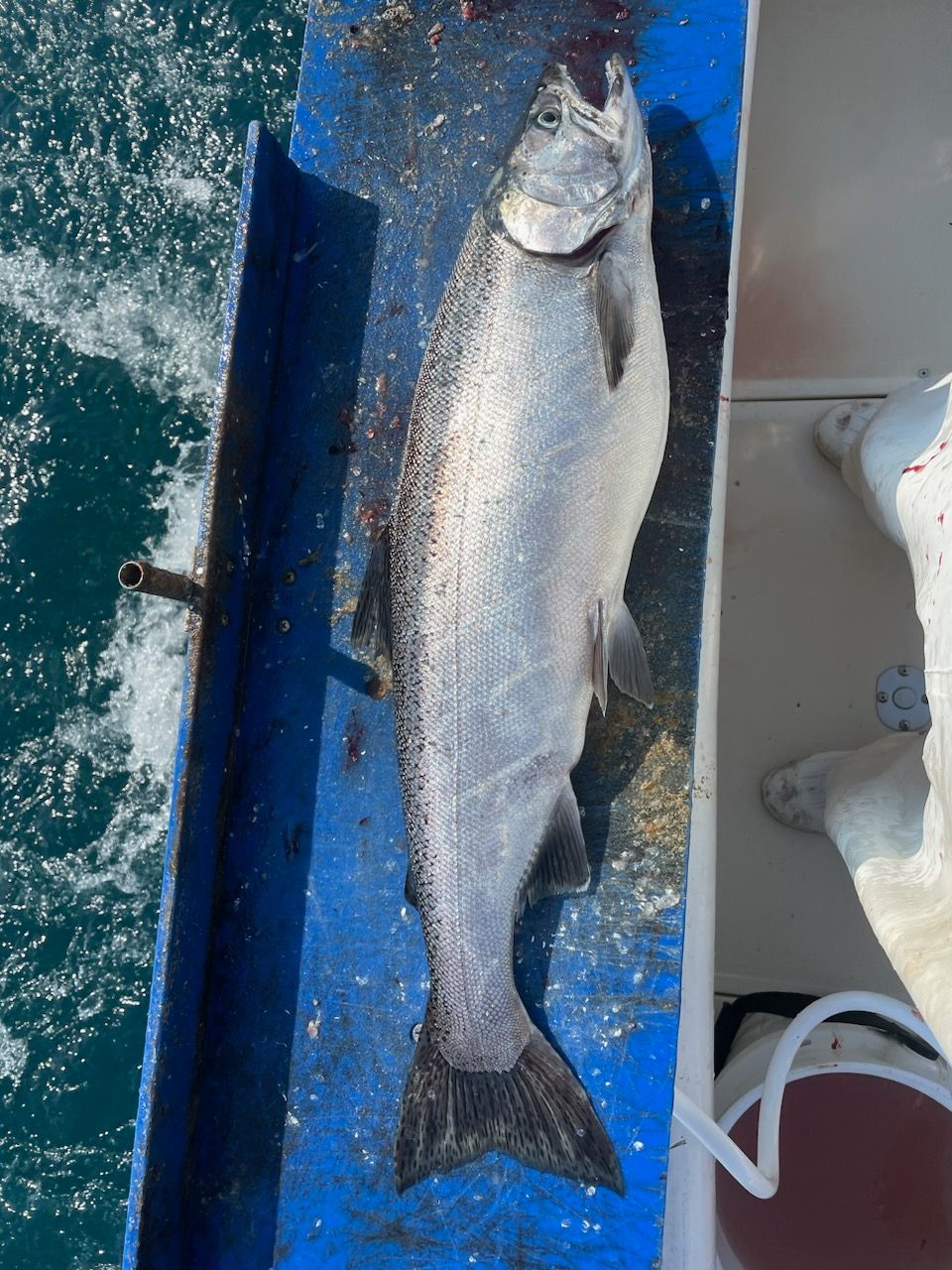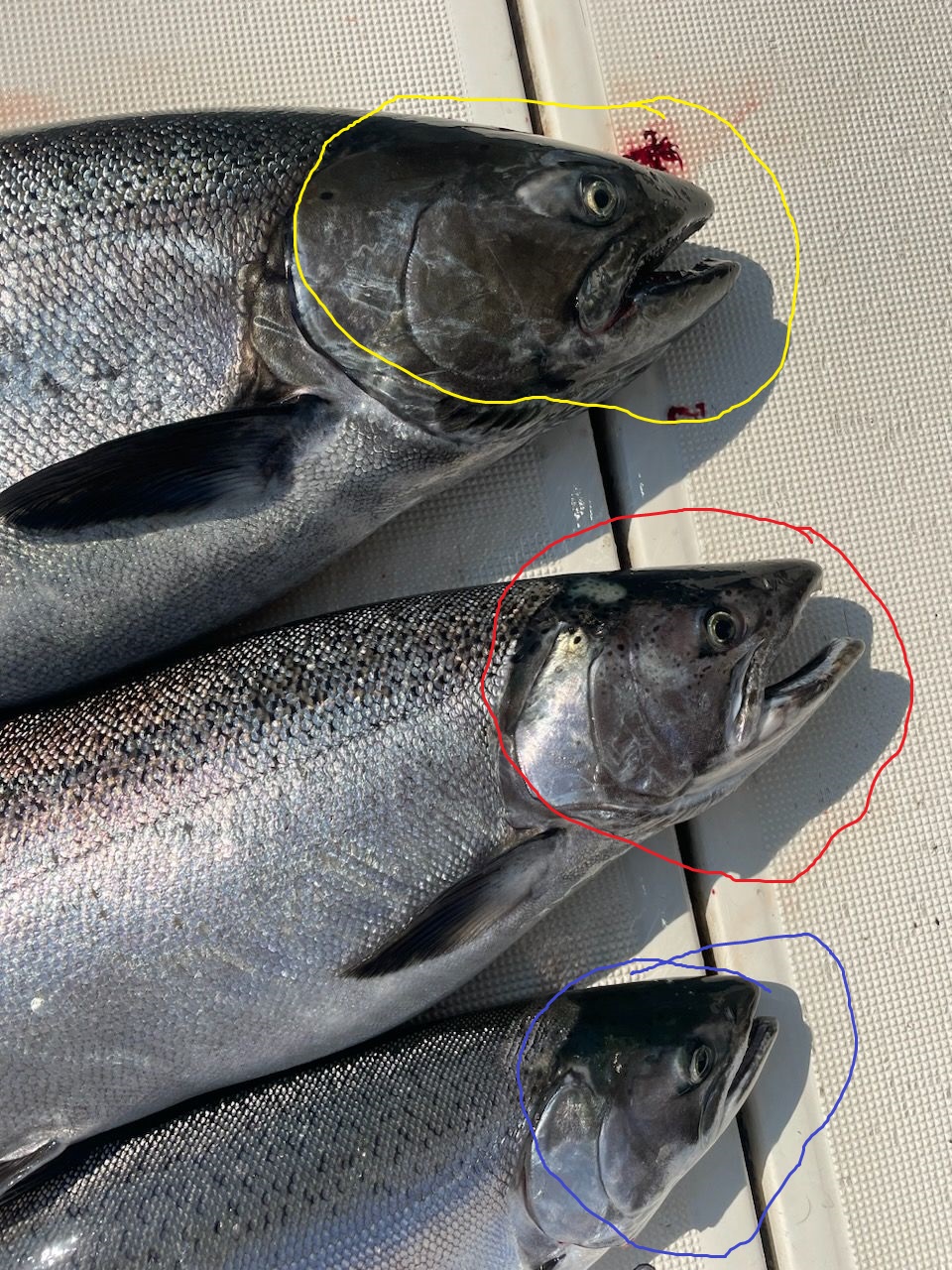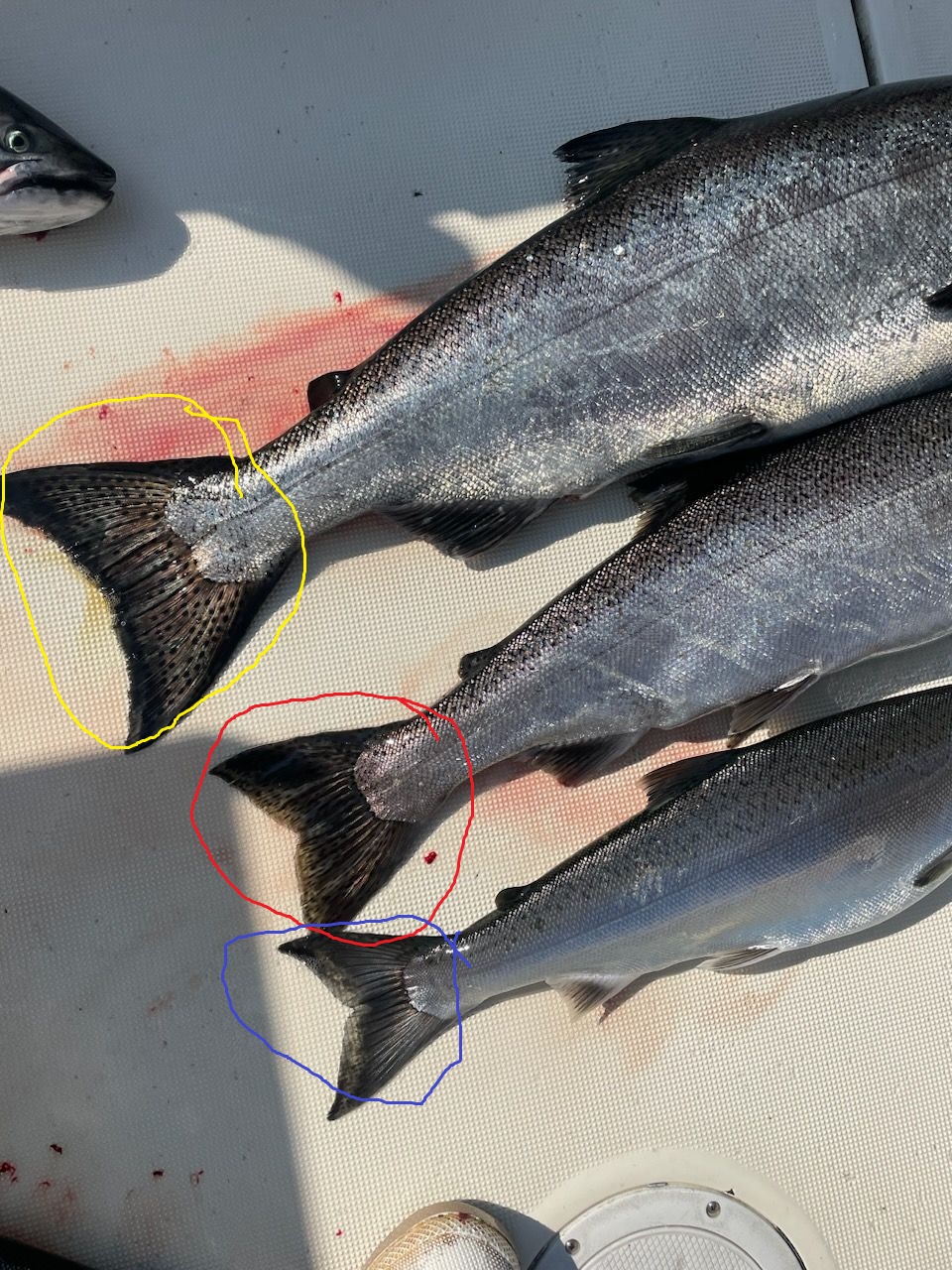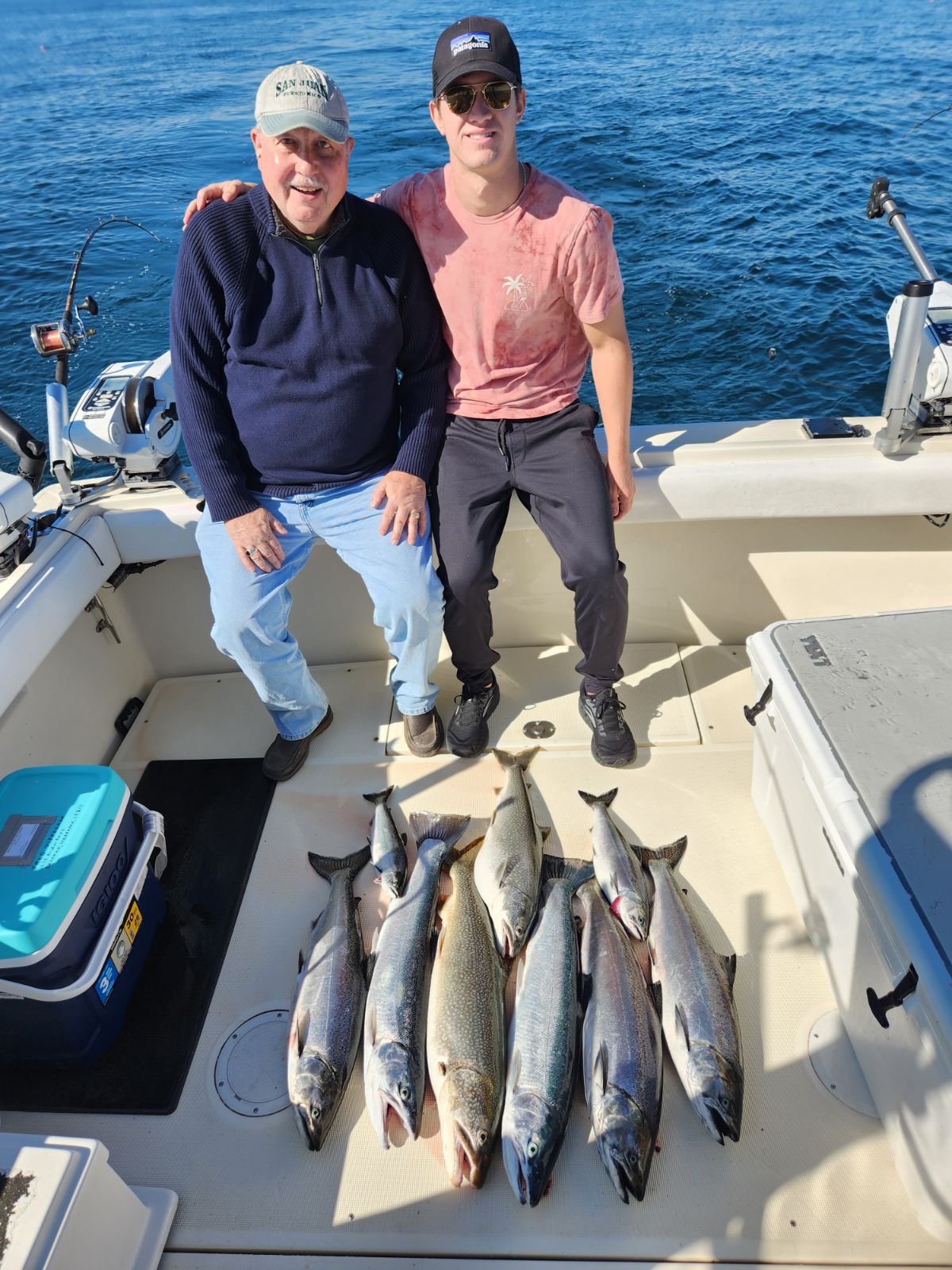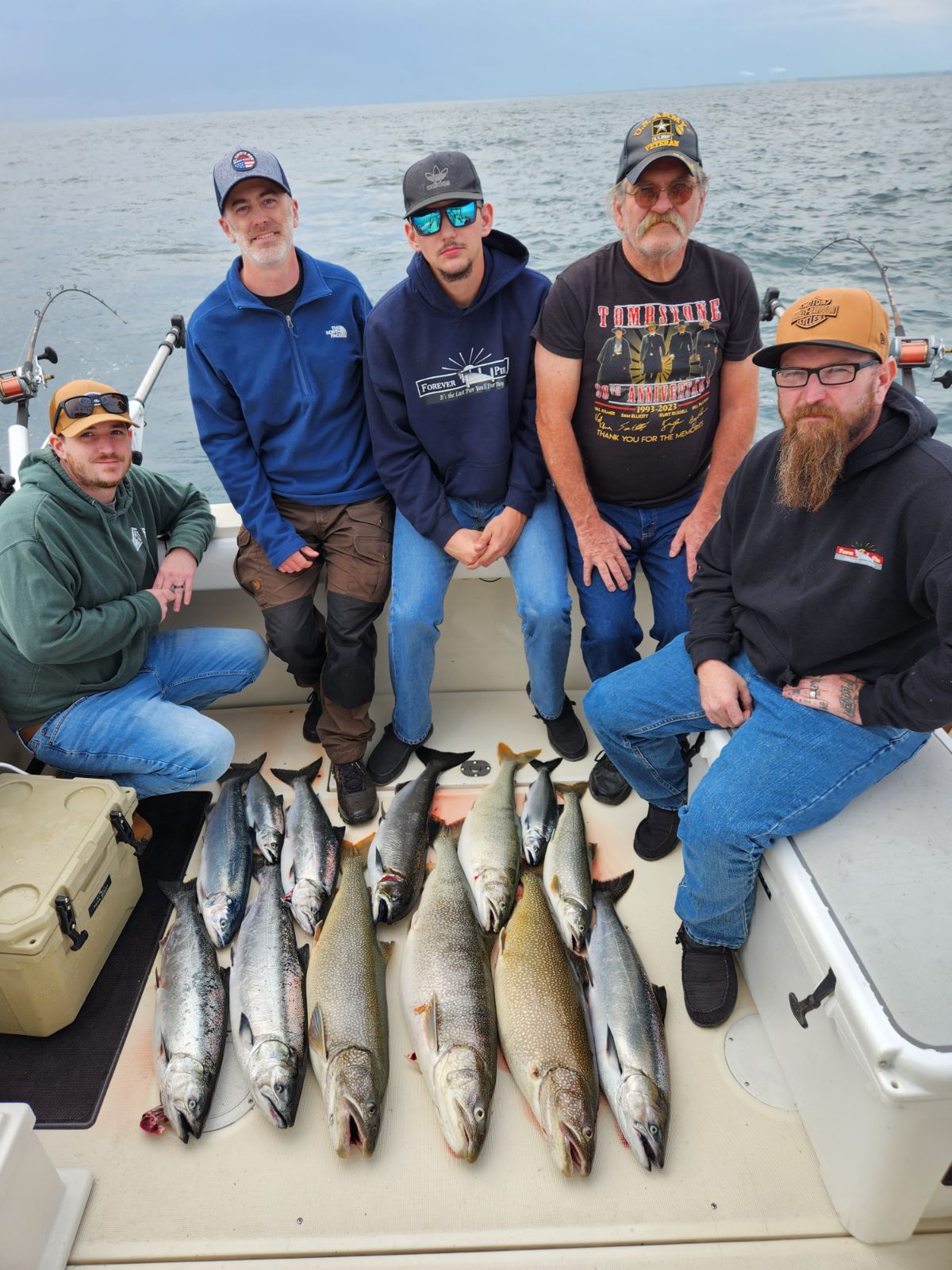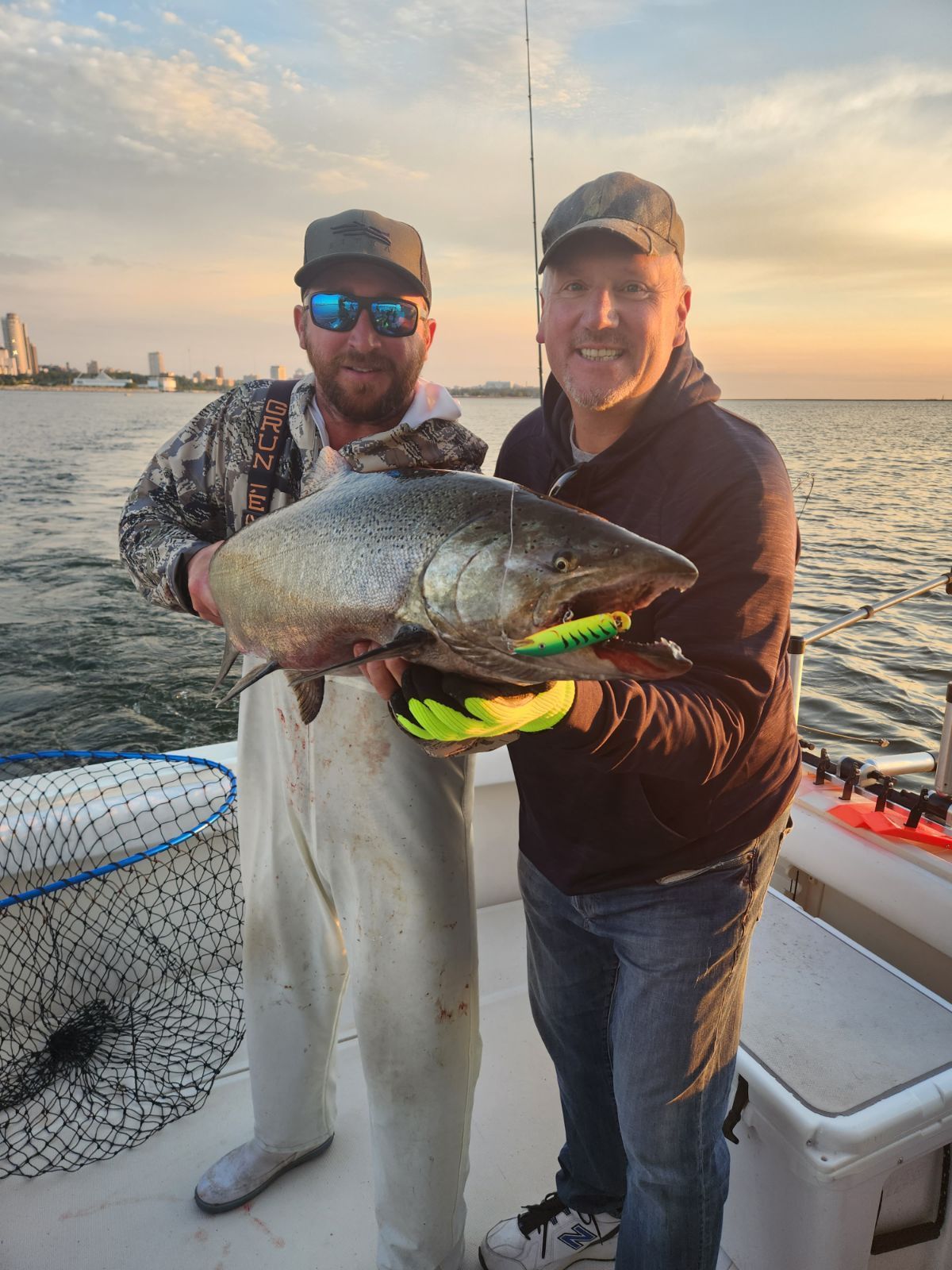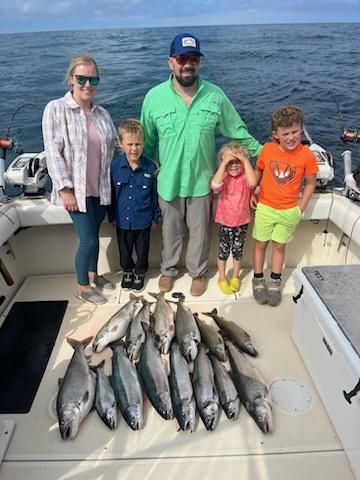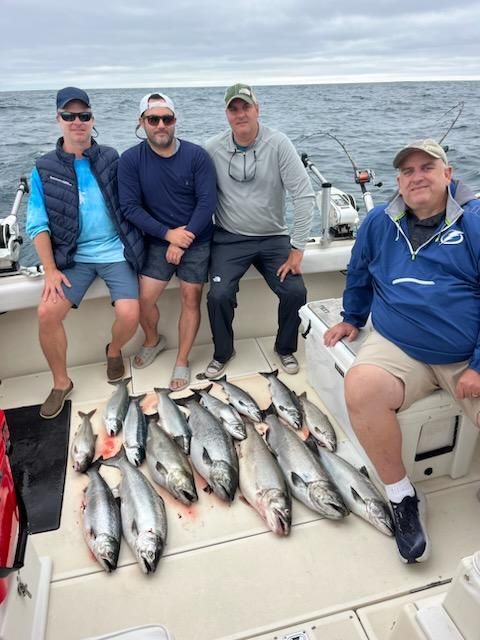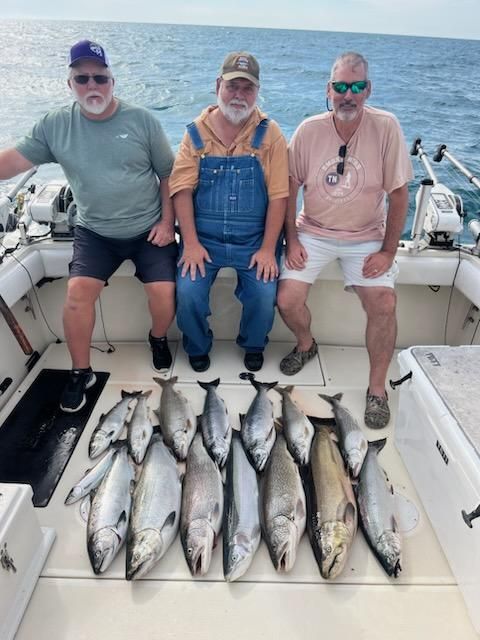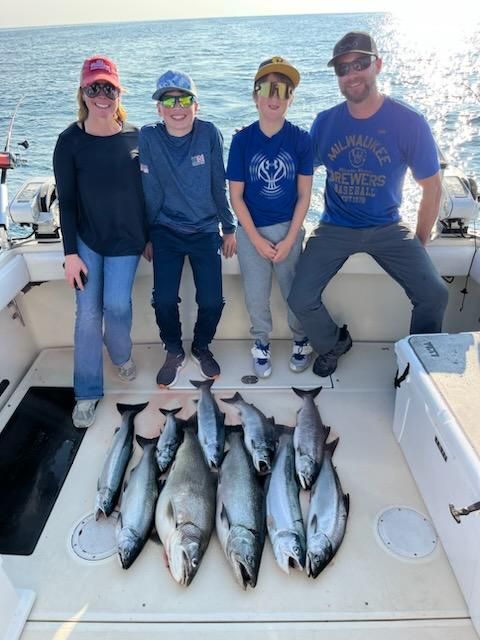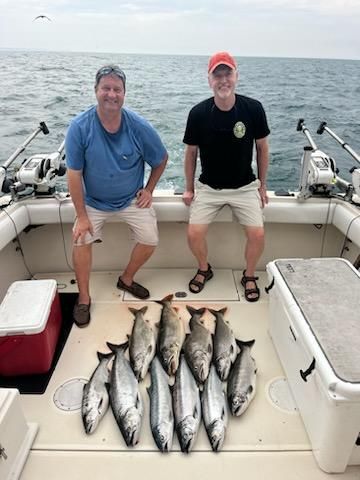 Report for August 23, 2023
We are heading into the last days of August and the bite this month has been solid. We have caught a mixed bag of Chinook salmon, Coho salmon, Lake trout and Rainbow trout almost every trip. We are still catching the mature four year old Chinook salmon each trip and this should continue through mid September. For the last two weeks we have been working between 90 to 200 feet of water but for the most part we are in 120 to 150 feet. Milwaukee charter fishing has been good from 43.02 to 43.07 just north of the north gap of the Milwaukee harbor. The water has warmed up and cooled down with constant strong winds from every direction. But the temperature break has been between 50 to 75 feet down in the water column. The mature Chinook have been 15 to 25 pounds this year and there is still potential to boat a 30 plus pound King over the next three weeks. Our biggest Chinook this year was 29.4 pounds and we have had several in the 24 to 26 pound range. There have been a few Chinooks in the harbor but the big push has not happened yet. This should occur in the next two weeks and we hope the water cools down some before it does to make for a good bite.
We have been running almost the same spread since the Brew City tournament. Cooper set ups on the boards ranging from 225 to 450 feet of cooper. Moonshine spoons standard size RV Wonder Bread, Orange Hulk, Green Flounder Pounder and Agent Orange have been good. The Stinger stingray size Gold Hud, UV Blue Dolphin, Gold NBK Green have also been solid. The wire dipsies are the large size and we have them set at 175 to 250 on the line counter. We are using white pearl flashers with Howie Super Frogs on these. Chrome flashers have been outstanding this year but white is starting to work good. The side riggers have been a one and two color set up with a Moonshine or Stinger spoon mentioned earlier. Currently they are set at 50 and 60 feet down. The second deep rigger has a whit flasher and Howie Little Boy Blue fly set at 80 feet down. Our deepest rigger has the eleven inch chrome flasher and a Howie Super Frog on it set five feet back off a twenty pound downrigger ball. This is down from 120 to 150 feet depending on how deep we are fishing. We are trolling somewhat fast.
This has been a solid year. Our Rainbow trout and Brown trout catches are up 35% from last year and we are catching a good amount of Steelhead each week. The Chinook totals from year past is up and since 2015 we have only one year that was better and that was last. year. We expect by the end of this season we will past last years totals. The Coho salmon catch is down from last year but last year was ridiculous. The Coho numbers are very good. There are a lot of two and three year old Chinook salmon in the catch and this sets up for a good fall bite as long as a little warm water hangs around. Some of our best Chinook catching happens in the fall. We have openings in September and October.. We expect some real good fishing the next two months. Call Silver King Charters at 414-460-1467 to get in on some fall Wisconsin charter fishing on Lake Michigan. Below are some pictures from the last couple of weeks, including some 25 and 26 pound Chinook salmon. There is also a picture of our biggest Coho salmon at 9.5 pounds and a Hawk that landed on our boat during a trip.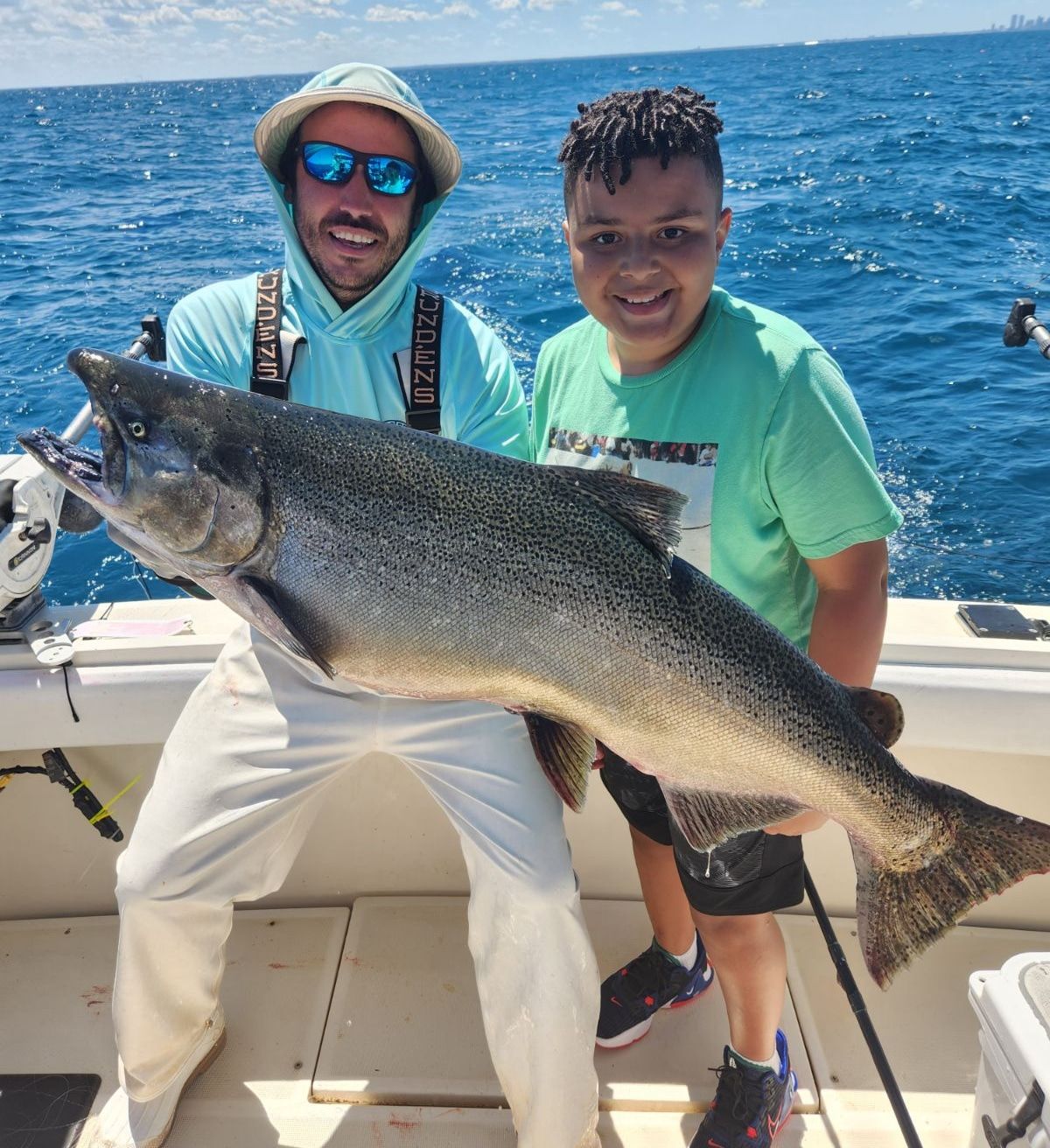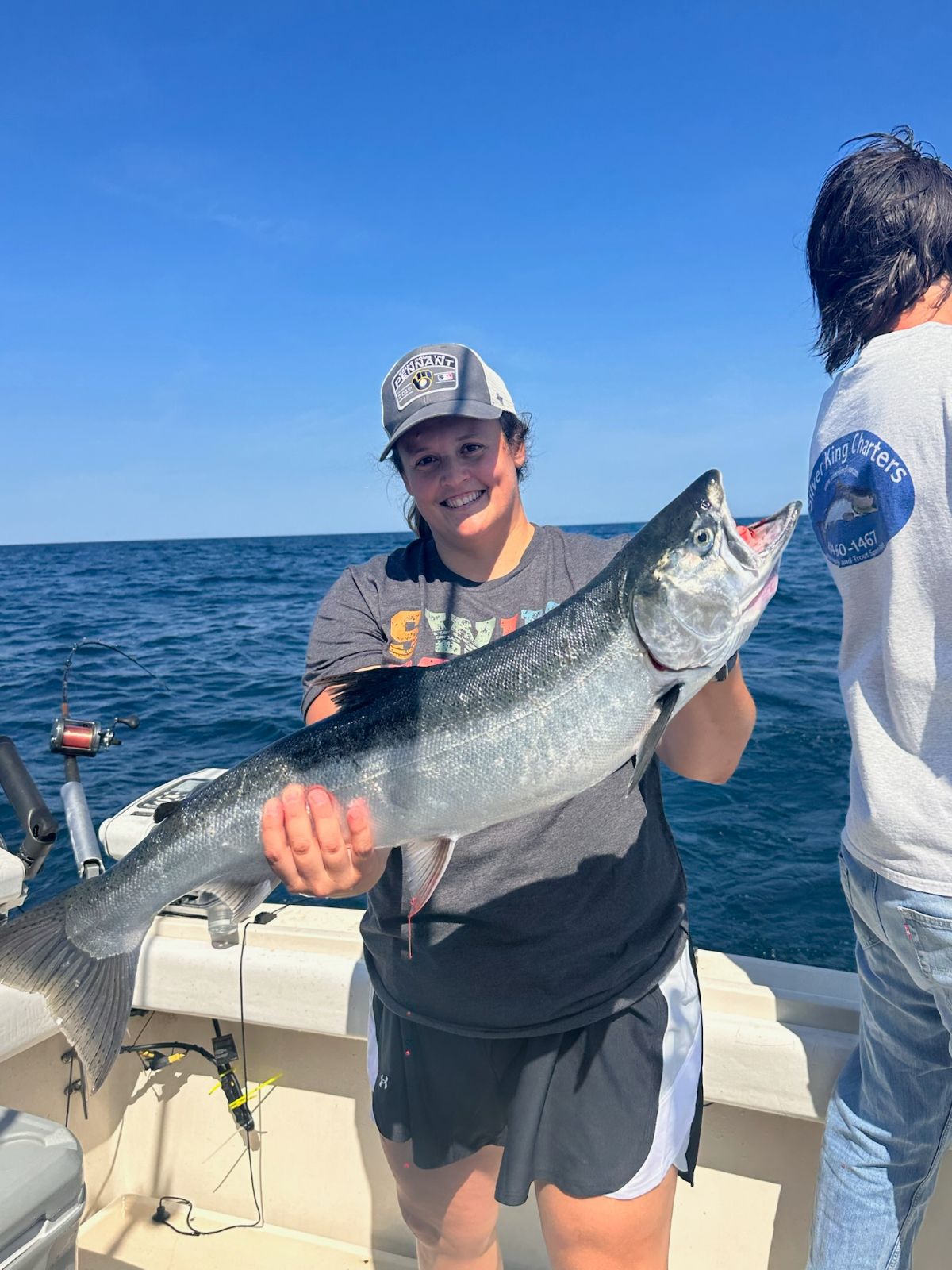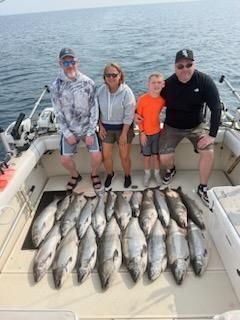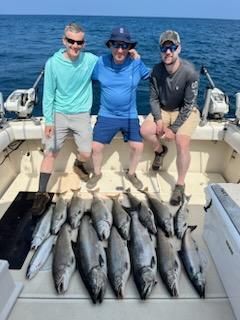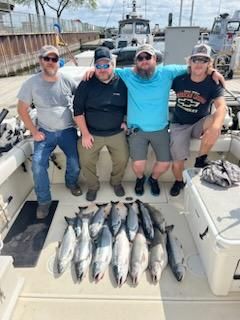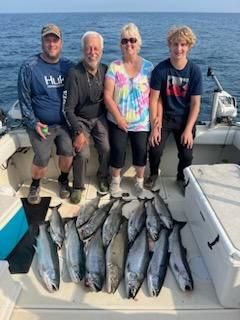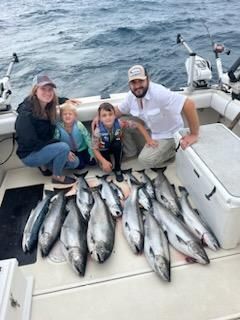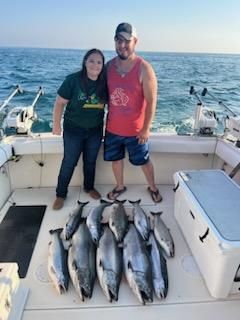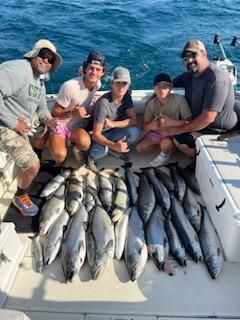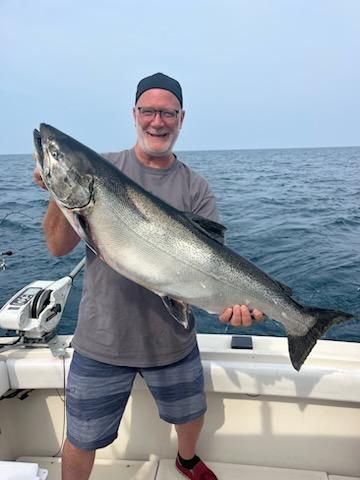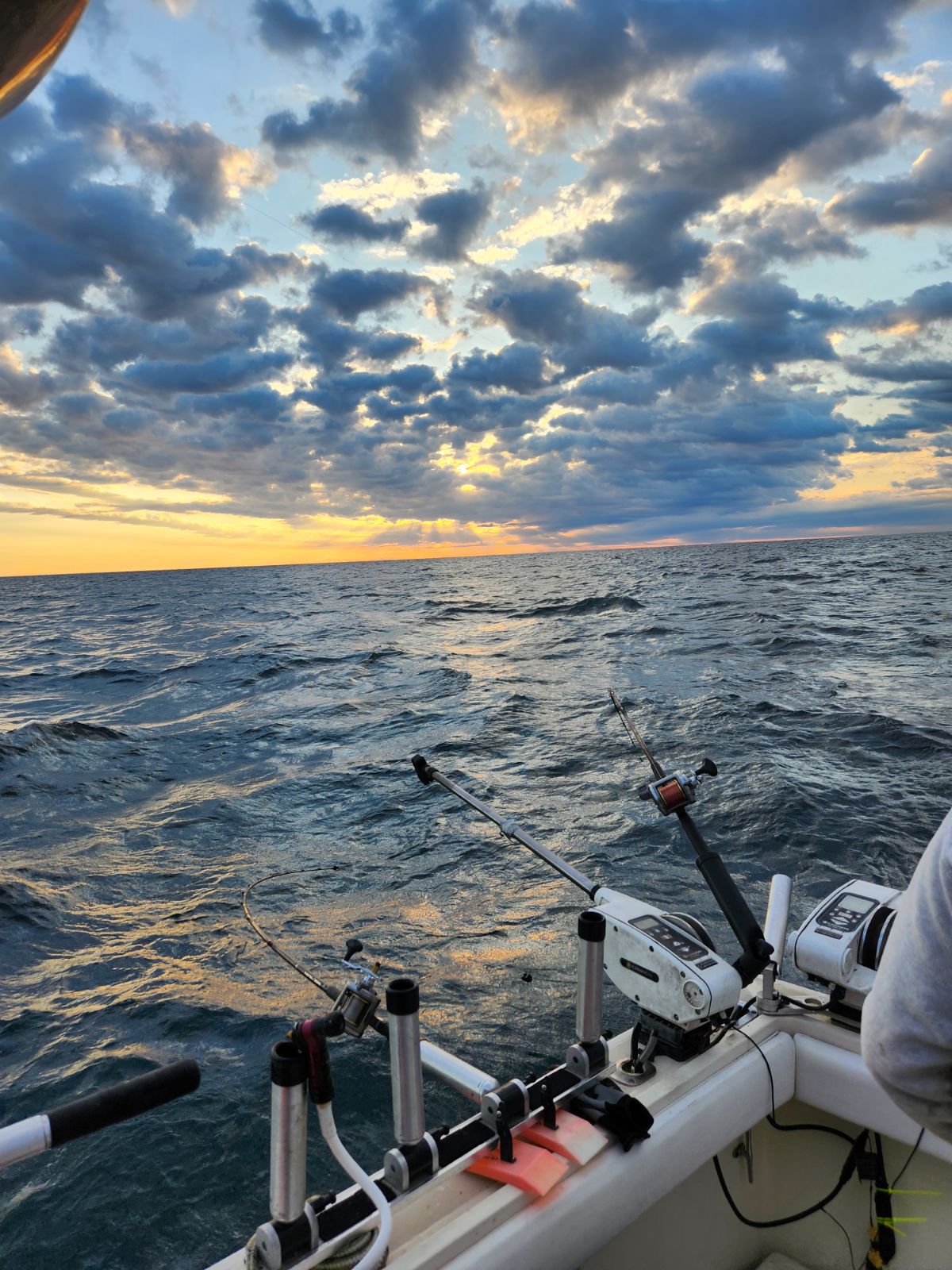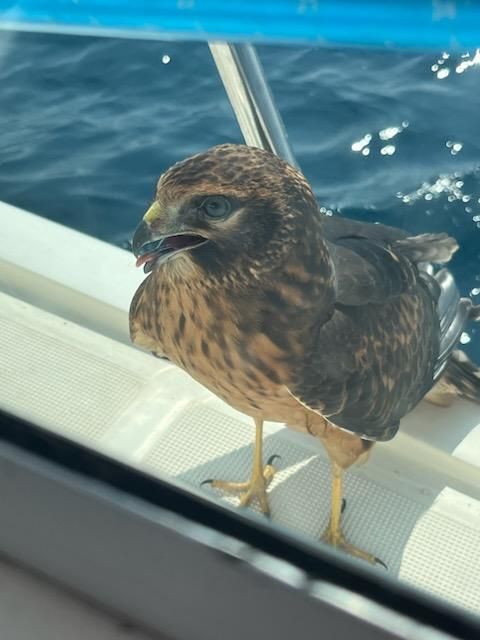 Report for August 2, 2023
The second half of July was solid, with a good Chinook bite throughout the month. The increased stocking of Chinook salmon had a big impacted. We were able to land a fish on the Salmon-A-Rama board, with a 13.44 pound Rainbow trout. Over the last twelve years we have had 22 fish on the board and 6 fish of the day, winning cash for our customers. It is great to have more weigh in scales around the Lake Michigan, which has increased people who fish the nine day event, but it has made it more difficult to get fish on the board. We plan on purchasing another charter ticket for 2024 and the dates for Salmon-A-Rama should be announced soon. We also took 1st place in the Brew City Pro tournament last Saturday. We won the tournament by 51 pounds for $10.000. The Silver King team delivered our second 1st place finish if five years. To finish the month we boated a 27 pound Lake trout, which is our biggest Lake trout this year.
Milwaukee charter fishing has been solid over the last two weeks and we have been fishing as shallow as 20 feet and as deep as 200 feet of water. We started the middle part of the month straight out of the north gap and down to the green can. For the most part we worked 90 to 130 feet of water, We started fishing north of Milwaukee in 43.04 to 43.07 in 50 to 90 feet of water by the third week of July. The last 7 day we have been from 43.07 to 43.11 or about 5 to 10 miles north of Milwaukee. From the ship wreck in 120 feet to a mile north of Fox Point. As the water cooled we worked 30 to 40 feet of water. Just before Brew City we were in 90 to 120 feet of water and for the tournament we worked 140 to 170 feet of water. But the last couple of days we are in 90 to 110 feet of water. We are catching a mixed bag of Chinook salmon, Lake trout and Rainbow trout. There is a Coho and sometimes a Brow trout in the catch.
The Brew City spread is what I will go over and this is what we are currently running. The boards started out with 7, 8, 9 and 10 color leadcors but the water warmed up and the break was down at least 55 feet we switched over to copper set ups. Are best coppers were 175, 200, 250, 300, 350 and 400 coppers. These rods delivered some nice fish. We were using the orange Hulk RV Moonshine and the Wonder Bread RV Moonshine. Both standard sizes. We also used the gold NBK Green Stinger. This has been a good Chinook spoon. On the side downriggers we are using a one and two color leadcore with the tow Moonshines we are using on the coppers. Those two Moon shines along with the Agent Orange have been very good. The deep down rigger has a large chrome flasher, with chrome tape. This is a Lurh Jensen and we have a super frog Howie fly on this. We are just 4 feet back from the downrigger and we try to have this just a couple feet from the bottom. This set up is great for Lake trout and will also take salmon. It delivered big during Brew City We are using a twenty pound downrigger ball on this set up from Magnum Metals. The wire dipsies have been set at 150 to 200 feet with a magnum dipsy. We are using the chrome Dragon Slayer from Derks, along with a Howie Bull Frog fly. All of these set ups delivered during Brew City and are still working now.
The Chinook salmon fishing has been good and should continue. We should have some great September and October like the last several years . The Chinook fishing in October three of the last four years has been amazing and the one year it was not the Lake trout fishing was great. Call Silver King Charter at 414-460-1467 to book trips in August, September and October. Below are pictures of the last couple of weeks. The first several are from the Brew City Pro tournament win. The next coupe are a 27 pound Lake trout and a 25 pound Chinook salmon. Big thanks to the GLSF Milwaukee and Brain who is the president of the GLSF for putting the tournament on. Brain, you guys did a great job.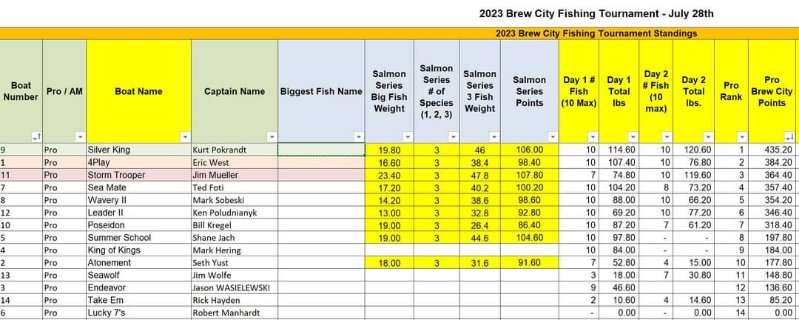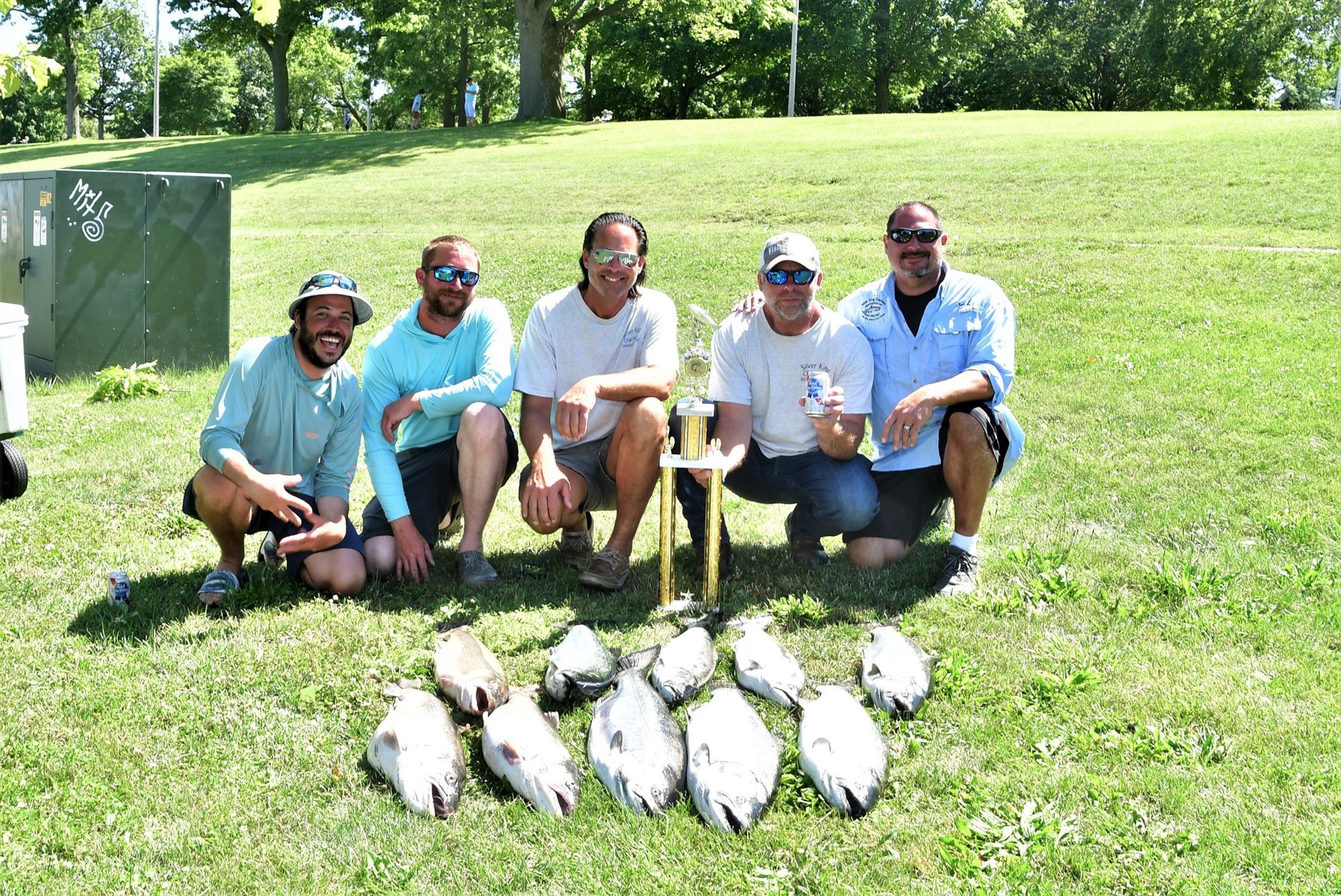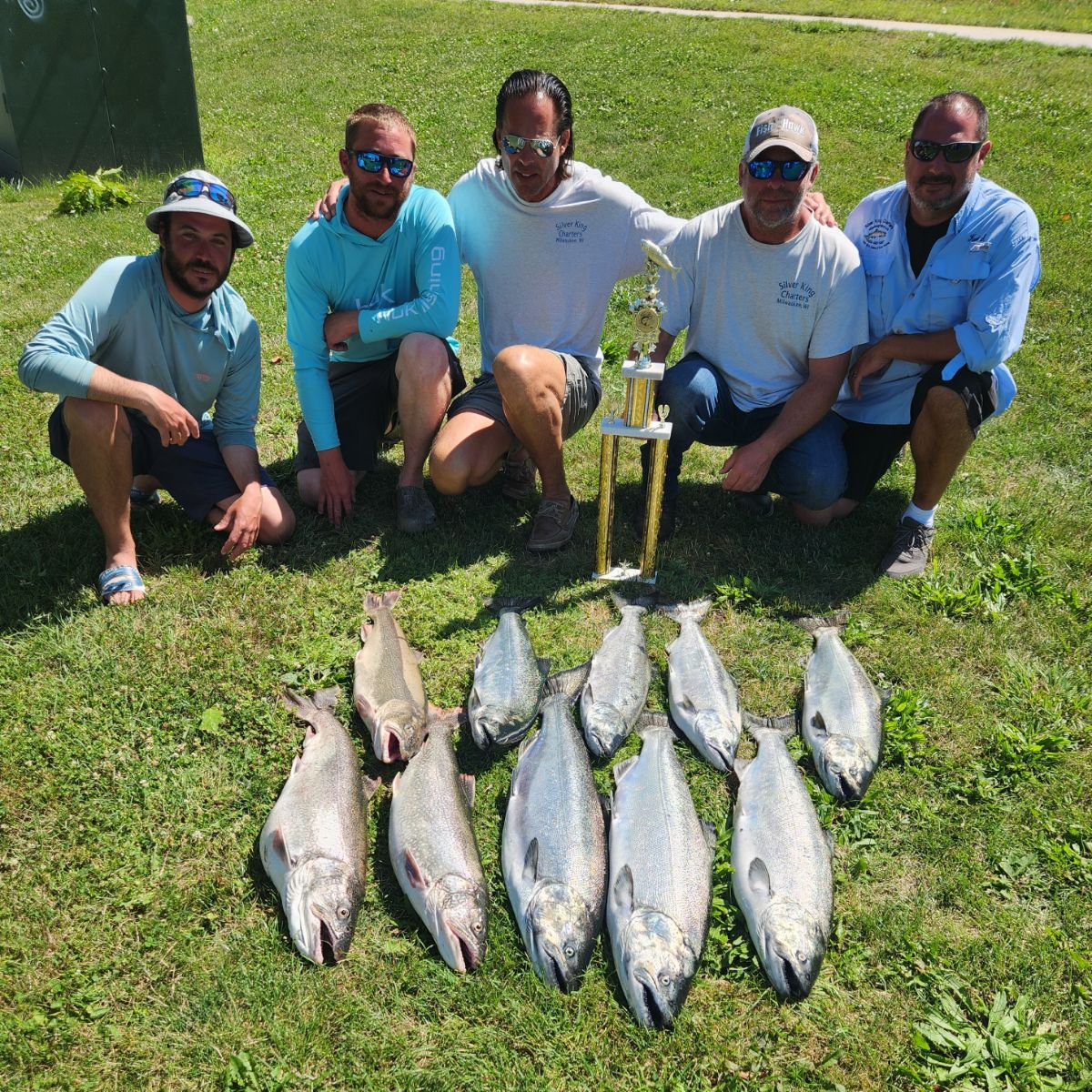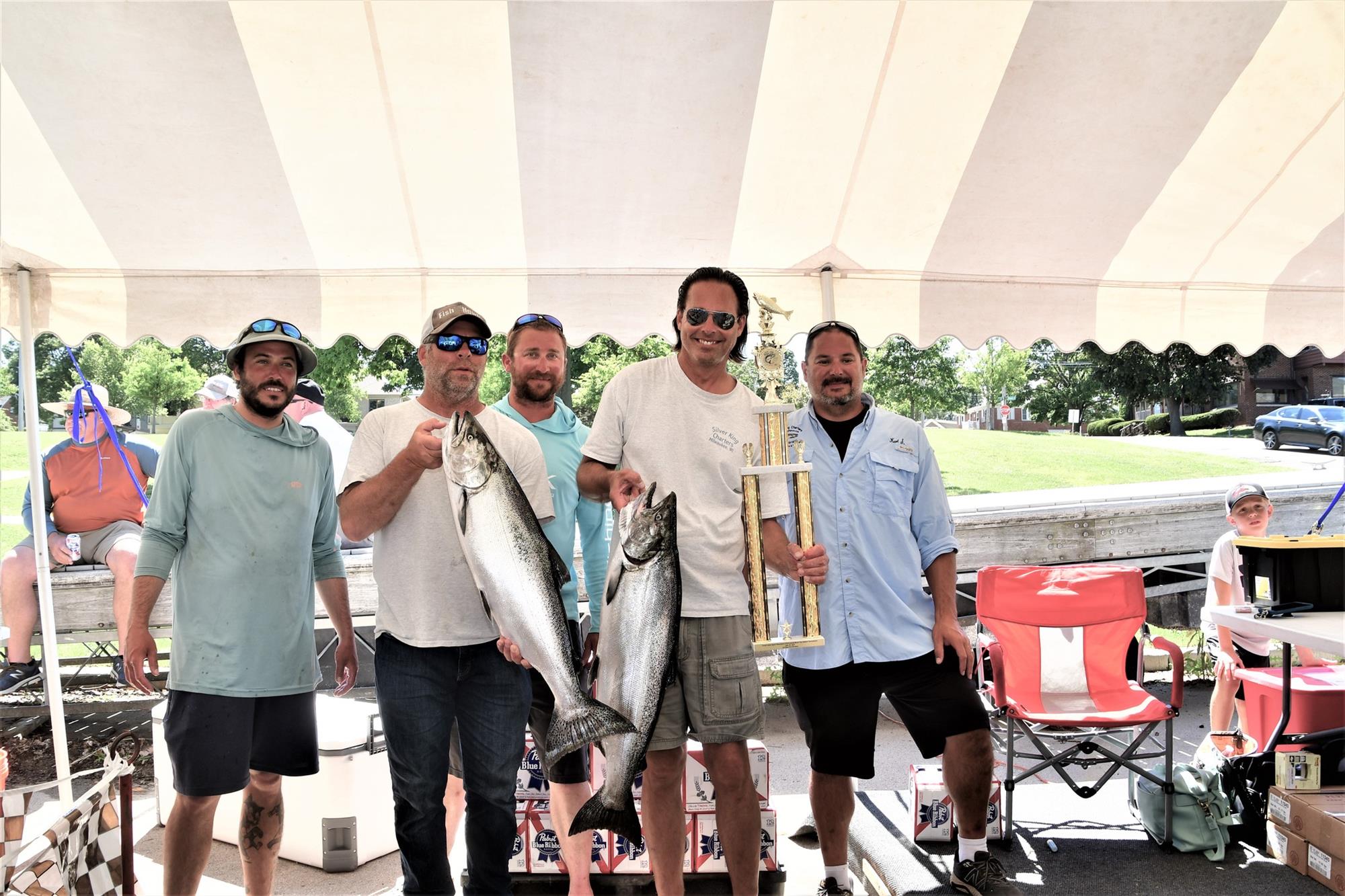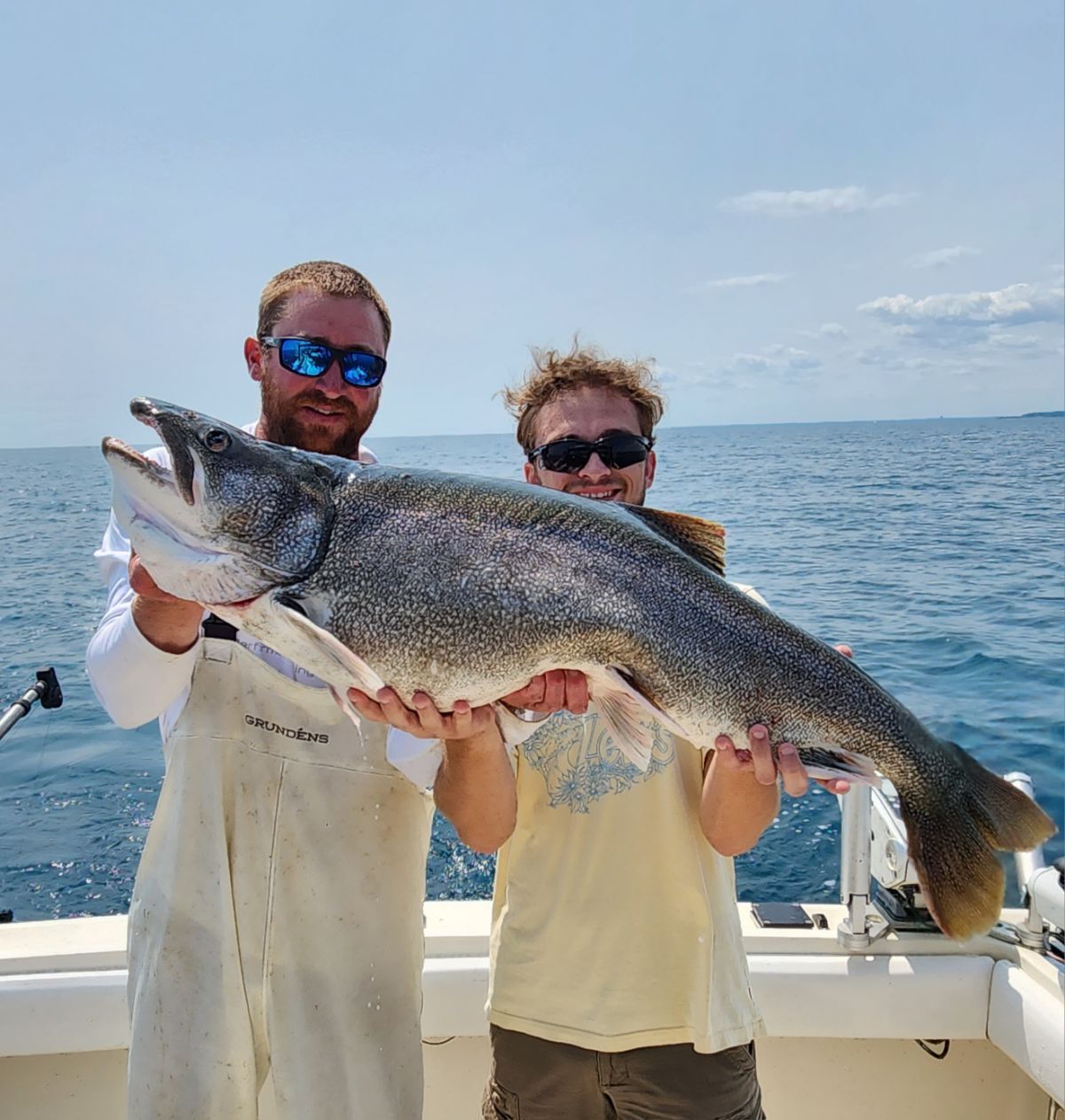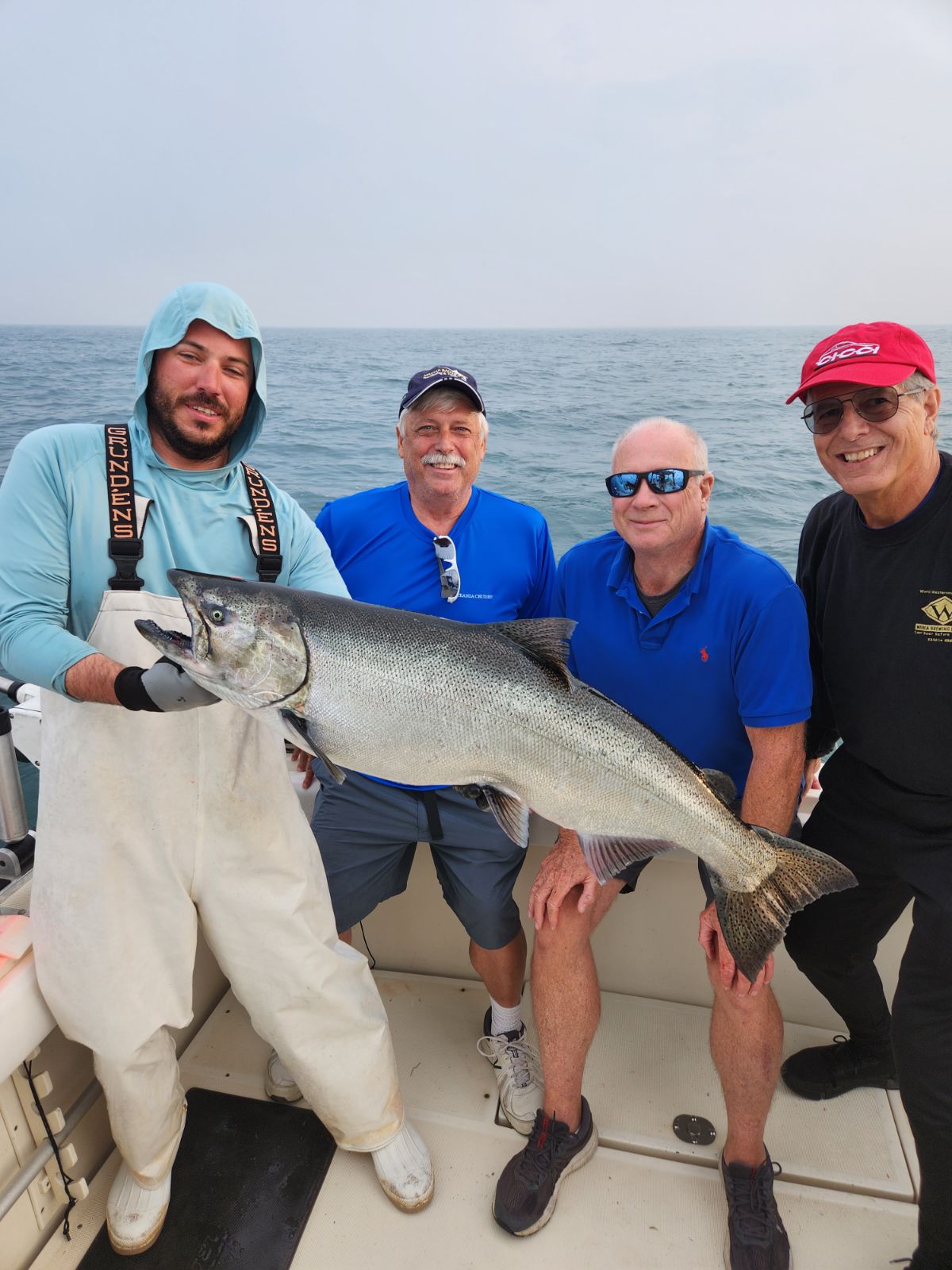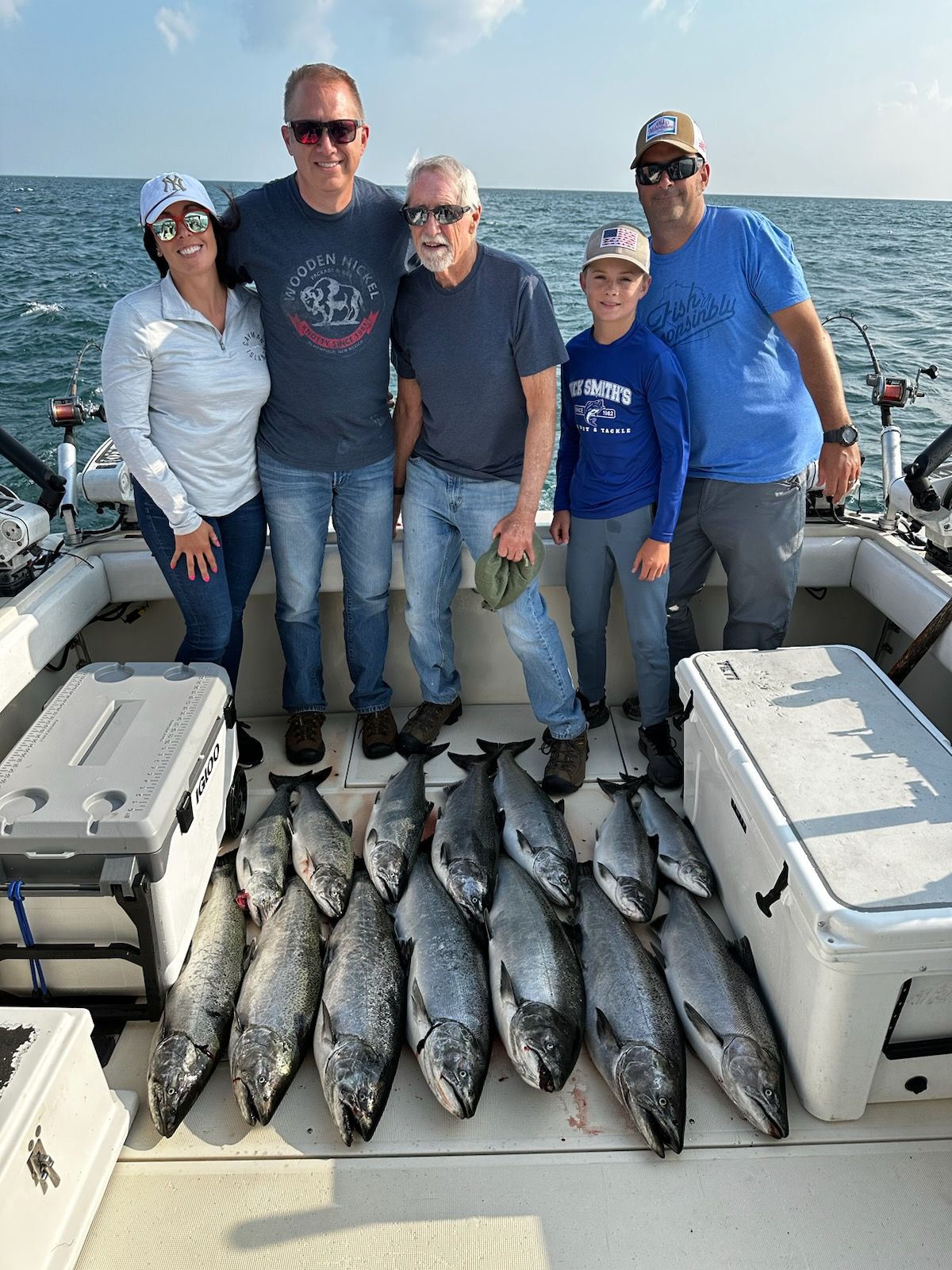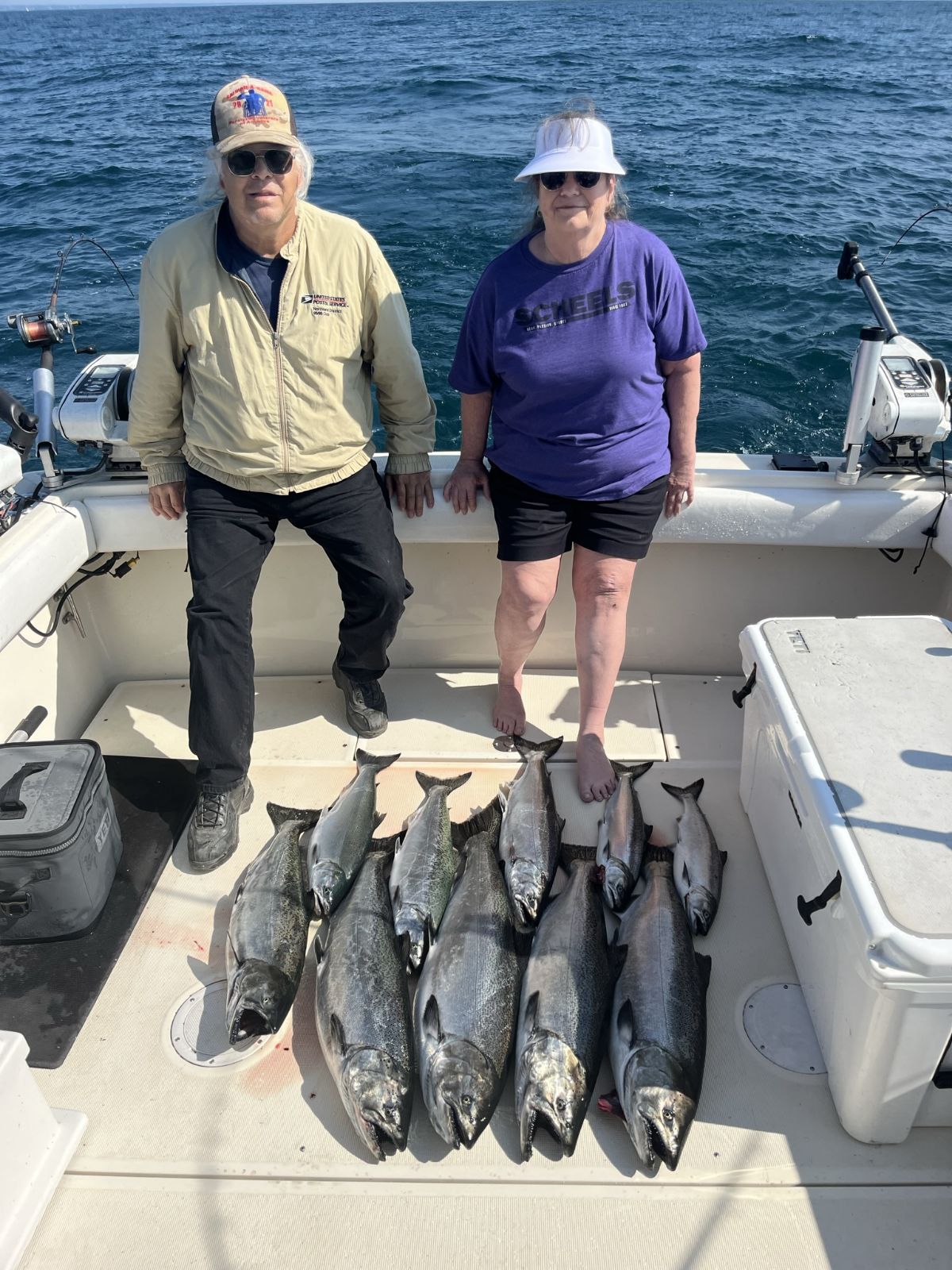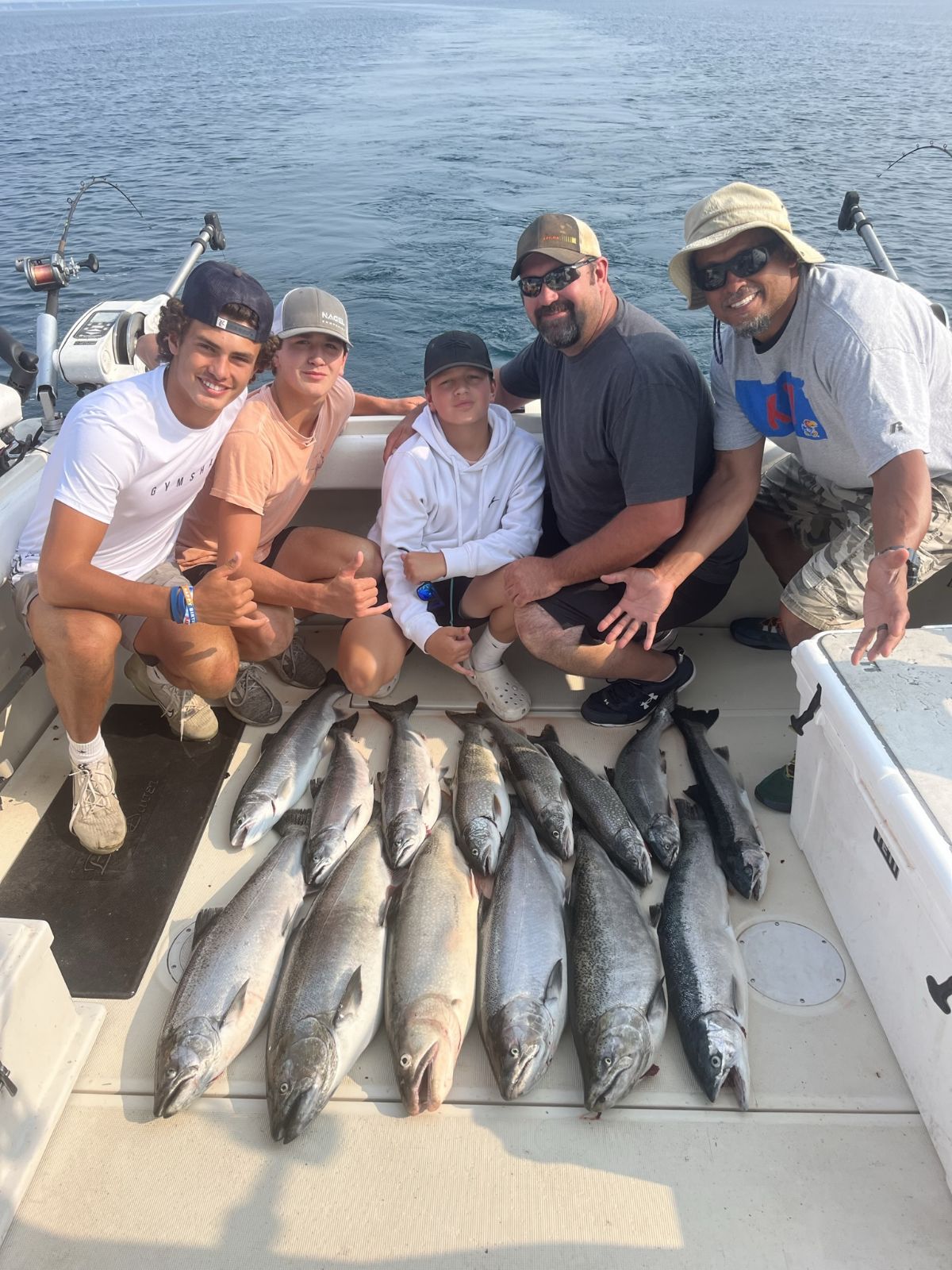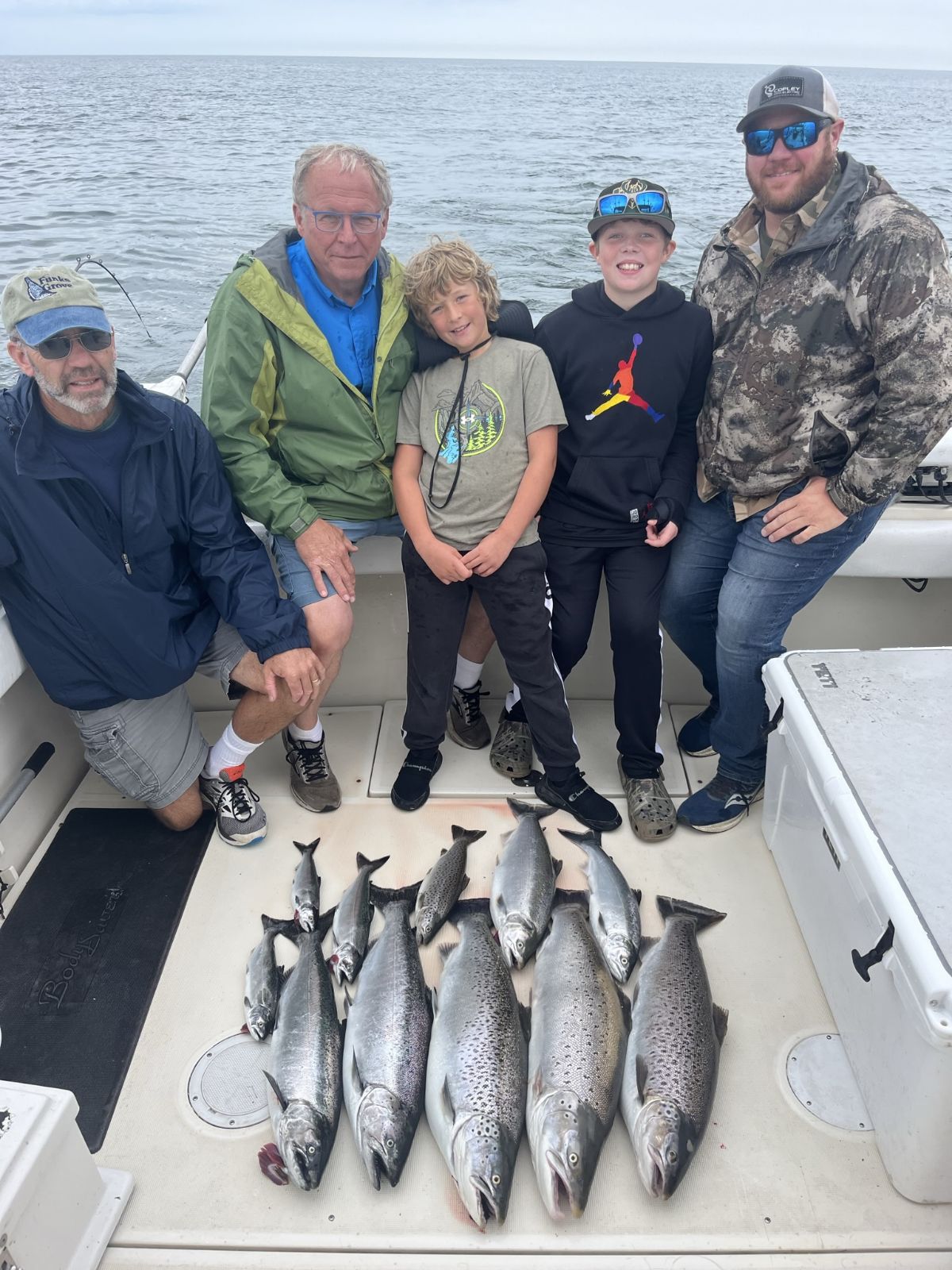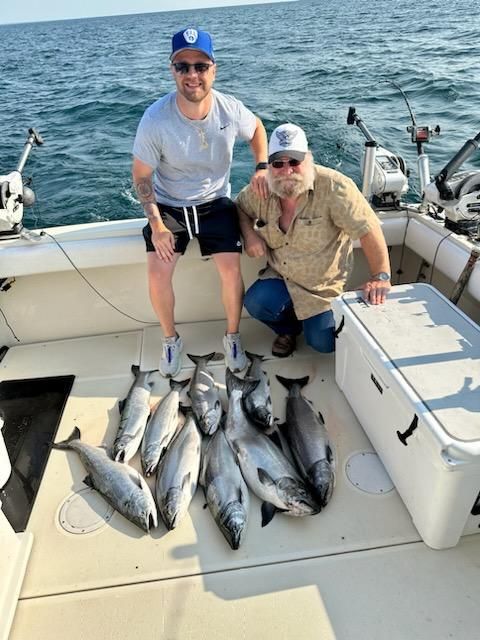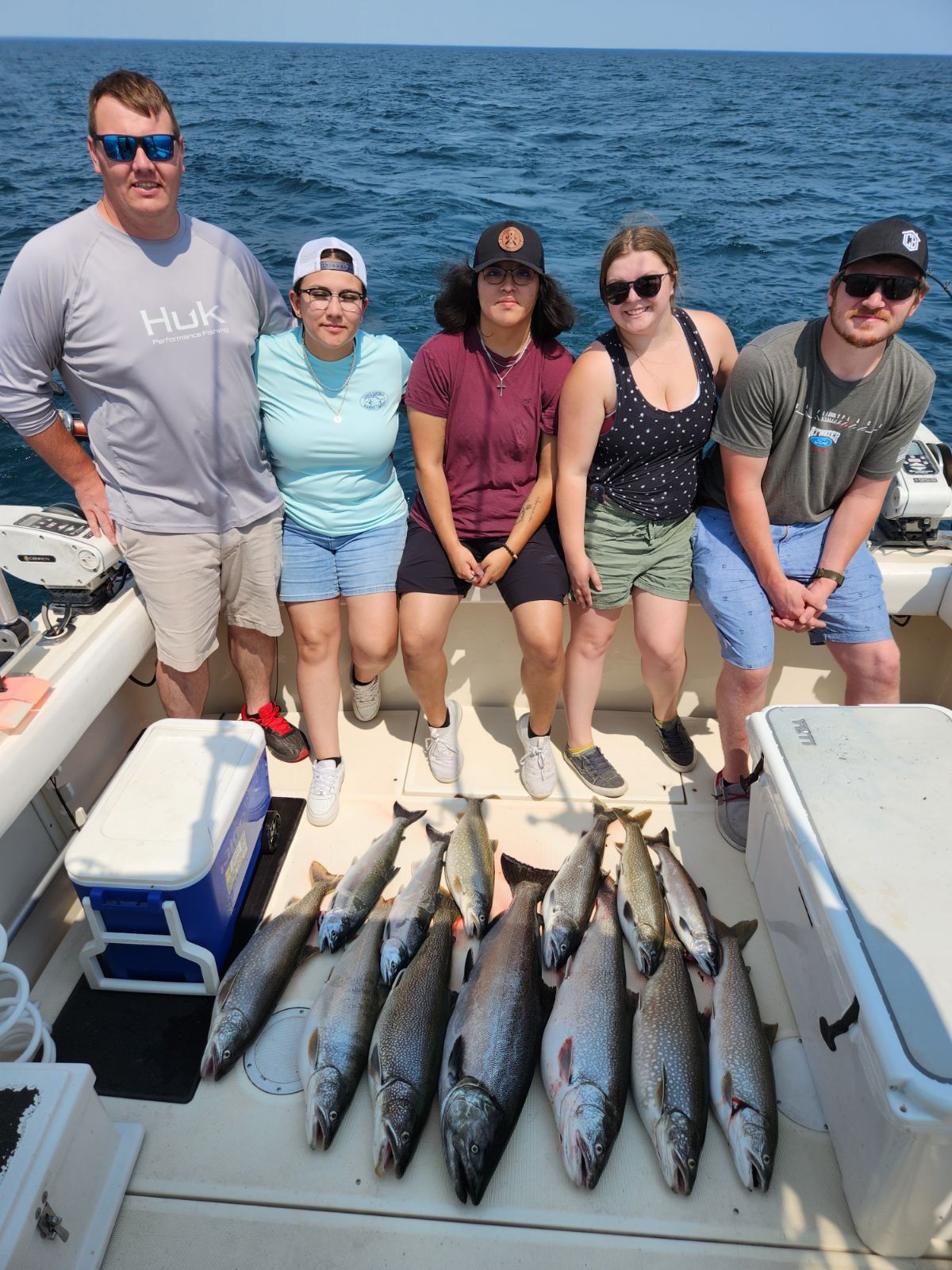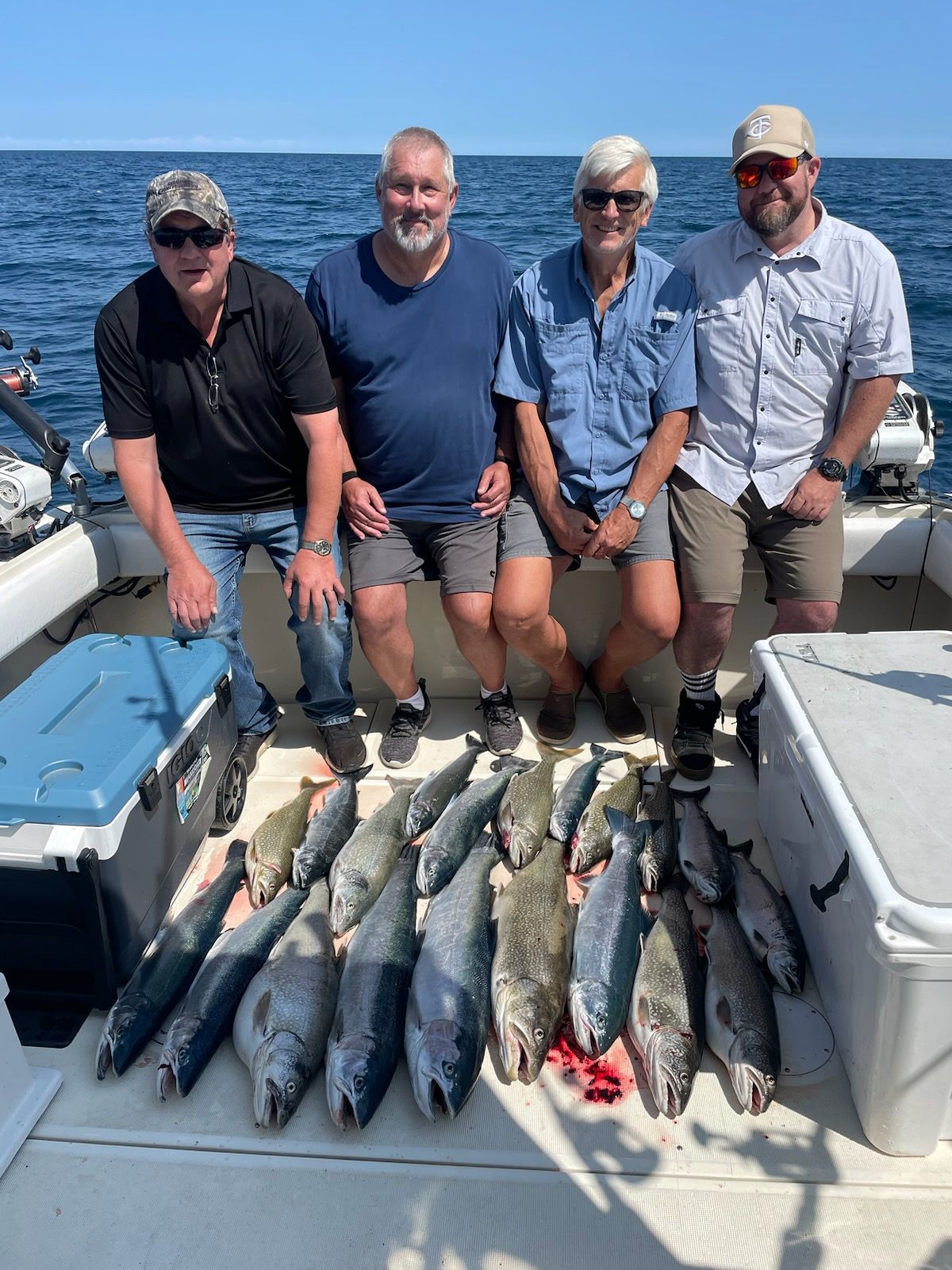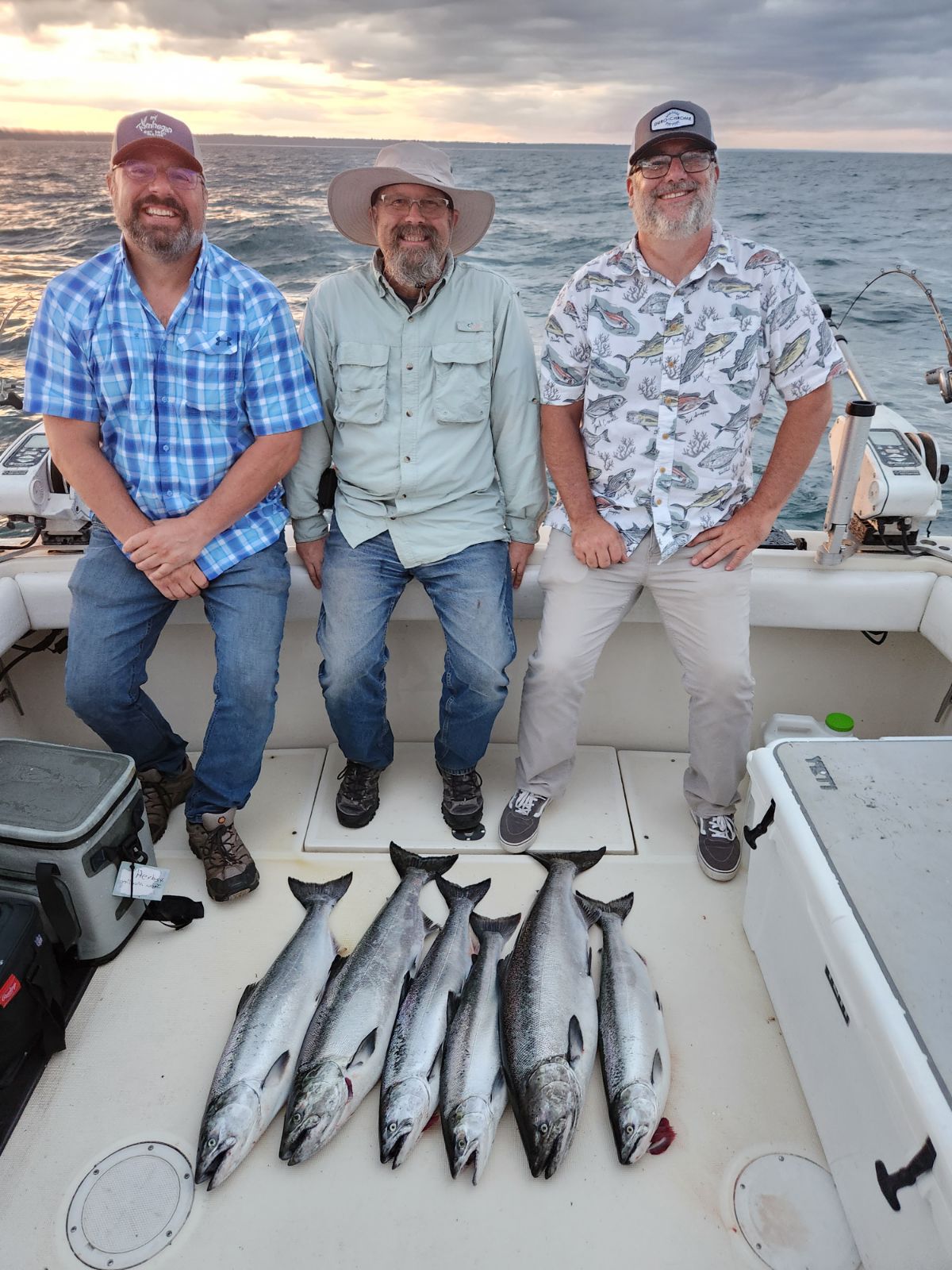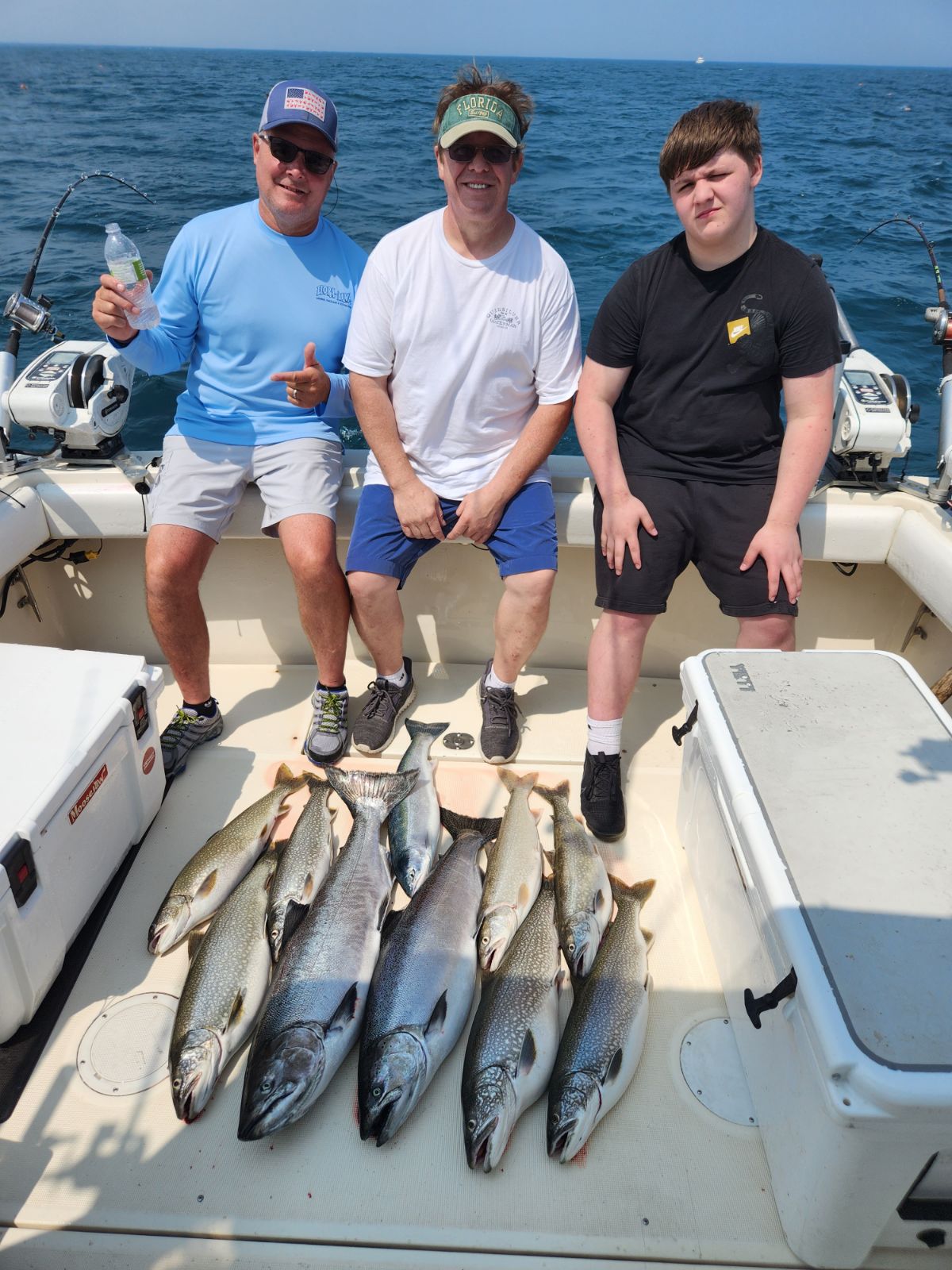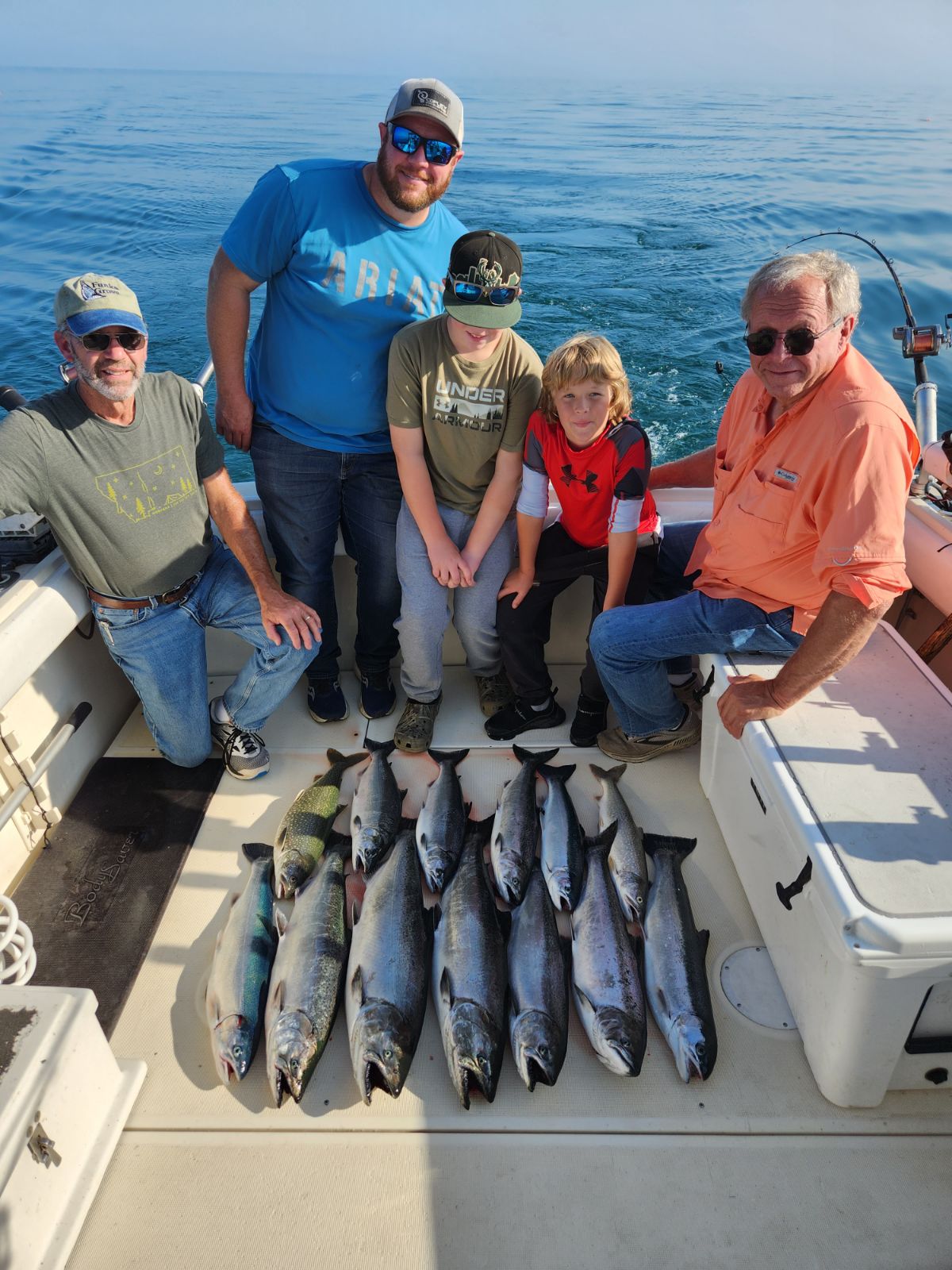 Report for July 12, 2023
We are in the heat of the summer and July is the most popular month for Lake Michigan charter fishing. Weather is a big reason because people like to be out in the warm temperatures but the big reason in Chinook "King" salmon. This is the best month to target Chinook salmon. The mature Kings have not yet begun to find their spawning grounds and they are at peak weight. Lake Michigan's Chinook population has not been this large since 2012 when a decision was made to reduce stocking numbers and eventually bring the annual lake wide stocking total to less than one million. This number has now grown to over 2 million Chinook salmon stocked per year and this is the first year we have four year classes at this stocking rate. We are catching Chinook salmon on every morning trip and most midday trips. They are putting up some great fights. We have been catching a mix of Coho salmon, Rainbow trout and Lake trout as well. The water has warmed up with consistent northeast winds but we are now seeing a good thermocline set up and this will help us target fish better. For the first 10 days of July we have been fishing 80 to 120 feet of water and the bites are coming 40 feet to 100 feet down in the water column. Only the last few days has the water started to cool down near the bottom and with west and southwest winds projected over the next week this may set up a bite closer to shore. The good news though is there are plenty of Chinook salmon up and down the shore. The average mature Chinook seems to be around 15 pounds but we have boated many over 20 pounds and the big so far is 29.40 pounds.
We are now using all copper set ups on our boards. The best are 200 to 350 feet set ups. We are using Moonshine spoons on these rods. Our favorite is the RV green flounder pounder and the happy meal. We are running wire dovers set at 140 to 200 feet on the line counter. We are using the large size dipsies set at 30 degrees. We are using either white or green flashers and either the Willy fly, Howie green krinkle frog, or Howie bull frog. These have been solid for Chinooks. The deep riggers have had the pearl coyote flashers with Howie green krinle frog. These are set between 60 and 105 feet down. The side downriggers have a two color and one color SWR on them. We are using either the Moonshine agent orange or the green flounder pounder for these rods.
The best bite has been the first hour and a half of the morning. We have been starting at 4:30AM to capitalize on this action. Just before dark is the second best bite. Chinook salmon can get moody. But we ahve been catching a few during the midday and Lake trout, Rainbow trout and Coho salmon also kick in throughout the day. July will continue to deliver a good Chinook bite and starting this Saturday is the lake wide Salmon-A-Rama big fish tournament. We have purchased a ticket that makes everyone on our boat eligible to win cash prizes during the nine day tournament. We hope to report a couple of winners this year. Call Silver King Charters at 414-460-1467 to book a July or August Milwaukee charter fishing trip. Below are a few pictures from the first part of July.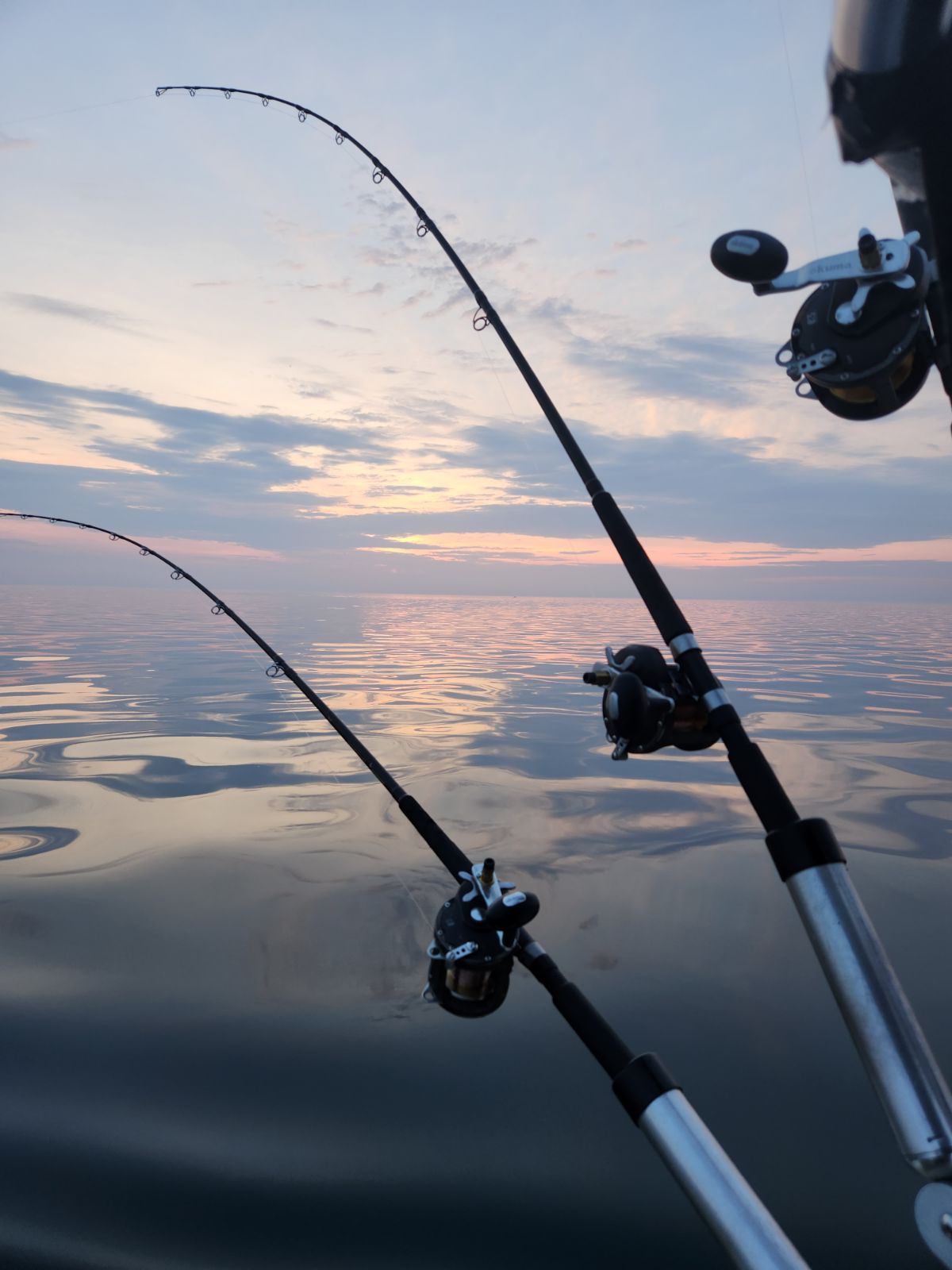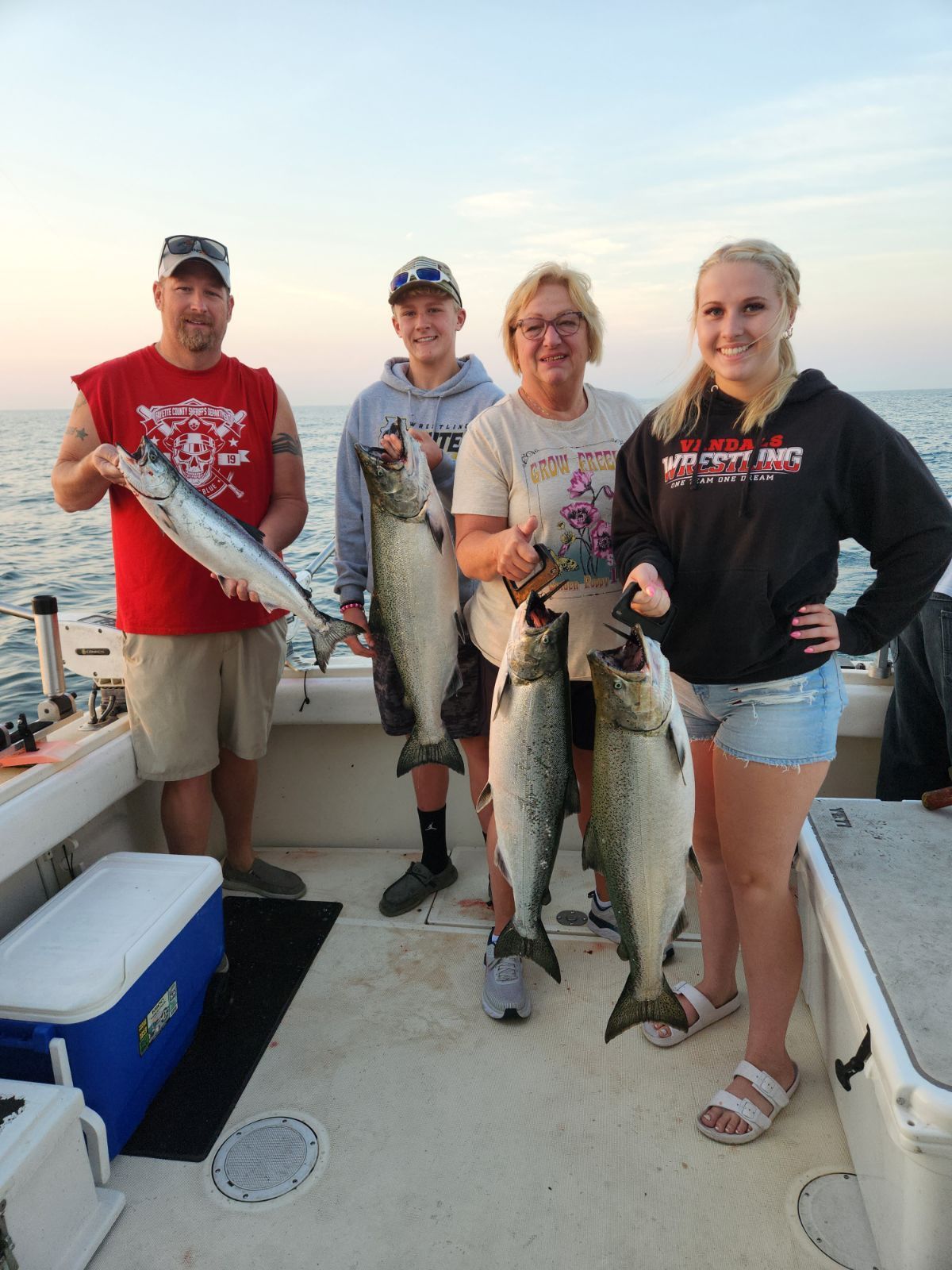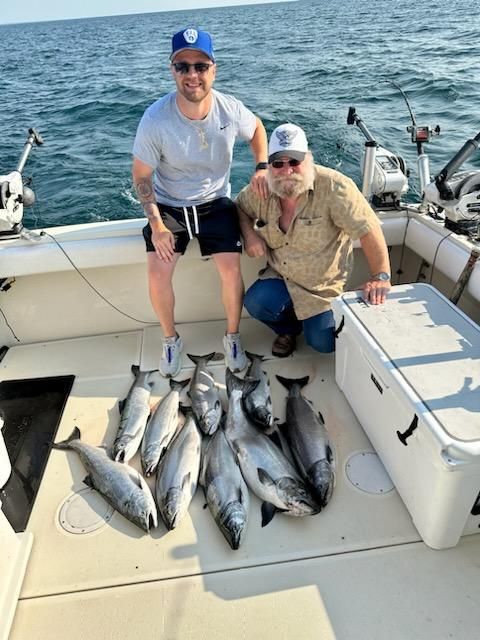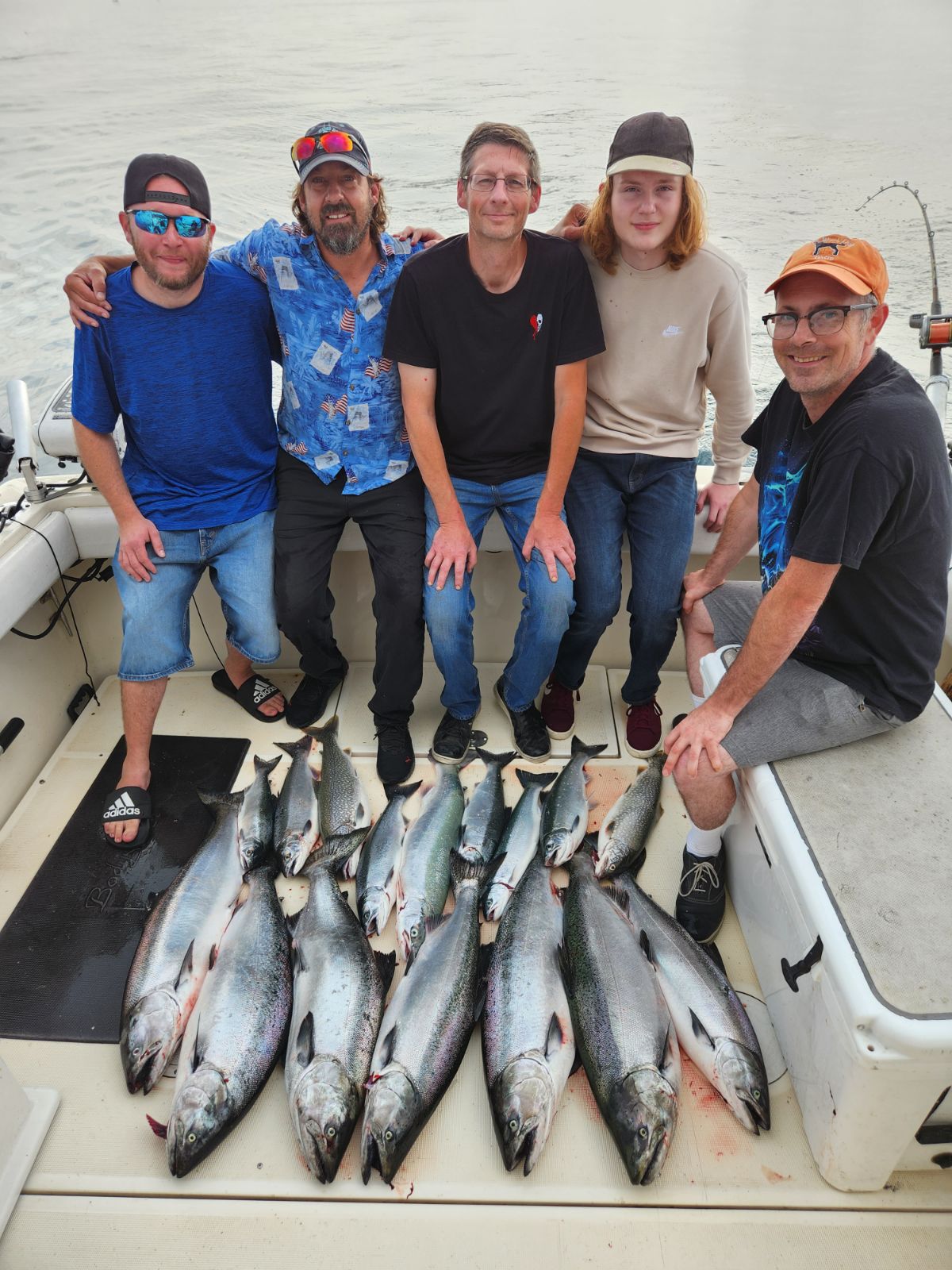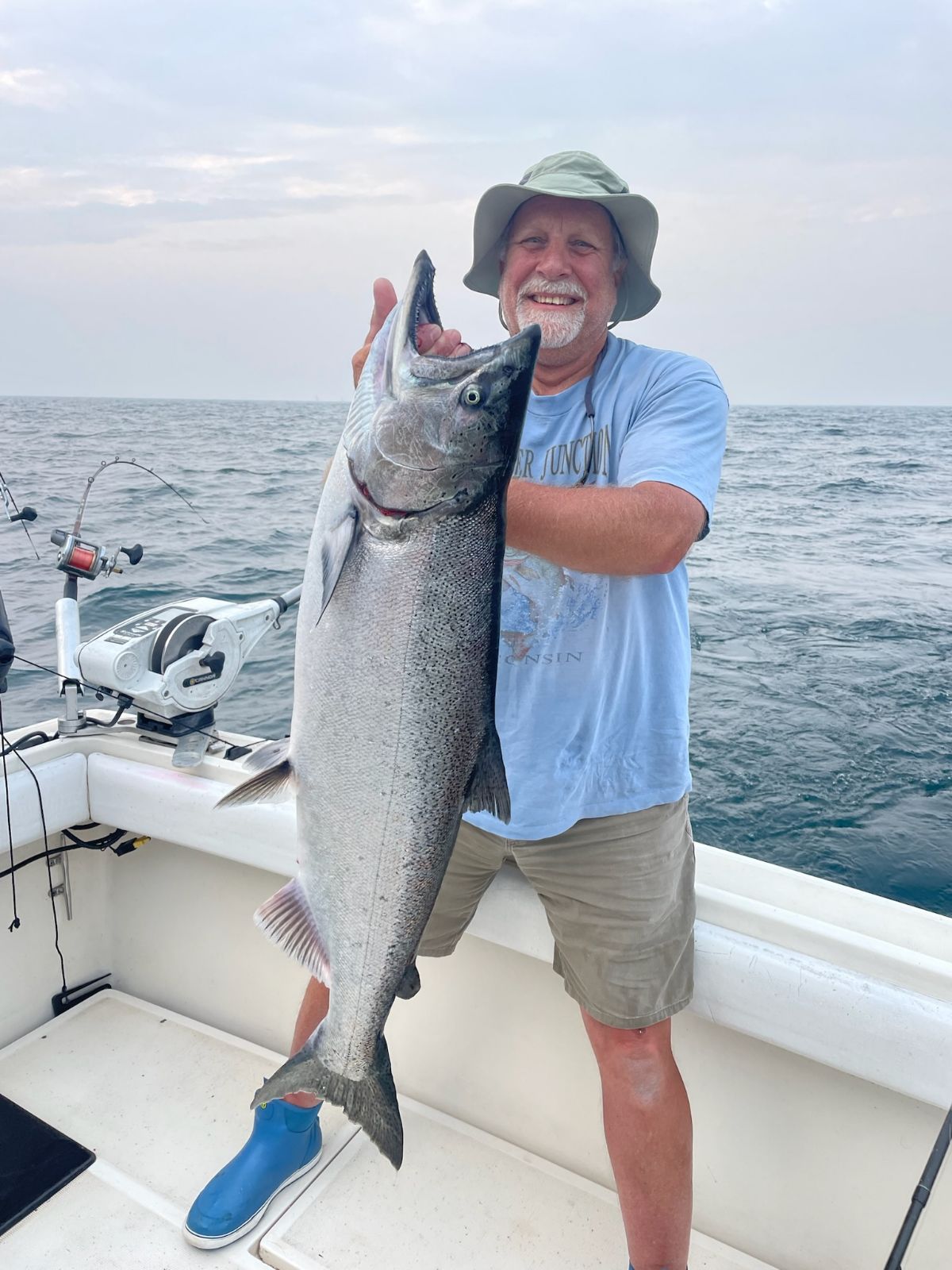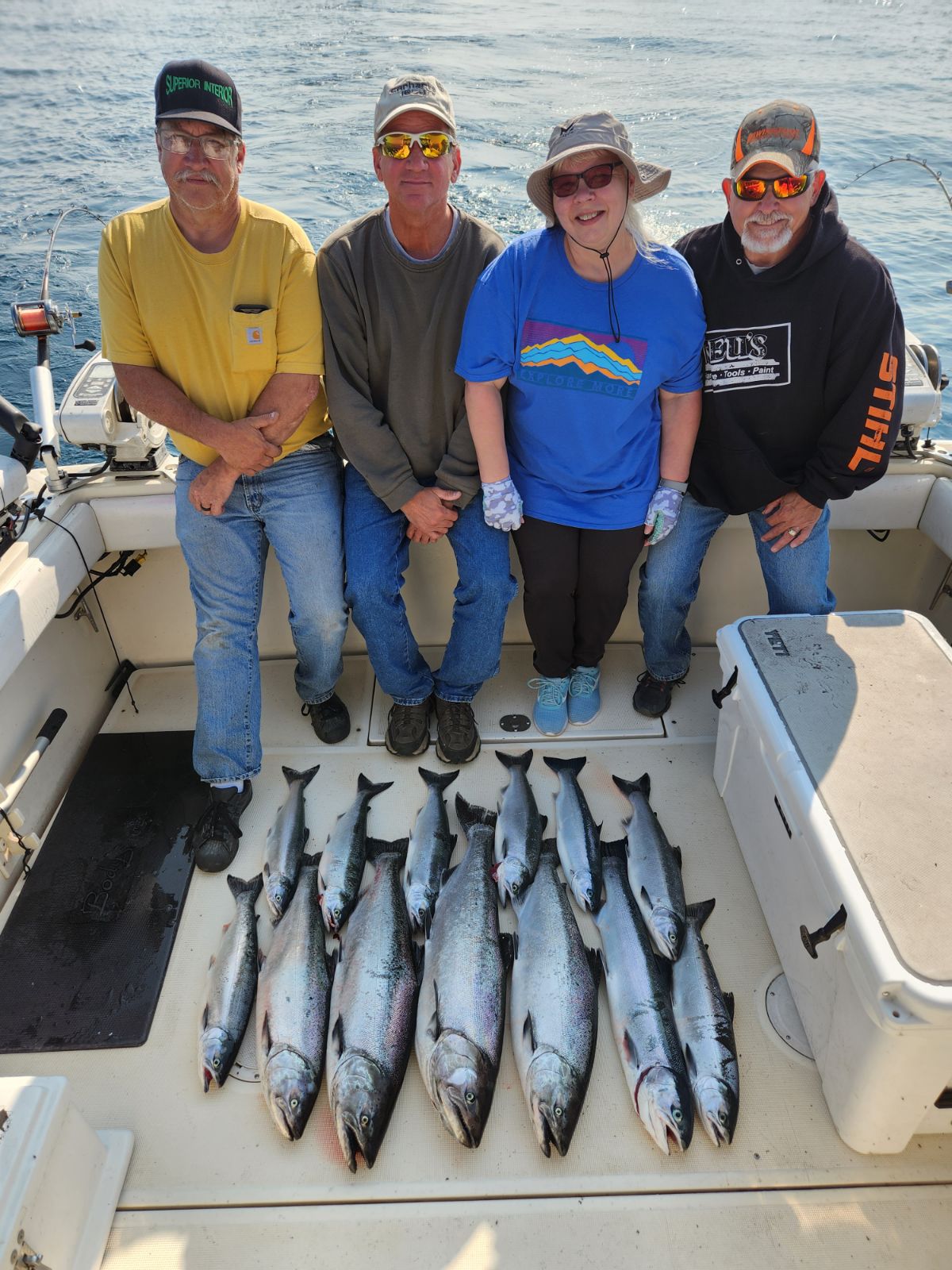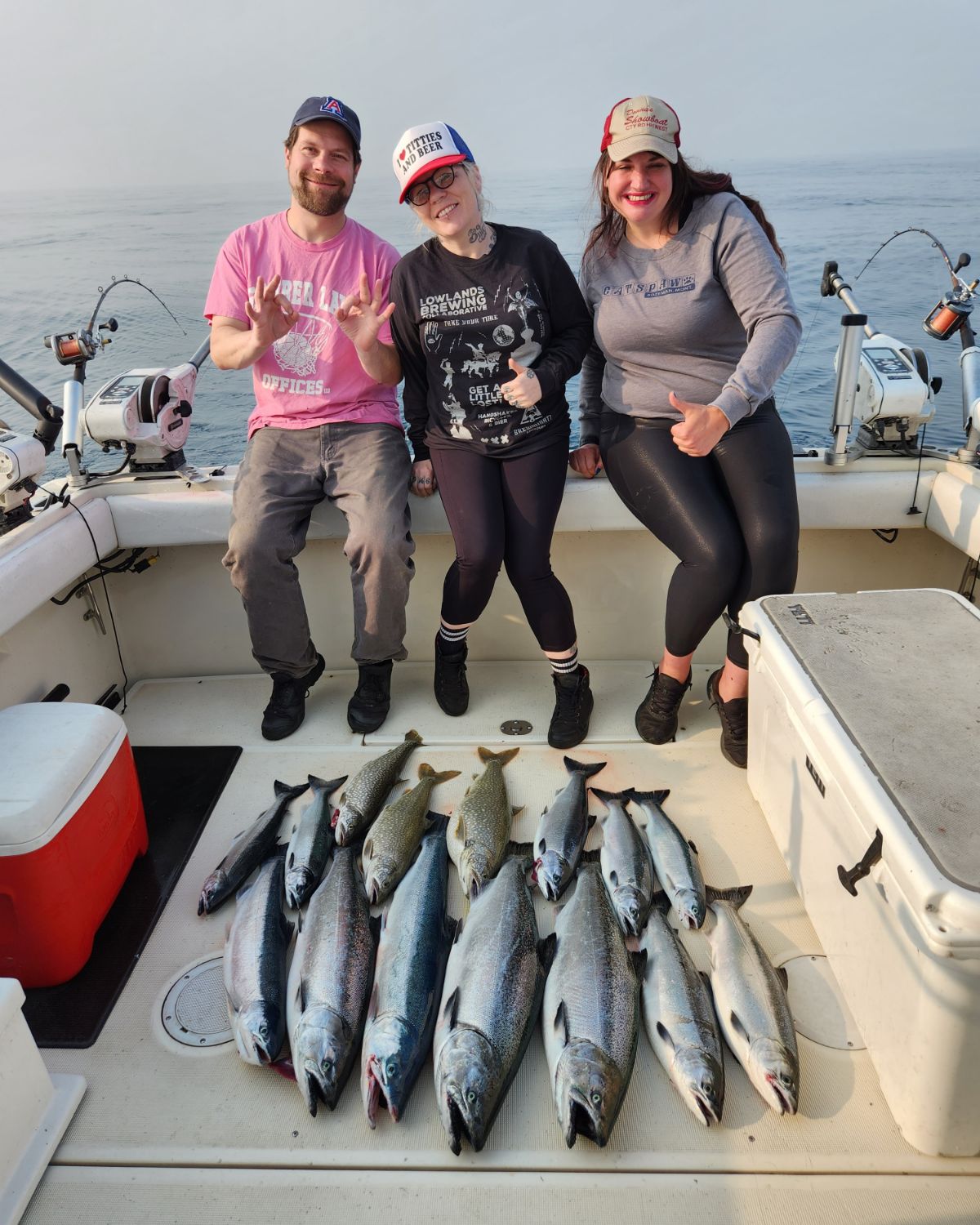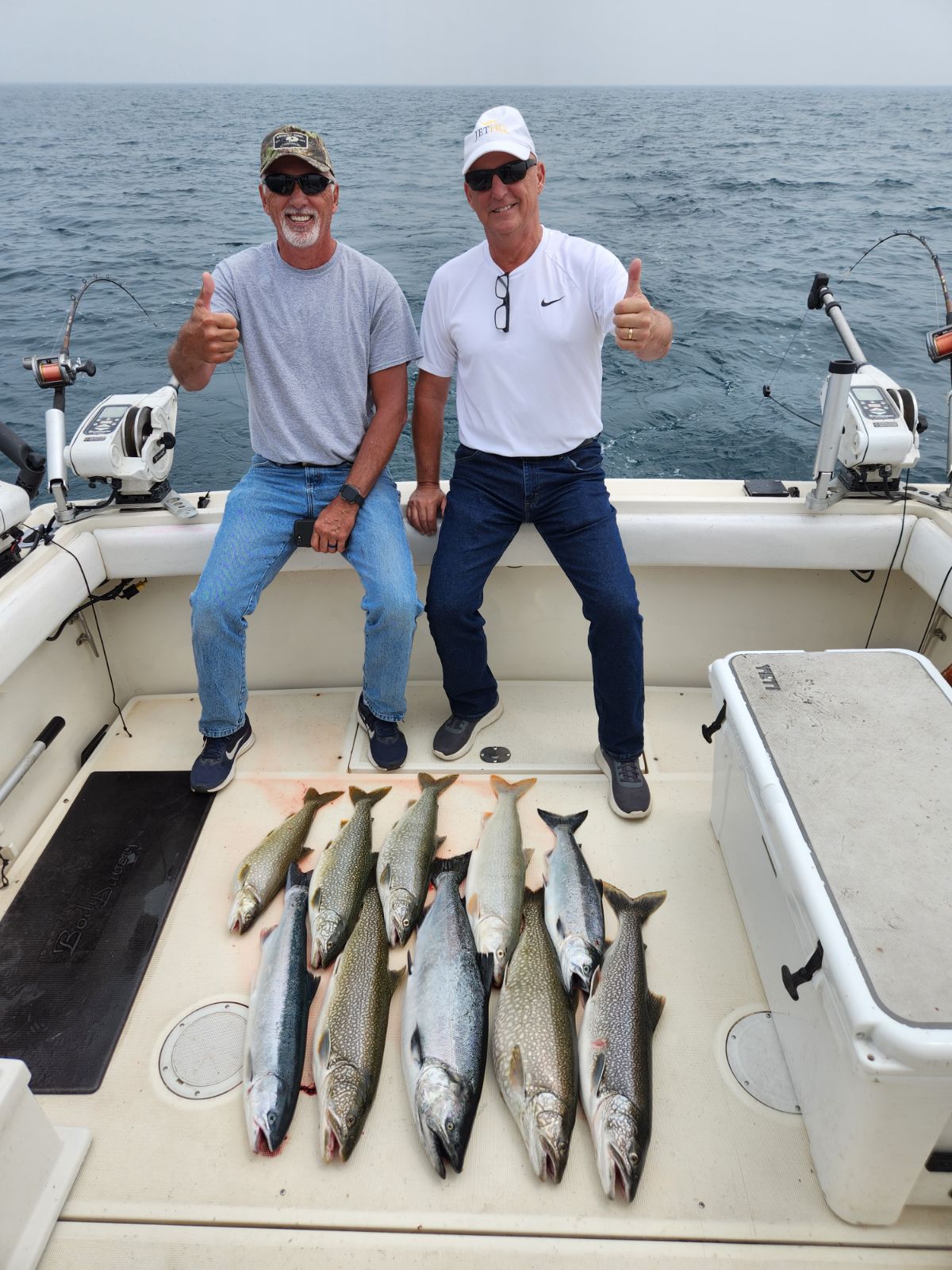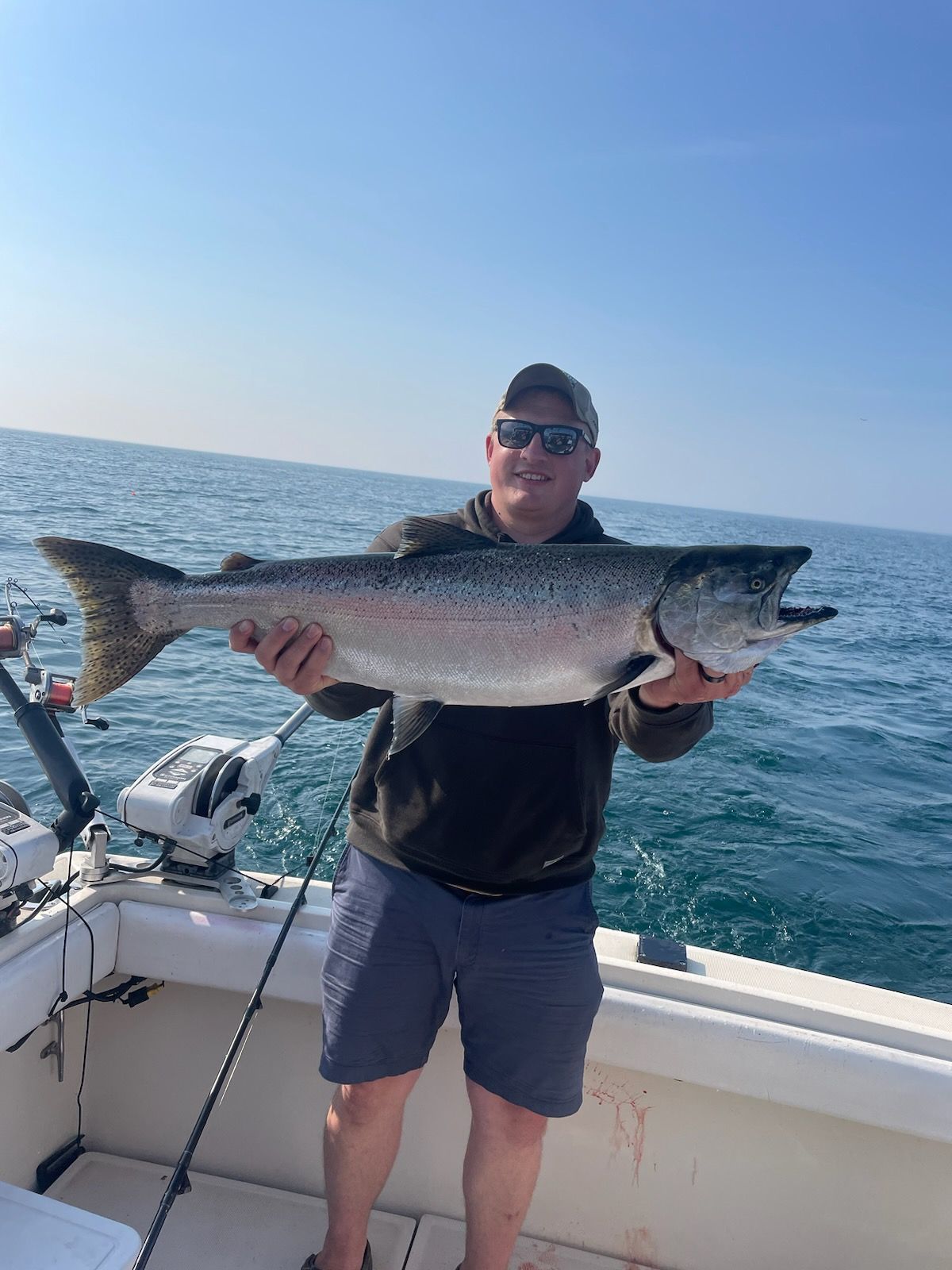 Report for June 21, 2023
June 21st is summer solstice and my favorite day of the year. This is also the time that are Coho salmon bite turns into a mixed bag of fish as Lake Michigan starts to set up a thermocline. Right now we are starting to see 60 plus degree water temperatures on the surface and 51 degrees all the way down to 100 feet deep. Soon this will start to form a more distinct temperature break and set up a good summer bite. But for now fish can be anywhere in the water column but the best bite for us is in the top 60 feet of water. We have been fishing from 100 to 280 feet of water over the last 10 days. We are still seeing Coho salmon in he catch on each trip. Some times it is the bulk of the catch and other times we only catch 2 or 3 of them. We are also seeing a Chinook salmon almost every trip and it is common to have 2 or 3 of them in a trip. Rainbow trout and Lake trout are now caught on almost every trip. This is typical for this time of year as the lake starts to warm up. We are catching some nice size Chinook salmon, with several over 20 pounds and are biggest so far is 29.4 pounds. These fish are putting up a great fight.
Our spread has changed from our last report. The back two downriggers are flasher flies. We are using white pearl flashers with the Willy fly or a Howie bull frog. These have been consistent at 50 and 65 feet down. The side riggers are spoons now, but we do use a red stubby dodger and 2" fly on one rigger at times down 15 feet. When we do use spoons we are a two color leadcore on a rigger down 25 feet. We like the Moonshine agent orange standard size. This has been a great spoon this year. We also like the Stinger green blue dolphin. The other rigger is staring mono down 30 feet. This set up has been the same for over 10 days. We still have orange dodgers on the inside dipsies set at 30 feet on the line counter. These pick up a fish or two per trip. We now use wire dipsies that are standard size on the outsied instead of the mono dipsies. The white pearl flasher is on one side with a Howe aqua 5000. On the other side we are using a green flasher from Derks that our firstmate came up with. The Willy fly is on this set up. We have these set at 140 to 165 on the line counters. We are still running mono and keel weights on the outside boards. These have stubby orange dodgers and two inch flies on them. They still pick up a few fish on a trip. We have 3 to 7 color leadcores on the inside boards. We have orange stubby dodgers on the 3 and 4 color and spoons on the 5 to 7 color we are running spoons. The Moonshine agent orange is best and catches them all. This spread is perfect for targeting the top 65 feet of water.
We expect to keep catching Coho salmon for the next couple of weeks but the catch will be a mix that includes Lake trout, Rainbow trout and Chinook salmon. This is a great time of year to catch multiple species. We have been fishing since late March but this is the first day of summer and some very good fishing will happen over the next few months. Milwaukee charter fishing is looking to have some good Chinook fishing this year. We have some good dates open in the first two weeks of July. Call Silver King Charters at 414-460-1467 to book a Lake Michigan charter fishing trip this summer. Below are a few pictures from the last 10 days, including the 29.4 pound Chinook that for most would be 30 pounds:)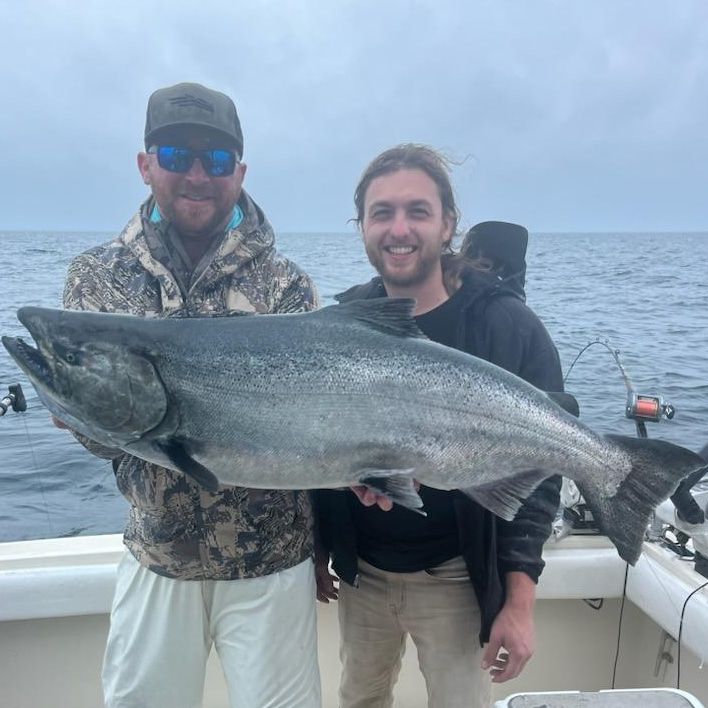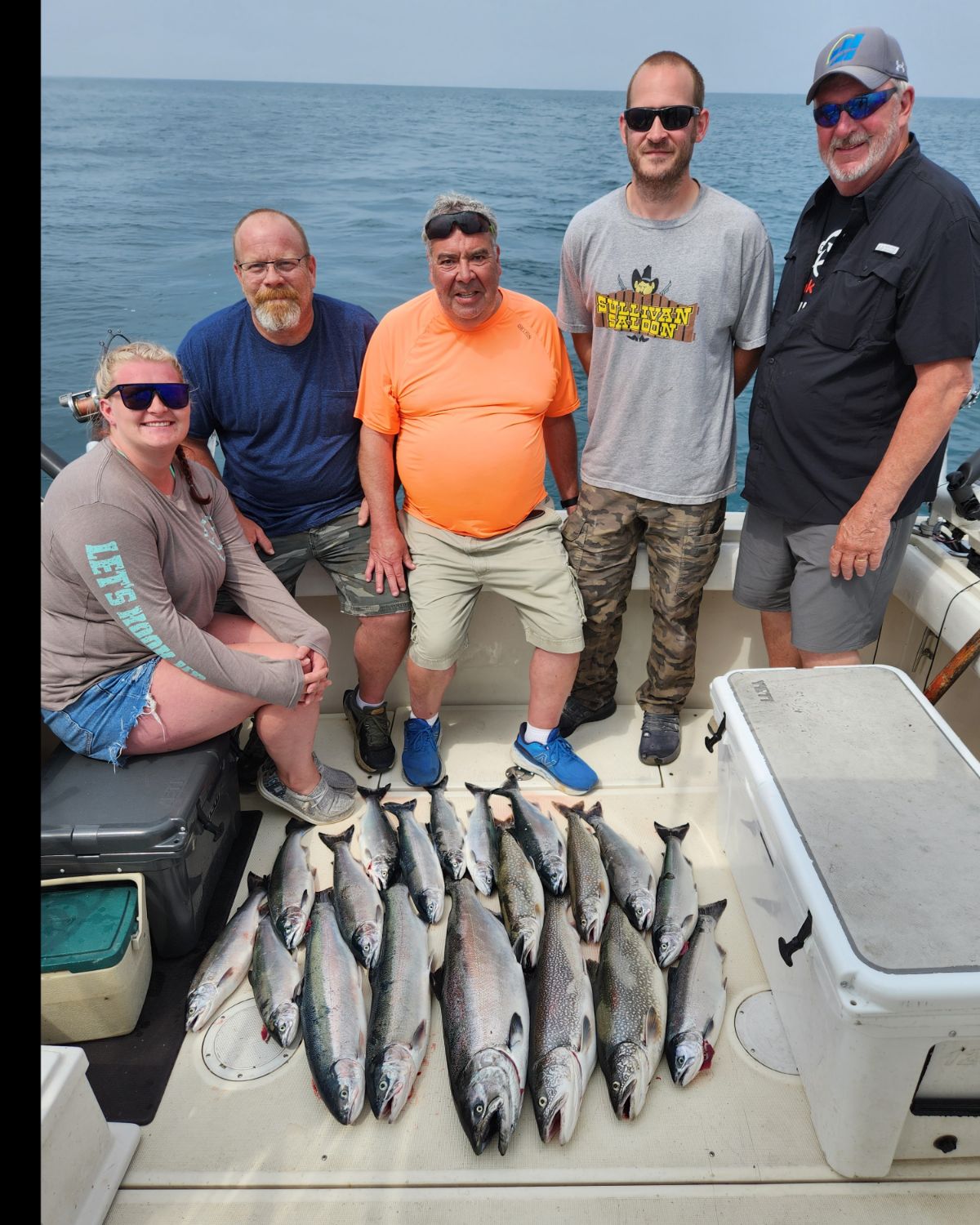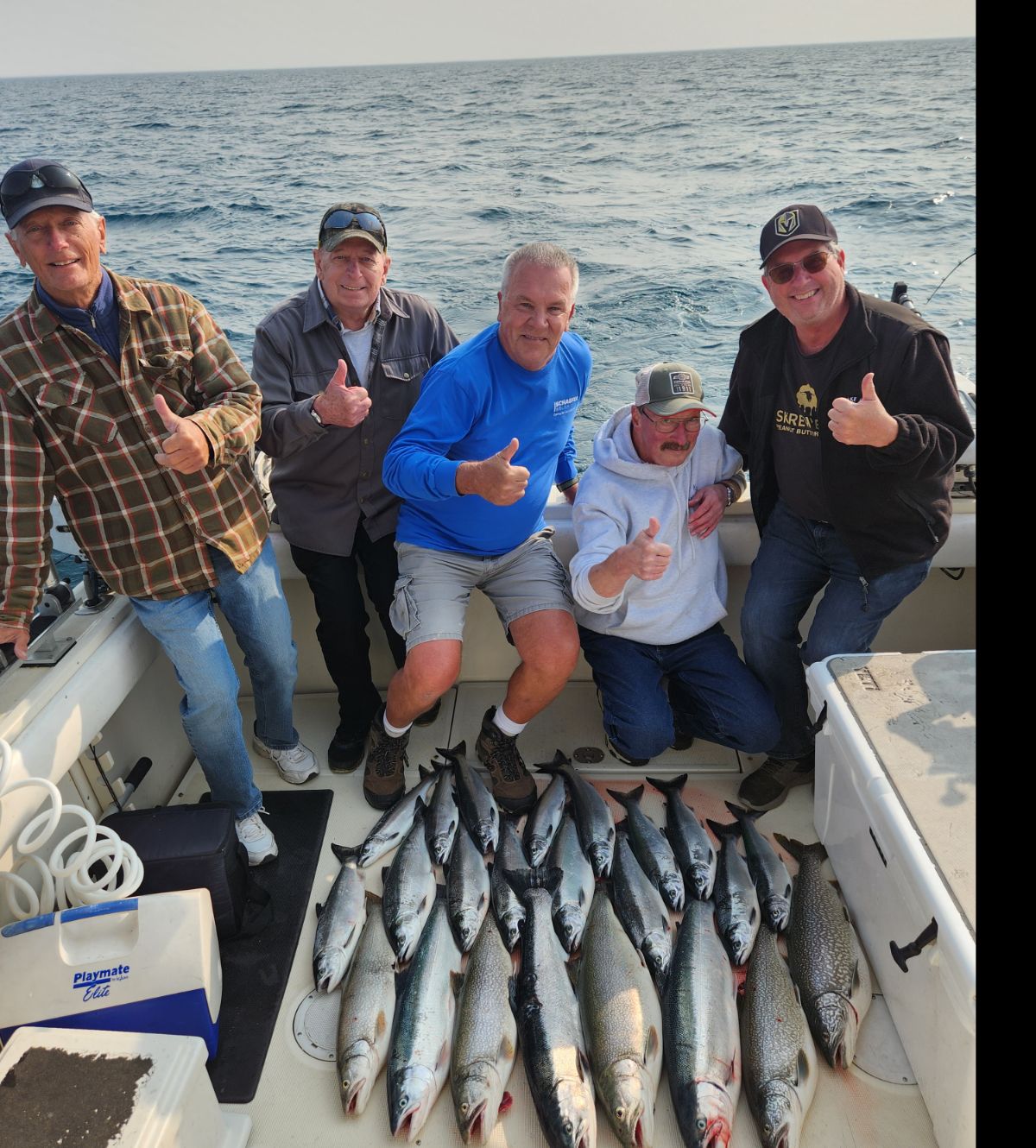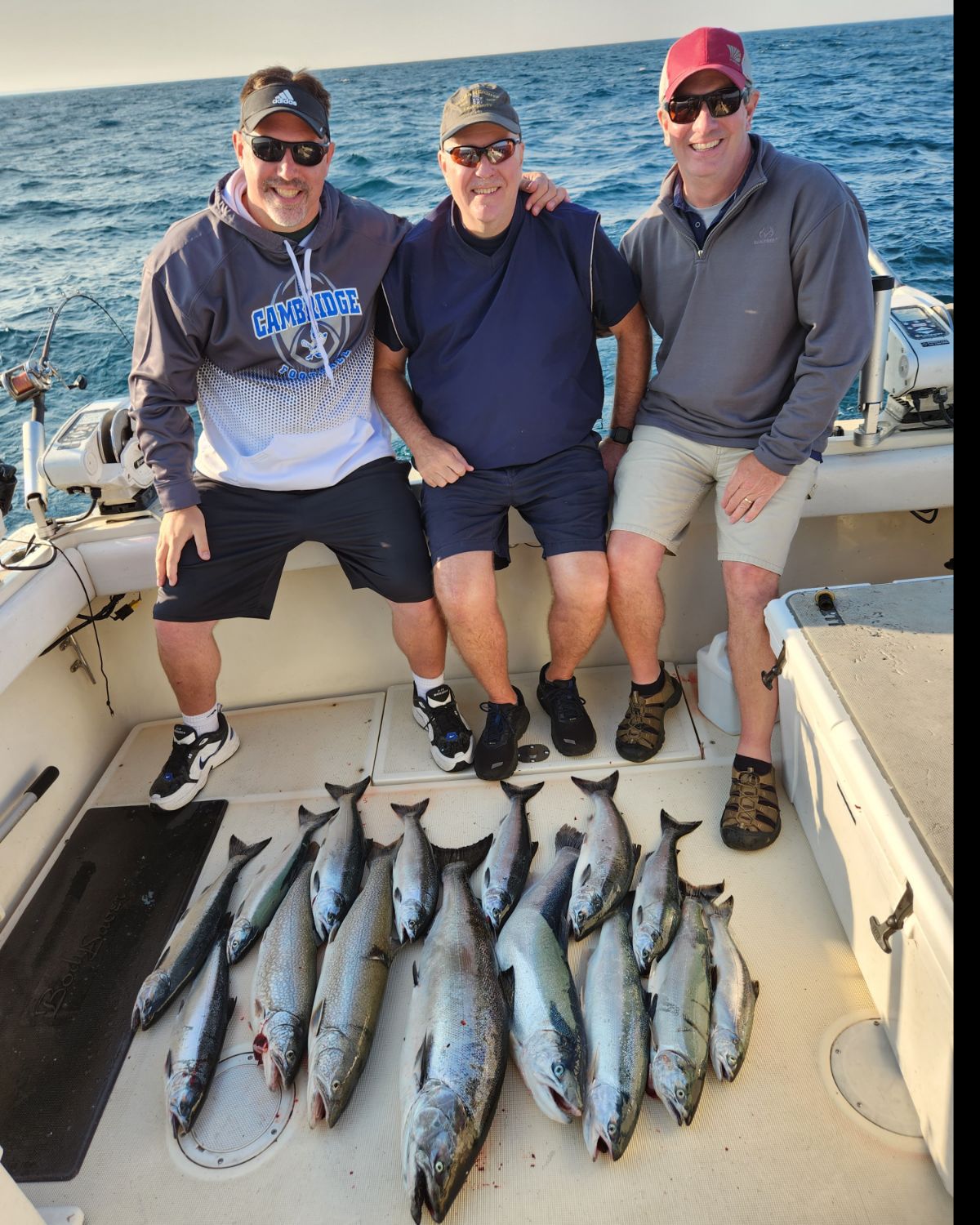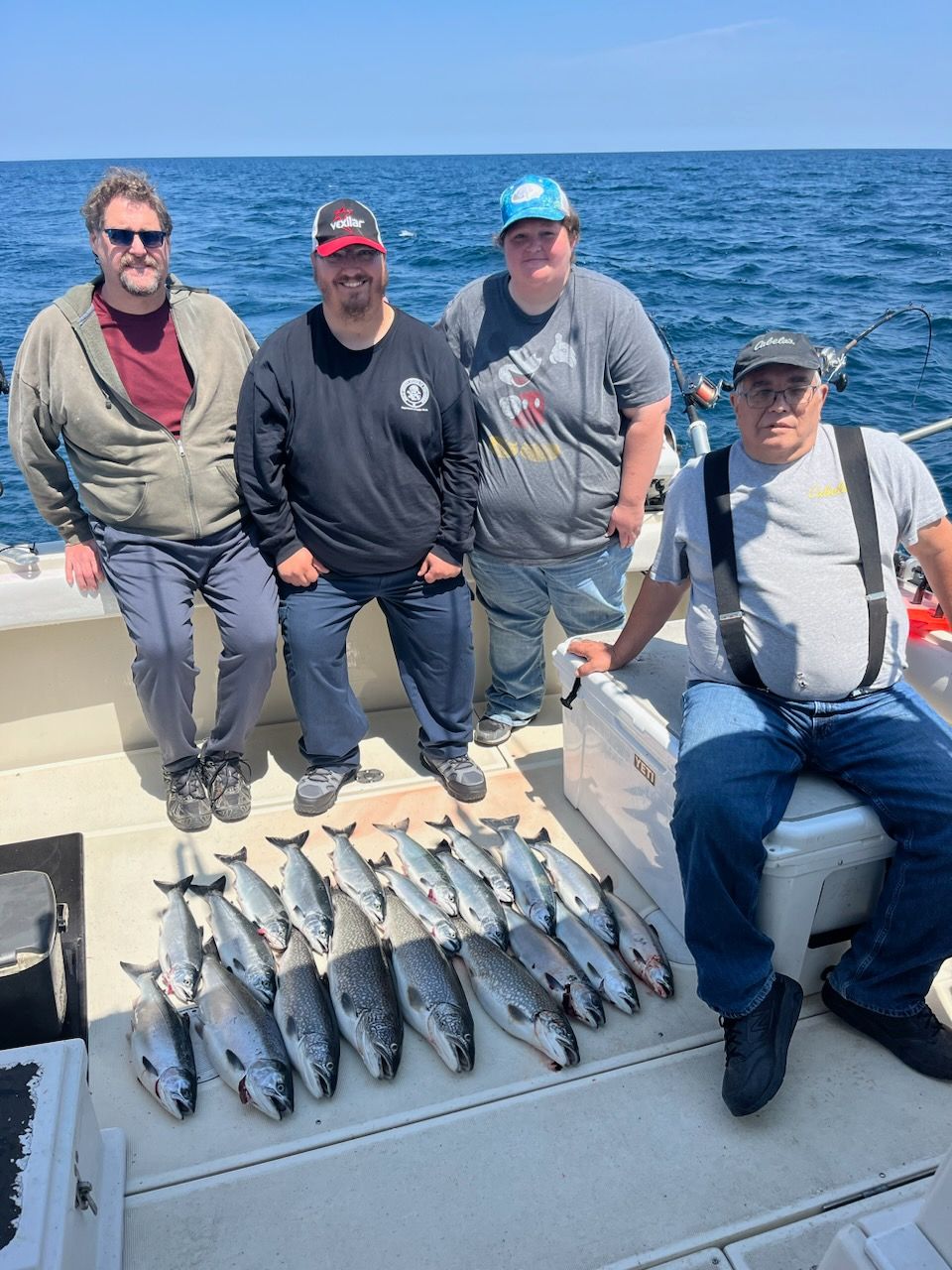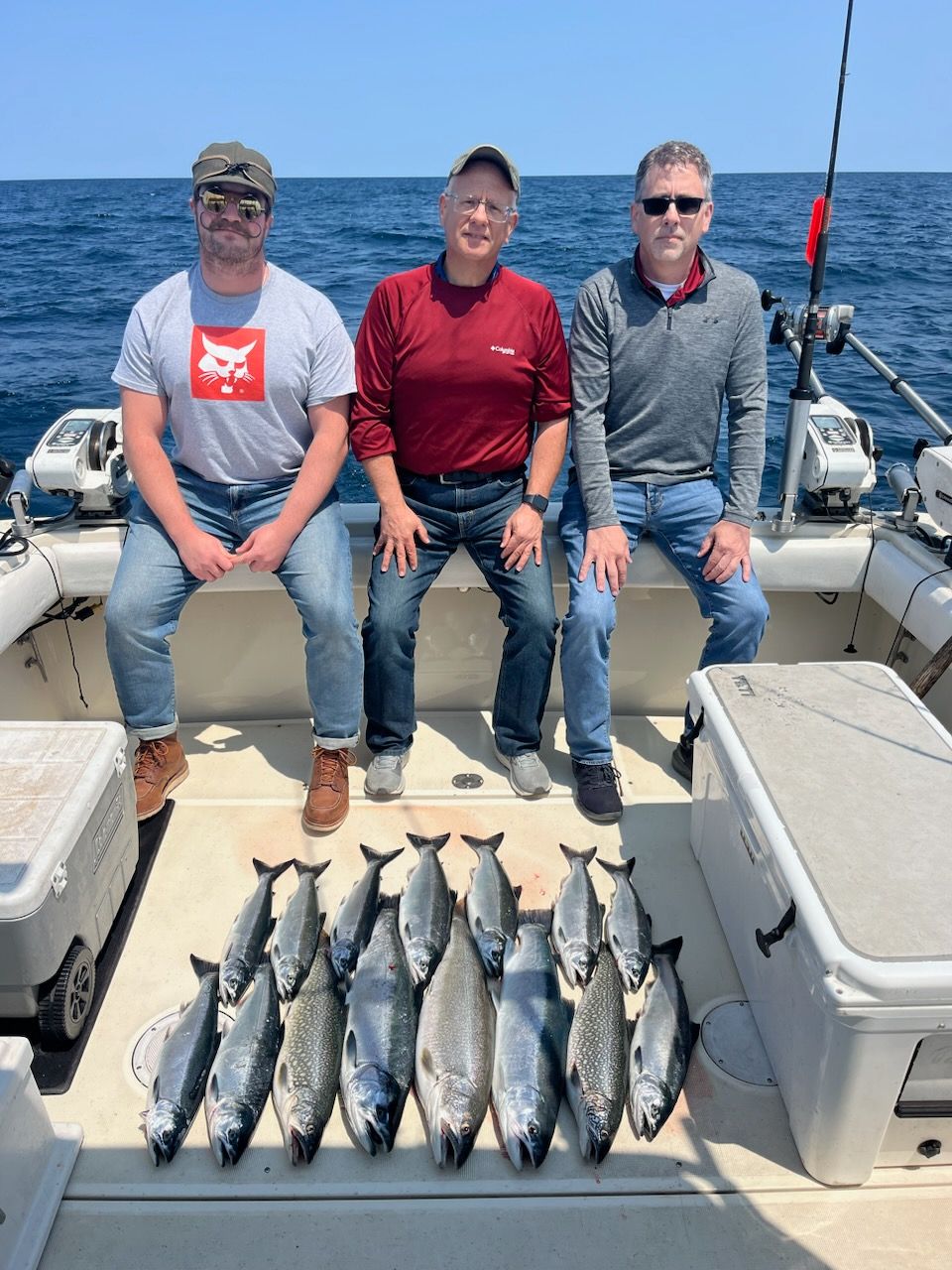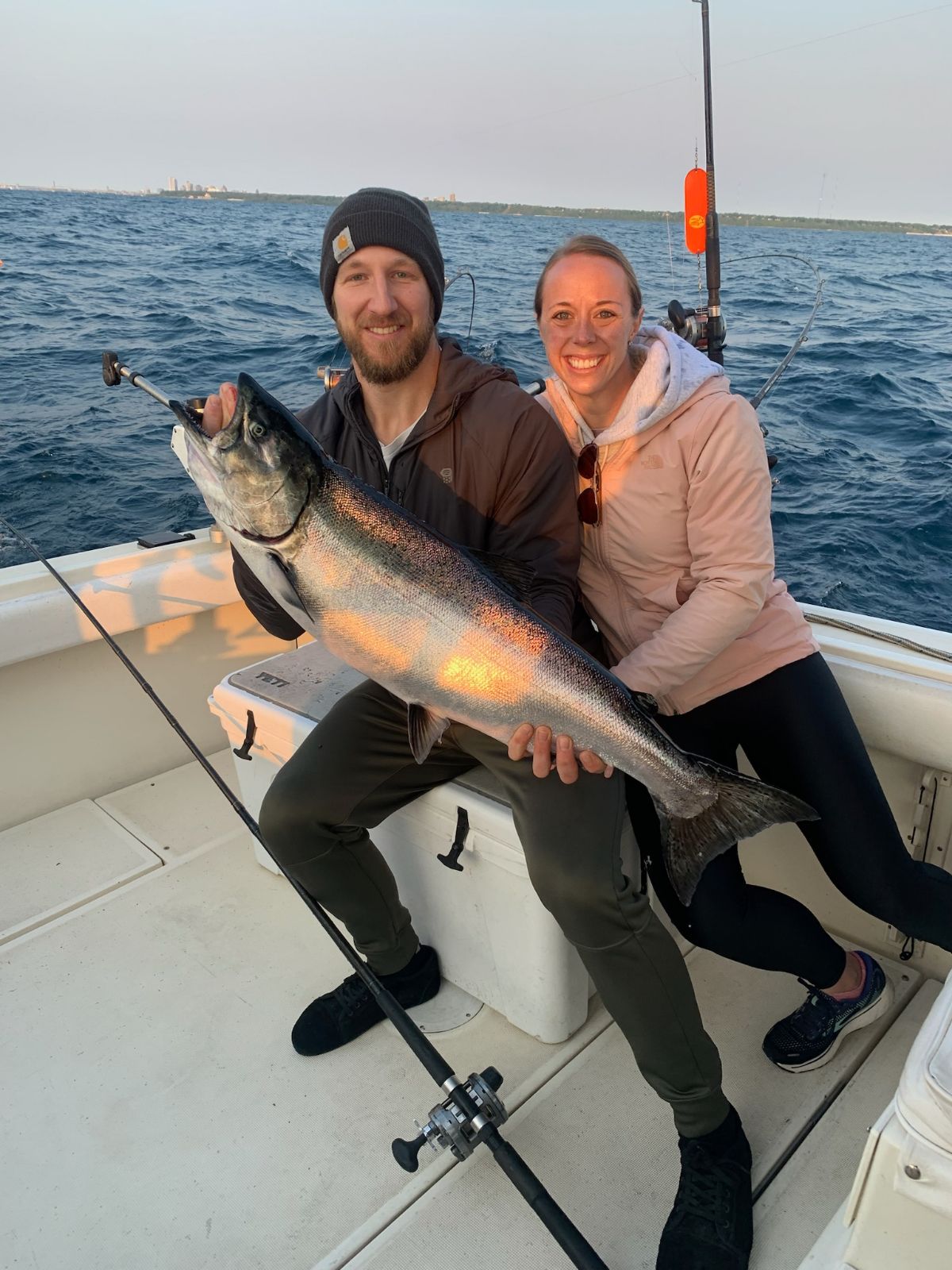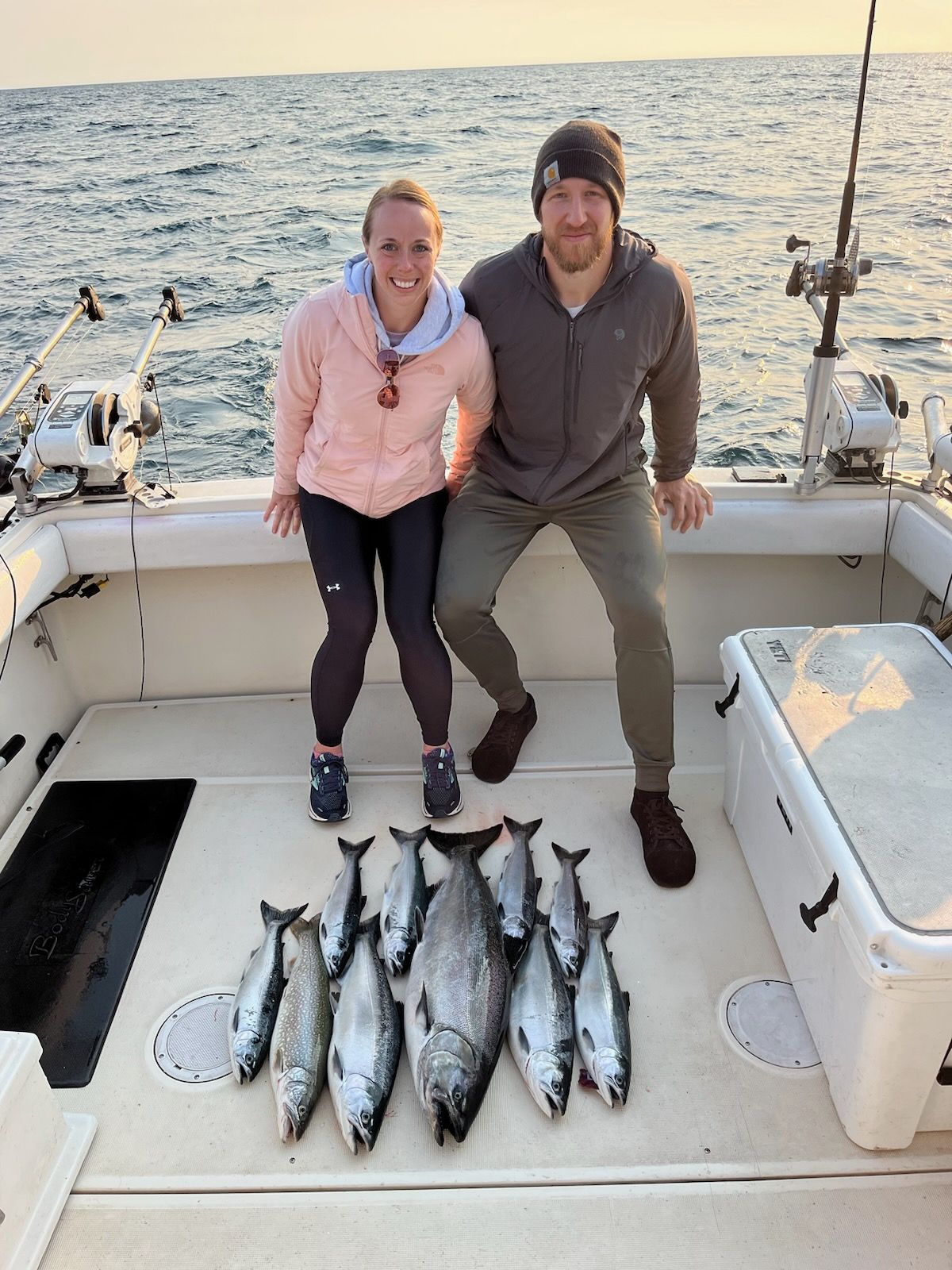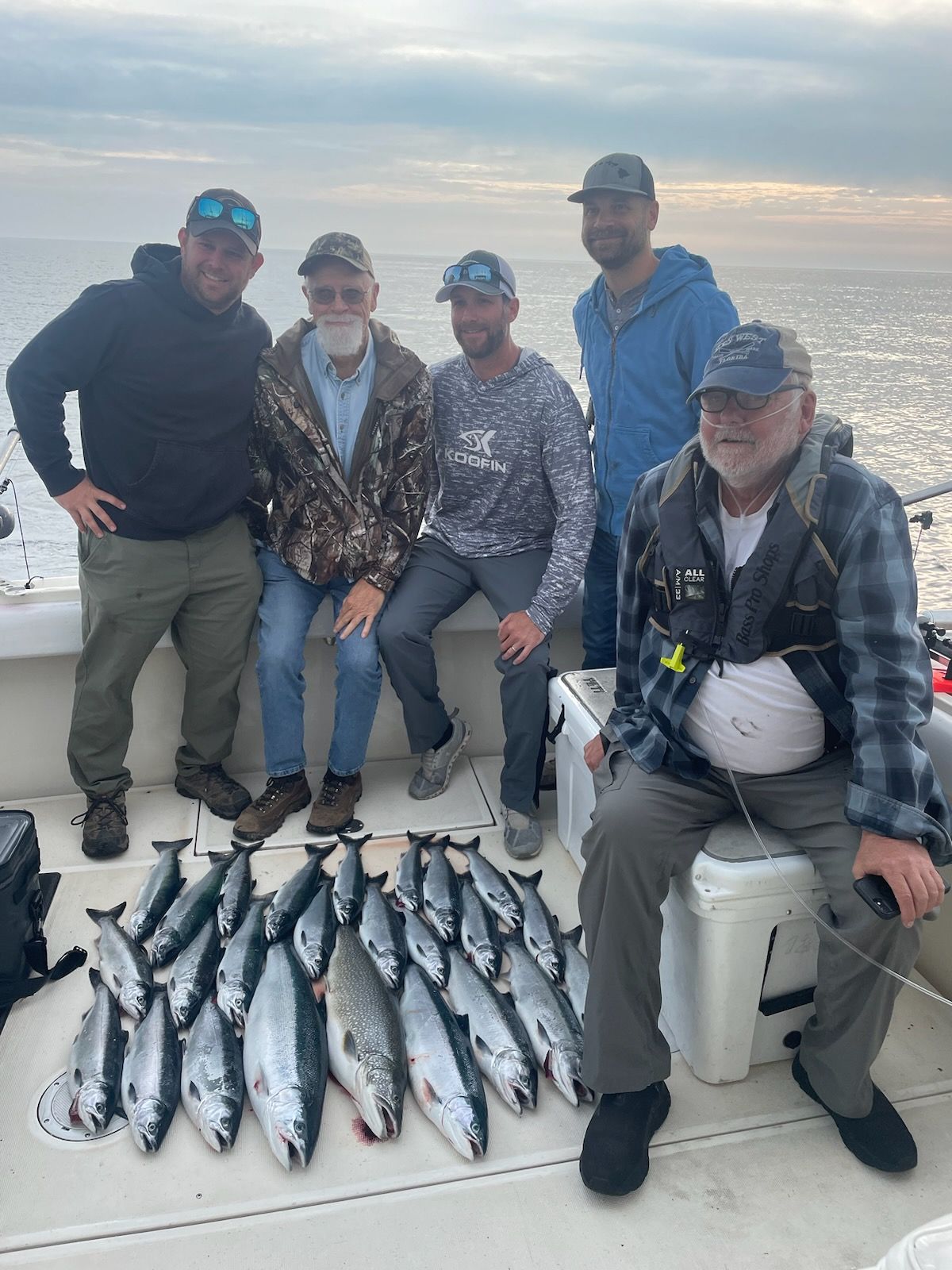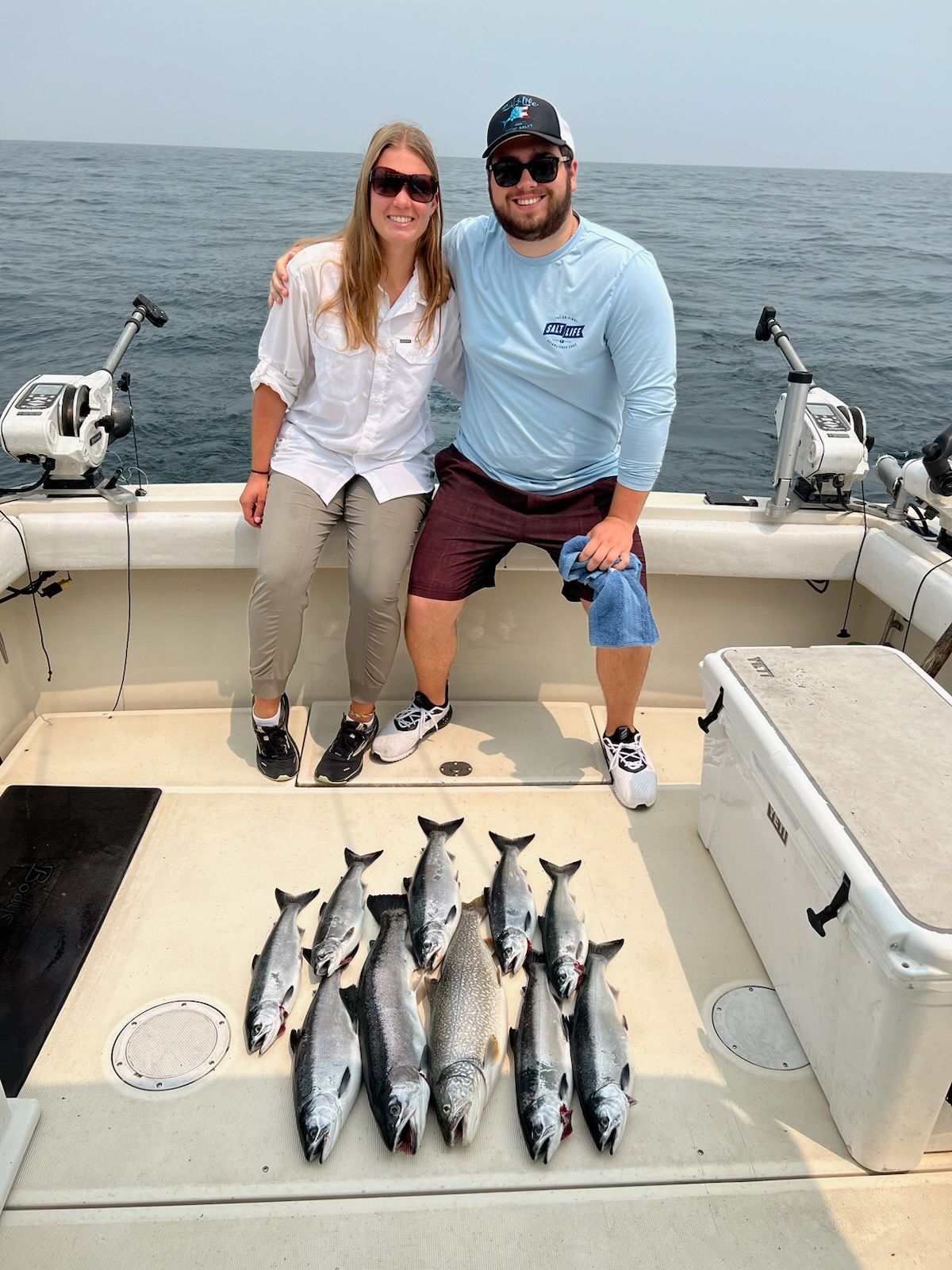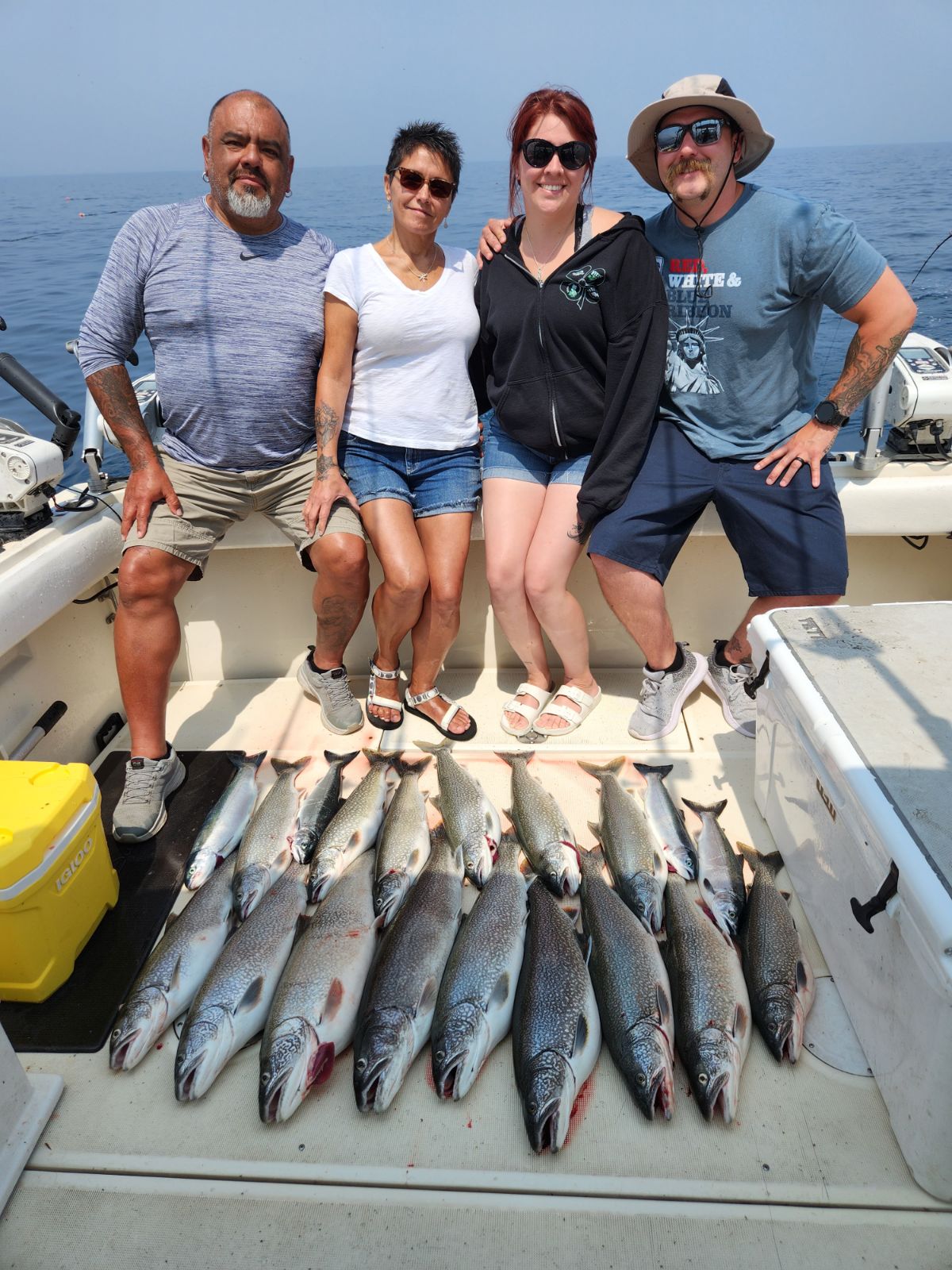 Report for June 4, 2023
Charter Fishing Milwaukee on Memorial Day Weekend is usually one of our best weekends of the year for catch rates. The Coho salmon our in full swing. We had a strong northeaster the Wednesday before Memorial Day and things looked to be set up but we had mixed results. Friday and Monday were good but no wind on Saturday and Sunday hampered the bite. Monday through Thursday we saw some good catches and we had 2 to 5 big Chinook salmon caught on every trip. Several were between 15 to 22 pounds. By Friday we had lost the King bite but Rainbow trout and Coho salmon filled in. We have fished all over. We started in 15 to 25 feet off the shores of Fox Point. Spent time by the North, Main and South gaps. We have spent the last seven days working 43.07 to 43.09 anywhere from 100 to 250 feet of water. Over this period Coho salmon have accounted for 85% of the catch. A few Chinook salmon and Rainbow trout have also been in each catch, along with a Lake trout. We have only boated 14 Lake trout so fat this season. The mature Chinook salmon have been fighting really hard this season. The Coho salmon have been a little smaller this year. The water has been very cold but with calm seas and warm air the last week the surface temperatures have warmed to 62 degrees in places. We don't want it to warm up too fast but it has helped the bite this week.
Flasher and flies on the wire dipsies set at 140 and 170 on the line counter, with regular size divers have been excellent when the Chinooks were around. We also ran downriggers set at 60 and 75 feet down. We ran white pearl coyotes with bull frog Howie flies. We also ran a flasher that Collin developed for Derek's that Colling calls the Cash Cow. This is a chrome blade with green cracked ice tape on it. We cannot wait for Derek's to finish making them. To fish with a bait our firstmate came up wiht and named is cool. The rest of the spread has been mall orange dodgers on the outside boards with 5/8 ounce keel weights and on the dipsies. We have gone back to mono dipsies over wire dipsies over the last four days because the Chinook action slowed down. We are running the inside dipsy at 31 feet and the outside dipsy at 51 feet on the line counter. We have orange stubby dodgers on the side riggers set at 12 and 18 feet. We also use this set up on a 3 color leadcore and 75 foot copper. These have been very good for us. We have run some 175 to 300 coppers with gold hud and blue dolphin spoons on them but the orange set ups have been better. We have the Willy fly peanut size on everything.
The Coho salmon bite should stay good and stay in the mix though June. We could use a little west wind though. There are more Chinook salmon in the lake then there has been for several years. This should make for a good summer. We have not had much in Lake trout action this year but they will start to be more in the mix at the back end of June. It is good to see some early Steelhead action too and this cold really help out this summer. Silver King Charters has spots open in June and July, so call 414-460-1467 to get in on some good salmon and trout action charter fishing Lake Michigan. Below are some pictures of catches over the last ten days, including a 22 pound Chinook. There is a 9 year old who caught a 19 pound Chinook and a 10 year old who caught a 15 pound Rainbow.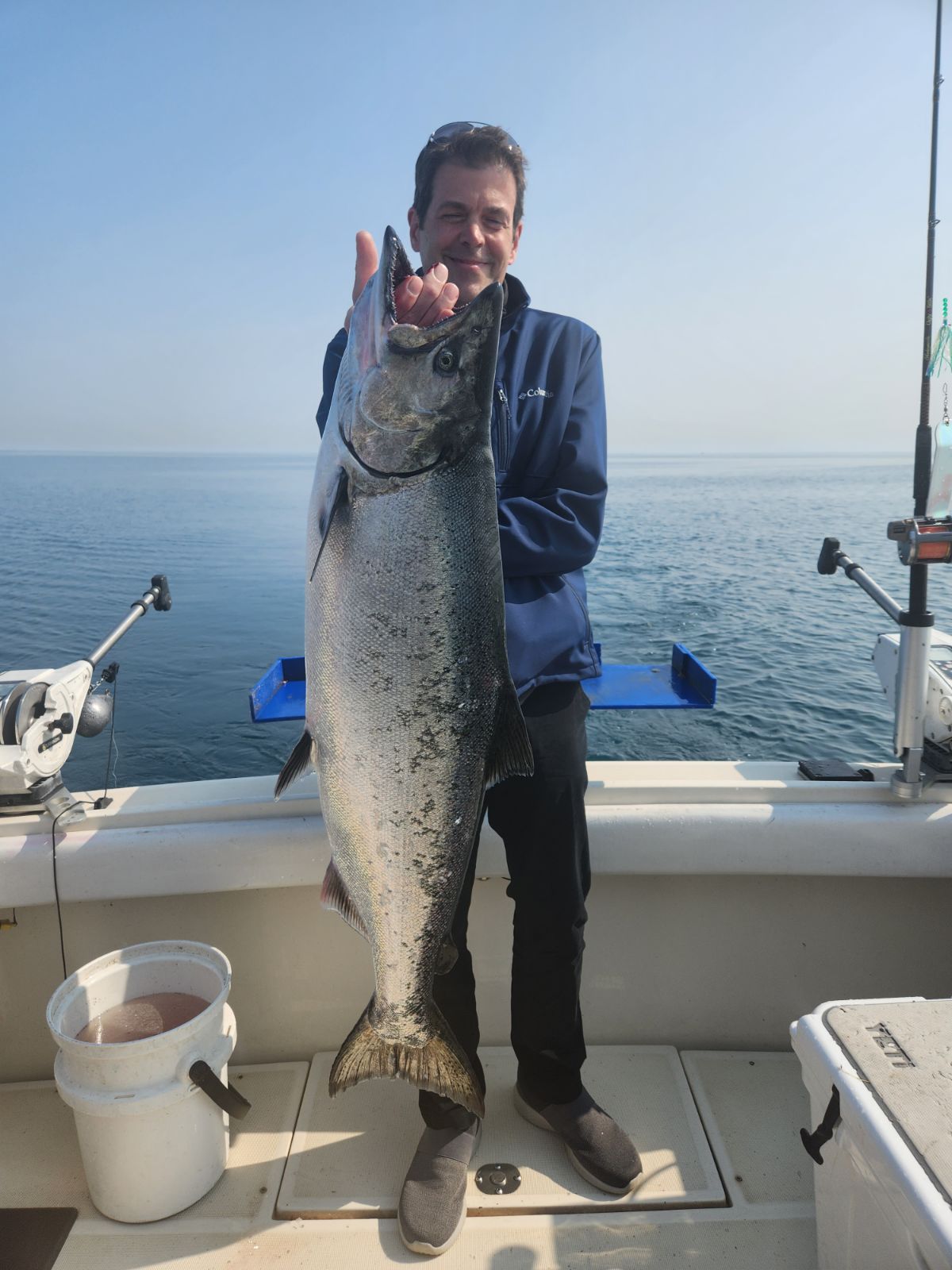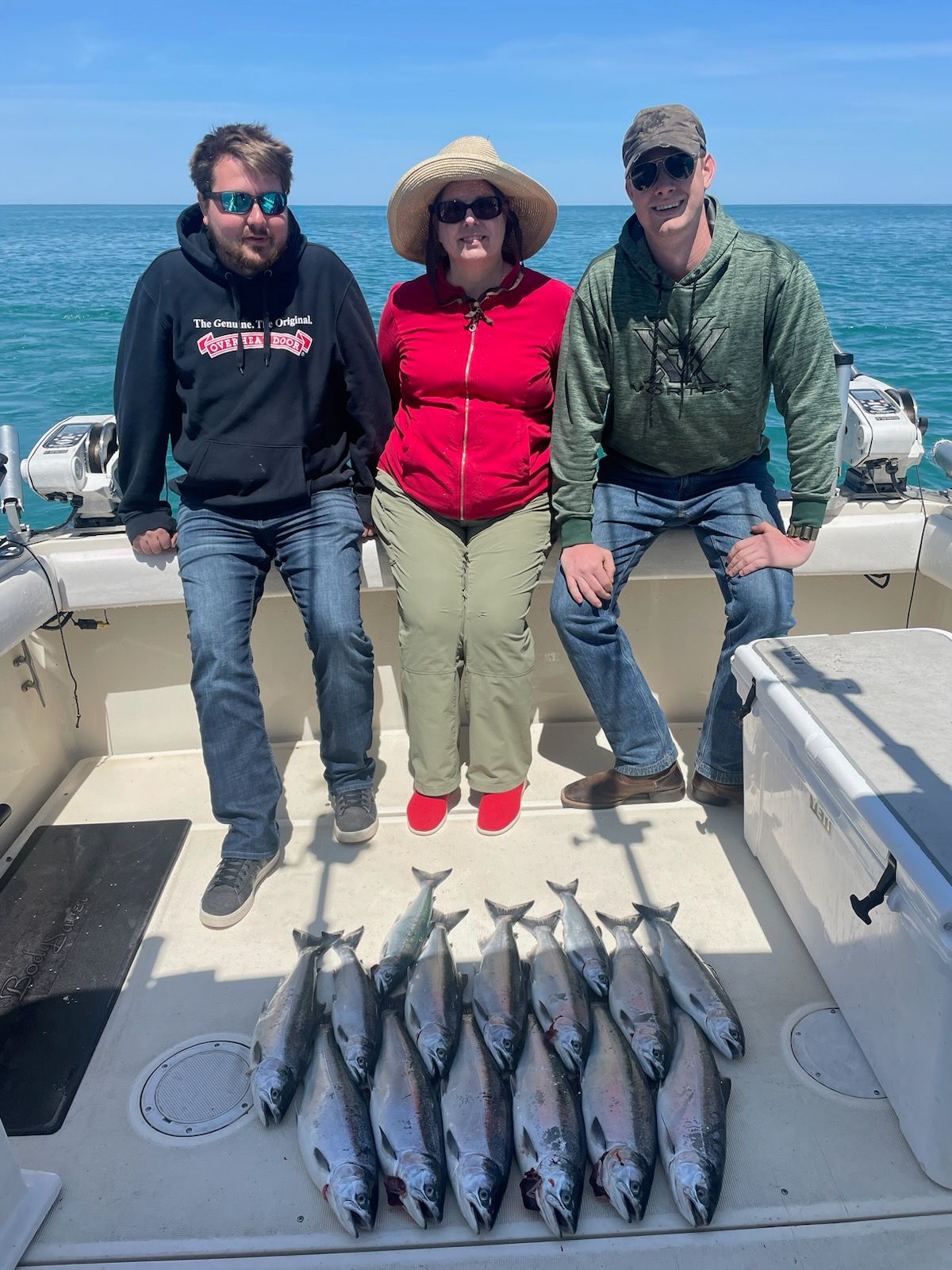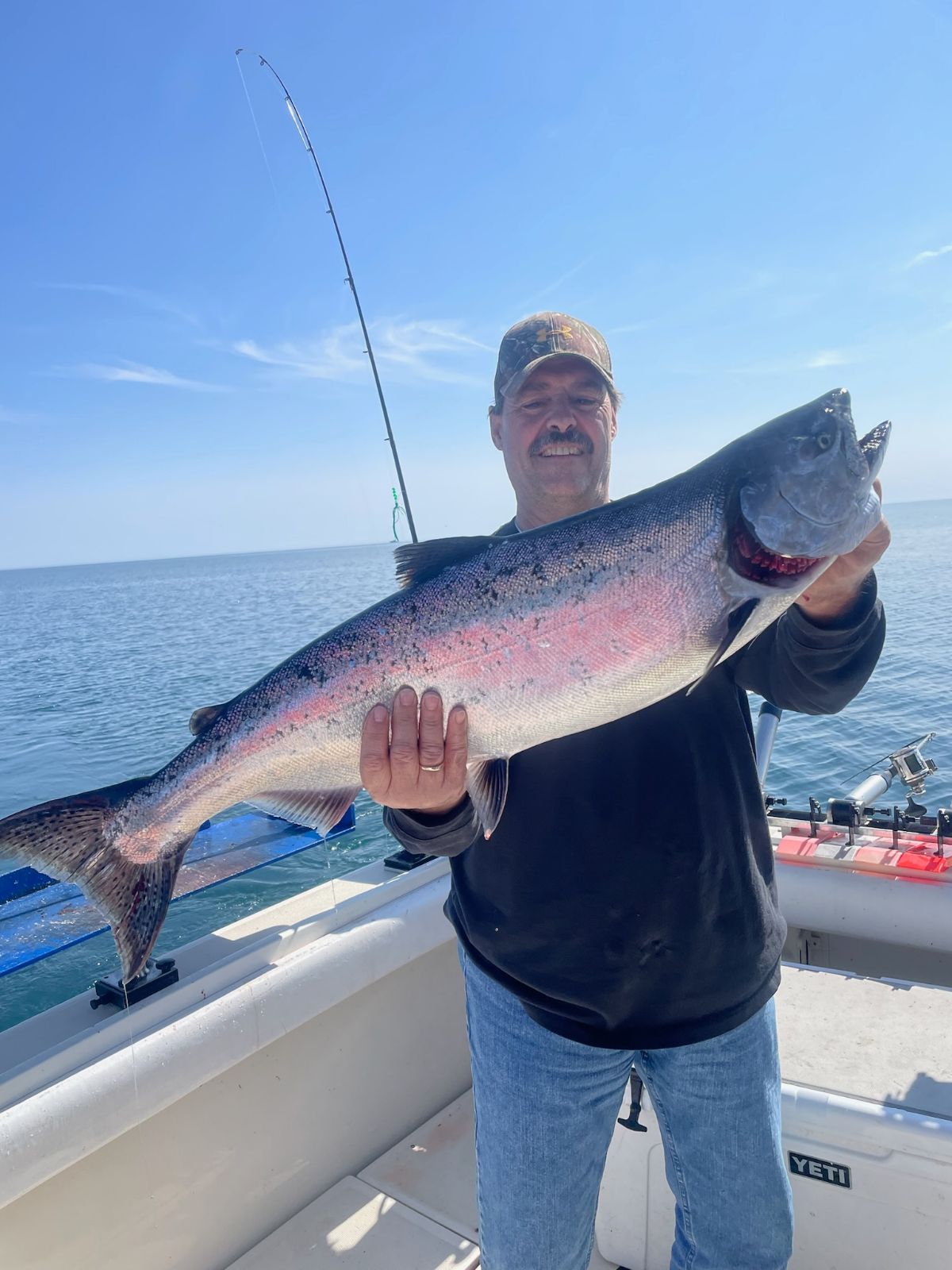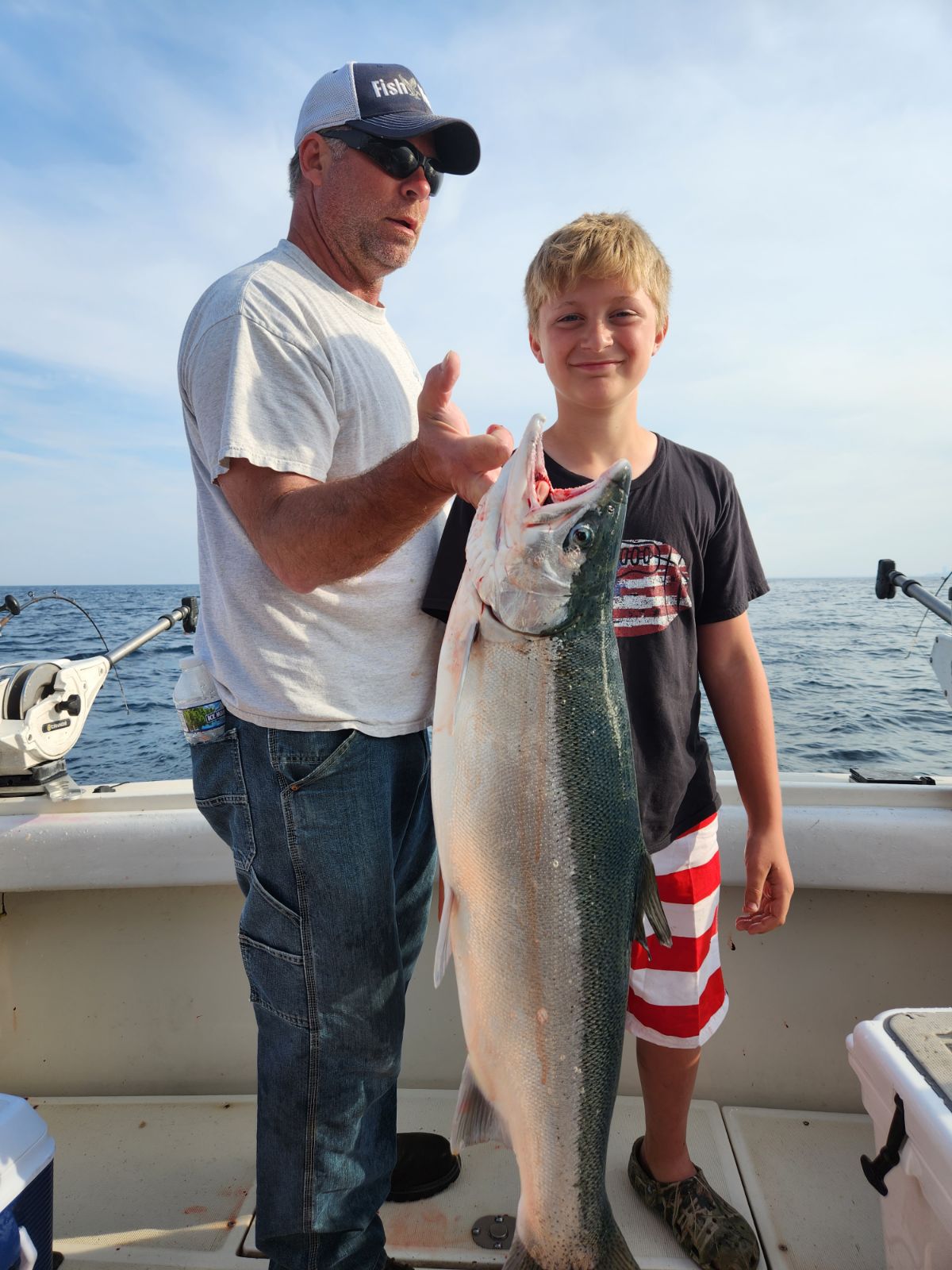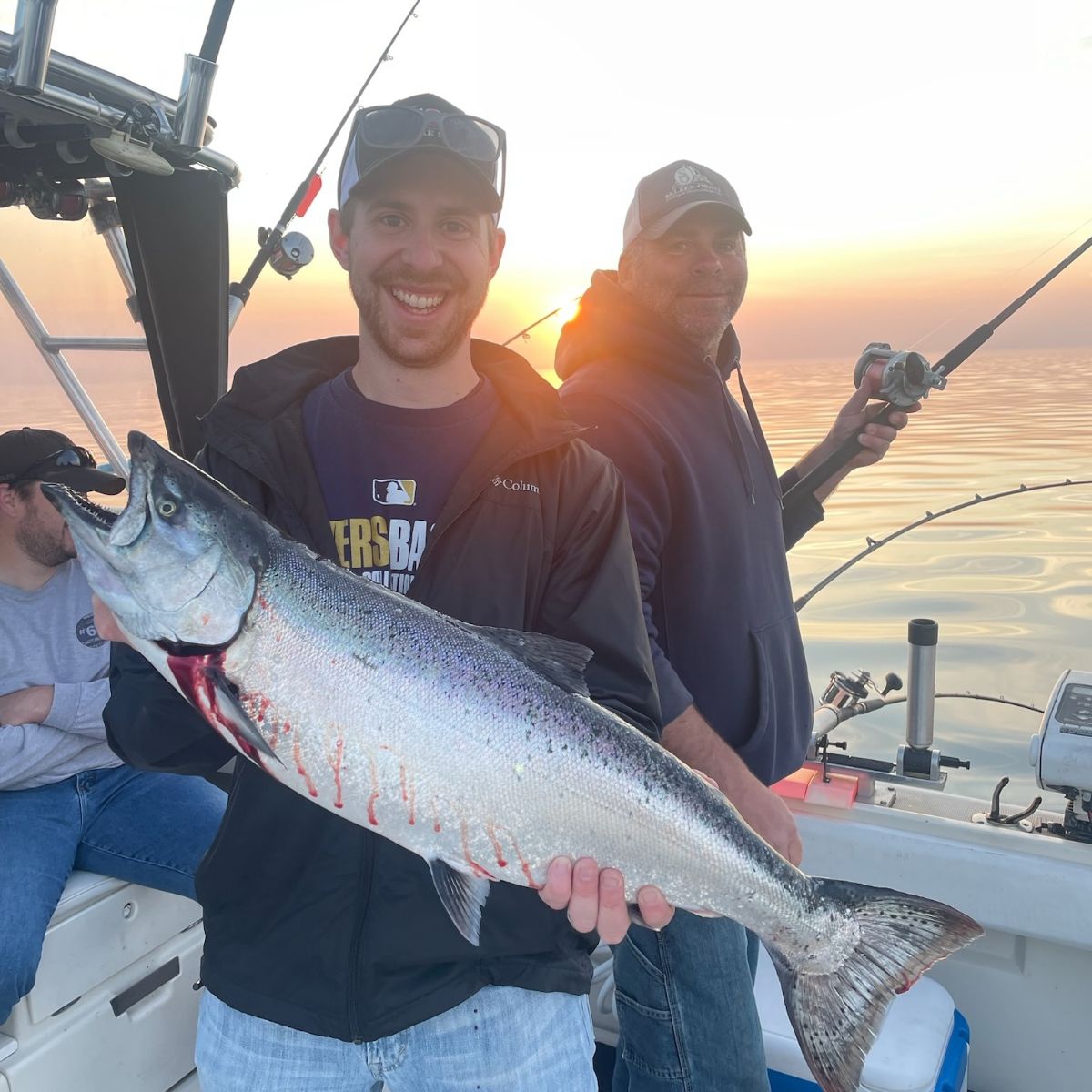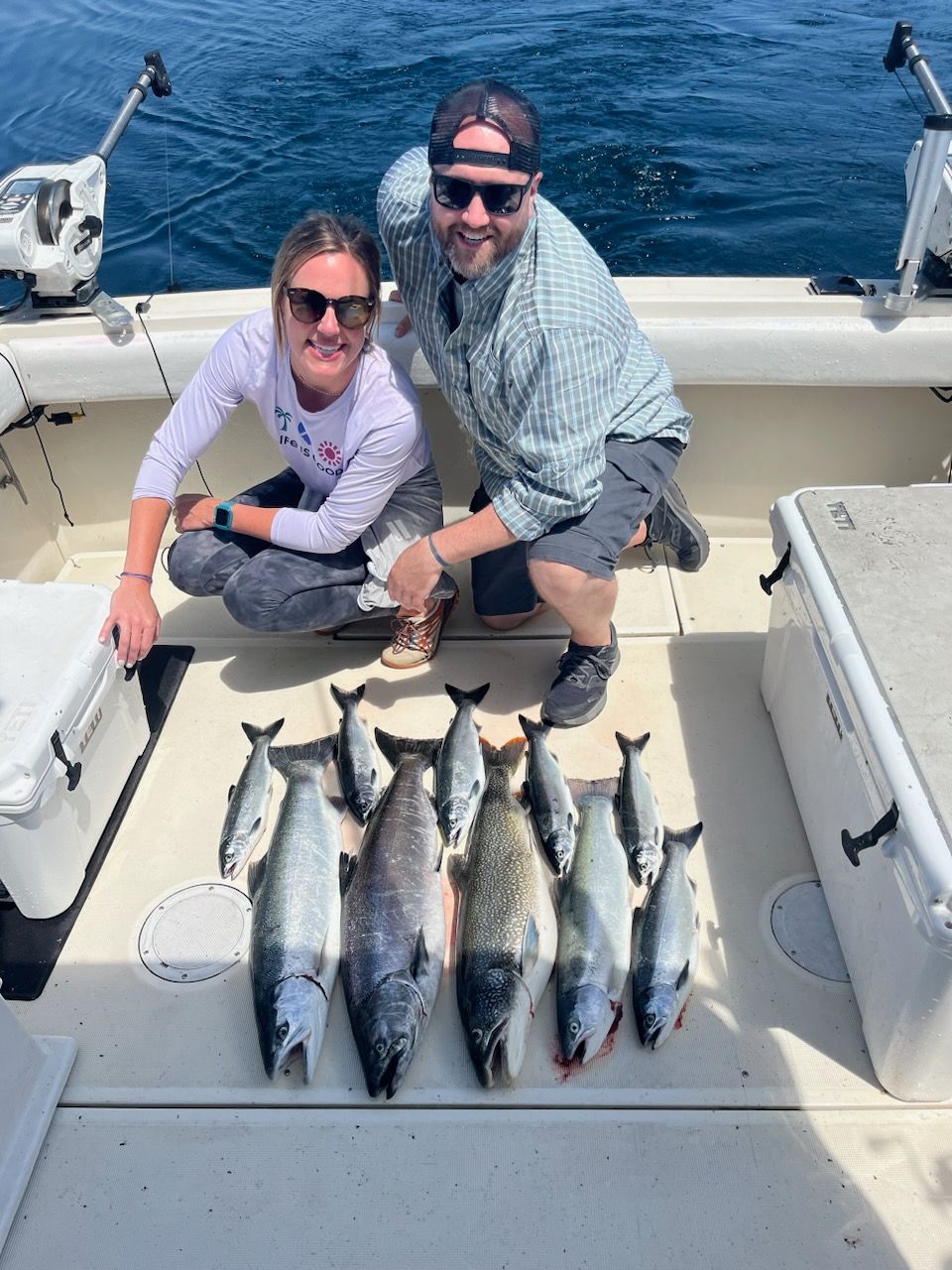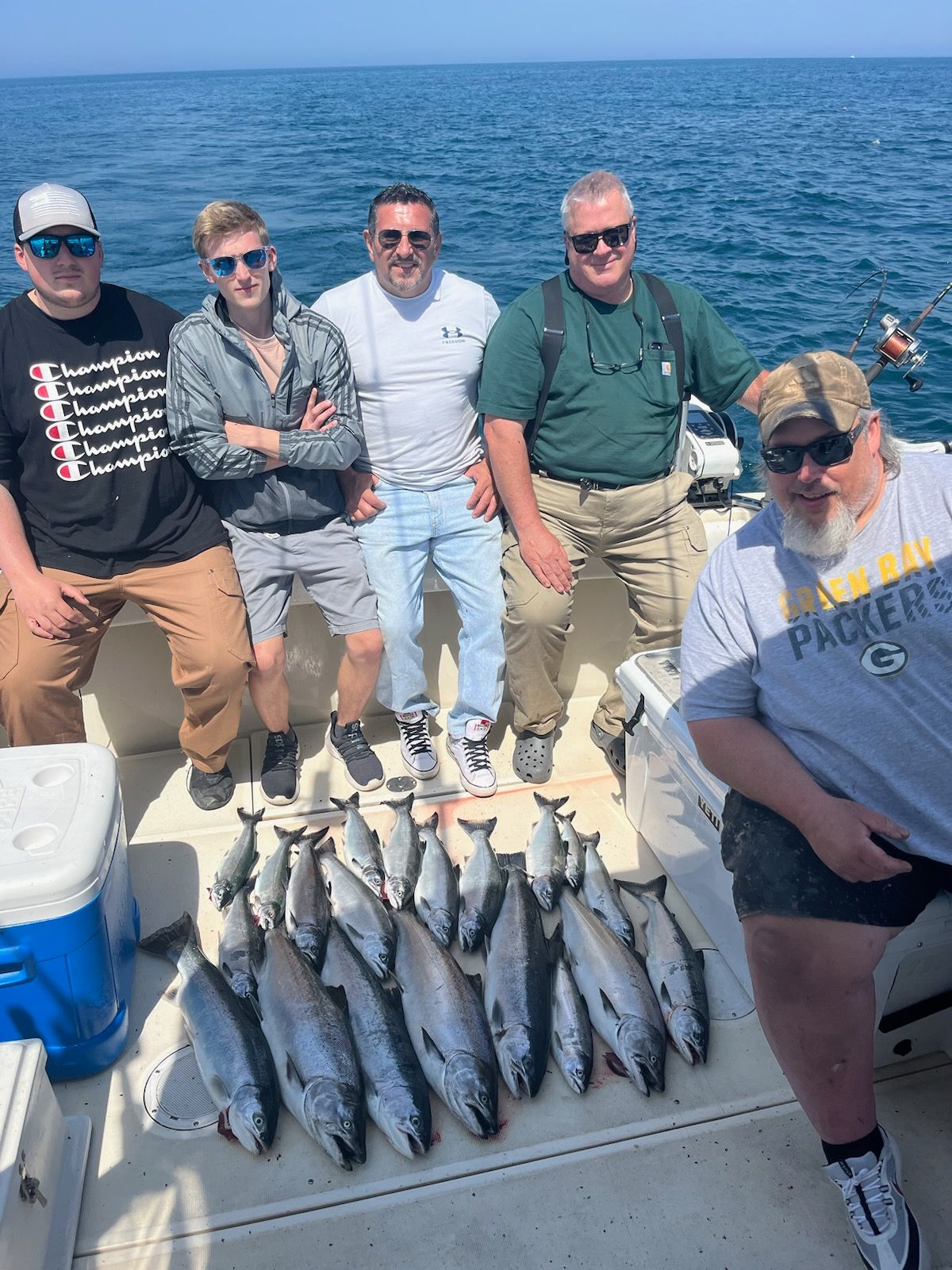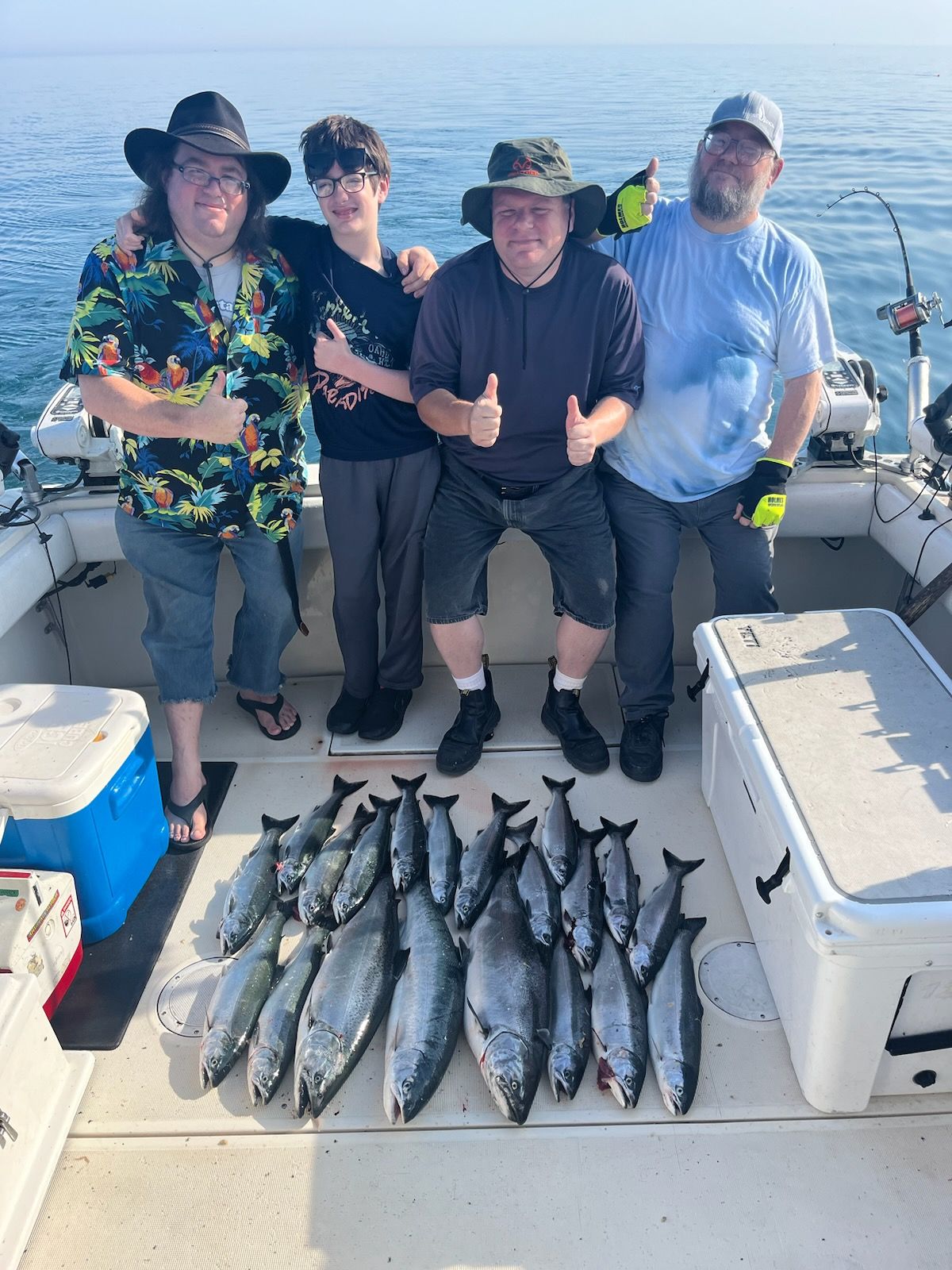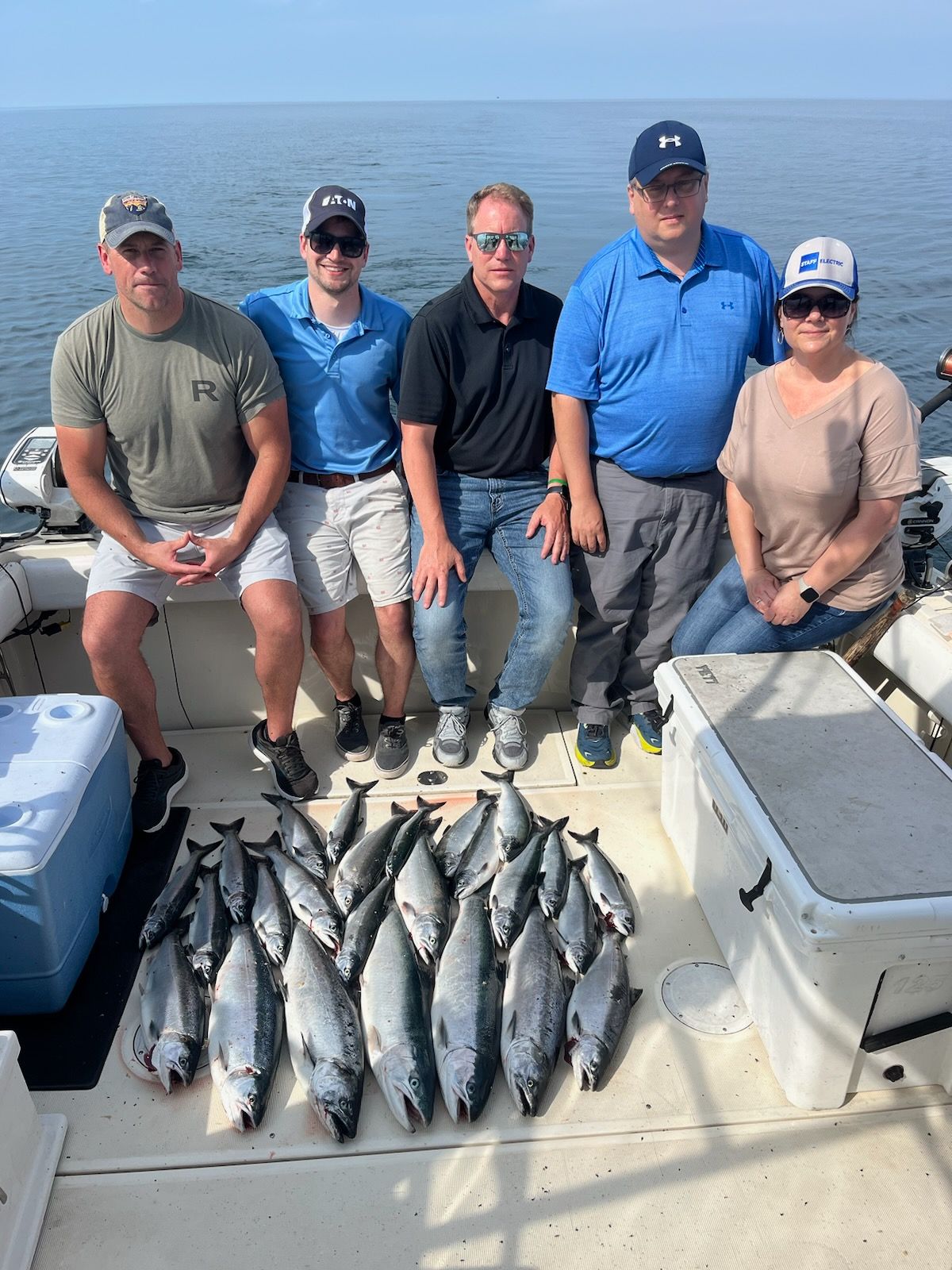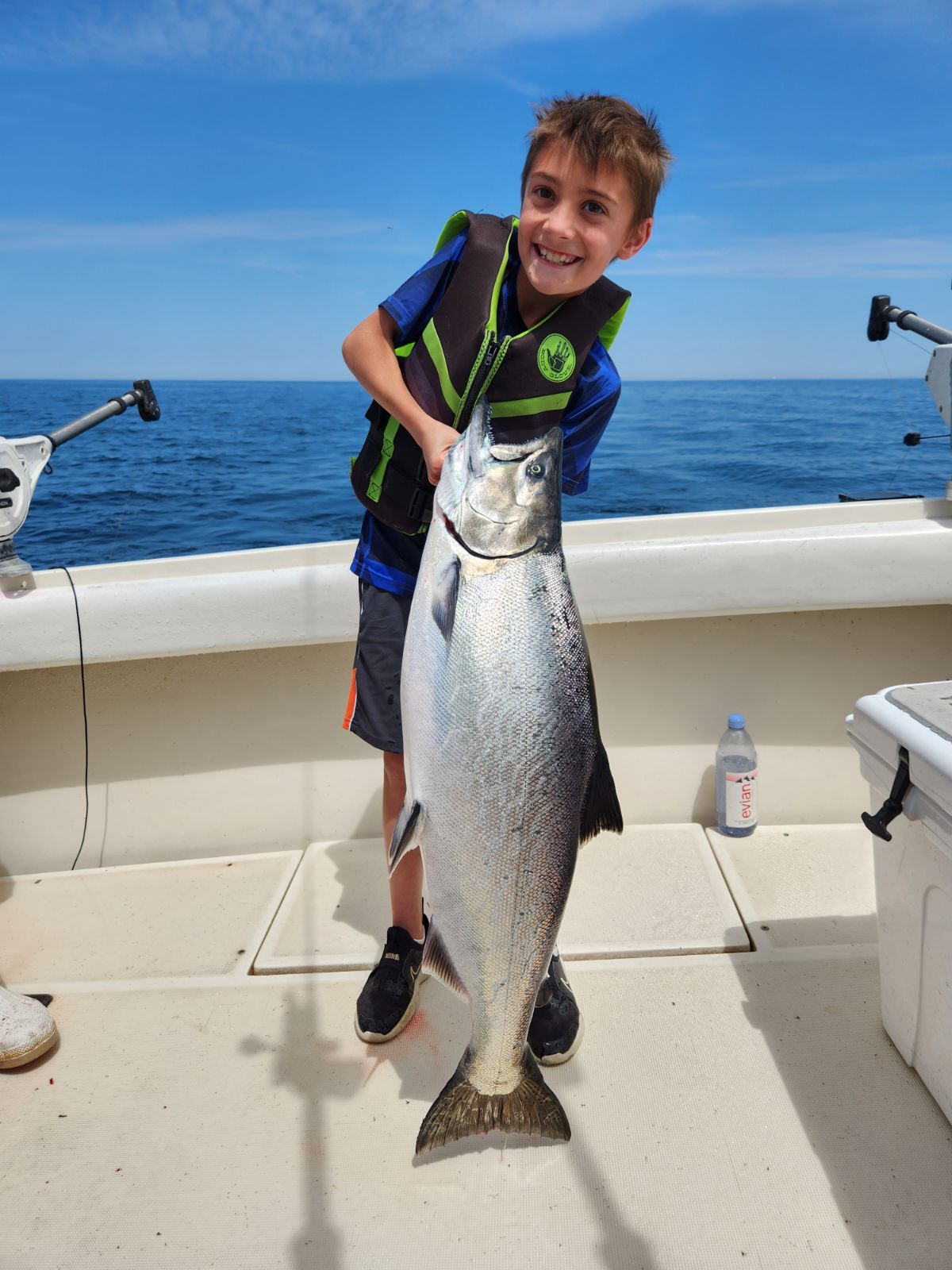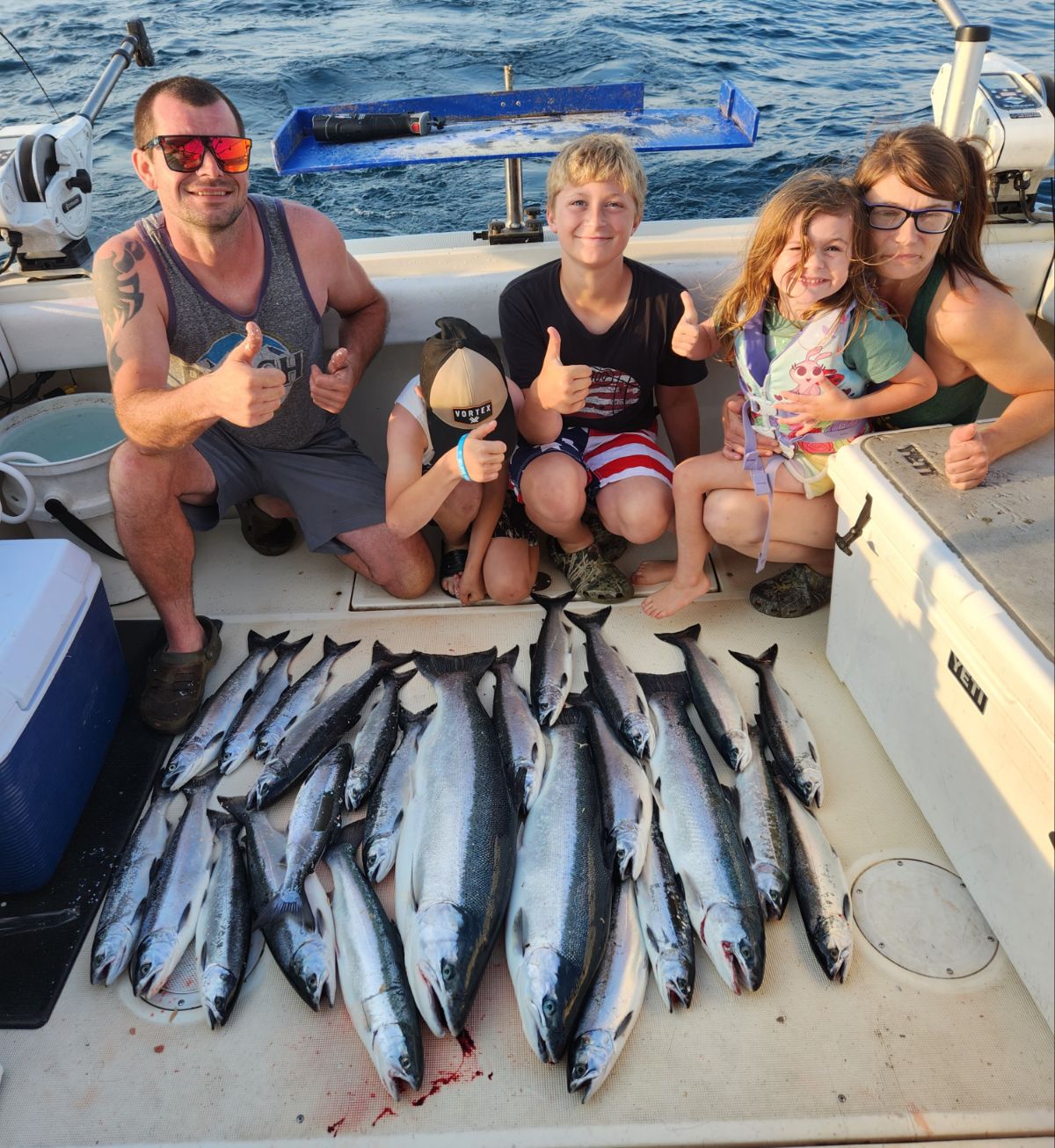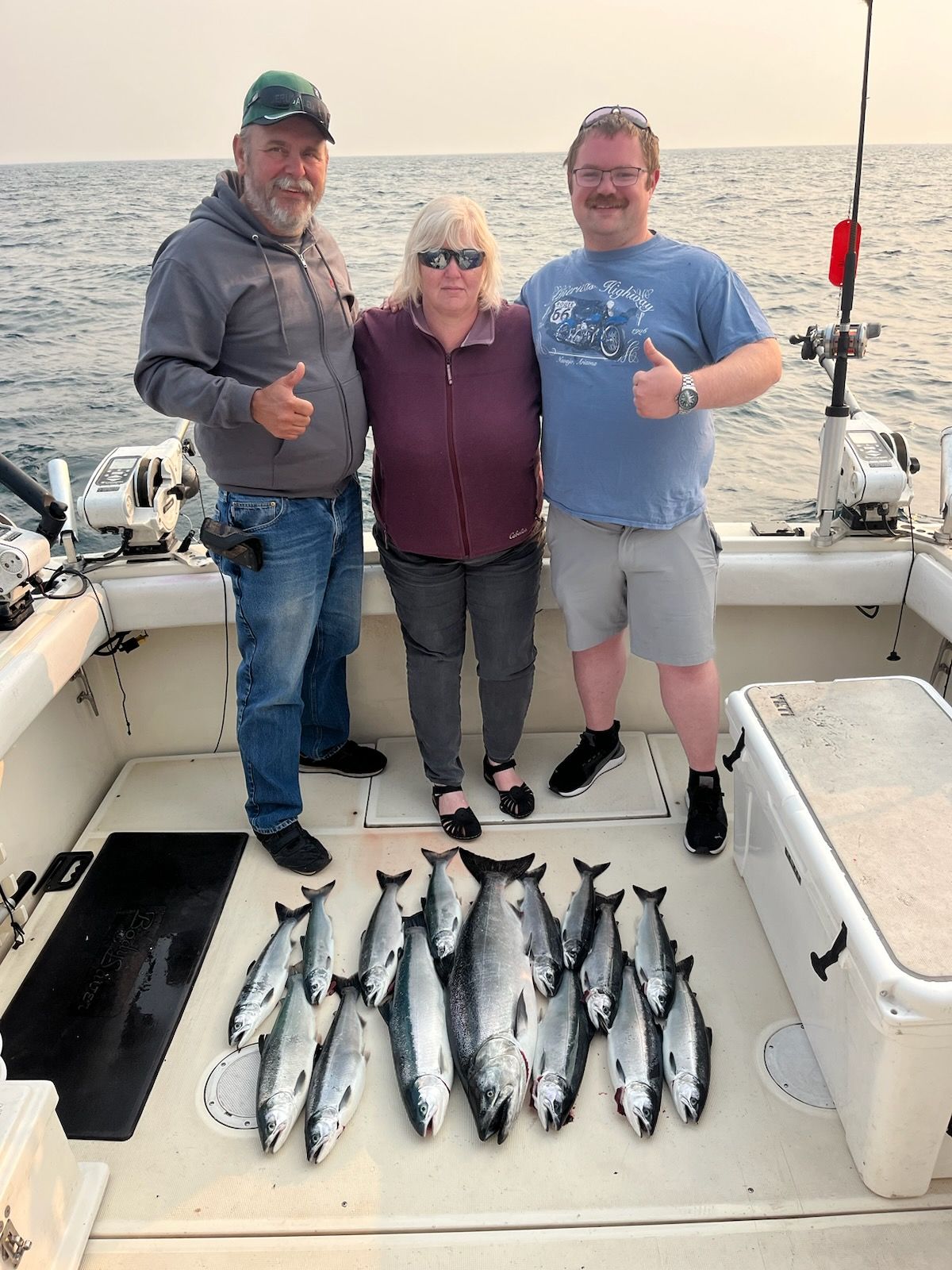 Report for May 22, 2023
Milwaukee charter fishing is at the beginning of the best time of year for Coho salmon. The action has been very good in the southern end of Lake Michigan and we have had some very good days out of Milwaukee starting early this May and the best is yet to come. There has been good Coho action in Port Washington and Sheboygan as well. So there are a lot of Coho salmon out there. Over the past two weeks we have been all over the place to find a good bite. We started at the boils in Oak Creek, Wisconsin. This has been a good spot due to the cold water that is around. We have been fishing the north gap of the Milwaukee harbor and the beach north of that. We have been out in 180 to 230 feet of water straight out of town. We have also fished the shore north of Big Bay park. With the exception of when we fished deep the action has been in 10 to 25 feet of wat4er. The water has been between 44 to 50 degrees and this has made things a little tough but we have had a lot of limit catches and for the most part double digit catches. The Coho salmon have been a little smaller than last season but last season they were exceptionally large.
We are running all mono lines on the boards with 5/8 ounce keel weights and orange double )) dodgers on one side and Orange B&B dodgers on the other side. All these lines are 2 to 8 feet under the surface. We have small size peanut flies on all of these set ups. We like the blue/green/gold, 7 up, green and the Willy fly the best. We have a braid dipsy dialed in at 15 degrees and a mono dipsy dialed in at 30 degrees. Each has a double )) orange dodger and peanut fly. When we are fishing shallow we only use two downriggers, with an orange dodge on one side and a orange stubby on the other side. When we find Coho salmon the spread is very effective.
We expect the Coho bite to get better, with some fantastic fishing at times. The water needs to warm up a touch and a big northeast wind would not hurt to help bunch fish up. There is one coming Wednesday and this could really help Memorial Day weekend. We still have some spots open in June to get in on some great Coho salmon fishing. Call Silver King Charters at 414-460-1467 to try Lake Michigan charter fishing for salmon and trout. Below are some pictures from the last couple of weeks.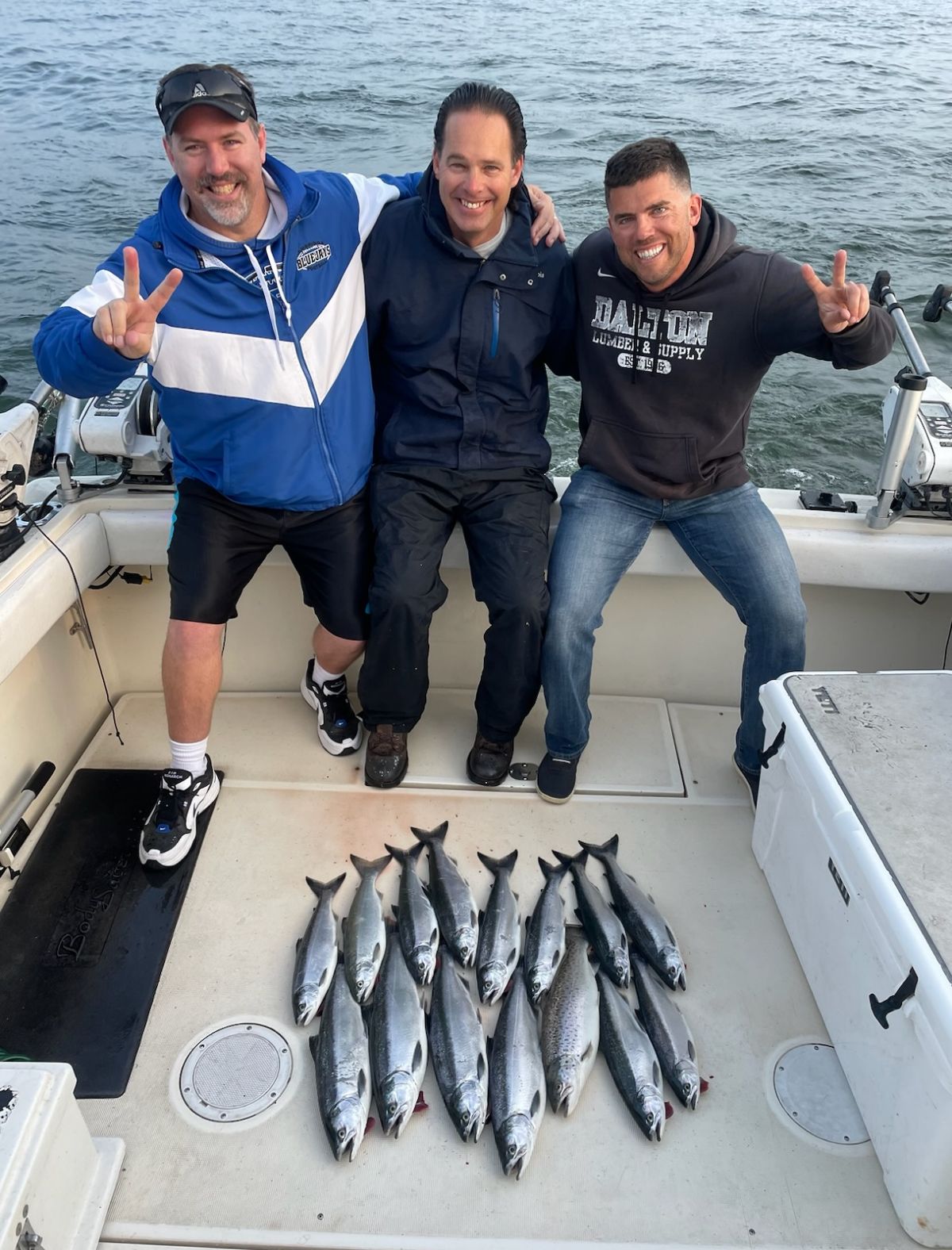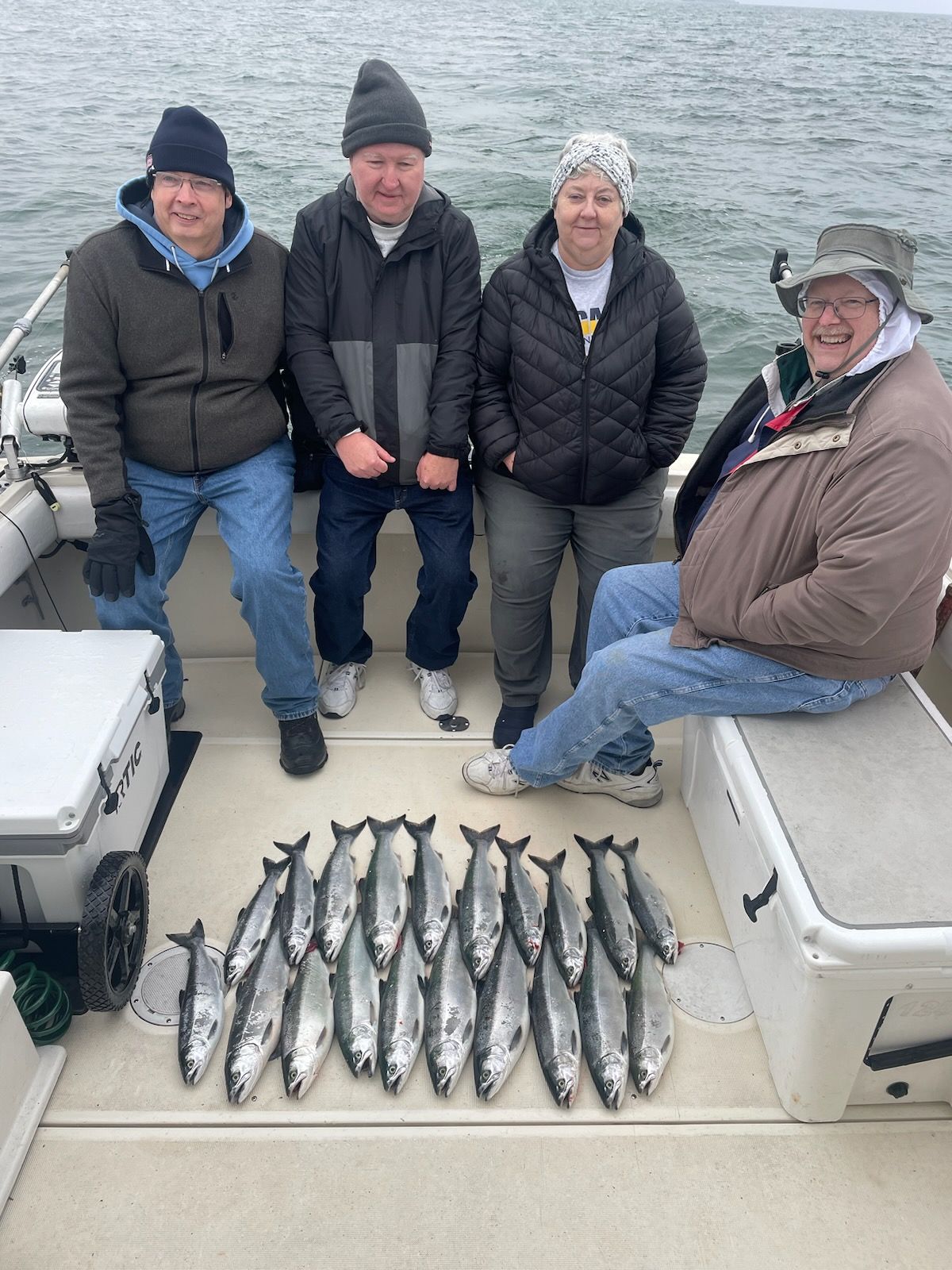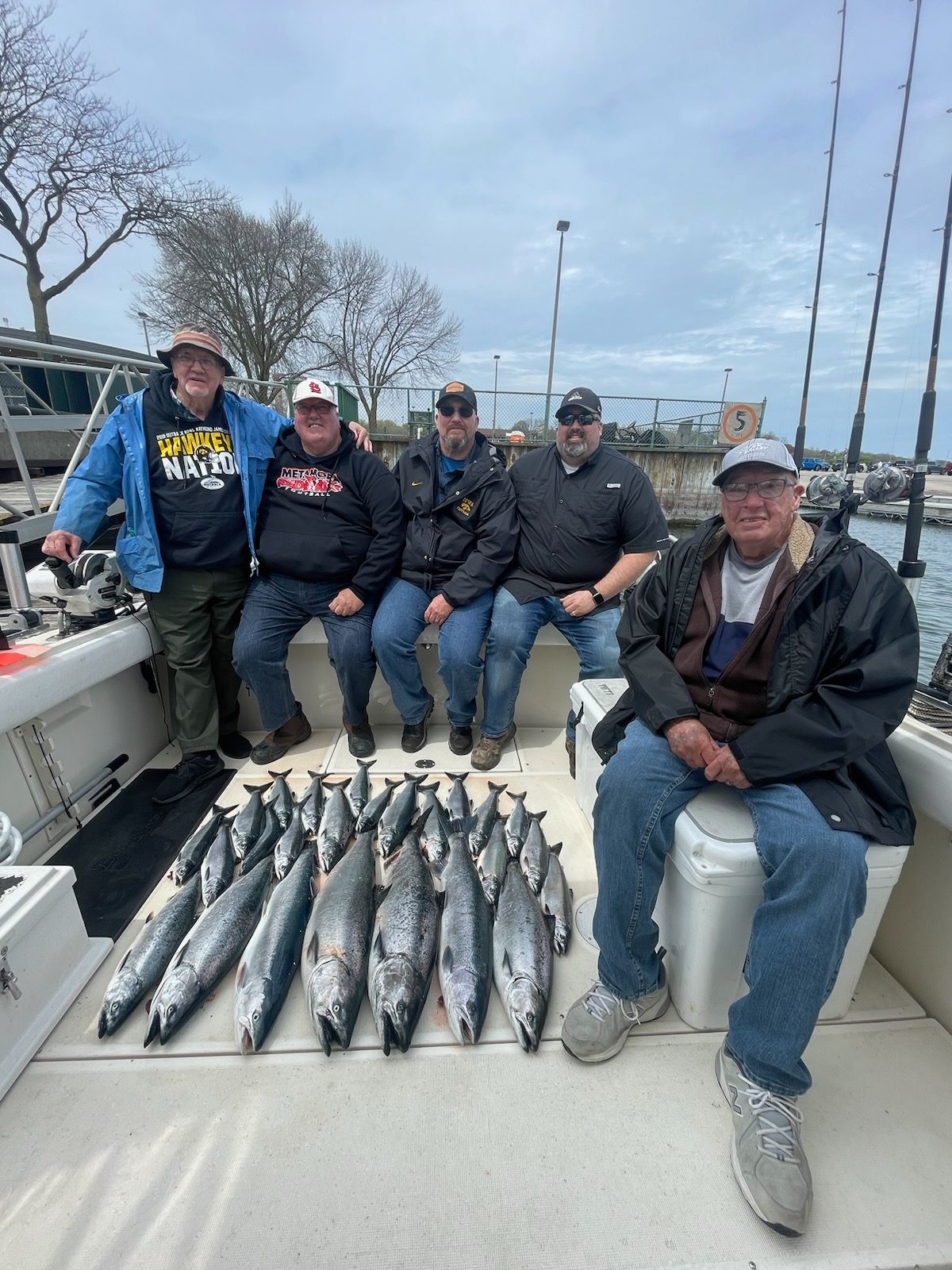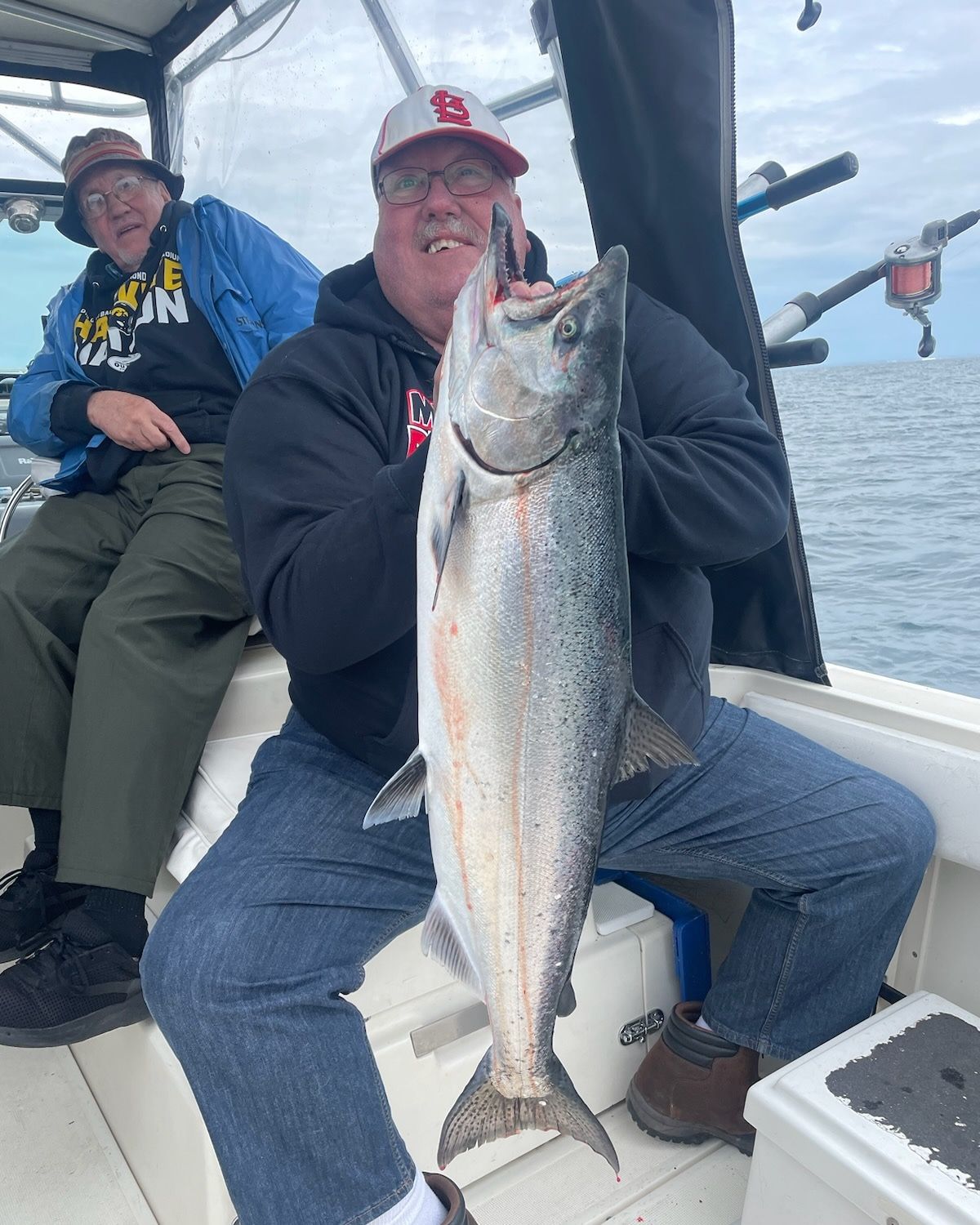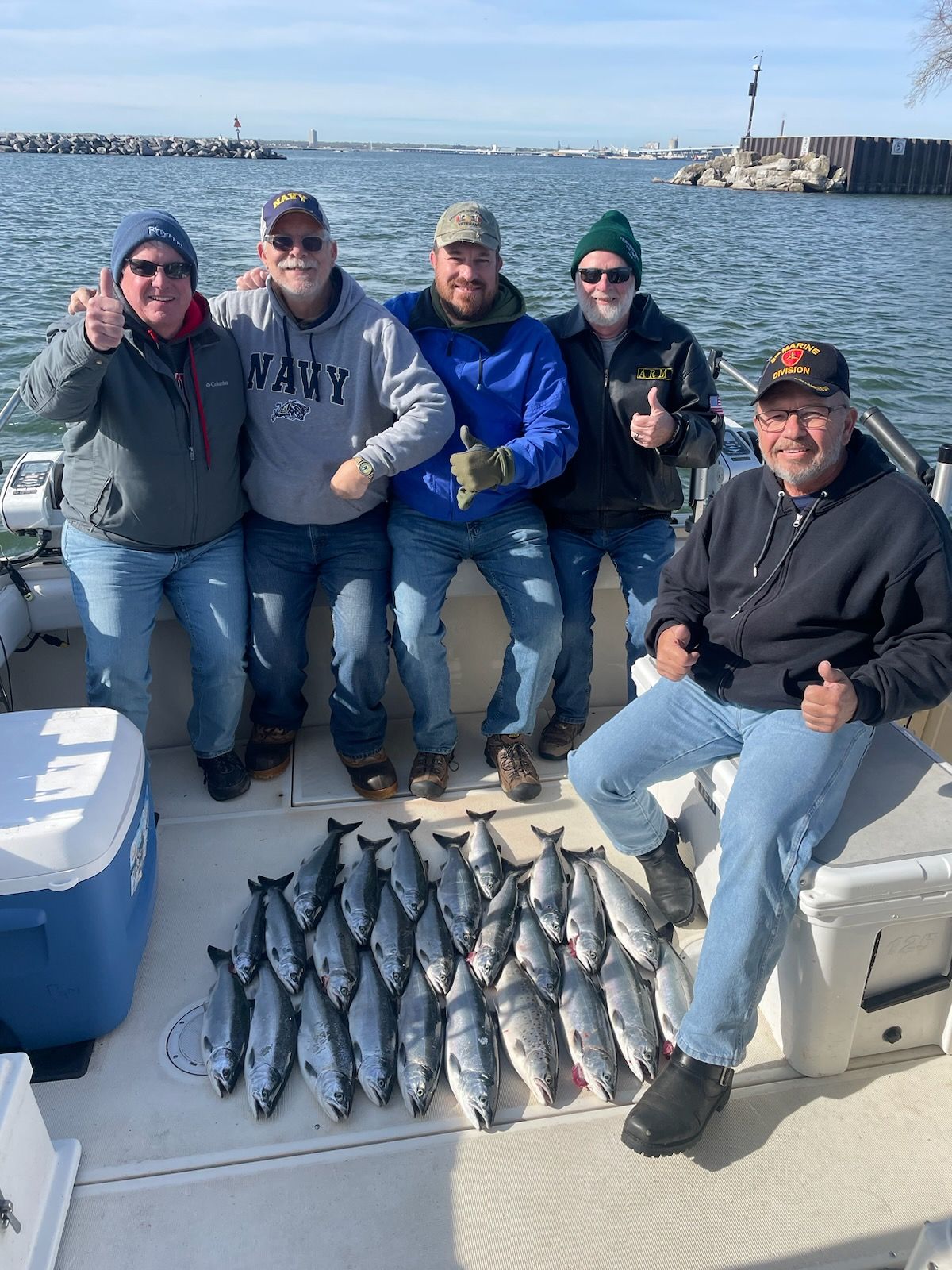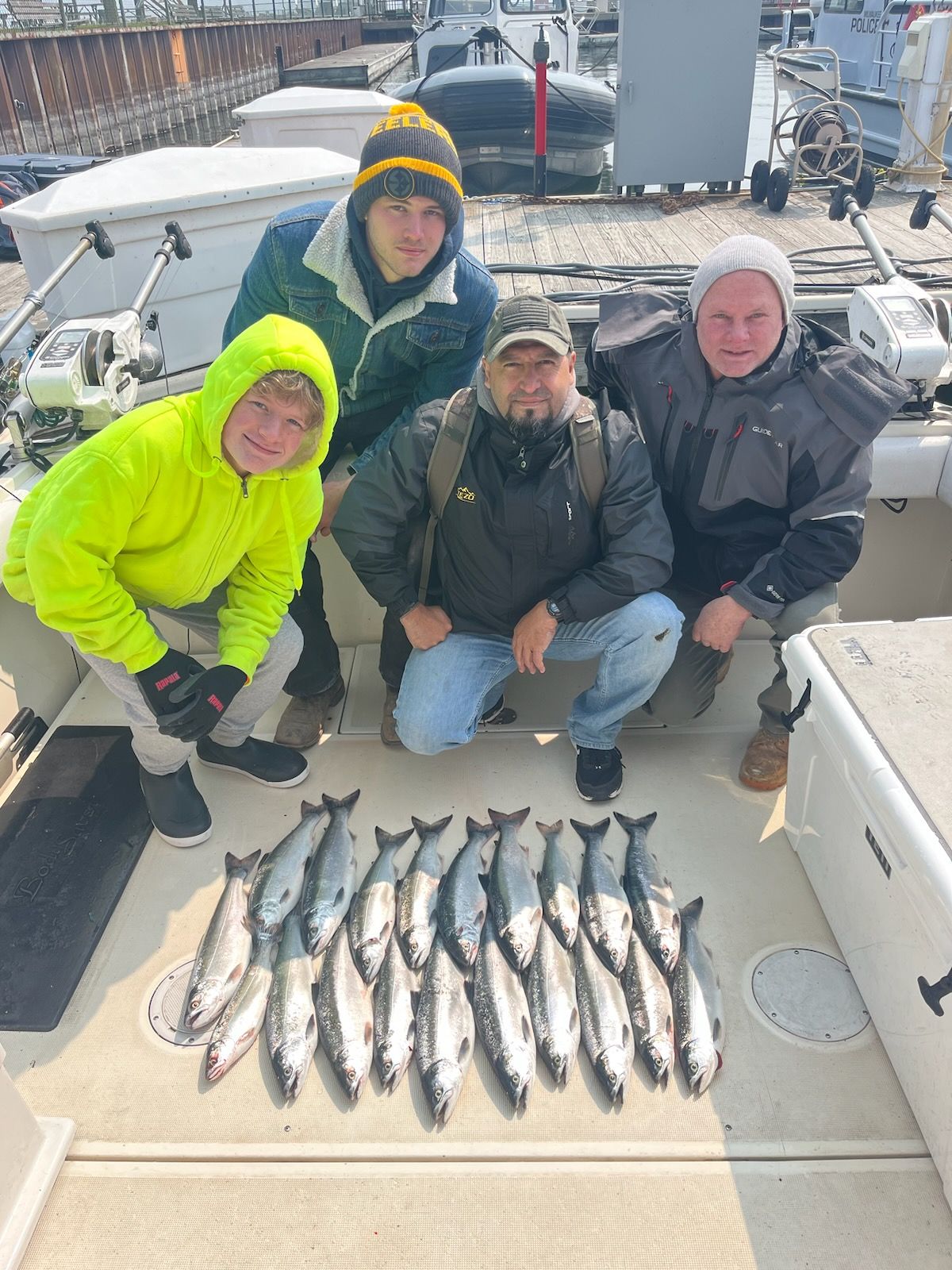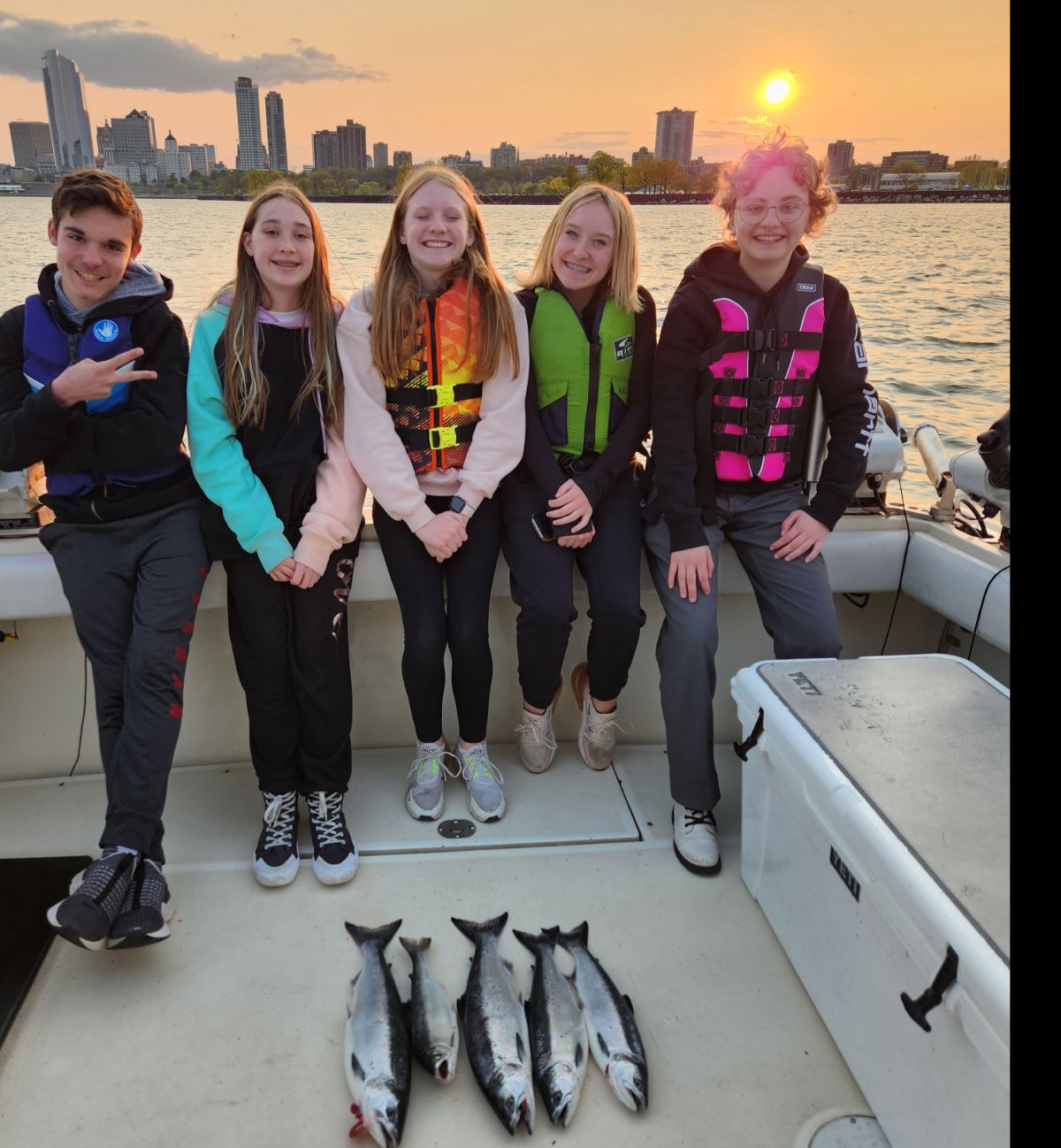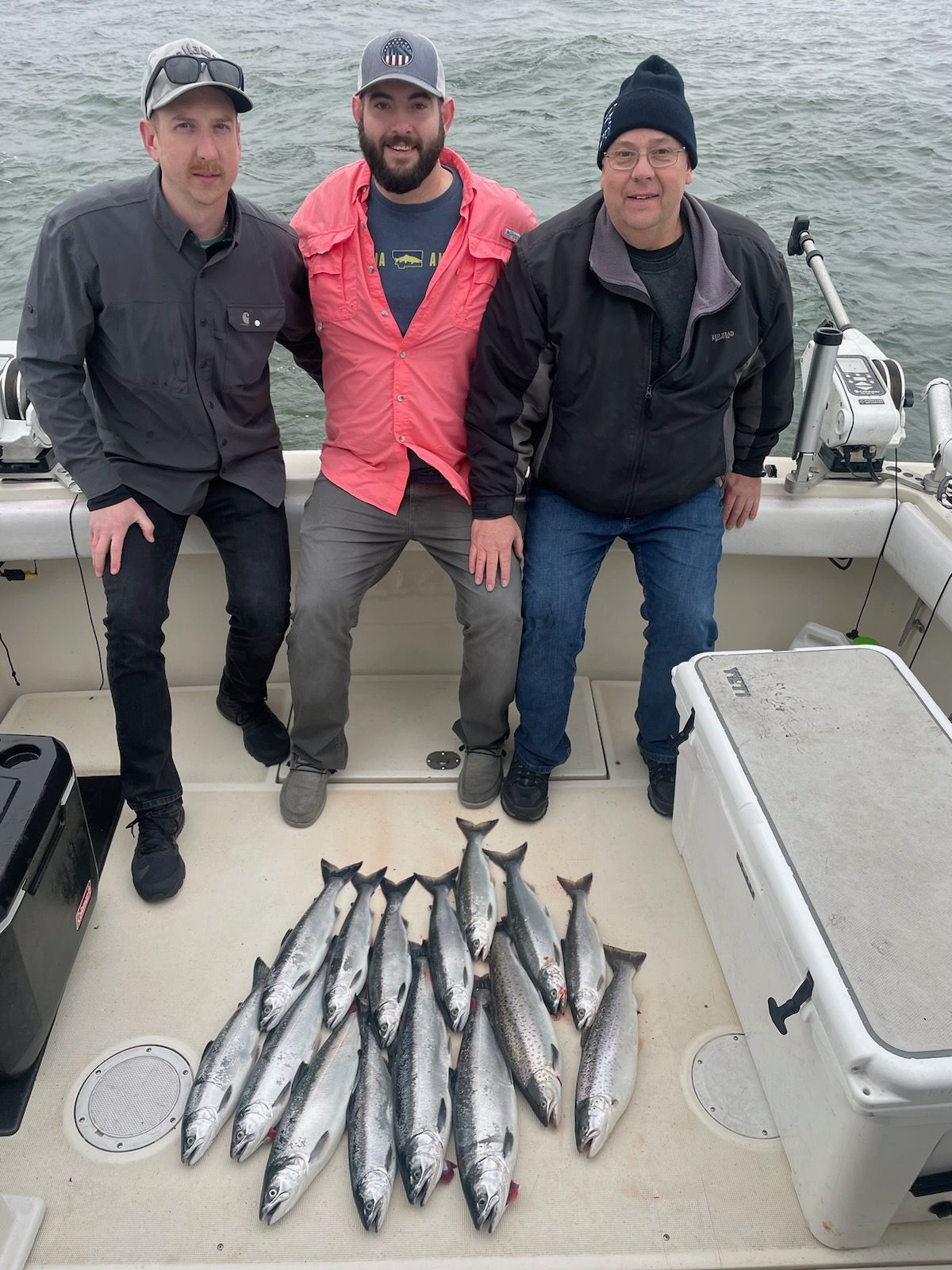 Report for May 5, 2023
This April ended up being a very good Brown trout month. We boated a lot of fish and many over 14 pounds, with the big Brown trout weighing 22 pounds. We target Brown trout throughout April and with a few years of reduced stocking on these fish we have seen the catch drop but this year it was strong and stocking numbers on Brown trout are rising. The weather helped make the bite solid. We are still in Milwaukee but the Coho salmon bite has been good from Kenosha and further south. In the last week Racine has been solid. Last year it was May 6th that the Coho bite took off in Milwaukee. We started catching Coho salmon in numbers just after Easter but not enough to specifically target them. But in the last week we have started to catch 5 to 15 Coho salmon a trip and over the last couple of days more bait has shown up and we are now running Coho setups on most of our rods. It looks like we are days away from limit catches in Milwaukee but if for some reason it does not materialize we will head to Racine for a couple weeks. Although Alewives have been in the harbor for two weeks now we are still waiting for the large schools to show up. Once this happens the Coho should be right behind this.
We are currently running orange dodgers and peanut flies on all planner boards. These are mono set ups with a 5/8 ounce keel weight on them. Our lead is 17 inches from the fly to the double "O" orange dodger. We run these 15 to 45 feet back from the boards, with the shorter length on the outside. board. The best fly we are using is a Willy fly but just the green tinsel. We have a mono and braid dipsy on each side of the boat. These are set at 20 and 10 feet on the line counters. We are using the same set ups as on the boards but we do like the two tone fly here as well. We have one downrigger set with the orange dodger and peanut fly and this is down 7 feet and set seve feet back from the release. We like to have this set up on the side the motor is running. The other three riggers have spoons on them. We are catching a Chinook a trip over the last two weeks on the downriggers and the Gold Hud or UV Blue dolphin have been very good in the stingray size. We are close to staying with this set up for several weeks and may take the spoons out for orange dodgers soon.
May and early June are know for great Coho salmon action. Coho account for a third to half our catch in a year. This is a great time to catch salmon in good numbers on Lake Michigan. Early April is about Brown trout but for the next several weeks it is all about Coho salmon. Last year we went 30 straight trips with limit catches in May. This is not always the case but May and June are the top two months to catch limits for salmon. The action has been along the shoreline and in front of the gaps of the Milwaukee harbor. Today we fished in 10 to 15 feet of water along the shoreline, where we found some murky water. Call Silver King Charters at 414-460-1467 to book a May or June Lake Michigan charter fishing trip and start catching Coho salmon. Below are picture from the last two weeks. I have several Chinook pictures and these fish have been 8 to 17 pounds. There is also a picture of the 22 pound Brown trout that got a lot of attention of Facebook. The picture of the snow cover the the front window was from a trip on April 22nd and lets hope that is it for the snow. The boat was covered to the point we had to shovel. The spoon is a Gin and Tonic Stinger spoon that has been very good on lleadcores and dipsies this spring. Also a big thanks to Lake Michigan Angler and R&R The Fishing Hole for having the right stuff for Lake Michigan fishing!!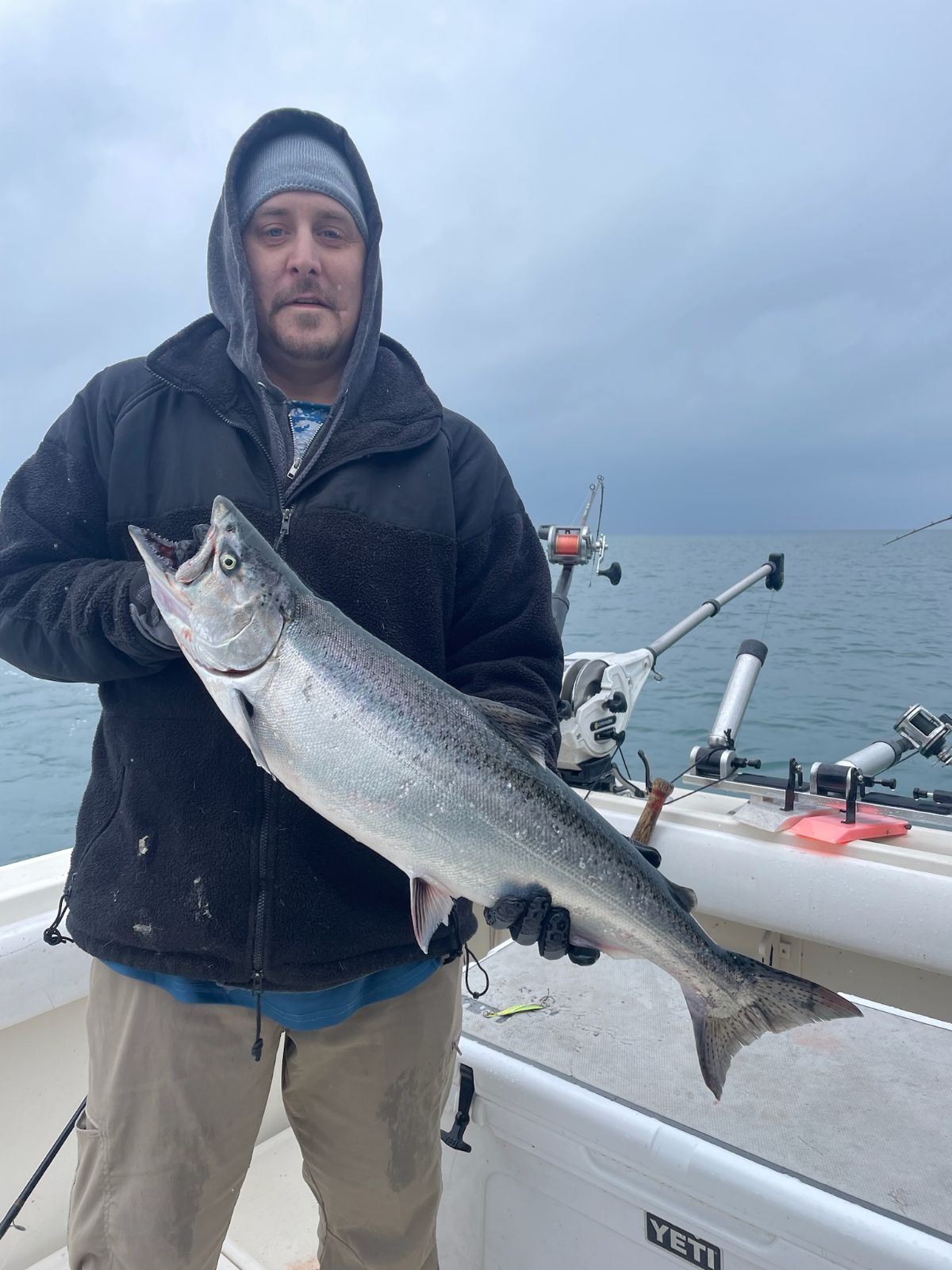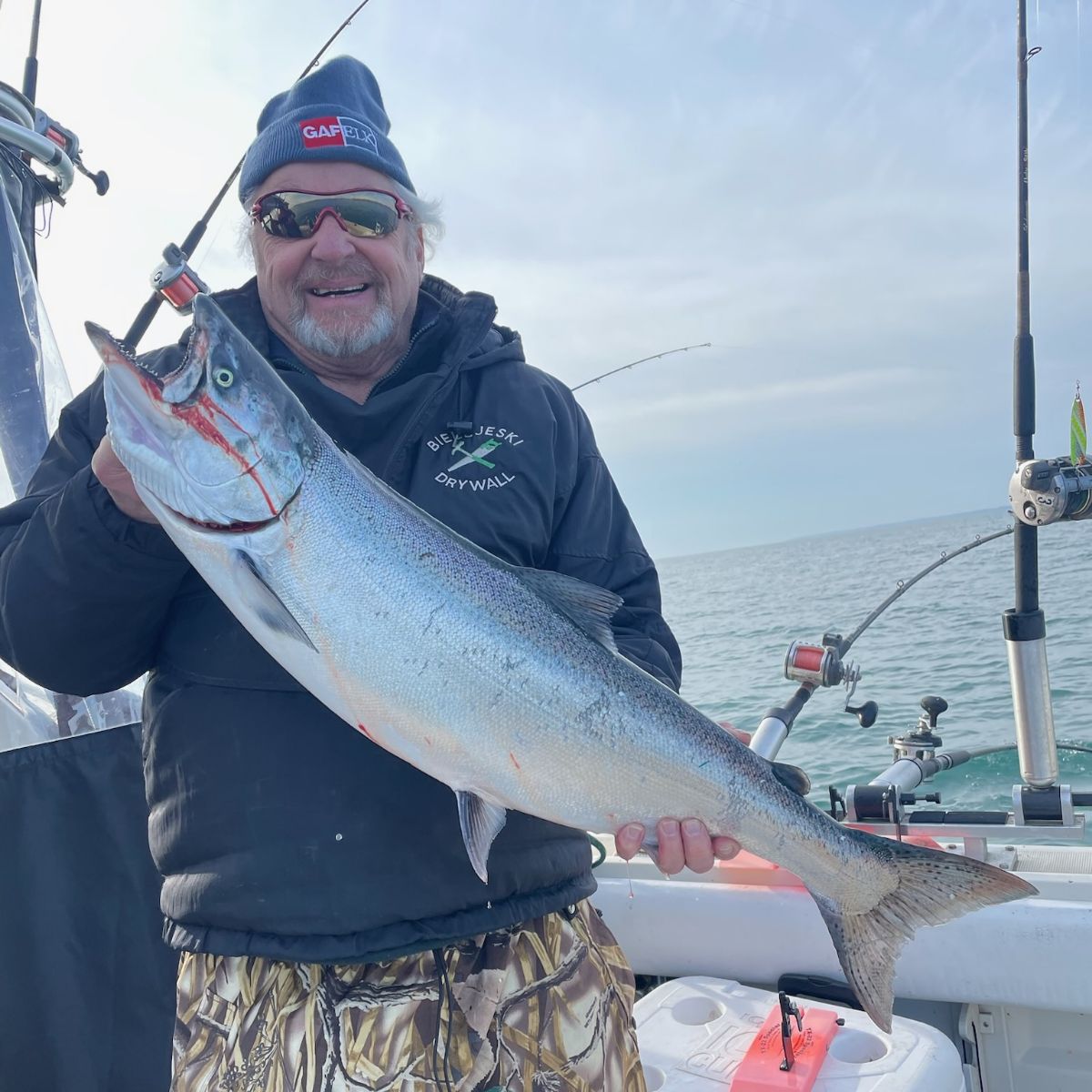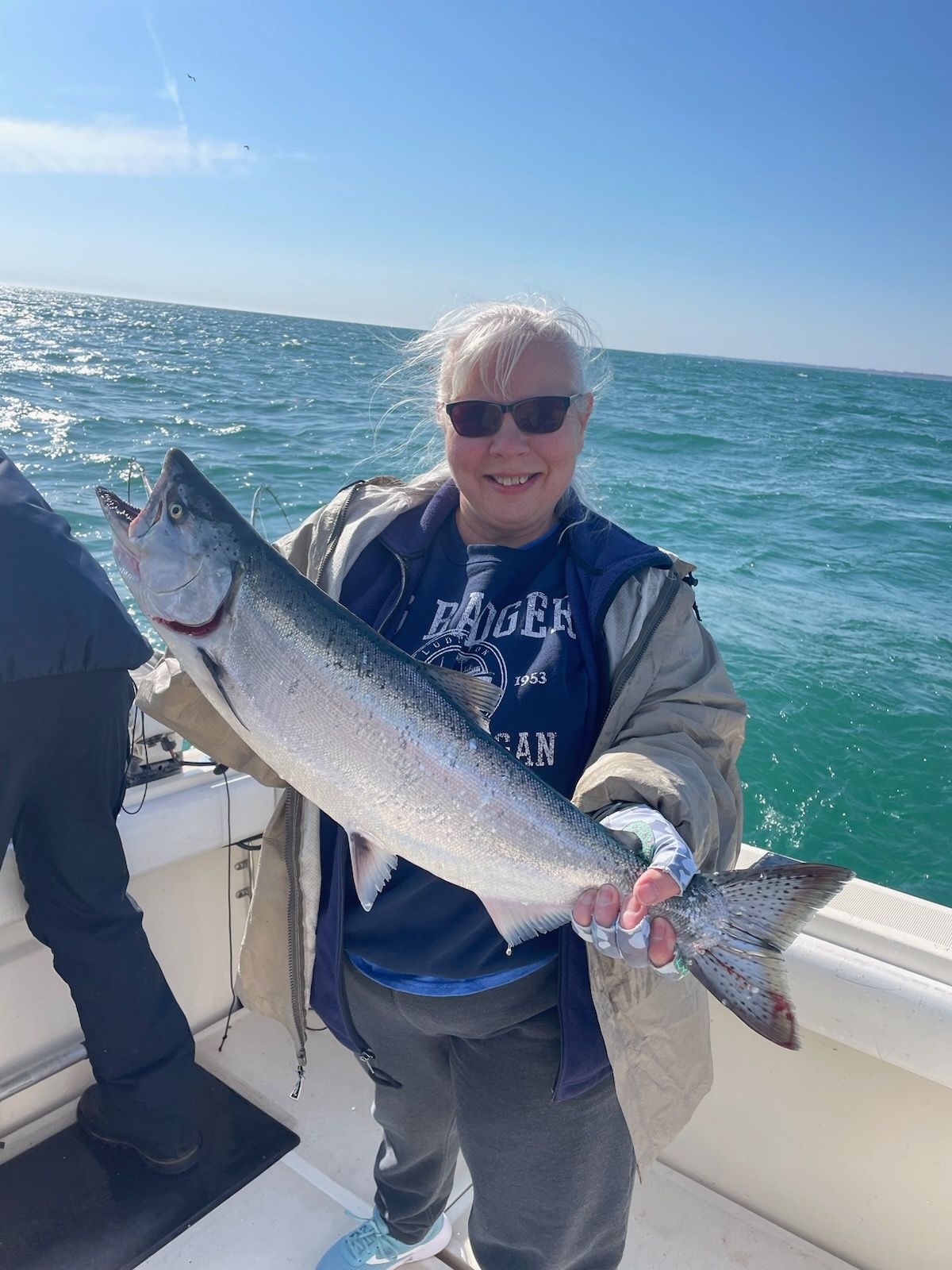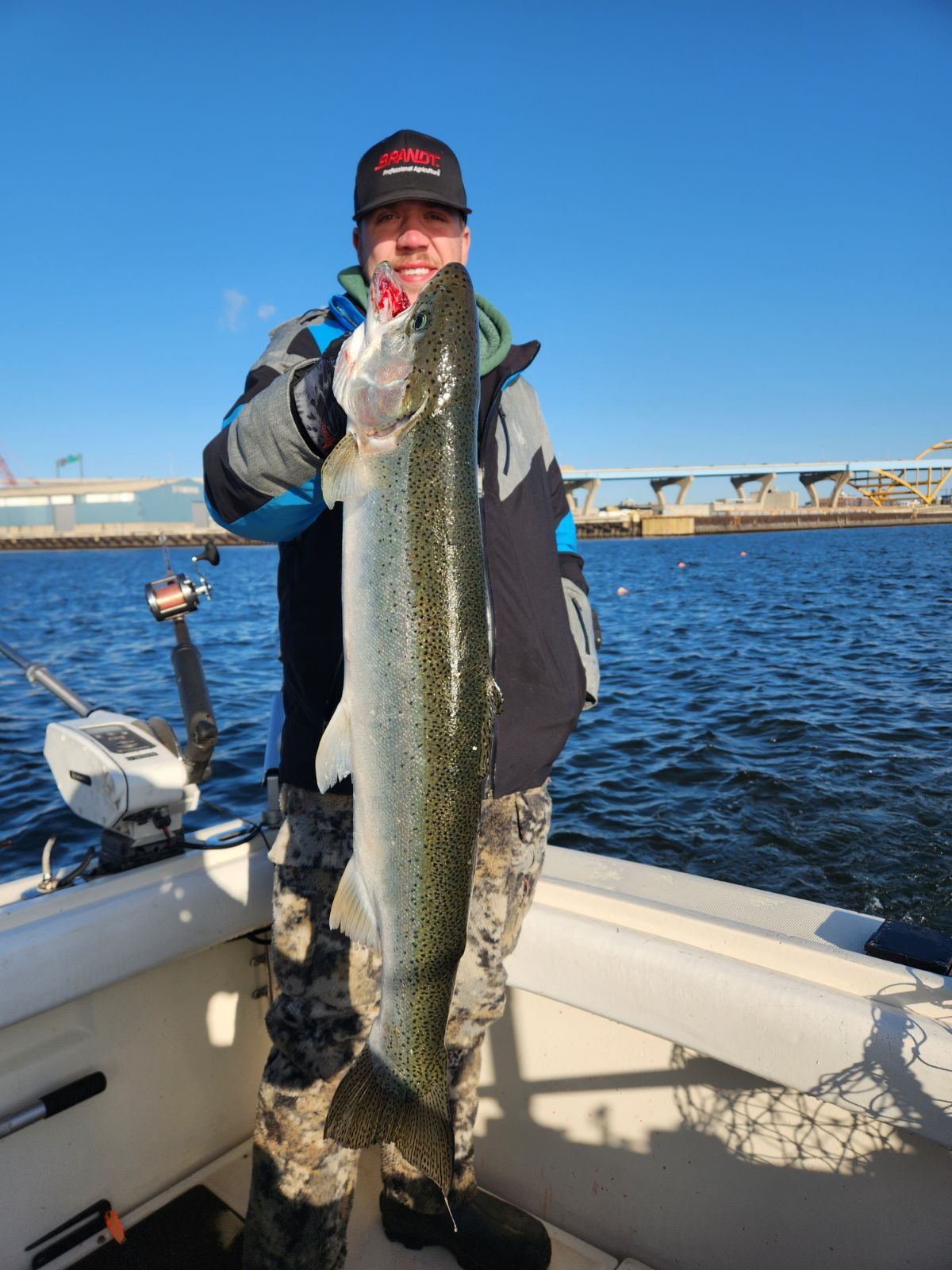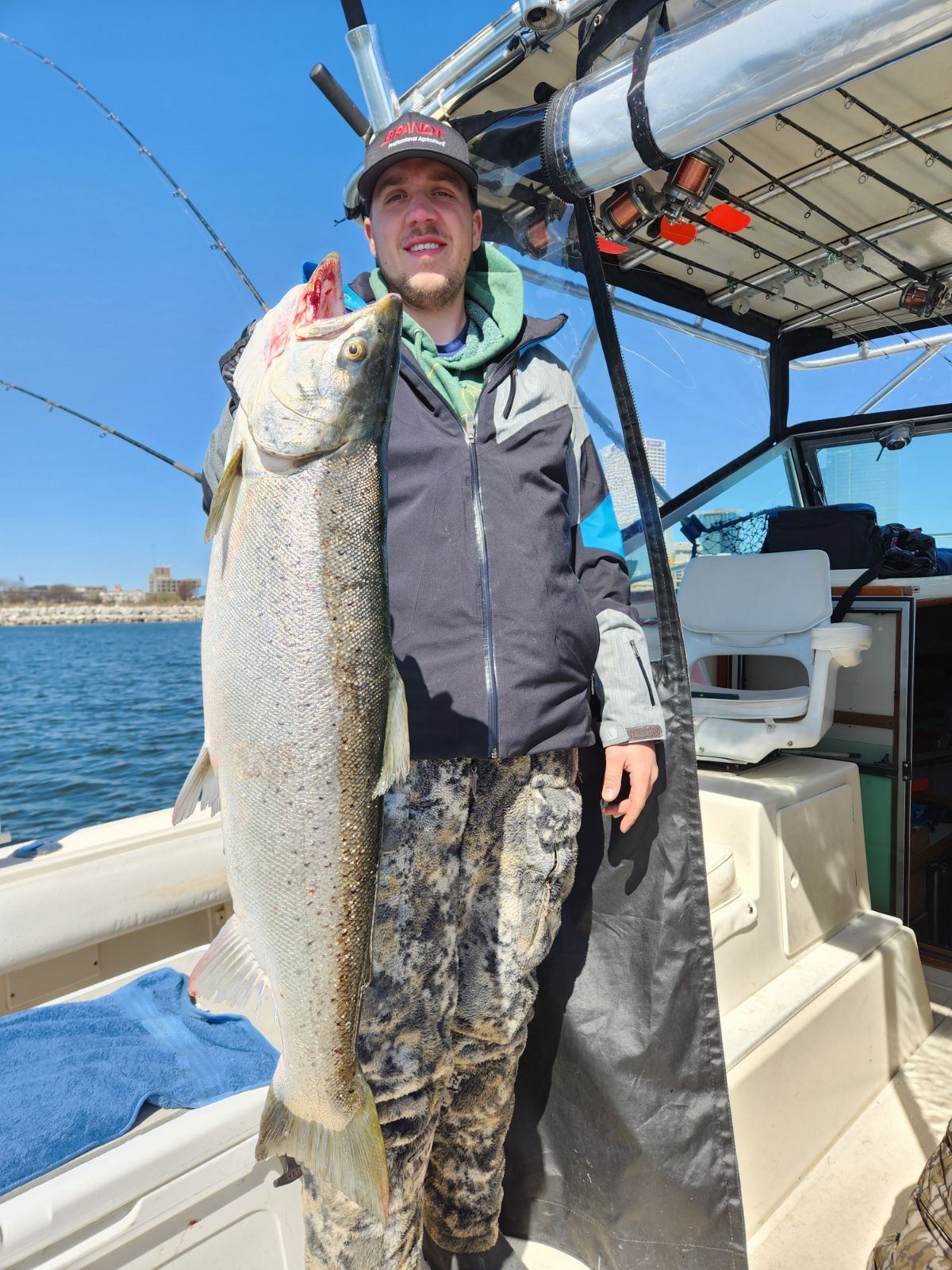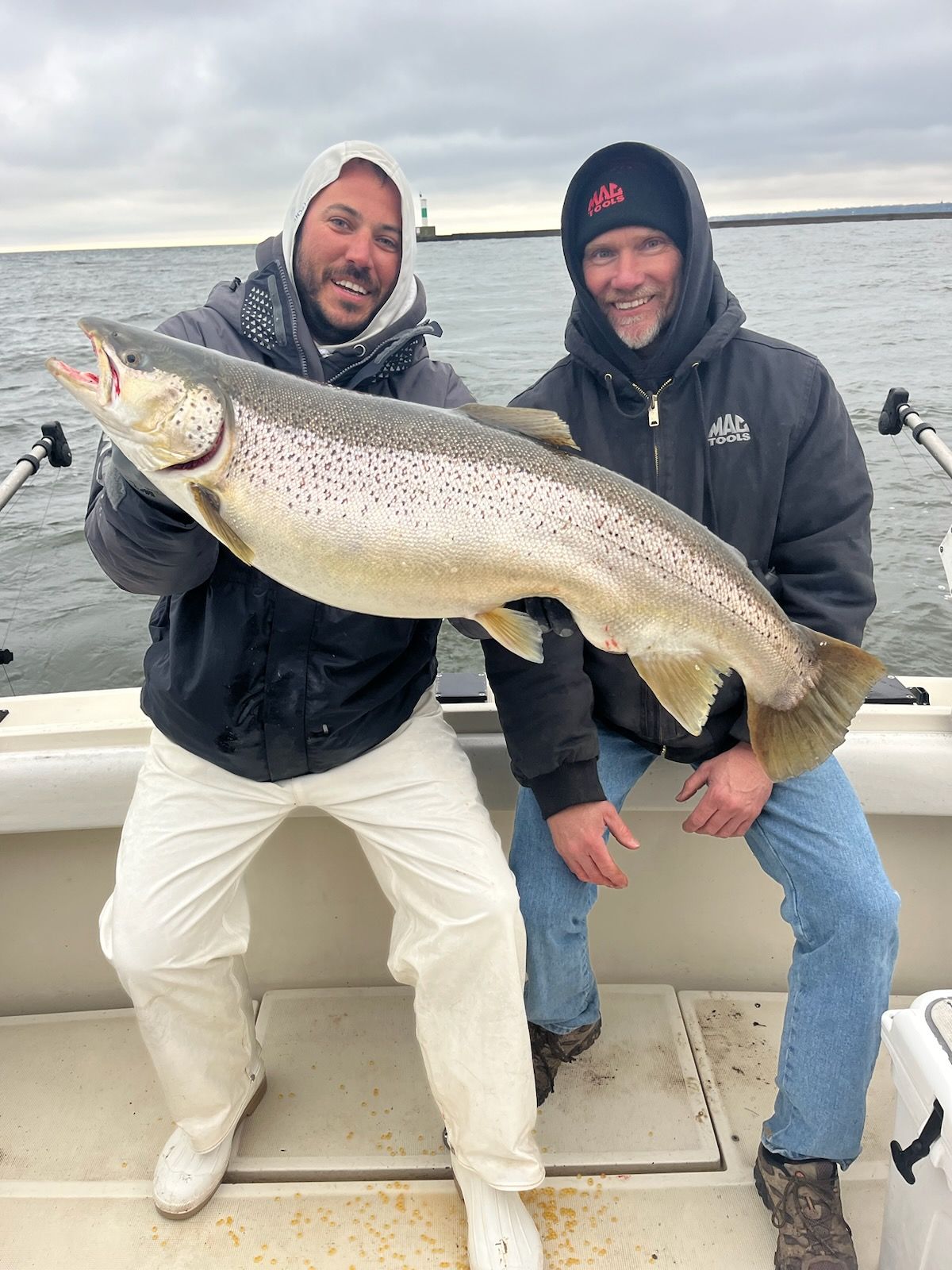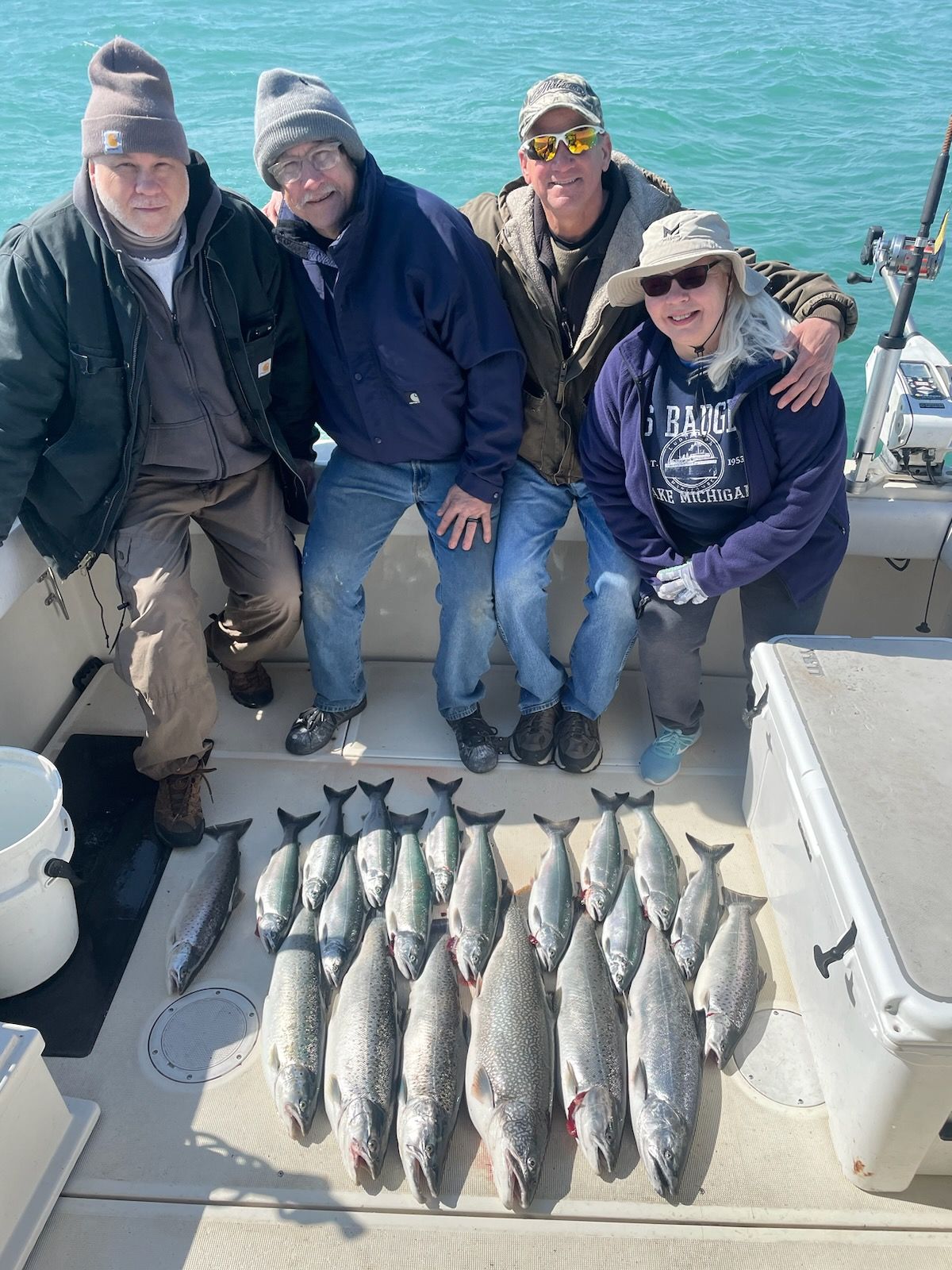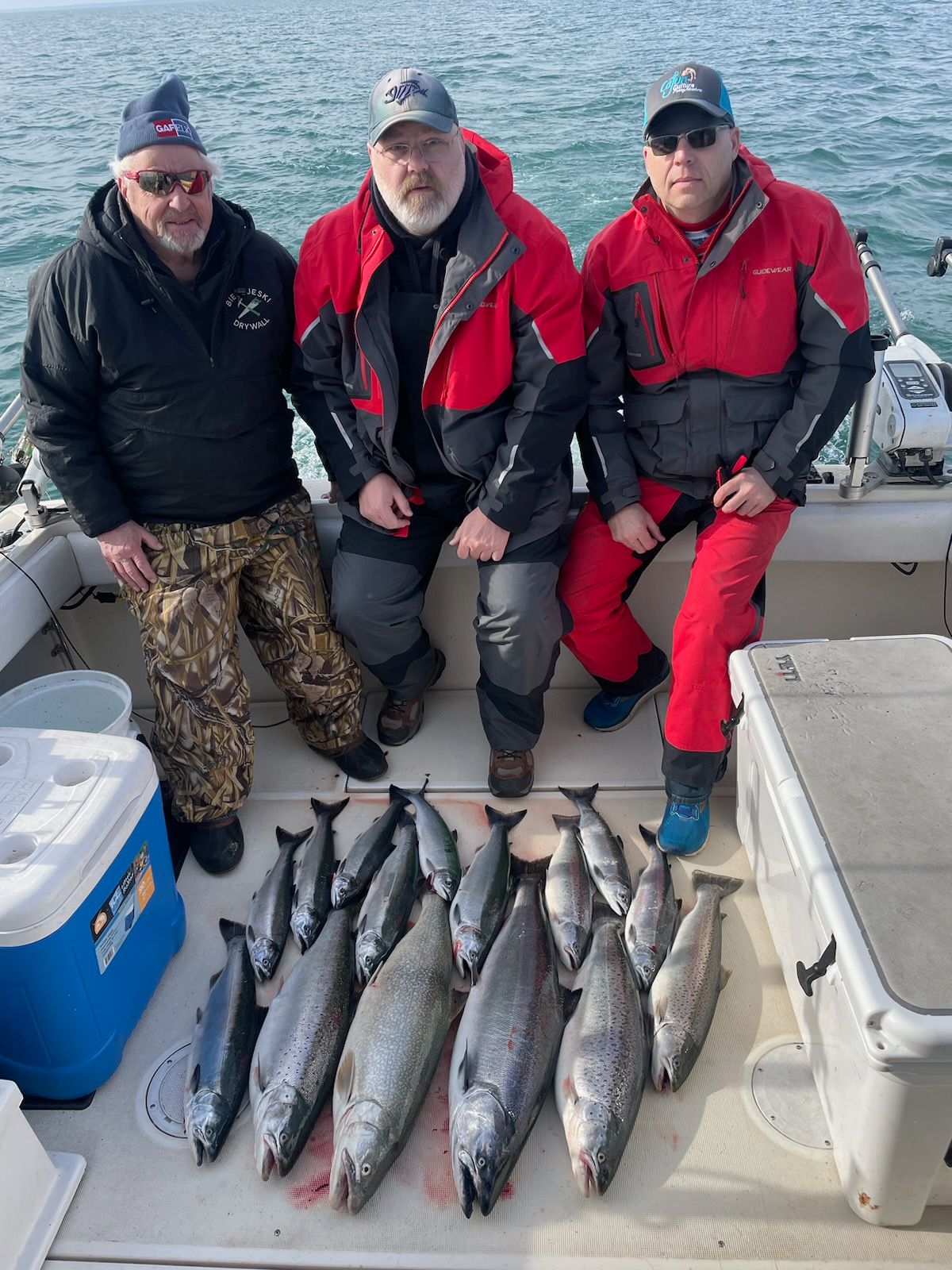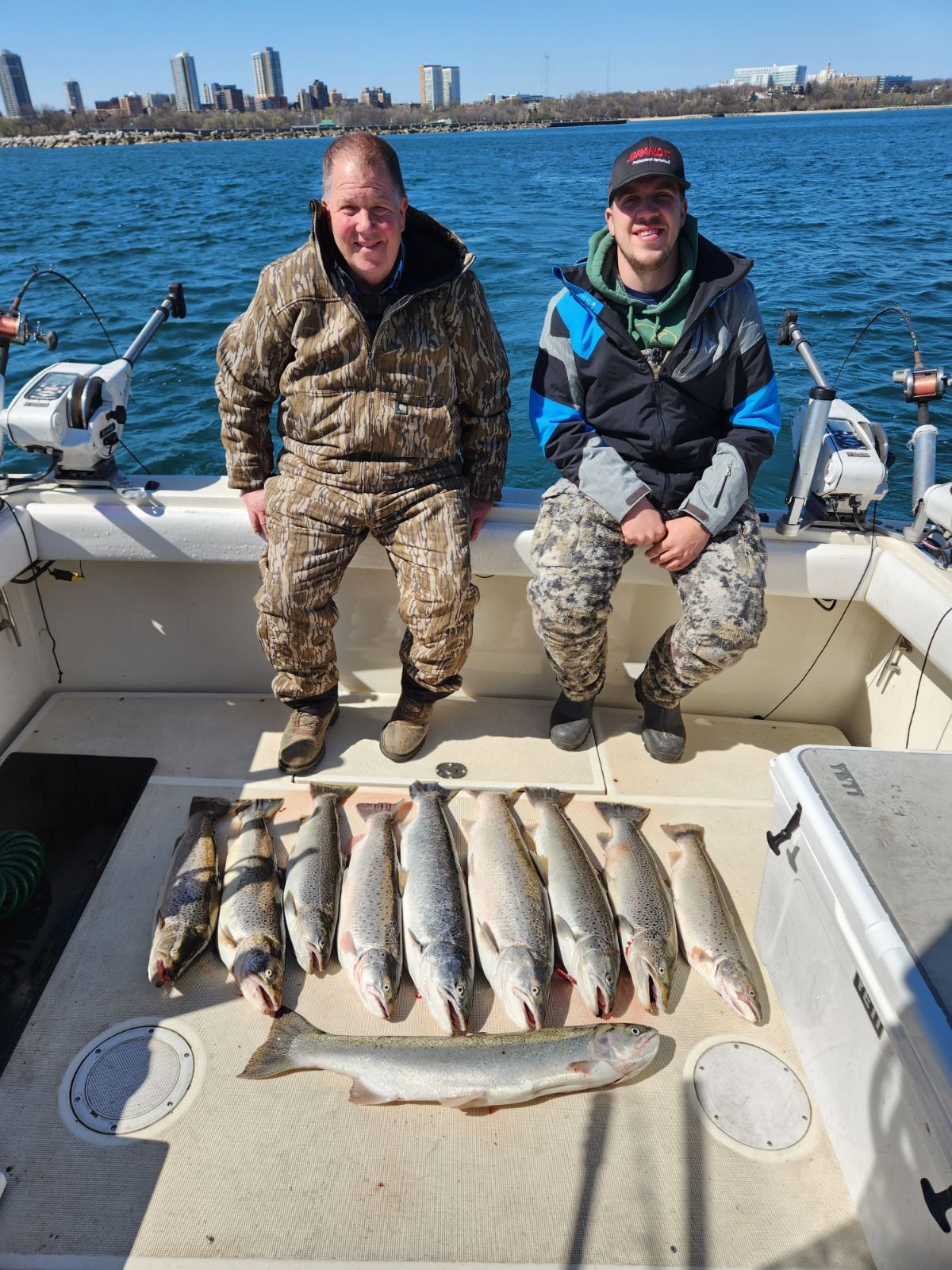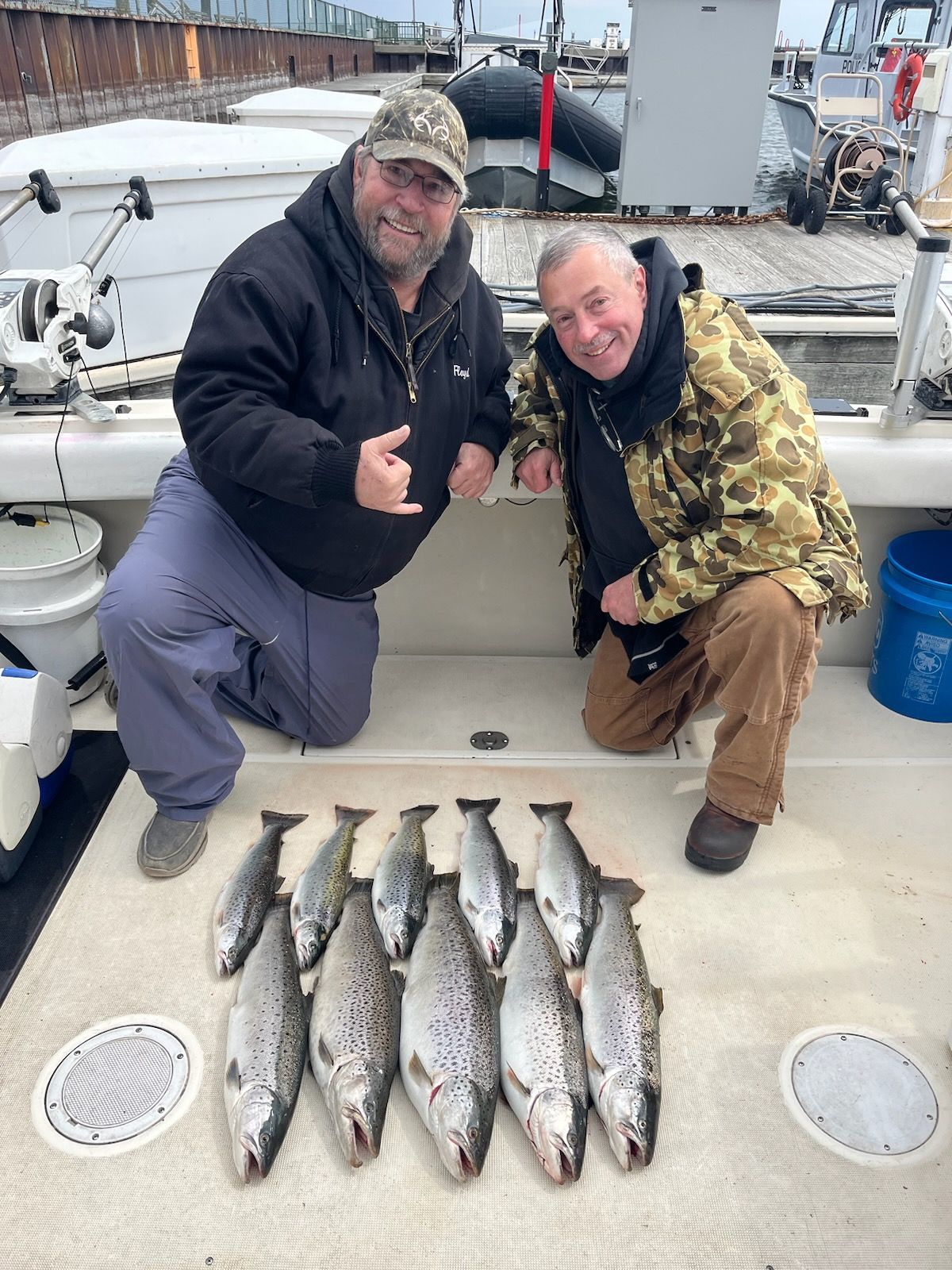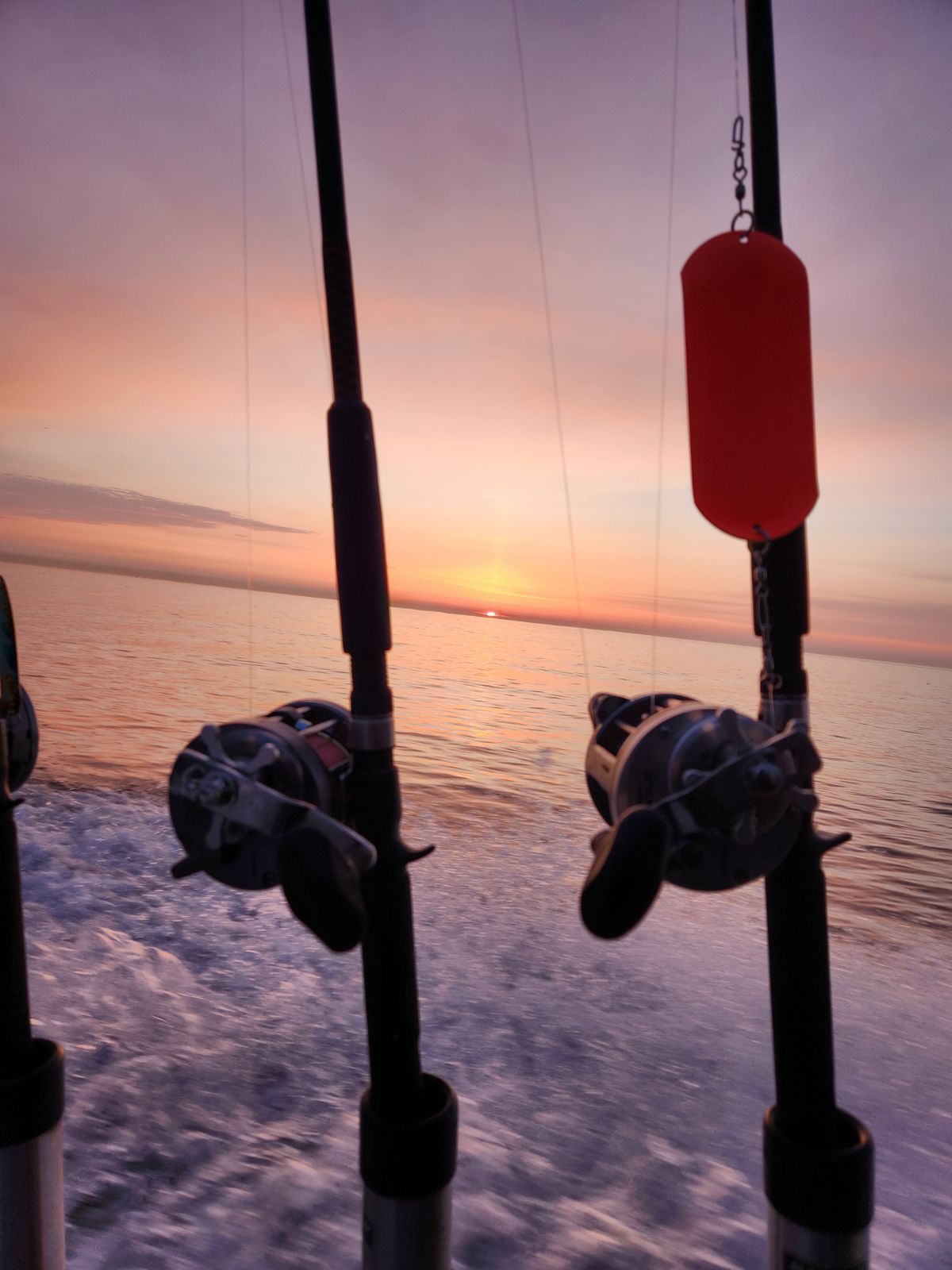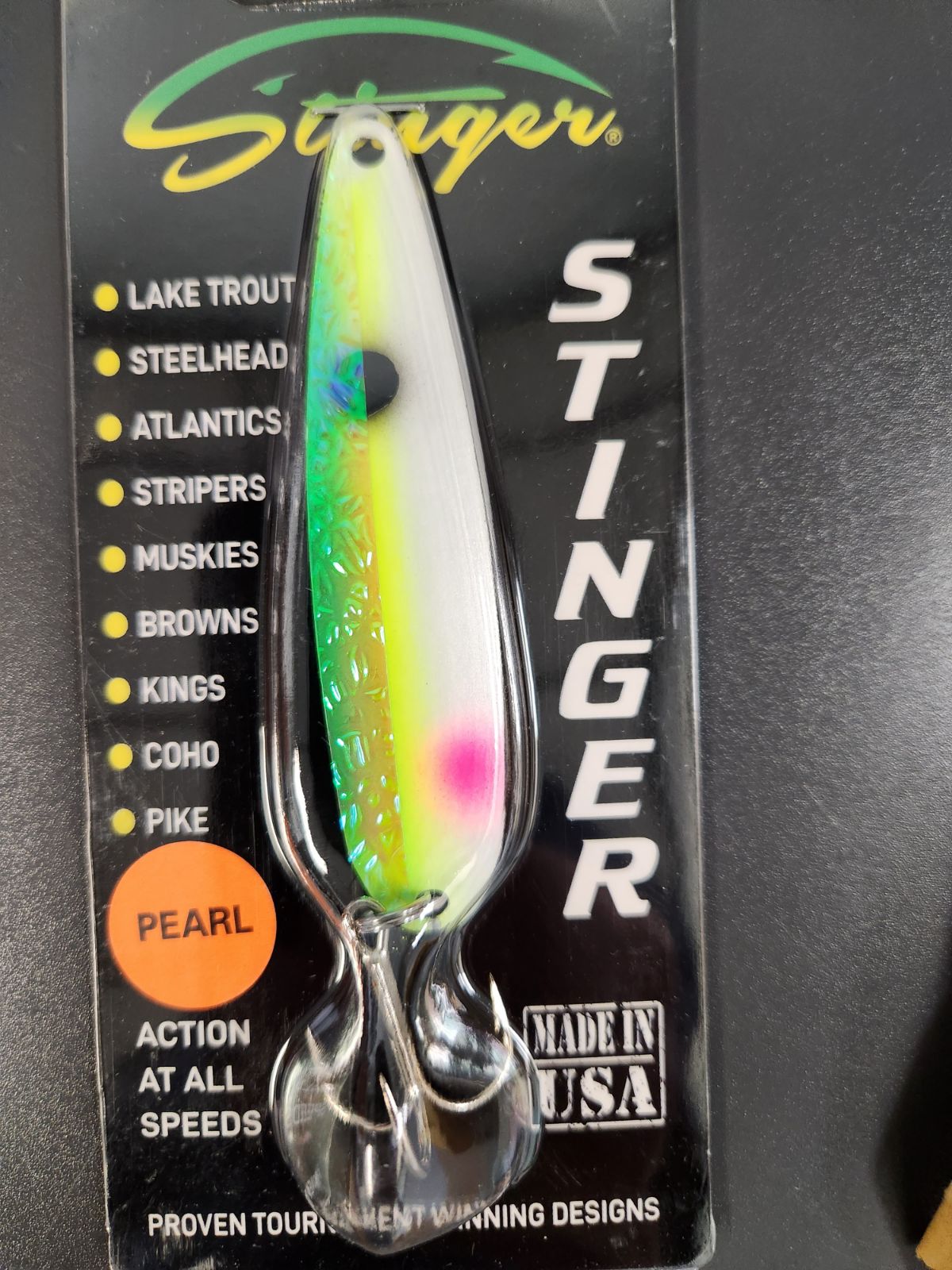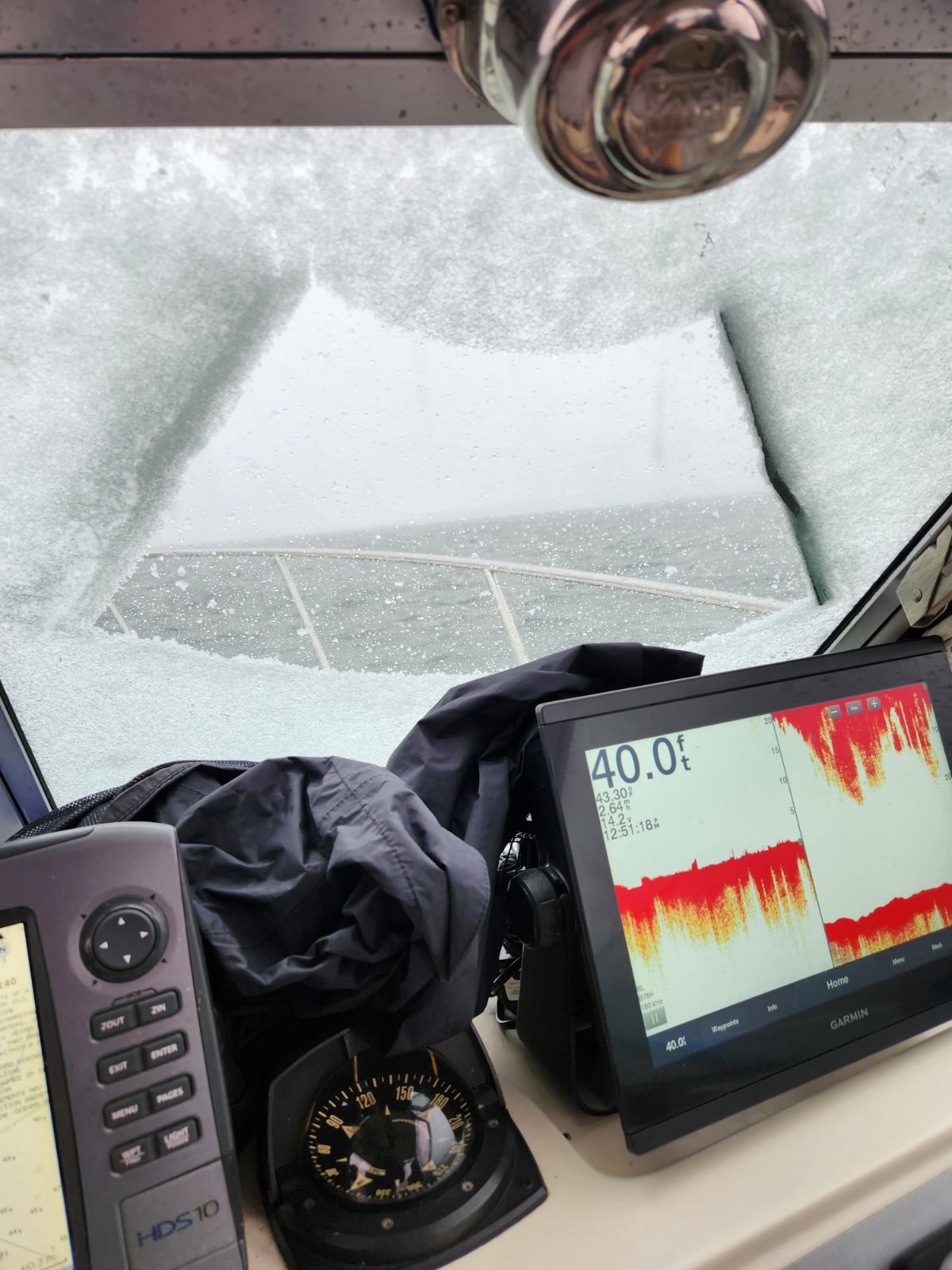 Report for April 15, 2023
Milwaukee charter fishing in the summer is a few months off but the last four days we had high temperatures in the 80's and high 70's. On April 12th we hit an all time high of 83 degrees. As of today we now have surface temperatures of 55 degrees around the river mouth by the Hoan bridge. Alewives are starting to show up along the shoreline but as of today the big schools have not appeared but it is only days away. We have been fishing the harbor and south of town by the FBI building and pump house It has been a real good bite in 15 to 30 feet of water south of town but after all the west winds the water became too clear to fish the shoreline so we headed back to the Milwaukee harbor. We caught a mix of Coho salmon and Brown trout south of town. In the harbor we are still catching almost all Brown trout, with a Coho once in a while.
We had heard of a Coho bite by the Cudahy towers and went all orange dodgers and peanut flies on the boards and two downriggers but it was mostly Brown trout, with a few Coho salmon. The next two times we fished this area we went back to mostly spoons. When we were in the harbor it was all spoons. The one, two and three color leadcores have been best. A new hot spoon has been the Gin and Tonic Stinger spoon. We are also using a lot of orange colored spoons in the mix. Right in front of the river mouth and around where the Lake Express docks have been the best spots for bites in the Milwaukee harbor. The Saint Francis condos and just past the pump house on the beach have been best south of Milwaukee.
We expect more normal temperatures for April coming up. The alewives should be near shore and in the harbor this up coming week and we hope the Coho salmon will follow. The southern half of Lake Michigan is already catching good amount of Coho salmon and it looks to be a solid year for them Call Silver King Charters to book a Lake Michigan charter fishing trip for the second half of April and May. The best Coho salmon fishing of the year is coming up. Below are some pictures from the last week. Our first Coho of the season and a lot of Brown trout. Next week will probably be our last week targeting Brow trout.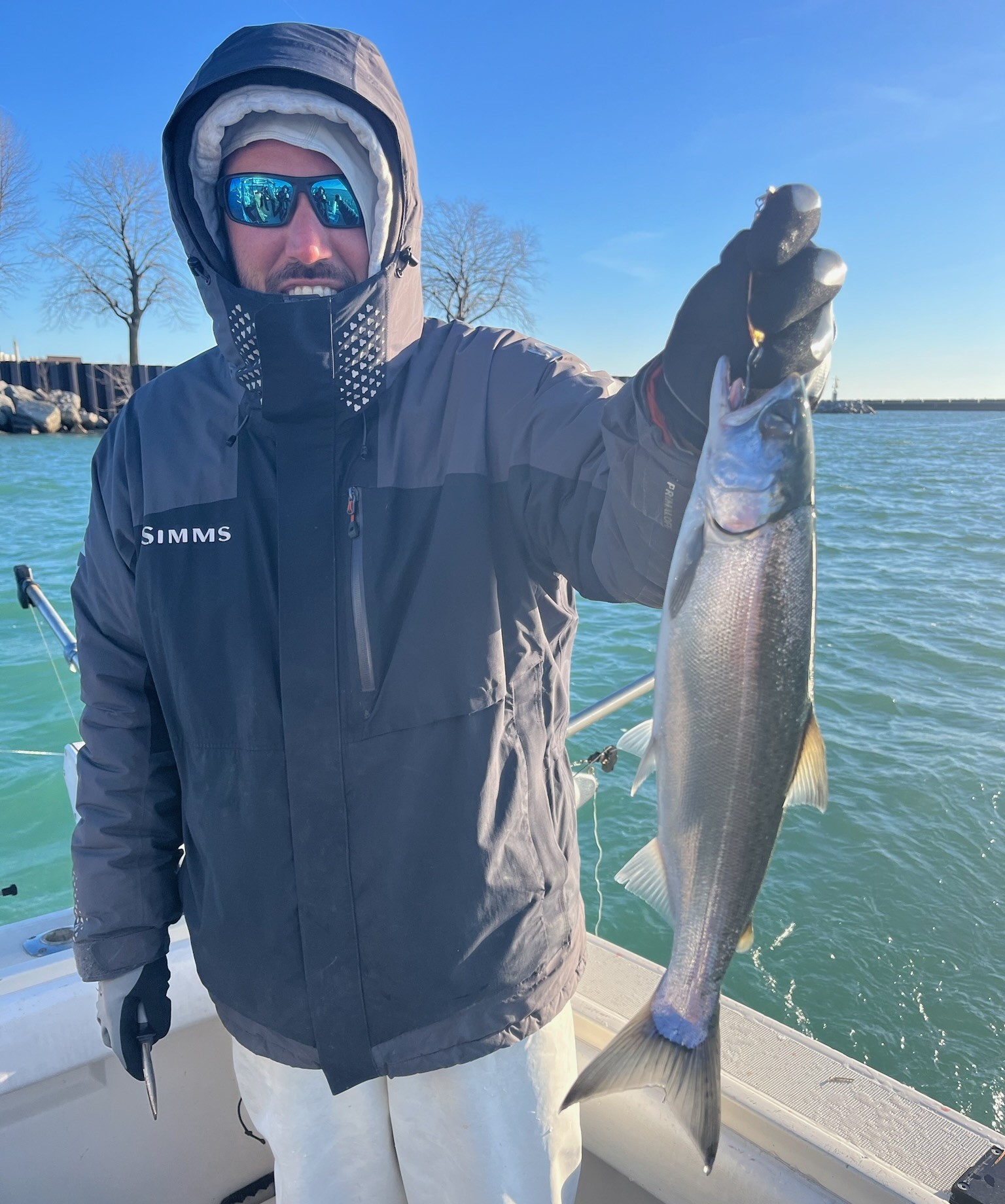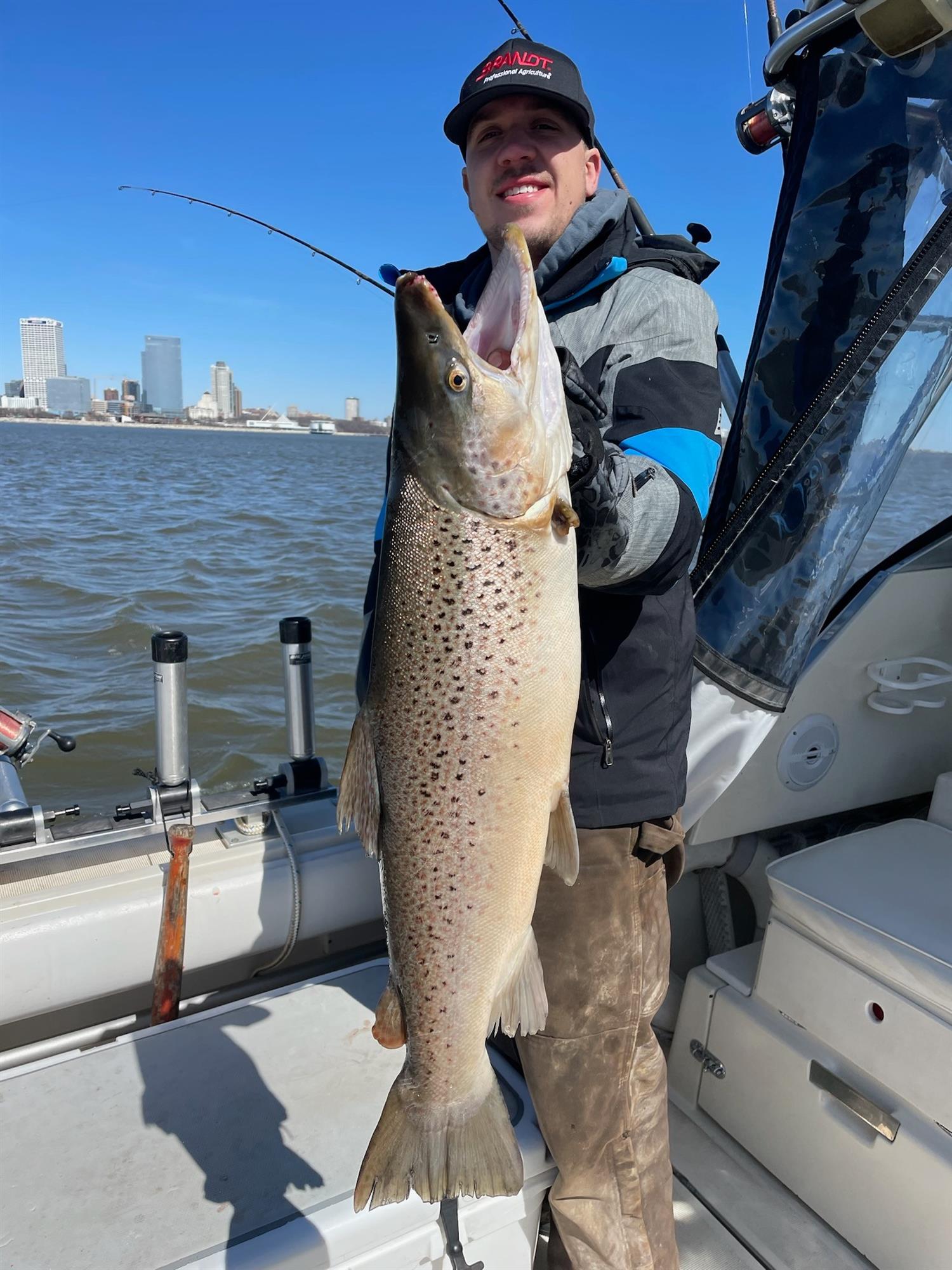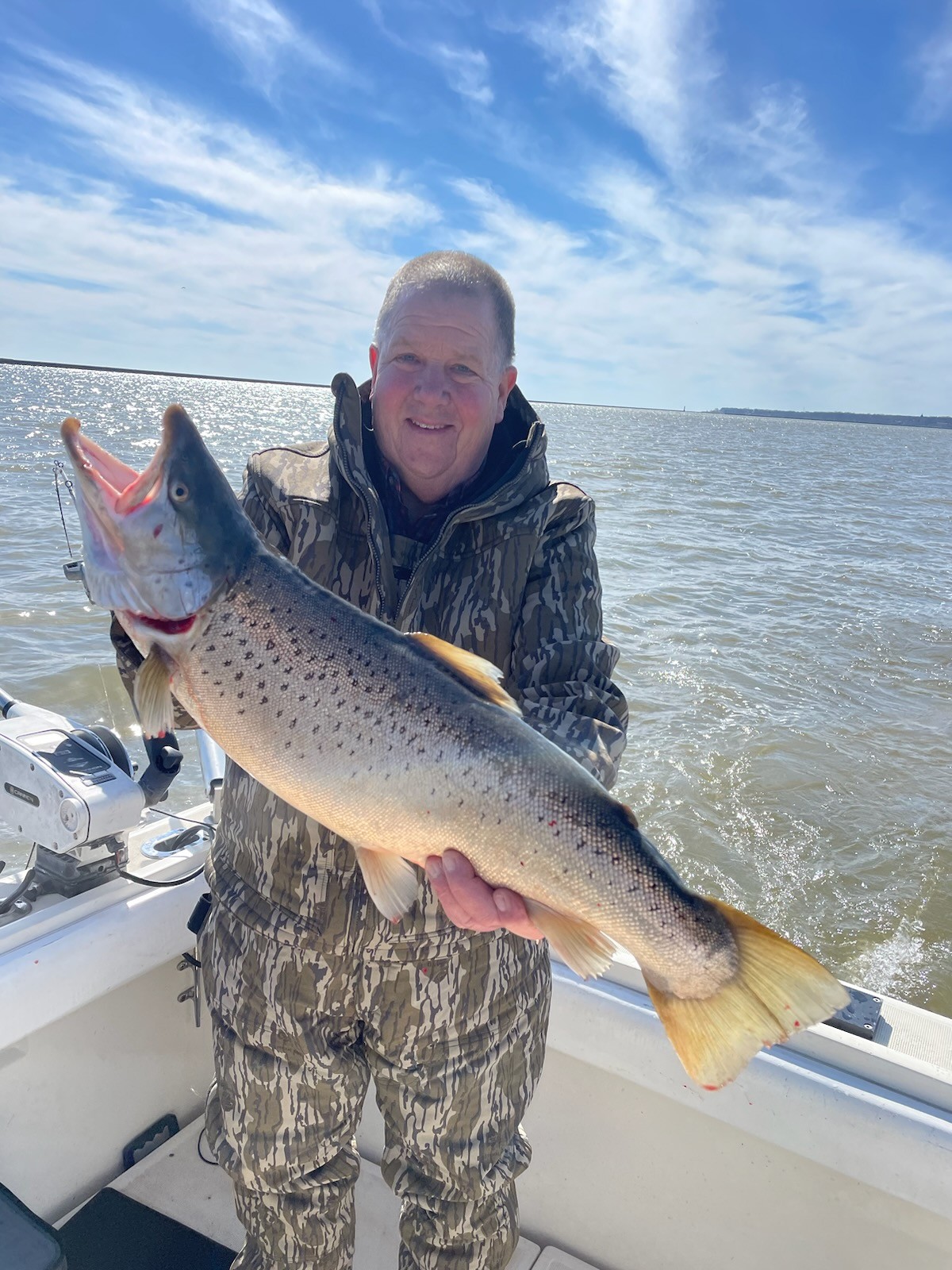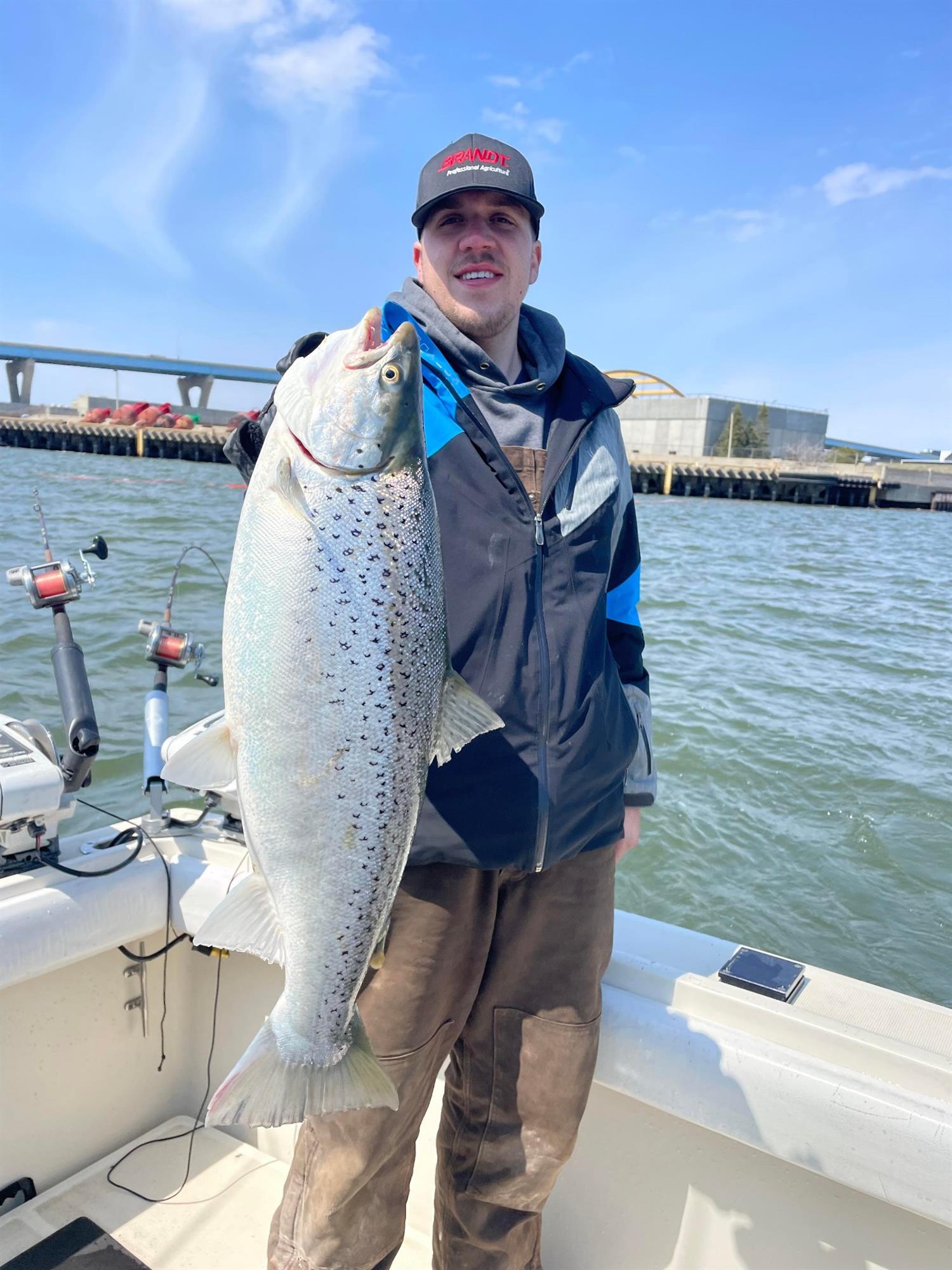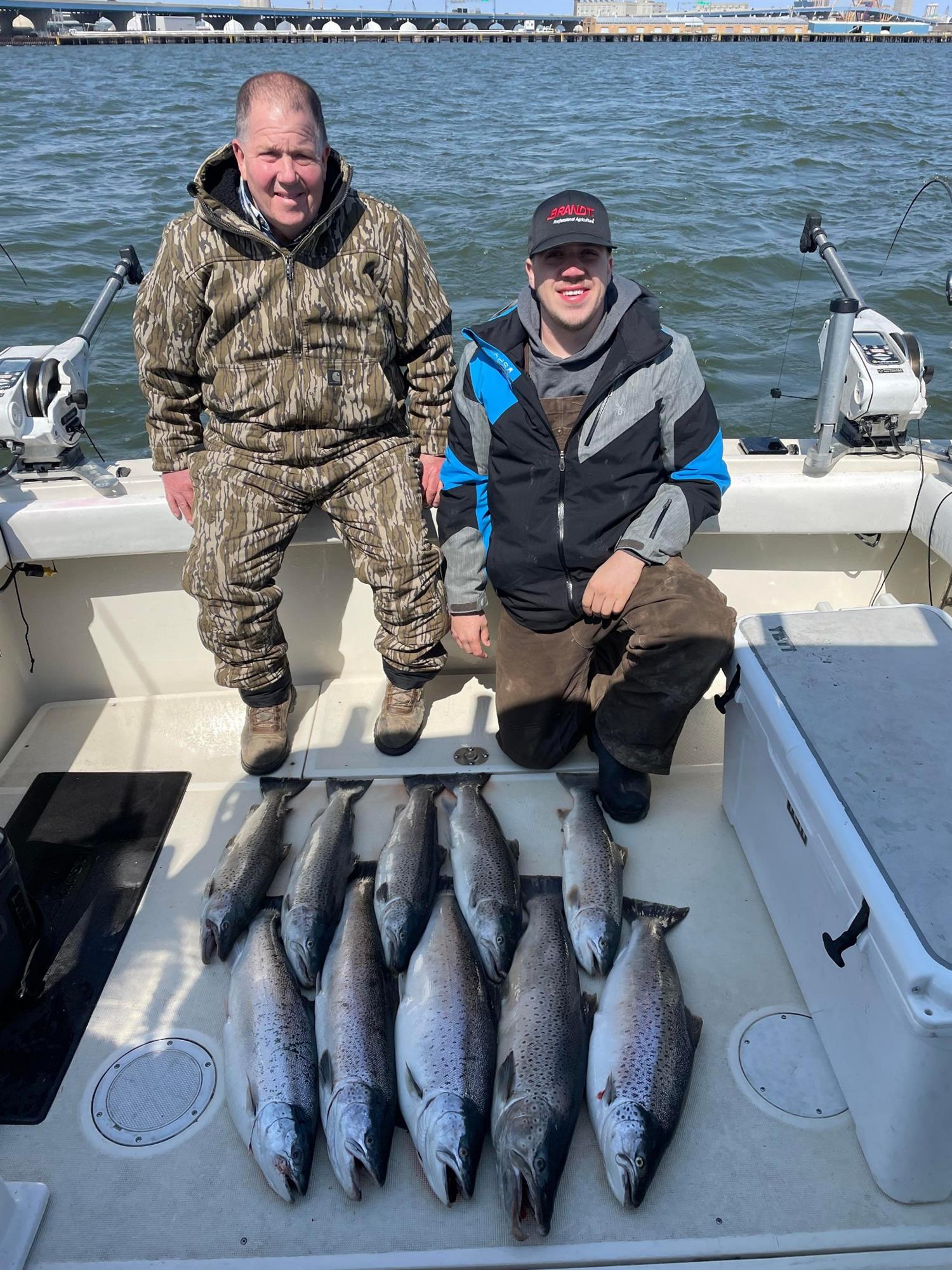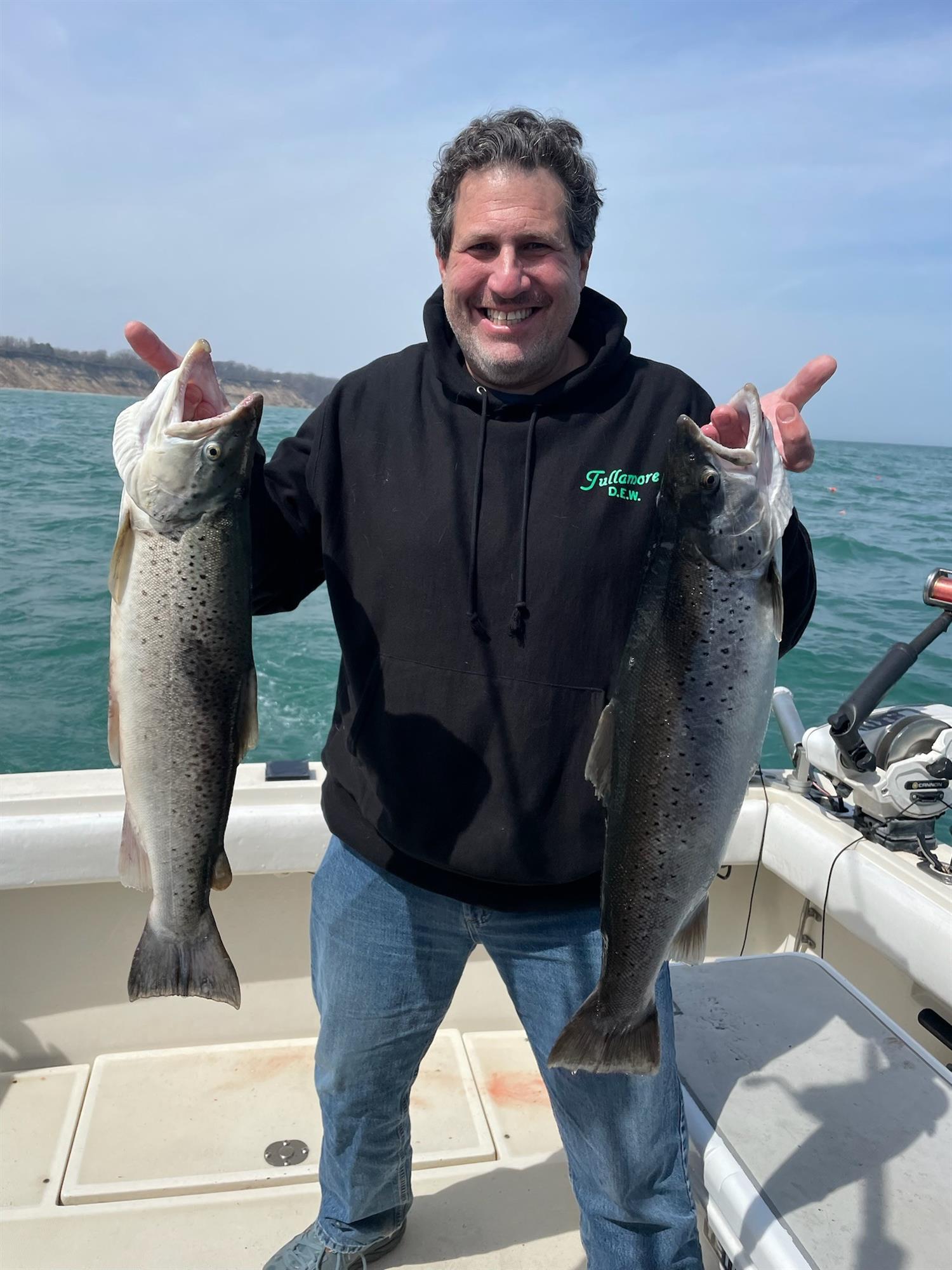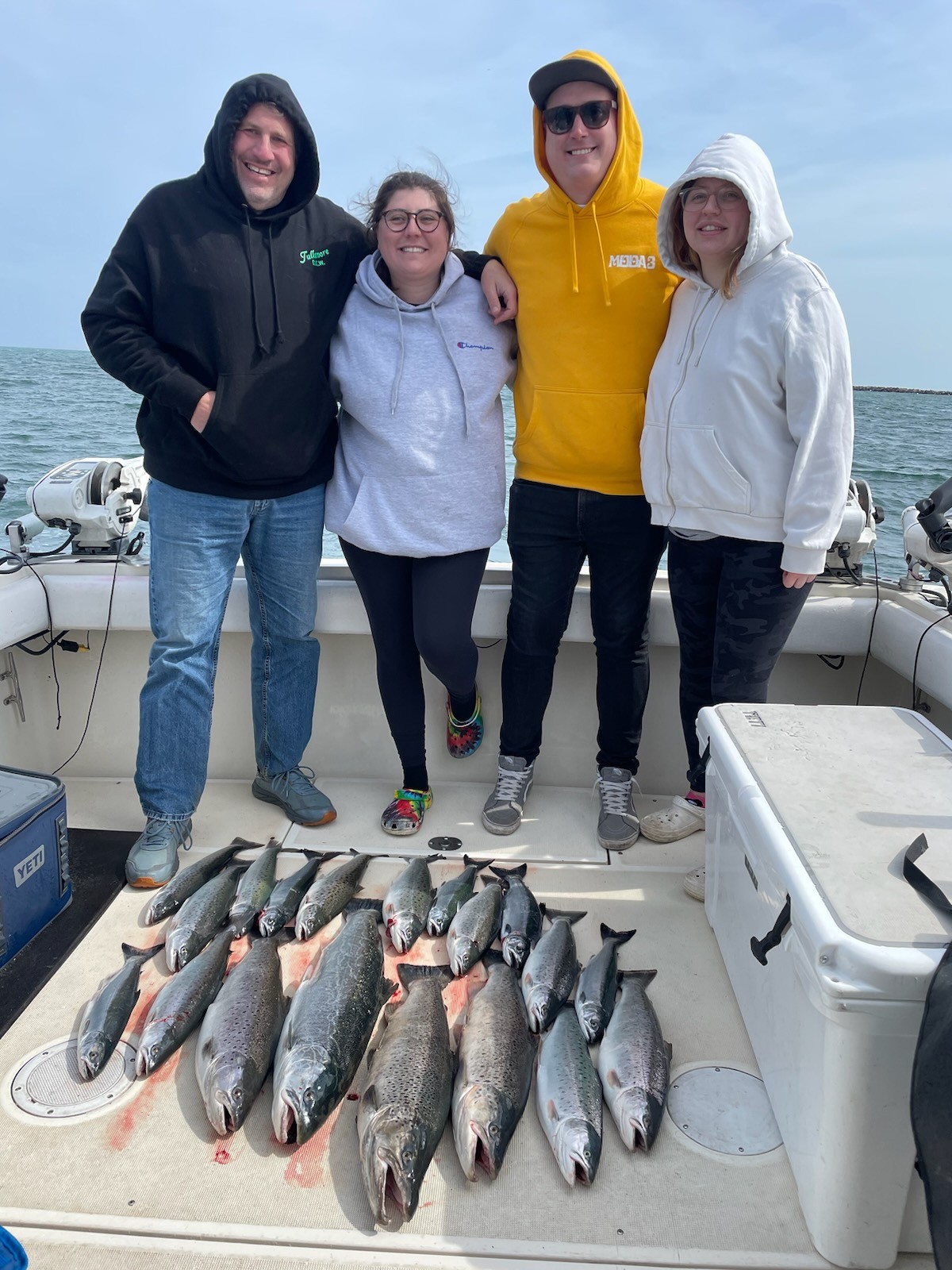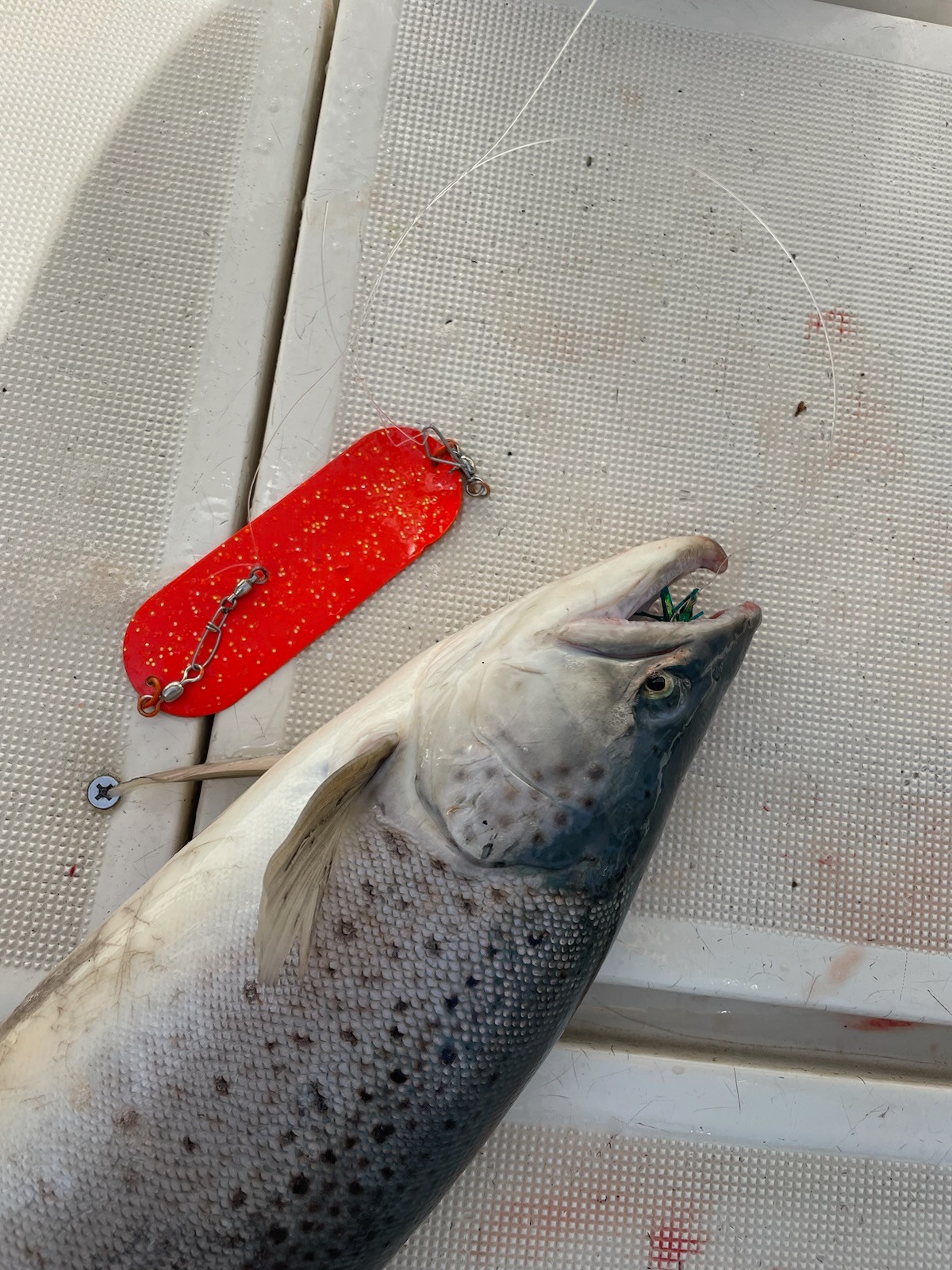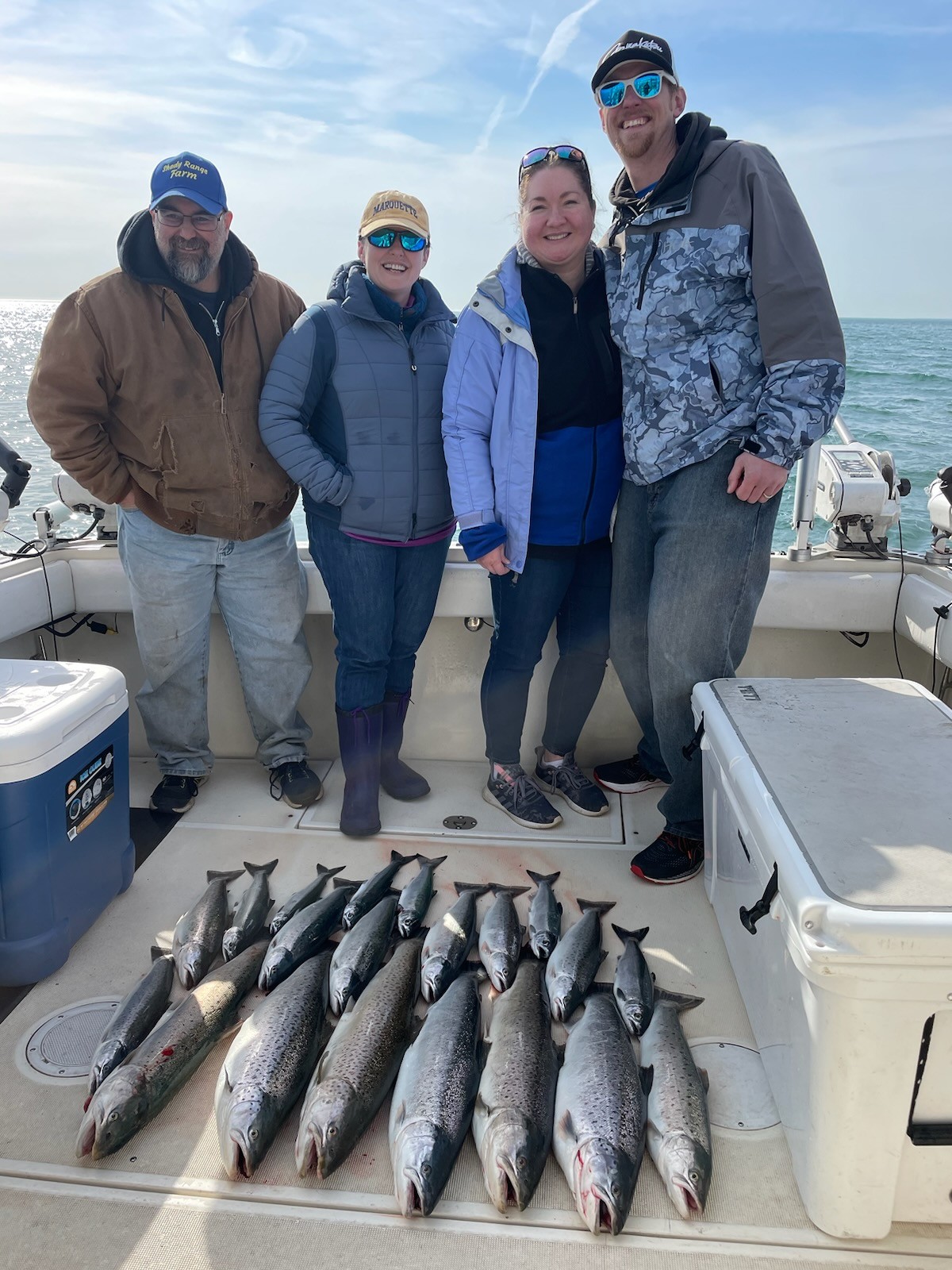 Report for April 5, 2023
We have spent the first two weeks in the water fishing for Brown trout. We have had very good action with most of our trips in the double digits. We have fished in the Milwaukee harbor for almost all of our time, except a few shots through the Main and North gaps. The best spots have switched from day to day. The river mouth and just past the discharge has been good of late. But before that it was best by the south gap and the Lake Express dock. Most of the fish caught had large shad or gobiies in them. There has not been good smelt action yet by Jones Island. Our biggest Brown trout was 17 pounds so far and we have seen man in the 9 to 13 pound class. The water temperature has risen to 42 degrees in areas, with all of the rain of late. We expect the alewife schools to show up in the next week and this will change the bite.
The first few trips we ran in March are best bite was come deep on on downriggers but over the last several days the one and two color leadcores have been the best. Orange Stinger size spoons have been the best, with the orange and gold NBK standing out. The Inmate Stinger has been very good to. We lie to troll fast but the best bite has been around 2.3 mph on the GPS. Orange tape on a Gold Hud has been god on the downriggers and dipsies. The Moonshine Mongolian Beef has also been good on the deep downrigger set at 26 feet down.
We have a lot of customers who want to target Brown trout and we expect to have a good bite for them during the next week. But warm air, with highs in the 60's and rain could change the bite. Alewife schools will also be showing up soon and all this could change the bite to Coho salmon and once this happens the Brow trout bite will fade. Coho salmon are being caught south of Milwaukee and people are catching them from shore off the Cudahy towers. We expect an early and good spring for Coho salmon. But this weekend we will still target Brown trout and if you are interested in catching Brow trout next week may be your last best shot. We have openings next week and the weather looks superb. Call Silver King Charters at 414-460-1467 to book your Milwaukee charter fishing trip. You might get lucky and be out when the Coho bite starts up. Below are pictures from the last several trips.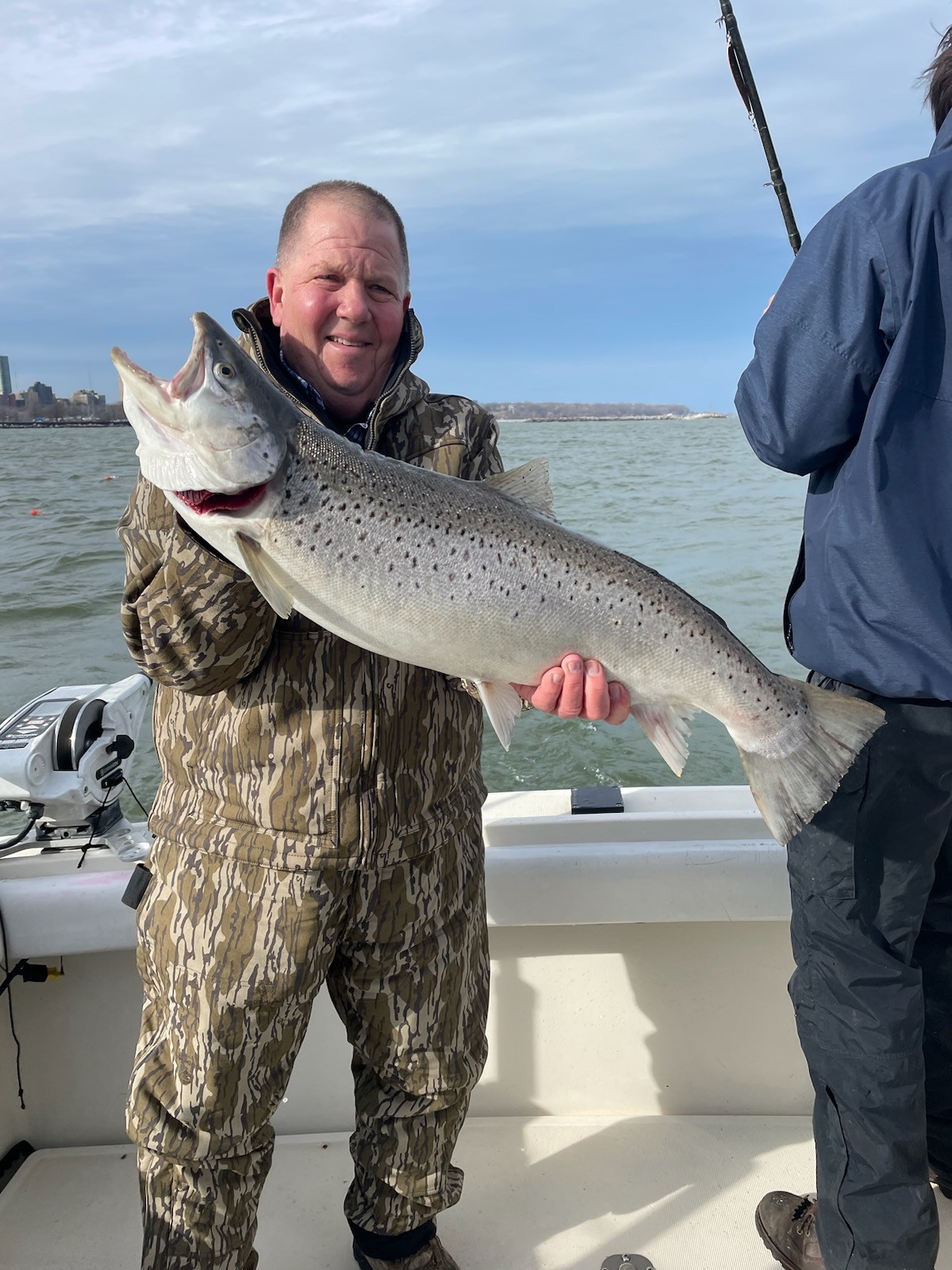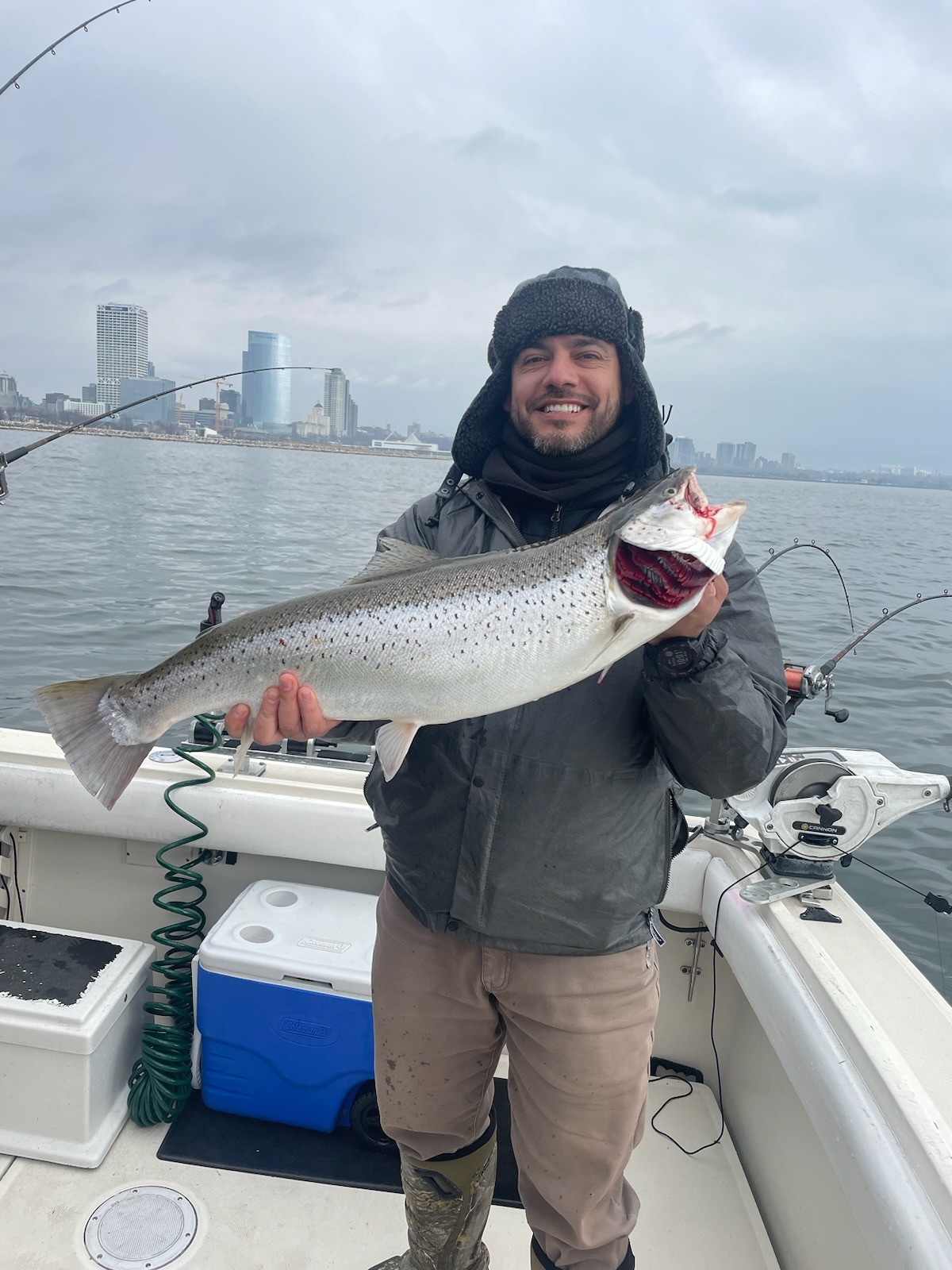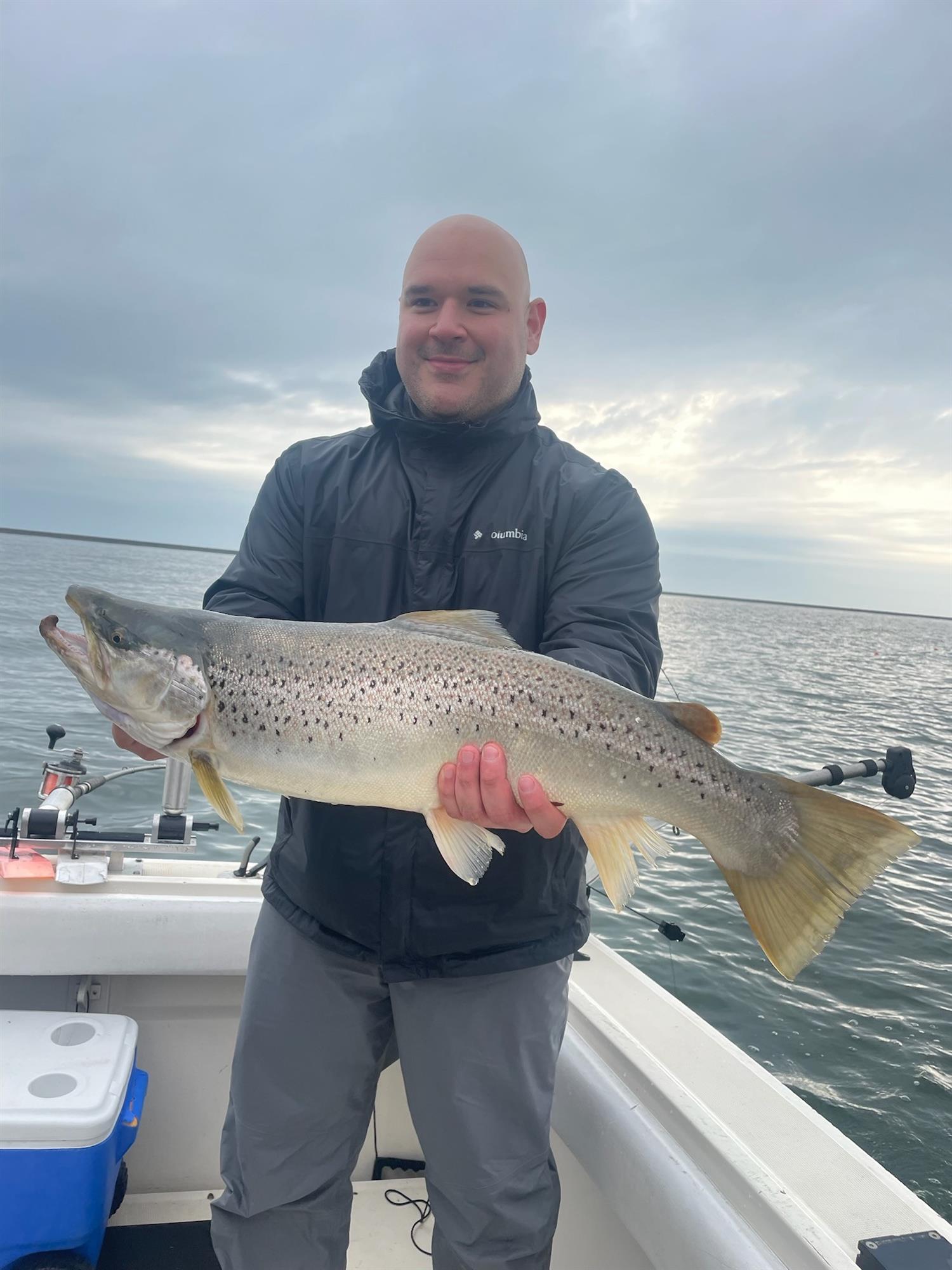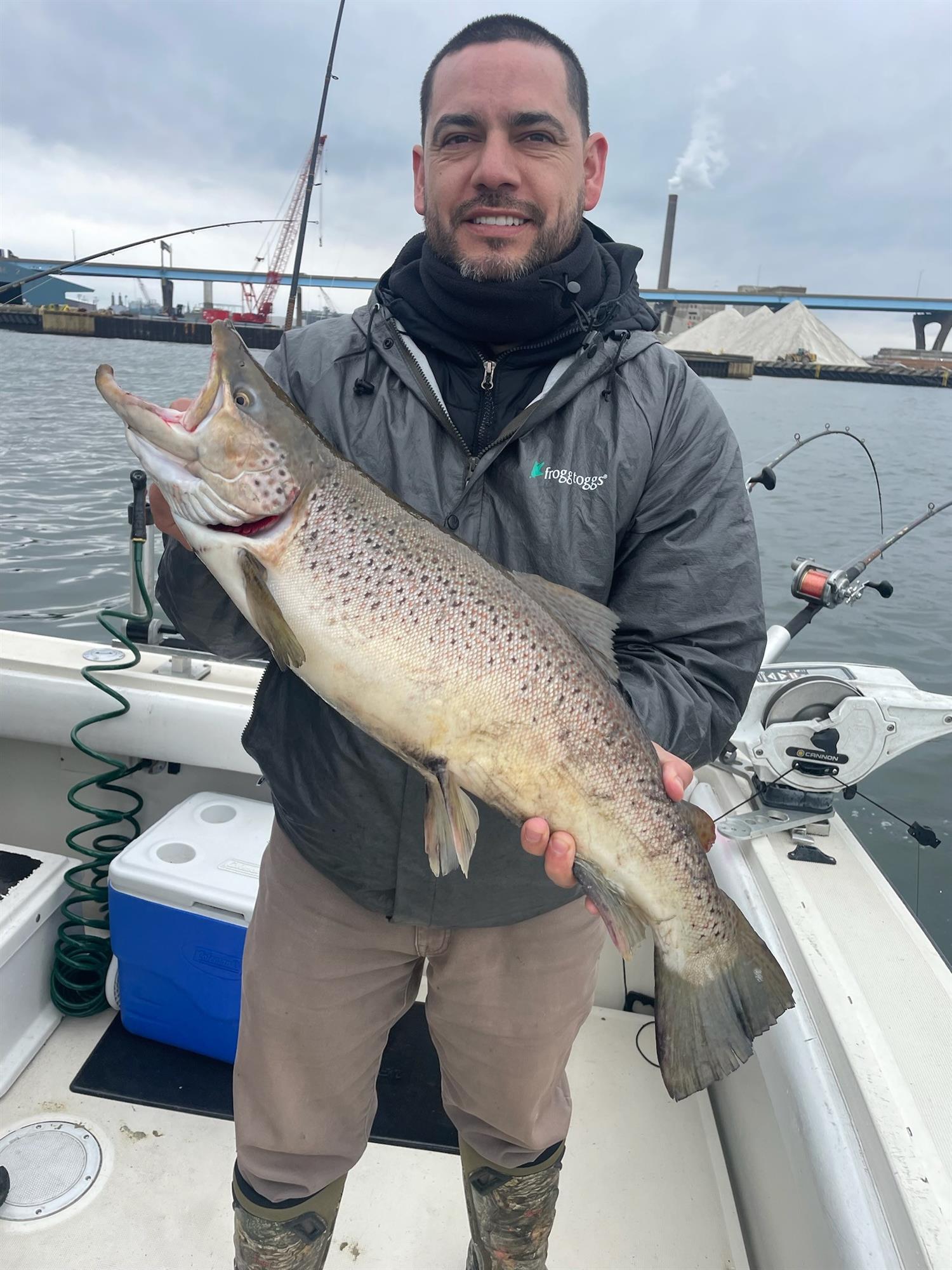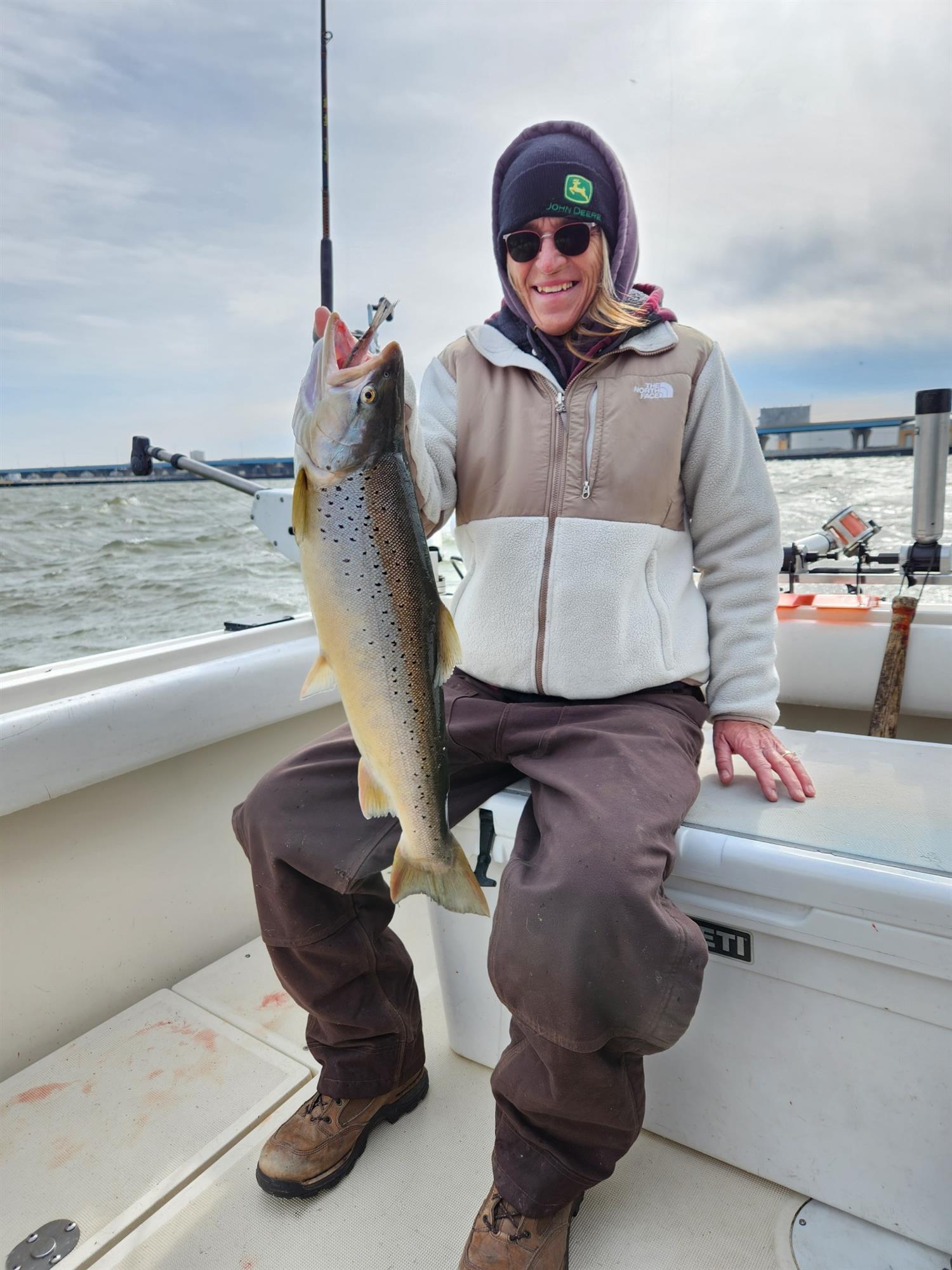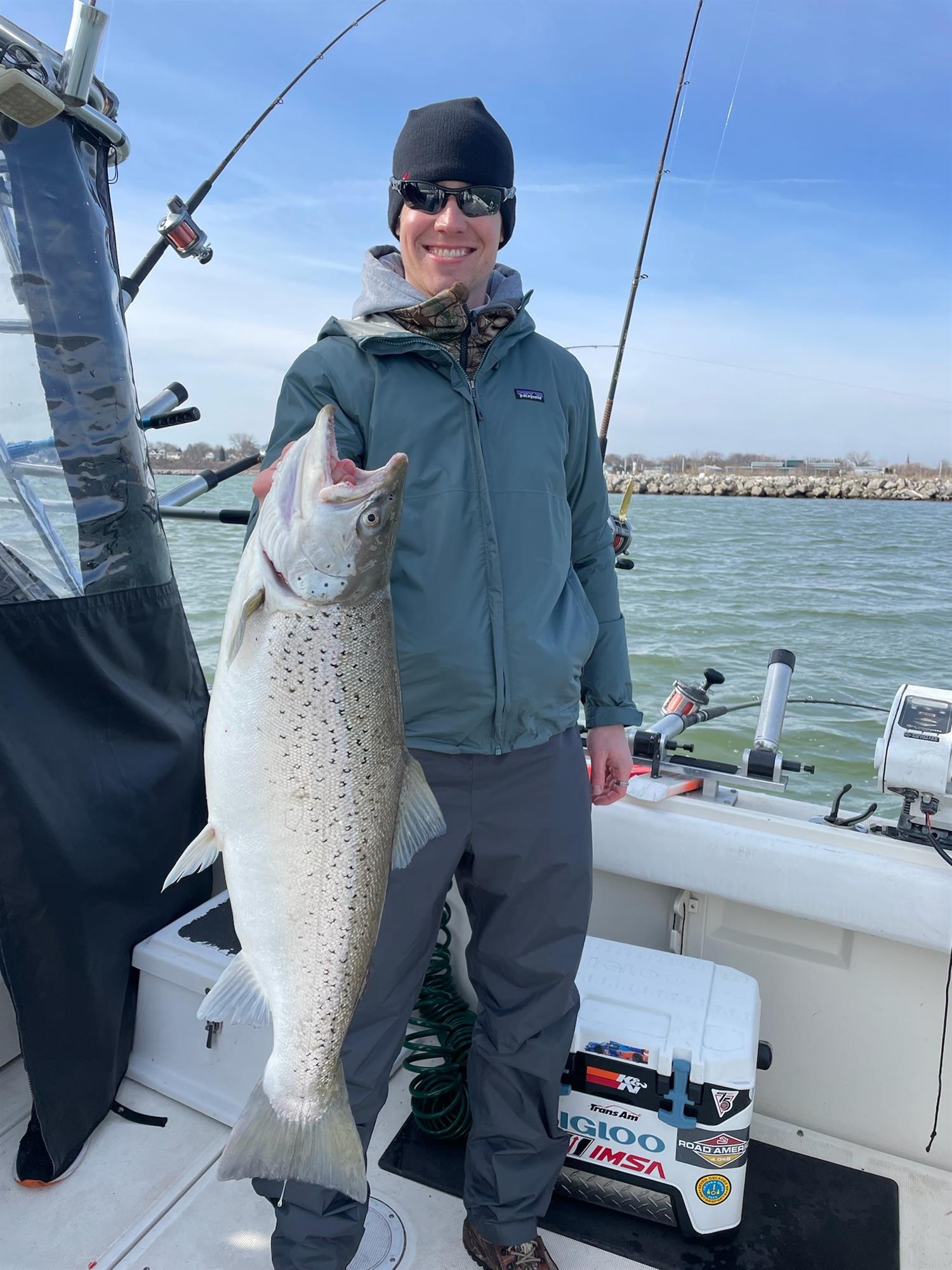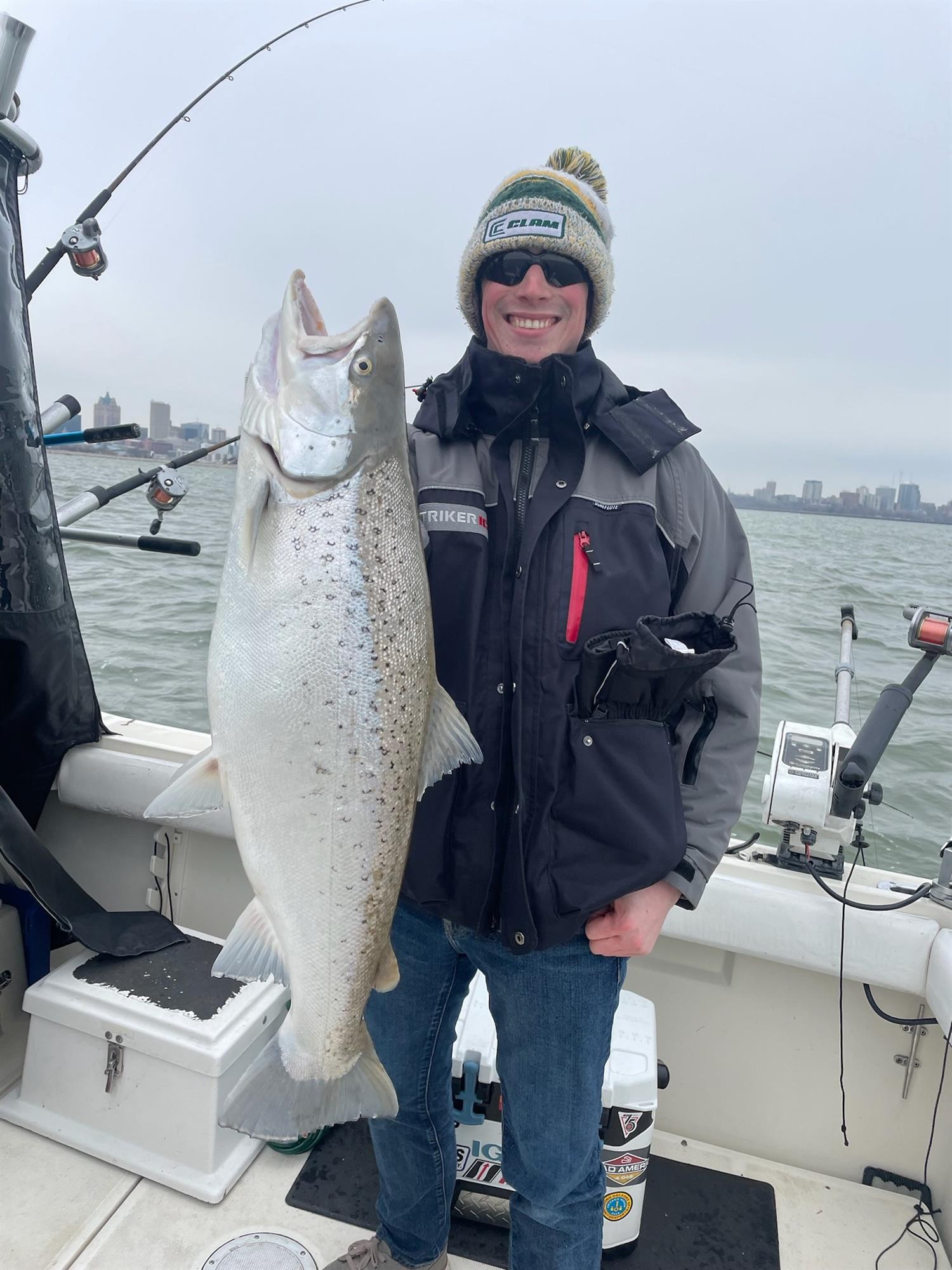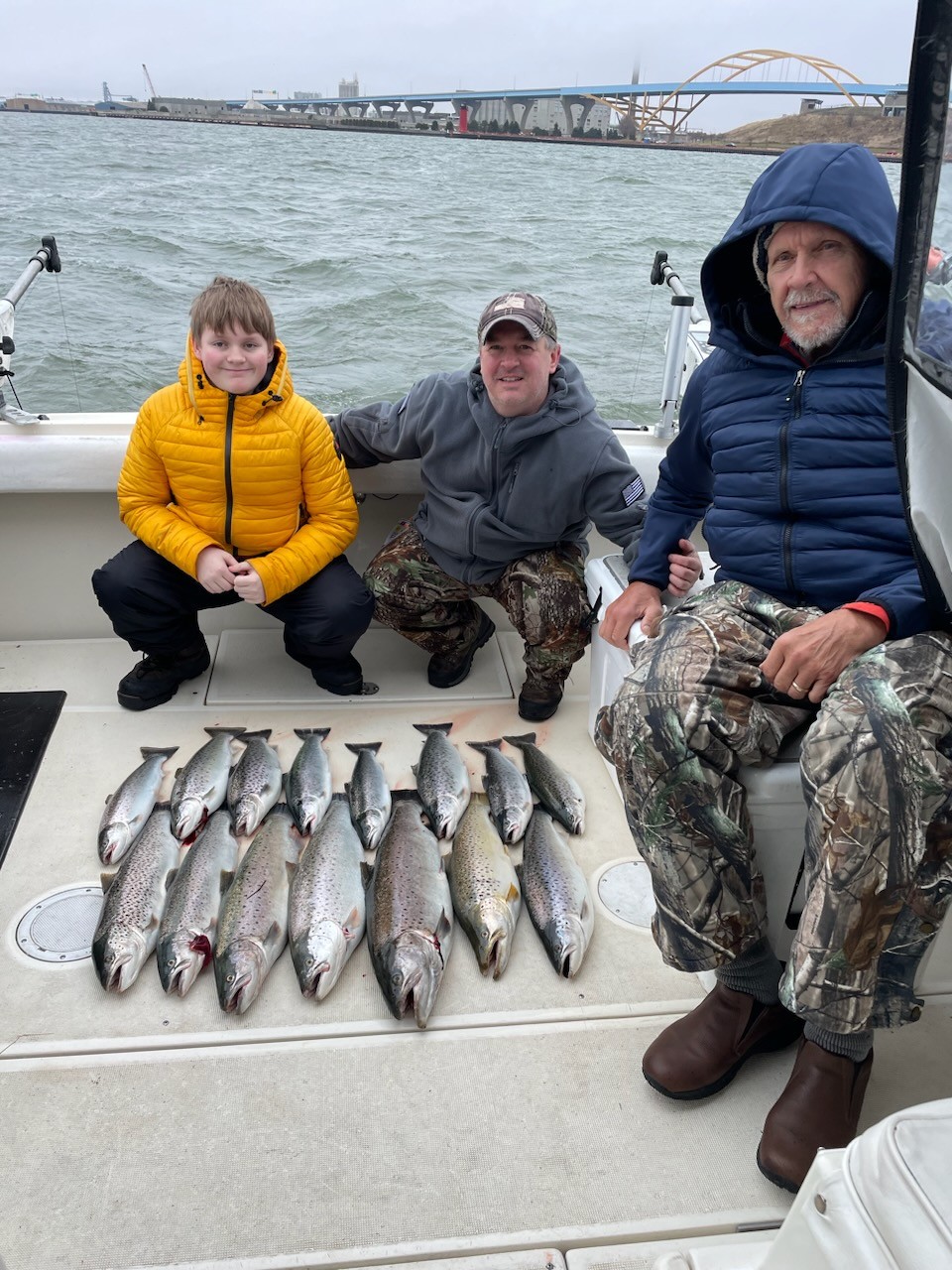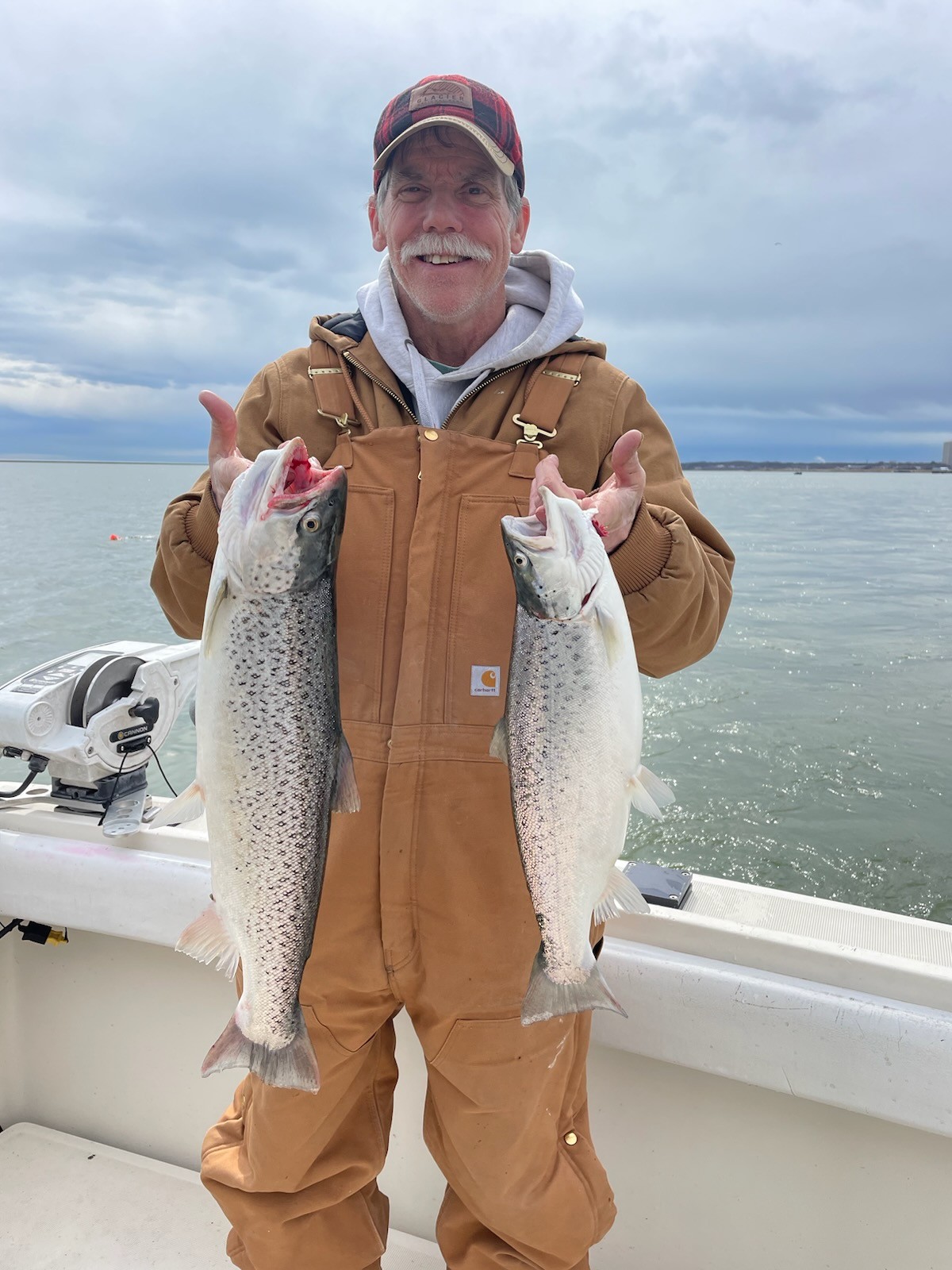 Report for March 28, 2023
We put the boat in March 24th and started fishing that day, catching 7 Brown trout in a couple of hours. Unfortunately the next day it snowed six inches and we needed to shovel out the boat. We did get out Sunday, Monday and Tuesday though. The fishing has been solid for Brown trout in the Milwaukee harbor. The best spots have been from the Discover World, past the river and to the discharge. There have also been bites in front of the Lake Express dock and South Gap. The river mouth to the Main Gap has been good too. On Sunday there was incredible pressure, with over 25 boats fishing around the river and discharge. There was little wind and almost all our bites came off downriggers near the bottom. Monday and Tuesday, with less boat traffic and a breeze there were more bites and the one and two color leadcores took off. The water temperature was between 36 to 38 degrees, unless we went up the river by the turning basin where it reached 40 degrees. The fish had either Gobies or large Shad in them.
We are running one, two and three color leadcores, two mono dipsies and two downriggers. Gold spoons seemed to work best, with the Stinger Stingray size Gold Hud dominating. The Gold Hud with orange tape was second best. Rob at Lake Michigan Angler still has a bunch of the Gold Huds left but they are going fast. Tough spoon to find these days. The action is mostly Brown trout but we did boat a couple of Lake trout near the gaps and we lost one Coho salmon.
This is the best Brow trout fishing of the year and should last a few more weeks. The run time is a few minutes and fishing in and around the Milwaukee harbor helps with wave action. This is a fun experience and one of the only times we put are efforts in targeting Brown trout. Milwaukee charter fishing in April is the best time to target Brown trout. All though it is March right now. Call Silver King Charters at 414-460-1467 to give April fishing a try. I havea picture of a Gold Uud in a Brown trout month. A couple of the trout are 15 pounds and there is a picture of the boat covered in snow from Saturday.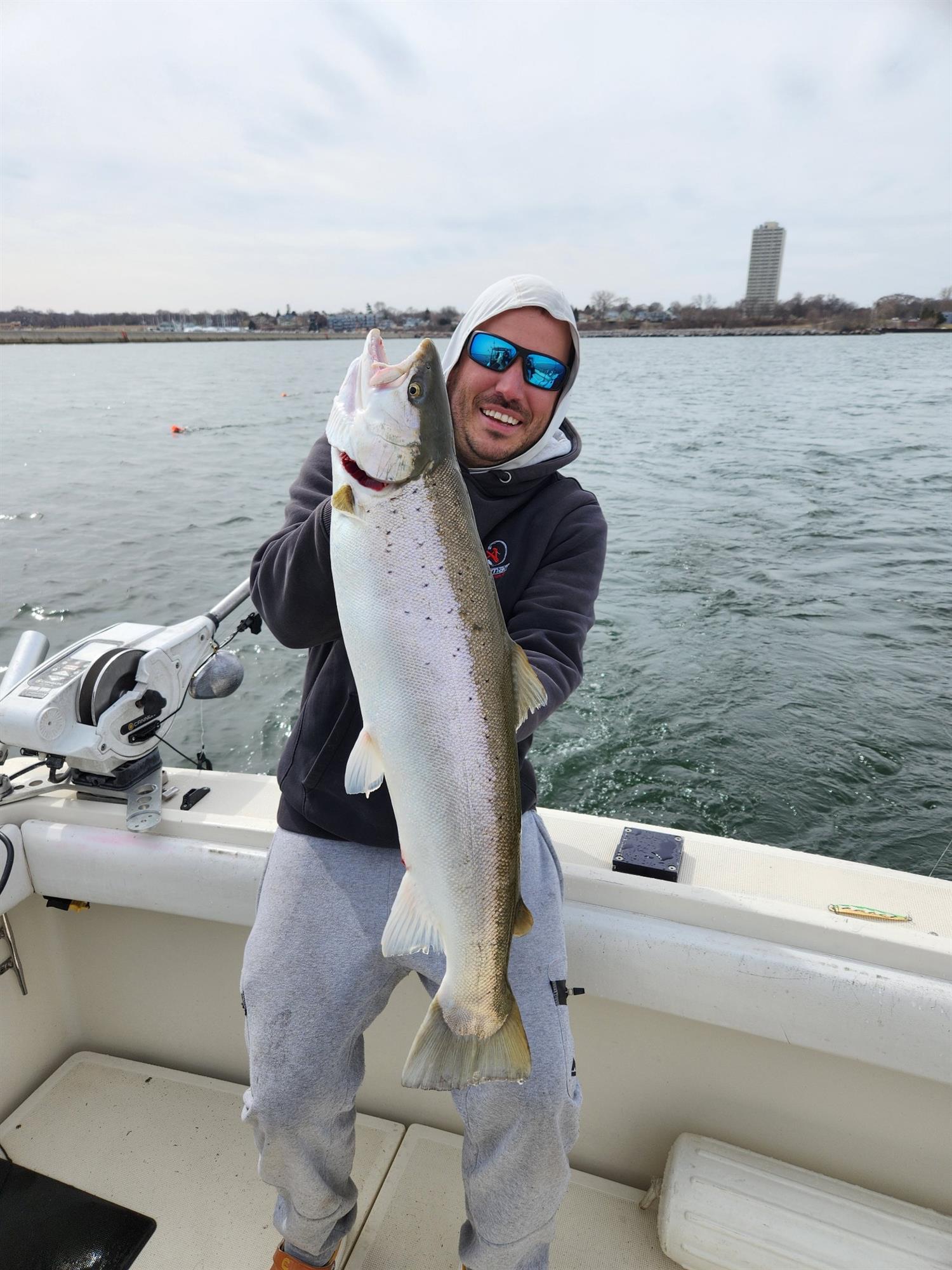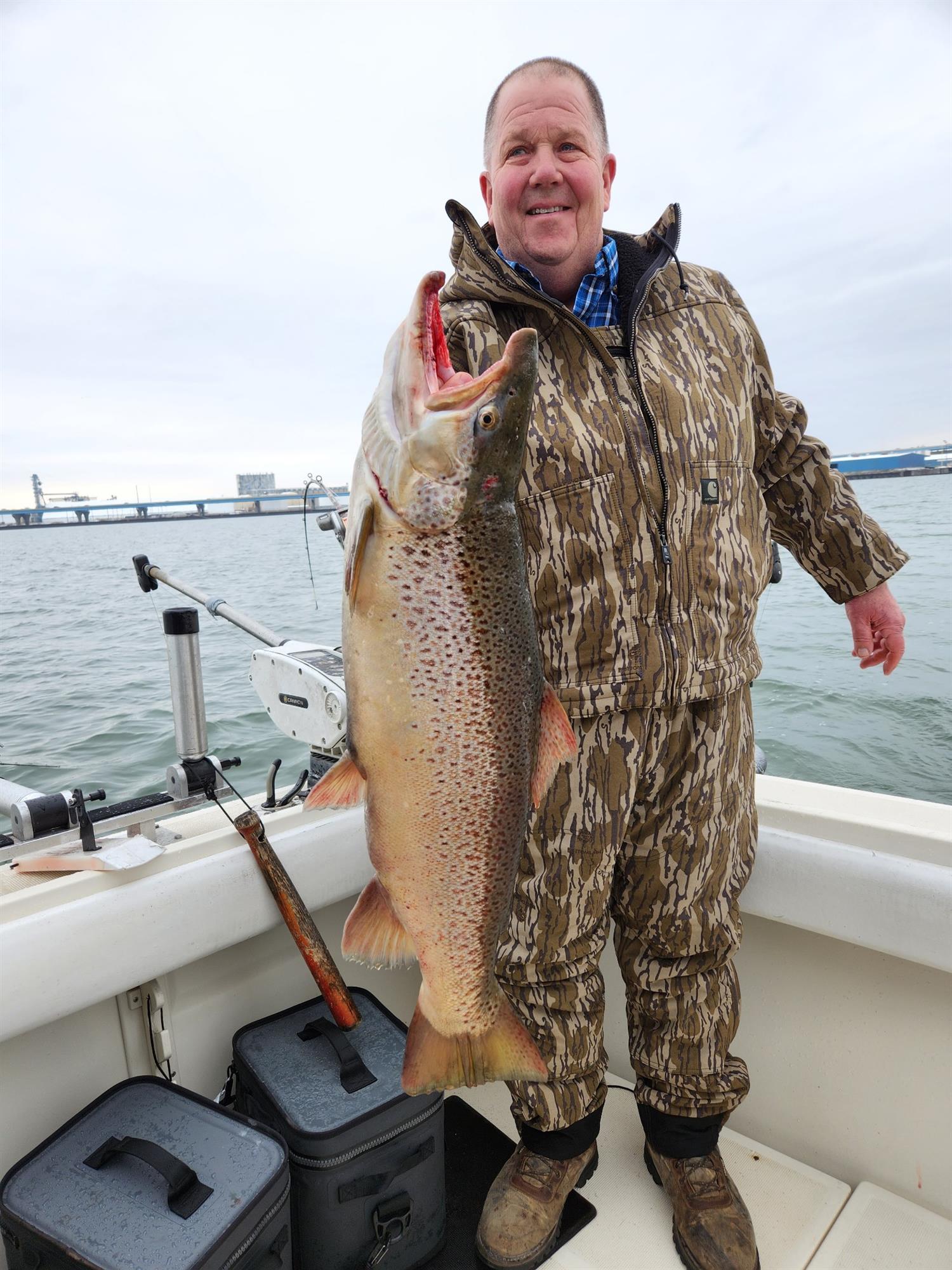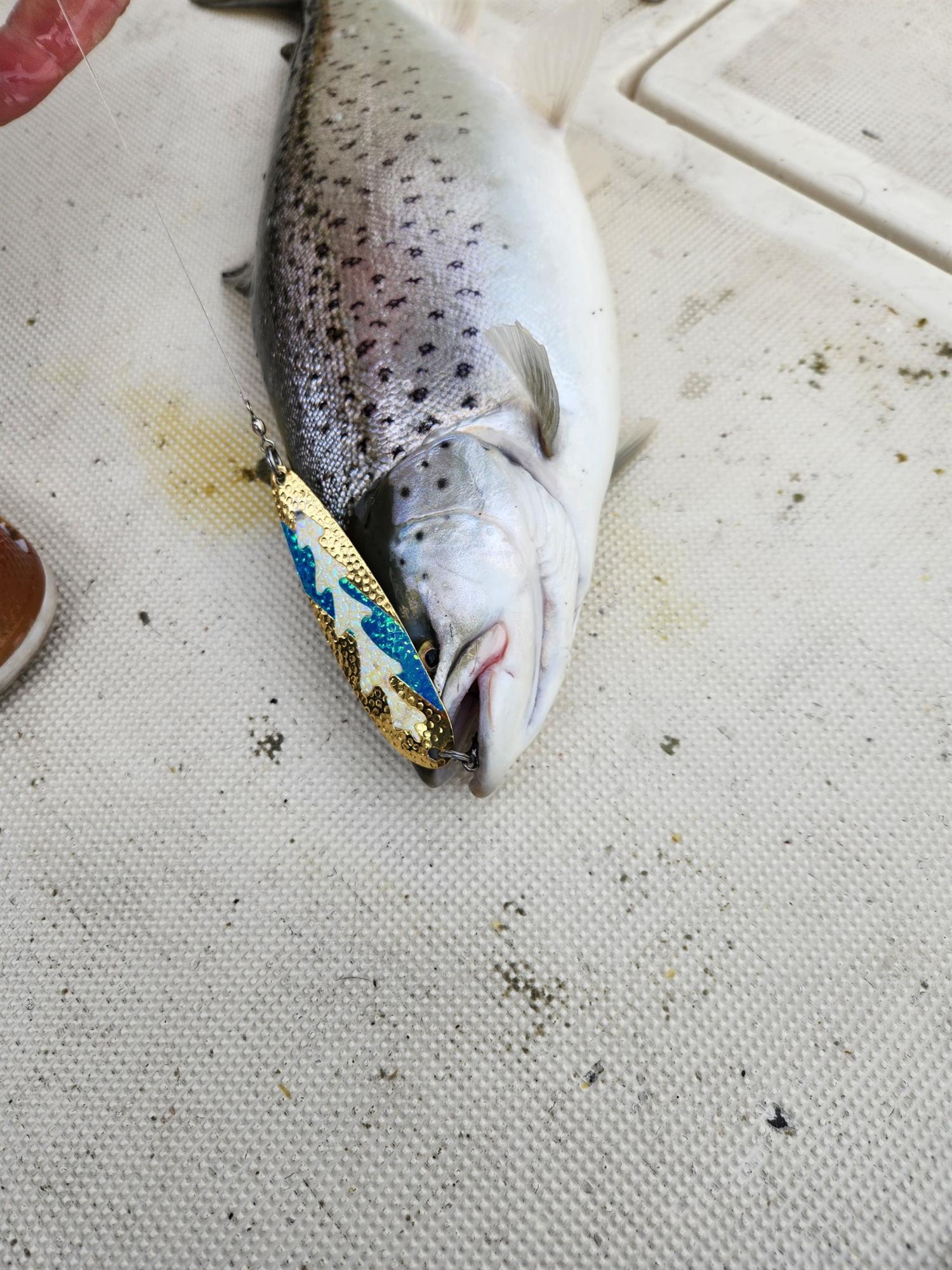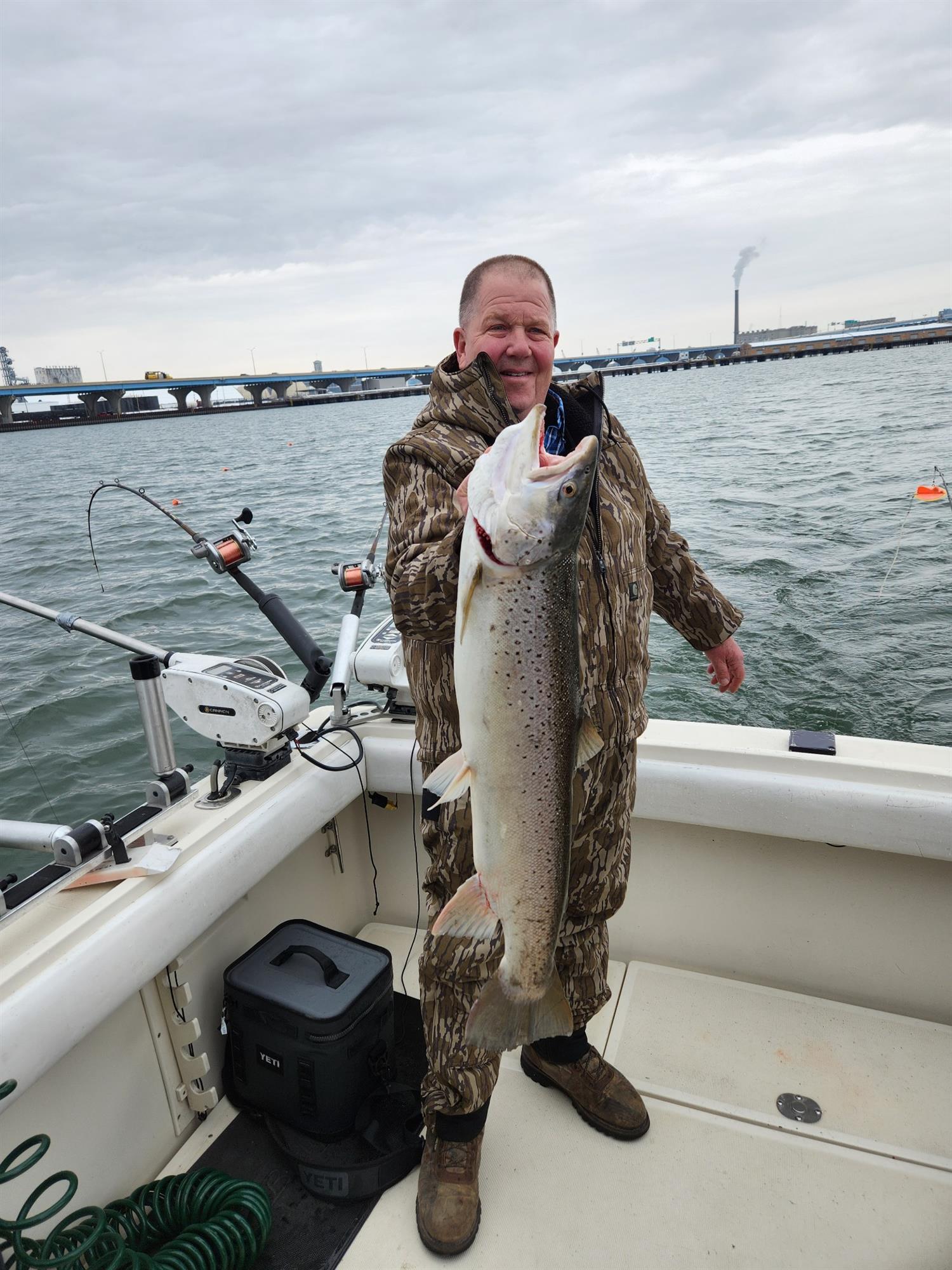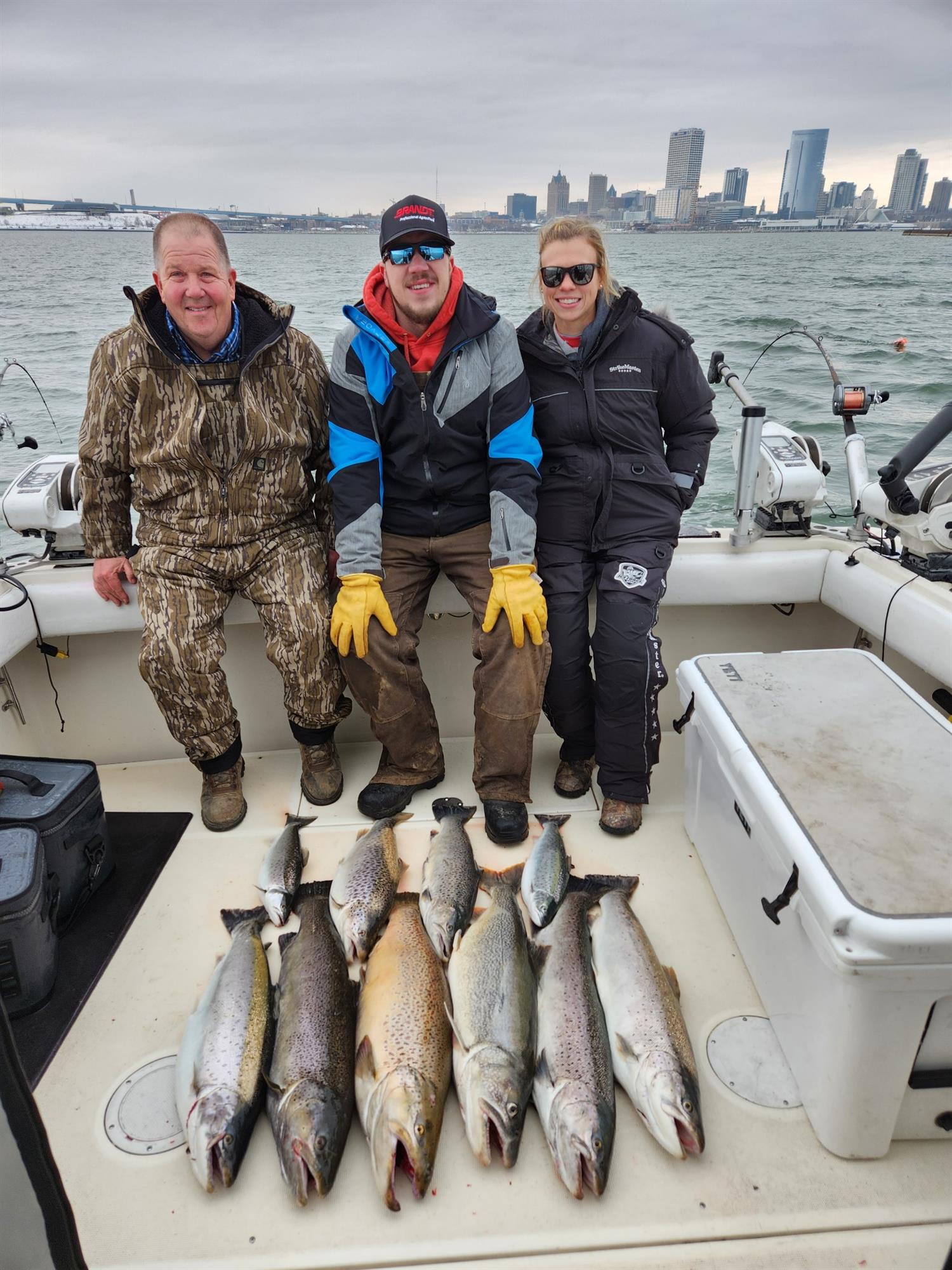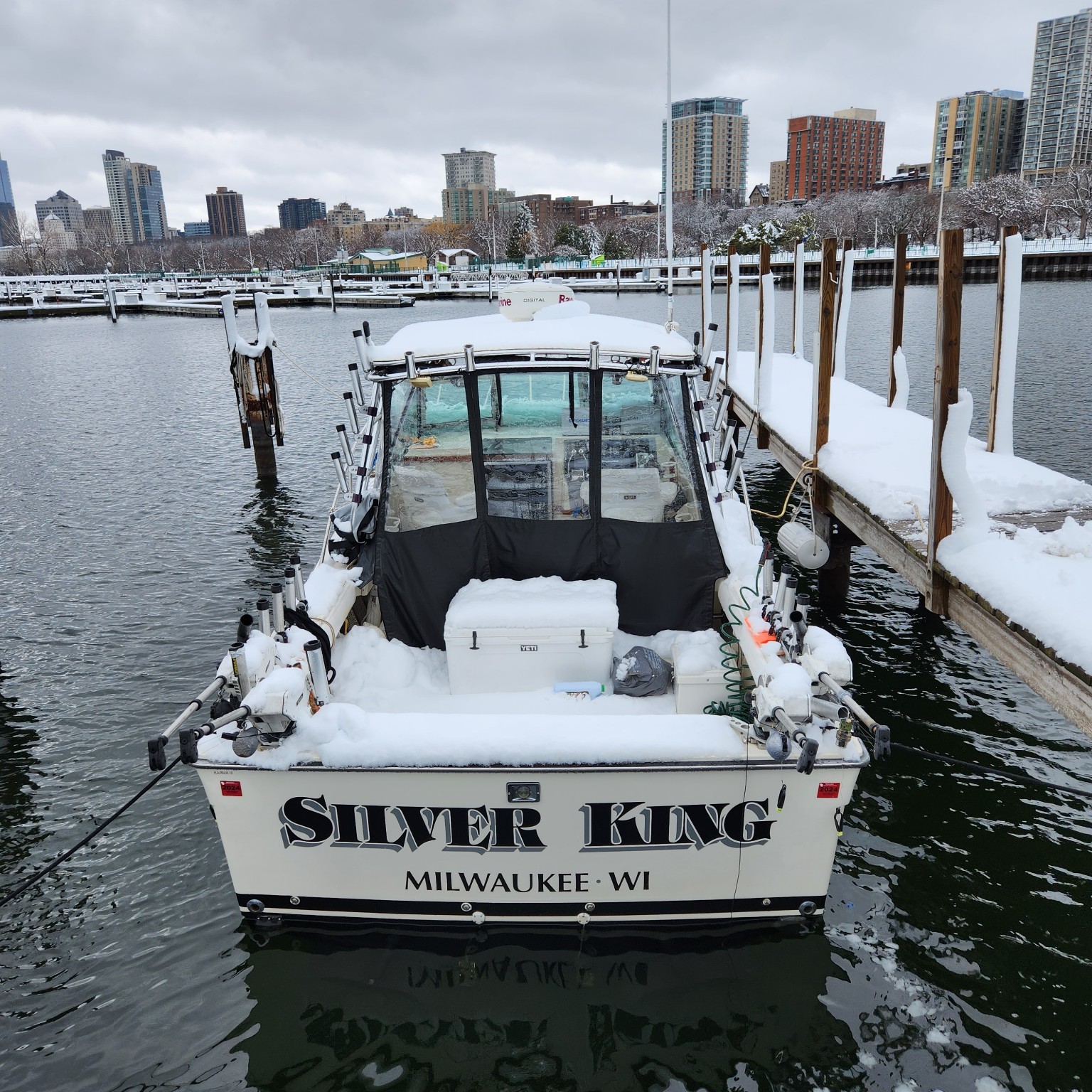 Report for March 16, 2023
I was going to go over August in this report but the marina and southern half of Lake Michigan has been ice free since February 28th and people are in boats catching fish. Our first mate Collin was out in a small boat yesterday catching Brown trout in the Milwaukee harbor and today catching Coho salmon from the shore. With the mild winter and little ice this year the southern half of Lake Michigan never went into a deep freeze and this will lead to some early action. Coho salmon are being caught all along the shoes of southern Lake Michigan. IT by no means is the action we will see in May but fish are being caught. We are looking to get the boat in next weekend or the Monday after that. We have fished in late March before and it has been good. We look to do it again this year. Brown trout will be are primary target but it is safe to say Coho salmon and Lake trout could be in the mix on any trip this March and April. We have the boat rigged and ready to go.
We will be running a straight spoon spread. We really like gold and copper spoons in early spring. Stinger spoons now made by Gibb's are our favorites. We usually run the stinger or scorpion size spoons the first couple of weeks. Our favorites are Mass Confusion, Gold Hud, Gold NBK Green, Gold NBK Orange. These spoons along with a UV Silver Blue Dolphin are already tied up and ready to go. The one, two and three color leadcores do a lot of damage early in the season. We like to troll fast to cover a lot of water and pass as many active fish as we can. The bites are usually found in a few areas and once we get hit we will work the area hard. We have ha a lot of good action the first few weeks we are in and there is no better time of year to target Brown trout but we think a mixed bag of species is likely. Resident Coho salmon could be great this year with the very mild winter and certainly higher survival rate. We will see how early the bait fish show up and this will only improve a promising start. I will go over August and September Milwaukee charter fishing for those of you planning trips for that time of year. soon but hopefully very soon I have a report of our first trips. If you are interested in booking a trip for this March or April or anytime of the season call Silver King Charters at 414-460-1467. The first couple of pictures are Brown trout caught a couple of days ago and the rest are from March and April over the last several years.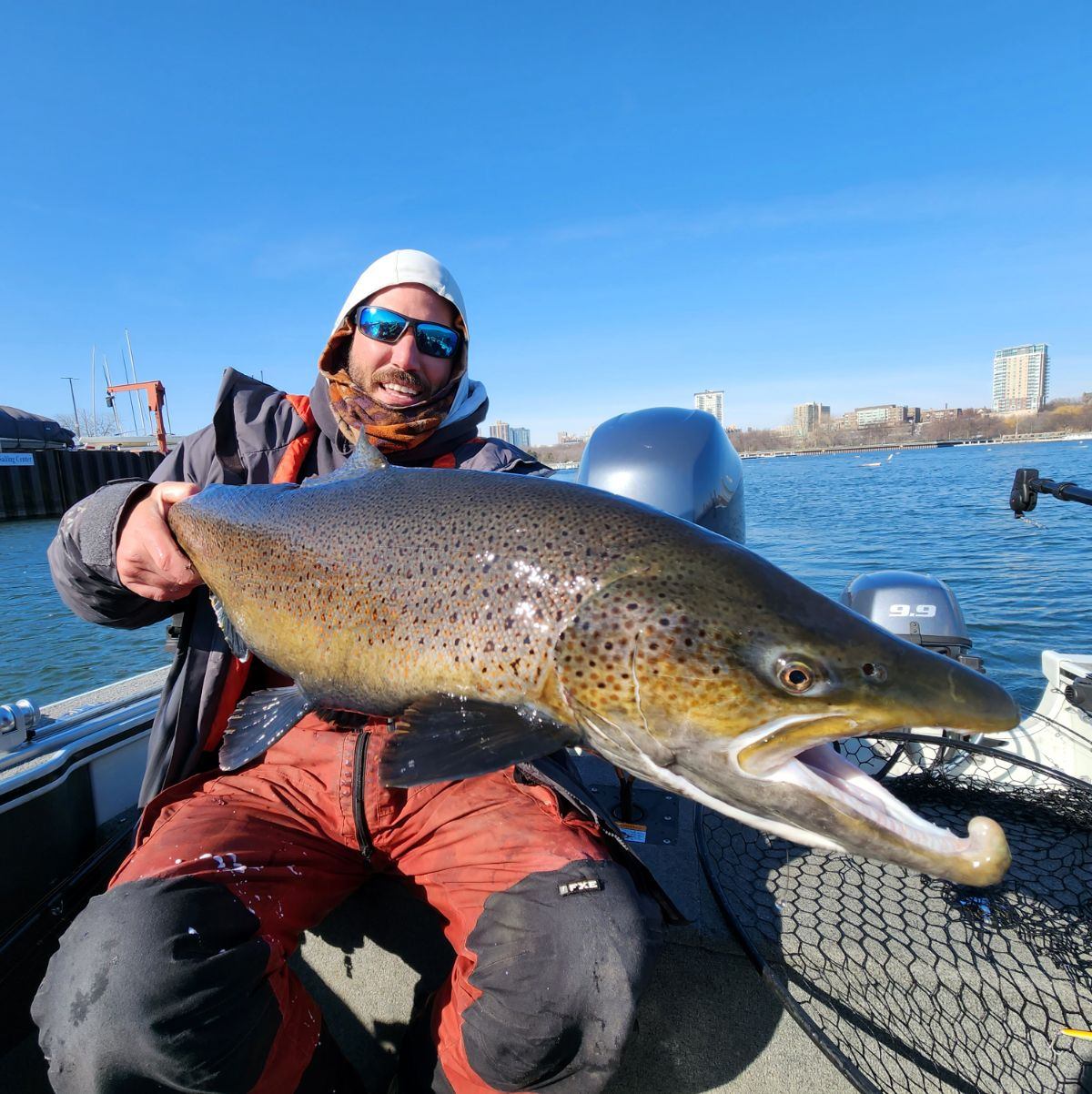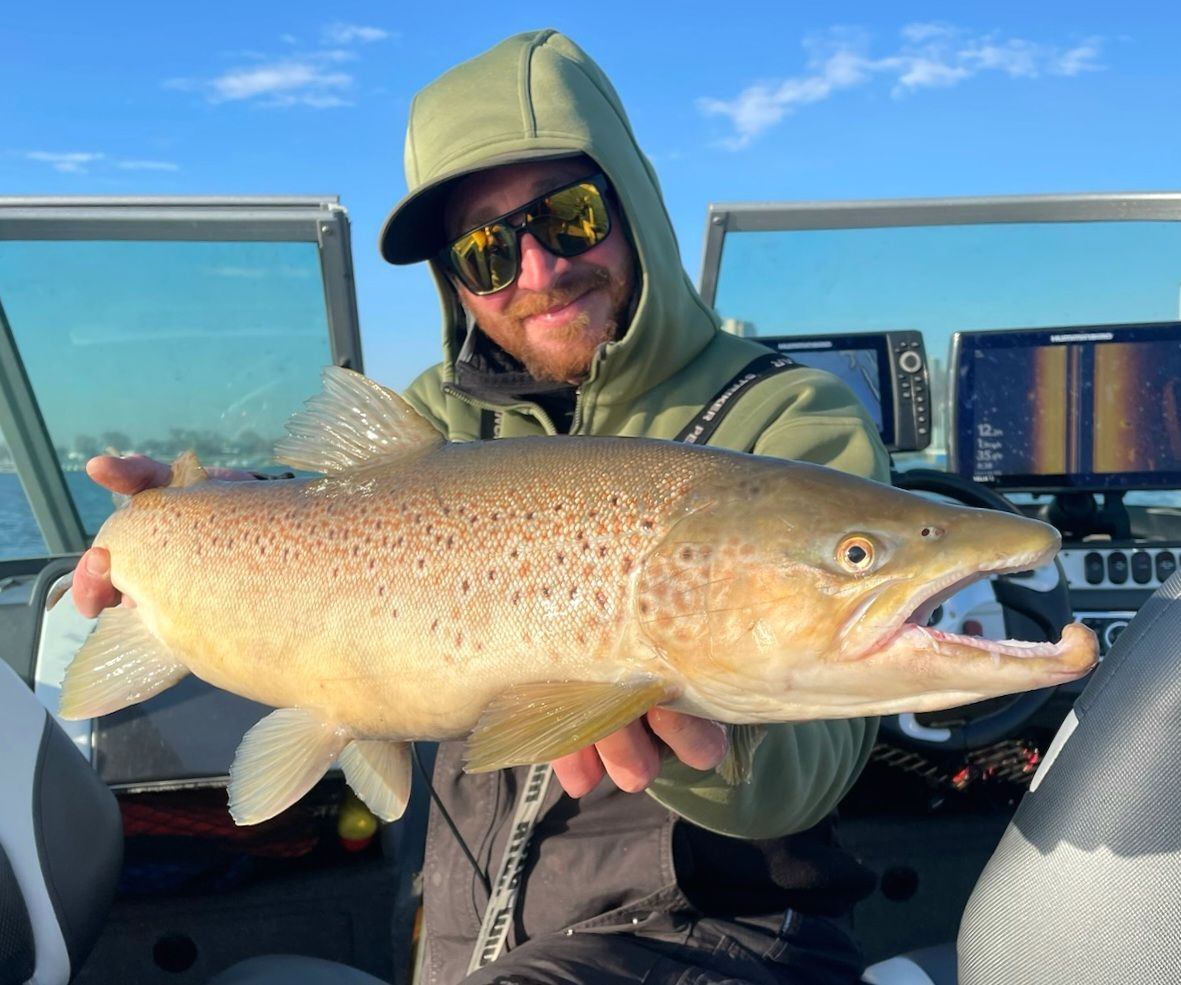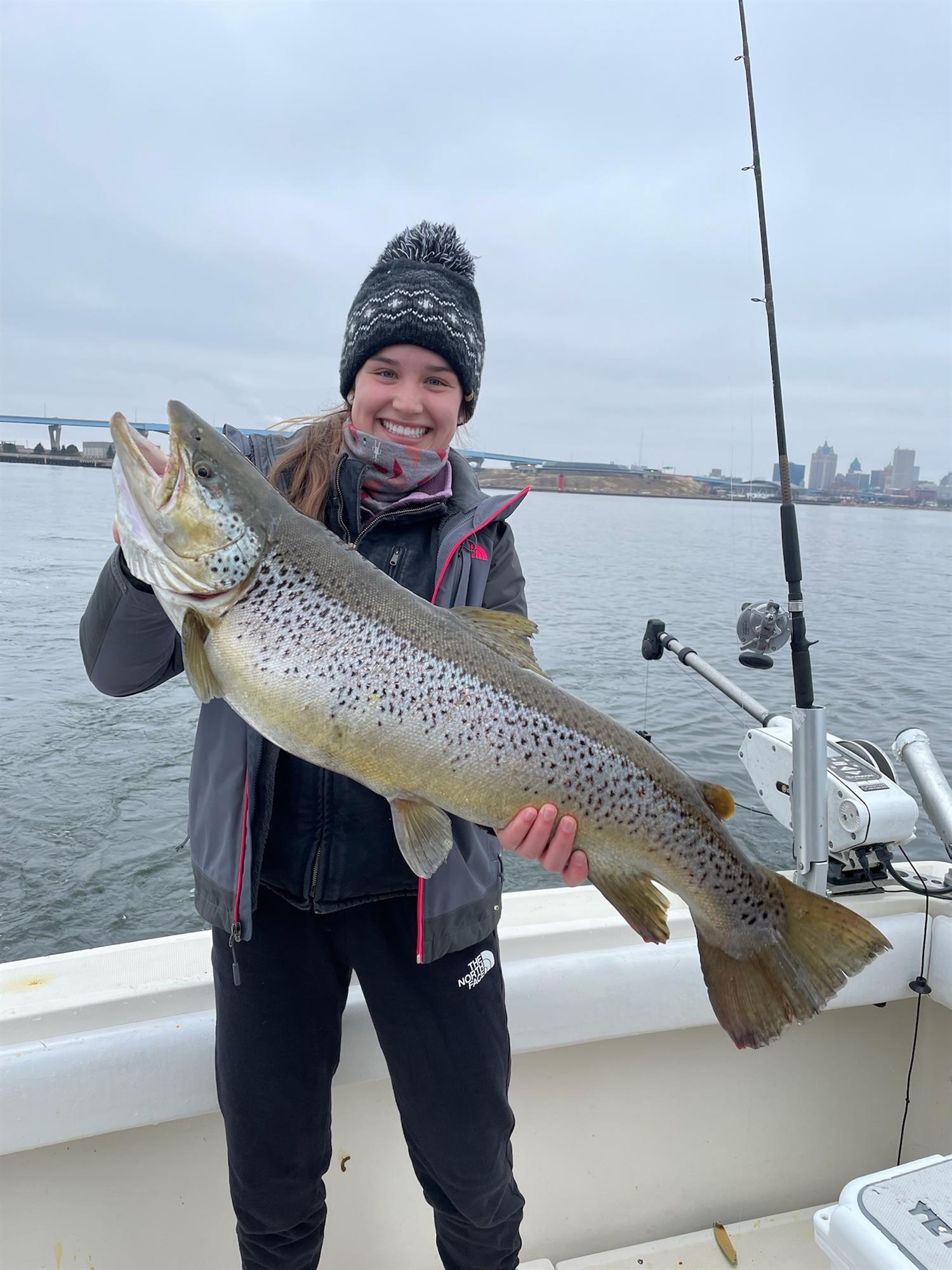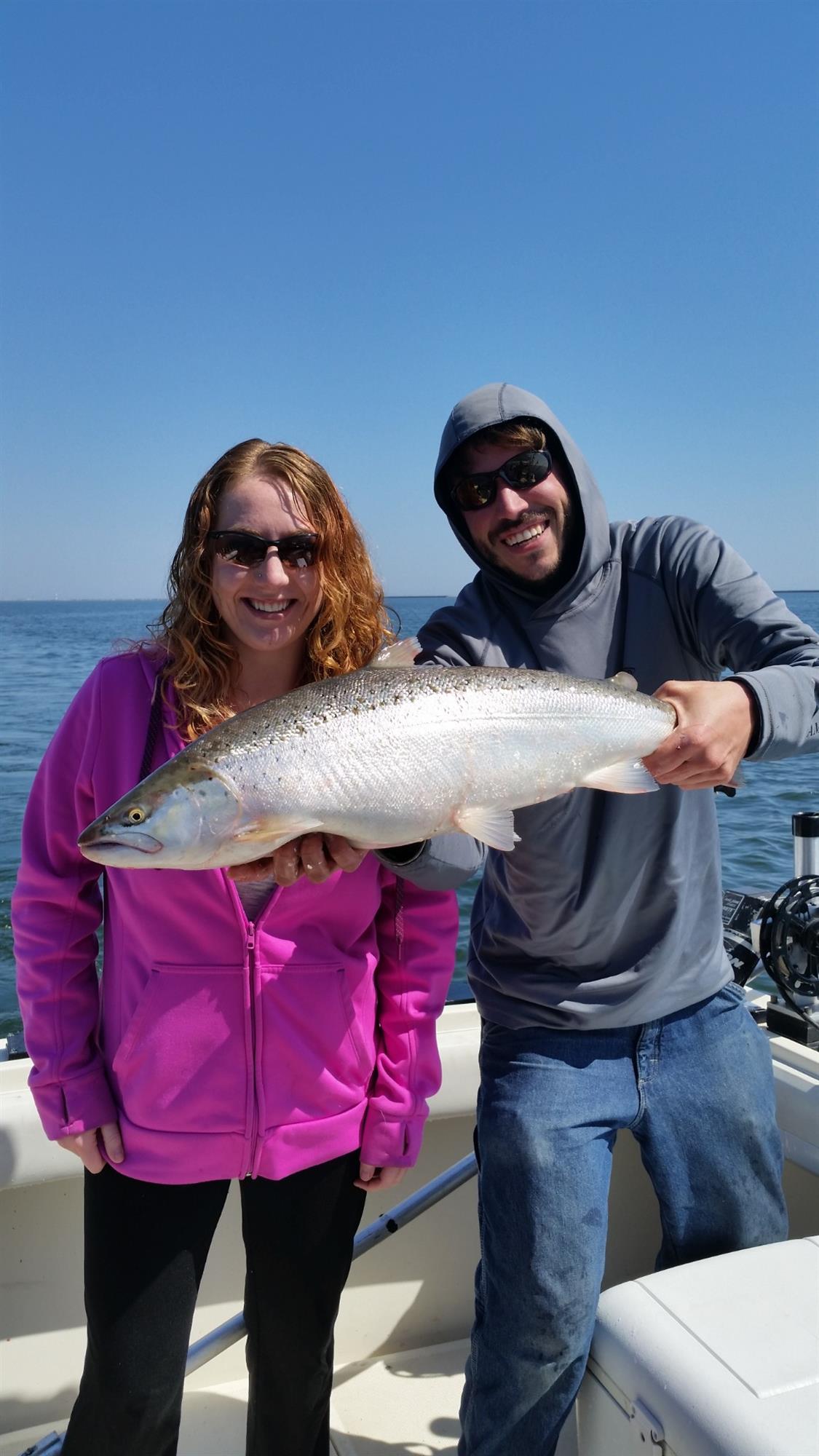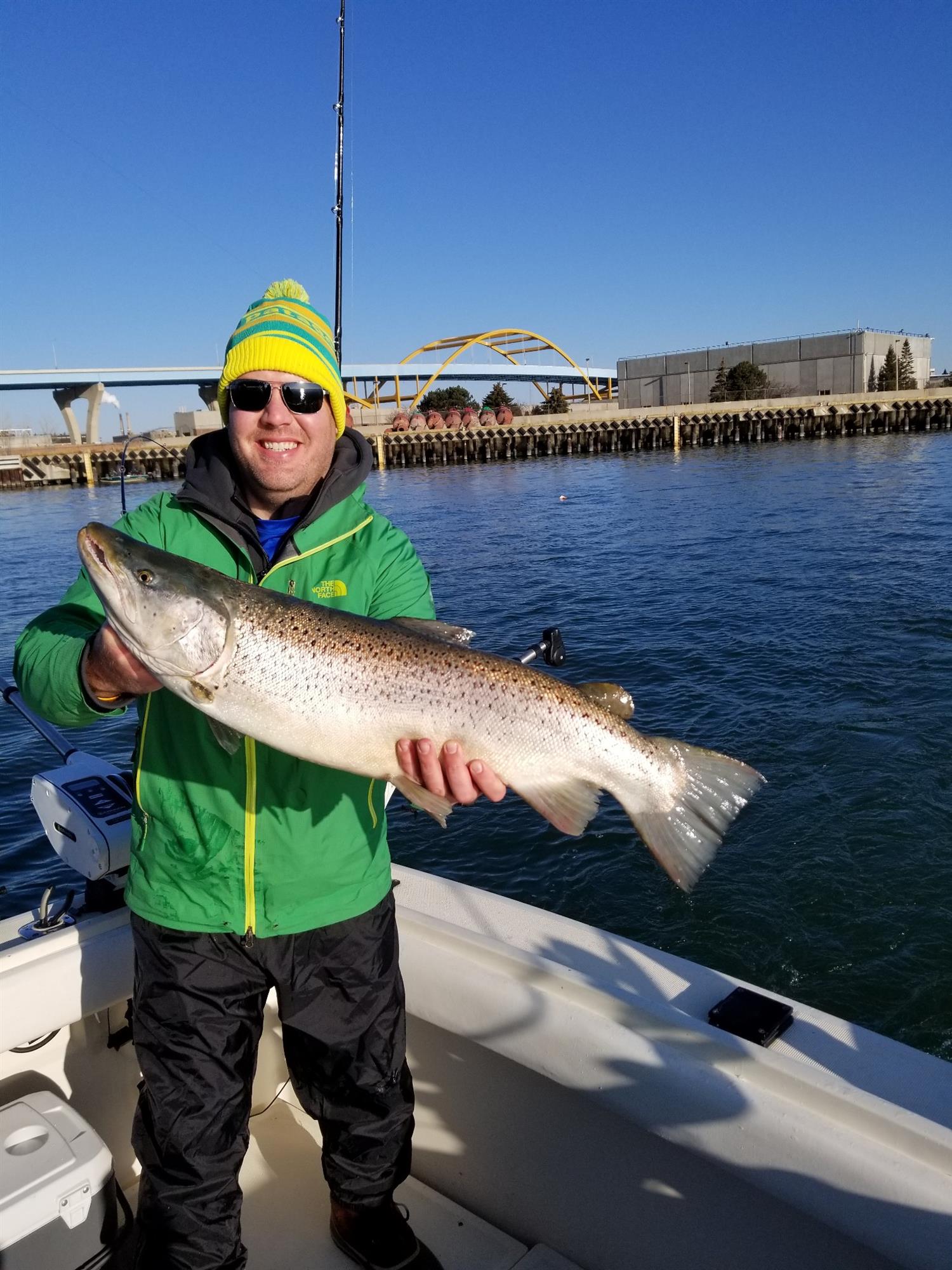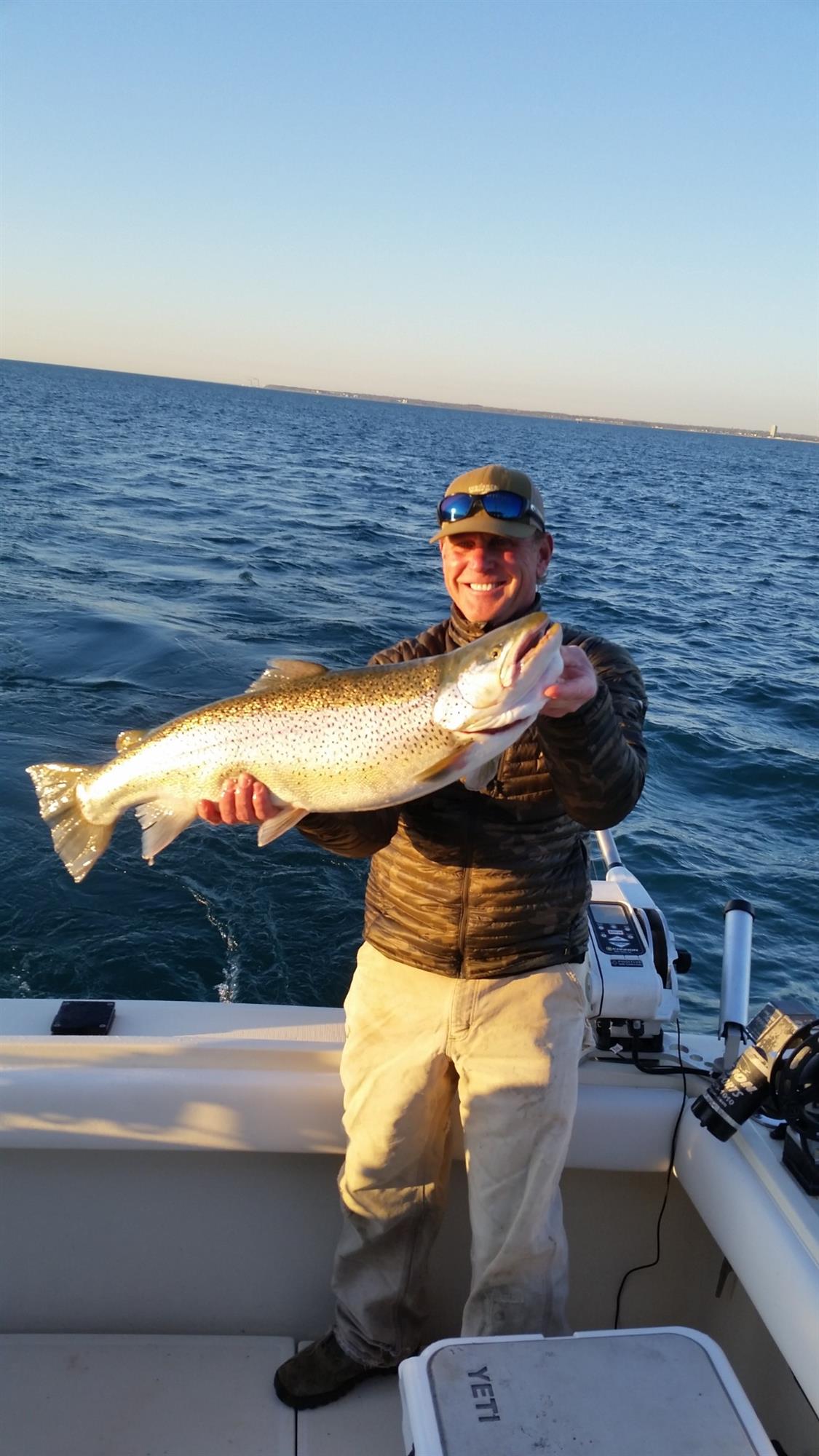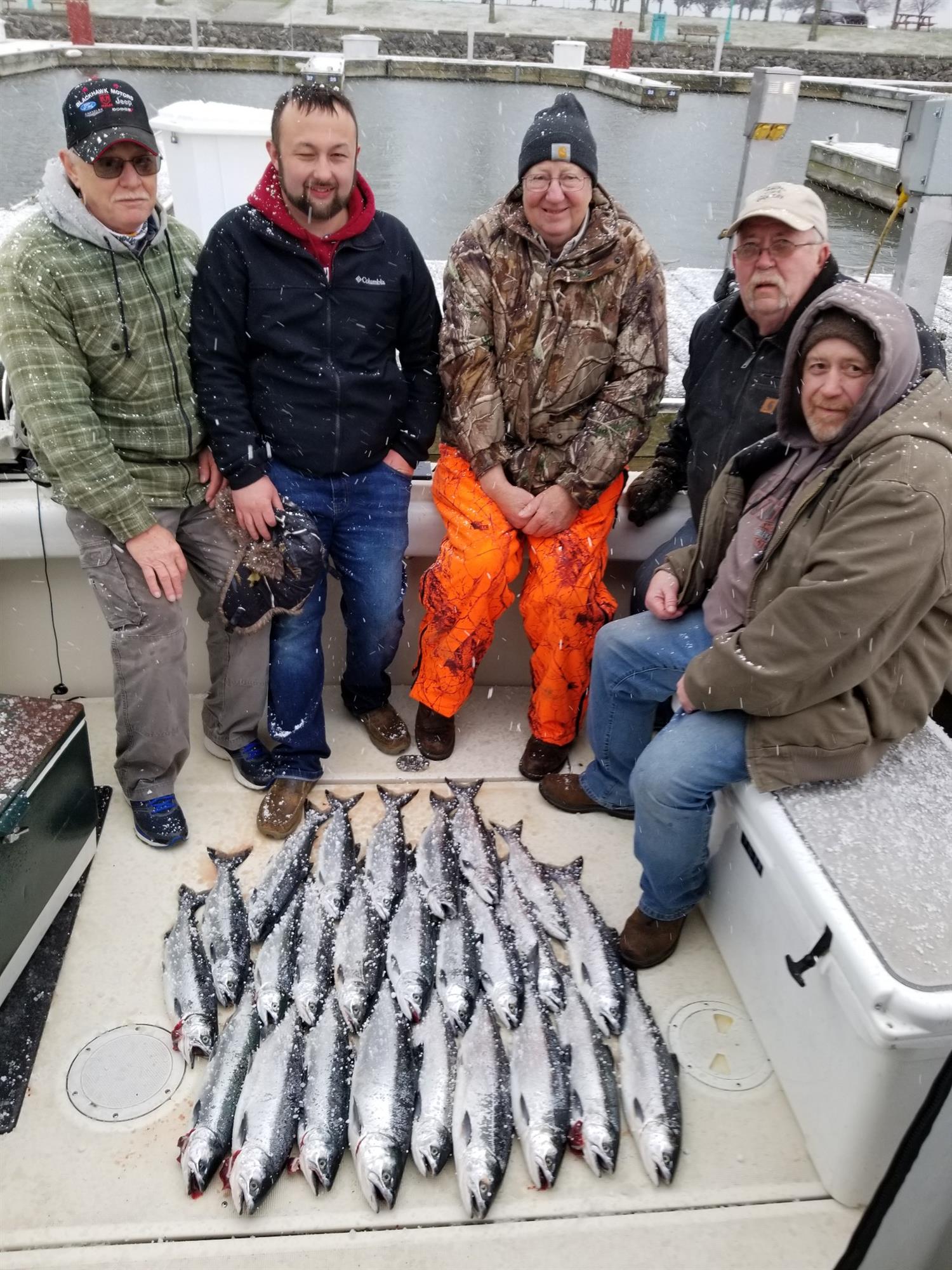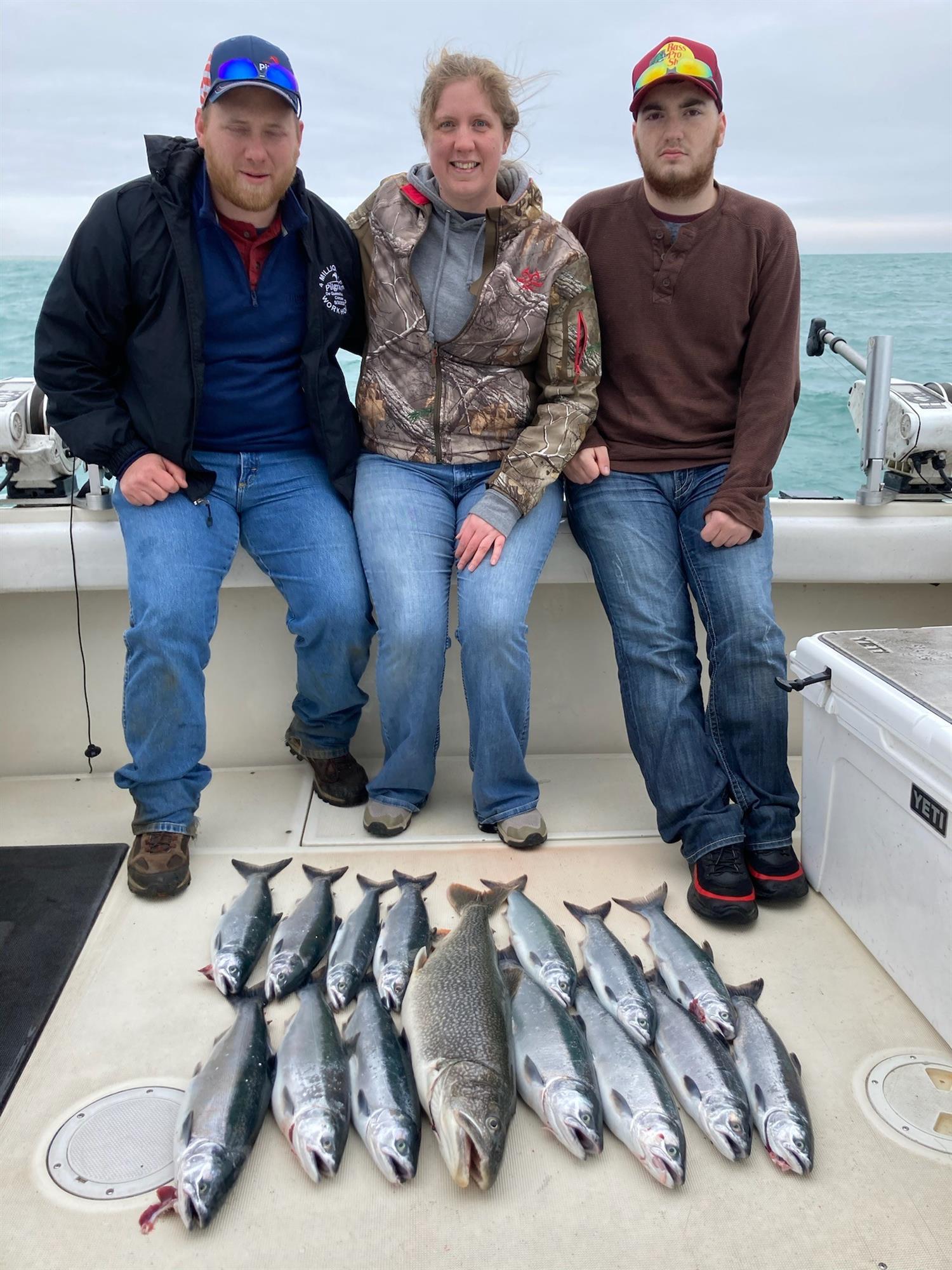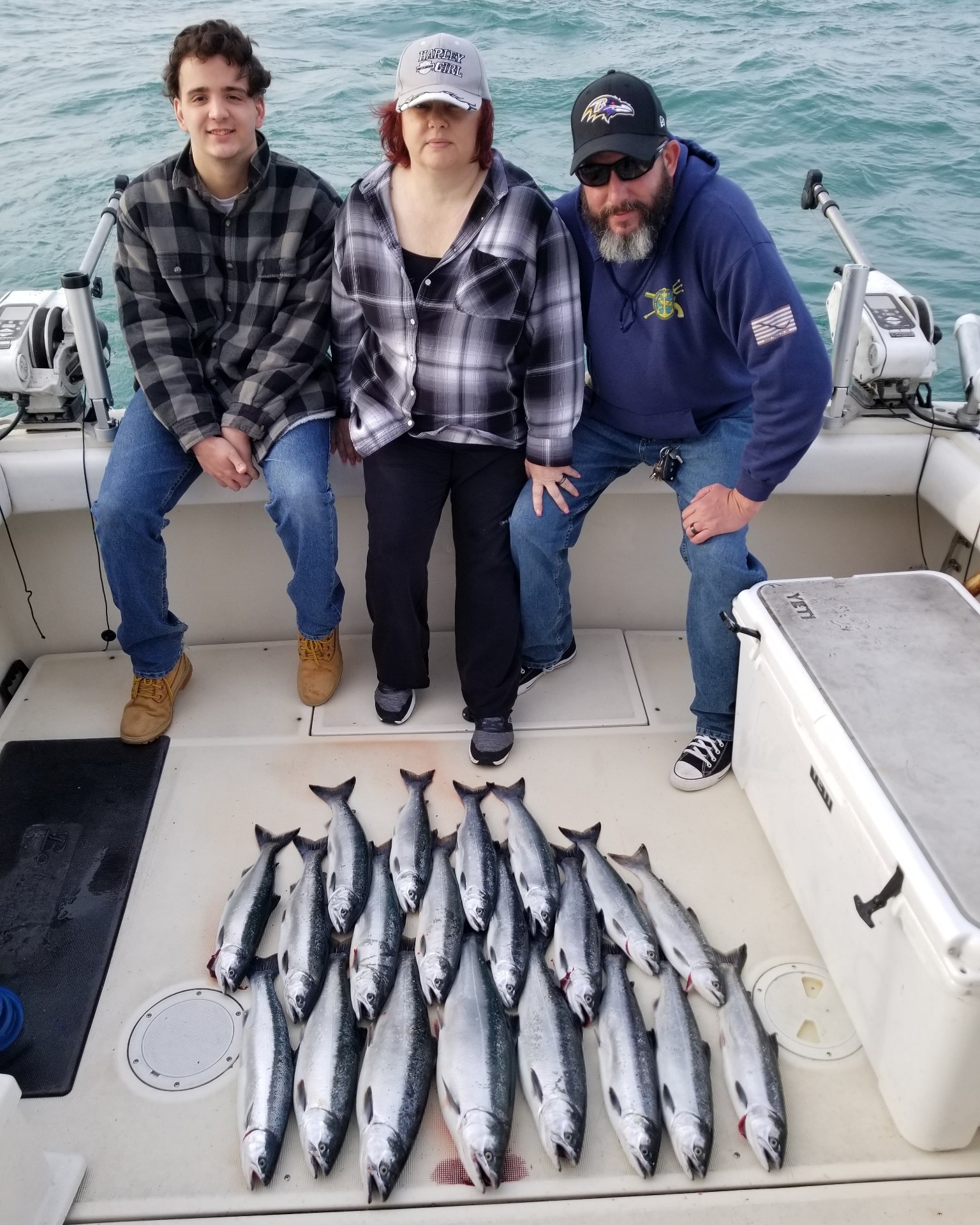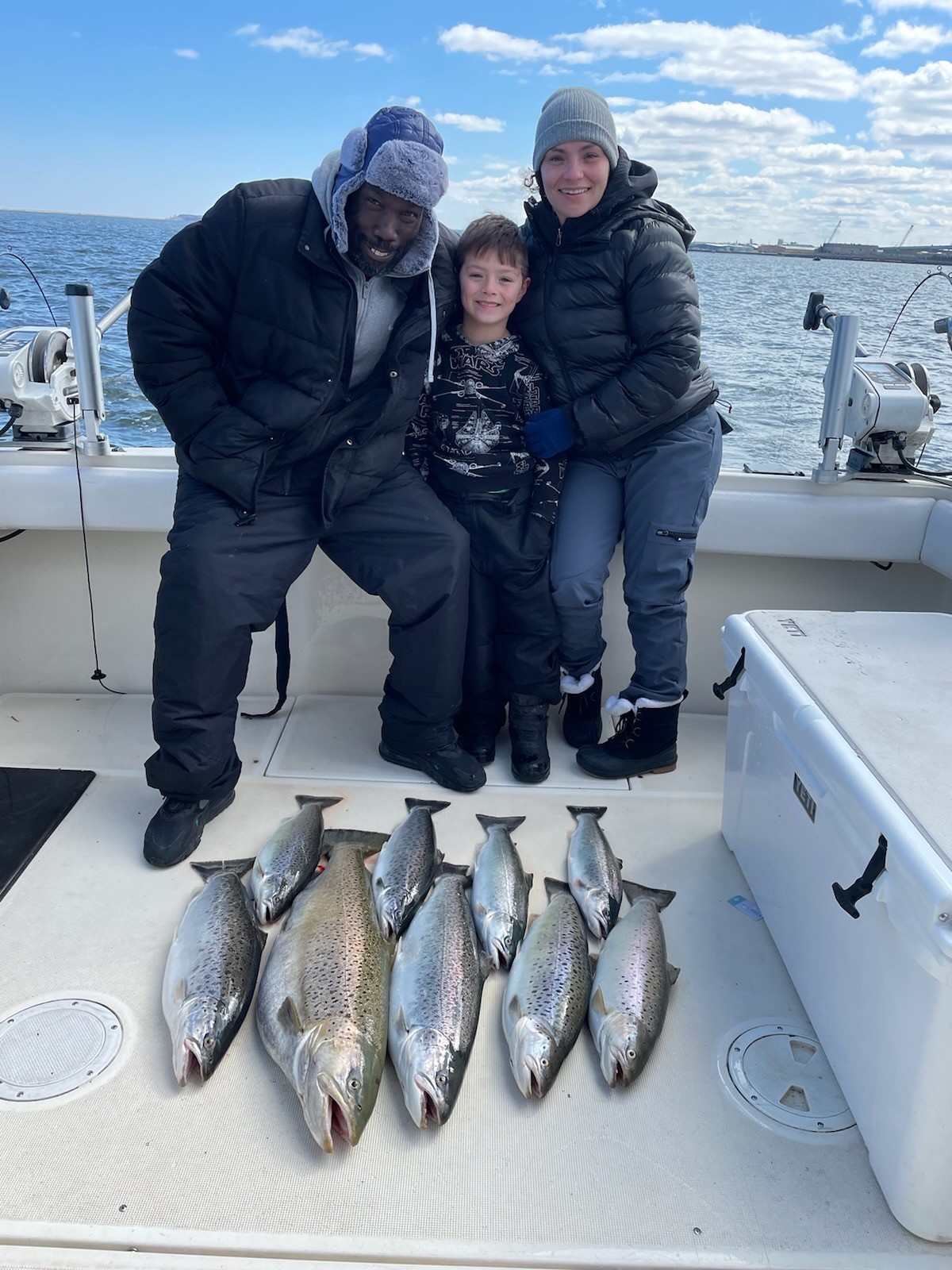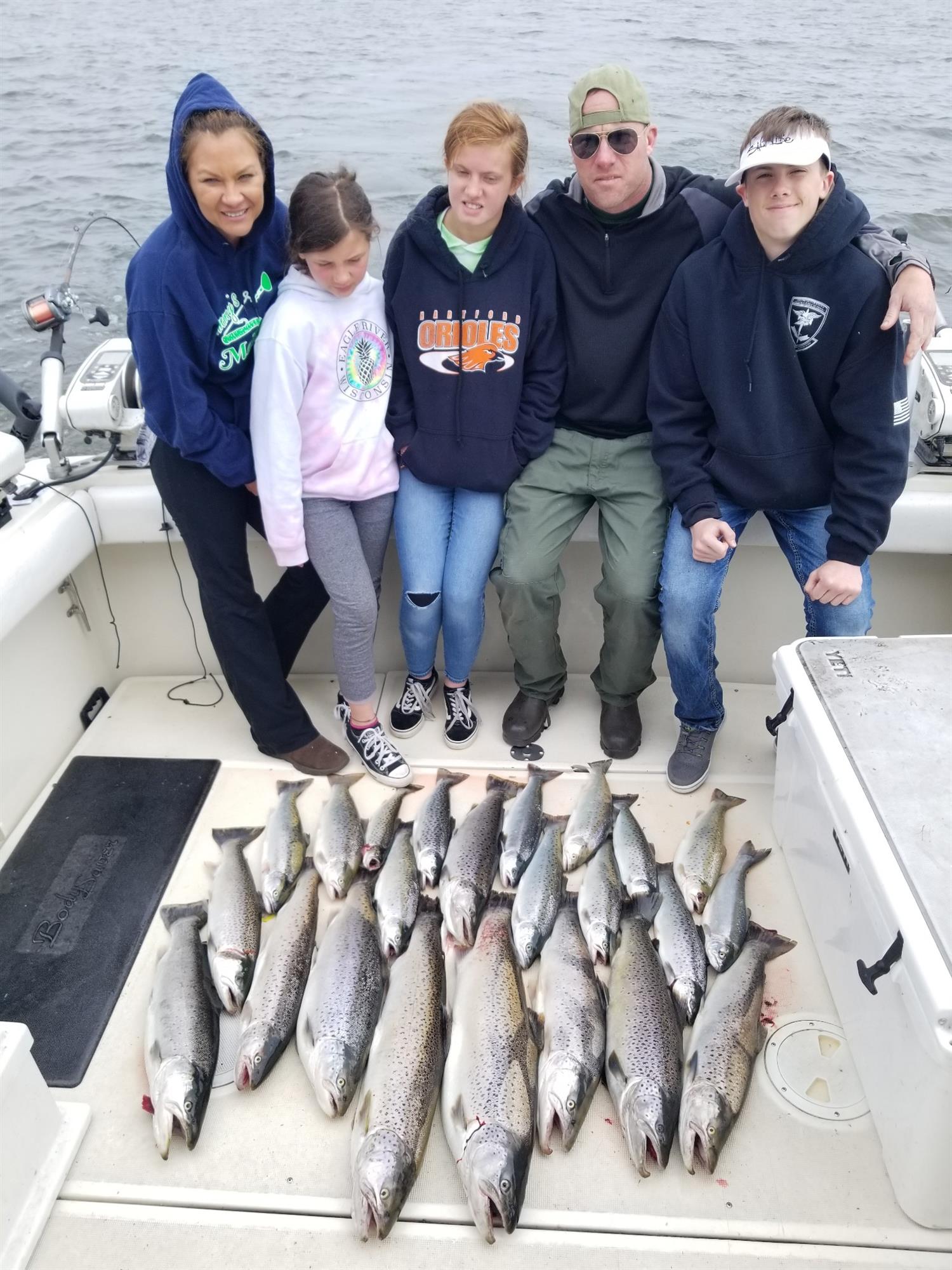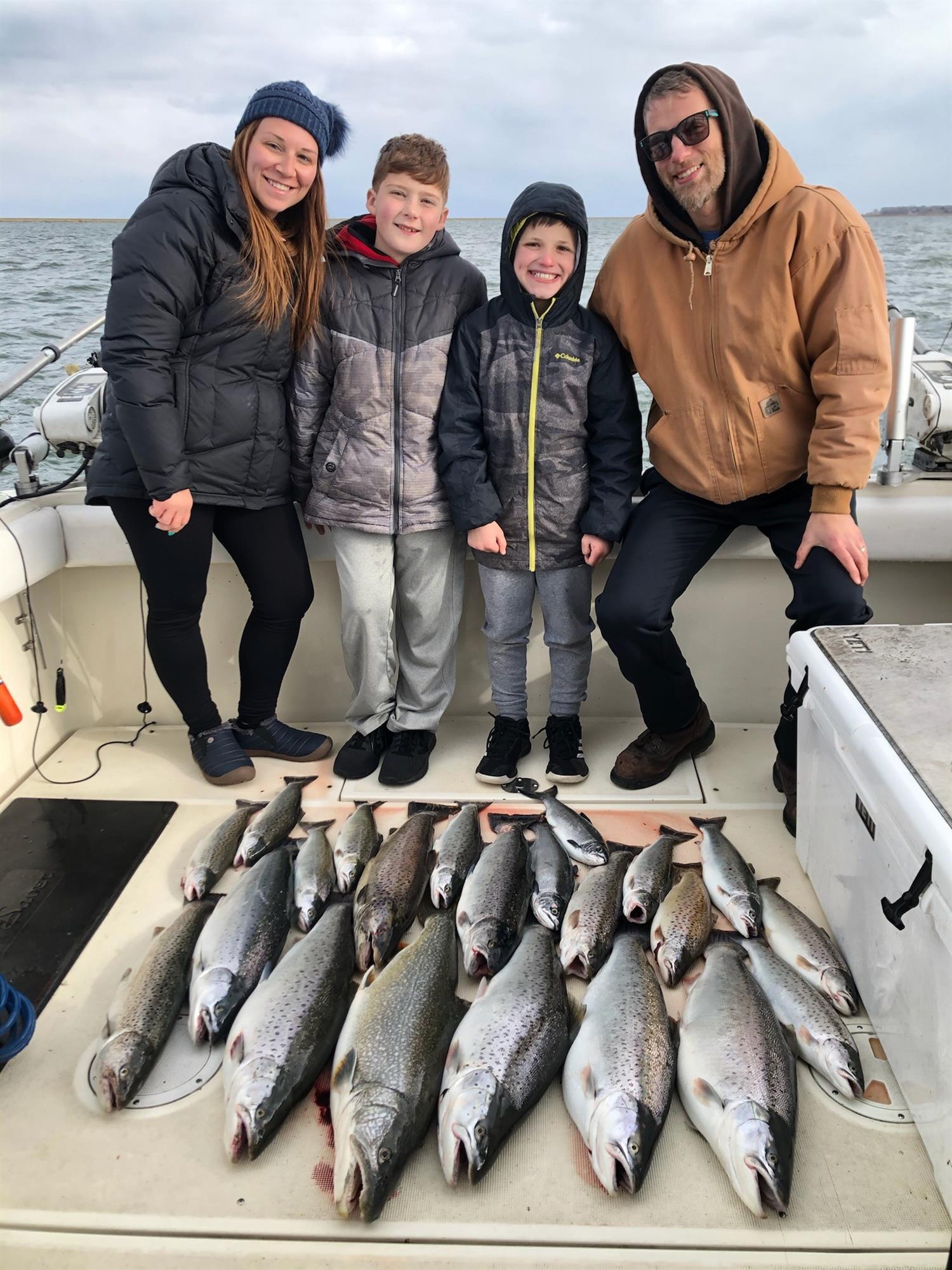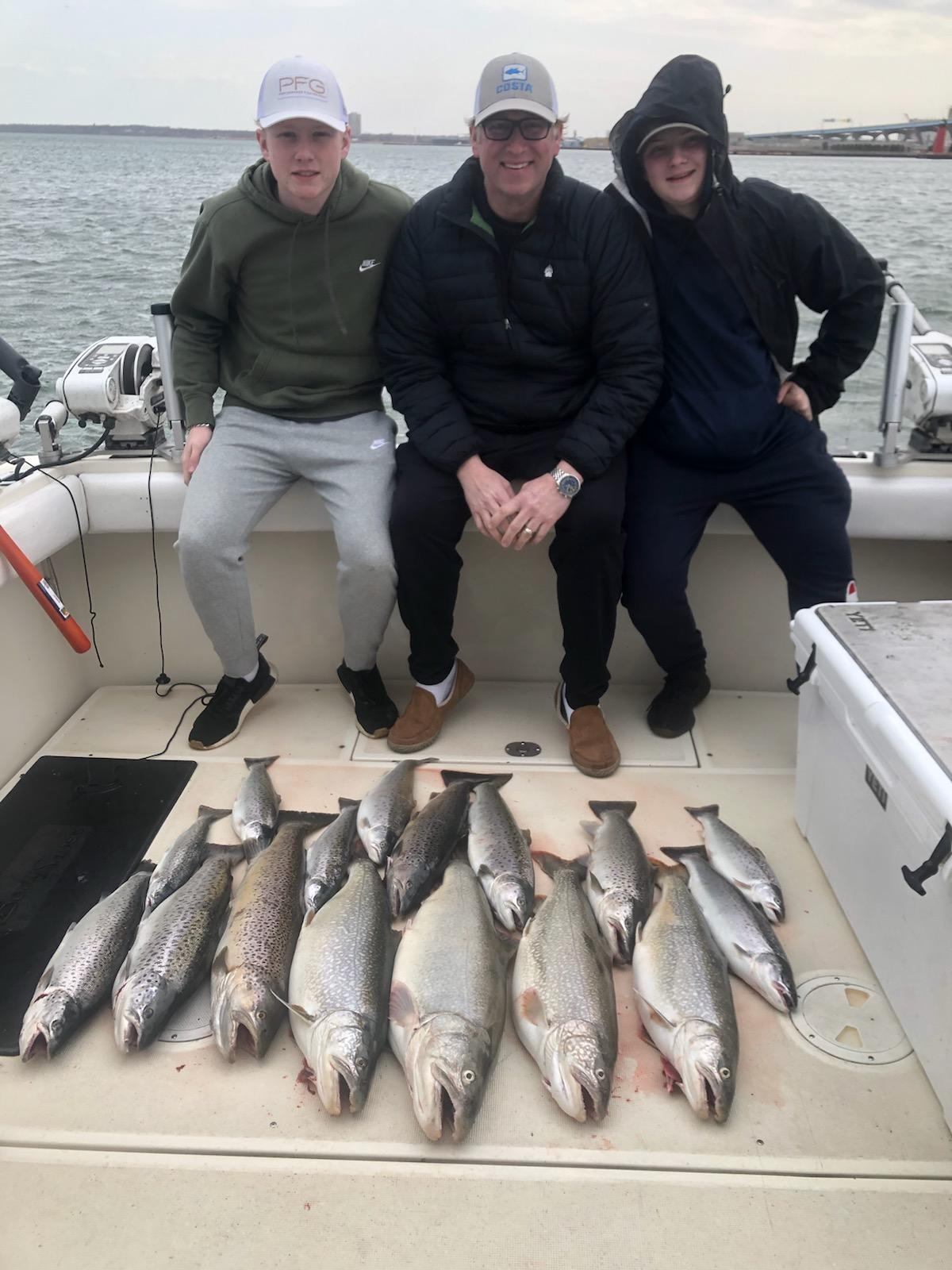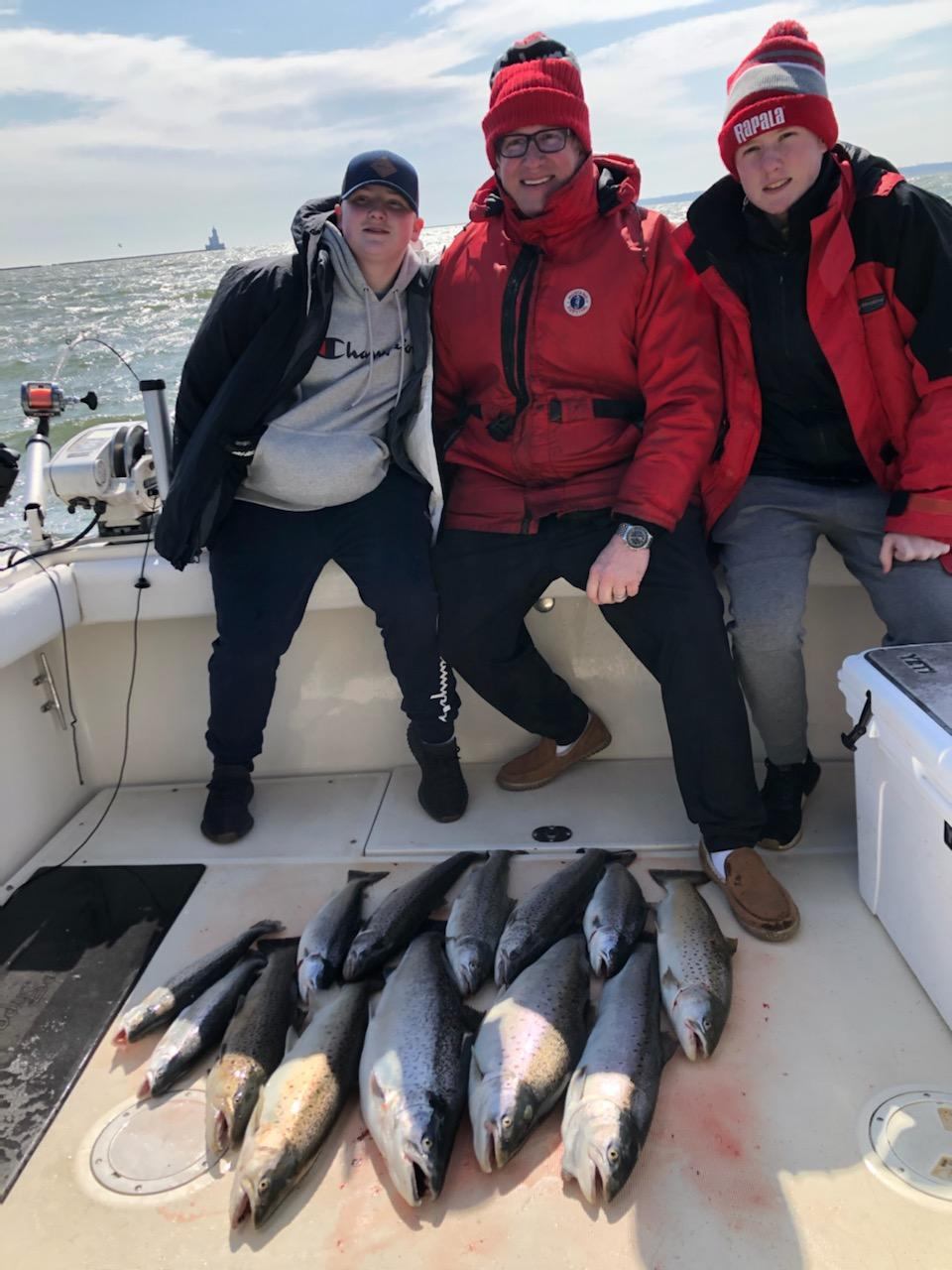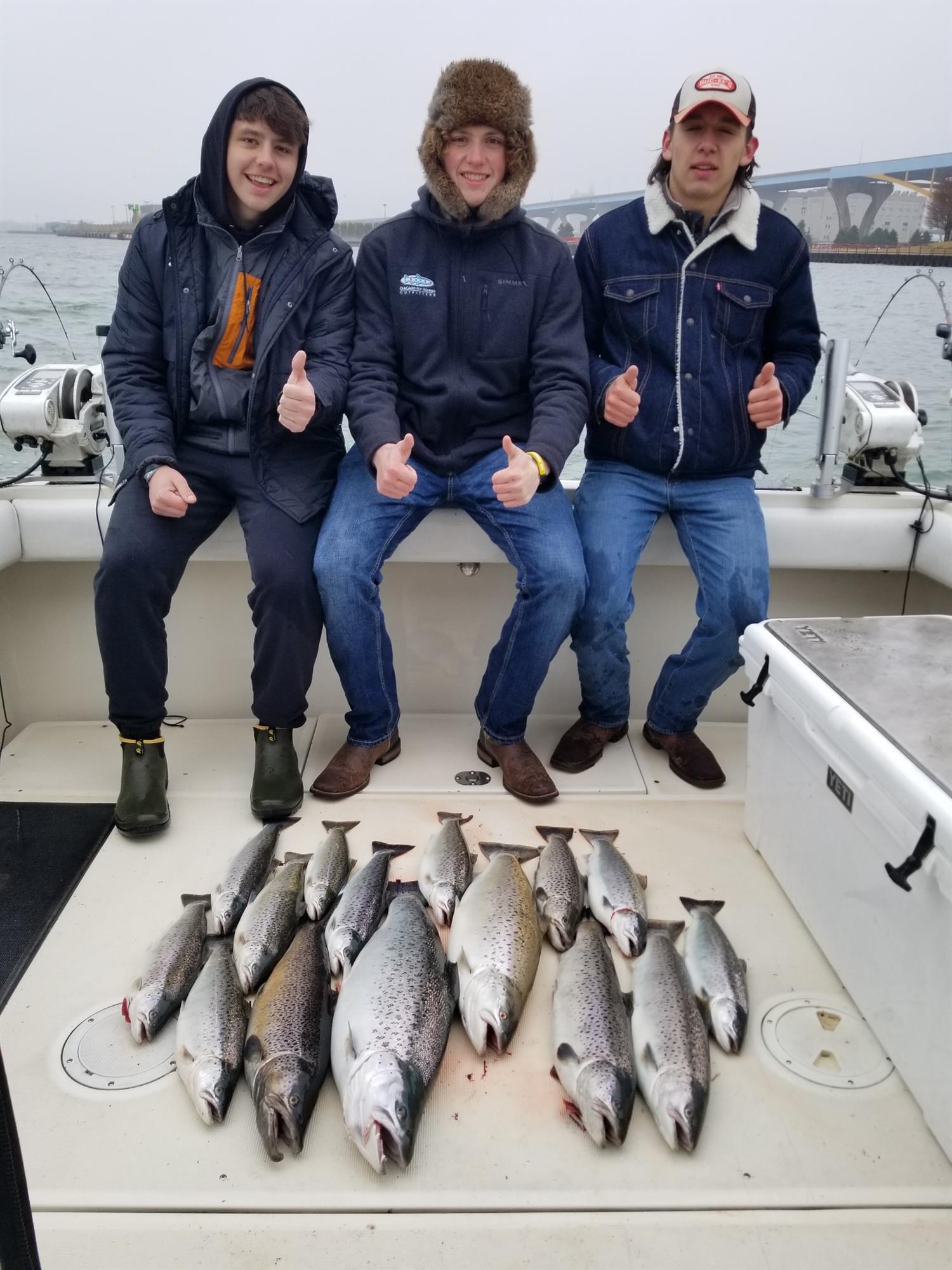 Report for March 16, 2023
Report for March 16, 2023
Report for March 15, 2023
Report for March 13, 2023
Report for March 12, 2023
Report for March 5, 2023
We are inching closer to the start of the 2023 Lake Michigan charter fishing season. We are almost ready to drop the boat in and with a little help from mother nature we might be in March 24th. As of right now the entire McKinley marina and Milwaukee harbor is ice free and has been since February 28th. I cannot remember a time the marina had no ice in it this early. We talked about April Brown trout fishing a few reports back and we hope to be catching them in March. April fishing looks to be good this year. July is our top booked month for a lot of reasons, The weather is usually good, Children are out of school and people are taking vacations. But July is also when we have our best Chinook action of the year. A thermocline has usually set up and this makes it easier to target Chinook. The mature Chinook are also loading up on bait fish to get ready to spawn. There was a big stocking reduction lake wide back in 2008 and additional reductions in 2012 until there was actual debate to end Chinook salmon stocking all together and let natural reproduction take over. Wisconsin fought this with the help of the Wisconsin Lakeshore Business Association or the WLBA, who helped lead the charge to end the reductions and eventually get the Chinook salmon stocking up to 2.3 million lake wide. This has helped bring back the Chinook salmon catch. The last three years have each improved from the last season in catch rate. When we left the lake last October we were catching a lot of two year old Chinooks that were two to four pounds and this should lead to a good Chinook bite this season.
Several years back we were fishing Lake trout in July on a regular basis because the Chinook bite was almost non existent at times. We still catch Lake trout, Rainbow trout and Coho salmon in July but Chinook are now back in the mix and common in the catch. We are also catching bigger Chinooks. During the down turn in stocking along with low levels of bait fish it became tough to catch a 20 pound Chinook but in the last five years we have caught many in the 20 to 25 pound class and several that where 30 to 34 pounds. July starts out with a blend of Coho salmon and Chinook salmon but by the middle of July it is more Chinook. Depending our current and water temperature we could be fishing in 15 to 25 feet of water or out in 300 feet of water. But in July we spend a lot of our time between 80 to 100 feet and the run time to this depth out of Milwaukee can be as short a 10 minutes.
Chinook salmon our the King of Lake Michigan and put up a great fight no matter the size. But when you hook up a 15 plus pound Chinook salmon it can take 200 feet of line out without stopping very fast and this is why they are so fun to fight. Our favorite rod to catch big Chinooks on is the wire dipsy rod. These rods have rollers on them because we are using 30 pound test wire line. Very productive big fish rod. We are almost always using flasher and flies on these rods. When a big Chinook hits a wire rod there is no doubt what fish hit it. During July when we fish deep water there can be a good Rainbow trout or Steelhead bite. Rainbows jump almost immediately and this leads to an exciting fight. No matter where we are fishing Lake trout are present and everywhere provided the water is cool enough.
So at the beginning of July we are seeing Coho salmon in the mix with Lake trout, Rainbow trout and Chinook salmon but near the end of July the Coho bite slows up. Salmon-A-Rama is July 15th through July 23rd and is a lake wide big fish fish fishing contest. We enter our boat every year so all of our customers are entered and can win prizes. Over the last 11 years we have had 23 cash prize winners during this week. We still have a few spots open for 2023. Last season half our catch was Coho salmon but Chinook salmon came in second as most caught species. We are expecting to see the same results this year and July is one of the best months to catch Chinooks. Call Silver King Charters to book a July Milwaukee charter fishing trip this year at 414-460-1467.Below are some pictures from July fishing trips. I also have a picture of a graph showing the ice coverage on Lake Michigan. It was below average for almost the entire year and this will help the survival rate of bait fish that hatched last year.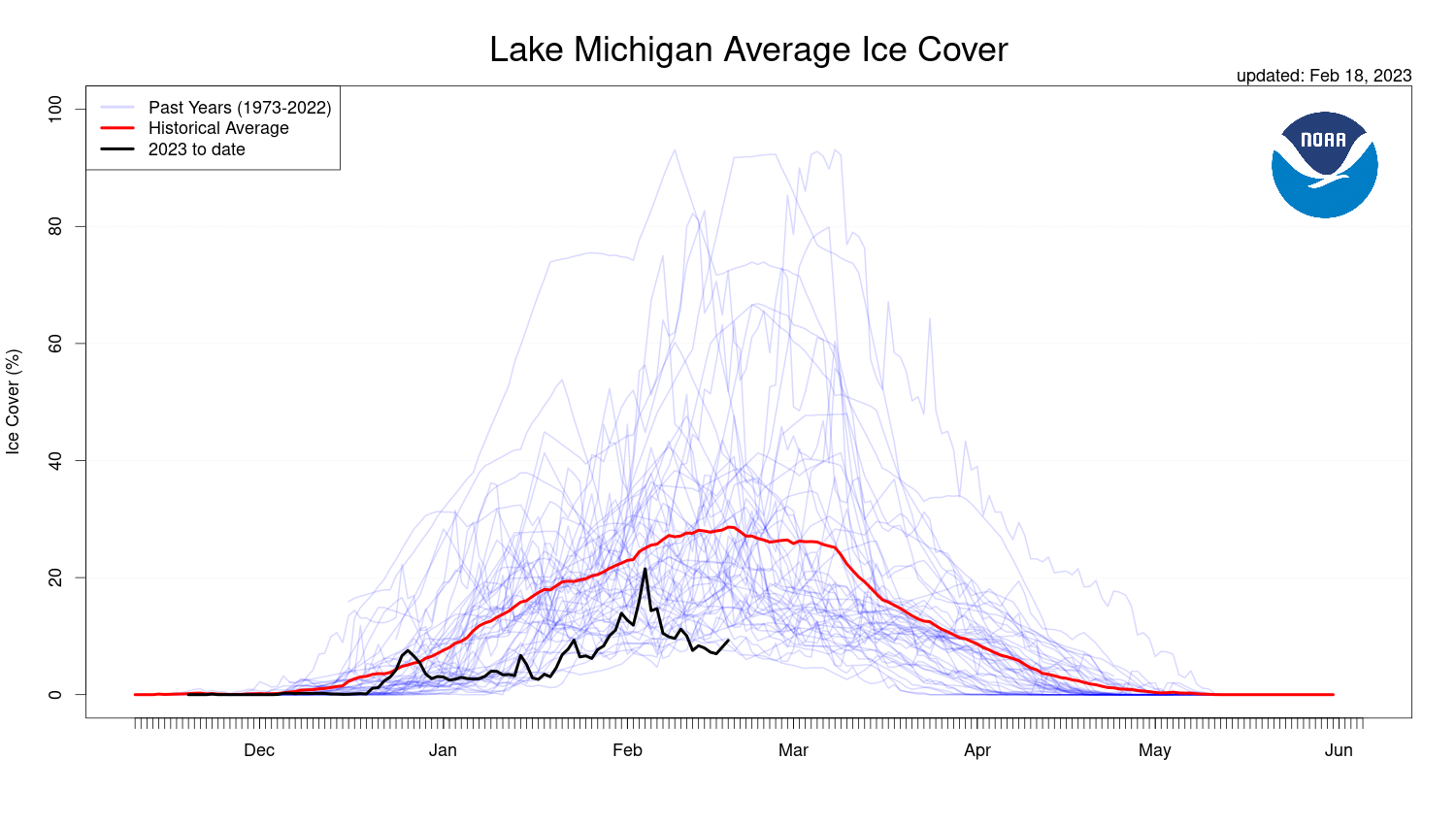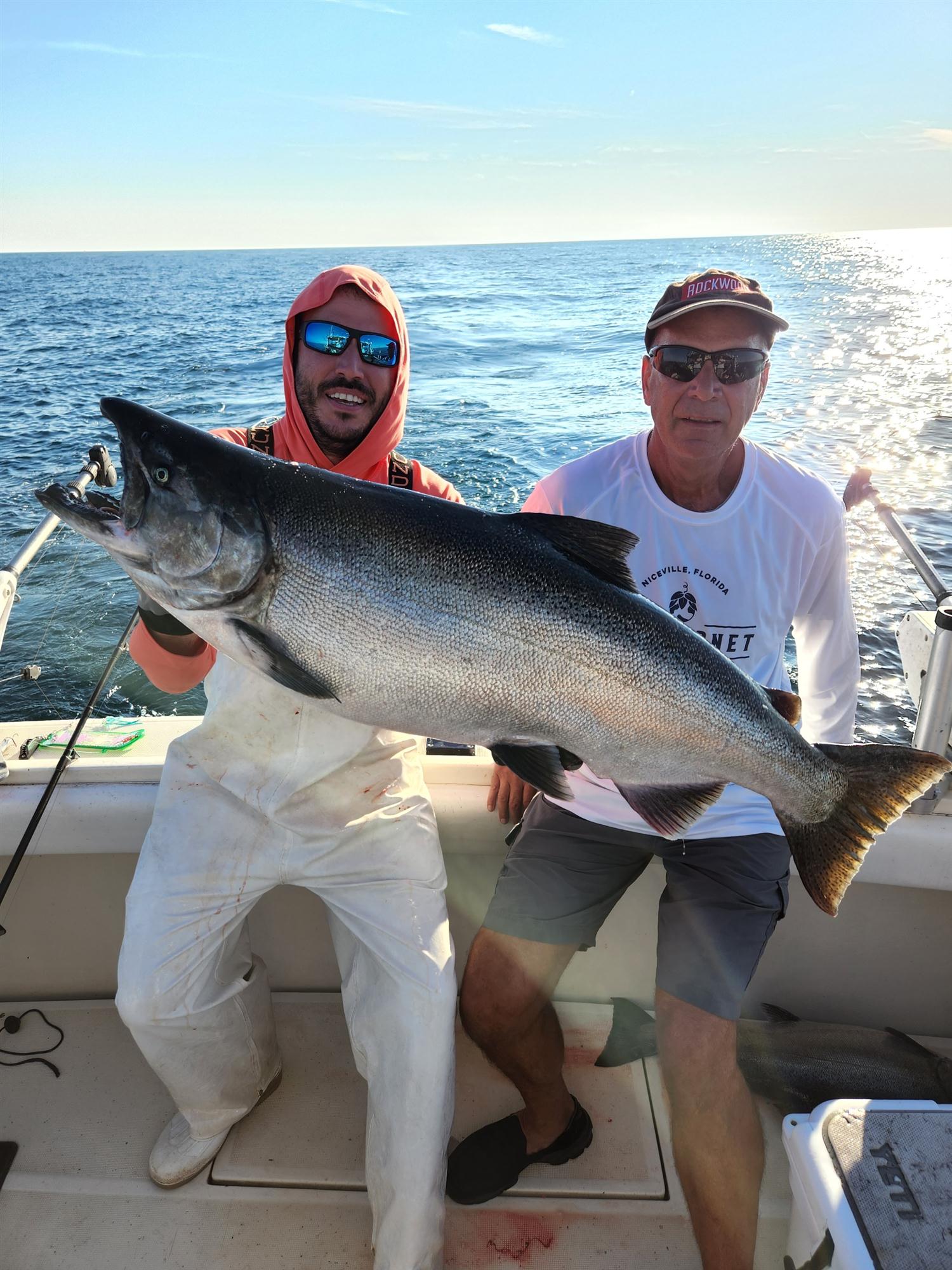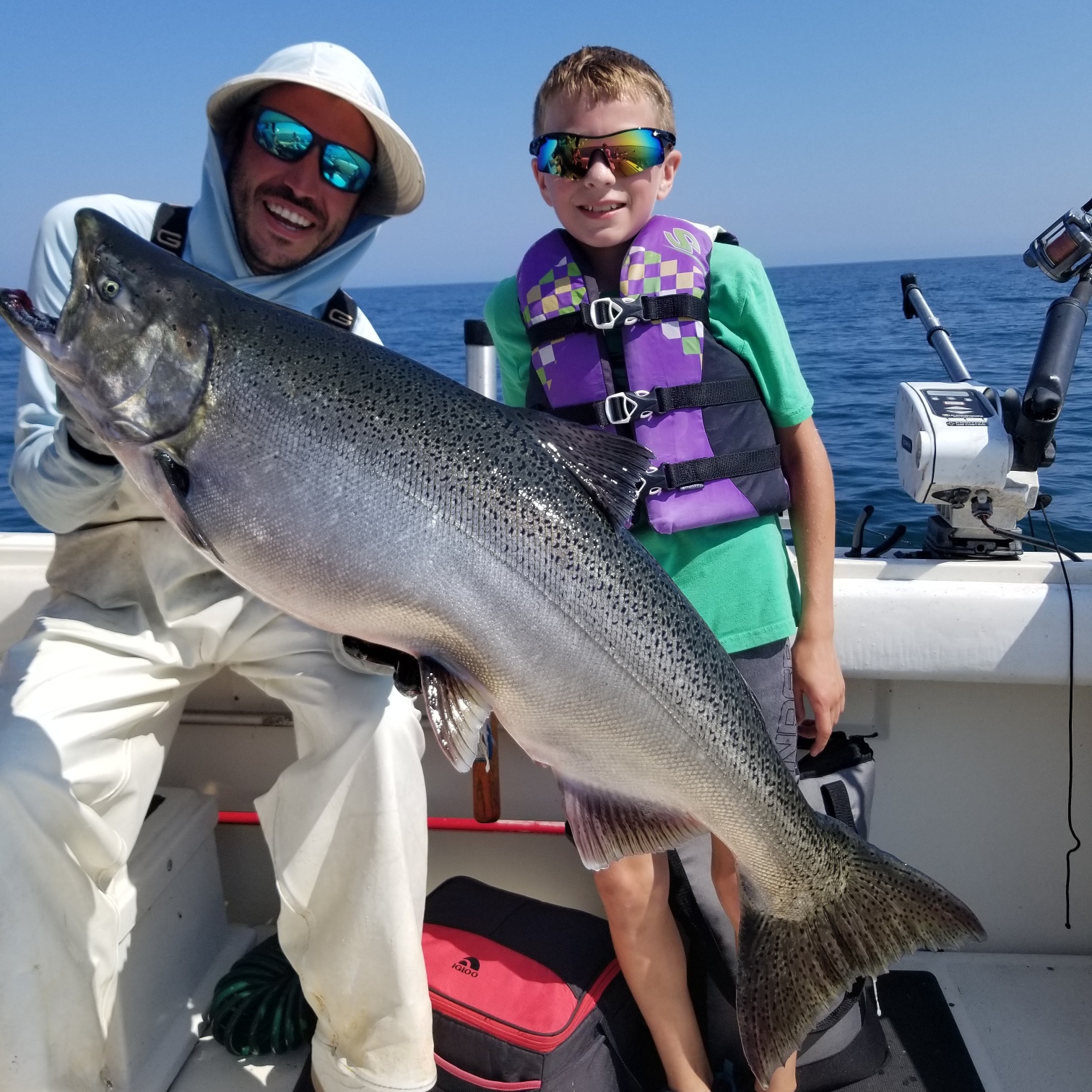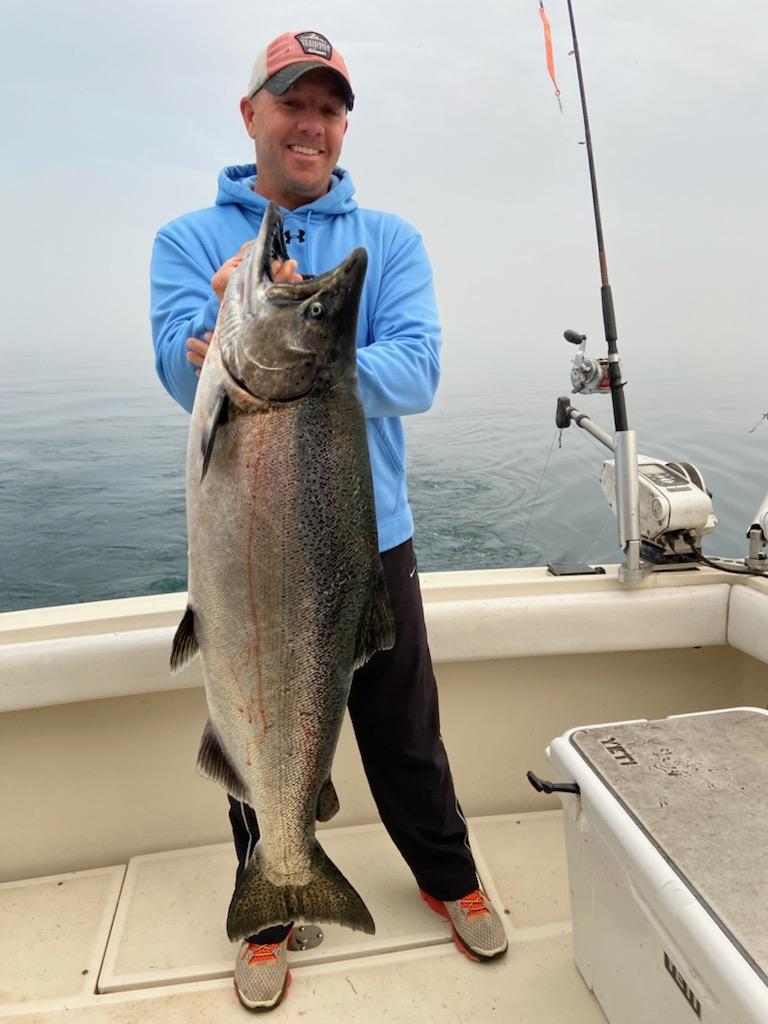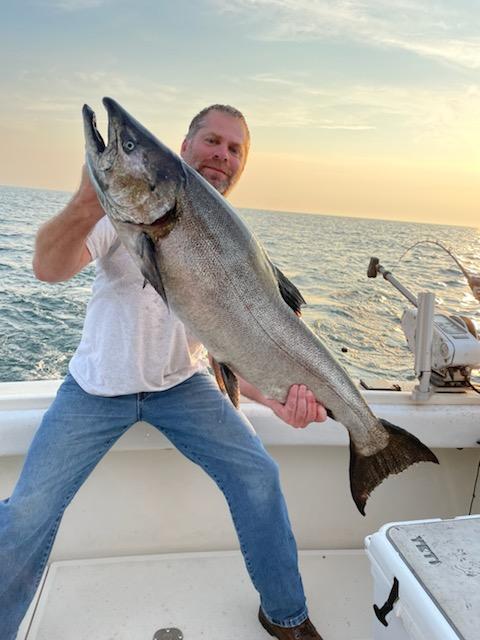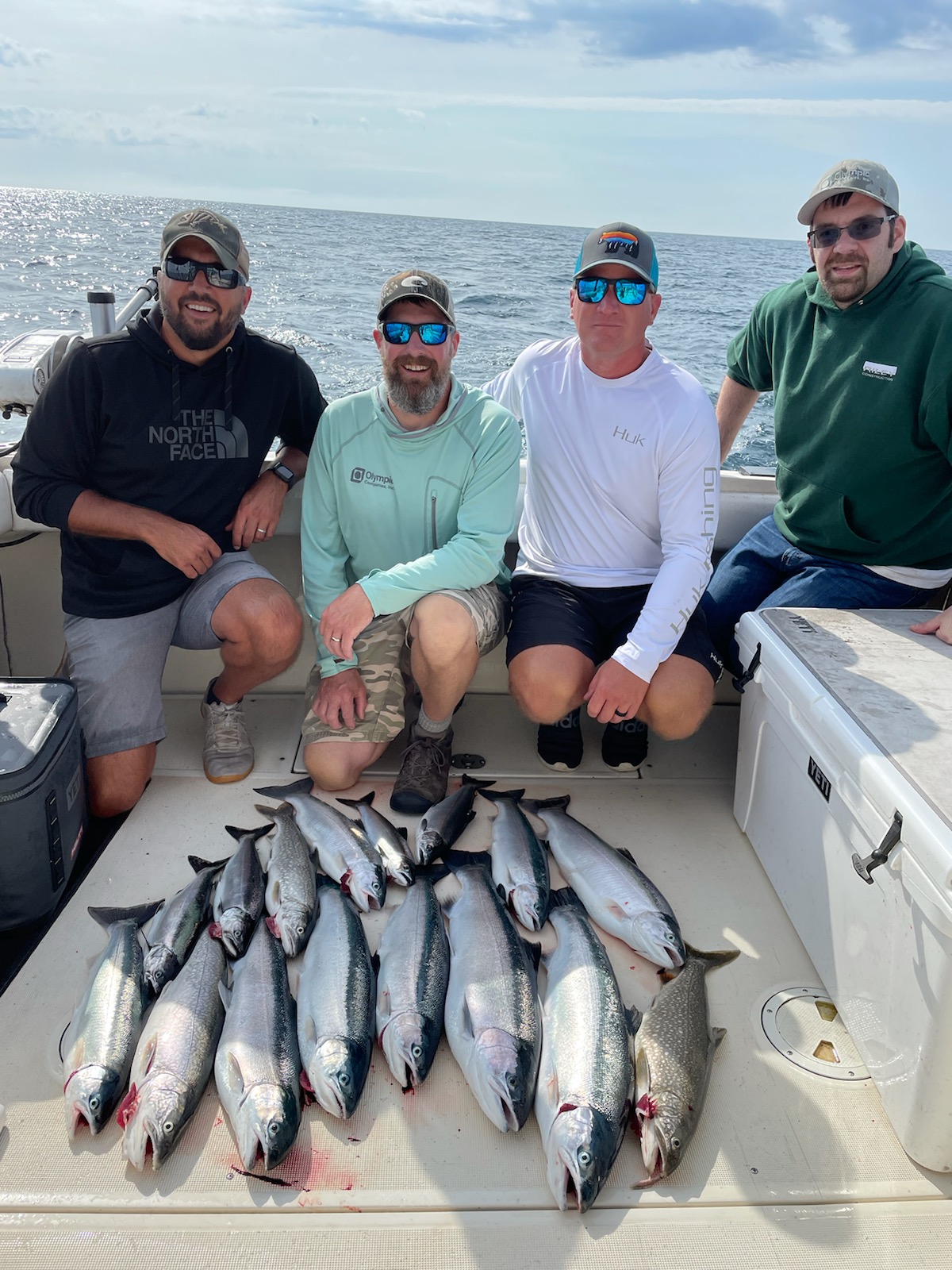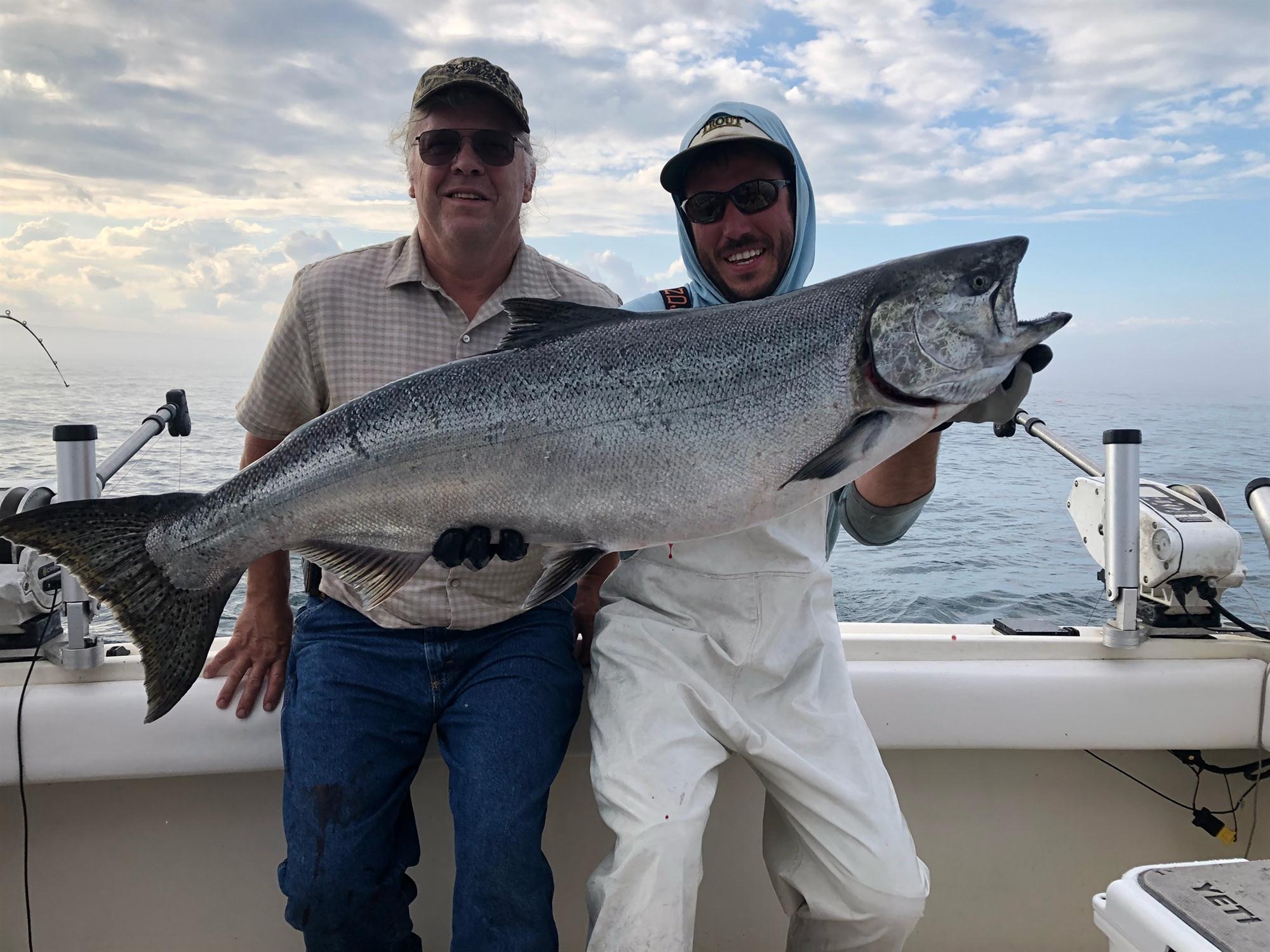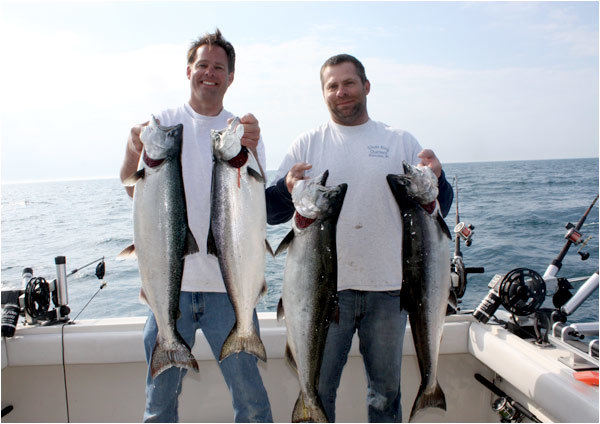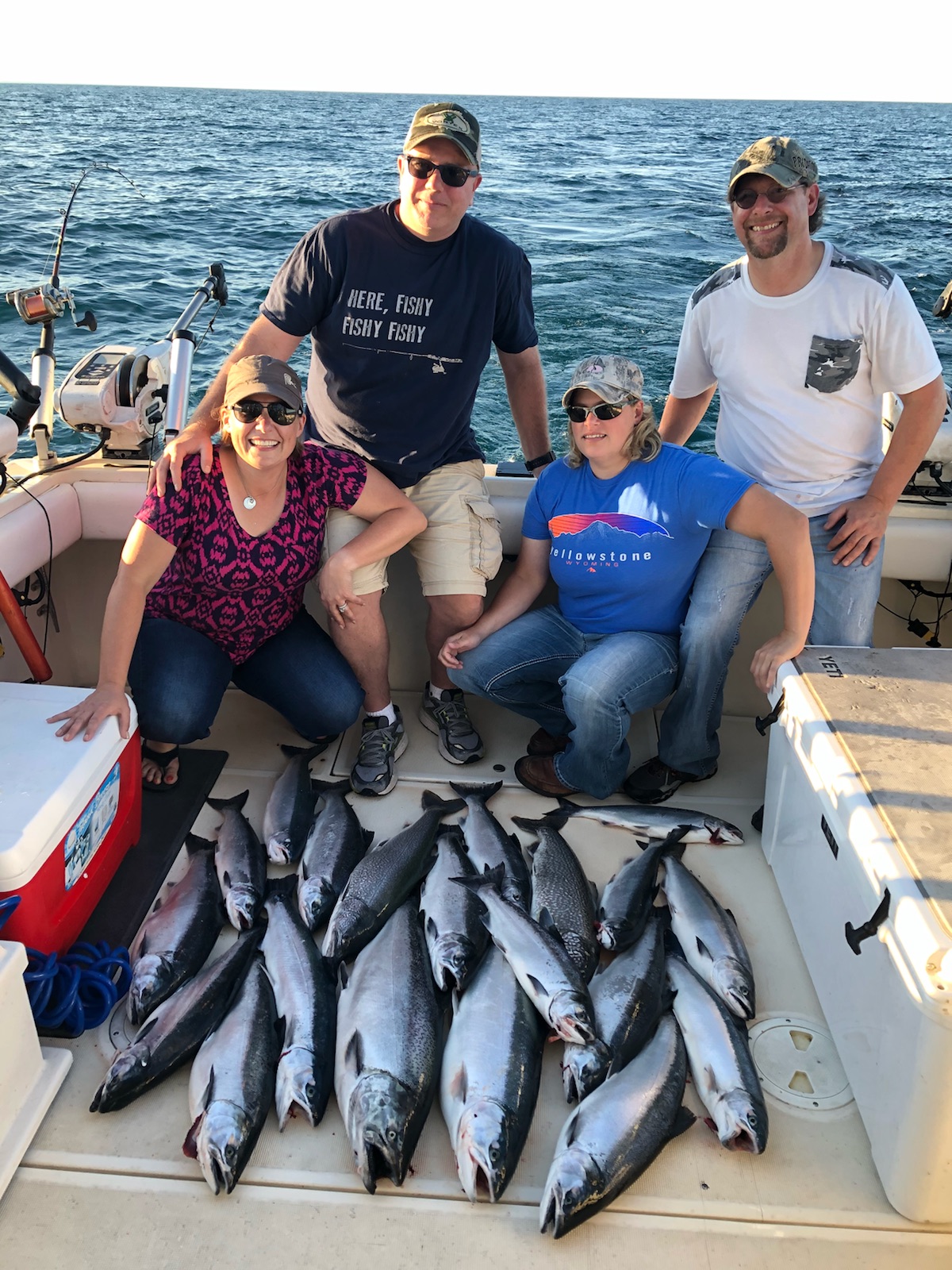 Report for February 19, 2023
Report for February 1, 2023
We are charter fishing from April through October and all the months we fish can be good and each month has its strong points. Last month we did reports on April Brown trout and May Coho salmon. This report covers June and we are finally getting warmer weather in Wisconsin. June is a month that will begin to transition into a mix of Coho salmon, Chinook salmon, Lake trout and Rainbow trout but it starts out strong on Coho salmon. The Coho are starting to average four to six pounds based on the bait population and what the size was of Coho when we left the lake in October. We are still fishing in the top 20 feet of water for these fish, with some of our baits right at the surface. This bite at the surface can stay strong all month if the water does not warm up too quick. But usually by the third week of June the lake starts to transition as warm water starts to form and that warm water goes deeper into the water column. Eventually a temperature break will occur and there will be a distinct temperature break of several degrees at a certain depth. When this happens the Coho bite will start to break up and we will start to see more Chinook salmon and Lake trout in the catch. But for most of June Coho salmon is the number one caught fish and can be as good or better than May.
We are still running anywhere from twelve to sixteen lines in June and most of these rods will still have the orange dodger and peanut flies on them. The big difference is that the flies are now bigger and usually two inch long sliders. Are favorite and is on every orange dodger set up is the Willy fly. This is when it dominates. We at times like to use red treble hooks with this fly. It can mean the difference in catch rate. Gamakatsu double strength or two "X" round bend hooks are our favorite. We use the size two for the small flies and size one for the lager flies. We are still using mono line with 5/8 ounce keel weights on the outside boards. At the start of the season we set these back ten to 40 feet from the board. As the water warms we drop them further back. Eventually we switch to leadcores from one to eight colors depending on how warm the water gets and where the break is. We will also use copper line from 25 to 150 feet. We will use the orange dodger set up until the Coho salmon break up and go deep.
Our dipsy setups are the same orange and even our dipsies are orange. We use one mono and one power pro setup on each side. These are set at 15 and 30- degrees. We start these only 15 feet out on the line counter and keep dropping them until the water warms and the break gets to 20 plus feet down. At this point we switch to wire dipsy setups. By June we are usually running flashers and flies on the riggers and this is where we start to catch some big Chinook salmon. Somewhere in June we will have some good Chinook fishing. But Coho salmon are still the main target. The great thing about June, besides the weather, is the chance to catch it all. Load up on Coho with a few Chinook salmon, Lake trout and Rainbow trout.
May and June are usually tied for the most limit catches in a month for a year but June usually wins out. Last season was very good for Coho salmon in June, with many days that we fished right in front of the Milwaukee harbor. During June we could be fishing 15 to 40 feet or out in 200 to 300 feet but when we find schools of Coho salmon it is great action. Chinook salmon also travelling in schools and when they set up of Milwaukee it really makes for a fun trip. People who call looking to catch salmon there is no better time than May and June. Call Silver King Charters at 414-460-1467 to hook up on June Coho salmon. Below are some pictures from the last few years of June Milwaukee charter fishing and Racine charter fishing trips.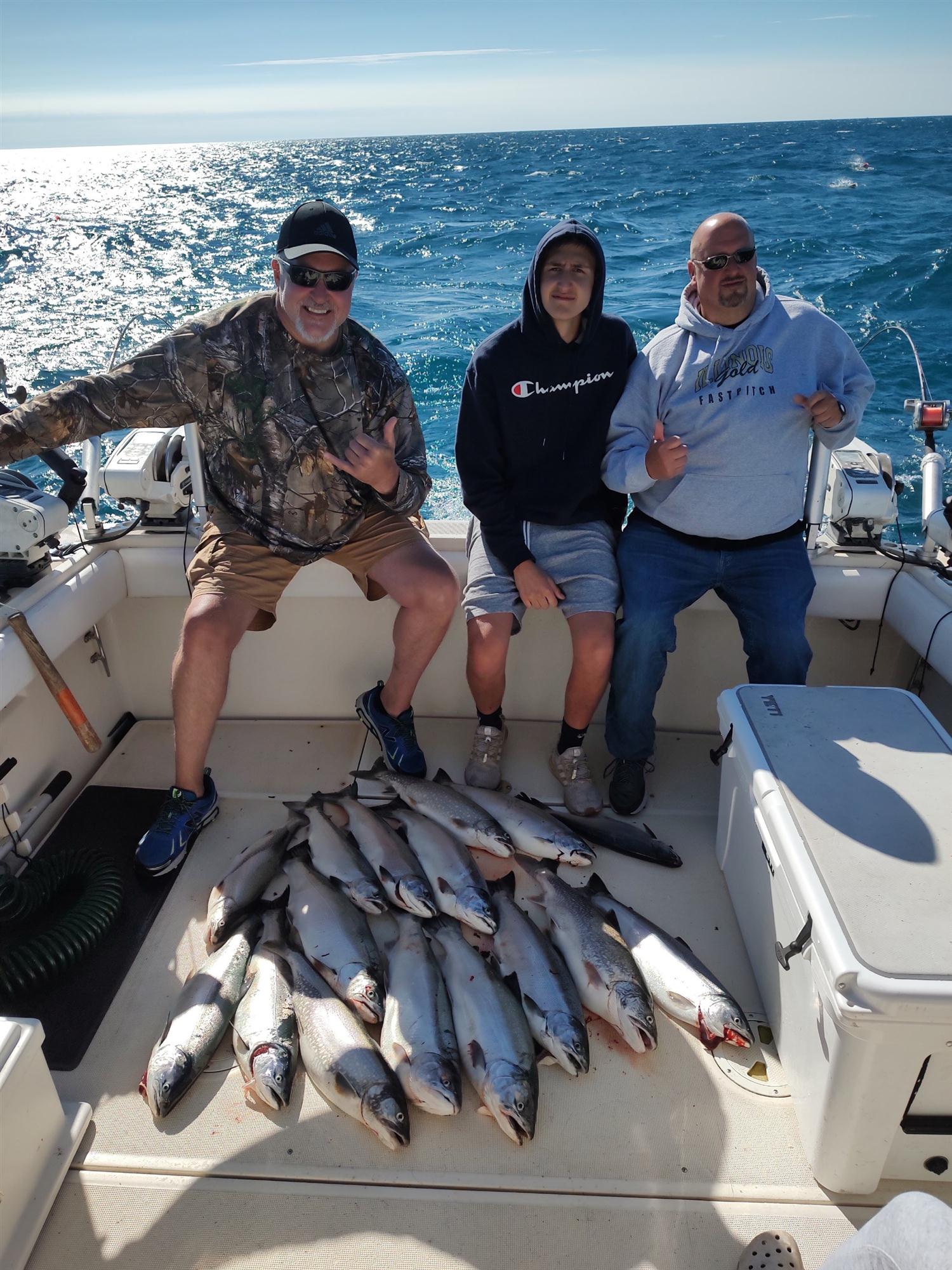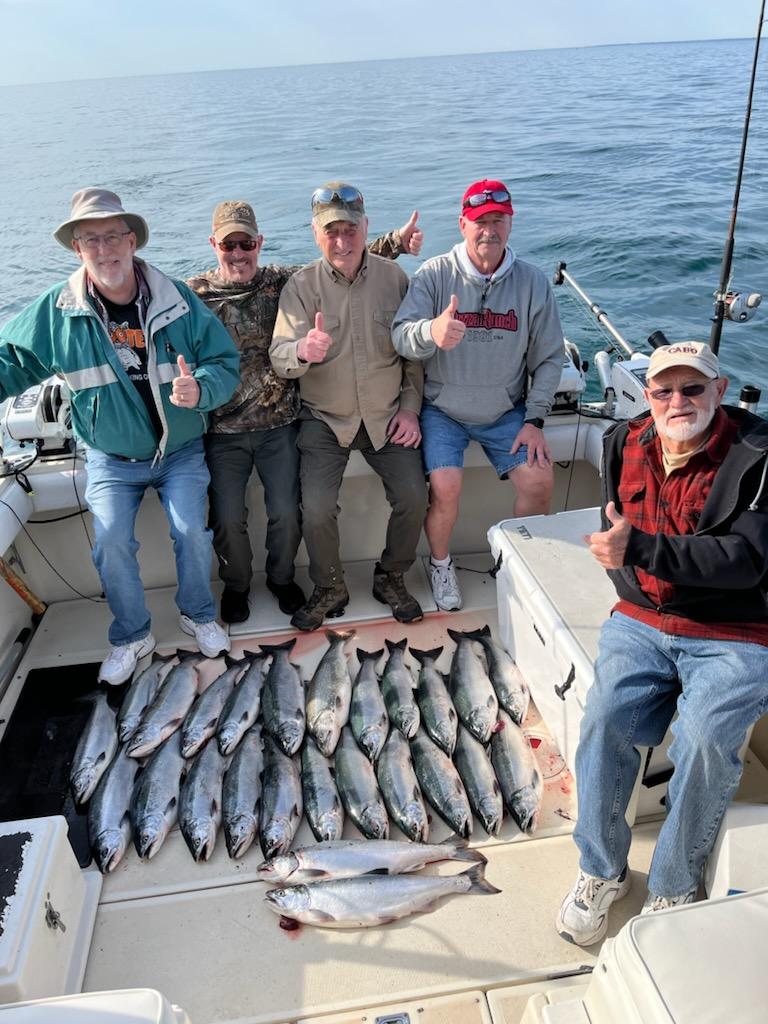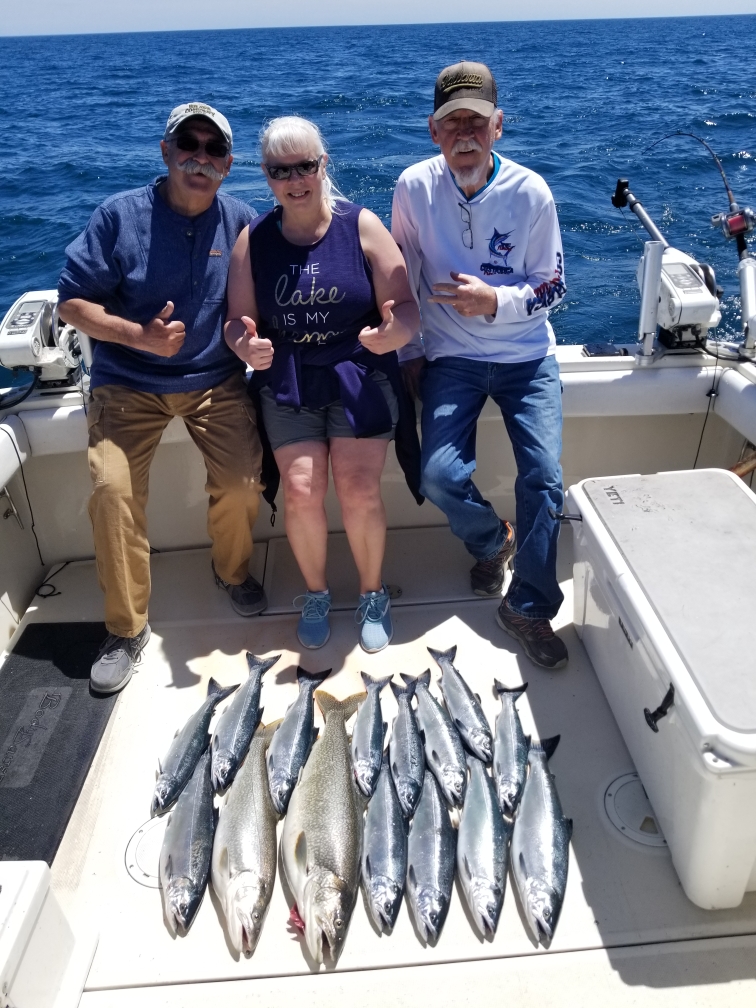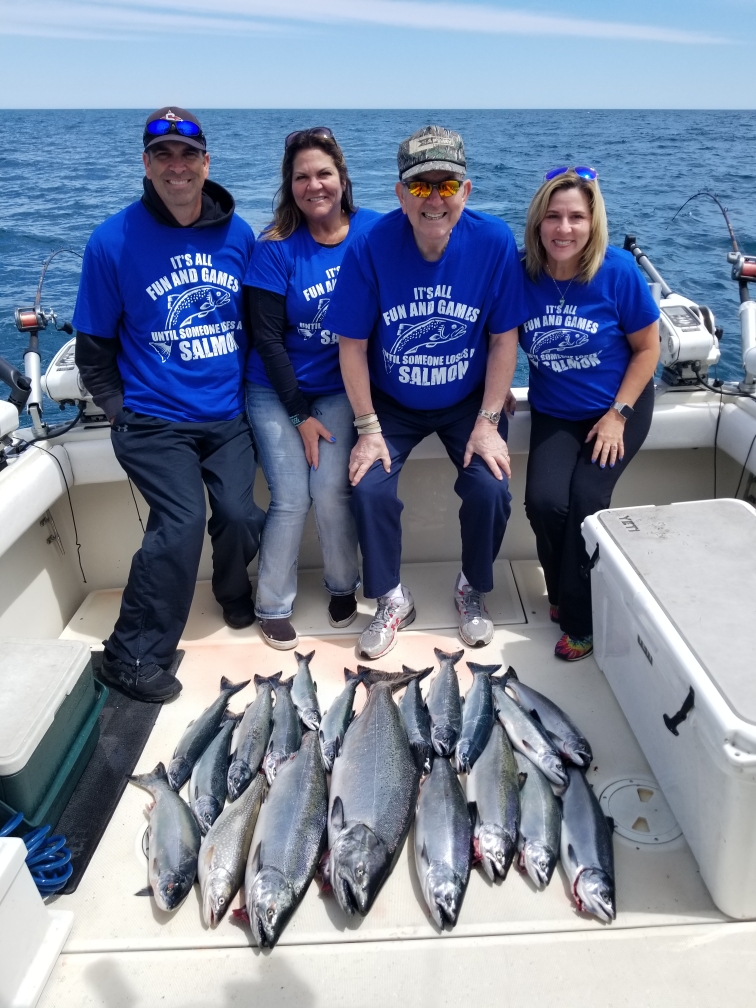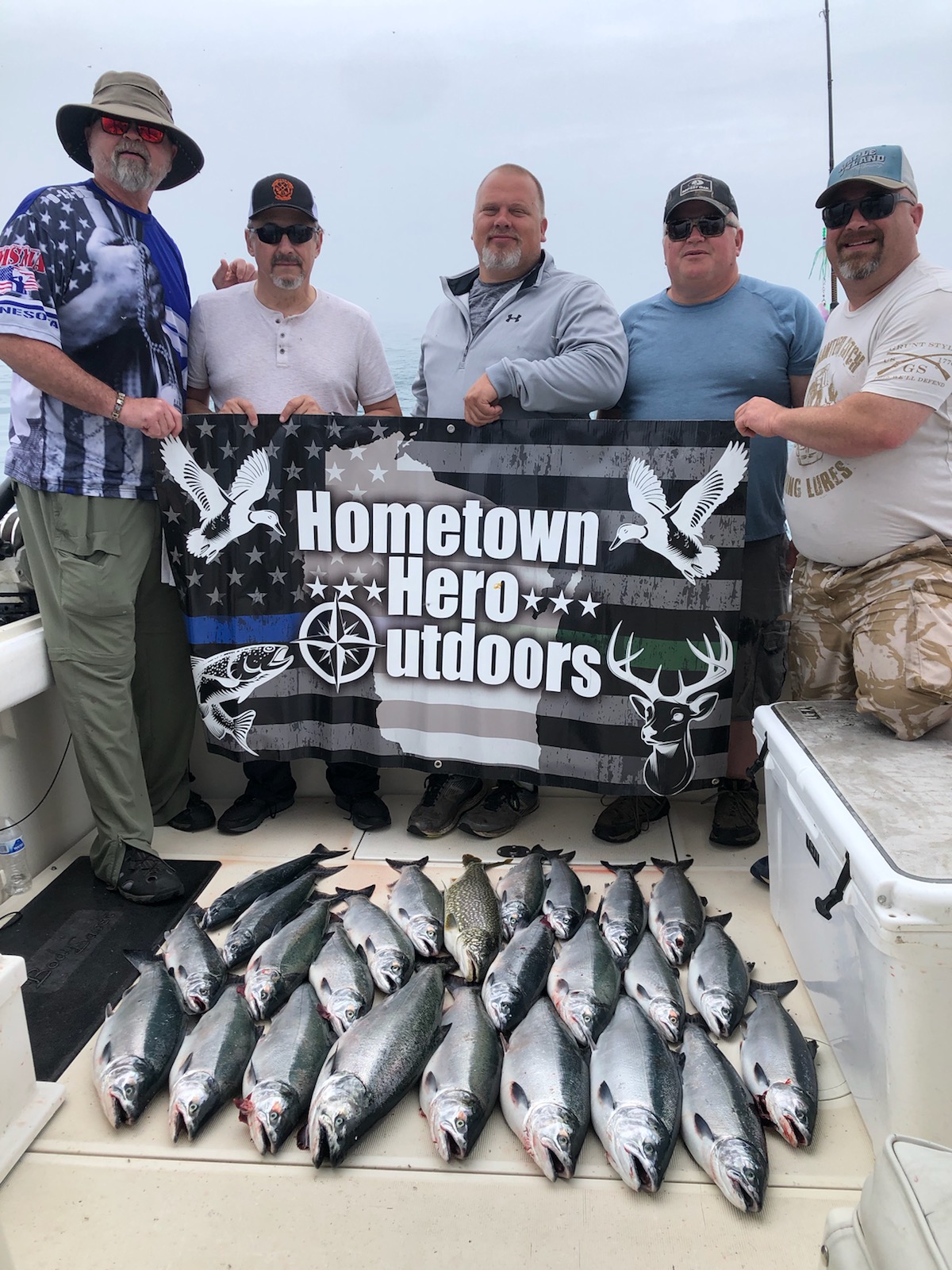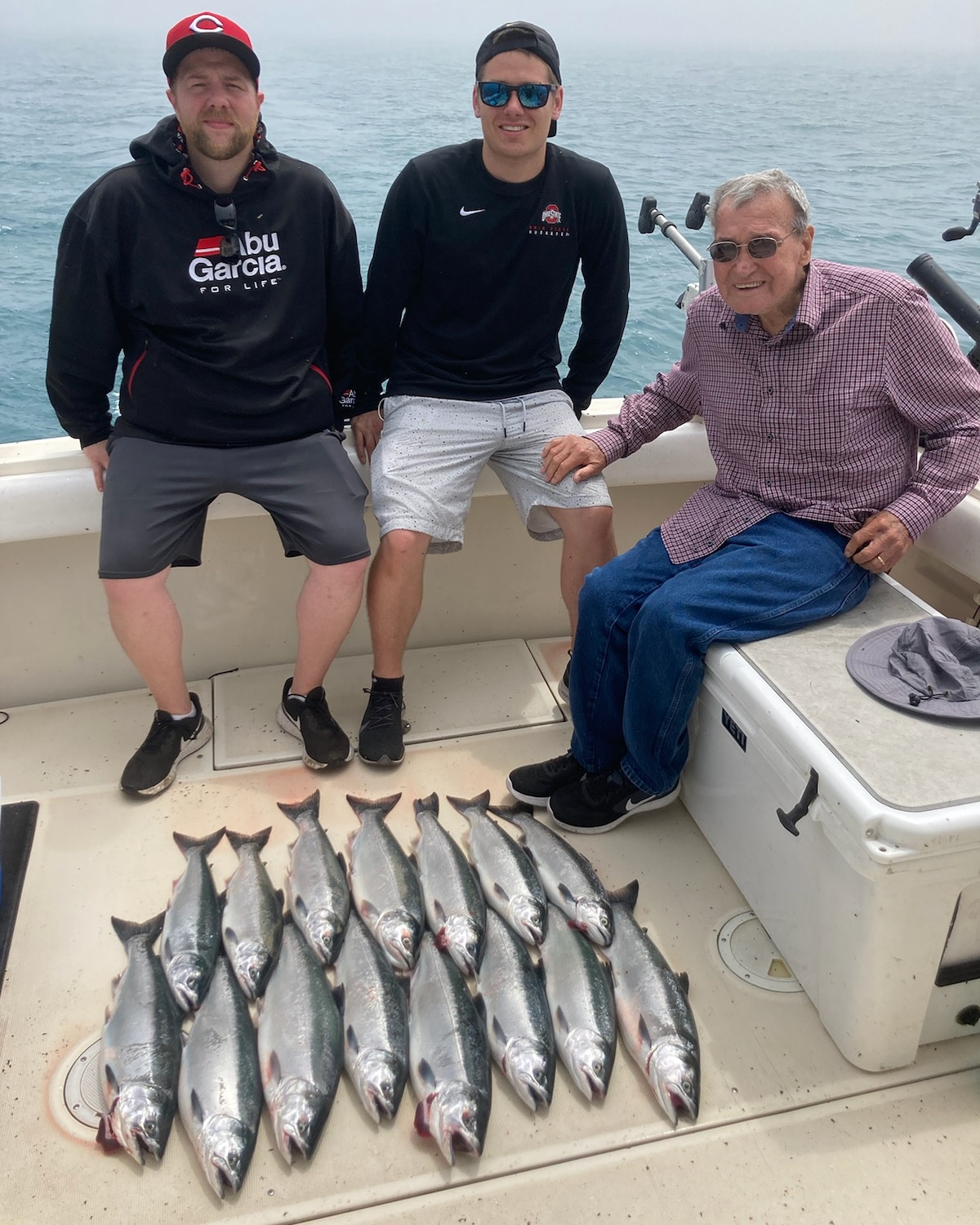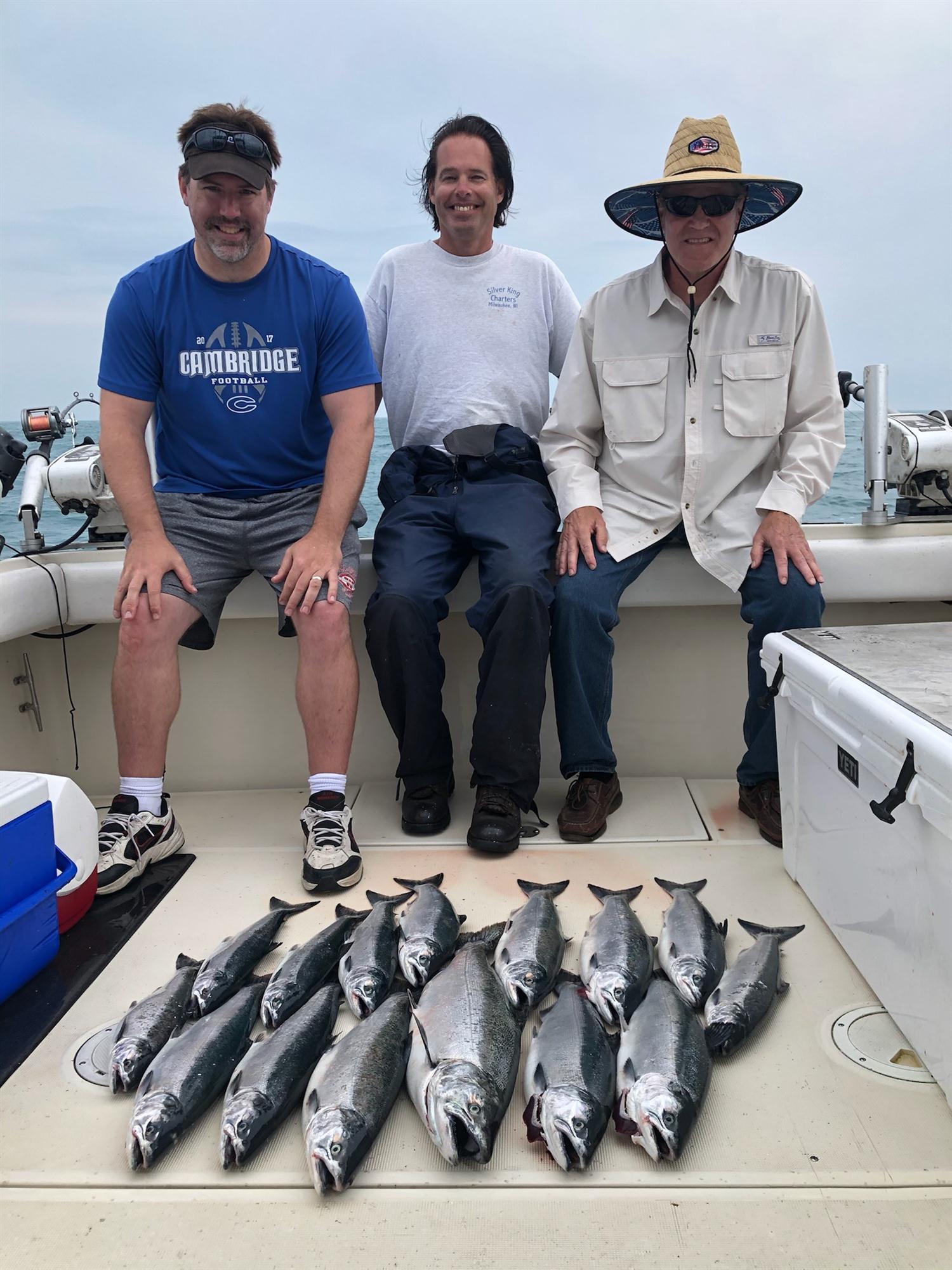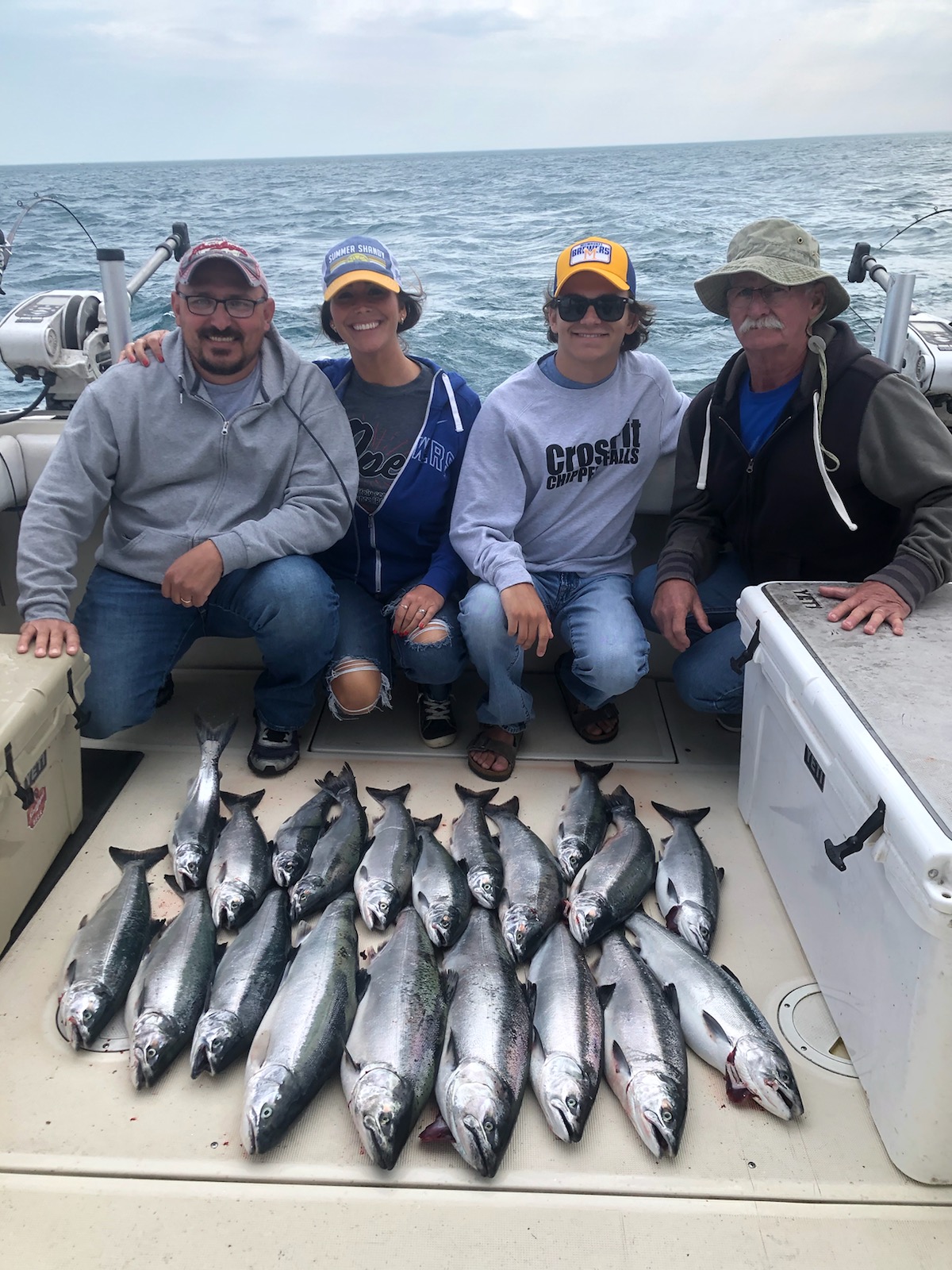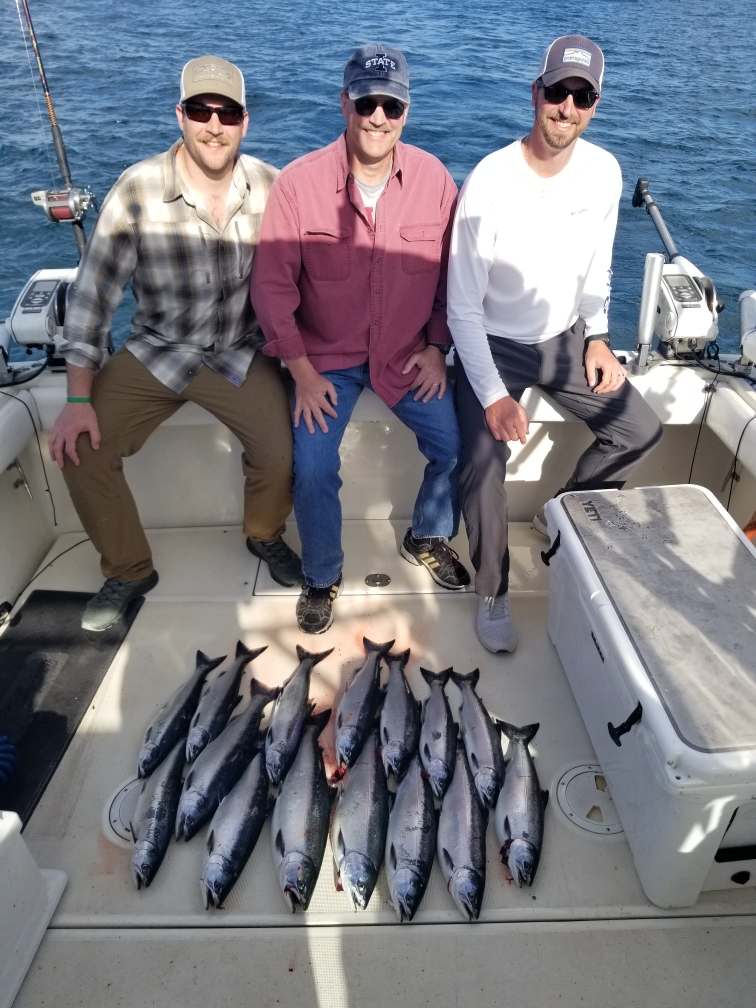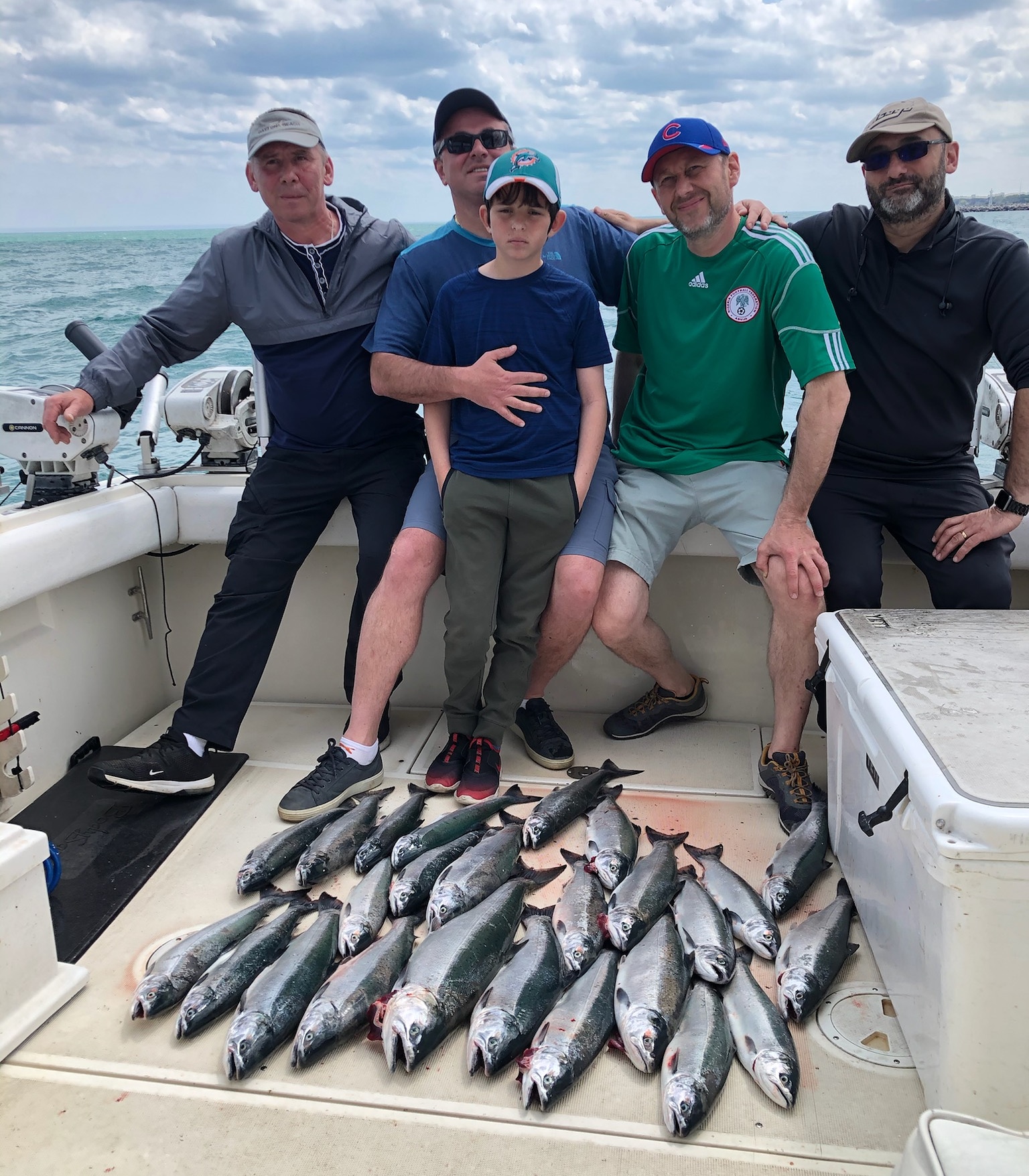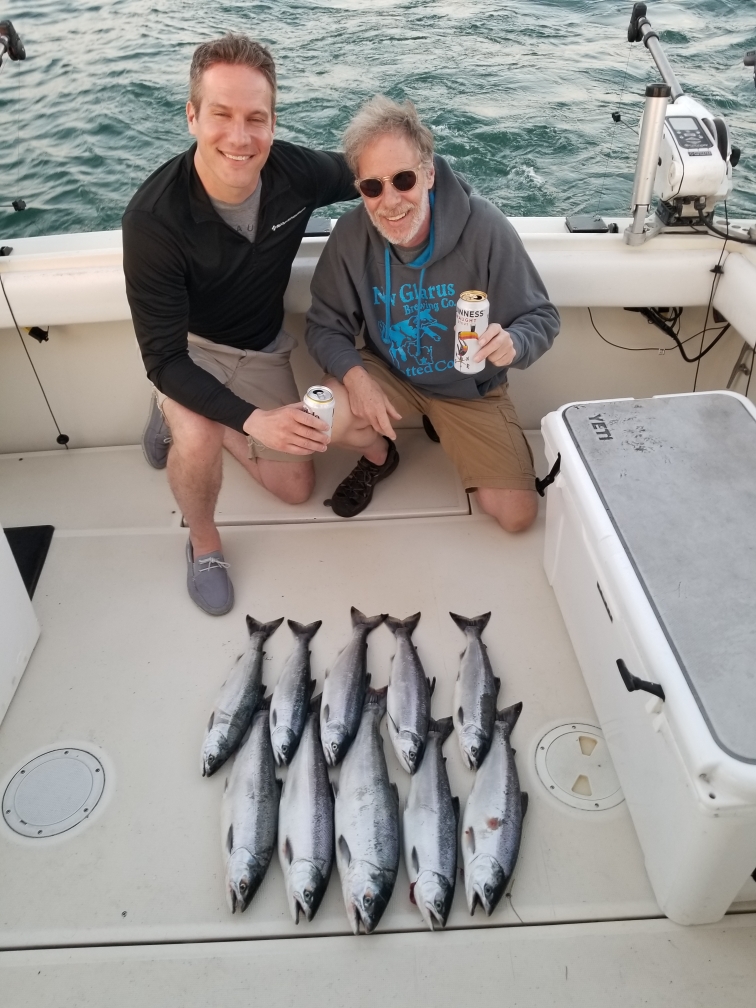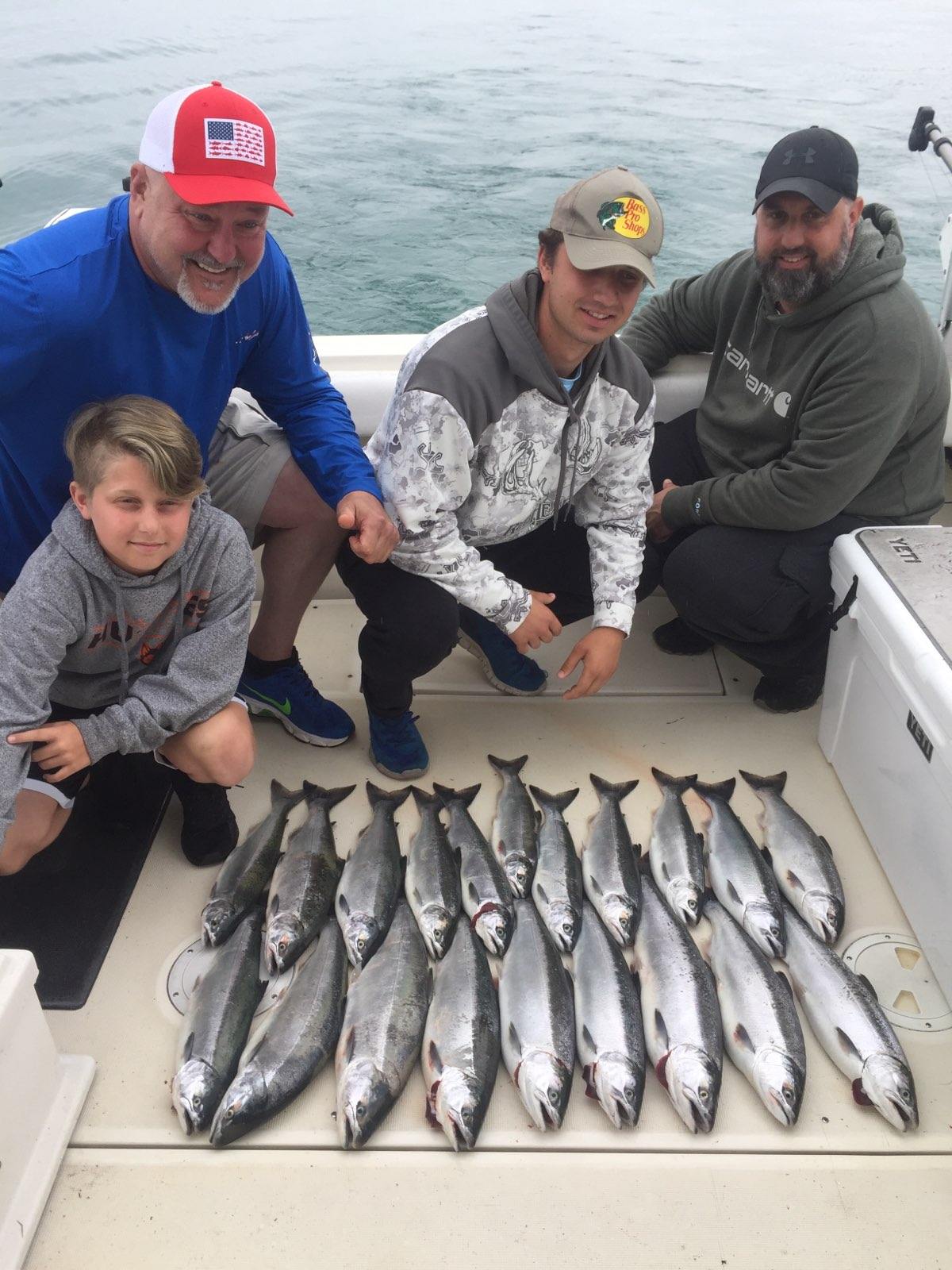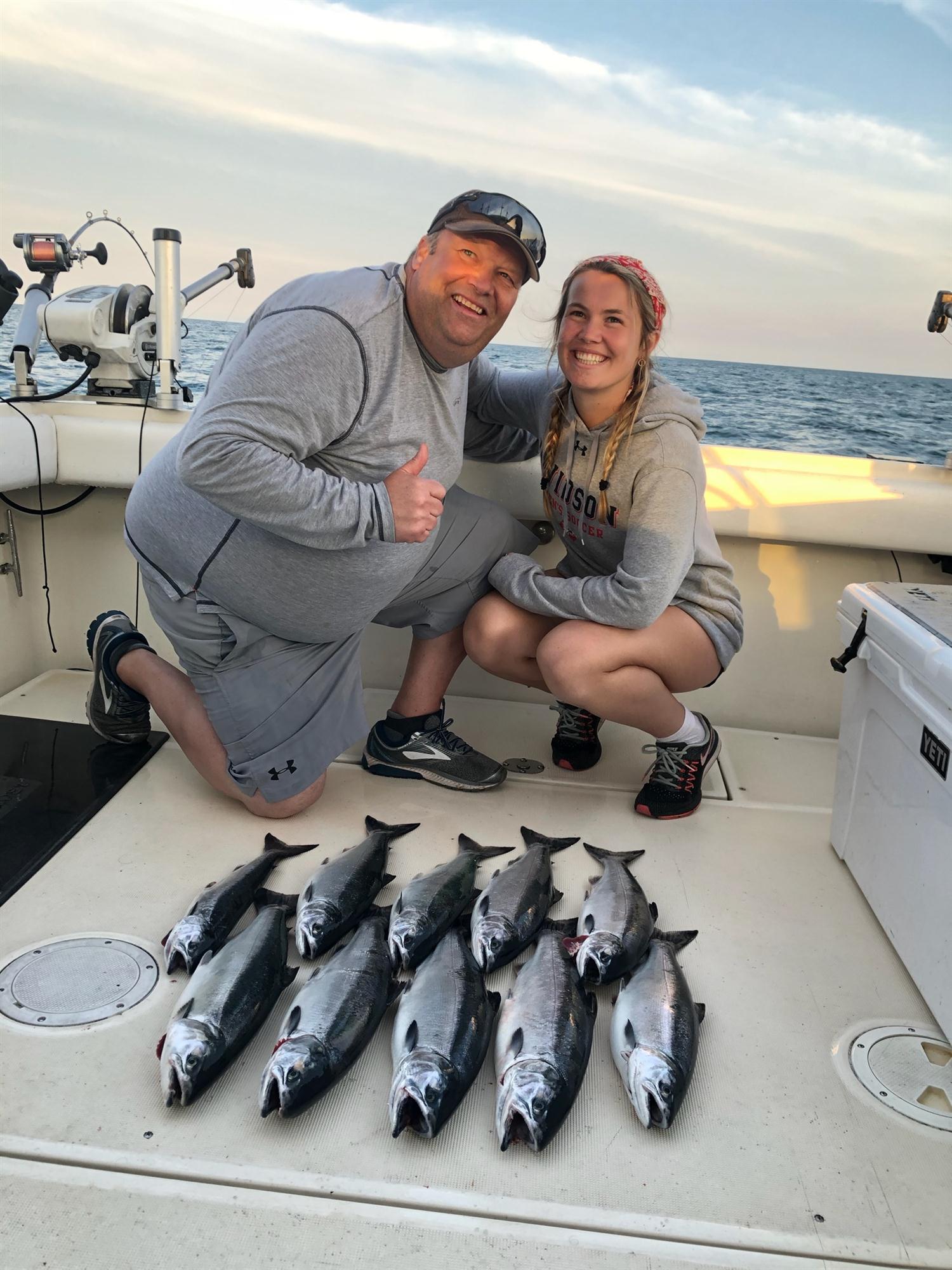 Report for January 15, 2023
Our last report talked about April Milwaukee charter fishing. Our best month for Brown trout. May is a month that transitions into Coho salmon. Over the last ten years Coho salmon has been our number one caught species eight of or ten seasons. When Chinook salmon stockings were reduced the Coho salmon continued to be stocked at around 2.5 million lake wide, making Coho more plentiful than every fish then Lake trout. Chinook salmon have been increased over the past couple of years but Coho will still be heavily relied on. We can start seeing Coho salmon in our catch as early as late March and April but the consistent action starts to happen in May. This is also the time of year we are Racine charter fishing at times. It depends on where the Coho salmon schools show up. When we left the lake last year in early November we were already catching Coho salmon that were almost a pound and a half. Each season can be a little different on the size of spring Coho salmon but two to three pounds is typical. But these fish start putting on weight quickly as the season progresses.
Coho salmon are raised in hatcheries for a year and a half. The eggs are harvested in October and held for a year and a half and stocked in May. These fish then grow that summer and fall until the following spring they are ready to catch. This means there is only one stocking years Coho to catch each season. These fish will winter in the middle of the lake, the southern end of Lake Michigan or around power plants were the water is warm and bait is plentiful. In the spring the Coho will come u along either the west or eastern shoreline or swim in from the middle of the lake. Every year we will here a report or experience a Coho bite ourselves and the catch goes from Brown trout and Lake trout into salmon. Coho salmon travel in schools, so when you catch one there is a good chance there are more around.
When we are fishing Coho in May we will run a spread of orange dodgers and peanut flies on just about every set up. The peanut flies vary in color and manufacture but our favorite is the Willy fly, which Captain Willy ties himself. By far our top producer. The orange dodger is an attractor that simulates creel or shrimp from the ocean. These fish came from the Pacific ocean and their brains are still wired that way. This si a great set up to catch Coho and when they are schooled up it makes for a fun day of fishing. Every season is different on when the bite will start. In 2021 we were charter fishing Racine in early April catching limits. Last year it started up in early May and we had 33 straight trips with limit catches of Coho salmon Milwaukee charter fishing.
We expect another good season of Coho fishing. We don't know when they will start biting but we know for sure that May will have a lot of Coho salmon caught. Weekends go fast in May, especially Memorial Day weekend. We look forward to May fishing because when the Coho bite is on there is no easier or quicker fishing that can be had. Silver King Charters fishes seven days a week and if you want to catch salmon sometime in May is when it starts up. Below are some pictures of Coho salmon catches over the past few years. We show a bunch of limit catches. We do not limit on every trip but May is a month that has on of the most limit catches. The last picture shows an orange dodger and Willy fly. That fly was been copied by many but never duplicated.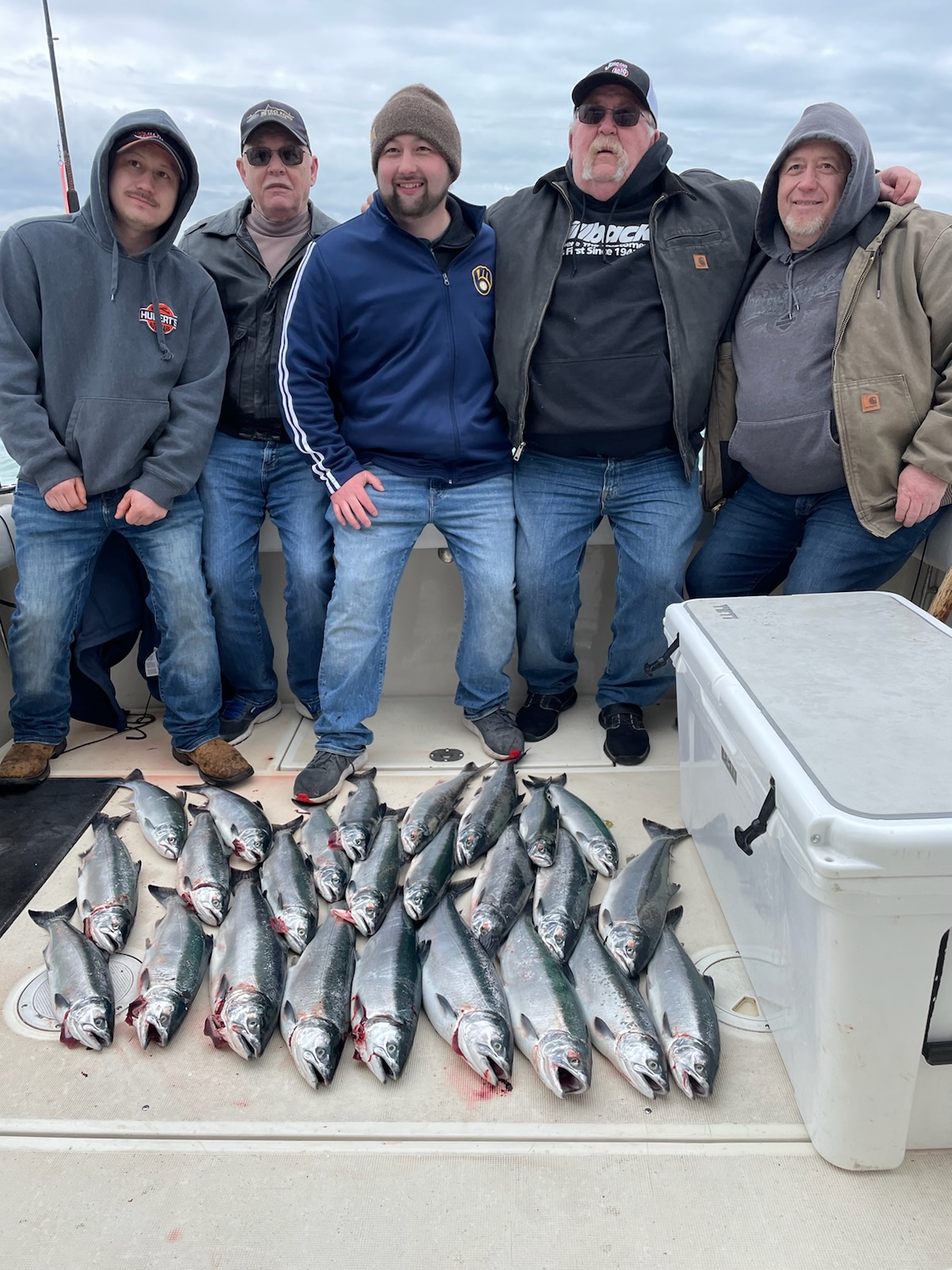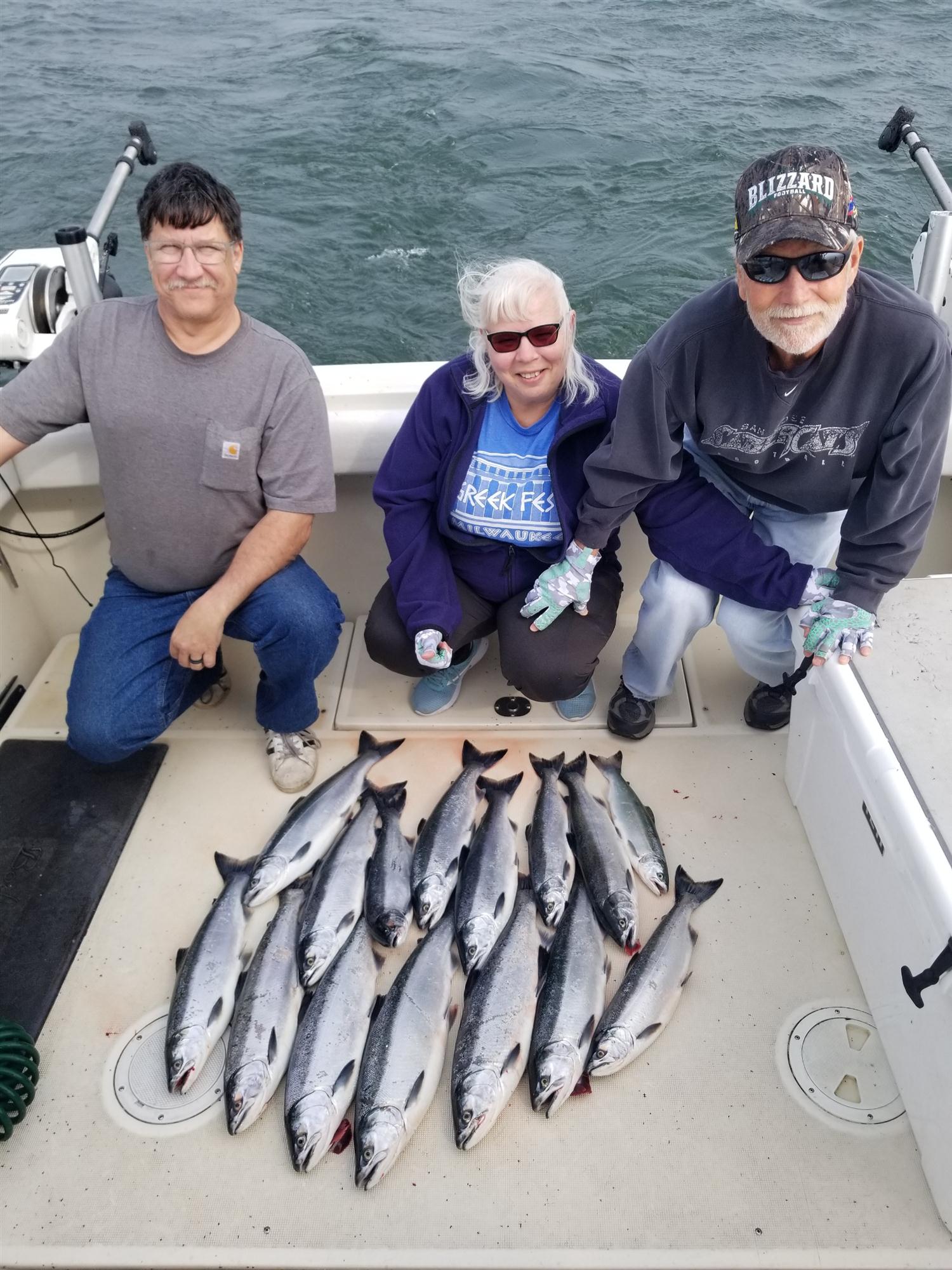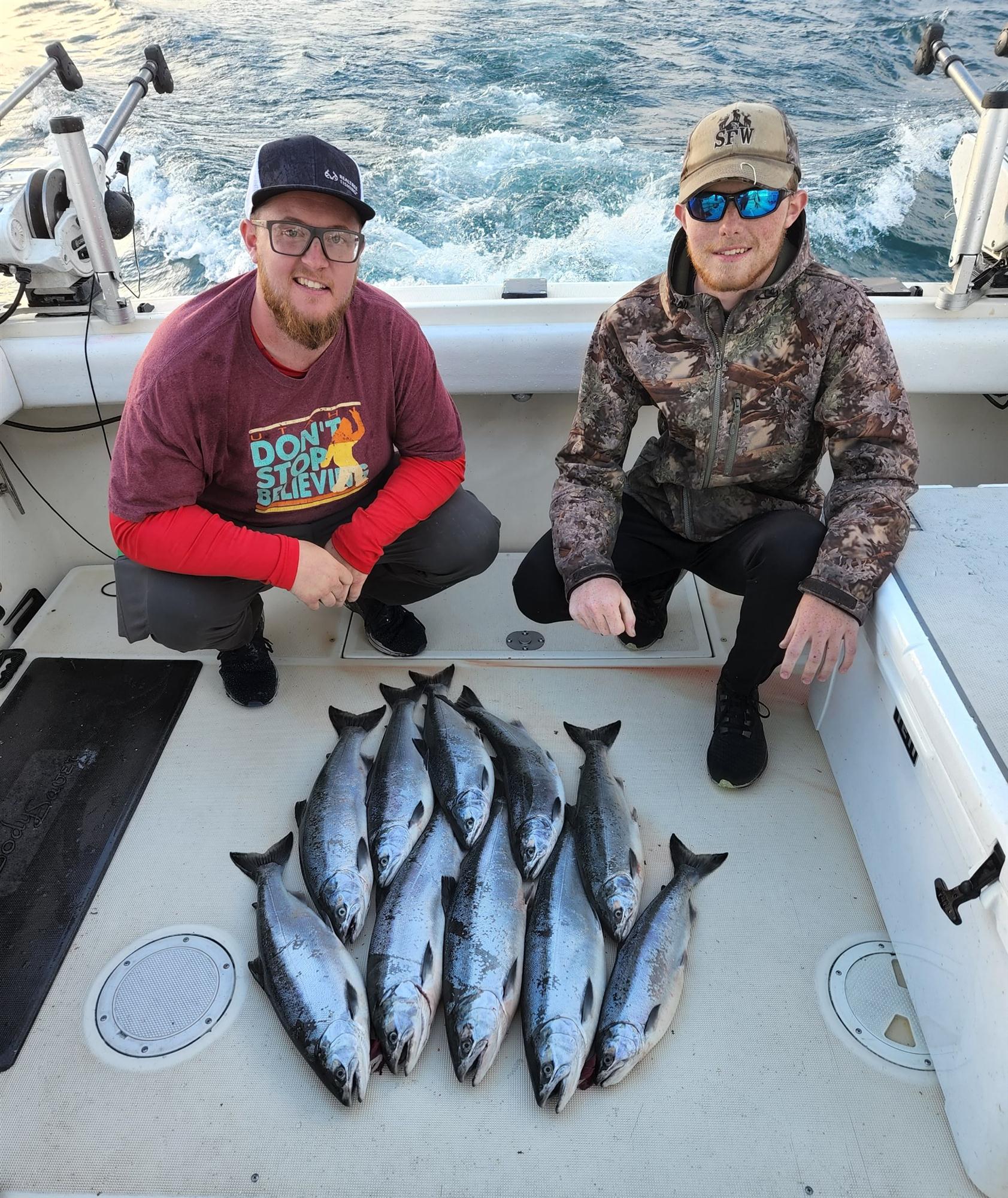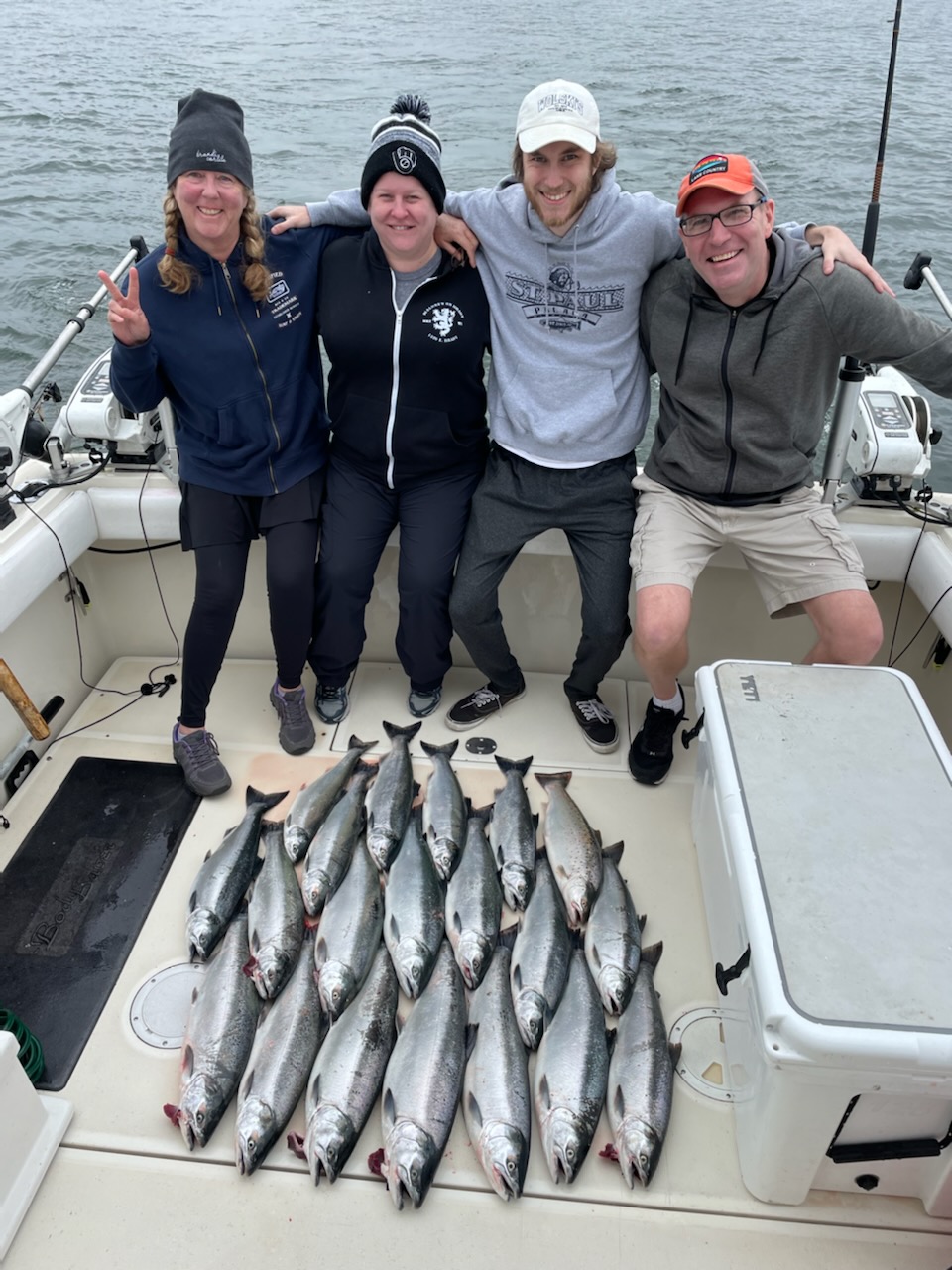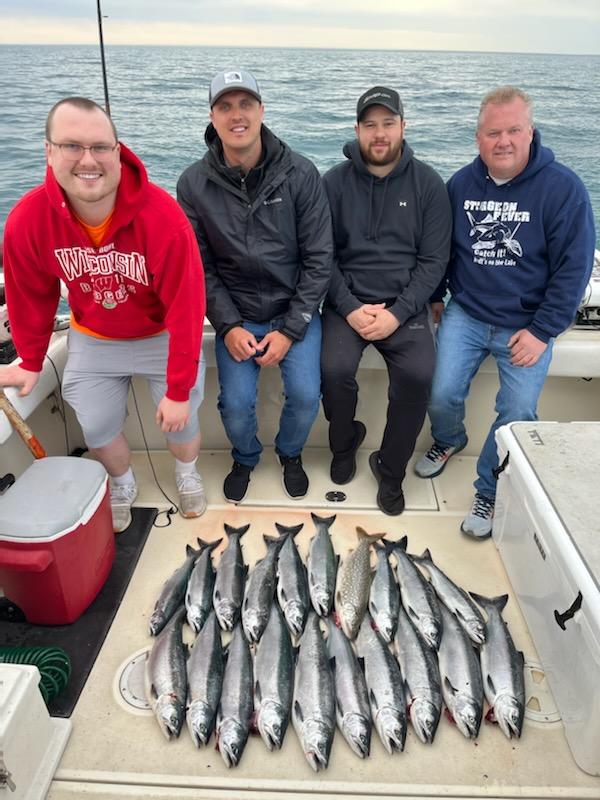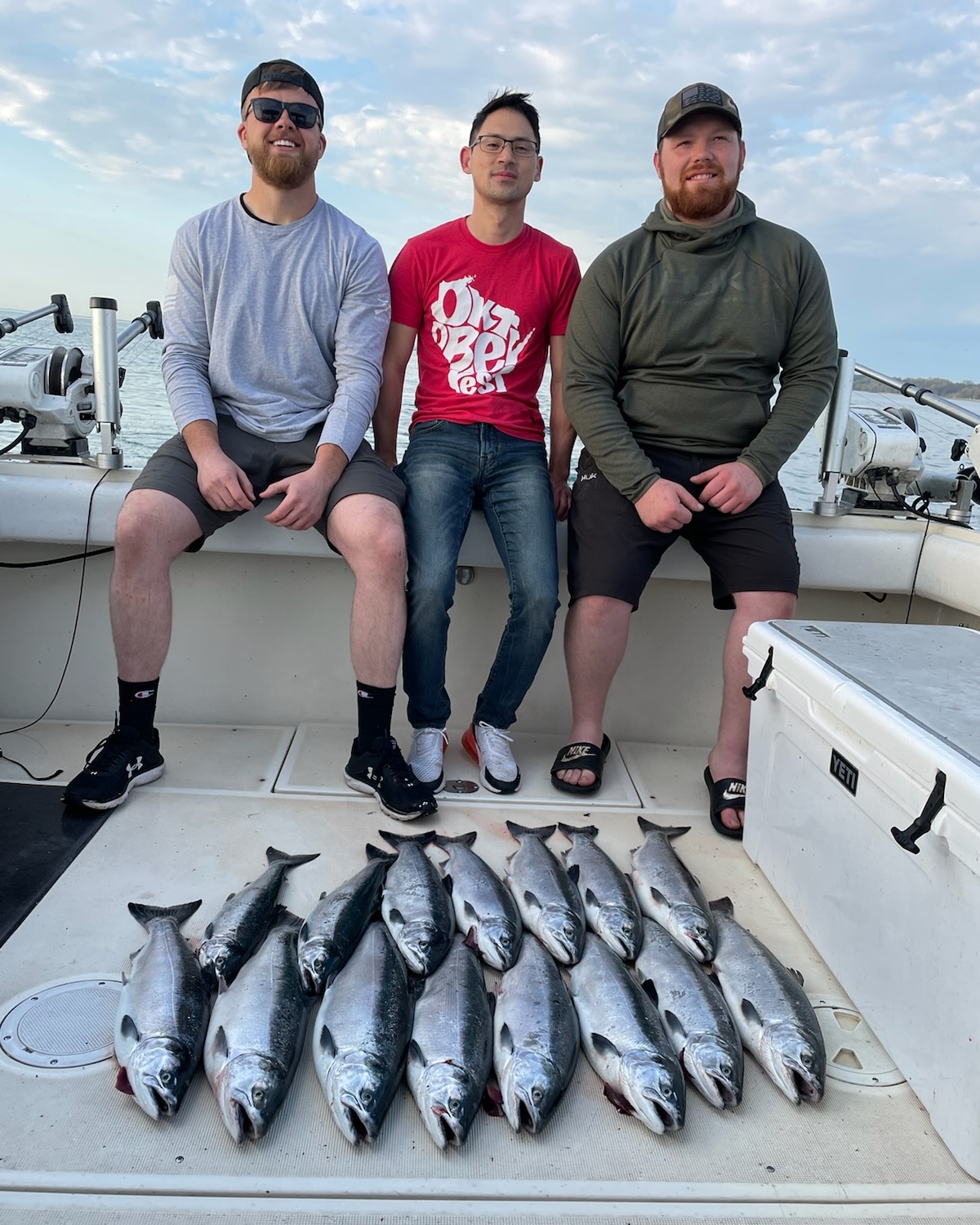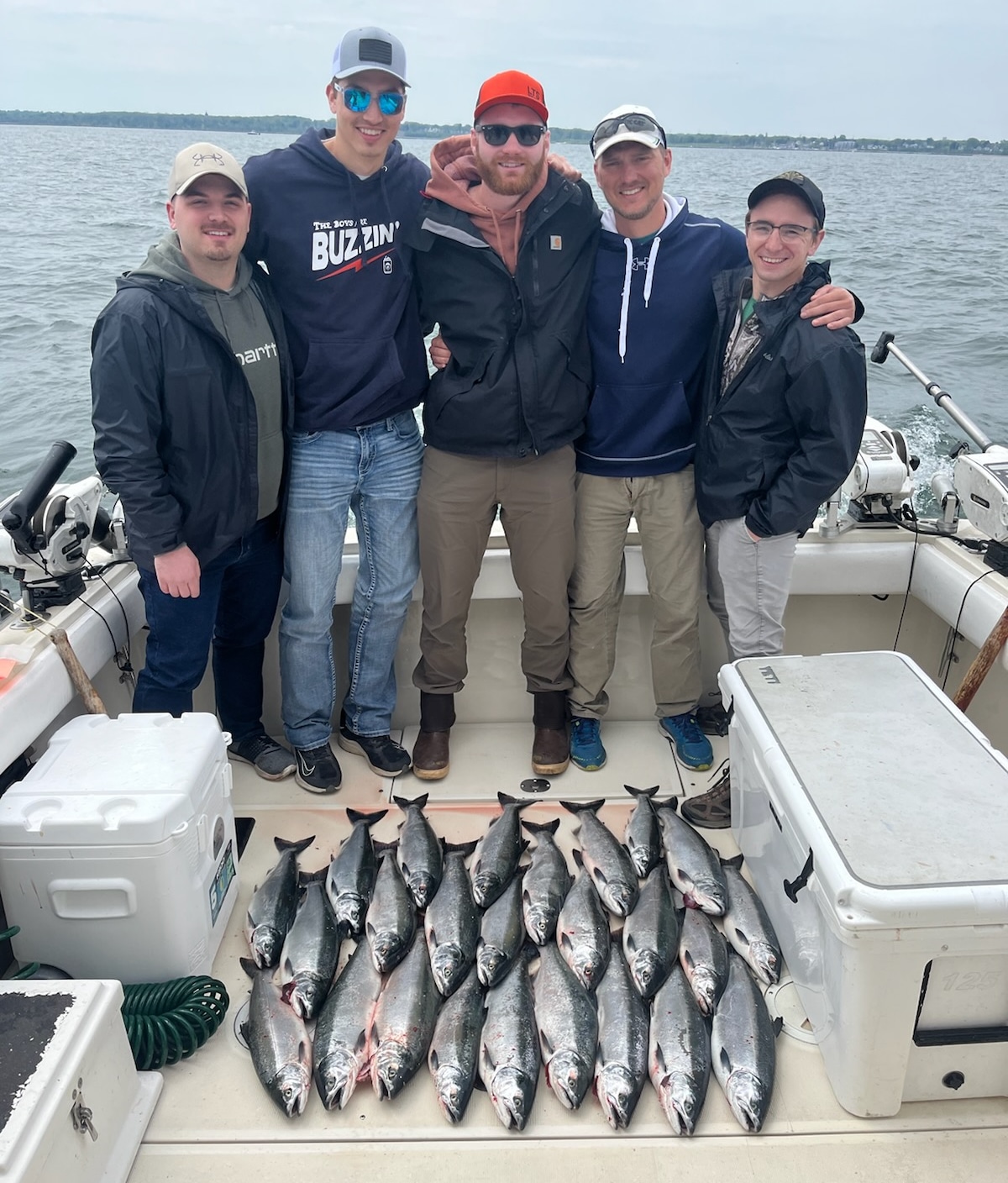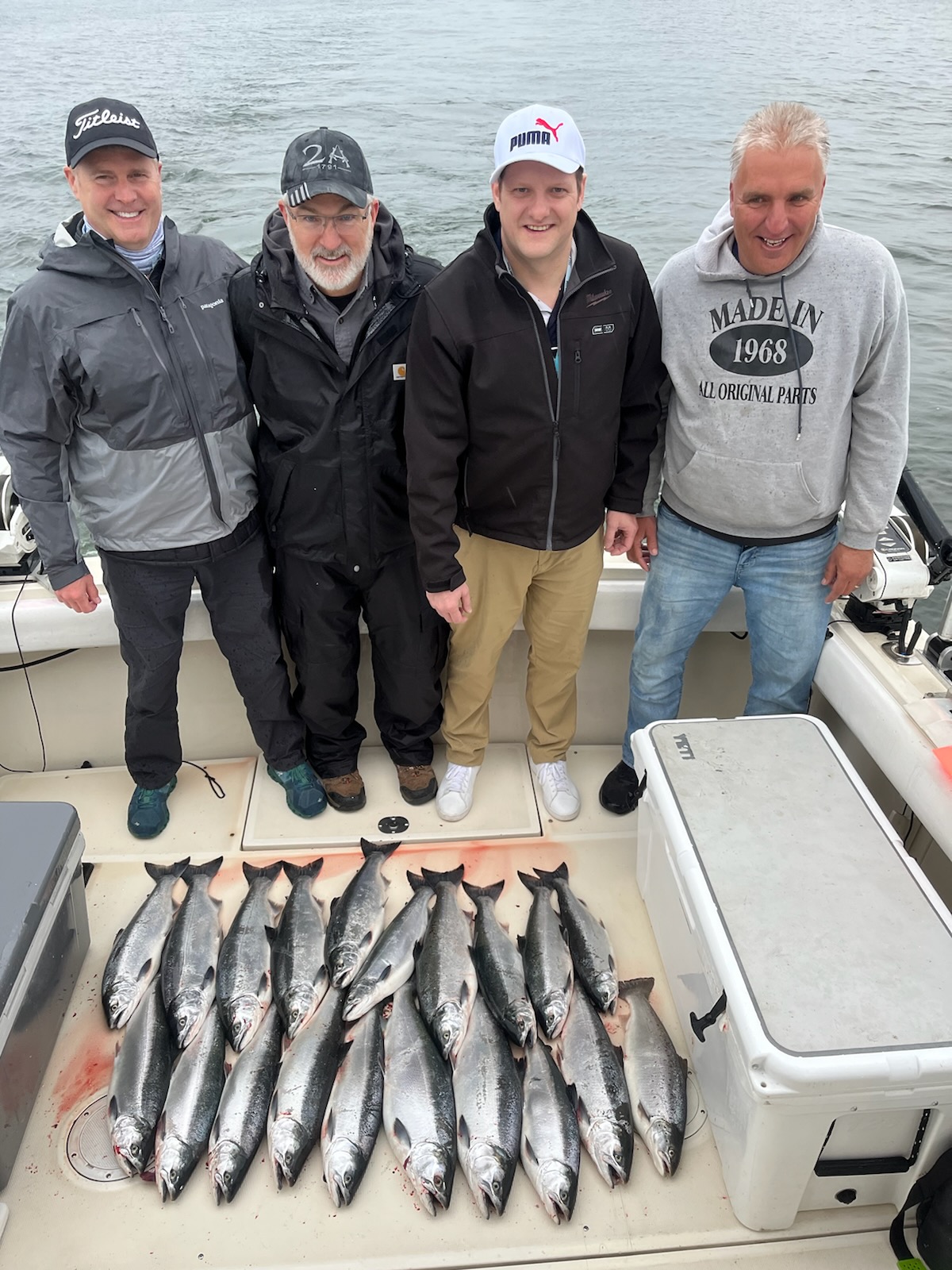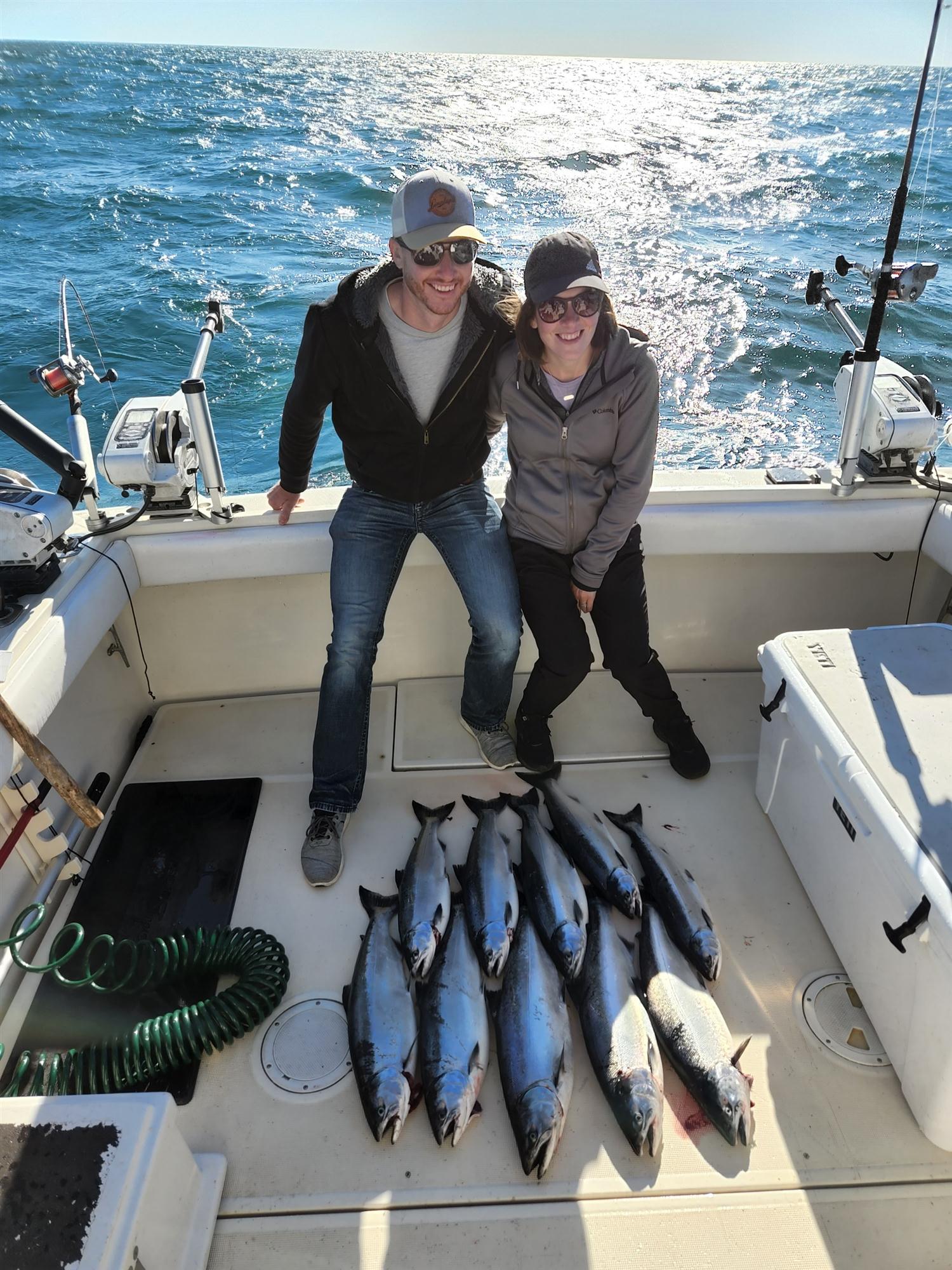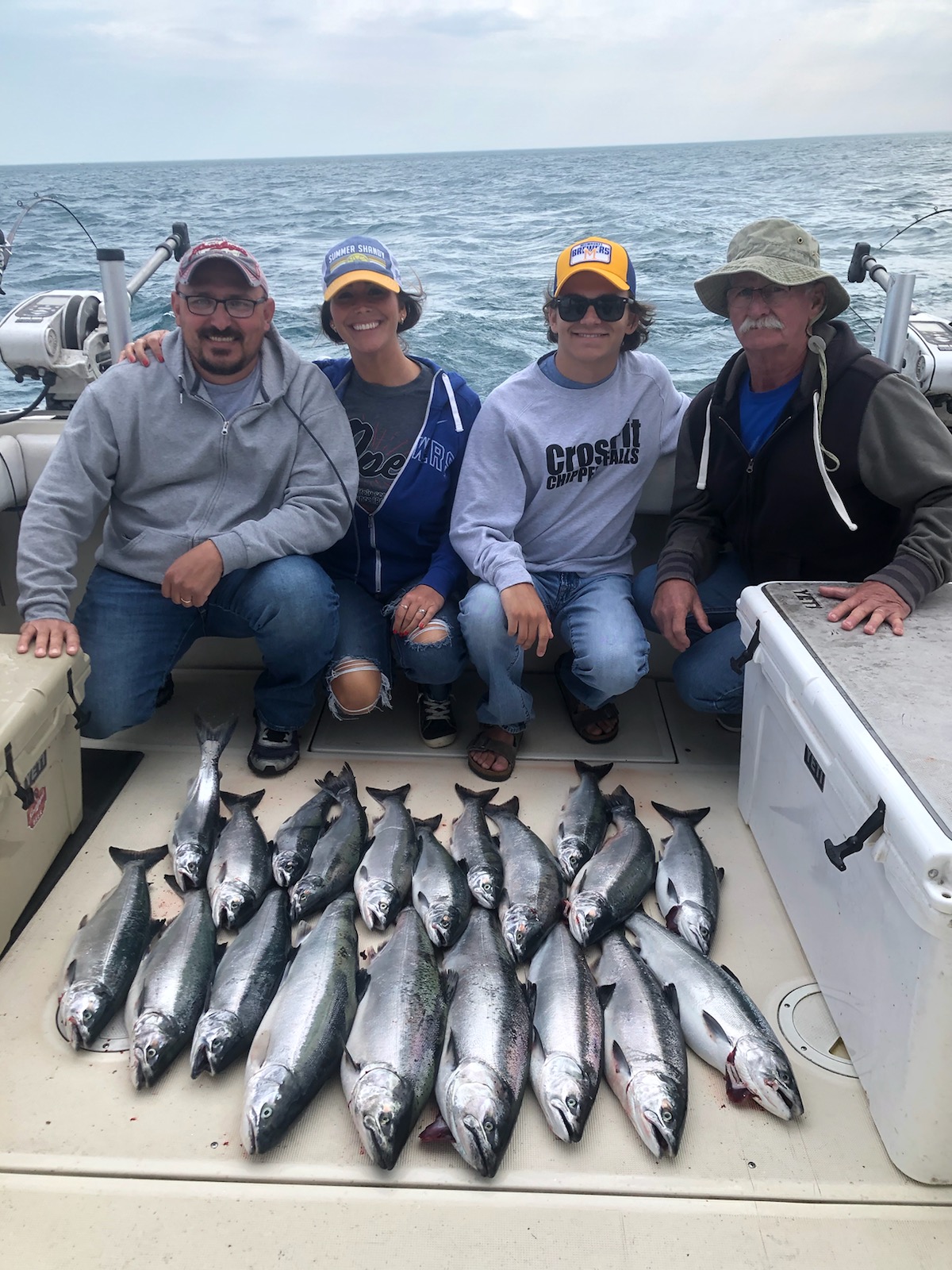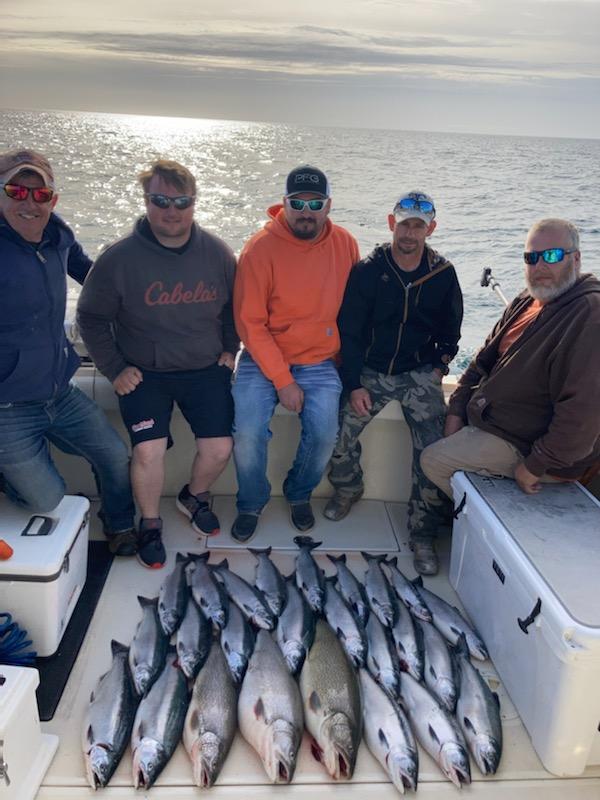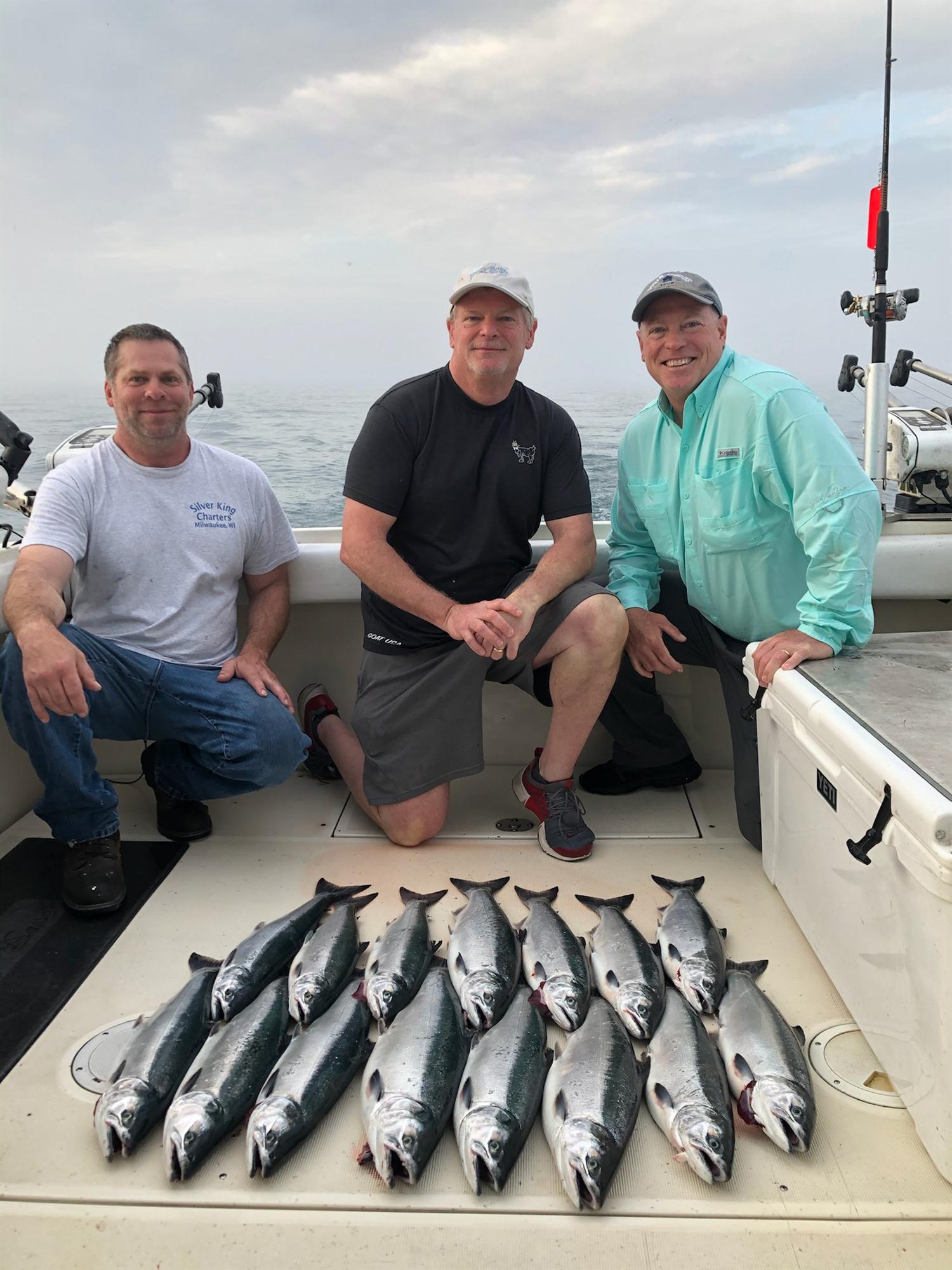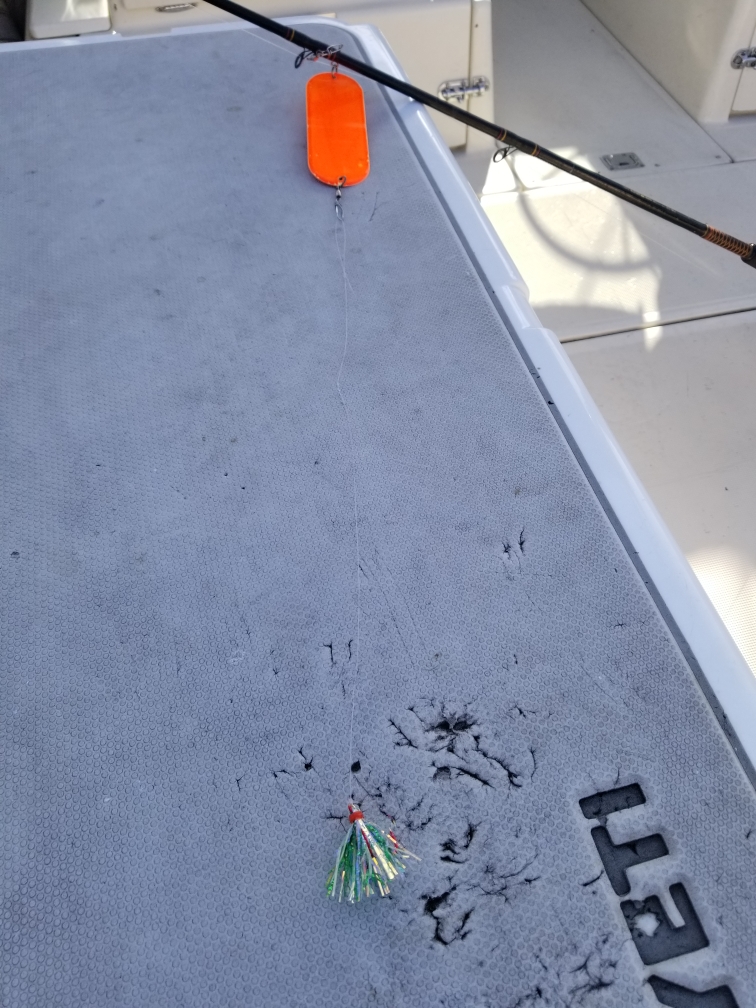 Report for January 1, 2023
Happy New Year to everyone and Silver King Charters is looking forward to the 2023 Lake Michigan charter fishing season. We have already done a lot of prep work and we still have 3 more months of work before we put in on March 31st. We will be going over each month from last year over the next several weeks and explain what to expect if you are booking a trip during that month. We start early. Right after the ice is out of the marina in Milwaukee. Sometimes we are already running trips in late March. This is our best time of year for Brown trout. No other month comes close. Brown trout stocking has been down for a few years now but last year there was an increase, though modest it will help. We troll in and around the Milwaukee harbor during the first few weeks of April. This mean less run time to get to where we start fishing. These is also three rivers that converge in the Milwaukee harbor that make this area very good for fishing in the spring. We are also fishing along the shore line in 10 to 30 feet of water both north and and south of Milwaukee. We do make runs to the Oak Creek power plant and the Oak Creek creek. Both areas have warmer water and hold fish in early spring. The run time to these areas is a half hour but can be very productive. We keep the cabin closed during this time of year to keep you protected from the elements, so you stay comfortable while fishing. When the winds are strong we can still run most of the trips because the harbor protects us from waves we could not fish in out in the lake.
Usually 70 percent of the Brown trout we catch during a season is in April and for the most part it is the only time we make a point to target Brown trout. We also catch Lake trout, Rainbow trout and some Coho salmon during April, with an occasional Chinook. But Brown trout is the main target, especially through the first 3 weeks of April. We are not fishing in deep water and most the the baits we run are in the top 15 feet of water. We will run one or two baits near the bottom and the deepest water we will find ourselves in is 40 feet. We are usually running all spoons this time of year. Our favorite spoons over the last few years are copper or gold spoons The Stinger Mass Confusion and Gold Hud in the stinger size are always in the mix. It is getting tougher, at least last year to get these spoons, so order ahead. We also like the the UV Blue Dolphin and are going to try and get a gold version of these for this spring. Deadly spoon. The other spoon that has been solid is the UV Green NBK gold spoon. All of these plus a few others will always be in the spread during spring.
We run one, two and three color lead cores on boards and occasionally a four color. If you have been out with us in the summer and had to fight a 300 copper fish you know that sometimes fish on boards is not fun but in the spring there is far less line out and catching a fish on a board rod is a lot of fun. These rods account for over 65 percent of the fish we catch in April. We run downriggers and two mono dipsy rods also and these are set shallow and close to the boat. The weather is why people sometimes do not want to book in April but with the covered cockpit it really is not bad. But the fishing can be really good during the period.
If you want to catch Brown trout on Lake Michigan then April Milwaukee charter fishing is the time to go. Milwaukee is known for a great Brown trout fishery also. Call Silver King Charters at 414-460-1467 to book a trip in April for Brown trout. Monday through Wednesday we offer six hours for the price of five hours during April. Our next report will cover May fishing. Below are some pictures of April Milwaukee charter trips. We are booking trips for the 2023 season now so make sure to call early to get the date you want.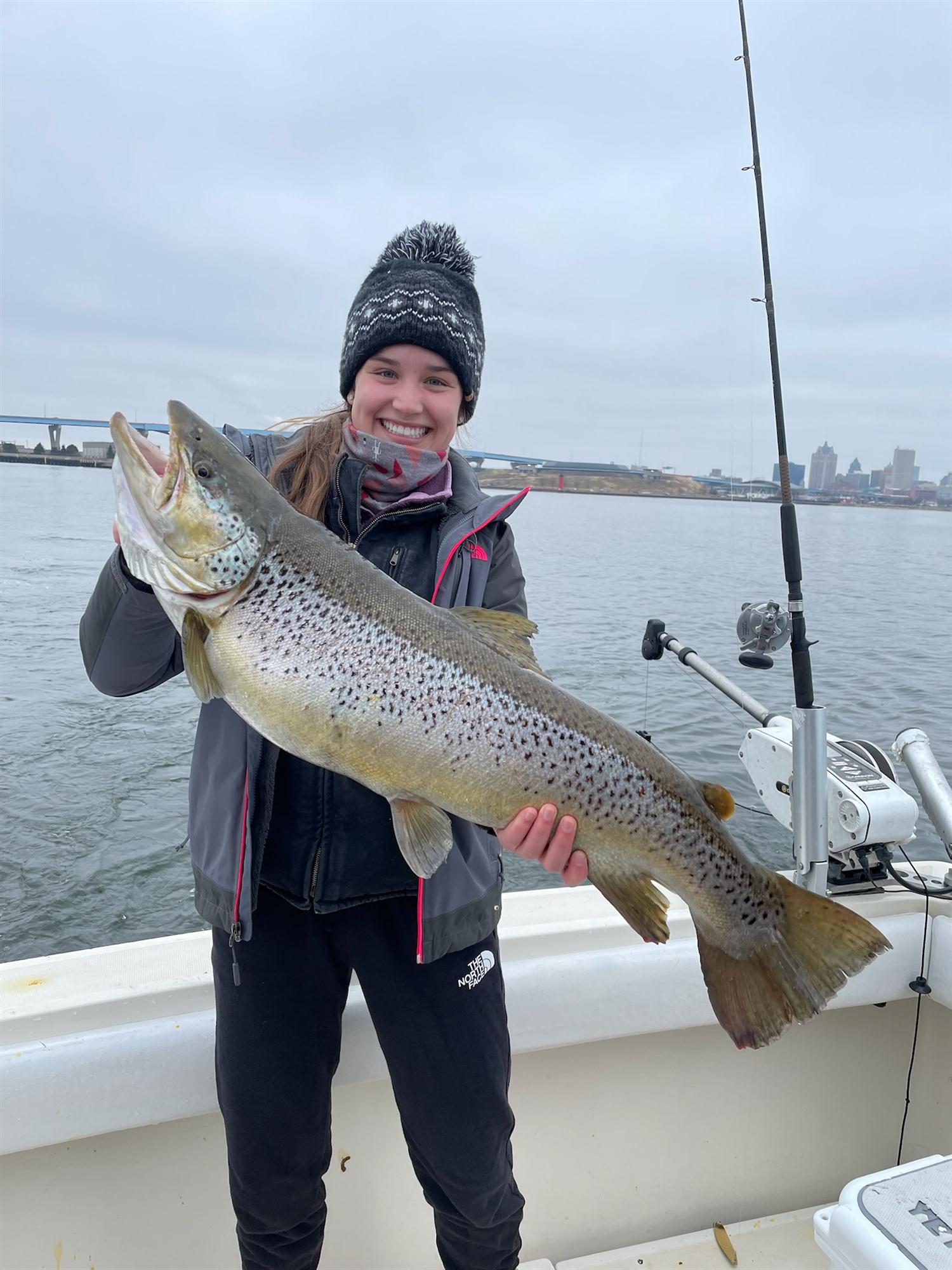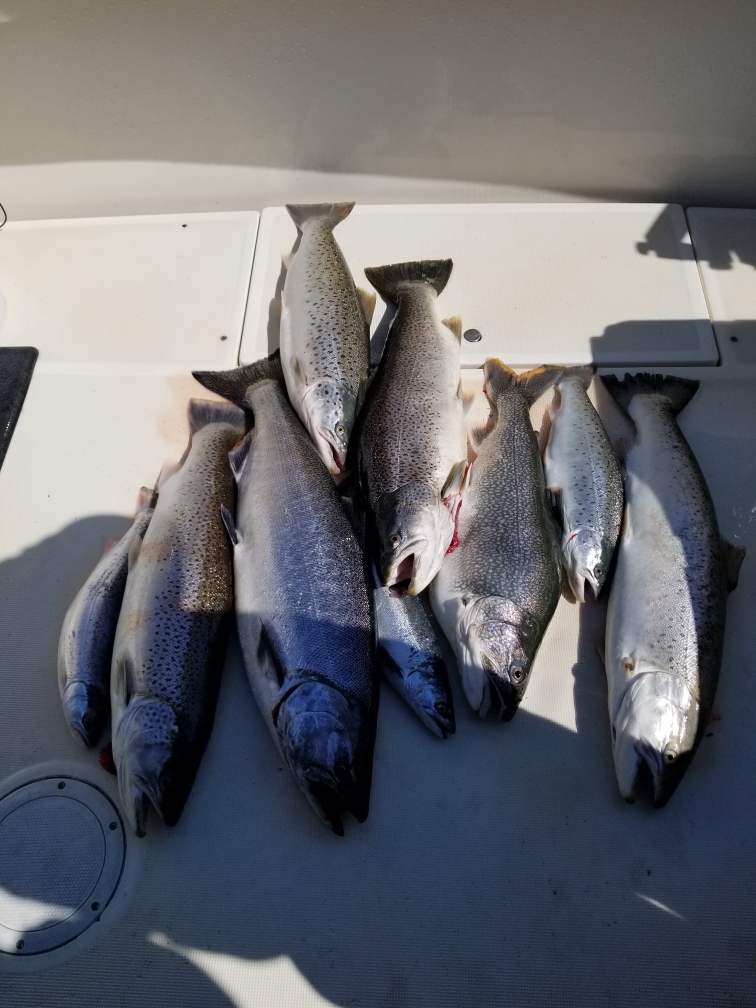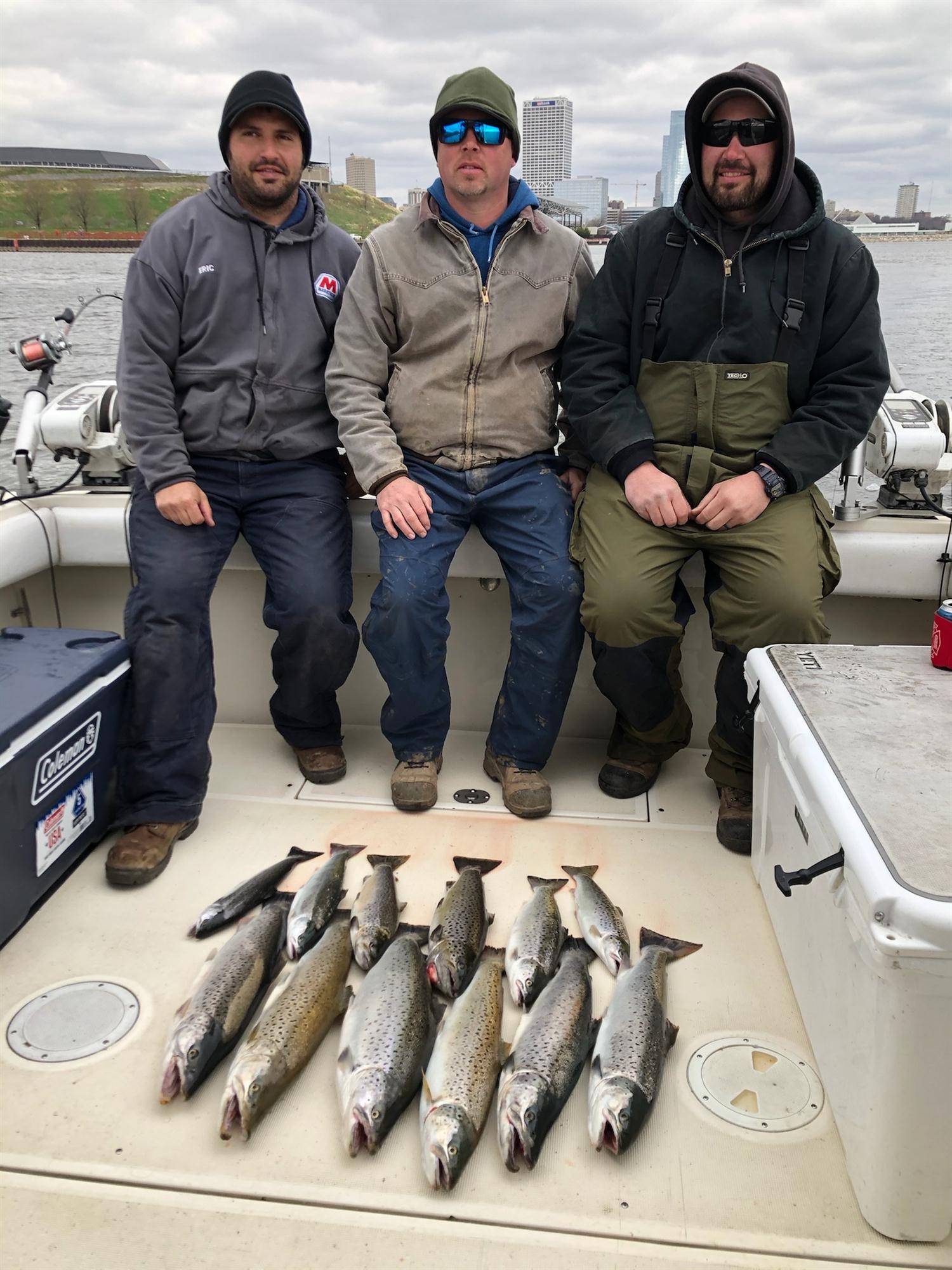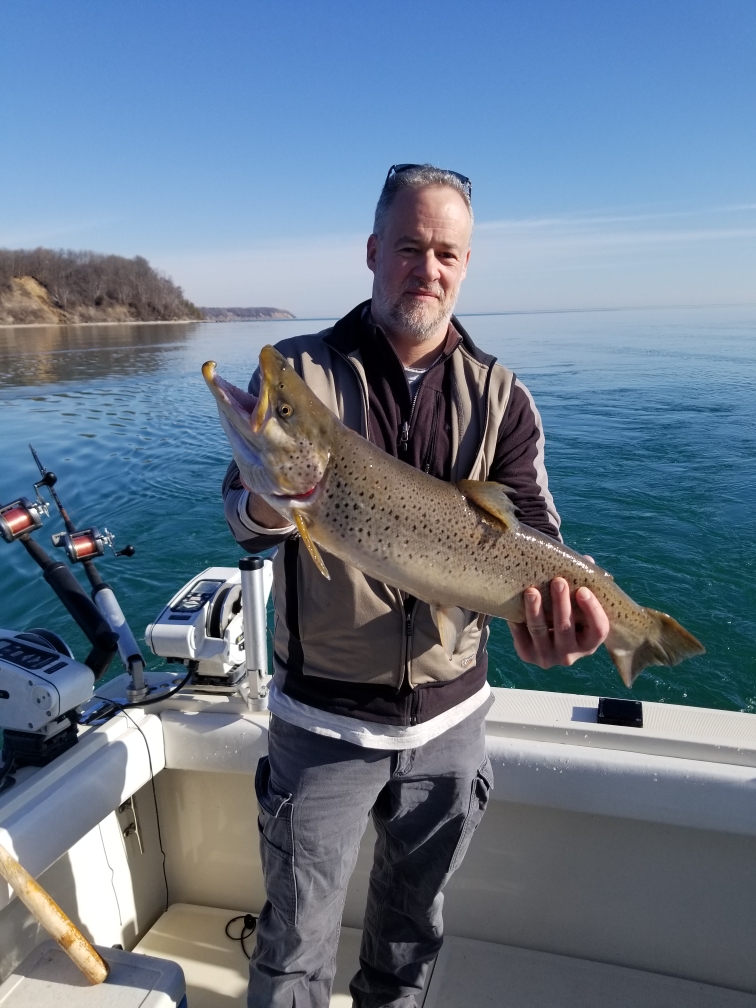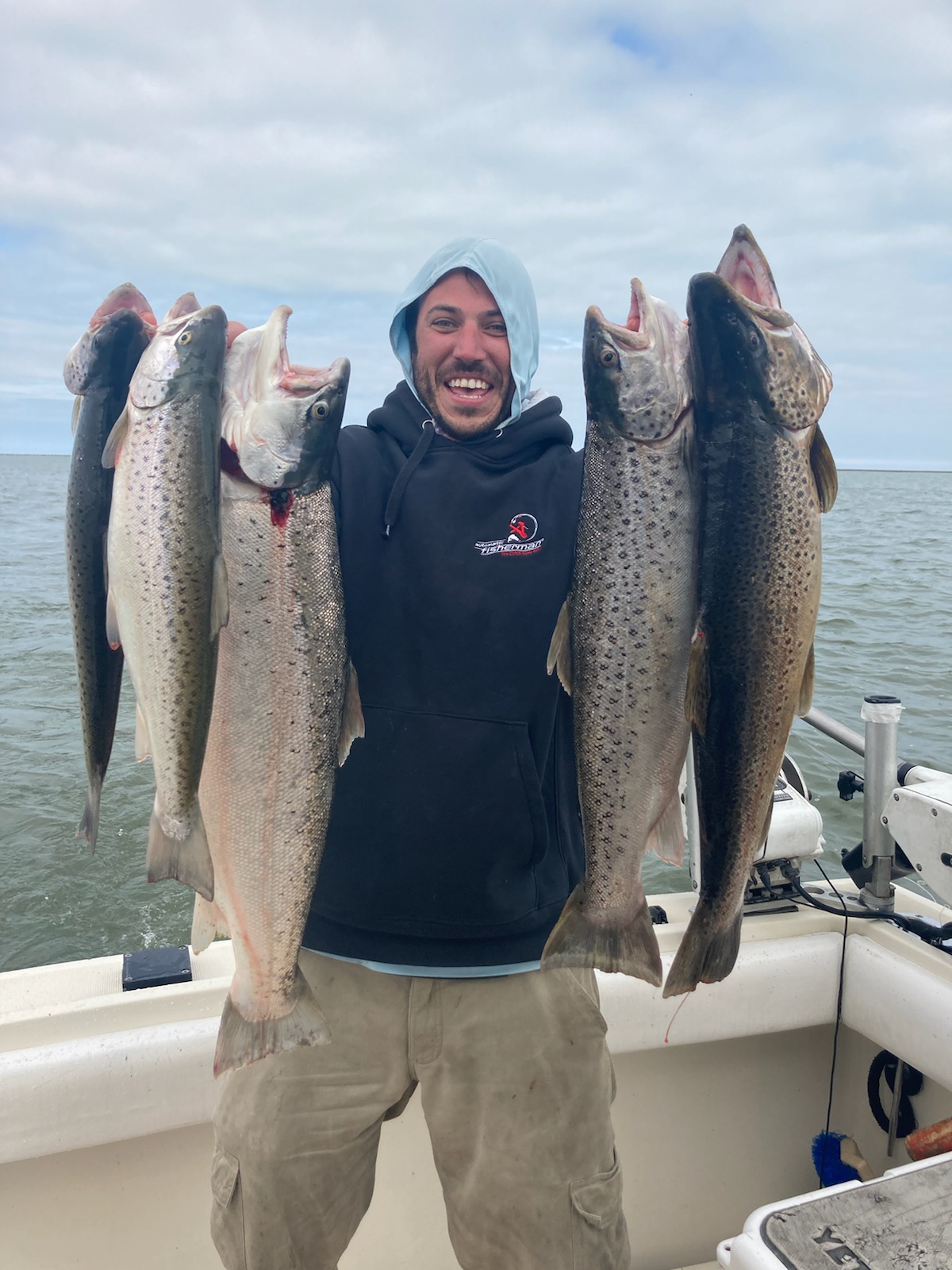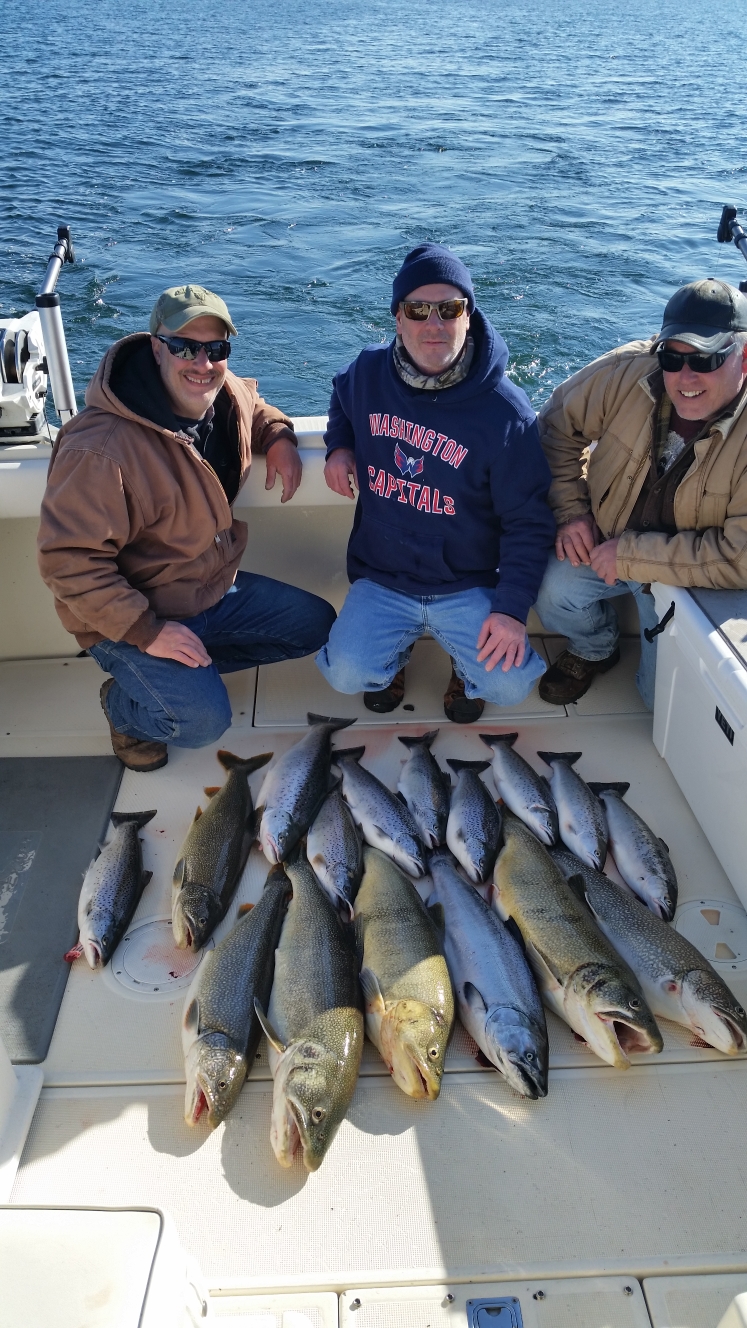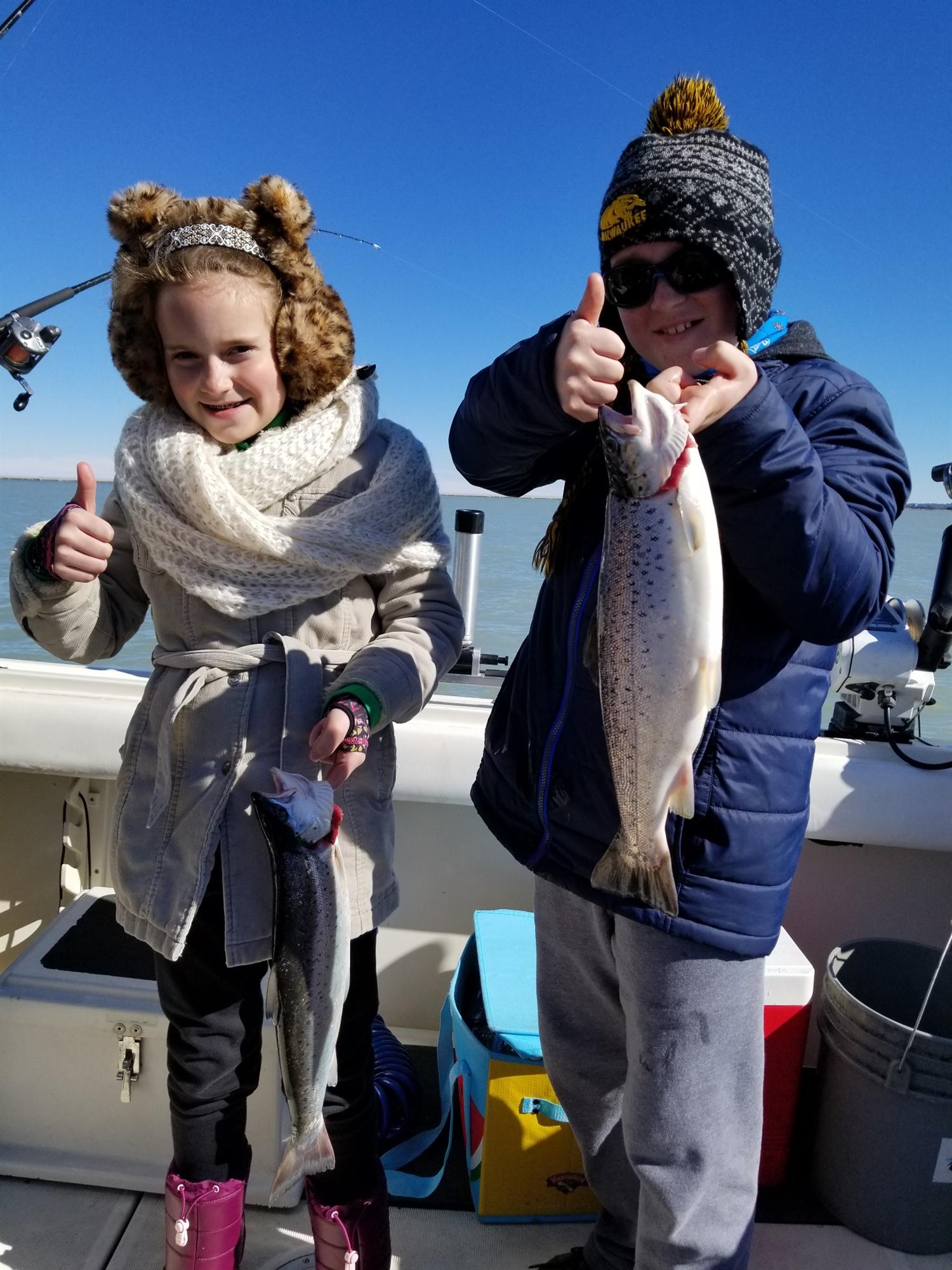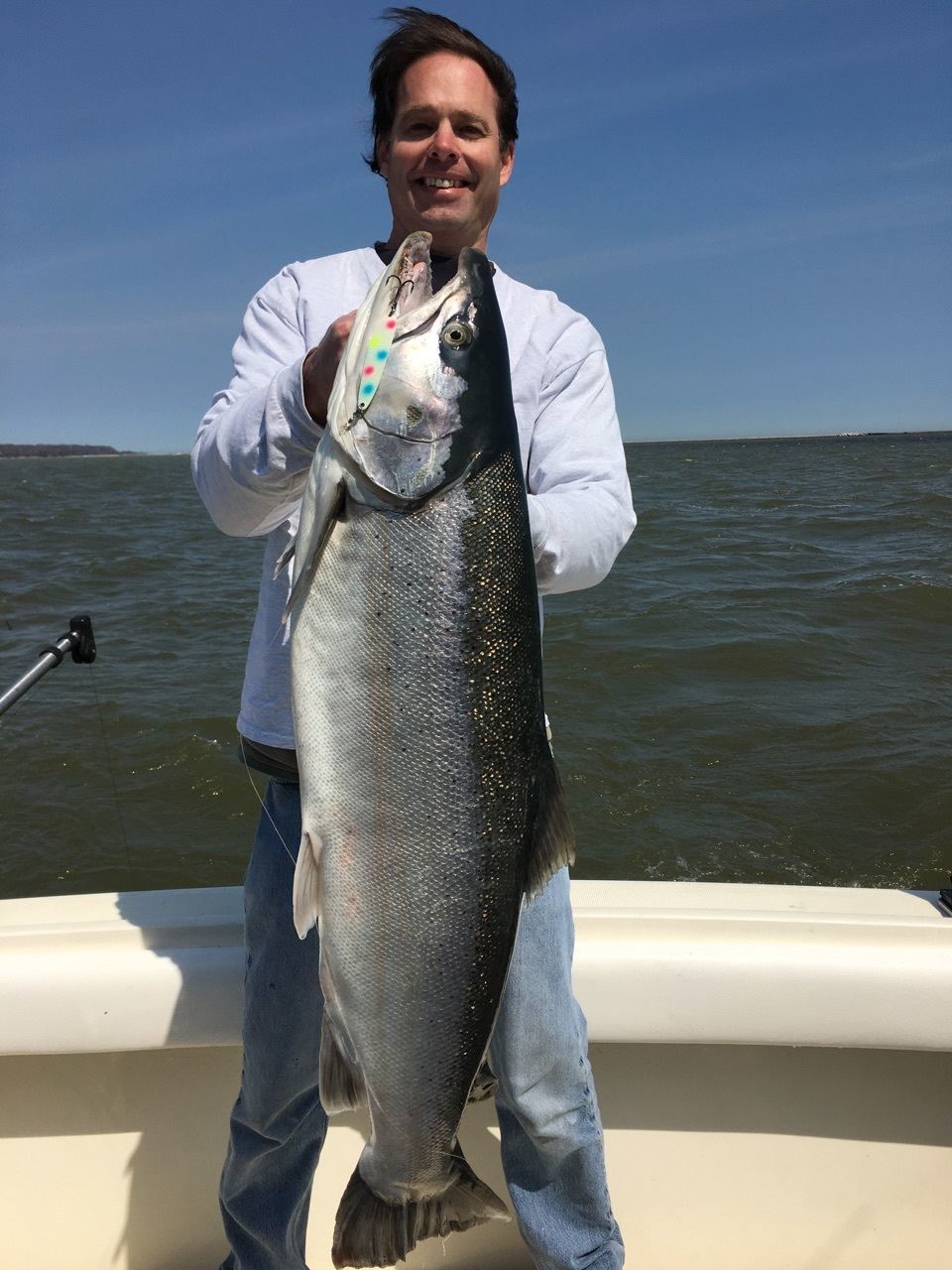 No reports yet this month.
1
2