*Note: Click any month to view reports.
January

February

March

April

May

June

July

August

September

October

November

December
Report for September 8, 2022
The fishing off the shores of Milwaukee have remained good, although the spots have changed. The last couple of weeks of August the water was cooling down. We found 49 degree water down 45 feet in 100 feet of water before the big Labor Day weekend northeaster. The fishing was very good both north and south of town in the 100 foot mark. We were catching all species but it is great to see more Chinook salmon in the mix. The mature Coho salmon are 8 to 12 pounds, with some pushing 15lbs. There has also been a decent bite of of Chinook salmon in the Milwaukee harbor, with the best action from the Main gap and up the river going past Centerointe. We have started fishing out in 200 to 280 feet of water this week and the temperature break is anywhere from 50 to 65 feet down. The best action has been 50 to 120 feet down. We have caught Lake trout, Rainbows, Coho, Chinook and Pink salmon in this depth. We have fished from 02 to 07 with great action everywhere. We have now caught 18 Pink salmon this season and have heard it is even better for them down south off Kenosha. We have pulled 5 species 4 times in he last week and each time one of the 5 was a Pink salmon. The bait we see on the bottom over the last couple of days out deep is unreal. Reminds me of a couple of years ago when we had amazing Chinook salmon fishing in October.
We are currently running all coppers on our boards frim 150, 175, 200, 250, 300 and 350 feet. We are running the green Moonshine flonder pounder small size. The Stinger UV blue dolphin, gold and silver huds on the coppers and they are working great. Not our customer's favorite rods though. We are running magnum dipsies on our wires set at 175 on the line counter and dailed in at 30 degrees. White glow Hot Spot with a Willy fly or the Derks bloody nose with a Hwwie aqua 5000 fly. These are very steady. The two back riggers are set 100 and 85 feet dwon and have the same set ups as the wires, although chrome flashers have also been good. We have spoons on the side riggers down 55 and 65 feeet. Stinger gold hud and blue dolphin are strong on these set ups. We are getting over 35 bites a trip currently. With all the bait out there we beleive the bite will stay strong even with big wind switches.
Silver King Charters will be fishing through October and things are setting up for a good bite over the next 8 weeks. There are a lot of 2 and 3 year old Chinooks around, so this could lead to some real good King action this October. Give us a call at 414-460-1467 to get out Lake Michigan charter fishing before the 2022 season ends. The pictures below are from the last several weeks. I have a couple Pink salmon photos in there.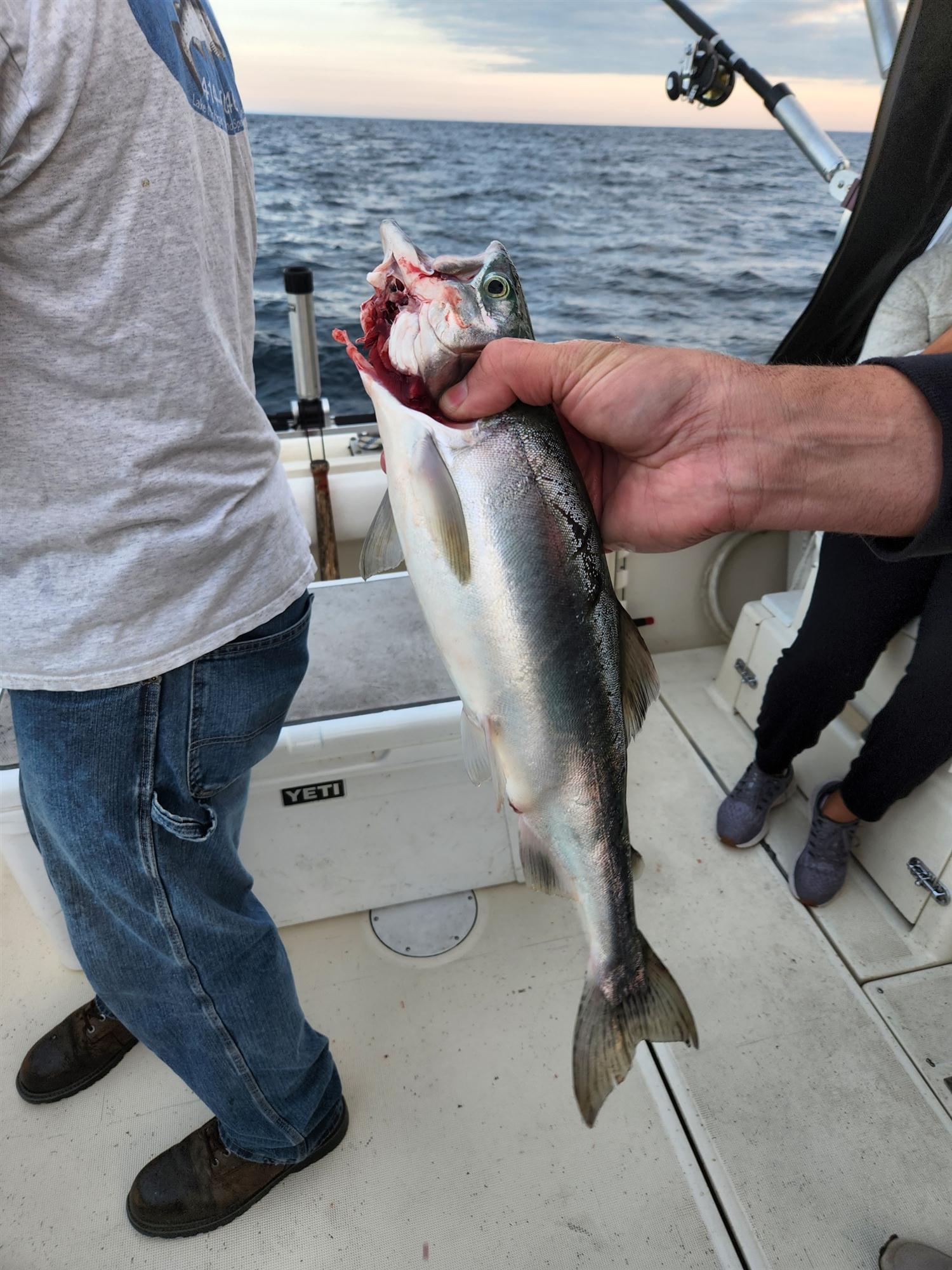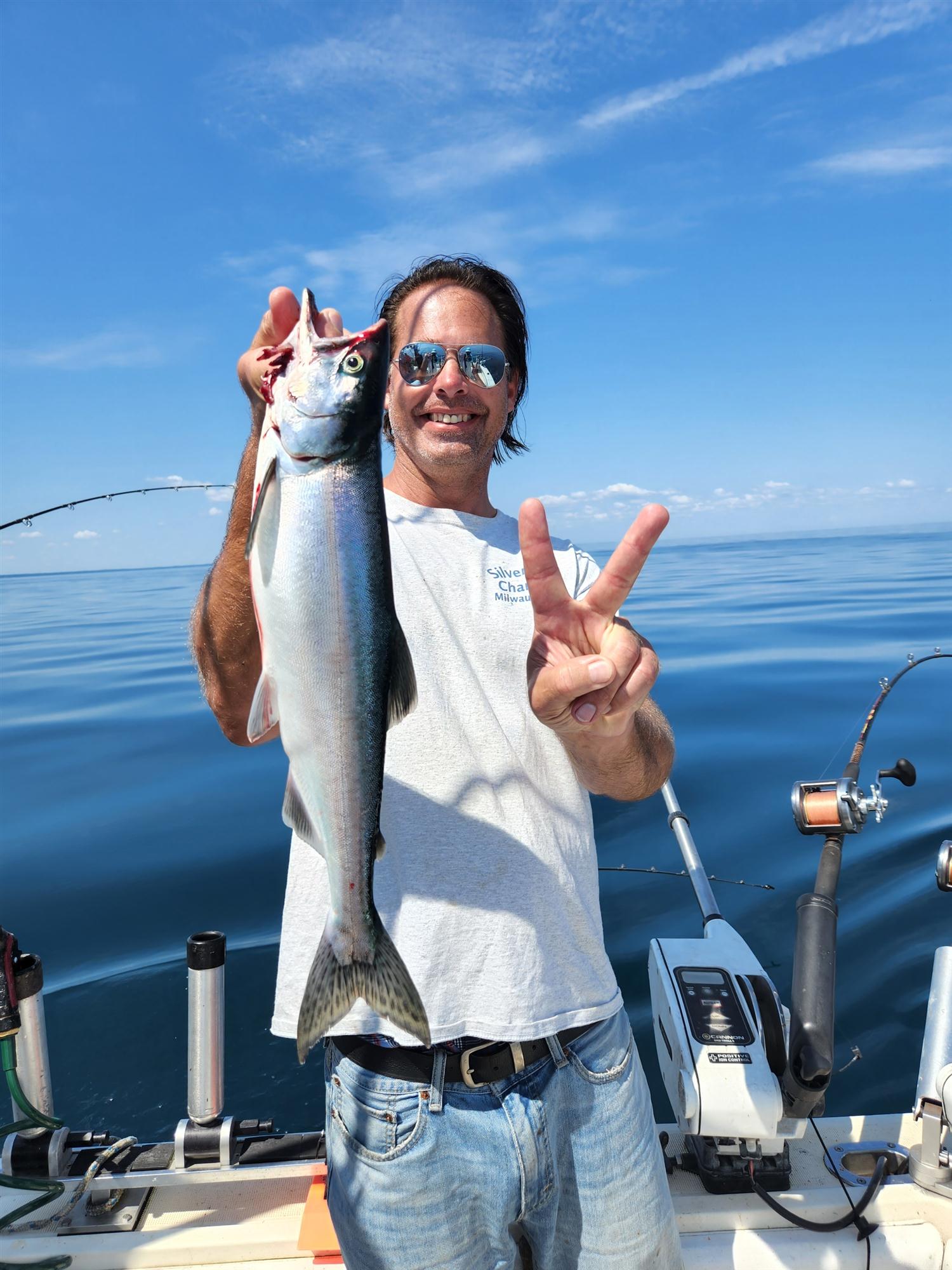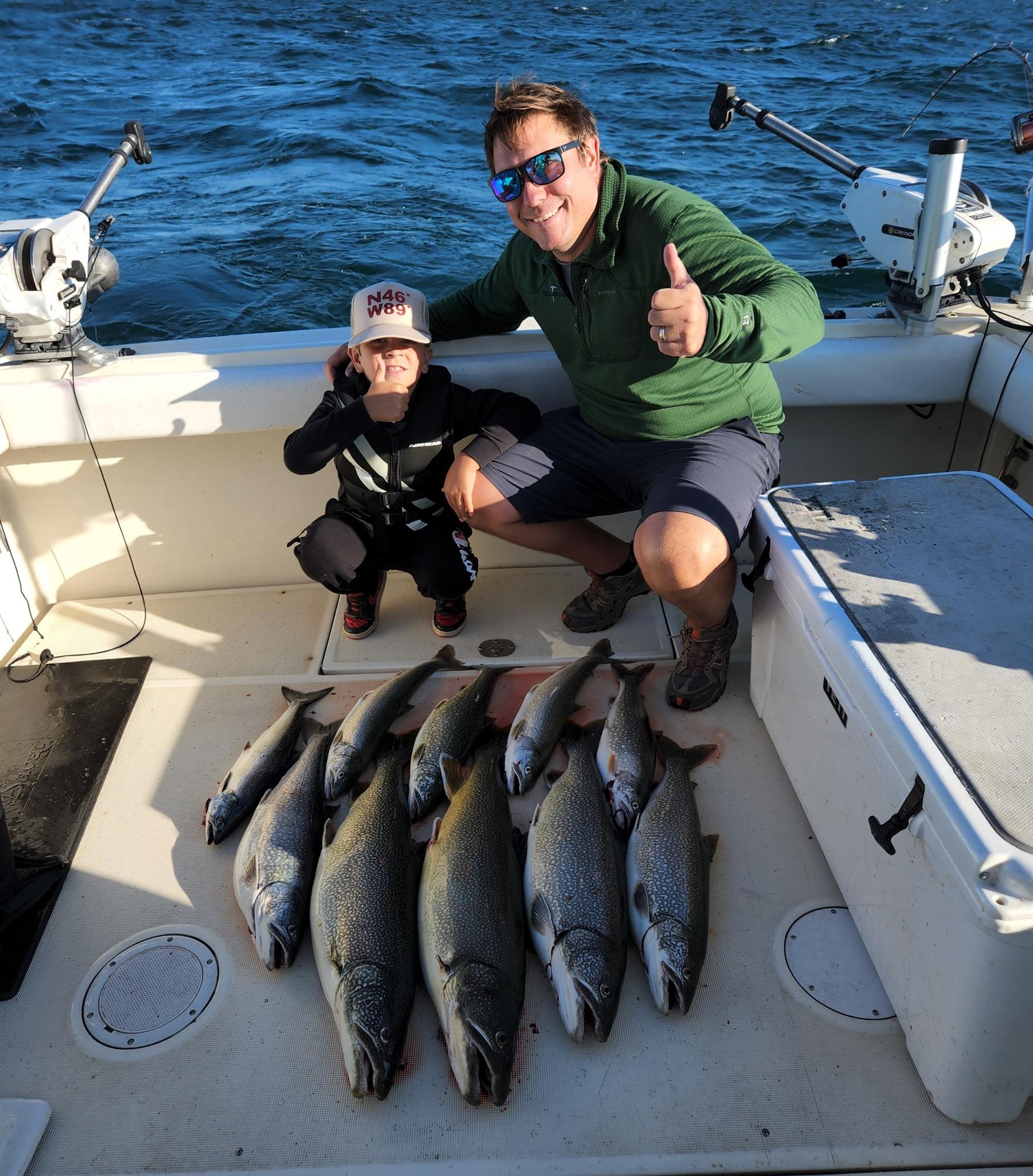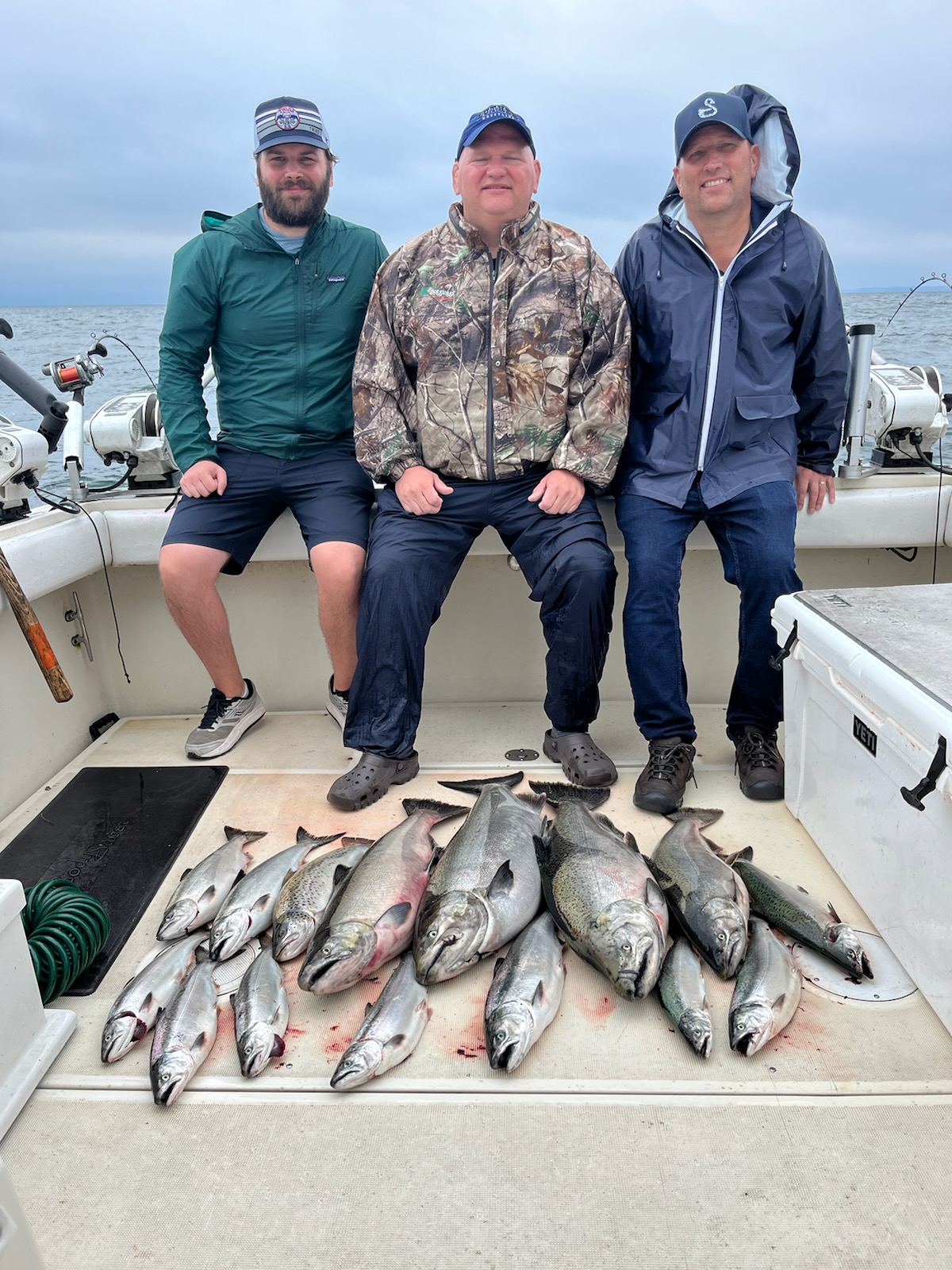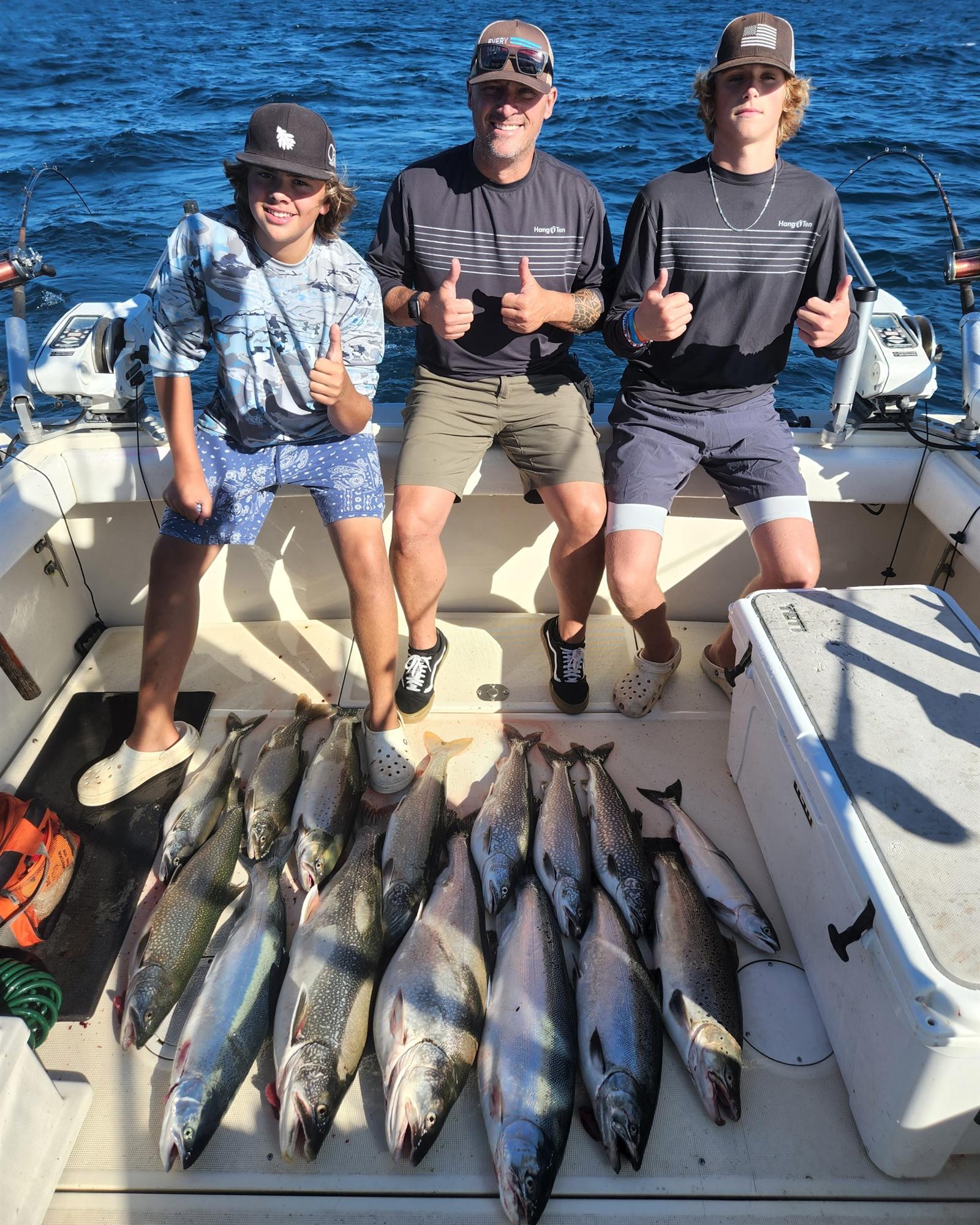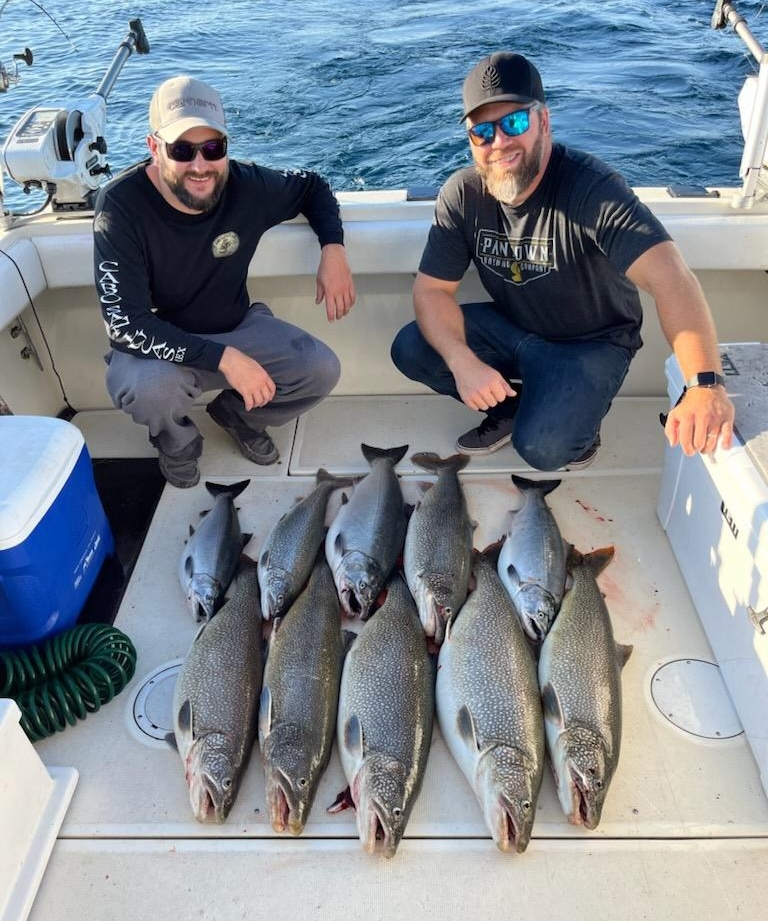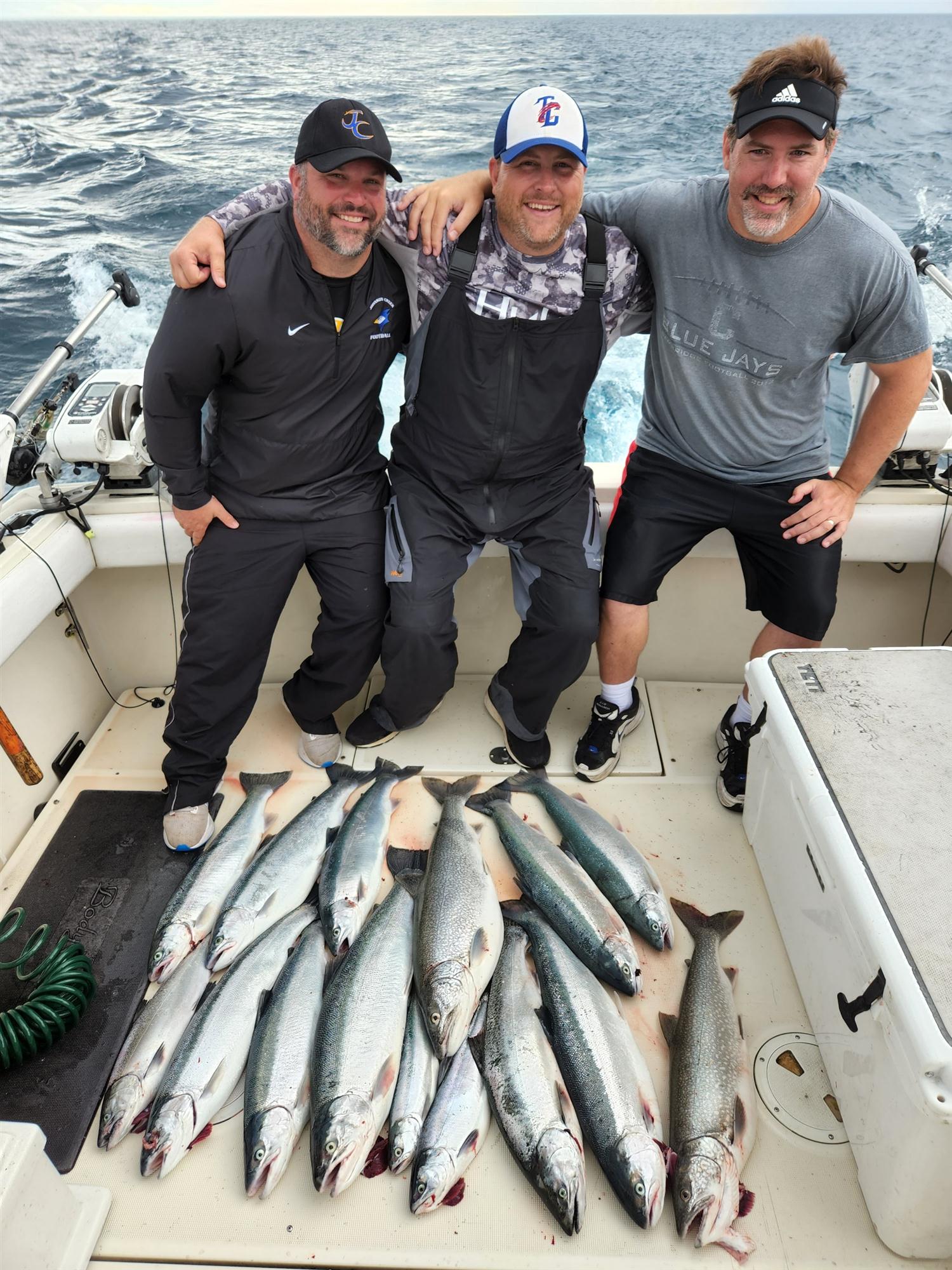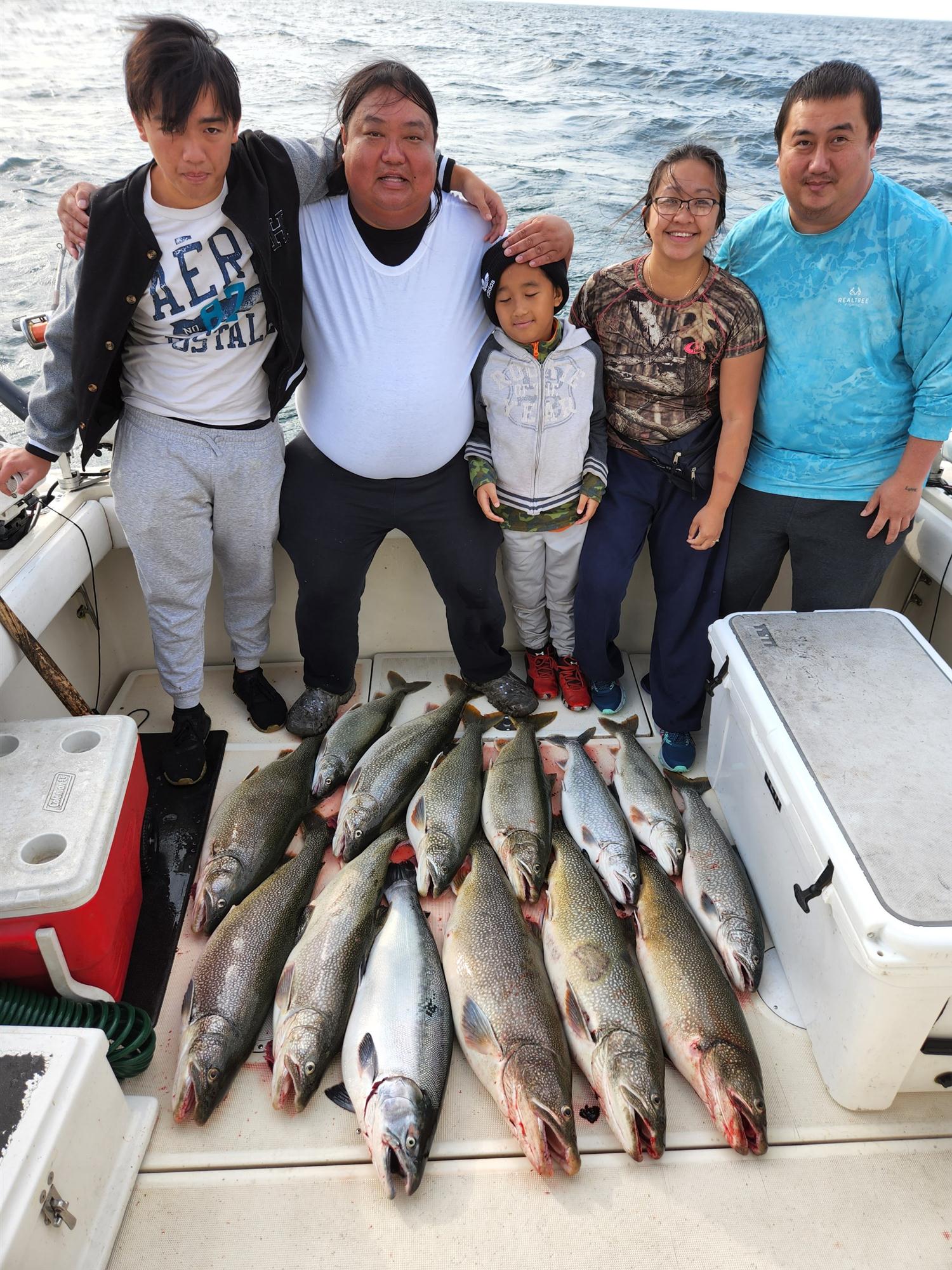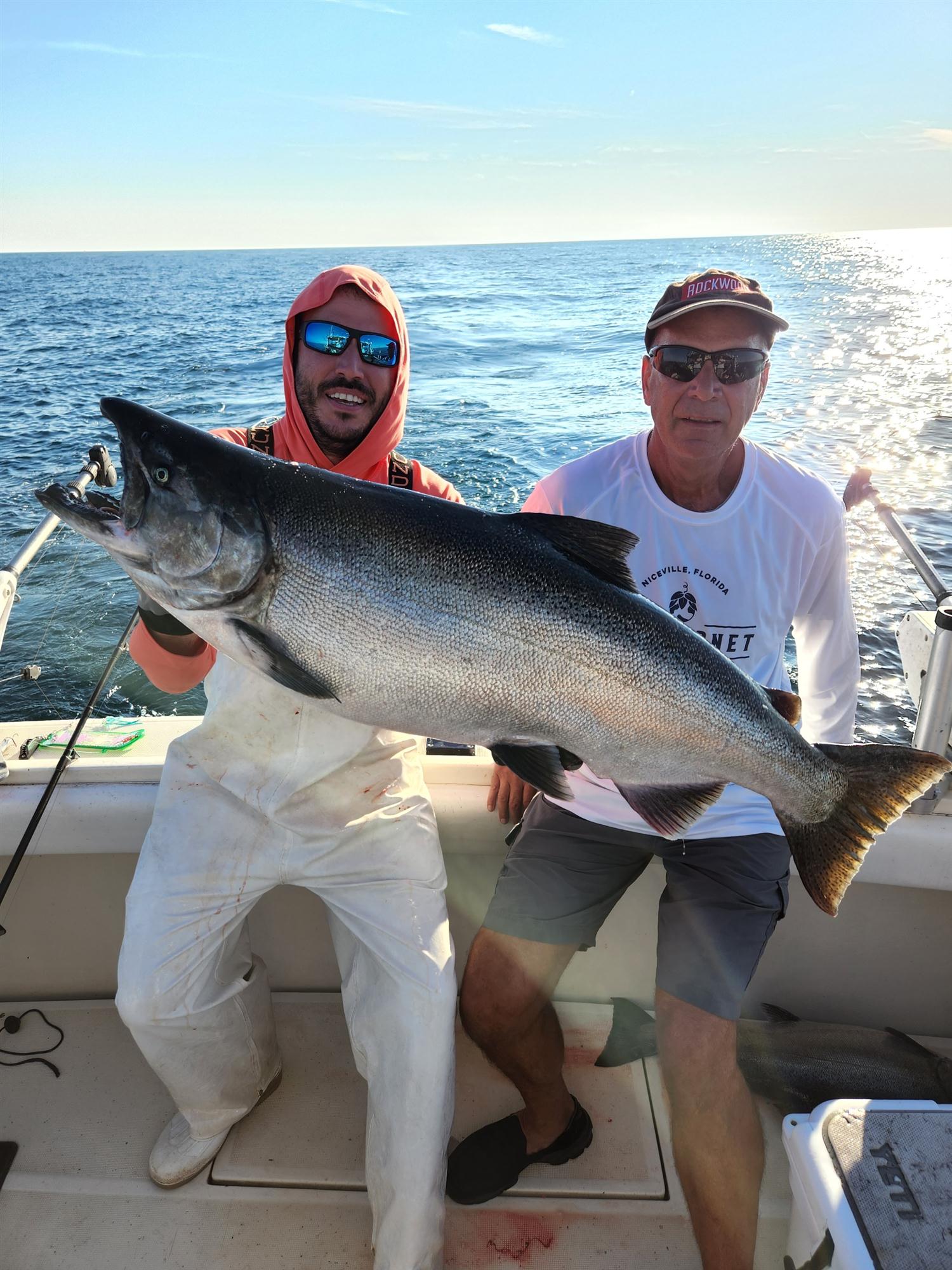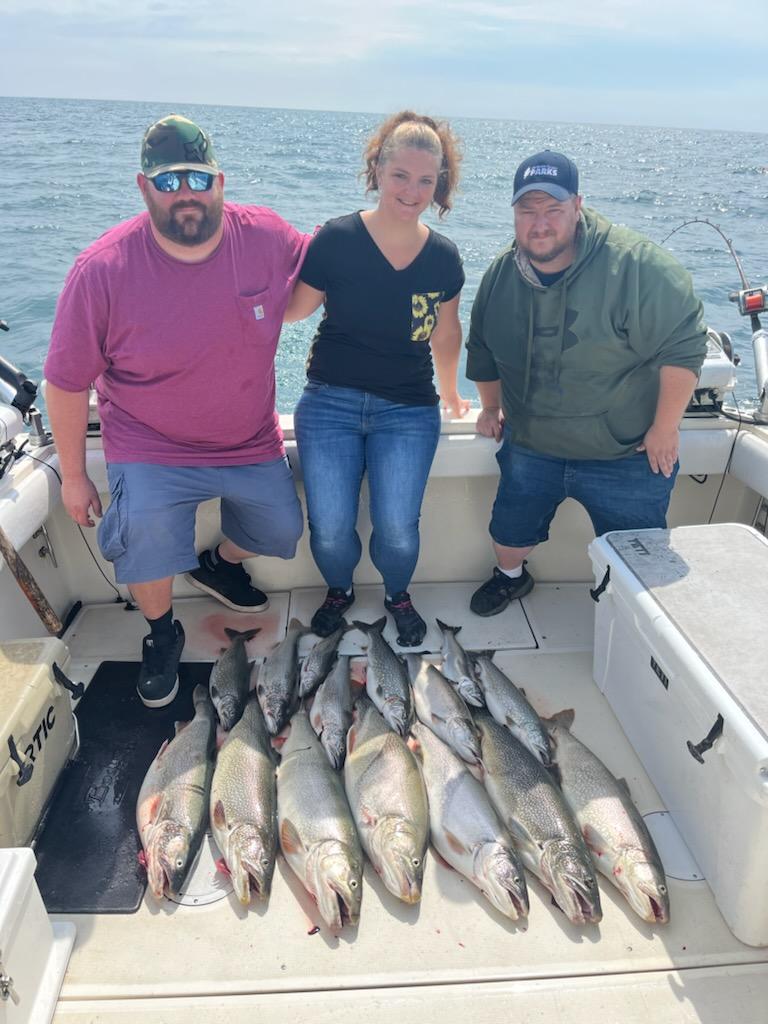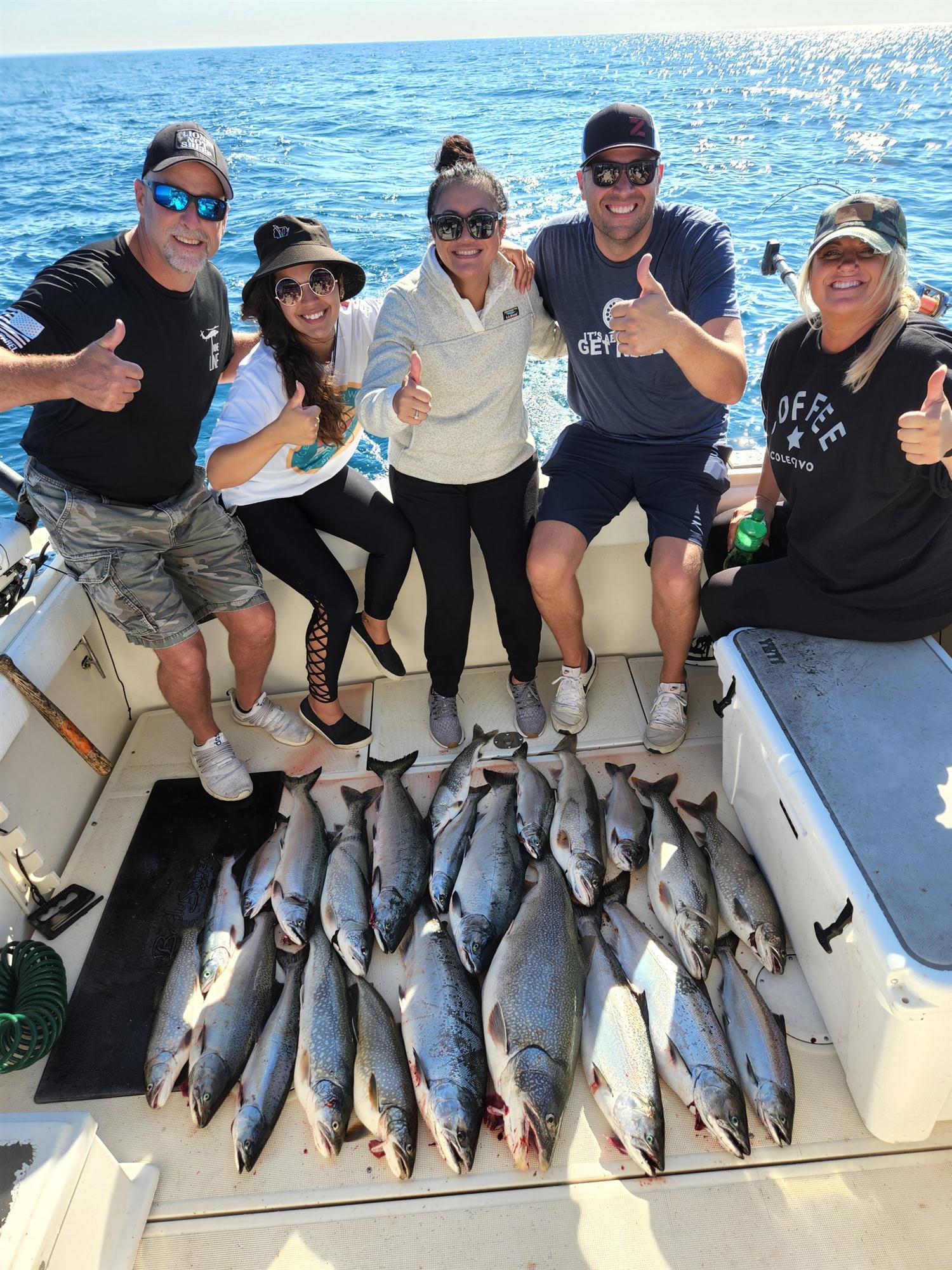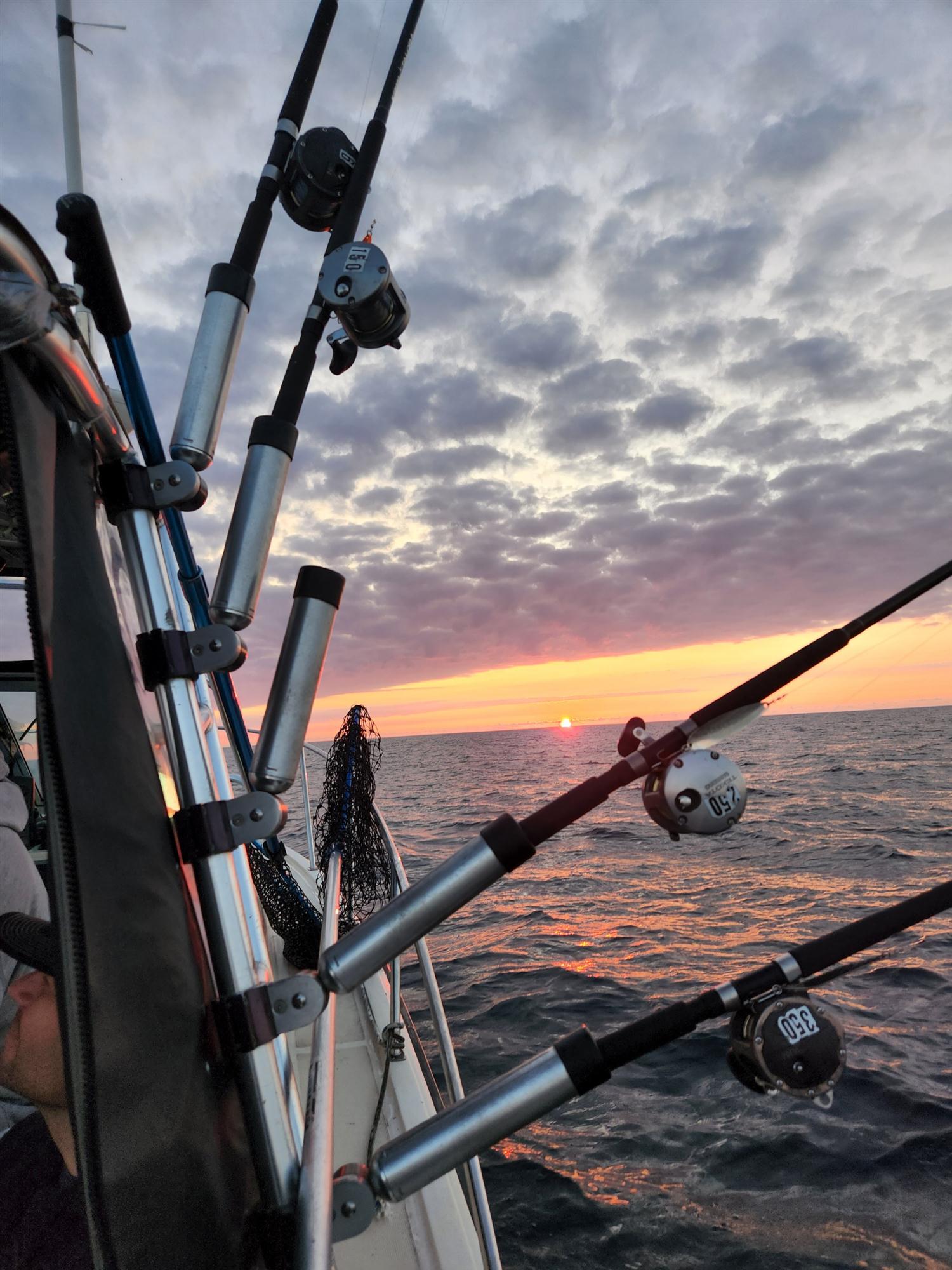 Report for August 5, 2022
July finished strong with a good offshore bite and a good shoreline action. Through the last ten days of July and the first week of August we have had very good action in 200 to 280 feet of water between 00 and 04 straight out of the North gap of McKinley marina. The action has been below 40 feet out there. We have also been fishing the green can and Fox Point in 40 to 60 feet of water. There has been some cold water close to shore and a good Chinook salmon bite. We have boated several 20 pound fish including a 26 lb Chinook salmon, a 23 pound Brown trout and a 23 pound Lake trout, which are all the biggest of the season for each species. This month and early September is when some of our biggest fish are caught. We also just finished fishing the Brew City tournament last week. We finished in 6th place in the two day Pro tournament. We were in 4th place after the first day with a good chance to win but we could not catch our Lake trout the second day and that hurt our chances. We were three miles south of the good Lake trout bite. There were 116 boats in the tournament overall and the pro division paid out $10000 to 1st place. The Am division paid out #4000 to first place. Best tournament on Lake Michigan. The biggest fish or the tournament won a one ounce piece of gold too!! I cannot wait until next to fish it again.
When we are out deep we are running coppers on all our boards. They are 150, 175, 200, 225, 250, 275, 300 and 350 coppers. We are running a mix or spoons on these. Moonshine UV bloody nose and Singer kevorkian are the best two. The Stinger UV green dolphin has also been very good. We are also running a two color leadcore on a side rigger down 30 to 45 feet with a spoon. Usually one of the three mentioned above. We have spoon on the other side rigger back about 75 feet with a spoon and down 45 feet. We are funning flashers on the two deep riggers down 50 and 65 feet. We have Derks blood nose and chrome flashers with a Howie aqua 5000 fly on them. We really like that fly this year. The same is on the wire dipsies and they are set at 100 to 150 feet on the line counter with the magnum dipsies. The bite has been a mixed bag of Coho salmon, Lake trout and Rainbow trout out there with a few Chinook salmon.
When we are fishing 40 to 60 feet of water the boards are leadcores from 2 to 8 colors. All spoons on the leadcores. We like the Stinger carmel modified dolphin and UV. The Stinger UV green and blue dolphin has been good. But teh best is the Stinger silver hud. The Moonshine UV bloody nose has been good too. We have spoons on the mono dipsies set at 40 to 60 feet on the line counter. These are standard size dipsies. The downriggers all have spoons on them and we are running a two color leadcore or long leads on the downriggers. We are catching a lot of 2 to 5 pound Chinook salmon but there are some 15 to 20 pound Kings taking on every trip. We are also catching some nice Brown trout too. Every trip we catch 8 to 10 nine inch Coho salmon. They are all over the place. But there are two strong year classes of Chinook salmon coming up and this should be good for October fishing.
We contiue to catch a few Pink salmon and we boated our first Atlantic salmon a couple of weeks ago. August should continue to have some solid fishing. Early September is big King time in and around the Milwaukee harbor and we are hoping some lands a 30 plus pounder. We will also have a good offshore bite in September. Call Silver King Charters at 414-460-1467 to book a trip in late August and September to get in on some good trout and salmon fishing. Below are some pictures from the last couple of weeks, including the Atlantic salmon and the 26lb Chinook.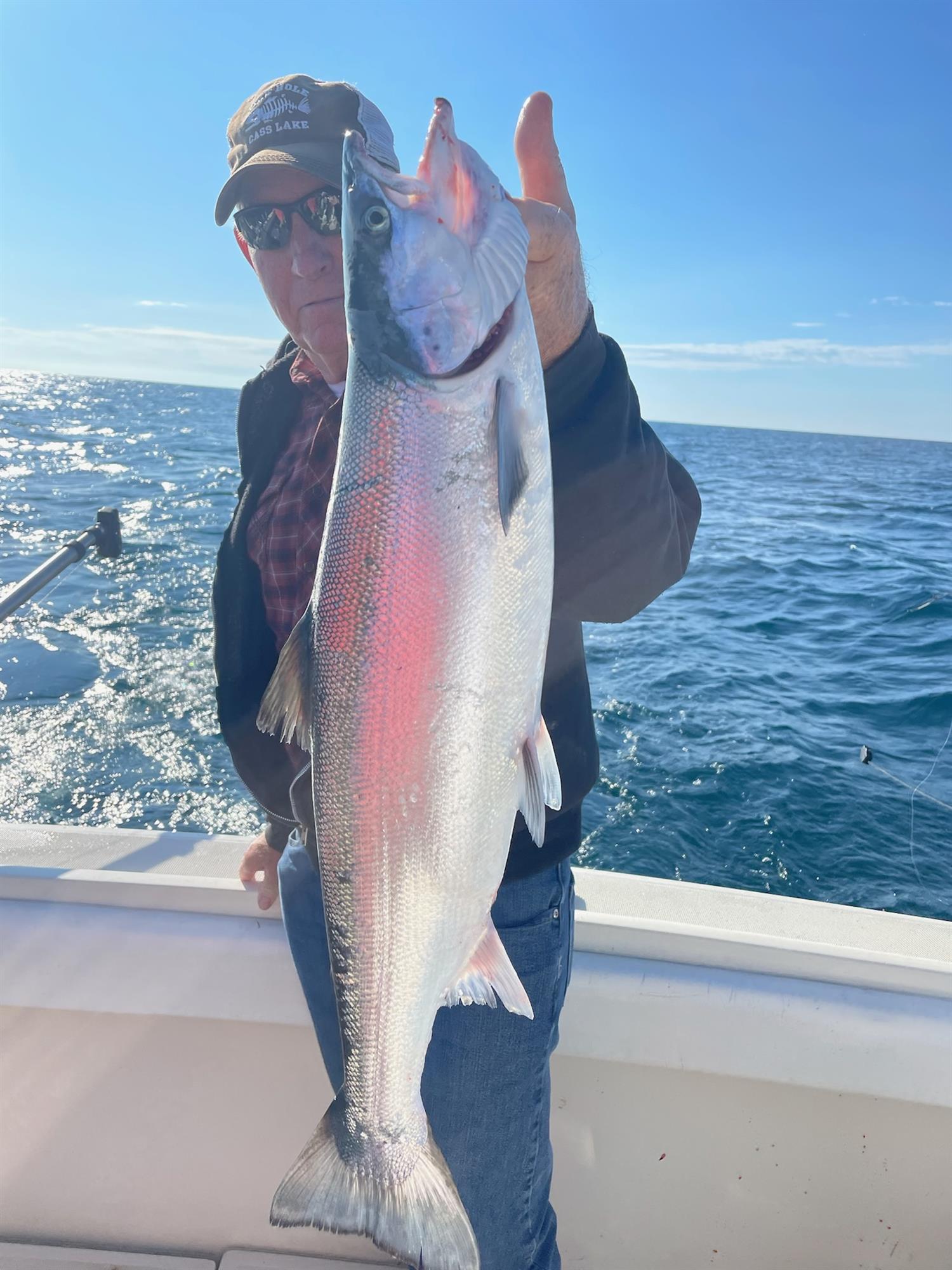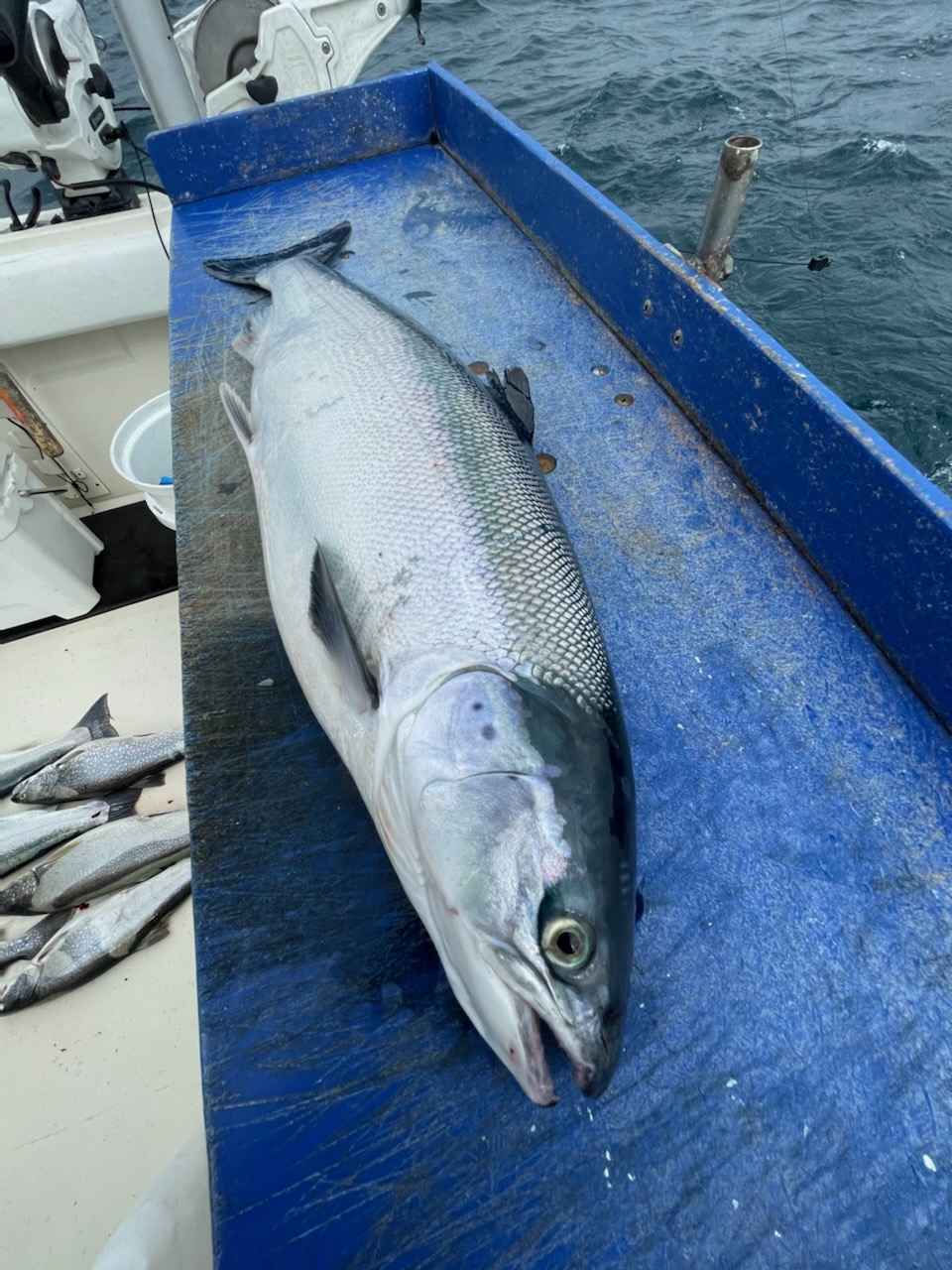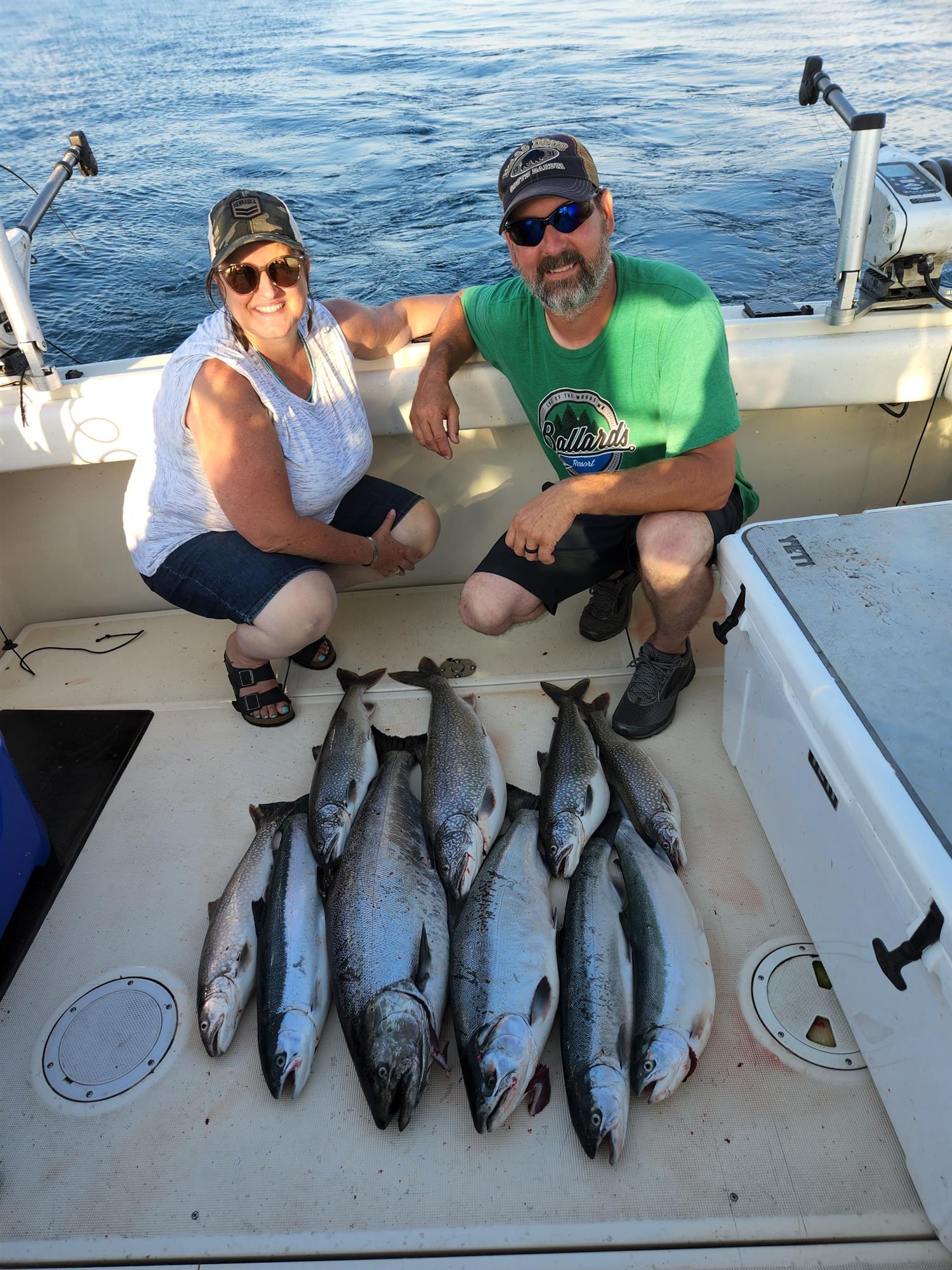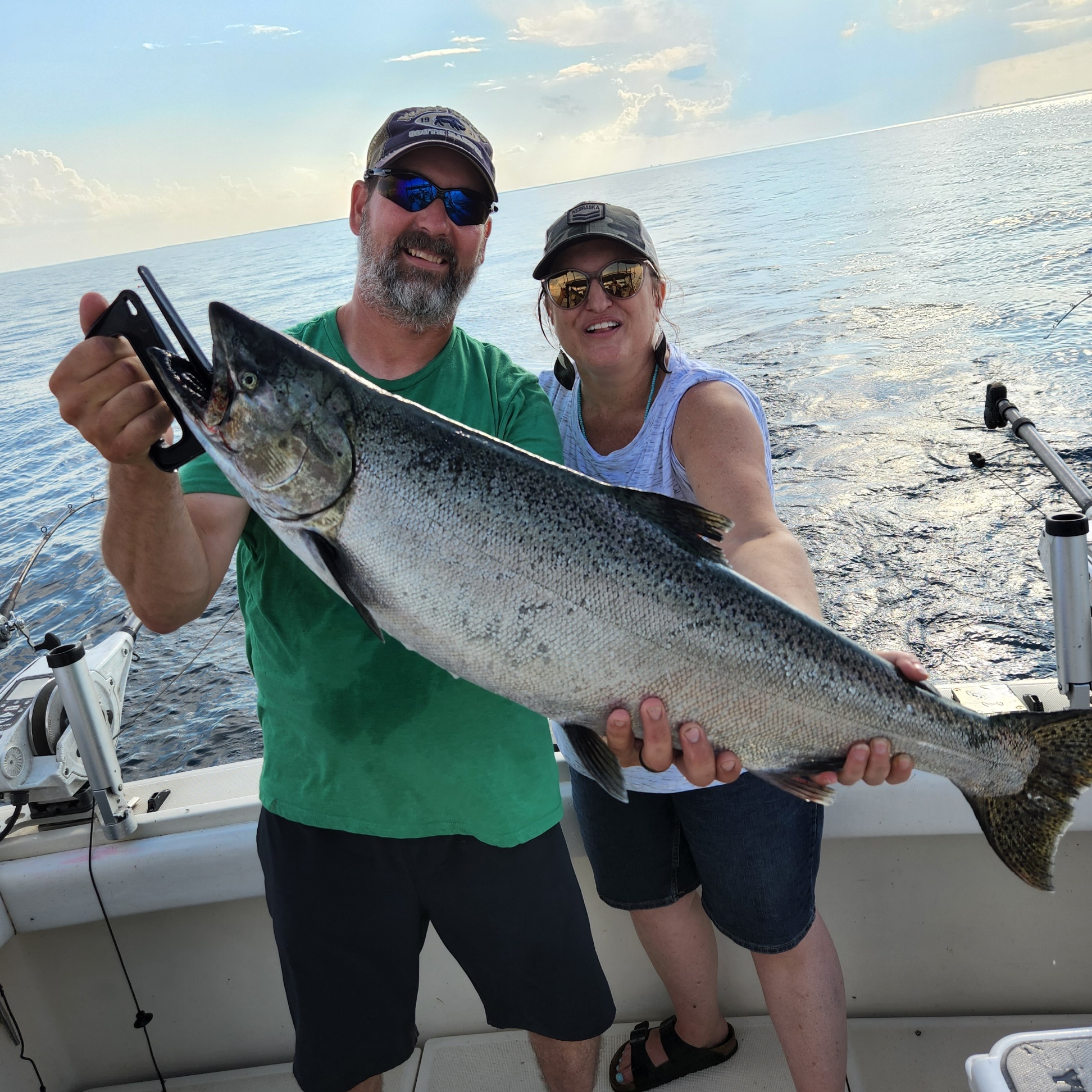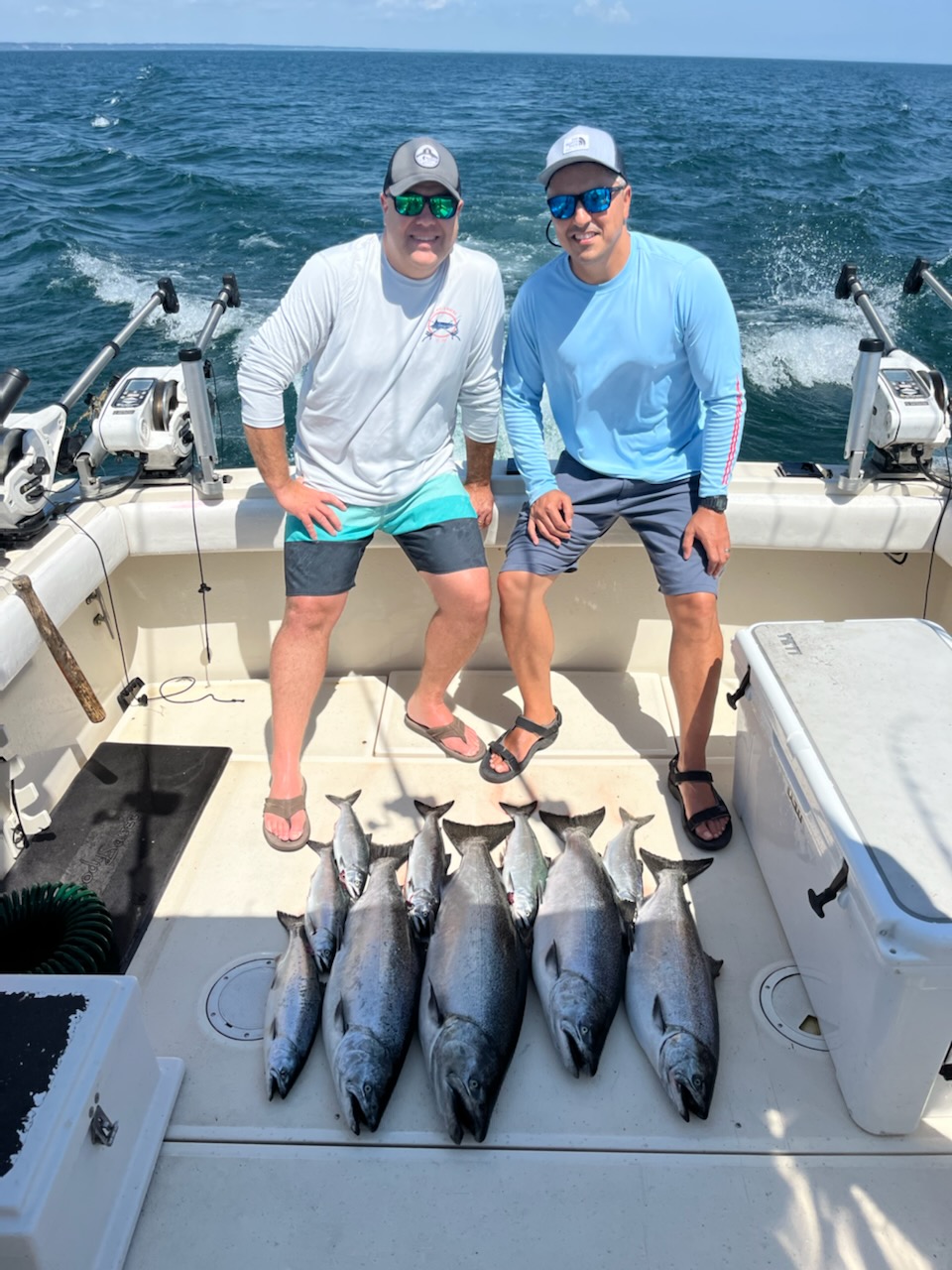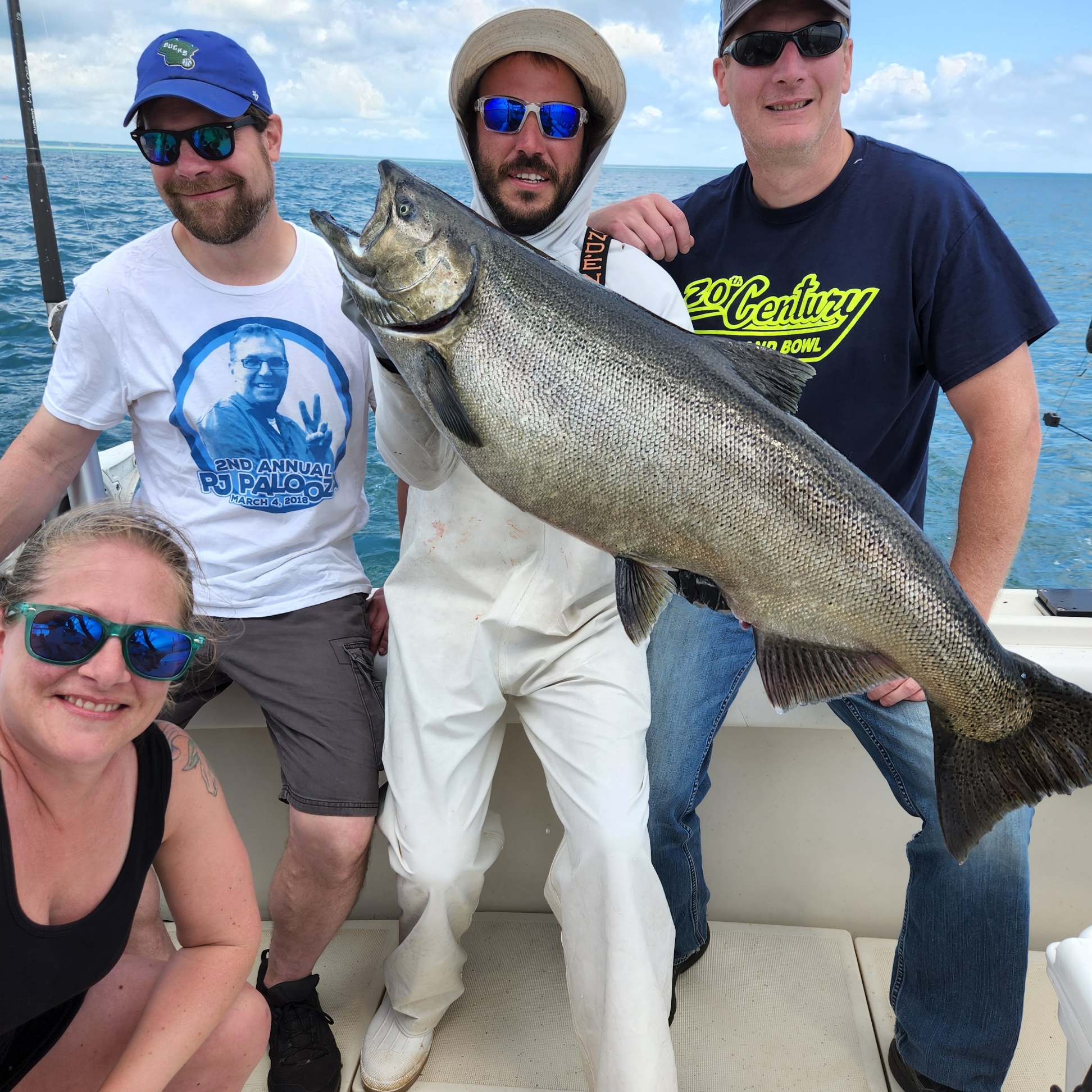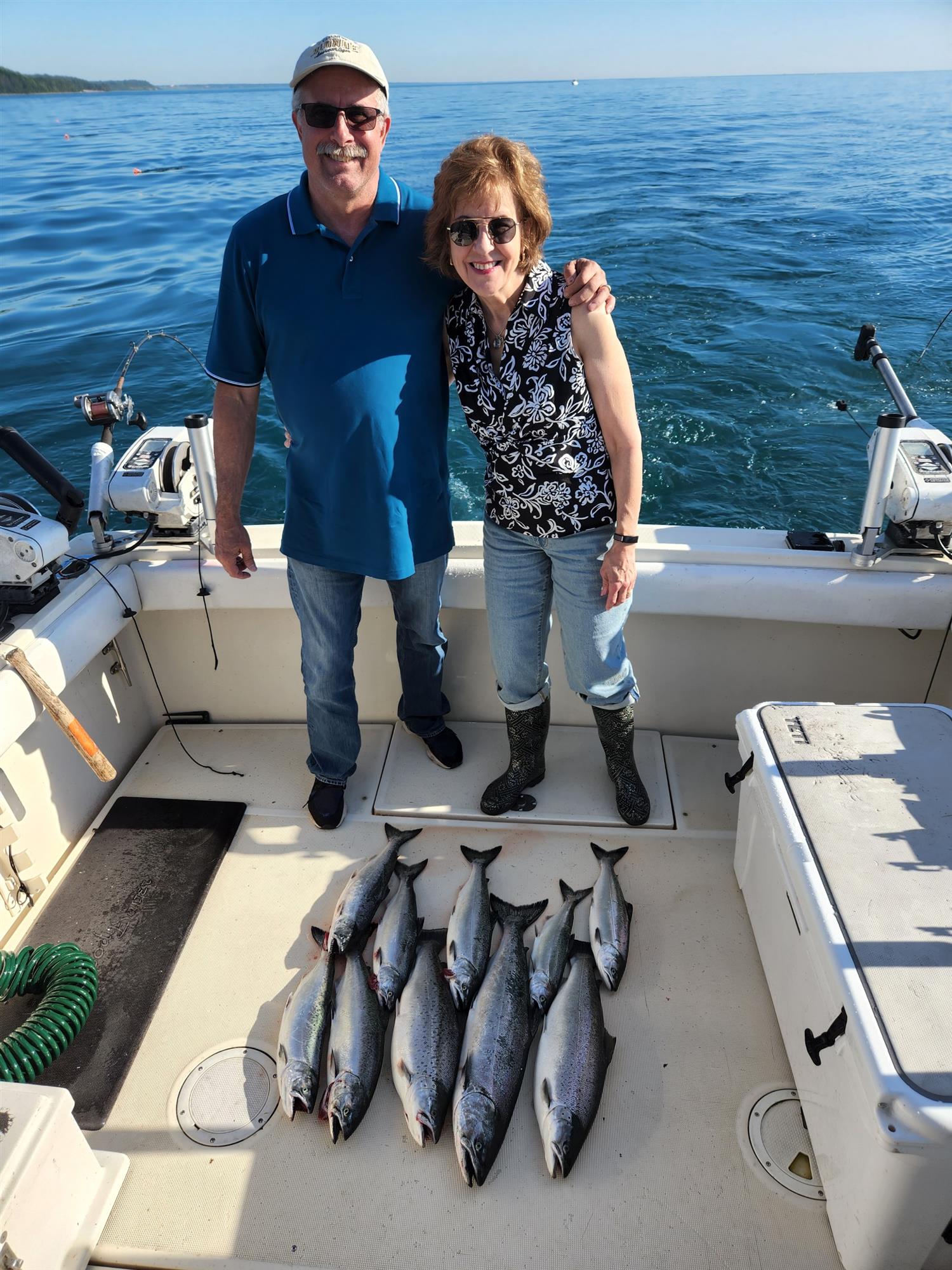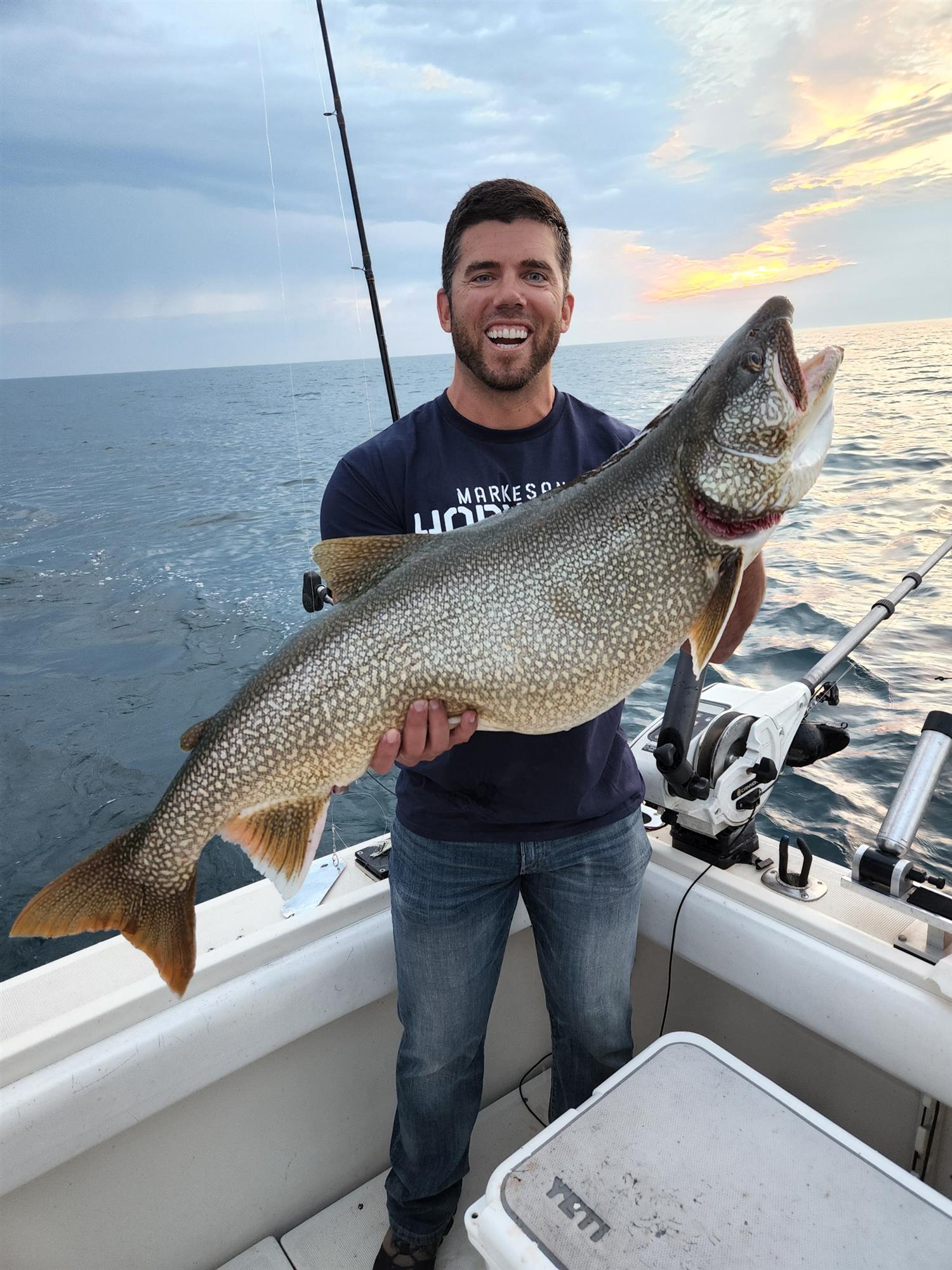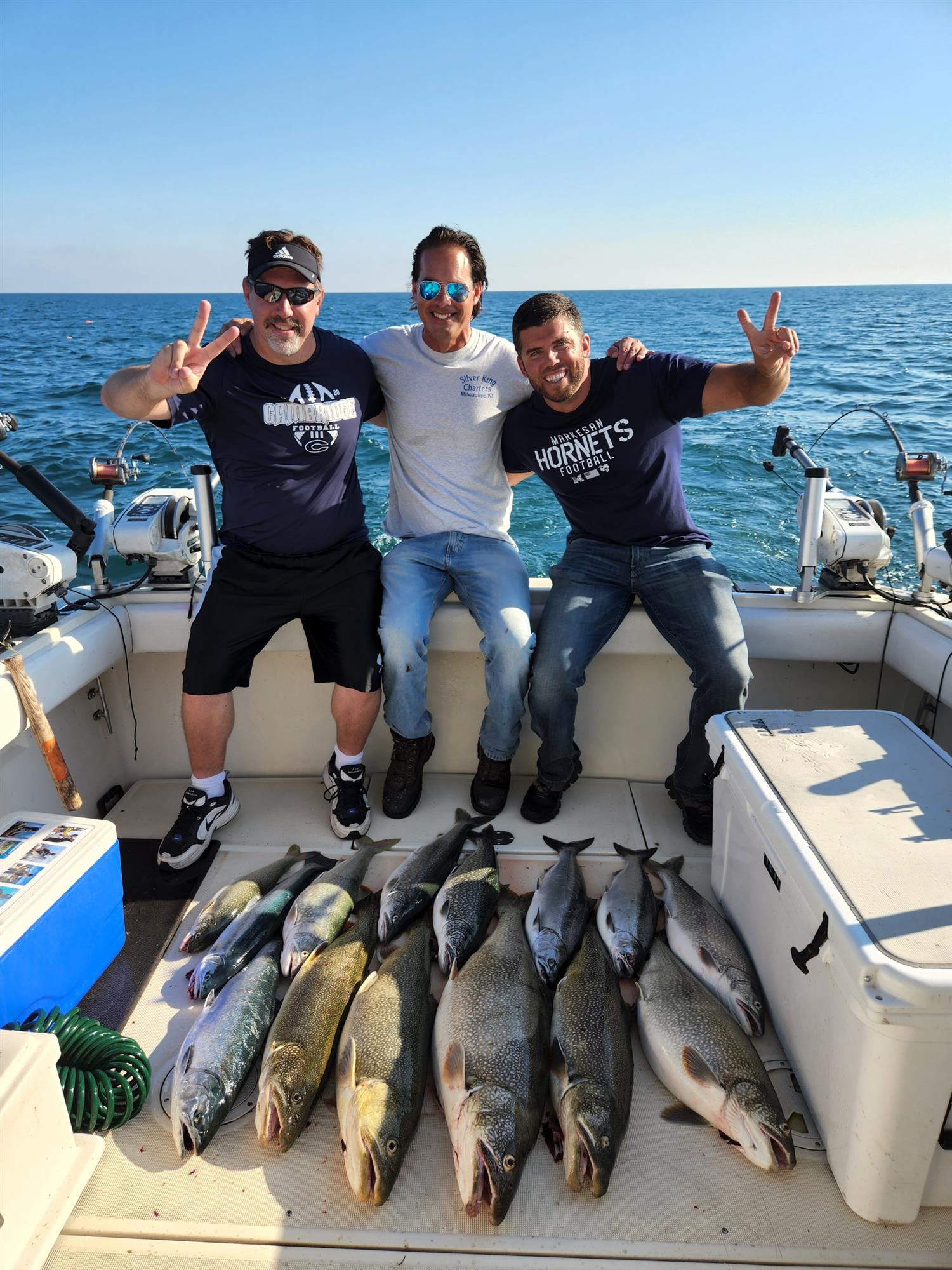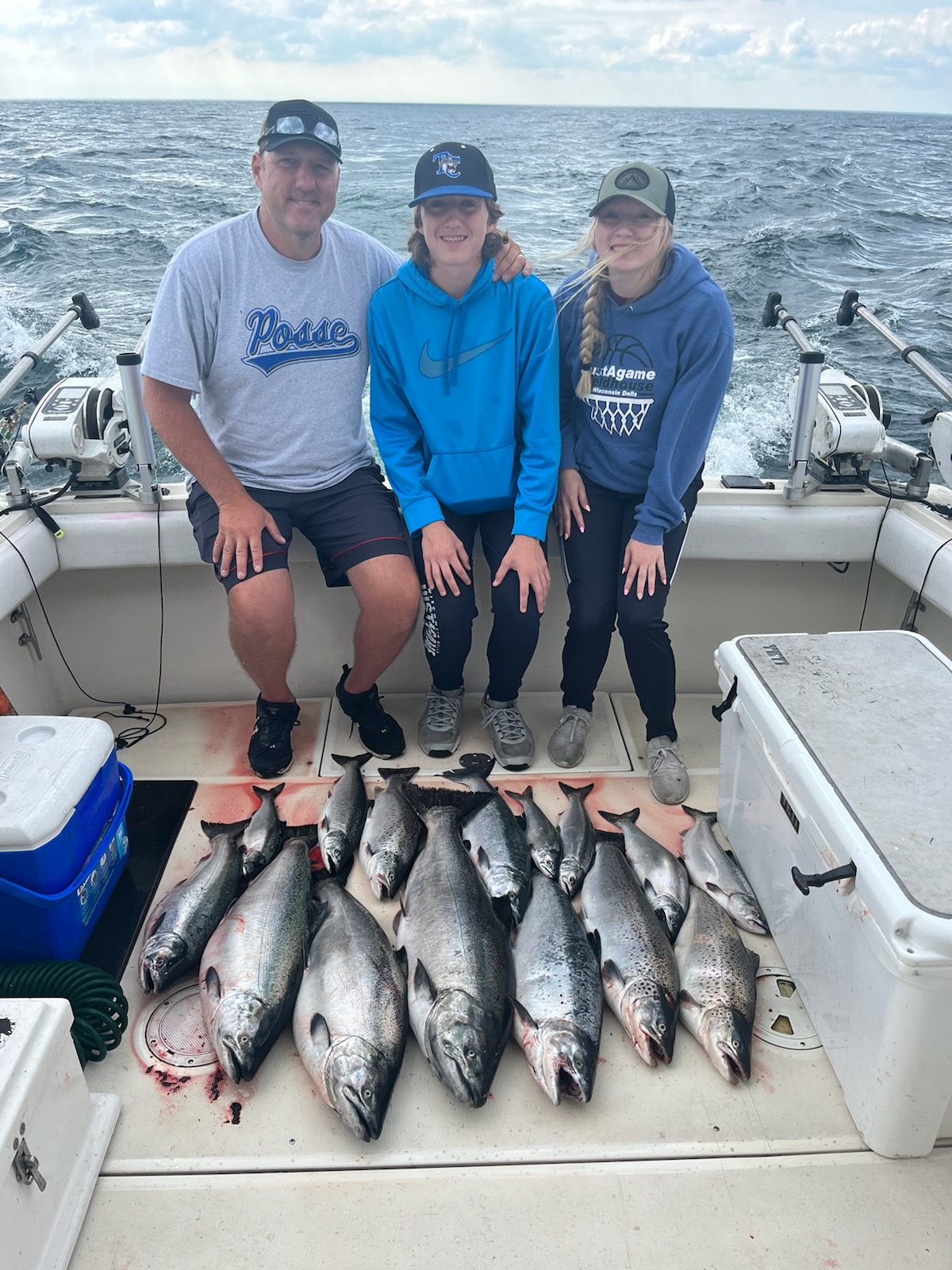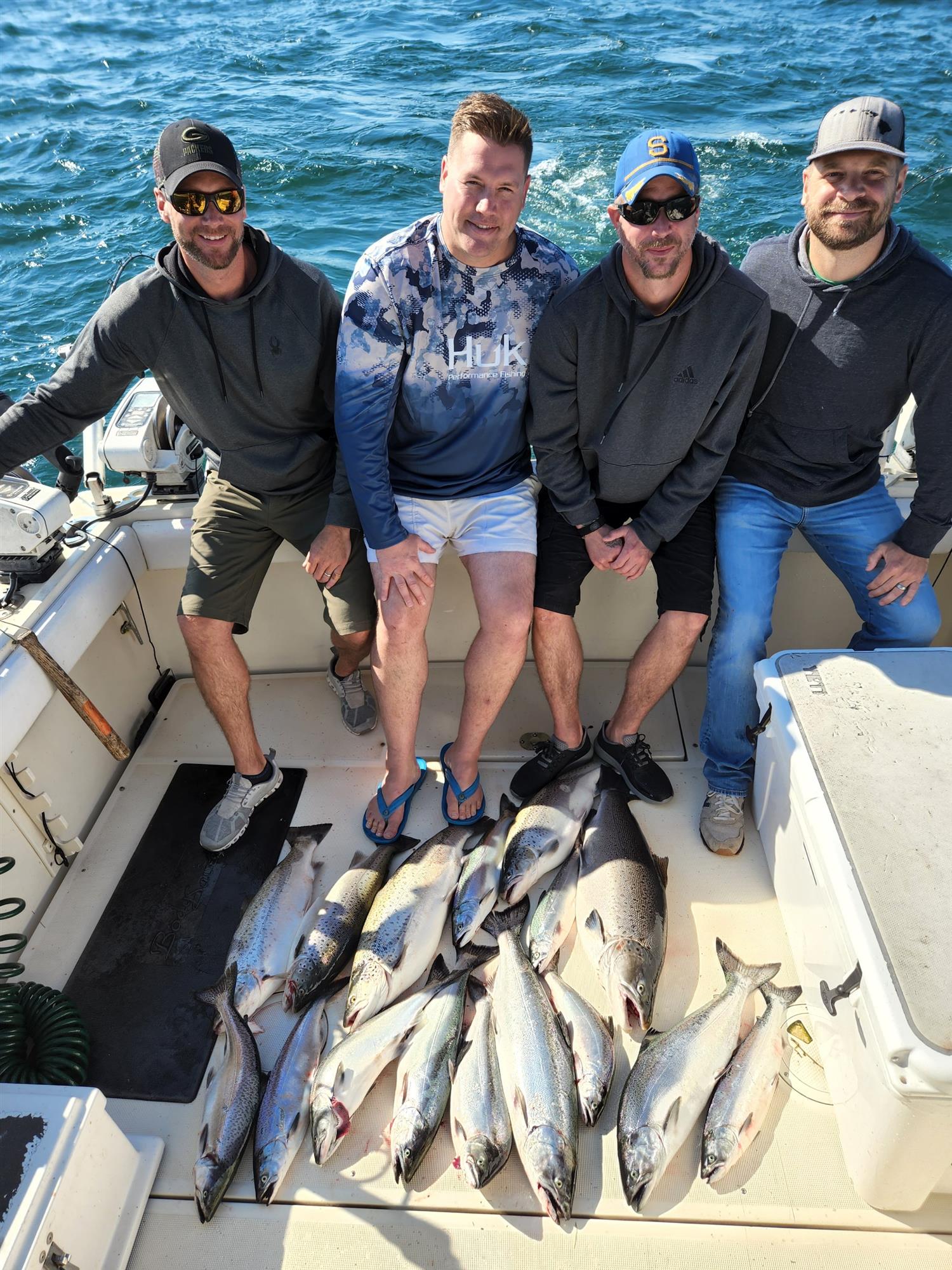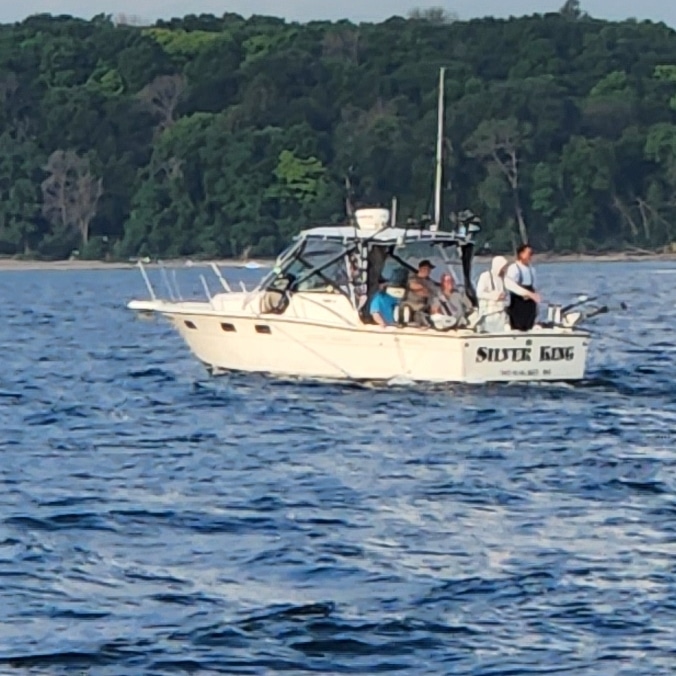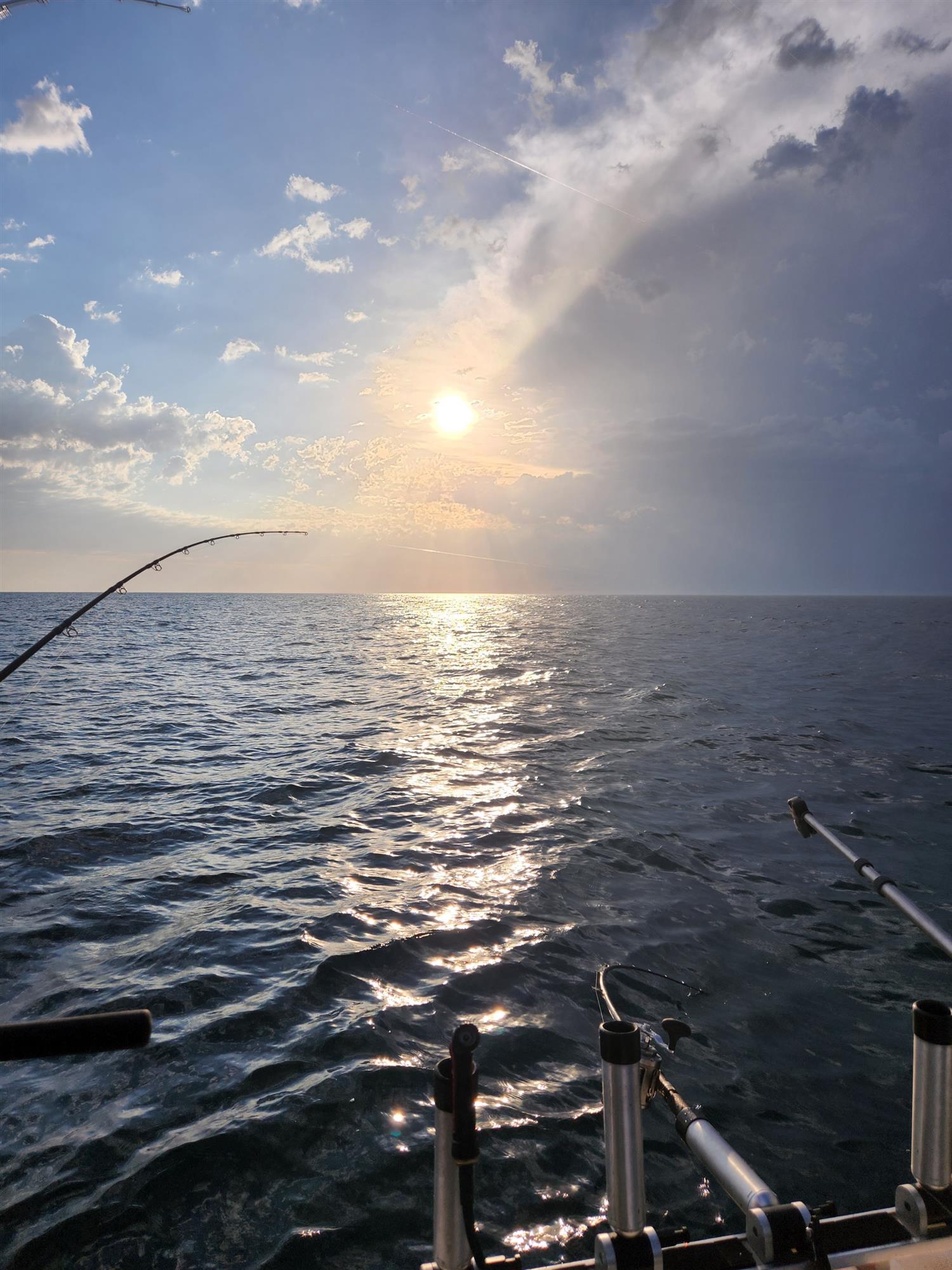 Report for July 9, 2022
So far this season 86% of the fish we have landed have been Coho salmon. It has been a very good year for Coho salmon fishing and they are still in the mix. As of early last week we started to catch Chinook salmon on almost every trip. Before that we had only caught 20 of them all season. We are also starting to catch four year old or 20 plus pound Chinooks and just yesterday we boated a 25 pound King, which is the biggest for us this season. We are also starting to catch more Lake trout. We have not specifically fished for them but they are staring to set up in 100 feet of water both north and south of Milwaukee. The water on the surface has warmed up but there is still a lot of cold water below and before the big northeaster yesterday and today there was 49 degree water down 35 feet below the surface. Salmon-A-Rama starts today and is a 9 day big fish fishing contest that is lake wide and based our of Racine, Wisconsin. The link to their website is www.salmon-a-rama.com The people at Salmon Unlimited Wisconsin have been running this contest for years and it just keeps getting better. There are now weigh in stations around the lake and we have one in Milwaukee. We have purchased the $500 ticket for our boat as we have done for the last 10 years and this enters all of your clients into the contest when they fish with us. We have had multiple people win cash prizes every year we have entered and we hope to keep the streak alive but is will be tough.
We have been fishing between 06 to 59 hundred out of Milwaukee in 80 to 160 feet of water for the last several days. Our spread has finally changed. We have for the first time eliminated all or the orange dodgers. Sad day for me. Because the water has warmed we have switched to all copper set ups on the boards. The coppers are 150, 200, 225, 250, 275, 300 and 350 feet. We like the Moonshine green flounder pounder UV and several other green Moonshines too. We are also using these on our side riggers down 40 and 50 feet. The wire divers are set at 150 to 200 feet and we just started using the magnum dipsies today. We are using green Derk's flashers with a green willy fly. Derk's flashers and Derk's beads are fast becoming our favorite. On our back deep riggers we are running the same set up on our deepest rigger and Derks bloody nose flasher with a Howie supper frog fly. These were down 50 and 60 feet but with the northeast blow we are now down 80 and 90 feet.
This is the best time of the year to target big Chinook salmon, so give Silver King Charters a call at 414-460-1467 to get in on the action. The four year old Chinook bite just started up they will be in the mix through early September. Below our some pictures form the last couple of weeks, including a picture of the green flasher.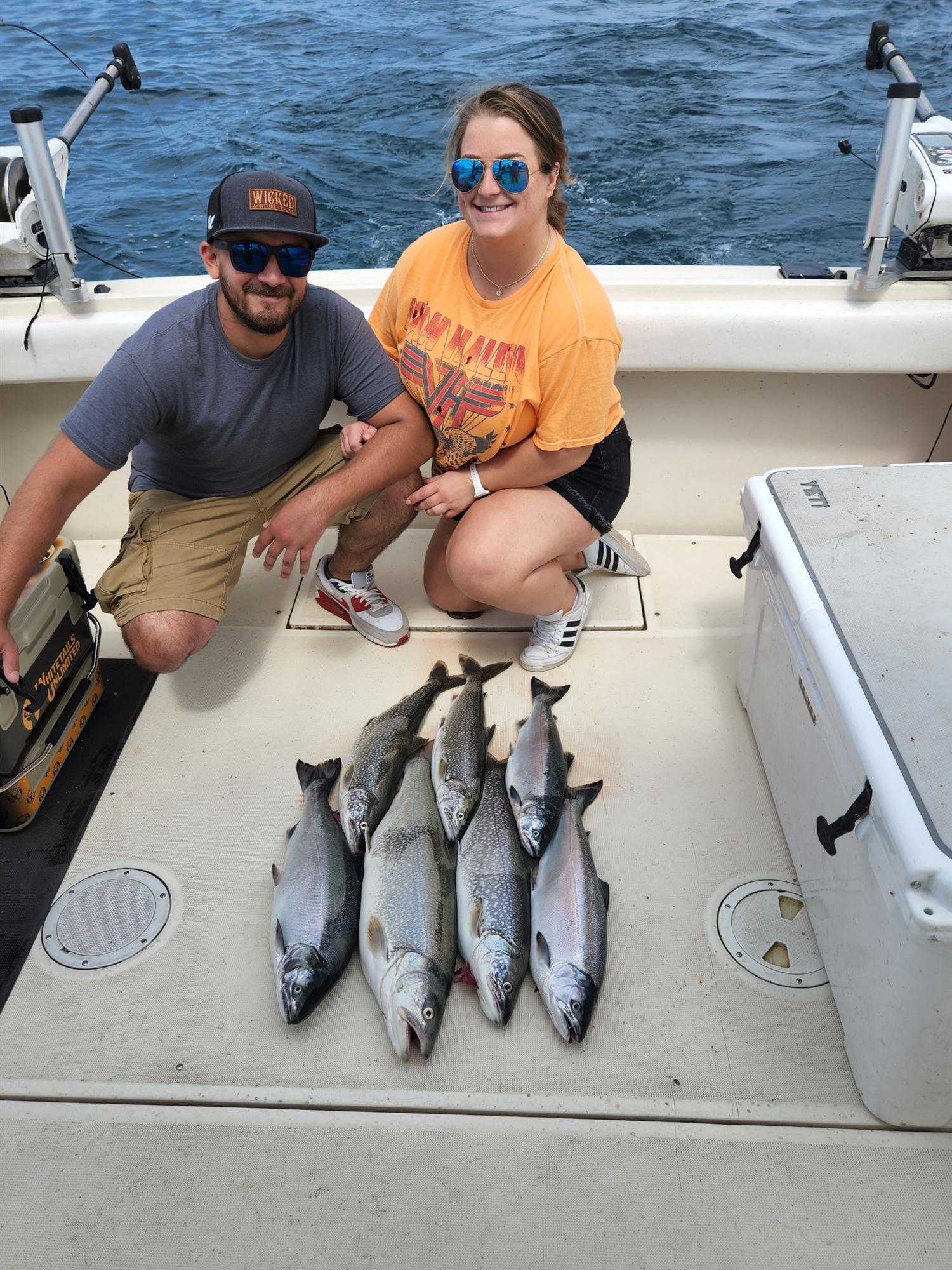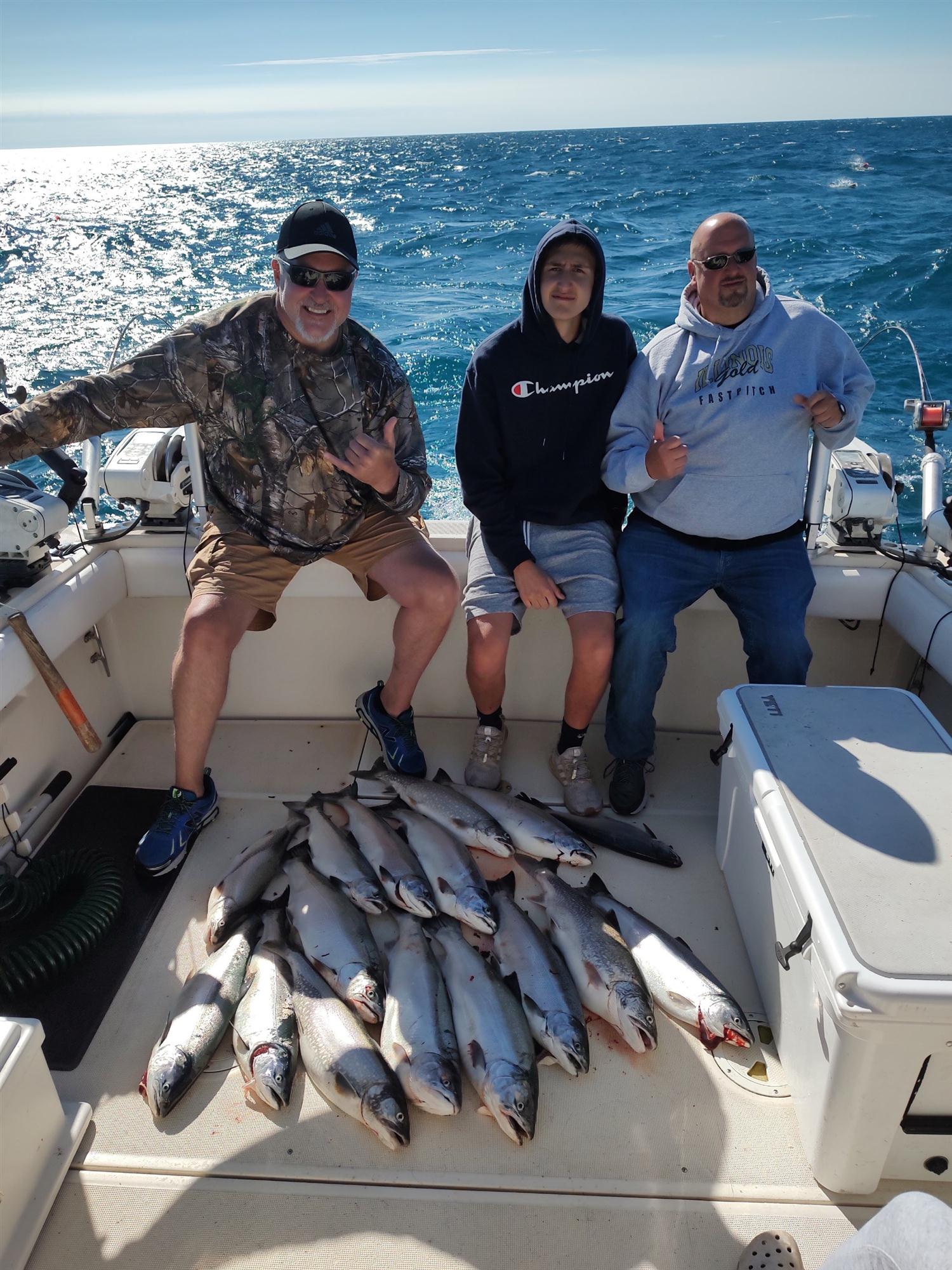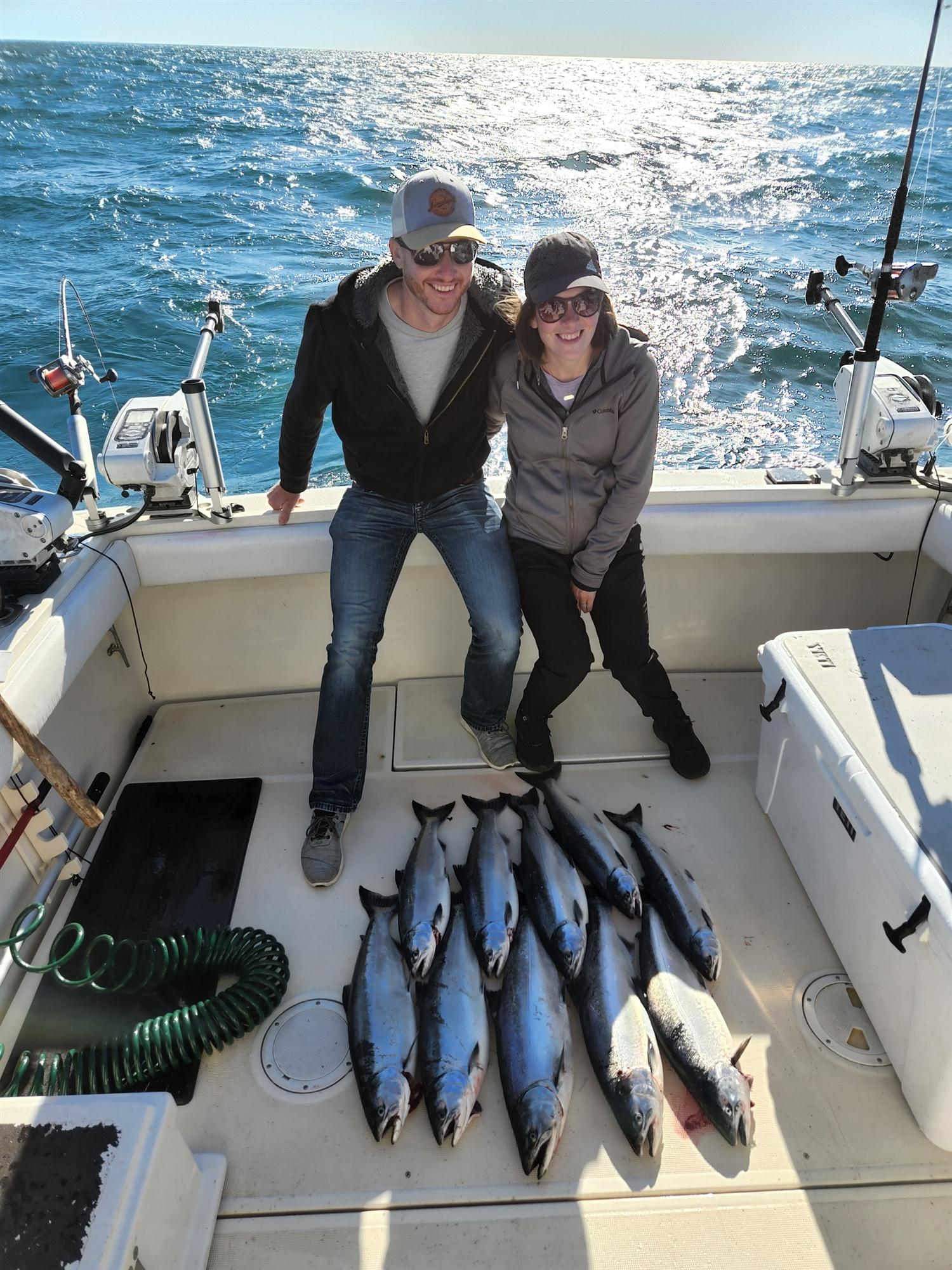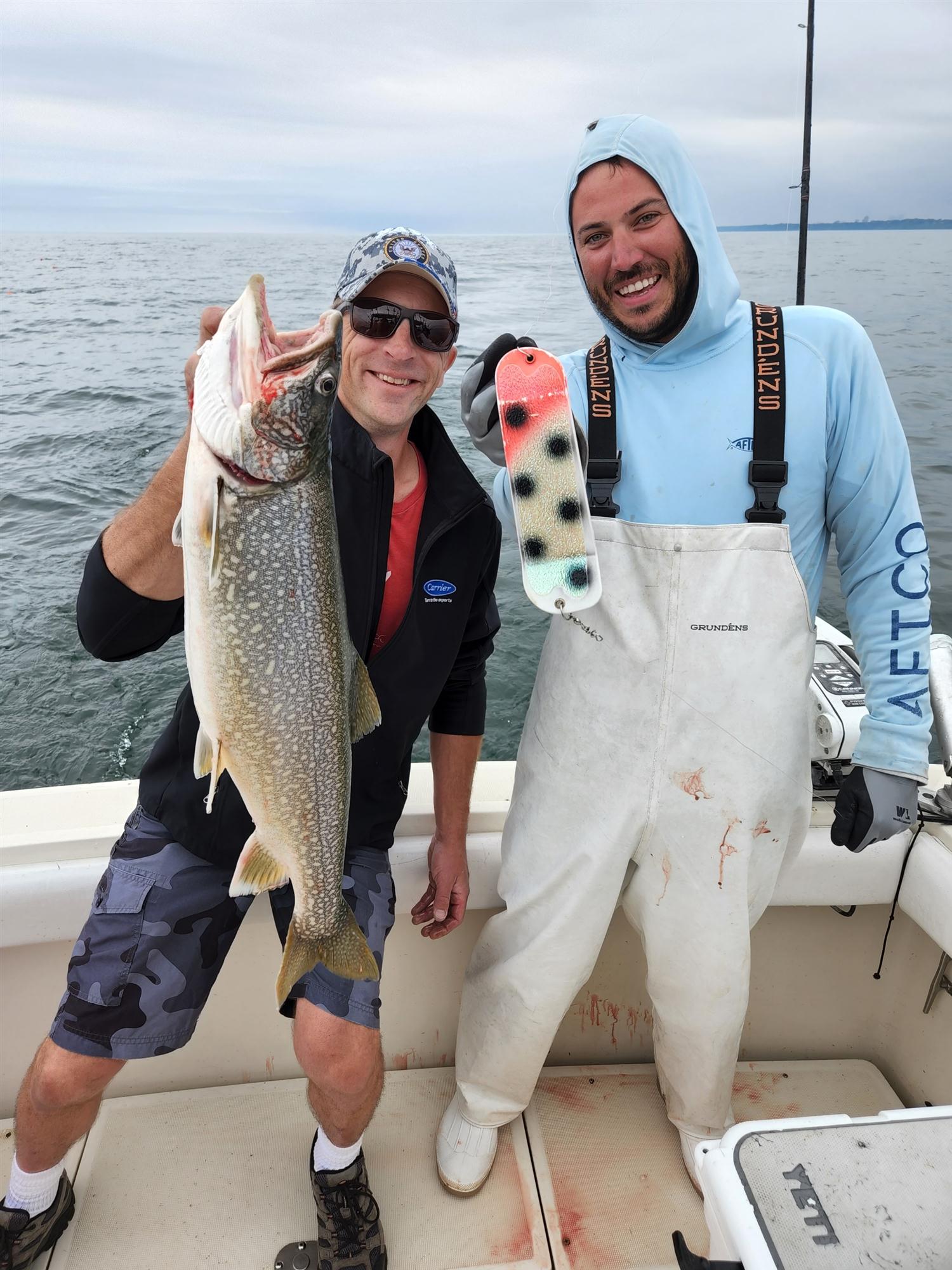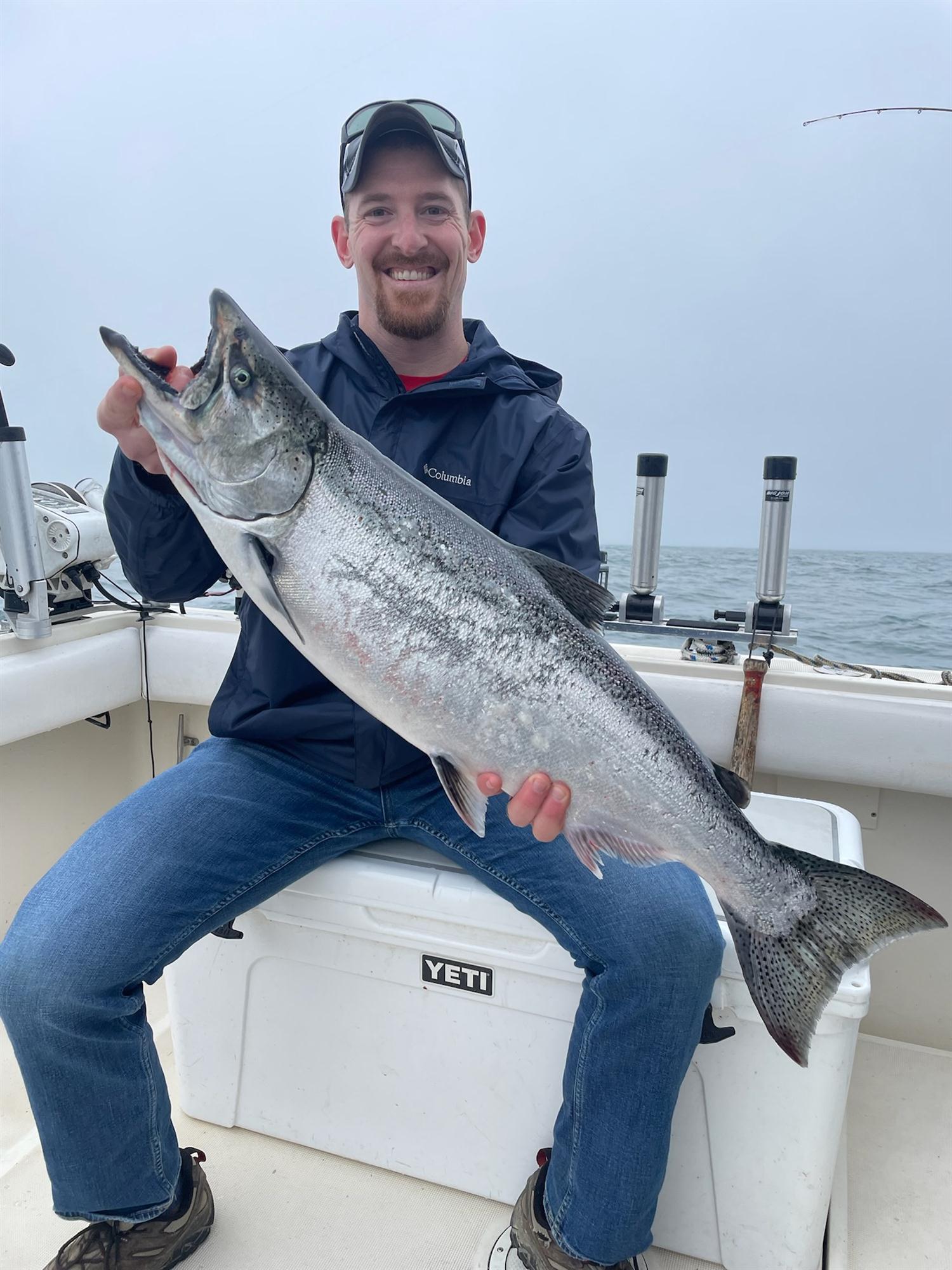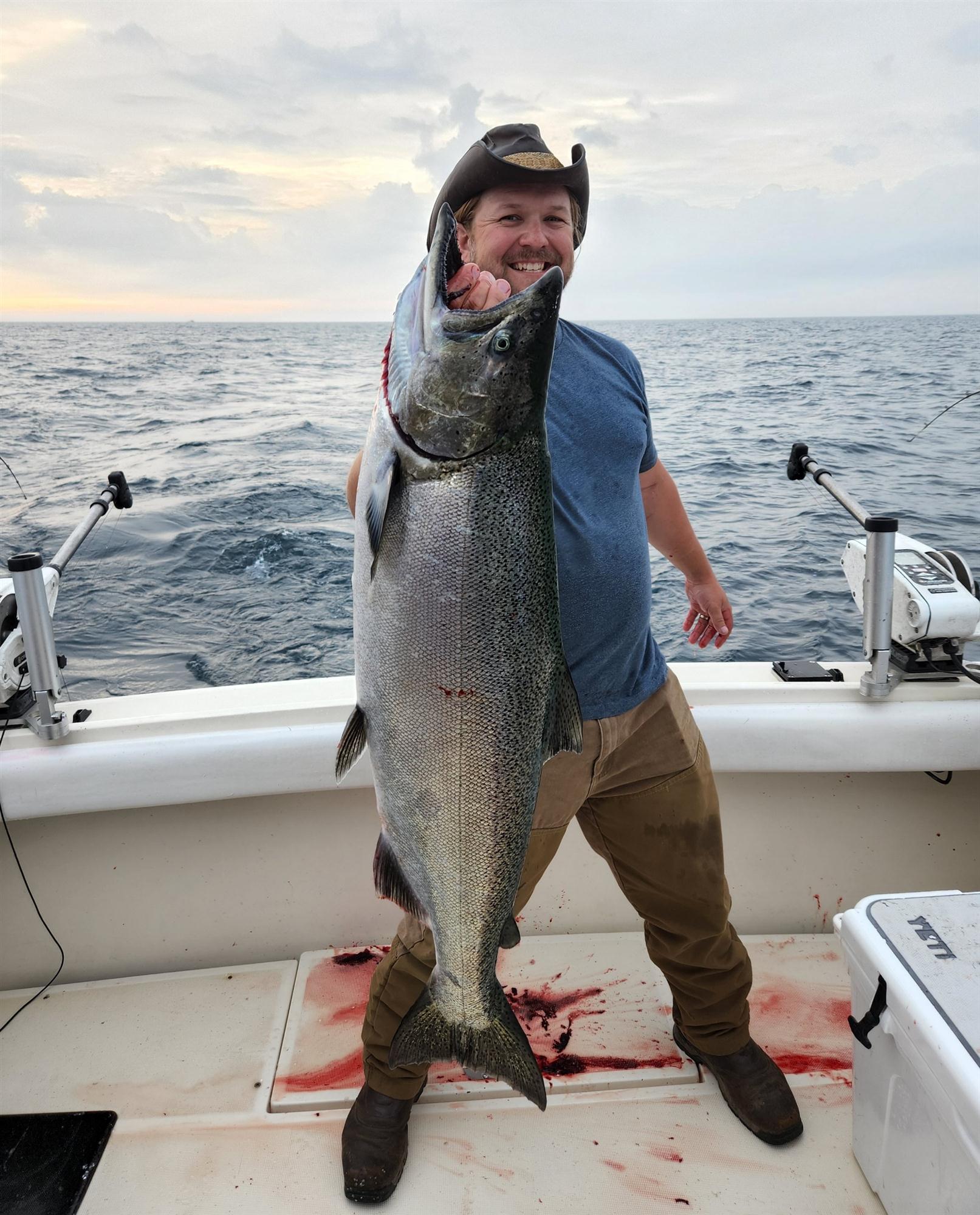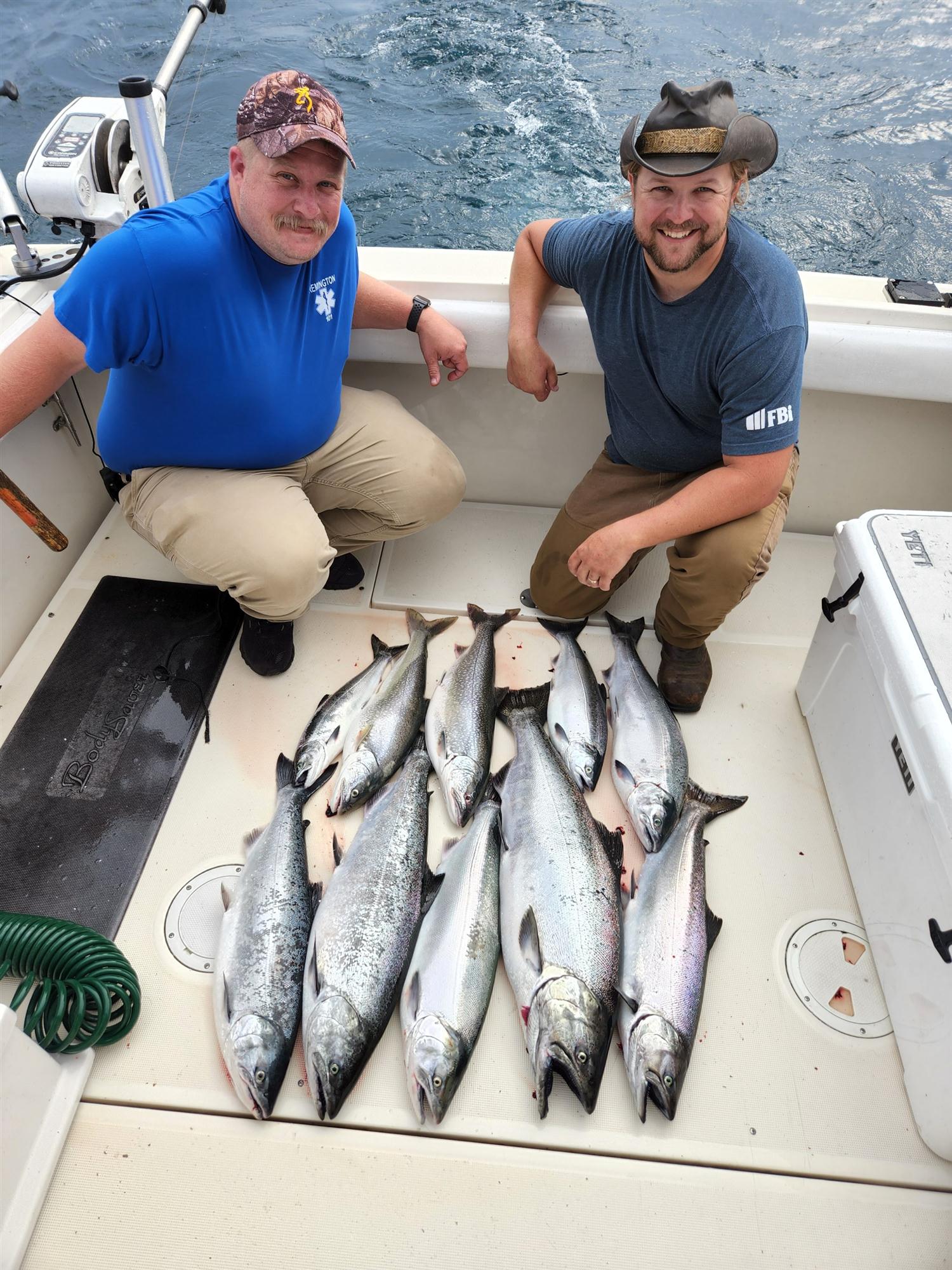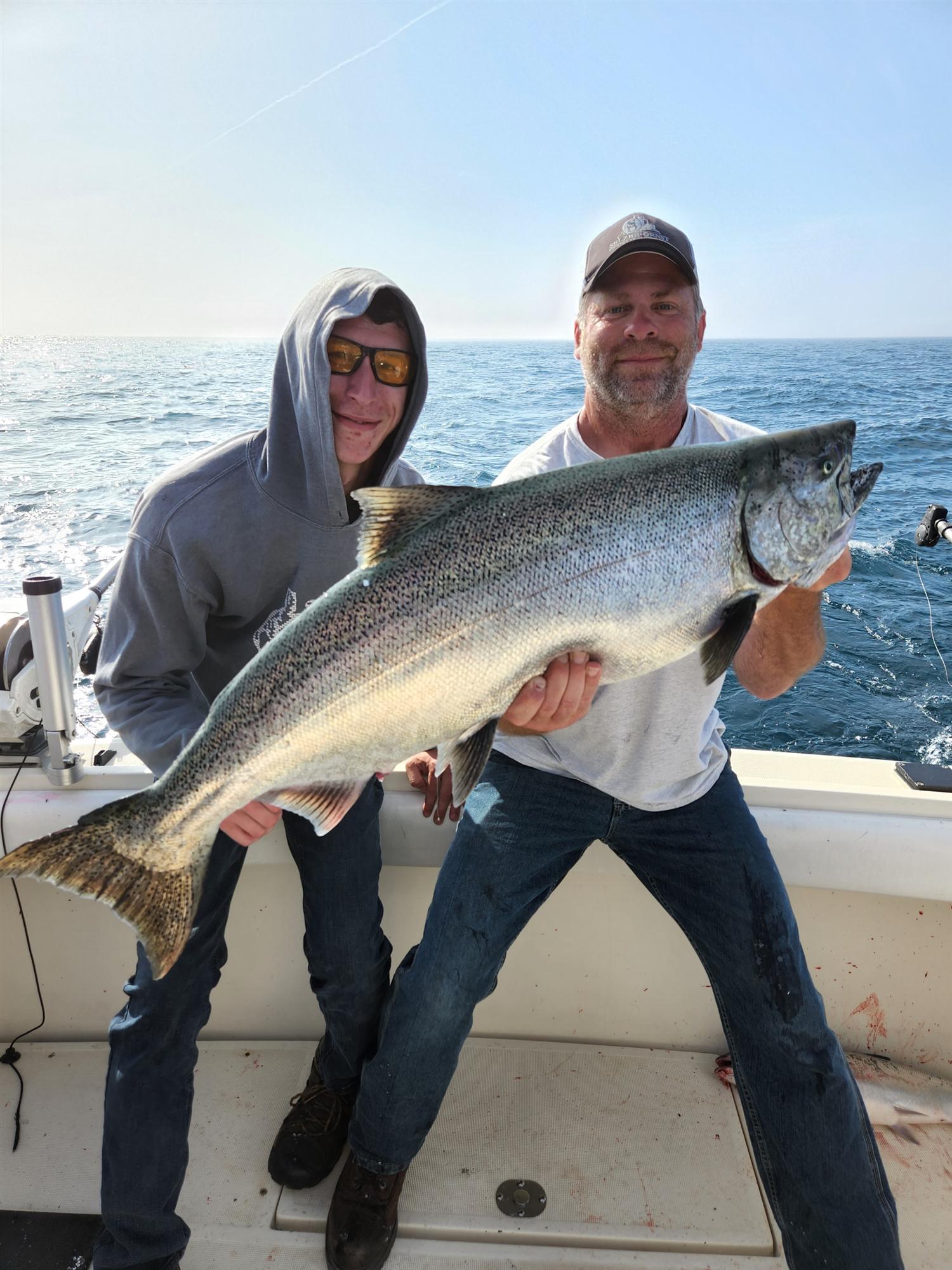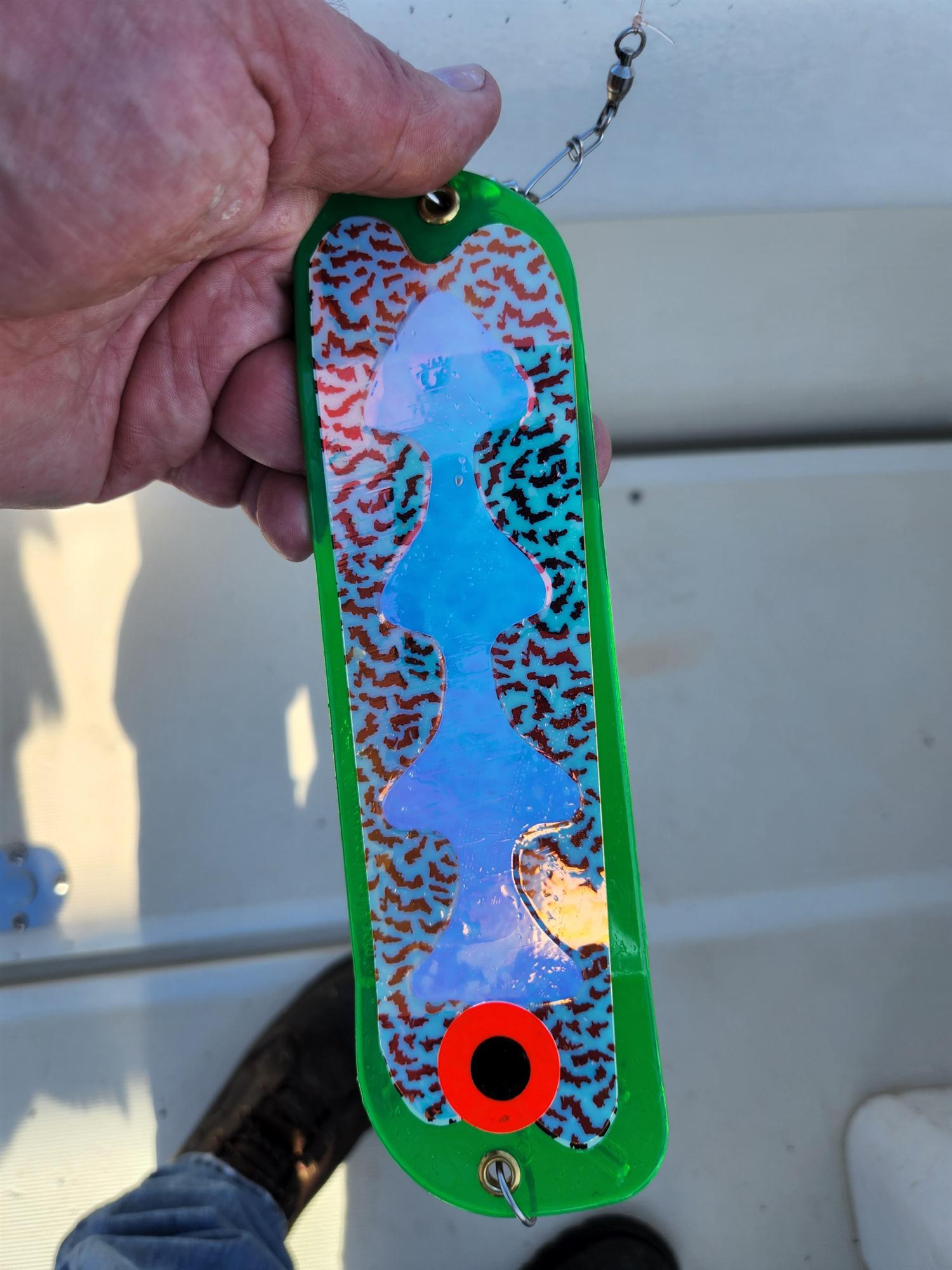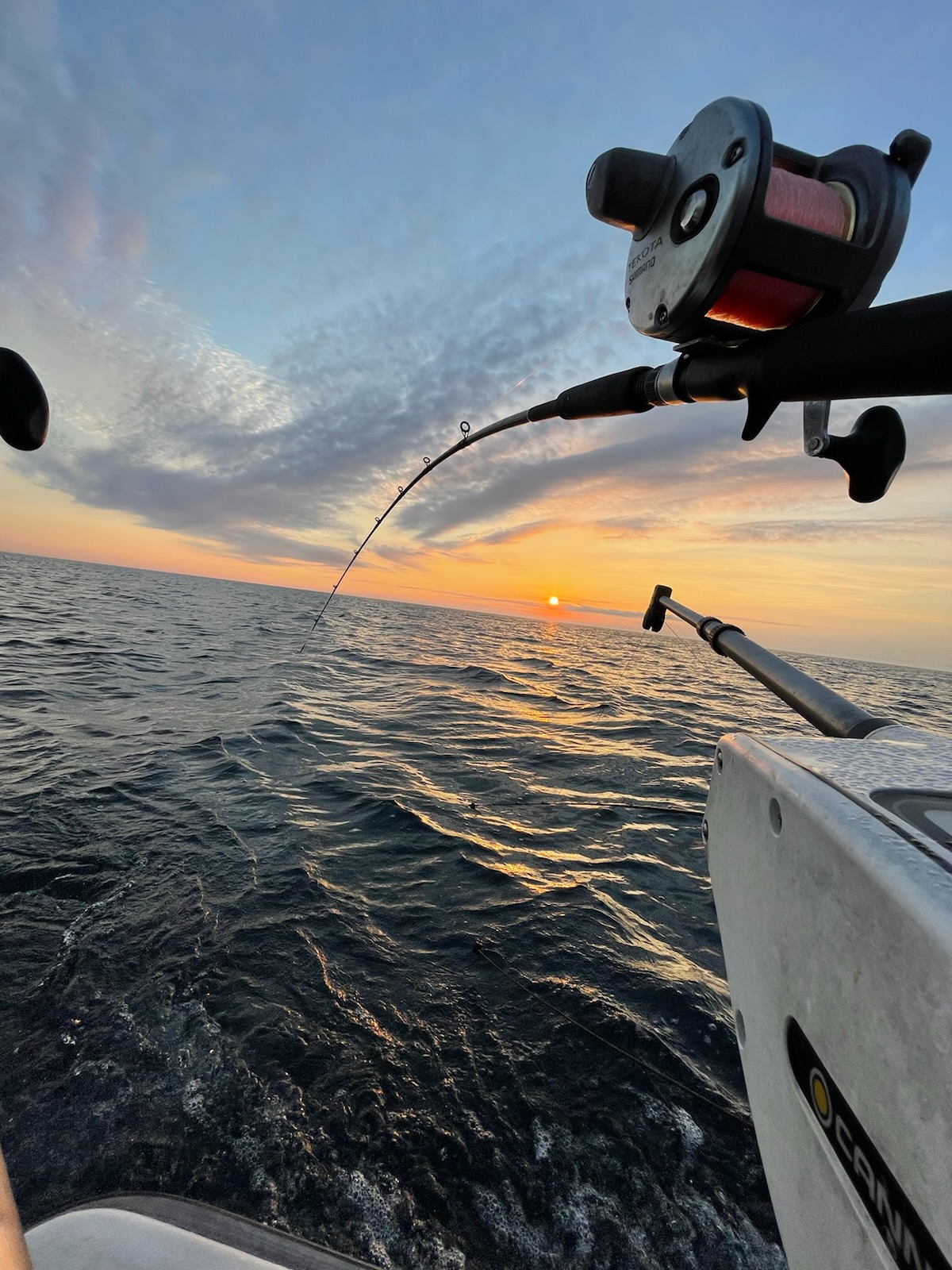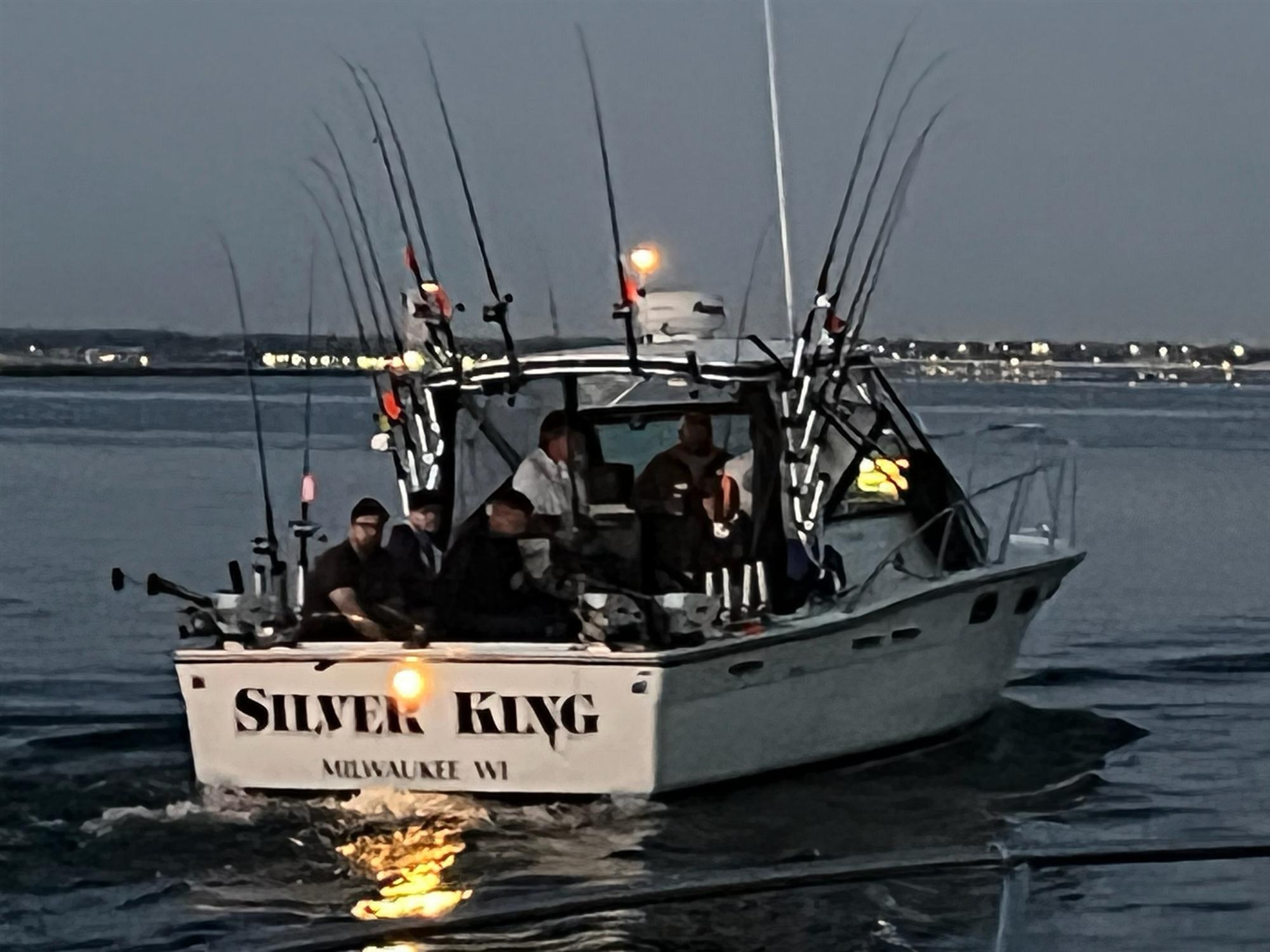 Report for June 24, 2022
This season has been very heavy on the Coho salmon as 86% of all the fish we have caught this year have been Coho. There has been a lot of them around and has led to some great catches. Over the last ten days the water temperature has become very much the same from the surface down as far as 70 feet at times and this has been around 54 degrees. This has caused fish to spread out, making it more difficult to score big numbers. When we find bites now it is very important to stay in that area to keep catching. We are hoping to have a change in the current or have a more sharply defined thermocline to help set up another hot mite on Coho salmon. Like stated earlier there are a lot of Coho in the area and they should be a part of the catch throughout the summer. But we need a more regular Chinook bite to start happening. The good news is that more Chinooks were stocked in Lake Michigan last two years ago then any single years going back to 2013. We don't know the exact numbers stocked last year but it was supposed to be the same. This should lead to some good catches this summer. The Lake trout are just starting to set up and this along with Steelhead should keep the bite going as the Coho bite slows.
Are spread has changed some as we go deeper in the water column. The boards are 1 to 7 color leadcore and 25 to 150 foot coopers. All with orange dodgers and 2 inch flies. The Willy fly is the best. We are using a wire diver on one side and mono and braid on the other side all with orange dodgers. We still use a large size peanut fly on a couple of these dipsy divers. The downriggers are orange stubbies on the outsides and the back riggers we are using white flashers with Howie supper frogs or JoJo flies. Speed has been key and going fast when you are not getting bit helps. If the water cools soon we will go back to mono set ups on the boards. Coho love the orange so we are still rolling with it.
July and August is the time to catch big Chinook salmon. Last season the first two weeks of August were the best King salmon fishing of the year. Give Silver King charters a call to get hooked up on some salmon and trout this summer. Below are pictures from the last couple of weeks.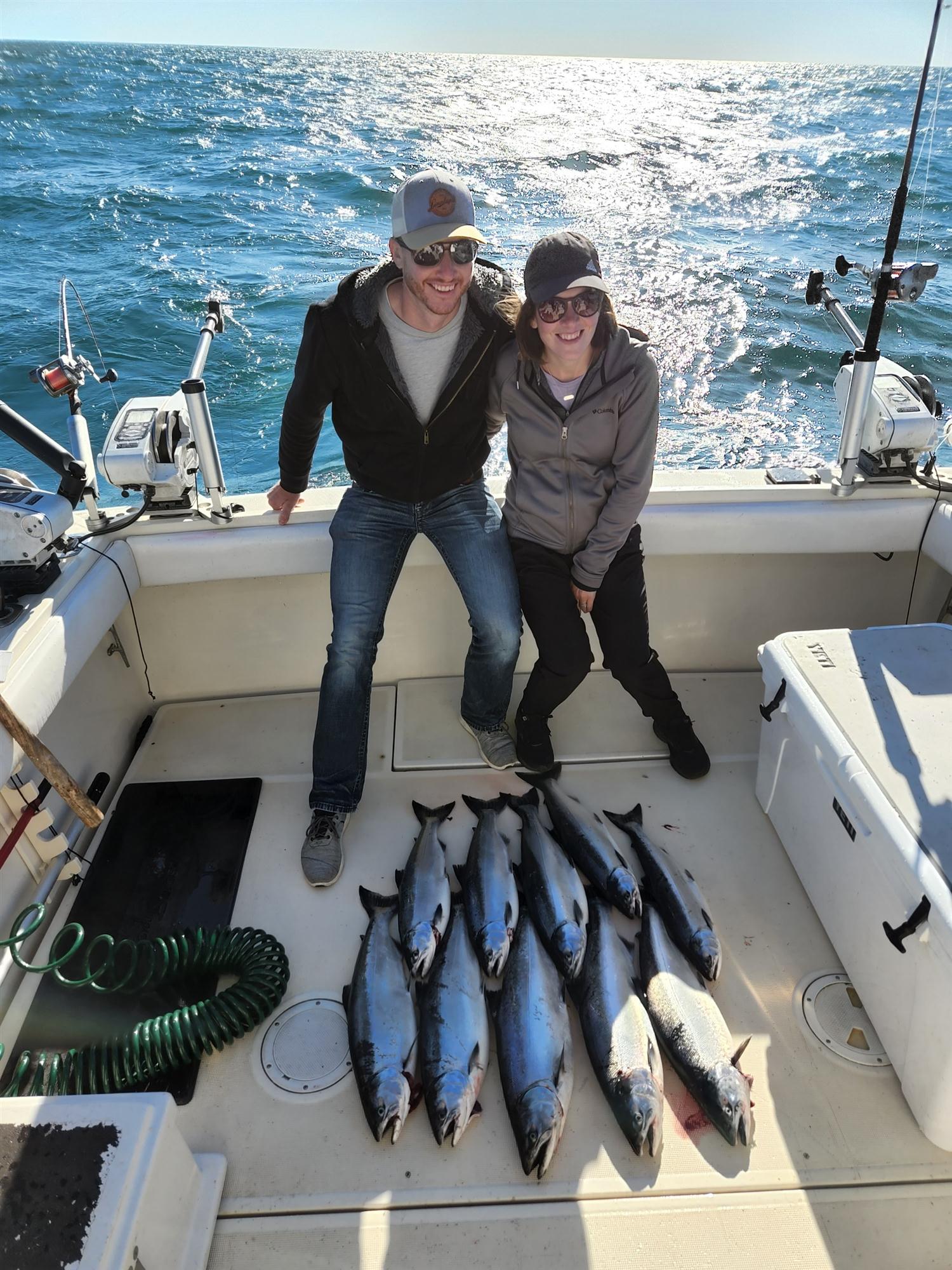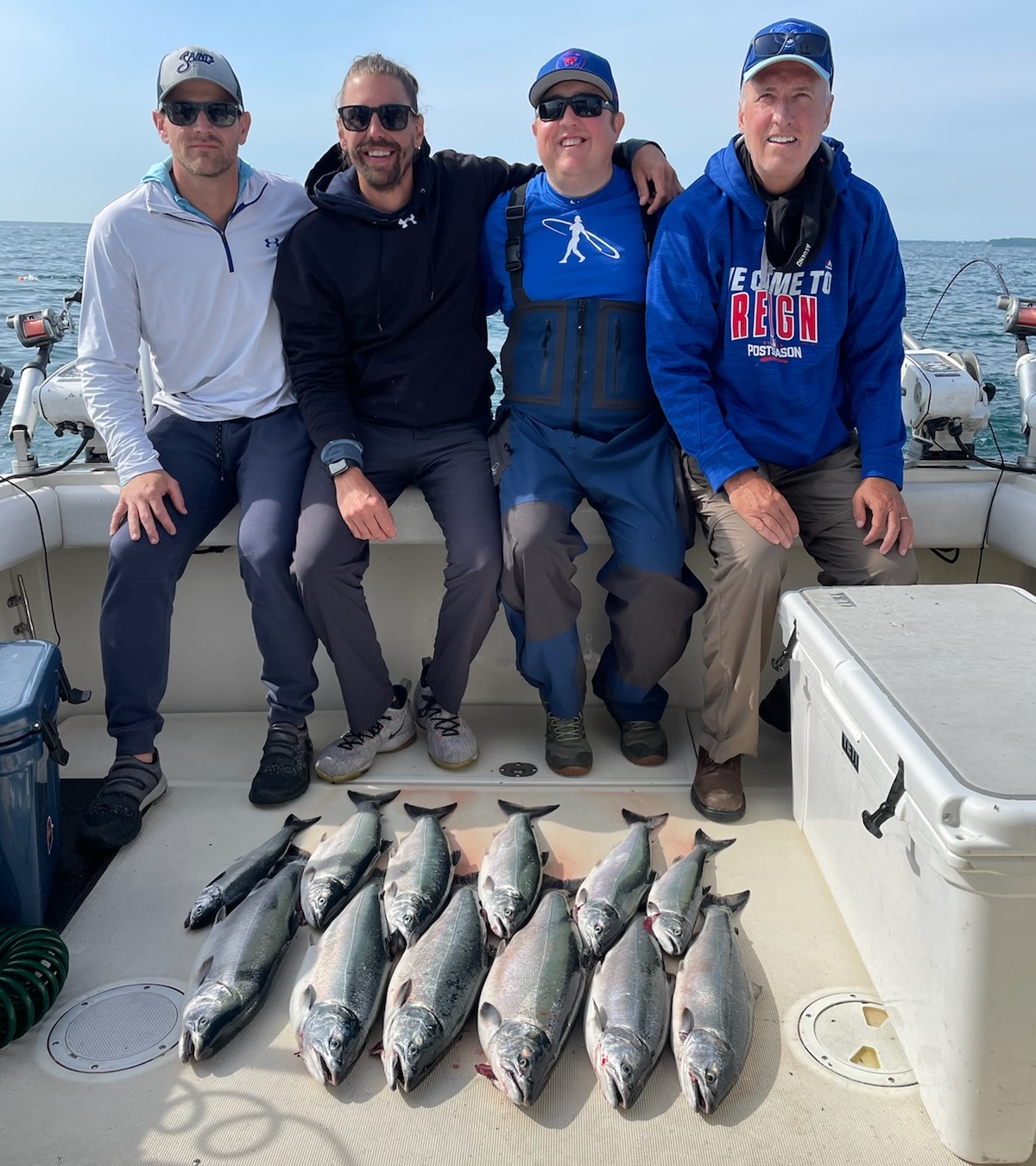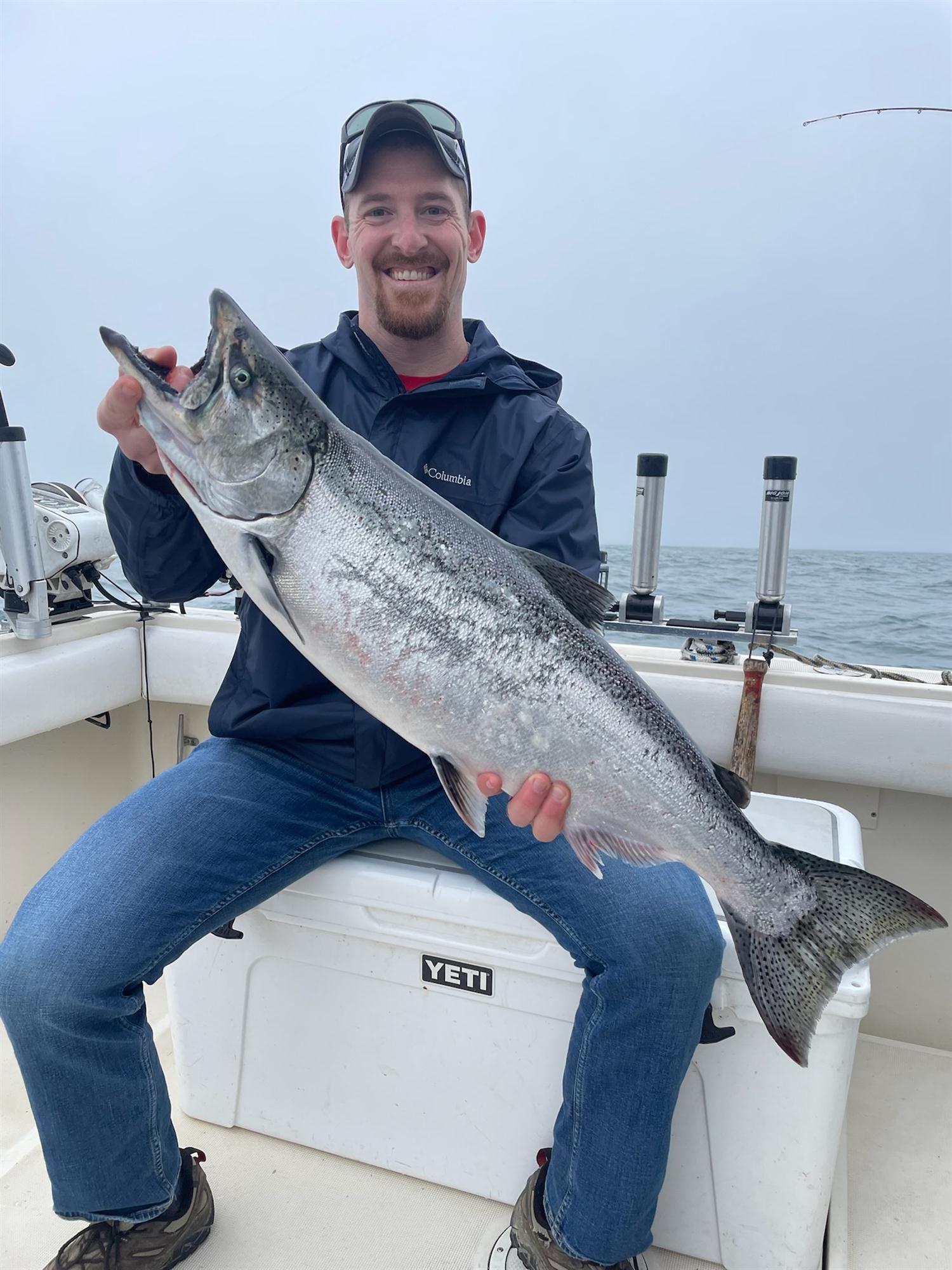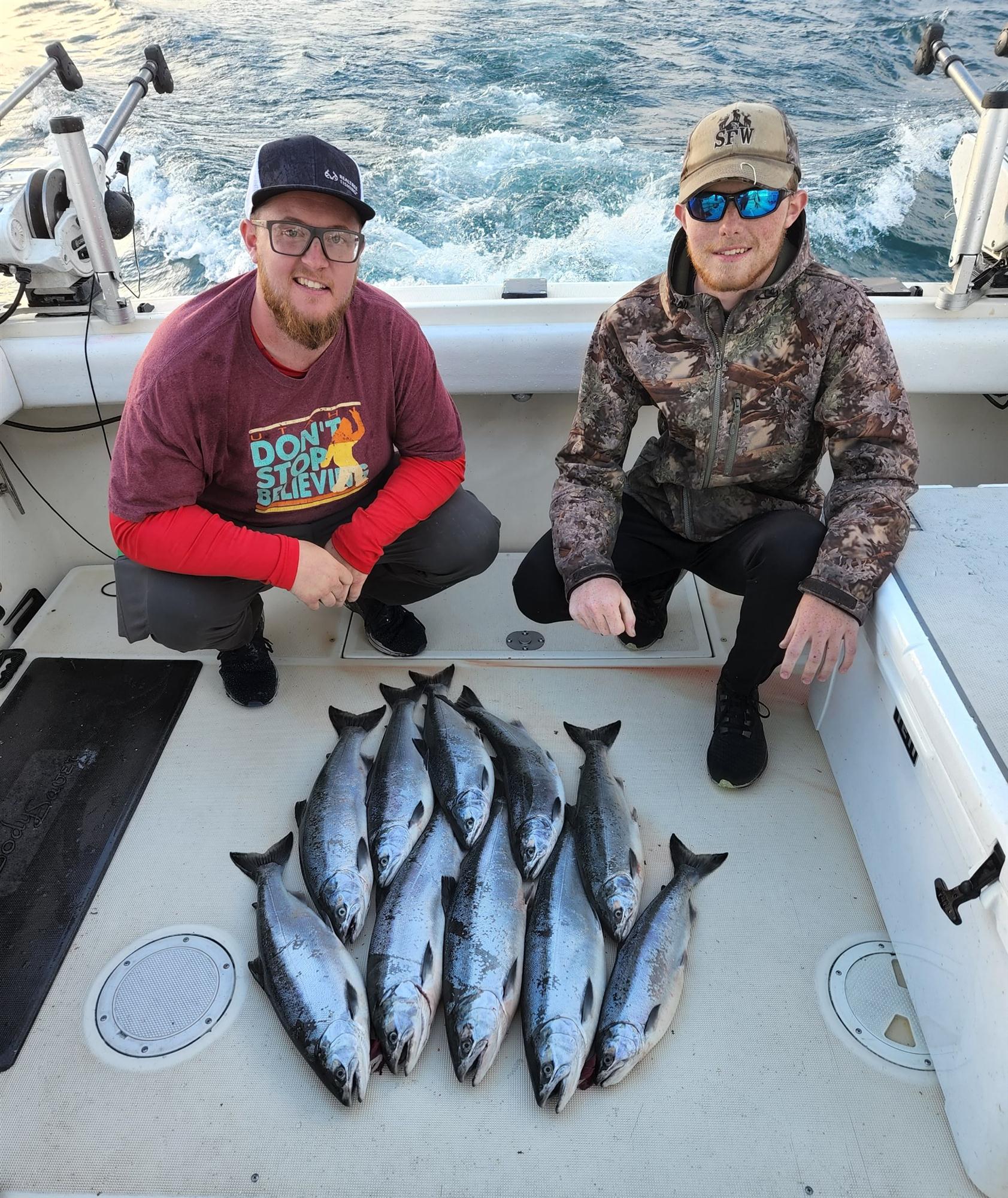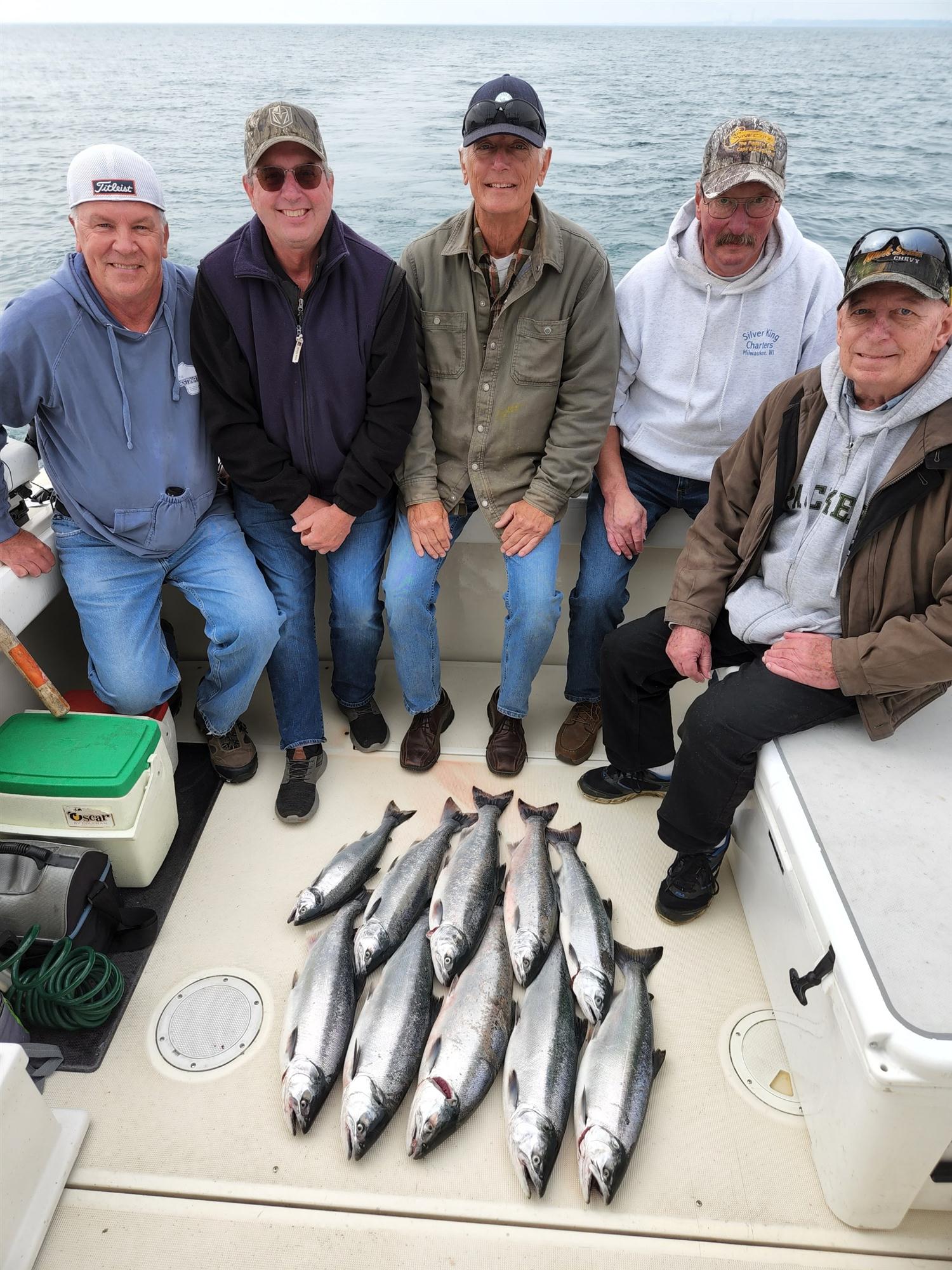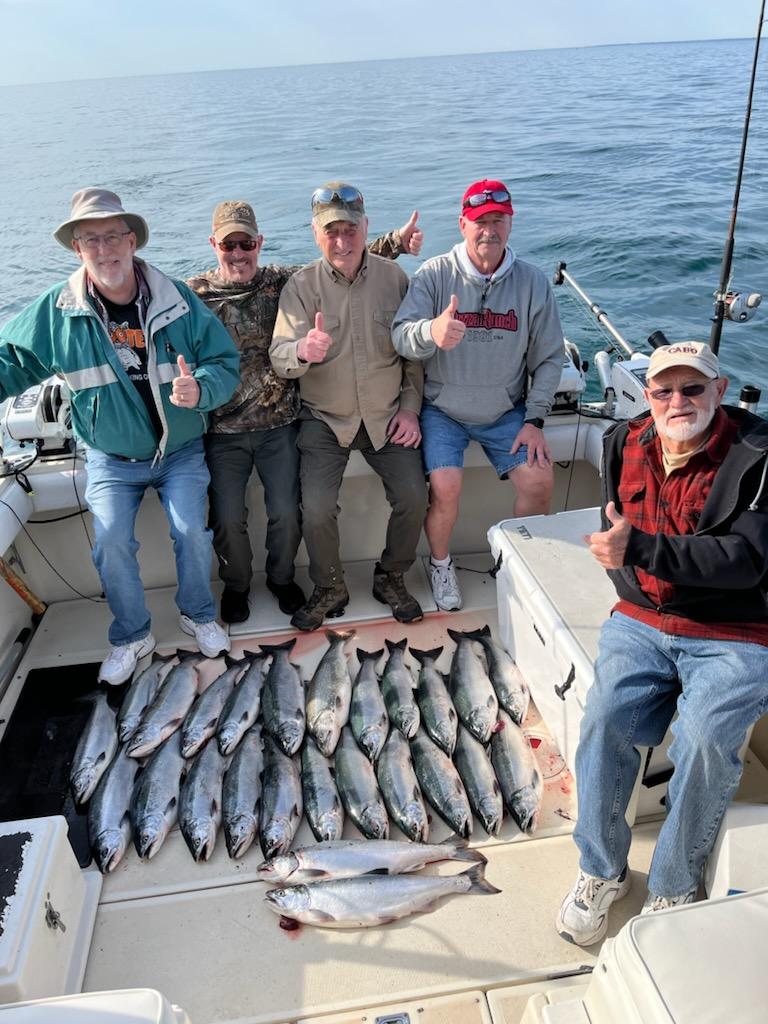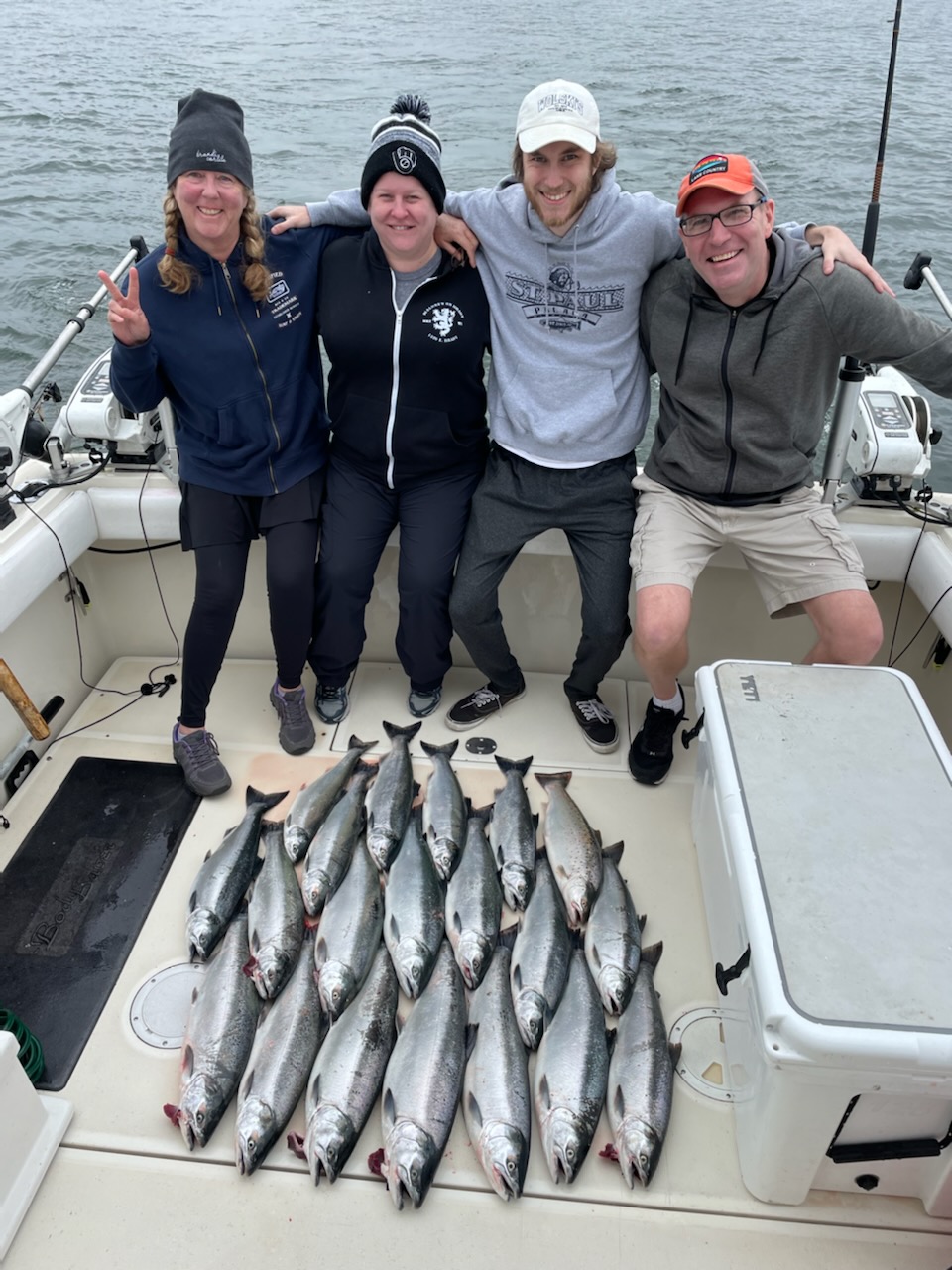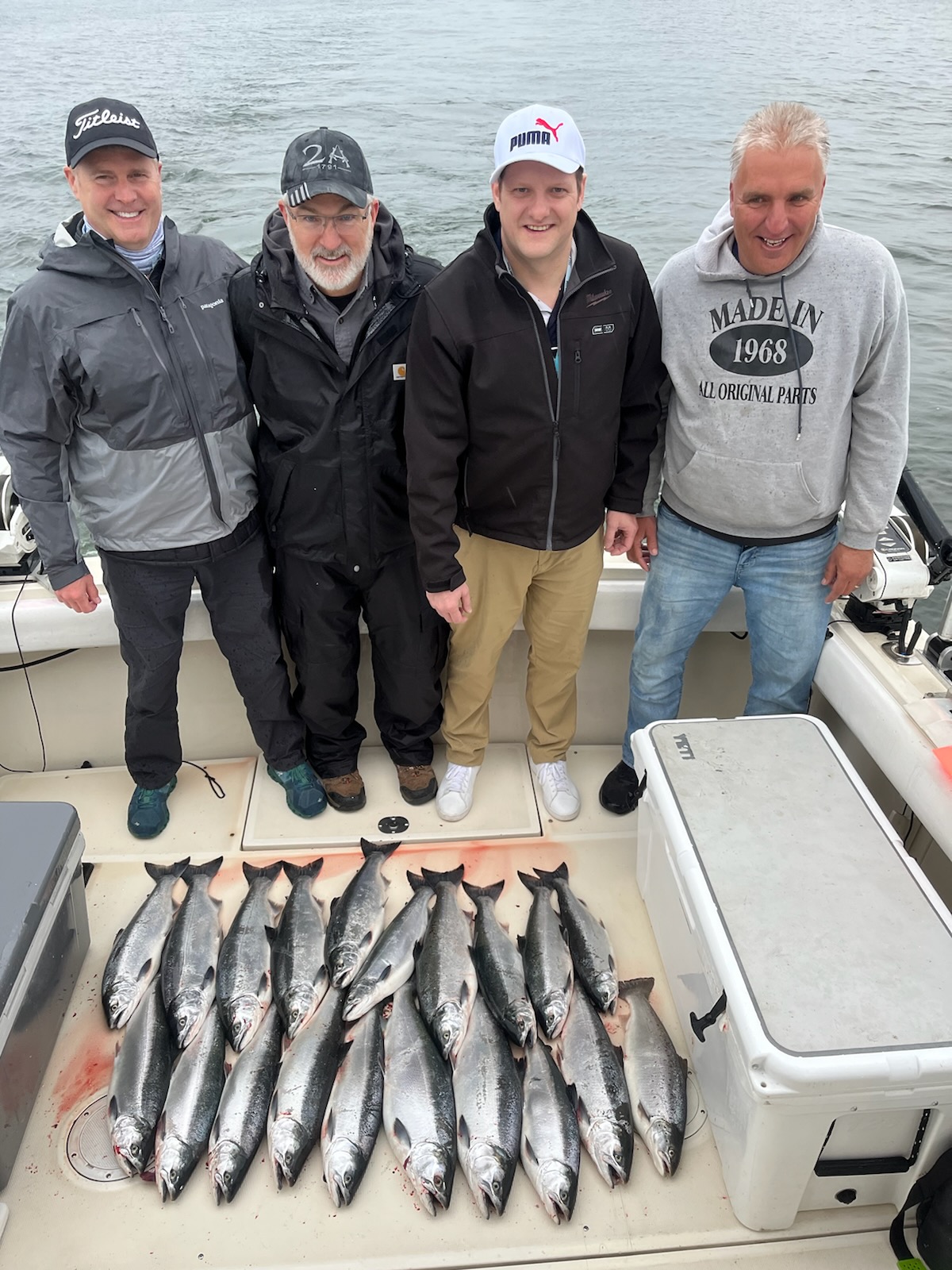 Report for June 3, 2022
We tell our clients that May and June are some of the best months to catch good numbers of Coho salmon and this May did not disappoint. Staring on May 6th right through the end of the month the Coho fishing could not have been any better. We had 30 straight limit catches and the longest trip took 3 hours. Incredible fishing and all were Coho salmon. We fished all over the place. From Grant park in 15 to 20 feet of water to .57-55 hundred in 70 to 90 feet, 02-03 in 150 to 200 feet of water and our favorite right outside the North, South and Main gaps. All three have been good. The Coho are 4 to 6 pounds and the alewives are everywhere. Not sure who the biologist that was hire to study Lake Michigan was and said that salmon should not be stocked anymore. But I think he should be fired.
Our spread is simple and I detailed it on my last report. It has not changed and it is orange dodgers, with peanut flies on everything. We have the entire spread set in the top 12 feet of water. The water temperatures did heat up to 55 degrees on the surface about 12 days back but south and west winds have cooled it down again. This will keep the Coho bite going and there is no signs of it letting up. Limit catches may not be as quick but we expect to catch a lot more Coho. We have boated a 15 and 13 pound Coho already this year.
June on average is our best month to catch Coho salmon and we start to see a few Chinook salmon in the mix as well. The best of both worlds for those who like to catch salmon. Please give Silver King Charters a call at 414-460-1467 to get in on June salmon fishing. This is one of the better Coho bites we have had in several years. Below are some catches from the last coupe of weeks.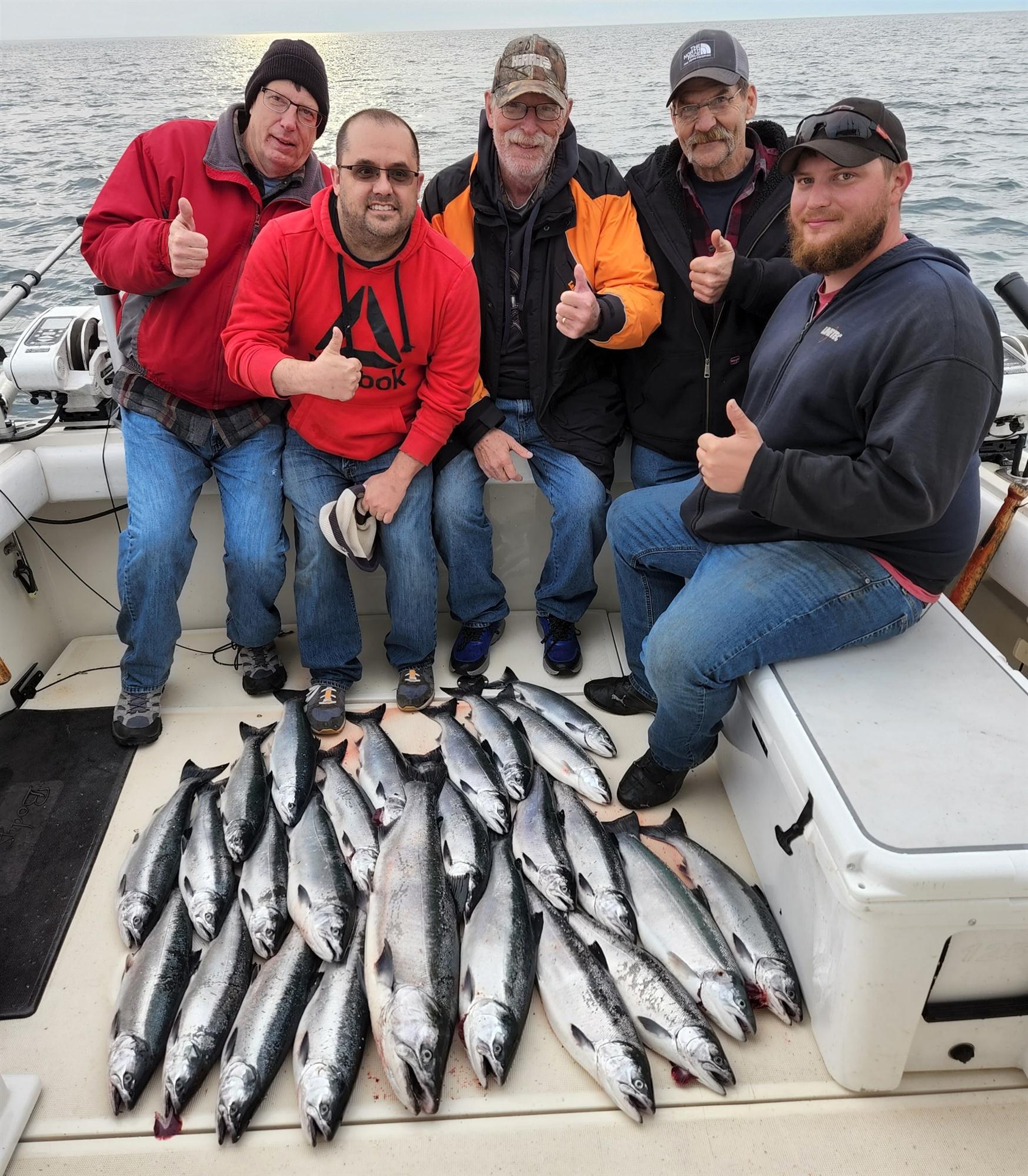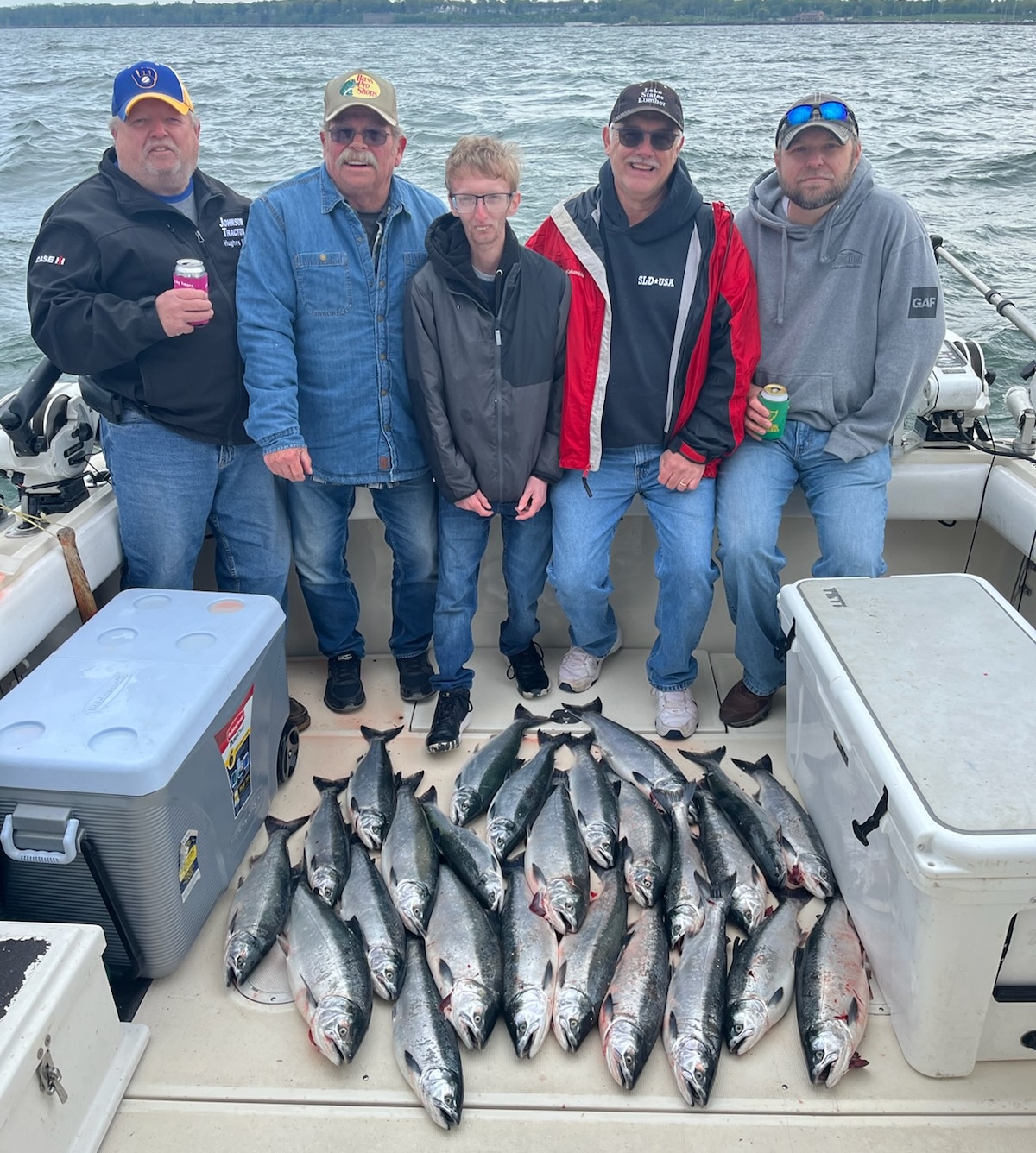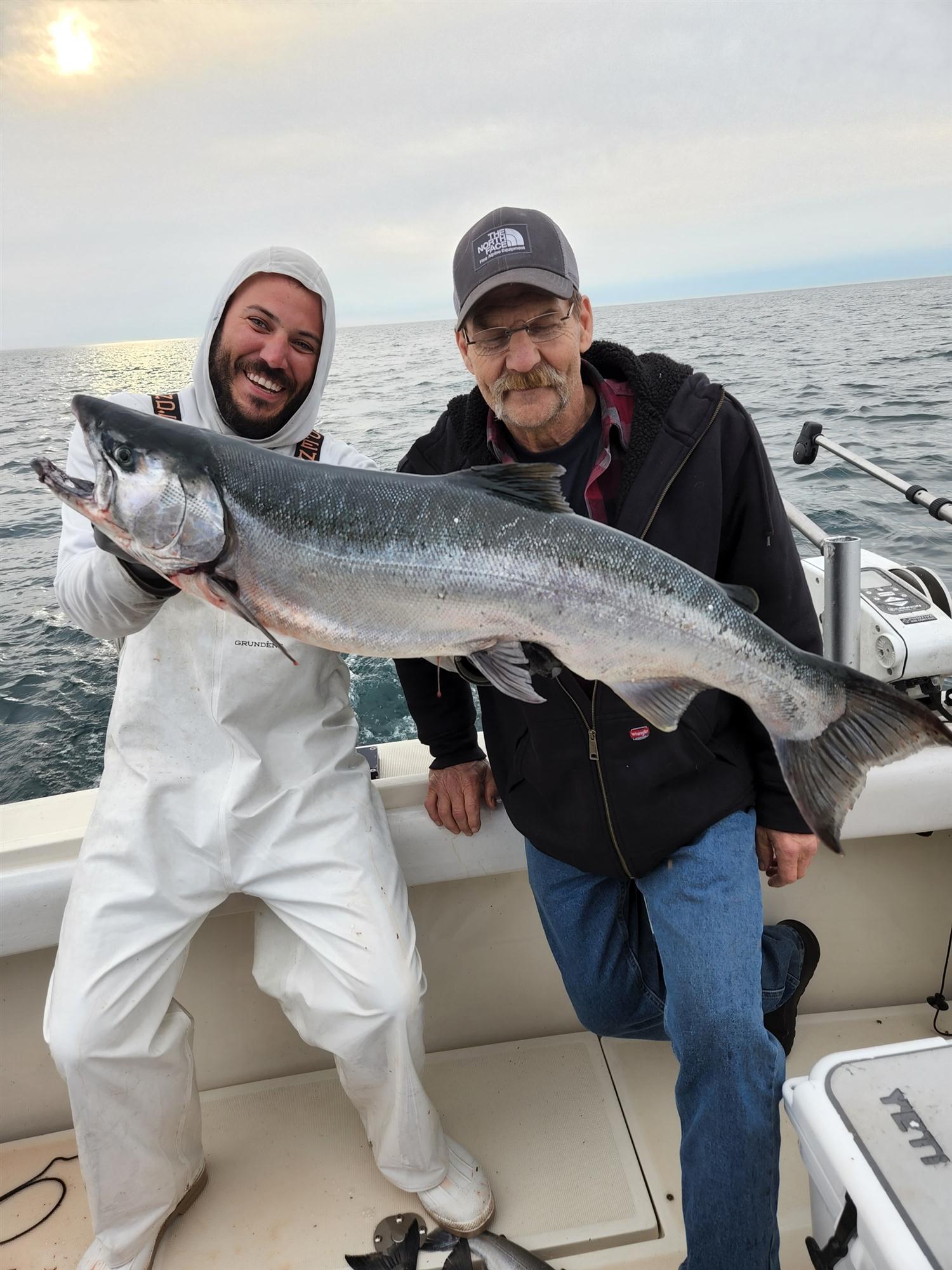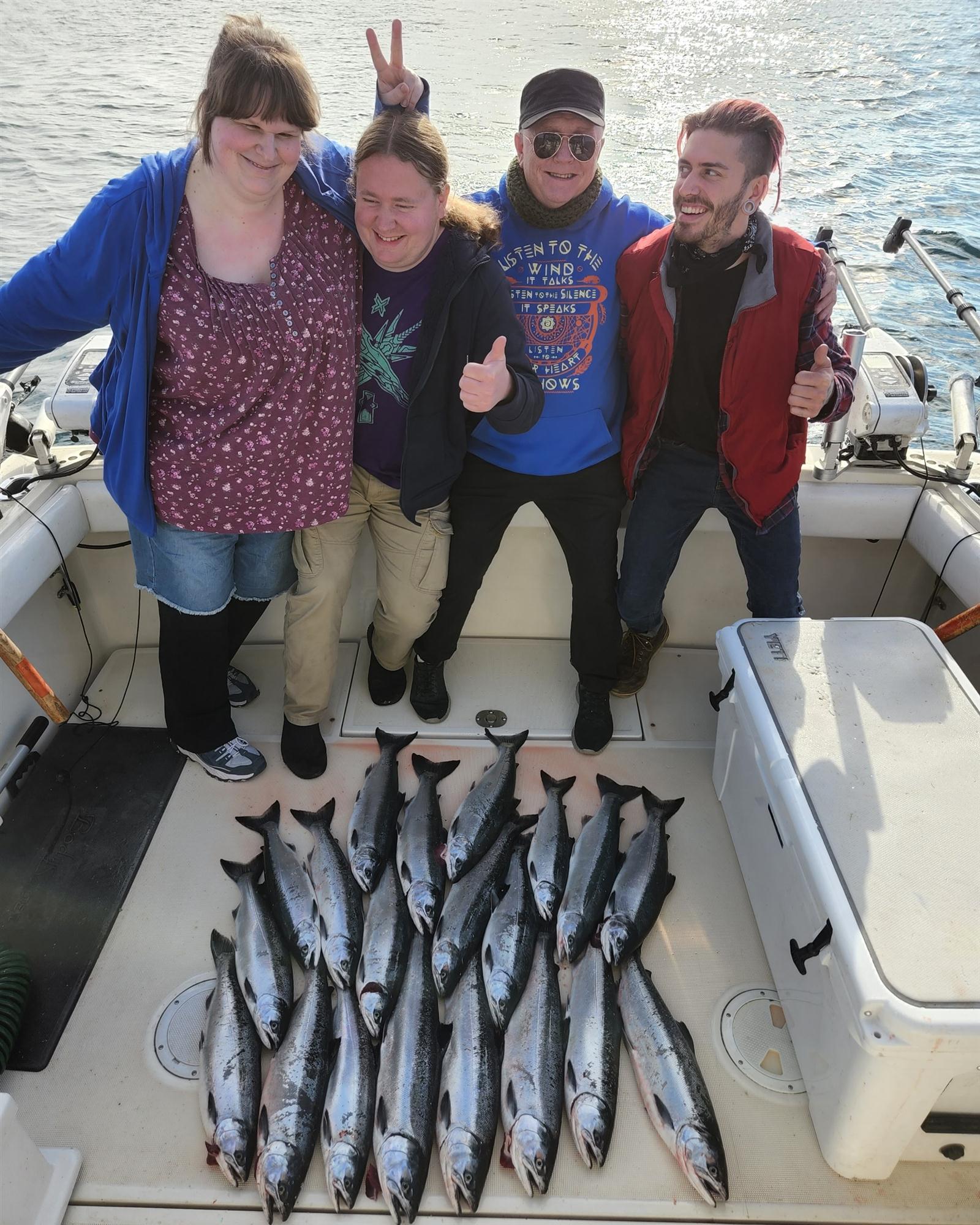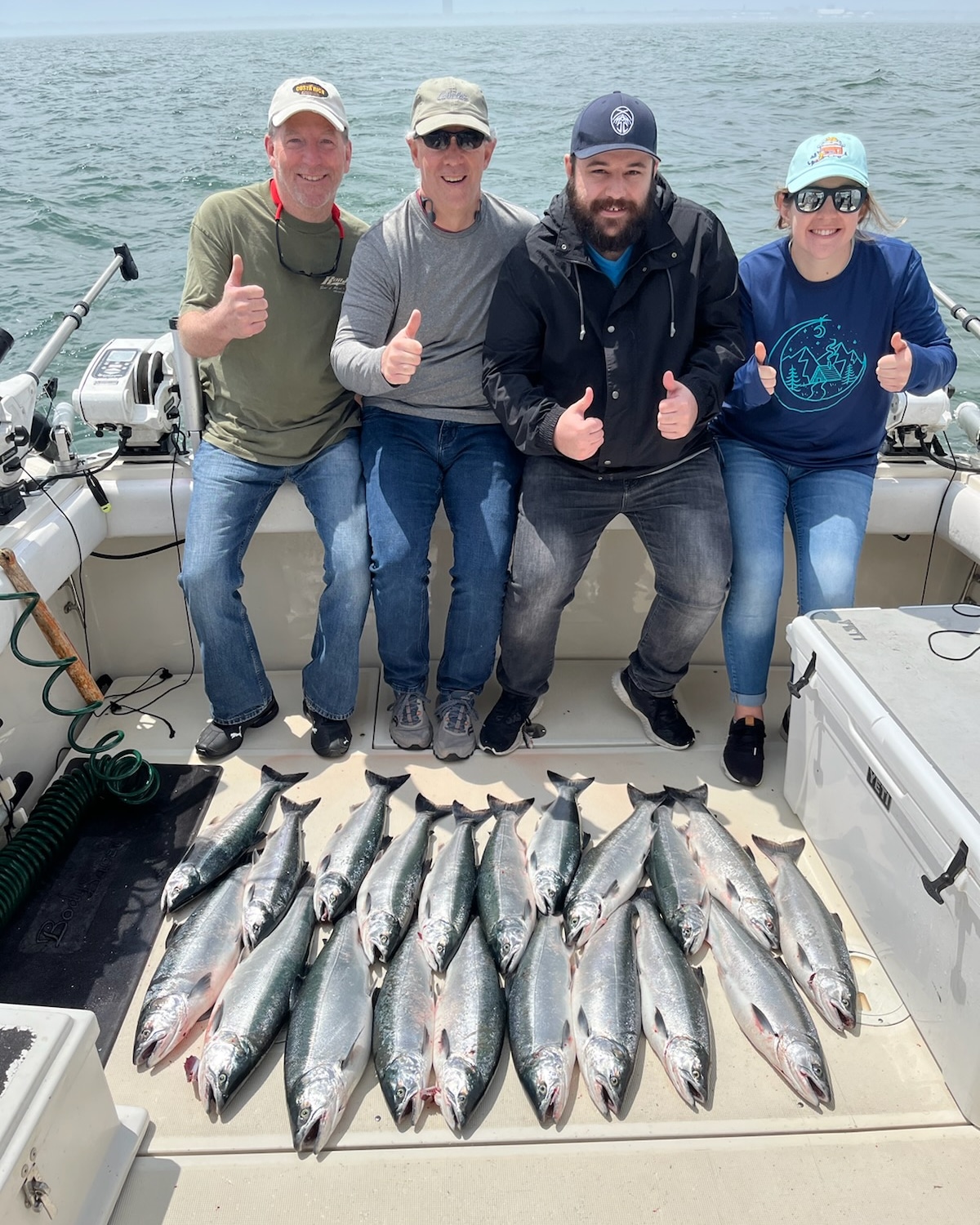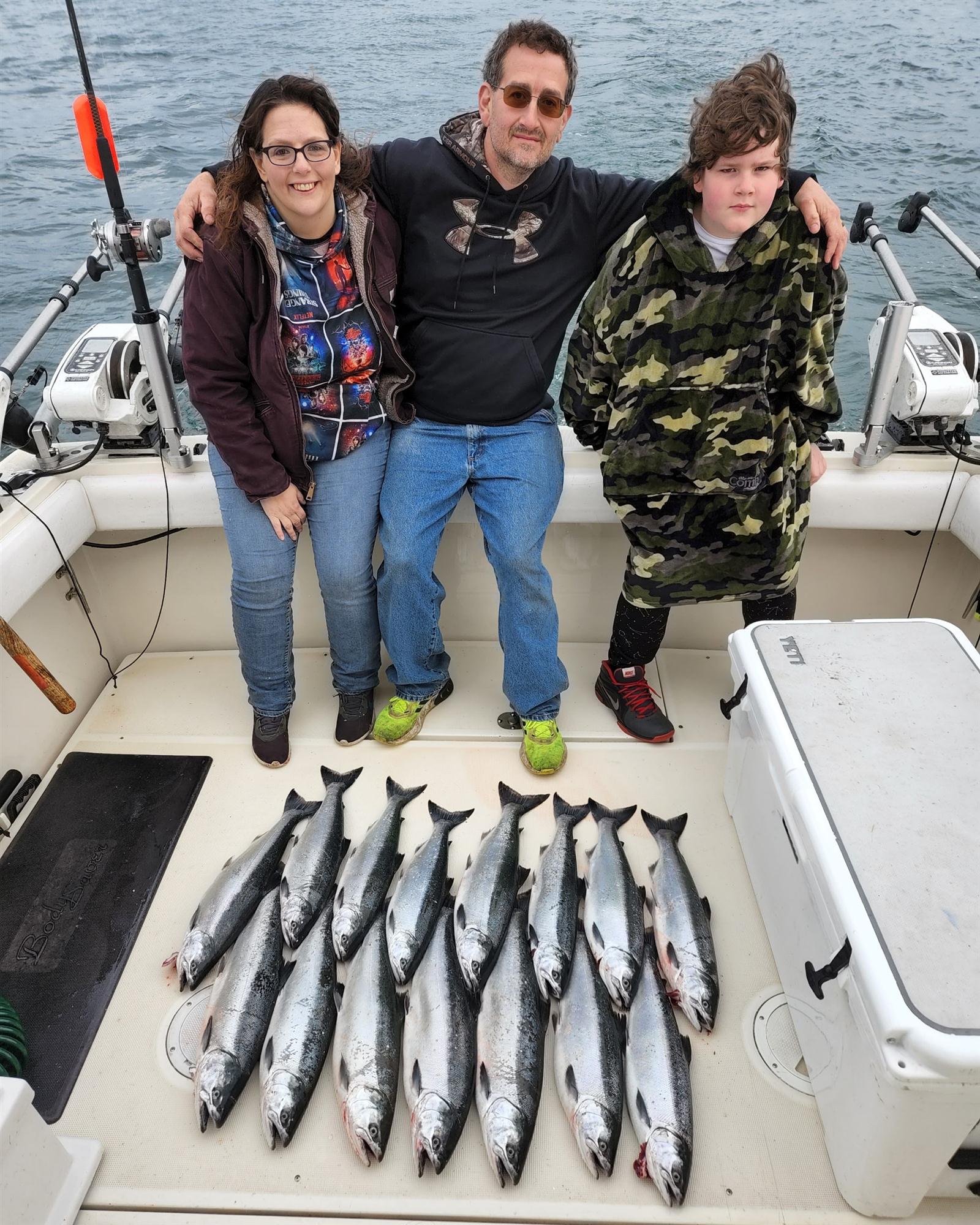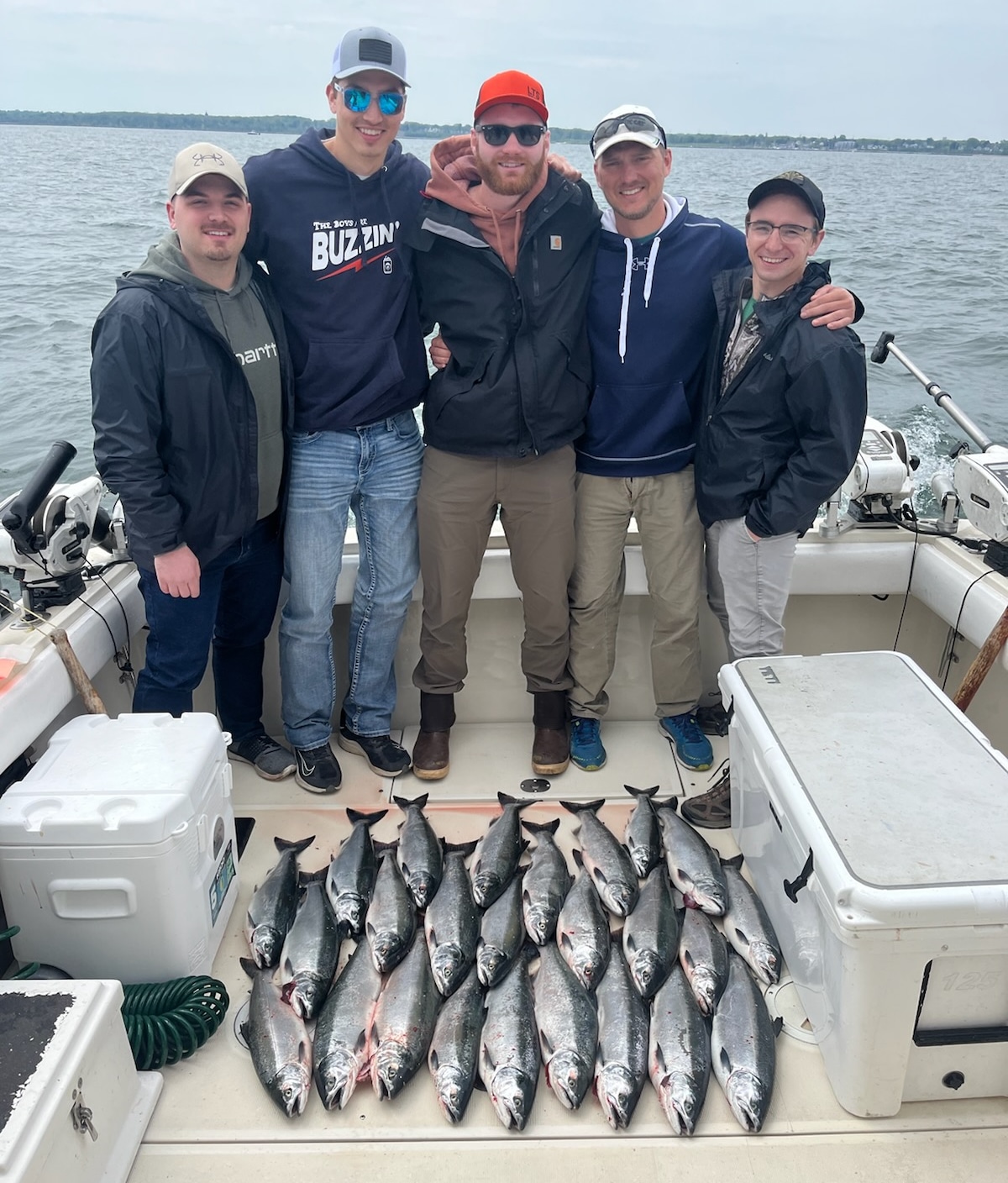 Report for May 15, 2022
We are half way through May and full throttle on Coho salmon. Our last report we were still Brown trout fishing in the harbor but Alewives started showing up in the harbor the first week of May and by May 7th we were catching limits of Coho salmon. Over the last nine days we have been fishing the North Gap to the South Gap of the Milwaukee harbor. We have also been down by Grant Park and out in 70 to 100 feet of water south of the green can to Grant Park. Boat pressure has made areas tough to fish and the salmon have been moving around. Several things to note. There are a lot of year classes of Alewives and a lot of Alewives around. The average size of the Coho salmon is up for this time of year. We are seeing Coho salmon at four to five pounds right now when three pounds or less is more common over the last several years. This means there was a good hatch of bait last year because when these Coho were stocked last year they would need a lot of small stuff to eat to get this big right now. The water is warming up fast. We did not have that cold of a winter on average and the last week has been very warm. We are seeing surface temperatures at 56 degrees during the day out in 100 feet of water. There are a lot of Coho around and the survival rate from stocking appears to be good. The 2021 Lake Michigan total stocking numbers have yet to be released but whatever the Coho number was last year it is what we are catching now. This is usually around 2.5 million. This adds up to be some great fishing for the next several weeks.
We are running a 12 rod spread with all Coho salmon stuff. We have 3 boards a side. One side we are using double O orange dodgers and the other we are using B&B dodgers from Silver Horde. We have a 17" fly lead on the OO and 27" fly lead on the B&B. We are using a 5/8 ounce keel weight on the OO and nothing on the B&B. We are 15 feet, 30 feet and 45 feet back from the boards. We are using a mono dipsy dialed in at 30 degrees and a braided dipsy set at 15 degrees on both sides of the boat. These are 35 feet on the mono and 15 feet on the braid. We are only running two outside downriggers with stubby orange dodgers down 10 feet. We are using the Willy Fly, Gen X or the Two Tone peanut flies. With the size of the Coho right now we may go to half flies soon.
Milwaukee charter fishing is very good right now and Coho salmon fishing in May and June gives you the best catch rate for salmon. They are also the tenderloin of Lake Michigan. Give Silver King Charters a call at 414-460-1467 tp get in on some of the best salmon fishing of the season. Below are some pictures of limit catches this past week and a picture of our boat fishing.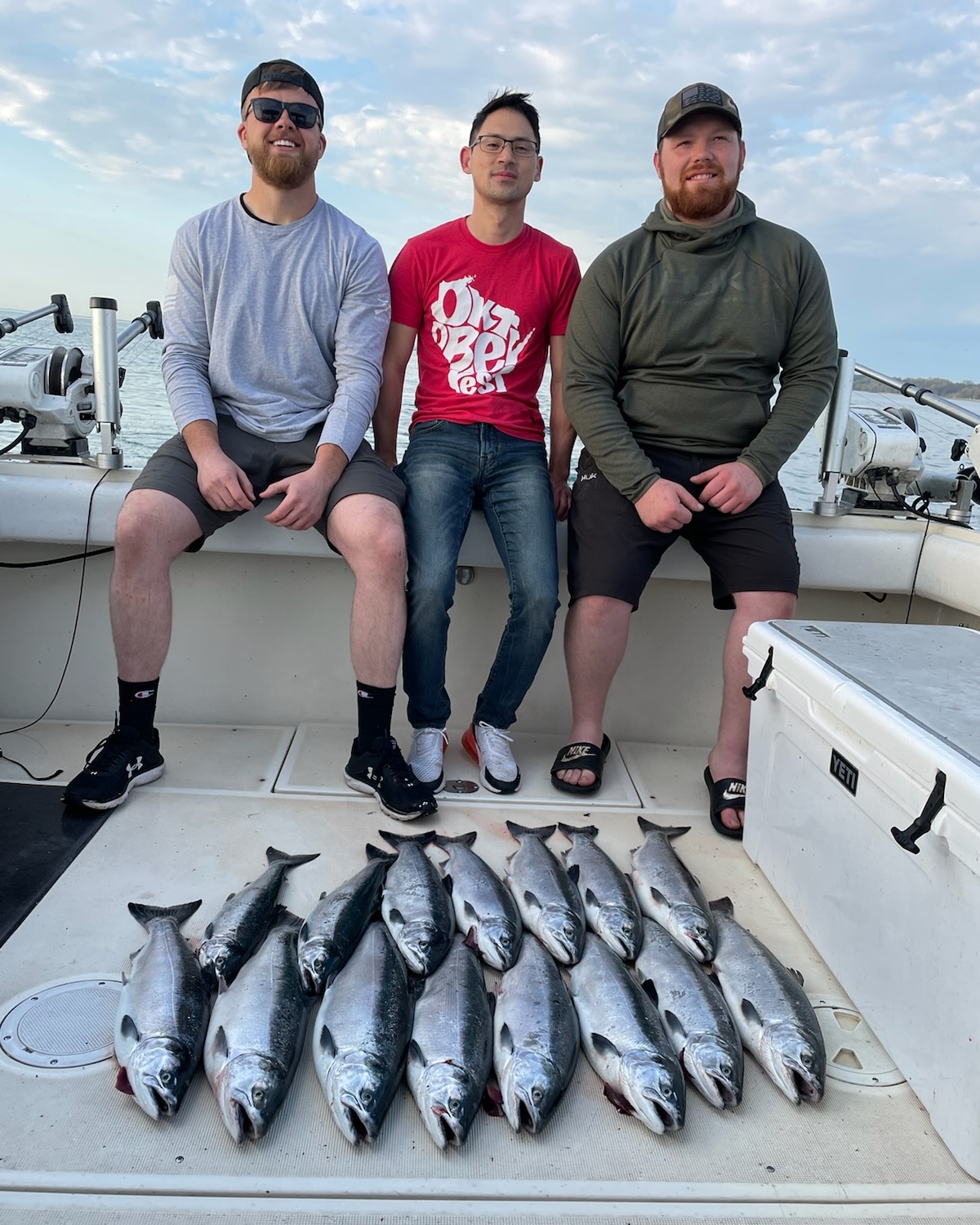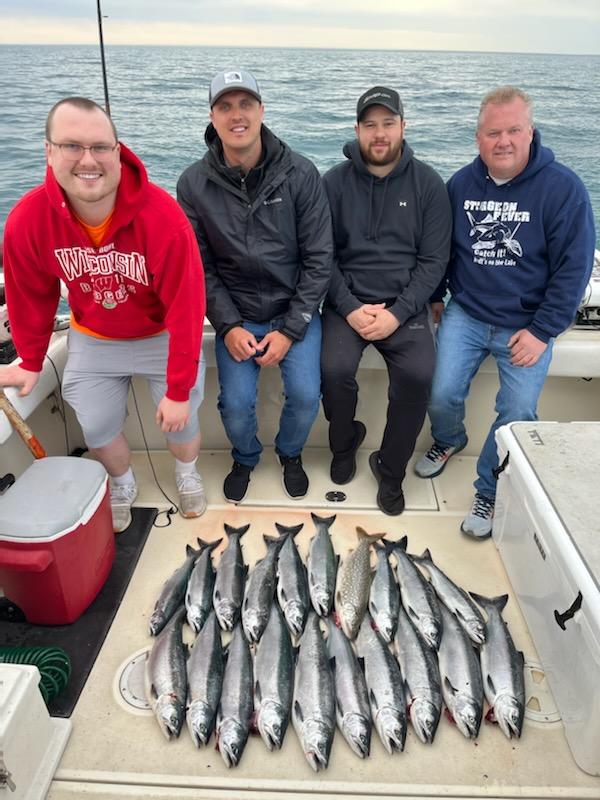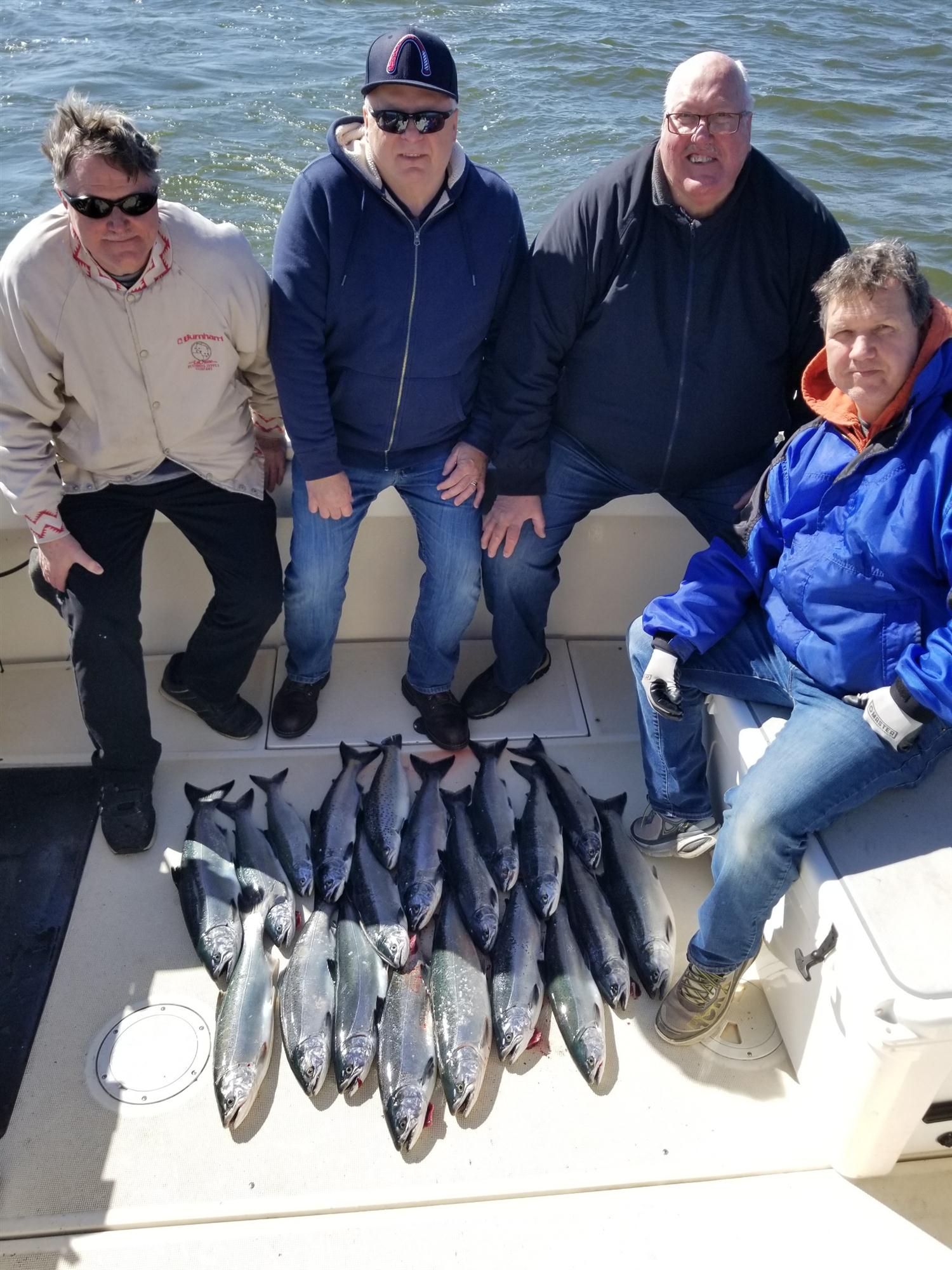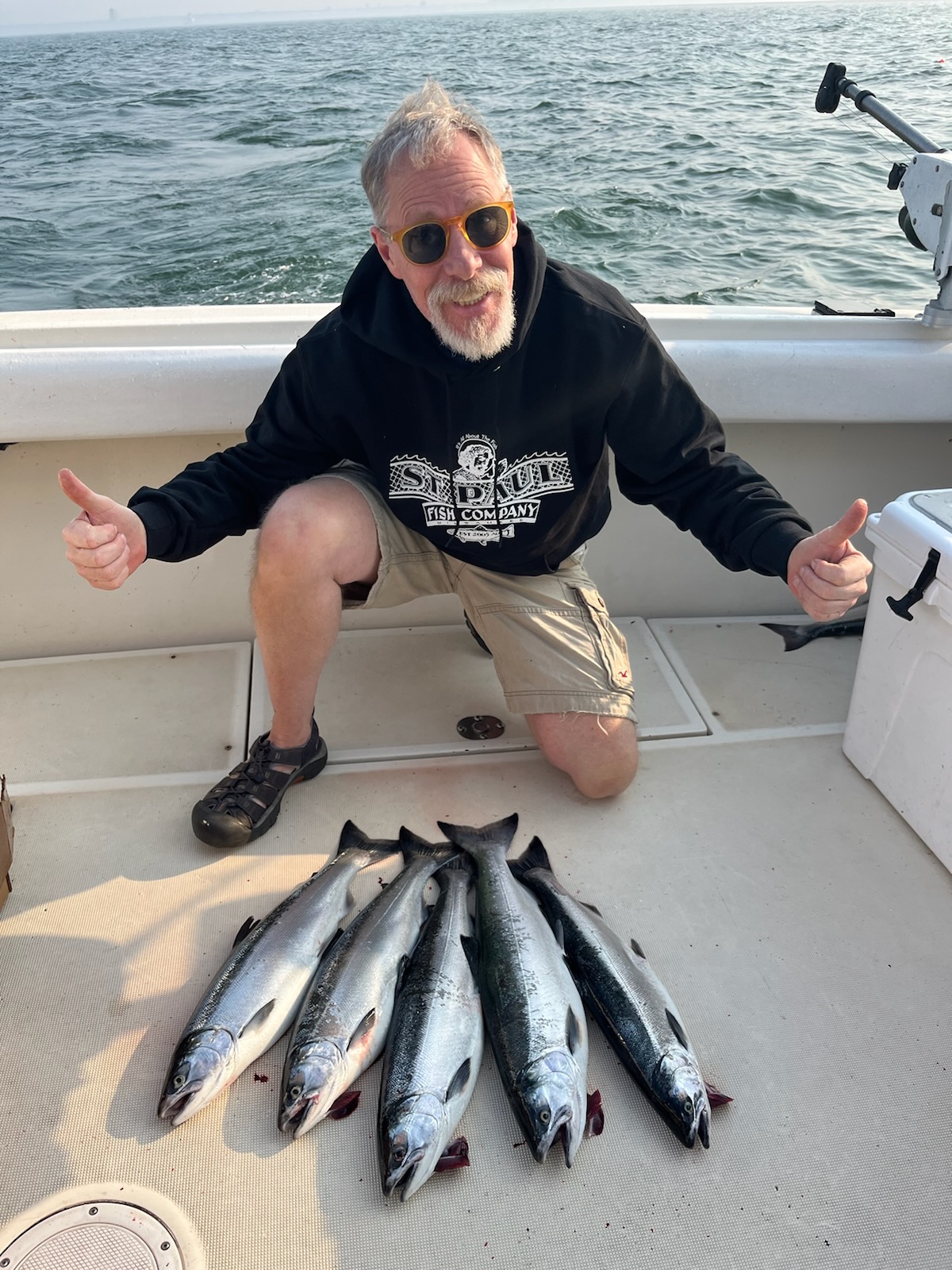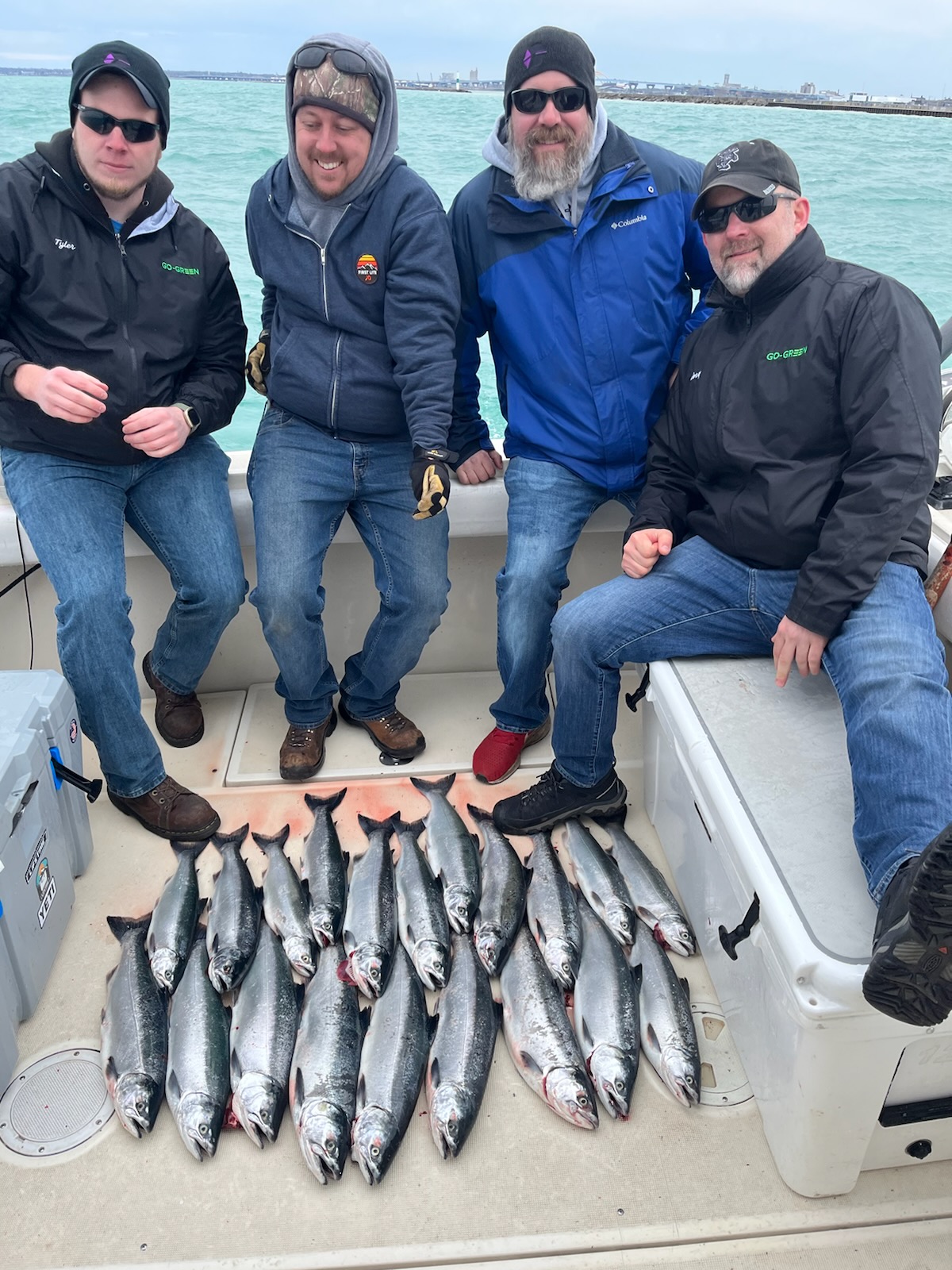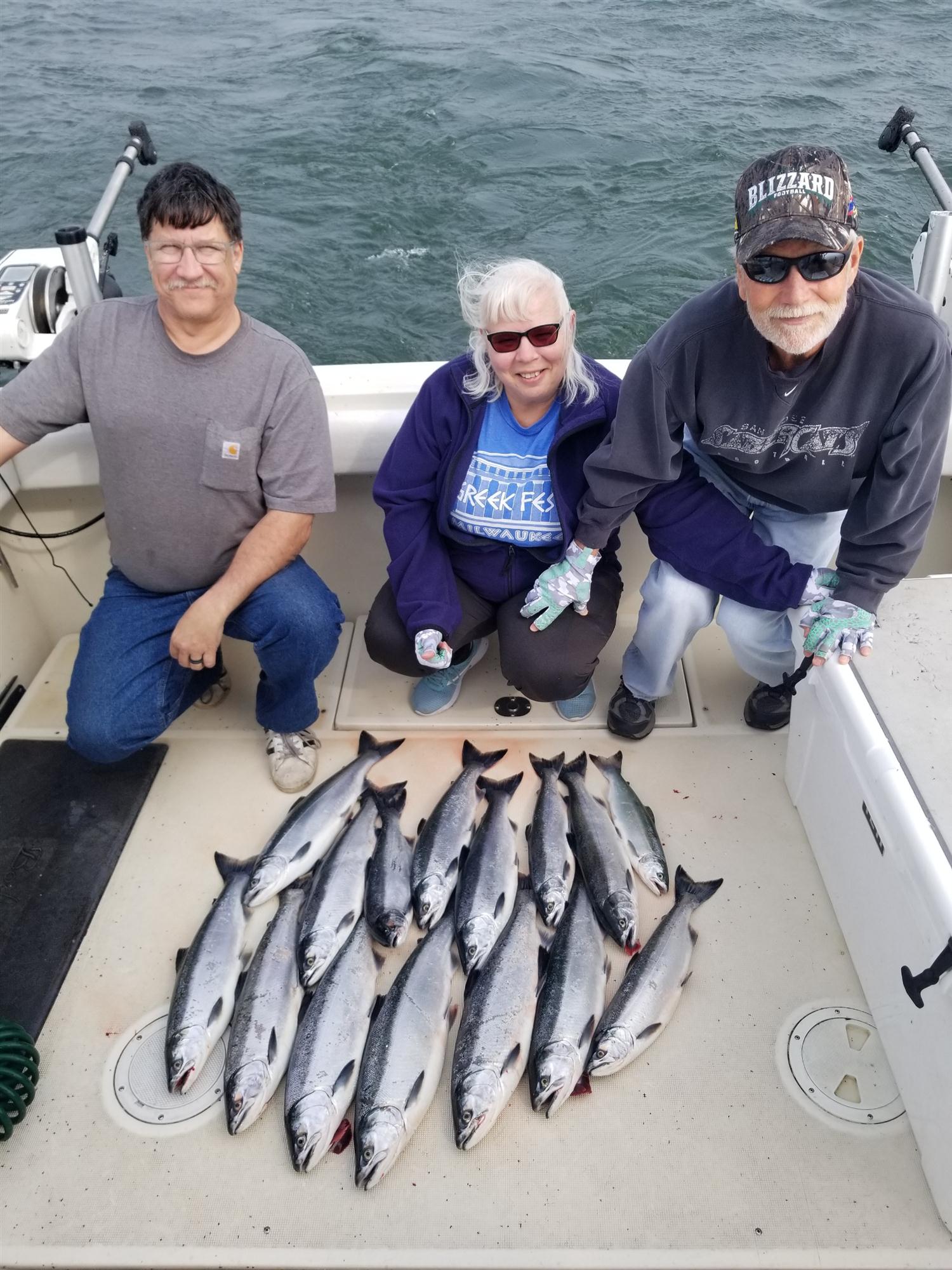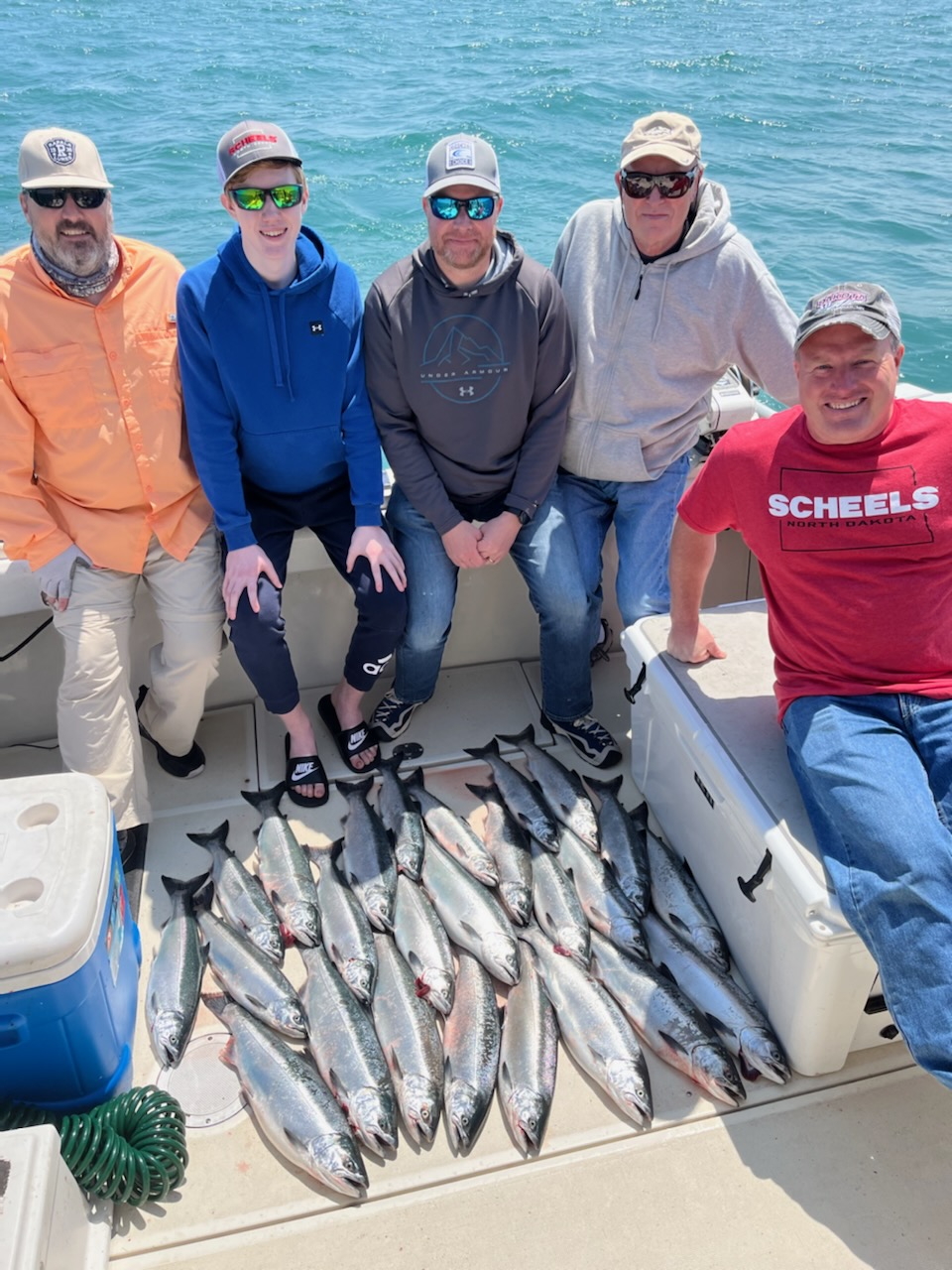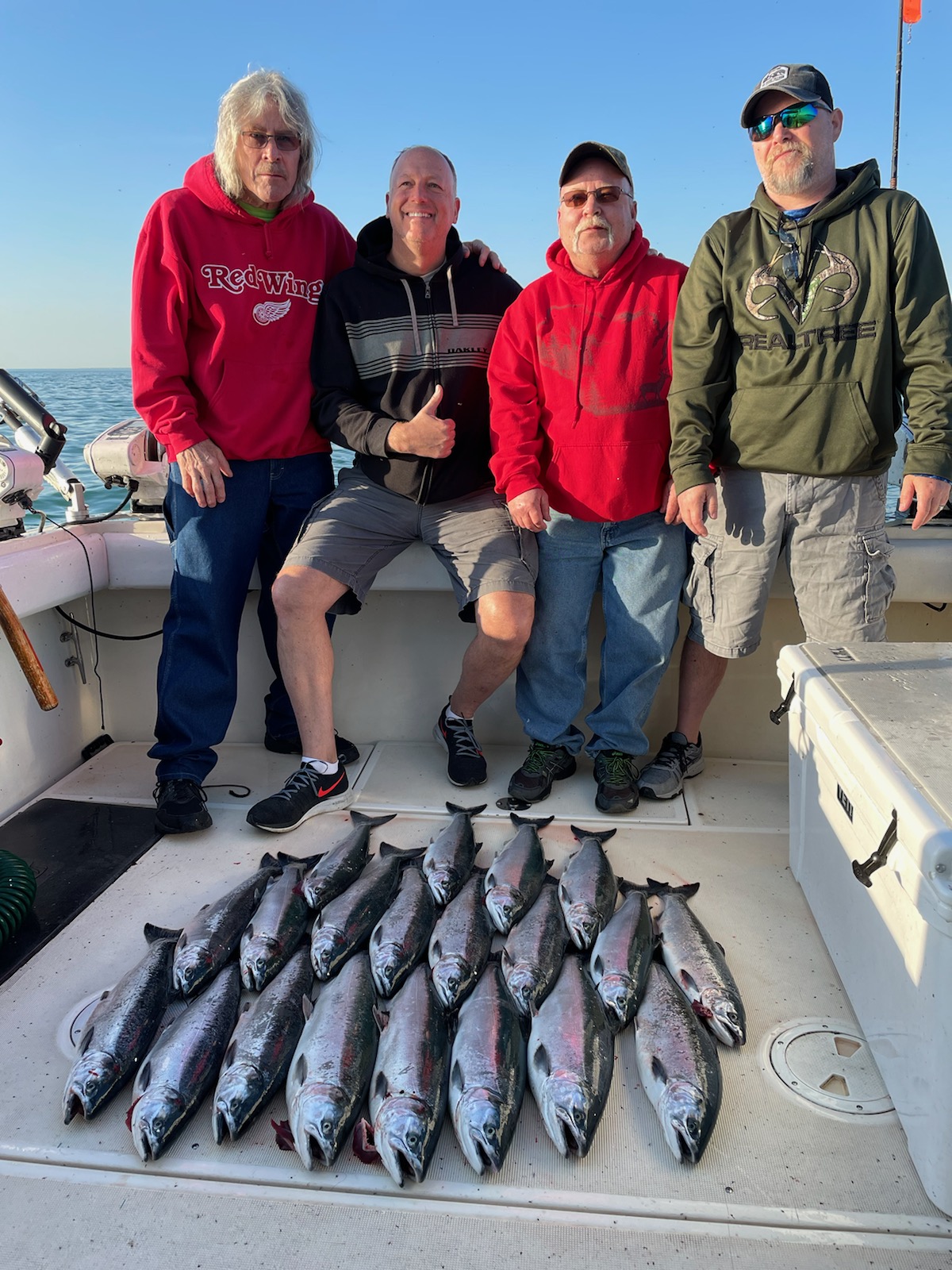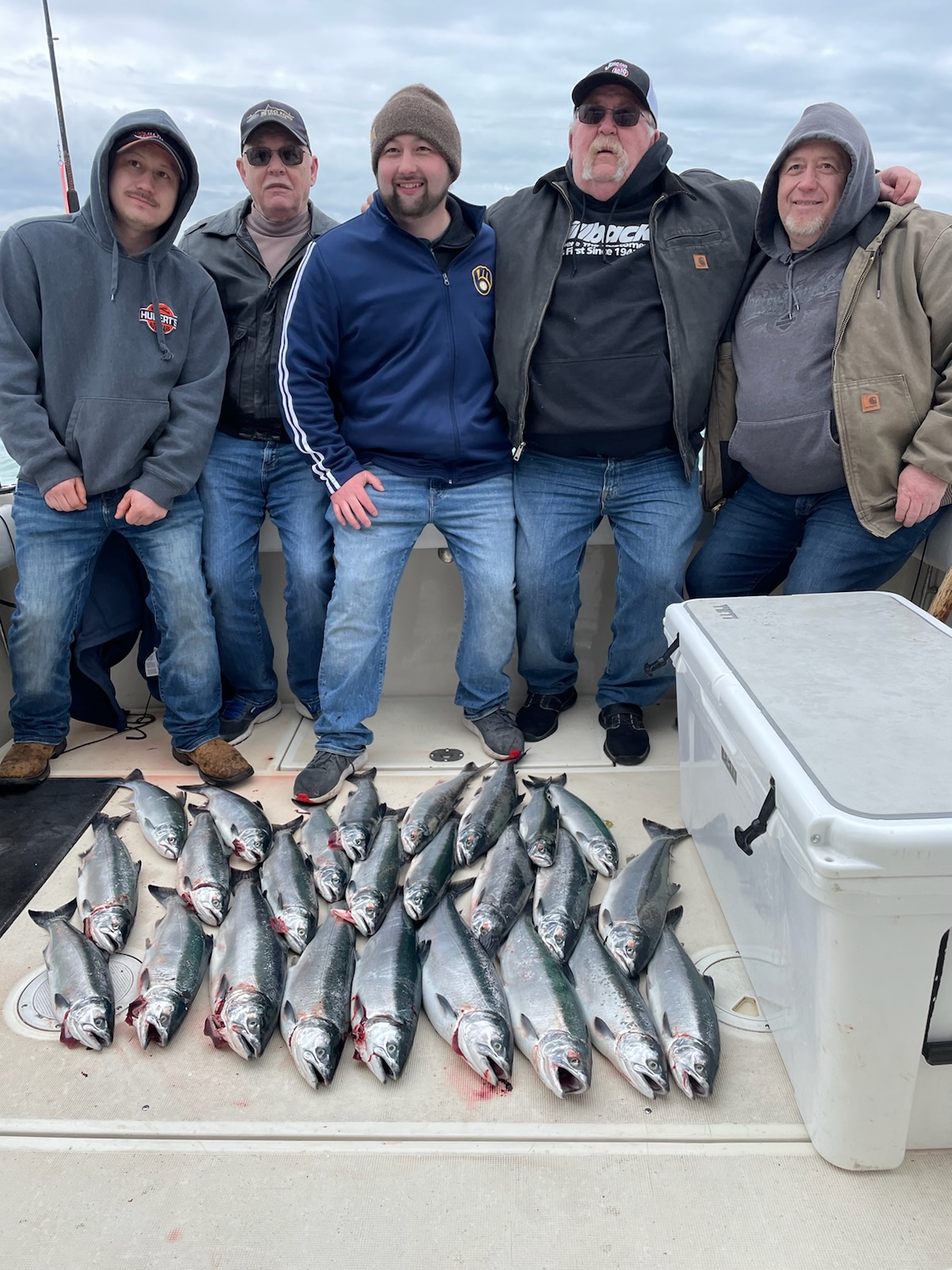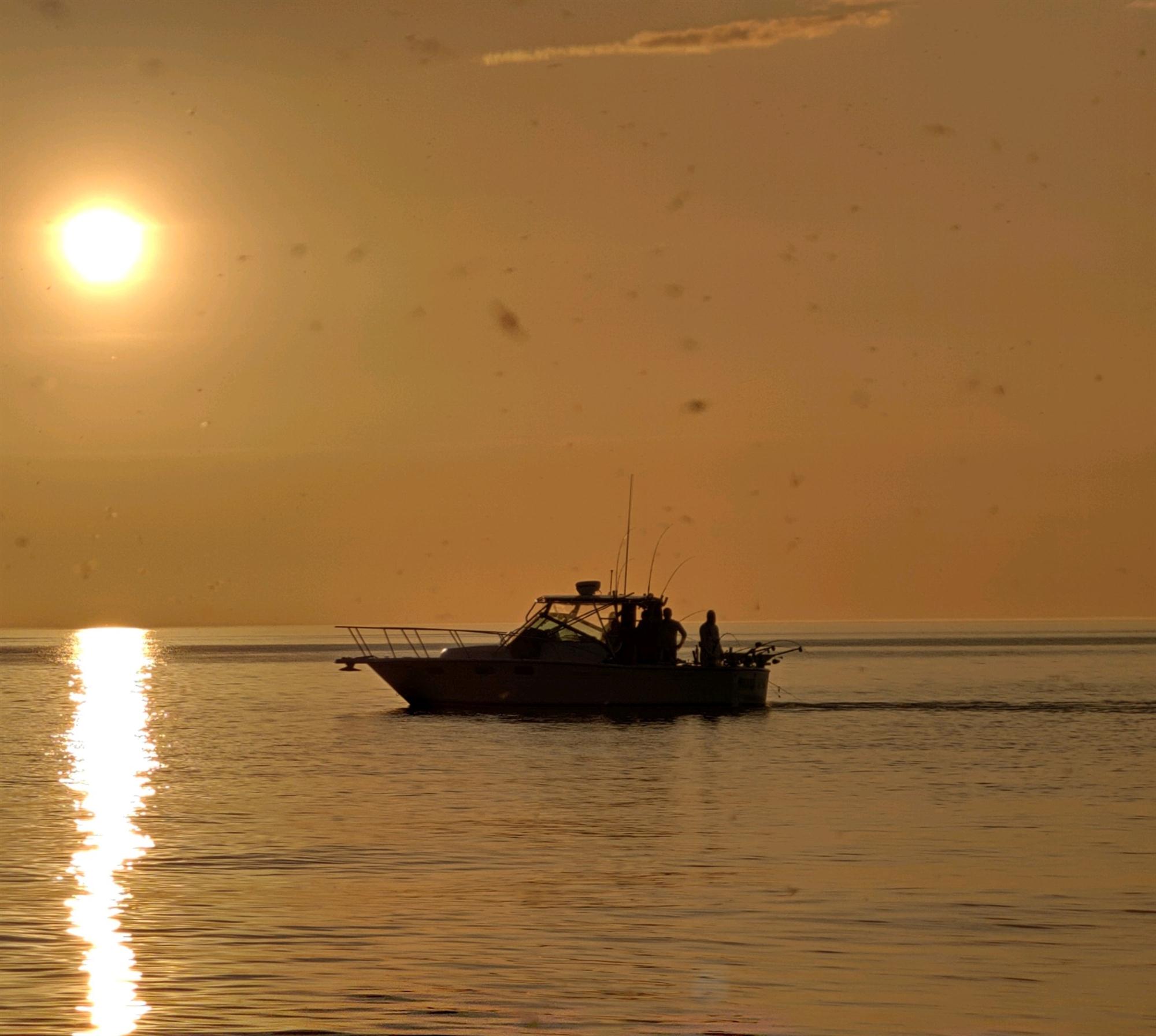 Report for May 4, 2022
April was not a weather friendly month. Below average temperatures and high winds kept us limited at times on the lake. The last couple of weeks in April where solid fishing, with Brown trout making up 90% of the catch. We started to catch some Coho salmon the last week of the month. We fished the Milwaukee harbor, mostly in front of the river. We also had good action outside the Main gap. We fished the Green can and had some good Lake trout action. South of Milwaukee along the shore the Pump house and Grant Park were both good. The key was to find water that was not super clear and not too muddy. We last fished May 1st and the water temperatures seemed to be around 43 degrees average. The alwives started to show up in the harbor late last week and so did a few Coho salmon.
Our spread still remains the same as last report but we have started running 4 and 5 color leads when fishing in 30 plus feet of water. We have also started just recently adding orange dodgers and peanut flies to the mix. We put these on inside dipsies and boards with keel weights. The blue/green/gold peanut caught a few Coho salmon. The last few seasons we have seen huge schools of large Alewives and this year looks to be the same. Their arrival does slow the Brown trout bite but the Coho action picks up.
The Coho salmon bite is next. Kenosha and further south have had great Coho action over the last couple of weeks. We expect the same next week. The Coho we caught last year were big enough to fillet and this spring we have caught two that were just under 5 pounds, which is big for this early in the year. From Early May through mid July Coho salmon are in the mix. But from now through late June they are the top target and lead to a high catch rate and limit catches. There is no better time to book a trip then during this period. Call Silver King Charters at 414-460-1467 to get in on the best time to catch good numbers of salmon. Below are some pictures from the last part of April. Some nice catches of Brown trout, with a few Coho salmon in the mix.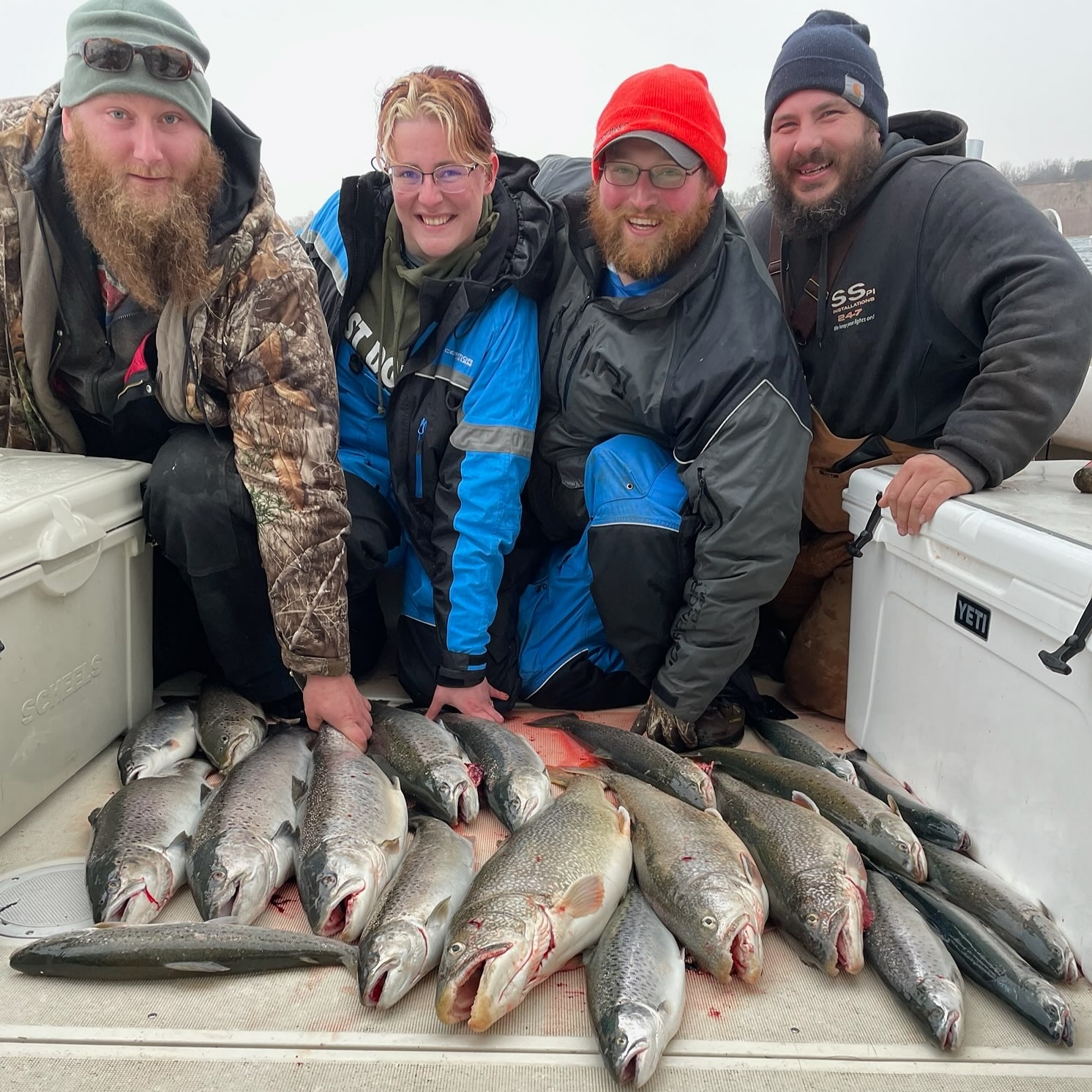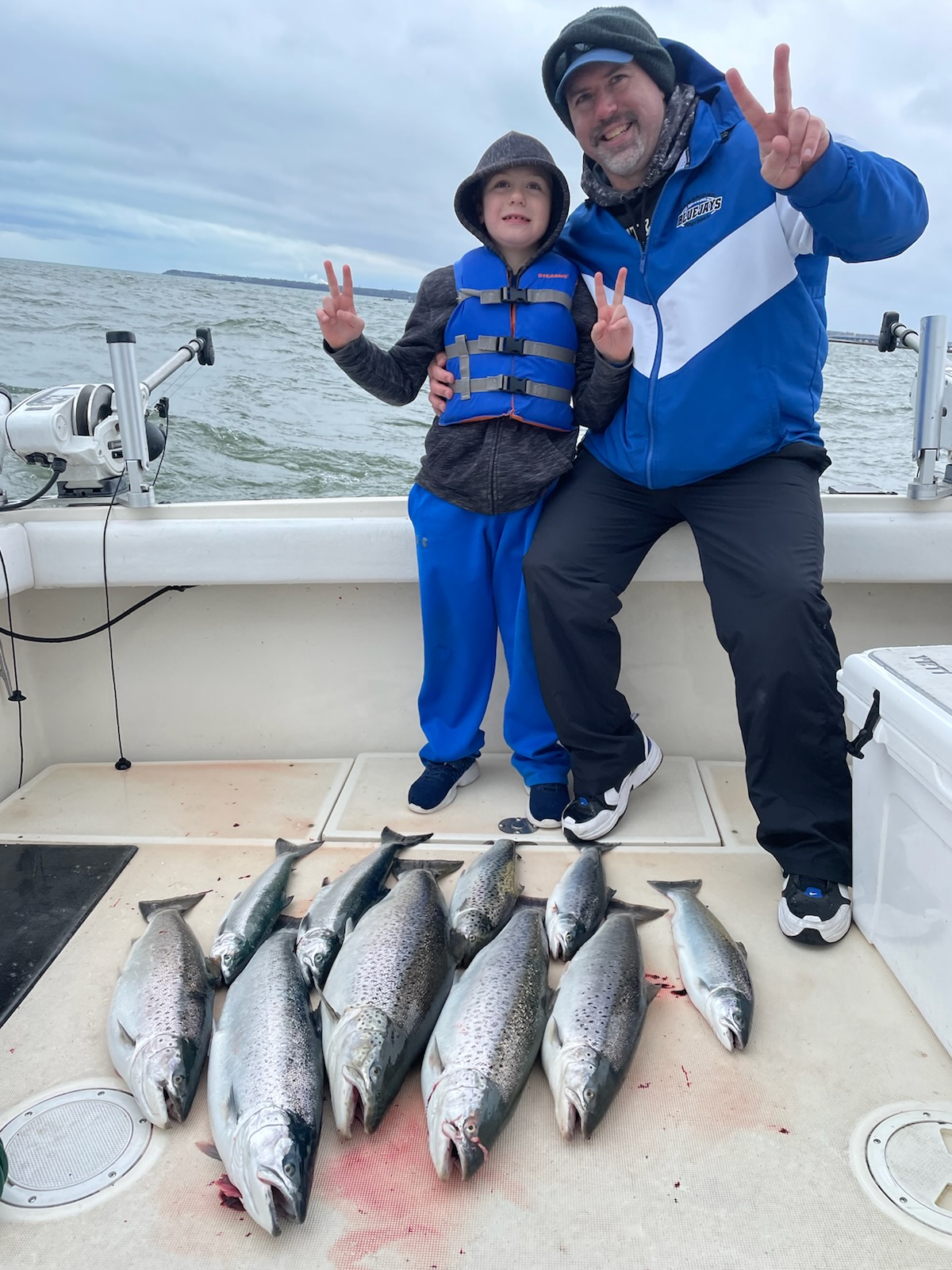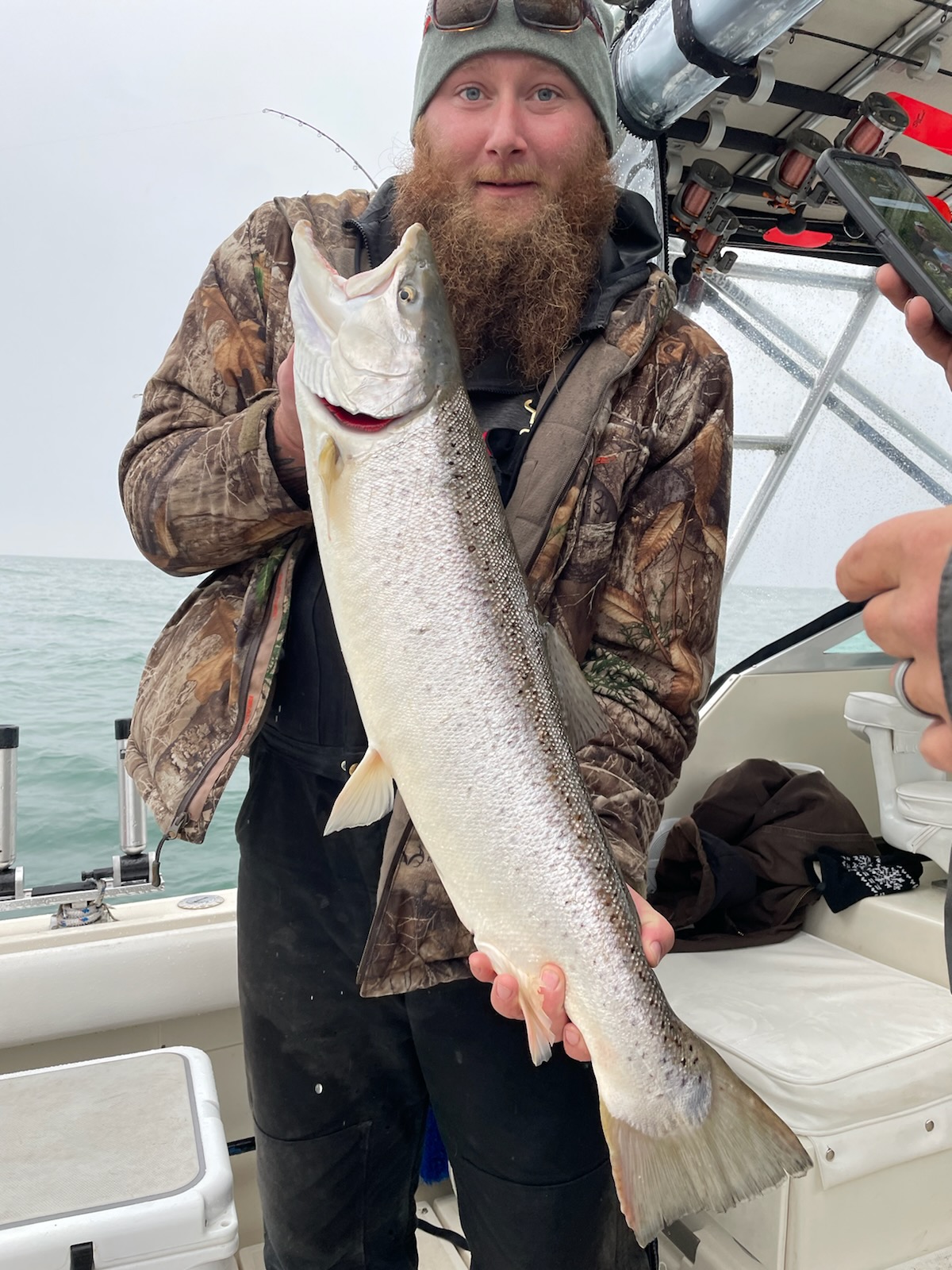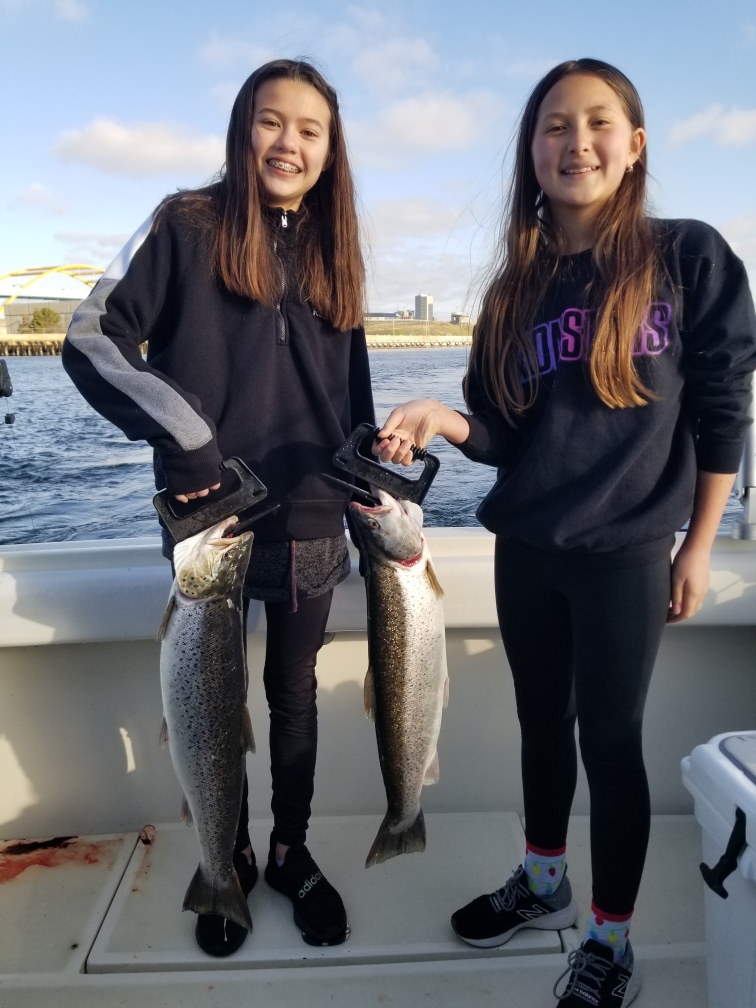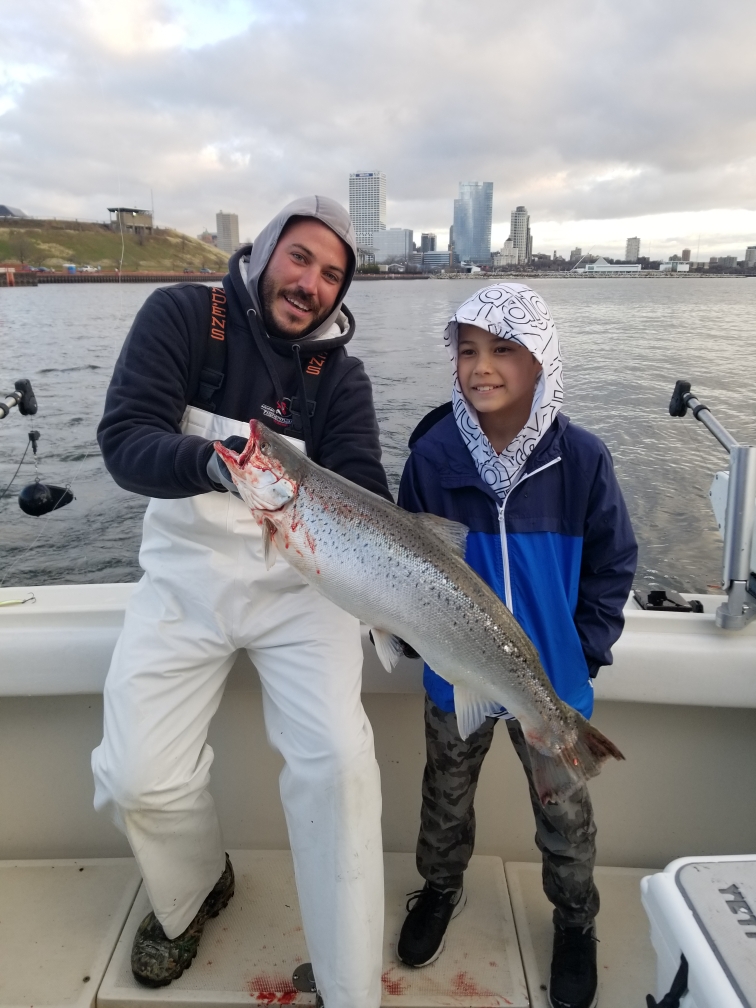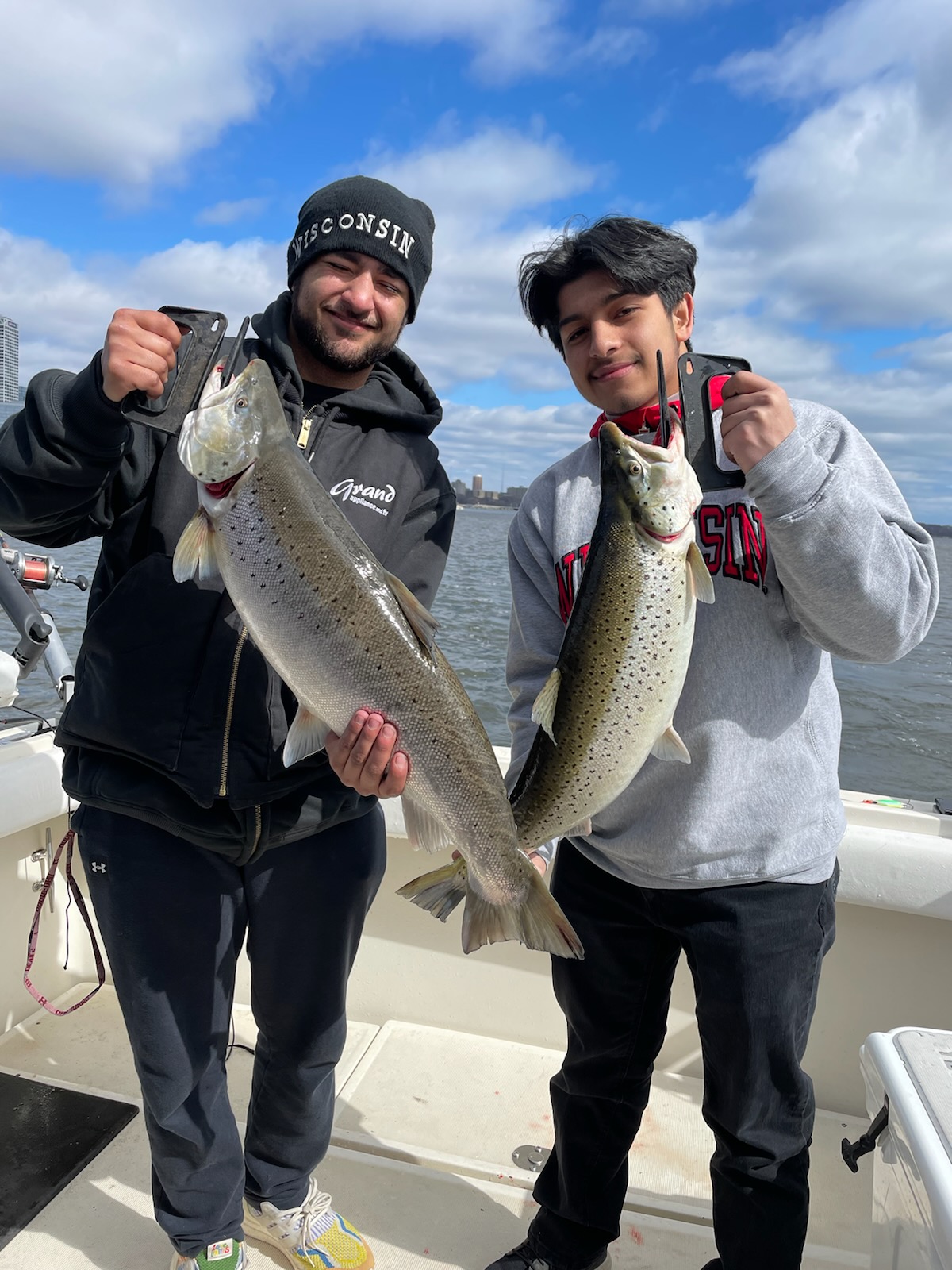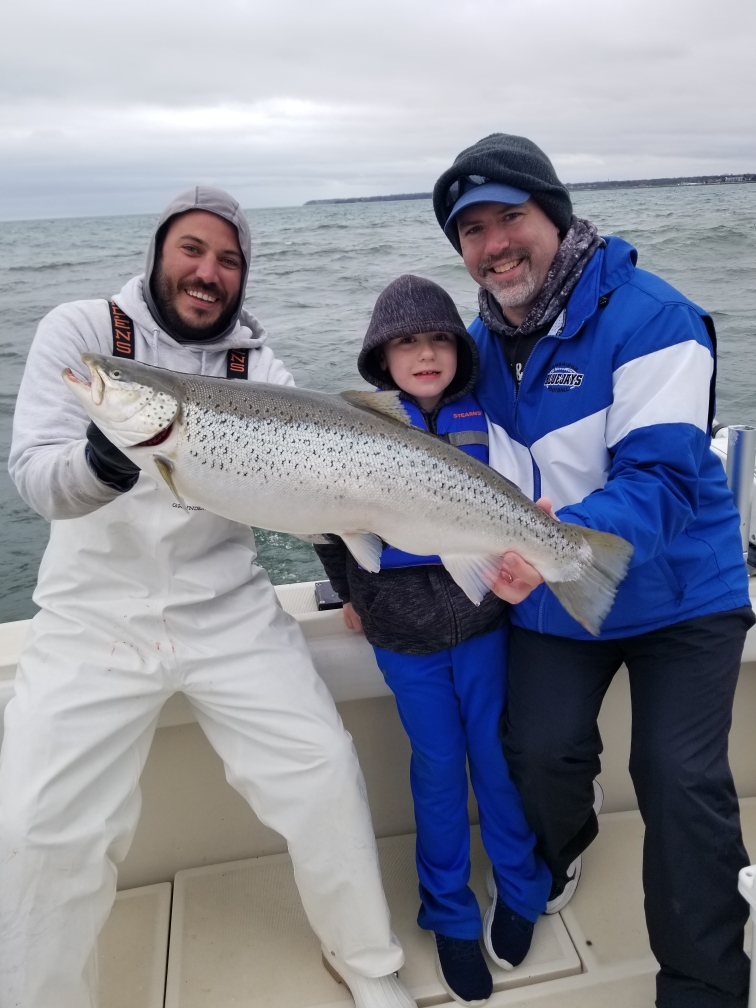 Report for April 18, 2022
This April has been cooler than normal and as I write this it is snowing out. Warmer weather is come this week. This April has been very good for Brown trout. This is still the primary fish we are catching but we are now boating a few Lake trout and Coho salmon. Surface temperatures are slowly starting to climb. We are seeing 42 degrees in the Milwaukee harbor and also south of town by Grant Park We are catching 5 to 20 fish a trip. The Milwaukee harbor around the Main gap and river channel has been best of catching fish. We have also fished Grant park and the bowels. This area has been productive too. We have not seen a lot of bait yet but this will probably change this week.
We are still running all spoons on 1, 2, and 3 color leads, mono dipsies and riggers set 10 feet down ot the bottom. We are in 12 to 30 feet of water, fishing close to shore when we are not in the harbor. The gold hud and UV blue dolphin are the hot spoons. The stingray size has been best. We had a couple of slow trips when the water became gin clear but otherwise the bite has been steady. We expect the Brown trout action to stay solid through April, with a few more Lake trout in the mix. We are set to fish Coho salmon at a moments notice and they are catching them south of us, so hopefully by the end of the month we will see a steady catch of salmon.
Right now is the best time to catch Brown trout, so give Silver King Charters a call at 414-460-1467 to get in the action. This is one of the few times in the season we will target Brown trout. The pictures below are from the last few trips.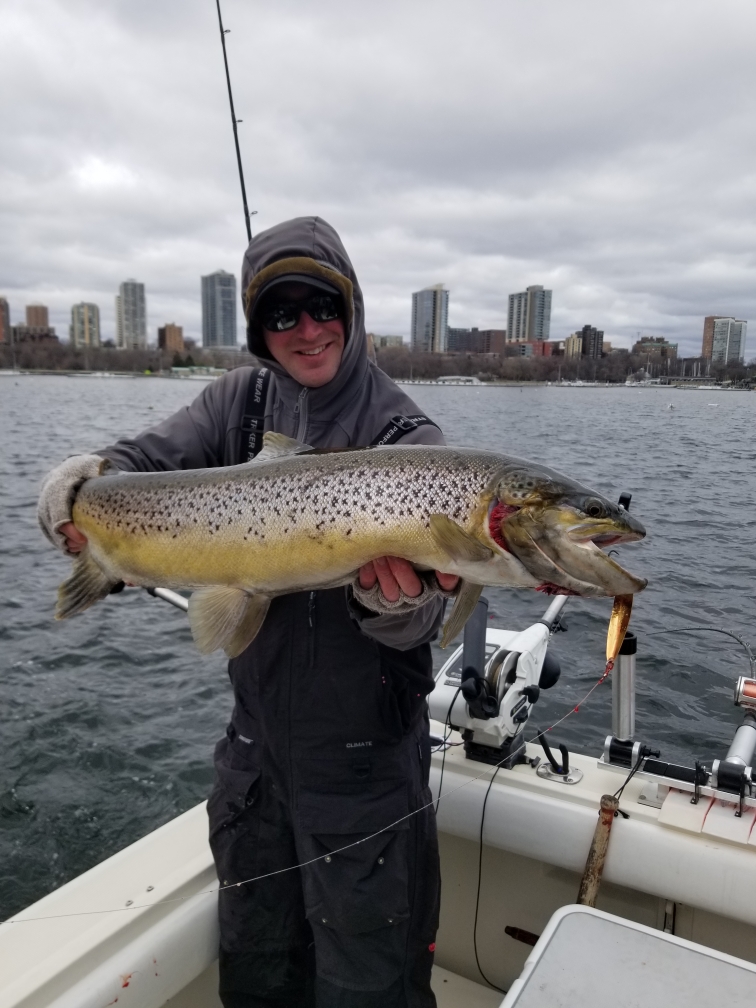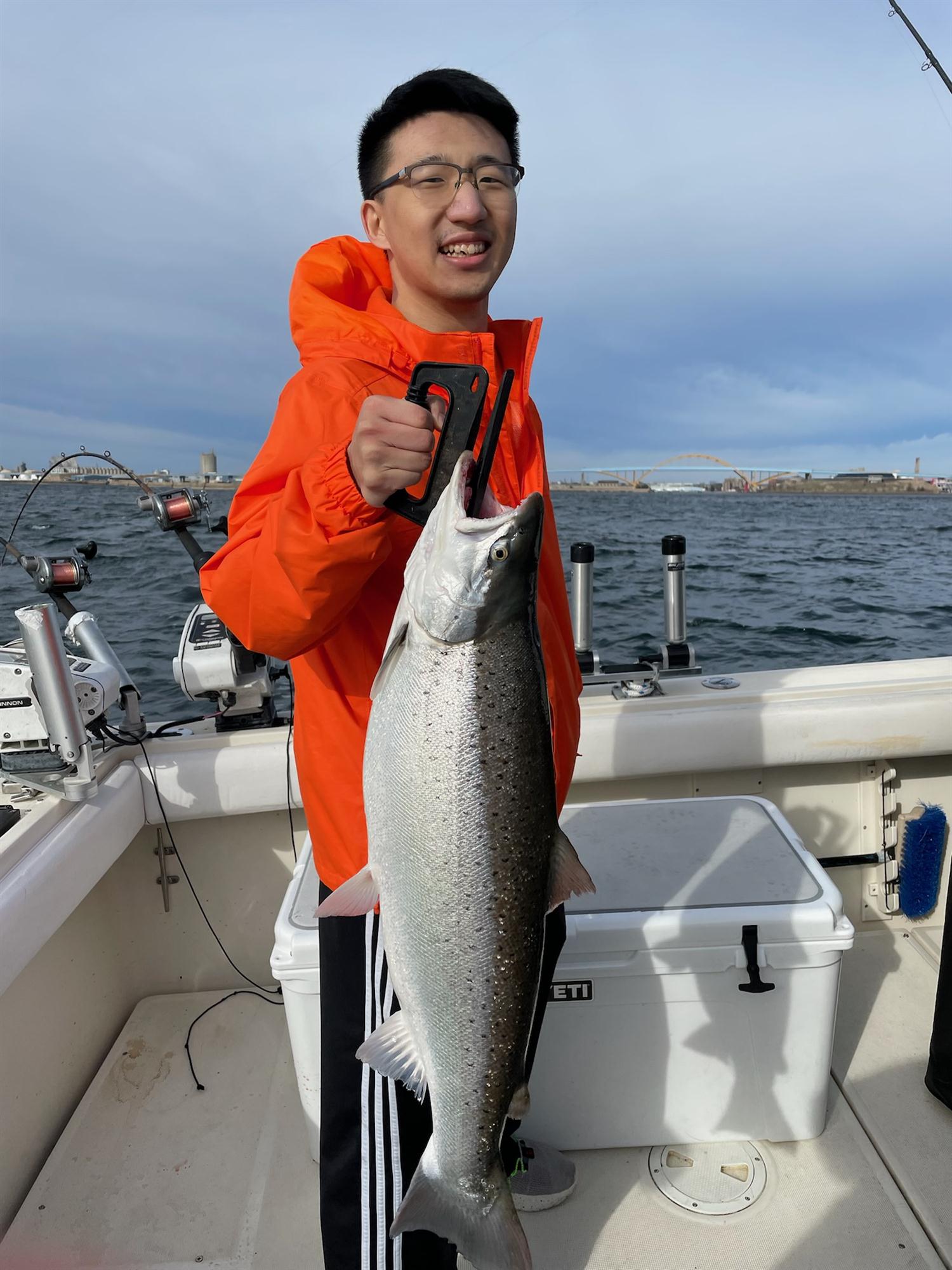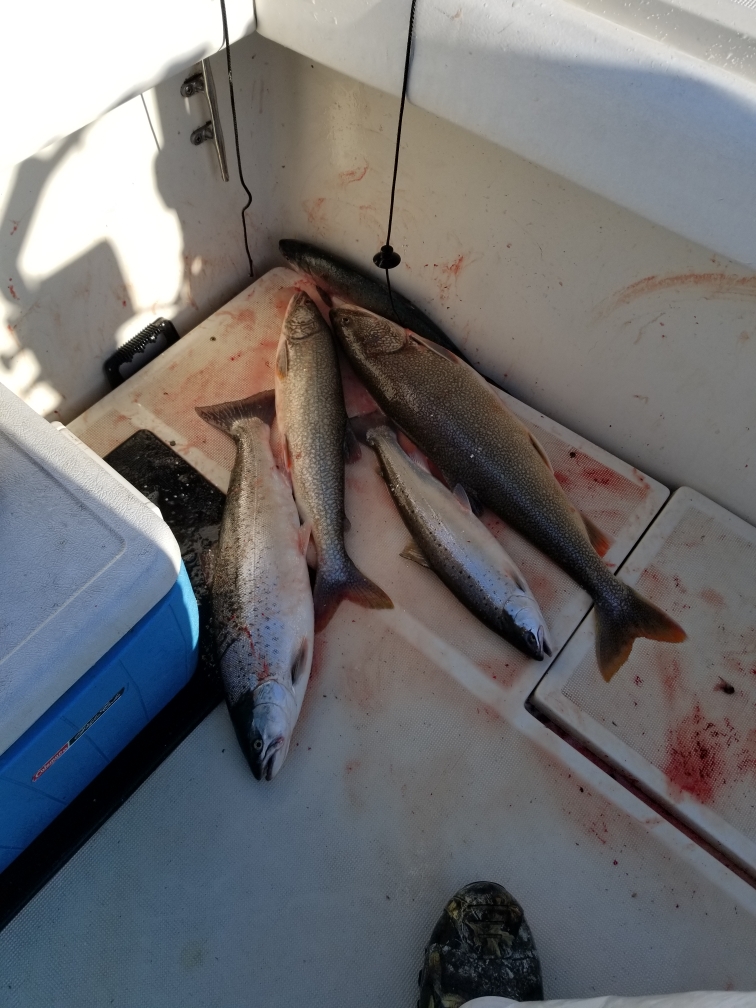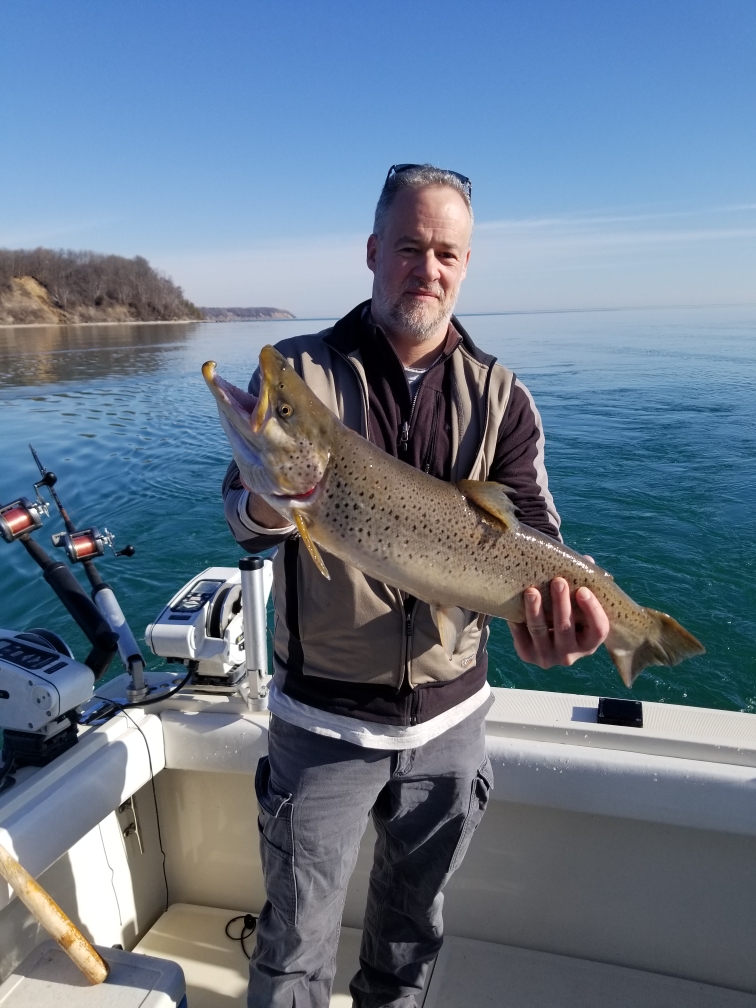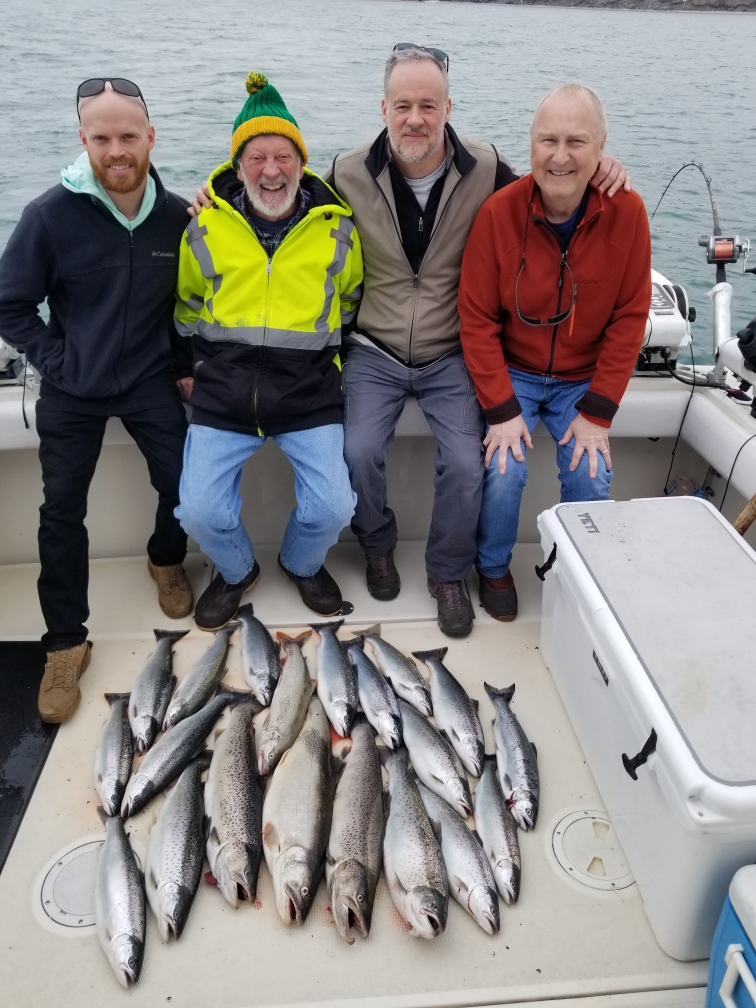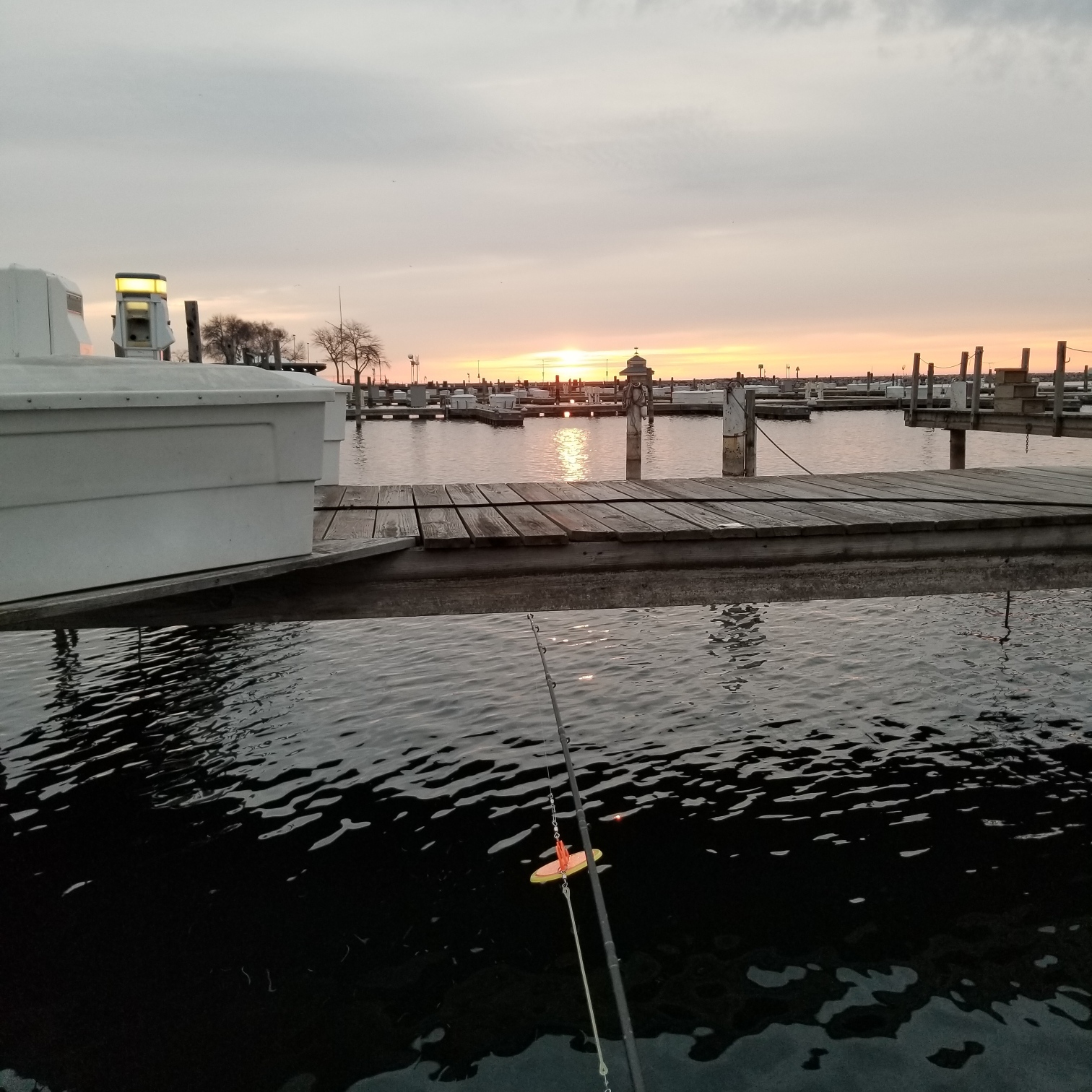 Report for April 17, 2022
Report for April 6, 2022
We put our boat in on March 25th and for the next 5 days it was below freezing but we finally got out to fish on April 1st. The water temperature on the surface is 38.5 degrees at the warmest in the Milwaukee harbor and just outside the gaps it is 36 degrees. We have fished from the south gap to the north gap and everywhere in between. The most productive area is in front of the Summerfest grounds to just south of the water treatment plant. Just in front of the river has been good too. This is where we are finding he most bait and slightly warmer water. The smelt have not shown up yet so it is mostly shiners and gobies in the fishes bellies. This should change in the next few days. We have caught all Brown trout so far. Several have been in the 10 to 15 pound class. The bite has been steady, with the exception of when it snowed hard. The trout did not want to bite then.
We are using an all spoon spread. They are liking larger spoons over the smaller ones. The best are gold and copper spoons. The gold NBK green Stinger in the stingray size has been very good on our deep riggers just off the bottom and on our three color leadcores. The gold hud in the same size on mono dipsies and two color leadcores have been just as good. We are also using mass confusion Stinger stingray size on one color and our up high riggers that are taking fish. The other good spoon is the UV blue dolphin silver blade. Been very good on a mono dipsy. We are seeing 15 to 20 bites a trip but a lot of quick hits right now. The action should become even better as the water warms and the bait starts to move in. There should also be some Lake and Rainbow trout in he mix. The Coho salmon bite is firing up in the at the southern end of Lake Michigan and you never know when it could happen here. Last year at this time Coho fishing was outstanding in Kenosha and Racine. We moved the boat to Racine on April 15th and the action was great.
Give Silver King Charters a call at 414-460-1467. We have openings this weekend and the Brown trout action is just getting started. It has been fun so far. The pictures are from the first few trips of the year. The bite is only going to get better.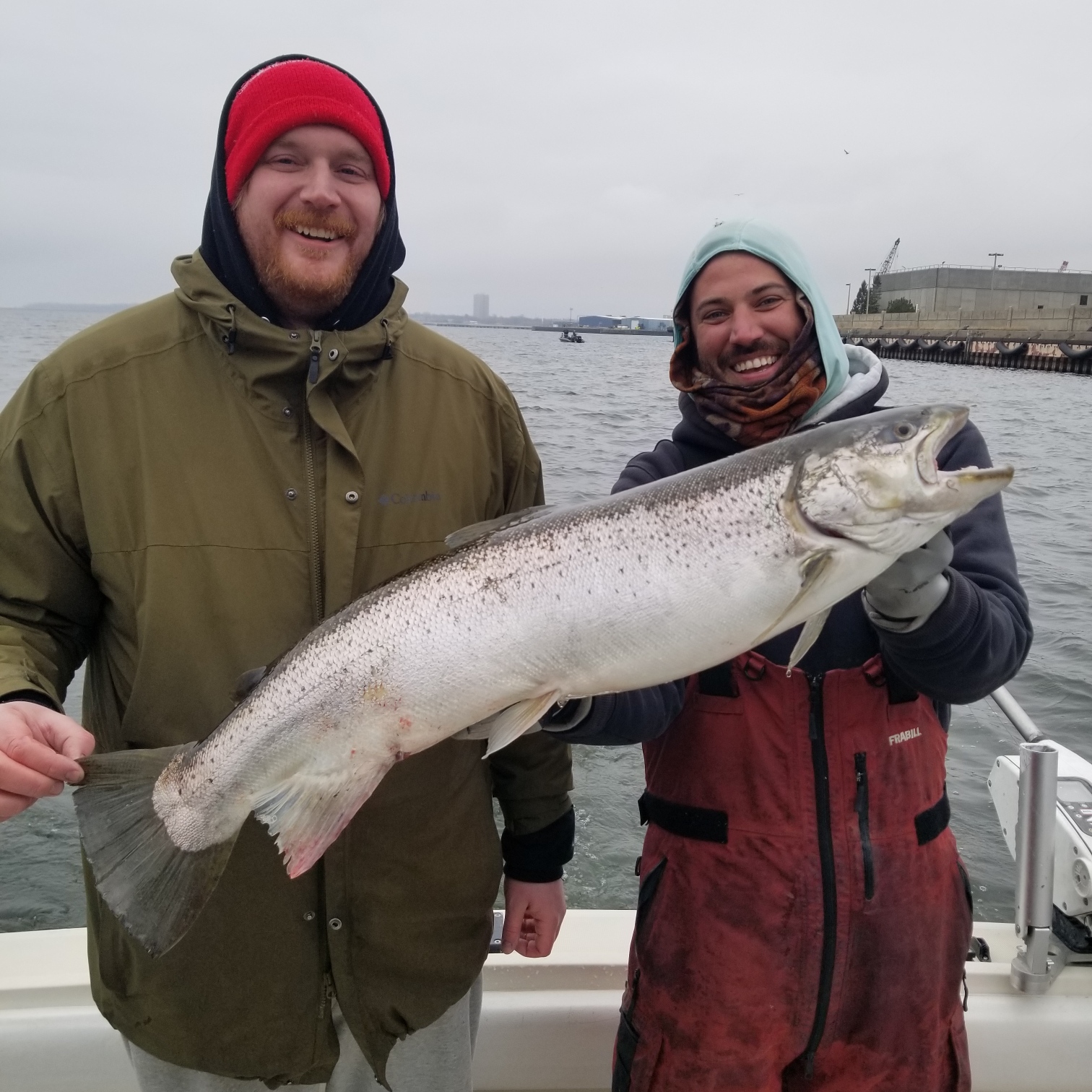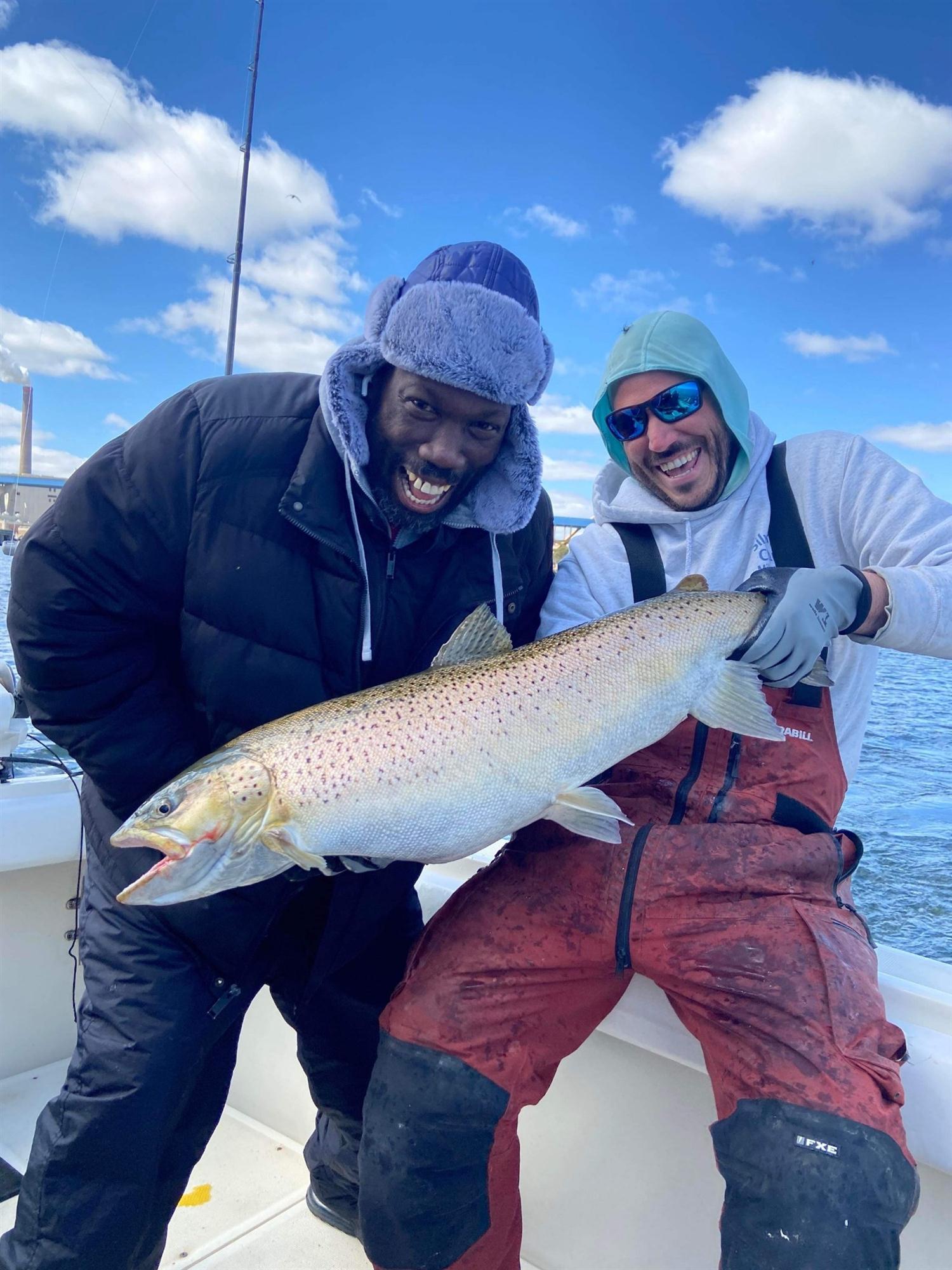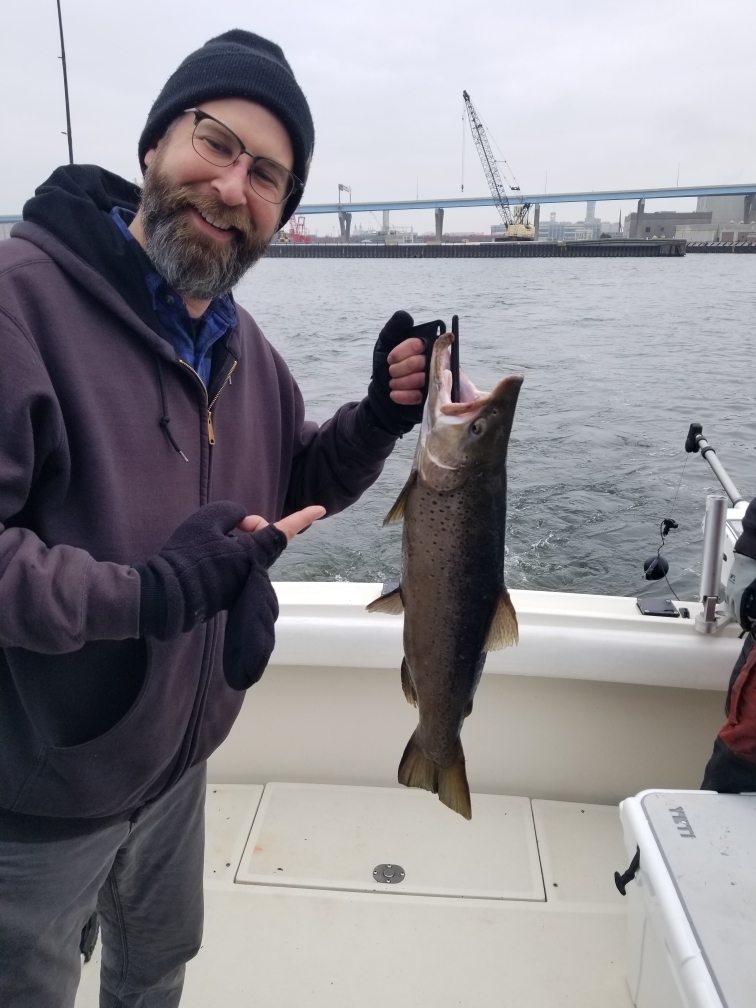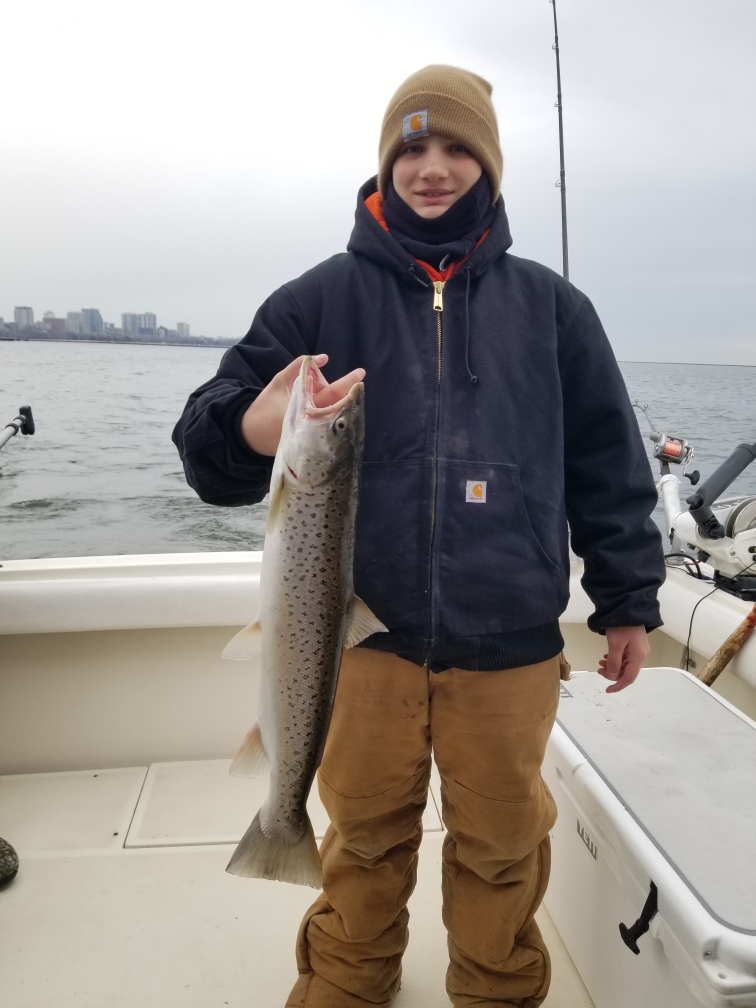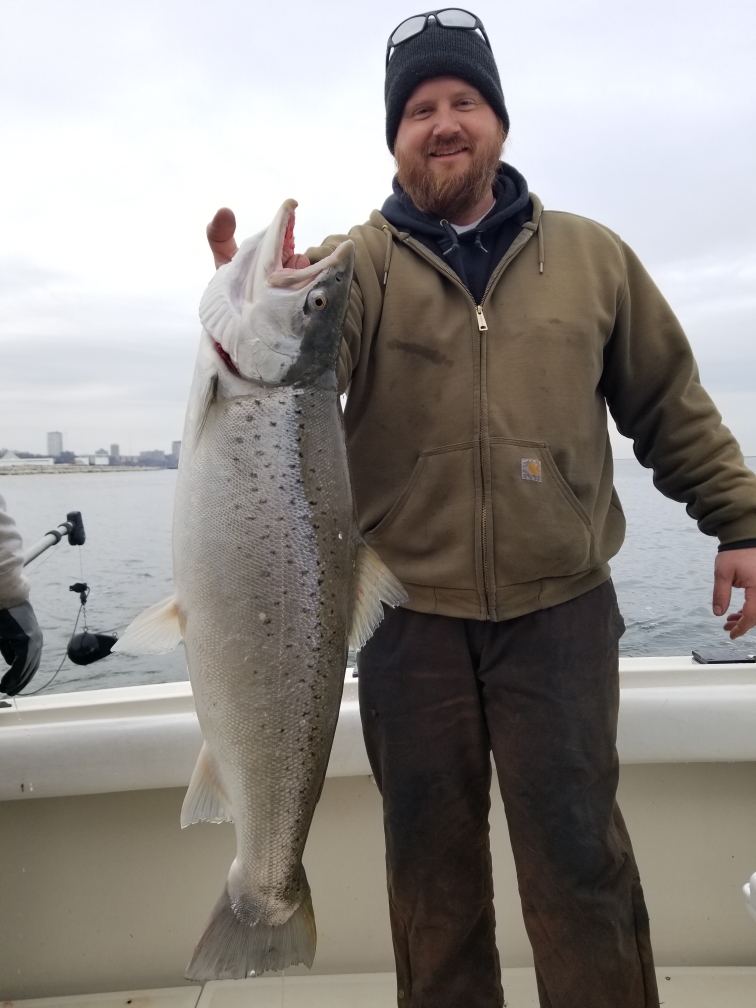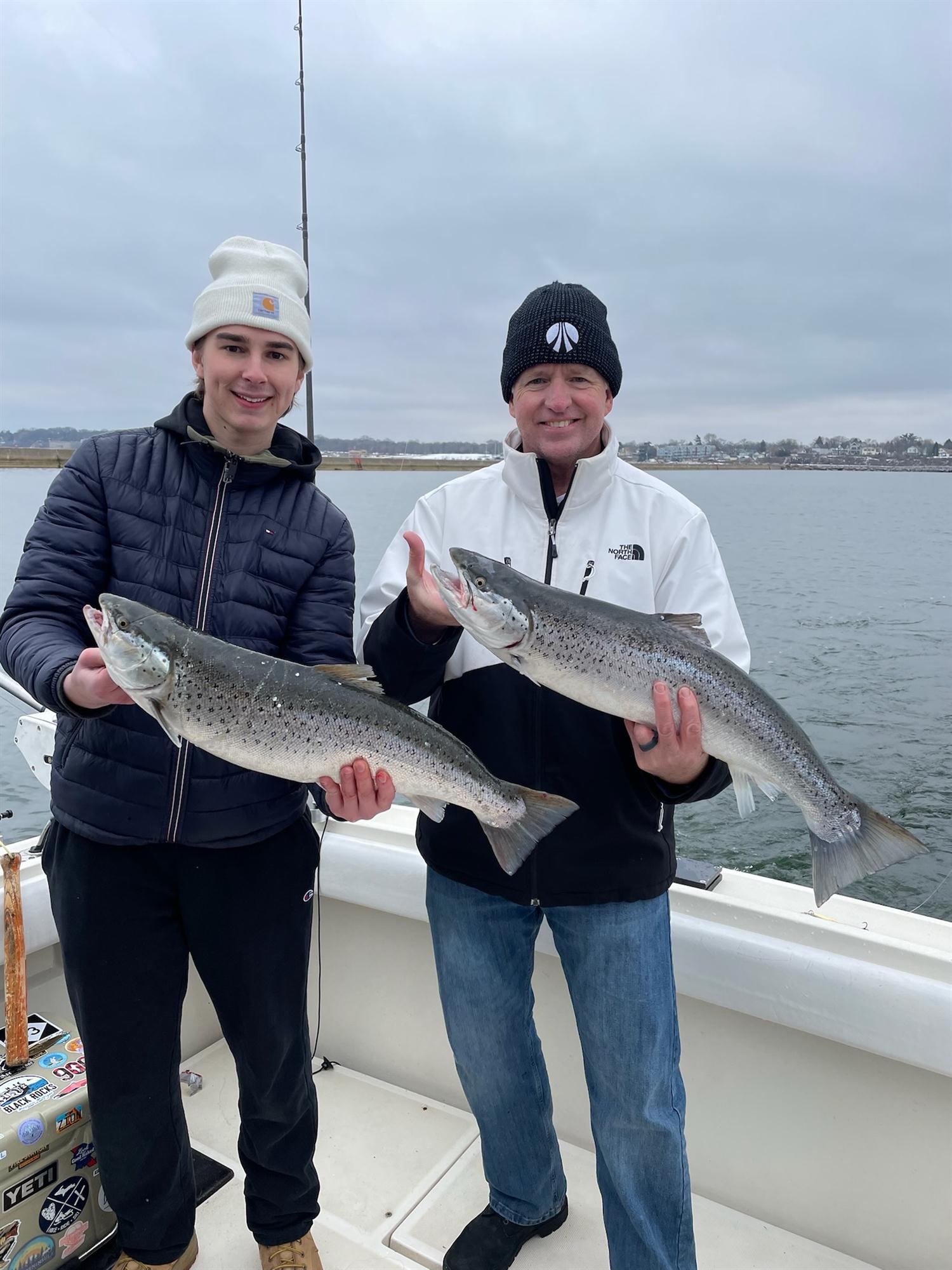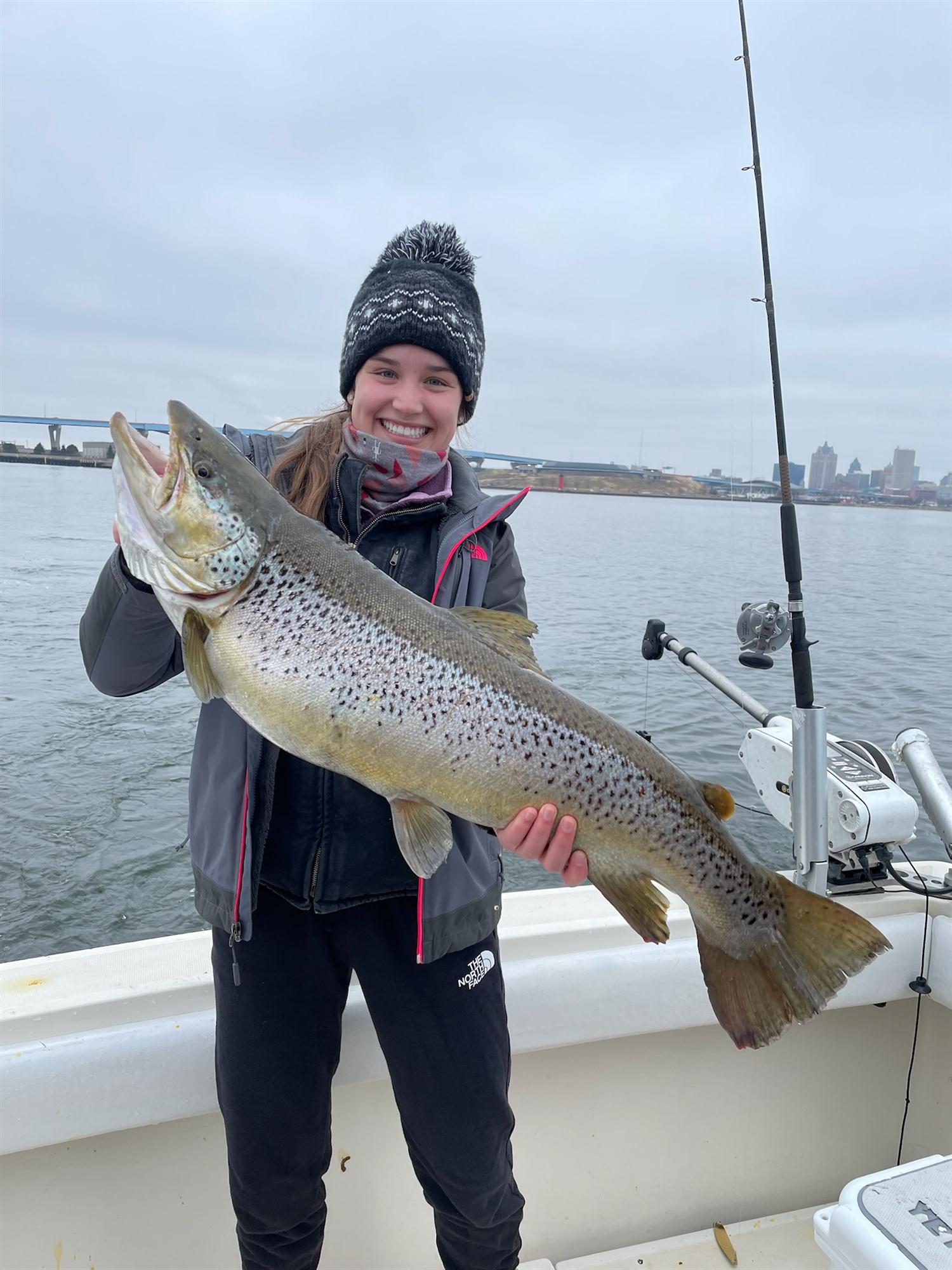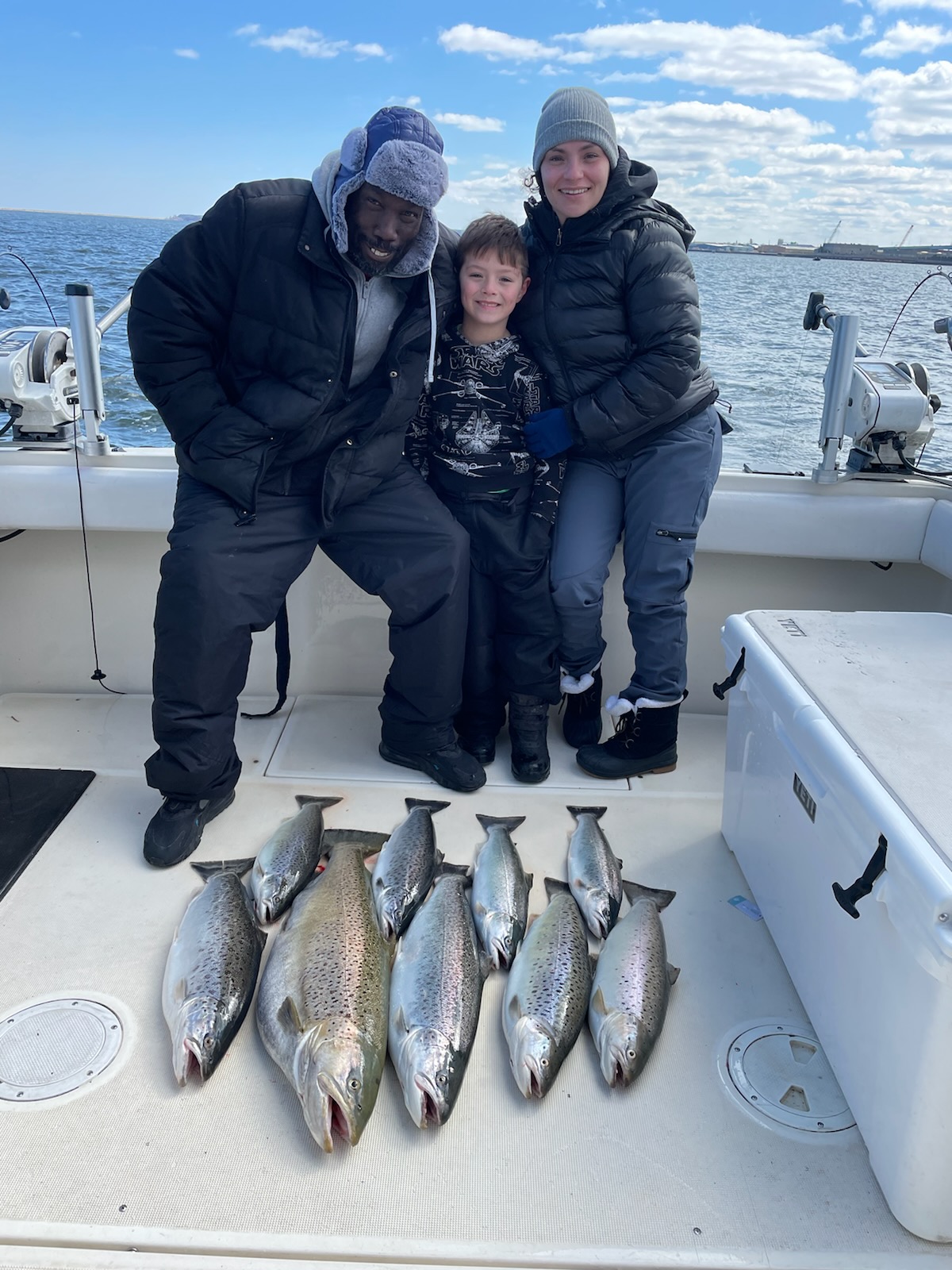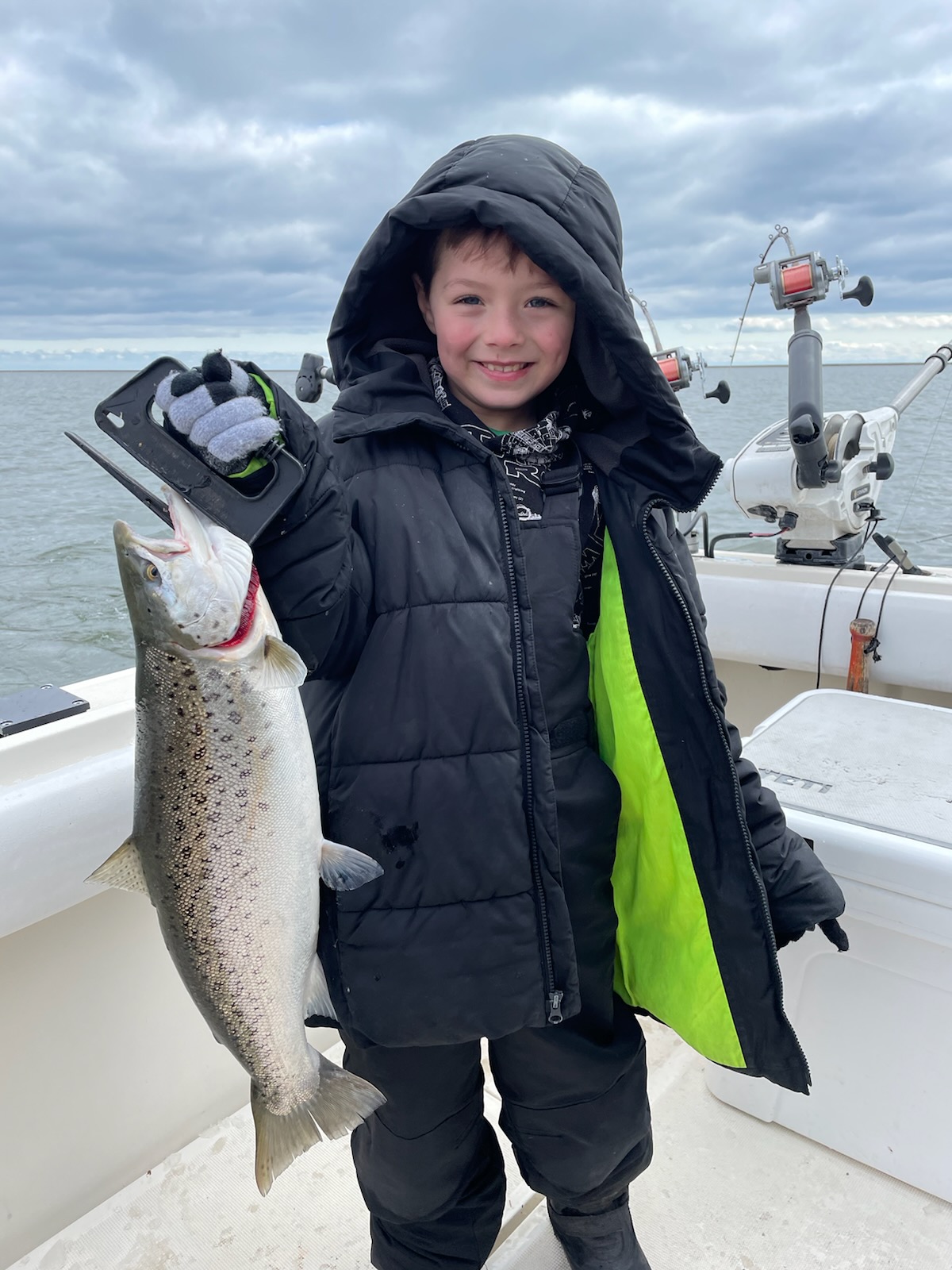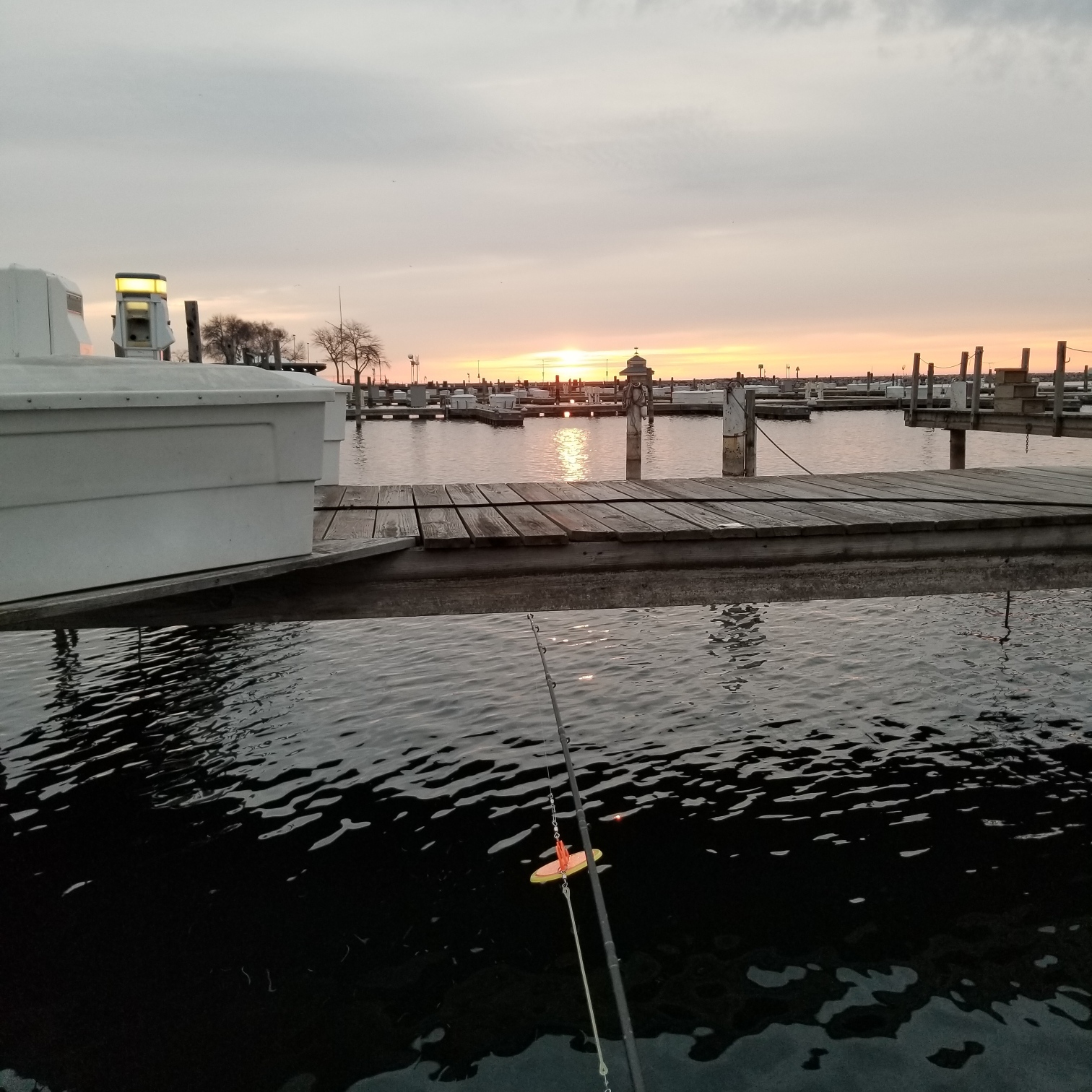 Report for March 15, 2022
We are 12 days away from starting our 2022 Lake Michigan charter fishing season. Late March and early April is our best time of the season to catch Brown trout. This is the time of year where are top target is Brown trout. We like to run all spoons at this time of the year. Many people like to run stick baits or body baits and troll slow in early spring. Sometimes this is the best method. We like to run scorpion and stinger size Stinger spoons and we like to troll fast. Our ground speed or GPS speed could be up to 3 mph. This allows us to cover more water on a trip and find more active fish. We have found that active fish are not so picking if you get the bait in front of them. Trolling in the Milwaukee harbor it is key to find active fish and they could be anywhere from the North gap, south gap, river mouth and many places in between. To us the probe is useless at this time of the year and if we are not running at least 2.5 mph on the GPS we are too slow.
Spoon size and color are more important. Copper and gold spoons, with orange, yellow and green colors on them work best. The Gold Hud, Gold NBK green, UV Blue Dolphin and Mass confusion Stinger spoons are all in the spread. We also like the UV watermelon spoon in scorpion and stinger size. Leadcore is key in the one, two, three and four colors. Mono dipsies set at 30 degrees and two riggers near the bottom. This spread has produced solid catches over the last decade. Water clarity is the only thing that really slows the bite, if we have too much rain or big northeast winds. This bite really stays good until the alwives come to shore around mid April.
We start fishing the last weekend of March and our first trips of the season have been epic. Give Silver King Charters a call at 414-460-1467 to start catching Brown trout in early spring. The pictures below show some catches during the first two weeks of the season over the last several years. The one with me in hte back show the break wall covered in ice. That will not be the case this year.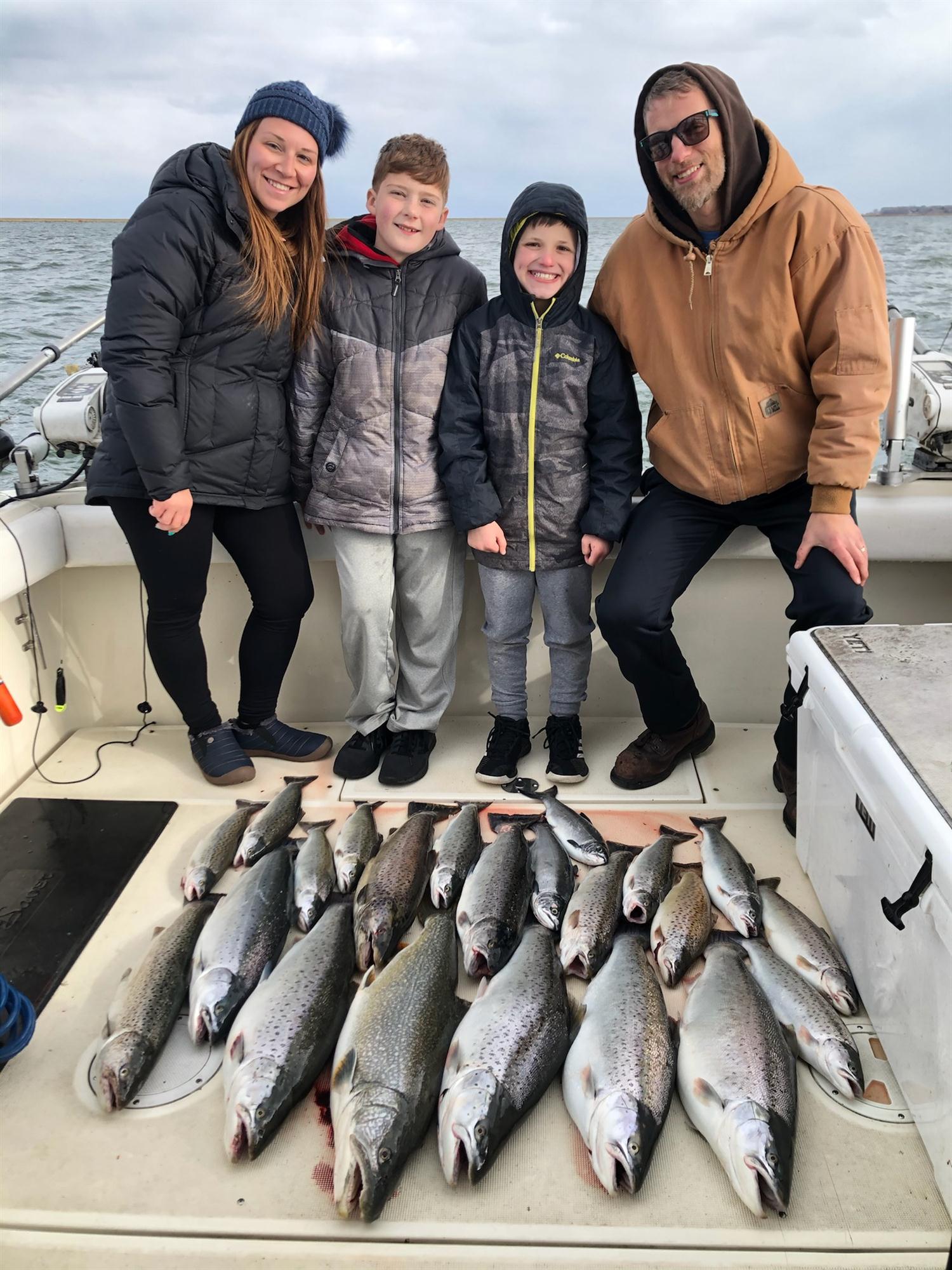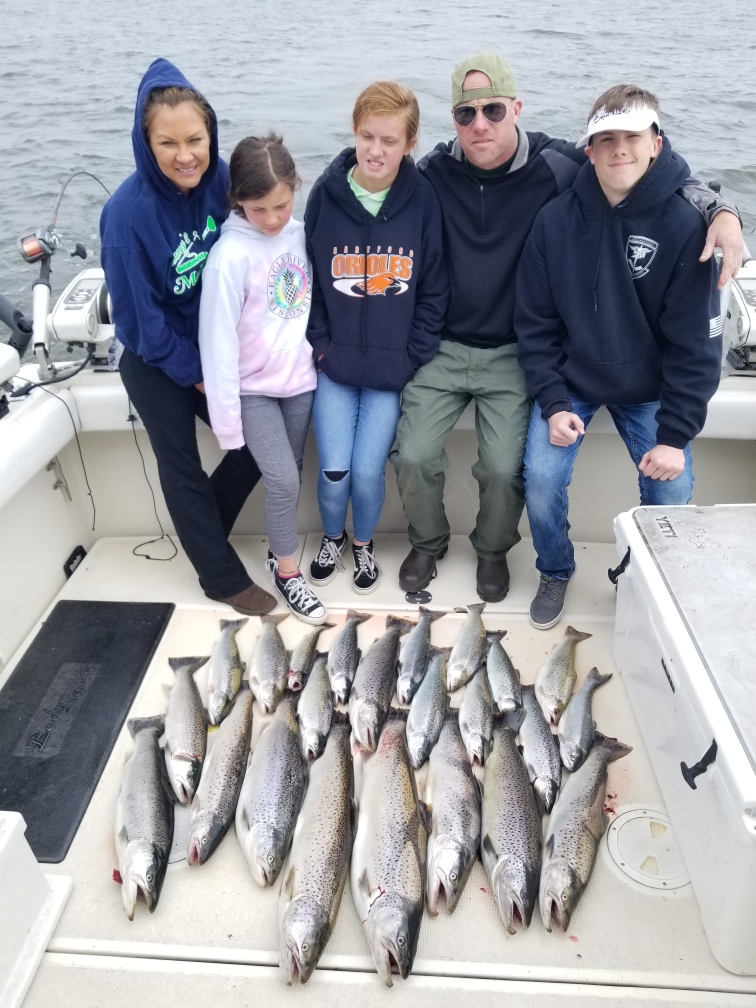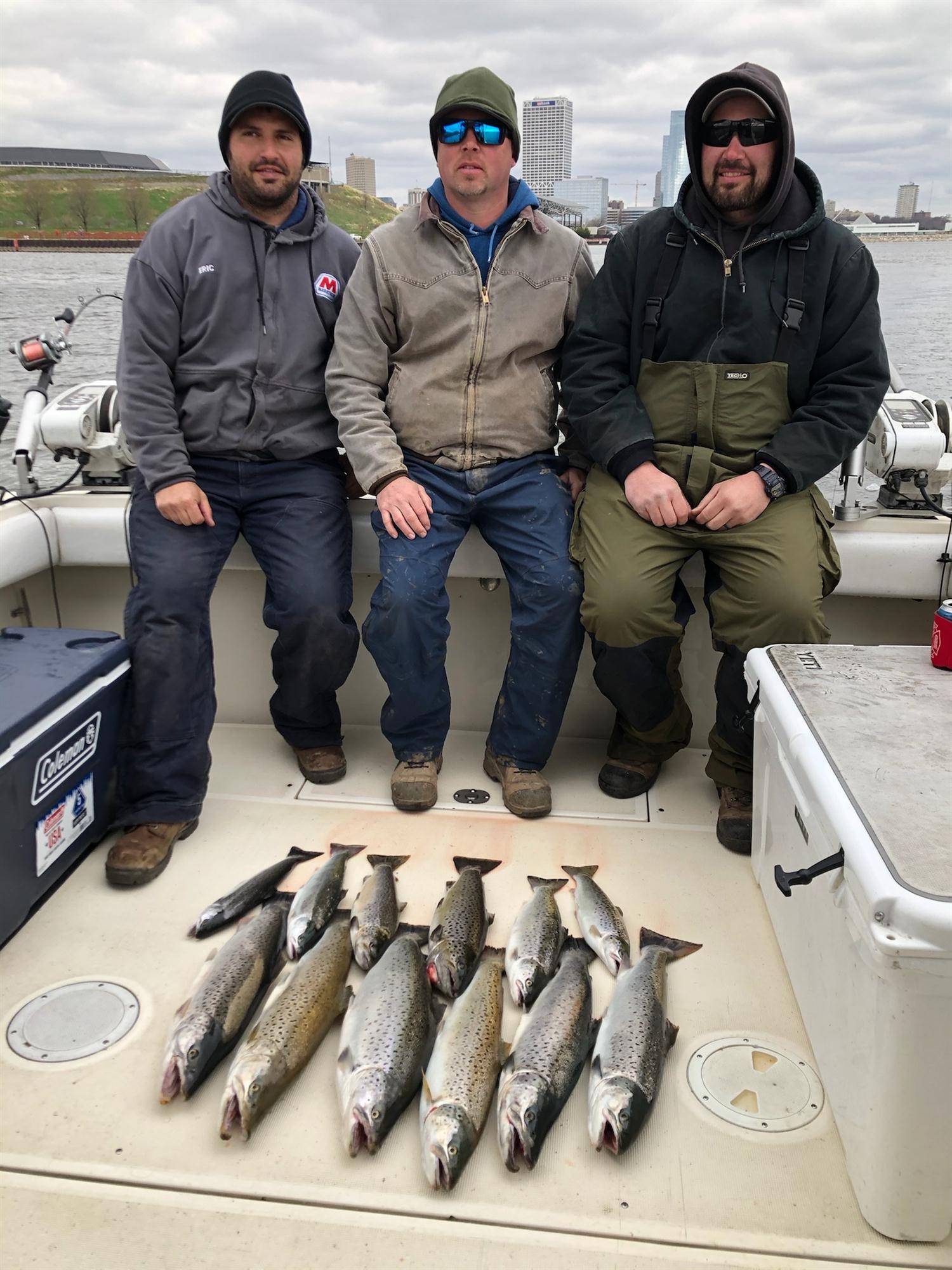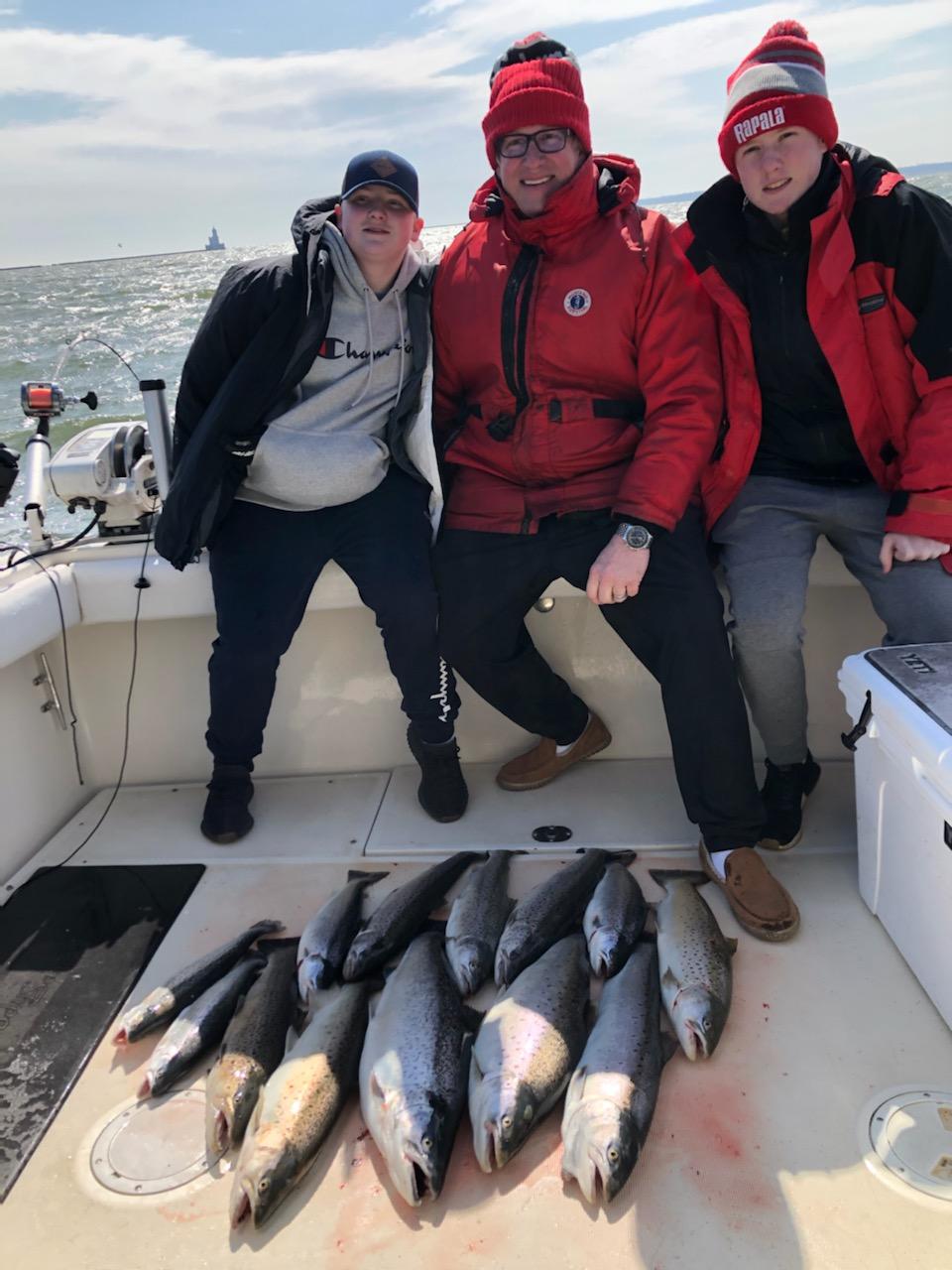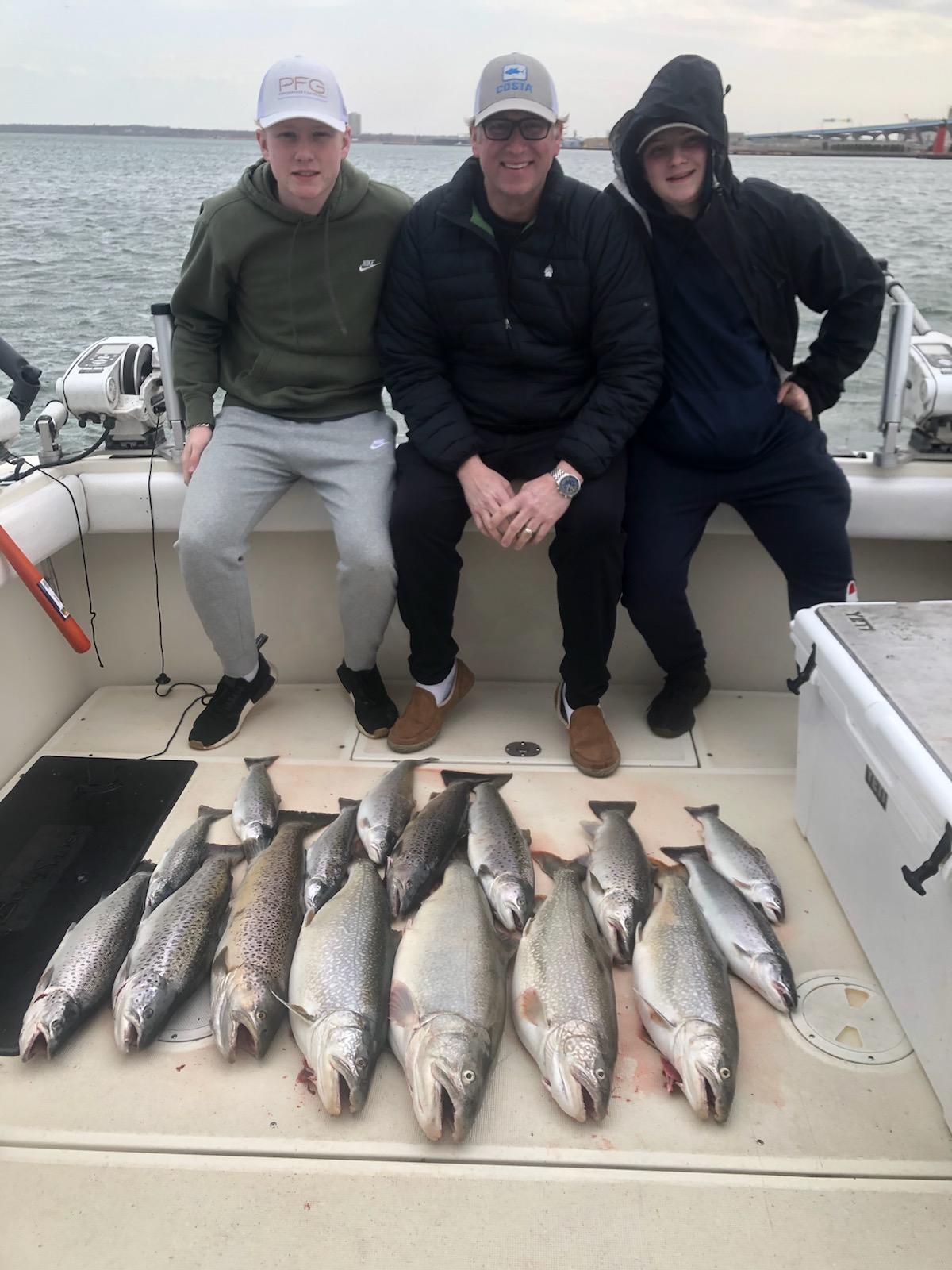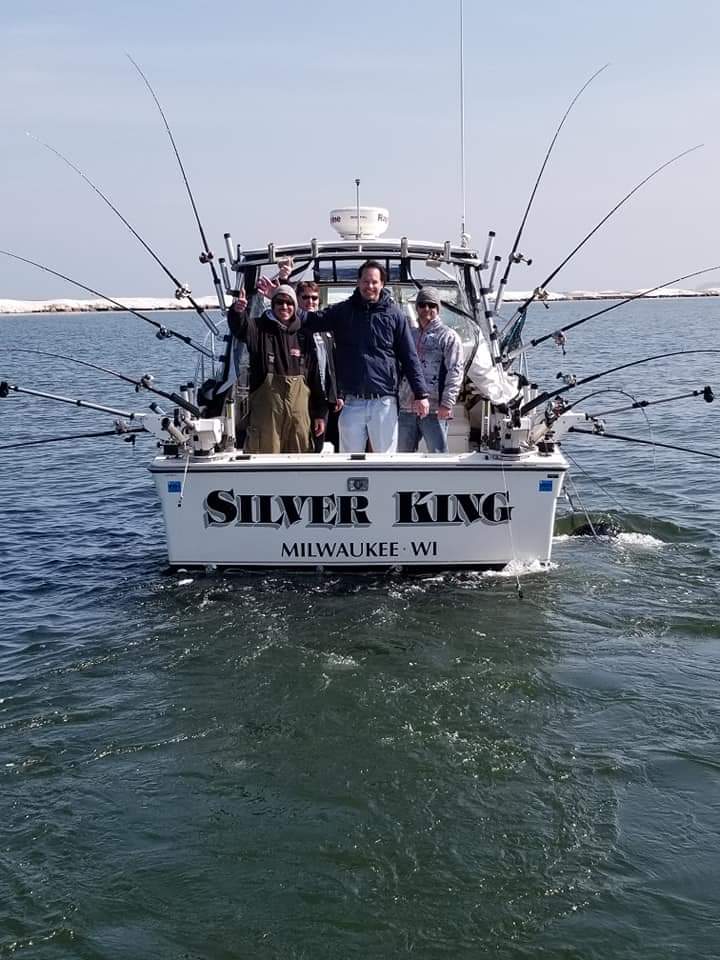 Report for March 7, 2022
Report for March 6, 2022
Report for March 6, 2022
Report for March 4, 2022
Report for February 15, 2022
We are hoping to have the boat in the water around the end of March and the Brown trout fishing during the first few weeks of the season is the best Brown trout fishing for the entire season. We will be Milwaukee charter fishing during the first part of spring before heading to Racine for several weeks to get in on some early Coho salmon fishing. In 2021 we had a good year catching salmon and we expect the same in 2022. This winter never had enough long cold stretches to freeze up much of Lake Michigan, especially the southern end of the lake. This should help the solid hatch of bait fish we had last year to survive.
For those interested in early spring Brown trout fishing we will be trolling in and around the expansive Milwaukee harbor. This gives us some shelter on windy days. We are fishing in 35 feet of water or less and most of the bites come in the top 15 feet of water. The size ranges from 2 to 15 pounds but we have boated some Brown trout in the 20 pound size and a few years back a customer caught a 33 pound Brow trout. Attached is the current ice conditions on Lake Michigan and we believe that the harbor and marina will be clear of ice by April 1st. I also have some pictures of what my firstmates do in the winter. They run ice fishing trips for trout in the harbors of Lake Michigan. I also have an early April trip picture. Call Silver King Charters at 414-460-1467 to have Milwaukee charter fishing trip as soon as the ice is out.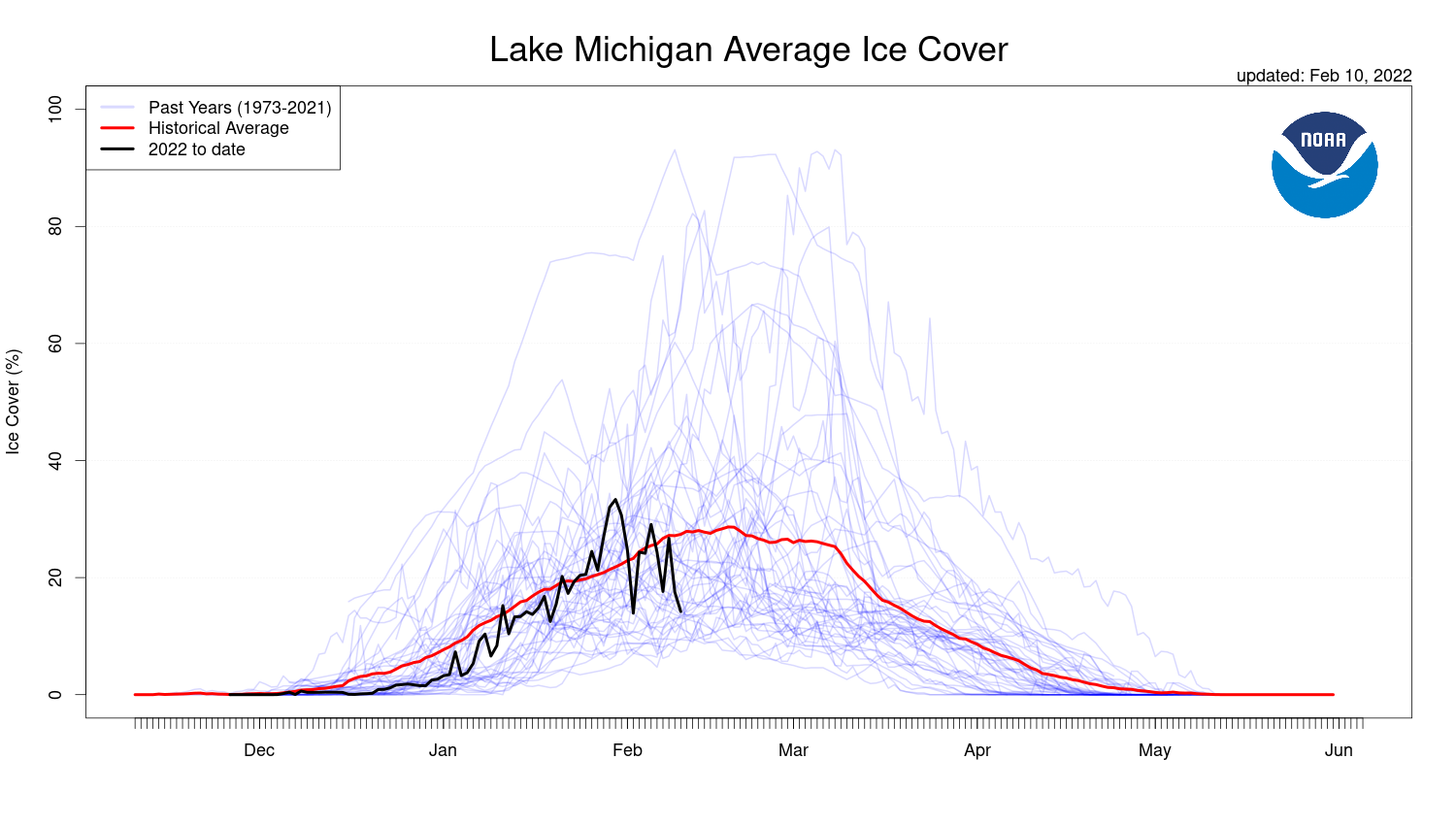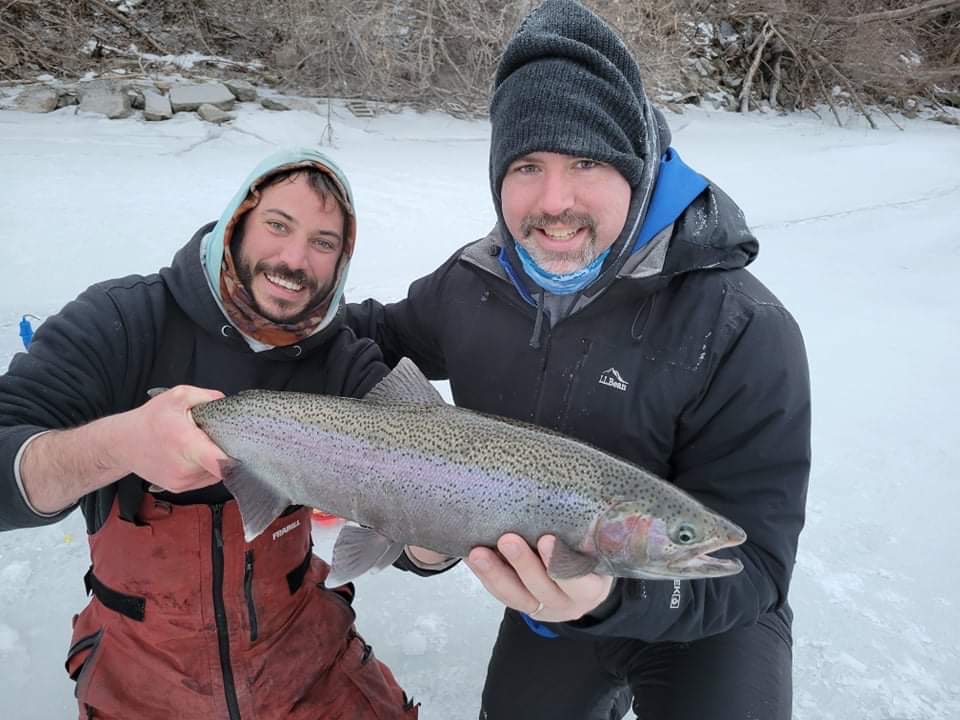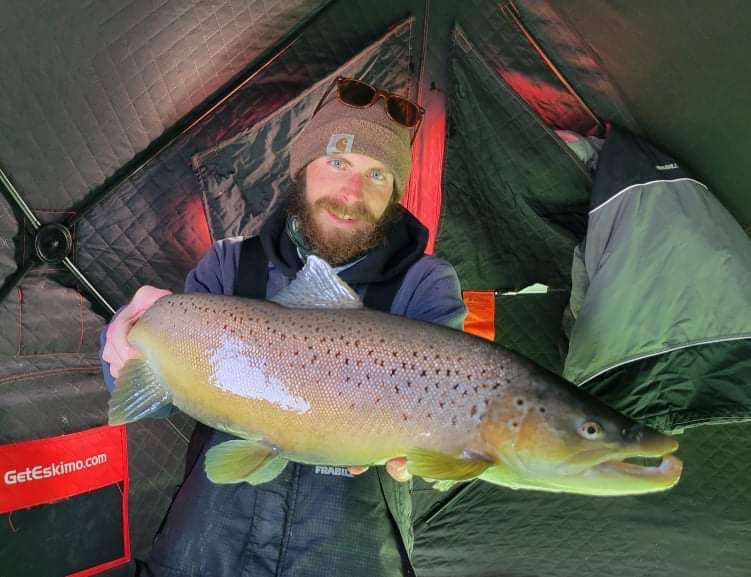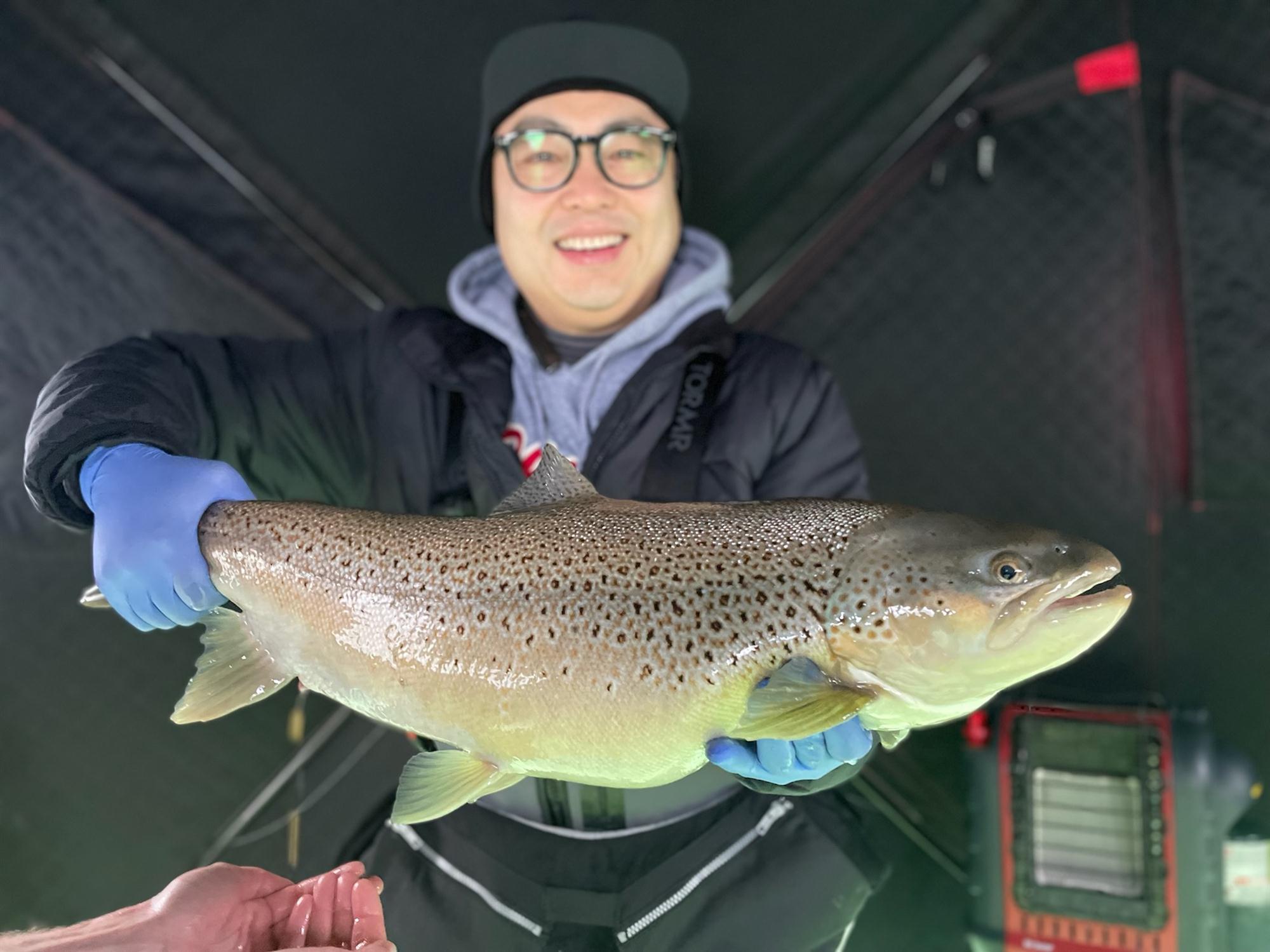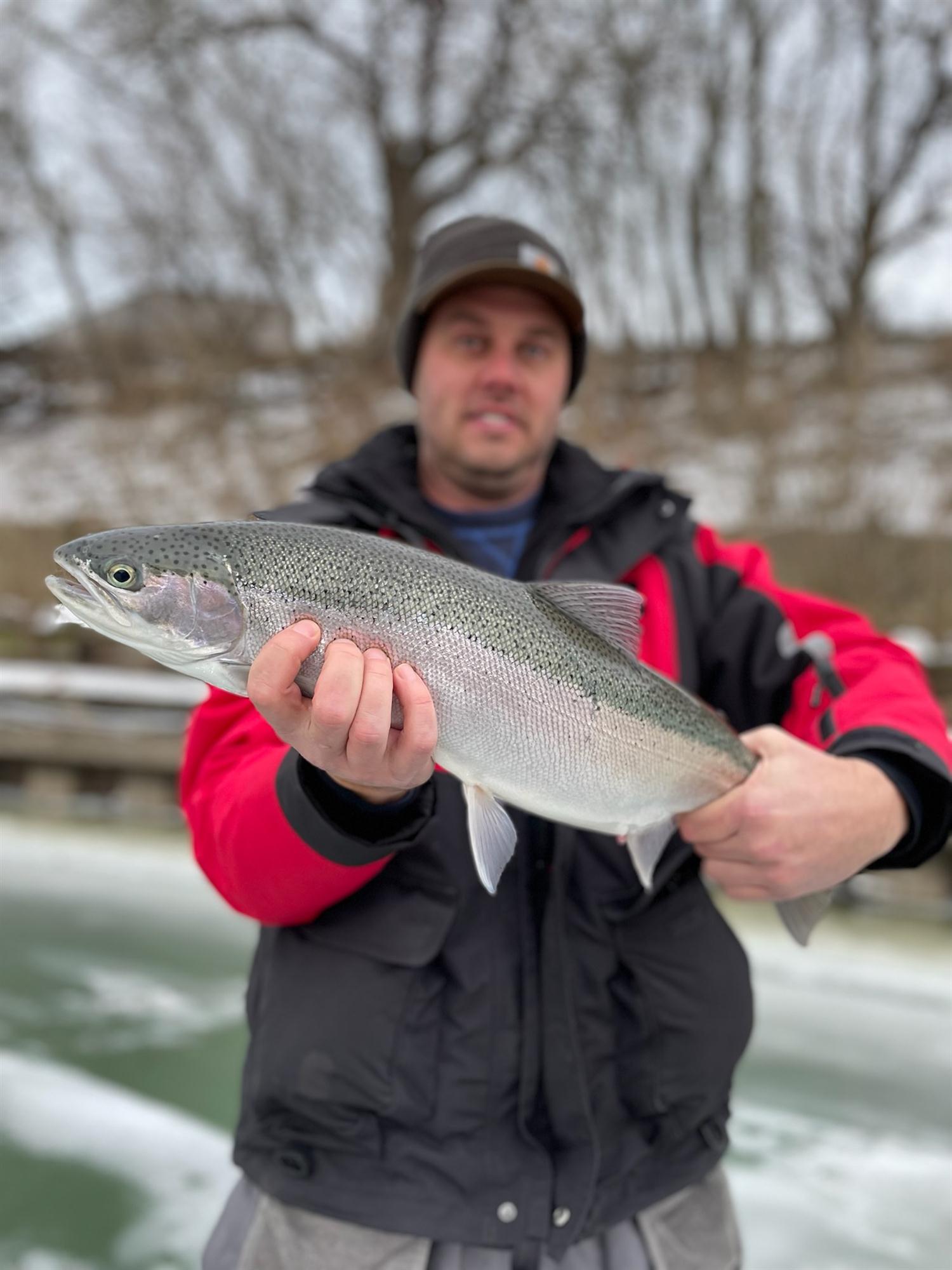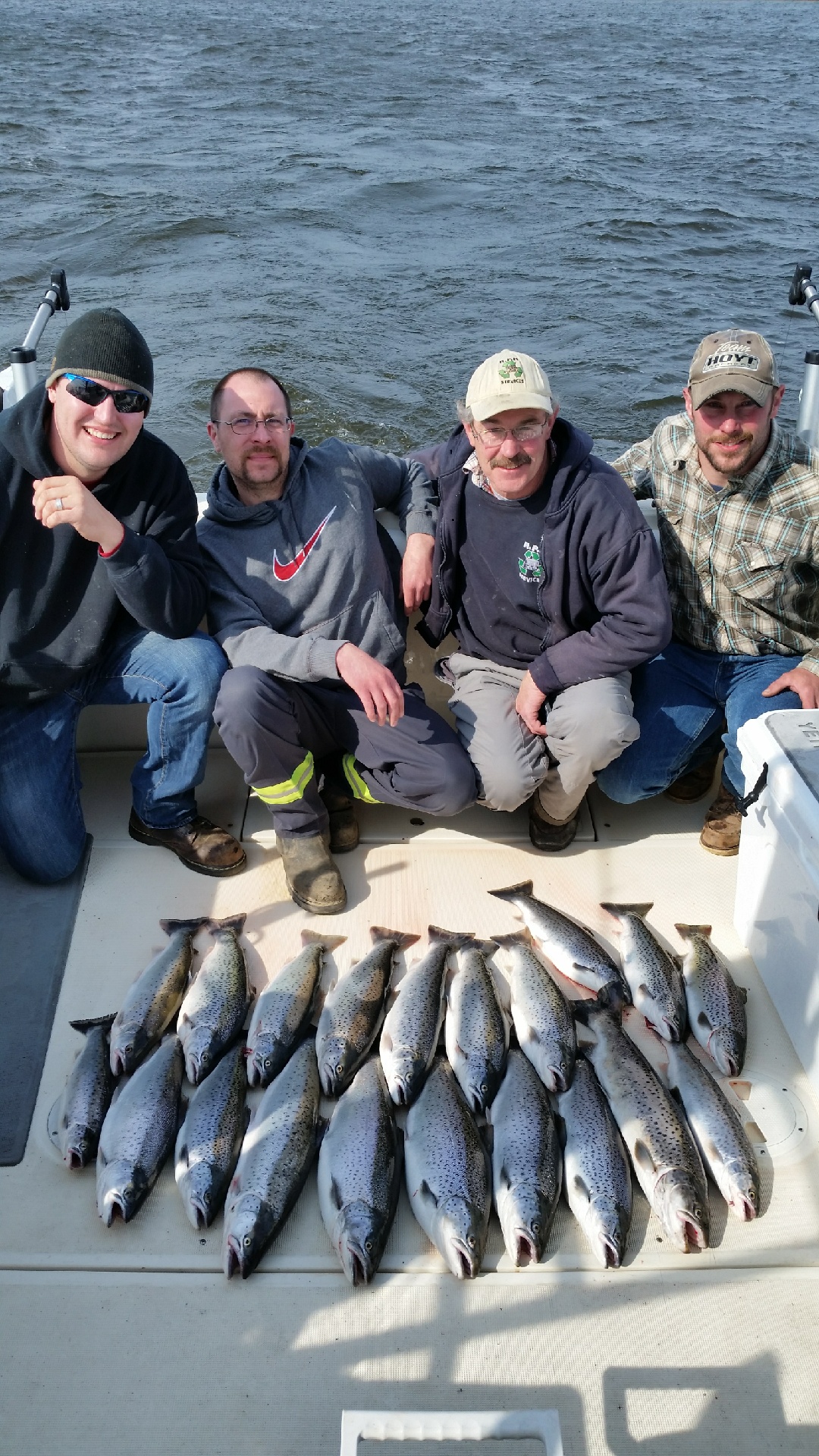 Report for January 4, 2022
January charter fishing is about getting ready. We are hoping ot be in the water on March 25th this year. Last season we were in on March 26th and a limit on March 27th. We were able to pull this off due to a mild winter. So far December ended up being even on average warmer then last year. The water on December 31, 2021 was 38 degrees on the surface in the Milwaukee harbor. The police boat was slipped and plugged in until January 1, 2022. Only then did things start to cool off enough to start to form ice. In 55 days it will be March 1st and usually the ice is in full decline by then. But 55 days of very cold weather can make a lot of ice that can last into April. Hope that is not the case.
The last two winters were very mild and peak Lake Michigan ice coverage was below 25 percent. As of right now it is below 5%. These mild winters have helped the bait population grow by giving the young of the year a better survival rate. Stocked fish too have benefited. As of right now we will not have a huge freeze on Lake Michigan but to what degree is still up in the air. That said it has been a slow lead in into winter, giving all the young fish a better chance to survive.
The last 6 years we have taking a limit on our first trip of the year. We are fishing the Milwaukee harbor, usually wear the rivers come into the harbor. This is typically our best Brown trout fishing of the year, with no run time to the fish. We are usually fishing right as we leave the dock. The harbor will allow us to fish in most wind conditions. We run spoons on all lines with everything near the surface to 15 feet deep. If you are interested in catching Brown trout and don't mind the cold an April charter fishing trip is for you. I have attached the current Lake Michigan current ice coverage map. The police boat picture is the last day a boated floated a McKinley marina on December 31, 2021. I also have some April Brown trout pictures.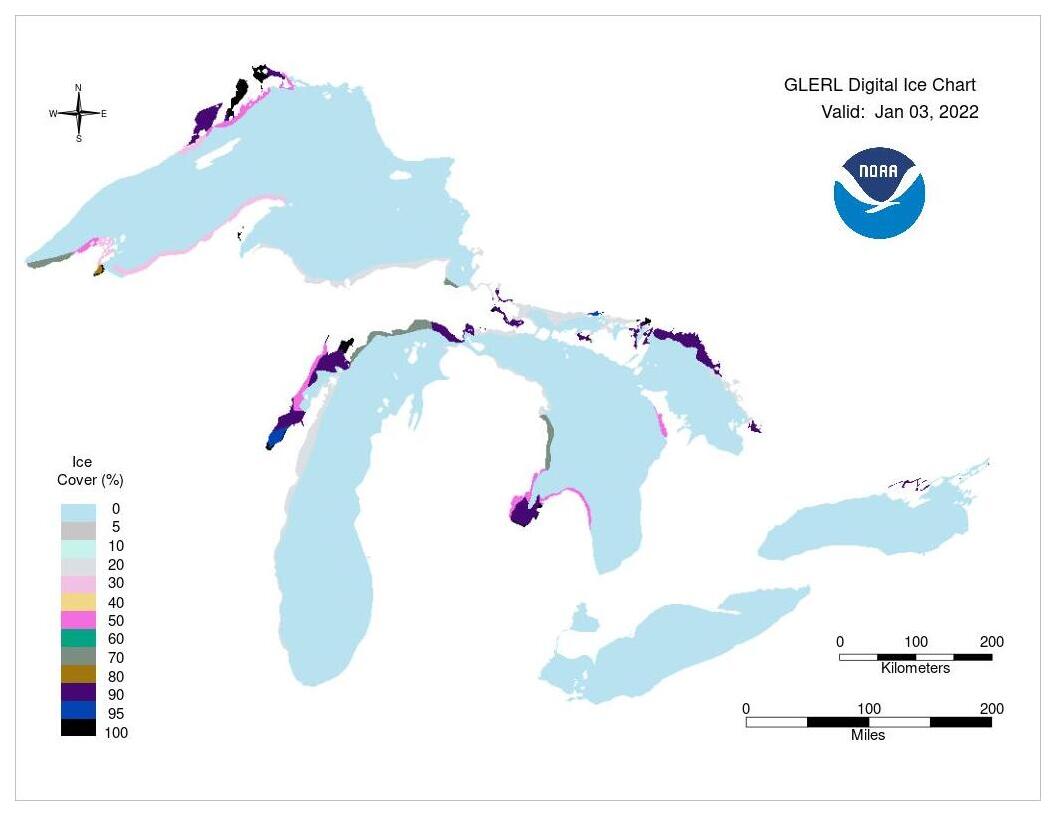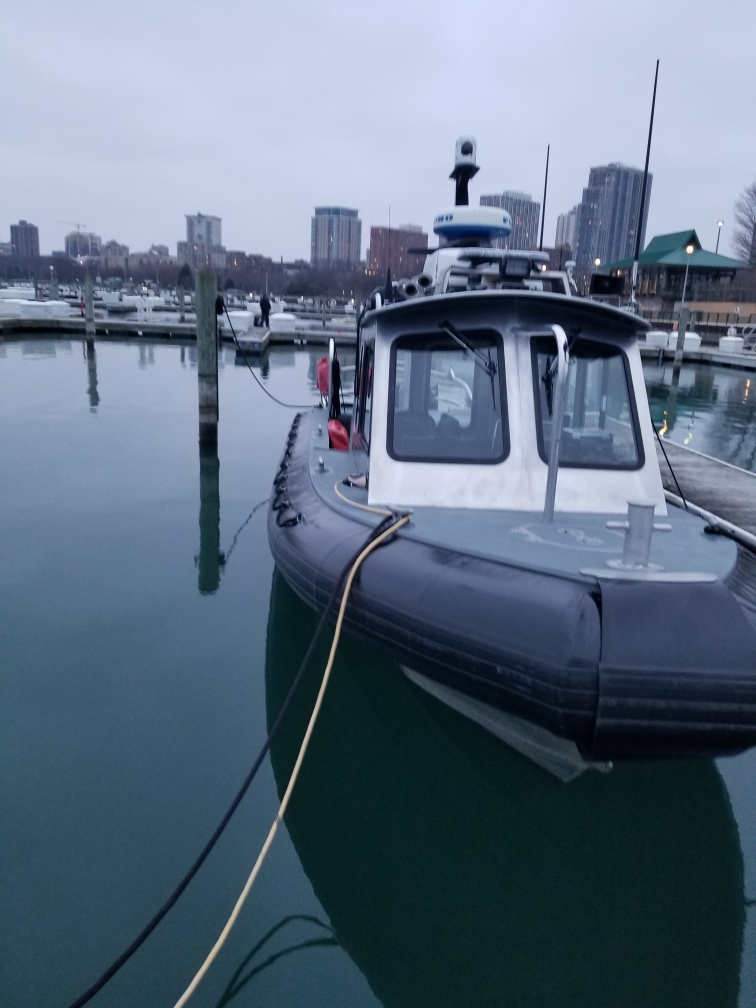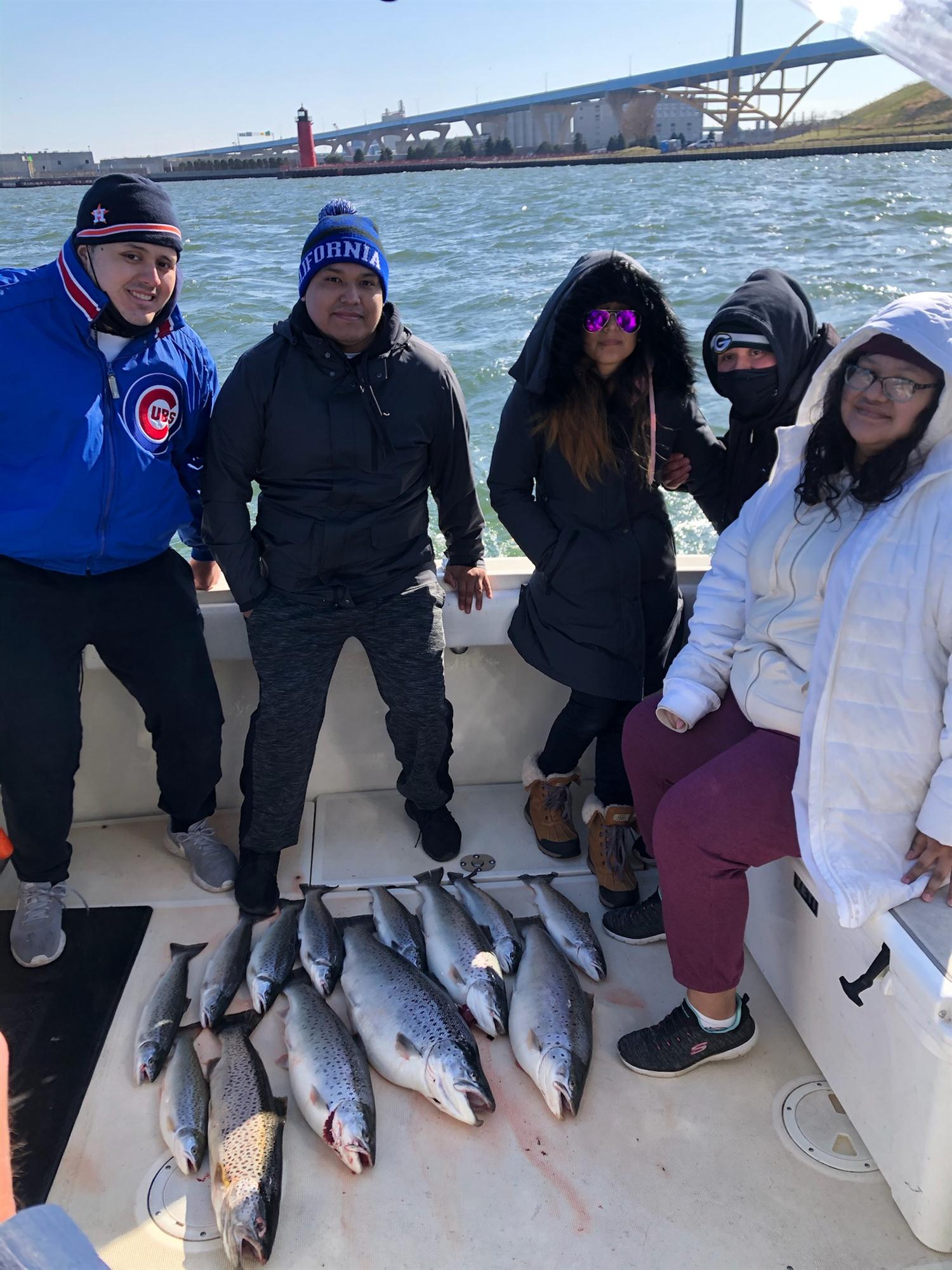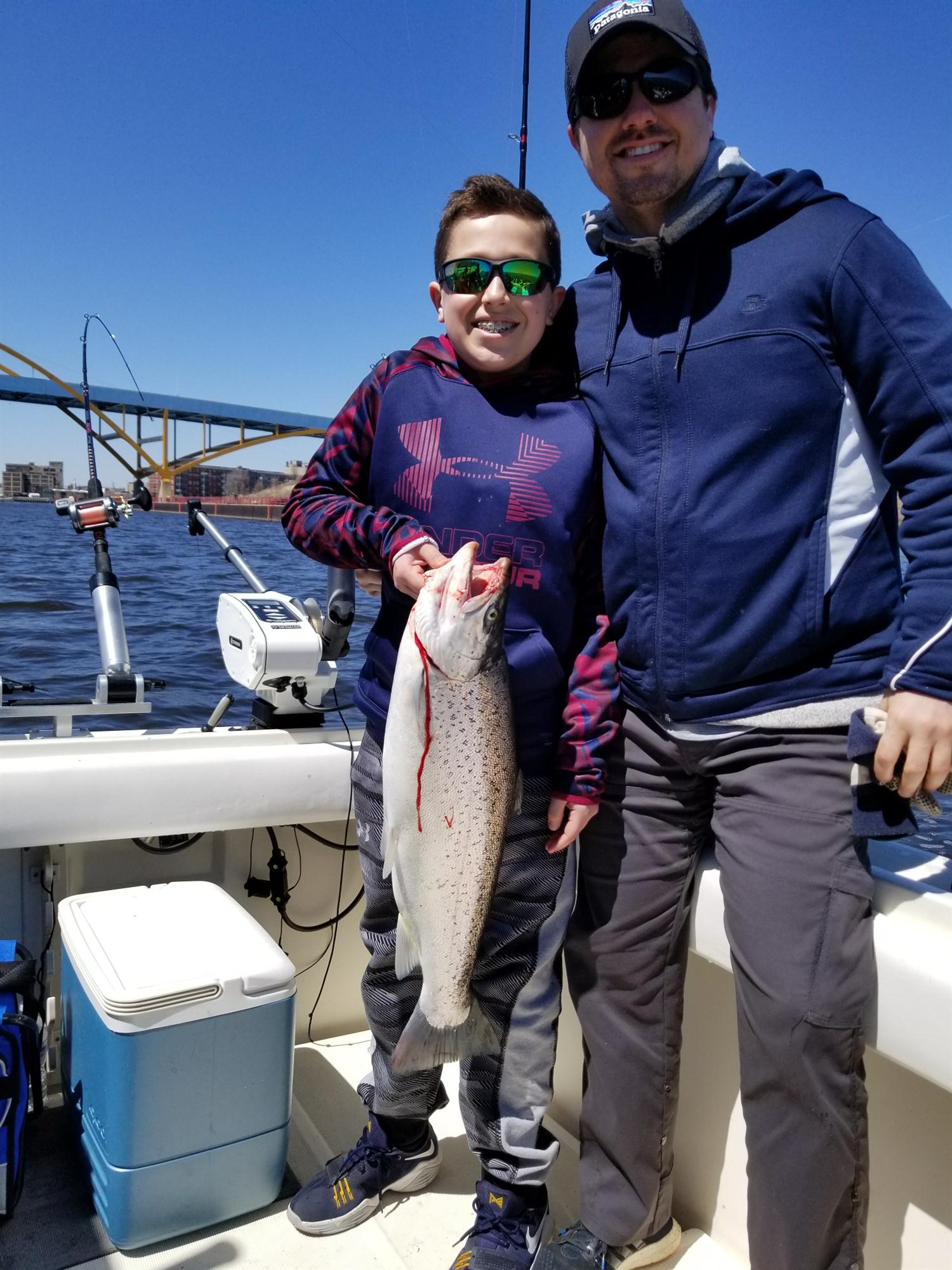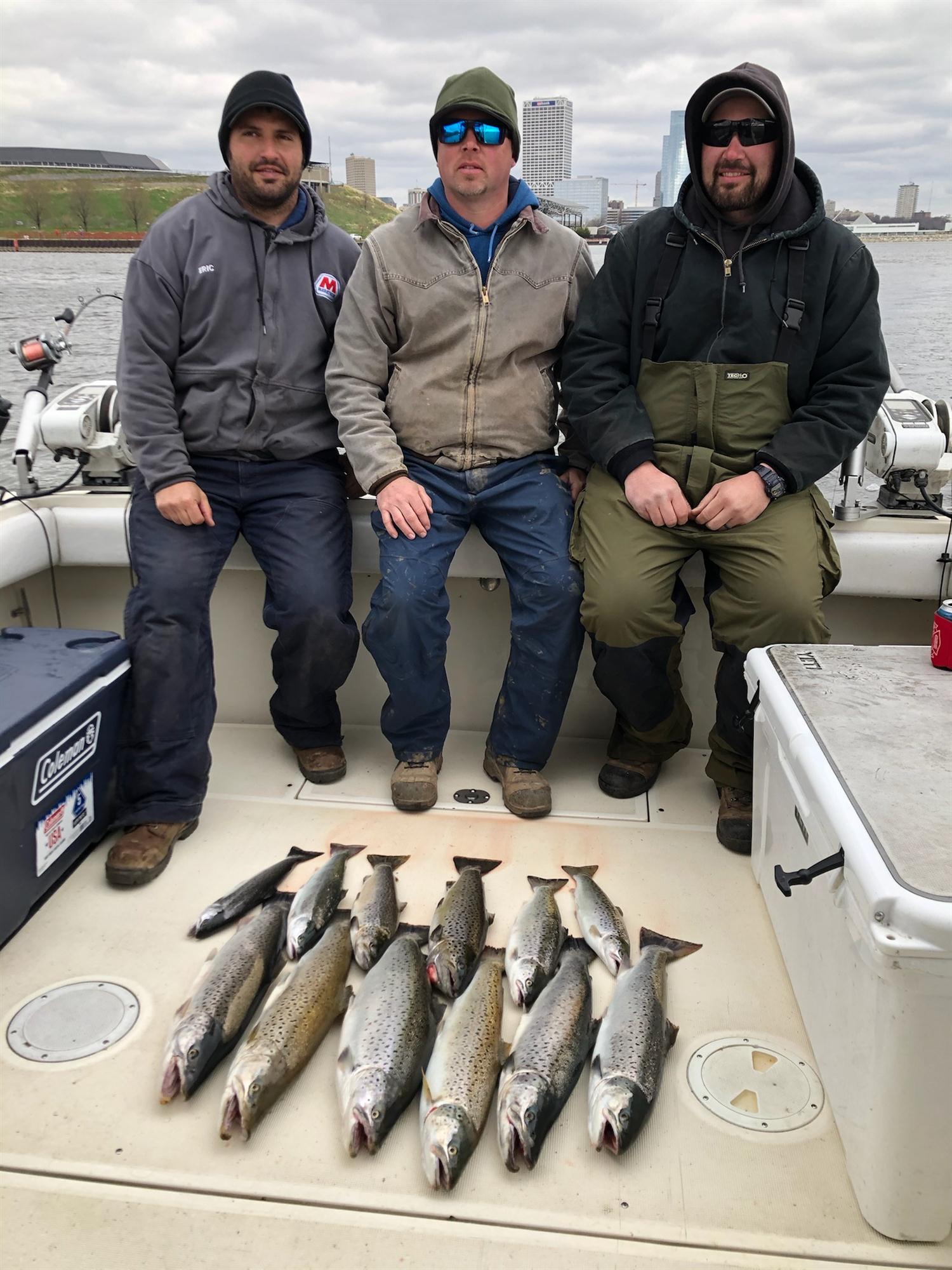 No reports yet this month.
1
2