Lake Michigan Charter Fishing - September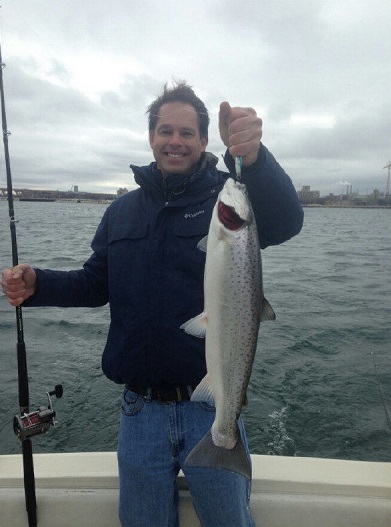 September is a great time for serious fishing. This is when mature fish start to stage or get ready to spawn. Big Chinook salmon come back to the ports they were stocked in. The result is plenty of big, mature fish just waiting for a challenge. Silver King Charters will bring you out onto Lake Michigan right to where the fish are waiting.
Milwaukee Fishing: Fight Mature Fish & Land a Trophy
The first half of the month is the best for this action. We call it "combat fishing!" The more mature fish provide plenty of fight.

We are fishing in and around the harbor and the Chinooks are explosive. The number of fish caught during this time is not as great as earlier in the year but the size and fight are. The second half of September we are back out on the lake fishing for Brown trout, Lake trout, Rainbow trout, or 2 and 3-year-old Chinook salmon.
The depth of water will vary to water temperature and spoons, with some flasher flies as the top baits. Silver King Charters provides all the equipment you need for successful fishing.
Dress for the weather – September in Wisconsin can have some weird weather. Don't worry – we call a day before your trip to advise you on what to wear and bring based on weather conditions.
Wear sunscreen and sunglasses – You can get sunburn on the lake even in overcast weather. Protect yourself before getting on the boat.
Cooler – Bring a spacious one for the fish you catch. The boat has room for your food and beverages. No hard liquor or drugs allowed!
Wisconsin fishing license and Salmon/Trout stamp – Licenses can be purchased online or when you arrive at the boat. Buying online saves time.
Fish in September with Silver King Charters. Thanks to our No Fish – No Pay policy, you get the most out of each charter trip. It's not too late to get some great fishing in.
Contact Silver King Charters for an action-packed September day on Lake Michigan fishing Chinook salmon, Brown trout, and Lake trout.