Lake Michigan Charter Fishing - June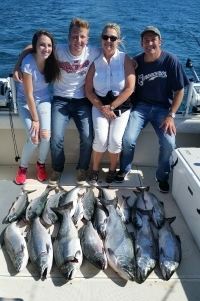 June is the best time to fish on Lake Michigan. Species of salmon and trout are more active in warm water, making them easier to catch as summer begins. Silver King Charters start the month in full swing of the Coho salmon bite. Between mid-May and the 3rd week of June is our highest catch rate of the season.
The fish we encounter in June include:
Coho salmon
Chinook salmon
Lake trout
Rainbow trout
Since the lake water has now warmed up, we can catch Coho in the 10 to 100 feet of water near the surface. Incredible action with double-digit catches or limits more times than not. Silver King Charters loves fishing Coho salmon and it is Captain Kurt's favorite to fish for.
I cannot stress this enough, if you want numbers mid-May through the third week of June is the time to be Charter fishing Lake Michigan. We are running flasher flies, orange dodgers, and medium flies and spoons during this month. June is when we start to land Chinook salmon, along with Lake trout and Rainbow Trout. There's a fish for every flavor!

Father's Day Fishing Charters
Ned a better Father's Day gift than novelty ties and a mug? Book a private charter fishing experience! Bring your dad, your father-in-law, or your fellow fathers out on the water for a chance to unwind away from the kids.
Dress for the weather – June in Wisconsin can get hot. There can also be storms. We'll call a day before your trip to advise you on what to wear and bring based on predicted weather conditions.
Wear sunscreen and sunglasses –Protect your skin and eyes from the sun so you can focus on the fish.
Waterproof camera or video recorder – Take snapshots of your record breakers or huge hauls.
Cooler – Start the day with an empty cooler and end with one overflowing with salmon and trout. We have storage for human food and beverages. No hard liquor or drugs allowed!
Wisconsin fishing license and Salmon/Trout stamp – Licenses can be purchased online or when you arrive at the boat. Buying online saves time.
June is the prime time to fish on Lake Michigan. Stock up on salmon and trout during a Silver King charter trip. And remember, we have a No Fish – No Pay policy. You get exactly what you pay for with Silver King Charters. And did we mention your cleaning and bagging are included in the price?