Lake Michigan Charter Fishing - May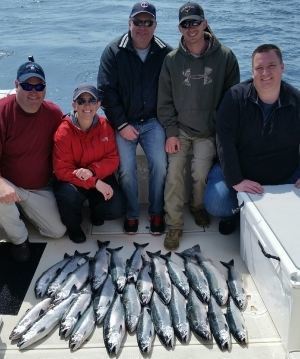 May is the month Silver King charter trips start targeting the top stocked salmon in Lake Michigan. Coho salmon have been stocked at 2.5 million fish a year for over 25 years, giving you plenty of opportunities to catch them. From mid-May through the first 3 weeks of June are our highest catch rate and best time to catch Coho salmon. I cannot emphasize this enough! If you want excellent weather and fishing, May is your best bet for a great charter fishing trip.
Coho Salmon Fishing Limits
What makes Coho salmon so great? They are the best-tasting fish on Lake Michigan and fun to catch. They average 2 to 6 pounds but what they lack in size they more than make up for in action. This is the time of the season we catch our most limits. The early part of May is a mixed bag of trout species but once the Coho salmon show up it is game on.
Over the last 10 seasons, we have averaged our most limits on Coho salmon. They school up, making them easy to catch once you find them. We are fishing anywhere from 10 feet to 300 feet of water but usually in the top 20 feet of water. The top bait is a peanut fly and orange dodger. We will run this setup on just about every rod.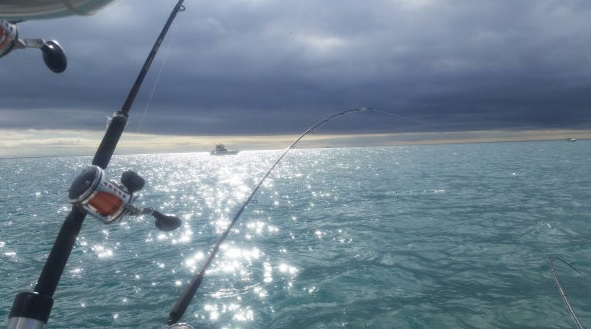 Dress for the weather – May in Wisconsin is a mix of spring and summer temperatures. We'll call a day before your trip to advise you on what to wear and bring based on weather conditions.
Wear sunscreen and sunglasses – There's no shade on the lake except for the boat and what you bring. Protect yourself!
A waterproof camera or video recorder – Get a pic with your haul at the end of your charter. Or strike a pose with a whopper.
Coolers – Bring one or two to store the fish you catch. You might want multiples if you catch trout and salmon. We provide storage for your food and beverages. Remember: No hard liquor or drugs allowed!
Wisconsin fishing license and Salmon/Trout stamp –Licenses can be purchased online or when you arrive at the boat. Buying online saves time.
If you love the taste of salmon and want a fun fishing experience, book a charter fishing trip with Silver King this May. And Silver King Charters, we have a No Fish – No Pay policy.