*Note: Click on any lure name to read more about it!
Ande Monofilament and Flourocarbon Leader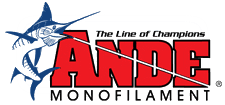 Ande Monofilament and Fluorocarbon Leaders are strong, abrasion resistant leaders featuring high performance and excellent strength. It can withstand the toothiest sport fish and disappears underwater for attracting those deep Lake Michigan salmon fishing trophy fish.
Silver King Charters suggests Ande fishing line products for their superior quality and proven success with Lake Michigan Sport Fishing.
Big Jon Downriggers
Downriggers are used to get the lure down to the depth that the fish are at. They consist of a 2 - 4 foot arm with a reel of stainless steel cable, an eight-pound weight, and a release to hold the fishing line. The fishing line is hooked into the release and the weight is lowered to the fishing depth. The rod is placed into a rod holder and there is tension between the tip of the rod and the release causing a bend in the rod. When the fish hits the lure, it pulls the line from the release and the tension is removed causing the rod to snap up. This "tip-up" signals a fish has hit the lure. Downriggers allow you to catch fish that are in deep water without having to use heavy weights on the fishing line to get your lures down deep.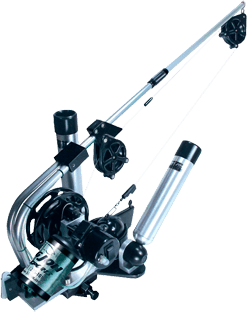 Preferred by Lake Michigan charter fishing aficionados everywhere, Downriggers consist of three major components, weight, cable, and spool. The fishing line is attached to the downrigger cable by means of a "line release." The weight is normally a mass of lead that is connected to the stainless steel cable. The spool is brought up either by a manual crank or via an electric motor.
Using a downrigger began in the early 1900s in an effort to pick up the productivity of catching fish in larger bodies of water. One of the more popular models of downriggers is called the Scotty setup. It was developed by two Canadian West Coast fishing innovators named Charlie White and Blayney Scott. They developed this model in the 1970s that used a ten-pound weight. It was described as a good model for finding the right depth at which fish were feeding. Downriggers are used to troll at a certain depth and speed. People began using them in oceans and others later developed smaller downrigger systems, which are good for smaller bodies of water such as the great lakes. They are now used all over the world and catch a large variety of fish.
Big Jon Downriggers are an easy-to-use tip-up boom that makes setting lines easy and safe. It is built of High Strength Aircraft Grade Aluminum to last a lifetime!
The flexible boom reduces stress that can cause the cracking of fiberglass and metal fatigue in your boat's transom and gunwales!
Big Jon Downriggers Feature:
2, 3 & 4 ft. sectional, "tip-up" boom
Powerful 12-volt sealed motor w/ adjustable disc clutch
4 in. x 4 in. mounting plate w/ four hold down knobs
Bright, protective anodized finish
Footage counter
200 ft. of stainless steel cable
Line release included
Chinook Salmon (Oncorhynchus tshawytscha)
The Chinook salmon, most often known as the KING salmon, is silver in color with dark spots, Silver King Charters namesake! Other names for the Chinook are spring salmon, blackmouth, tshawytscha, chin, king, magnum, shaker. The spots on the Chinook salmon will generally cover all the head, back, dorsal and adipose fin as well as the squared tail.

The Chinook can be distinguished from other salmon is by its black mouth and gums. The similar-looking Coho has a black mouth and white gums. They feed on land and aquatic insects, amphipods, and other crustaceans such as while young, and primarily on other fish when older.
King Salmon are fished by charter fishing enthusiasts all along Wisconsin's coastal Lake Michigan waters. King Salmon can be caught starting in May by a Lake Michigan charter fishing crew, loving cool 45-degree water temperatures, dark skies, and rough waves. Chinook continues to be great fishing mid-July thru September and averages 7-12lbs. On your 2013 Wisconsin charter fishing trip you may keep up to 5 Chinook Salmon which are a minimum of 10 inches.
CALL Silver King Charters at 414.460.1467 for Lake Michigan fishing charters for Chinook Salmon fishing from Milwaukee to Racine and Sheboygan
Coho Salmon (Oncorhynchus kisutch)
Coho Salmon, a Lake Michigan charter fishing staple, is also known as Silver Salmon. Adults are steel-blue to slightly green on the back, brilliant silver on the sides, and white on the belly. Frequently caught off of Milwaukee and Racine, Coho has small black spots on the back, sides above the lateral line, base of the dorsal fin, and upper half of the caudal fin.

Coho salmon differ from the Chinook and other salmonids of the Great Lakes by having the inside of their teeth set in white gums, their tail slightly forked with spots on the top half, and having 12-15 rays in their anal fin.
The season on Lake Michigan for Coho Salmon begins in February when the fish have migrated to the very southern tip of Lake Michigan. Coho Salmon fishing season reaches its pinnacle in early May and continues through October. You may keep up to 5 Coho Salmon which are at least 10 inches for the 2013 season. If you're looking for prime salmon filets, it's ideal to take a Lake Michigan charter fishing trip for some delectable Coho Salmon.
CALL Silver King Charters at 414.460.1467 for Milwaukee Charter Fishing and Racine Charter fishing on
Lake Michigan for Coho Salmon
Downrigger Releases from Off-Shore Tackle

A downrigger release is a simple device to ensure your know when you've got a fish on your rig. Even the minimal striking power of the smallest Coho and King Salmon in Lake Michigan will trigger your line to jump out of the downrigger release.
Off Shore Tackle has multiple variations of single and stacker downrigger release products from Light Tension to Heavy Tension depending on the gamefish you are going for. This tackle is made for Salmon, Steelhead, Trout, Walleye, spring Coho, or other small to medium size fish up to large Muskie, trophy Pike, and saltwater fishing.
For the best Wisconsin Charter Fishing Services on Lake Michigan from Sheboygan to Chicago
CALL Silver King Charters today at 414-460-1467.
Fish Hawk Temperature and Speed Probe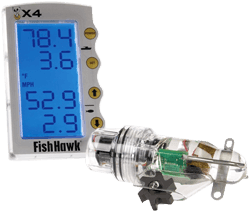 The Fish Hawk is a preferred digital water temperature, depth, and trolling speed gauge. Fish Hawk Electronics makes a number of products, some of which can help you see how deep your dipsy diver or other fishing lures are diving during your Lake Michigan salmon fishing excursions. See how the Fish Hawk works while fishing Lake Michigan with Silver King Charters. Expert Lake Michigan anglers have learned below-surface water temperatures and how those sub-surface currents are affecting their lures means success in putting big fish in the boat time after time.
Flashers from Michigan Stinger
Flashers spin around your fishing line and reflect sunlight even at deep Lake Michigan depths, simulating the alluring "flash" of a nearby fish. Michigan Stinger flashers have glow-in-the-dark properties that excel and shoot light in every direction, making them preferred among Milwaukee and Racine charter fishing experts.
Gamakatusu Treble Hooks


Gamakatusu Treble Hooks feature an extra-strong wire construction, ideally suited to replacing less-strong factory hooks. Reliable hook and barb strength make Gamakatusu treble hooks the preferred choice of many anglers trolling the waters of Lake Michigan off the Racine and Milwaukee shores.
Hot Spot Flashers
Flashers are a classic, field-proven lure for attracting and catching record-breaking Lake Michigan Coho salmon and Chinook salmon off the Wisconsin shore. Utilizing flashing colors and reflective coatings, Hot Spot flashers feature a wide variety of materials, colors, and designs that appeal to all sorts of cold-water fish. An effective flasher triggers predatory signals in the brain of your target Lake Michigan fish, (including coho, brown trout, king salmon, or lake trout) in the same way a darting prey would. The shape of Hot Spot Flashers allows for maximum kicking, flipping, and jumping for perfectly simulating minnows and small fish, the favorite food of Lake Michigan sport fish.
For the best Lake Michigan Charter Fishing Services from Sheboygan to Chicago CALL Silver King Charters today at 414-460-1467.
Howie Tackle Fly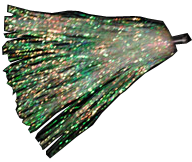 The Howie Tackle Fly is the perfect tool for catching record-breaking Lake Michigan Chinook and Coho salmon and brown or rainbow trout. Howie Tackle Flies come with shimmering, flowing hand-tied skirts with a corrosion-resistant rigging ring and are pre-rigged with #6 beads and tough VMC hooks. Howie Tackle flies are perfect for Lake Michigan charter fishing when equipped with a dodger tied above the fly and trolled between 1 and 2.5 mph with a downrigger, wire, or lead core line.
CALL Silver King Charters at 414-460-1467 for Lake Michigan fishing charters for Coho salmon and rainbow trout fishing from Sheboygan to Milwaukee to Chicago.
KERPLUNK Leadcore Trolling Line from Cortland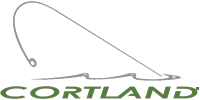 Cortland Line of New York deep sea trolling line, Kerplunk, is often chosen for its toughness. Kerplunk deep sea trolling line is made of strong, durable nylon braided atop a lead core for withstanding the stresses of the frequently used Lake Michigan fishing test.
Lake Michigan Brown Trout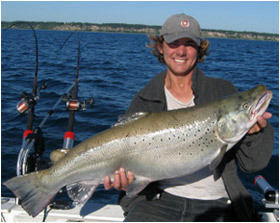 Brown Trout, Salmo trutta, caught in Lake Michigan have an overall silvery color with "X" shaped marking on the back and upper half of their body, a squared tail, small and numerous spots on their head, the inside of their mouth white, and 12 or fewer rays in their anal fin.
Lake Michigan Brown trout tend to be wary and hide in shallow water weed beds and rocky, boulder-strewn areas. The brown Trout prefers a water temperature of 65-75 degrees F so is known to be around the Milwaukee harbor and near the power plant shores.
There are tournament-winning Brown Trout off the shores of Milwaukee and Racine in Lake Michigan! The Silver King's Crew caught this 23lb Brown Trout shown to the right in a mid-August fishing tournament for a win in the Great Lakes Sport Fishing Club contest. These fish are silvery with spots and a brownish back before spawning season as this big catch shows.

Spawning brown trout in September and October will have an overall tan to reddish-brown color with distinctive black and red spots. Brown trout have adapted well and are now an important part of the Lake Michigan fish community. After being stocked into Lake Michigan, brown trout grow fast, feeding on the plentiful crayfish, insects, and small fish in the Milwaukee harbor area. At 2 to 4 years of age, the brown trout become mature and return to the stocking sites in the autumn to spawn. On your next Lake Michigan charter fishing adventure, you may keep up to 3 Brown Trout and 2 other species. Brown Trout must be a minimum of 10 inches to keep. Silver King Charters find Lake Michigan big brown trout for you in March and April around the Milwaukee harbor.
Lake Trout
Lake Trout are the largest of the charrs, they are distinguished by having a deeply forked tail, the inside of their mouth is white, and they have 10-11 rays in their anal fin. Lake trout are quite rare overall as they are native only to the northern parts of North America. Sought after by many Wisconsin charter fishers, the color of the lake trout varies from light green or grey to dark green or almost black with light spots and worm-like markings on their back and sides. Less common than some types of Salmon off of the Racine and Milwaukee shoreline, stocking remains essential to sustain the lake trout population in Lake Michigan.

Lake Trout generally prefer deeper water, so an offshore Wisconsin charter fishing trip is a great way to catch them. In Lake Michigan, the minimum length to keep a Lake Trout, for 2013, is 20 inches and the fishing season starts in March and goes through October.
For Milwaukee and Racine Lake Michigan Charter Fishing for lake trout CALL Silver King Charters at 414.460.1467.
Luhr Jensen

When it comes to attracting Lake Michigan sport fish, nothing beats Luhr-Jensen flashers. Featuring a wide range of colors, reflective coatings, and styles, Luhr-Jensen Flashers are legendary in cold water fishing and for attracting Lake Michigan oho salmon and trout. When pulled through the waters of Lake Michigan, the flashing color and natural vibrations caused by the spinning action attract hungry fish from all directions.
For the best deep water Lake Michigan charter fishing services available in Milwaukee, CALL Silver King Charters today at 414-460-1467 and take your first step towards landing the big one.
Luhr Jensen Plugs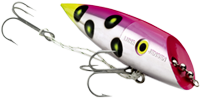 Fabricated with super-strong materials, Luhr-Jensen plugs are designed to dart and kick when trolled, feature excellent speed tolerance, and are designed for low visibility, deep water fishing, making them perfect for catching a big monster Lake Michigan Coho Salmon. A swivel chain rigging system and a buoyant body give these plugs a darting, erratic movement pattern excellent for attracting Lake Michigan sport fish.
For the best Lake Michigan charter fishing in Milwaukee, CALL Silver King Charters today at 414-460-1467.
Malin Wire Line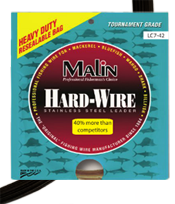 The Malin Company of Cleveland, Ohio has been a leading supplier of fishing wires since 1884. They make stainless steel leaders capable of withstanding heavy-hitting toothy predators, trolling wire with superior qualities, and fishing cable. The time-and-fish-tested steel leaders are an optimal choice for catching a wide variety of Lake Michigan fish.
Malin has the "BOA" No-Kink Titanium shock leader wire proving to be the superior leader wire for fishing in Lake Michigan. Corrosion proof and titanium so you know it is strong, it is highly flexible and virtually impossible to kink when deep water fishing for Salmon or Trout. This leader wire can be virtually tied in almost every configuration you would use on a leader and it will hold!
Moonshine Spoons
Moonshine spoons feature highly reflective glow paint without depending on absorbed UV light to attract coho salmon, king salmon, and lake trout. Moonshine spoons are often chosen for our Lake Michigan charter fishing outings off the Milwaukee shoreline for their high quality and effectiveness.
Orange Dodgers
Orange dodgers are excellent for early-season Racine Charter fishing on Lake Michigan for Coho Salmon. Orange dodgers have dual spinners on the front, and each has intense fluorescent (UV reactive) colors and extended glow beads, and glow eyes - all arranged for maximum contrast. Offset recurve nickel blade. Dual intensely fluorescent orange willow blades on the front. Extended natural and orange glow beads in excellent contrast with highly fluorescent orange beads. Bright fluorescent orange pad demands attention.
CALL Silver King Charters at 414.460.1467 and we will show you how to use orange dodgers for Lake Michigan salmon fishing!
Planer Boards from Off-Shore Tackle
Planer Boards from Off-Shore Tackle are spring-loaded flags to tell you when you've got a fish on. Their size is preferred for Lake Michigan salmon fishing during our Racine and Milwaukee charter fishing expeditions.
Power Pro Braid Line
PowerPro Braided line is available in a number of different colors including white, red, yellow, and green. PowerPro braided line comes in different tests and is often preferred by Milwaukee charter fishing experts for its "easy-spool" design featuring a built-in cutter.
Pro King Spoons
Pro King Spoons are perfect for Lake Michigan charter fishing when you're after a prize coho salmon or brown trout. The Pro King Spoon is perfect for catching salmon, trout, and other Lake Michigan game fish. Each spoon comes with strong VMC trebled hooks and can be trolled at a variety of speeds for attracting various Lake Michigan sport fish. The silver holographic back is taped with a wide range of color combinations, perfect for landing the big one.
CALL Silver King Charters at 414.460.1467 for Lake Michigan fishing charters for Chinook salmon and brown trout fishing from Milwaukee to Sheboygan.
Pro Troll Flashers
Nothing beats high-quality Pro-Troll Flashers when it comes to charter fishing for Lake Michigan salmon. Pro-Troll Flashers feature super spin ball bearing swivels on both ends and the latest in ABS plastic for superb brilliance and reflectiveness. All Pro-Troll flashers come equipped with EChips. The EChip mimics the electrical nerve pulses of injured fish, making them irresistible to Lake Michigan trout and salmon, helping you lure more tournament-sized fish into your boat!
CALL Silver King Charters today at 414-460-1467 for excellent Milwaukee charter fishing services.
Raymarine Sonar
Raymarine is a preferred manufacturer of excellent digital sonar fish finders preferred for Wisconsin fishing charters in Lake Michigan. Raymarine sonar units are among the most trusted tools of a certain group of noteworthy, experienced Milwaukee anglers: Silver King Charters.
Sampo Swivels
Sampo swivels are an ideal Wisconsin fishing swivel to minimize line tangling while reducing the stress on your fishing line. Sampo swivels are frequently chosen by expert Racine and Milwaukee anglers for their superior friction-minimizing ball-bearing design.
Shimano Tekota Reels
Shimano North America manufacturers lead-core rods that feature a technologically advanced construction offering an optimal level of flexibility and strength. The innovative materials (outside of the obvious lead core) include T-Glass and high modulus graphite. Shimano Talofa Trolling Rods are incredibly lightweight, making them a preferred choice for Wisconsin charter fishing boatmen and women.
Shooters
Deadly to Lake Michigan oho salmon, Chinook salmon, and brown trout, Shooter Flashers feature a fully rotating body capable of producing the flashing colors and vibrations needed for attracting the big game fish all fishing enthusiasts crave. The rotation creates a darting action that perfectly copies the movement of a scared minnow or baitfish, making the Shooter Flasher irresistible to Lake Michigan salmon and trout. Shooter Flashers are great for shallow and deep water fishing.
CALL Silver King Charters today at 414-460-1467 for the best Lake Michigan salmon charter fishing services from Sheboygan to Chicago.
Silver Horde Plugs
Silver Horde plugs are classically designed, handmade plugs constructed with durable, high-impact plastic and feature corrosion-resistant rigging and strong hooks for landing that record-breaking Chinook Salmon every Lake Michigan salmon fishing charter is after. Silver Horde Plugs also feature a sliding bead chain, allowing the lure to slide up and down the line when playing or jigging. Silver Horde Plugs are very speed tolerant and will attract Lake Michigan salmon at slow to fast troll speeds.
CALL Silver King Charters today at 414-460-1467 for the best Lake Michigan fishing charters and salmon charter fishing from Milwaukee to Chicago.
Stinger Spoons

Stinger Spoons feature a thin design, providing a skipping and flutter action perfect for attracting the attention of Lake Michigan sport fish. Superbly constructed and excellent for trolling, casting, and jigging, Michigan Stinger Spoons are among the most popular for trout and salmon fishermen. Michigan Stinger Spoons were designed to attract and catch cold-water species, making them the perfect tool for Lake Michigan charter fishing.
CALL Silver King Charters at 414-460-1467 today for Racine charter fishing from Milwaukee to Sheboygan.
White Flashers

Early Coho Salmon Fishing on Lake Michigan is great with white flashers attached to orange dodgers or peanut flies. Attract salmon to your boat by putting out powerful vibrations in the water similar to the vibrations made by the tail of a charging salmon. These devices will pull salmon to your boat from up to thirty or forty yards away. Salmon detect the vibrations with their lateral line and are tricked into thinking your flasher is a feeding salmon.
CALL Silver King Charters at 414.460.1467 and we will show you how to use a white flasher for Lake Michigan salmon fishing!