The Offshore Special: Lake Michigan fishing with a deep sea flavor
When we say "offshore," we mean it! On this trip, we start 8 miles into Lake Michigan, and we only go further from there. That's over 200 feet of water, with thousands of fish to be caught. Experience a fishing trip on Lake Michigan that you'll never forget when you join us for the best charter fishing in Wisconsin!
This trip allows you to fish offshore for Steelhead, Coho Salmon, Lake trout, and Chinook salmon. It is a great experience to fish 8 to 20 miles from the shores of Milwaukee and Racine. These trips start at 4:30 AM for morning trips and 1:00 PM for afternoon trips and are the best way to catch "Steelhead" Rainbow trout. Steelhead are known for spectacular jumps and are great-tasting fish. The fishing is really good out there!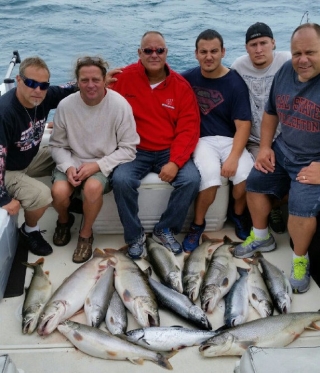 $700 (includes tax) per boat - charter fishing cost includes cleaning, bagging & tax for 6hr trip
Morning trips: Begin at 4:30 AM
Afternoon trips: Begin at 1:30 PM
Average 8-15 miles off the shores of Lake Michigan.
All rates are for the boat, not per person, and are for your group only.
We NEVER put you with other groups.
The price per boat is the same for just 1 person, 2 people, 3 people, 4 people, or the max of 5 people.
Cleaning, bagging of fish & WI state tax are all included in the charter price.
What you need to know for your offshore fishing charter
For groups of MORE than 5 people, we will set you up with as many boats as needed based on your group size. If you have 10 people you will need 2 boats, 15 people 3 boats and so on. No matter your group size - from 1 up to 20 - Silver King Charters will make it a fun and safe experience for all!
The No Fish - No Pay policy is for completion of any 5-hour charter or longer. This means your trip is free if a legal fish is not caught.
Check out our five-star reviews on Facebook and Google. You're going to have an AWESOME time.

Note: All charter times are from dock to dock or limit, which is 5 fish of any combination of salmon or trout for each passenger. The only exception is Lake trout, which has a limit of 2 for each passenger. The NO FISH-NO PAY policy applies to charters that are 5 hours or longer. If a charter is called due to passengers asking to go in before the trip is up or bad weather the policy is void. Try Charter Fishing Milwaukee Wisconsin and Charter Fishing Racine Wisconsin aboard Silver King Charters this season.
Give us a call at 414-460-1467 or contact us online to make your reservation!