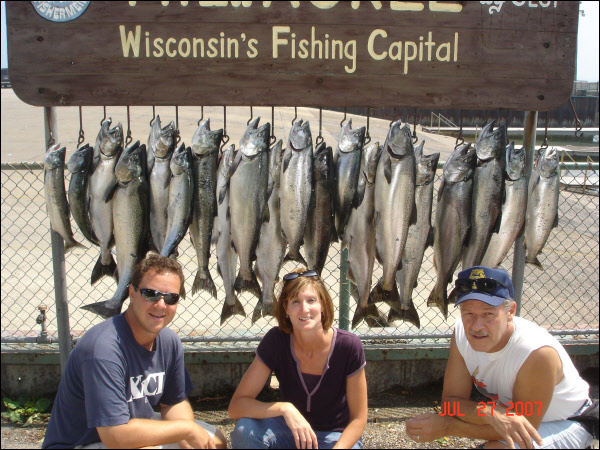 Troy, Pam and Gary with a nice catch of August Chinooks while Milwaukee Charter Fishing Salmon
This was an outstanding day of Milwaukee Charter Fishing aboard Silver King Charters. The Chinook Salmon you see here were all caught in 3 hours. We also threw back 5 fish during the trip. Pam, Troy and Gary had sore arms after this trip and asked if this was the best day I ever had.
During the summer there will be weeks that set up perfect for catching Salmon and staying on top of them is easy. During this week I had limit catches every trip and I did 8 that week. Every day is a good day for Milwaukee Charter Fishing but some are better than others. Silver King Charters job is to take the slow days and make them good and the good days outstanding.
Charter Fishing Milwaukee offers some of the most outstanding Lake Michigan Wisconsin Salmon Fishing around. The fishing is consistent and holds bait which is key to catching many and big Chinook Salmon.
These fish came one after another and before they new it the trip was done and it was the best fishing any of them ever had. Troy, Pam and Gary landed over 200lbs of fish, which was close to 100 lbs of Salmon fillets. Troy said they had Salmon for a year and are ready to fill up again. Charter Fishing Milwaukee for these trophey fish is really fun, so try it out for yourself and book a trip with Silver King Charters today.