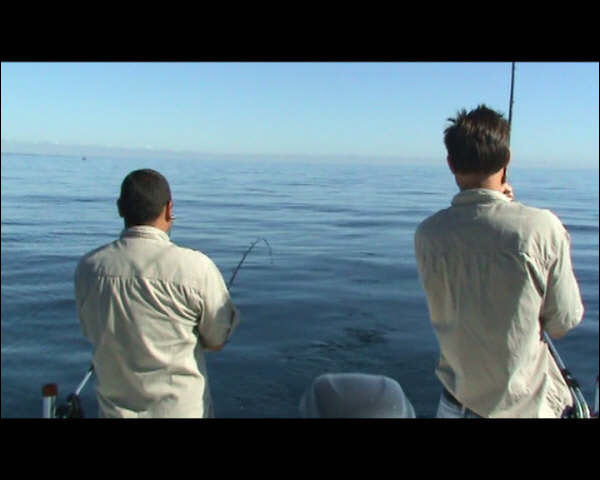 Setting Lines for Salmon off the shores of Milwaukee, Wisconsin while Milwaukee Charter Fishing
This is a picture of one of my first mates Kurt Spencer, who has help during many trips Charter Fishing Milwaukee Wisconsin. This picture shows Kurt and I bring in a double header during a fishing tournament. We landed both fish and ended up with 32 fish during the tournament. Silver King Charters took 2nd place in a twenty boat field.
The contest was held in July and points were given for pounds, fish and spiecies. When Charter Fishing Milwaukee we just want to get hook ups and usually don't target a certain spiecies, although Coho and Chinook Salmon are the primary target on most trips. But contests likes these help Silver King Charters hone the skills necessary to catch all five spiecies, so when the Salmon don't hit we can target Trout with success.
Silver King Charters fishes many tournaments throughout the year and we are very competitive. To keep up with all the other top boats we must have the most up to date equipment. The knowledge gained from tournament fishing and keeping up with the best technology is all passed on to you when you take a trip Charter Fishing Milwaukee Wisconsin.
When you fish a contest you must deliver and some of the days we have fished tournaments I would have cancelled a charter. But fishing in these conditions allows us to learn information that helps put more fish in the boat when Milwaukee Charter Fishing Salmon and Trout.
Silver King Charters offers 4 trips a year for you the customer to experience tournament fishing. Call us and see about booking a trip Milwaukee Charter Fishing Salmon and Trout on Lake Michigan and also fish a tournament.