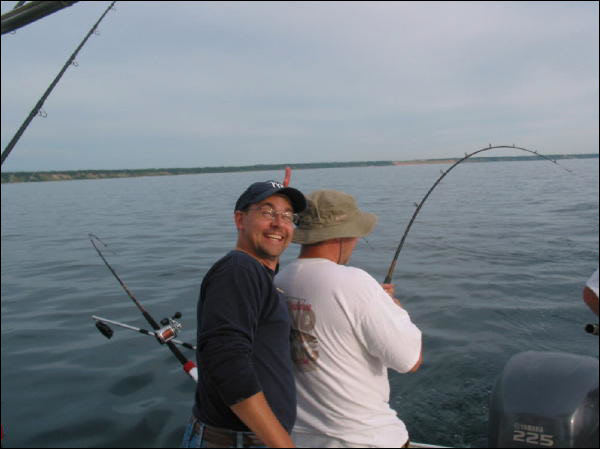 Scott gives friendly advice while Milwaukee Charter Fishing
This was a beautiful morning Charter Fishing Milwaukee Salmon aboard Silver King Charters. Scott became a pro at Salmon fishing this August morning and was taking over giving advice on landing big Chinook Salmon.
We had all our set up working on this particular morning but through this week the most consistent apparatus was the wire dipsy rods. I usually run two of these during the summer and always use flasher/flies with them. This set up consistently puts big Fish in the boat.
We use special rods that have rollers instead of guides so the wire flows better through the rod. The big difference in fighting a Salmon or Trout on a wire rod is wire has no give. When a fish wants to run you let him. Wire has become a top producer for big fish in the tournements I fish and the Shimano rods and Okuma reels I use make fighting these fish a lot of fun.
Scott and his friends took 8 of their 20 fish on this set up and they were all 3 and 4 year old Chinook Salmon. Most Lake Michigan Charter Fishing boats use these set ups all summer long. We had both of are wire dipsy rods set at about 50 to 60 feet down on this trip and the fish hammered them. My firstmate Chris was resetting these rods constantly and Scott or one of his friends seemed to have a Salmon on a wire dipsy all the time. These big Kings fight hard and can take up to 20 plus minutes to land.
Dipsy set ups account for over a third of my catch a year, whether they have power pro line or wire on the reels. It is one of the most explosive strikes out of all the set ups and no matter your experience you will know when a fish strikes a Dipsy rod. So try Charter Fishing Milwaukee aboard Silver King Charters and experience fighting a Salmon on a dipsy rod yourself.