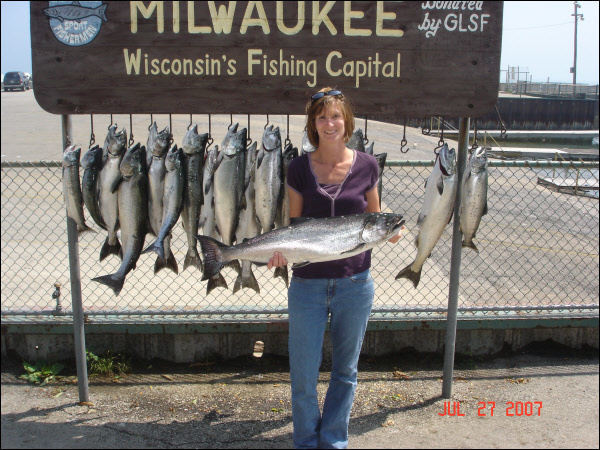 Pam holds one of her Big Chinook Salmon after Milwaukee Charter Fishing
Troy and his father, Gary, made Pam, Troy's Wife, hold this big Chinook Salmon after a morning of constantly fighting big Salmon. July is a great time for Charter Fishing Milwaukee on Lake Michigan. We had constant action aboard Silver King Charters this particular morning. Every setup we used was hit.
The morning started out with two Power Pro dipsy's going off and a pair of 2 yr old Chinooks were netted shortly after. The downriggers went off next. Our deep rigger, which was 75 ft. down was hammered by the Chinook Salmon that Pam is holding in this picture. Pam said Charter Fishing Lake Michigan Salmon is not just for the guys. Fly and flashers were the key to success this particular morning. Every rod was hit at least once and the leadcores on boards were really productive by 9:00AM.
They took 6 consecutive Chinooks off the leadcore setups. We took a three man limit or 15 fish in three hours, so I let them take my First Mates 5 fish too! We released 3 Lake Trout back during the trip and ended up with 23 fish in 3 hours and 45 minutes. Milwaukee Charter Fishing is know for its consistent catches of Chinook Salmon starting in June.
A typical spread for a trip Charter Fishing Milwaukee aboard Silver King Charters is 10 to 12 rods. This does depend on the action but we usually ended up running this many lines. We avoid tangle ups with all these lines by running a controlled spread with different apperatuses.
The dipsy diver rods are run 1 to 2 per side along the mid section of the Starboard or Port side of the boat. We use wire line or power pro super braid on these reels. Dipsies put big fish in the boat and are explosive when a fish hits.