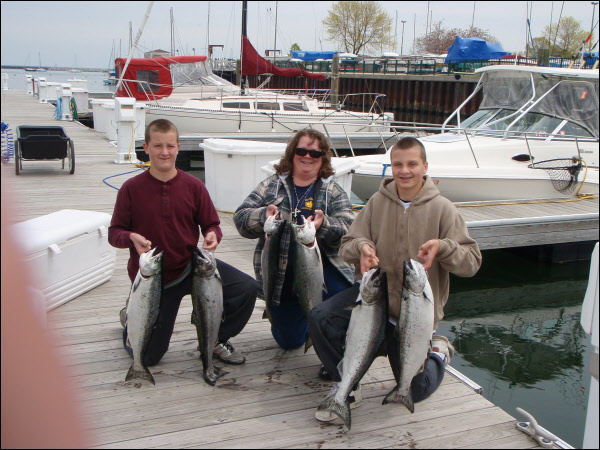 Nice Catch of Kings aboard Silver King Charters after Milwaukee Charter Fishing
Natalie and her twin sons Vince and Michael from Iowa hold 6 nice Chinook Salmon caught Milwaukee Charter Fishing aboard Silver King Charters. It was chilly for Memorial Day and the water temperature was 44 degrees on the surface but they had a blast and look foward to possible coming back in July to fish in shorts and t-shirts.
The boys in this picture are just shy of there 14th birthday and were able to handle these fish. A couple of the Salmon weighed 12 lbs. Fishing on Lake Michigan is a blast for kids but I recomend that they are at least 12 years old. The brothers help each other out on a couple of the battles and did an excellent job for their first time Salmon Fishing.
Charter Fishing Milwaukee Wisconsin is fast paced and aboard Silver King Charters we instruct you on how land your fish. Usually after the second fish the first timer becomes a pro. All the equipment is high end and designed to handle these tough fighting Salmon and Trout.
Natalie and her sons were concerned about getting seasick. I told them to look into dramamine or rist bracelts and get a good night sleep. They took the dramamine a few hours before the trip. I was concerned because it was 1-3ft waves but they were fine and actually enjoyed the wave action.
May fishing is a great time to bring young inexperienced kids Charter Fishing Milwaukee on Silver King Charters. We target Coho Salmon that average 2-6 pounds and are fun to fight. These fish are great for kids to get some experience with before moving on to the big ones. Natilie's boys did not have a chance to practice on small fish this trip but I don't think they cared too much.