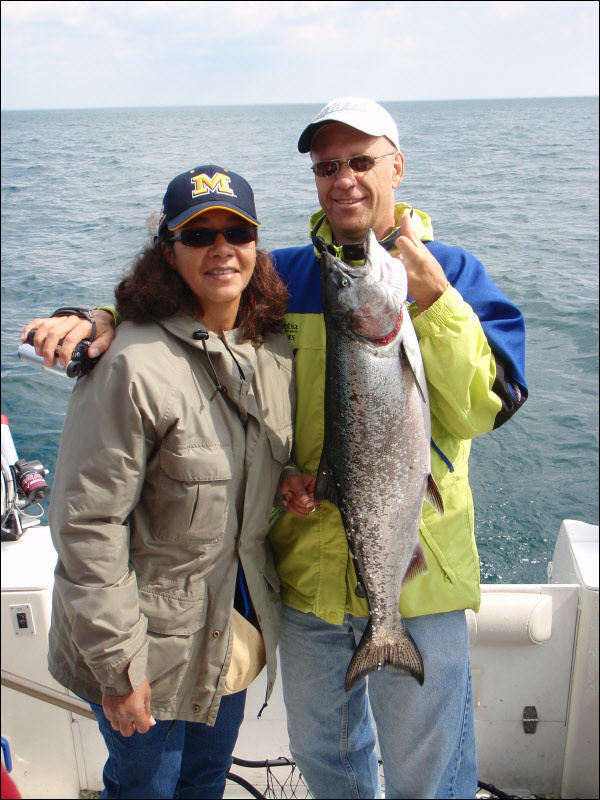 Milwaukee Charter Fishing in June for Chinook Salmon
This picture is from a late June trip Charter Fishing Milwaukee Lake Michigan Salmon and Trout. As you can see the clients are still wearing winter jackets. The trip two days earlier the people were in shorts. June can be unpredictable for weather because the surface of the lake can still be very cold. Always be prepared to take extra clothes for a trip because you can't put on what you don't have but you can always take off items if you are too warm. But if you forget Silver King Charters does have a few extra jackets and sweaters aboard.
On this trip the fishing started off fast and we boated 4 fish in the first 40 minutes. We caught 2 Coho Salmon, 1 Chinook and 1 Lake Trout. June is a great time to hook up with multiple spiecies. The clients told us that this was the best fishing trip they ever took. I felt a limit would be easily accomplished but the fish shut down after the early bite. Always important to start before first light to get the early bite.
The sky was clear and Lake Michigan was calm. Perfect for a boat ride but we were Charter Fishing Milwaukee Salmon and the fish did not want to bite. Under these condition we throw a lot of board lines at the fish. On this day we ran 6 leadcore lines running 25 to 50 feet deep. This presentation helps to get spooked fish to hit.
We managed 5 more fish in hte next 2.5 hours but things were slow. At this point Silver King Charters was hoping to get into a double digit catch, which is always a good trip Charter Fishing Milwaukee Wisconsin Salmon and Trout. We lost the next two fish and the hole boat was chanting doulbe digits to the guy fighting the fish. This probably did not help the concentration of the person fighting the fish.
Just when I thought we would be lucky to catch one more a strong southeast wind started to blow. This put some chop on the water and turned the fish on. We had 50 minutes left in the trip and as soon as the wind picked up we had a double header off the downriggers that had been dead since the early morning.
During the last hour of the trip we had several double haeders and one triple header right at hte end and finshed with 19 fish for the trip including all five spiecies. We went 10 for 11 on fish that were inactive for most of the morning. Milwaukee Charter Fishing Salmon and Trout is about patience. We new the fish were around and stayed on them all day but sometimes you really have to work for them.
The wind switch was the trick and Silver King Charters is quick to capitalize on a good bite and put fish in the boat. Many trips have there highs and lows but for the most part we get the fish to go and you get to take home a nicee box of Salmon and Trout fillets.
So book a trip with Silver King Charters by calling 414-460-1467 and remember to dress for the weather. We will give you an idea a day before your trip of what to bring. Charter Fishing Milwaukee is solid throughout the year but there will be slow periods in a day but we believe in the end you will catch fish. Are policy is No Fish-No Pay guaranteed.