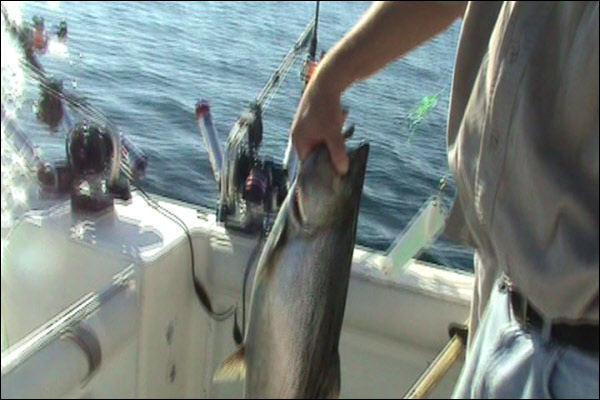 Milwaukee Charter Fishing for "King Chinook Salmon"
I am holding a nice 4 year old Chinook Salmon caught on a Milwaukee charter fishing trip aboard Silver King Charters in late August. This was caught by Dan on a 10 color Leadcore set up off a board. Dan and 2 of his friends were from Iowa. I have done quite a few trips for people in Iowa and they have always been easy going and enjoyable clients.
In this picture you can see I was using a Fish Catcher Flasher with a Green Howie Fly. This set up worked good on leadcore last August and took 5 Chinooks during this charter trip. Leadcore is weighted line. Leadcore is nylon wrapped around lead, which causes it to sink at 5 feet for every 10 yards let out. The nylon is colored every 10 yards to easily tell how deep you are. This is a very effective way to catch Salmon.
I have 6 rods set up with leadcore. They vary in colors from 2 to 10 colors. This allows me to quickly choose the right rod to put baits where the fish are located in the water column. Leadcore has always been a good way to fish on Lake Michigan but has really taken off over the last 10 years. Everybody in Milwaukee Charter Fishing uses it.
While Charter Fishing Milwaukee on Silver King Charters I also use Copper Wire. This is much the same as Leadcore. The difference is that you need less of it to acquire the same depth. With 10 yards you achieve 7 to 8 feet of depth. This means less line needs to be let out to get down to where the fish are and less reeling for you. Copper is also run off boards the same as leadcore. I will often run both lead and copper at the same time. It does matter sometimes. I have 6 rods set with copper line, anywhere from 50 to 120 yards.
I will hook these lines up to boards that will take the line 75 to 200 feet off to the side of the boat. When a fish hits the line releases off the board and you are free to fight the fish. The guys from Iowa really enjoyed fighting these fish, although it was a lot of line to reel in. Aboard Silver King Charters I will run 2-4 off these lines and they always get hit.
This stealth presentation is sometimes the only rods that get hit when the Salmon and Trout get spooked or are sluggish. Fishing Milwaukee Charters you will most likely be fighting a Salmon off a board rod and it is fun because once you are free of the board it is just you and the explosive fish at the other end of the line.
Leadcore can account for half the fish on certain days and when Lake Michigan is calm and it is a sunny day it is the best presentation to use. To be successful fishing Salmon and Trout on Lake Michigan you must have several ways to attract and catch fish. Aboard Silver King Charters we have many techniques and boards with leadcore is just one great method.
Try Milwaukee Charter Fishing this year aboard Silver King Charters and catch a Lake Michigan Salmon off a board rod.