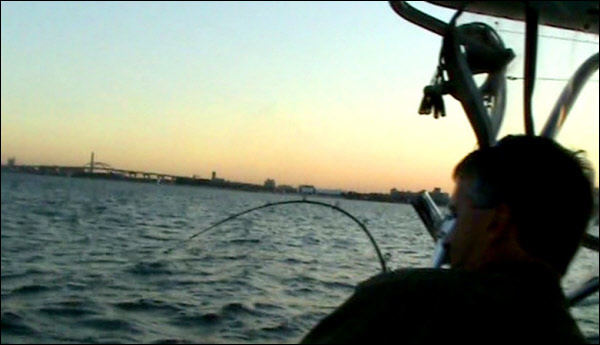 Milwaukee Charter Fishing Salmon in September outside Milwaukee Harbor
Jeff Peak is doing battle with a Chinook Salmon on a nice September evening. September is when the mature four year old Kings come in to the Milwaukee Harbor and begin staging for their spawning run up the Milwaukee River. These Salmon average 10-12 lbs and some will run into the upper twenties.
Charter Fishing Lake Michigan Salmon is fun all year but in the fall it turns into combat fishing. The Salmon are in shallow water and the break wall is close, so the fish go balistic when they are hooked. Some trips turn into one fish after another until the clients wear out before the trip finishes. Most of these trips are in the evening and start around 4:00PM and end at sunset. These harbor trips are a steal at $250 for 2-4 people. These are also the best Salmon for smoking.
Jeff and his friend had an outstanding trip Charter Fishing Lake Michigan Salmon on this particular evening. Jeff took 5 big Salmon and his friend caught 3 and lost several more. The fish were hitting brightly colored J-Plugs off four downriggers. This is a typical spread for harbor fishing. Two riggers are run close to the bottom and the other two about 10-15 feet down. These fish are very aggressive and put up excellent fights.
Charter Fishing Lake Michigan Wisconsin usually is good in all harbor locations up and down the shoreline during the fall because this is where the DNR stocks the fish when they are young. Salmon return back to this same area to spawn. Chinook Salmon typically live four years in the lake and return to spawn and then eventually die to leave nutrients for their young when they hatch. In Lake Michigan are rivers and streams don't generate enough young fish from natural reproduction so the DNR stocks Salmon to guarantee a health population of Salmon in the lake.
Later in September Coho Salmon also return to this area and are just as fun to catch. So give Silver King Charters a call at 414-460-1467 and try Charter Fishing Lake Michigan in September.