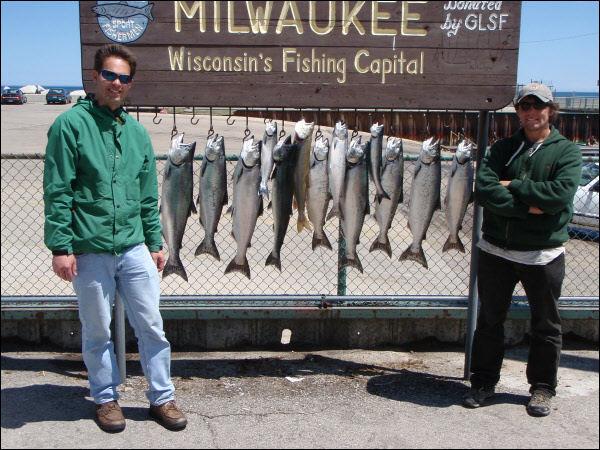 May Chinook Salmon caught aboard Silver King Charters
These fish were caught aboard Silver King Charters on May 17, 2008 after Milwaukee Charter Fishing on a morning trip. We took 14 fish during this trip of which 10 were Chinook Salmon. We also boxed 2 Laker Trout and 2 Coho Salmon.
The trip started in search of Coho Salmon but the warmest surface temperature we could find was 48 degrees and most of the time it was colder than this. So our Coho spread was not taking off. We dropped some lines deep and started to have better luck. We hooked up with 7 nice Chinook Salmon and 1 Lake Trout in about an hour.
Usually Charter Fishing Milwaukee you can get a consistent Coho Salmon bite going in short order during May. But it has been a cold spring and water temperatures have not warmed up enough yet. We adjusted for the conditions by targeting fish deeper in the water column.
I set the two back downriggers to 105 and 90 feet down, with fly and flasher combinations. I also ran two wire dipsy set at 70 and 80 feet down. We set up off Oak Creek, Wisconsin Power Plant in 120 feet of water. The West wind was strong and I worked an East-West pattern once we found the fish.
Milwaukee Charter Fishing has some good spots south of the Milwaukee Harbor and the water can be a little warmer there in early May. The Coho spread was set in the top 15 feet of water and this ran along with my deep pattern. Although it failed to deliver the same action, we did take 2 Coho Salmon and 1 Lake Trout on this spread.
The surface temperature is key for a successful Coho bite. I usually look for anything 49 degrees and over at the start of the season. On this trip it was 44 degrees on average and lead to the slow surface bite. We have many apparatus to target fish aboard Silver King Charters and although we told the clients they would primarily catch Coho Salmon in the end I think they were very satisfied. Charter Fishing Milwaukee is about being able to adapt to the conditions, so you go home satisfied.