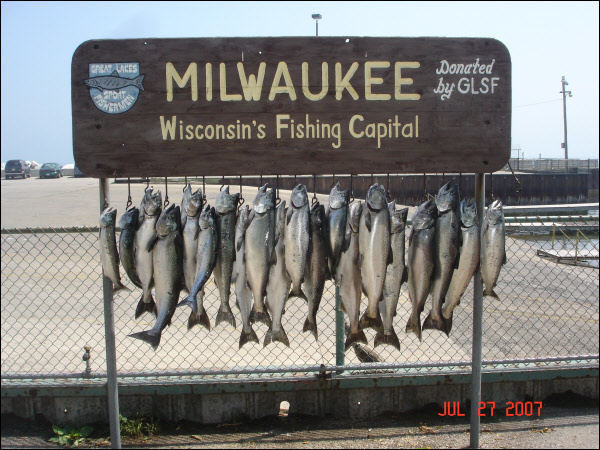 Lake Michigan Chinook Salmon Catch
Another fantastic July morning trip aboard Silver King Charters on Lake Michigan while Milwaukee Charter Fishing. We were fishing about 12 miles north of Milwaukee Wisconsin on this trip and as you can see we really slammed the fish. We took 32 fish in 3.5 hours.
When the conditions stay the same for several days we can sail into the fish and have high catch rates quick like this picture show. We had a 4 person charter and in the first hour they had caught 15 fish. My trips are usually for 5 hours or a limit. In this case 20 fish would be the limit. The guys asked if we could start throwing back fish we caught. I have no problem with this but once we hit 20 caught fish the trip is done. At that point I charge $50 an hour, which is still an outstanding deal.
Many clients extend their trips once fishing with Silver King Charters. Whether the fishing is outstanding like this day or to finish catching a limit on a slow day. It is a lot of fun fishing with Silver King and if the catch is going quick on your trip ask about how to extend the trip and we can arrange it while on the water. Releasing a fish that will survive right after it is caught is how you can catch more fish beyond your limit, but after you have caught your limit or the trip time is up you will need to pay $50 an hour extra.
The guys who caught these fish wanted to fish all day but some of the fish we caught could not be released so the fish could live, so they eventually limited out and we had to come in. They ended up book a trip the next afternoon and took 15 more fish. Milwaukee Charter Fishing is outstanding all year long and when you come fishing on Silver King Charters you will get hooked too.