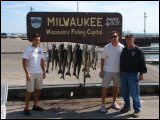 Lake Michigan Charter Fishing
Milwaukee Charter Fishing in August is an outstanding time to land big Chinook Salmon like the ones you see here. The biggest Salmon is 20.3lbs and was a really battle. This is the time the mature Chinooks are getting ready to spawn, so they feed heavy to bulk up for the long spawning run that starts in mid-September and ends in November. Many of our big Kings are caught during this time of the season Charter Fishing Milwaukee aboard Silver King Charters.
This Chinook Salmon was caught on a flasher and fly combination off a downrigger. The rigger was set 70 feet down and we were in 110 feet of water. I usually run all flasher/flies on the four downriggers to simulate a school of bait. This fish hit on the second deepest rigger and headed straight for the bottom. When Charter Fishing Milwaukee you want all your set up to produce but when the riggers pop one after another you can catch Salmon fast.