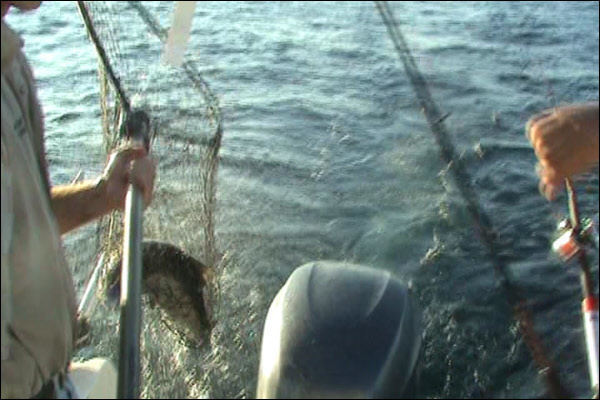 Lake Michigan Charter Fishing
I am netting a customer's 13 lb Chinook Salmon, while Charter Fishing in Milwaukee Wisconsin aboard Silver King Charters. This Salmon came on a white flasher with a aqua fly, using a copper rod set up off a board. We had 100 yards of copper out when this fish hit.
Copper line sinks 7-9 feet every 10 yards you put out and allows the bait to sit way back of the boat. Fish that are spooked by the boat or are not interested in baits on riggers or dipsy can be caught off this more stealth approach.
Depending on how deep the fish are in the water column determines on how much copper to let out. This set up was down about 90 feet when the fish hit. We commonly use 2 - 4 copper rods on our Lake Michigan charter fishing trips. The copper is let all the way out until we reach the backing on the reel. It is at this point we put the line into a release and slide it down a line that is attached to a board. This board pulls the line to one side of the boat about 150-300 feet away from the boat. This allows us to run more lines, without tangles.
When a fish strikes on board line the line snaps off the release and you start fighting the fish. The release on a board is very exciting. When a fish hits you here a snap and then the drag starts screaming. Many times you will see a fish jumping from this set up before we even can get to the rod. The great thing about a board rod is that once the fish release from the board it is just you and the fish.
Milwaukee Charter Fishing uses a lot of copper or leadcore setups, which is the same concept as copper. These rods produce many fish. So book a trip aboard Silver King Charters today and experience copper line for yourself. This is just one of the many ways you will catch Salmon while Charter Fishing in Milwaukee Wisconsin with us.