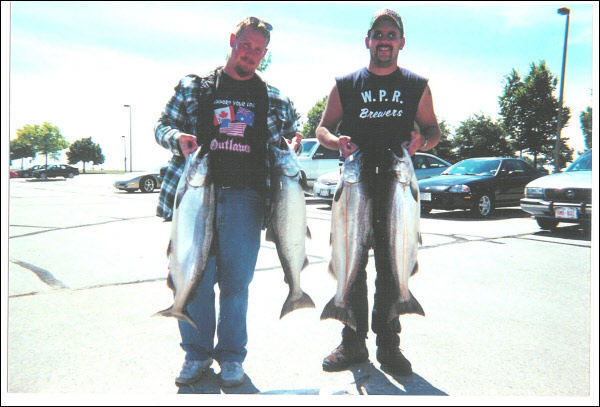 July Kings Charter Fishing Milwaukee aboard Silver King Charters
Steve Lesch and his good friend Steve Savatski took a mid July trip Milwaukee Charter Fishing aboard Silver King Charters and hooked up with some nice four year old Chinook Salmon. Both Steve's have been out with me before and were very familiar with the trip.
I was glad because this particular morning started out real slow. We boated one Lake Trout in the first hour and a half and we had blue skies and a calm seas. Perfect for a boat ride but sometimes makes for tricky Salmon Fishing on Lake Michigan. This can lead to a tough bite as the day goes on. Both the guys were patient and it would pay off. Milwaukee Charter Fishing Salmon is consistent but does have some periodic slow stretches.
I started to lengthen my leads on the downriggers and huged tight to the bottom with my baits. The water was ice cold from a stead West wind over the last week, so the big Chinook Salmon were shallow and tight to the bottom. We started to pluck away at them in 50 feet of water.
Three set ups worked best. The first was a 8 color laed core with a pearl spoon on it. This bait was down around 40 feet and about 90 yards in back of the boat off a board. Kings can spook under these conditions, so a stealth presentation that leadcore provides is perfect for these situations.
The second set up that produced was a two color leadcore off a downrigger. This provides a bait to drop 10 feet below the downrigger ball and drops further back than a regular mono presentation. This took four nice Chinook Salmon with a fly adn flasher.
The final rod was a downrigger set a couple feet from the bottom. This bait gets right in the face of stubran fish and aggreviates them enough to strike. You need to monitor this set up so you don't snag up on the bottom. This produced 3 nice Kings using a large flasher with a green fly.
In 5 hours we ended up 11 fish and although the action was not real fast it was steady. Both Steve Lesch and Steve Savatski had time to fight fish and enjoy a few beverages. Charter Fishing Milwaukee is very solid and with the right techniques you can find a way to put Salmon and Trout in the boat. Structure is key and we are lucky in Wisconsin to have good structure. The Michigan side of Lake Michigan is not so fortunate.
When people ask me is there better times to Salmon fish, I say anytime is a good tiime. This is true because there are many factors that go into a good trip but the most important is experience. Silver King Charters has the experience to make every day a good day for Charter Fishing Milwaukee, Wisconsin on Lake Michigan.