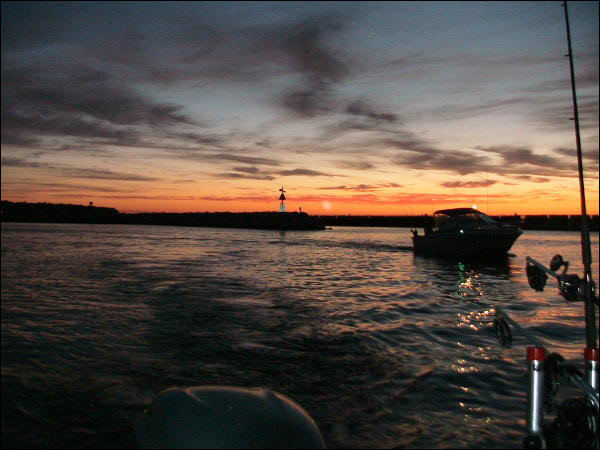 Heading out on a Milwaukee Charter Fishing morning charter
Charter Fishing Milwaukee starts early in the morning to capitalize on the early bite. This picture shows Silver King Charters heading out the North Gap of the Milwaukee harbor to begin a trip. We like to be setting lines at this time in the morning, so it is still dark normally when we hit the gap.
We rarely stop around the gaps in the Milwaukee Harbor but there are times when the Salmon are packed in and around the harbor feeding on bait. Usually we begin motoring out to a spot holding fish. Most runs take 10 - 20 minutes to get there. The earlier you start the quicker we set lines on feeding Salmon in the early part of the morning. We catch Salmon throughout the day Charter Fishing Milwaukee Wisconsin but the early morning is one of the best times.
By the time we have reached a spot fish are holding in we start setting lines and the sun is just beginning to create this orange glow. The lines race to depths of 20 to 120 feet down and within minutes you will usually be fighting a Salmon in early morning light. This will make an outstanding picture for a good memory of your trip Charter Fishing Milwaukee.
Fighting a Salmon before the sun has even hit the horizon is really special and keeps clients coming back to try Charter Fishing Milwaukee aboard Silver King Charters. We like to put 2 to 6 fish in the box during the first 45 minutes to an hour. The Salmon and Trout will hit throughout the morning but the period just before the sun rises is the best. Salmon are light sensitive and can slow the bite considerably after it rises on certain days.
When you book a morning trip Charter Fishing Milwaukee Salmon and Trout request to start before sunrise and you will see more fish in your cooler at the end of the trip. Call Silver King Charters this season and be fighting your Salmon to this back drop.