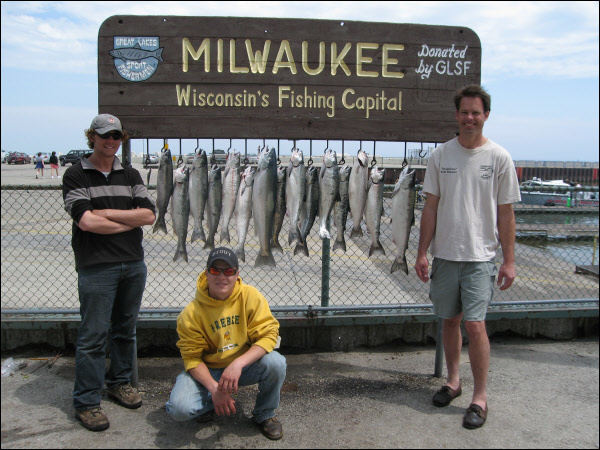 Fulton's Limit Catch of May Coho Salmon while Milwaukee Charter Fishing
Fulton in the yellow pullover and a couple of his friends, taking the pictures, took a nice limit of Coho Salmon. They were Charter fishing on Lake Michigan just off of Milwaukee aboard the Silver King. The Coho's begin their Spring time migration from the southern basin of Lake Michigan in early March.
Chicago Charter Fishing for Coho Salmon on Lake Michigan is hot in early spring. By mid-May when these Coho Salmon were caught, fishing off Milwaukee begins to heat up. Fulton and his friends had some fast action on this morning charter fishing on Lake Michigan.
Most of the action occurred in the top 25 feet of water. We traveled out to 200 feet of water to find this school of Coho's. Green flies and orange dodgers were the hot ticket set up on dipsy and board rods. Fulton told me that the action was so fast he didn't have time for a drink until we were motoring back in.
Charter Fishing Milwaukee and Southeastern Wisconsin on Lake Michigan is outstanding Coho Salmon from May through June and some of the best tasting fish caught all year. I was able to pull limit catches 4 straight days from the same area before strong winds moved the Salmon in closers. Coho's average 2-6 lbs. and are a fun fight. The action can become very fast paced.
Coho Salmon are very lean and in my opinion the best tasting fish we fish for. Fulton planned to grill some of these fish for dinner. We fillet all fish at the end of the trip so they are ready to cook when you get home. There is nothing better than fresh Salmon fillets.
Charter Fishing Milwaukee Wisconsin Lake Michigan is a fun sport and during May and early June you will get your workout fighting Coho Salmon. So call 414-460-1467 and book a trip aboard Silver King Charters this season.