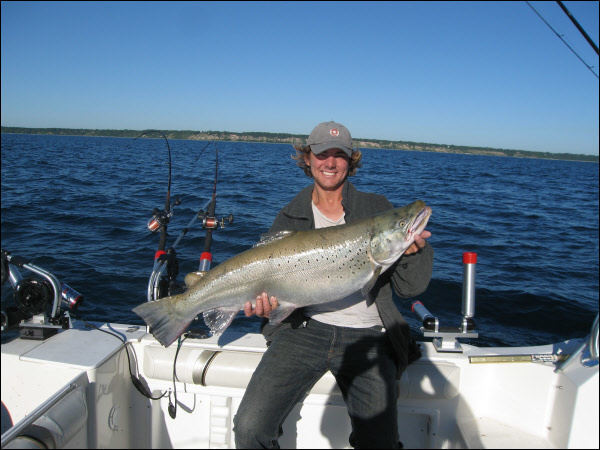 Chris Brand's 23 lb Brown Trout caught while Milwaukee Charter Fishing
My first mate Chris and I finished a trip Charter Fishing Milwaukee Wisconsin early and decided to start pre-fishing for a fishing tournement coming up later in the week. The morning Charter Trip was Mid-August and the people from Chicago wanted us to start at 4:00AM to assure they would catch fish on their Lake Michigan Charter. By 7:00AM we were back at the dock with 15 Chinook Salmon, weighing over 150 lbs. I don't think they planned on so many fish.
Chris and I don't have many chances to fun fish, so we took the opportunity and went back out to get ready fot the tournement. The bite was still hot and after several fish neither of us really wanted to fight another. The wire dipsy went off next to Chris and I told him he had to take it because he was closer to the rod. Chris slowly got up and grabbed the rod. The fish took a nice run of about 200 feet and we were sure it was another nice King. We had a green flasher followed by a green fly on this rod. After 15 minutes Chris tried to get me to fight the fish and I said no way it's yours!
The fish was getting sluggish and now we thought it might be a Lake Trout. When the fish finally surfaced about 50 feet in back of the boat we saw a brown back and we both said monster Brown Trout! I am a sure hand at netting fish but I must admit I was a little nervous when this one came to the boat. I knew it was over 20 lbs and the biggest Brown Trout Chris ever fought. Chris gave one final pull, I lunged for the fish and it just slipped into the net. The hook popped out of its mouth and I hoisted the fish into the boat, but not before it tried to take me out!
Chris and I couldn't believe the size! It scaled out at a little over 23 lbs. I wish I would have grabbed that rod now and it's too bad those guys from Chicago didn't start a little later in the morning. Chris took 1st place in the Brown Trout division with this fish in the Great Lakes Sport Fishing Club contest.
These real big fish are not caught on every trip Milwaukee Charter Fishing but we do catch quite a few during the season. So book a trip Charter Fishing Milwaukee Wisconsin aboard Silver King Charters this season and try your luck at landing a monster.