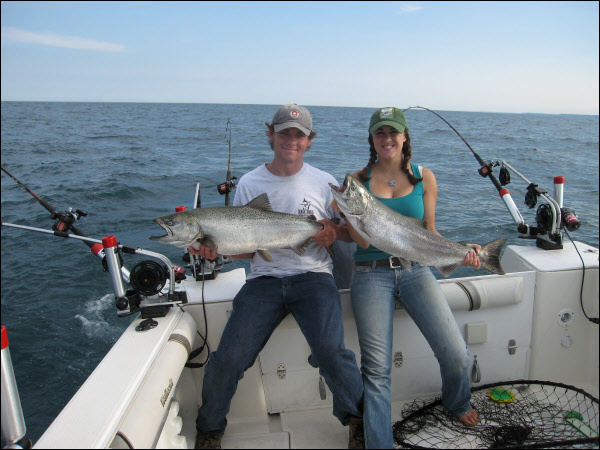 A Milwaukee Charter Fishing Double header of Chinook Salmon
Charter Fishing Milwaukee Lake Michigan Wisconsin in the afternoon can produce a lot of big Chinook Salmon. Some of the most consistent Salmon fishing is off the shores of Milwaukee, where Silver King Charters is located.
My firstmate Chris helps hold a double header of King Salmon caught by Vanessa in this picture. This Sport is not just for the guys. She was not an early bird, so she wanted to know if an afternoon charter would be as good as a morning trip. I assured her that we would catch Salmon and that some of my biggest fish were taken in the middle of the afternoon.
This was Vanessa's second trip with Silver King Charters and she requested Chris to firstmate. I still wonder if she had a crush on him? The first time out her father and brother landed most of the fish but on this trip she brought two friends. Vanessa told me she wanted to land more Salmon this trip.
We motored North of Milwaukee and set up in 120 feet of water to begin the trip. We had a great morning a little closer in from this spot and felt good about the location for the afternoon bite. Chris set the four downriggers with all flasher flies and I put two dipsy down with the same similar baits. The boards were next to go out when a fish popped a downrigger. Chris handed the rod to Vanessa, I don't think she was prepared to fight a fish so quickly.
It was a nice Chinook Salmon and about 10 minutes into the fight a dipsy rod started to yank. This was no doubt a nice King Salmon. Chris kidded Vanessa, "Would you like another fish to fight.", and she said, "Bring it on!" Her friends didn't mind, so Chris held on to the rod until she landed the first Chinook Salmon.
About 5 minutes later I netted her first fish and it was a nice 10 lb Chinook Salmon. Vanessa grab the next rod and began to fight the second fish. This Salmon took out 200 feet of line and she was in for a battle. This fish hit a pearl fly and green dodger.
It took her about 20 minutes and a lot of heckling from the crew but she landed the fish. This time it was a 14 lb King. She demanded a picture immediately, even before I could put the landing net away. So Chirs held the 14 lb Chinook and Vanessa the 10 lb King. Don't they make a cute couple? I would hate to fish against them in a tournement.
Charter Fishing Milwaukee can produce nice Chinook Salmon during afternoon trips in the Summer. Vanessa and her friends ended up with 12 nice Chinook Salmon on this trips and she was the only one who took her limit. I think my firstmate played favorites.
Book an afternoon trip Charter Fishing Lake Michigan Wisconsin this summer and catch your double header. Call 414-460-1467 for Silver King Charters.