*Note: Click any month to view reports.
January

February

March

April

May

June

July

August

September

October

November

December
Report for February 18, 2018
We are more than half way through February and very close to fishing. We will have a second new engine installed, along with 2 more digitroll Cannon downriggers and a whole bunch of new goodies. When we start it will be about the Brown trout in April but today I will recap June of last season. We did go down to Racine as we usually do in May and then we return sometime in mid to late June. There was a season we stayed until the first week of July. The reason is Coho salmon. They typically migrate from the southern end of Lake Michigan and that is why we go to Racine. This puts us closer to fish and if we need to we will go all the way to the state line to catch fish. But the last two seasons it has been as good in Milwaukee and Port Washington as it has been south, if not even better. Why? Well there are lots of factors that determine fish movement. Water temperature, current, bait and how fish our stocked. More Coho salmon are now being stocked north of Milwaukee and this may explain some or the reason why Coho salmon fishing has been stronger north of Wind Point. The winters have been very mild the last two years and there has been a lot of bait found off the shores of Milwaukee and Port Washington the last two years. Three seasons ago during one of the DNR's trawls to find out the status of bait in Lake Michigan they had their biggest haul of alewives off Port Washington. It was huge. The DNR said it was an anomaly and it may have been for the over lake but that many alewives in one area is going to attract fish.

In 2106 we stayed in Racine the whole 7 weeks and did good but we could have done better up north. In 2017 we spent just 9 days before coming back to Milwaukee and we were there for all of June and the rest of the season. Milwaukee charter fishing was on fire from mid May through late June. Fishing is typically strong during this time due to the Coho salmon bite. June ended up being our best month for total fish. The breakdown was 77% Coho salmon, 13% Lake trout, 5% Chinook salmon, 5% Rainbow trout and only 1 Brown trout. Come in April for the Brown's:) As you can see by this breakdown how important the Coho salmon are this time of year and how important it is to be where they are. That is why we will move this time of year to Racine if we need to. Too much of the bite relies on the Coho. A must stock fish for the DNR and currently the second only to Lake trout in stocking numbers. More than half our trips ended in a limit catch. Great eating fish and fun to catch. If you are looking to catch big numbers of fish numbers Mid May through late June is the time to fish. I cannot stress this enough. The size come in July and August.

So to put in more concise it was outstanding Milwaukee charter fishing in June. Our top bait was the half cut fly, which is a size up from the peanut fly. Our favorite color was green and we used it with an orange dodger. At this time of the season we had 6 boards with this set up and they were from the surface down 20 feet. As the water warmed we went way from keel weights and started using leadcore and copper on the boards. Anywhere from 2 to 8 color leadcores and 30 to 150 feet on the coppers. The lead used double zero dodgers and the copper used B&B dodgers. All orange in color. The dipsies where still orange on both sides set at 25 to 60 feet on the line counter. Both side riggers where orange but one now had the larger orange dodger on it down 20 feet. The two back riggers were now tipped with white flashers and the Howie Bull frog fly. We did use some spoons on inside boards and times and some wire dipsy set ups, using Spin Doctors and bull frog flies. But for the most part it was orange and green. The Coho candy!

We fished all over with this set up. In front of the harbor gaps, between 80 to 120 feet of water and in 10 to 20 feet of water along the shore. The Coho schools constantly moved throughout the month and a hot spot didn't last long but before long it was hot again. When you take a couple of passes through an area without a Coho bite they probably are not there and it is time to move and we did a lot of that throughout the month. But when you got on a school it was great action. There was certainly off days but it was not until the last week of June that we failed to hit double digits in our catch.

The 2018 season is just about to start and April looks to be setting up for some great Brown trout action. But Mid May through most of June is the best time to catch a Coho salmon on Lake Michigan. Give us a call at 414-460-1467 to hook up on some early season action charter fishing Lake Michigan. Below is some picture for hot baits and fish caught last June.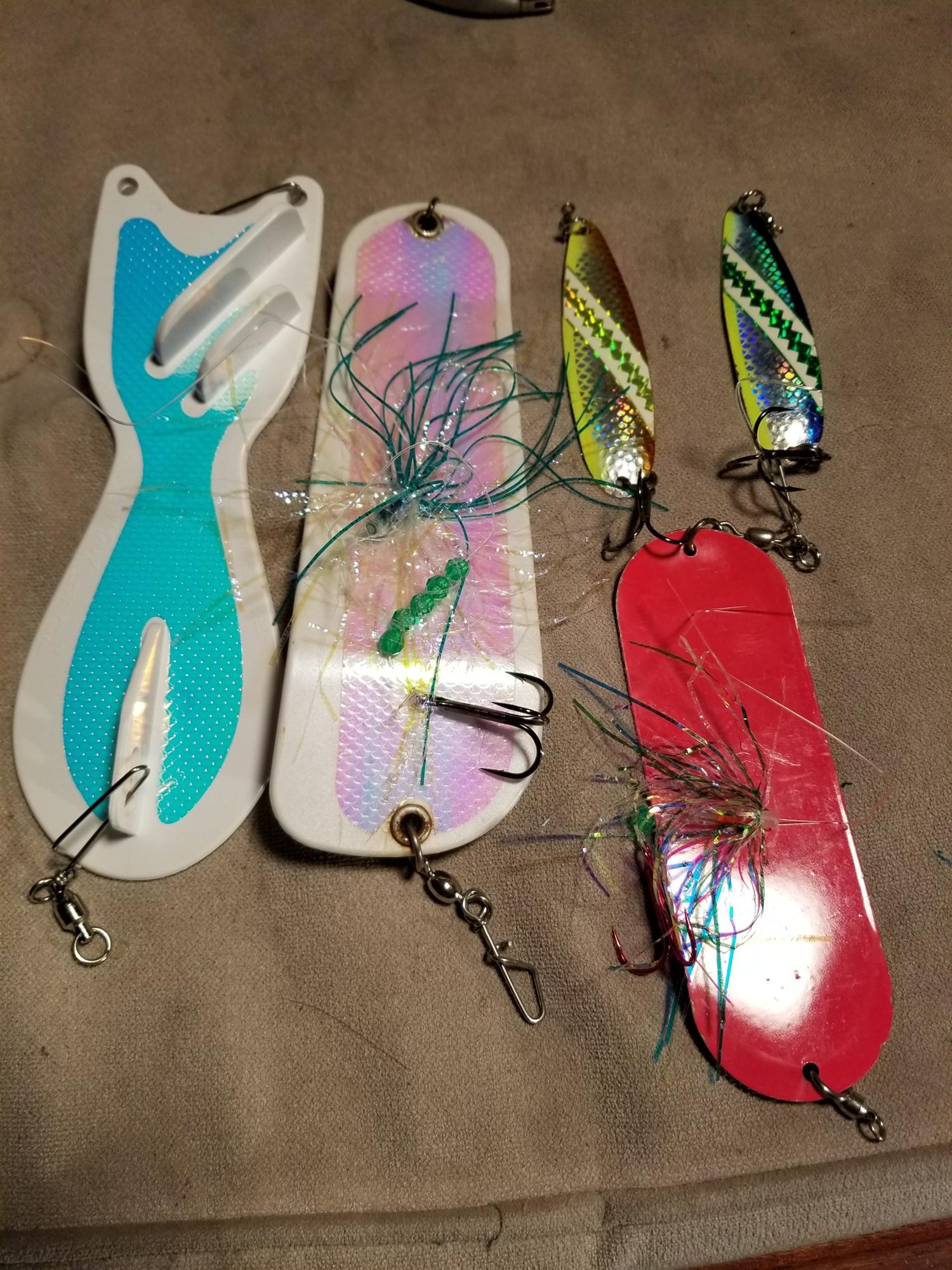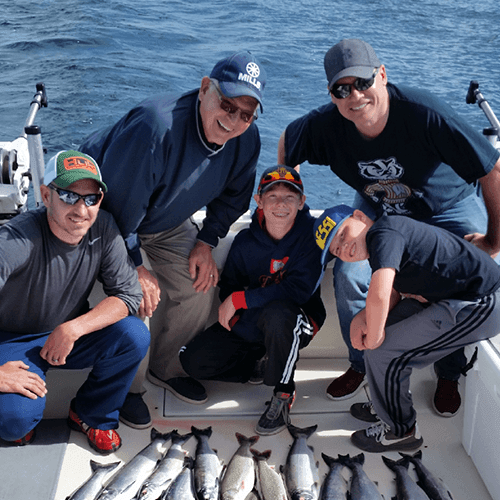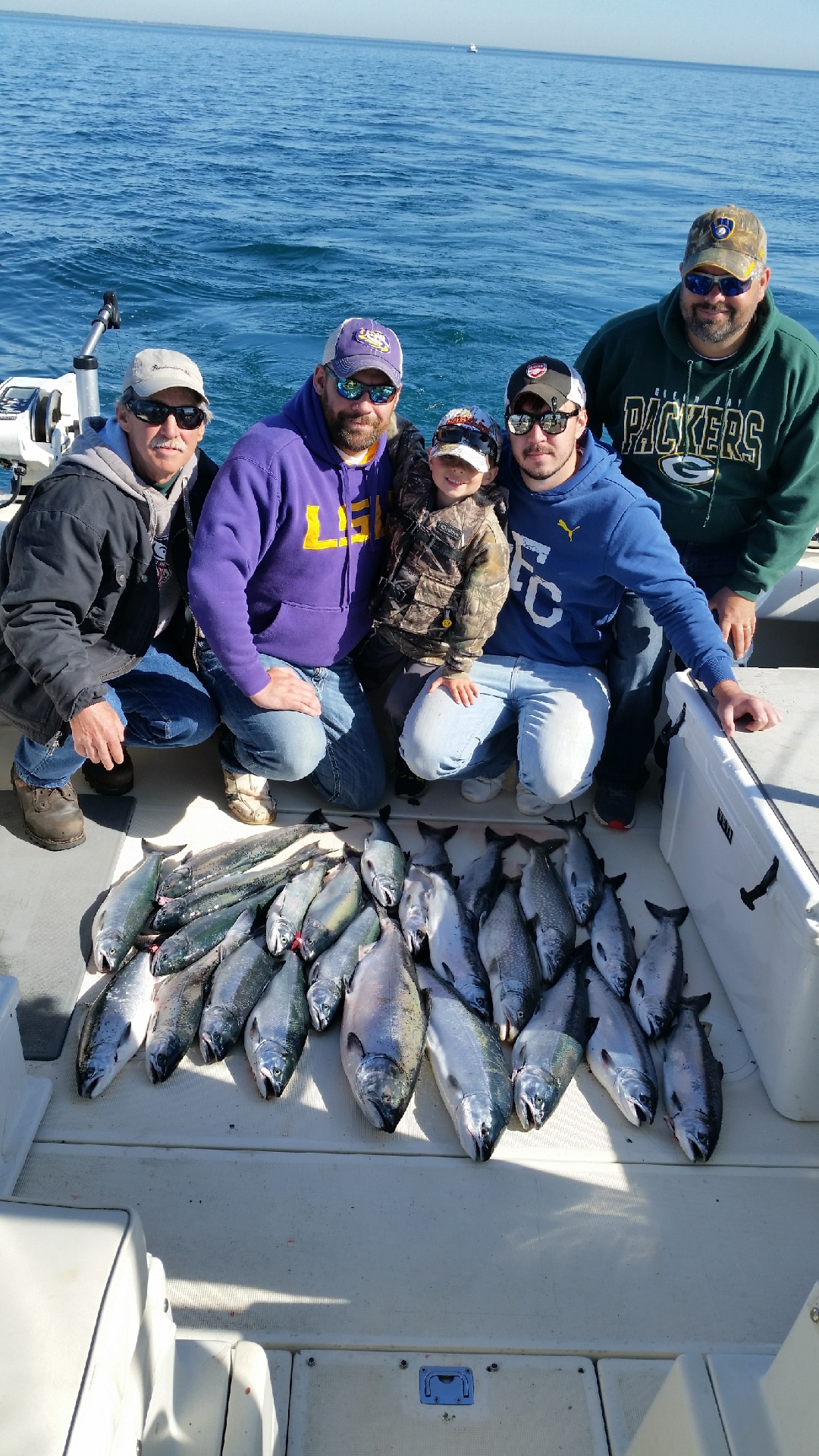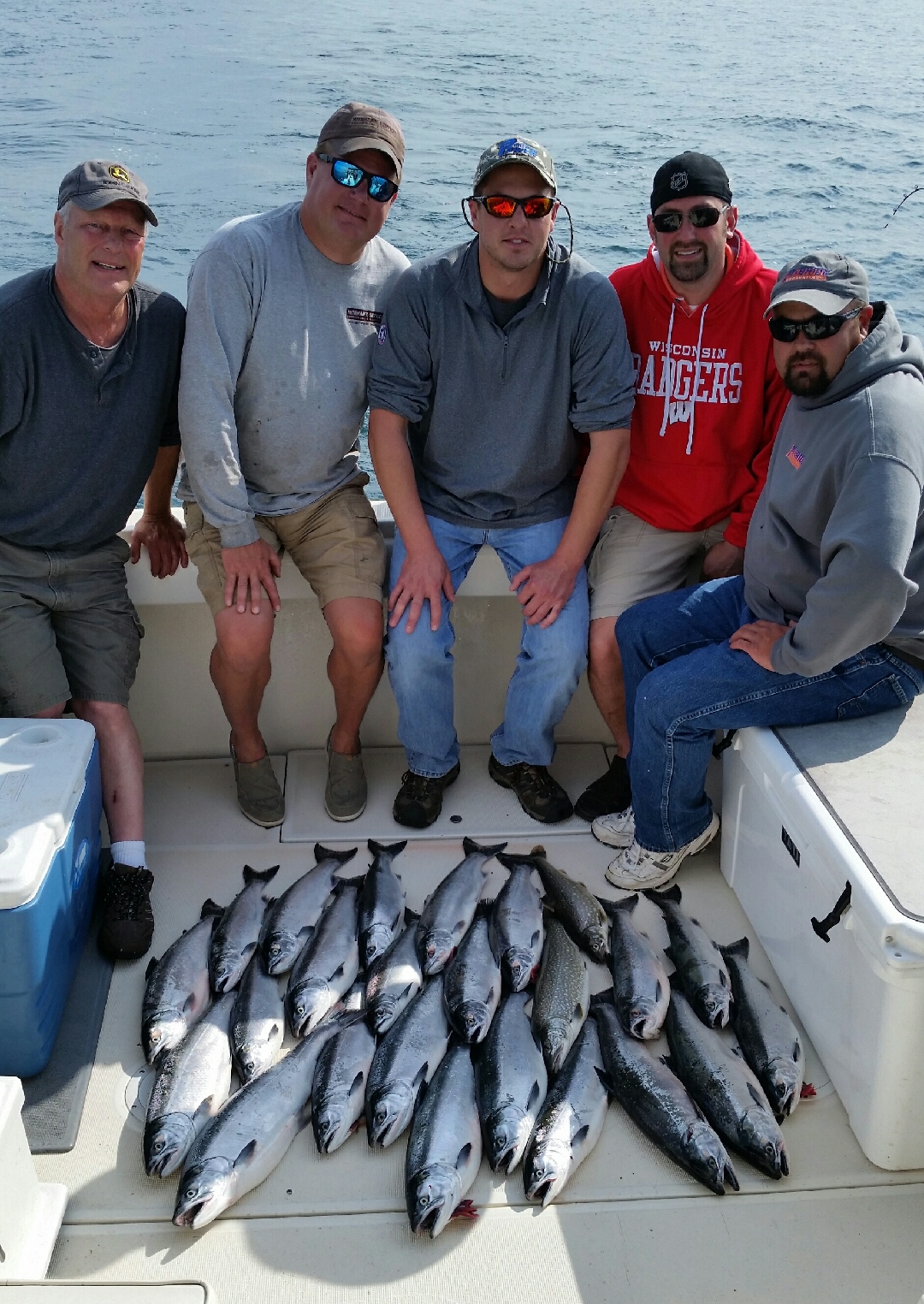 Report for February 15, 2018
Well we are half way through February and we have 40 degree air temperatures. We are getting close to the season starting and we hope to be in the water in 44 days, catching Brown trout. Since my last report we had what is now referred to as the polar vortex. The good news is that it didn't last long and we didn't see below zero temps for more than a couple days. Lake Michigan did become just over 50% ice covered but this was short lived and we are now back to 31%. The winter never was too cold for too long. Hopefully the spring is not too harsh and we are able to fish a lot in April. Wind and rain can make it challenging during April, mudding the shoreline and harbor.

The lake wide stocking numbers have not been released yet but Wisconsin's Lake Michigan stocking numbers are out. They breakdown like this:
Chinook: 813,386
Coho: 445,814
Brown: 368,509
Rainbow: 423,843

Total: 2,051,552


The Federal government may have stocked another 300,000 for the state on the refuge but this is not confirmed yet. This is in addition to the 3 million Lake trout that have been stocked every year over the last decade and a half. These numbers are about the same as last year but there are no more German Brown trout being stocked. All Brown trout stocked are now Seeforellen strain. I hope that the state starts stocking the German strain again because they are a great shoreline fish and provide a great fishery in April and late fall. Milwaukee received 35,000 yearling and 20,000 fingerling Seeforellen Brown trout. For the Coho salmon there are about 2.5 million stocked lake wide but the state of Michigan stocks the bulk of these. It is a crucial species to the fishery, since the Chinook stockings have been reduced. The Coho is less burned on the bait population and it would be great if Wisconsin could stock more of them. More Coho salmon are stocked north of Milwaukee now and the last two seasons it has been excellent Coho fishing right out of Milwaukee. The Coho migrate from the south to the north during the early part of the year. It is tough to say how it will set up each season due to weather and current but we will be where the Coho set up this season.
The Lake Michigan total stocking numbers will be out in March and this gives a more clear picture of the fishery. These are fish from the ocean and travel throughout Lake Michigan, so there are more fish to catch then the totals Wisconsin stocks. There is also some natural reproduction on Lake trout and Chinook that help add to the numbers. The fish stocked in 2017 will not be part of the catch until the spring of 2019 but it is good to know we will have fishery that is still strong going forward. I will break down what happened last June next week. June is a great month for Coho salmon and we start to get into a little more Chinook salmon during this month. We have the engine on order, new Cannnon downriggers mounted and several new real and rod combos. Call Silver King Charters at 414-460-1467 and book your Lake Michigan charter fishing trip. Help us to save the alewives by catching some trout and salmon. Below is the current NOAA map of ice coverage for the Great Lakes.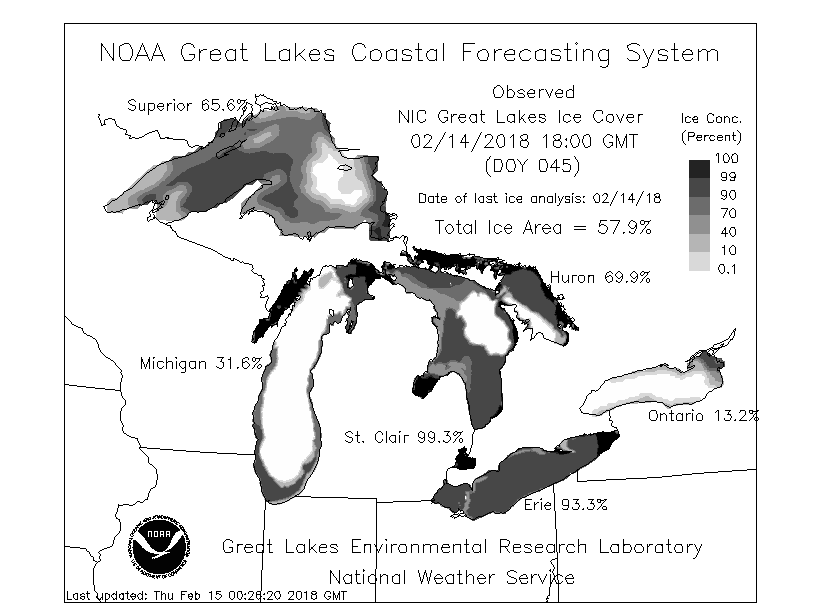 Report for January 23, 2018
This winter has not been to bad for Southeastern Wisconsin. Drought situation with several warm ups have kept the snow totals low. The great news is that Lake Michigan is only 11% covered with ice currently and 20% was its worst in early January. There are several good factors about this. One is there is a very good chance we can start fishing on April 1st. Some years there is too much ice for us to get in the marina. But more importantly a less harsh winter bodes well for the newly hatched or stocked fish in the lake. Much better survival. A wet spring is also important. This winter is by no means over but by mid February the worst of the ice building will be past us and things are looking good for not too much greater ice build up. We are well into our build up for 2018. The only thing really left is to install the new engine. Probably will be in March sometime but we are very excited to have two brand new engines going into the season. Every year I put all our profits back into the business to make sure each year runs as smoothly as possible. For my brother and I it is more of a passion to fish then a job.

Last update I recapped April. Today I will go through May. In May we had our highest catch rate for the year at 18.1 fish a trip. May and June are typically going the be the best catch rate due to the way Lake Michigan has been stocked in recent years. Coho salmon is the number one stocked salmon in Lake Michigan for the last decade and this is the time to catch them. Only Lake trout have a greater stocking number each year. We limited out more than 50% of our trips during this month. The breakdown was 82% Coho salmon, 8% Chinook salmon, 4% Rainbow trout, 3% Lake trout and 3% Brown trout. The Coho salmon are a great fish to target in May and when you get on a school it can be fast action. Over the years we have been down in Racine to get the best bite on Coho but the last two seasons Milwaukee and Port Washington were the hot ports. Tough to say which ports will be hot this season but we will be where ever they set up. The last two season had mild winters and more Coho are being stocked north, so this may contribute to better fishing further north than Racine down to Chicago.

The first 10 days of May where tough. Wind was bad and things didn't set up. We had only 3 trips we didn't make it to double digits in May and two came in this first week. But like always by mid May the Coho where all over the place. We started in Racine and the action was ok. We only spent a week here though. We were running out to 200 plus feet of water and out of Racine that is a distance. My last trip I got smoked on a two boat trip and had enough. Went back to Milwaukee and went 13 straight trips with limits and everyone finished early. Great action. I cannot stress this enough: If you want to catch a lot of great eating fish the best time to go is mid May to Mid June. It is still fishing and there are tough days but the catch rate is this period is on average the best. The stocking numbers on Coho salmon has been an average of 2.5 million a year for over 25 years. These fish are raised in hatcheries for more than a year and stocked in the spring. The following spring is when we start to catch them and they spawn that fall. Coho average 2 to 3 pounds in the early spring and by mid summer range 4 to 10 pounds depending on the bait. They are fun to catch and the best eating fish out of Lake Michigan. Some years we get summer Coho at 15 pounds plus and boated several last year over 10 pounds. Our big was 13 pounds and can be found in one of the pictures below.

Early in the season we ran a lot of spoons. Stinger UV Blue Dolphin and Modified Blue Dolphin were best. We also had success on the Gold Hud orange and chartrusse. Once we were into the Coho it was orange dodgers and peanut flies. We ran a side of boards with orange B&B dodgers with 26" 30lb fluorocarbon leader and green peanut flies. The other side of boards was orange double 00 dodgers at a 17" lead and peanut flies, using 30 pound test fluorocarbon leaders. We had leads from the boards on the B&B's from 12 to 50 feet. We used 5/8 ounce bead chain keel weights about 6 feet back from the dodger and ran these 12 to 60 feet back from the boards. We had one mono and one braid dipsy on each side of the boat. Orange dodger and green peanut fly on all four set ups. We had the mono at a 30 degree set and the braid at a 15 degree set. The outside was 30 to 40 feet on the line counter and the inside was 10 to 15 feet out on the line counter. The two outside riggers where set with an orange dodgers and green peanut flies set 5 and 8 feet down and 5 and 10 feet back. The two inside riggers usual had spoons and one was a gold hud and one a UV Blue Dolphin. Didn't change a thing for the last 3 weeks of May. Rolled around the gaps to 100 feet to 10 feet along the shore and just kept catching Coho salmon. Wiped them out!

Love this time of year because it is simple. Don't have to over think it. Just have to find them. I have some pictures of the baits and fish. I also put on picture from NOAA on the current ice cover for the Great Lakes. Call us to book a mid to late May trip and as long as mother nature isn't too nasty you will not be disappointed. Call us at 414-460-1467 to book a trip for the highest catch rate of salmon for the season.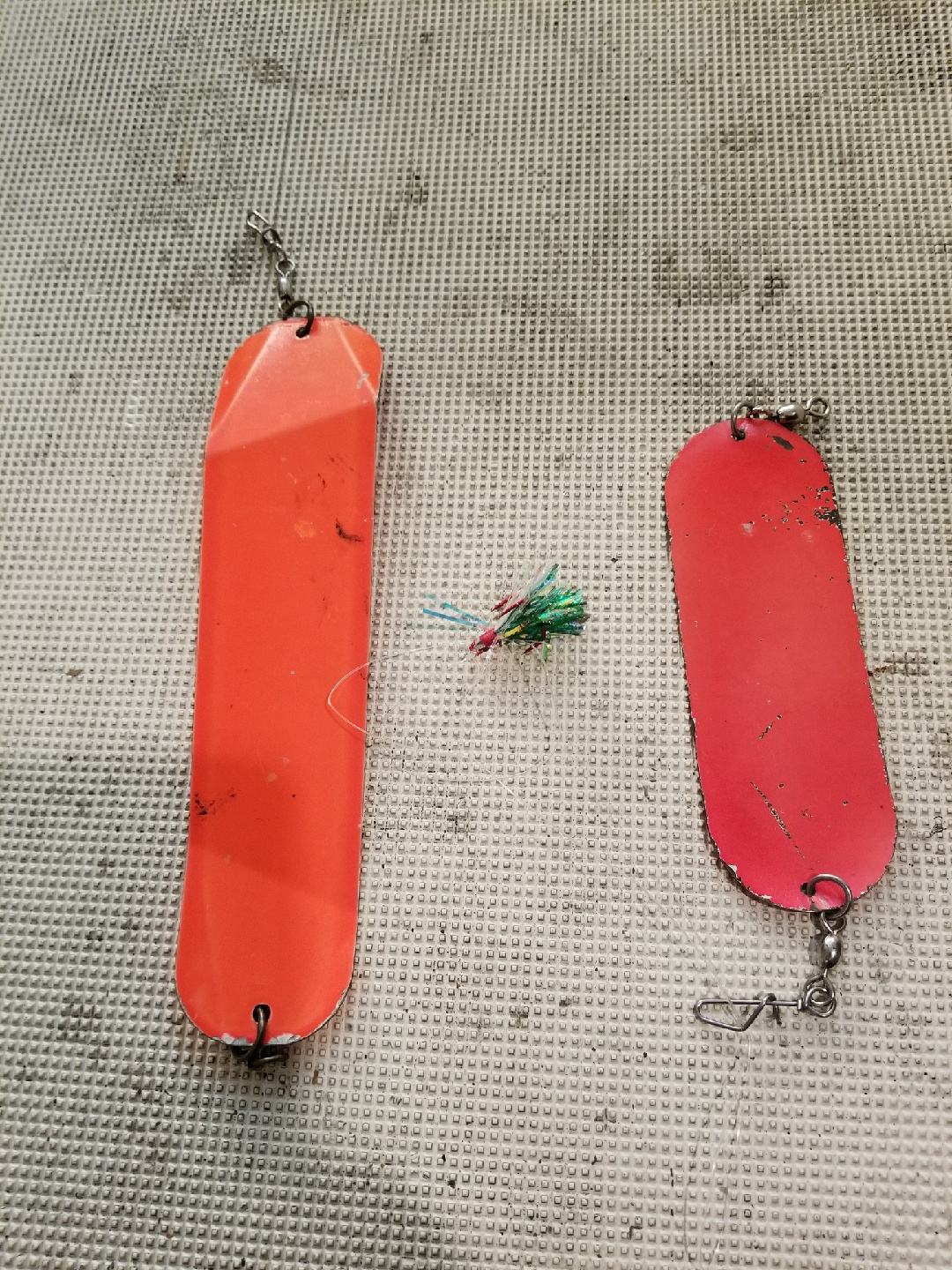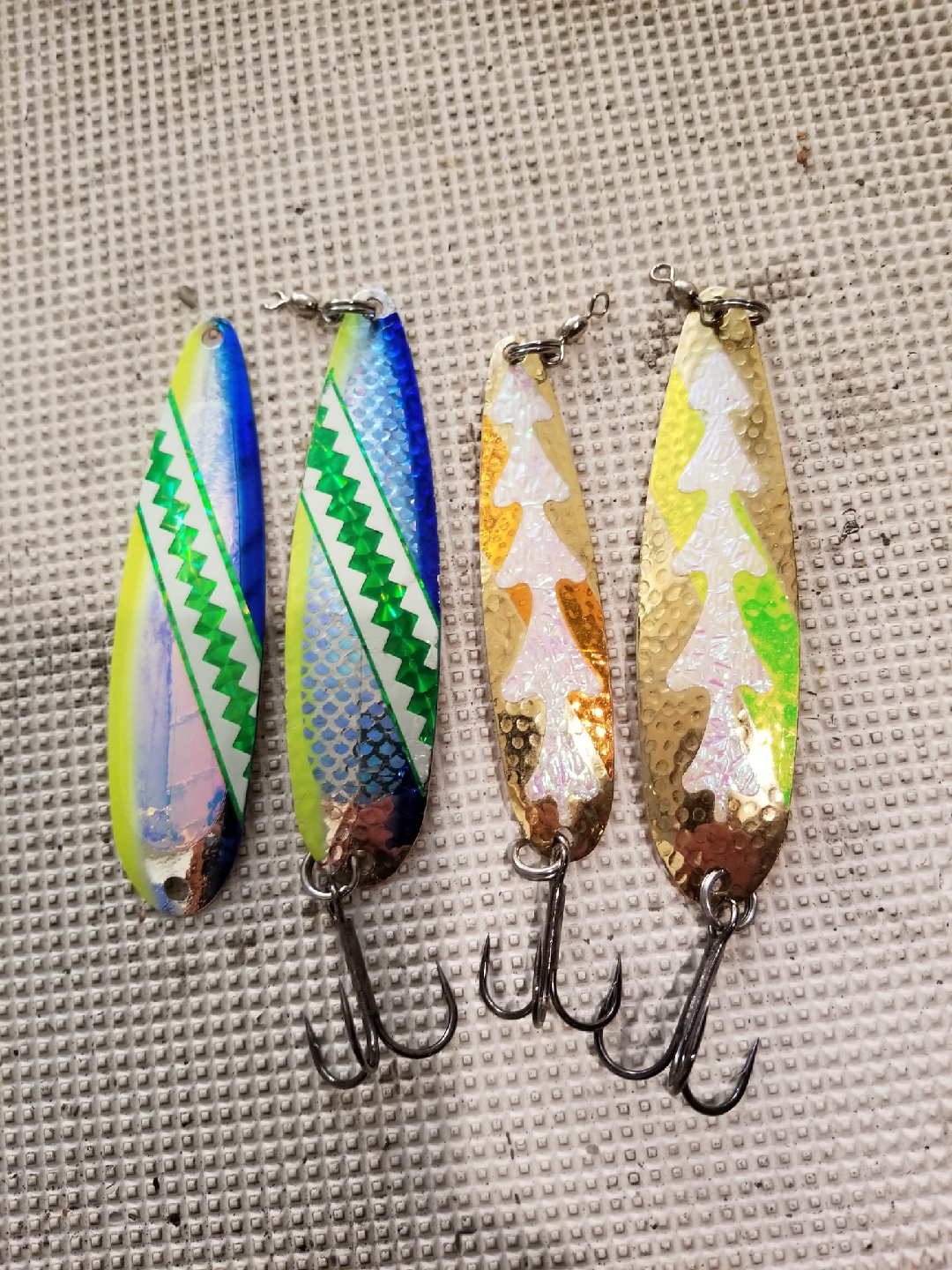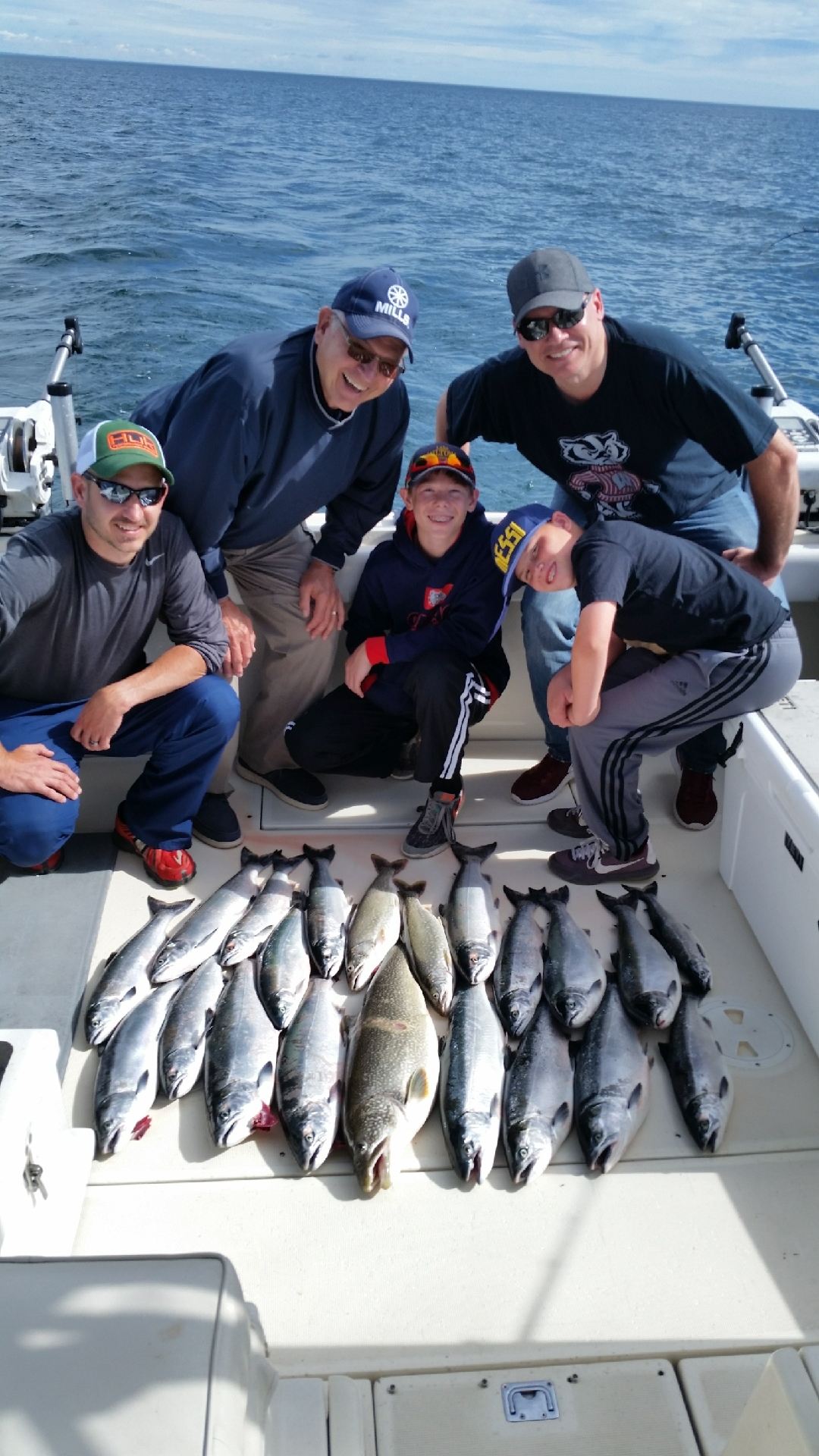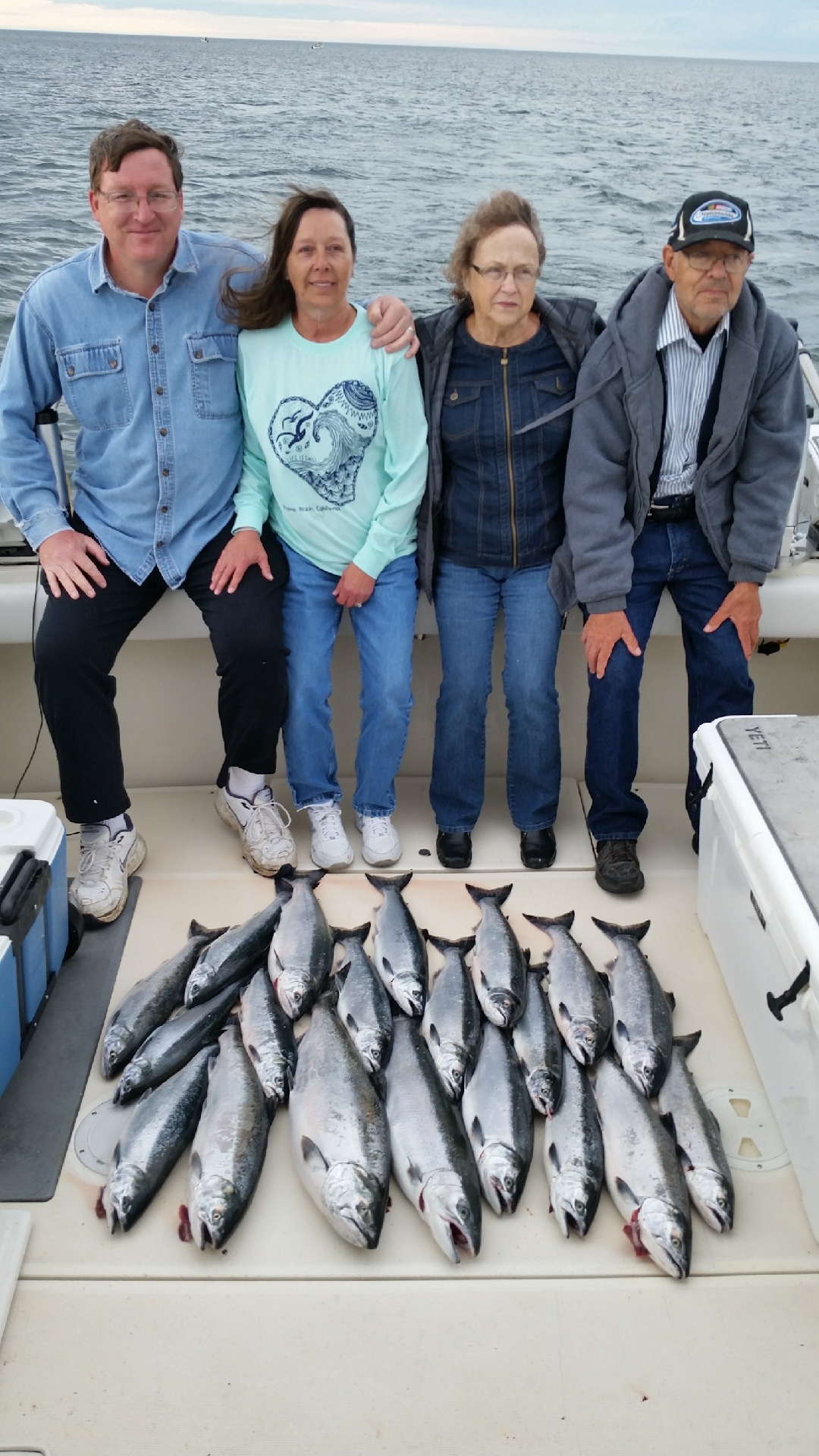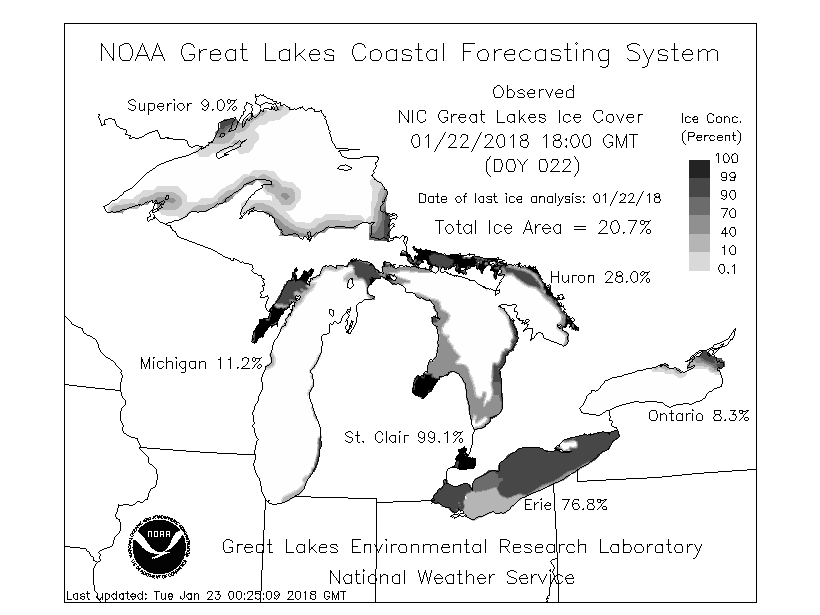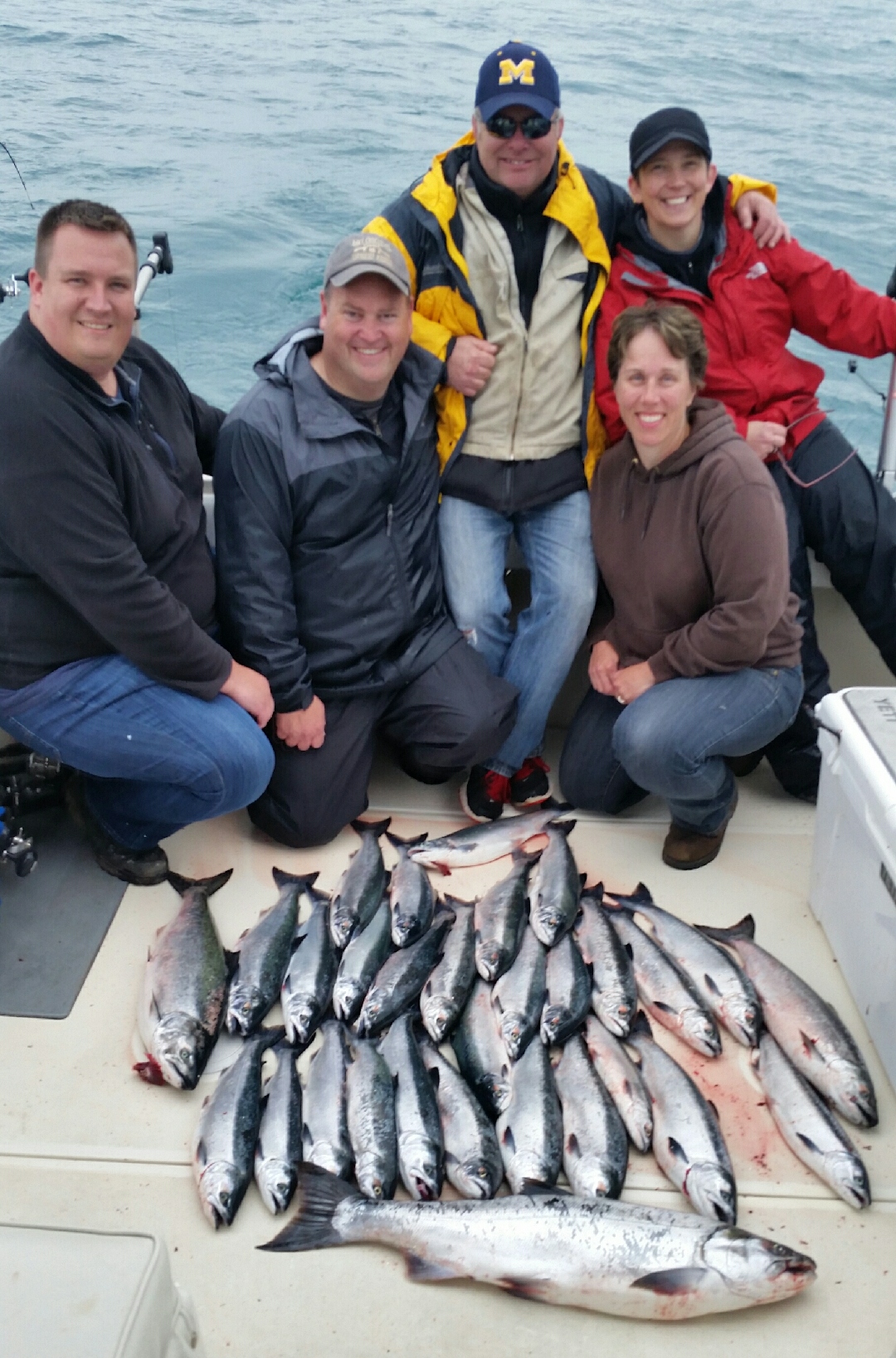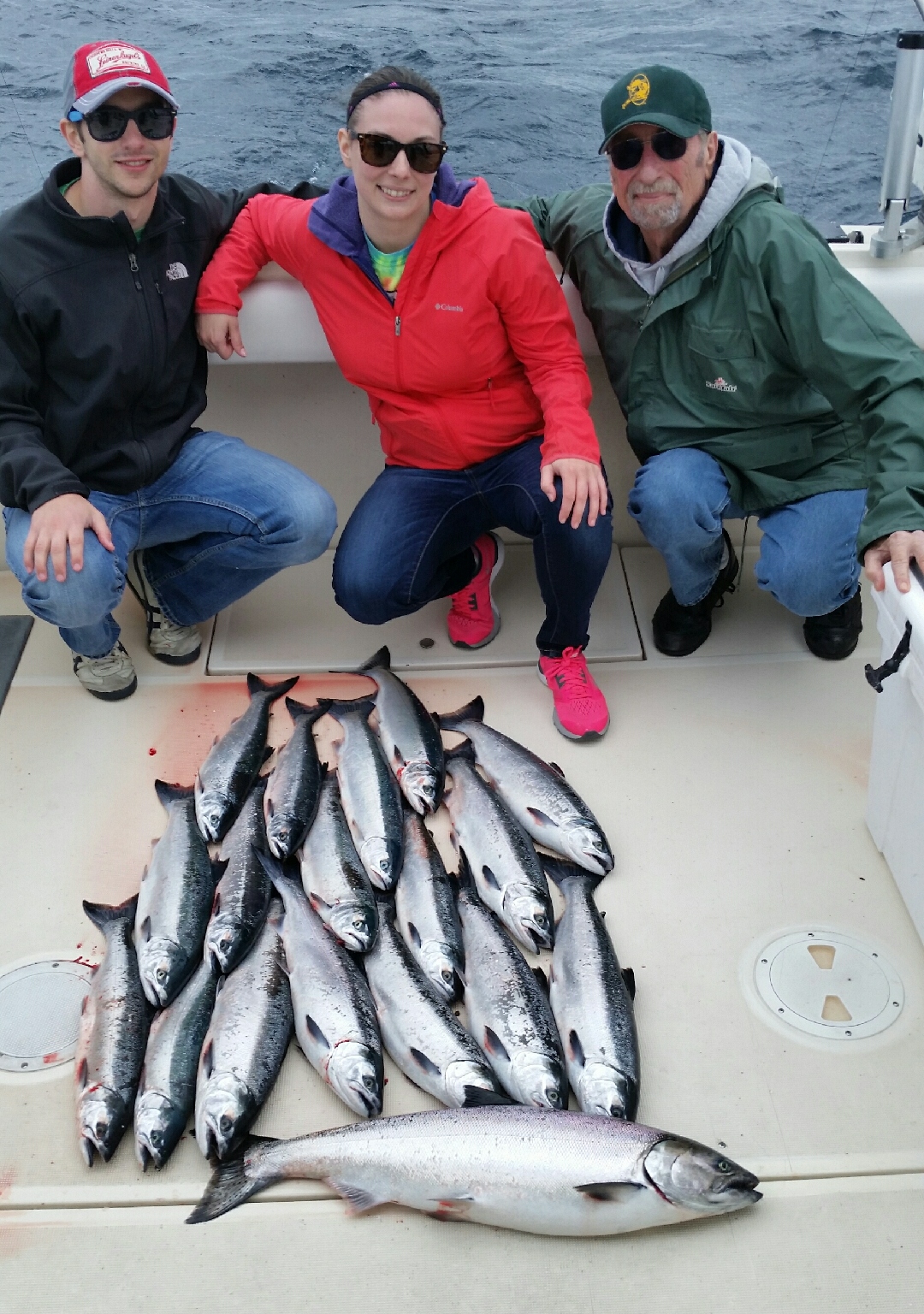 No reports yet this month.