*Note: Click any month to view reports.
January

February

March

April

May

June

July

August

September

October

November

December
Report for November 16, 2017
Report for November 10, 2017
Silver King Charters is officially done for the season. We pulled the boat today and she is going into heated storage. We plan on installing a brand new 350 Crusade fuel injected engine and a new transmission, along with a dripless seal on the starboard side. We did the port engine at the beginning of 2016. We are also installing 2 brand new Cannon downriggers to compliment the two we put on in 2016. Last season we put on all new covering and seats. Silver King Charters does apologize for 13 missed trips this season due to engine issues but that will not be the case in 2018.

I will be breaking down the season by month over the next several weeks but as a whole it was a solid season. There were a several weeks that were tough but as a whole it was solid fishing. This season like last the number one fish caught was the Coho salmon. This is the number one stocked salmon in Lake Michigan and the second highest fish stocked overall. The Lake trout is number one and it has been for 13 years now. Lake trout, Brown trout and Chinook all came in very close to second plus or minus 20 to 30 fish. The low was Rainbow trout. We were done by 300 Steelhead this year from last but the offshore but did not set up as well and there was better fishing closer to shore. We had 55 fish over 50 pounds and this has not happened since 2013. Great size and great fights. Are big was caught in April on our 4 trip of the year. It was a 33.5 pound Brown trout, caught by a 12 year boy. I would have to say this was one of the top ten fish for weight caught in Lake Michigan this season.

We will be busy getting the boat ready for April 1st 2018 and I will give a breakdown of the season with pictures and hot lures for each month coming up. Call Silver King Charters at 414-460-1467 to book a trip in 2018. We will be ready to catch fish Lake Michigan charter fishing.
Report for November 9, 2017
Report for October 31, 2017
October was the tale for two halves. The first two weeks were much like the last week of September. We had a lot of high winds, which cancelled trips and poor water conditions. The water temperature was the same from top to bottom out to 100 feet an caused a sluggish bite and tough to find fish. We averaged less than five fish a trip in the first two weeks of October and it was the worst period of the year along with the end of September. Every season has its dog times. We have had some early Octobers Milwaukee charter fishing that were great but not this year. The last two weeks the weather cooperated and water temps set up. We fished exclusively the shore line in 20 to 30 feet of water and averaged 6 to 12 fish a trip. We where catching Lake trout and Brown trout, with some good size. Are big Laker was 20 pounds and the big Brown was 18 pounds. Another positive was the small Browns were 2 to 3 pounds. Usually we see these fish at a pound and a half. This made for some solid catches.

The spread we used was all spoons and mostly Singer stinger and stingray size. The hot spoons where gold hud, UV blue dolphin and the standard blue dolphin. There where others that caught fish like the orange uv dolphin was good for Brown trout. We ran 3 boards a side and these were 1, 2 and 3 color leadcore. For the dipsies we used mono line and the line counter was between 20 and 30 feet dialed in at 3. We used 3 riggers set at 12, 15 and one right on the bottom. This was the set for all trips in the last two weeks in October and was very effective in the shallow water. The fishing was best when the surface water was above 50 degrees but by the last week it had dropped to 46 degrees. Didn't see much bait in tight like last year but the fish were healthy. The last fish of the year came on October 31st and was a 20 pound Lake trout shown in the picture below. We pulled 55 fish of 20 pounds or great this year. We haven't had this kind of success on size since 2013.

Call us at 414-460-1467 to book for 2018. We are putting a new engine in the starboard side, 2 new Cannon downriggers and some other goodies. I have a picture of one of the Cannon downriggers we installed late in 2015. I cannot say enough good stuff about these downriggers. I have not had any issues and they are built solid. We are able to read bottom and jig with these riggers when fishing Lake trout. The rod holders are second to none. We cannot wait to install two more this offseason. We will be ready to catch fish on April 1st. The last two April 1st trips we have limited out! Thanks to all who fished with us in 2017 and making it another great season fishing salmon and trout on Lake Michigan.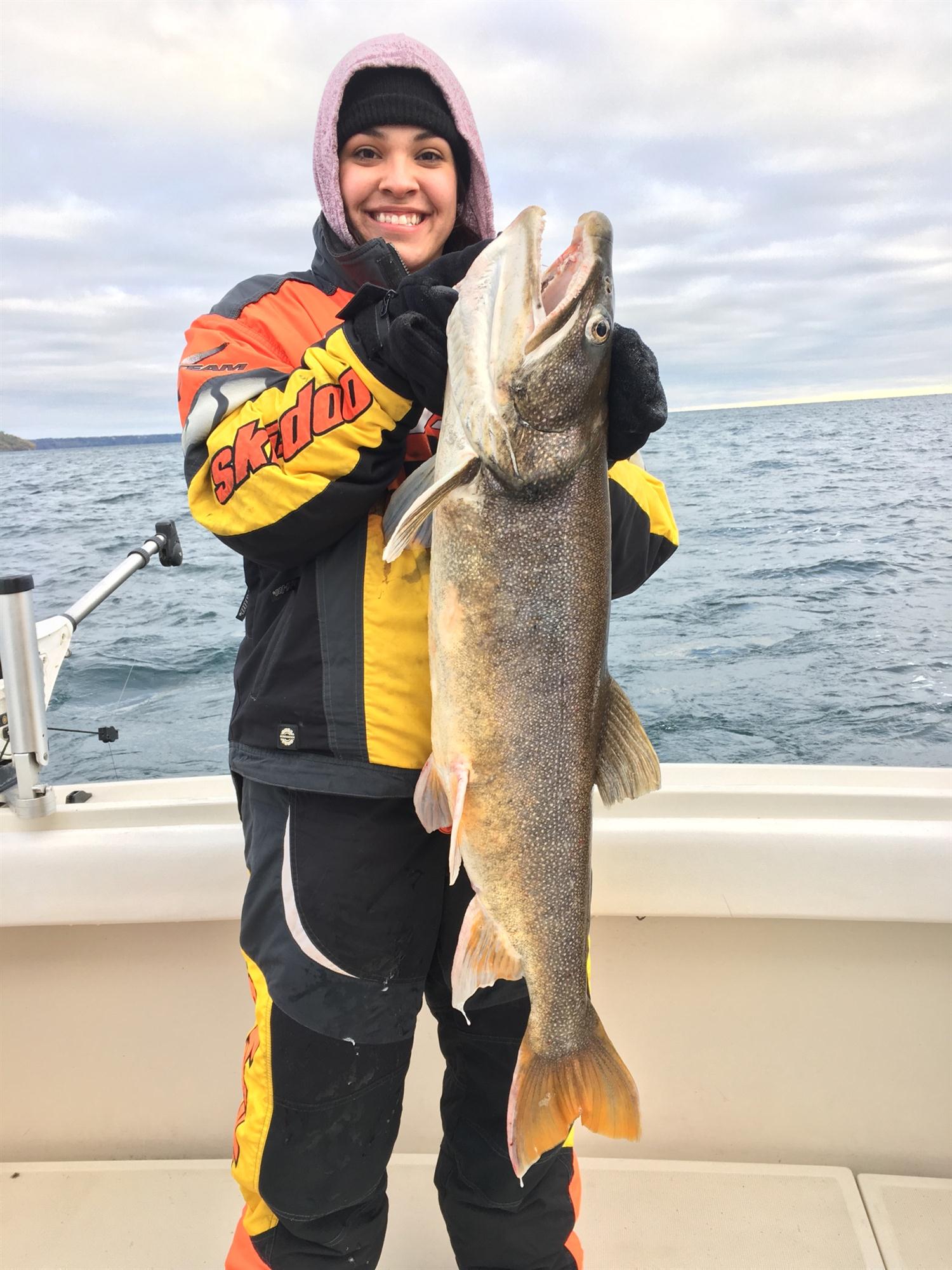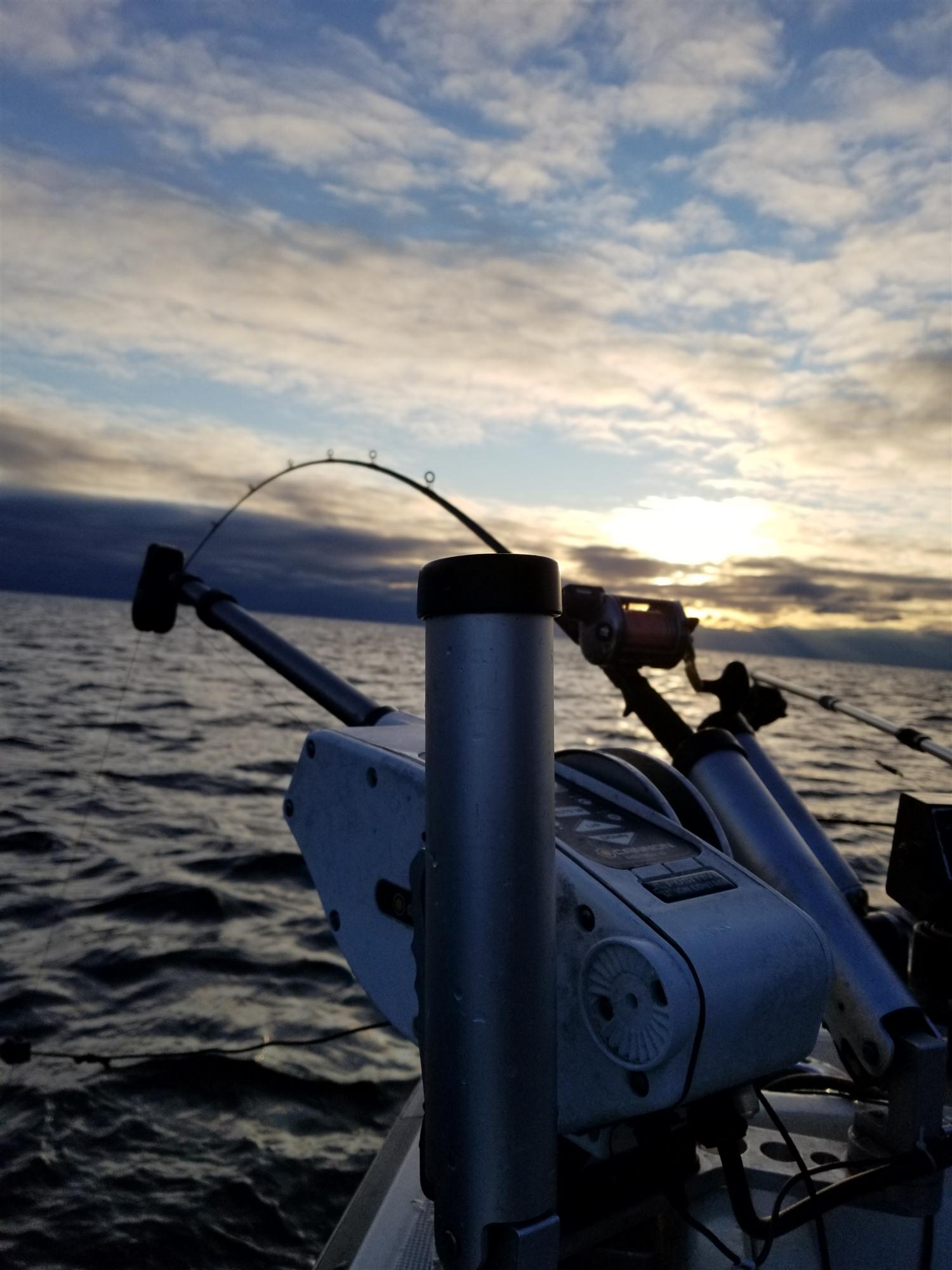 Report for September 20, 2017
We are deep into September, with big winds and warm water making things challenging. We have been fishing on again off again in the Harbor. When we out in the lake it has been 100 to 120 feet of water and right on the bottom. The catch is a mix off mature King salmon and Coho salmon, along with Lake trout and Brown trout. The water in recent days has cooled some where we are now seeing low 50 degree water as shallow as 40 feet of water right at the bottom. This will make in and around the harbor better because there are a lot of fish stacked in there now.
Silver King Charters has boated over 50 fish of 20lbs or more this season and the last 10 have come this month. The Chinooks are good size this year. We have had season over the last several years where we only boated one Chinook over 20lbs. We should have a few more cracks at some big ones this month before they start spawning. The Coho salmon have not staged yet but they are close. There are some 15 to 18 pound Coho being caught. It was a solid year on size for salmon. Should be another good spring on Coho next year too.
In the harbor it is our two deep riggers with a UV stingray Blue Dolphin Singer spoon and a UV blue flounder pounder magnum size Moonshine getting it done. The plugs have started to work in the last several days on riggers and our favorite is the size 4 Mother of Pearl Luhr Jensen J-Plug. We run one wire dipsy with a white flasher and little boy blue Howie fly and one mono dipsy with a spoon like those on the riggers. The boards have not been productive in the harbor.
In the lake it has been heavy on spin and glows right on the bottom producing Lake trout. We take a few Chinook and Coho off the up high riggers, with white flashers and either bull frog flies or little boy blue made by Howie. Boards are all copper between 200 to 400 feet. All spoons and the same as in the harbor. The good thing is that the water has cooled and we have started to fish in 50 to 60 feet of water on the lake.
It will be Harbor and lake fishing depending on the action and the seas through the rest of this month but there are some big fish to be had. Call Silver King Charters at 414-460-1467 to get in on some fun Milwaukee charter fishing. We go until November 6th this year.
Report for August 28, 2017
August has been up and down for Silver King Charters. Twice we were down with engine issues that cost us a week total but all is resolved now. Then high winds that seem to occur every weekend now has cancelled trips but we have been Milwaukee charter fishing in between all of that. The two things that are the highlight of August are big Chinooks and big Lake trout. We have boated 30 fish in August that were 20 pounds are bigger. Half and half trout to salmon. The Lake trout fishing in August has been real good and the small ones are around 10 pounds. The mature Chinooks may not be in great numbers but the ones that are around are big. A twenty pound King is very common and it take a 30 pound King to be special this year. There was on caught this season that was 41 pounds.
Most of our action has been in 100 to 115 feet of water. We are fishing Lake trout on the bottom with smoked dodgers followed by spin and glows. The water is 70 degrees on the surface, with the break anywhere from 60 to 80 feet down through the last 4 weeks. We have been targeting Kings with white flashers and either Boy Blue or Bull Frog Howie flies. We have these on riggers down 55 to 100 feet. We are also running copper on our boards. Anywhere from 175 to 400 coppers. The spoons are cracked ice magnum Pro King, flounder pounder blue magnum Moonshine and the blue dolphin stingray Stinger. These worked in the lake and also in the harbor, where Kings are starting to stage. Right now water is too warm but for a couple of days it there were some high 50 degree water temps in the harbor that got the fish to bite. We need some west winds to set the harbor up for a reel good September.
We expect to have some more good weeks of Lake trout fishing and the next 3 weeks we hope to have one of our clients land a 30 pound King. Call Silver King Charters at 414-460-1467 to book a September trip and land a big fish before the season ends.
Report for August 7, 2017
Well a lot has happened since my last report. Salmon-A-Rama was a huge success. Many fish were caught but the highlight was big Kings. We boated 9 over 20 pounds and one that was 29.5 pounds. This ended up being the fourth biggest fish of the contest. We had four people win money this year and we came in 2nd place with 225 pounds of fish in the Pro division.
The week after Salmon-A-Rama we were hit with strong northeast winds and this changed Milwaukee charter fishing up. The water warmed up to 69 degrees on the surface with 59 degrees down 60 to 70 feet. Big change and fish took time to adjust. We had the Brew City on Sunday because of the wind on Friday and Saturday. Silver King took 13th place and we were happy with that. Only two boats weighed in 10 fish and only 6 caught 9 fish and that is what we ended up with. Brutal day and the worst catch rate in Brew City history. Congratulations to Anger Management and Captain Tom Zapp for catching 89lbs in 9 fish. We were close but couldn't get our last silver fish quick enough to fish trout.
Since then we have taken it out on the trout. There is some great Lake trout fishing off Milwaukee right now and we are averaging 13 pounds a trout right now. The warm water has pushed the trout out and down. We are fishing right on the bottom in 100 to 115 feet of water. We are using spin and glows, with smoked dodgers to do the damage on multiple set ups. We pulled 4 over 20 pounds this weekend and had a trip with 230 pounds for 17 trout. We are targeting other fish and taking Chinook, Coho, and Rainbows in the 50 to 70 feet of the water column. As this water sets up better more silver fish will be caught and we can use this warm water to our advantage.
We will be fishing through October 31st this year and we are sure to have some great trips throughout this time. Give Silver King Charters a call at 414-460-1467 to get in on the last 2.5 months of the season. Big Kings and Big Lakers will be caught.
Report for July 14, 2017
Milwaukee charter fishing remains solid. We are averaging 16 fish for the season although the start of July has been up and down we are at 12 fish for trip this month. Chinook are in the mix and we see about 2 t o3 a trip but it is definitely a mixed bag. The catch almost always includes Lake trout, Rainbow trout, Coho salmon and Chinook salmon. The water is cold and this has made the bite tough at times. In areas we see 43 degrees on the surface and other areas it is 65 degrees but go down 20 feet and it is in the forties. There is a lot of warm water built up due to a warm start in May but west winds have prevented much build up on the western shores off Milwaukee. It will not take much to get some warm water near shore and a good northeaster would do the trick to really make the fishing turn on. All that said the fishing is still good.
The spread is still targeting the top 40 feet of water. We are using 1 through 3 colors, with orange Coho rigs along with the inside dipsies set at 35 feet and the one side rigger down 15 feet. All has the orange on. The catch is still 50% Coho. We are running 5 through 8 color leadcores, with Stinger stingray sizes spoons. Gold hud and carmel dolphins are best. These have been taking all four species. The wire dipsies along with the other riggers are white flashers and double aqua flies. Wire set at 85 to 120 on the line counter and riggers from 20 to 50 down. We are fishing between 75 to 120 feet of water. All rods contribute but the orange is still the strongest.
We are on the eve of Salmon-A-Rama and this is the 5th year we have purchased the charter ticket. We have been on the board for the last 4 years and will attempt to do it again this year. We are booked for the event and all we need is some luck and a no quit attitude when fighting fish. Brew City Salmon Tournament is on July 29th and I have already received a lot of entries, so sign up soon. Call Silver King Charters to book a trip for August, September or October at 414-460-1467. There is plenty of great action to still be had.
Report for July 9, 2017
Tonight is the night of a very special full moon that I had planned to fish but instead I will be heartbroken. It has been a long time since my last report and a lot has changed. The Coho world started to slow down considerably on June 22nd. The water became real cold and shut the bite down. Up to then we were still catching limits. Too much west winds. We had been fishing north exclusively but eventually we moved south and found some warmer water that helped the bite. This is where we have been fishing now for the last week and we are back into double digit catches.
The best depths are in 70 to 120, with fish found from 15 feet down right to the bottom. The catch is a mix of Coho, Rainbow, Lakers and Chinooks. We still have orange in the spread. One rigger down 15 feet, the inside dipsies set at 40 feet on the line counter and the outside boards with 2 to 4 colors. The water temps have been warming over the past several days with some northeast and southeast winds. The surface is now at 65 degrees which we hope stays around.
Wire dipsies are now being run on a consistent bases. We have been using white flashers, with green or aqua flies set from 100 to 200 feet on the line counter. We are running a side of copper and a side of leadcore. The leads are between 5 to 8 color and the copper are between 100 to 250 feet. We are running spoons on the leadcores, with the Stinger stingray sizes carmel or blue dolphin. For the copper it is white flashers, with green or aqua flies. The two back riggers are flashers with aqua flies and on the up high rigger it is a carmel dolphin.
The bulk of the catch is Coho and Rainbow but not by much. We average 2 Kings and 3 Lake trout too. We have pulled some nice sized Chinooks with one over 20 pounds and several pushing that. The catch of late has been between 5 to 25 fish depending on the time of day. We are hoping that a thermocline sets up to shrink the target zone and make fishing even better.
Salmon-A-Rama is coming up and we have one spot open for Tuesday July 18th, starting at 10:00AM. We hope to have another great run this season and have several of our customers win some money. Brew City is also coming up on July 29th. I just did the mailing yesterday for those who were in last years event. All 50 cash prizes are back for this year! Call Silver King Charters today at 414-460-1467 to book a trip this season.
Report for June 14, 2017
The Milwaukee charter fishing report is the same since we got back from Racine. Lots of limits and lots of Coho salmon. Keep the cold water around we keep catching the Coho. The water is starting to warm up on the surface at times and we have seen 58 degrees at times but the southwest blows come at the perfect time and knock it back down to 49 degrees. Keep the water temperature below 60 degrees down 10 to 15 feet and we keep catching. We have averaged 20 fish a trip over the last 4 weeks and the spread is almost all orange dodgers. Why mess with success.
We have fished 15 feet of water out to 130 feet over the last week but 80% of the bite is in the top 10 feet of water. Most of the catch is Coho, about 80% with some Kings, Rainbows and Lake trout thrown in. Green peanut flies and orange dodgers on all set ups except the back 3 riggers and these have little boy blue Howie flies, with white flashers. Simple set up. We drive until we start getting hit and then focus on that depth. It does change day to day.
This is the highest catch rate for salmon during the season and it is starting to come to an end. When the Coho go the salmon catch drops and turns more to trout. We expect it to continue at least another 10 days but if it is like last year it could go deep into July. The bait is here so southwest winds are key to keeping them from blowing out deep. Call Silver King Charters at 414-460-1467 now to get in on this outstanding Coho salmon action before it is all gone.
Report for June 7, 2017
It is a carbon copy of last weeks report for charter fishing Milwaukee. Outstanding Coho salmon fishing with limits or close to limits. We have moved into a little shallower water and the surface temps are now at 51 degrees but the Coho are still on the surface for now. We are still catching a couple of Lake trout, Rainbow trout and Chinook salmon on each trip.
The only change to our spread is that we are now using 1 and 2 color leadcores on our inside boards. As the water warms we will start going deeper on these boards with leadcores. We are still all orange on the boards and dipsies. Still white flashers and little boy blue Howie on the riggers, with the up high rigger using orange. Our favorite fly is a green peanut for the Coho.
Very good fishing and now is the time to book because when the Coho bite slows the salmon catch will drop and we will start fishing more trout. It is still rolling so call us at 414-460-1467 to get in on the action.
Report for May 30, 2017
Ok, Milwaukee charter fishing is as good as it gets right now and should continue for at least a couple more weeks. We fished in 15 feet of water out to 150 feet of water and caught fish everywhere. The bite is 85% Coho salmon, with some Chinook, Rainbow and Lakers. The best bite is in the top 10 feet of water, where the water temperature is between 44 to 48 degrees on the surface. We have had almost all limits, with the exception of Sunday afternoon due to very strong winds but we almost got it done then too.
Very simple set. Orange dodger and peanut fly, either green or black and purple. All mono boards, dipsies set high and one rigger tipped with orange down 6 feet. The other three riggers are set at 100, 80 and 40 when we are in deep water. They have been taking Lakers and Kings. Whit flasher and Little Boy Blue fly by Howie.
This is incredible fishing right now and the best time to catch the best eating fish. Coho's are everywhere and getting bigger by the day. Call Silver King Charters at 414-460-1467 now to get in on this great bite.
Report for May 25, 2017
Well a lot has changed since our last update. We fished out of Racine when we could due to strong winds. When we got out it was offshore starting in 180 feet of water. Fish were on the surface down to 140 feet. Mostly Coho salmon. We average 15 fish during this period but is was a struggle. We moved back to our Milwaukee slip on Monday. There is more bait and therefore more fish. We have ran three trips so far out of Milwaukee and limited out quick on all three. Mostly Coho salmon, with some Chinook. The best depth was 80 to 150 feet or water. Most of the Coho were on the surface and the Kings were coming 40 to 80 feet down. We also boated a 13 pound Coho salmon. We made the right move coming home. All the fish in Milwaukee are stuffed with alewives where in Racine it was not the case. There is no doubt Racine is in for a real god Coho season but for now and going forward Milwaukee will be just as good if not better at times.
The spread is simple orange dodgers and either black/purple/gold peanut flies or green peanut flies on all boards and dipsies. All are set in the top 10 feet of water. The two side riggers the same set at 5 and 13 feet down. The two deep riggers are using white coyote flashers, with little boy blue or green Howie flies. The action is very good and the Coho are between 2 to 5 pounds.
This is it. The best time of the year to catch good numbers of salmon. I think it will continue to be very good throughout mid to late June for Coho salmon. I cannot emphasis this enough, this is the best time to catch salmon! Call Silver King Charters right now at 414-460-1467 to start catching.
Report for May 15, 2017
We are now Racine charter fishing and will be fishing out of this port for another couple weeks at least. This weekend was all Coho salmon. We averaged 17 fish a trip and we fished between 150 to 240 feet of water. The action was not concentrated but we picked away at them. We took fish from the surface down to 60 feet of water and again there was not much consistency of where they hit.
Our hot set ups were dodgers and flies on the high mono boards. We let out 12 to 30 feet of line on these and the fish were hitting just below the surface. The Howie green fly and black and purple flies worked best. On one side we ran two 00 dodgers with 17" leads and the other B&B's with 26" leads. Both took fish. On the dipsies we ran two aside at 15 and 30 feet on the line counter. Same flies along with the Next Gen fly. These were ok but not as good as the boards. We ran spoons on a 7 and 9 color leadcore boards are two high riggers. The riggers were set at 30 and 40 feet. The best spoon was the chartreuse gold hud and the gold hud Stingers. On our deep riggers it was whit flashers with Howie super frog or frog flies. There was not one that stood out of all these set ups but by Sunday afternoon orange dodgers where on the surface and dipsies were taking over.
Silver King Charters will be in Racine for at least a couple more weeks and we hope the fish start to move in closer to shore but when we get on schools of Coho salmon it is fast action out deep on in close to shore. This is flat out the best time of the year to catch salmon, so call us at 414-460-1467 to get in on the action and have salmon to smoke on the grill this Memorial Day.
Report for May 8, 2017
Another big blow from the north limited us this last week. We only fished a couple of times and with limited success. Our shallow program fell apart due to poor water clarity. We managed some nice Brown trout but far fewer than our 16 fish average for the season. The best bait in the murky water was the Blue Dolphin UV stingray. It produced most of the fish on dipsy set at 15 feet on the line counter and our one color leads. We did venture out to 130 feet on Sunday before pulling and going back into the shallows. We just didn't get deep enough for Coho action.
We begin our southern offensive this weekend Racine charter fishing. We look forward to this ever year because this is the best time of the year to catch good numbers of salmon. The number one stocked salmon is Coho and they have been stocked the same amount in Lake Michigan for over 25 years. This year looks real good on Coho salmon and they are starting to show up everywhere. The alewives are loaded up in the Milwaukee harbor and showing up in Racine too. The Coho bite is still best out deep but we hope to see some showing up along the shore in Racine. If not we will find them.
Silver King Charters will be in Racine for the next 5 weeks feasting on Coho salmon. Last season we averaged 19 fish a trip trough this period and we hope to do better this year. Now is the time to call and get in on the best salmon action of the year. These are also great tasting fish. Racine is only 40 minutes south of Milwaukee and we are located at Reef Point marina. Get in on the fun it should be a great spring.
Report for May 4, 2017
Well fishing has remained real good but weather has not. We have had on again off again big north east blows that have slowed us down. The worst is they hit last weekend and looks like the same to start this one. When we have been out its been good. Lake trout are now in the mix with Brown trout as we have been fishing the shore in 30 feet of water. It has been has been a split between the two but we did pick up our first King last week. We have run the same spread since April 1st. The surface water is between 44 to 46 degrees depending the day and yesterday we caught our first fish with and alewife in it. Of course it was a Lake trout. We are now seeing schools of bait near shore.
We begin Racine charter fishing on May 13th. The Coho salmon are starting to show up down south and within a week or two it should be going real good. This is the best time to catch salmon and the Coho salmon is the number one stocked salmon in Lake Michigan. There where 2.5 million stocked for the season. There was a warm winter and should be good survival for us to catch. May and June is the time to score Coho salmon, so call Silver King Charters now to get in on this great fishing. It has already been a great spring for Brown trout now lets get the salmon.
Report for April 24, 2017
Milwaukee charter fishing continues to remain solid. We are still averaging 15 fish a trip and still almost all Brown trout. For most of the week it was still the harbor and still the same set up but on Saturday the bite slowed and we had to move. We fished the shore on Sunday just north of the Milwaukee harbor and hooked up on some nice Brown trout and Lake trout. The harbor is starting to warm and the bait has not shown up yet. It still will have some good days this April but the better bite for now is along the shore.
We fished 20 to 40 feet of water and the surface temp was 44 degrees and stayed that down 15 feet. We ran 1, 2, 3 and 4 color leadcores on the boards and they all took fish. Gold Hud stingray spoons were good of the 4 color and Mass Confusion stingers on the 1 and 2 colors were good too. We ran the UV blue dolphin stingrays on the mono dipsies, with the line counter set at 25. The riggers did ok and the best spoon there was the lemon cracked ice stinger. Very good on the Lake trout. There was good size to the fish but the bait we found in the fish was gobies. Alewives are not in yet but when they show the Coho salmon will be there too. We figure 7 to 10 days for those who want to book a trip to catch them.
Silver King charters will be in Milwaukee for another week or two before we start Racine charter fishing for Coho salmon. There are Coho being caught now but the big schools are still off shore. Any day they should show. Call us at 414-460-1467 to catch some spring trout and salmon.
Report for April 18, 2017
We are still Milwaukee charter fishing and will be through April before heading to Racine. The Brown trout bite is still solid and the last several outings have seen some better size, with fish in the 5 to 8 pound range. The one change is the water temp is between 48 to 53 degrees on the surface in and around the Milwaukee harbor, causing a little less concentration of Brown trout.
We have been using the same spread since we started and the top spoon is the copper Mass Confusion stinger and stingray spoons. We also have had success with the gold Hud UV stingray. Are best rods are the 1 and 2 colors, with these spoons. They have taken two thirds of the Brown trout.
Silver King Charters will be fishing Browns and Lakers through the end of April in Milwaukee and then headin to Racine for Coho action. Call us at 414-460-1467 to book a trip to catch Coho salmon. This is the number one stocked salmon in Lake Michigan and May and June is the best time to catch them.
Report for April 10, 2017
Milwaukee charter fishing has started out hot. The Brown trout bite is incredible. We have fished 6 times with customers, friends and family and limited each time. Most of these Browns are 3 to 5 pounds but we boated a 33.5 pound Brown trout on Saturday. This is the second 30 plus pound Brown we have caught in the last 3 years. The action is in and around the Milwaukee harbor and there is a great year class of these Brown trout from a couple of years ago. Silver King Charters has not boated more Brown trout than all of last year. We didn't target them much last season and the spring was not so good weather wise. This year it is perfect and there is no better time to take advantage of it them now.
We are running our boards with 1, 2 and 3 color leadcore, with all spoons. The Singer Mass Confusion is the top spoon on the boards and works best on the 1 color. We are running one dipsy a side dialed in at 3 and set at 20 feet on the line counter. These are mono dipsies. Gold Hud Stinger on one side and Blue Dolphin UV Stinger on the other. We are running 4 riggers set at 7, 10, 15 and 20 feet. The big Brown came on a rigger and this was a Glow Wonderbread Stinger. All spoons and gold or copper are best.
This action on Brown trout will not last. As soon as the water warms things will cool down but we expect April to remain strong. For the first couple weeks we have found no bait in the fish. They are healthy but nothing was around to eat. On Sunday we saw Commerants diving and Gulls were picking bait off the surface. It looks like shiners have come into the harbor, which should draw more fish. The water temp is still at a high of only 45 degrees in most parts of the harbor but there are some spots at 50 degrees. My brother went smelting last week and netted some smelt on the south side of the harbor but there was not great numbers.
This is the time to get in on great action for Brown trout. The 2017 season has set up great for it. Give Silver King Charters a call at 414-460-1467 to start catching April fish. It is real good right now.
Report for April 3, 2017
Silver King Charters started Milwaukee charter fishing this weekend and the Brown trout fishing is crazy good. We took a two person limit with ease on Saturday. We fished the Milwaukee harbor and hooked up early and often. I doubt there is a hot bait because they hit everything we put out. The UV Stinger blue dolphin and UV green NBK were probably the best. The fish were all between 3 to 6 pounds.
We ran a spread of 1, 2 and 3 color leadcores, 2 dipsies both set at 20 on the line counter and 3 riggers set at 9, 15 and 23 feet down. All spoons and it just didn't matter. We caught fish from the north gap to the south gap. The water was murky from the rains and northeast winds but this did not slow the bite.
Right now the fishing is as good as it gets for Brown trout and it should continue for a couple more weeks. There seems to be a great year class of Brown trout from 3 years ago and for right now there is not a lot of bait around the harbor, so action is really good. We will be in Milwaukee through April taking advantage of this Brown trout action. Call us at 414-460-1467 to get in on this great action.
Report for March 23, 2017
Silver King Charters is a week from putting the boat in and staring to fish. We cannot wait to start fishing because the early spring has lead to some outstanding catches on the lake already. The Brown trout fishing has been off the hook good. April is a great month to target Brown trout, along with Lake trout and some Coho salmon action. We have been ice free now for several weeks and this spring is ahead of schedule. I am sure it will snow a couple times on the boat in April but it is spring and the worst is behind us. April but even more so May and the early part of June hold some of the best catch rates of the season. This is due to how Lake Michigan has been stocked over recent years. Below is the lake wide stockings for 2016.
Brown Trout: 1.51 million This number is at the 10 year average but expected to fall some in 2017
Chinook Salmon 1.67 million This number is slightly down from last year and is the lowest since 1972
Coho Salmon 2.49 million This is about average and the goal is 2.5 million
Lake Trout Fingerlings 0.00 million This was a purposed cut that may end up being put in this spring or .50
Lake Trout Yearlings 3.02 million Standard number for the last 12 years
Rainbow Trout 1.97 million This is up some from recent years
Total Stocked 10.63 million This is the lowest overall total in 25 years.
So what does it all mean. Well they are still stocking fish and we will still be out there so you can catch them. The overall numbers are down because of the Chinook salmon cuts. In 1995 they put 6.5 million Kings in the lake now only 1.67 million and for 2017 it will be 1.3 million. There is some degree of natural reproduction going on for Chinook and this helps the number but right now it is in 4th place for stocking numbers. The Lake trout is the number one stocked fish for the 12th year running. But the key number is the Coho salmon. This stock rate has stayed steady for decades now and if you are looking for the best time to catch these salmon it is May and June. Brown stockings continue to remain the same for now and April is the best month to target them.
The Chinook have been reduced because they are the top predator and easy to produce. If they just stocked Chinook salmon in Lake Michigan they could only put 5.26 million in the lake because that would equal the bait consumption of the 10.63 million fish they stocked in 2016. We always look at total stocking lake wide because Chinook, Coho and Rainbow travel all throughout the lake searching for food, so where these fish are stocked only matters when they come home to spawn. The lake biologist use this equation for how many of each species equals on Chinook on food consumption.
Coho Salmon 3.2
Rainbow Trout 2.4
Lake Trout 2.3
Brown Trout 2.2
The reason for all the caution on stocking is the bait population has fell off considerable but with proper management Lake Michigan fishing should be great for many more years. The increased Lake trout stocking has hurt bait population but hopefully cuts will come soon that will really help to stabilize the predator/prey ratio.
I have more about stocking numbers in my March of 2016 report and will throughout the season bring up more on the topic but what you want to know is what will the action be like when fishing with us this season. Again, this April should be one of the best we have had in years as long as mother nature doesn't go crazy. This should be a great month on Brown trout. We will be in Racine for most of May and June targeting Coho salmon. This is the number one stocked salmon in Lake Michigan and May and June are the best times to catch them. We have never gone wrong in Racine. It always delivers great catches on Coho salmon and the best catch rates of the season. We will be back in late June and will be Milwaukee charter fishing for the rest of the season.
Call Silver King Charters at 414-460-1467 to get in on April Brown trout fishing and then come back for some great salmon fishing in May and June. With the warm weather and lots of small bait there will be many of the 2.49 million Coho salmon they stock in 2016 ready to be caught.
Report for March 15, 2017
The Milwaukee charter fishing season for Silver King Charters. We will be in on March 31st this year and will fish on April 1st. Milwaukee is ice free and hopefully the snow is all gone. Should be gone this weekend. The Brown trout bite has been solid already this March and we look to have some good catches this April.
April charter fishing is average temps in the mid 40's early on but the fish don't care. They can be very active around the warmer harbor waters and Oak Creek power plant. The size of the Brown trout vary from 2 to 15 pounds and they are a great fight in the spring. We also can have some great Lake trout fishing at this time too, with some up to 15 pounds. I am not a cold weather fan but we would not be fishing in April if we were not catching. Most of our fishing will be done in 10 to 20 feet of water and leadcore is our top set ups. We use 1, 2 and 3 colors and mostly stinger spoons in cooper or gold colors.
I just need my fishing & trolling license and my brother and I will be set for another season. There are 5 weekends in April this year and we would like to be catching fish on all five weekends. If mother nature is good it should be a great start to the season.
Report for March 5, 2017
Wisconsin charter fishing for the 2017 season is going to have more opportunities to catch fish. The Wisconsin DNR has opened the limit for Lake trout to 5 fish per person instead for the previous 2 fish per person limit. The season for Lake trout is now open year around. They did not open the Mid Lake reef or the Refuge for Lake trout fishing though. This would have been nice since we are one of the two port in Wisconsin who could get out to fish it. The Lake trout is the number one stocked fish in Lake Michigan over the last 13 years and for sure there are two many in Lake Michigan for the current forage, so this is a good move. The thanks has to go to the Wisconsin Lakeshore Business Association, who worked to help all of us continue to enjoy a great fishery. Early they where instrumental in keep the Chinook plants from being cut. Hopefully they can get the Federal government to reduce Lake trout plants.
What this means to you when fishing with us. There are days when one species will be dominant in the catch. On the days this is Lake trout instead of catching 2 fish and then you are down unless something else turns on you can now catch 5 Lake trout. This gives you more chances or fighting and catching fish on a trip. I don't know anyone who wont like that. Lake trout are the best smoked fish you can have and they are highly recommended to be served this way.
Milwaukee charter fishing offers excellent Lake trout fishing because so many Lake trout are stocked on the Mid Lake reef and we are so close to it. There is lots of great structure out of Milwaukee that will hold Lake trout during the season. We will not always be targeting them but when they are biting you will be catching more fish!
The boat is ready to go in March 31st and we start fishing April 1st. Call Silver King Charters at 414-460-1467 to get in on early spring Brown trout action, with Lake trout and some Coho salmon too. With the mild winter April looks to have some great action.
Report for February 24, 2017
As Silver King Charters prepares for the Milwaukee charter fishing season we just had a week of 60 degree temperatures that we could have been chartering in. This winter has been a warm one. The ice is gone on the southern end of Lake Michigan and little is left anywhere with small chance of returning. My firstmate has been fishing and catching Coho salmon already. Two days ago he and some friends landed 25 of them in Racine. These fish look good for this time of year and we are excited to start fishing them.
Winter still has some supervises for us and the water temps when my firstmate was fishing was only 34 degrees and this was by the green can in Racine. The fish had some shrimp, red worms and grubs in them. The bait that usually swims to shore in spring is not here yet. There are reports though up and down the lake of Coho salmon at all the warm water discharges. The real action has yet to come but good signs for spring.
Lake wide stocking number totals for 2016 are just about to be released and the Lake trout decision should be known soon. We hope that the limit for Lake trout goes to 5 fish, since it is the number one stocked fish in Lake Michigan.
We start fishing the first Saturday in April and have opening available. We hope to have a great start this year and that the water is a little warmer than normal for April. We should have good Brown trout action but some Coho salmon would be a great bonus. Call Silver King Charters at 414-460-1467 to start fishing in April.
Report for February 13, 2017
We are in full swing with boat prep before our put in date of March 31st. You never know if you can get in this early and there has been years we were forced to wait a couple of weeks due to ice. This will not be one of those years. With the lake at less than 10% covered with ice and that is up north and in tight by harbors we know we will be fishing April fools day. This is the second mild winter in a row after two extremely harsh ones and this can only help the fishery. New hatches of bait and stocked fish from last year should fair well this winter. Last spring there was a good amount of bait on the western shores of the lake.
We will be ready to fish for April and are excited by the warm winter but we know that snow still flies in April along with some real cold days. That said this warm winter and early ice out will make for a great April when the weather is too wicked. Brown trout, Lake trout and Coho salmon will be in the mix. April is a great time for Brown trout and we will be starting out of Milwaukee. In and around the Milwaukee harbor is some of the best Brown trout fishing on Lake Michigan. We also have the Oak Creek power plant that holds a lot of fish. We are putting a lot of work into the boat and equipment this offseason to deliver on these fish as soon as we hit the water. Give us a call at 414-460-1467 to get in on some April fishing.
Report for January 24, 2017
What a great stretch of weather we have had the last couple of weeks. Temperatures in the 40's and rain. My kind of winter. The reason I like these winters is that there is always better survival on Lake Michigan when winters are mild. As I type this the lake is at 10% ice coverage and at its peak it was at 20%. This is almost exactly what it was last year at this time. Winter will still have some cold periods but not enough to get the lake even close to freezing over. In 2013-2014 winter the lake was 91% ice covered and 2014-2015 it was 75% ice covered. This was not good for young fish to survive.
After last years mild winter we had a good survival of alewives and it was much needed. This year we hope for the same. But these mild winters also help stocked fish survive along with good natural reproduction. This means more fish will make it through their first year in the lake. Last season we had a great Coho fishery because of all the young bait and good survival of the fish that were stocked. Coho are stocked a year in advance of when we start catching them, so mild winters have an immediate effect on Coho salmon.
Last spring there was some outstanding fishing, with Brown trout early and Coho salmon right through June. Minus some tough weather in April, which we hope to avoid this year, the fishing was great. We are going to be fishing April 1st this year to capitalize this action. The weather may be cold but there will be some good fishing to be had. Last April we took many Brown trout in the 10 to 15 pound range and a lot of this action is close to shore. We hope to get on the Coho bite early too. Two year ago we took limits of Coho salmon in early April. We hope mother nature cooperates but we already have won with this mild winter through the coldest part of winter. Call Silver King Charters at 414-460-1467 to book your April trip.
Report for January 18, 2017
Lake trout! This has been the number one stocked fish out of the 5 species we fish for since 2006. That was the first year they took over for Chinook as the top stocked fish. That year was when Chinook salmon stocking was decreased and Lake trout stocking was increased. Since that time Lake trout have been the top stocked fish over Coho, Rainbow and Brown trout. In 2017 some changes will be made to stocking and catching Lake trout in Lake Michigan and Wisconsin.
The one thing that sounds for sure is that Lake trout fingerlings will not be stocked starting in 2017. This accounts for about 450,000 of the average 3.5 million stocked each year. Starting in 2018 further reductions on Lake trout will occur for the yearlings. These numbers are not firm yet. The reason is forage or bait. The Lake trout population takes a toll on the dwindling bait in Lake Michigan.
Things that are still being worked out for the start of the 2017 season is how many, where and when Lake trout can be caught. In 2015 we had our highest catch of Lake trout in one season. There were not many salmon around and we leaned on them hard. That was the first time we caught more Lake trout than Chinook. In 2016 I know a lot of you got on the boat expecting much the same but salmon were around and our trout count went way down. Nice to have that mix of species and this is what the Wisconsin DNR is starting to do for us. But in 2015 when it was trout heaven we could only keep two Lake trout per person and if other fish were not cooperating the action was over quick at times.
For 2017 the bag limit looks to be going to at least three per person and there has been talk of even five, which is the limit for other species. That means for five people we are at least talking 15 instead of 10 fish if the trout are biting good. More fish and more action! The overall limit of fish will still be five per person but more of the catch can be Lake trout. I hope they go to five. Again, we want a mix heavier on salmon and so do you but this is a good option when times are tough.
The area we can fish for trout looks to be opening too. In between Milwaukee and Port Washington is the mid lake reef or refuge or the forbidden zone if you wanted to catch Lake trout. This is one of the areas that the Federal government has concentrated its stocking efforts. This is an area that is considered good for Lake trout natural reproduction. This area looks to be open for Lake trout by April. If so it will provide a great opportunity to catch Lake trout. It also is a good area for other species but fishing there has always netted good Lake trout catches. When times are tough we now have a good spot to run too.
We should be able to fish Lake trout anywhere and from April 1st through October 31st, which is our season. More opportunities for you to catch more fish. We are very lucky to be in the area we charter out of Racine and Milwaukee. We have always had good trout fishing due to where the Lake trout were stocked but to be able to now fish the refuge and to keep more of them per trip will just make a good thing better. The change is an emergency action being taken by the Wisconsin DNR to help maintain bait fish and give fishermen more opportunities to catch the number one stocked fish in Lake Michigan.
We start fishing April 1st and this can be a great time to catch Lake trout as they come to shore to feed on spawning bait. This is also a great time to catch Brown trout. We always seemed to take a few early Coho salmon at this time but because of anther warm winter and very low ice levels on the lake we might see better action early on Coho. April is a great time to fish when the weather cooperates, so call Silver King Charters at 414-460-1467 to get in on April and May action.
Report for January 12, 2017
Well I had a client book a trip today and last season she caught a Pink salmon. I remember Colin saying we just won the lottery and that was the first time he had every seen one up close. We were one short of catching six species that trip and I don't know what we would have called that. Maybe the ultimate grand slam. Turns out two weeks later we landed another one and then a week later caught another. We always tell our customers that it is unusually to catch anything other than Chinook, Coho, Lakers, Rainbow and Browns. But last season there were quite a few Pink salmon caught in Wisconsin ports. I heard of many caught further north.
In the 1950's Pink salmon were accidentally stocked in a Lake Superior tributary. they have spread throughout the Great Lakes over the years. These fish only average 3 pounds at maturity and spawn every other year in great numbers. Their life expectancy is 2 years. This is not a fish we target because they are few and only have a shot a catching one every other year. That being said it shows that natural reproduction occurs in the Great Lakes because few have been stocked over the years in the Great Lakes and almost none in years. The Pink salmon don't depend on alewives either. Nice story but it is kind of like winning the lottery in catching one.
This story does tie into Chinook salmon, which we are depending more on natural reproduction for. We have seen in strong years like 2012 natural reproduction was definitely a contributor for some percentage. Also stocking survival was higher due to good amounts of bait. But the Pink salmon story does show movement of salmon from lake to lake, especially Lake Huron to Lake Michigan. For now there is no reason to believe that Chinook fishing cannot continue to be productive on Lake Michigan but stocking must be a part of this.
One thing that did come out of the 2017 stocking report was the cut of German Brown trout. The Wisconsin DNR is stopping the planting of this strain. We hope that enough people get involved to bring this fish back. They were a good target in the spring, fall and when things get tough during summer. We should still have success on these fish over the next couple of years though. The Seeforrellen Brown trout will still be stocked. This is a Brown trout that can grow much bigger. We landed on 32 pounder two years ago. So Brown trout will still be in the mix.
Silver King Charters starts up April first and I can say right now we will not catch a Pink salmon in April we will be catching a lot of Brown trout. This is one of the best times of the season to target Brown trout, so call 414-460-1467 to get in on early season Milwaukee charter fishing action.
Report for January 4, 2017
Happy New Year to all our past customers and friends. This is when our 2017 season begins. With boat, equipment and yes crew maintenance we have a lot to do before we put in March 31st. Yes you can call us and book on April 1st and catch the first fish of the season. Last season we took a limit on our first trip.
Last year we put a new motor in the port side. We are going to wait another season for the starboard side. We already replaced the all the coverings for the boat with new glass and cushions this November. We have many new items for the season to make your trip safe, fun and lots of fish.
Weill for 2017 they have reduce the stocking of Chinook salmon lake wide from 1.8 million to 1.35 million. The good news is that Wisconsin did not cut Chinook stocking and we will still have the same return on Chinook in the fall thanks to the group at Wisconsin Lakeshore Business Association, who fought to keep Wisconsin stocking the same. The Coho stocking remained the same and has averaged a little under 2.5 million a year for 25 years. That is why we say if you want to have your best chance at catching salmon May and June are the months. This is the best time to catch Coho salmon.
Chinook catch rates will depend on many factors such as survival of stocked fish, natural reproduction that varies from year to year and how the lake sets up with currents and water temps. There will be strong weeks during summer for Chinook fishing but not consistent throughout. We are lucky to have good Lake trout fishing off Milwaukee and some rule changes for this season are going to really help out. I will talk about this next time. Stay warm and we will be working hard for the start of 2017.
No reports yet this month.