*Note: Click any month to view reports.
January

February

March

April

May

June

July

August

September

October

November

December
Report for February 26, 2020
We hope to have the boat in early this year. The goal is March 27th and fishing on March 28th. The reason we think this will happen is there has not been much ice around. Lake Michigan has been less than 20 percent covered with ice at any time this winter and right now in the southern end of the lake it is just harbors that have ice. There have only been 5 years since 1975 with the same or less ice coverage during a winter. So unless we get an unexpected long freeze we will be fishing early. The benefits to these less cold winters are survival of little stuff in the lake. Young stocked fish and fish that just hatched last spring. The lake level is also at an all time high for this time of year and was at record highs all last year. This means that more nutrients is getting in the lake. This is a good combination for survival. We saw bigger fish last season and it looks like this trend should continue. A mild winter should only improve this trend. Milwaukee charter fishing in April is our best month for Brown trout fishing. We have had Aprils where we had some great Coho and even Chinook catches but normally we are strong on Brown trout and Lake trout.
We are typically fishing close to shore or in and around the Milwaukee harbor in 15 to 40 feet of water. The harbor and river hold warmer water and have better action. We will also fish the Oak Creek power plant when weather permits. This also has warm water discharges. Lake Michigan is already warmer than usually right now. We are typically running boards with 1, 2, and 3 color leadcores. We also run mono dipsy's and shallow downriggers. We like to use spoons this time or year but stick baits are also effective. Our favorite spoons Stinger Gold Hud, UV Blue Dolphin, NBK Green and the Copper Mass Confusion. We catch a lot of Brown trout on these spoons. The Brown trout run between 2 to 12 pounds and we have caught many in that went 15 pounds or more. Our biggest in April was 33 pounds. When the water sets up right this can be as productive as any time during the entire season.
It is setting up for an early bite this year although it still may be cold out while we are fishing the action should warm you up. Dress warm and give Silver King Charters a call at 414-460-1467 to get in on the best Brown trout action of the year during April. This is one of my favorite times of the year to fish. We will be in Milwaukee the entire month. I attached a couple of pictures of fish caught the first week of April in past years.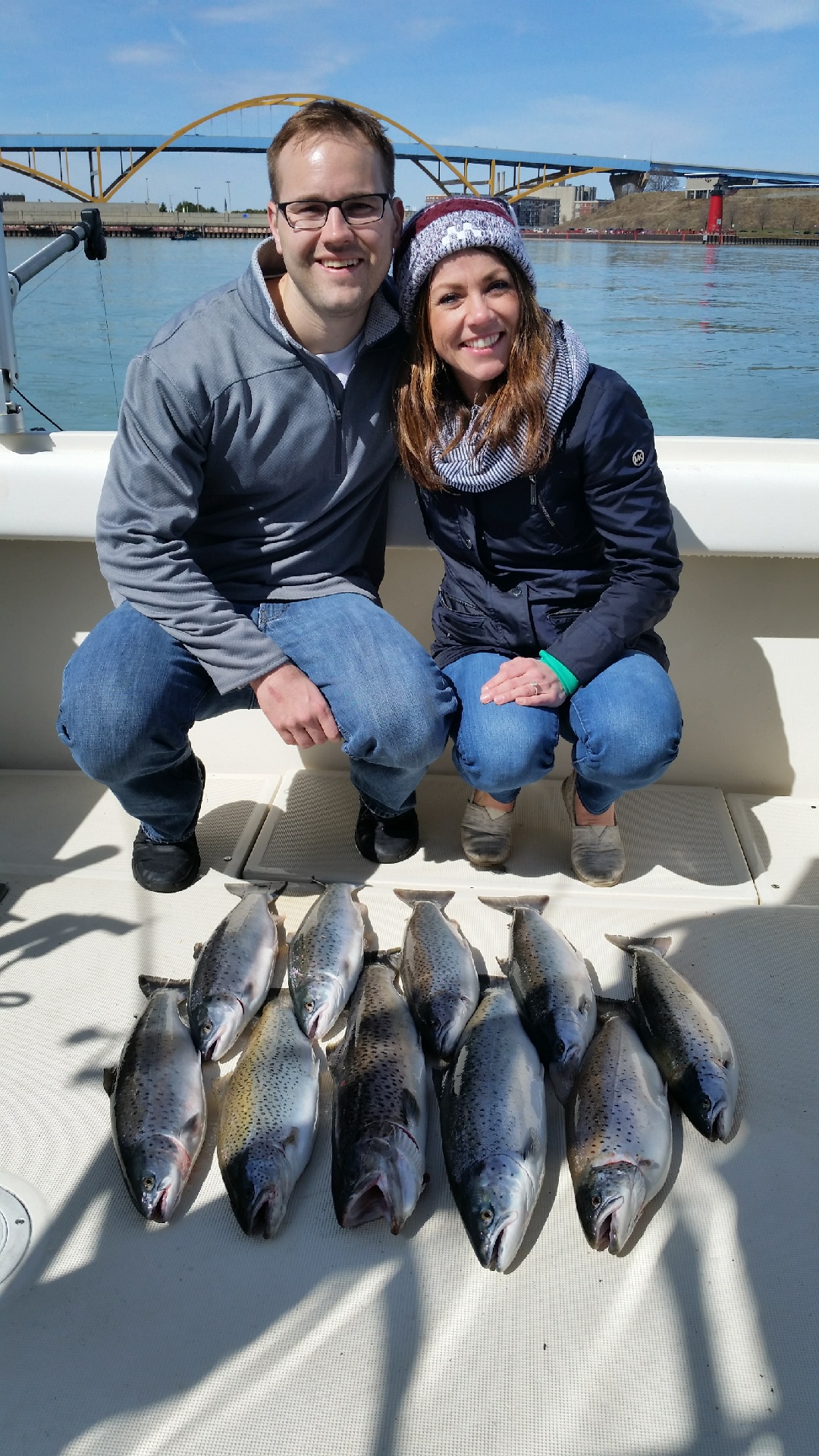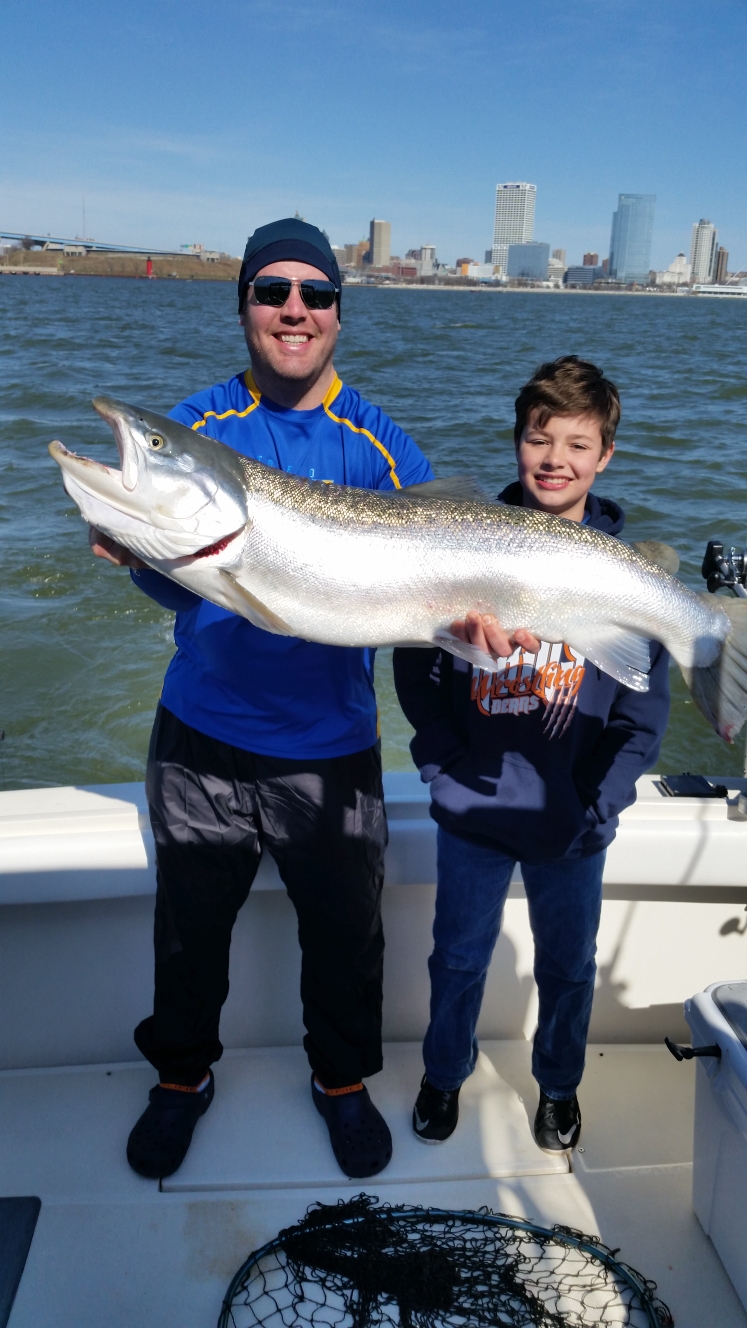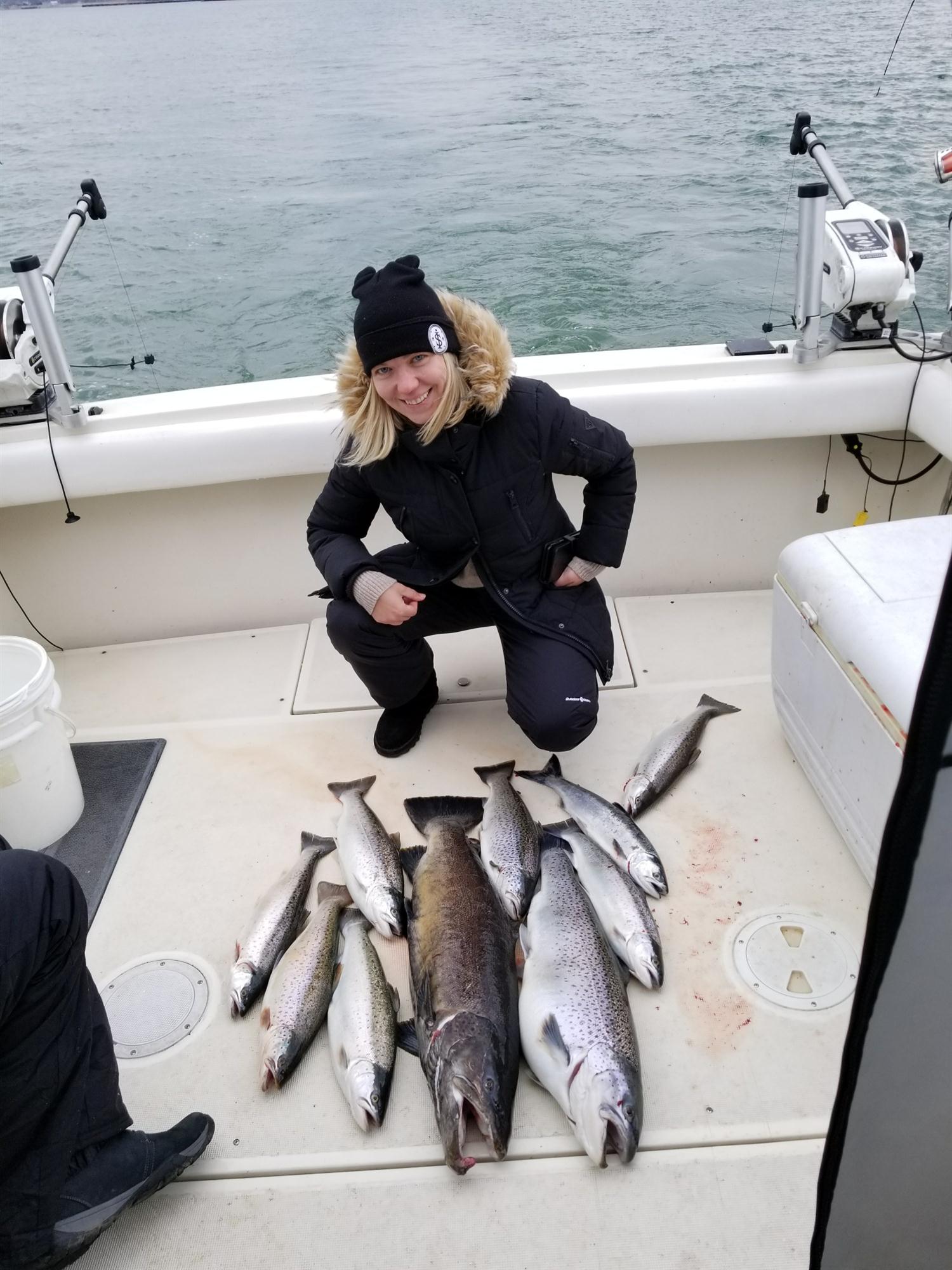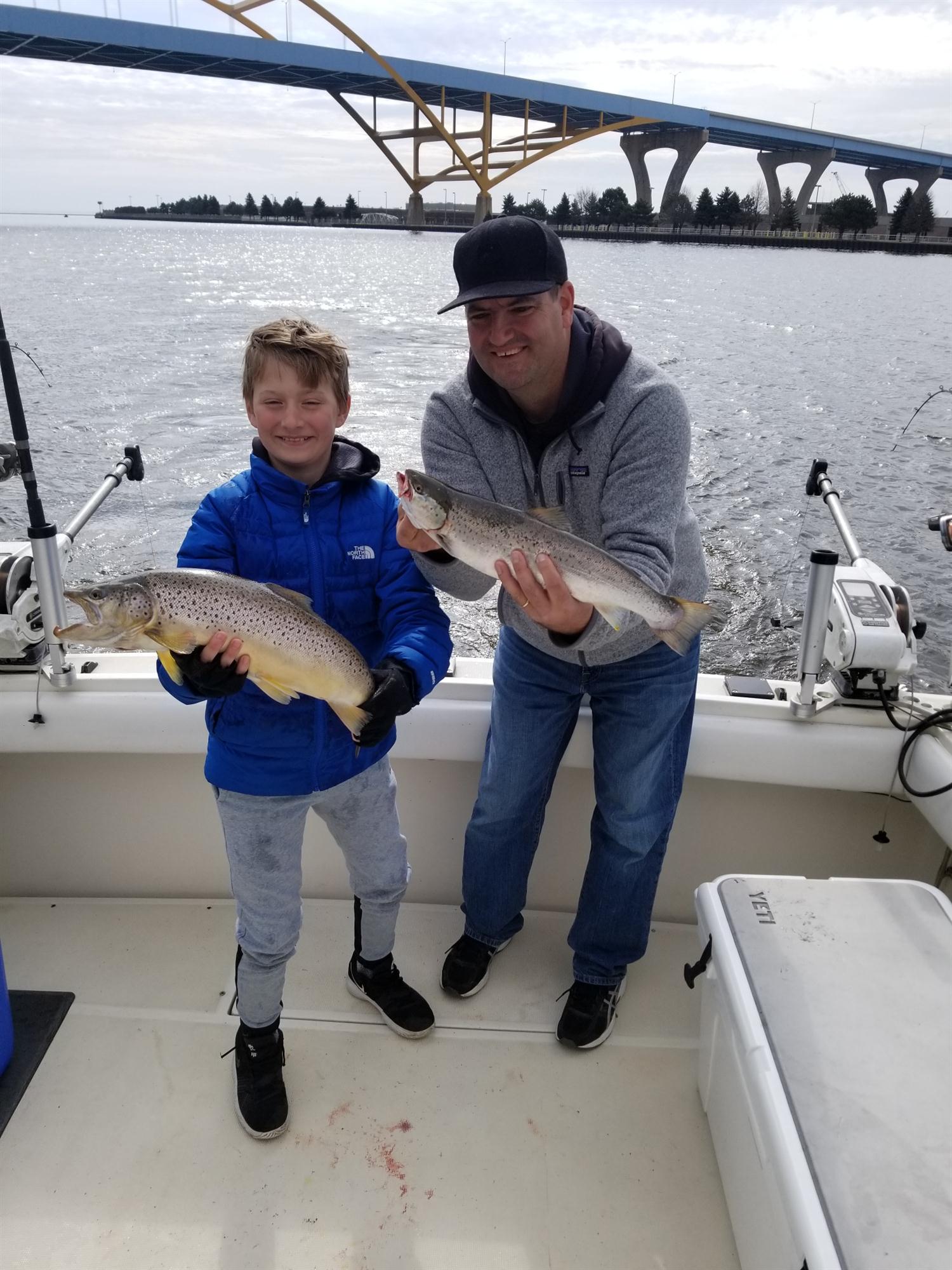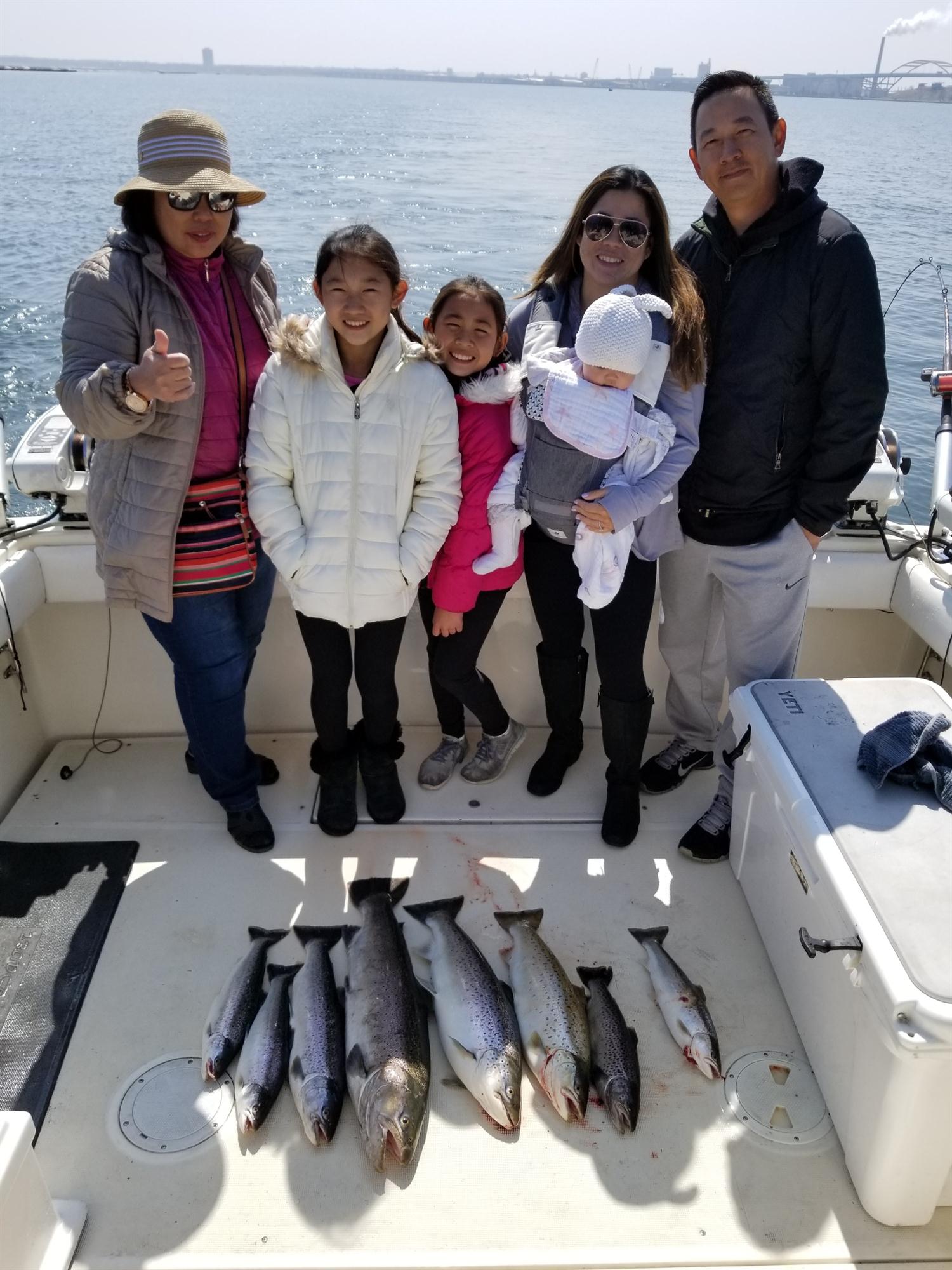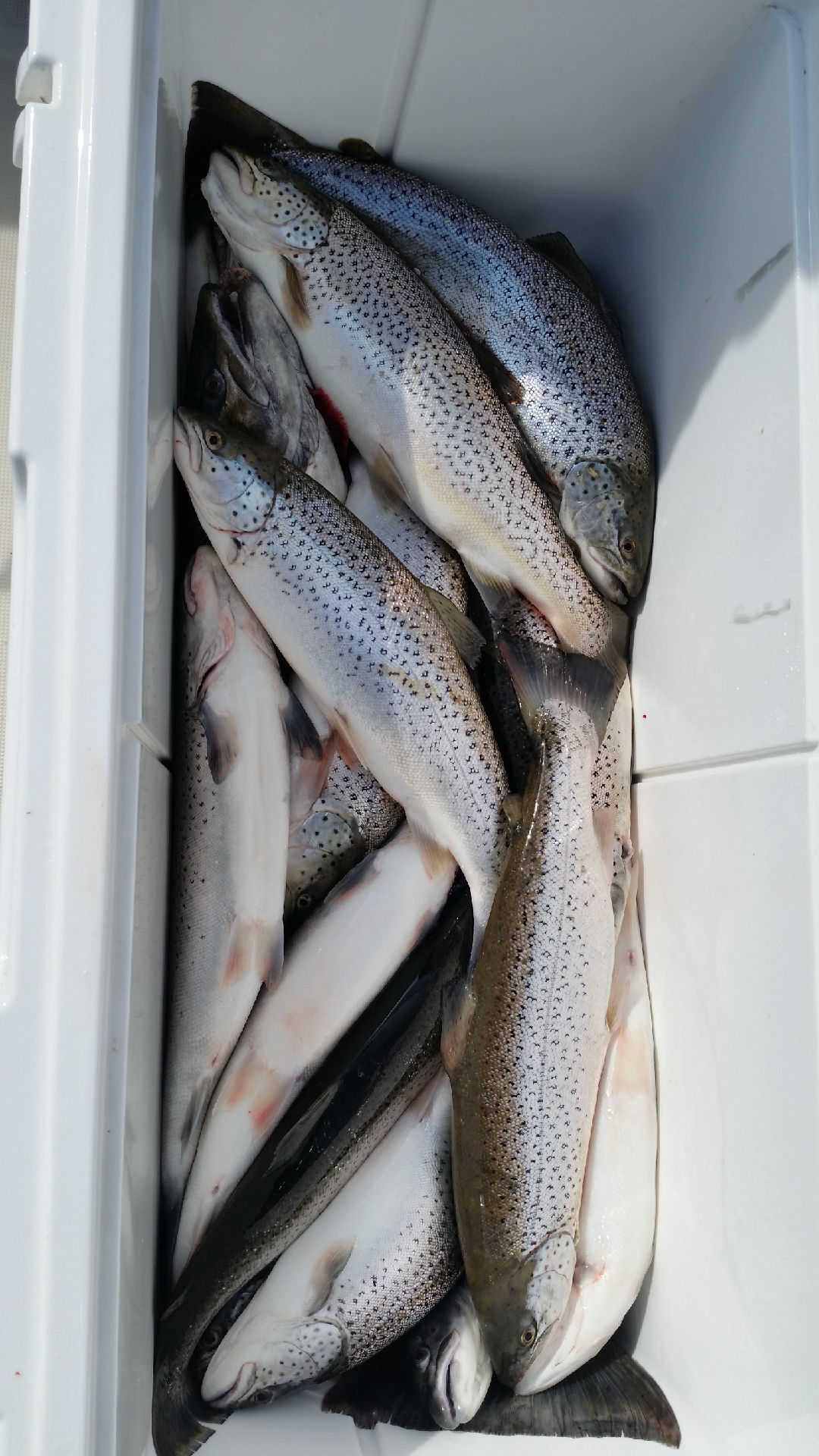 Report for January 9, 2020
Silver King Charters is getting ready for the 2020 season, which is only 50 days away. Last April we had some great catches of Brown trout and look forward to that early spring action this year that may start the last week of March. To all that fish with us I am sure we have brought up the shortage of Chinook salmon in Lake Michigan. In 2013 it was decided that the lake could no longer sustain the current stocking levels of Chinook, which was 3.24 million stocked in 2012. The alewife population was down and the thought was natural reproduction of Chinook salmon account for more than half the population of Chinook in Lake Michigan. By 2018 there was talk of eliminating Chinook stocking in Lake Michigan completely. A goal of some groups for many years. But many fought back on this idea and even asked for increases. During the 2018 and 2019 seasons the Chinook that were caught were big. A 20 pound Chinook became average and 30 pound Chinooks were the new big fish. It was obvious that some of the facts we were told were off about bait population and natural reproduction. Yes the fish were bigger but the catch rate was way down. Lake Huron, which is connected to Lake Michigan and fish can swim back and forth from did crash and the Chinook population did fall to almost nothing due to very little food. It was a good idea to take steps to prevent the same from happening in Lake Michigan. But for now it looks as if Lake Michigan has reached a balance with the mussel invasion and more fish can be put back into the lake. So what does this mean for the 2020 stockings. Well do to a lot of pressure from groups in Wisconsin, primarily the WLBA the stocking reductions were halted and now will be increased. We were dangerously close to having no Chinooks stocked but the tide has turned. The combined stocking of all four states surrounding Lake Michigan for Chinook salmon will now be at least 2.2 million, which is up from the all time low in 2017 of 1.37 million. This is a big increase and we have not seen this many Chinooks stocked since 2012. There were many who were involved in this increase but I believe if the WLBA did not exist then neither would Chinook stocking in Lake Michigan. Silver King Charters is a huge supported of them.
The stocked fish in 2020 will not help our catch rate this season but for seasons to come it will only get better. Lake trout stocking, which has been incredibly reckless over the last 15 years is still a problem. The Lake trout stocking for the first time in years has been reduced a small amount but one can only imagine how many are in the lake currently. I can say this with certainty that if you added up all the Brown trout, Coho, Chinook and Rainbow trout in the lake currently it would not come close to equaling the Lake trout heard and that is way under stating it. Lake trout live for a long time, eat constantly and have several restricted areas you cannot fish for them. There should be no more than 2 million total a year stocked in the lake!
Lake Michigan charter fishing has some how weathered several major crisis over the years but still remains a world class fishery and for the immediate future things are looking up. With the way last year ended, with and incredible Chinook bite we are looking for some what of an improved King bite in 2020. Lake Michigan has not come close to freezing over and an early spring is almost certain. At least one where we can get in the water. The early bite of April is one of my favorite times to fish, with short run times and the best Brown trout fishing of the year. Call Silver King Charters at 414-460-1467 to get on the books for some Milwaukee charter fishing in 2020. The pictures are a sunrise and sunset from a couple of days ago. There is barely any ice left in the harbor now.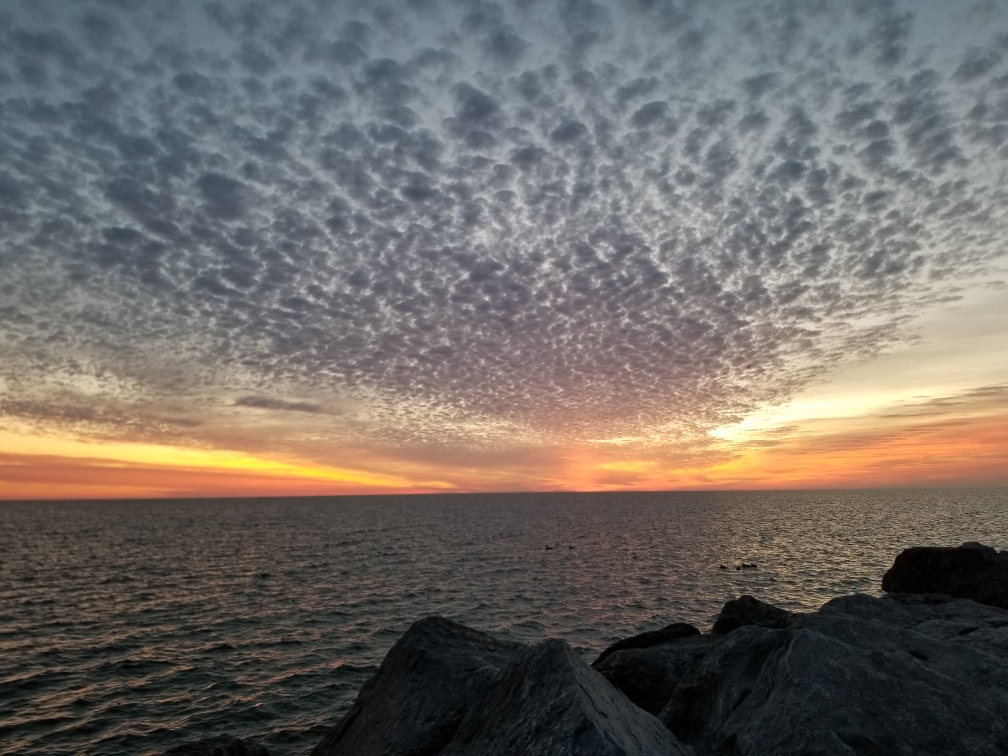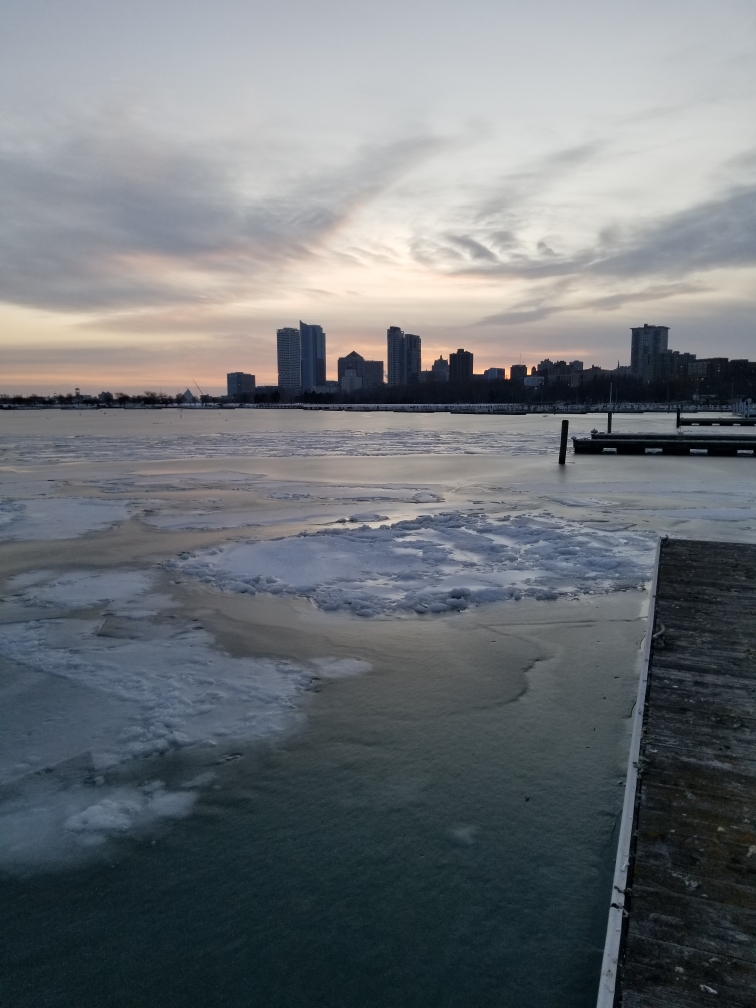 No reports yet this month.