*Note: Click any month to view reports.
January

February

March

April

May

June

July

August

September

October

November

December
Report for August 20, 2019
The month started out with a bang on the Silver King. We boated a 33.6 pound Lake trout on August 1st. This was our first Lake trout over 30 pounds and considering how many my brother and I have boated over the years it is hard to believe it took this long. We have now boated three species over 30 pounds: 2 Brown trout and one Chinook, along with this Lake trout. The trilogy is complete. The Lake trout and Chinook bite started out very good this month. I would say it was the second best stretch this year out of Milwaukee for Chinook fishing. Mid June was probably the best Chinook action with a lot of big Kings caught for around ten days and then the beginning of Salmon-A-Rama was solid too on Kings. The stretch in early August saw Chinook from the two year old, three year old and four year old class. This made for better numbers caught. Good Lake trout fishing was found just below these fish. We worked 60 to 90 feet of water and the best bite was 10 miles north of Milwaukee. We did have a great Lake trout bite straight out of the Milwaukee Harbor in 100 to 110 feet of water. As the water became colder the bite in close became tough and the Lake trout spread out. We moved offshore in 170 to 250 feet where there was a good bite for Steelhead, Coho salmon and of course Lake trout. The first half of August led to an average of 11 fish per trip and this just seems to be the norm for 2019 Milwaukee charter fishing. The bite is solid but not outstanding. The bigger fish have made this a special season. We won Brew City finally and I have a chapter on this followed by the rest of what happen so far in August.
On August 3rd we fished the Brew City Salmon Tournament out of Milwaukee. This is the 19th year of the tournament and is the biggest one day salmon and trout tournament on Lake Michigan. We average 100 boats each year, pay out the top 20 boats, have 25 big fish prizes and all prizes are cash. Go to the www.glsfclub.com to see results and information. We need to get this club to join the WLBA! We have finished four times in 2nd place, three times in 3rd place, twice in 5th place, once in 7th place, twice in 9th place and once in 10th place. We finally won it this year. We were the first boat in by an hour and thought for sure we were somewhere in between 2nd and 7th place based on what we were hearing from others fishing that day. We went 19 for 20 and our top 10 fish weighed 123 pounds and this was good enough to get it done.
We started Lake trout fishing and after destroying the Lake trout for a week leading into the tournament it was a tough bite for us the day of the tournament. We caught 6 Lake trout but we got the right 4 we needed. We had a 15.5 pound average on our top 4 Lake trout. You can only weigh in 4 Lake trout out of the 10 fish you can weigh in. We finished Lake trout fishing in one hour and 15 minutes. These fish were caught between 43.01 and 42.58 in 105 feet of water. Smoked dodgers and spin and glows on two riggers and two wire dipsies. We fished for salmon on the dipsies for 10 minutes to start in hopes of catching a silver fish but switched quickly to spin & glows on these. Our first fish was a Coho on the rigger in the first 5 minutes. We hoped to catch at least one silver fish while Lake trout fishing. We pulled a Rainbow on a 7 color leadore, using a Mongolian Green Moonshine. So we left trout fishing with 2 silver fish and a 15.5lb Lake trout average after an hour and 15 minutes. Great start and plent of time to catch 4 more silver fish, so we had 10 to weigh in.
We motored to 43.10 in 80 feet of water or 12 miles north. The best salmon fishing in the area was there. We decided to Lake trout fish first because most of the boats headed north to fish. We felt the bite would be tough to start with the heavy boat traffic and that boats would clear out when we got up there. They did. We trolled for an hour and 5 minutes before we had our first hit on a wire dipsy, which we lost. At this point we were running all green flashers and the famous Willy fly, which my brother ties, on downriggers 35, 45 and 60 feet down, dipsies and two copper rods at 150 and 200 feet. We had a 5 and 7 color with spoons. Shortly after we lost the first and only fish lost of the day we caught 4 silver fish in less than 15 minutes. Two on the up riggers, one on a wire dipsy set at 70 feet on the line counter and one on a 7 color. One fish was a 12" Chinook, another was a 10lb Coho and the other two were 8 and 4 pound Chinooks. This was at 9:00AM. We had our 10 fish and had 4 spots left to upgrade because we kept an extra Lake trout from earlier. We worked 85 - 90 feet from 43.12.5 to 43.14 for all the fish we boated up north. We caught another Lake trout on a 10 color with a Gold Star Green Spatter and another 12" Chinook. Both were released. We then caught a 12 pound Rainbow on a 7 color, with the Moonshine again. We took a 10 and 8 pound Chinook on the 35 and 45 riggers. Our last fish was a 12 pound Chinook on a wire dipsy set at 70 feet. We had 15 fish in the box at 11:00AM and were at the dock by 11:30AM. Never thought the total weight of 123 pounds would hold but by 2:00PM after all boats weighed in we won. Cannot believe it! Very special moment for my brother and I. I attribute the win to catching medium size fish in the 8 to 12 pound range for our silver fish instead of breaking off 20 plus pound Kings, which many did that day. It also helped to have at 15 plus pound average on Lake trout. I thought after catching a 33 pound Lake trout 2 days earlier our luck was spent. We took second place in the Rainbow and Coho divisions too. Last year we took 3rd place and moved 3 time to do it. Both years we were under power almost as much as we fished. You have to move from spot to spot to get what you need on this lake these days.
Next year the Brew City would like to do a Pro/AM tournament on the weekend of August 8th, 2020. The Pro division would pay out $12000 for 1st, $5000 for 2nd and $3000 for 3rd place. The only way this happens as if we get 20 boats to commit to the Pro division by January 1, 2020. It would be a 2 day Friday/Saturday tournament for the Pros. The entry would be $1000 for each Pro boat. We will see if we can make it happen.
Since Brew City we spent a week fishing up north for a mixed bag of Chinook, Lake trout, Rainbow and Coho salmon. Same spread and location as Brew City. We fished deeper water for several days in the 150 to 250 range for Rainbows and Lake trout, using mostly spoons on leadcores from 3 to 10 color. Gold Hud and Orange Crush Gold Singer spoons were best as they have been offshore all year. We are currently back in our Lake trout spot crushing the Lake trout in 100 feet of water, catching limit or near limit catches. Big trout too.
Call Silver King Charters at 414-460-1467 to get in on early September Milwaukee charter fishing. We are hoping for some cool water and big Chinook salmon. This is the year of the big Chinook and they will be coming into to spawn soon. There was a 40 pound Chinook caught a week ago down in the southern end of Lake Michigan. We want another 30 pound Chinook and this is the time to do it. We also made it on the news with a 3 hour spot last Monday on Fox 6 Morning Wake Up. They did 5 spots of live footage of us fishing. I would like to thank Brain of Fox 6 and all those who produced it. You guys did a very professional job. Check it out on the web by looking up Fox 6 Morning Wake Up Live. Look for Silver King Charters. I made sure to pug all the ports and the fishery as a whole. I have attached multiple pictures of the 33 pound Lake trout, multiple pictures of the Brew City victory, the Fox 6 crew on the boat and other August pictures. We also caught our 2nd Pink salmon of the year.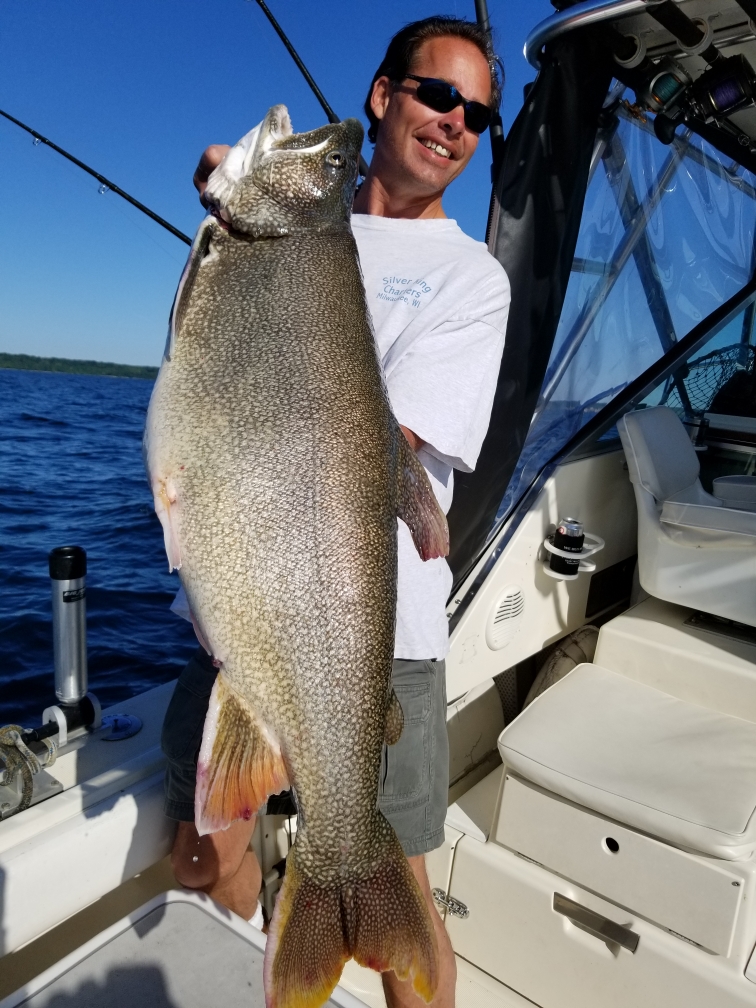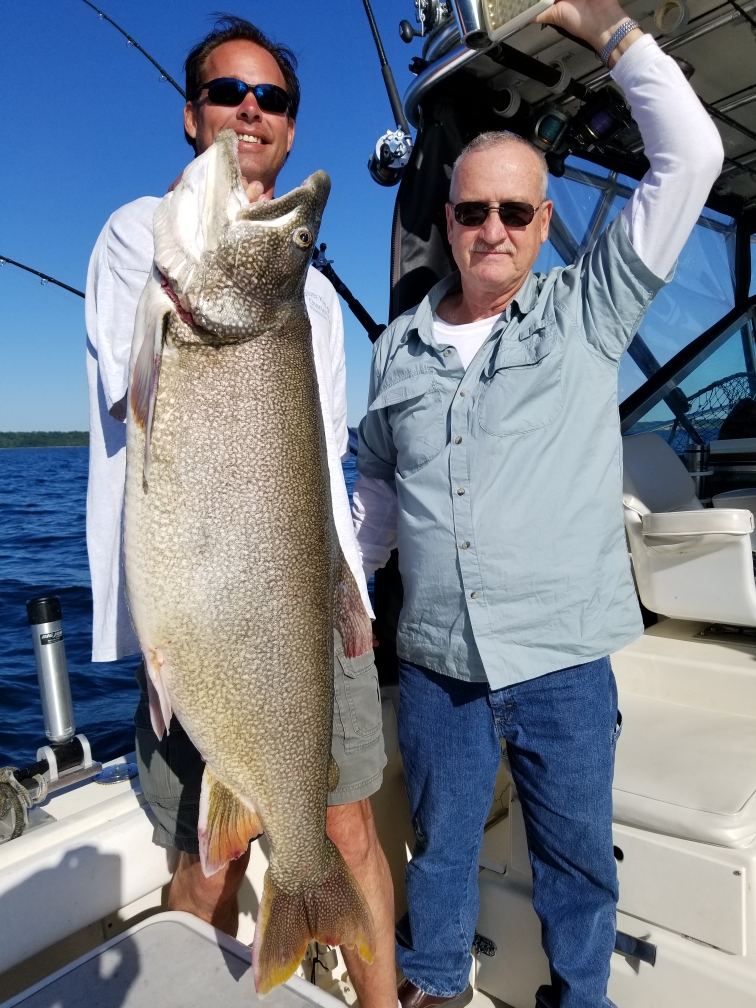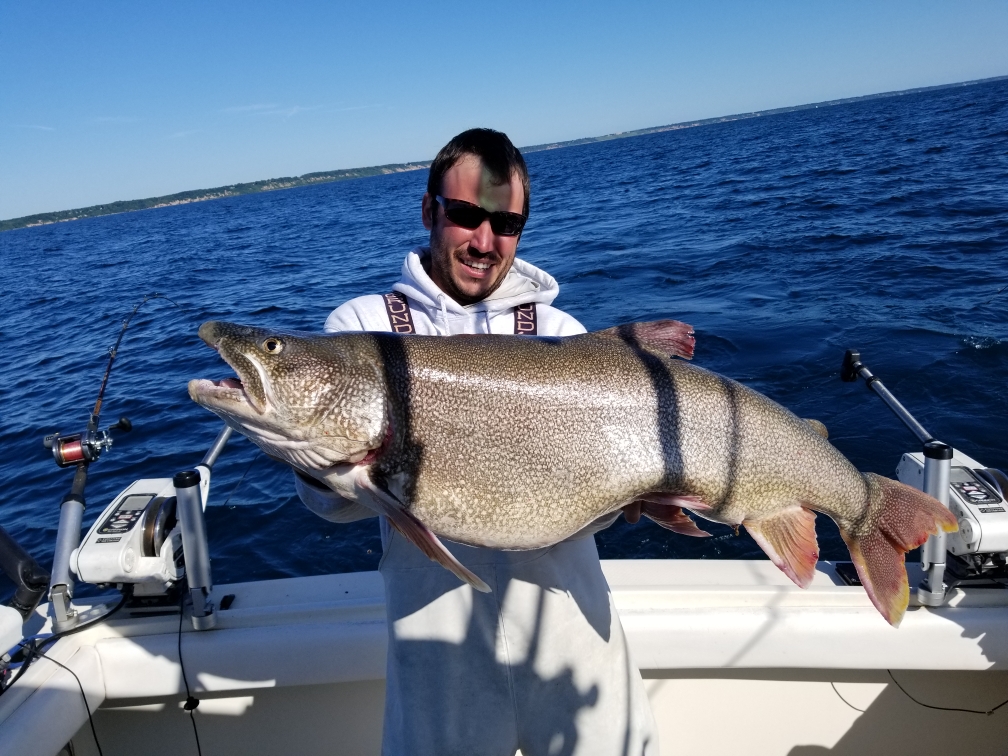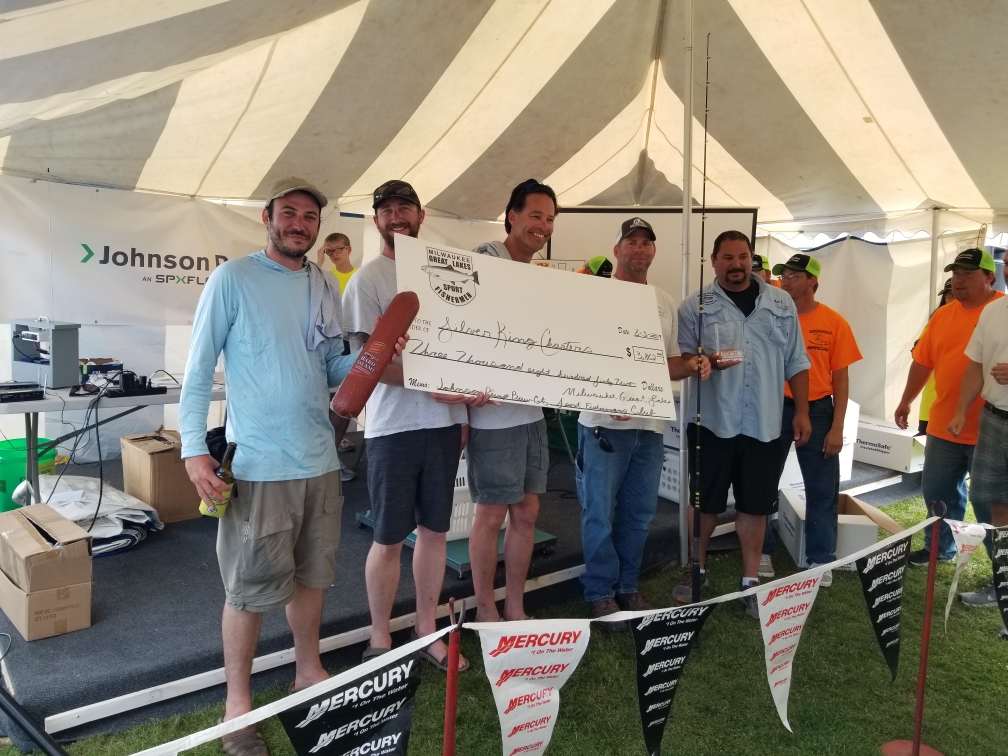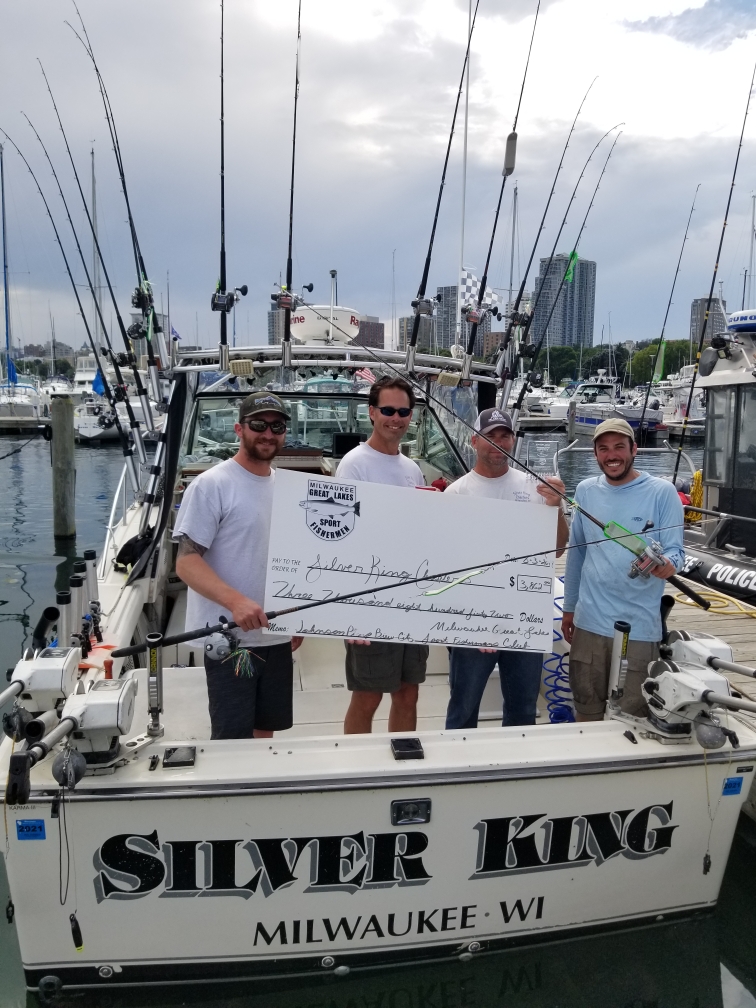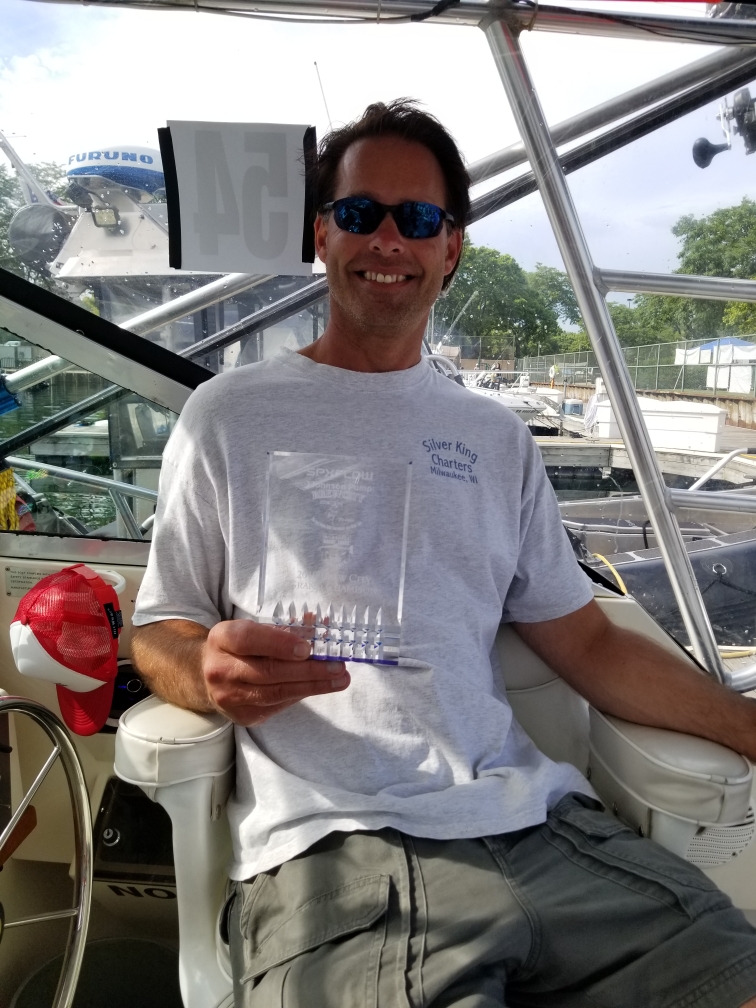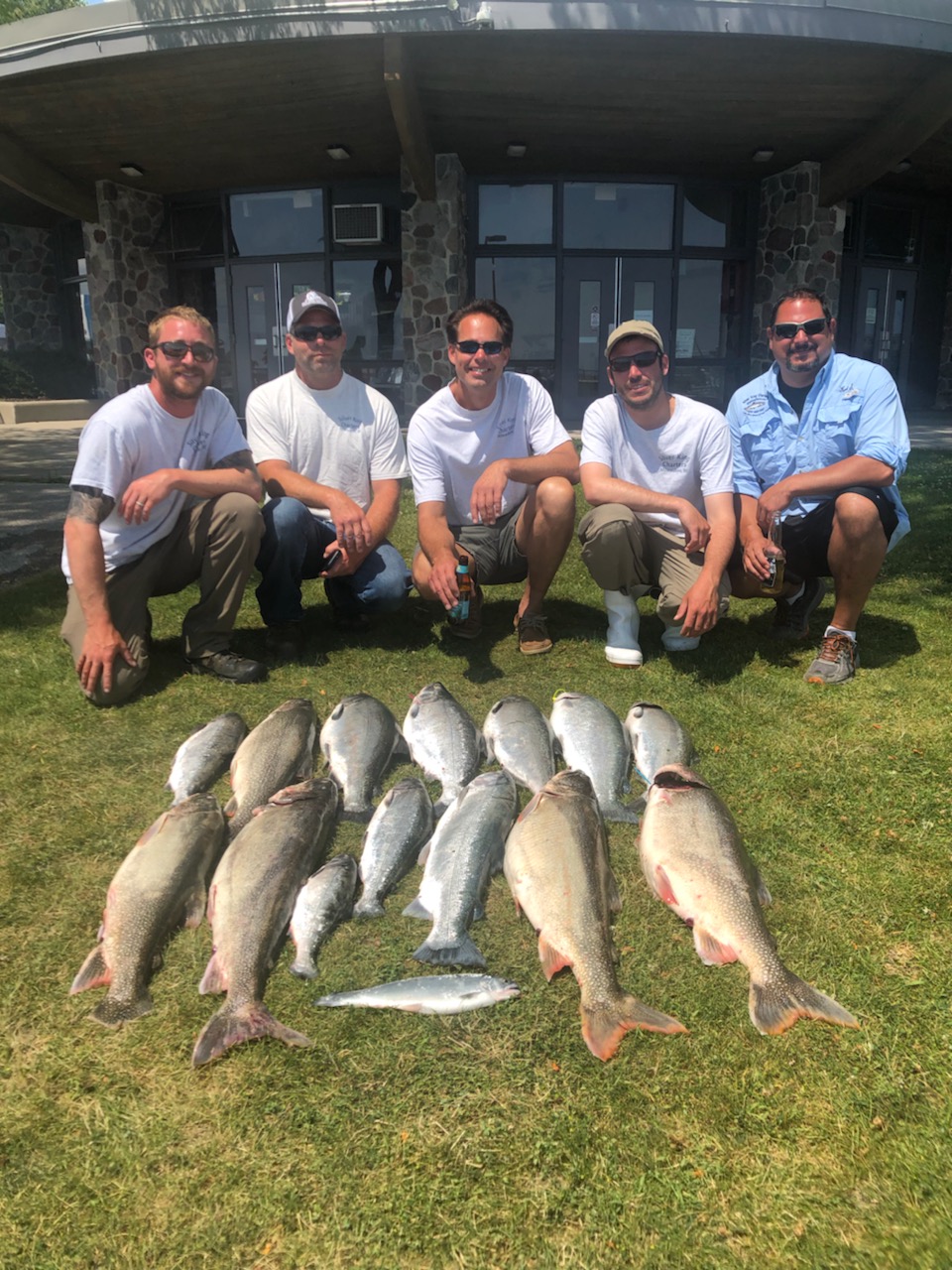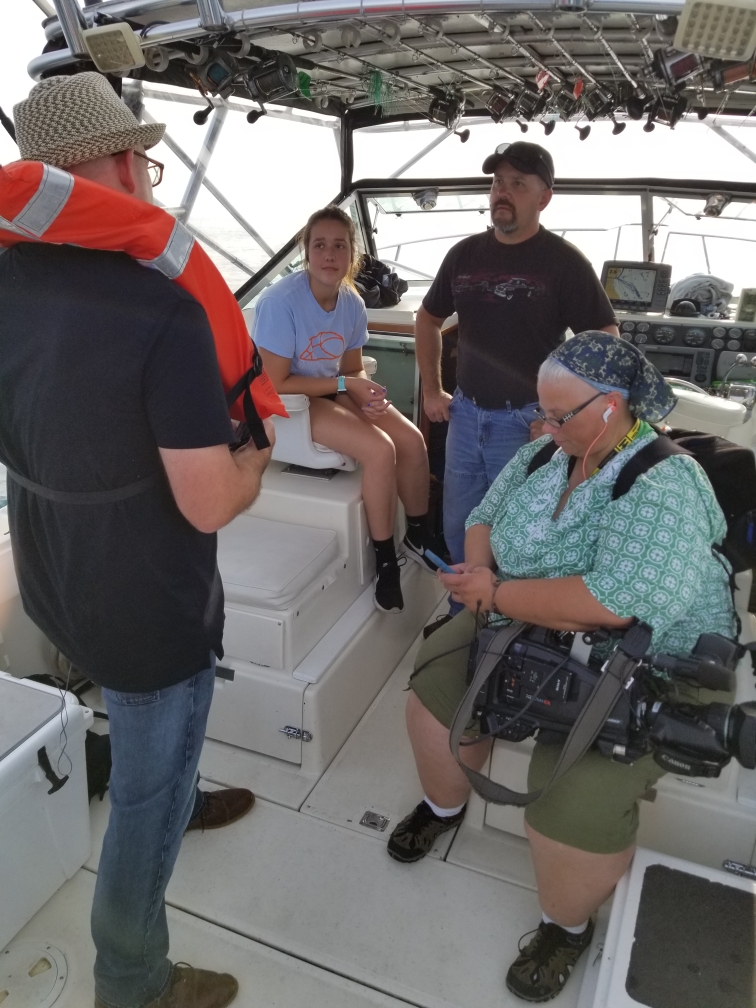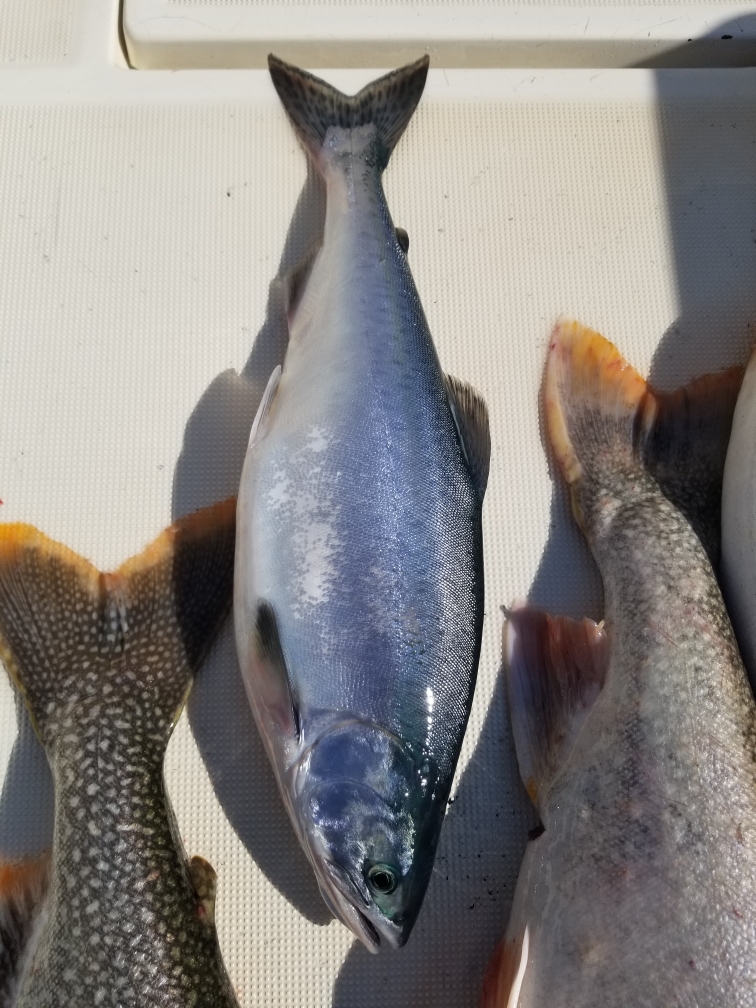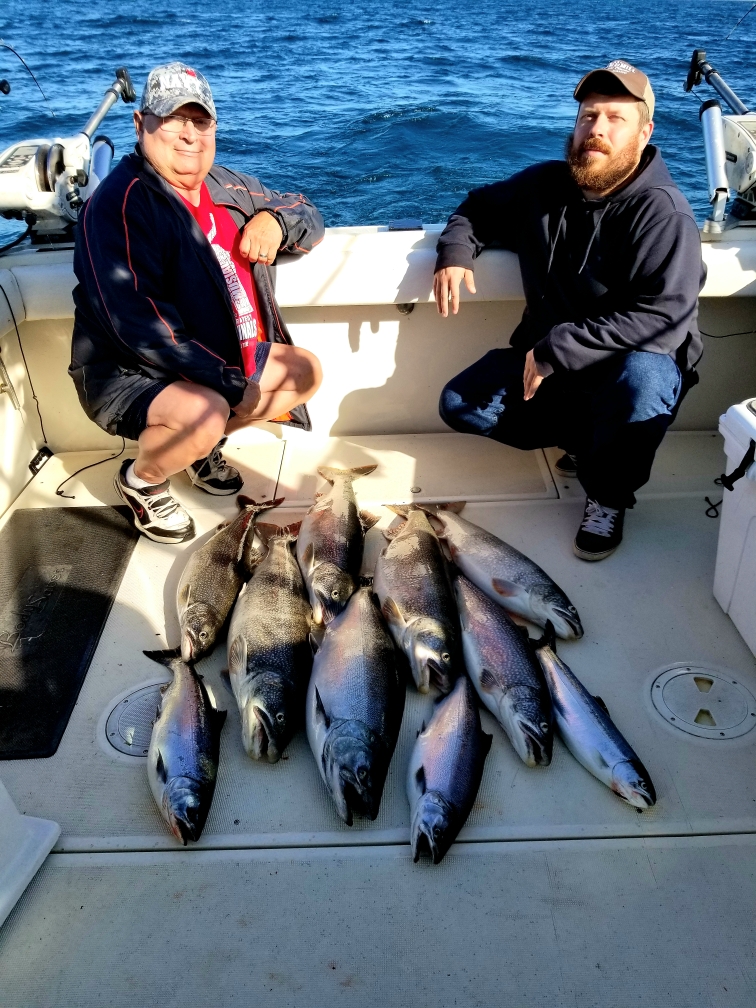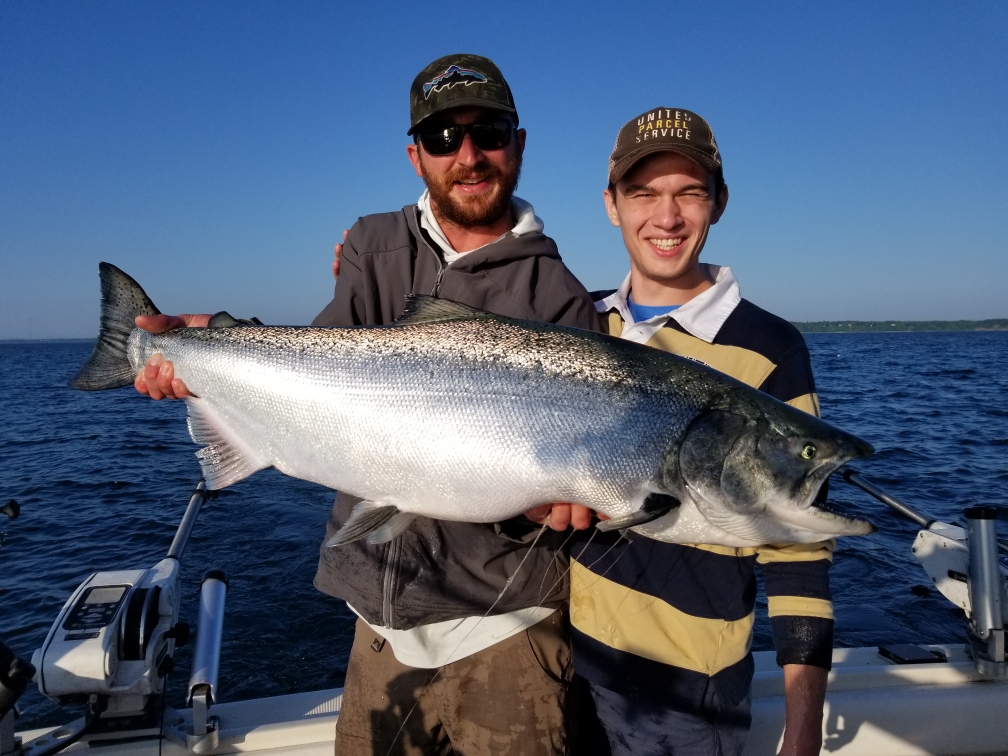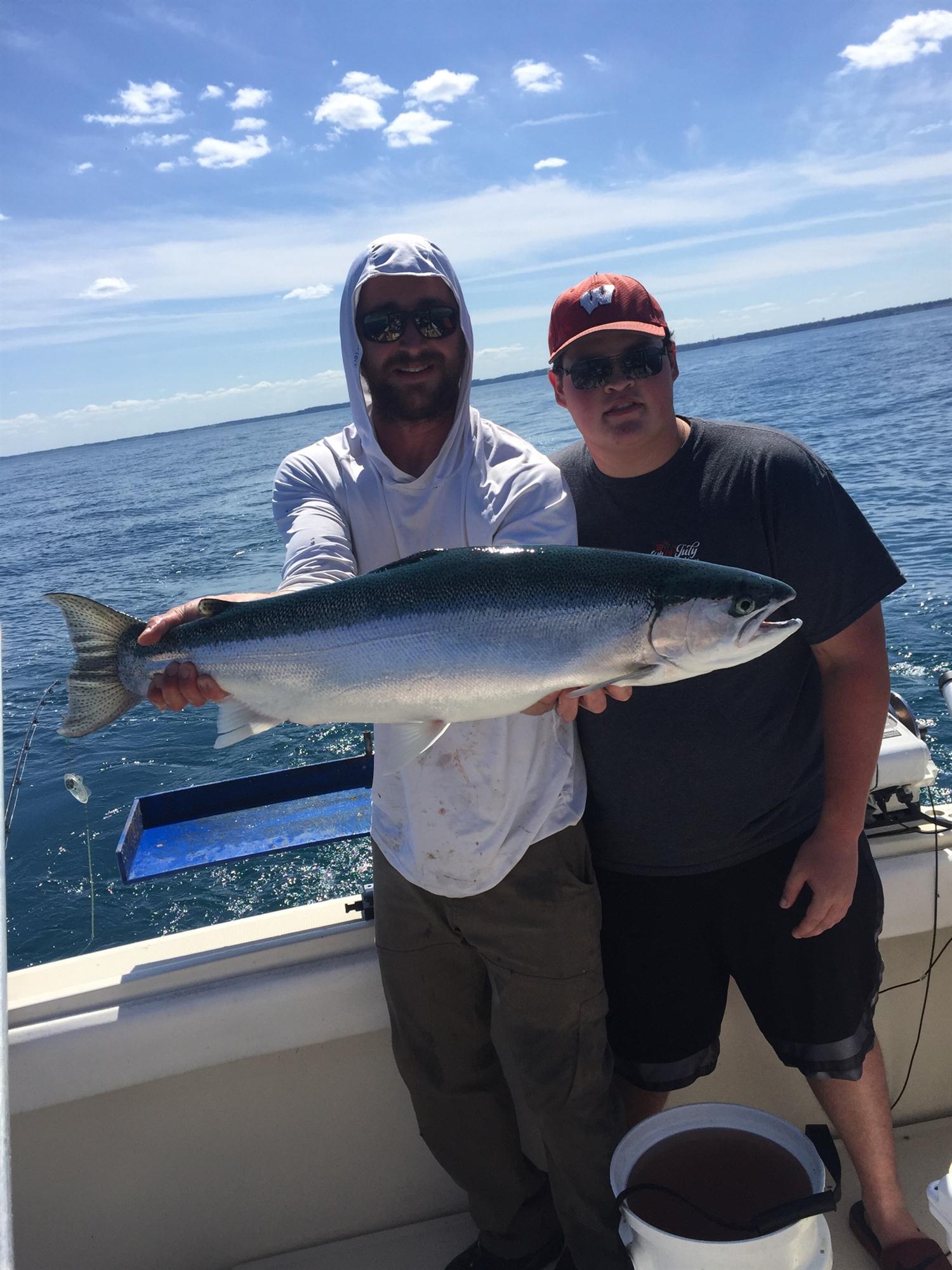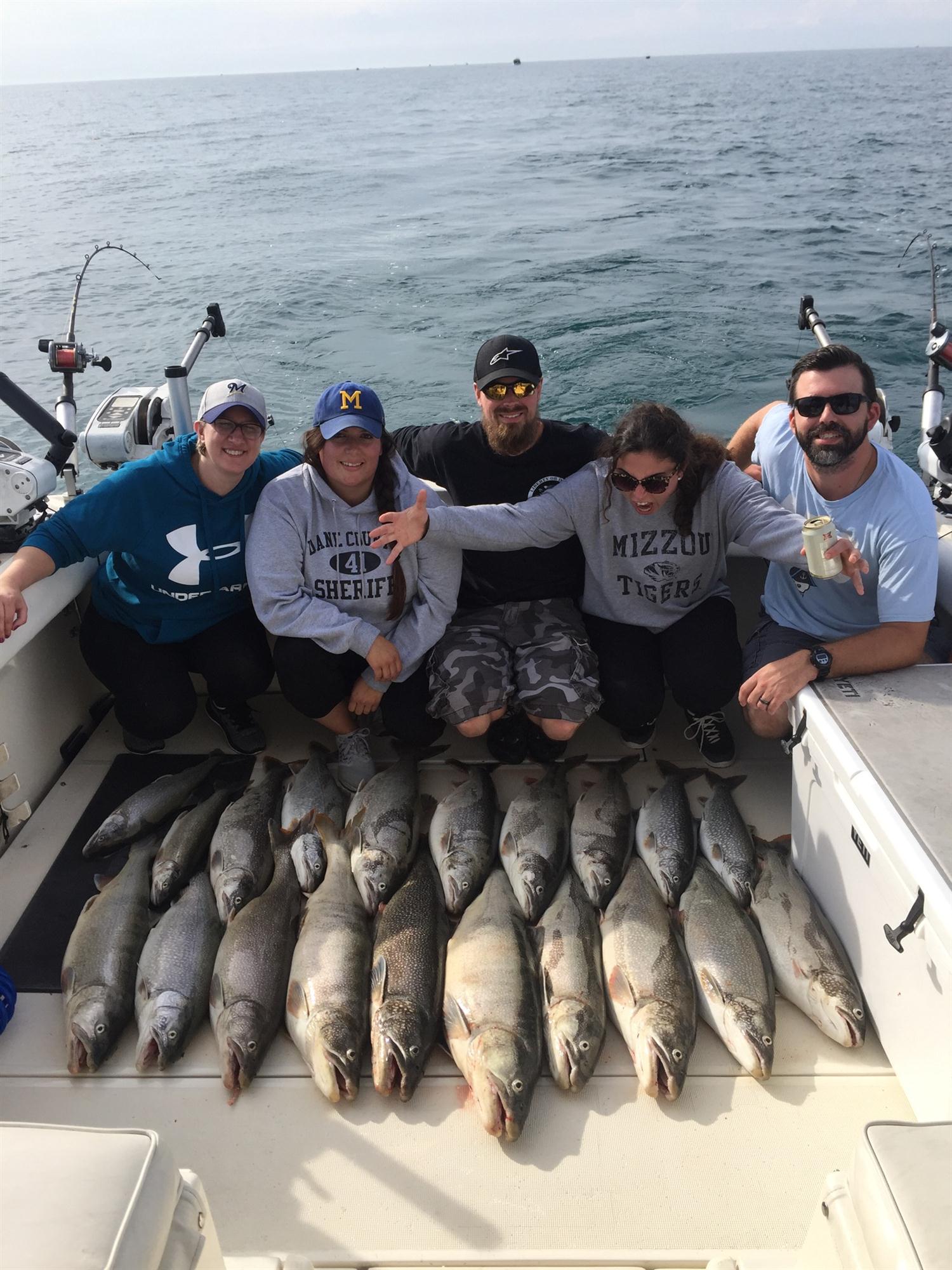 Report for August 7, 2019
July was a solid month for Lake Michigan charter fishing. Again we were a little light on catch per trip at 11 fish a trip but it was for the most part consistent action. We started out the month with some good Chinook action and when the Kings slowed down we had consistent Lake trout and offshore for Coho, Rainbow, Lake trout and occasional Chinook. The theme remains big fish. We rolled into Salmon-A-Rama week with the intent of landing a big King. Although a couple 30 plus pound Chinook where caught off Milwaukee the King bite slowed by mid month. The eventual winning fish for Salmon-A-Rama was caught out of our port. We switched to Lake trout by the middle of Salmon-A-Rama and landed 5th and 6th place in the lake wide tournament, with two 21 pound Lake trout. This is the 8th consecutive year we have placed multiple charter customers on the salmon-a-rama board that stuck until the end and won them money. We fished offshore in 200 plus feet of water for much of the middle of July but the last week things set up in the 50 to 90 foot range and we started catch big Chinook and Lake trout again as the water cooled. Most of the last 10 years a 20 pound Chinook would be a really nice Chinook and it still is. In 2019 the 30 pound Kings are the ones to brag about. Many have been boated in all ports around Lake Michigan and it is only a matter of time before a 40 pound fish is caught. We boated a 31 pound King in June. Last year there were two 30 pound Chinook caught during Salmon-a-rama and this year there were nine. Hope it is a trend because these fish are an incredible fight.
So for our Chinook bite when fishing from 60 to 120 feet of water has been about the green flashers and either Bull Frog Howie flies or the Willy fly. We run a 27" lead with 40 lb pink Ande flourcarbon leader. We like either Hot Spot, Pro Troll or Spin Doctors. Green with crushed ice tape on one side and silver on the other. This has been our top producer. The meat rigs worked realy good last year but not so much this year. Could be the meat we are using but not much success. The flasher flies are best on dipsies, up riggers and copper set ups. Our 150 to 250 coopers. For offshore it is spoons on 2 to 10 color leadcores. We like the Gold Hud, UV Green Dolphin and the Orange Crush Gold stingers the best. Green flasher flies on the dipsies and up riggers. Our deep riggers are white flashers, with bull frog flies. For the Lake trout fishing it is all smoke dodgers and spin and glows. We like the Milwaukee Special or the Lucky Charm. We have not had monster numbers this year but 8 to 12 fish catches have been very consistent out of Milwaukee this year. We have not had to deal with warm water very deep in the water column this year yet either.
We are getting ready for Brew City this week and the Chinook bite has picked up. Hoping for the best. Give Silver King Charters a cal at 414-460-1467 to book an August trip and get in on some King action before the big ones start to spawn. I have attach some pictures from July. One shows a big Lamprey on a Chinook. Have not seen to many of these this year but this is one of the biggest I have seen. Another is a picture of our boat fishing at sunrise.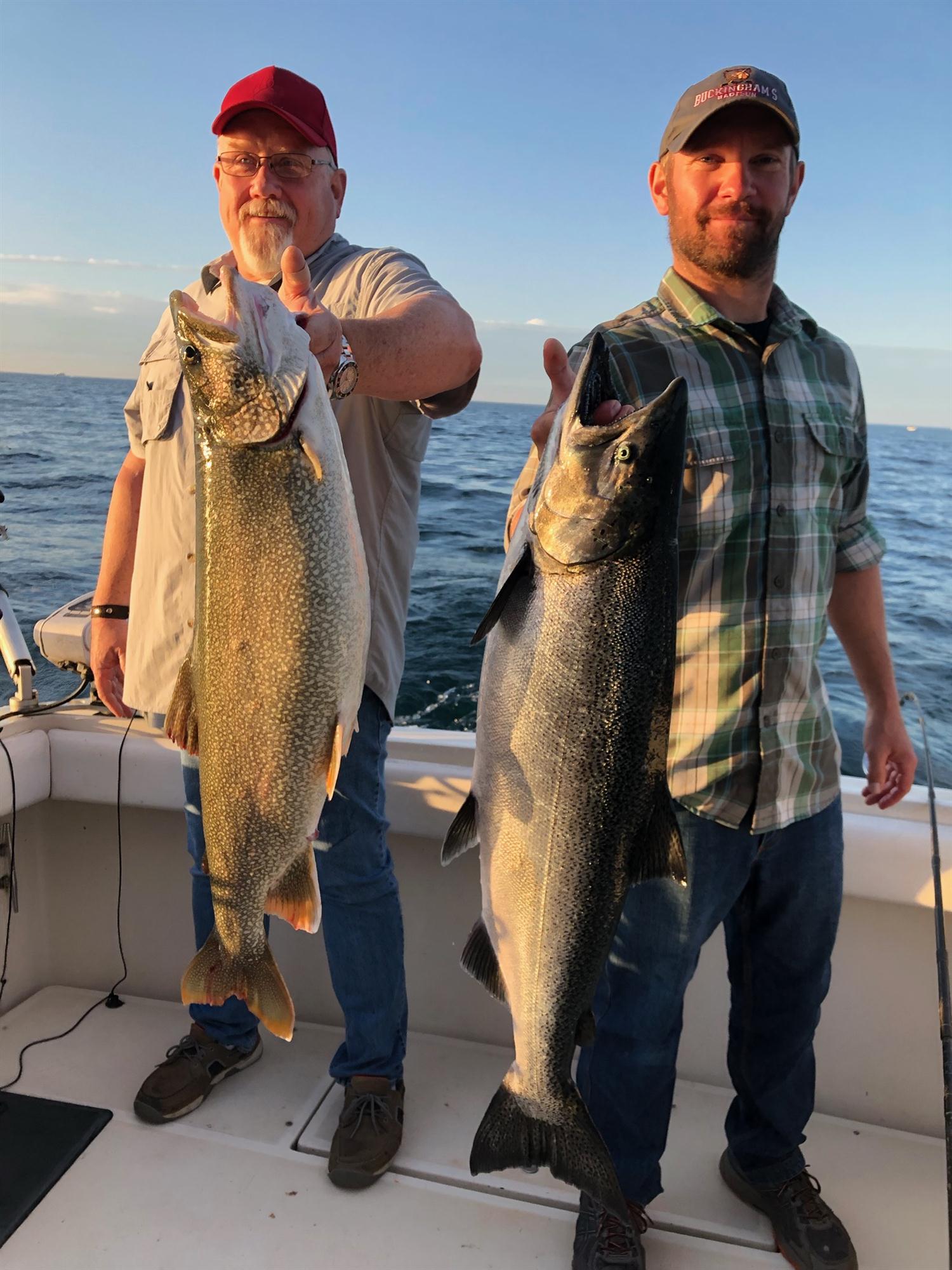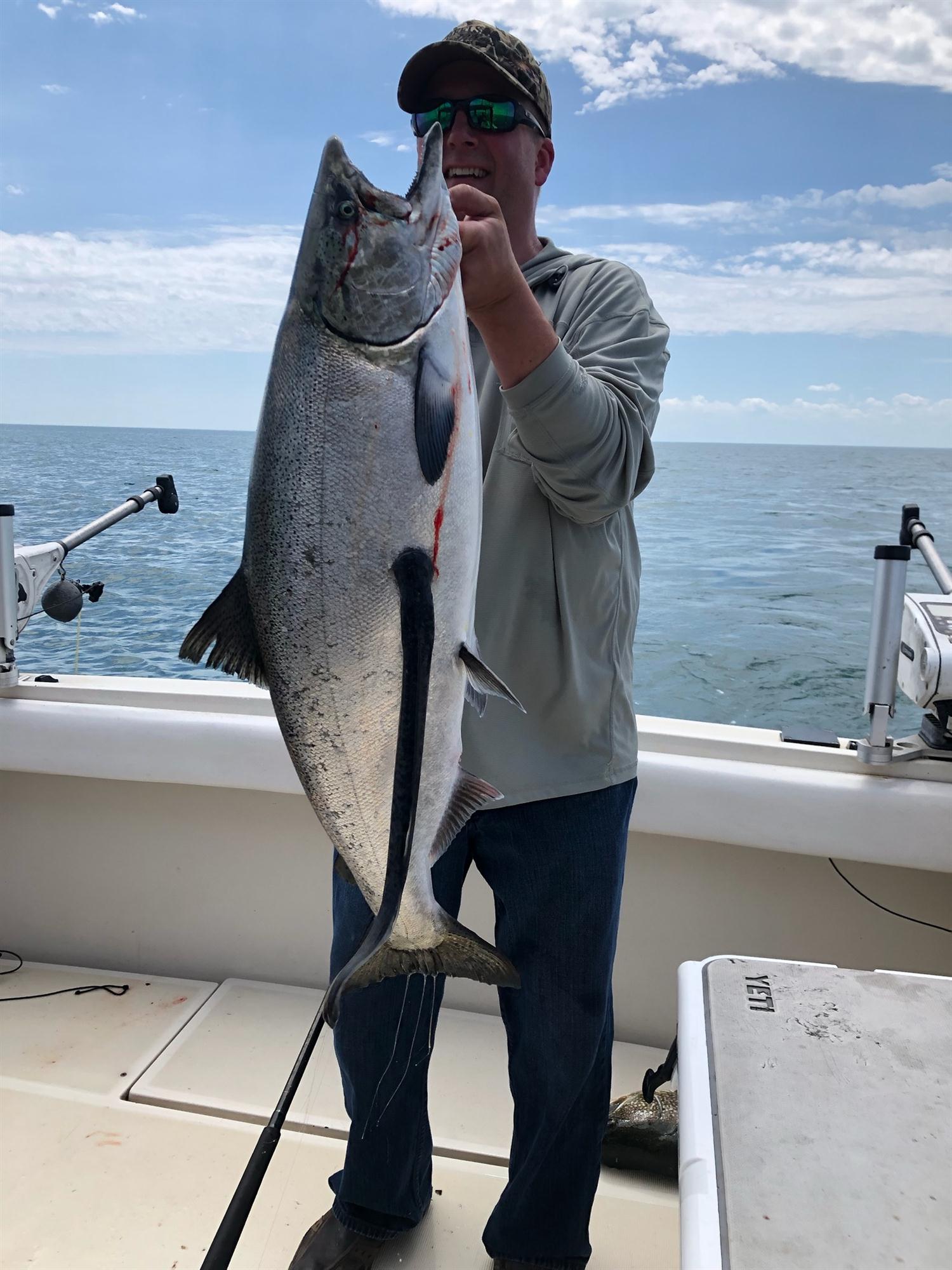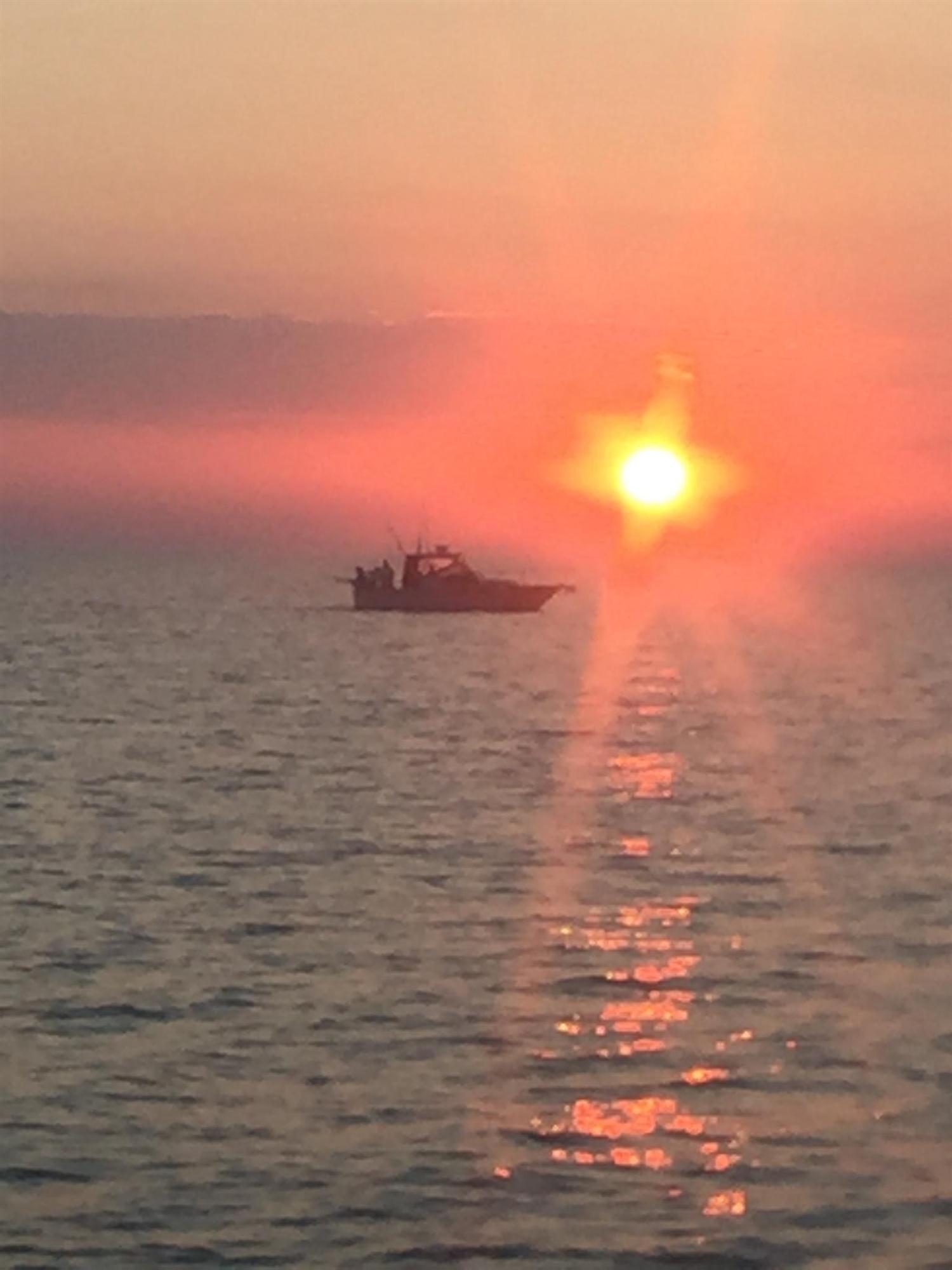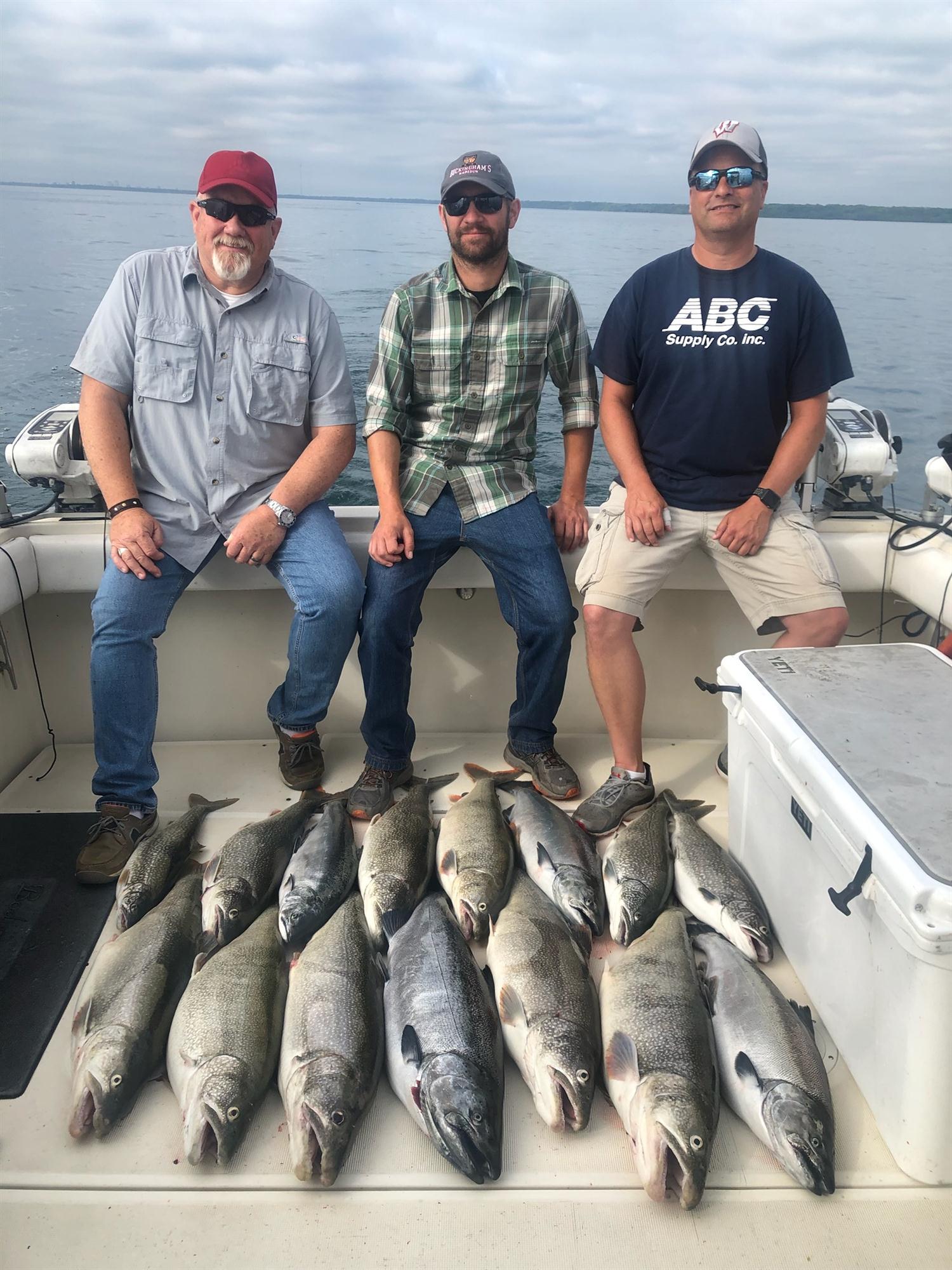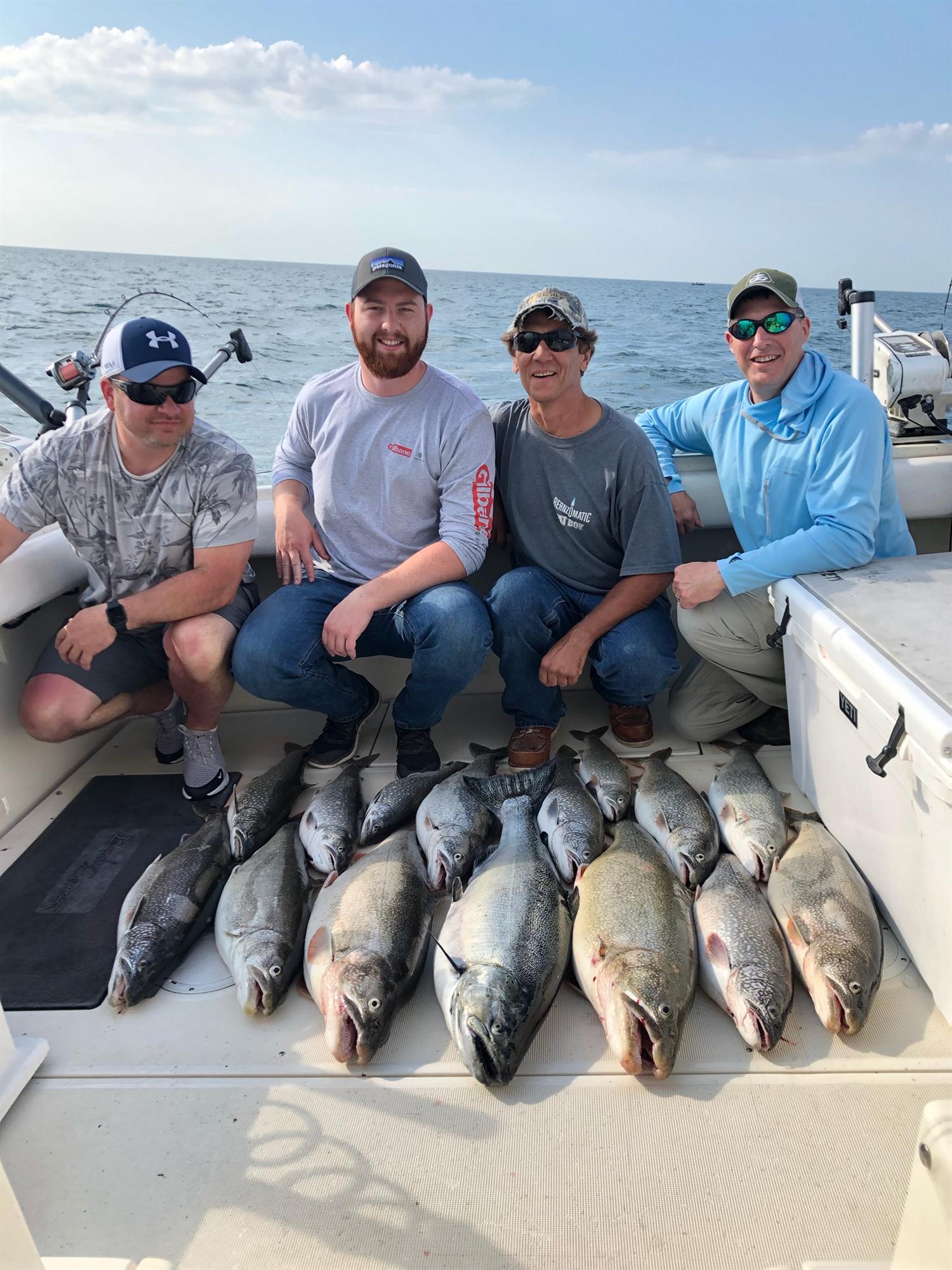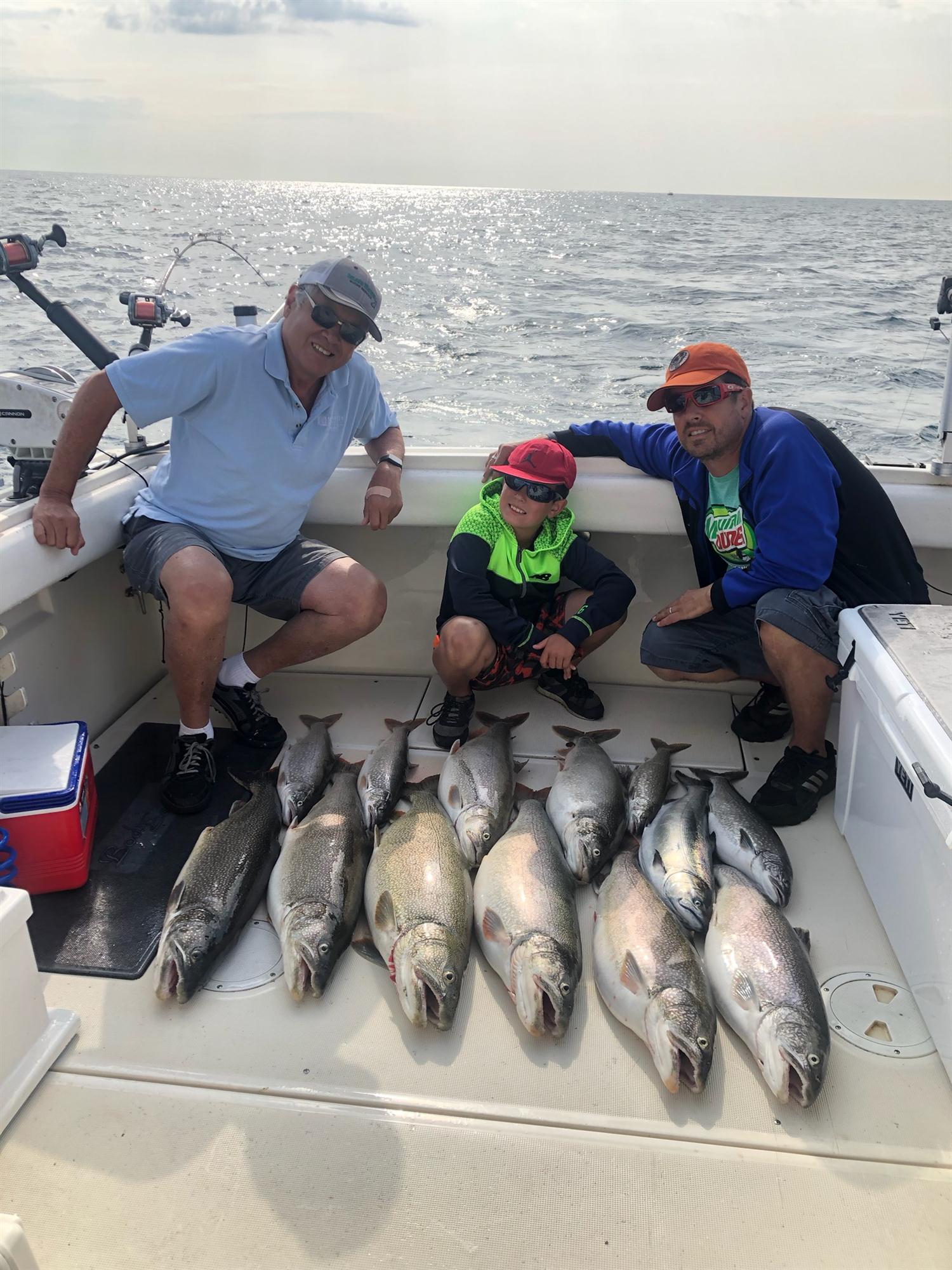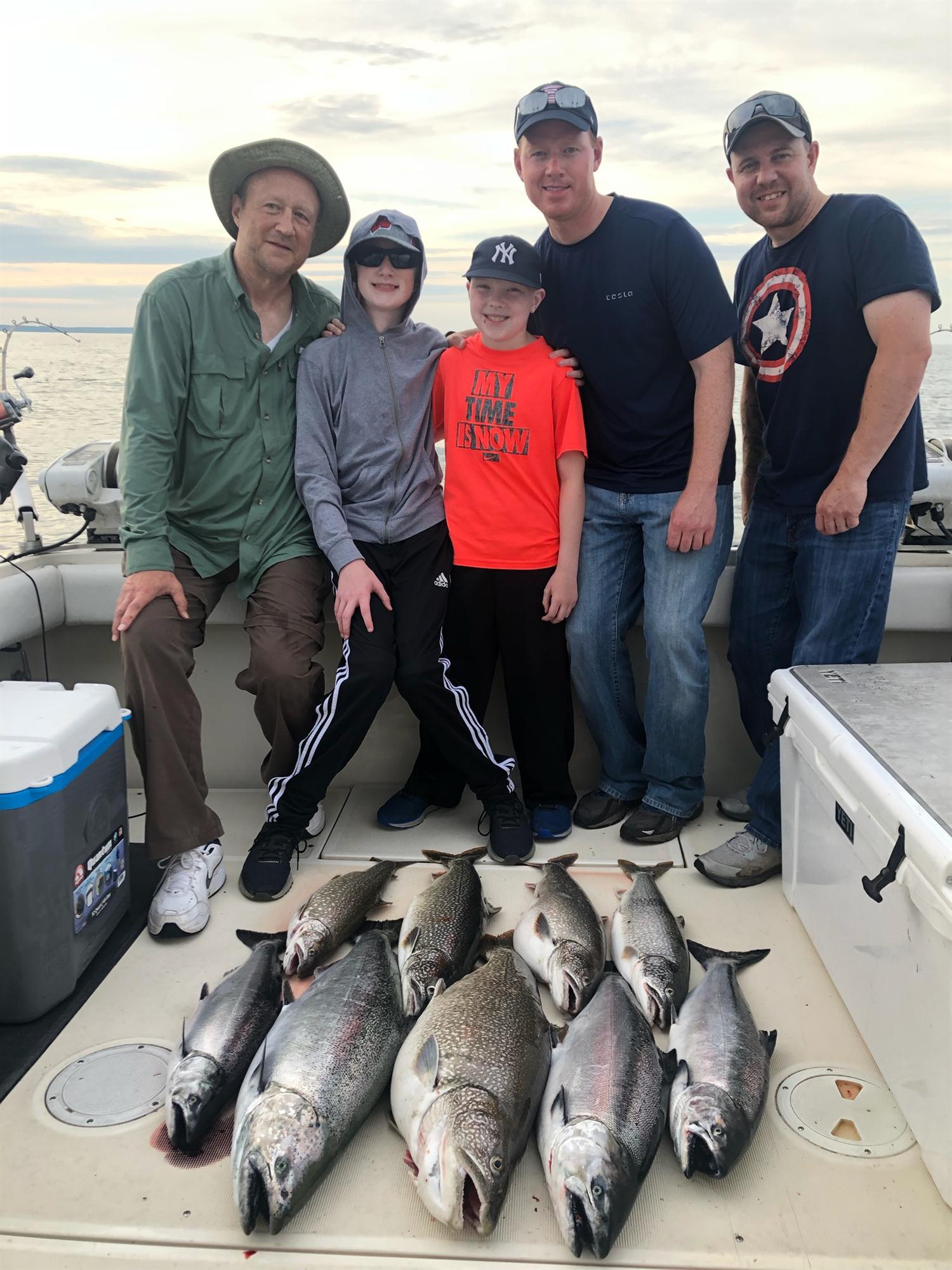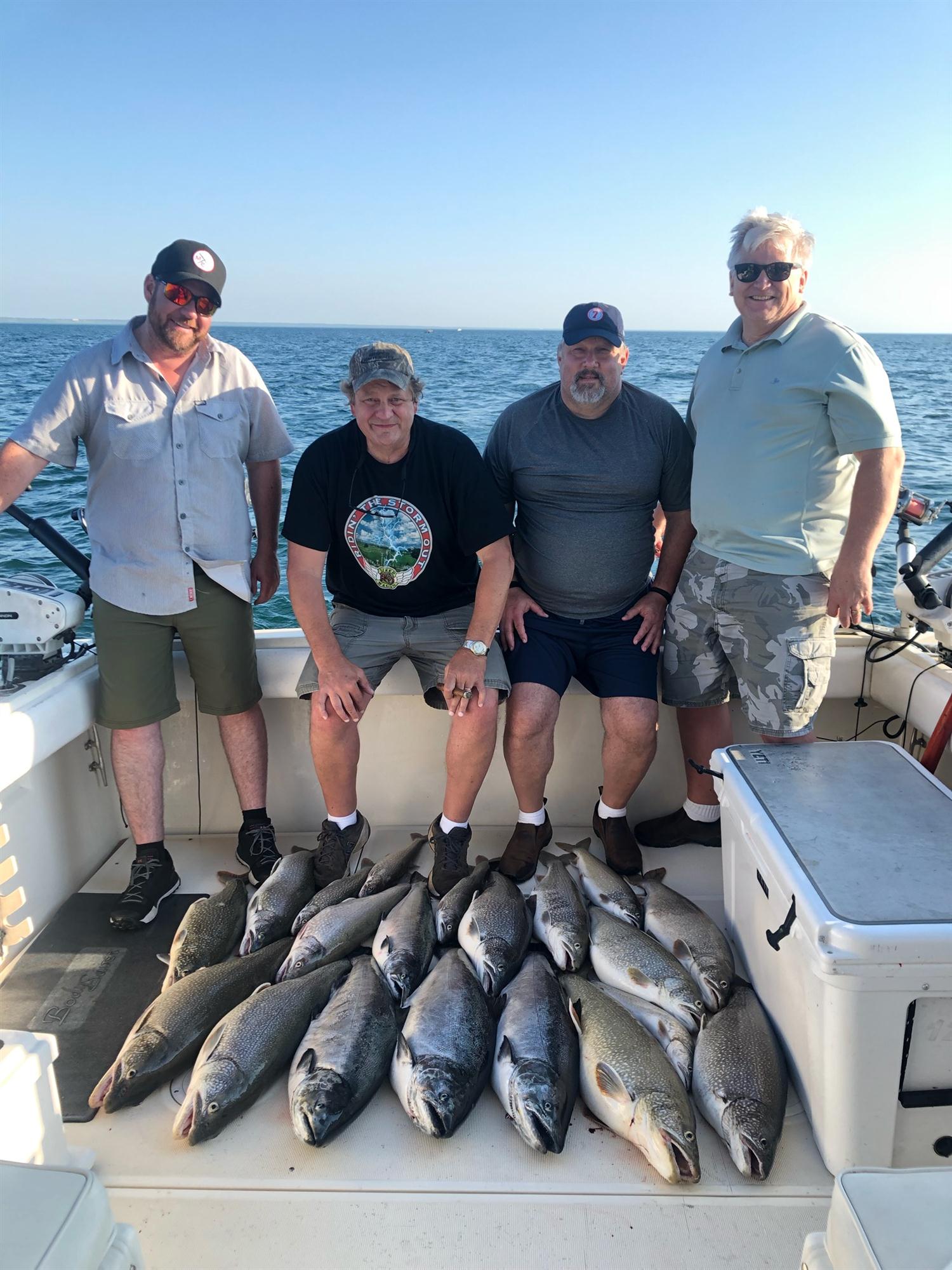 Report for June 28, 2019
Well this is a report I did not want to post. Why? The lack of Coho salmon caught during our most productive time to fish. The reason was cold water and lack of fish movement. This was our lowest catch total for Coho salmon in 20 years over this time period and it was by a large margin. Fish wouldn't cross over from the Michigan side or come in from out deep or come up from the southern end of Lake Michigan due to cold water temperatures and a very late spring. It was only by late June we were able to take off our winter jackets out on the lake. The best Coho action was in the very southern end of the Lake Michigan and if I had an Illinois charter license I think I would have gone. I hope next year at this time we will be back to normal but I don't know what normal is right now. I am confident though we should be good in 2020. The good news is there are still lots of Coho salmon left because the pressure from many ports on them was not so great. This means more will be in the catch as the season progresses and some big ones too. That is the theme of the 2019 season. Big Fish! We have fished the lake a long time and we are starting to see the alewive population slowly coming back in good numbers where we fish. That means bigger fish. We have boated 20 fish over 20 pounds through June and this includes a 31 pound Chinook salmon. Fish don't grow that big without a lot of bait around. They aren't drinking water to get that big. We also have a 18 pound Rainbow this season and many Steelhead over 10 pounds along with 4 Lake trout over 20 pounds.
So the total catch rate is at 10 fish a trip through June and at this time of the year we like to be 15 to 20 fish per trip. That is what Coho salmon do for the fishing in May and June. It should be noted that the Coho stocking was not down from previous years but it is a big lake and if things don't line up in your area of the lake it can really affected the bite. But when you through a 20 pound Chinook in the box, who cares about missing 8 Coho in a trip. The fights have been amazing. The fish are well fed and full of energy. We have runs after the hit of 100 to 600 feet of line. The opportunity is there to catch a big King on every trip. We have been fishing all over but finished June fishing in 100 feet of water for Chinook or offshore for a mix of Rainbow, Coho and Lake trout. The offshore bite in June was real good from 180 to 300 feet of water straight out of Milwaukee. The Chinook bite was solid for about 10 days in 100 feet just north of Milwaukee. Flasher flies on the riggers and wire dipsies were best for the Kings. White flashers and Howie Bull Frog flies worked best set from 40 to 75 feet below the surface. When offshore it was 2 through 8 color leadcores that worked best. Stinger orange crush gold spoons or UV green dolphin and the gold hud were the best spoons. We did boat several 12 pound Steelhead and one went 18lbs. I am way past due for July reports and I will go over the month and jump into August next week.
Every year has its trade marks and 2019 is about big fish and Big King salmon is the highlight for sure. It has been a long time since a 20 pound Chinook was considered average. Throughout the lake there will be many Chinook caught over 25 pounds and into the 30 pound mark. The only question is can someone land a 40 pound King this year. Call Silver King charters for some fun summer Lake Michigan charter fishing at 414-460-1467. The first 3 pictures are of the 31 pound Chinook and the next one is of a 18 pound Rainbow.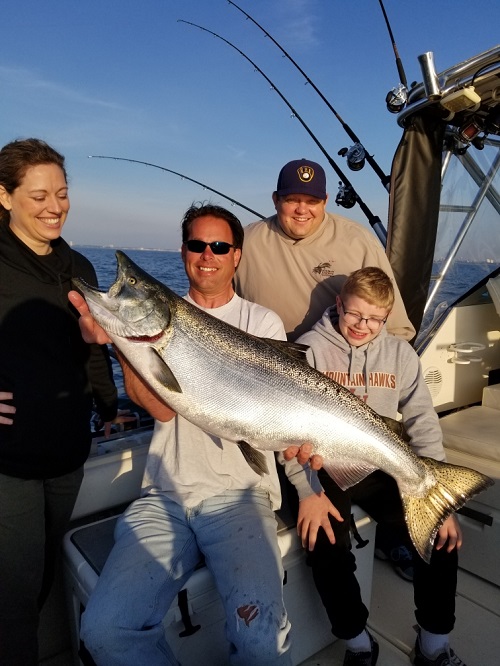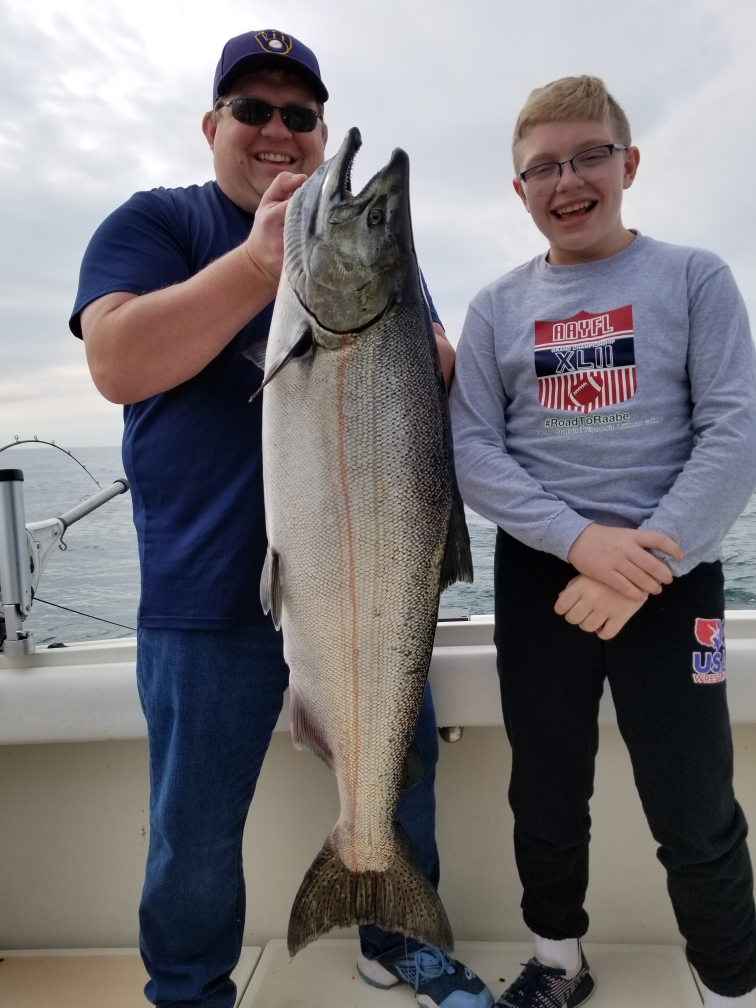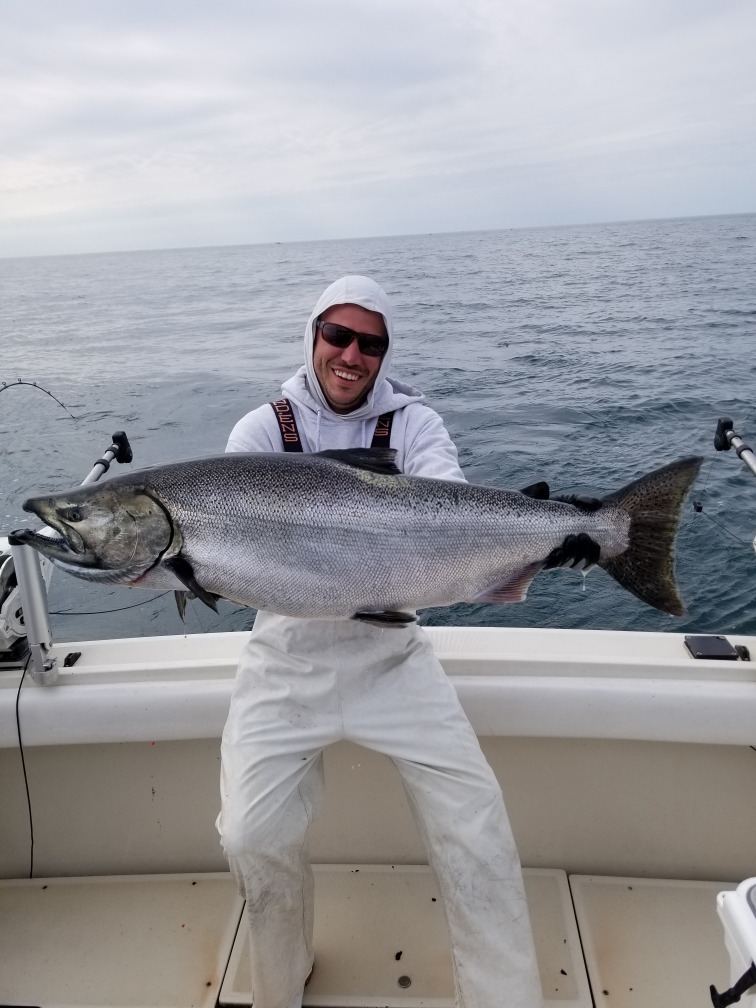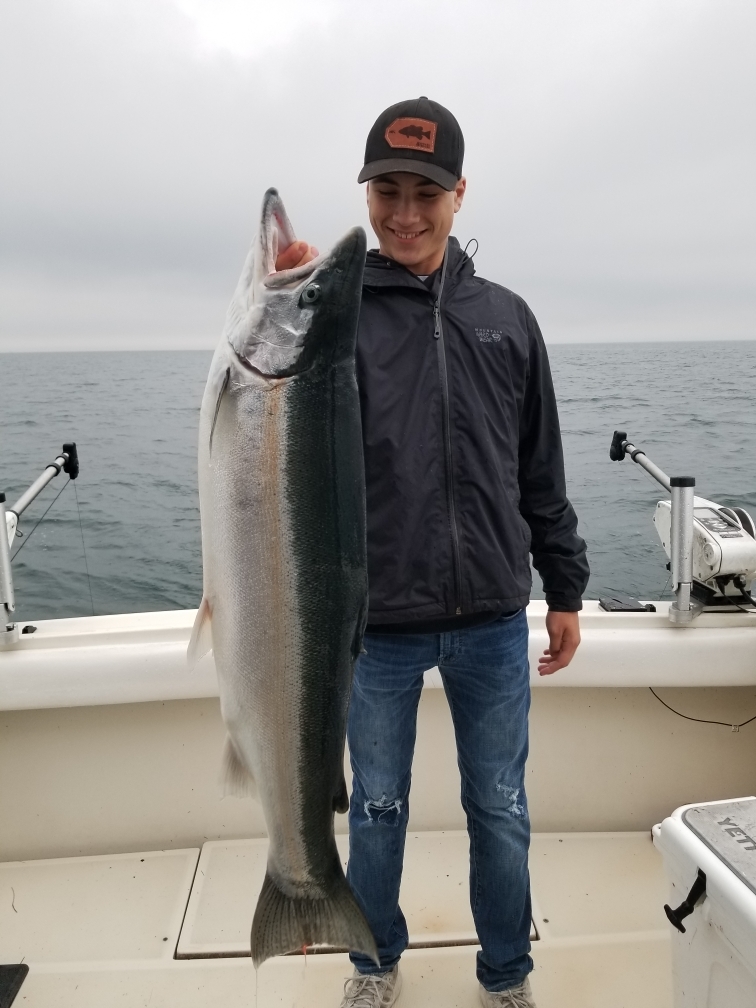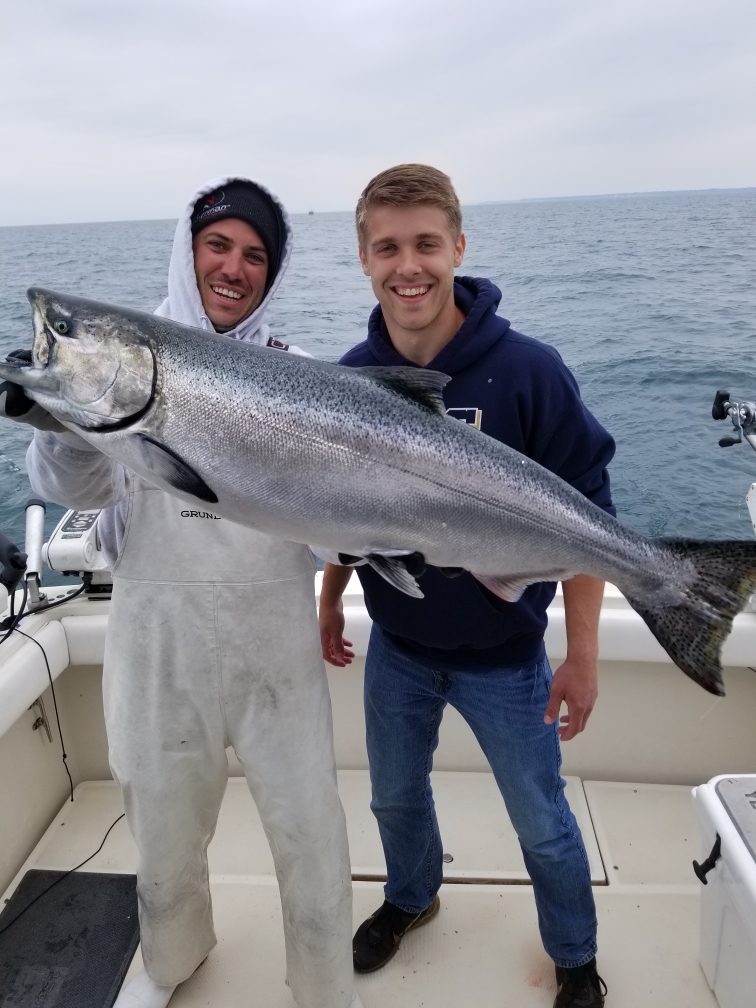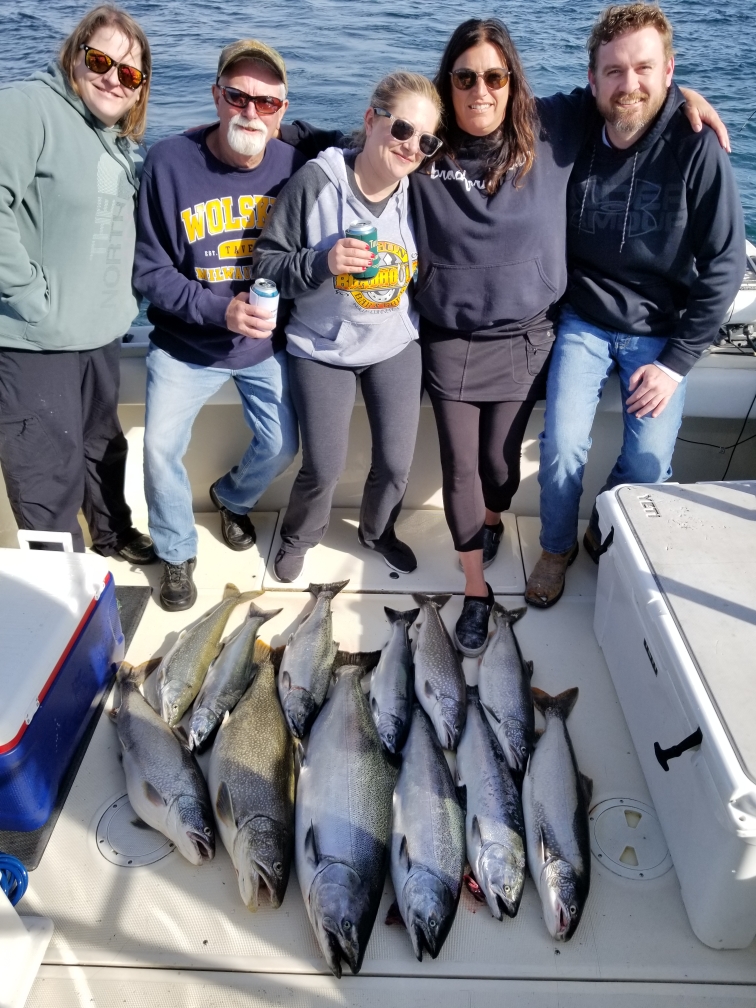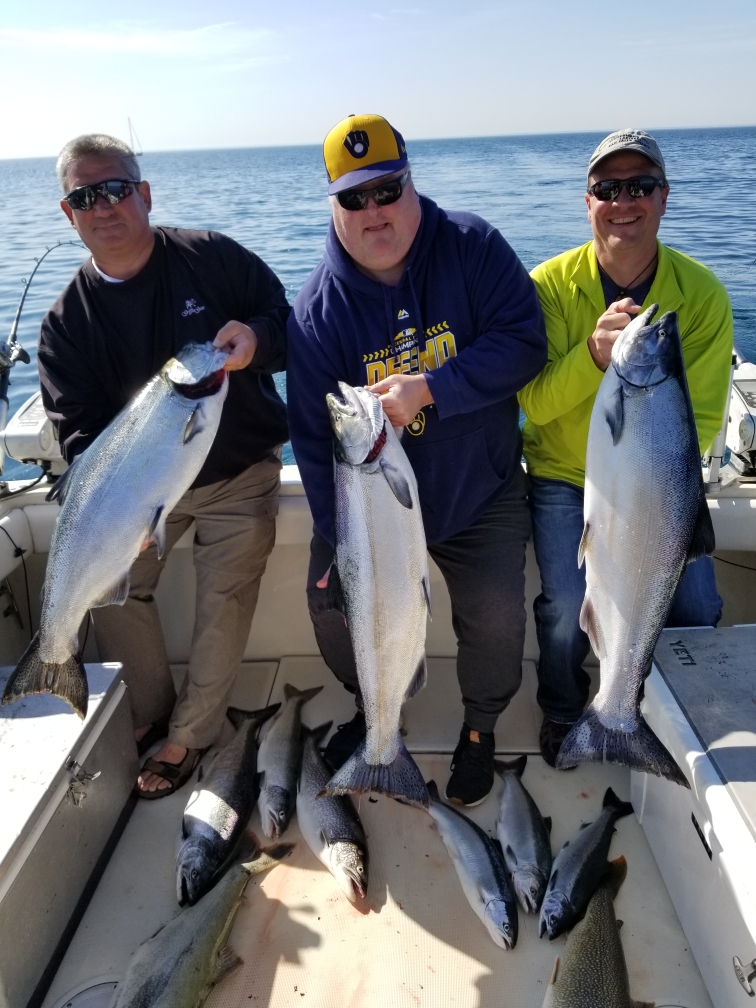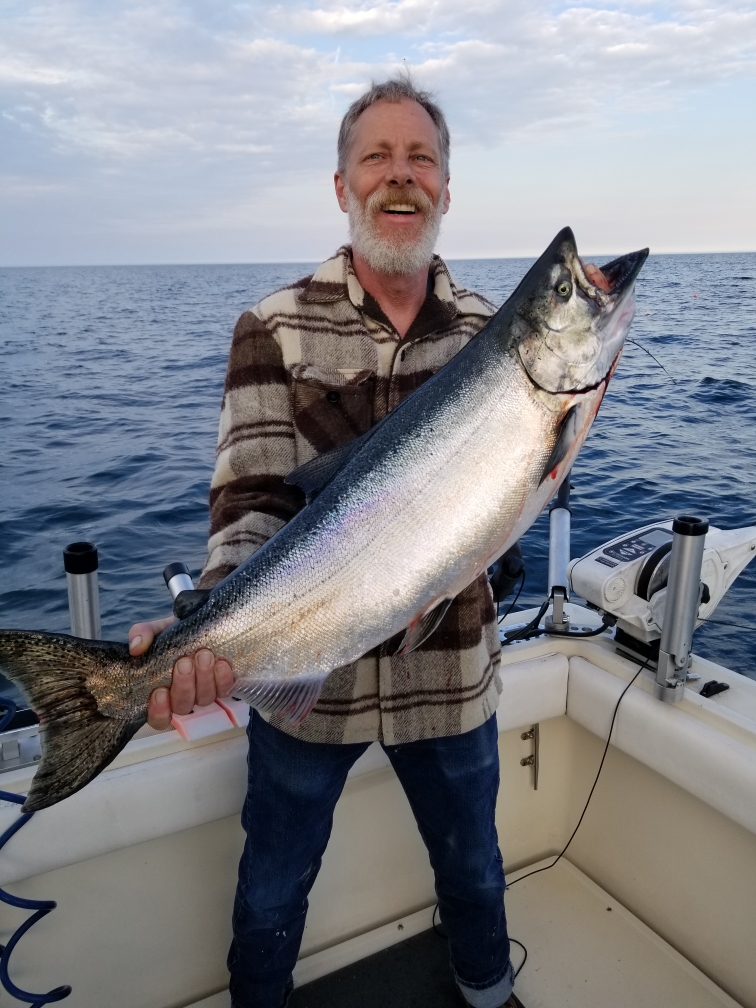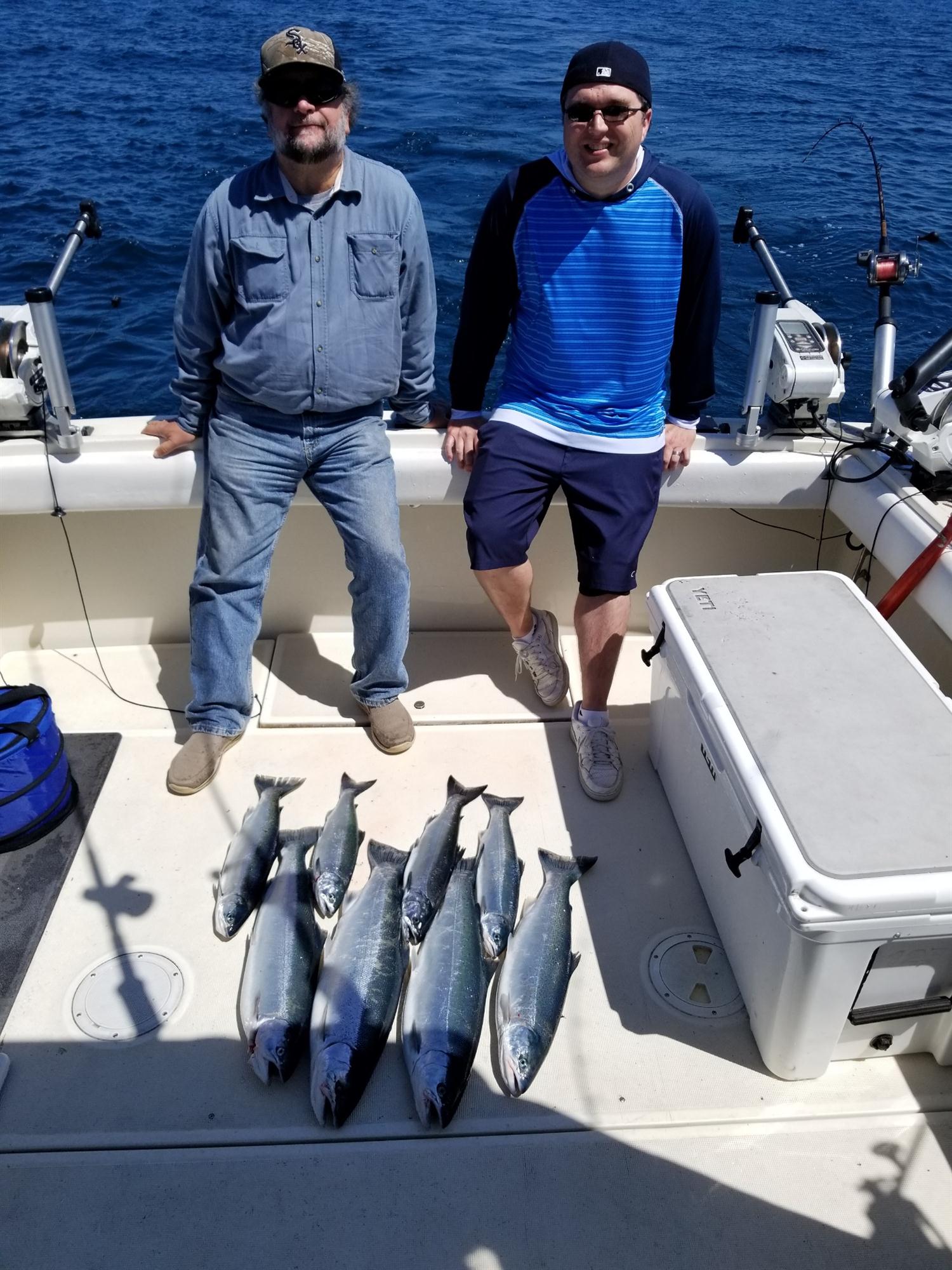 Report for June 8, 2019
We are through May and a week into June. Unfortunately the Coho bite has been less than stellar. We have caught Coho salmon but the catch rate on them is down 70%. The problem is a very cold start to the season. We are still wearing winter jackets on the lake. The water has been slow to warm and has caused the movement of Coho salmon to be slow. The big schools are still way south. We still believe there will be some good Coho fishing to be had in June but the window will be shorter. We went to Racine for a weekend to better our catch rate and although it improved it was not much. Maybe 5 to 10 bites more a trip. The good news is the Rainbow trout bite has been very good. There is a good amount of them from 90 to 250 feet of water from Port Washington back to the state line. The Chinook bite has not been great but when you hook into one the fight is incredible. There have been multiple 25 pound Chinook caught. The size will be great on the Chinook this year. The other good thing is there is a lot of Alewive around and today at the dock we saw thousands in the harbor getting ready to spawn. The fish that are out there are healthy.
So we are running a spread to target both Coho and Rainbow. Many of our fish are coming off high boards, using orange Luhr Jensen or Gold Star B&B dodgers followed by green peanut flies. This is accounting for 50% of our fish. The inside boards are 3 to 8 color Leadcores. Are favorite spoon is the Stinger Stingray Gold Hud. We also like the Gold Yellow Tux by Stinger. The riggers are spoons on the outside riggers at 20 to 25 feet down and the inside riggers are white flashers with Howie Green Krinke being the top producer followed by the Bull Frog. We run three dipsies with orange Coho set ups and one wire diver with the same thing on the riggers. All the dipsies seemed to collect 2 to 4 fish a trip. We are fishing in 150 to 250 feet of water for best catches. We are trolling a little fast too. The water is cold and we are in 49 to 42 degrees for the most part. It seems right now the colder the better. The Rainbow trout account for at least half the fish, then Coho, with some Lake trout and Chinook. We have had some in close action but it rarely last.
There are still plenty of Coho salmon to be caught and we still should have a couple of knock out weeks on them but not like a normal season. The fishing has still been good and the best Coho bite is still to come along with monster King salmon. Give Silver King Charters a call at 414-460-1467. The fish are big this year and fighting real good. We are back in Milwaukee and probably will not go back to Racine unless the bite really picks up. We caught a Pink salmon last Monday. We have been catching more of these each year. This fish was accidentally stocking in Lake Superior many years ago and has naturally survived over the last 40 years. I have attached a picture.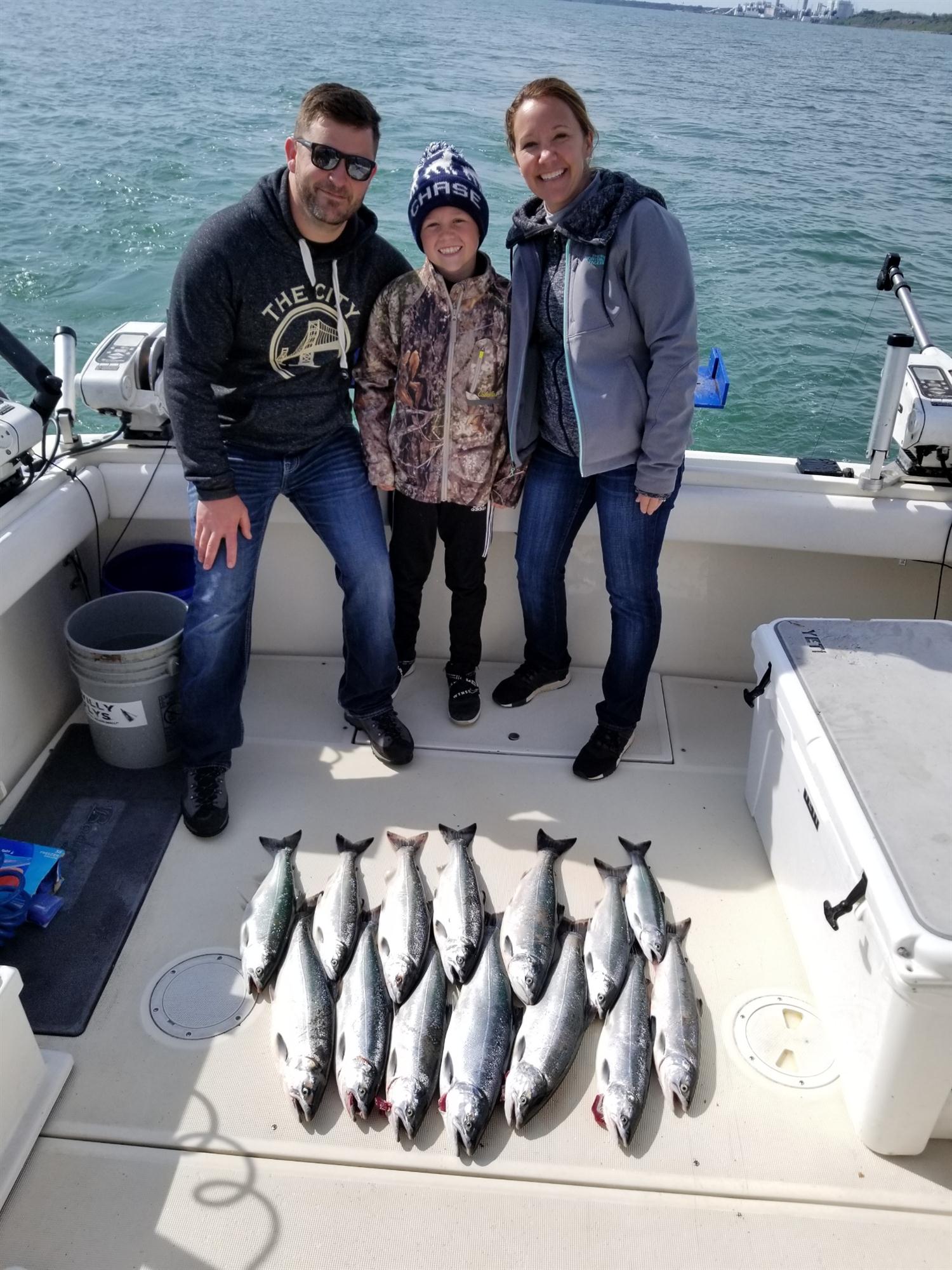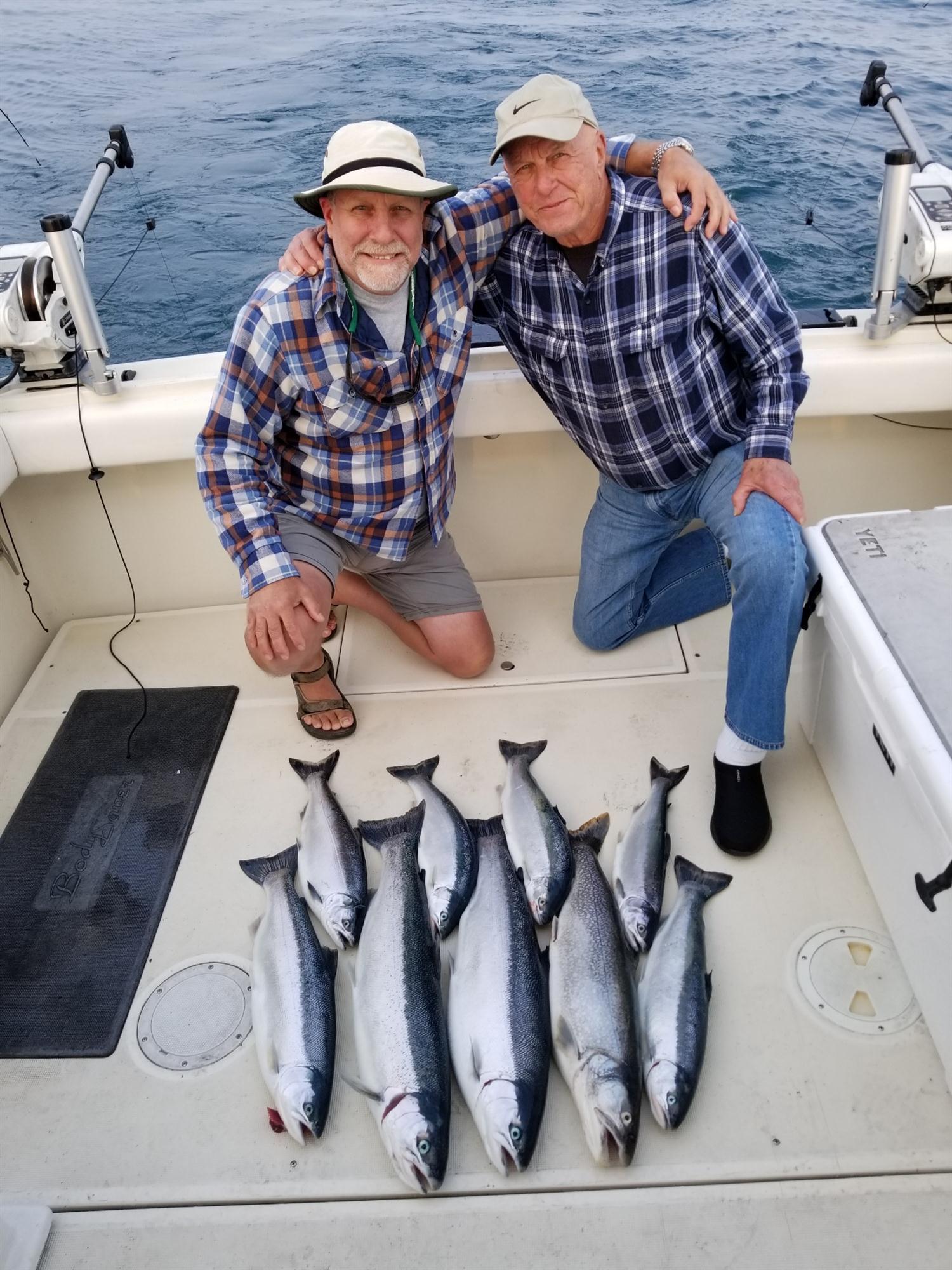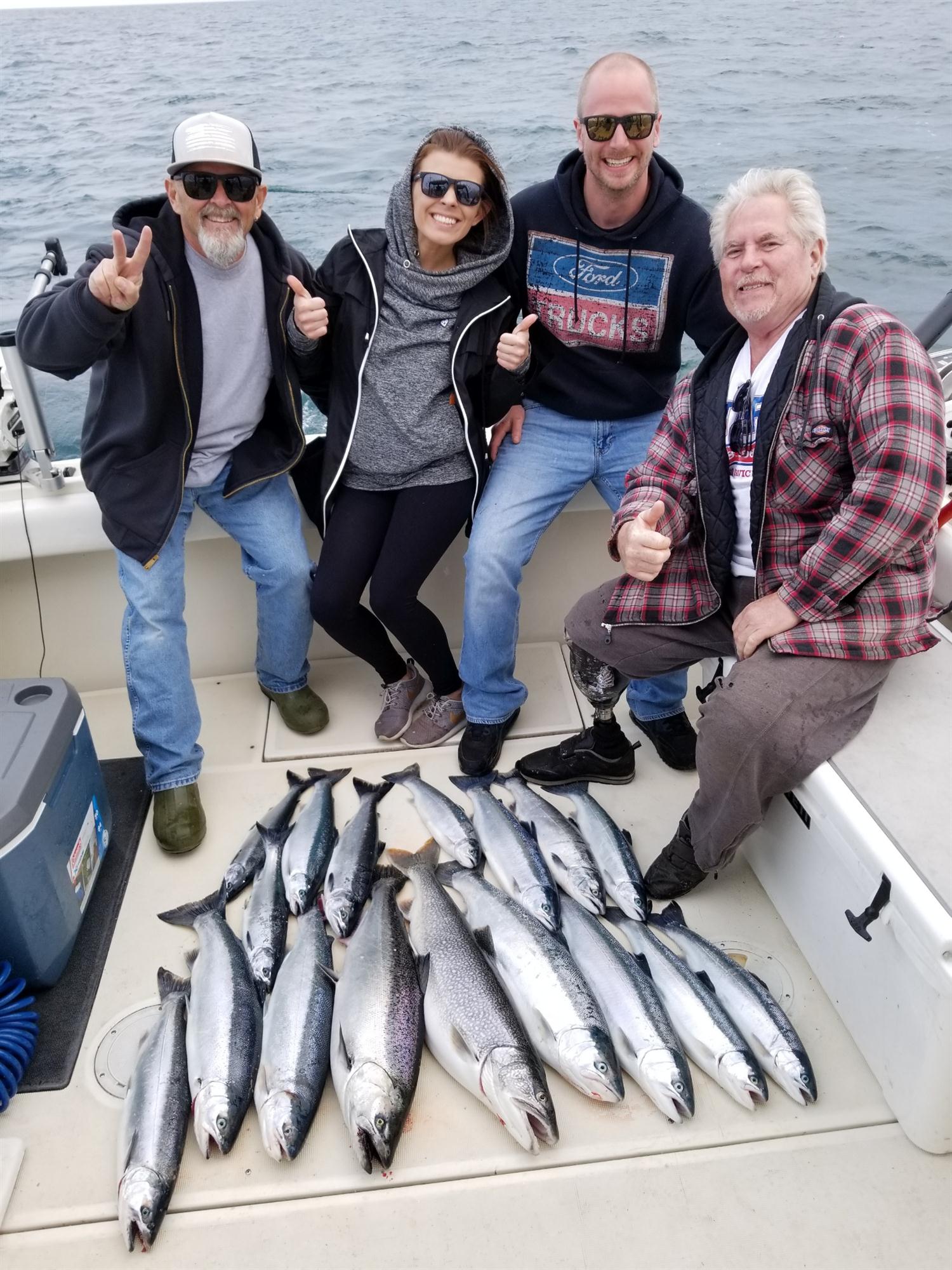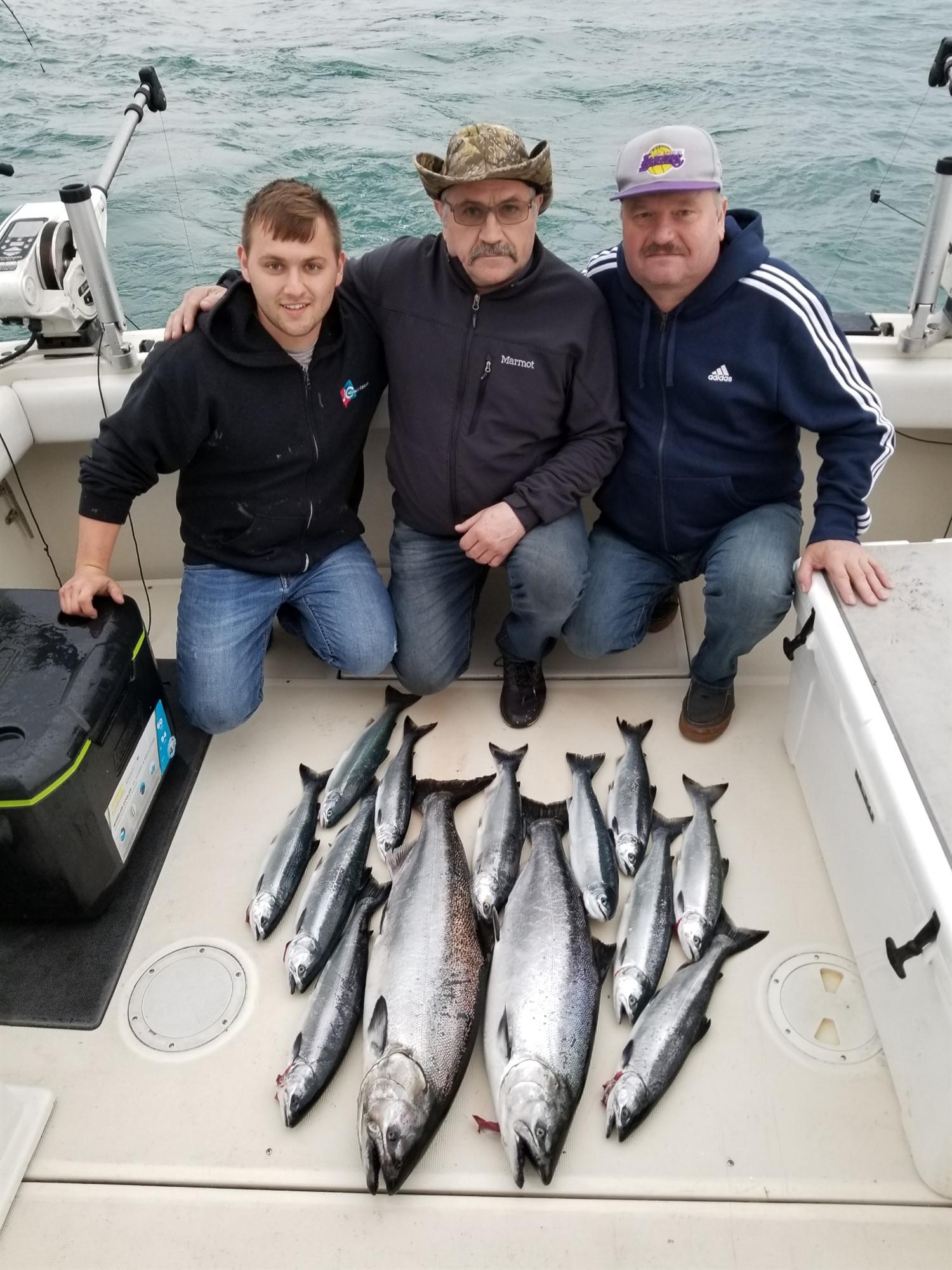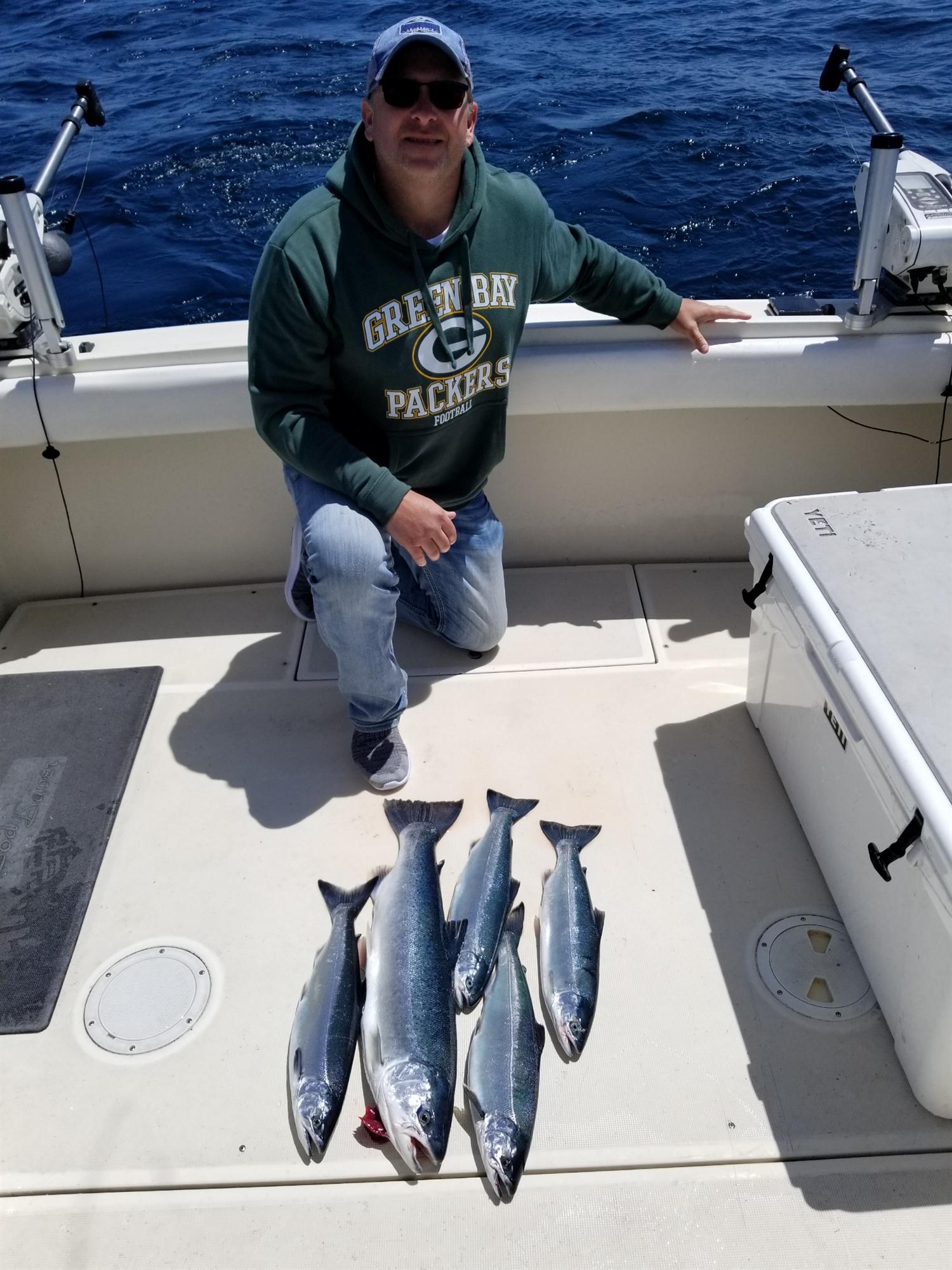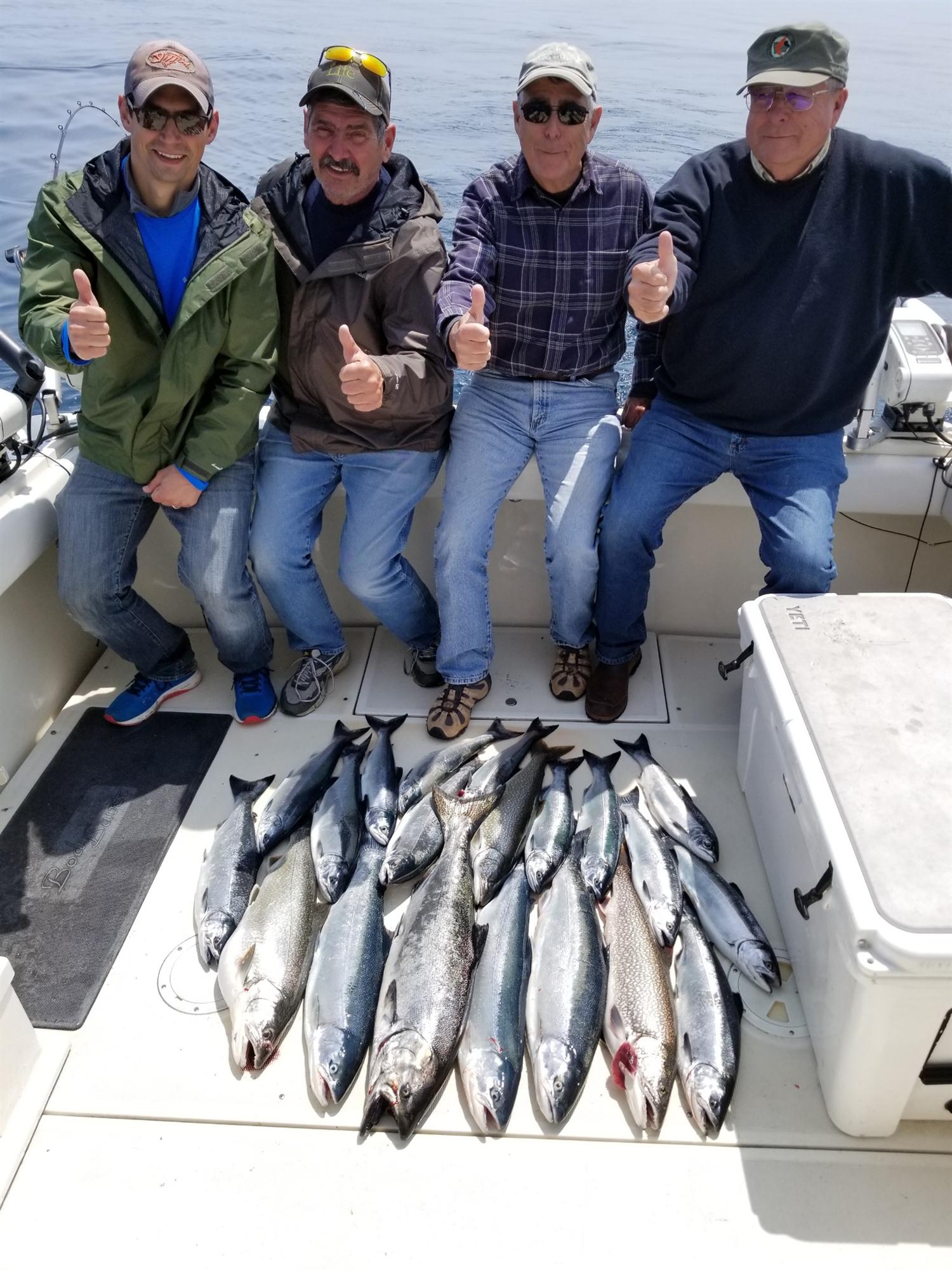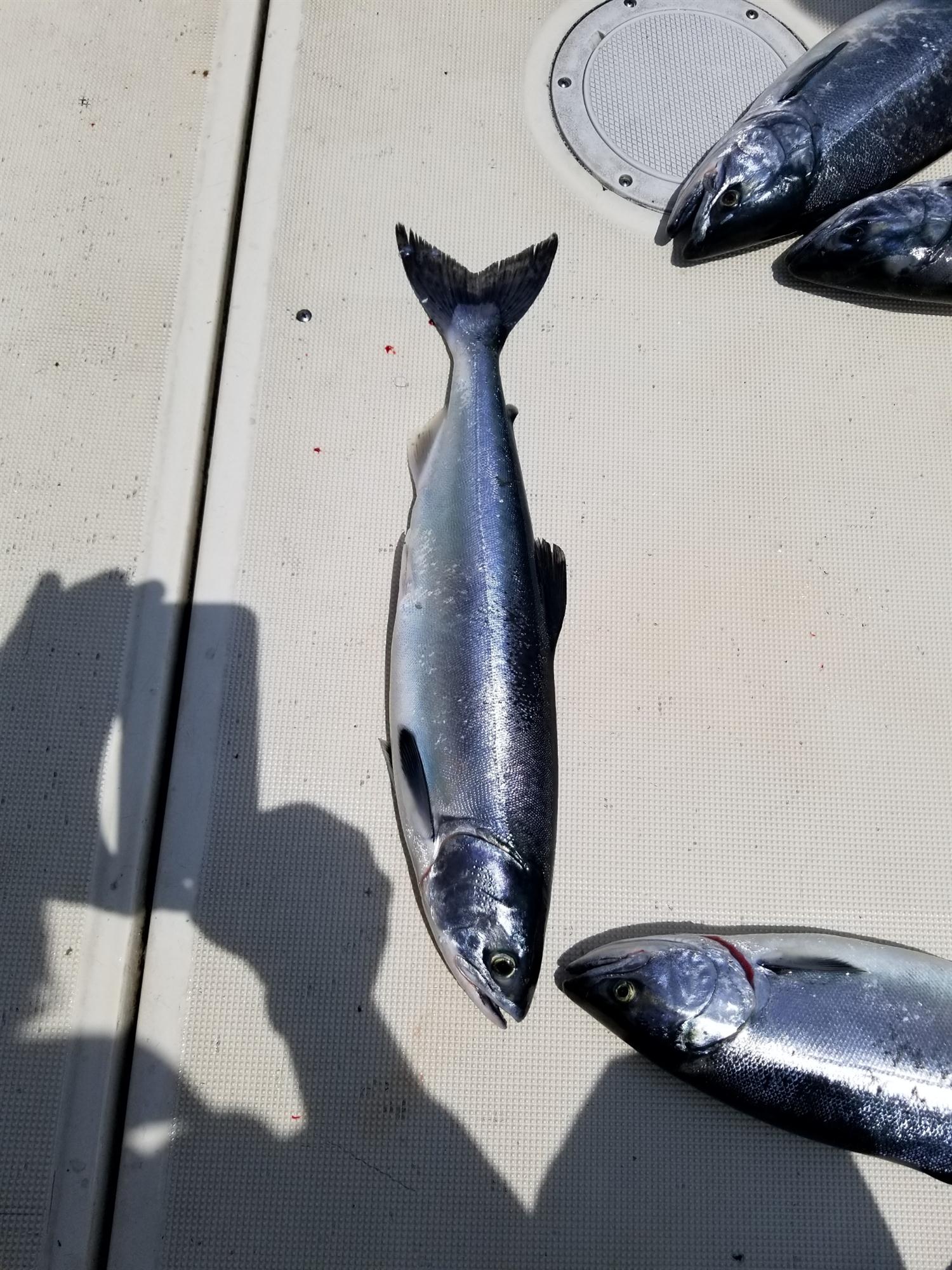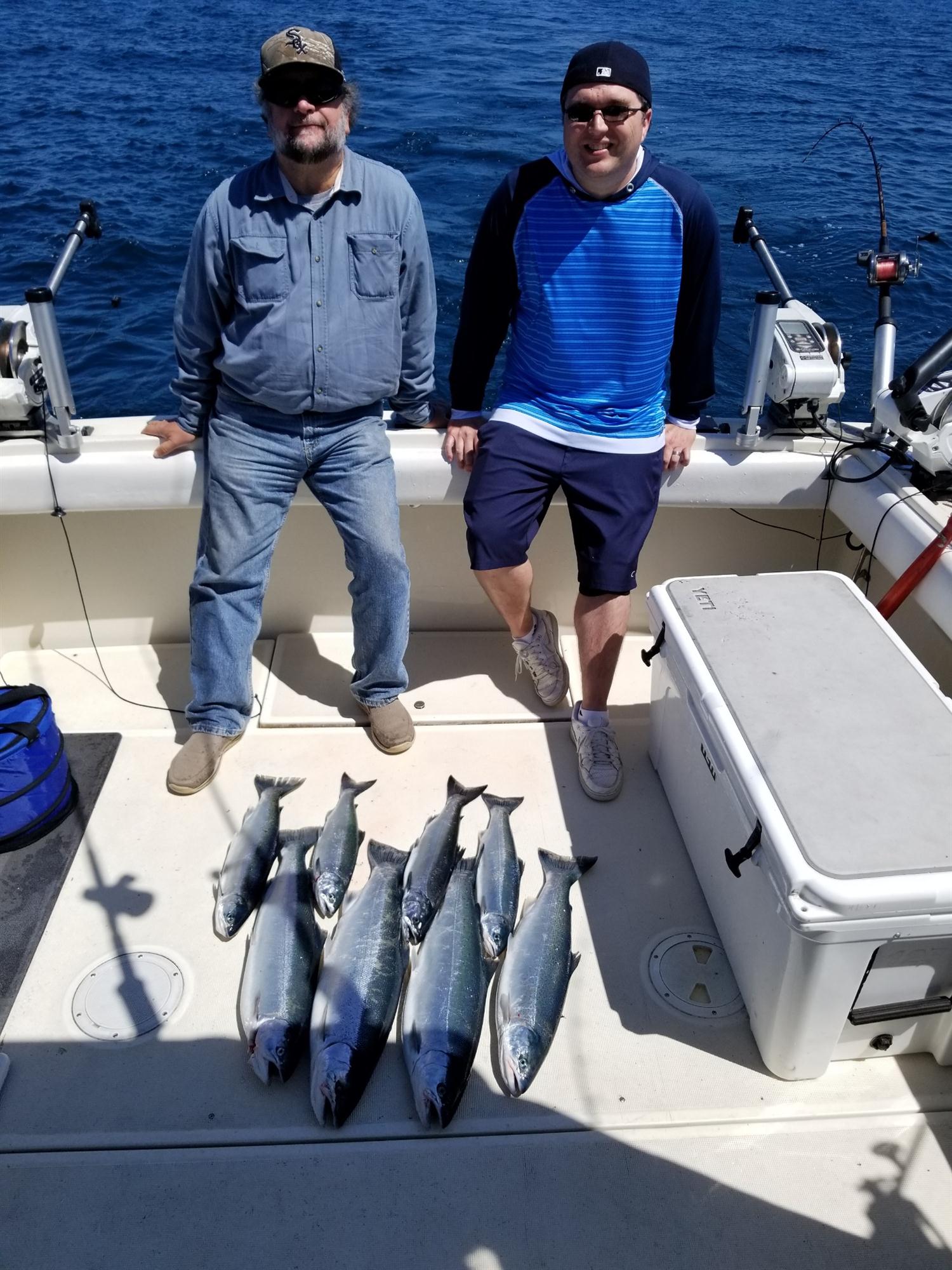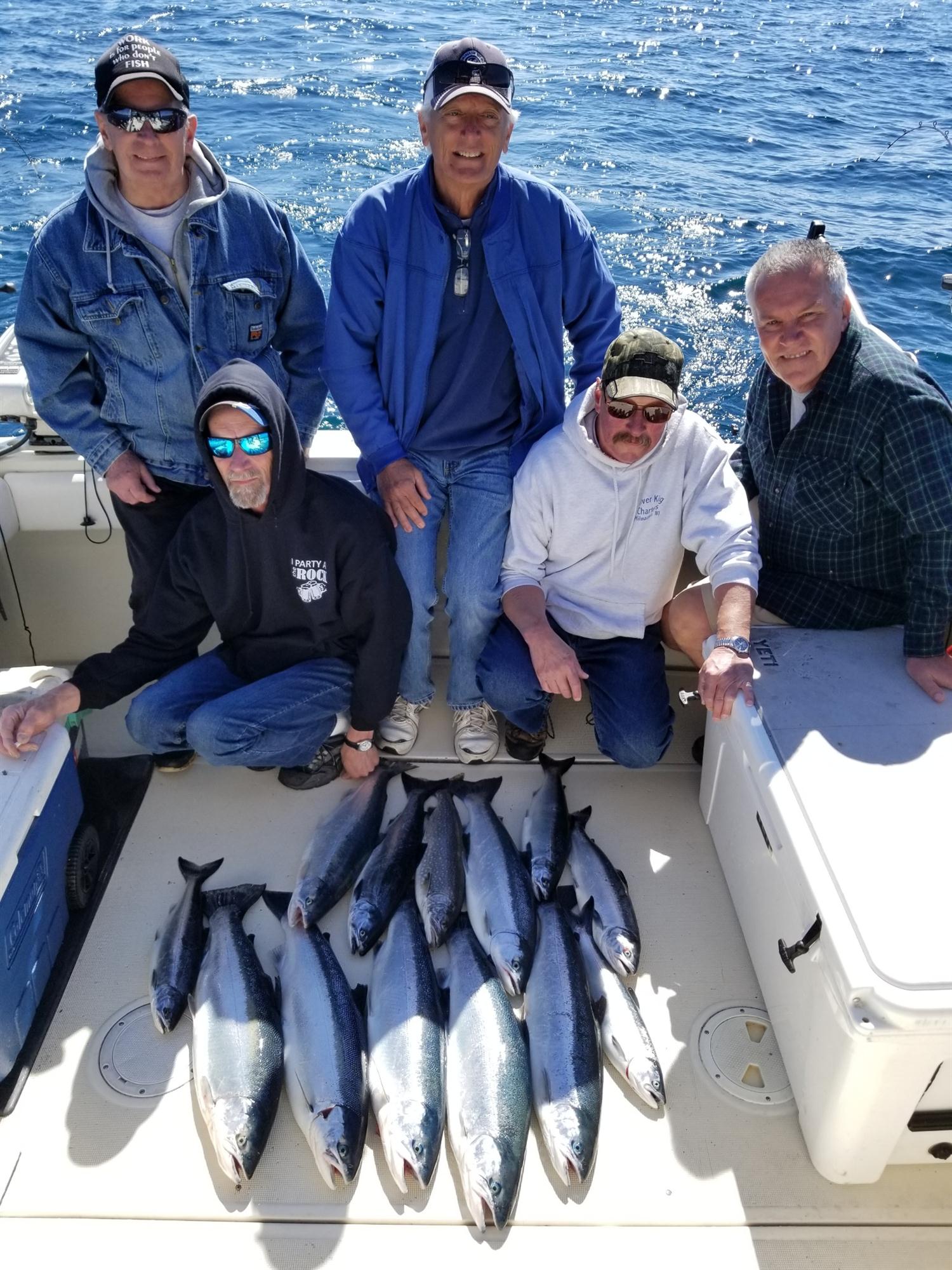 Report for May 23, 2019
Well it is the middle of May and this is Coho salmon time. The highest catch rate of the year. The problem is the water is still very cold. As of Tuesday we saw 41.5 degrees on the surface in 100 feet or 4 miles off shore. The middle of the lake it is the high 30's still. Late spring to say the least but warm air and sunny days warms up the surface fast and will move fish. Today we saw 46 degree surface water in the same spot we were Wednesday. The bait is all around so the fish just have to find the our bait and they will stick around. There have been some descent catches of Coho down south but just random catches for us in Milwaukee and Racine was not much better for Coho. We expect the Coho action to pick up real soon. Our Brown trout action has fallen off and we are fishing Lake trout while waiting on the Coho bite. The Lake trout bite has been very good. We caught a 20 pound fish today. We have also caught a few Chinook and Coho while fishing Lake trout. Several limits and we are glad that Wisconsin raised the bag limit to 5 Lake trout per person. I have attached a picture of a Lake trout we caught this morning, with what was in its belly. many alewives. This is true for all the Lake trout we catch. They are vacuum cleaners when it come to alewives. They never stop eating.
We have fished outside the Milwaukee harbor, with the main and south gaps being best. We have taken a mix of Coho and Brown trout here but the bite is average with 5 to 10 fish catches. This area will soon be a hot spot. We have moved offshore for a better bite on Lake trout. The action is best straight out from the harbor in 100 feet of water near the bottom. Spin and glows have been king and spin and glows with yellow in them are best. We like silver prism or smoke dodgers with them. We have caught a few Coho salmon on orange dodger and Next Generation peanut flies off boards on the surface but very few. We may try deeper this weekend for a Coho bite. The action on Lake trout has been steady. We took a few Chinook salmon on a white flasher with a Howie Bull Frog fly.
Memorial Day weekend's have been known for some great fishing and hopefully on one of our trips we take a limit of Coho salmon. The next several weeks though should begin to see some great salmon catches, so call Silver King Charters at 414-460-1467 to book a trip for the best time of the year for catch rate and salmon. Until then we will be catching something and probably Lake trout. Attached are some resent catches.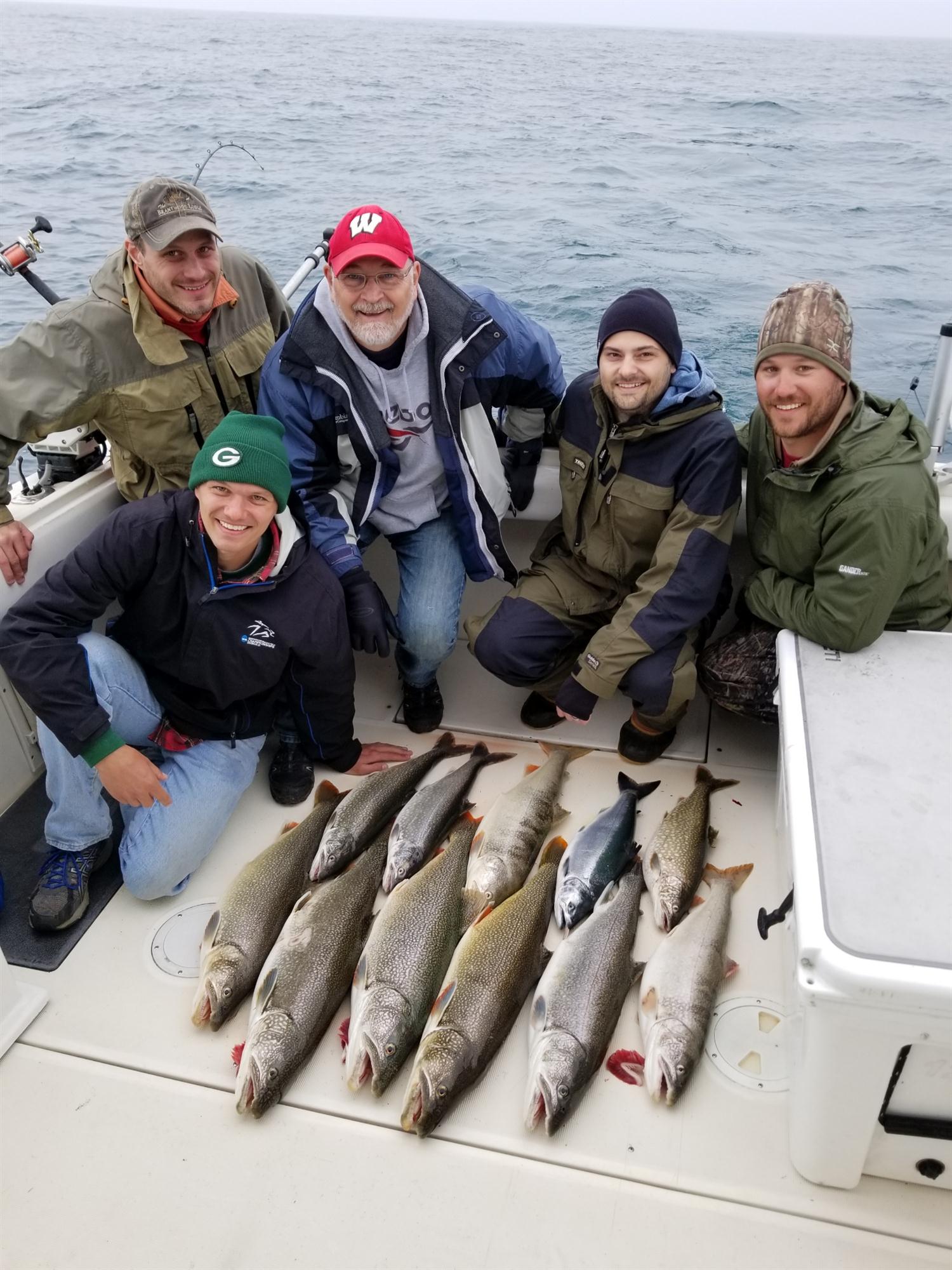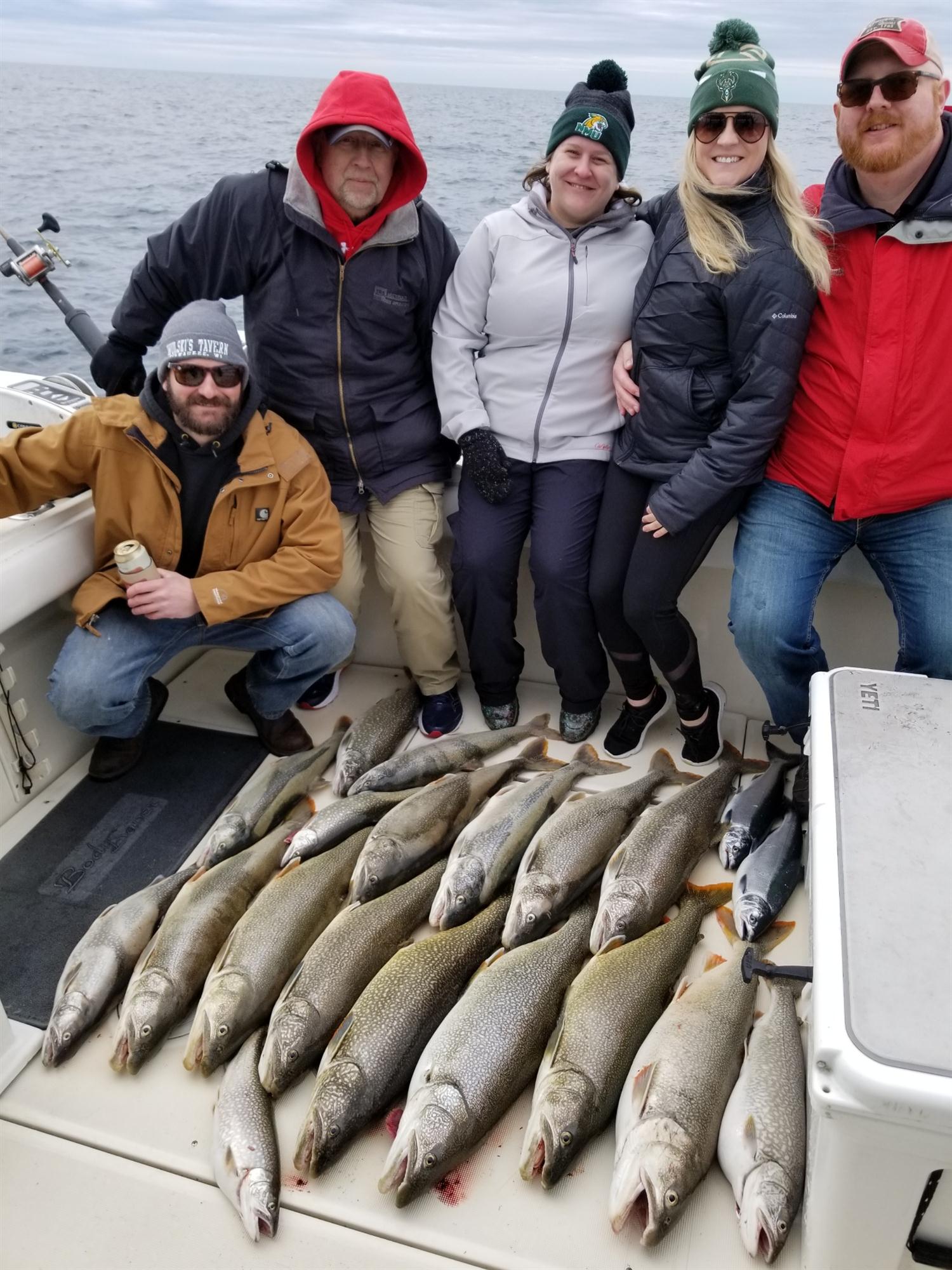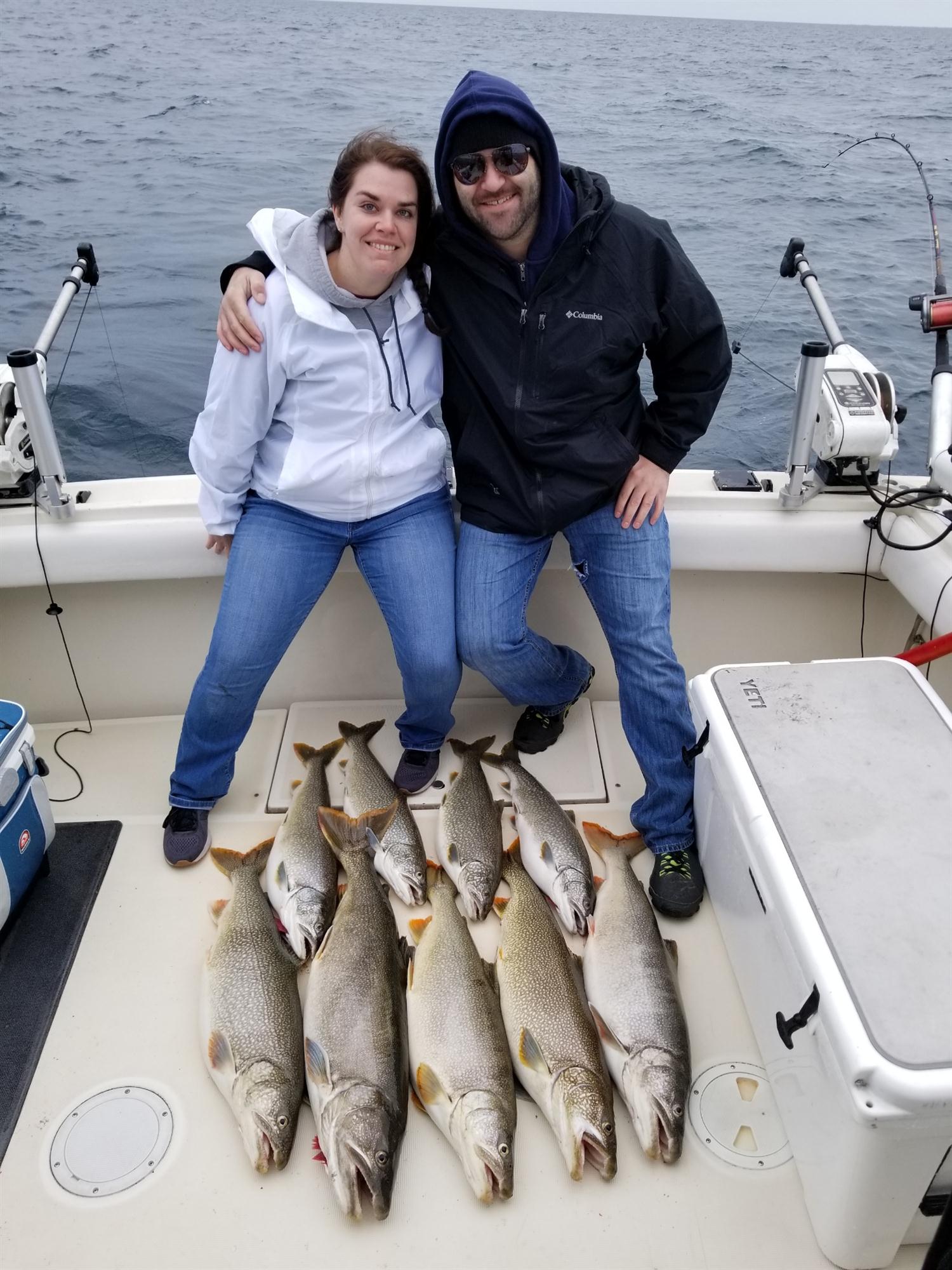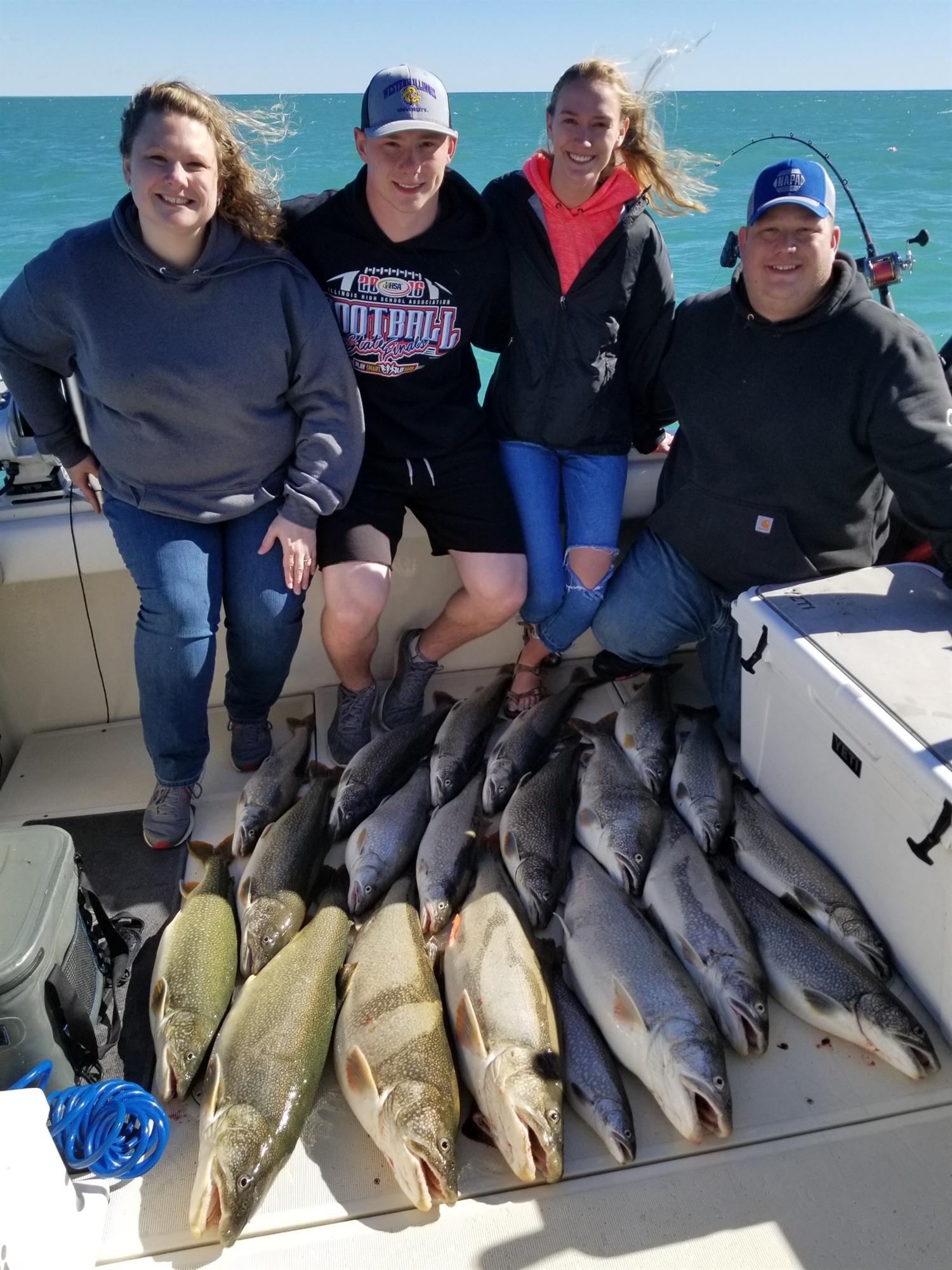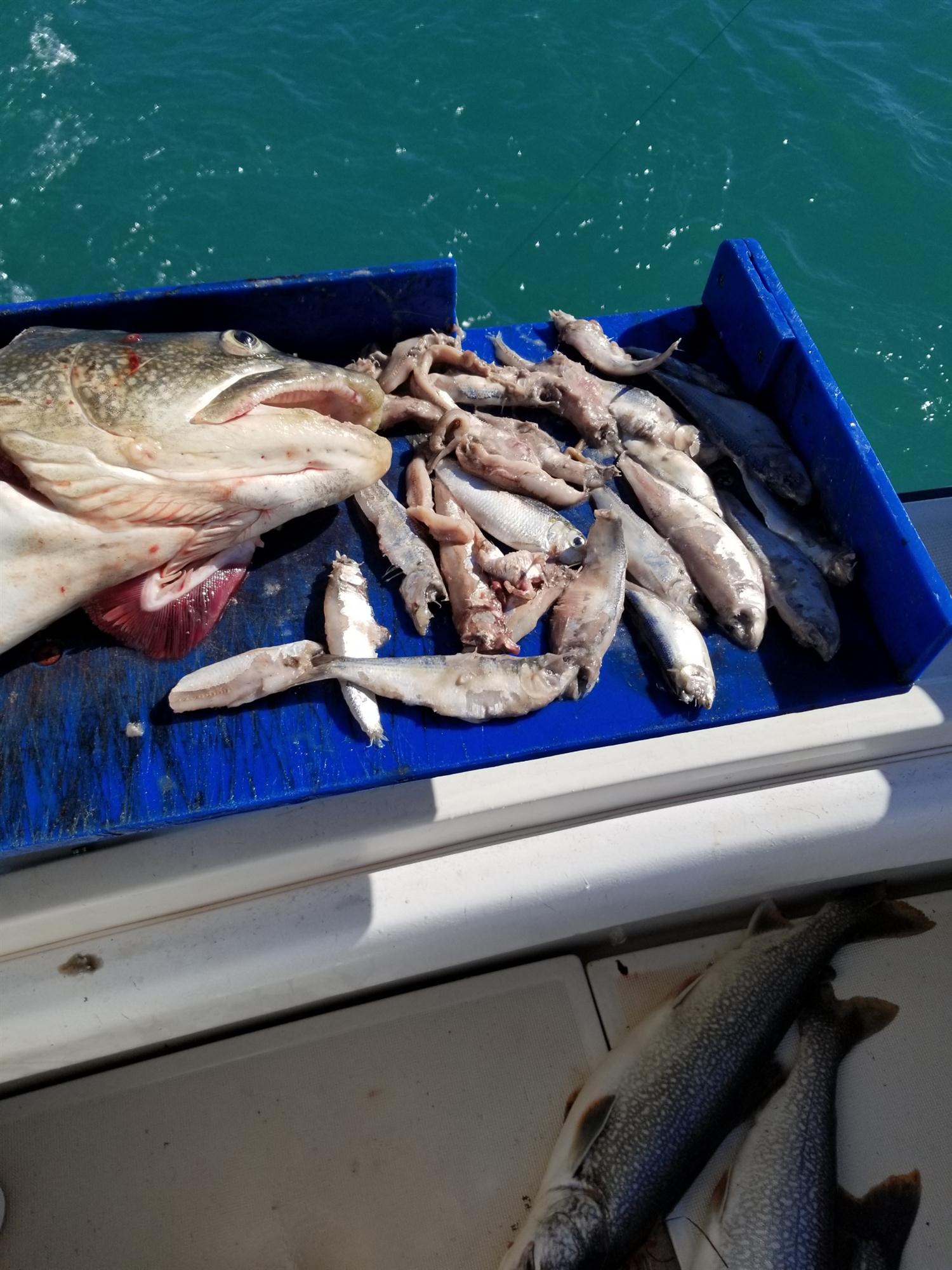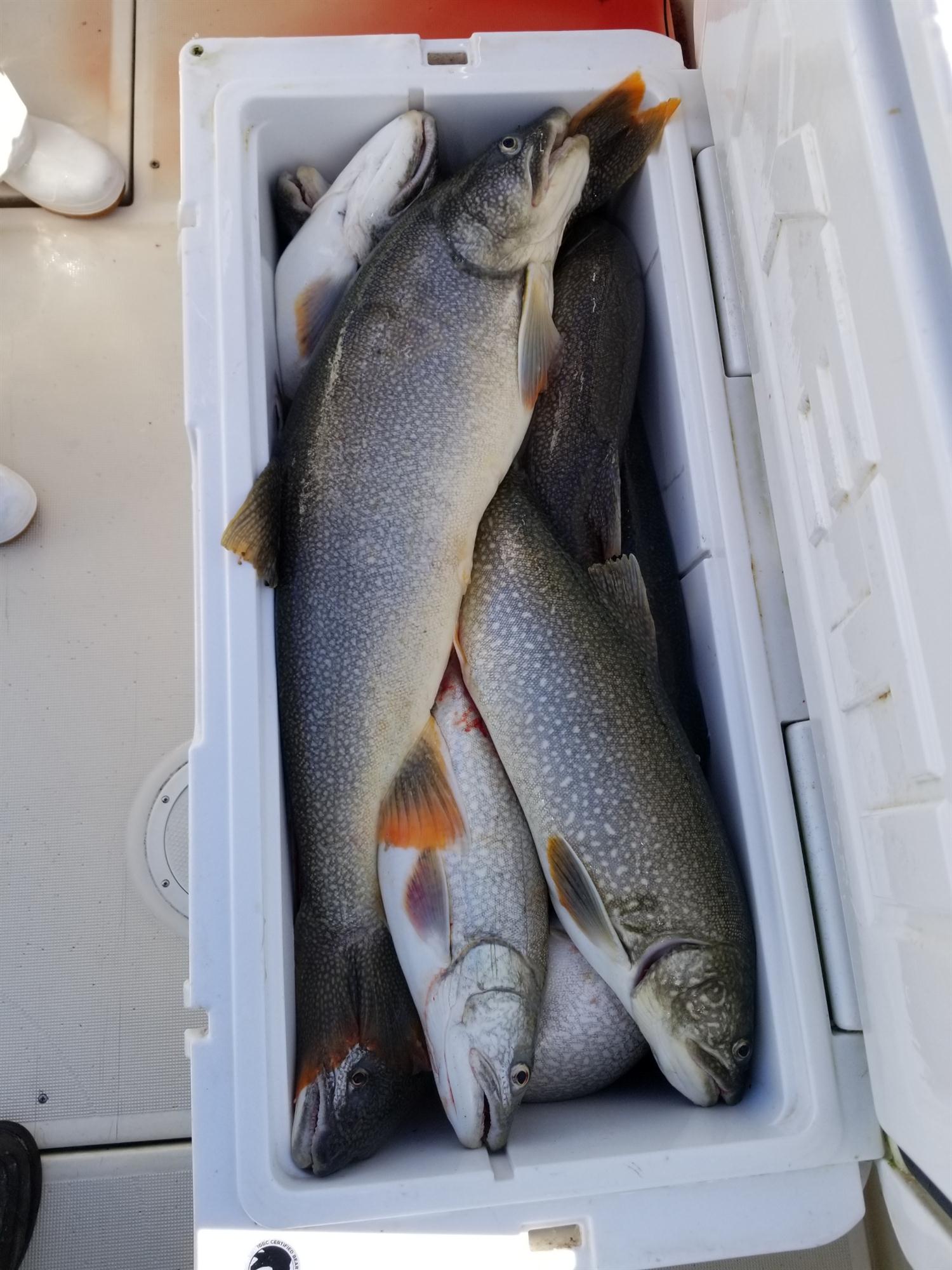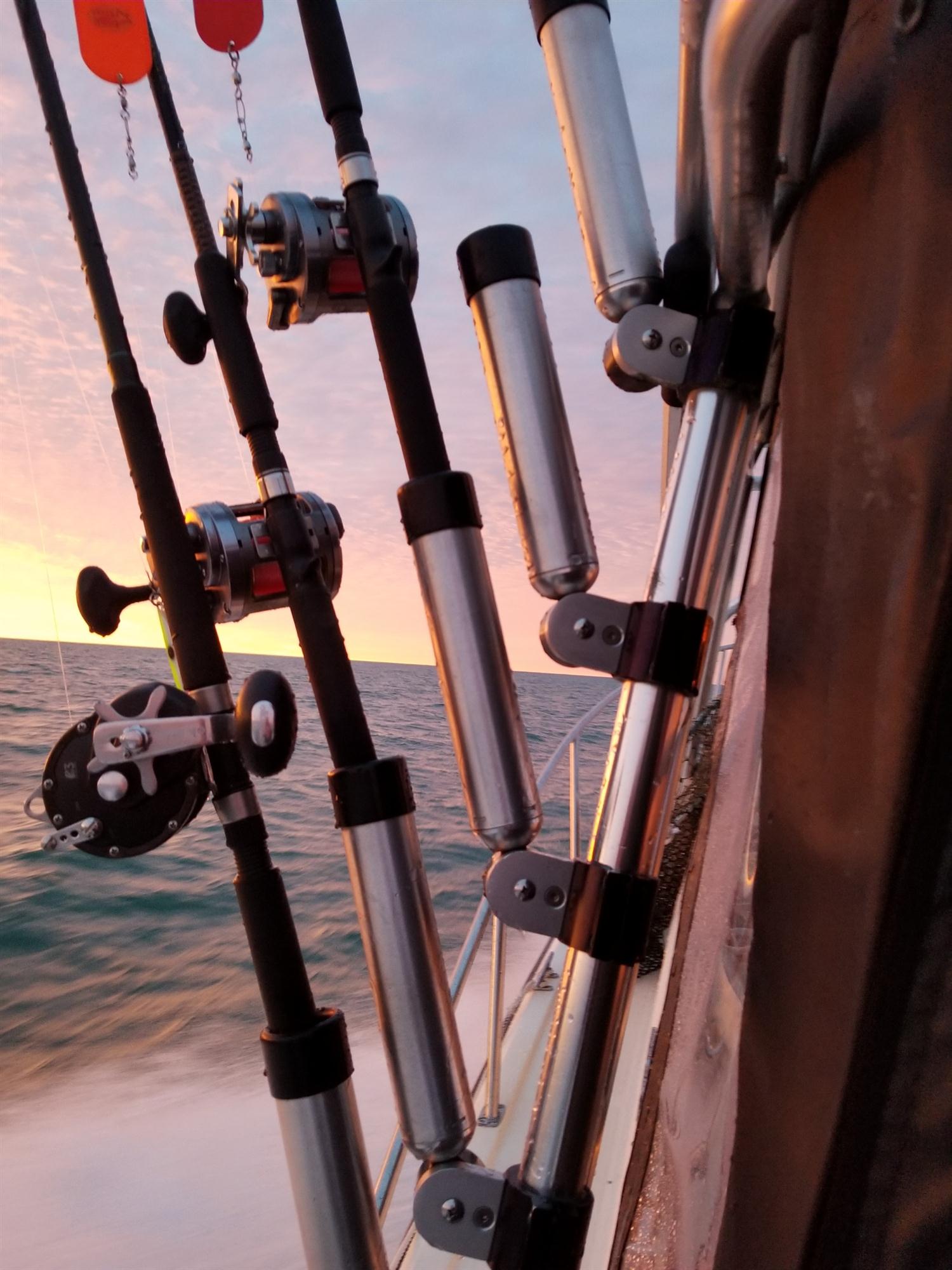 Report for May 9, 2019
May Lake Michigan charter fishing and we are on the edge of our favorite time of the year. COHO SALMON TIME! The catch is still consists mostly of Brown trout but we are now starting to take some Coho salmon. We have been in, around and down the shore of the Milwaukee harbor. Some have ventured off shore of Milwaukee but with no success. The water as of Wednesday has reached 50 degrees on the surface by the river mouth and 46 degrees outside the gaps. Down 10 feet it is in the mid to low forties. Offshore the surface is at or just above 40 degrees and down 50 feet it is the high thirties. All is about to change soon as the water is warming fast now. The alewives started to show up mid last week in the harbor and on Wednesday we snagged about 25 alewives while trolling. Each day the schools have been getting thicker. The first Coho salmon we have taken outside the harbor occurred last weekend. Probably had 12 bites and landed 5 Coho over the last 4 days. The trips have been between 5 to 10 fish and this is a little lower than we like but mother nature has been tough this spring. Better times are almost here.
The spread has remained unchanged, with the exception of a few Coho set ups on inside dipsies and outside boards. Orange small dodgers and green peanut flies. We like the Opti Dodgers because of the orange color they use. All of the Coho stuff is right at the surface and is now taking some bites ever trip. Not to the point to go with more orange yet because the Brown trout bite is still better. We are still running 1 - 4 color leadcores, mono dipsies and riggers from 10 to 30 feet down. All spoons and we are heavy on Gold Hud or UV Blue Dolphin Stinger spoons in the stingray size. There are a lot of big alewives around but we have snagged all year classes, which is great to see. We are not sure if we will go to do some Racine charter fishing yet this year. That will be decided by May 18th. Depends on how the Coho action sets up off Milwaukee. The last several seasons there was no reason to go south but every year is different. Right now most of the Coho action is from fish that wintered around the area. The big schools have not set up yet off Milwaukee or Racine. This should start any day now that the bait is showing up. I hope to have a report next time with lots or orange dodgers and Coho salmon.
We have trips open for Mother's Day. Don't understand why mothers wouldn't want to fish that day. Call Silver King Charters at 414-460-1467 to book a trip during the most productive time of the season. Mid May through June is our highest catch rate and the best time for salmon. A couple of pictures from the last seven days. A few Coho in the mix.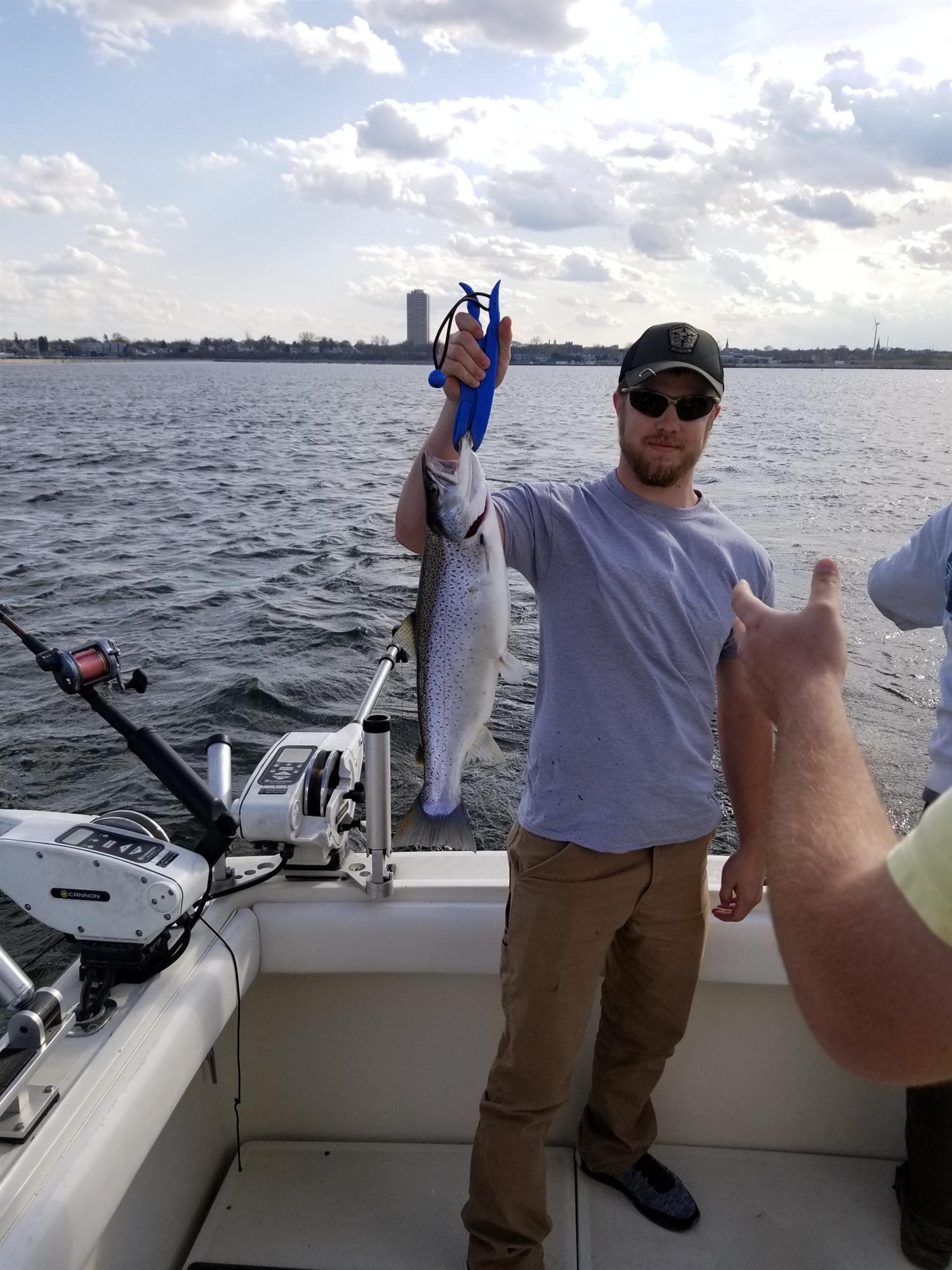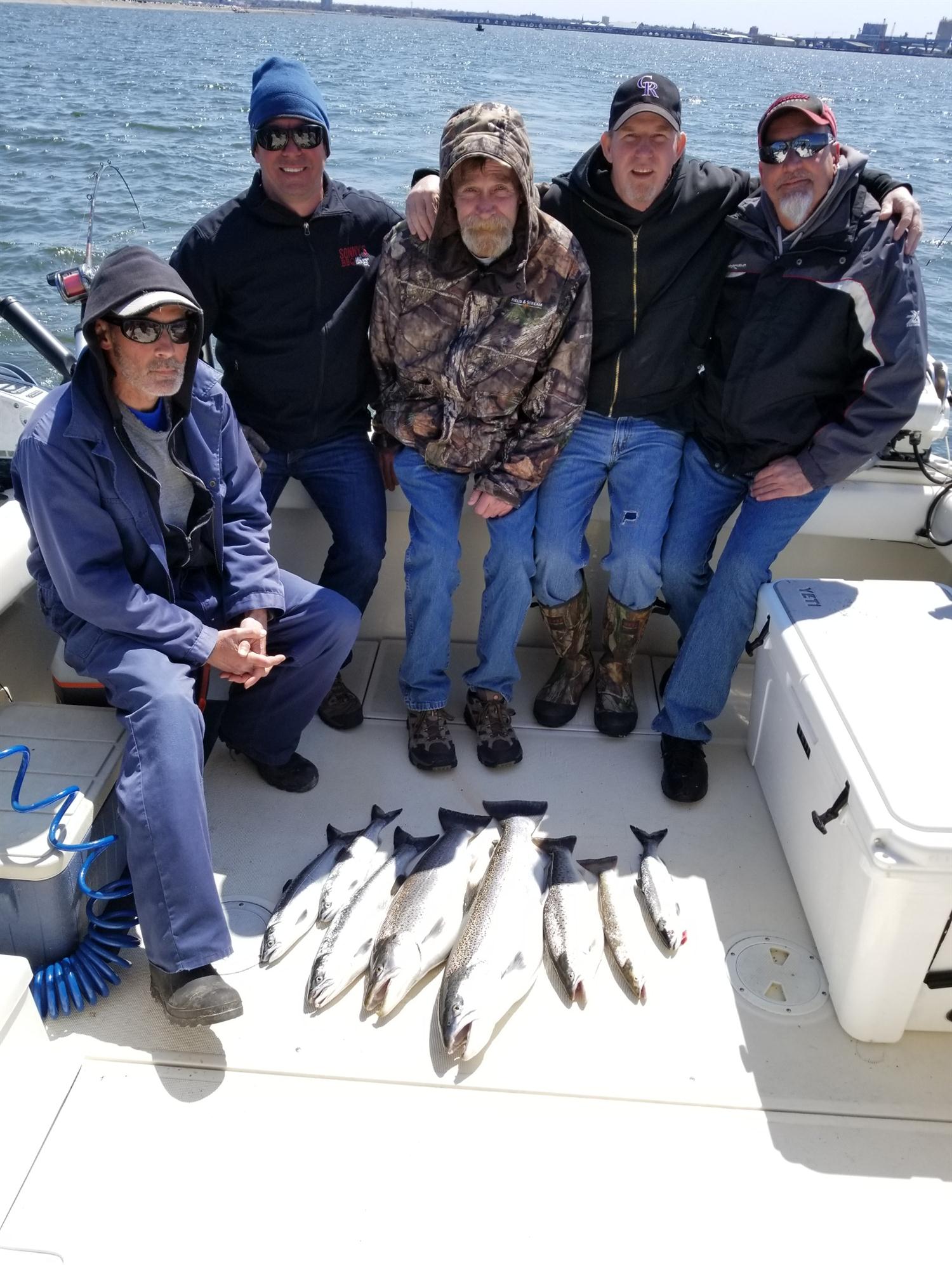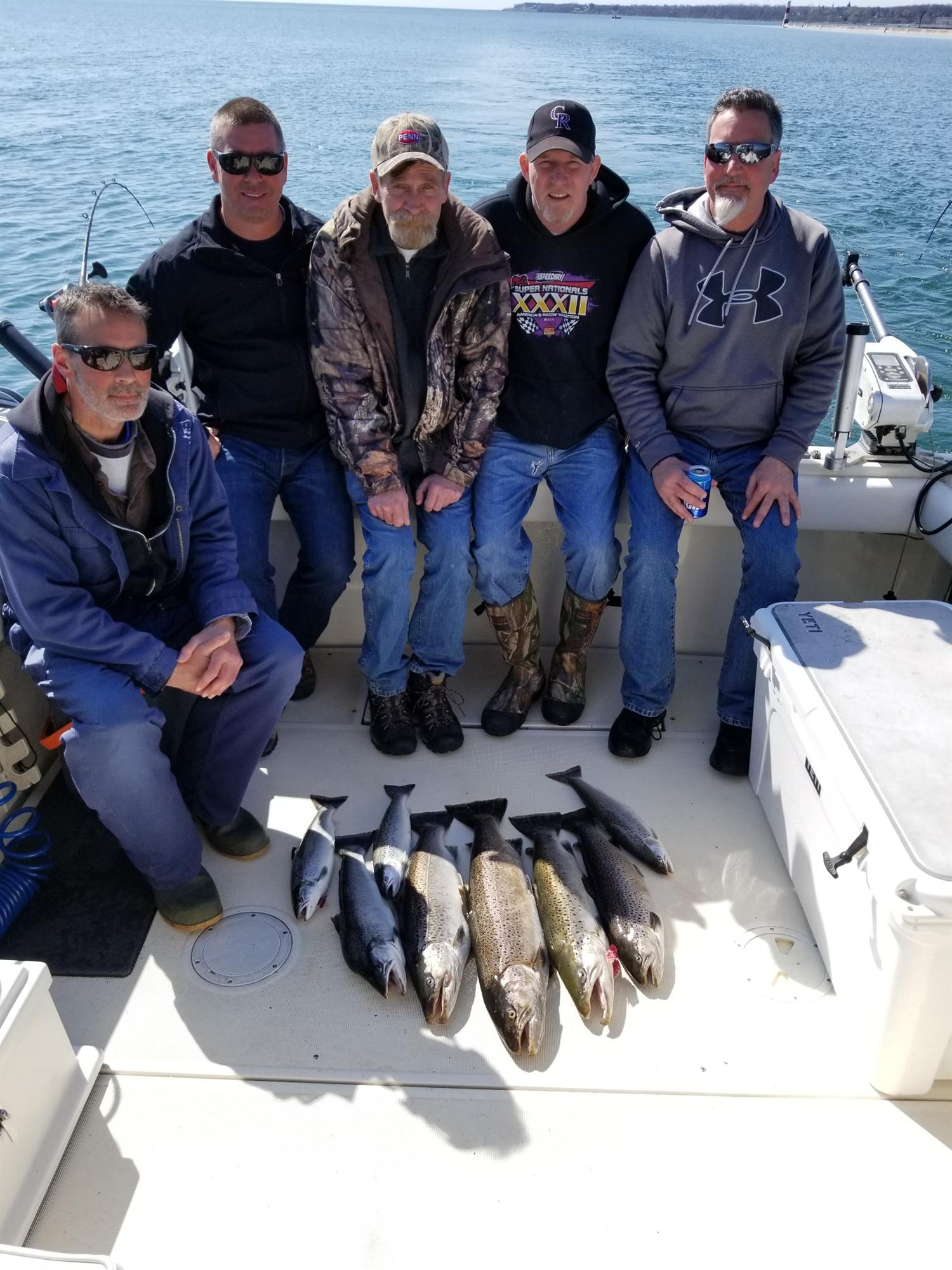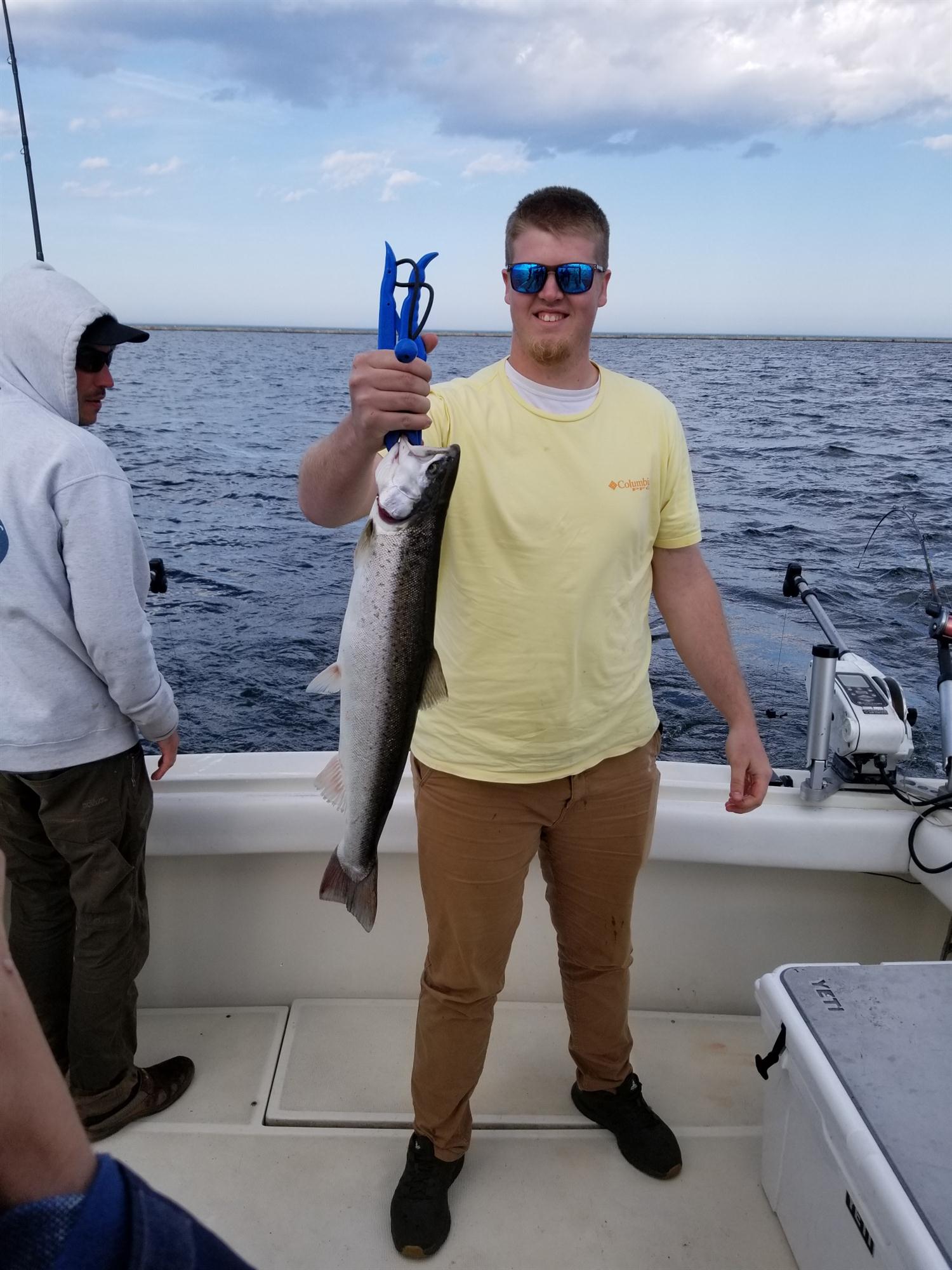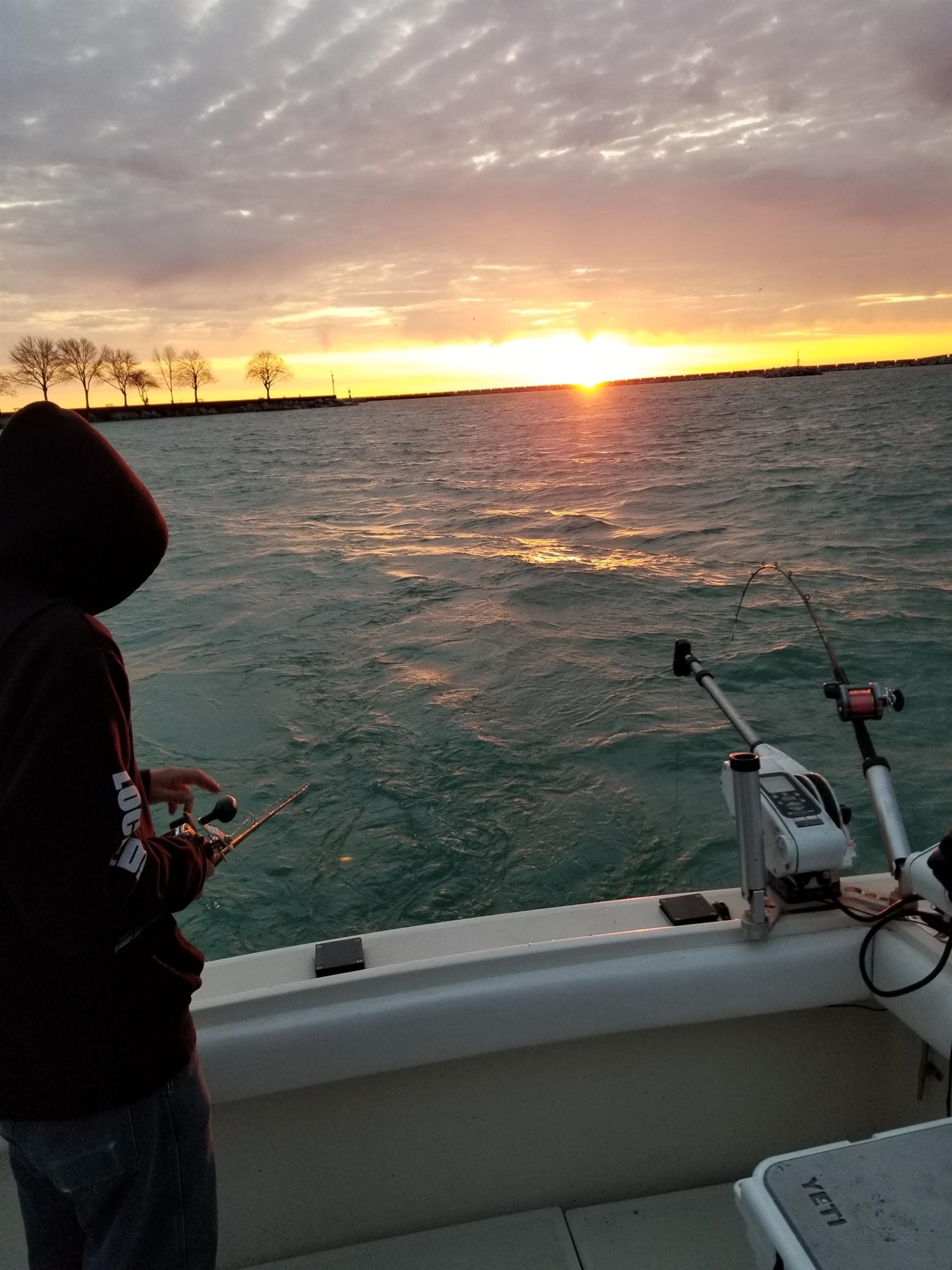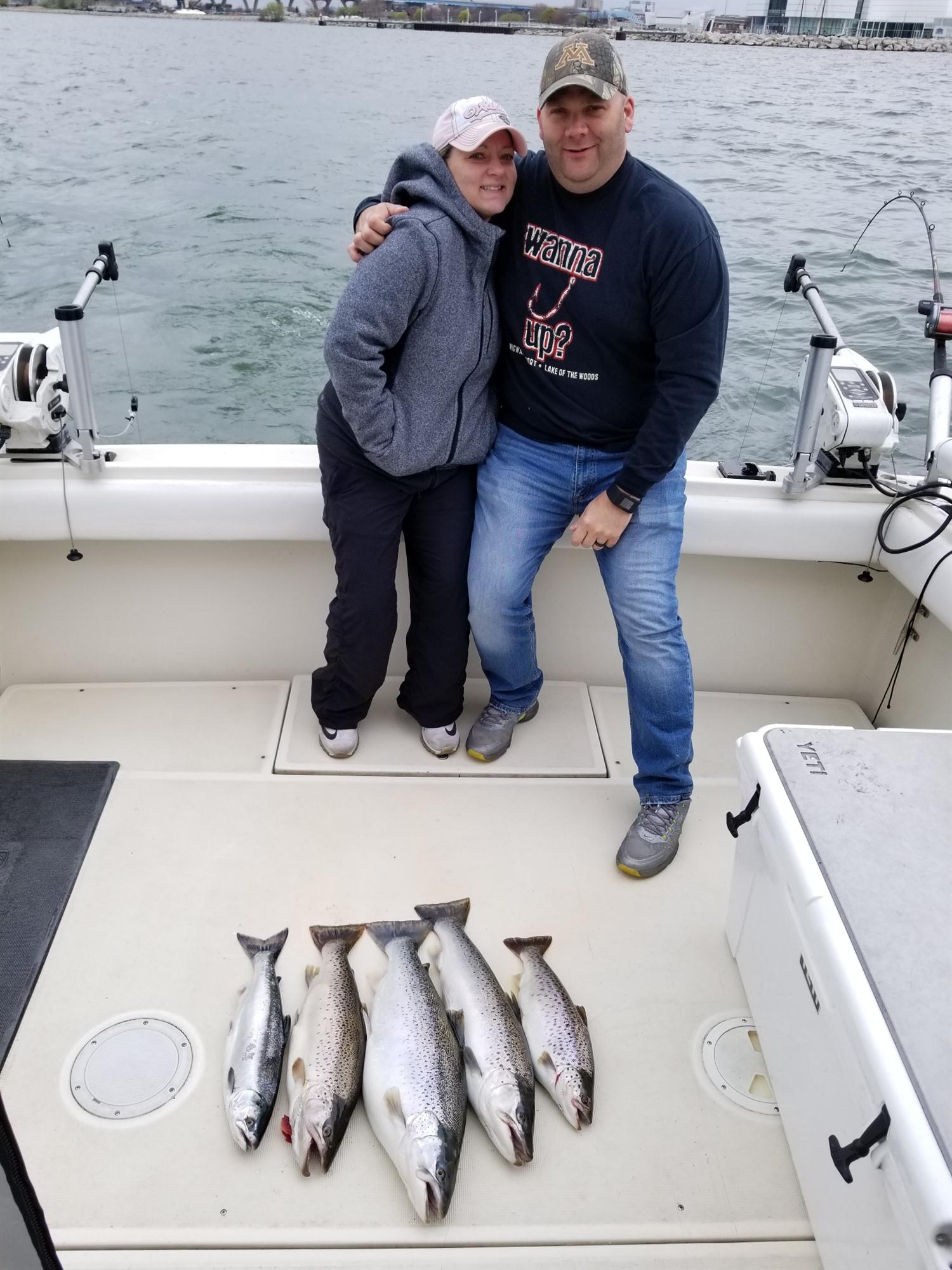 Report for April 25, 2019
We are at the tail end of April and Milwaukee charter fishing has been all about Brown trout. We boat the most Brown trout of the season in April and this action slowly gives way to the Coho salmon bite until it goes completely away by mid May. But we are still catching the Brown trout now. Most of our action has been the eastern part of the Milwaukee harbor. We have taken some fish in the river up to the turning basin. We had a big northeast blow Friday and Saturday that chalked up the water, making the bite challenging but we produced on all trips. The Milwaukee harbor makes trips possible on big winds and action can still be very good. The water is has warmed to 45 degrees in spots. The fish still have gobbies in them but the alewives schools will his the shores very soon. There has been some smelt action at Jones Island this year. Some have pulled pulled as much as 500 smelt in a night. Very good to what it has been over the last 20 years.
The spread is all spoons still and we have been trolling fast for a good bite. We are now getting fish on our one color leadcores. Spoons with orange were the hot ones over the last week. Water clarity was poor and orange seemed to help. We used the orange taped Gold Hud Stinger in the Stingray size. We also liked the orange NBK in both sizes. The hot spoon for the one color leadcores was the Dreamweaver Magic Man. That was on fire. Again all our stuff was set in the top 25 feet of water, with 1, 2 and 3 color leadcores, mono dipsies and 3 riggers. All Brown trout from 2 to 14 pounds. We expect another week of this fishing but with reports of Coho salmon starting to appear we are ready to bolt at a seconds notice.
Call Silver King Charters at 414-460-1467 to get in on the last of the Brown trout action and the first part of the Coho salmon bite. It looks to be another great year for the number one stocked salmon on Lake Michigan. The highest catch rate of the season starts very very soon. This is the time of the season we produce the most limits of salmon from early May through late June! Below are some pictures from the last several days.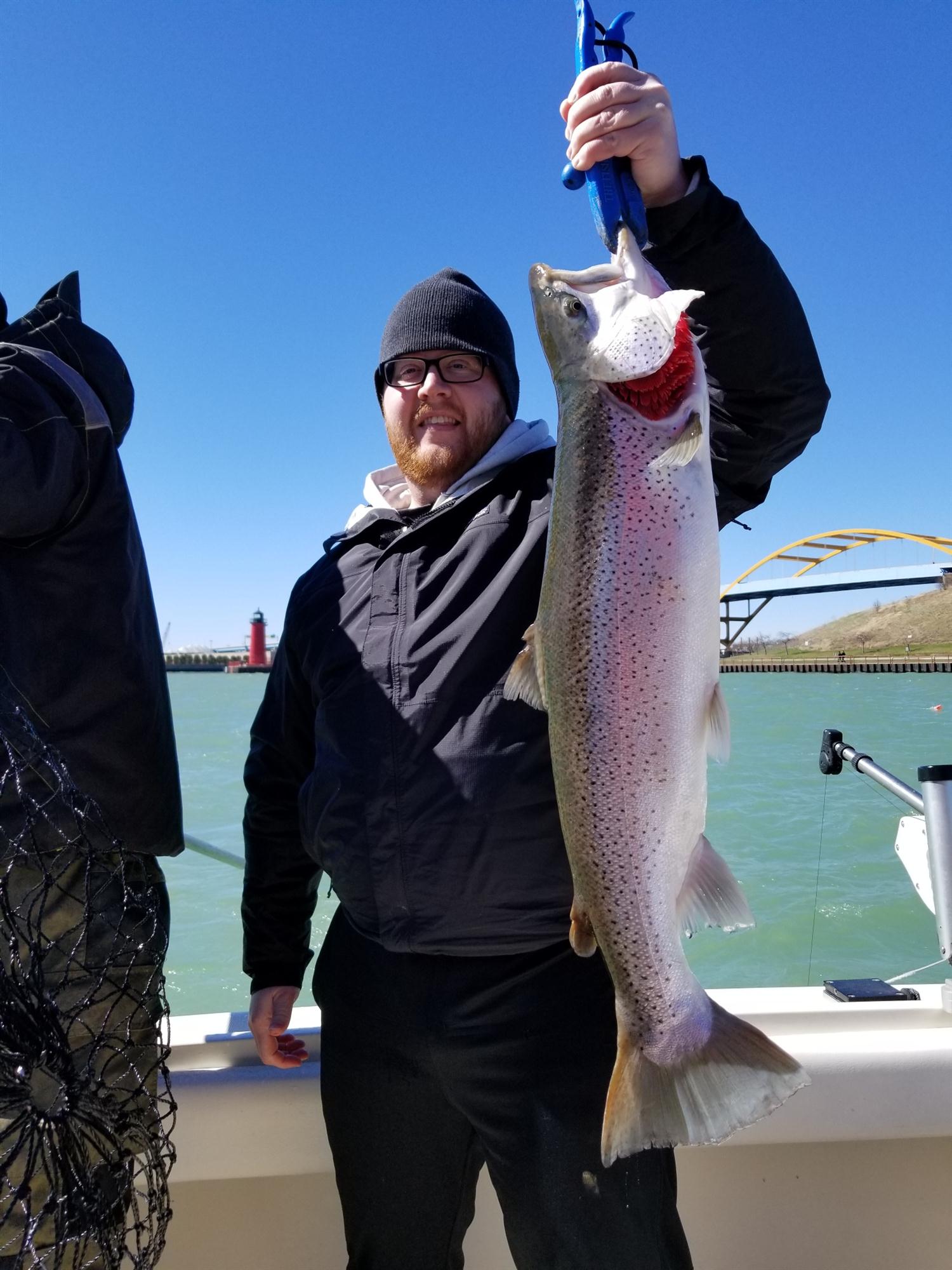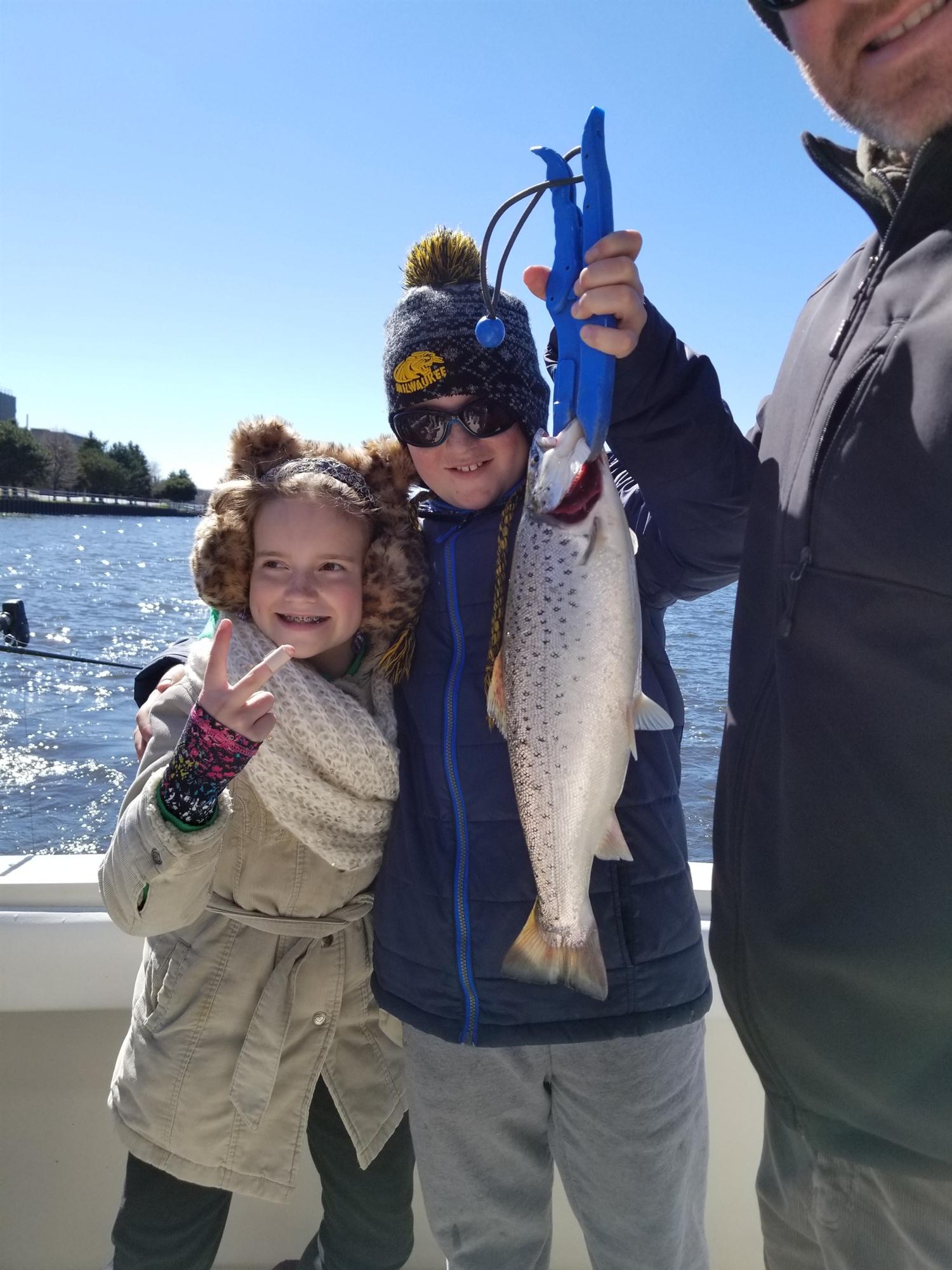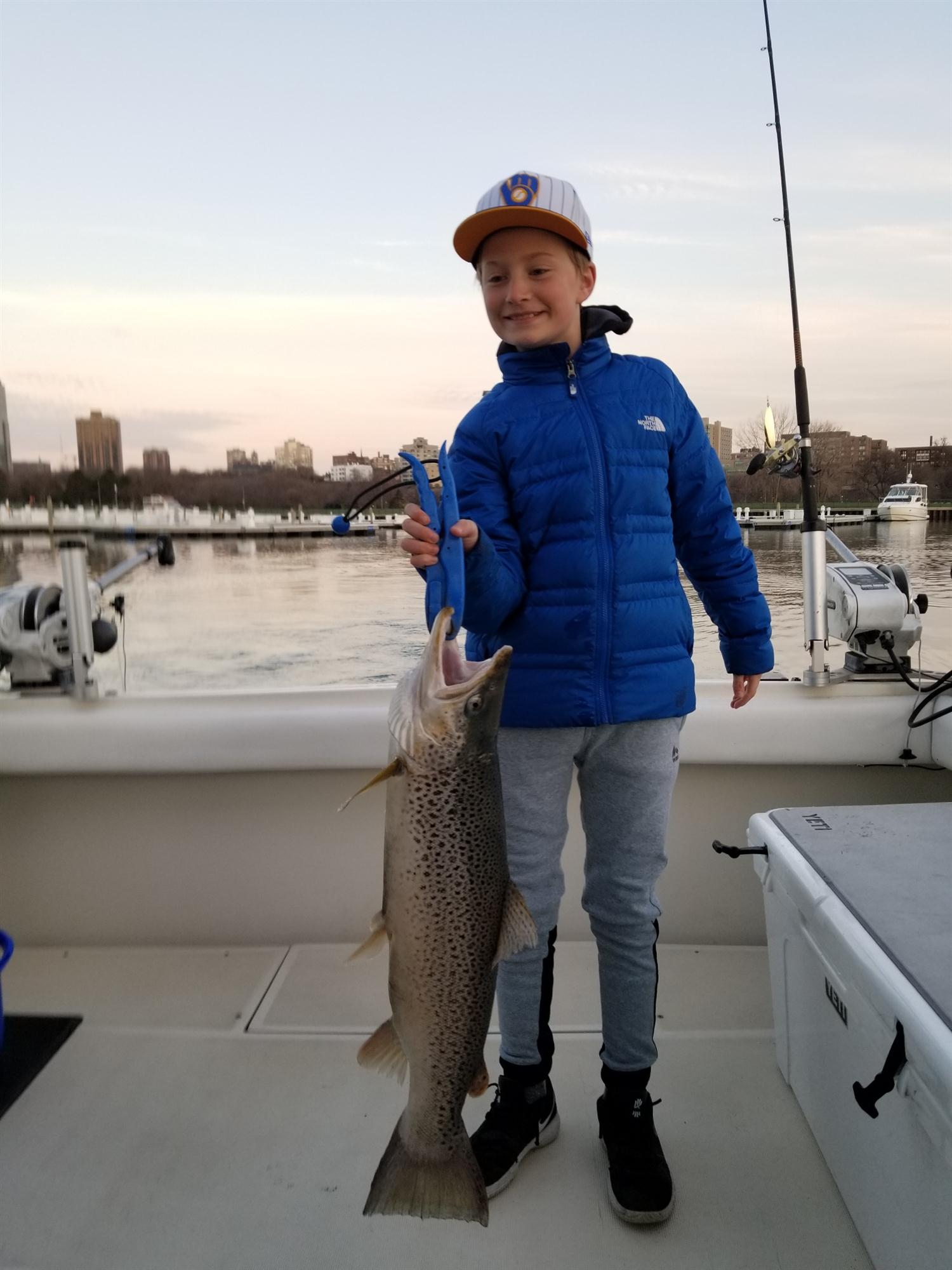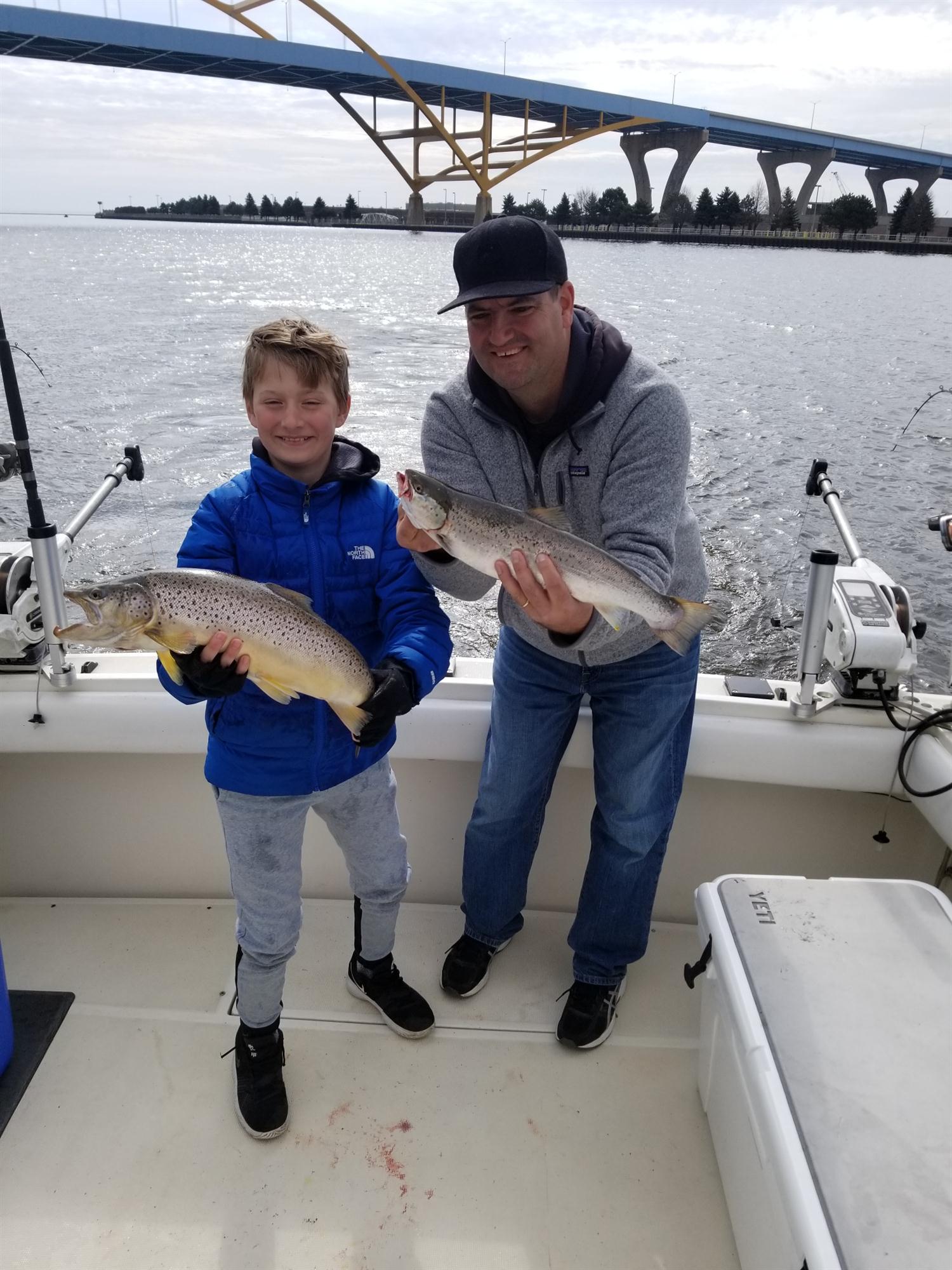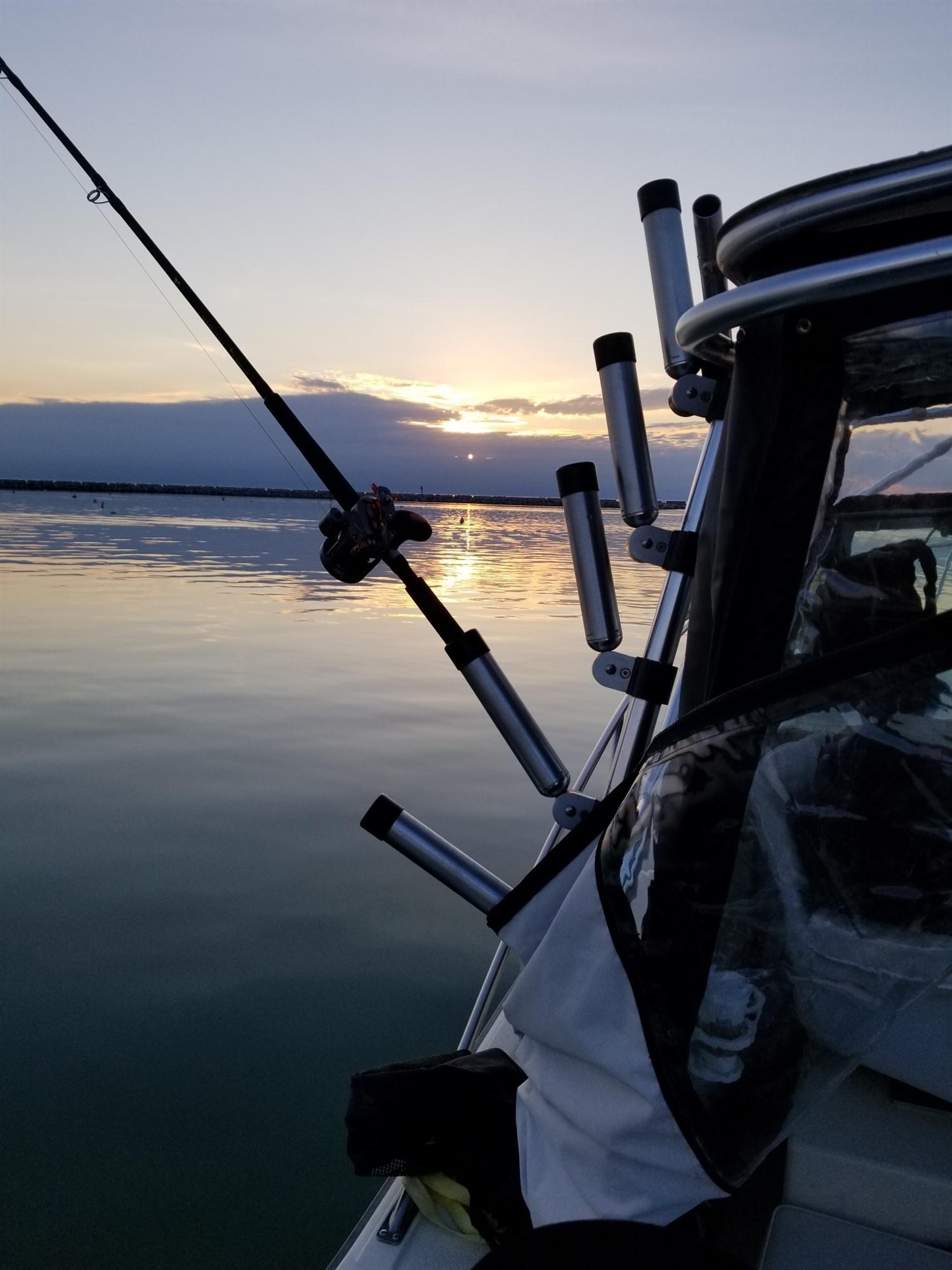 Report for April 19, 2019
The weather has been all over the place but what do you expect for April in Wisconsin. The harbor bite has been good for what conditions we have fished. Our worst outing was 2 fish with several double digit catches. The bite has been all Brown trout. We have ventured outside the harbor along the shore but our best action has been from the north gap to the river mouth. Water temperature on the surface is between 40 to 43 degrees. When you get into the river it reaches 47 degrees. Our best action has been just north or south of the river mouth. All the fish have been full of Gobies. What has prevented the bite from being better is water clarity. Several big storms but mostly strong winds has caused the water to be just a little too murky for a stronger bite. We need just a little clear water and the water temperature a little warmer and the action will really take off. The fish are from 3 to 14 pounds and all have had bait in them, which is different from the last couple of Aprils.
Our mono dipsy diver rods set at 25 on the line counter has been the most steady producer, with Stinger Gold Hud the Stingray size spoon. This set up has boated fish every time. The next best has been our 2 deep riggers. These are set a couple feet from the bottom and have the same lure as the dispy, with the exception of an orange tape on the Hud. The boards have been ok and usually are the top producers this time of year. The one color leads have been almost useless but as the water warms a little they will probably be top producers. The two and three color leadcores have been alright. The green Natural Born Killer Stinger or the UV Blue Dolphin have been best on the boards.
We should have a couple more weeks of good Brown trout action before transitioning into Coho salmon and the best catch rate of the season. We should start seeing more Lake trout in the mix too during the next several weeks. The Coho being caught down south look healthy and it should be another great spring on Coho salmon. We have openings next weekend, so call Silver King Charters at 414-460-1467 to get in on early spring action. Attached is a few pictures from the last couple trips.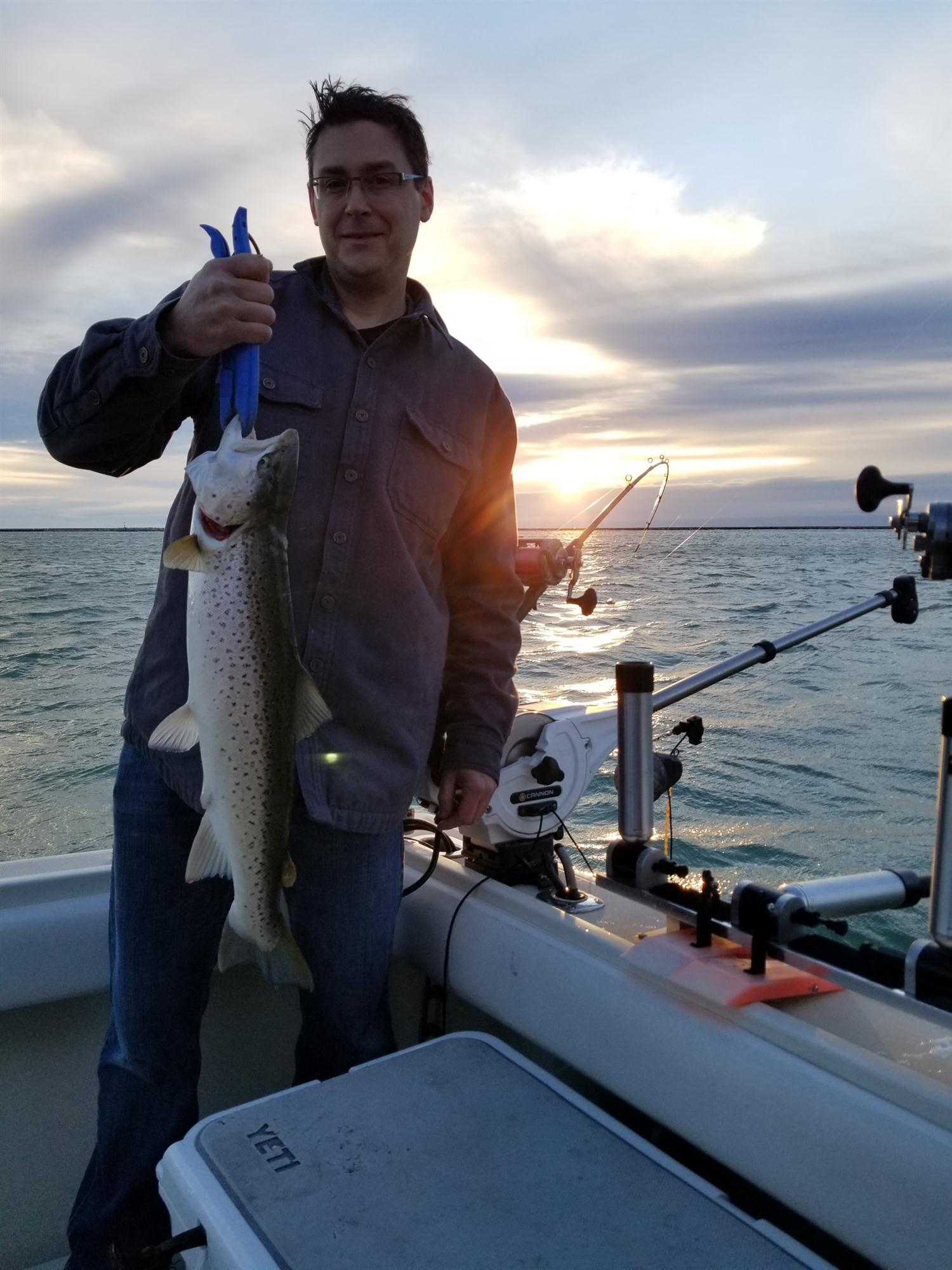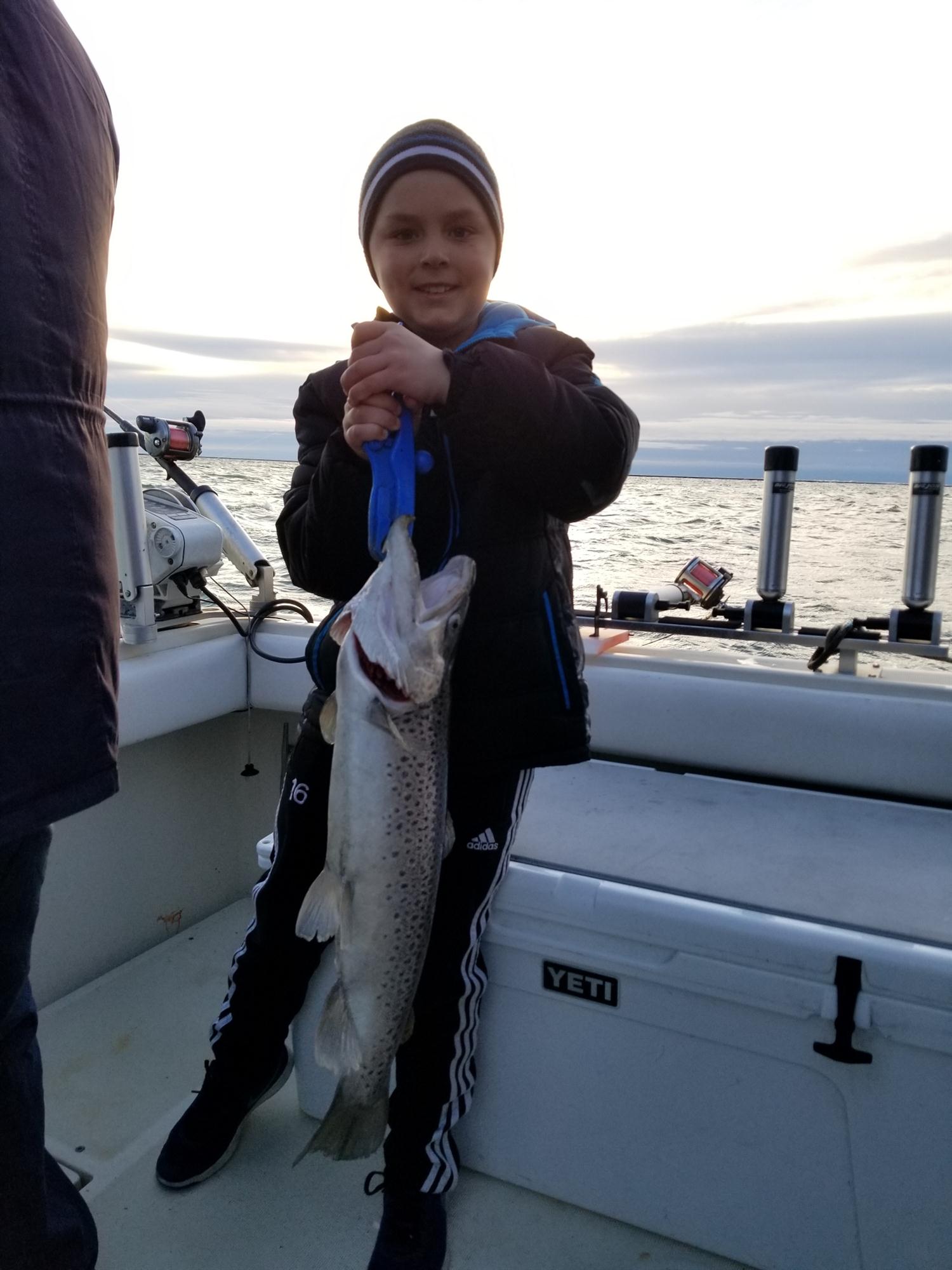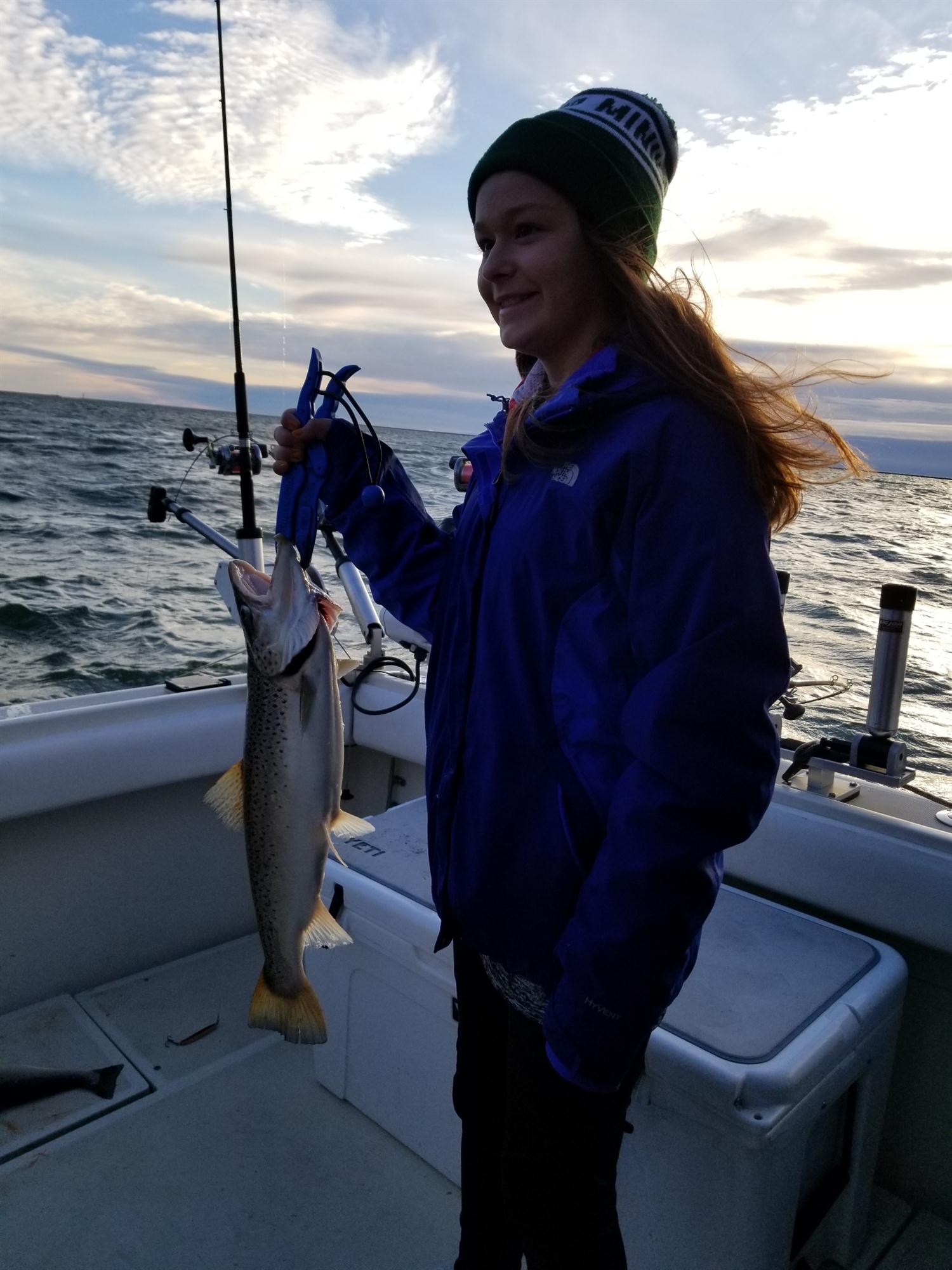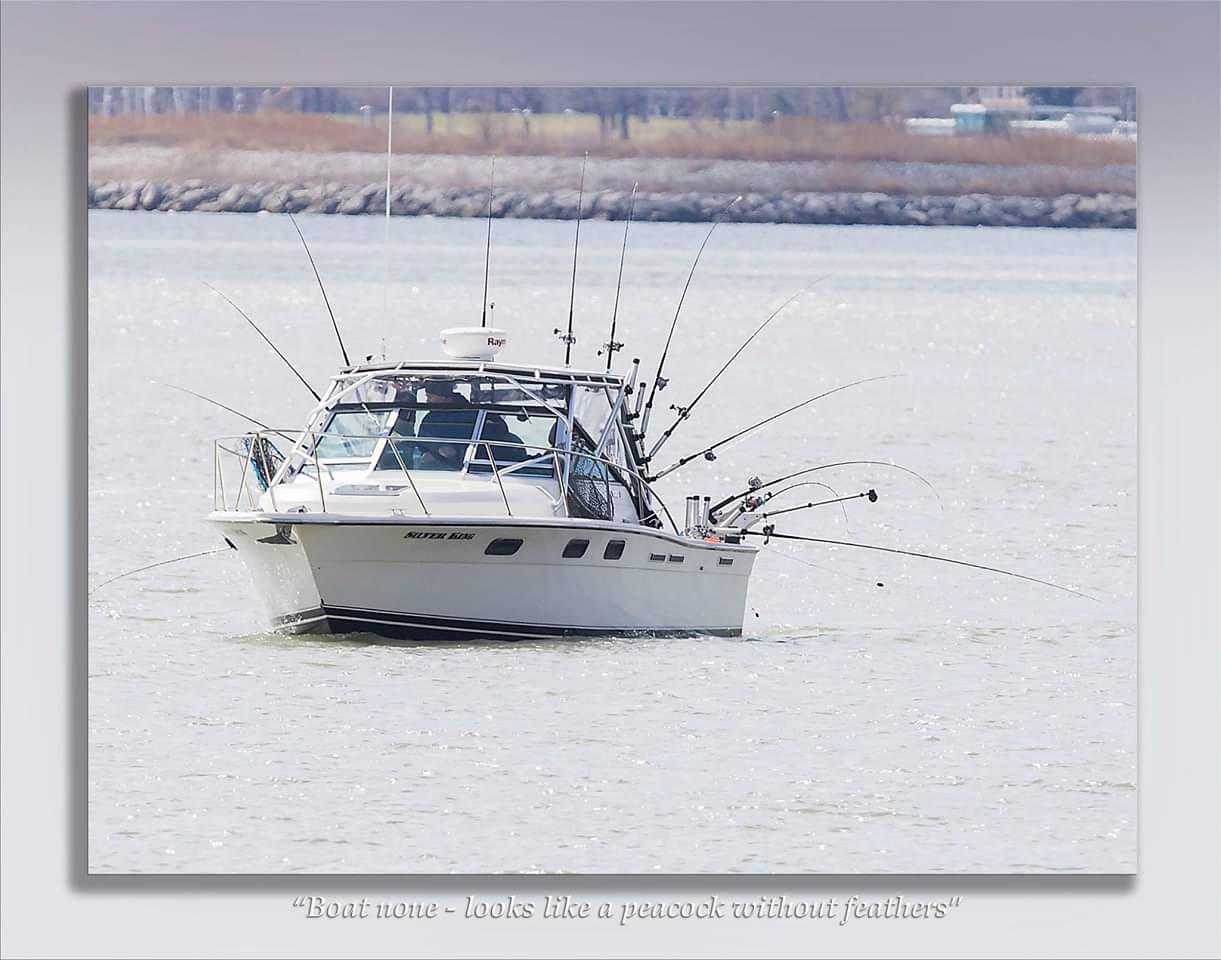 Report for April 7, 2019
Milwaukee charter fishing season for 2019 has begun. We put in on April 1st and have started to catch fish. We have fished the Milwaukee harbor and have been all over the area. The surface temperature is 41 degrees in the warmest areas and there is still large chunks of ice on the break wall. Our best location so far has been along the break wall from the Main gap to the north gap. All the fish we boated have been Brown trout, with the exception of one Lake trout. This is the first Lake trout we have ever caught in the harbor area. The fish have been full of Goby, which is a small invasive fish found at the bottom of the water column. The fish have ranged from 2 to 14 pounds so far. The action has been good but with bait starting to show up and the water temperatures warming it should only get better.
We have run all spoons on all set ups. Our favorite ones have been the Stinger Gold Hud in both large and small sizes and the Stinger Glow Watermelon in the Stinger size. The best rods are the to deep riggers near the bottom, mono dipsies set at 30 feet on the line counter and the 4 color leadcores. The fish are down near the bottom and because that is where the Goby is located. We did not have a hit on the one color leadcores, which can be very good this time of year. We look to continue fishing the harbor for the next couple weeks.
April is the best time for Brown trout and this April looks to be a lot better than last years weather, when it snowed 4 times and we had multiple days below freezing. Should be a lot of fish caught this month. We still have weekends open. I attached some pictures from this weekend and if you go to Silver King Charters Facebook you will see some video from the weekend. Still have not figured out how to put video on the website. I also included the stocking numbers from 2018. The over all number is down to 9.44 million fish. This is the lowest total in 25 years. Some of the reduction comes from no longer stocking fingerling Lake trout, which is a good thing. Coho salmon are still stocked around their 25 year average, which makes May and June such a great time to fish. Chinook salmon stocking went up 19% which is great. My personal opinion is that Chinook should be stocked at 2 million a year. This would give a decent catch rate, without damaging the precious bait population. Chinook are the only fish that is not stocked as yearlings. Lake trout have been reduced and are still the top stocked fish in Lake Michigan. We will not miss the reduction. Rainbow trout are at their 25 year average. Brown trout have taken a hit over the last 2 years and are down 41% from their 25 year average. The verdict is still out on the Brown trout but Milwaukee still have great Brown trout fishing. The total number is down but the matrix of fish stocked is good and the fished stocked are raised healthier than ever before to give them a better survival rate.
Call Silver King Charter at 414-460-1467 to get fishing on Lake Michigan. The fish are biting! We actually did catch a baby Coho this weekend. I have a pic of that too.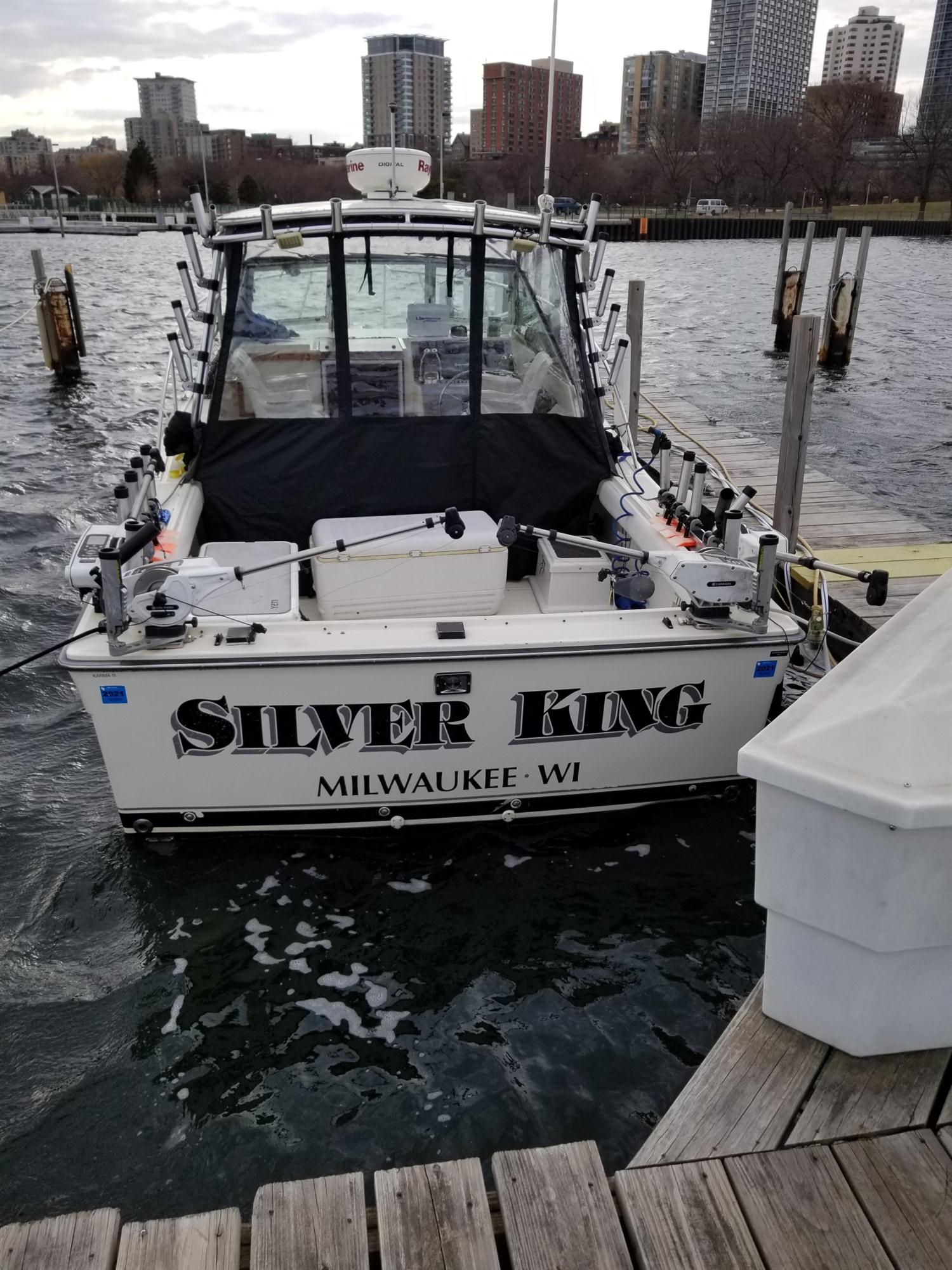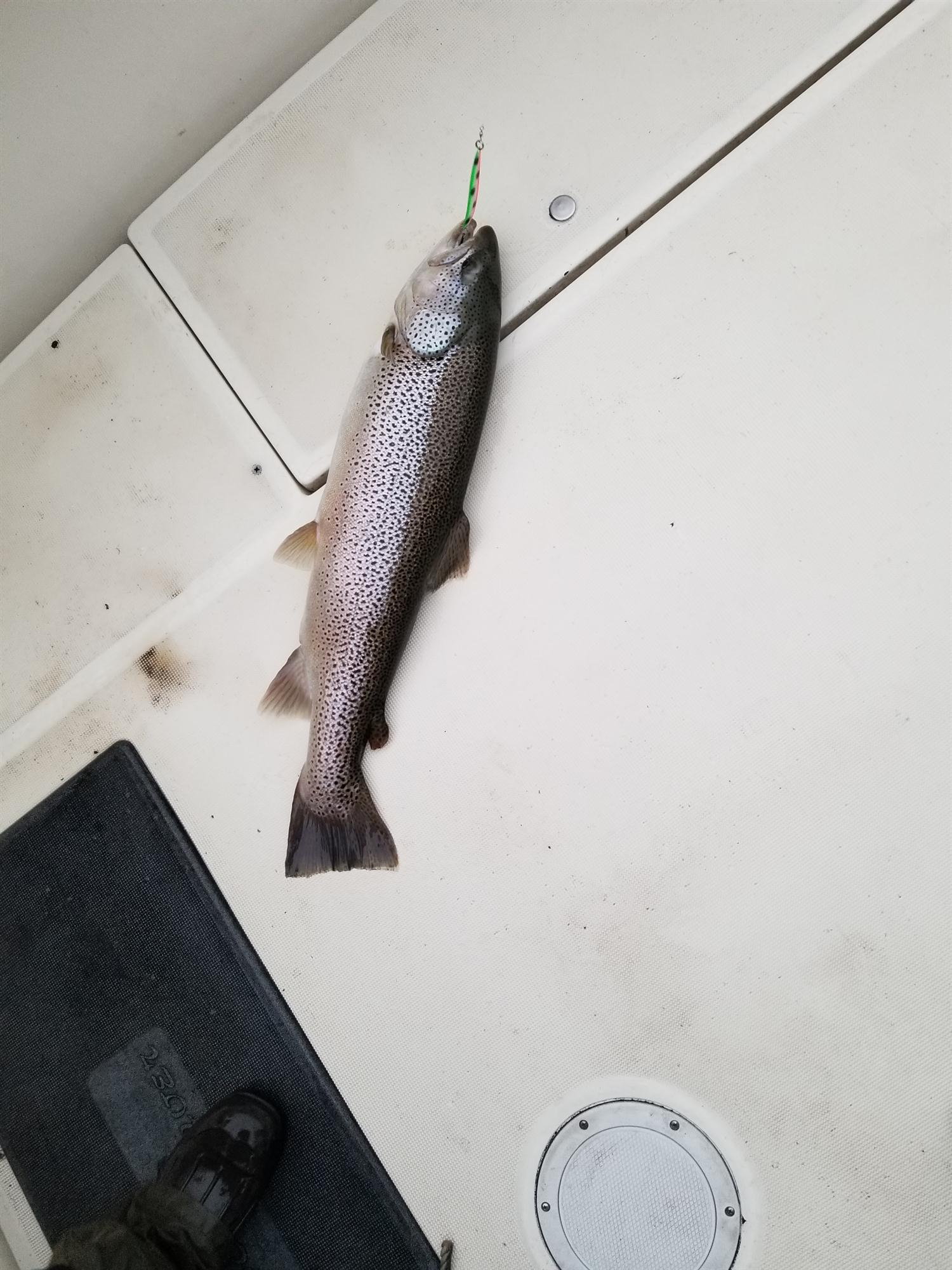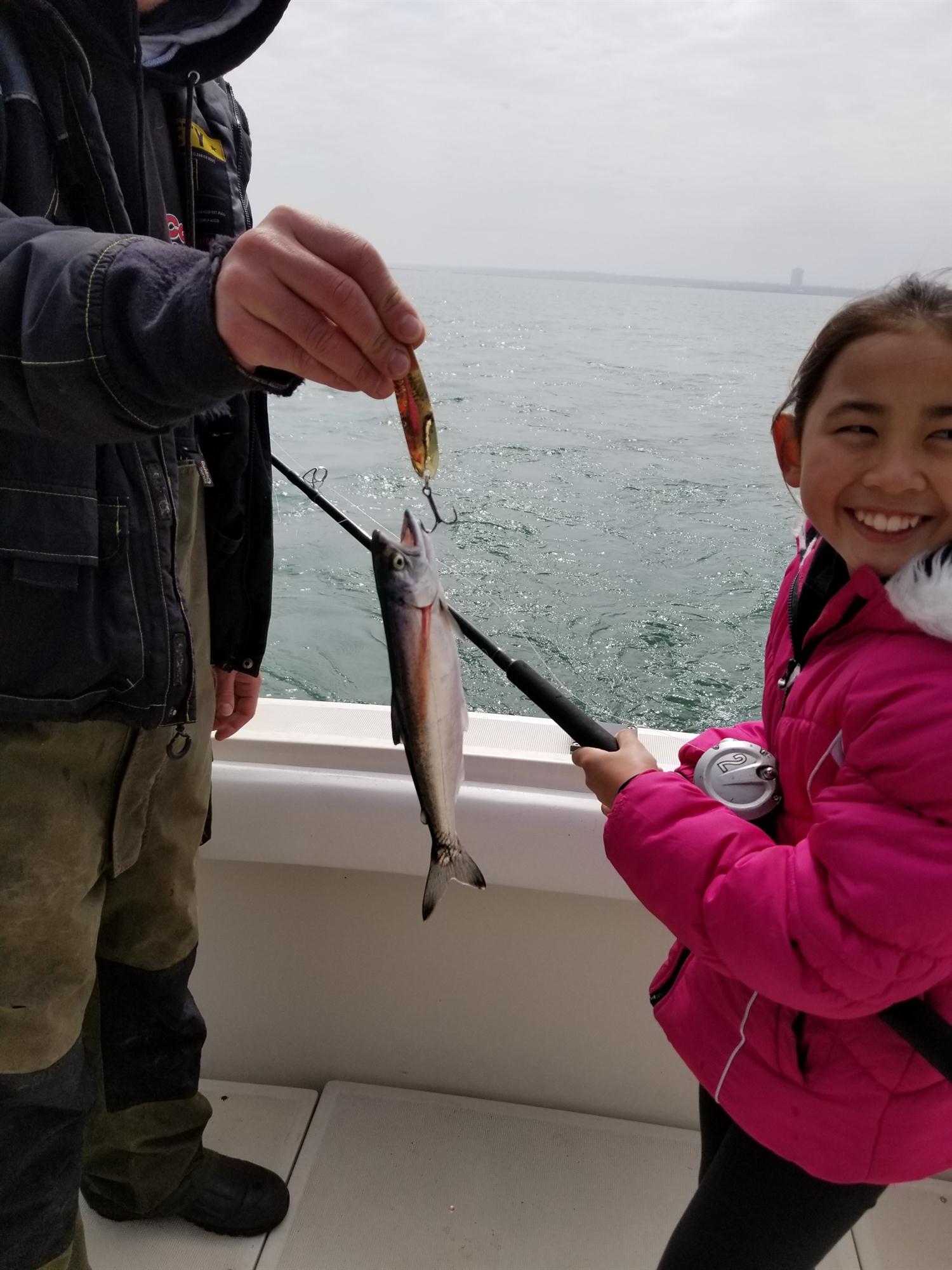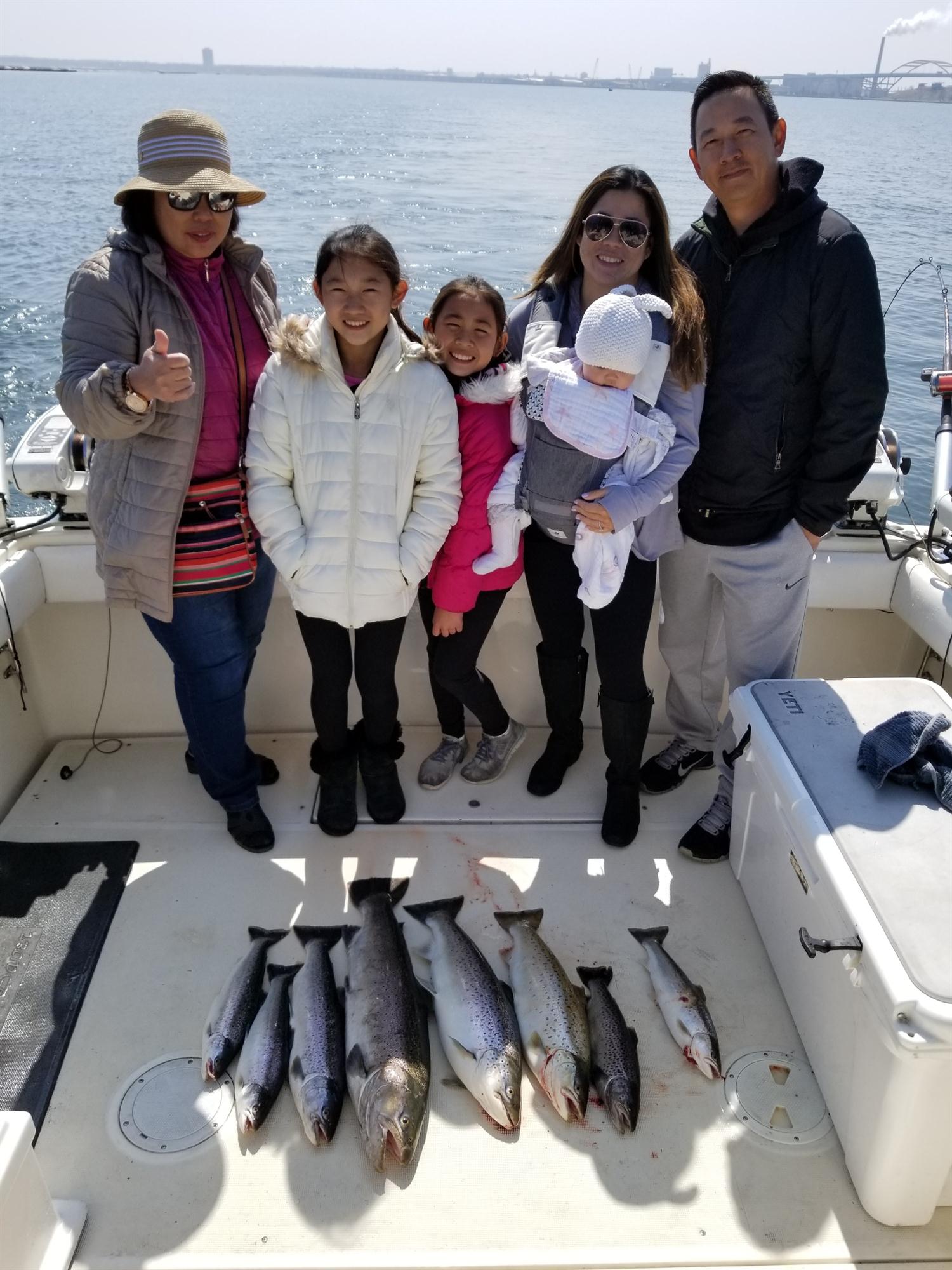 Report for March 24, 2019
We are hopefully in the water on Friday Milwaukee charter fishing. The ice is still in the marina but it is melting very fast. My fisrtmates have already been out in aluminum boats and the Brown trout bite has been real good. The first several weeks of April can be very good fishing for Brown trout. Our typical spread is 3 boards a side, using 1, 2 and 3 color leadcores. Spoons on all rods. These usually do the bulk of the catching. We run two mono dipsies and spoons are also on these. Always good for several hits. We run 3 downriggers and they are hit and miss. Spoons are everything. We are usually fishing in 10 to 35 feet of water and fish can be skittish to downriggers in that shallow of water. They usually are good for a few fish. The Milwaukee harbor, river mouth and shoreline can all have good action in April. We hope to be catching next weekend.
We talked about Chinook salmon last report. July through the 3rd week of August in the best time for them. By the middle of August the mature Chinook salmon are heading to the ports they were stocked, so they can spawn. The last week of August through the first 3 weeks of September is what we call combat fishing. The Chinooks stocked out of Milwaukee return home after 3 or 4 years in the lake. The salmon are staging at this point of the year and getting ready to run up rivers to spawn. These are all big fish and when you hook up that go complete crazy. We are in and around the harbor mouths where they return. The water is shallow and there is not a lot of room for them to go, so when they run it can get out of control fast. Great fights! Several years back this was my favorite time of the year because the return was great. Now with reduced stocking of Chinook this can be hit or miss during this period but when the window is right the action is solid. A good trip during this period is 10 to 12 Chinook but we usually average 4 to 5 Kings. Still worth the fight and pulling a 15 to 25 pound Chinook on a trip is very fun. If the harbor action is not set up we will head out deep for Lake trout and Steelhead.
I really don't want to think about September right now because the next couple of months are going to be some great action on Lake Michigan. We are looking forward to netting our first fish of the season. I think I can remember every first fish caught since I have been chartering and it is always a special moment. It will be interesting to see what the lake has in store for us. Hopefully lees big winds. I have attached my last pictures of ice in the marina and a picture of our first trip last year. I have also included a couple of September Kings. Call Silver King Charters at 414-460-1467 to start catching Lake Michigan salmon and trout.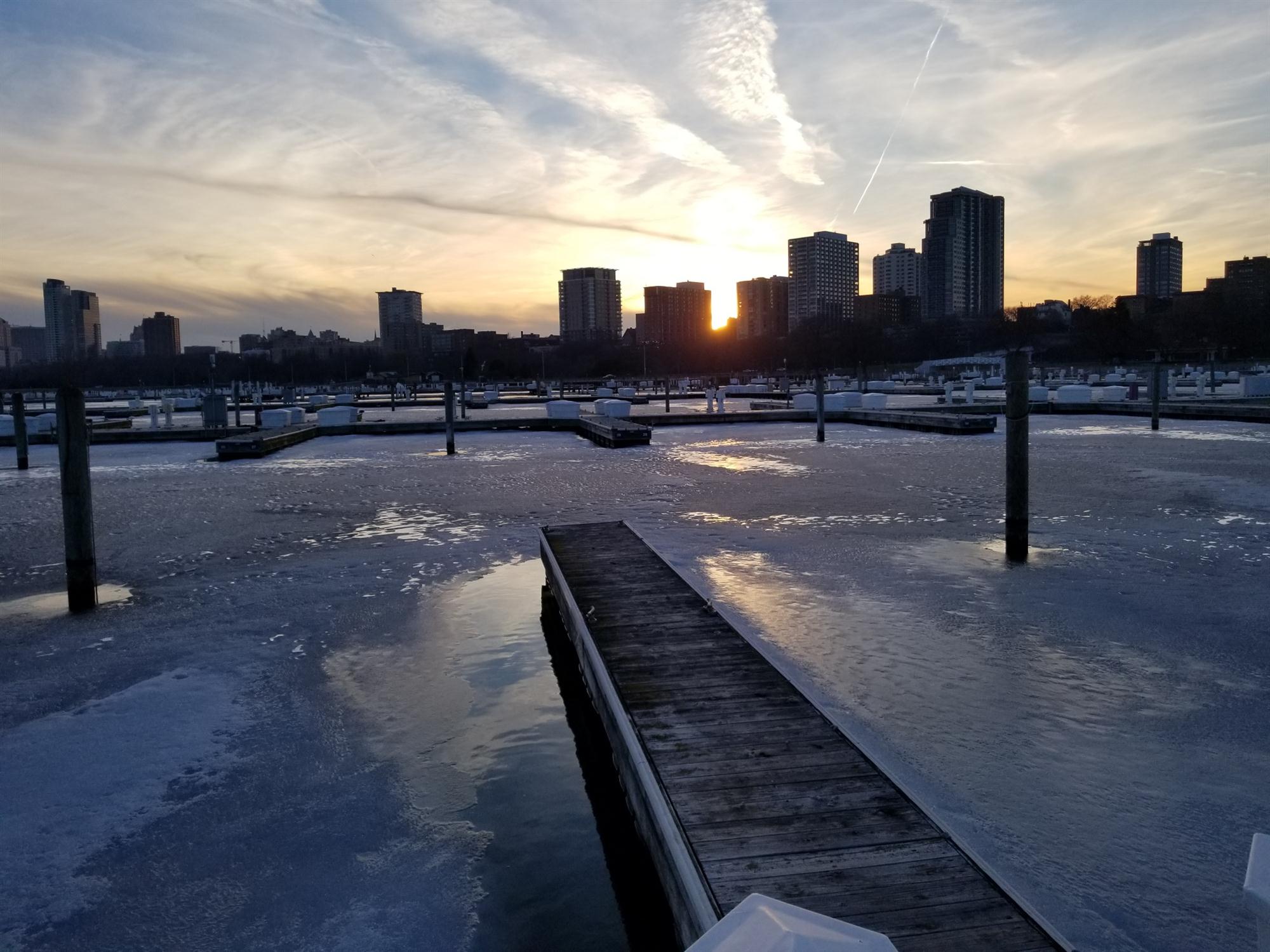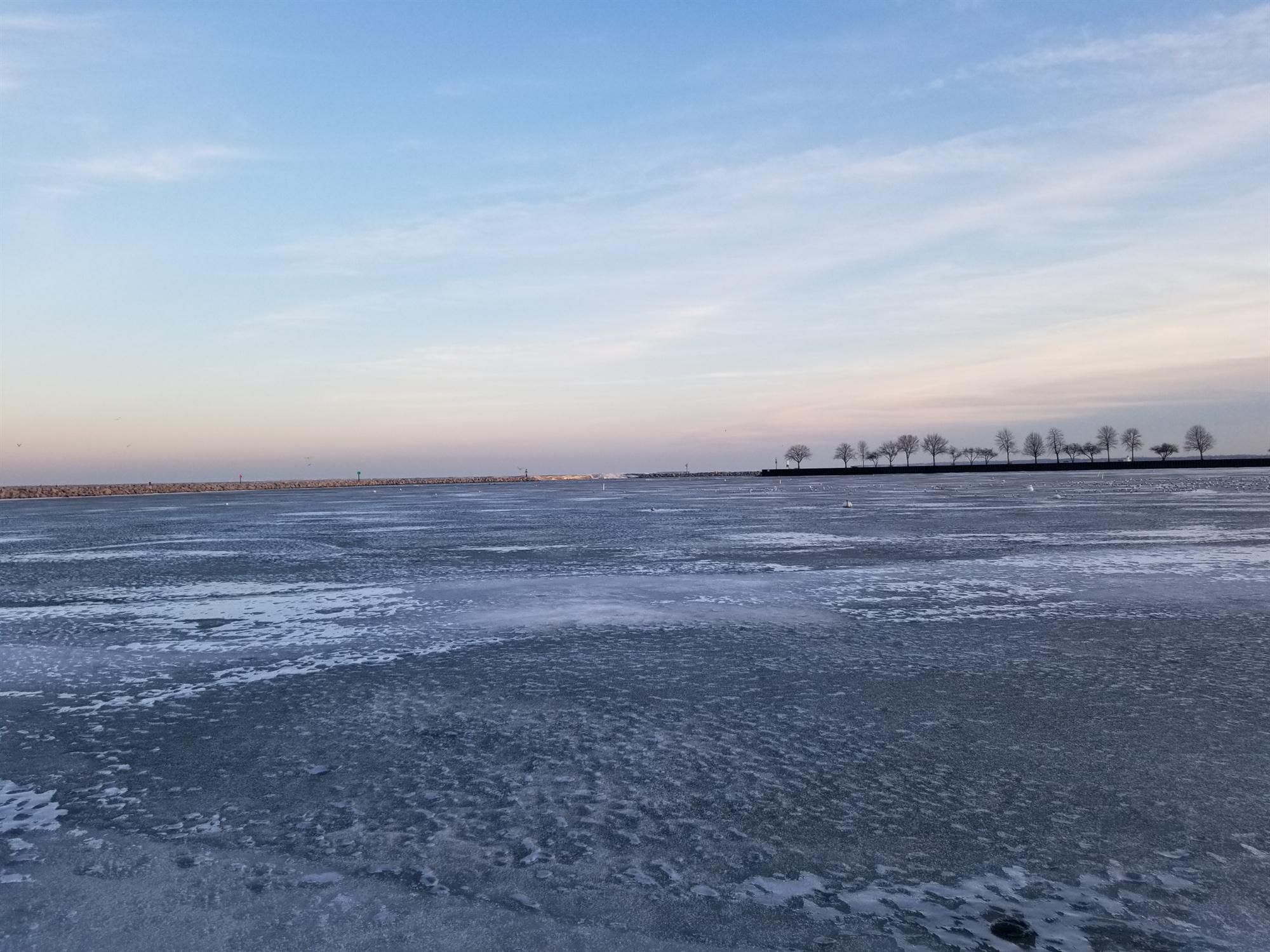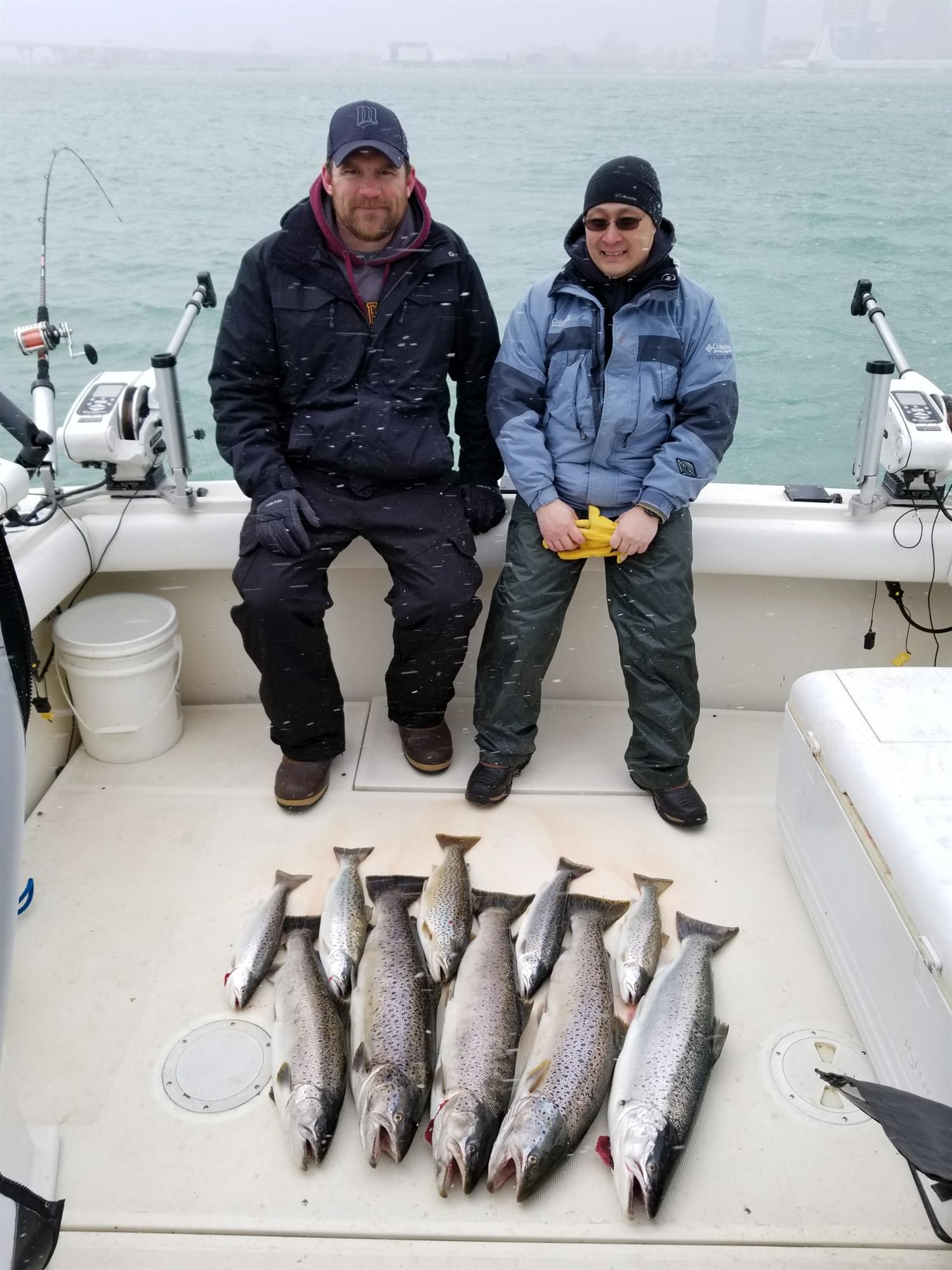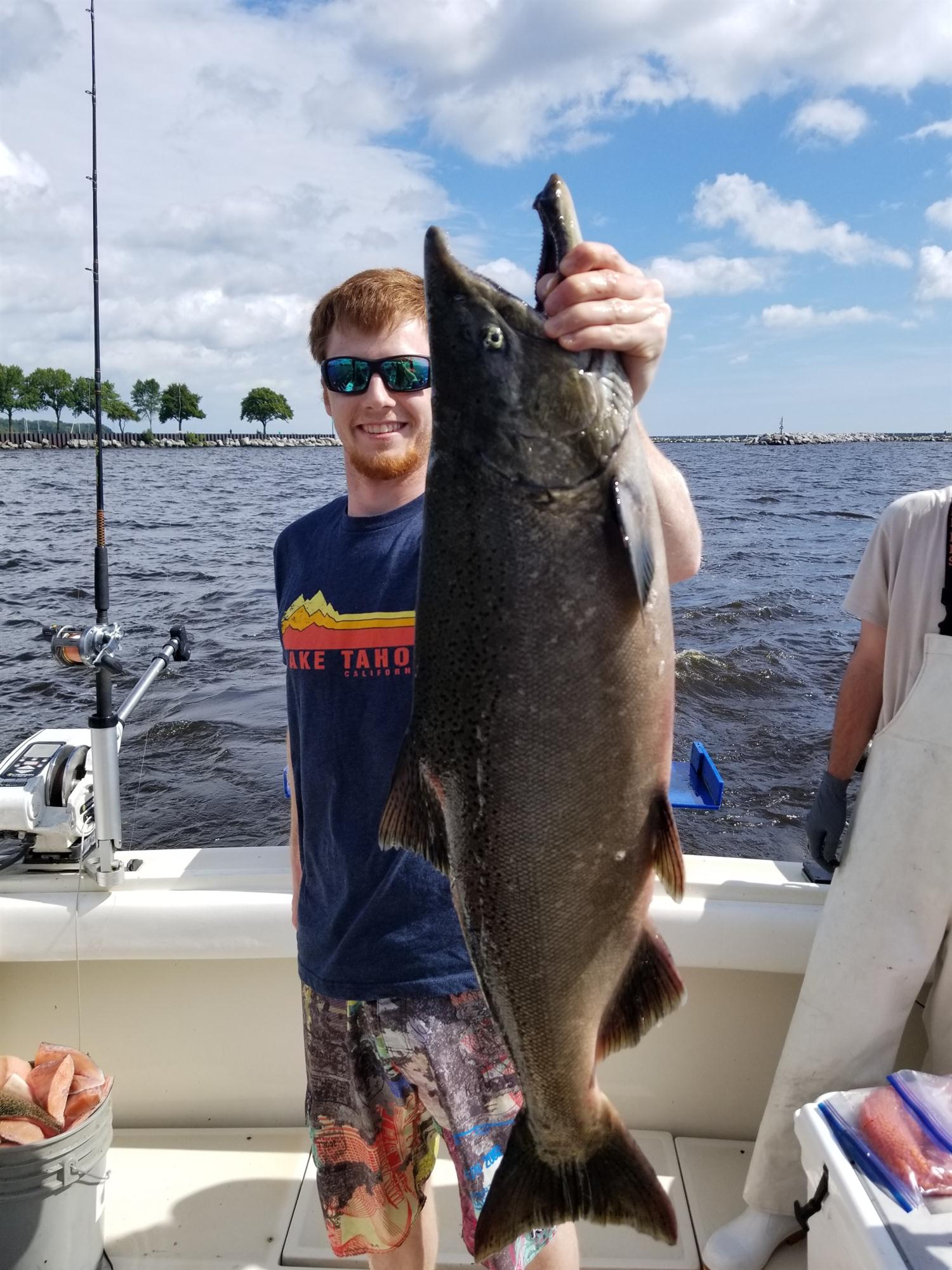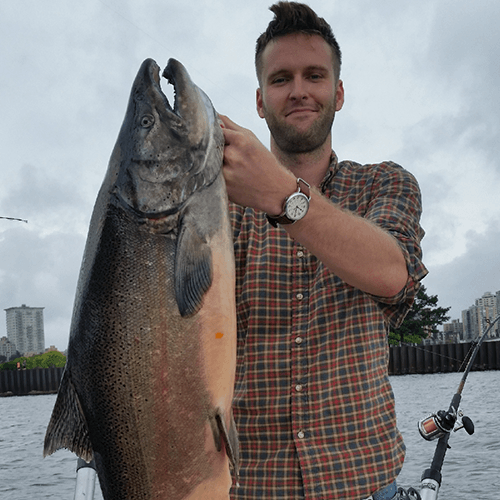 Report for March 17, 2019
We are a couple weeks away from Milwaukee charter fishing season 2019. The hard winter has us eager to fish. We look forward to some good early Brown trout action this April. Probably some Lake trout and Coho salmon too but April is the best time of the season for Brown trout. We have talked about the great action in April for Brown trout and the best catch rate for the year for Coho salmon during mid May through late June. I will go over Early July through the 3rd week of August. Traditionally this was Chinook salmon time and the best time to catch them. It is still the best time to target Chinook but unlike the Coho salmon Chinook stocking has taken a hit. At one time Lake Michigan was stocked with 6.5 million Chinook annually. Incredible amount of salmon were in the lake because they live for four years. But due to declines in bait fish caused by mussels in the lake stocking had to be reduced. It is now down to 1.2 million annually but there is some percentage of natural reproduction that helps this number. All is not lost. The fish are healthy, better size and a great fight. It is worth a Lake Michigan charter fishing trip to experience this kind of action.
So what to expect on a summer fishing trip these days. We target all species not just Chinook salmon. This time of year can be outstanding for Lake trout and Rainbow trout. We still get some Coho salmon and an occasional Brown trout. But we all want to land a King salmon and we always have stuff set for them. When there are good numbers around we switch out everything to catch them. But other times we are lucky to boat a couple on a trip. This is when the other species come in to play. During July through the 3 week of August we average 4 Chinook a trip but these fish add a lot of excitement to the trip. When there are good schools of Chinook in the area double digit catches are common. The size of a mature Chinook will vary from year to year but over the last 3 seasons a 15 pound Chinook salmon is common. We have boated many in the 20 pound class and some are pushing 30 pounds. These are very special fish. Mature Chinook are know for their long runs, peeling off 300 feet is nothing for a King salmon. They don't give up easy. Throw several Chinook in the cooler, with Lake trout, some Rainbows and Coho you have had a great time. Chinook salmon are a special fish that years back we were quite spoiled with but now it is really something to have one strike and blow away from the boat at fast speeds. If Chinook is your desire than July and early August is the time to book your trip. We do catch them throughout the season but no other time beats the middle of summer for the King bite.
Like I mentioned earlier we should be in the water by April 1st and looking to capitalize on some good Brown trout fishing. Somewhere in the month we will boat some Coho salmon but it is hit and miss on these during April. Lake trout will also come into play as bait starts showing up along the shoreline. Call Silver King Charters at 414-460-1467 to book your fishing trip in 2019. Soon we will be posting actual reports of fishing trips. I have attached what I hope to be the last ice fishing pictures of the year. Our firstmate Colin caught these Brown trout just last week. I also put a picture of the current state of the Milwaukee marina. The ice will go fast now. There are a few Chinook pictures too from last summer.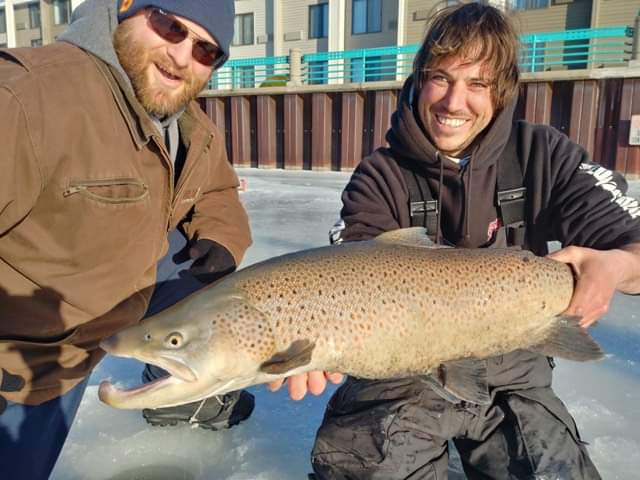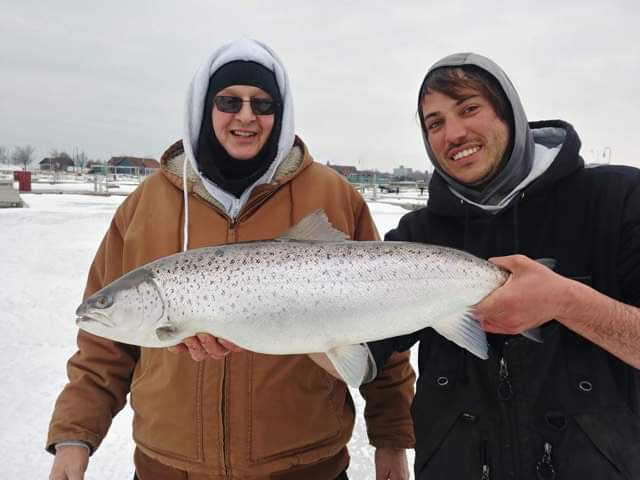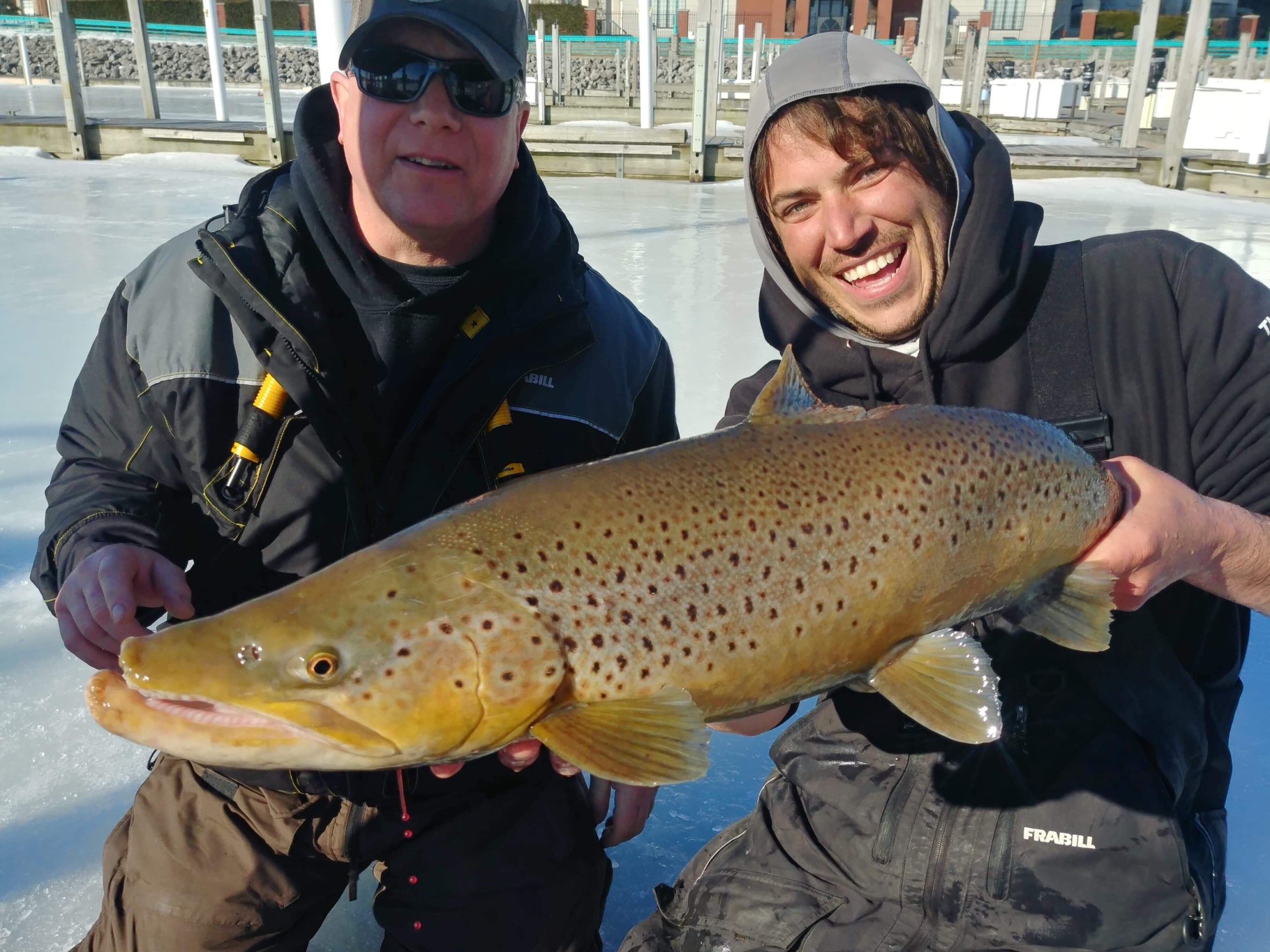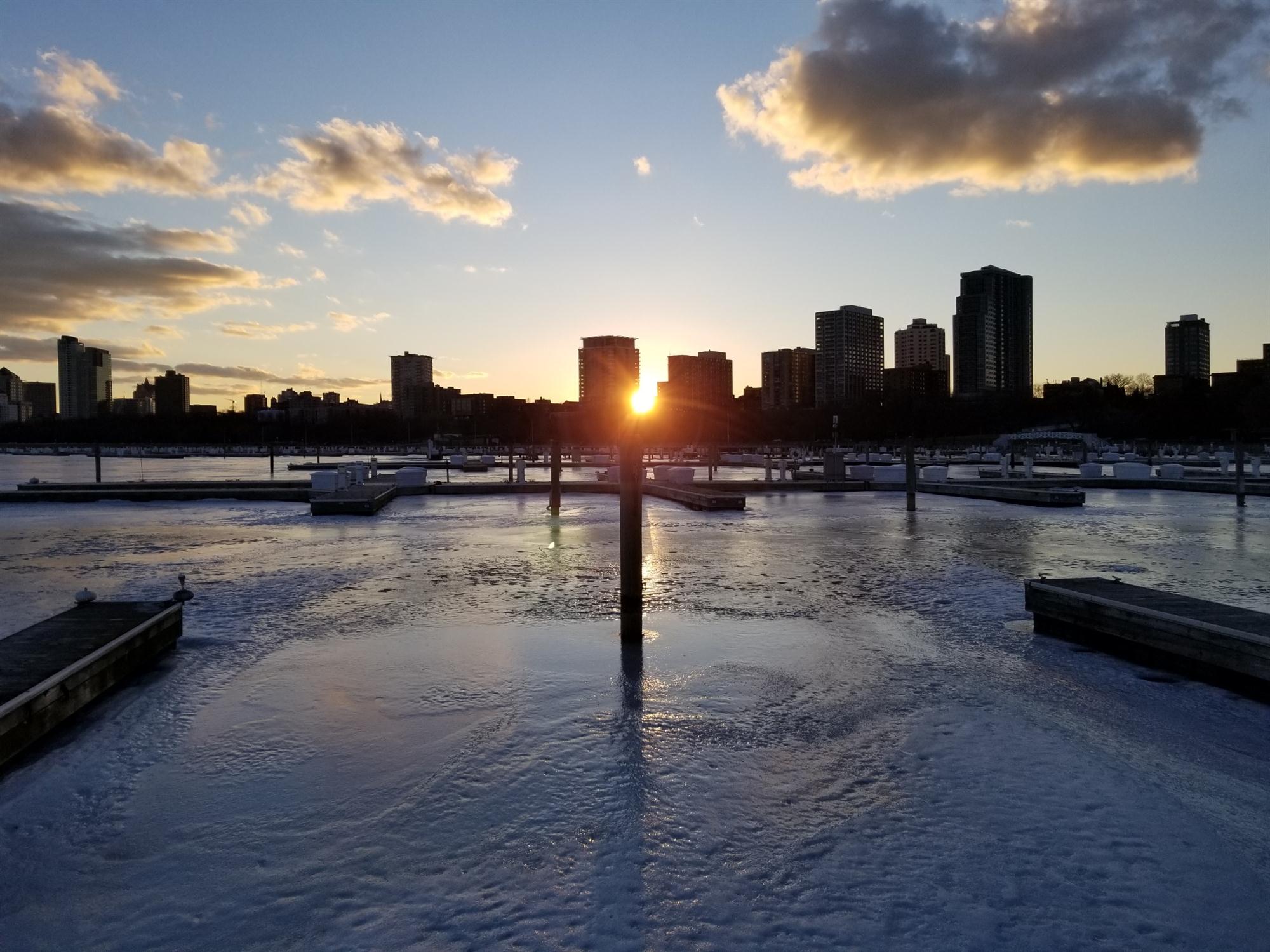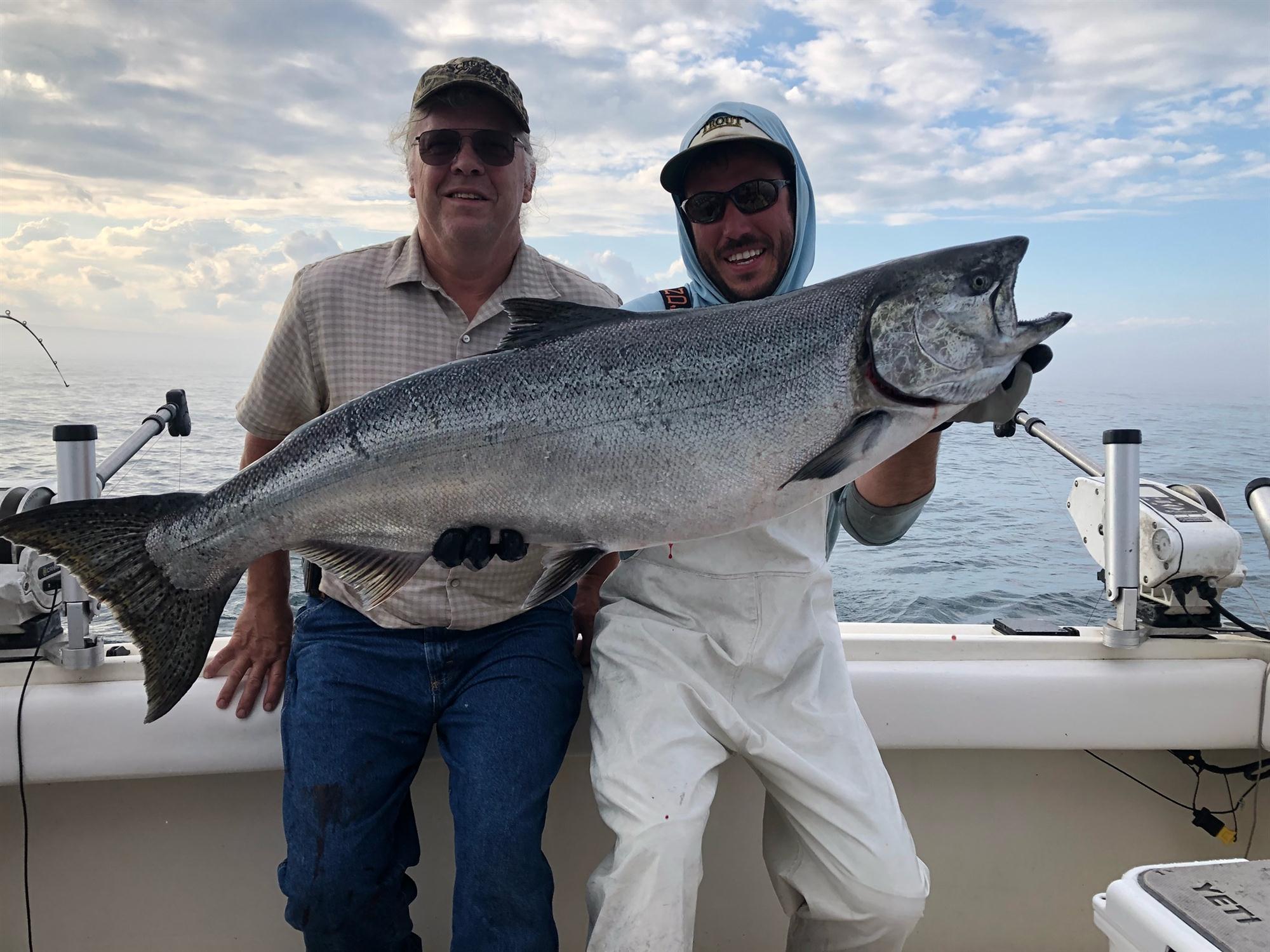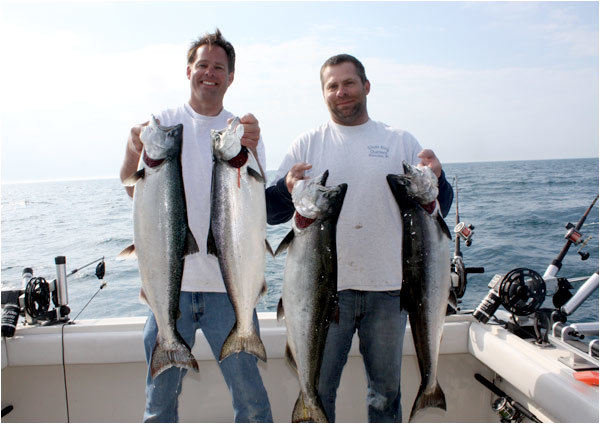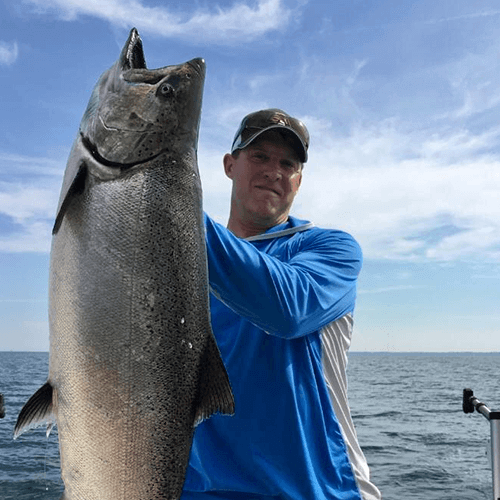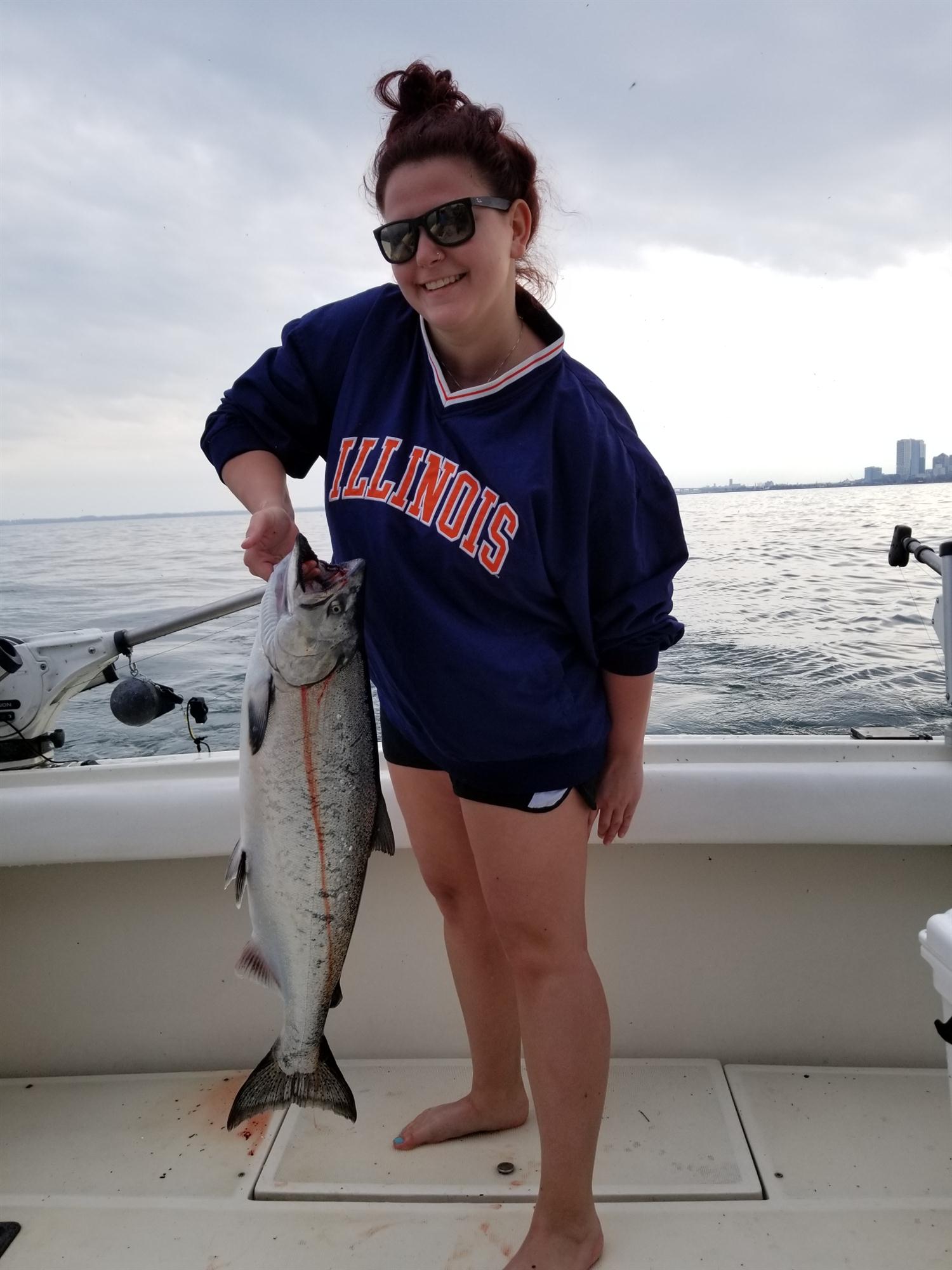 Report for February 20, 2019
We are less than 6 weeks away from catching fish and we still have a lot to do but we will be ready. I predict the first fish boated will be a Brown trout. Love that early action in April on Brown trout. Silver King Charters will be Milwaukee charter fishing the entire month of April to take advantage of the large harbor, river and structure along the shoreline. Call us to book an April trip. The Great Lakes is 66% covered with some form of ice right now as opposed to 2018 at this time it was 42% and 2017 it was 8%. What does this mean well lets hope for a warm March. Our first mate Colin had been ice fishing the big lake and catching some nice trout. I have attached a picture to this report of a big Brown trout caught a week ago. Hope to boat one of those this April. Lake Michigan is 50% iced over and this is the highest total in the last 3 years.
Well we talked about April and for some limit action the first 3 weeks can be one of the best time periods of the season and the best time to target Brown trout. But the best catch rate is Mid May to the third week of June. Hands down we catch the most fish then. Why? Coho salmon. This is the number one stocked salmon in the lake and only Lake trout are stocked at a higher amount. Coho salmon is this the fish we catch the most of over the last 3 season and it is because their stocking numbers have not been reduced. This also leads to our highest amounts of limits during the season. It is still fishing and there are tough days during this time but we have averaged 18 fish a trip over the last several years and 80% of the catch is Coho salmon. Coho salmon are stocked at approximately 2.5 million fish a year lake wide. The are raised in a hatchery for almost 16 months before being release in ports throughout Lake Michigan. They summer out in the lake and by the following spring they are at a size to be caught. Early in the spring they are 2 pounds but Coho put weight on fast. By the end of June we are catching Coho up to 6 pounds. Come the fall these fish spawn and die after 3 years of life. What makes this a fun fish to target is when you get on a school it can be fast action and many shots of fighting fish. Coho salmon school up and will eat until bait is coming out of their mouths. We will run orange dodgers and green peanut flies for most of this part of the season and we run this set up on just about every rod we set. The trick is finding them and once you do it is fish on.
Mid May through late June is Coho time and the best catch rate of the year. Give Silver King Charters a call at 414-460-1467 to get hooked up on a fun salmon charter fishing trip. Attached is a few sunrise pictures by the lake during this chilly winter, with a full moon rise during the super moon that just happened.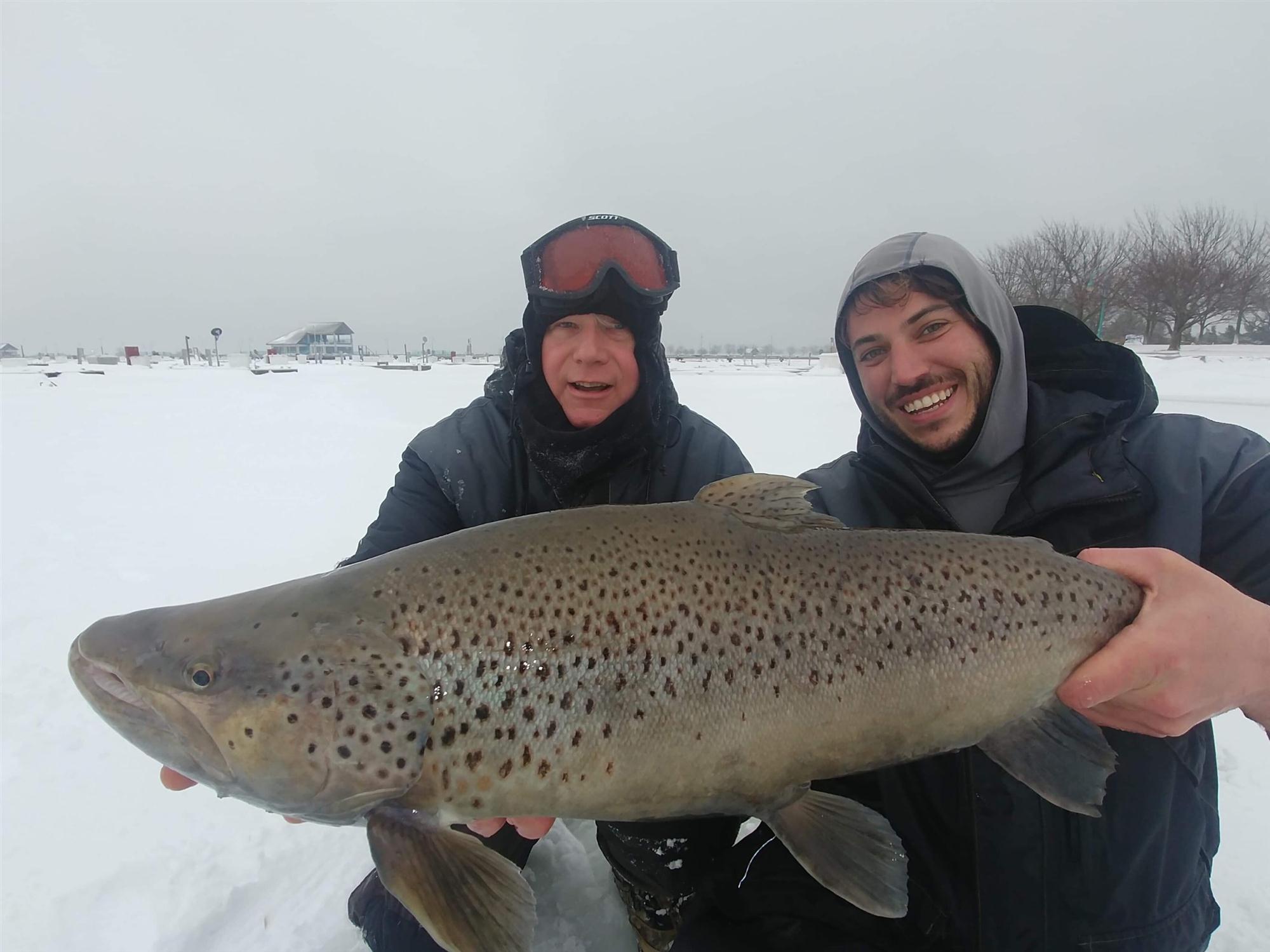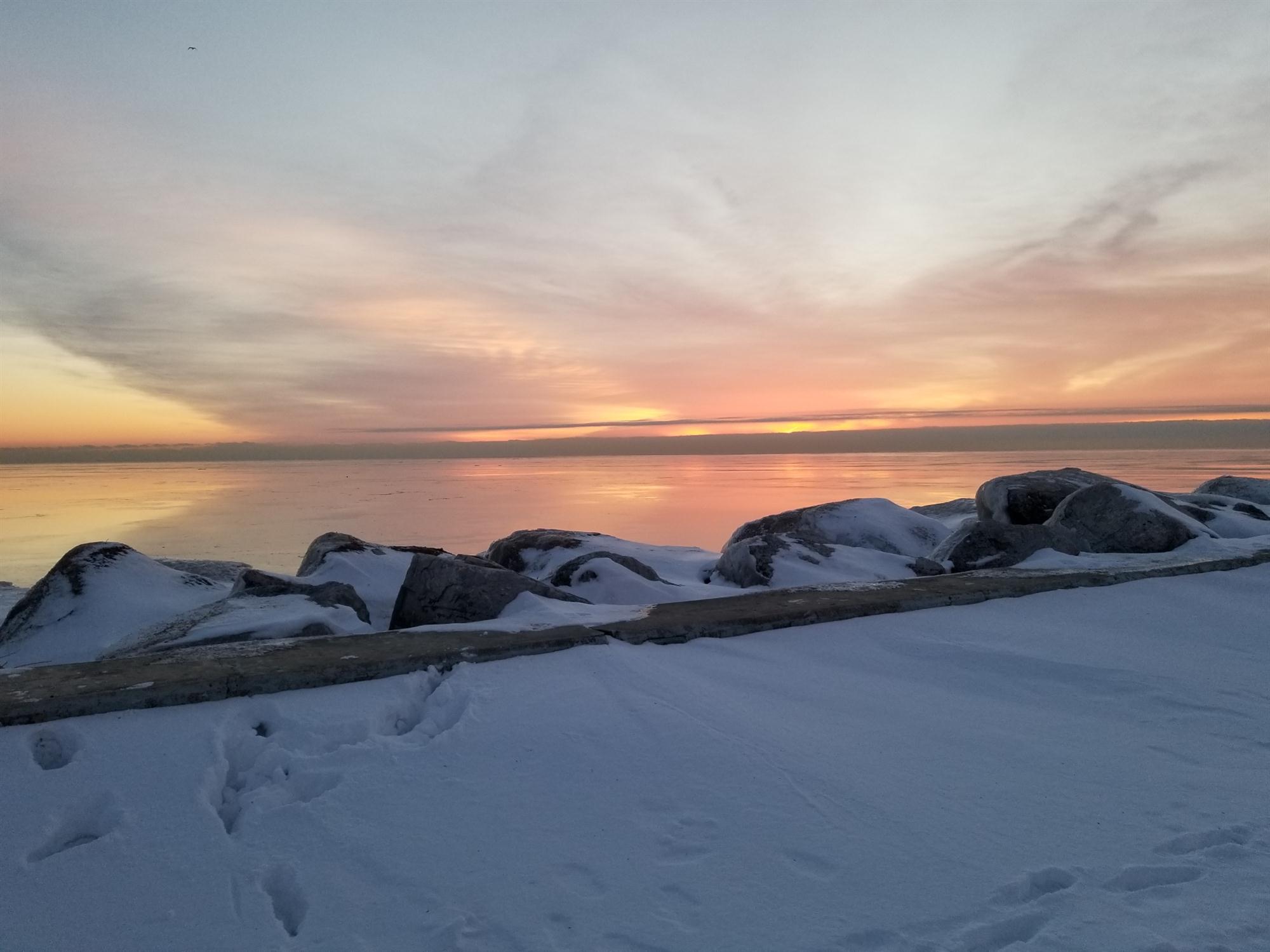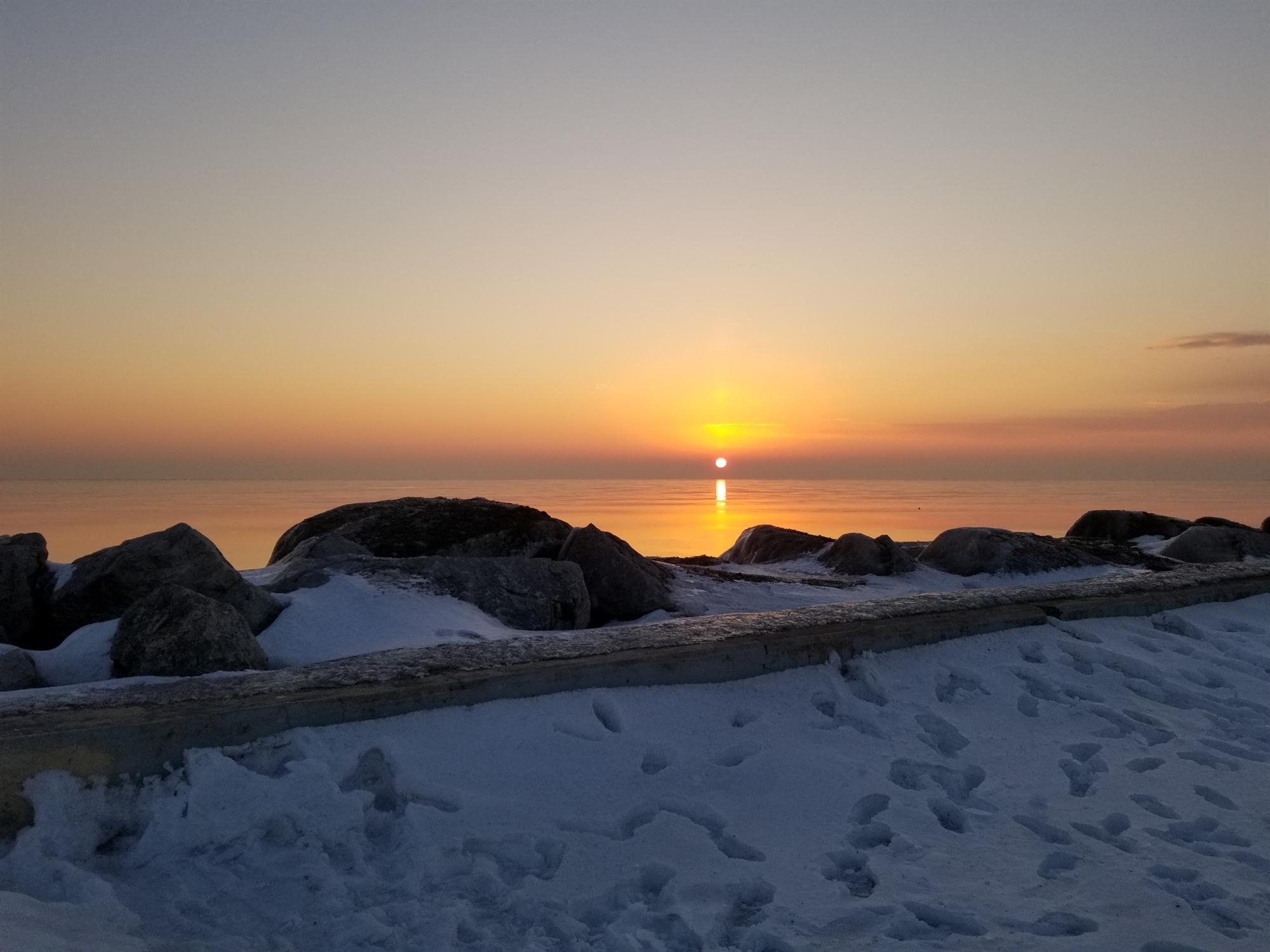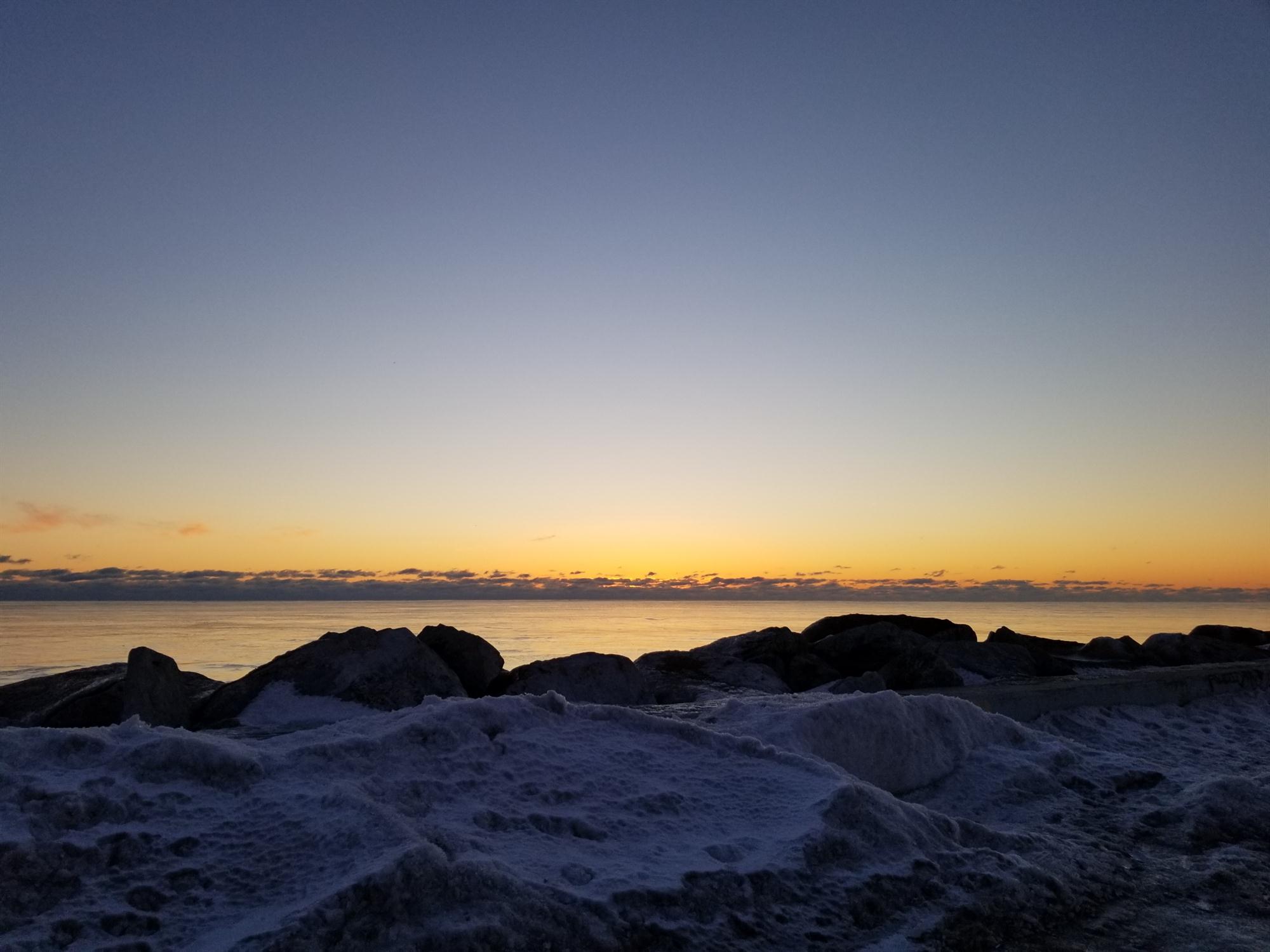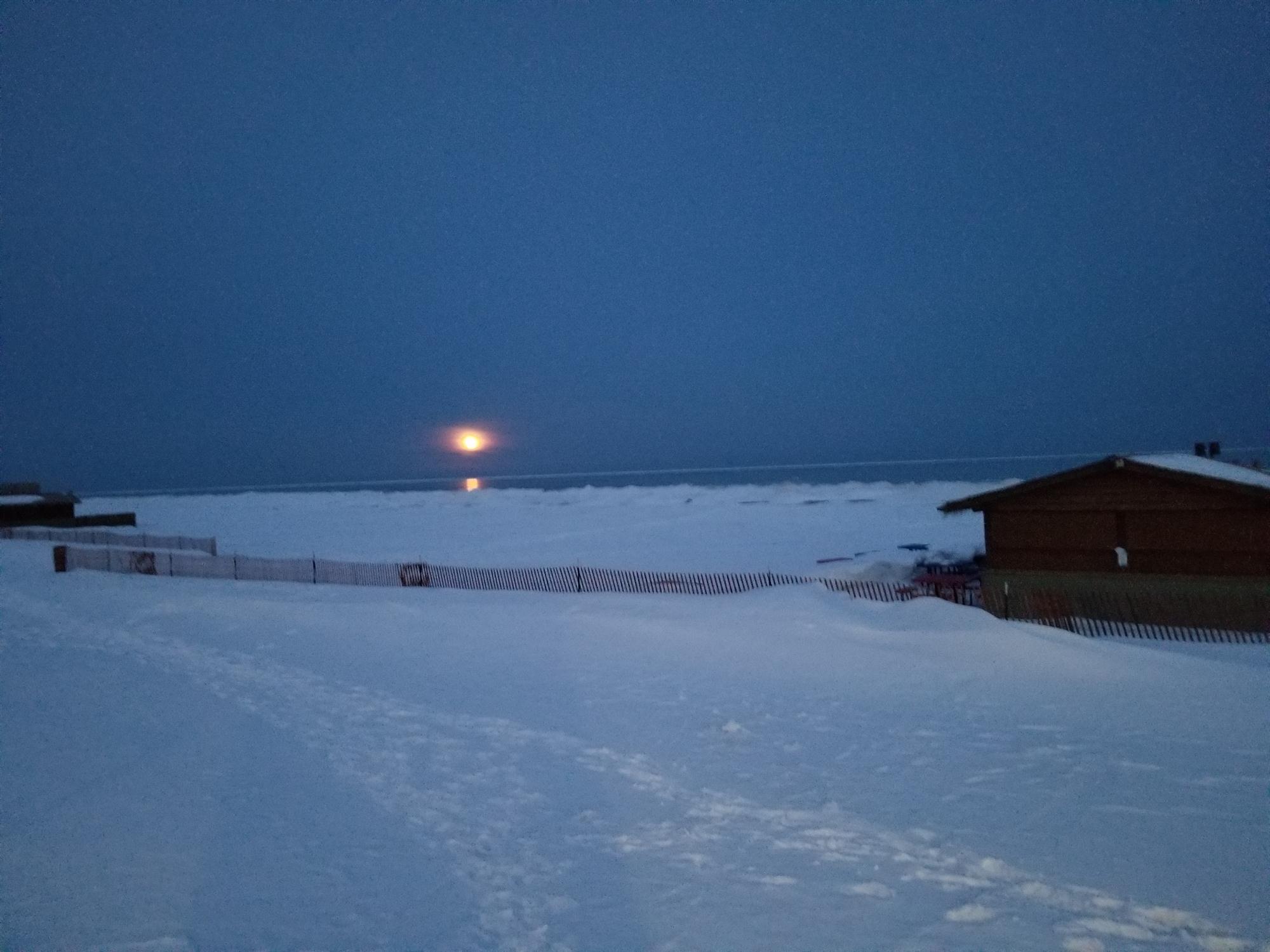 Report for January 13, 2019
This is my first report of 2019 and we are less than 3 months from catching our first fish Lake Michigan charter fishing. We hope to put in and fish the last week of March. In 2018 it snowed 4 times in April and that was probably as much as we got all last winter. This winter has been virtually no snow and mild temperatures. Our slip was actually open just a couple of days ago. In fact the entire marina was ice free. Winter will put the bite on us before it is all said but hopefully this will lead to an early spring. Last year we had our first trip schedule on the last day of March and it was cancelled due to high winds. My hope this year is to run a trip in March and November.
We averaged 15.46 fish a trip last season and we were very pleased with that. Stocking numbers are down but we have adapted by targeting all five species to put more fish in the boat. Long gone are the days we would go after Chinook for 3 months of the year. The good news is when you do tie into a Chinook the size is up and they give a great fight. The breakdown percentage wise on numbers is: 15% of the trips caught 1 - 5 fish. We did not get skunked in 2018 but did have two 1 fish trips. 24% of the trips caught 6 -10 fish, 26% of the trips caught 11-15 fish, 15% of the trips caught 16 -20 fish and 20% of the trips caught 21 - 30 fish. It is fishing and from day to day anything can happen but when are the best chances at good catches. May 15th - June 20th is the highest catch rate. The first 3 weeks of April, if mother nature cooperates, can be very good action and July 4th through the 3rd week of August is your best chance at Chinook. Again any day can be the hot bite but those 3 periods delivered some great action over the years.
I will go over April in this report. The primary fish of April is Brown trout. This is the best time to target Brown trout for the entire season. The fish average 2 to 12 pounds but we have boated some monsters, including a 33 pound Brown trout. We are usually fishing the harbor or the shoreline in depths of 10 to 40 feet of water. We use a spread or spoons for the most part. Cooper and gold spoons are usually are hot baits. We run 3 boards a side and these are 1, 2 and 3 color leadcores. We put out 2 mono dipsy rods and usually just 3 downriggers to target the bottom. The harbor will have the warmest water by the river mouth early in the month and can hold a lot of fish. Water clarity is our biggest problem during April With a lot of rain it can make the water too muddy but for the most part there is always a place to catch fish. We sometimes will head to the Oak Creek power plant, where fish and bait hold around the warm water discharges. The run time is about a half hour to get there but it usually pays off when it sets up. Again fishing is fishing and it can be tough on any given day but April is a month that we do catch limits when it sets up and it is the only time of year we can do that on Brown trout. As the month progresses we start to catch good size Lake trout along the shoreline. We see 10 to 15 pound Lake trout during this period. We have had Aprils in Milwaukee and Racine where the Coho salmon bite starts early and when this happens it can get crazy good. But for the most part it isn't until mid May when the Coho bite gets consistent.
April can be very productive but when you book a trip you must remember that this month is closer to the end of winter that the start of summer. Dress warm! But when it sets up this period is as good as any throughout the season. We do give an extra hour of fishing for free on any trip Monday through Thursday during the month and with less fishing pressure I love to fish on those days. We fish out of Milwaukee during April as we do for most of the season. Milwaukee gives us a vast harbor to fish in if the weather is not the greatest but it also gives us warmer water for better action during the period. Give Silver King Charters a call at 414-460-1467 to experience early season Brown trout action charter fishing Milwaukee. I decided to put some sunrise and sunset pictures from last season on this post.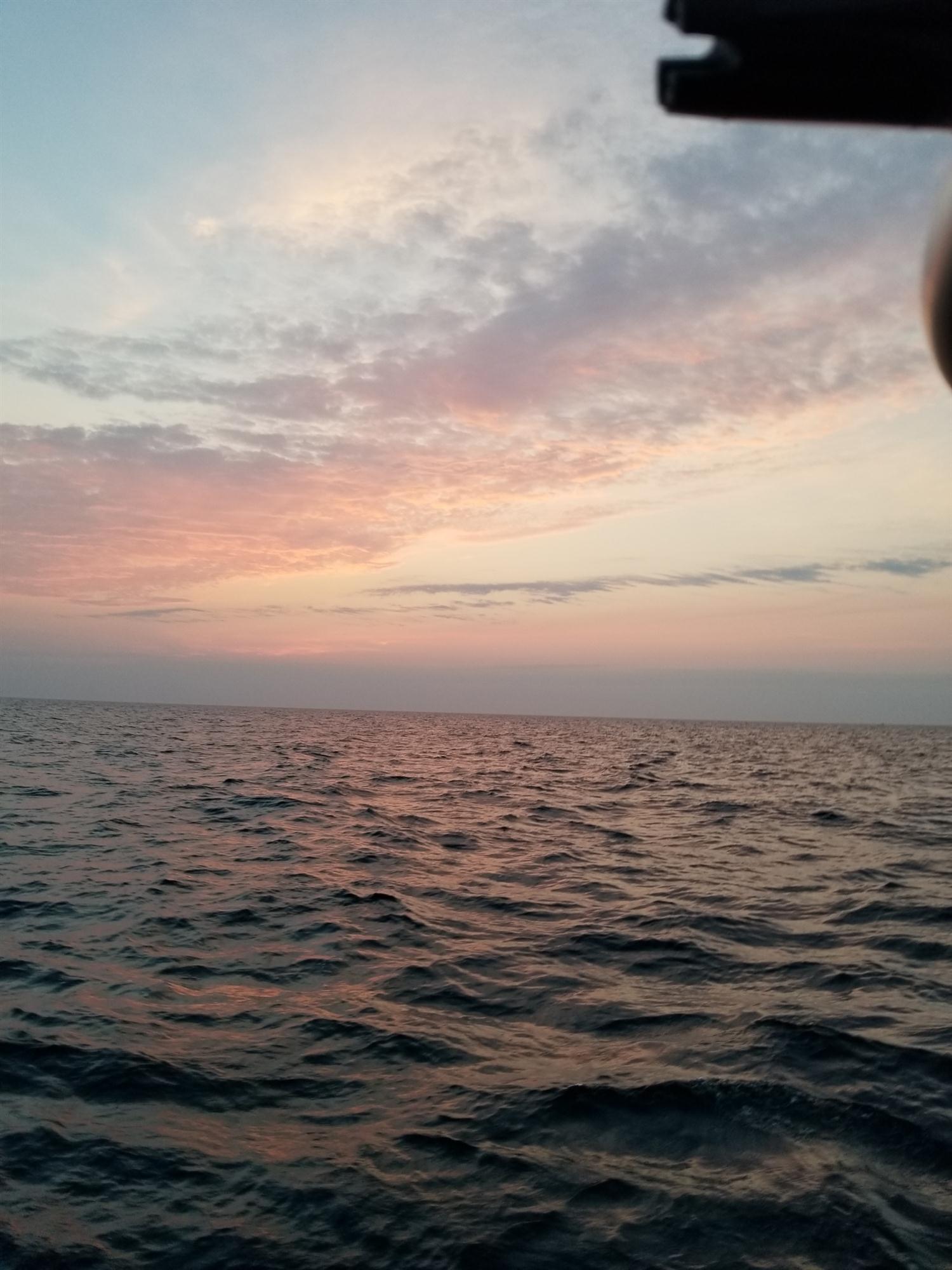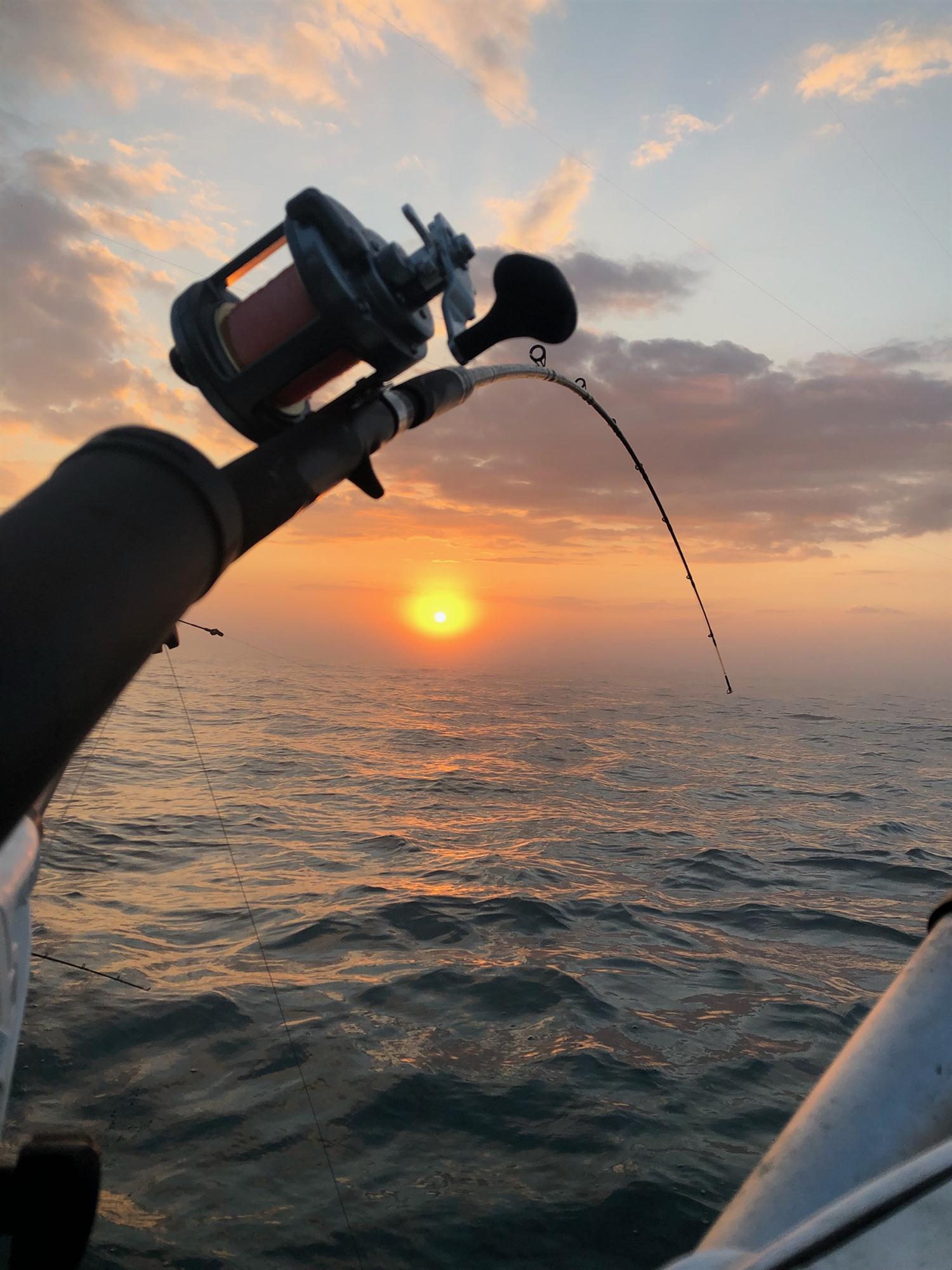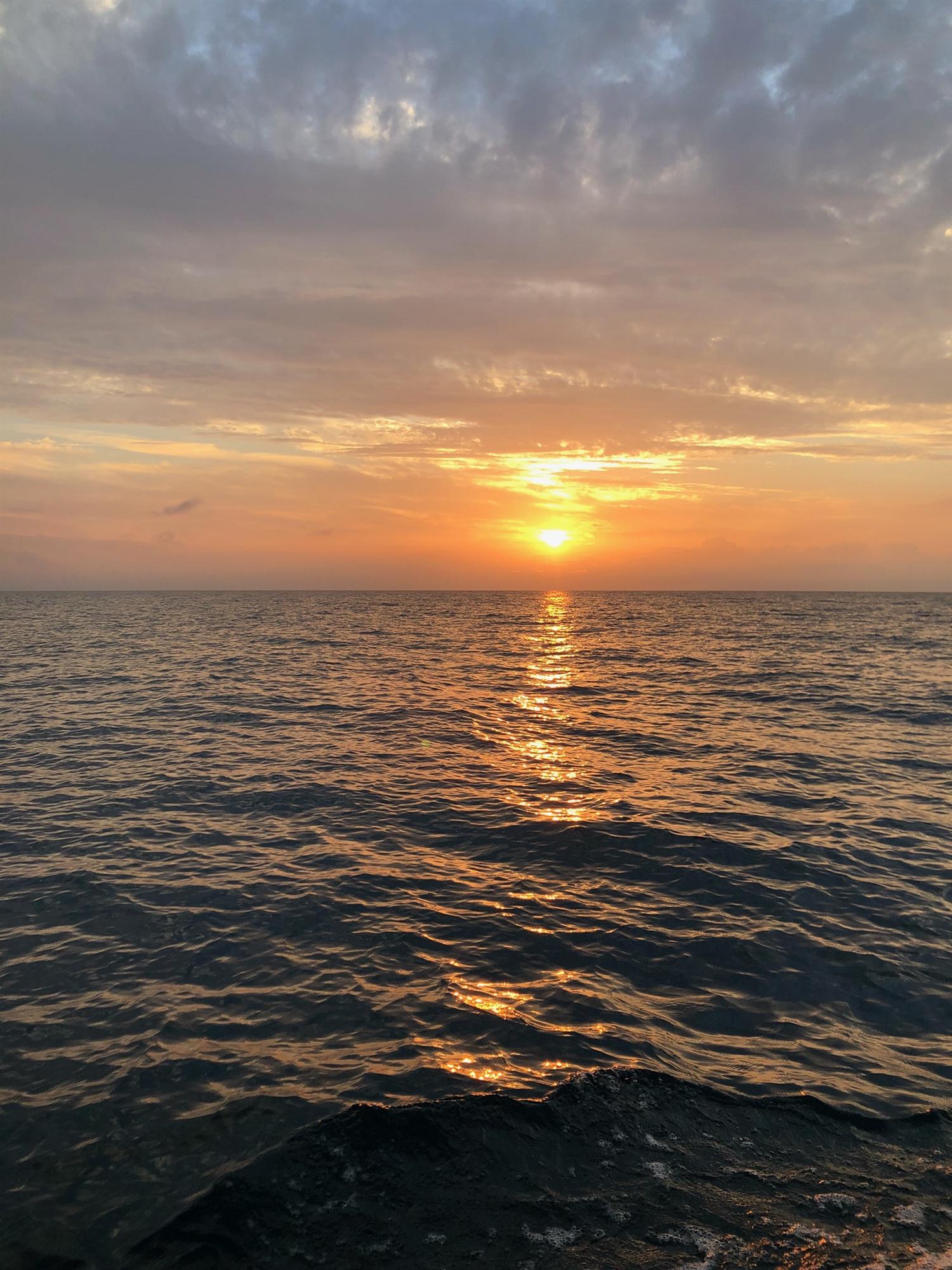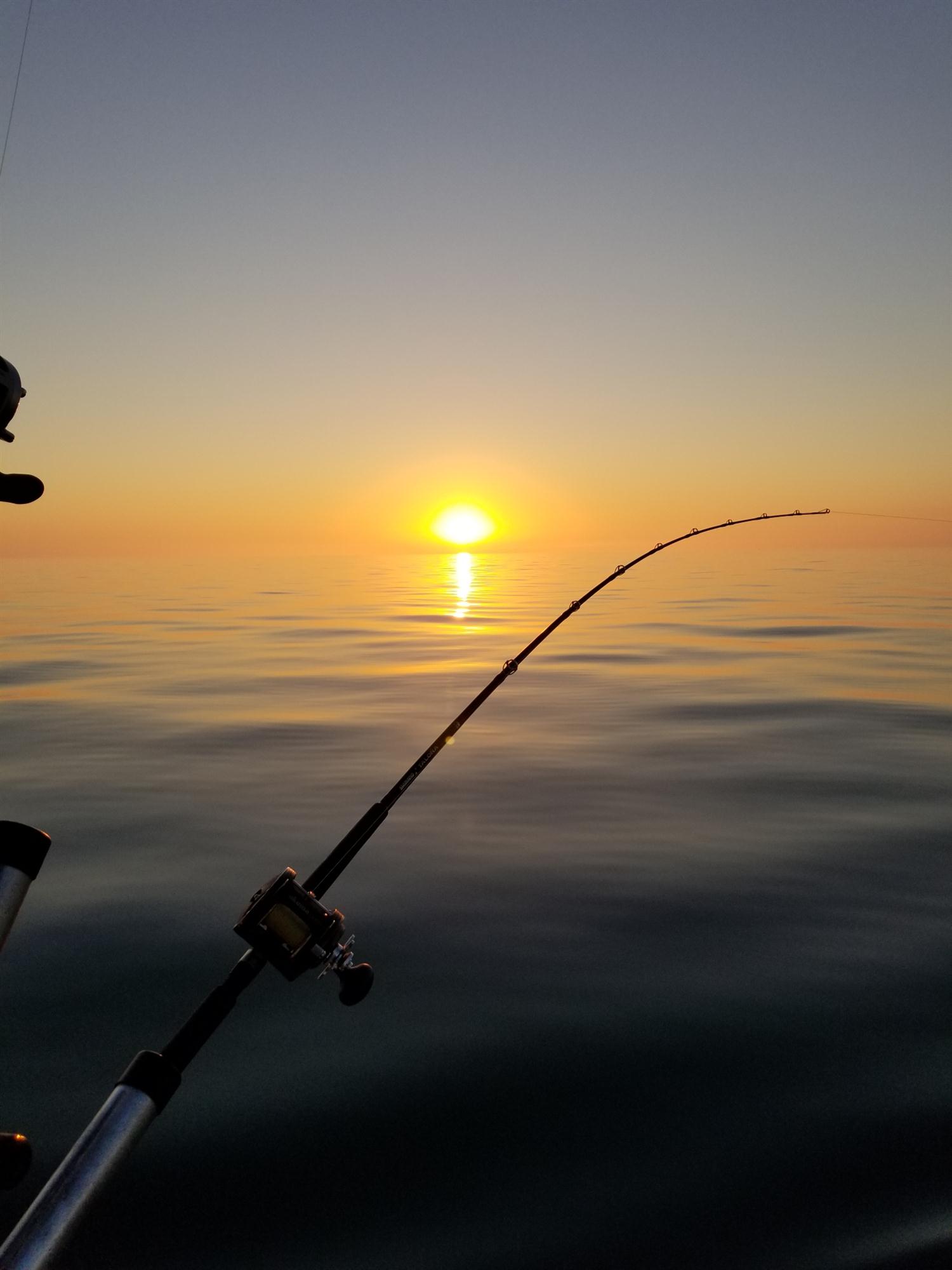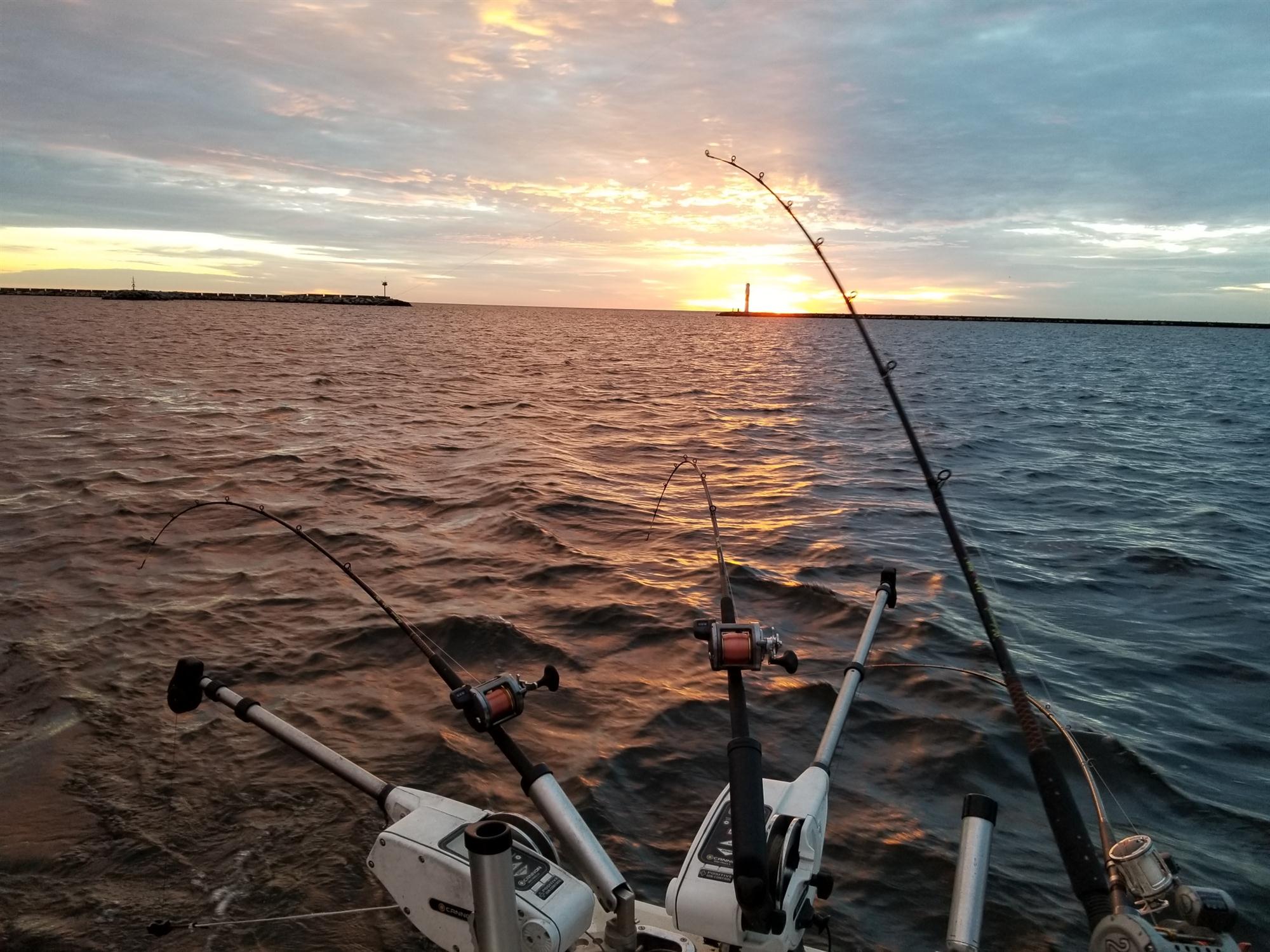 No reports yet this month.