*Note: Click any month to view reports.
January

February

March

April

May

June

July

August

September

October

November

December
Report for November 16, 2021
As of November 4th the boat was out of the water and in storage. The last couple weeks did not go as hoped and we only ran one more trip. The harbor water was still at 56 degrees and when we motored from our slip up the river there was little to no marks on the graph. In the end there was just too much warm water for this time of year. There was some great signs for next season. We were catching a lot of one and two year old Chinooks ranging 1.5 to 5 pounds. These fish were above average size and there were a lot of them around. We also saw a lot of very small alewives in the stomachs of fish we caught out deep. The Rainbows and next year Coho salmon were stuffed with them The Coho were fish you could fillet. The Lake wide stocking numbers for Coho have not been released yet but the survival should be good. We hope that the alewife hatch looks good lake wide and the salmon numbers will be up in 2022. We just need them to be swimming in our part of the Lake Michigan.
We are taking reservations for 2022 and weekends fill up quick, so call Silver King Charters at 414-460-1467. We will be back in the water as soon as the ice leaves the marina and we hope that is by the last week of March. We will breakdown the 2021 season over the next several months as we get all the gear ready to catch fish in 2022. The pictures are of the biggest fish we boated in 2021, which was a 34lb Chinook salmon. Also attached is a picture of the first fish and last fish of 2021, which were a Brown trout and lastly a Rainbow trout. We boated a 13 fish per trip average and there were some clunkers during that period but way more smiles. Thanks to everyone who fished wiht us and made the 2021 season very special.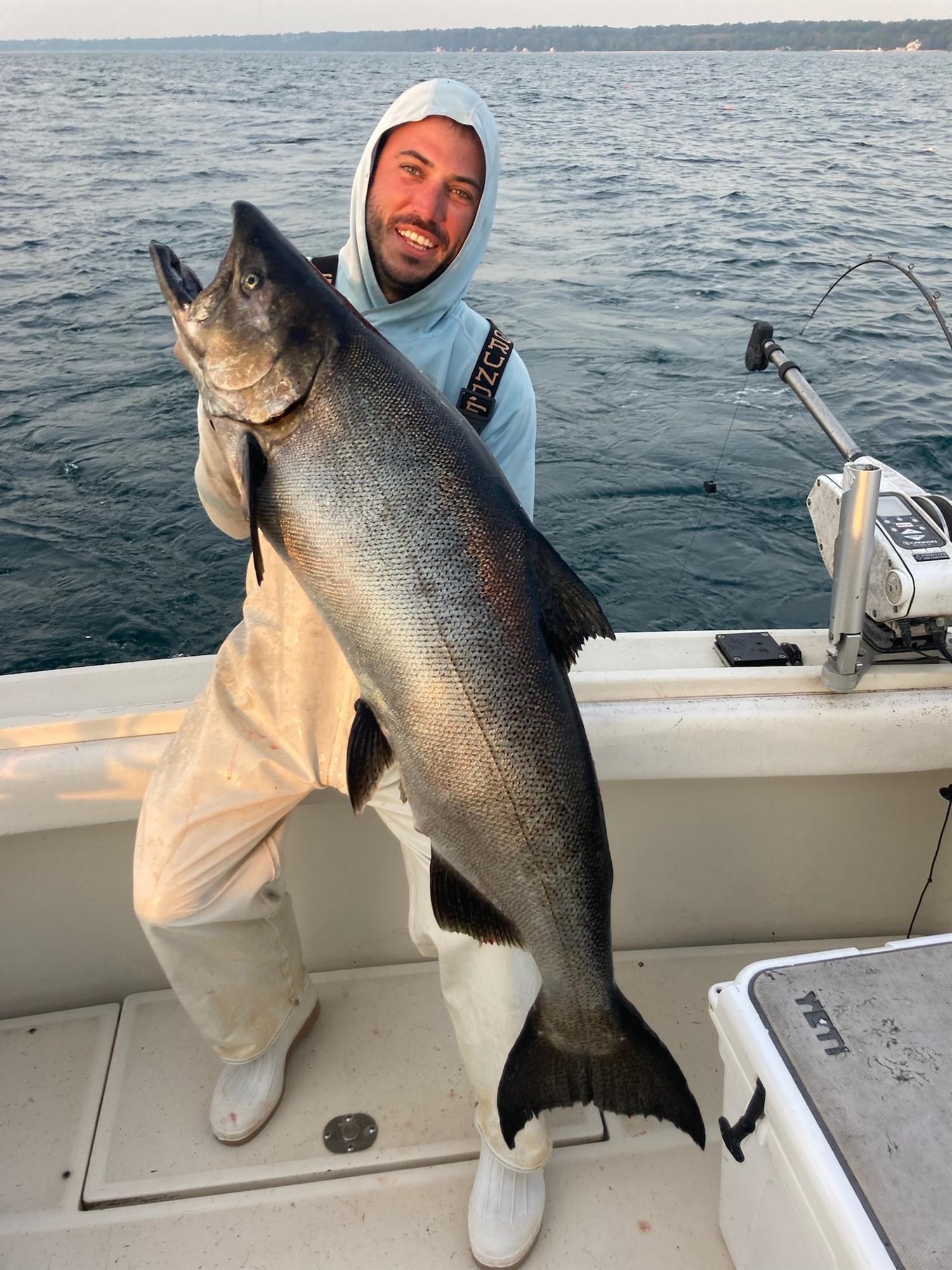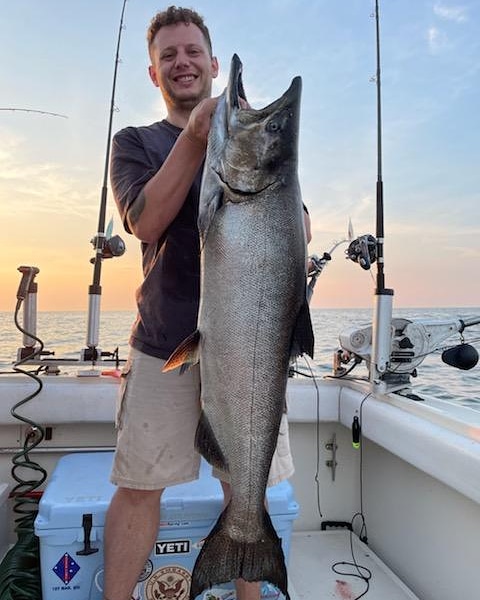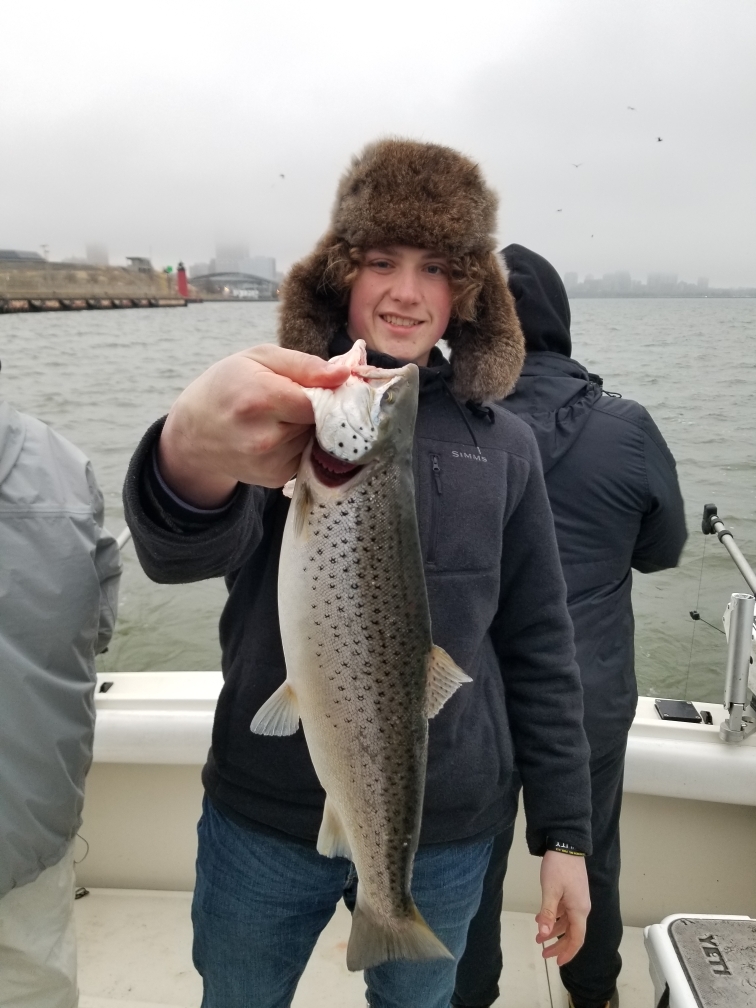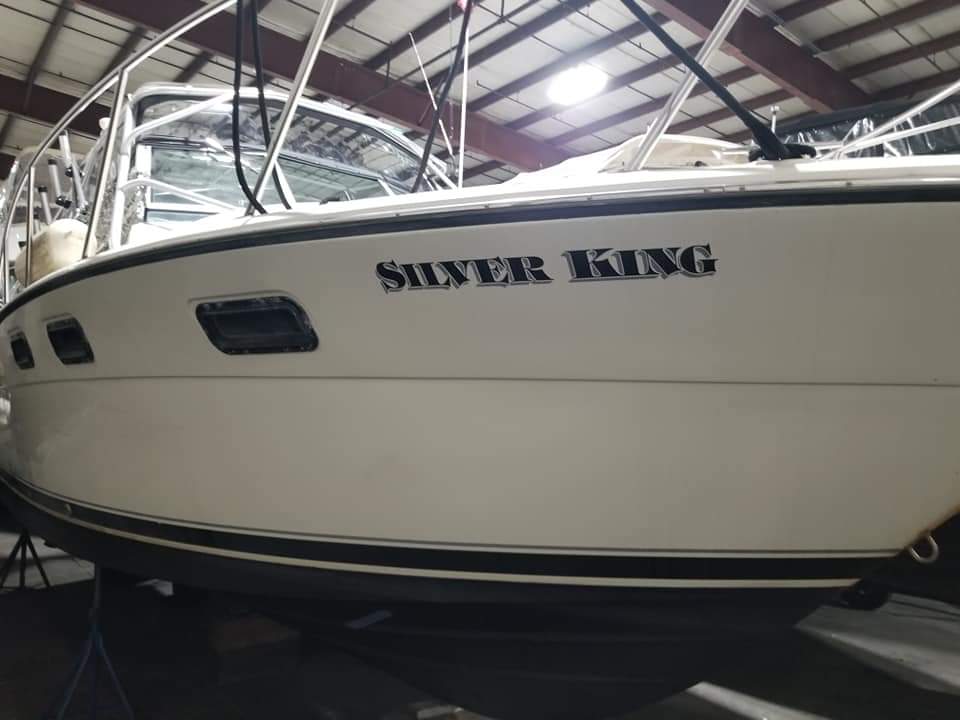 Report for October 28, 2021
We are at the end of October and the fishing did not live up to the last two years. In 2019 we had some of the best Chinook salmon fishing in years during the last three weeks of October. It started in 170 feet and finished in 80 to 100 feet just north of Milwaukee. It was incredible good and this year looked as if it could be somewhat like that. Warm water and rough seas ended any hope for a repeat. Although the first part of the month was good King fishing. Just 3 days ago the water was still 60 degrees at the surface and 59 degrees down 100 feet. In 2020 the water off Milwaukee froze out at the end of September and stayed in the in the mid 40 degree mark from top to bottom right through October. This set up a great Lake trout bite in 15 to 30 feet of water. We were taking limits until we pulled in November. Waves were not causing poor water clarity either. But this year the water was way to warm for this bite. The harbor is always an option but we fished that October 24th and the water was 60 degrees from top to bottom. Just a bad set up for this time of year. We love Ocotber fishing because some great fishing usually sets up. Too much warm water and northeast winds in 2021. Hope 2022 we get back to crushing October salmon and trout.
The first two weeks of October we did have decent fishing in 150 to 200 feet of water north of Milwaukee. There was a lot of bait and most of it was near the bottom. We eventually ran just four lines on our trips, which is unusually. But after several trips we could see that these were the only rods catching fish. We ran two downriggers set at 180 and 160 feet down. These both had 11 inch white flashers, with little boy blue flies on them. We ran two wire dipsies, using the big size dipsy dialed in at 15 degrees. We used white 8 inch flashers with little boy blue flies on them. We trolled slower than normal to keep the baits deep. The bite was mostly Chinook between 2 and 15 pounds. We averaged 10 to 25 bites a trip. There were also some Lake trout and a few Lake trout. If we could of had the water cool down some this could have been a great bite.
The good thing for next season was there were a lot of 2 year old Kings that were already good size. Next years Coho salmon were already fish you could fillet and some of the fish we cleaned were full of very small young of the year alewives. Hopefully all of Lake Michigan saw this kind of hatch and survival of alewives from this years spawn. Next year could be even better salmon fishing than we experienced this season.
Call Silver King Charters at 414-460-1467 to book your 2022 trip. We hope to be in the water by the last week of March and keep catching fish through the end of October. Attached are a few pictures from the first two weeks of October. The Rainbows where caught out in 300 feet of water, the Chinooks in 180 feet and the beautiful Rainbow was possible the last fish we land this season and was caught in the Milwaukee harbor.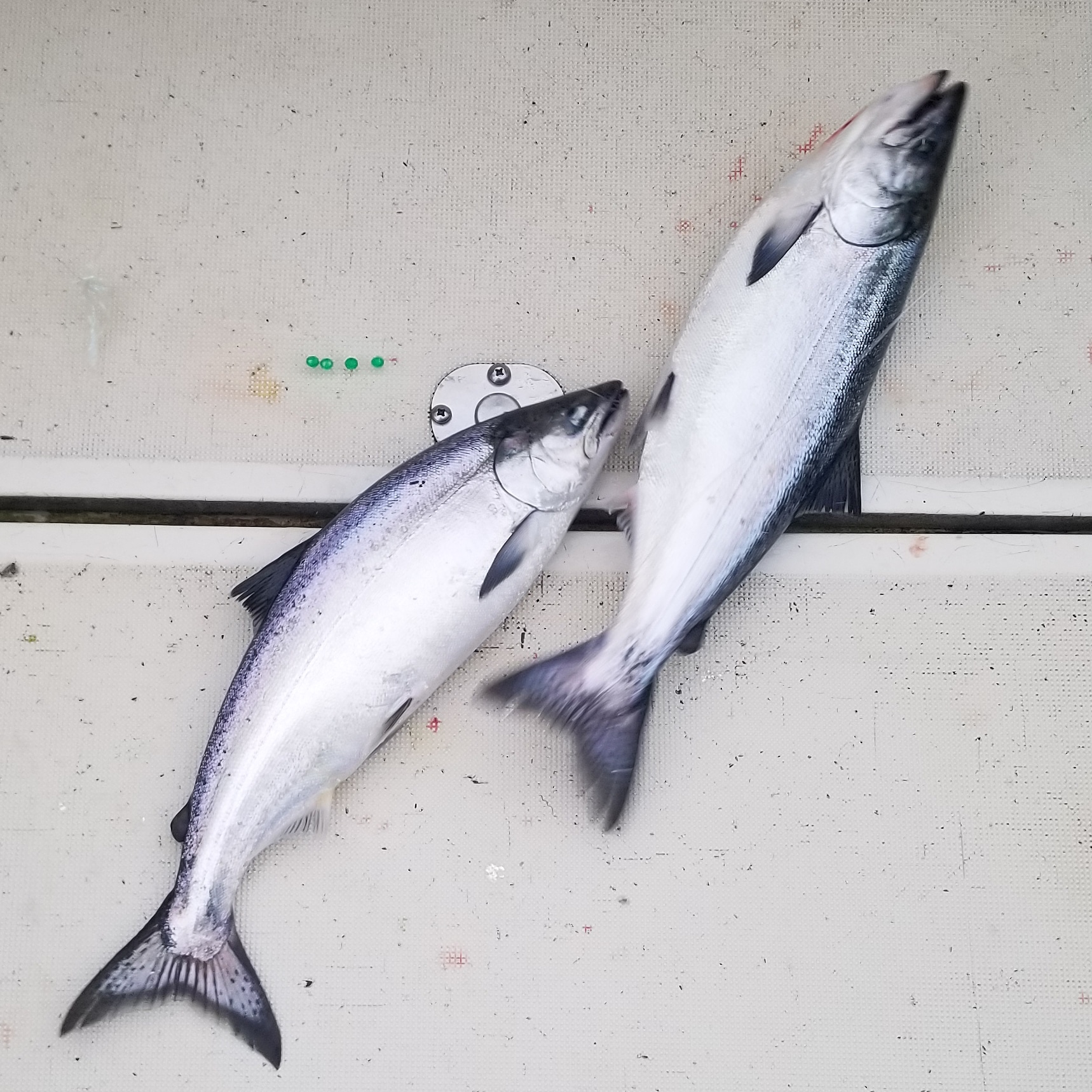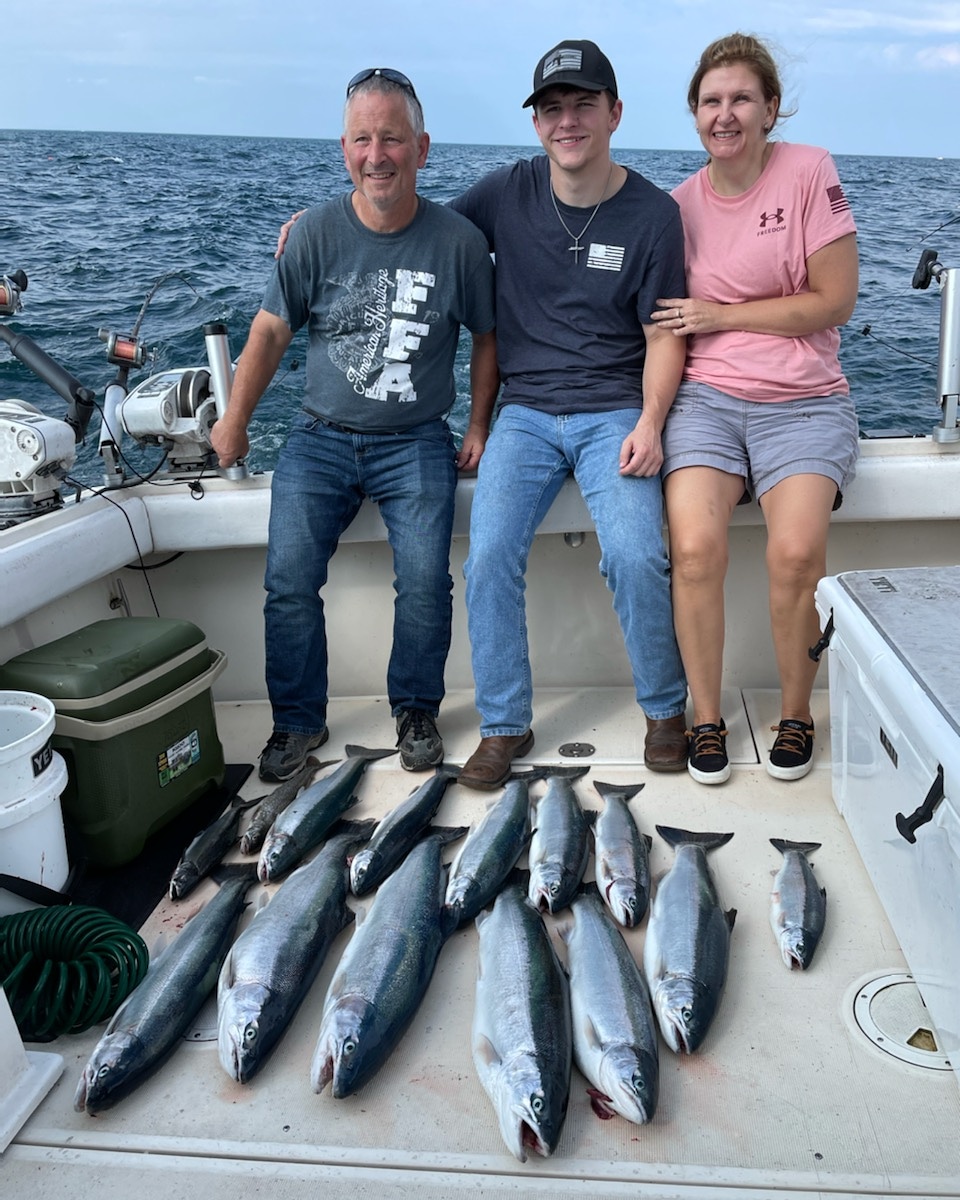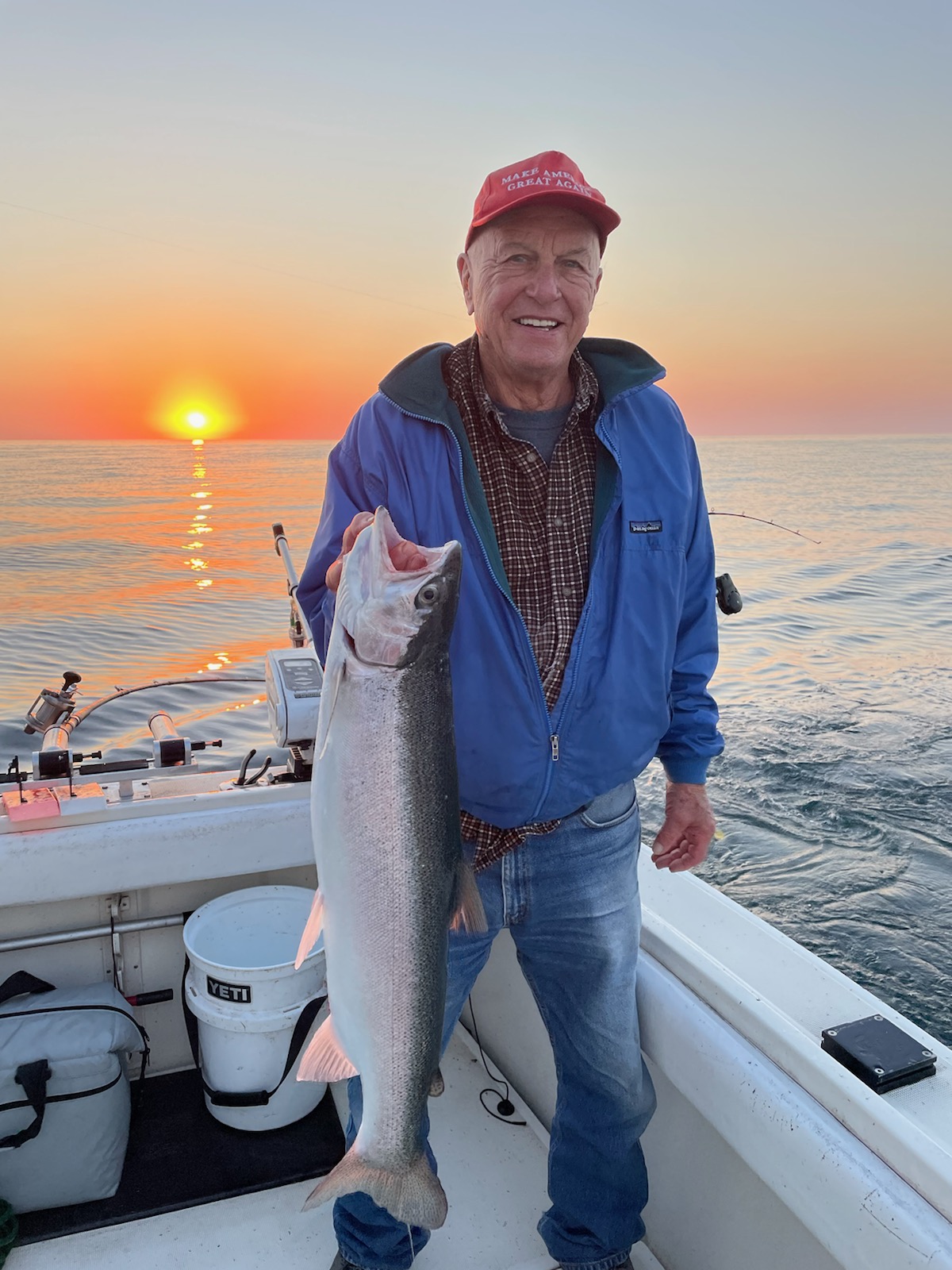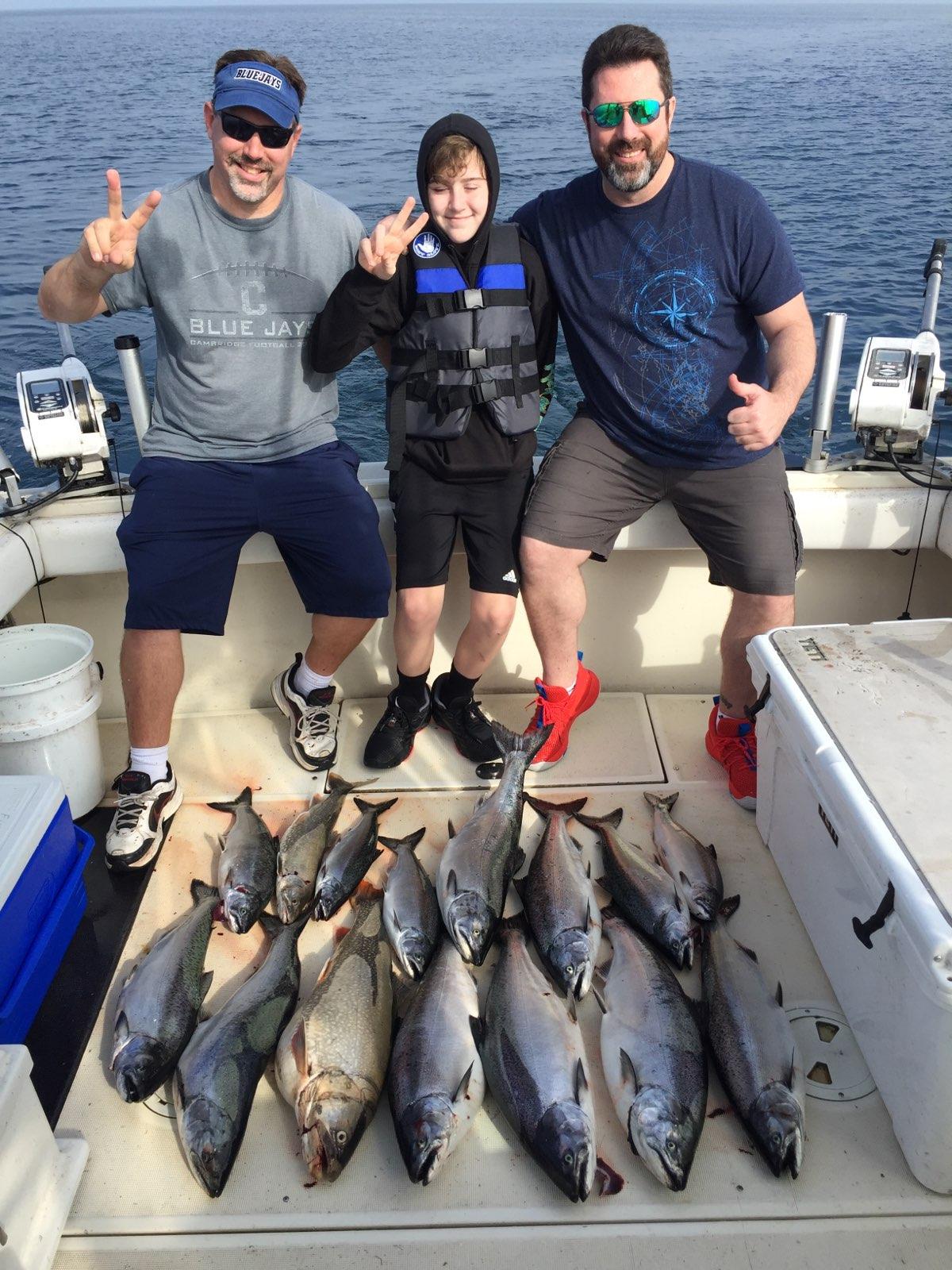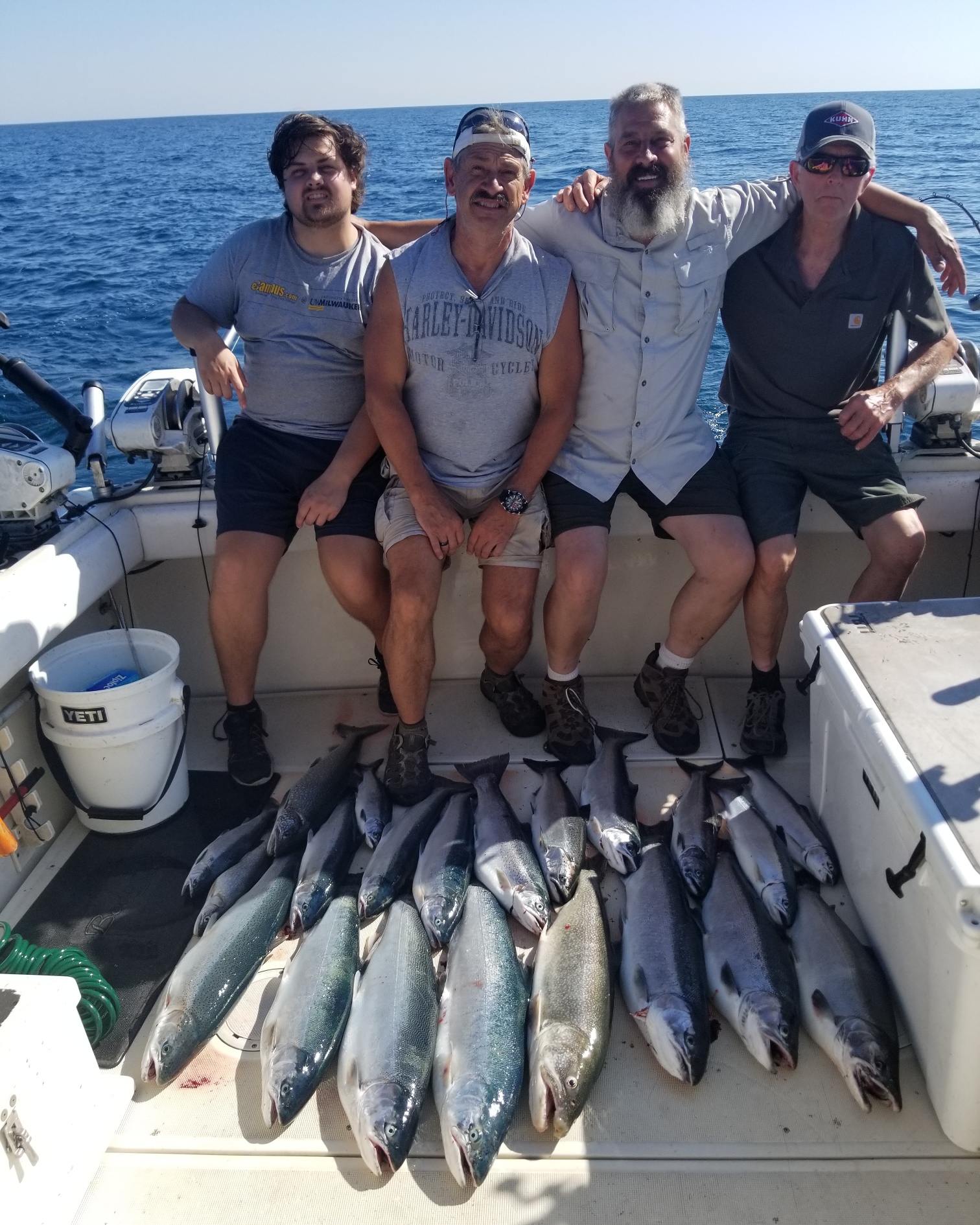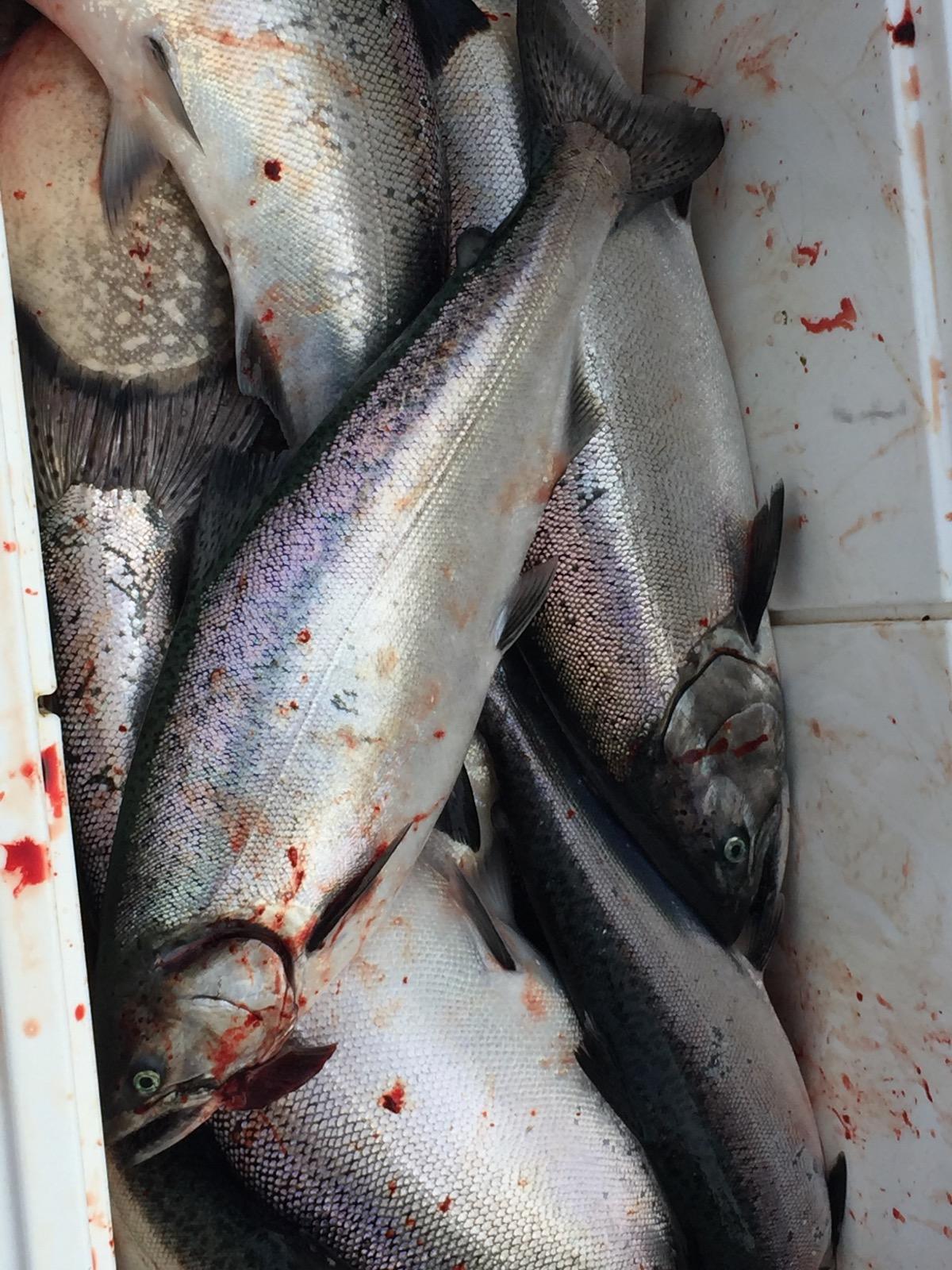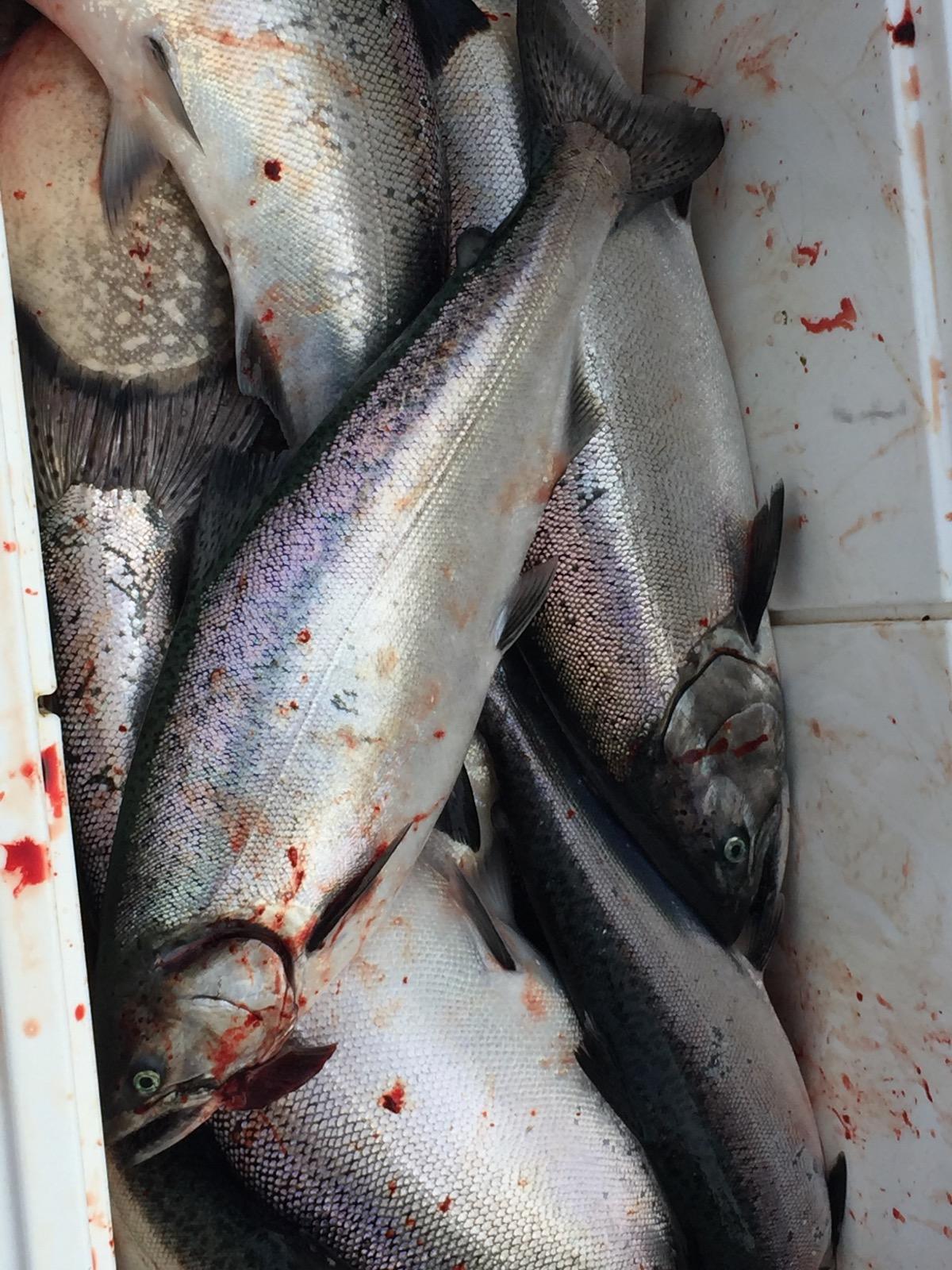 Report for September 1, 2021
The first day of September and big Chinooks are showing up in the Milwaukee harbor area with a couple of fishermen have caught Chinooks over 30 pounds already. The action offshore has also been good for Steelhead. We have been fishing between 150 to 250 feet of water just north of the Milwaukee harbor and catching 5 to 15 Rainbow trout a trip along with Lake trout, Chinook and Coho salmon. But the best bite is Steelhead. We will be running harbor trips for big Chinooks but the offshore fishing has been too good as of late. The harbor bite is tough due to warm water from top to bottom, making the fish less active. But first light and just before sunset we can catch a few and the size is worth it. There have been a good amount of immature or none spawning Chinook around and we are hoping that this leads to some good fall salmon fishing like we had in 2019.
The break has been around 50 to 65 feet and this may change with the current northeast blow. We have been running 150 - 350 coppers on our boards. The gold hud Stingray and NBK green UV stingrays have been best. We are using magnum dipsies set at 175 on the line counter. The little boy blue Howie fly and the little boy blue Hot Spot flasher is best on these and our deepest rigger down 120 feet. We run a 75 rigger with the original Willy fly. There is absolutely no comparison to the knockoffs. We have a green Hot Spot paired with this fly. On the up high riggers we are using the green NBK UV Stingray on a one and two color leadcores set at 35 and 45 feet. This set up over the last week has been very good. The problem is Steelhead have a tendency to jump off the hook
There will be some great action over the next two months and we are even hoping to run a couple trips in November. Call Silver King Charters at 414-460-1467 to get in on some fall salmon and trout action. Below are some pictures of our last few trips. The Rainbow trout have been very fun to fight.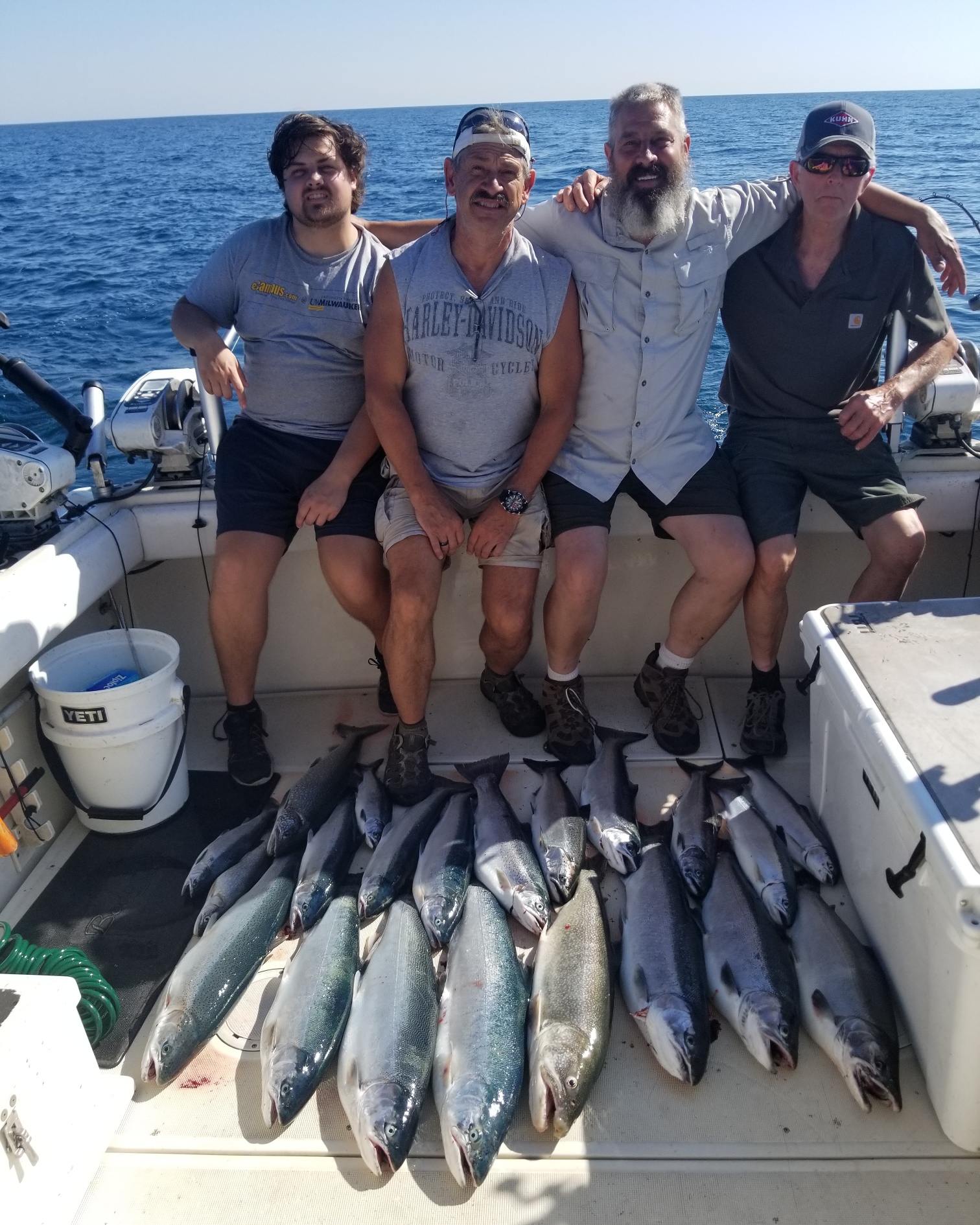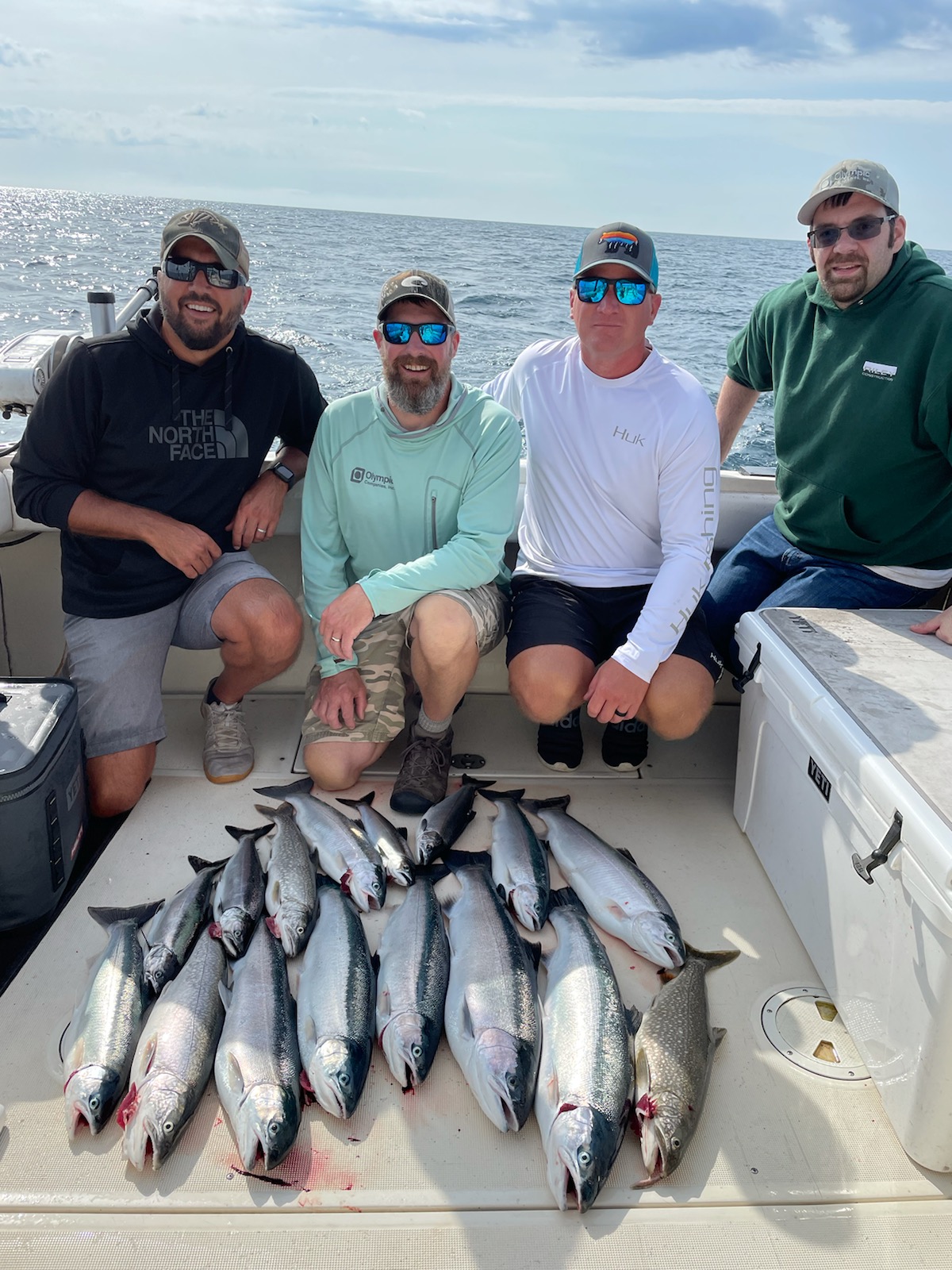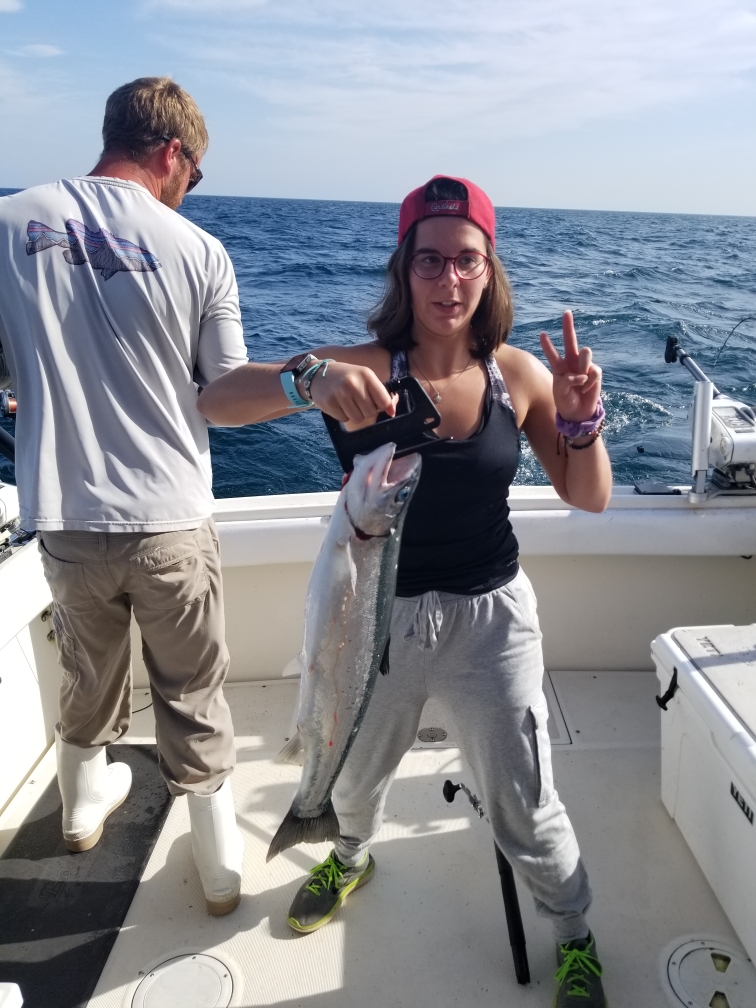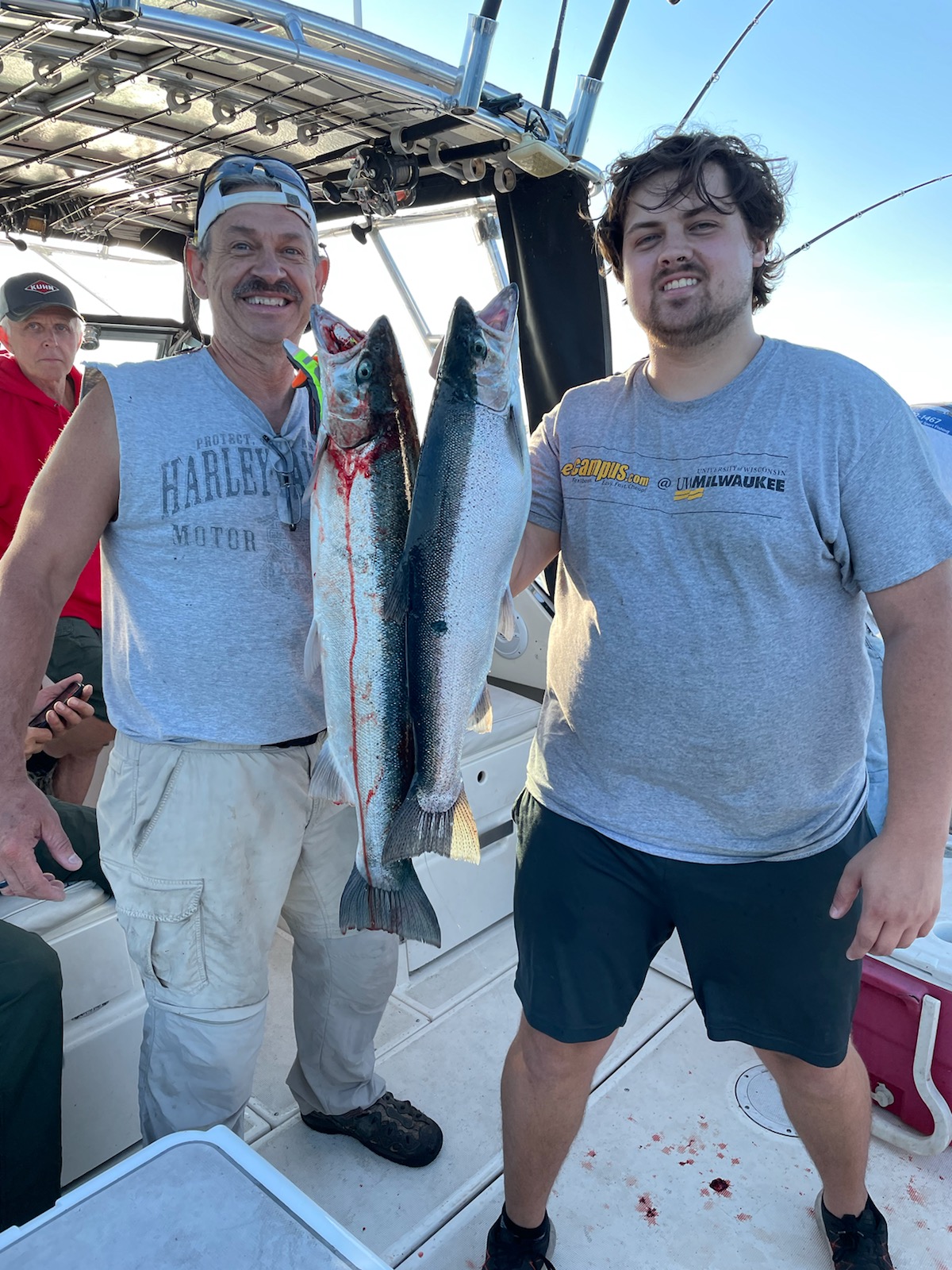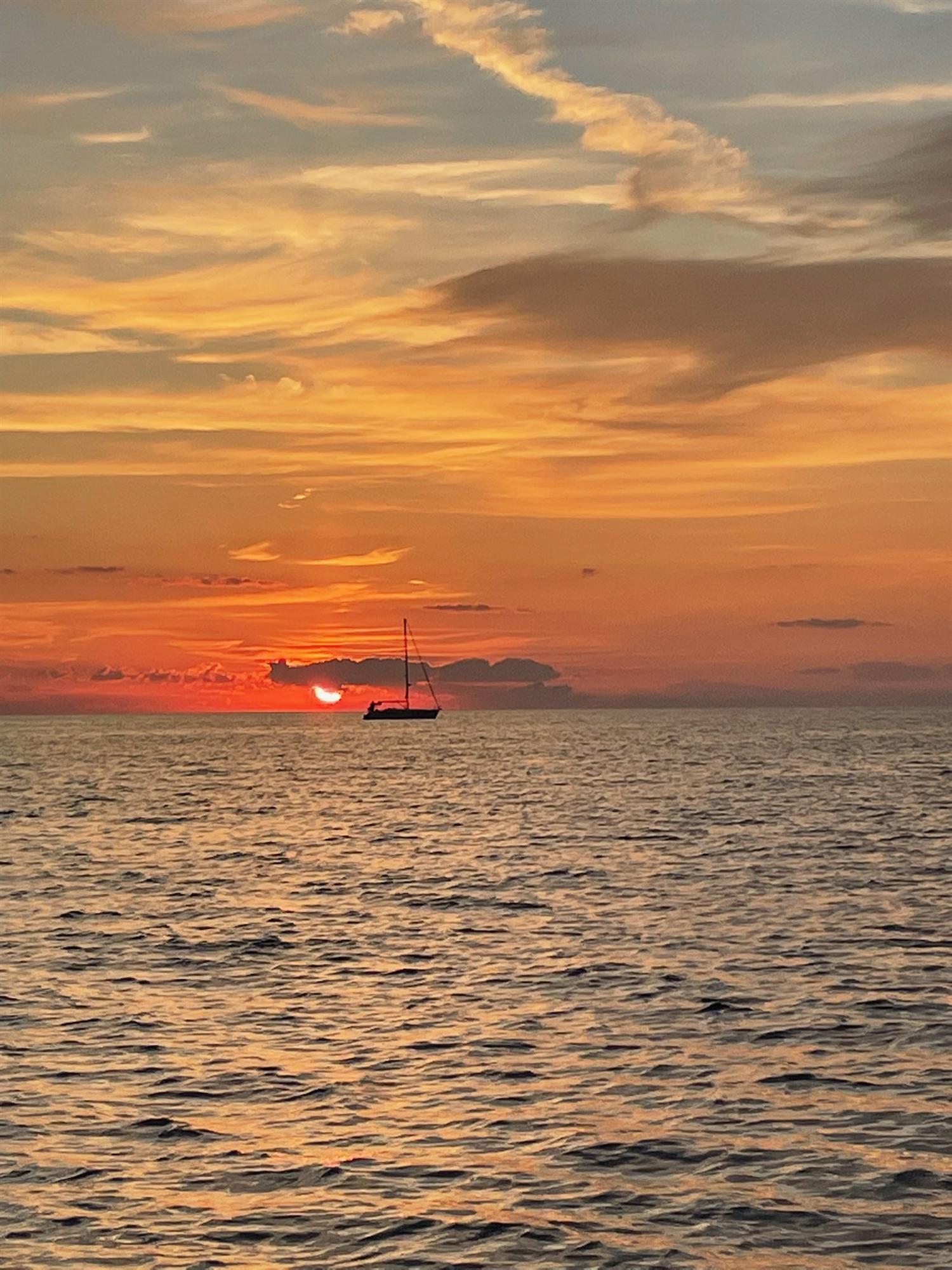 Report for August 28, 2021
July and August have been solid fishing and this is also the best time to catch Chinook salmon. We have already boated more Chinook this year then we have for a season since 2016. We have also boated are largest King salmon on a charter at 34 pounds and 46 inches. There was a new Michigan state record for Chinook salmon caught several weeks ago that was over 46 pounds. There have been two Chinooks caught out of Milwaukee that were both 38 pounds. Now the scale of 30 plus pound Kings is down from last year but there are some even larger being caught then previous years. Good supply of bait, reduced numbers competing for the food and some fish living a fifth season has lead to some monsters. But what is more promising is the number of Chinooks showing up in the catch. We are seeing a lot of 1.5 to 5 pound Chinooks. The small ones are healthy and should be as big as a spring Coho this fall. The reason is increased stocking of Chinooks lake wide last year. The stocking went from 1.55 to 2.41 million last year and it is very evident.
Spoons have flat out been the hot ticket over flasher flies for the last several weeks. We have been using gold and silver HUDS both stinger and stingray size along with the UV green dolphin. Leadcores from 3 to 8 colors and coppers from 125 to 250 feet. We are also using 1 and 2 colors on the up high riggers. Little boy blue flasher and fly combos on wire dipsies have been solid. We have been anywhere from 30 to 180 feet of water over the last 2 weeks and there has been a lot of bait around. With a good Chinook bite in 110 feet or less and a good Rainbow bite in 150 to 200 feet the fishing is good and if the bait sticks around this could be a very good fall.
The next three weeks is the last time this year for us to target the big Chinook salmon and we hope to boat another 30 plus pound fish and it would not be a stretch to see one over 40 pounds caught out of Milwaukee. Give Silver King Charters a call at 414-460-1467 to get a shot at some great September and October fishing. Below are some pictures of some big Kings caught recently, including several of the 34 pounder and a Pink salmon we boated. We have caught several of these this year.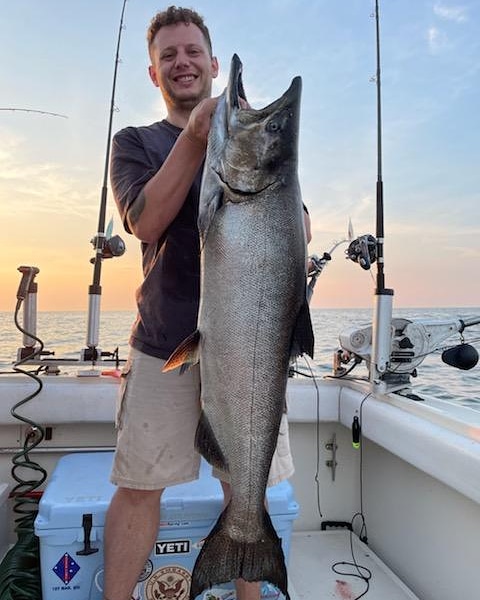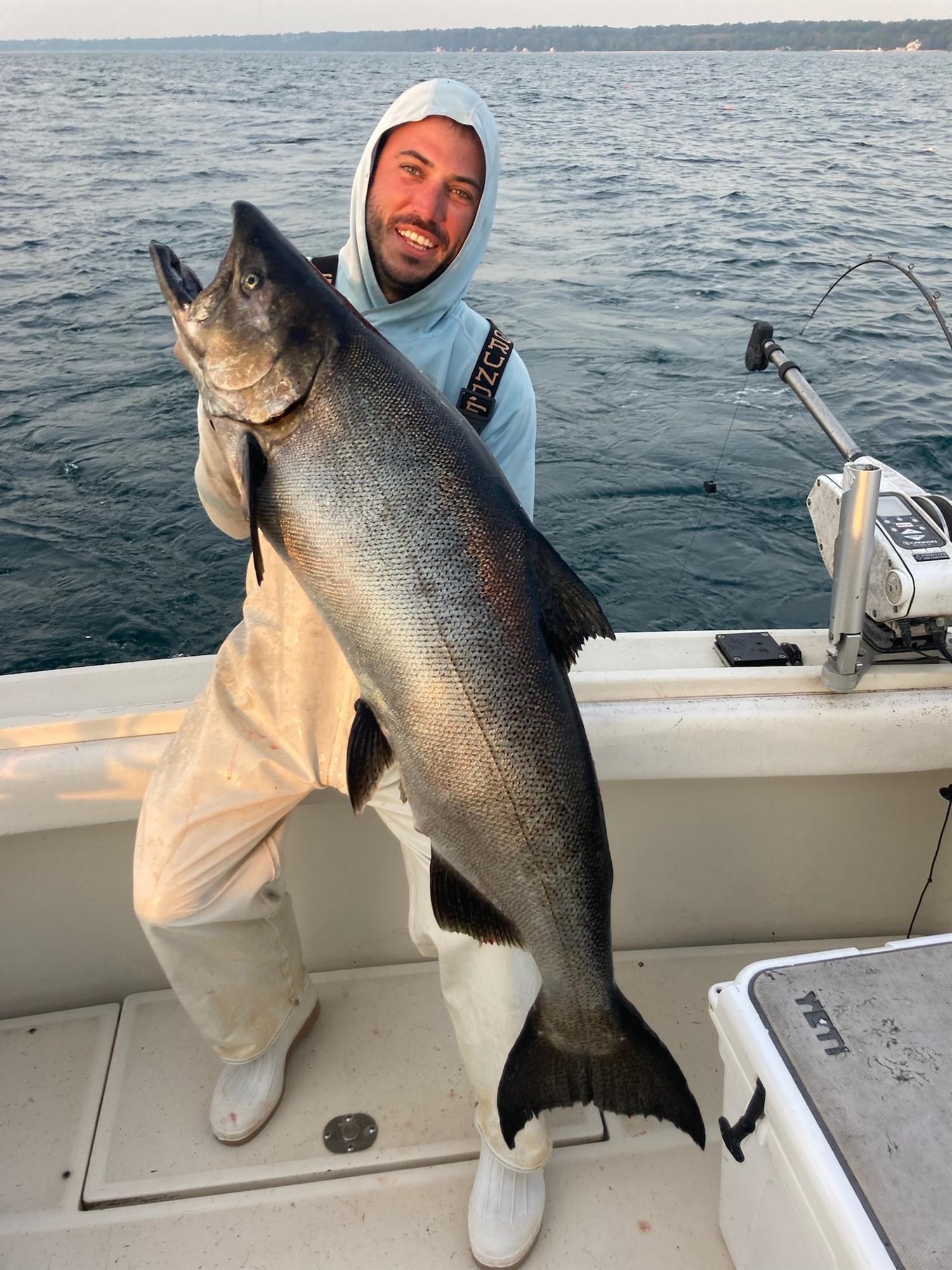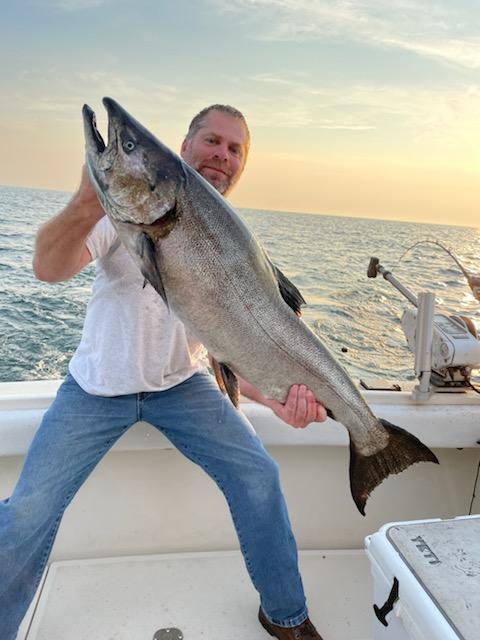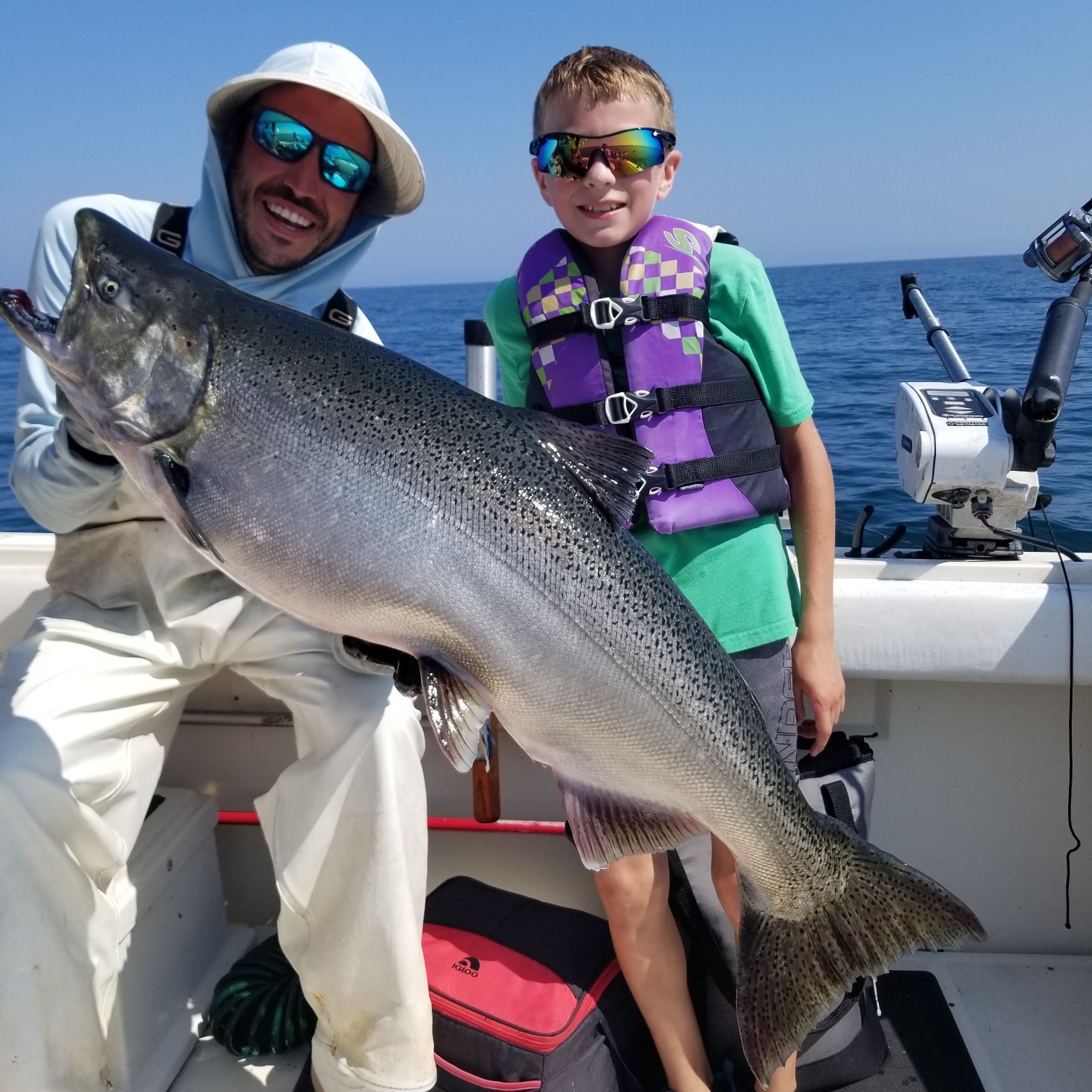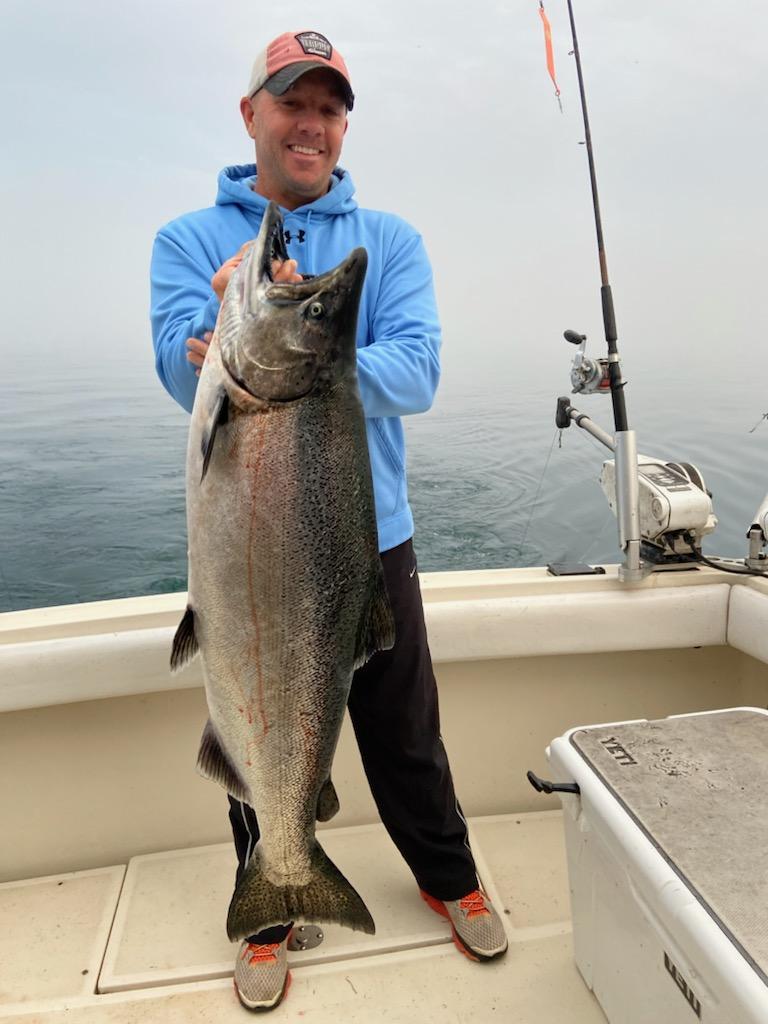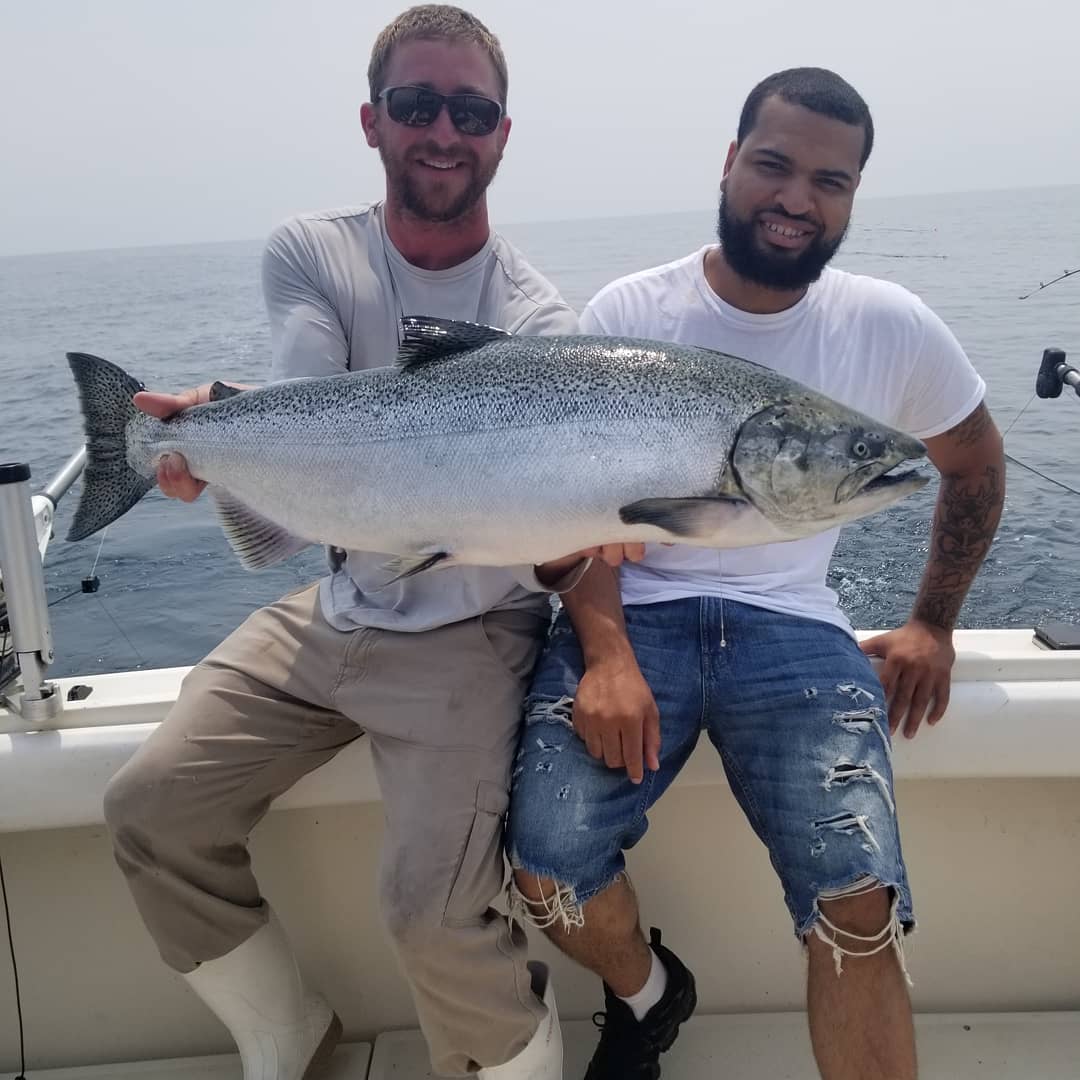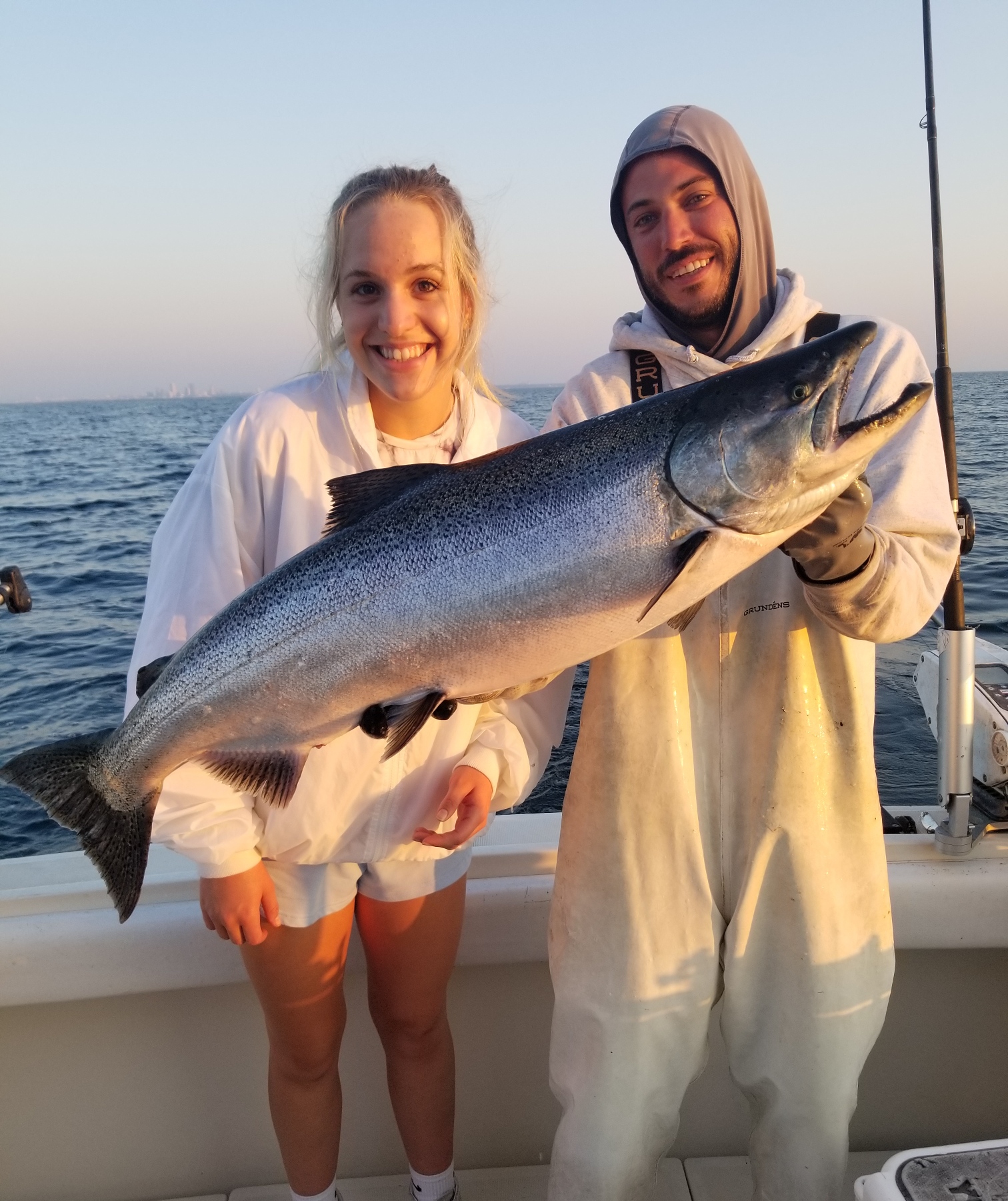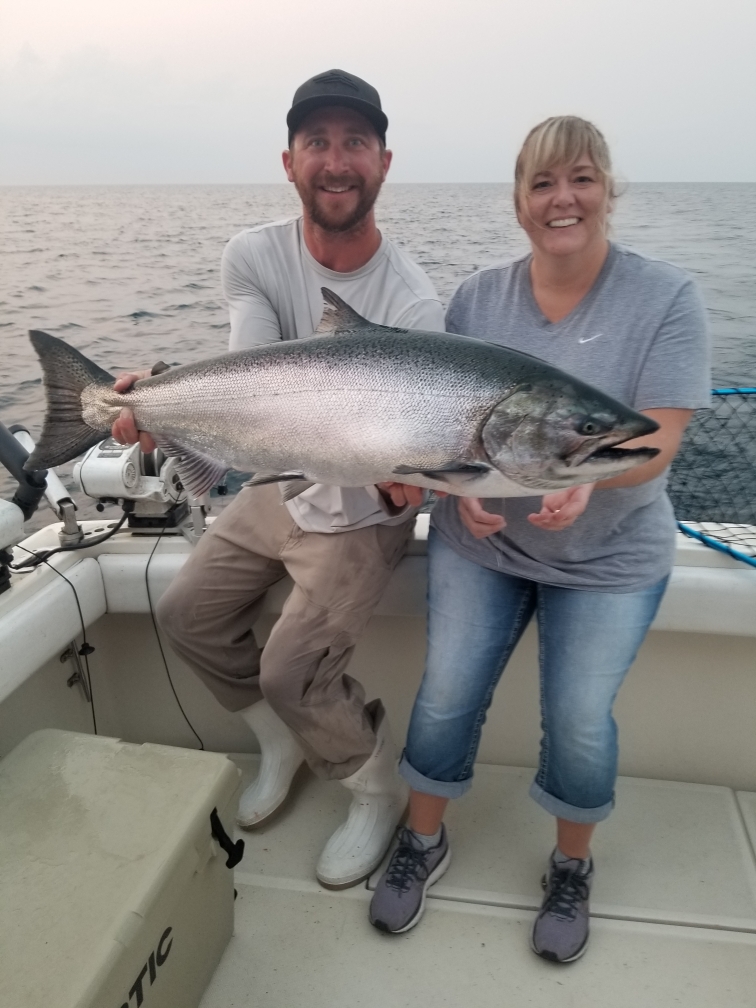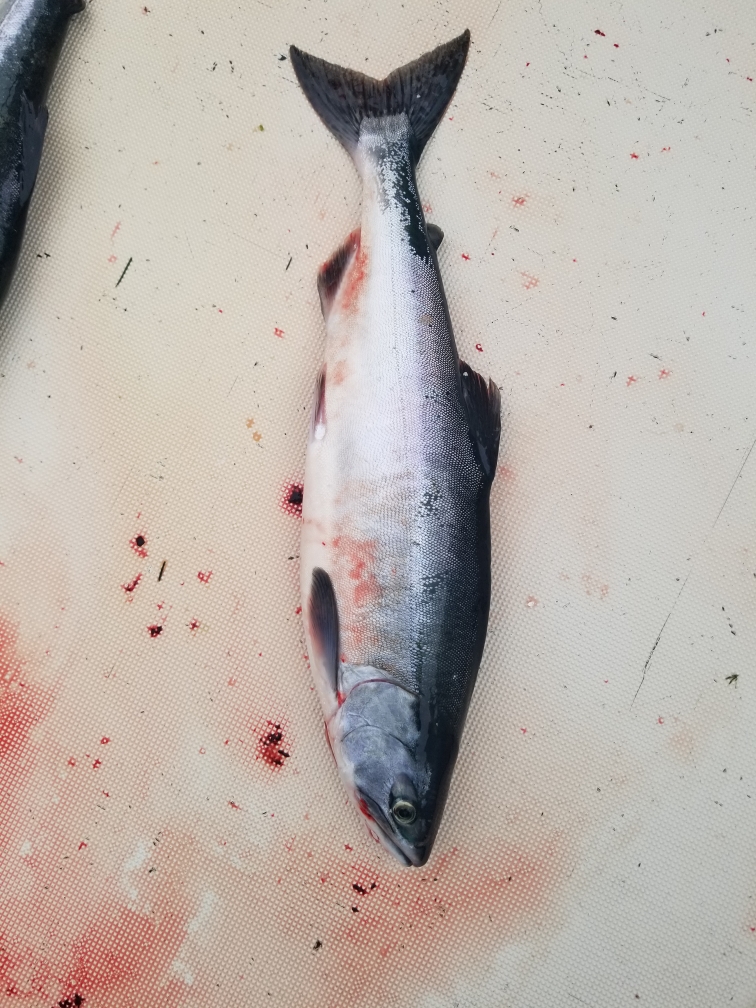 Report for June 17, 2021
Summer Solstice and the first day of summer. May & June have delivered some great Coho fishing. Lake Michigan was stocked with 2.6 million Coho for this year and that is above the average. The fish are a little larger and seems to have been a good survival rate from the stocking. Through May and June so far Coho have made up 72% of the catch and the Coho action is not done yet although the water has been warming up. We are seeing surface temperatures now in the 60's but down 40 feet it is still in the high 40's. Still plenty cold to catch Coho on the surface. We hope for southwest winds periodically to keep cold water near the surface and the Coho bite going. We have fished anywhere from 40 to 60 feet all the way out to 150 to 200 feet. There has been solid action from Fox Point to the Oak Creek power plant but we have liked it best from 07-10 or 59-55 hundred. There have been some nice Chinooks in the catch, with many in the 20 plus pound range. The Chinook bite looks to be better this year.
We are still running a high number of orange dodgers with green peanut and half cut flies. One or two mono set ups a side on the boards are still delivering along with inside dipsies. We are running some 2 to 5 color leadcores with orange and one up high downrigger. The back two riggers are white flashers with bullfrog, super frog, green krink or little boy blue Howie flies. Best between 40 to 80 feet. Spoons on 6 to 8 color leadcores and side riggers have been good, with the bloody nose or blue nose stinger size Stinger spoons. We have run some wire dipsy rods, with the same flasher sets we are using on the downriggers. The orange dodgers are accounting for 70% of the bites over this period.
The action has been solid so far this year and we look to keep it going over the next several weeks. We have openings in the first two weeks of July and Coho salmon will still be in the mix. This is one of the best times of the year to catch salmon, so give Silver King Charters a call at 414-460-1467. The summer just started today!! The pictures below are from trips in late May and June.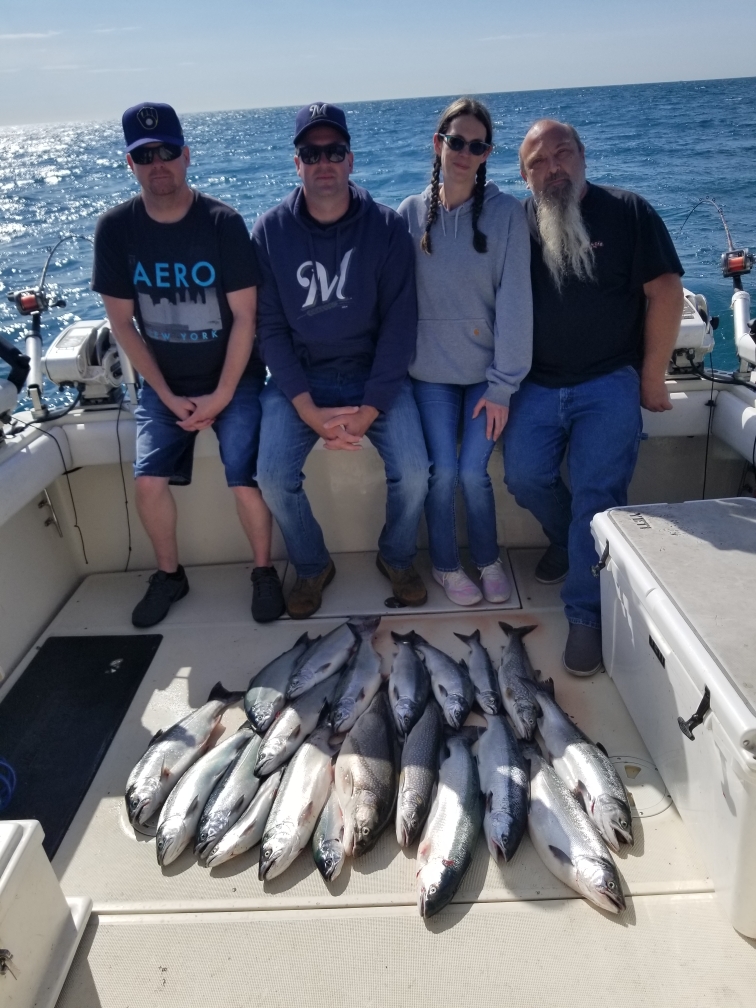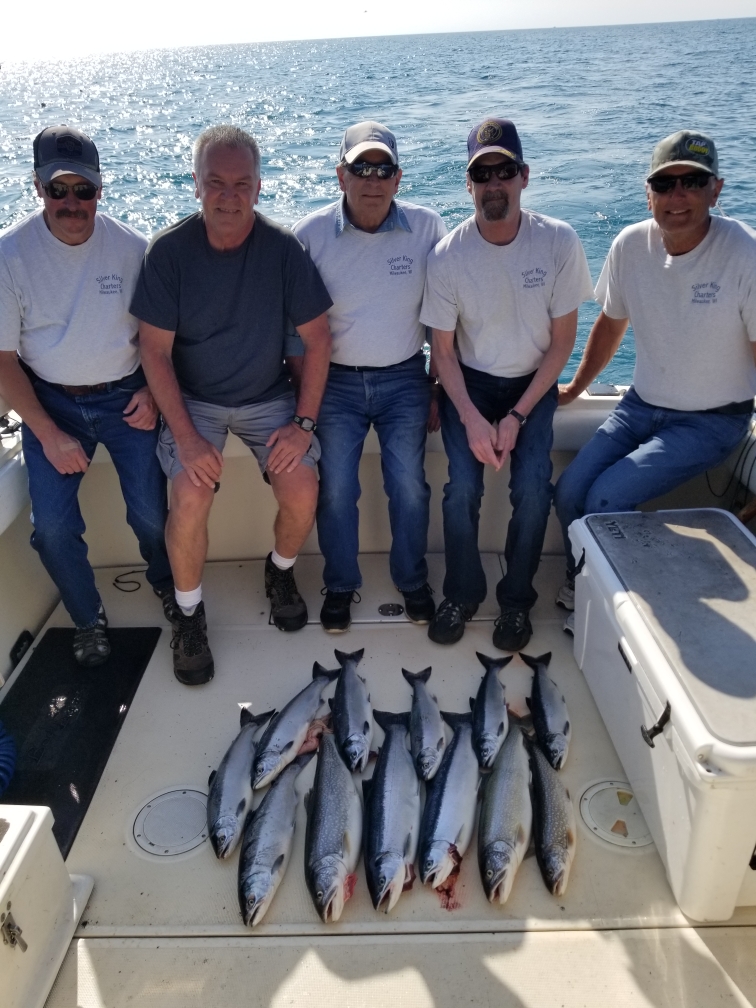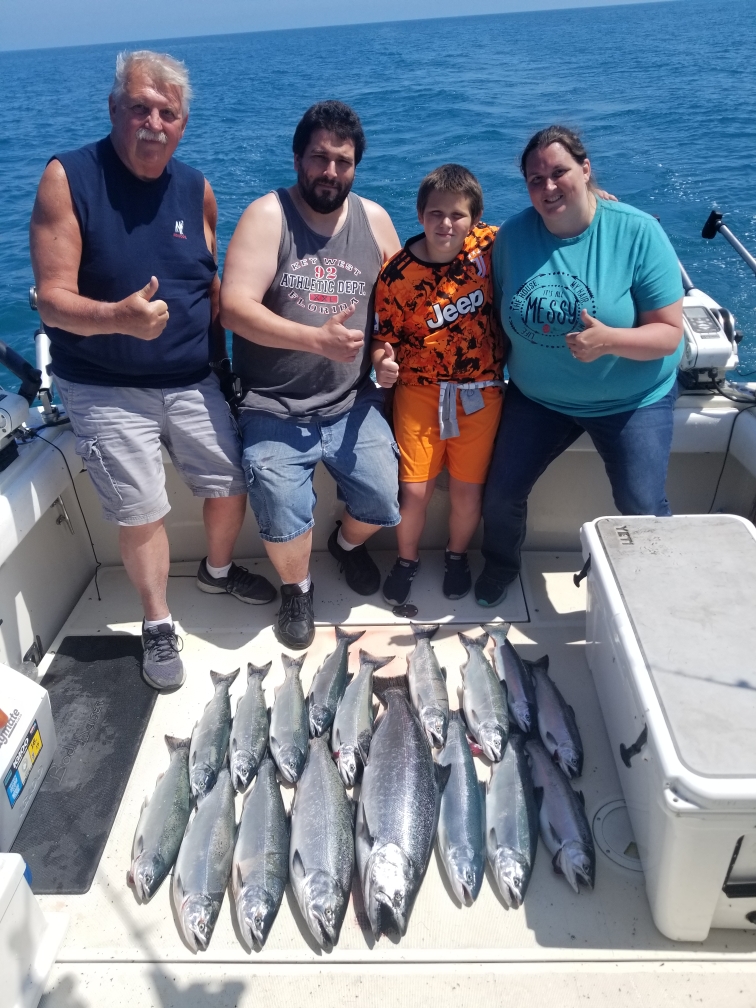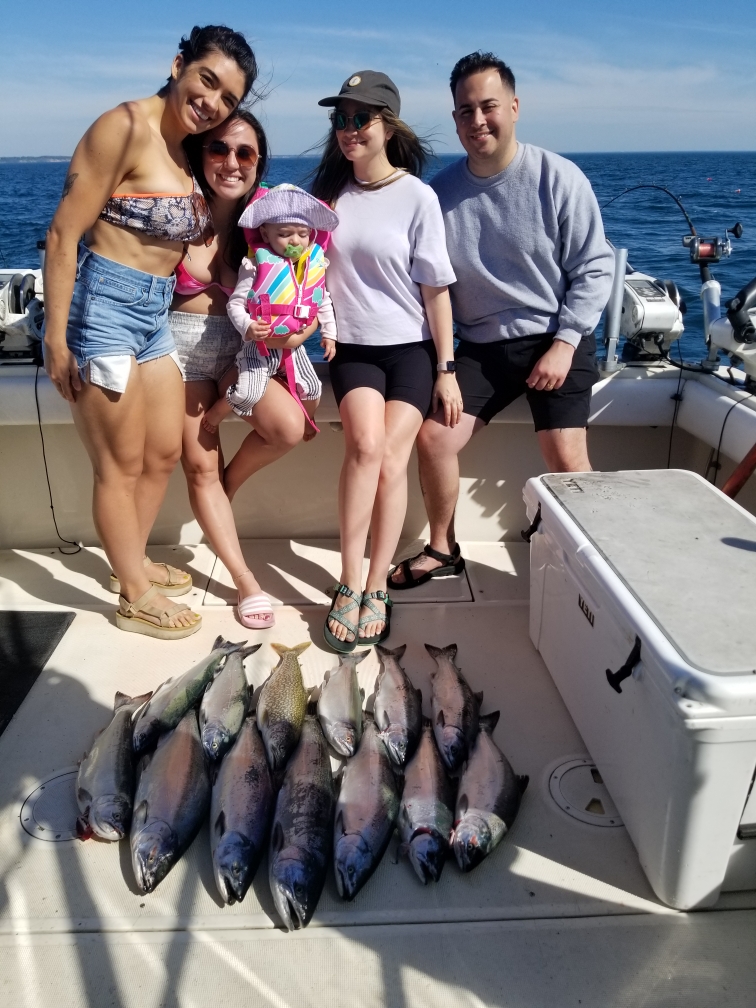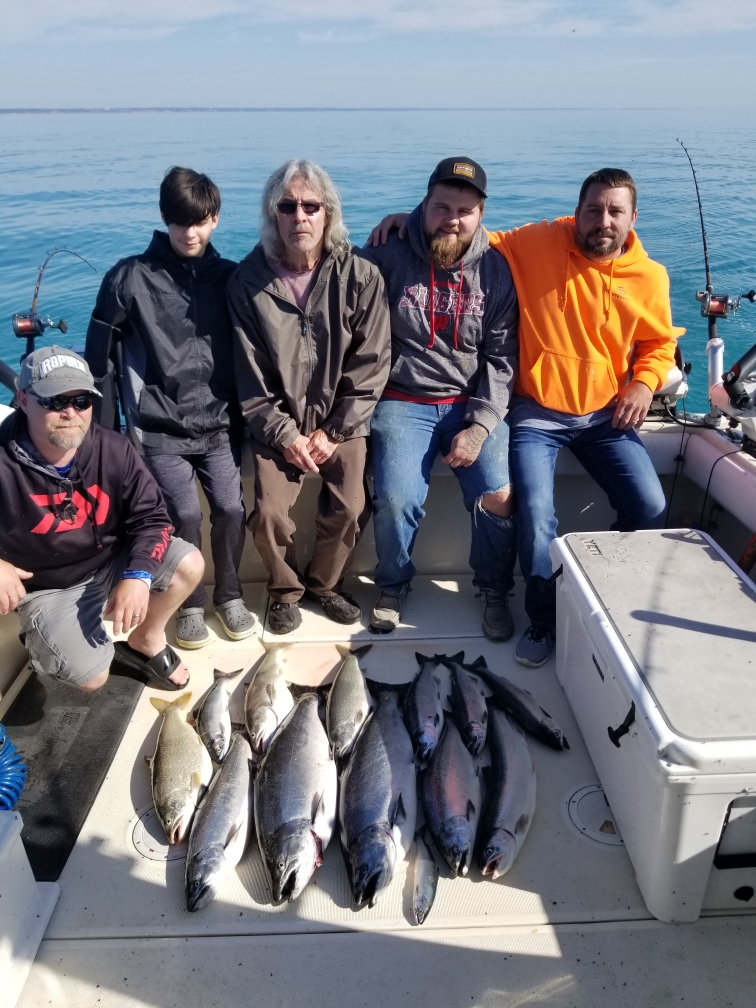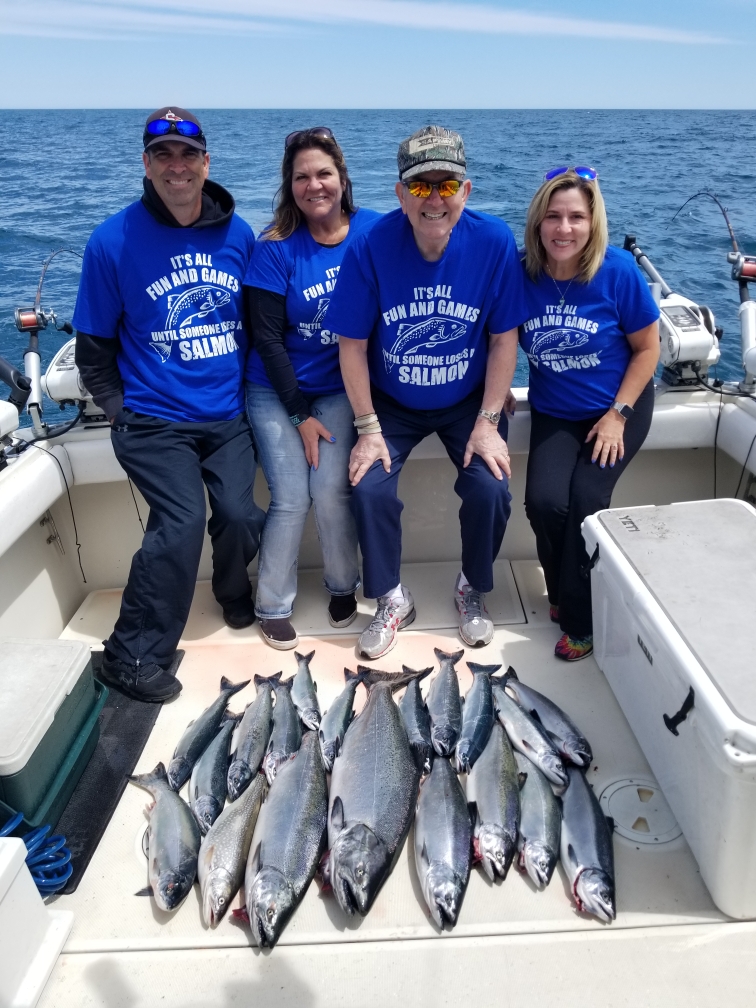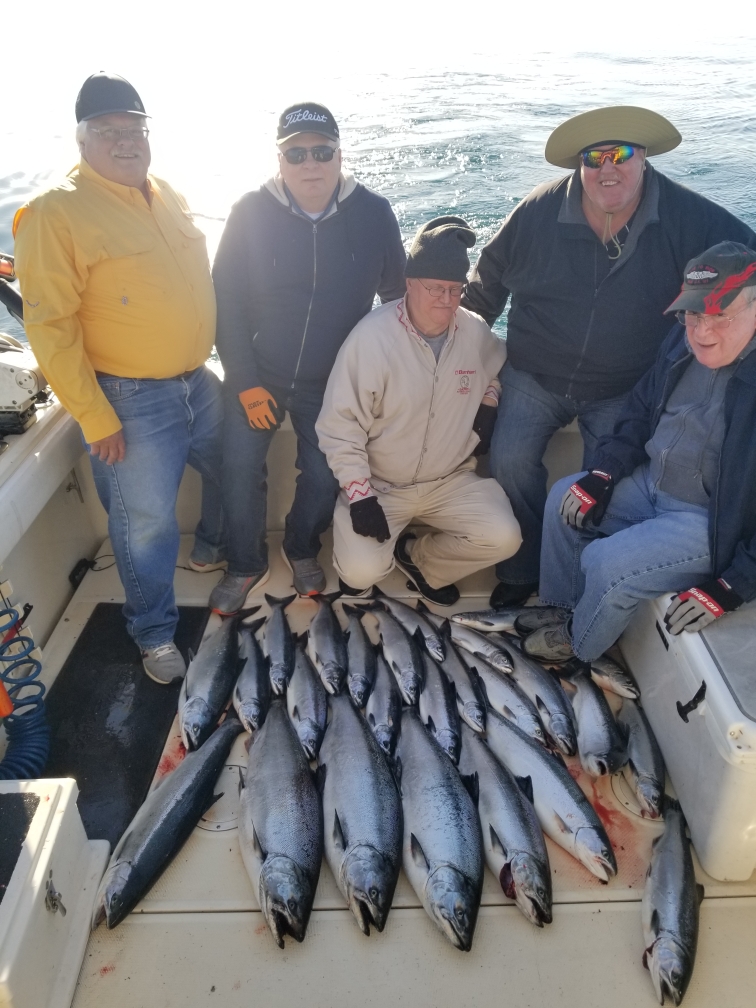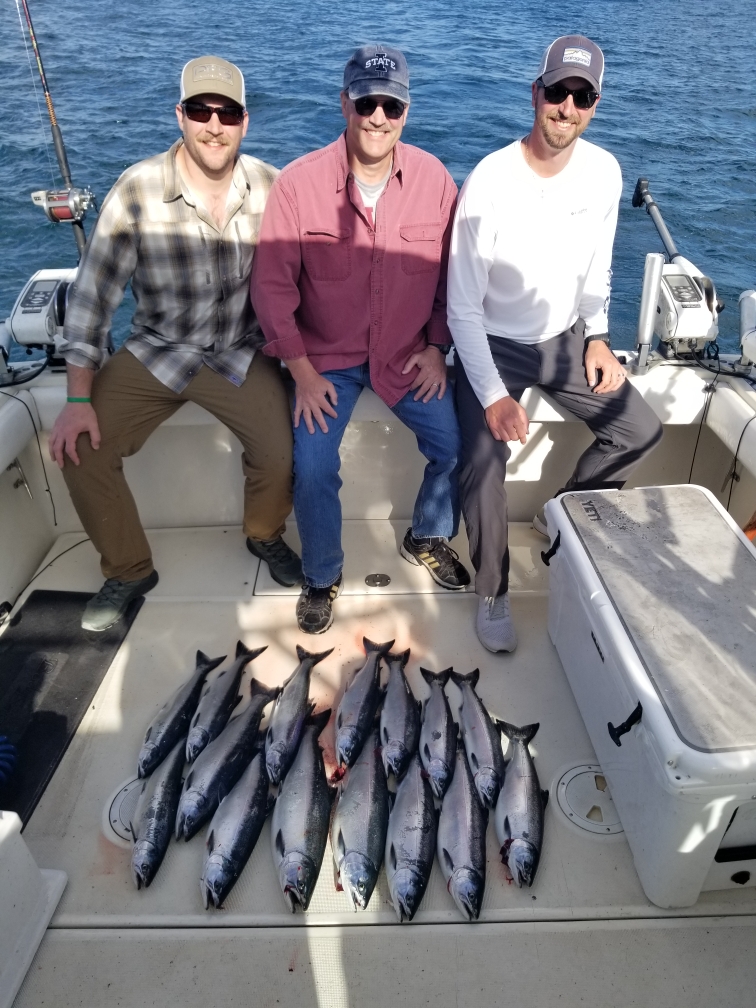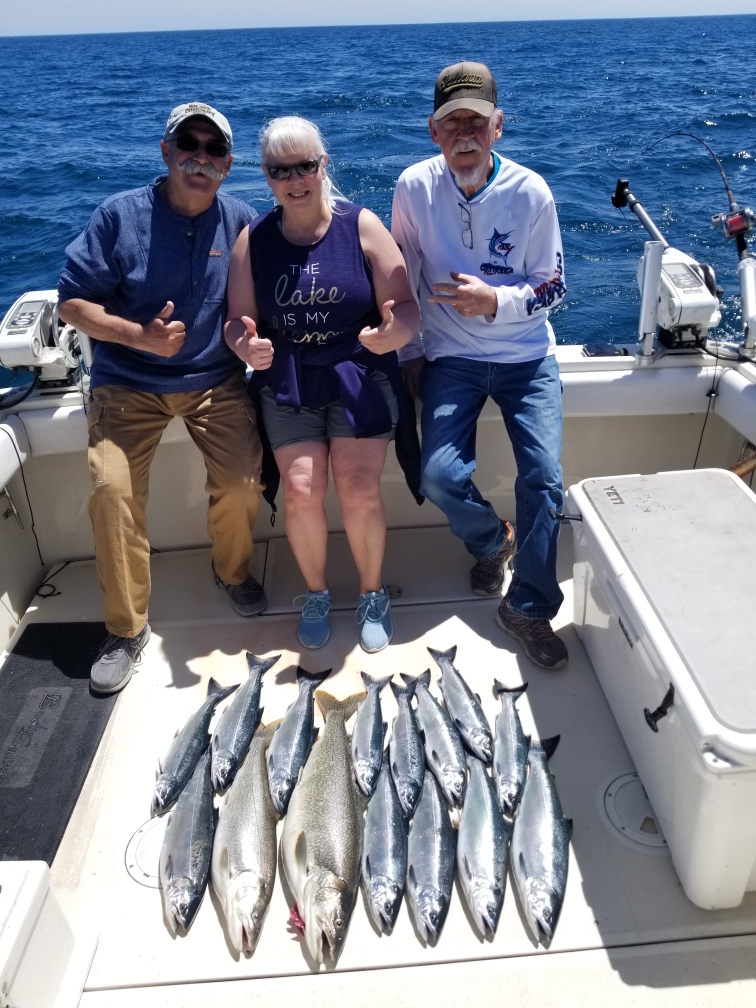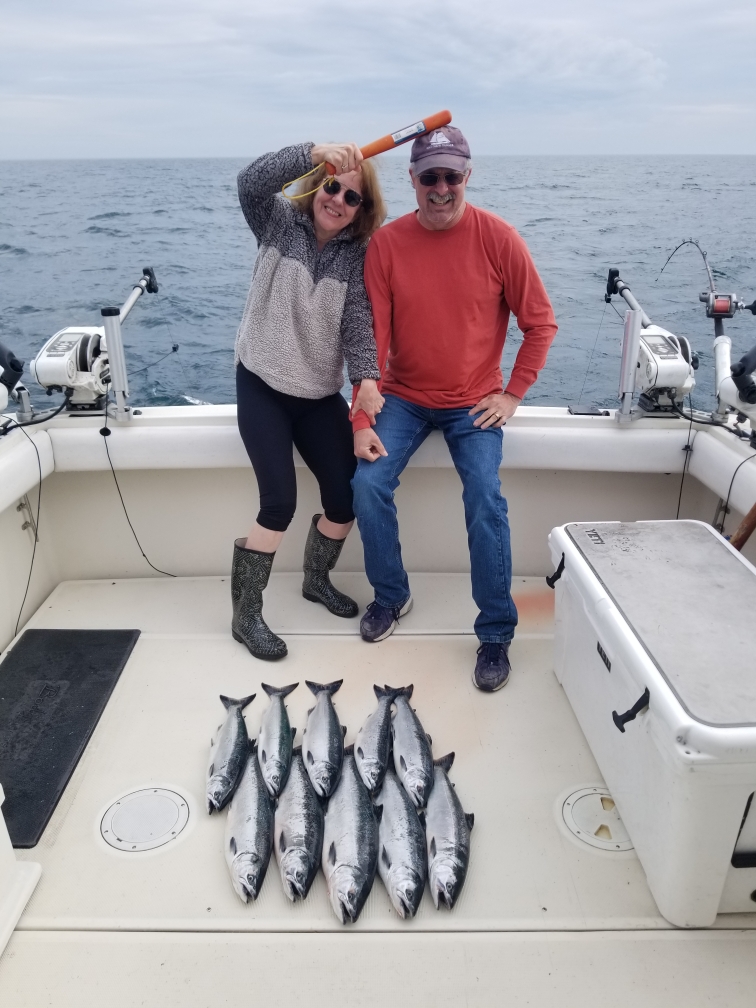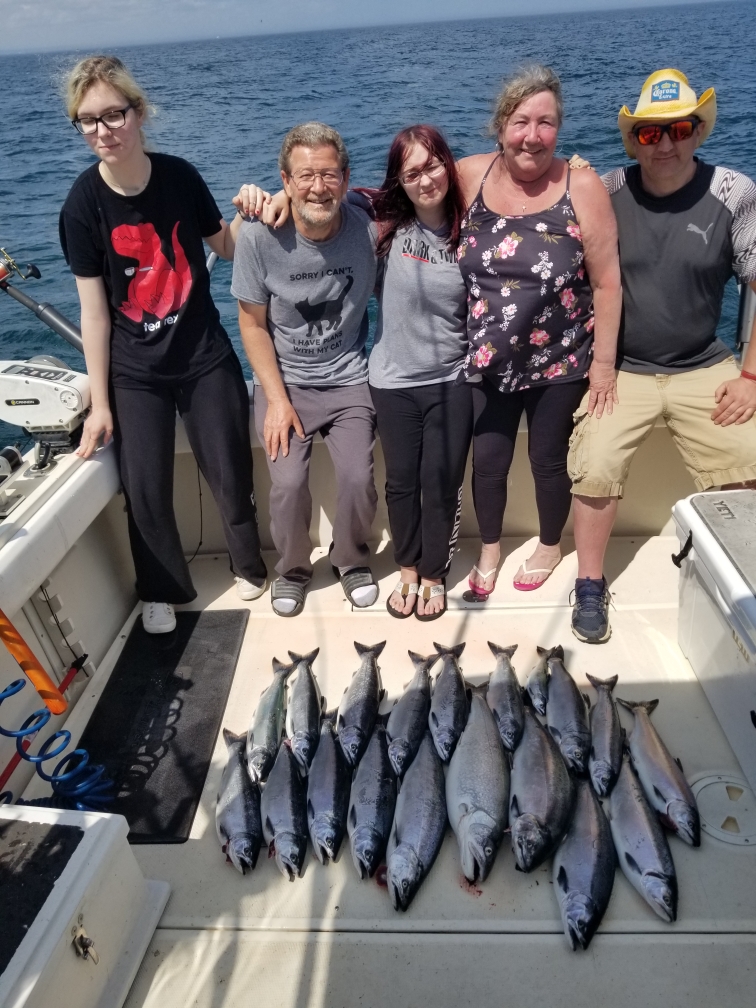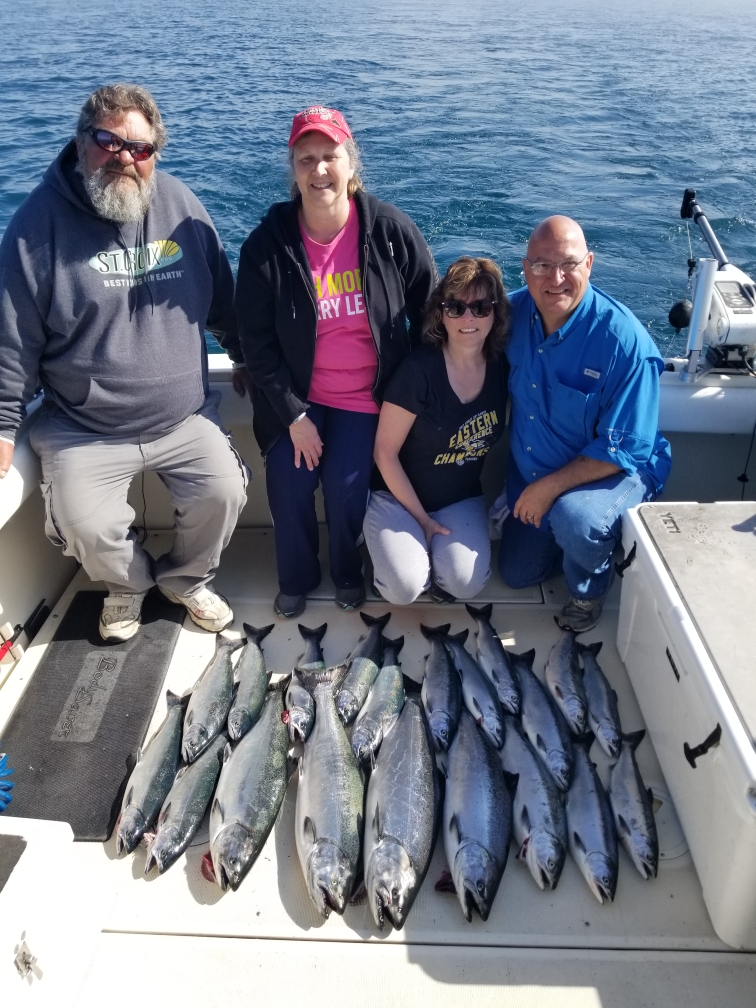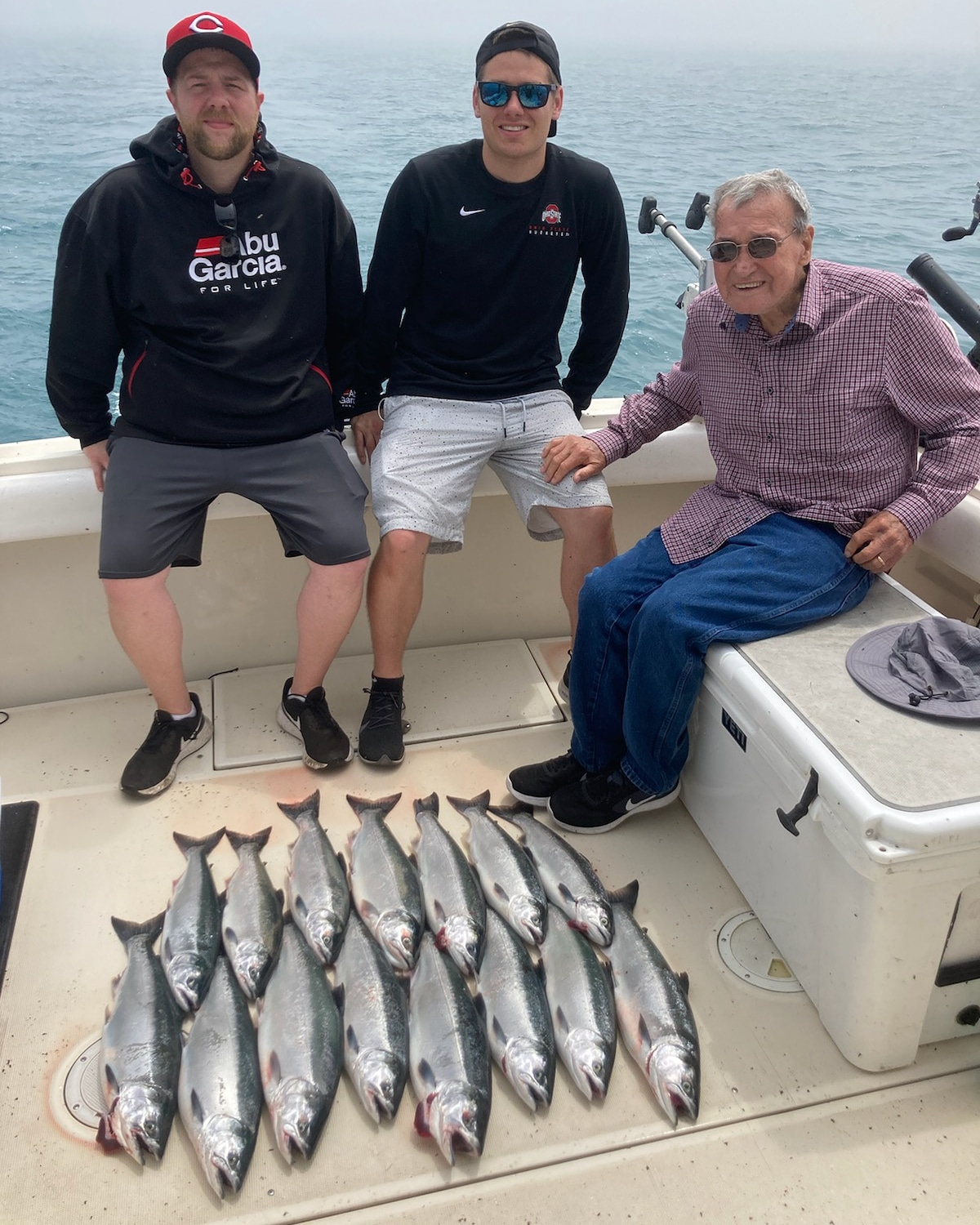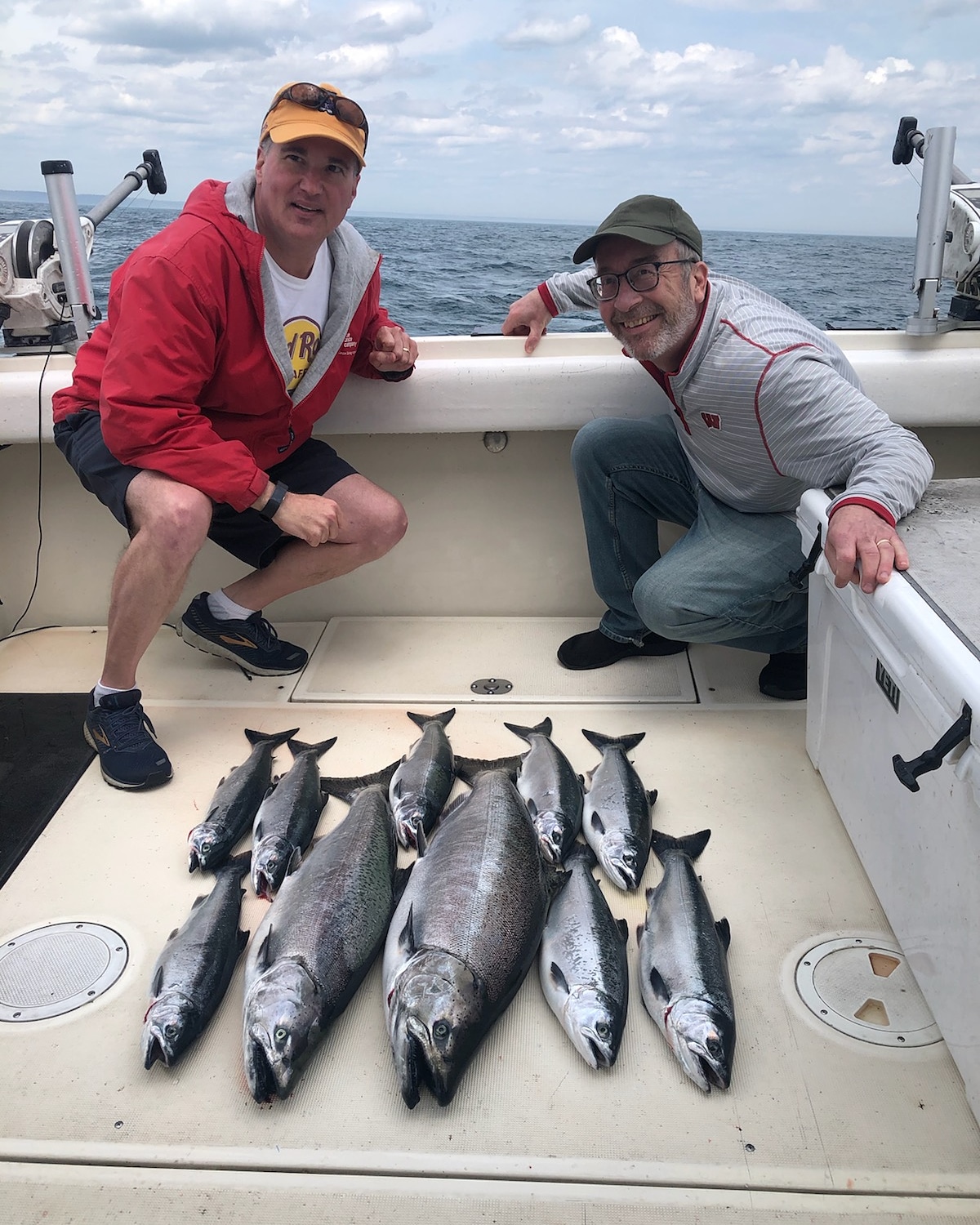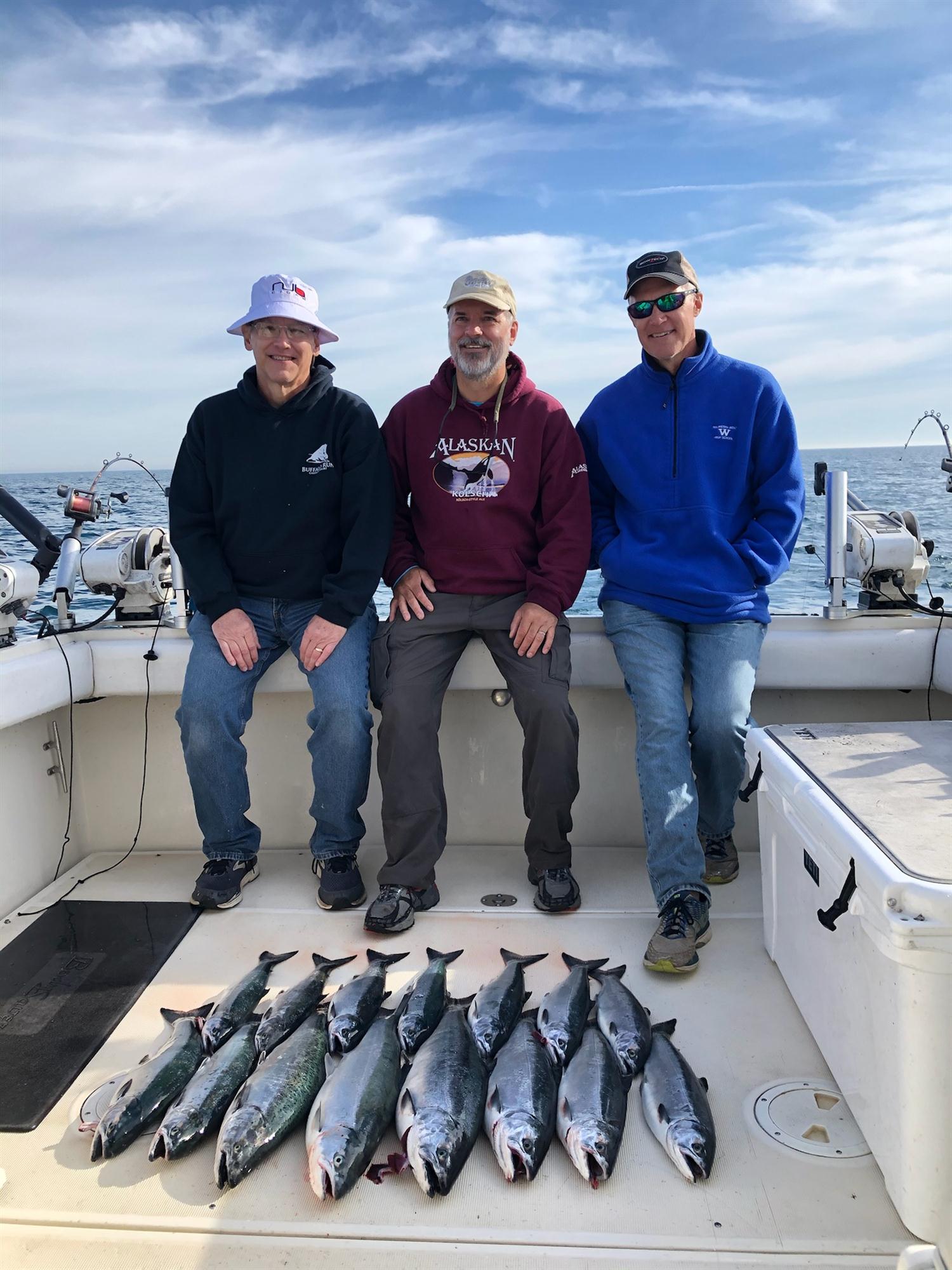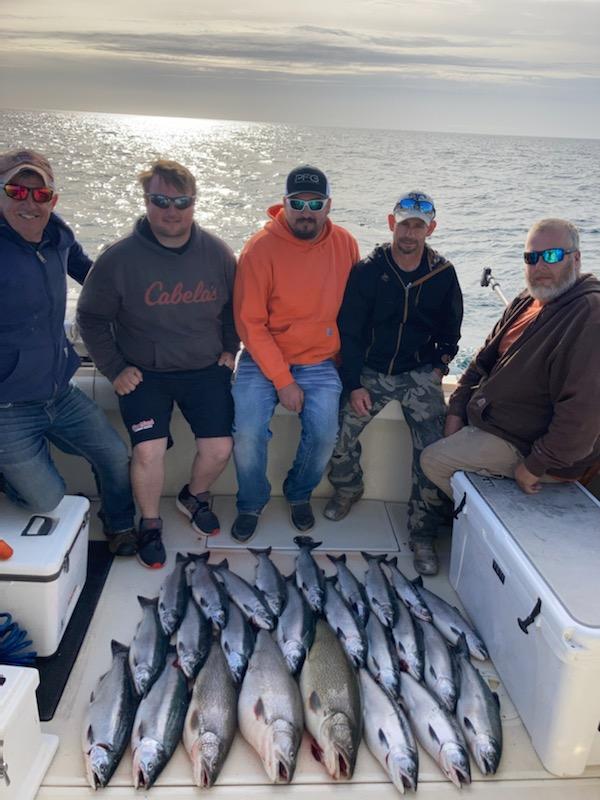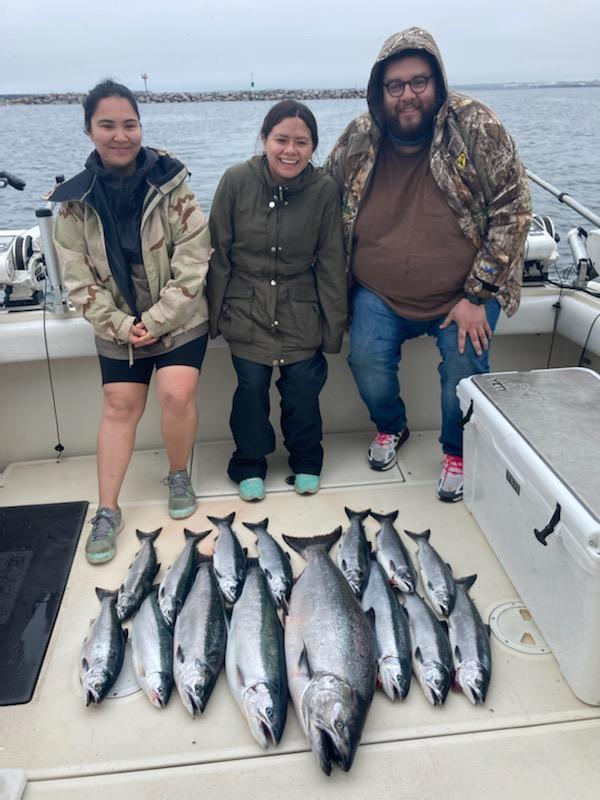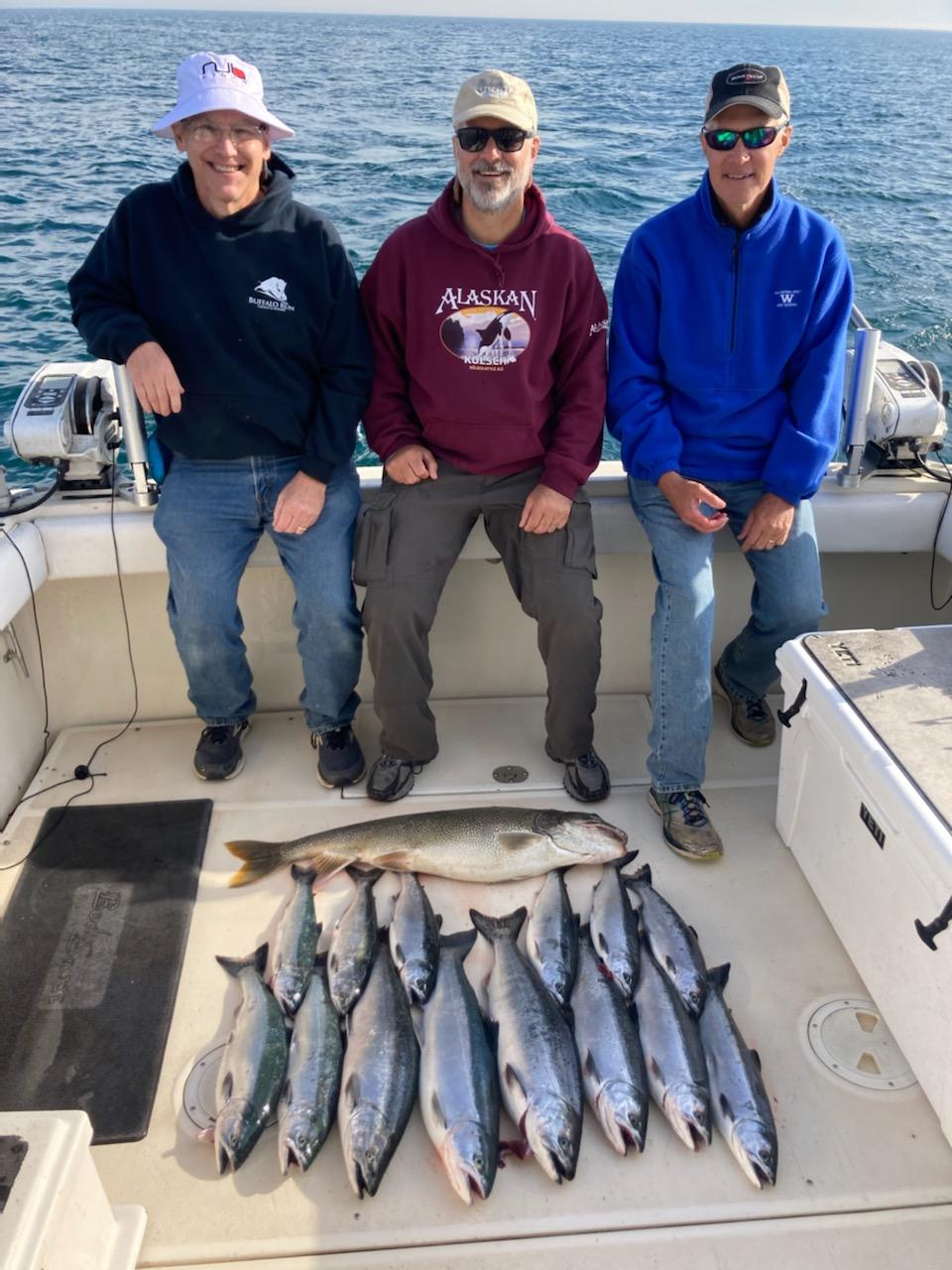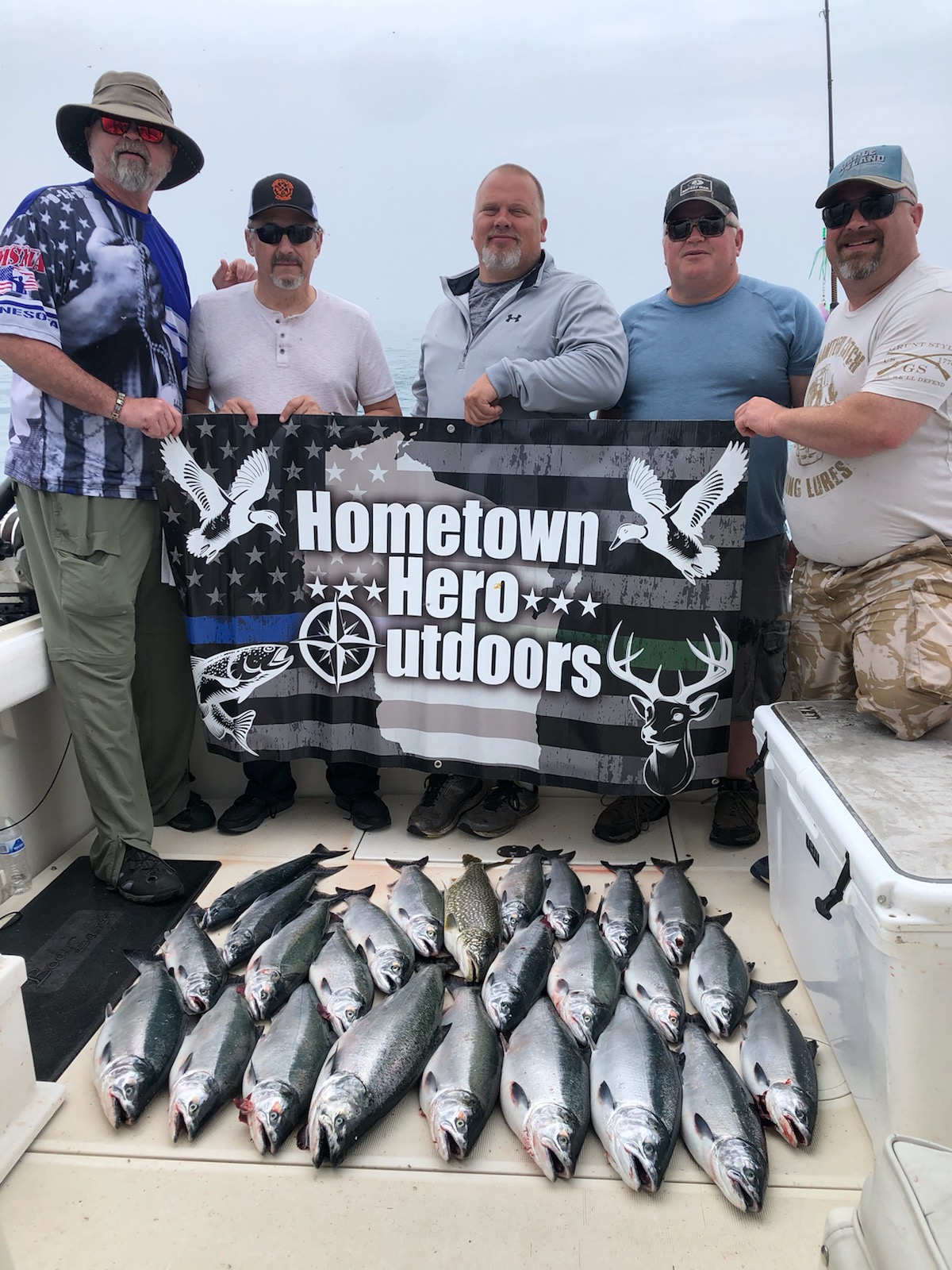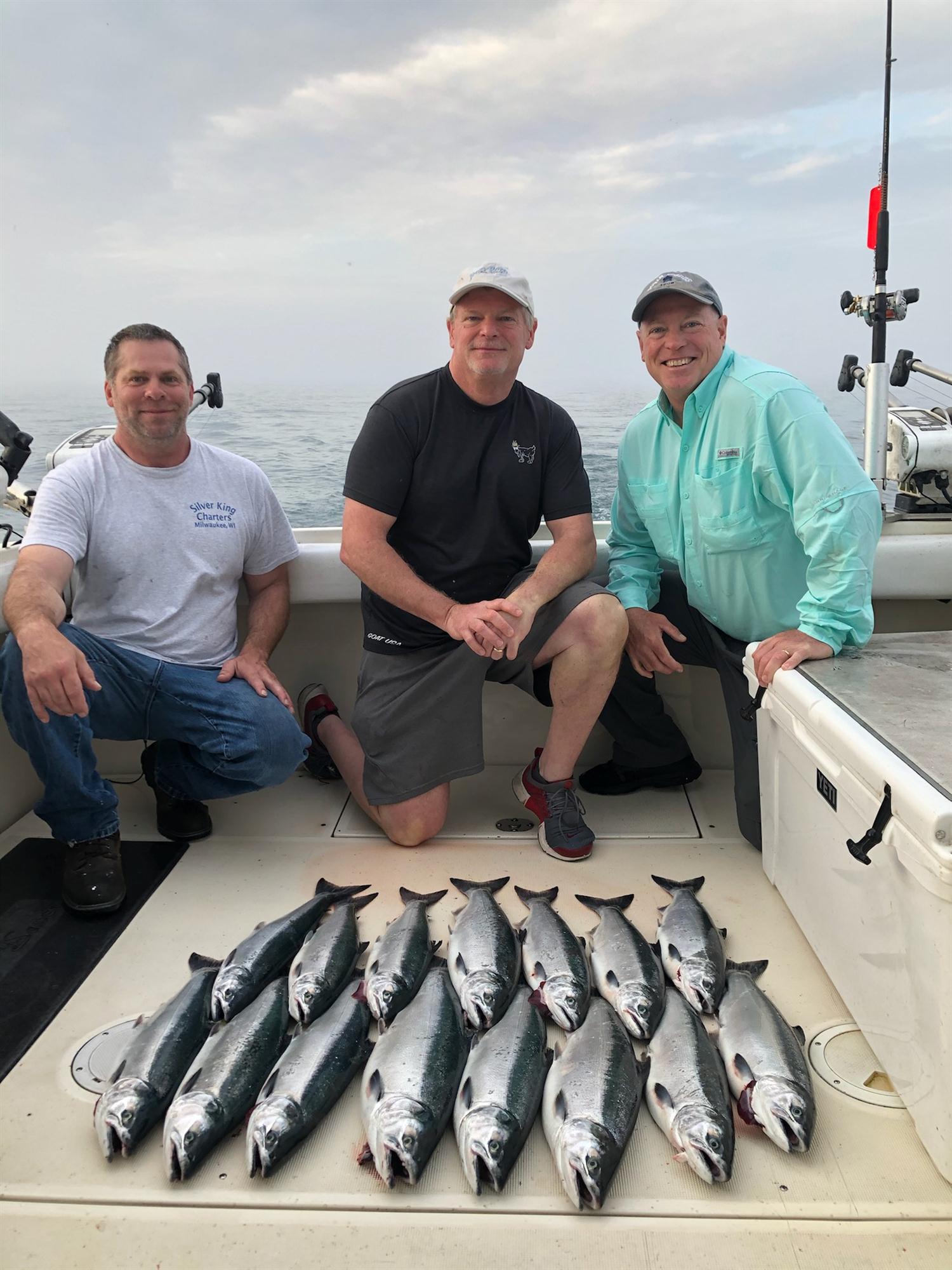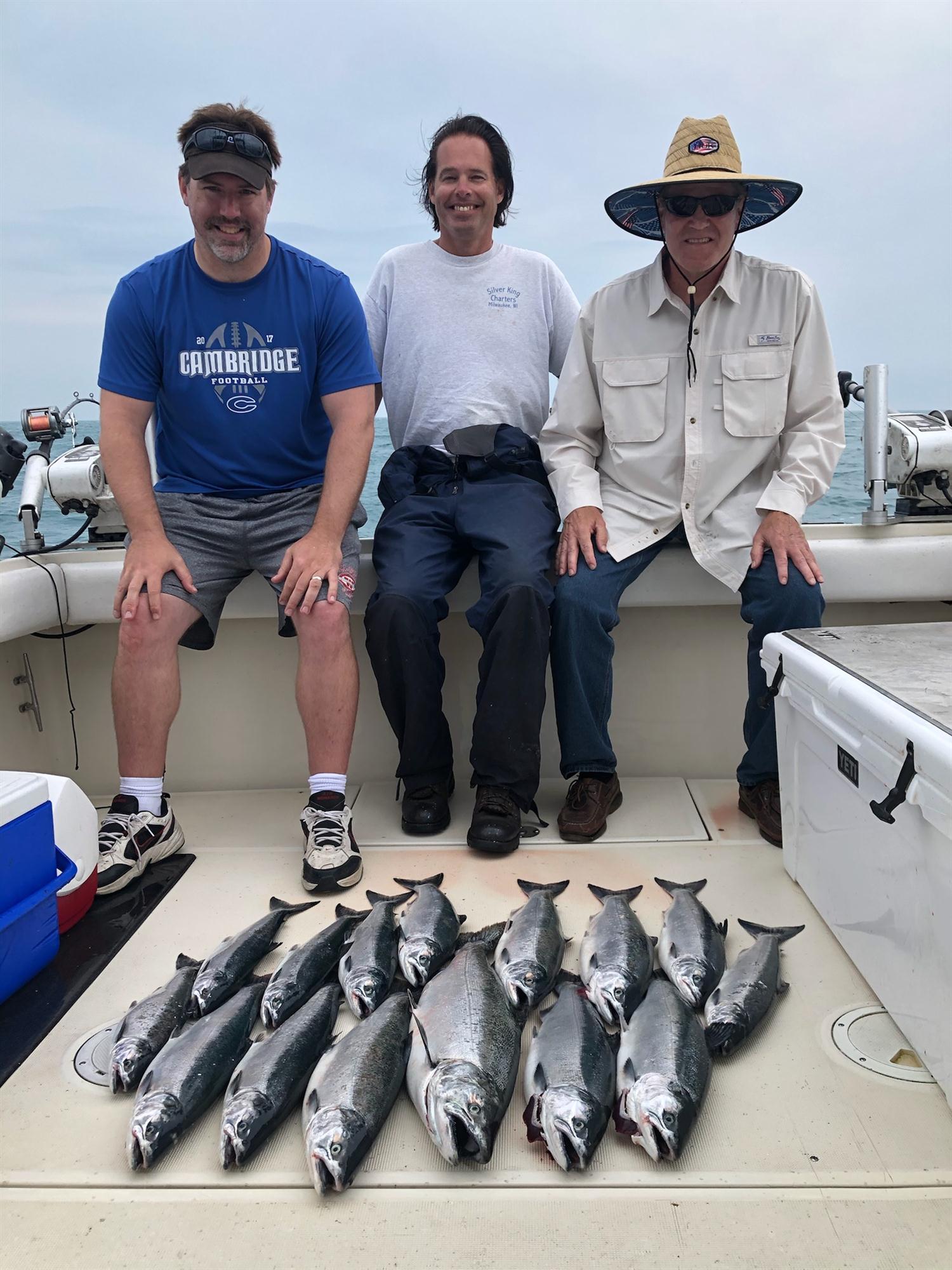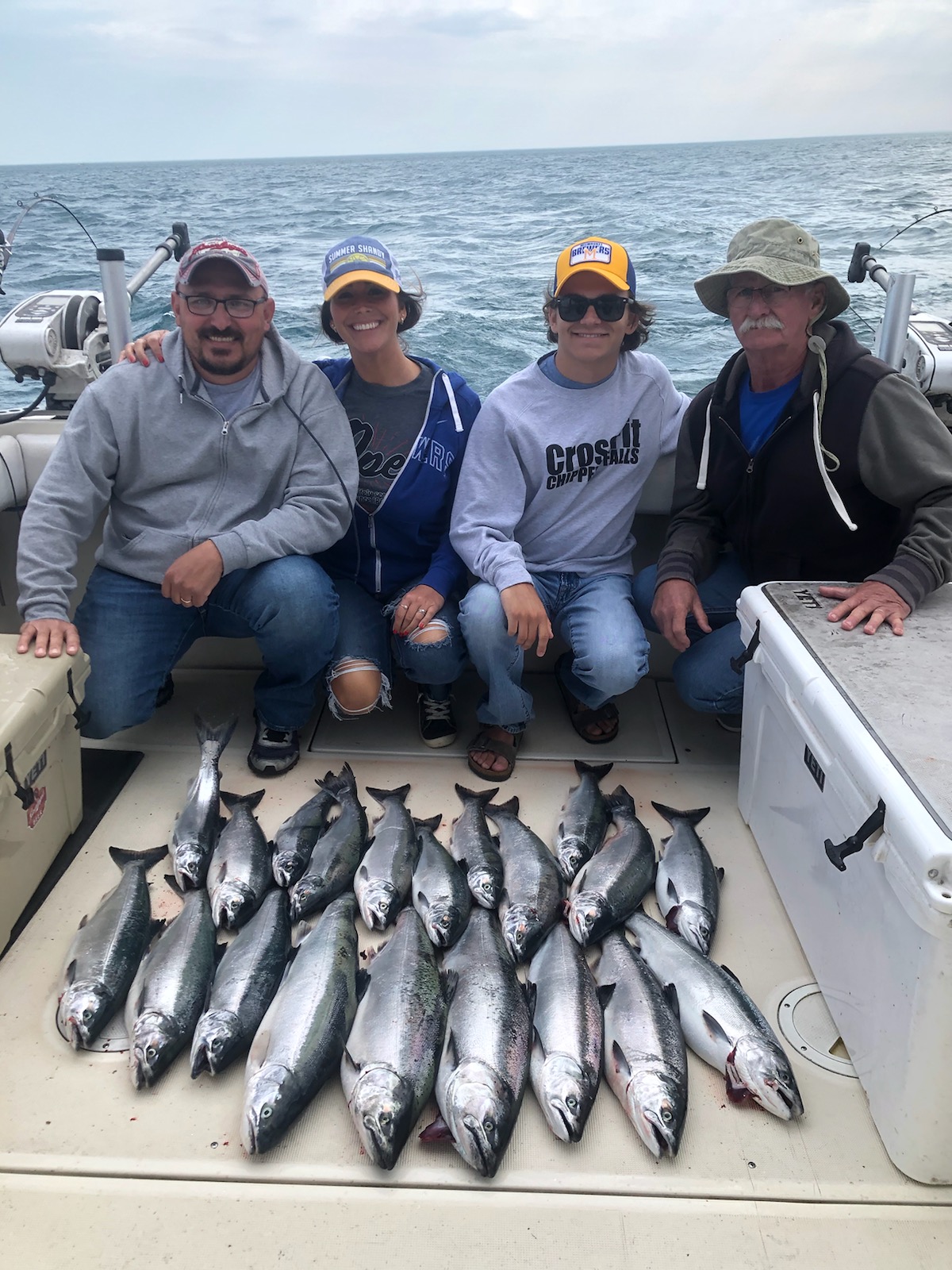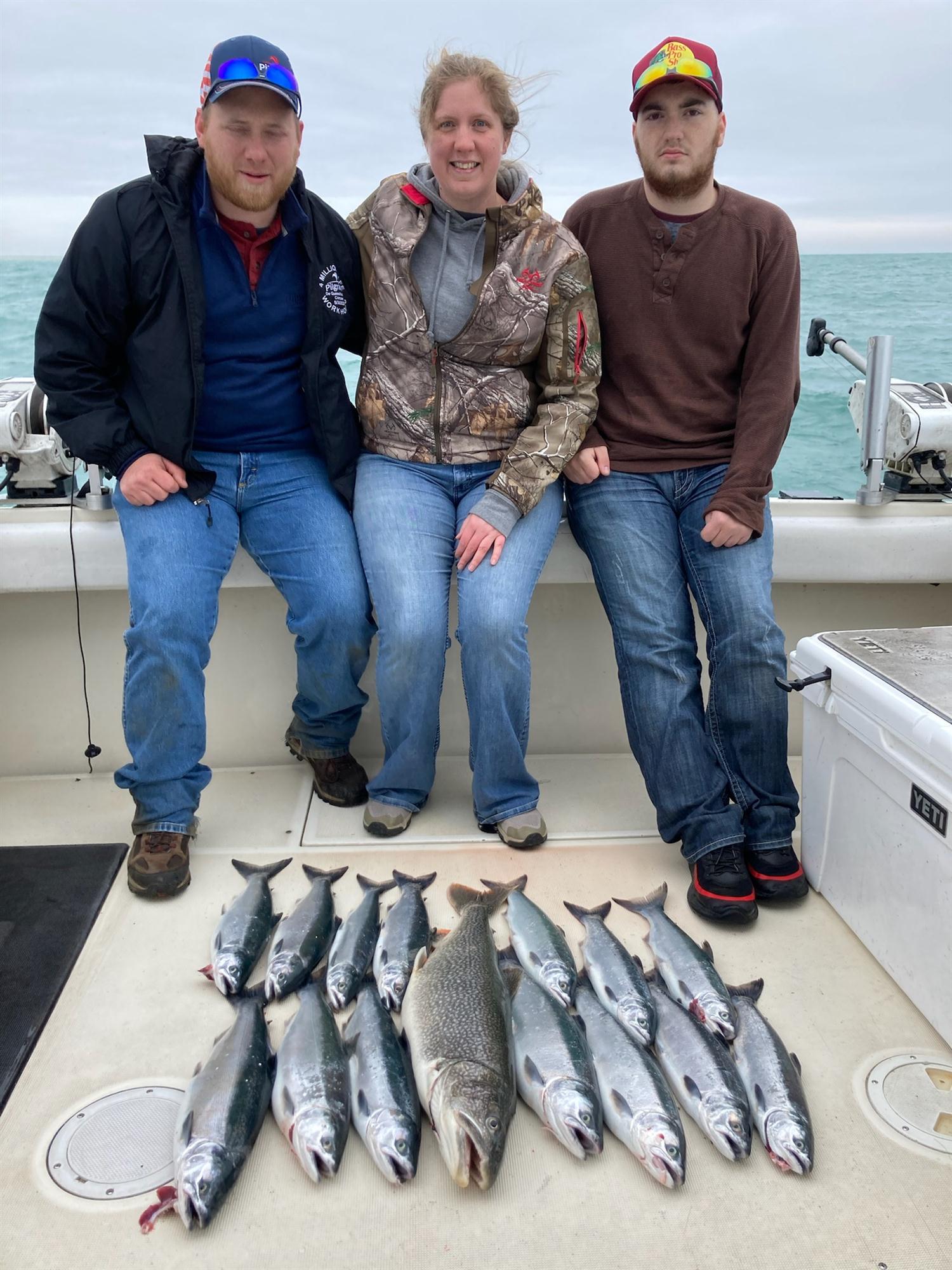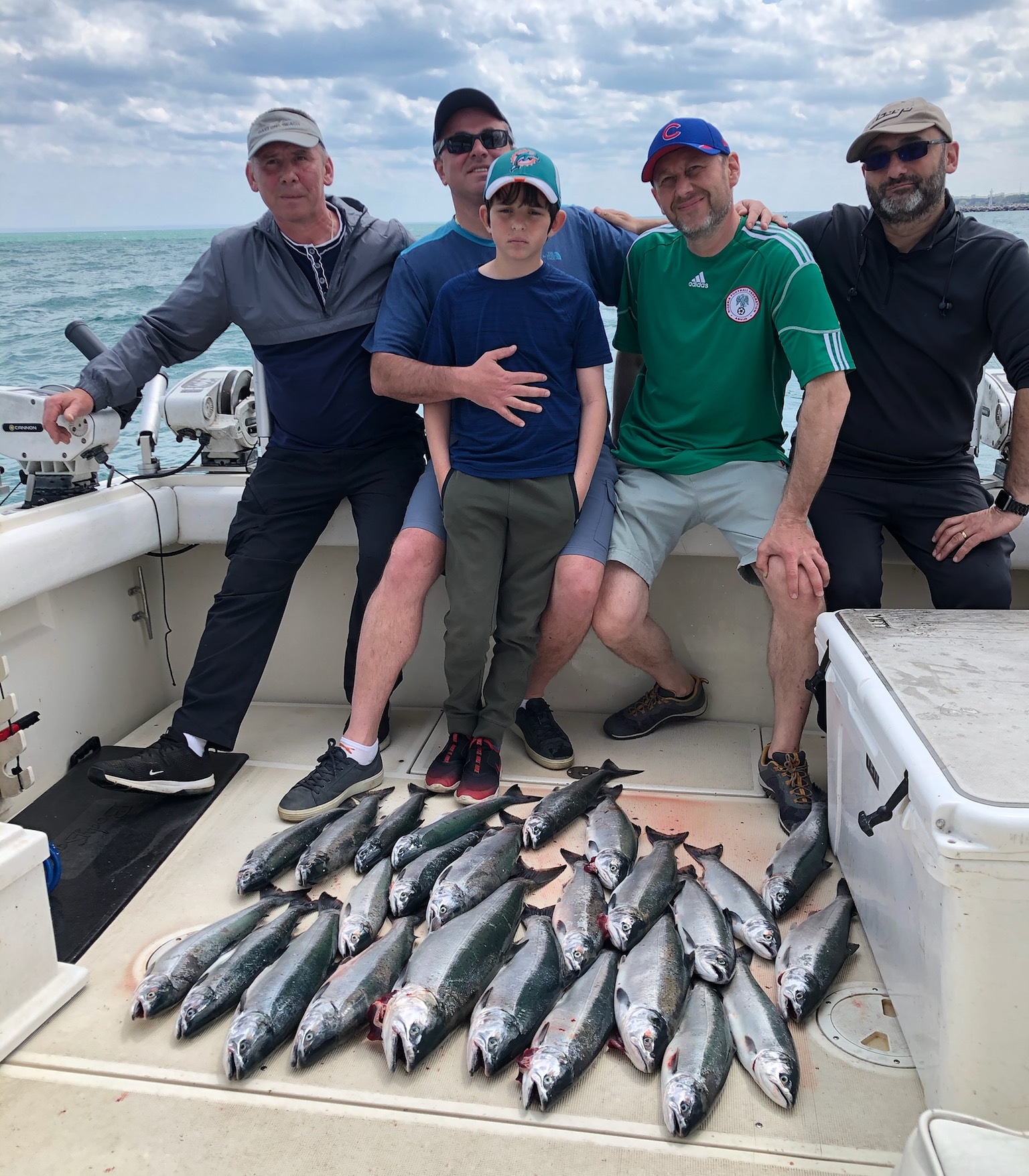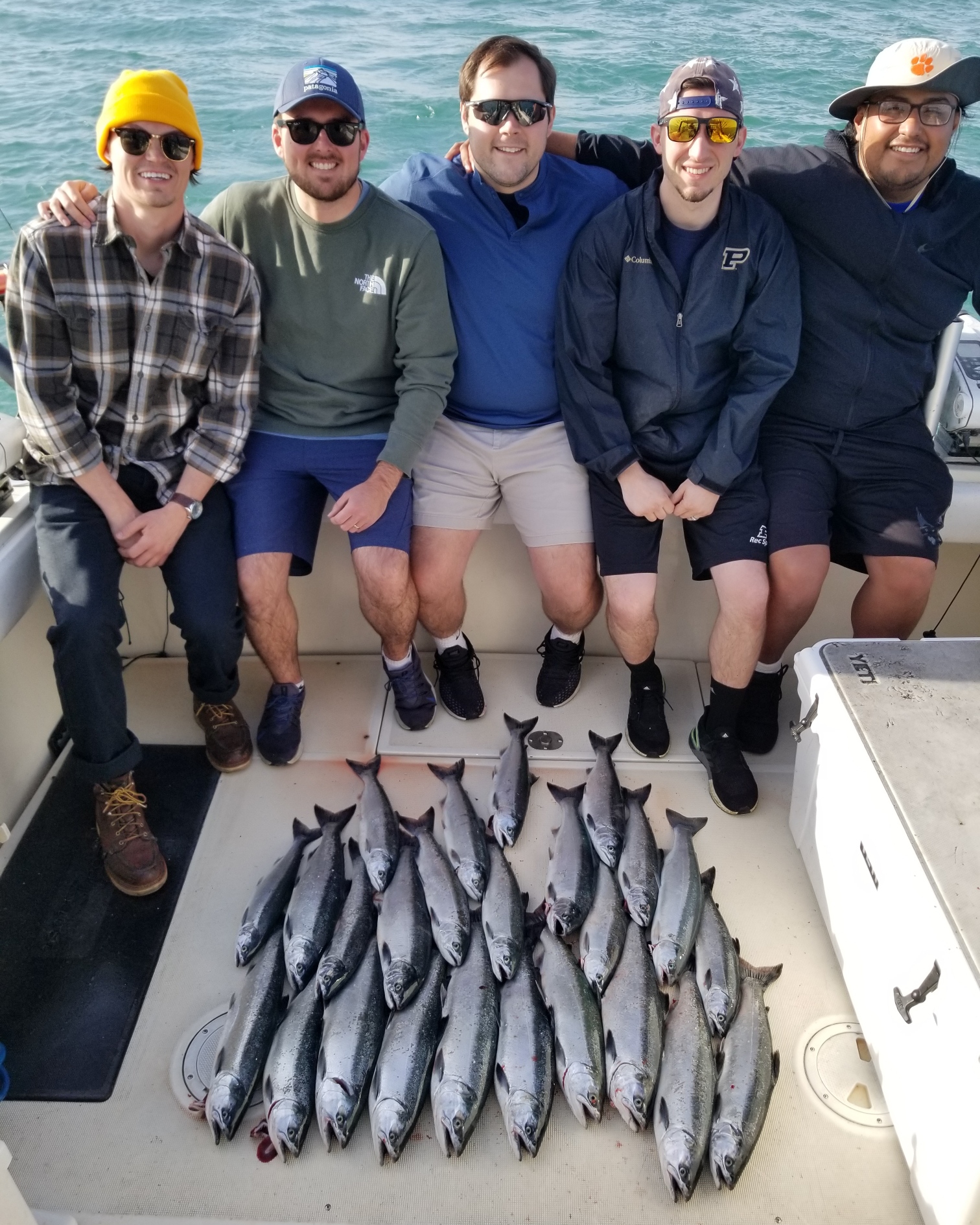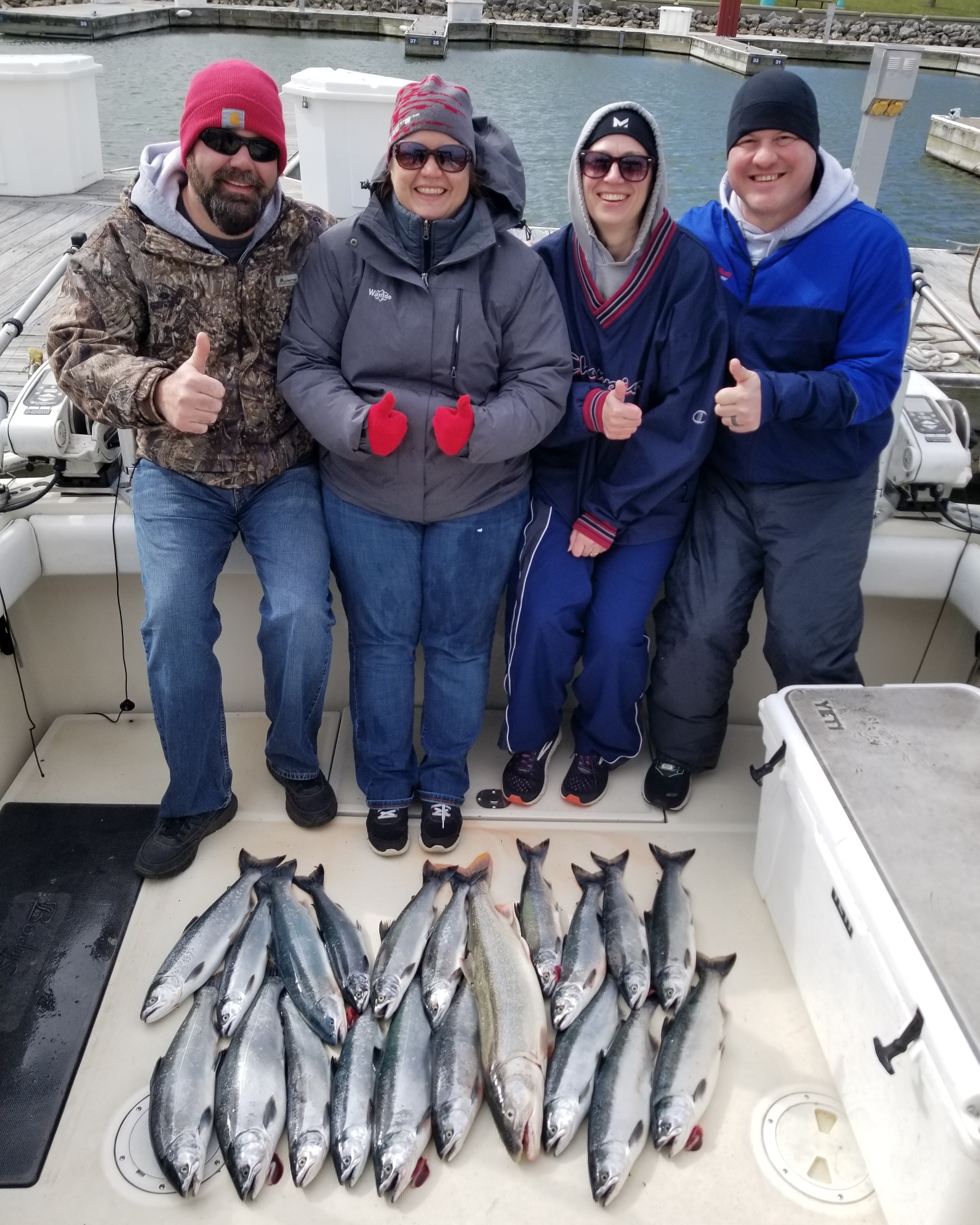 Report for May 3, 2021
We moved the boat to Reefpointe marina in Racine Wisconsin on April 20th. The reason was Coho salmon. A week early the Coho bite started as the alewives engulfed the shores. We usually make a move south near the end of May but things were several weeks earlier this year. It was the right move because we have had quick limit catches for the last couple of weeks. The fishing right now is crazy good. We hope this continues into late June but if you want to catch salmon there is absolutely no better time than right now. The catch is almost exclusively Coho salmon. The size is decent for this time of year. We are working just outside the harbor, so there is no run time. We expect the bite to remain amazing through the week. The water temperature is 50 degrees on the surface and this is helping the bite. It does not get any better than it is right now.
We are fishing in 15 to 30 feet of water from wind point to the bubbler. There are pods of Coho along this entire stretch. There has been action like this as far south as Waukegan, Illinois. As I right this the Coho bite has begun to turn on just outside the gaps of the Milwaukee harbor. We intend to move back to Milwaukee within a week or two. The bite is on the shoreline and this makes it ideal for fast action. Our spread is simple. Orange small double 00 Gold Star dodgers and green or two tone peanut flies on everything, with the exception of one side of boards using B&B orange dodgers. We are running four boards a side and they are all mono set ups. The side with the Gold Stars we use 5/8 ounce keel weights. Both sides are set at 15 feet, 20 feet, 25 feet and 35 feet back from the board. The boards are by far the top producers. We run and outside mono 25 feet on the line counter and inside braid dipsy 12 feet on the line counter with the orange dodger set ups. We are only running the two outside riggers with down 7 and 10 feet about 7 feet back. All orange!
This is it folks. Call now for some of the best salmon action of the year and Coho salmon are my favorite to eat. We expect to be have Coho salmon in the mix through early July but right now the bite is on fire. Call Silver King Charters at 414-460-1467 and get out fishing with us. The pictures below were from last week.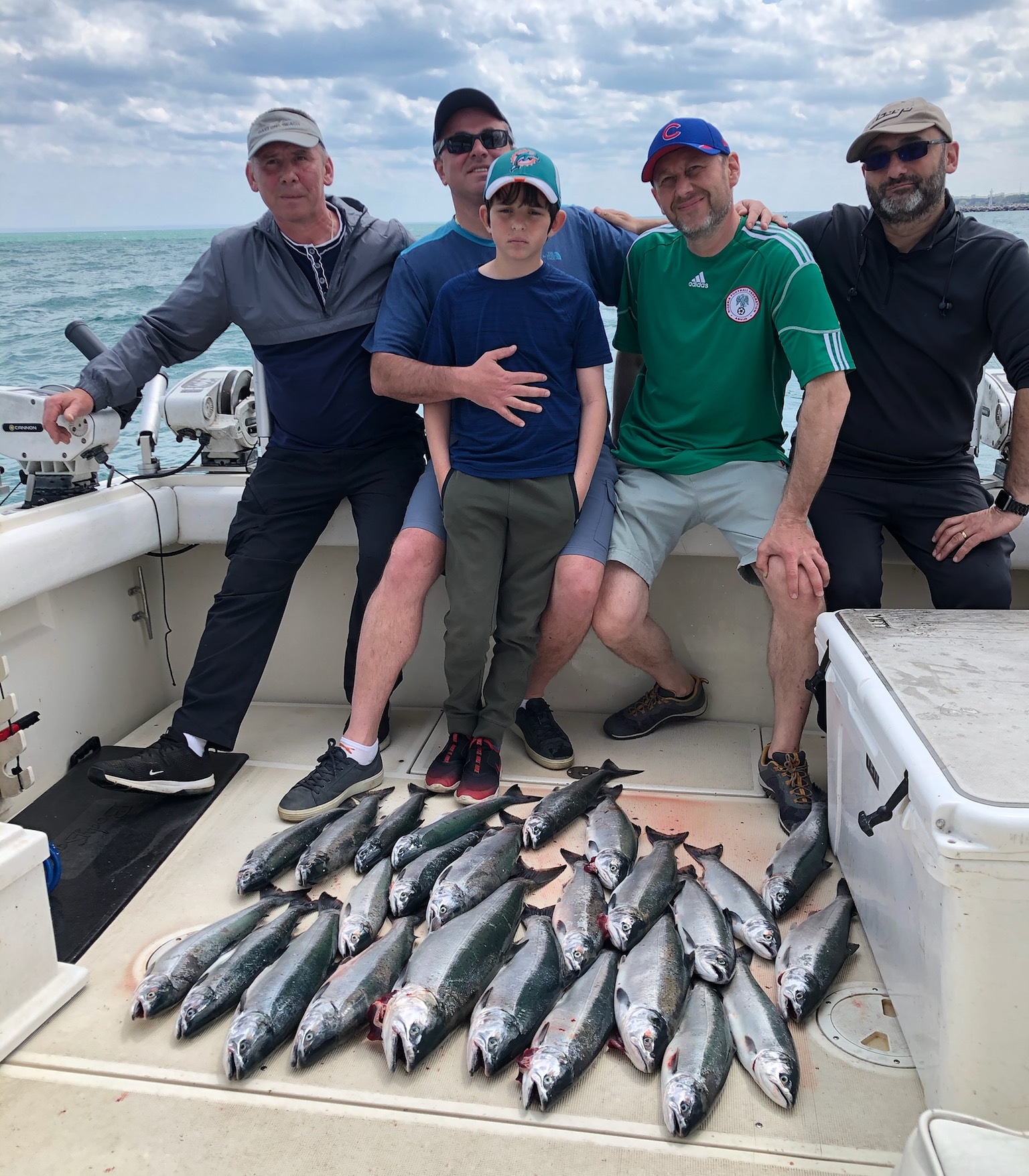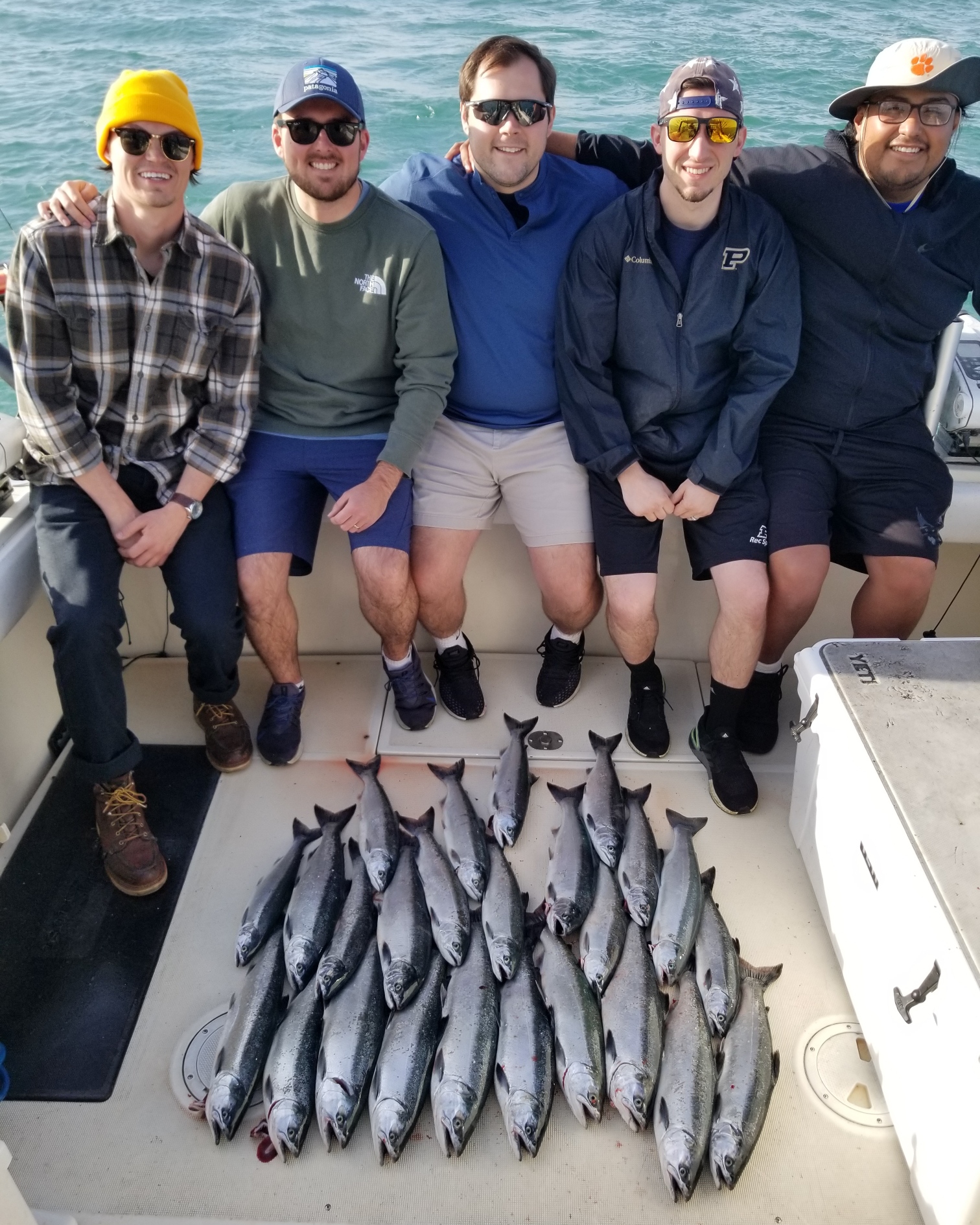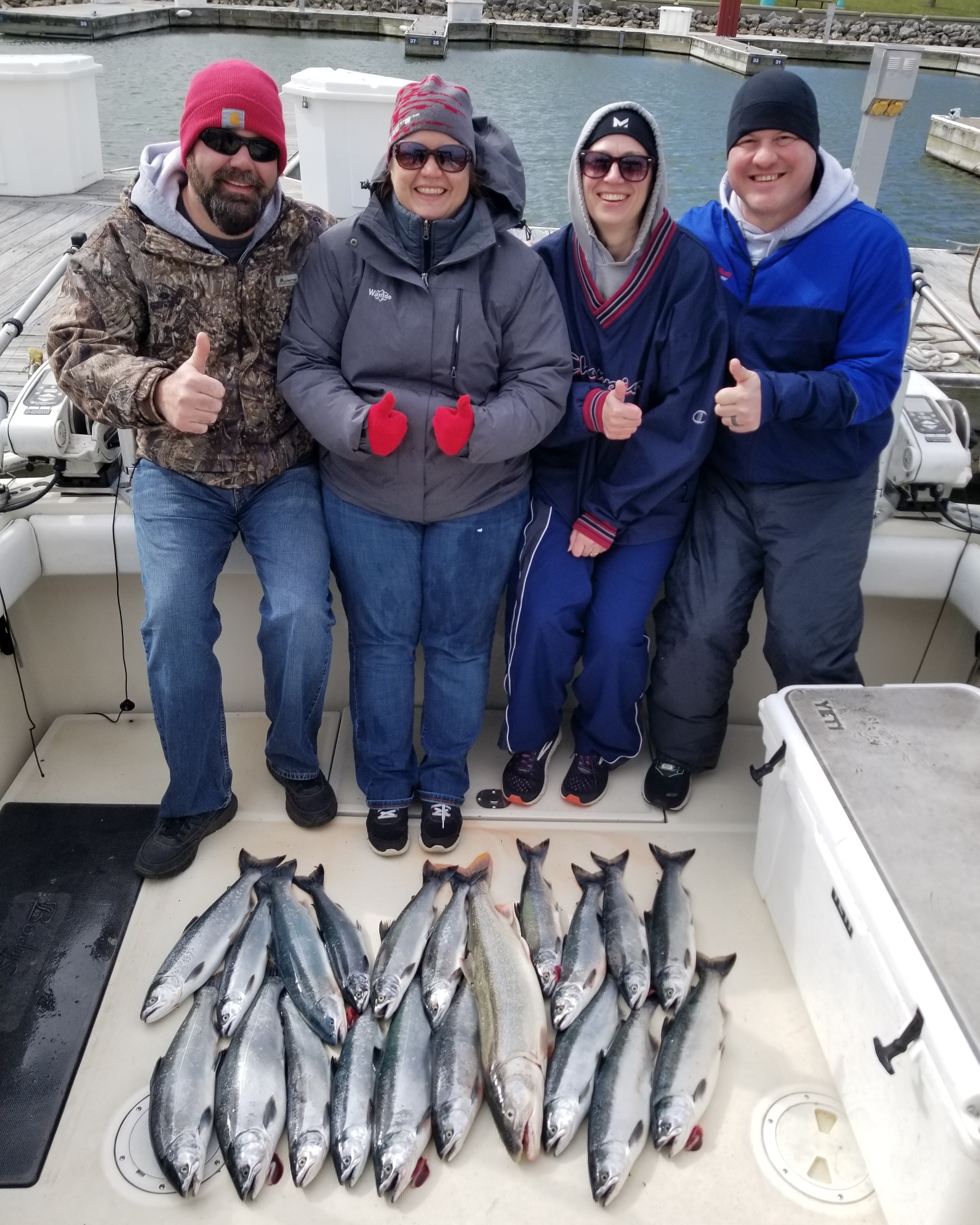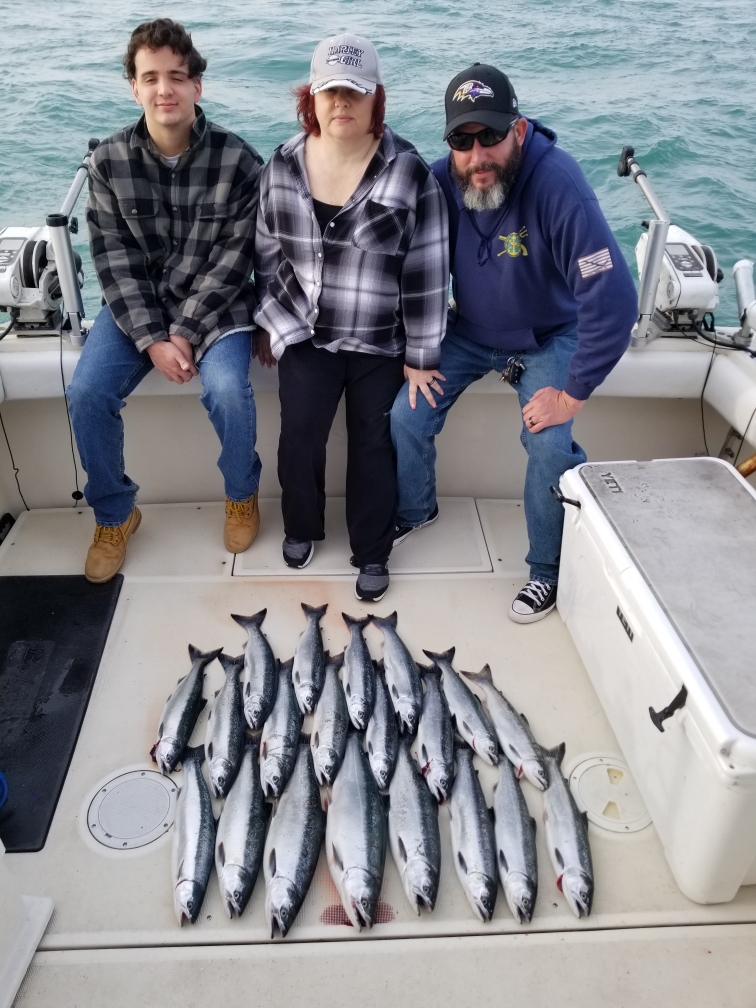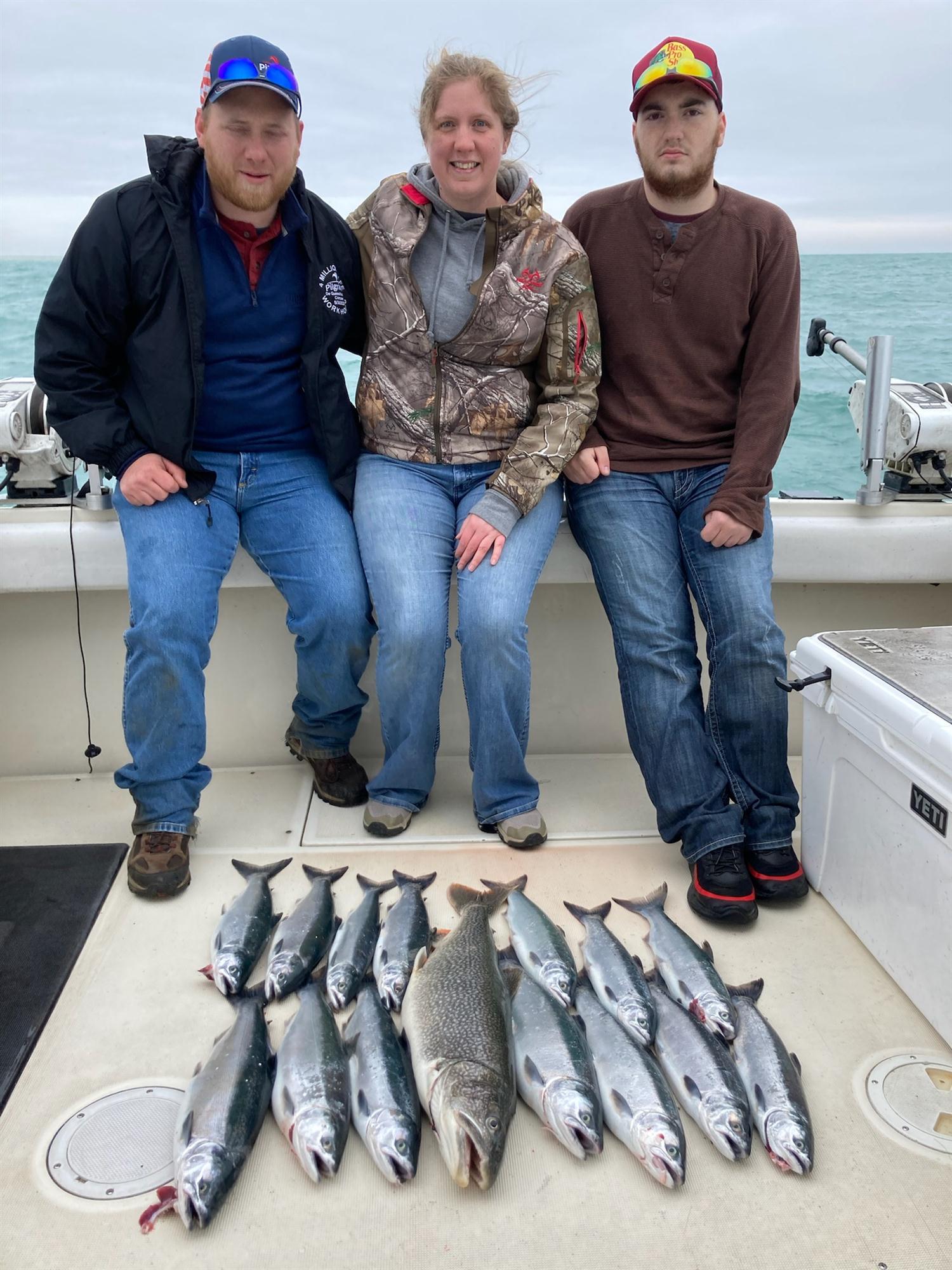 Report for April 23, 2021
April has continued to be very good. We have had some excellent Brown trout fishing but last weekend the Milwaukee harbor was invaded by 5 to 8 inch Alewives. Great to see but that did hurt the bite. We tried fishing the boils by Grant Park and there were some Coho salmon but the Alewife problem was there too. We decided to move the boat and try Racine charter fishing. There were some good reports from last weekend. On Wednesday we caught 25 Coho salmon and Friday we did the same in half the time. The move paid off. We were planning to head to Racine the last two weeks on May to fish Coho salmon but plans changed quick when the bite started early. The Alewives that have shown up all along the shores have been impressive both in size and amounts. You cannot run a spoon through the water without snagging one. We have had some of the bigger ones pull our board back. One trip we had some children having fun reeling them in. These fish are 4 to 7 years old and we were lead to believe that there were very few Alewife left in Lake Michigan this size. An Alewife this size can spawn well over double what the two and three year old fish can do. If there is good survival from this hatch Lake Michigan will be in a great spot for bait fish for several years. The Coho salmon are good size for this time of year and we have boated a coupe of five pound Coho already.
This time of year we are usually still harbor fishing Brown trout. I do think there will still be some good Brown trout trips before spring is done but it is all Coho salmon for now. When we were Brown trout fishing we were running leadcore from one to three color on the boards. The top spoon was Mass Confusion from Stinger in the stinger size. The riggers and mono dipsies had Gold Huds and Blue Dolphins from Stinger in the stingray size. All of our action was in the Milwaukee harbor from the main gap and river to the south gap. Once the catch was too many Alewives we ran a mix of spoons and orange dodger and peanut flies at the boils. The spoons once again snagged too many Alewives. When we got to Racine we went all orange dodgers and peanut flies. These set ups did not snag as many bait fish but we still got a few. We fishing right outside the harbor but there was good action all along the shoreline. Our best action was on a green fly or a two tone fly. All mono boards, mono and braid dipsies and we ran only two riggers.
We tell our customers that Mid May through late June is the best time for Coho action. It has started early and we hope that it continues on and off right through June. This is just the start of what could be a great year of Coho action. Indiana and Illinois are usually catching Coho action like this as we are catching Brown and Lake trout. We still think Mid May and June will see some great Coho fishing but this is a great bonus. We still have not boated a Chinook or Rainbow trout but the thought is there is a lot of bait everywhere and those fish do not have a reason to leave the middle of the lake. Call Silver King Charters at 414-460-1467 to get in on some early season salmon and trout fishing. I have attached some pictures of some recent Lake Michigan charter fishing trips. The trip on Wednesday we were in a snow storm. I hope that is the last time we see snow until the boat is put away in early November.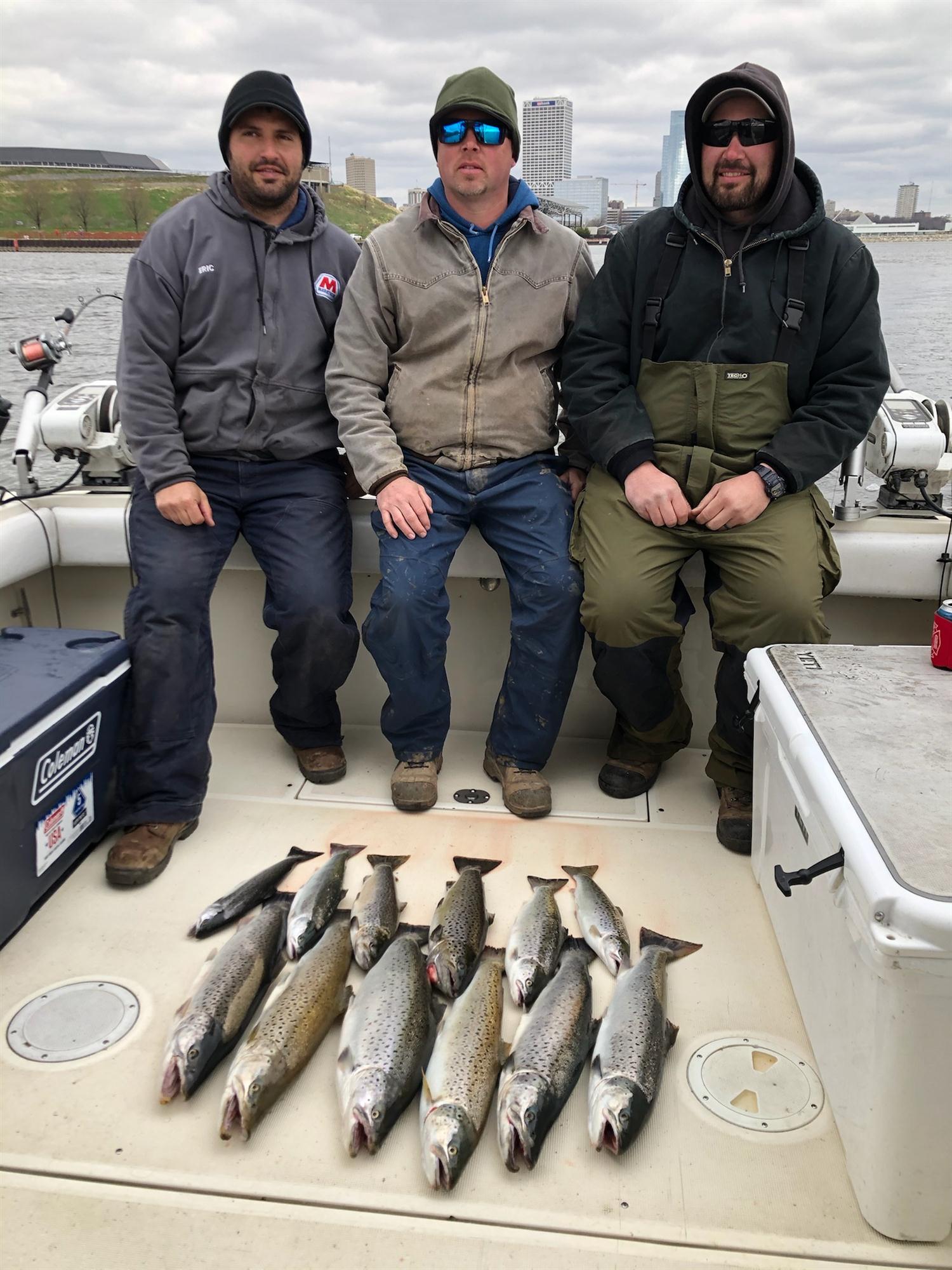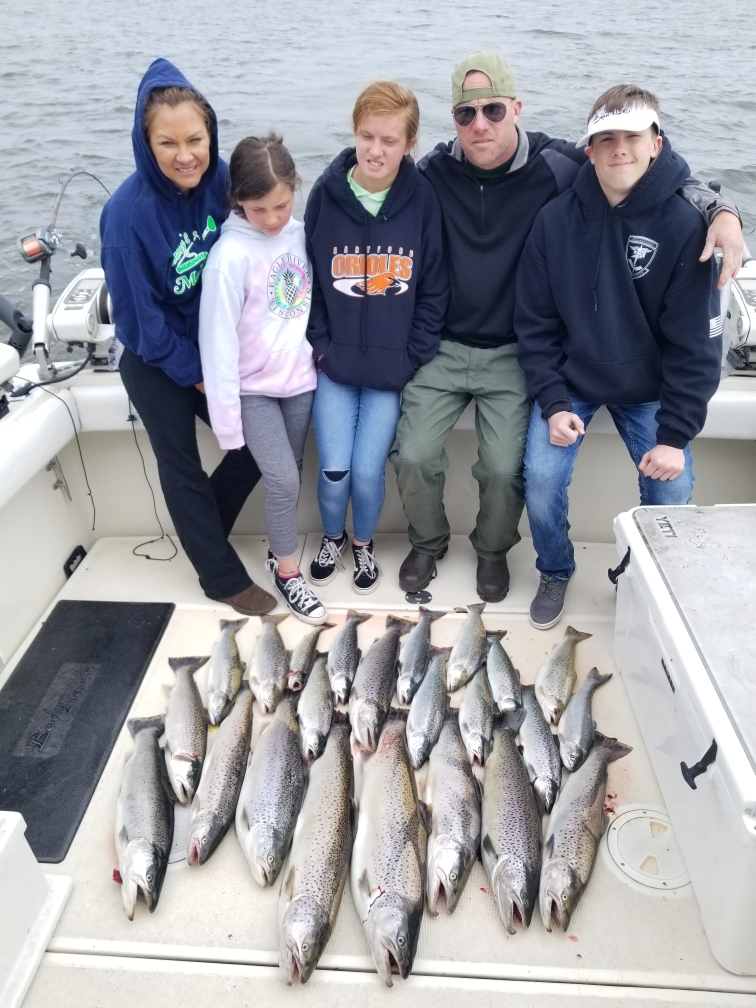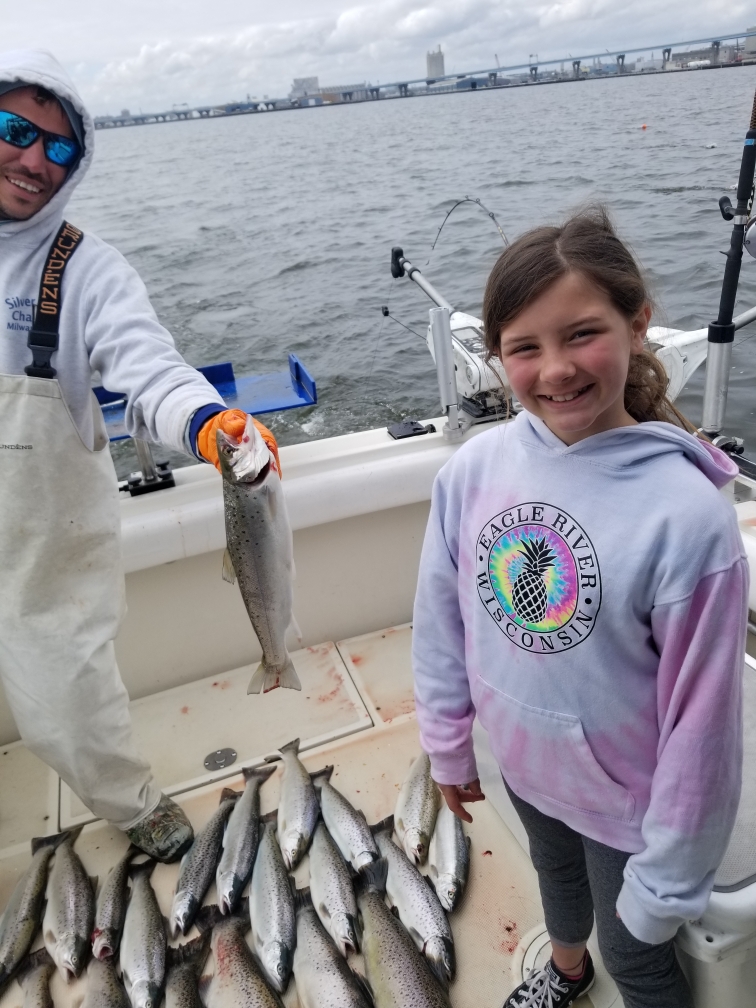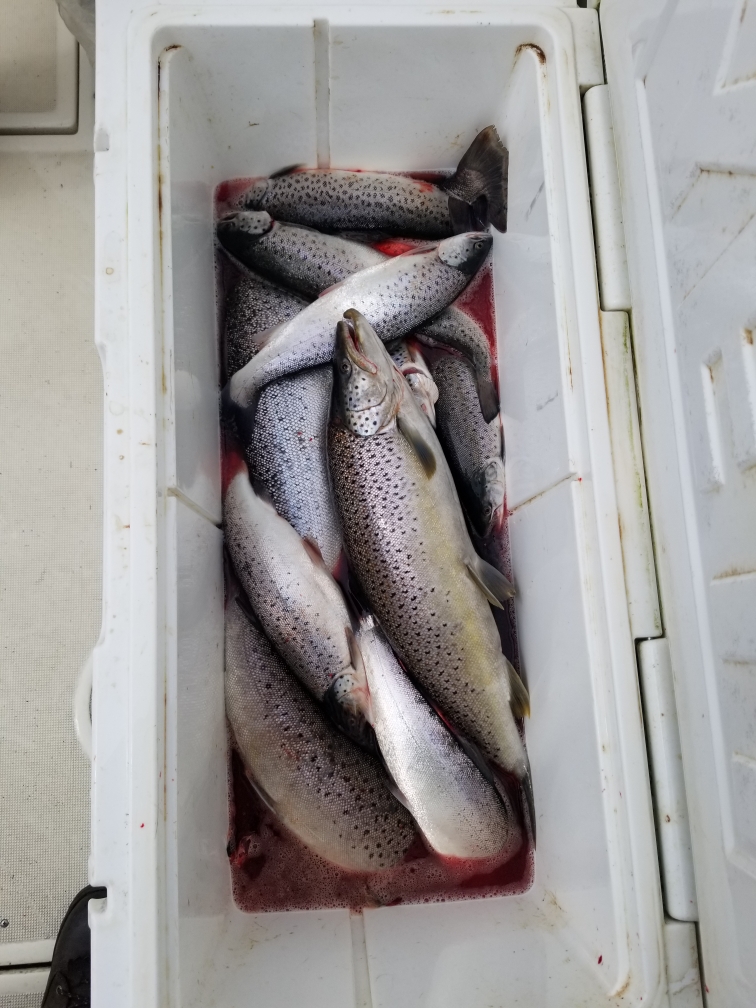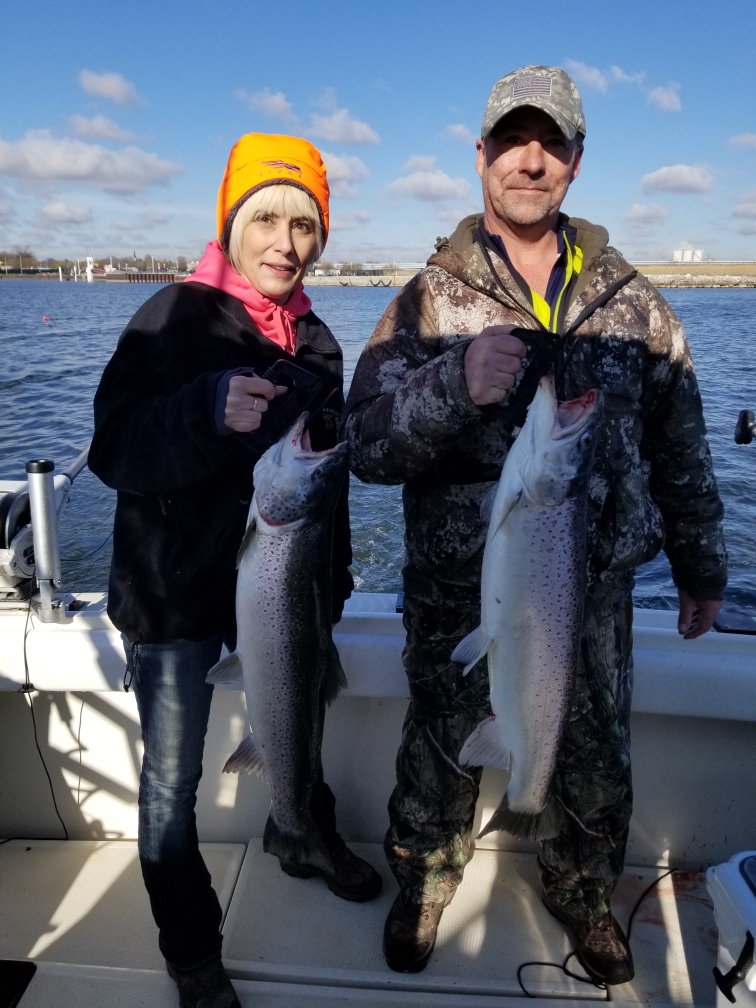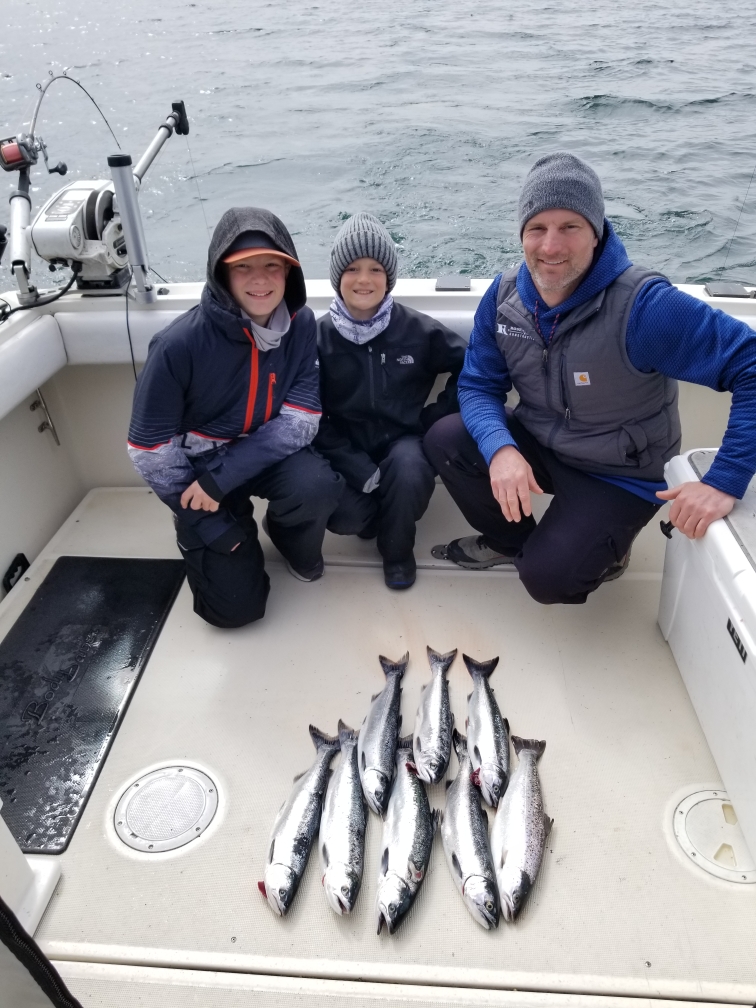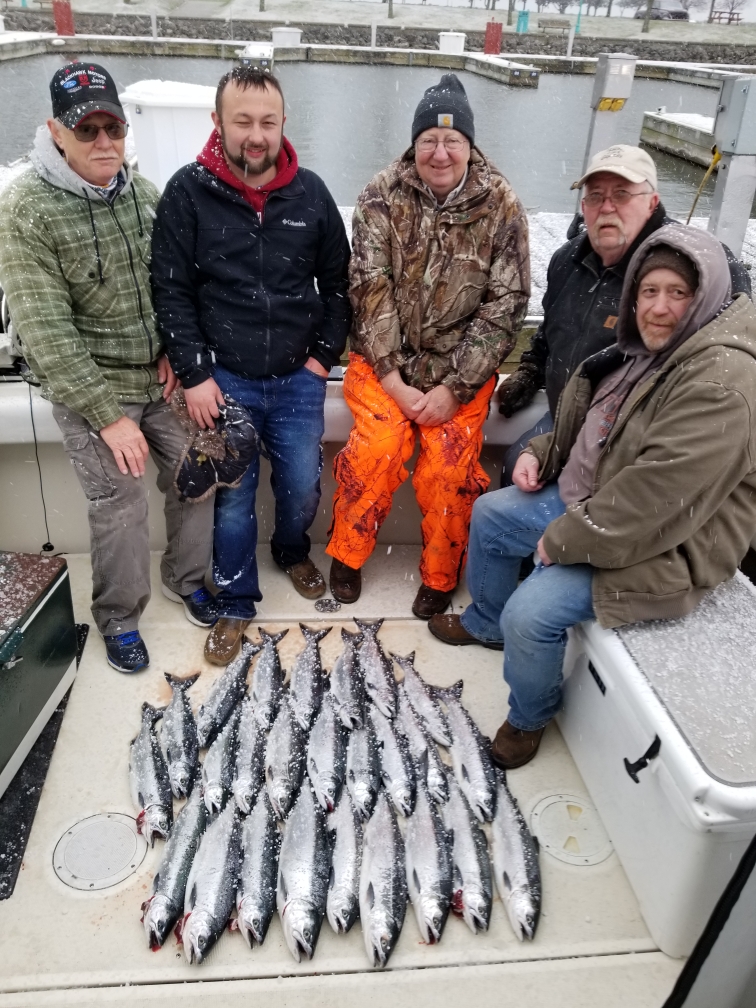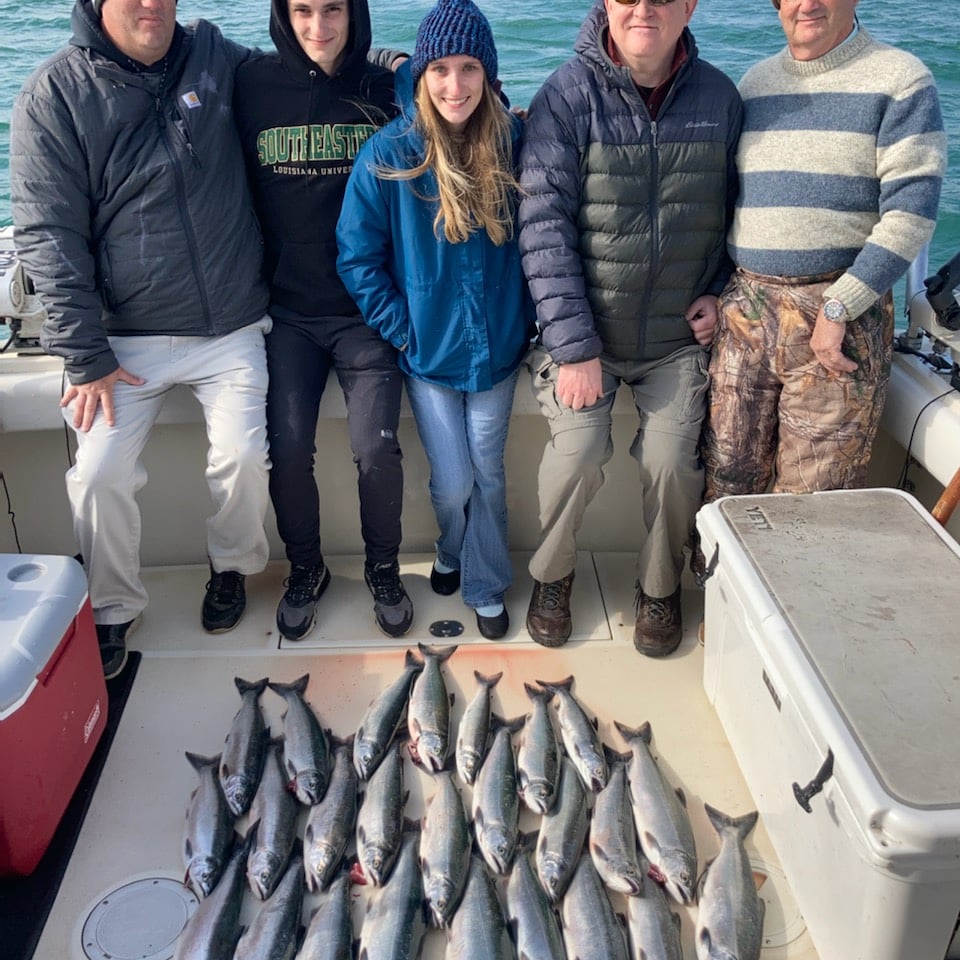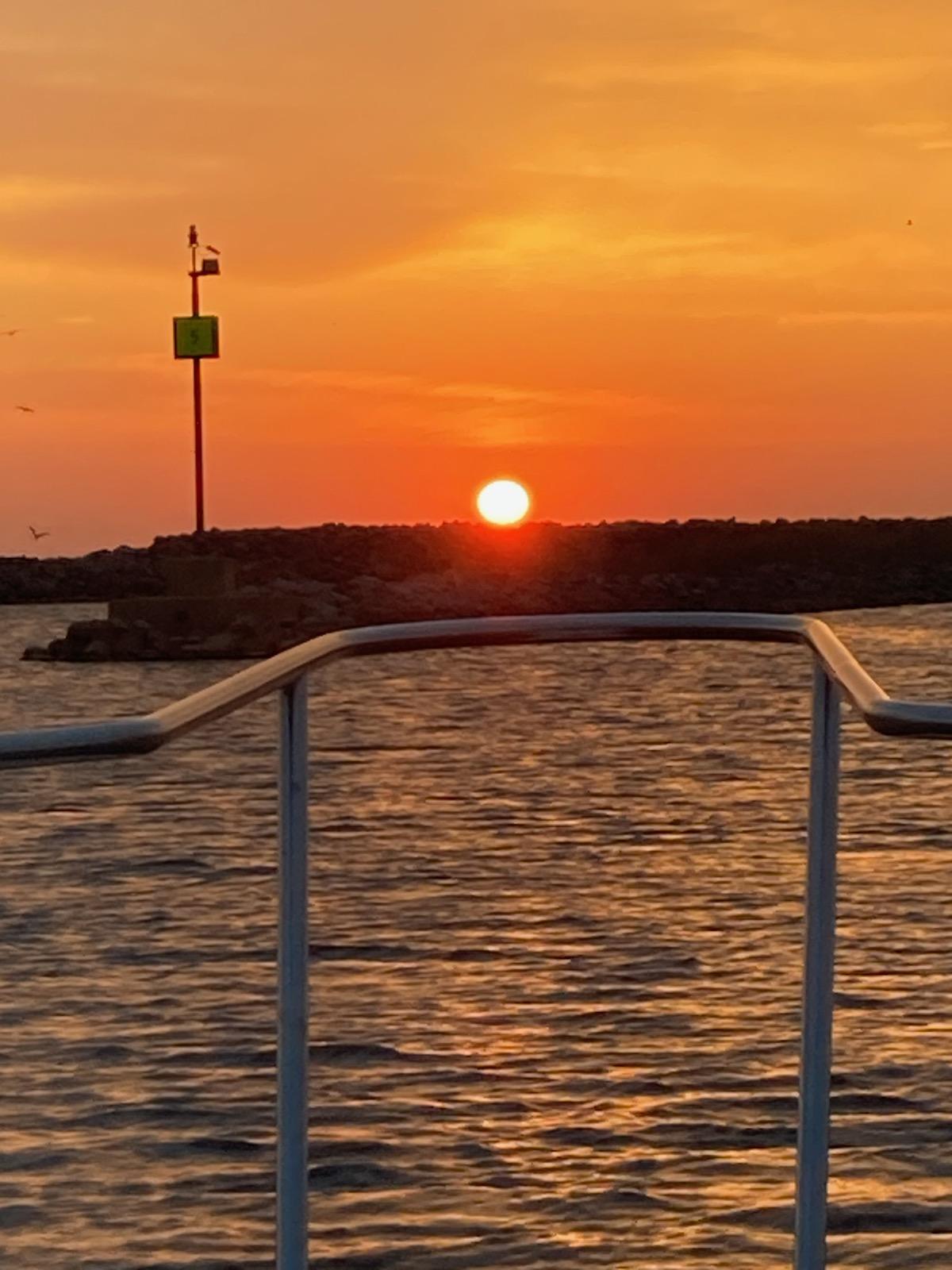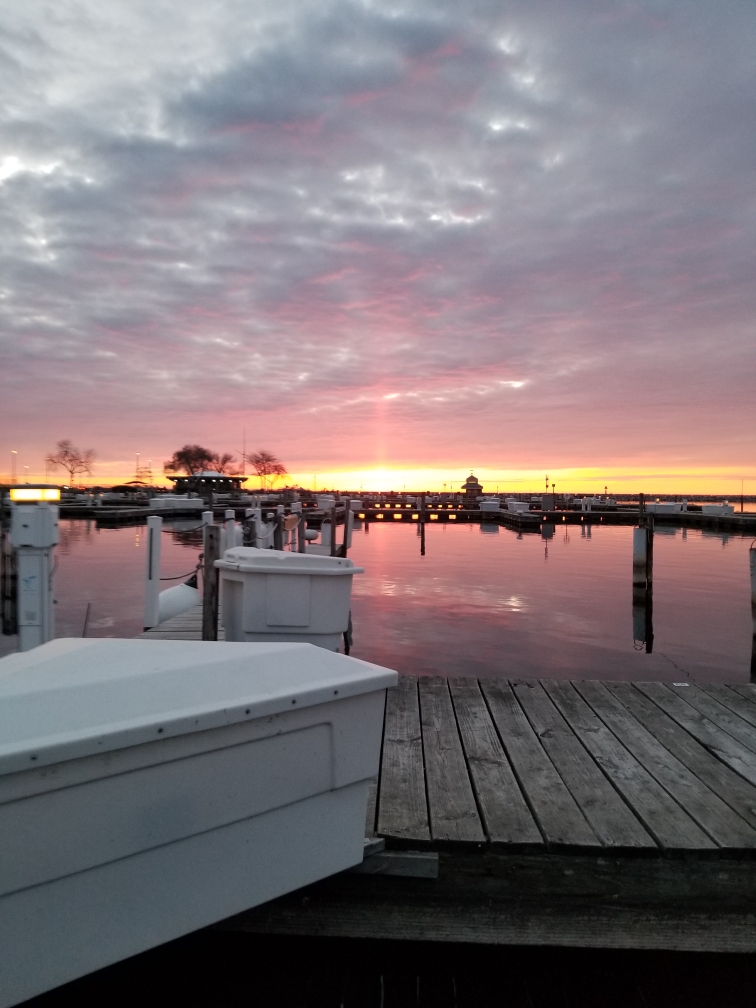 Report for April 5, 2021
Silver King Charters got off to a fast start in late March and early April. Some incredible fishing, with some quick limits. We have been fishing the Milwaukee harbor from a half mile south of the river channel to the south gap. It has been good everywhere. There has been a good mix of Gizzard shad and Smelt in the harbor. Water clarity was that perfect murky and surface temperatures where 42 degrees. This lead to and outstanding bite. We caught mostly Brown trout but we also boated some Coho salmon and Lake trout all inside the harbor. Over the years we have only boated 2 Lake trout in the harbor but early this season we have caught a half dozen. On Sunday the water clarity became a little too clear and the current coming out of the river became very light. The bite slowed down. With the rain expected this week the action should turn back on. This is just the begin of the good Brow trout bite and with other species in the mix this April is going to be some good fishing.
We are running all spoons, with the hottest being the Mass Confusion copper stinger size Stinger. The one and two colors along with the up high riggers set 10 and 12 feet down all have these spoons on and they are delivering. The Gold Hud & UV blue Dolphin in the stingray size are on the deep riggers and mono dipsies. We are running 3 and sometimes 4 color leads with Gold NBK Green stingers. Gold and copper spoons seemed to be the ticket. We have seen several Lake trout and Brown trout in the 15 pound class. The shoreline both south and north of town along with the boils off Bender Park are delivering fish.
The weather this spring has been very good. Air temperatures have regularly reached the 50's and the next week looks great. Give Silver King Charters a call at 414-460-1467 to start catching fish in April. Below are some pictures from the last several days.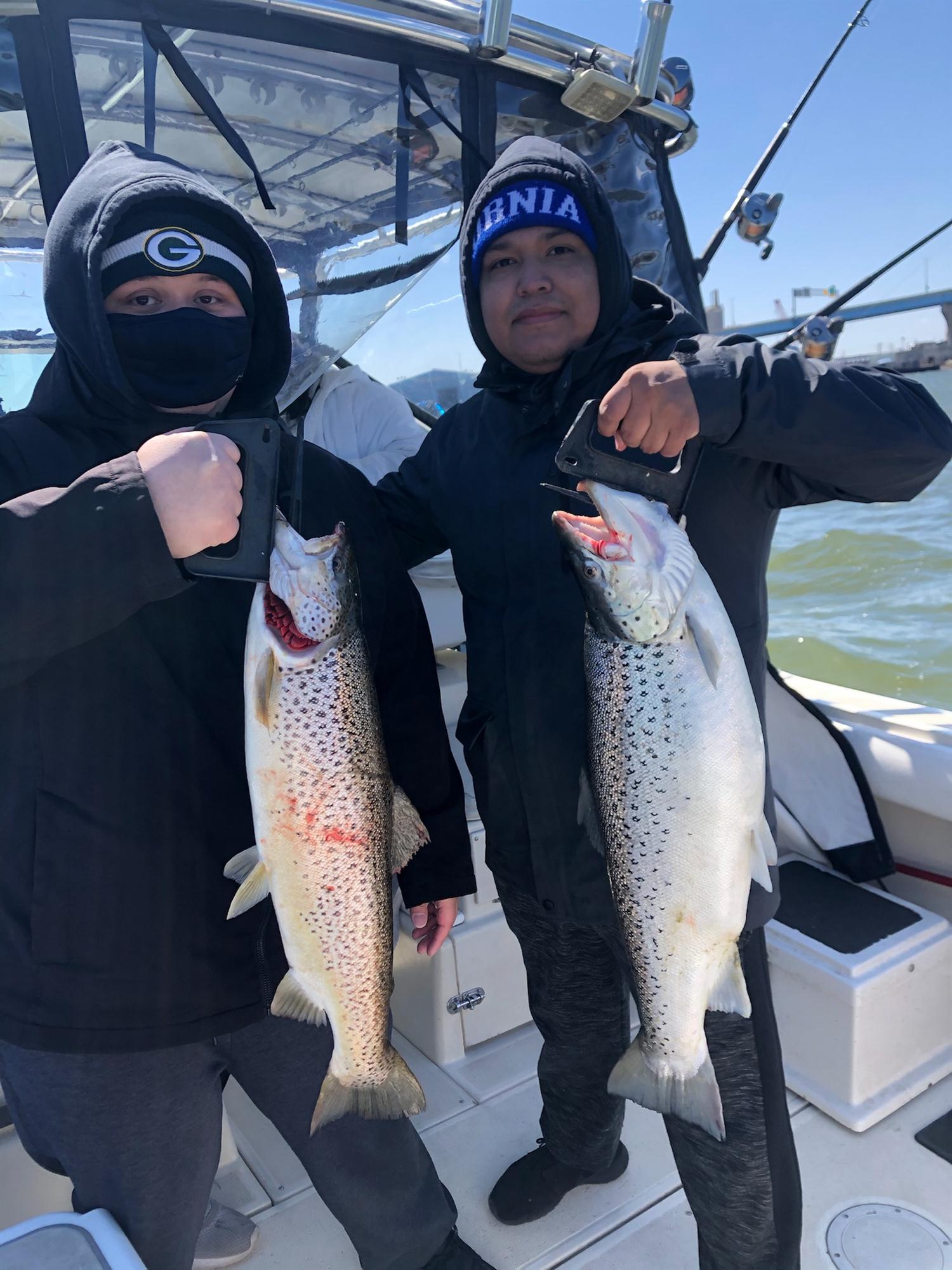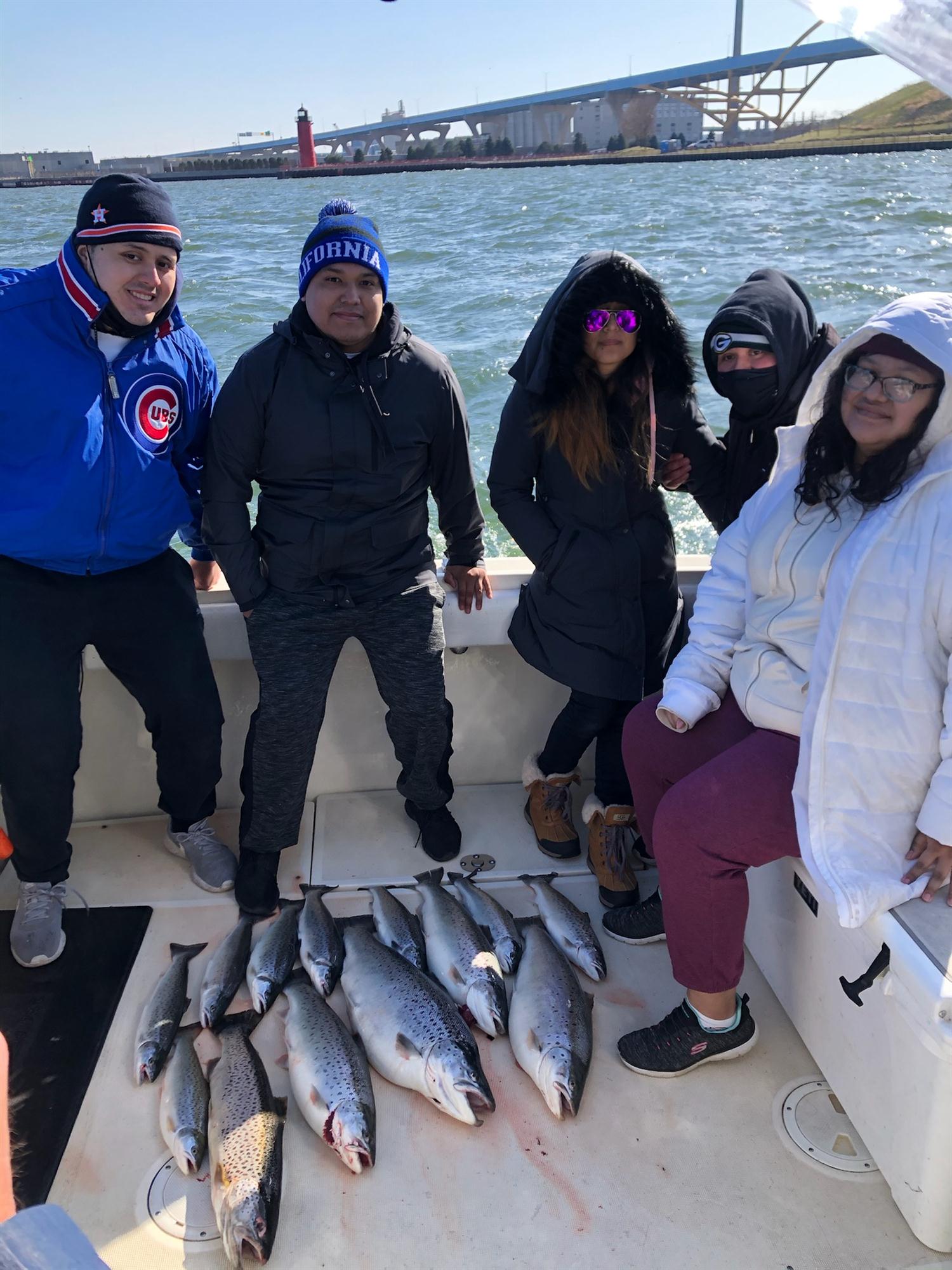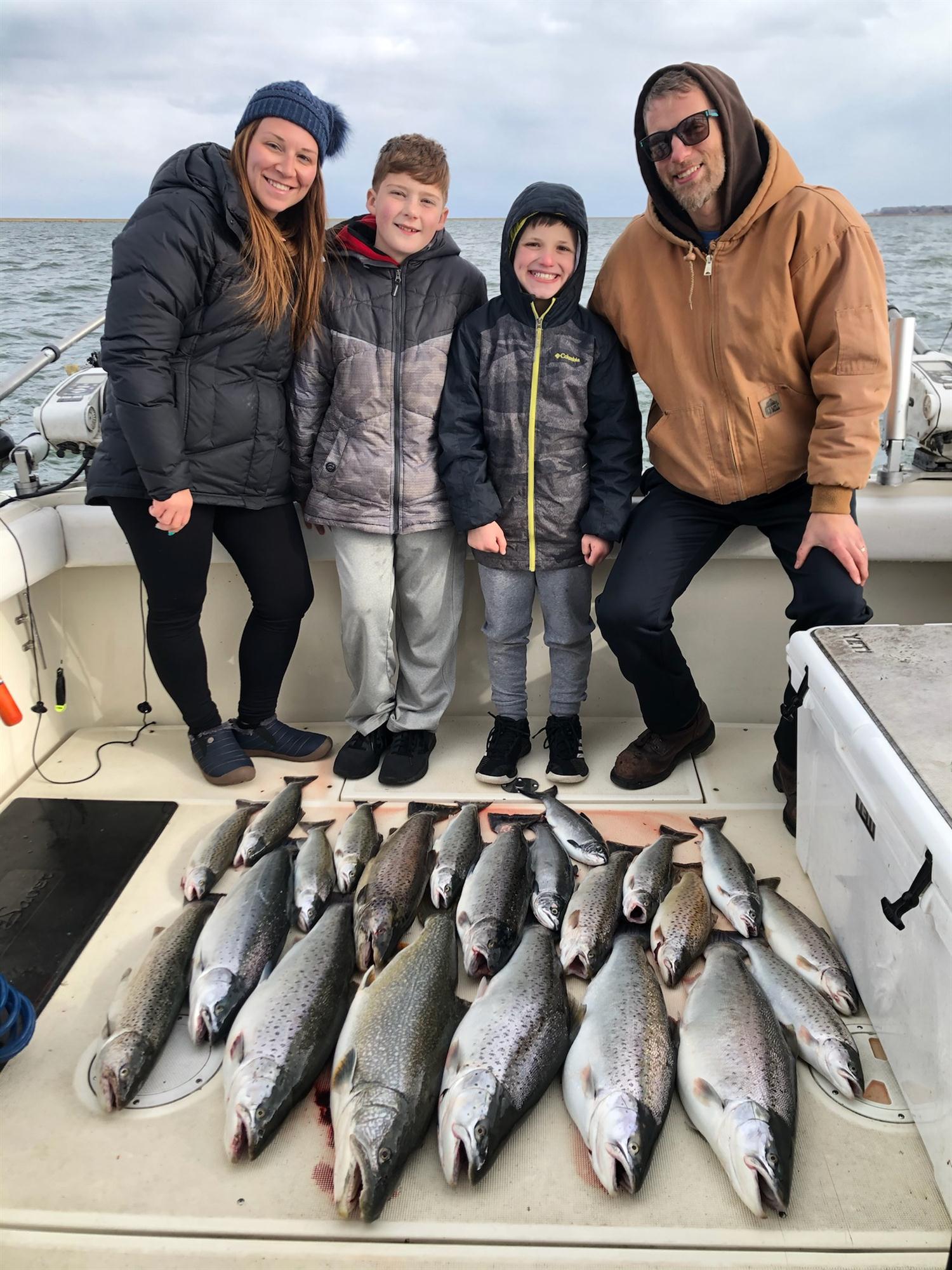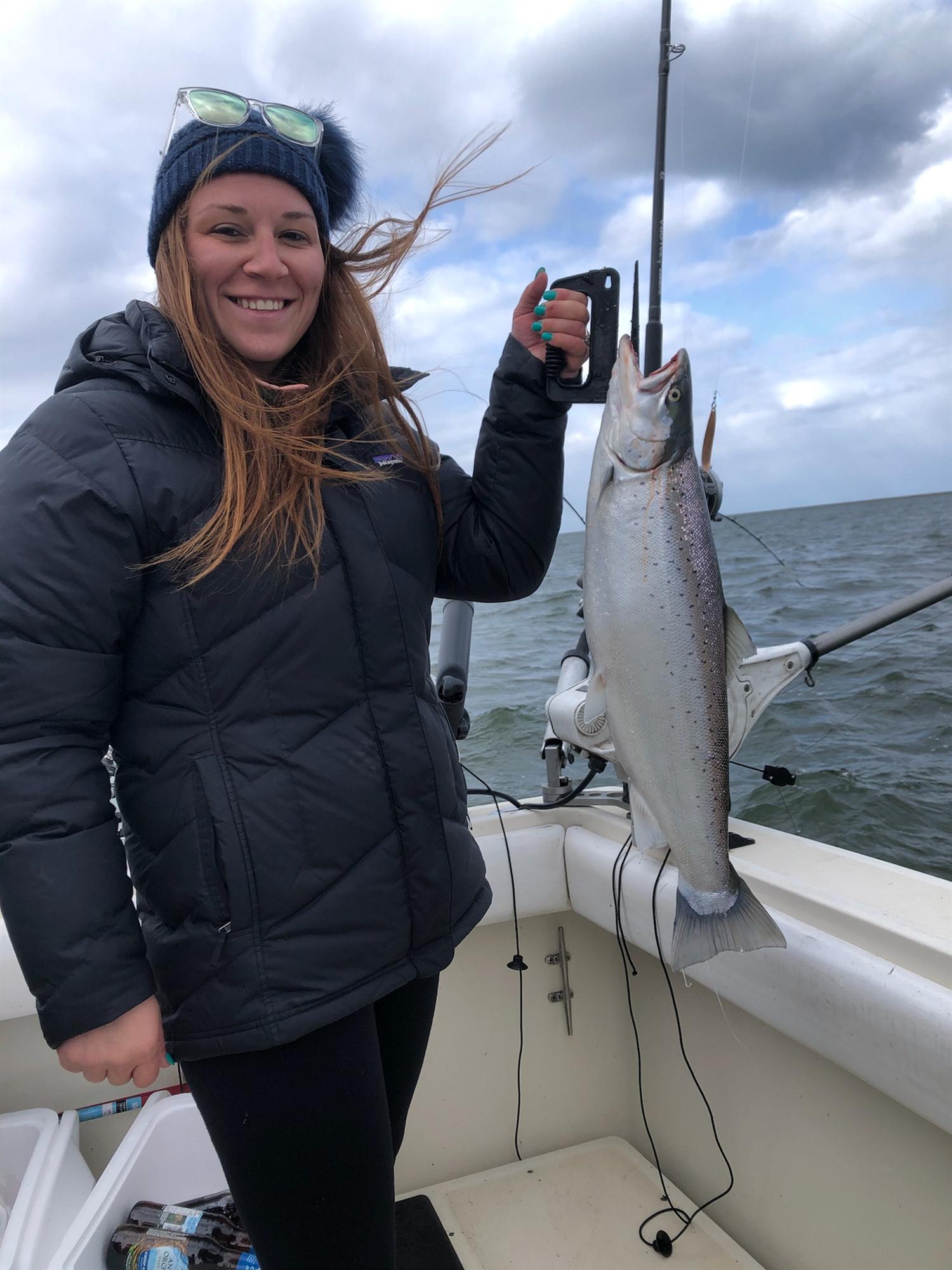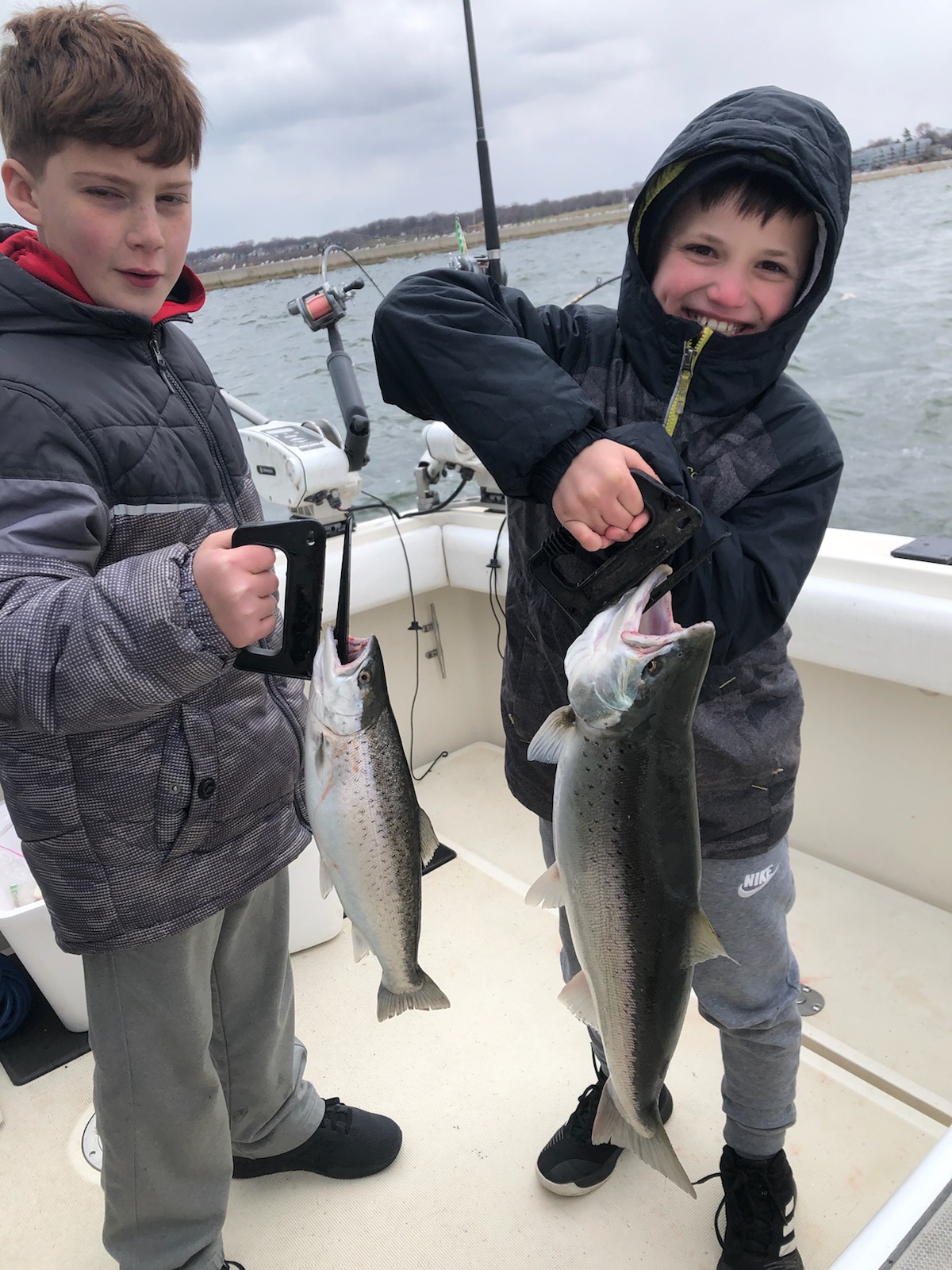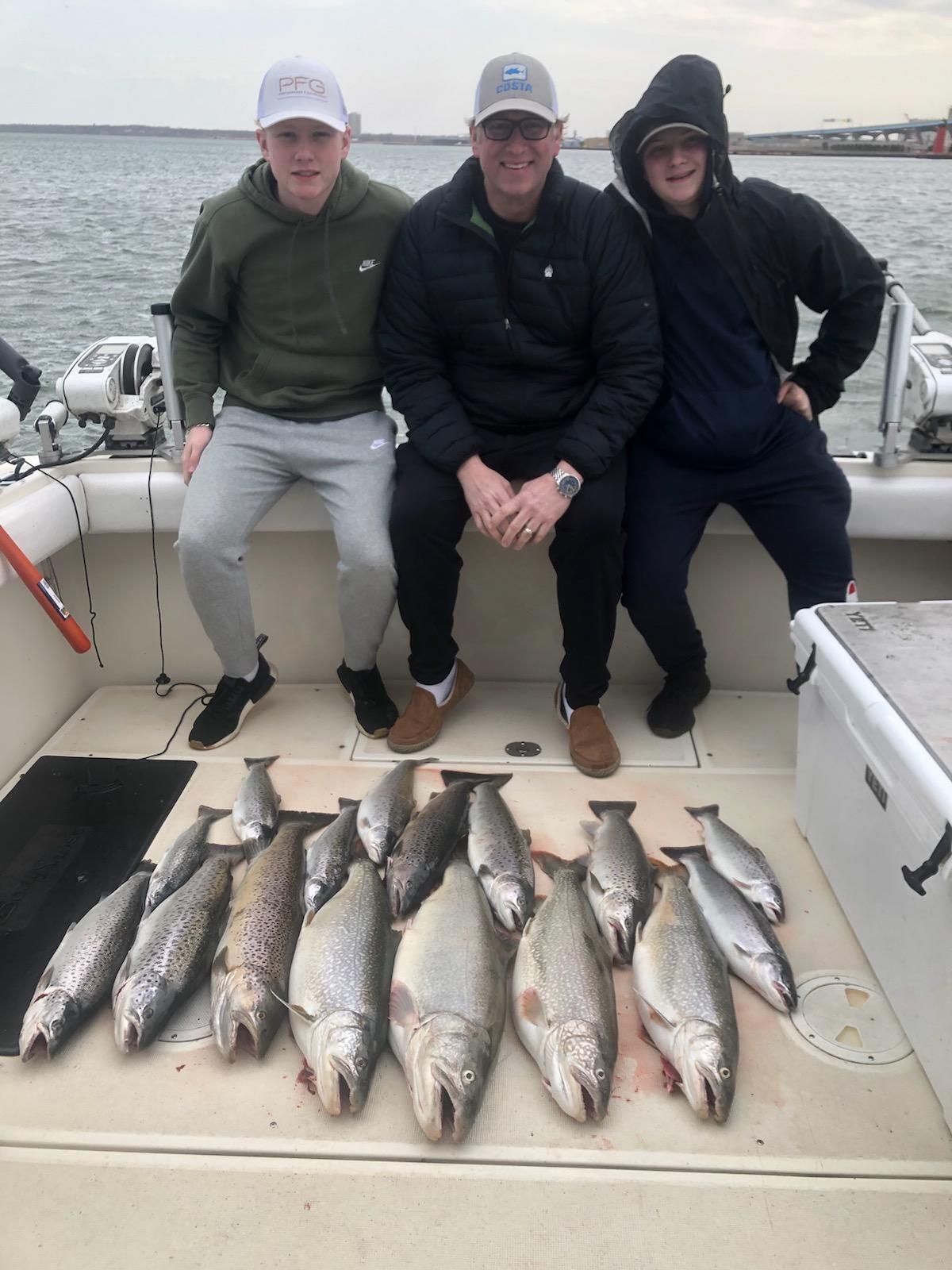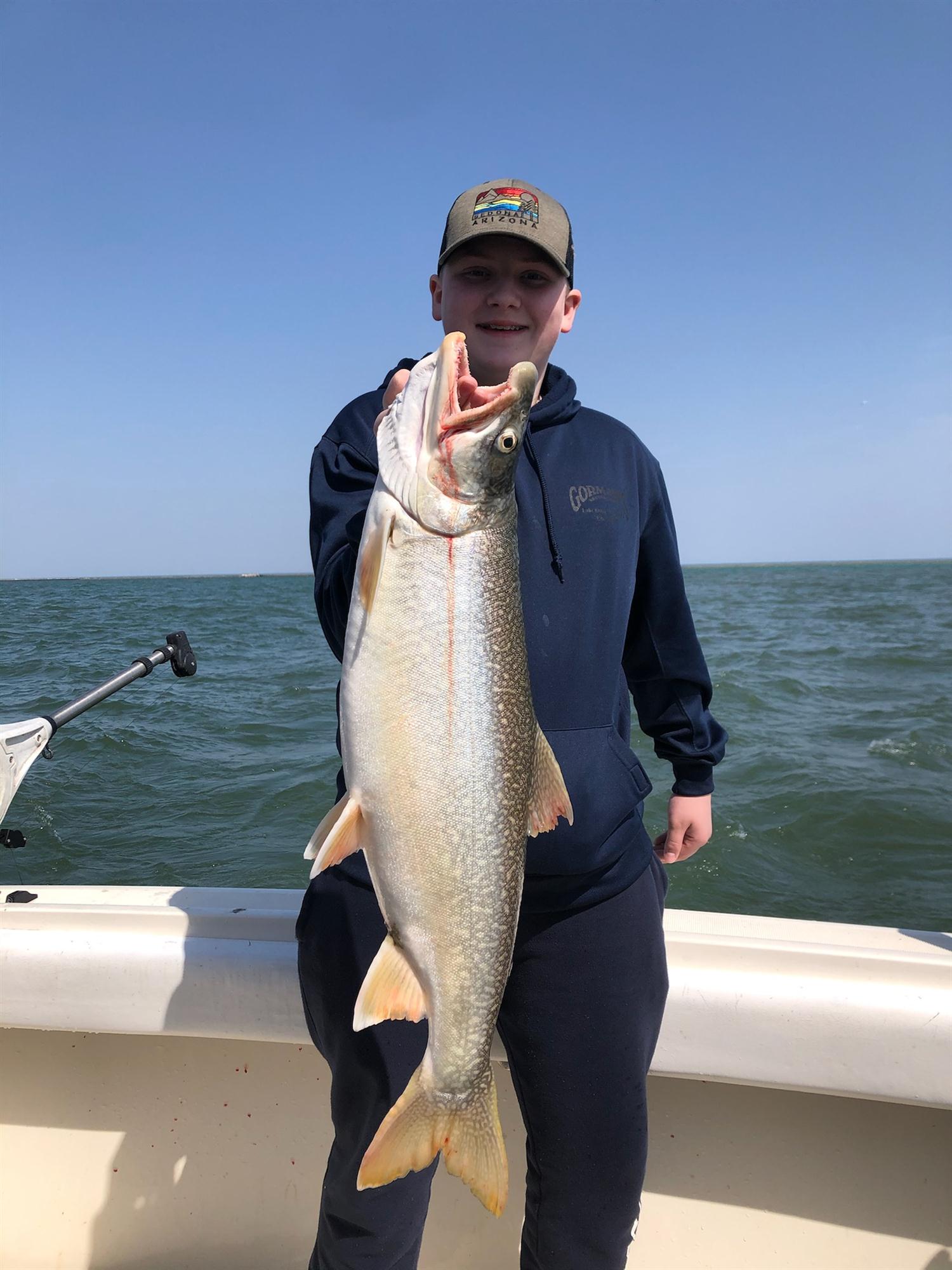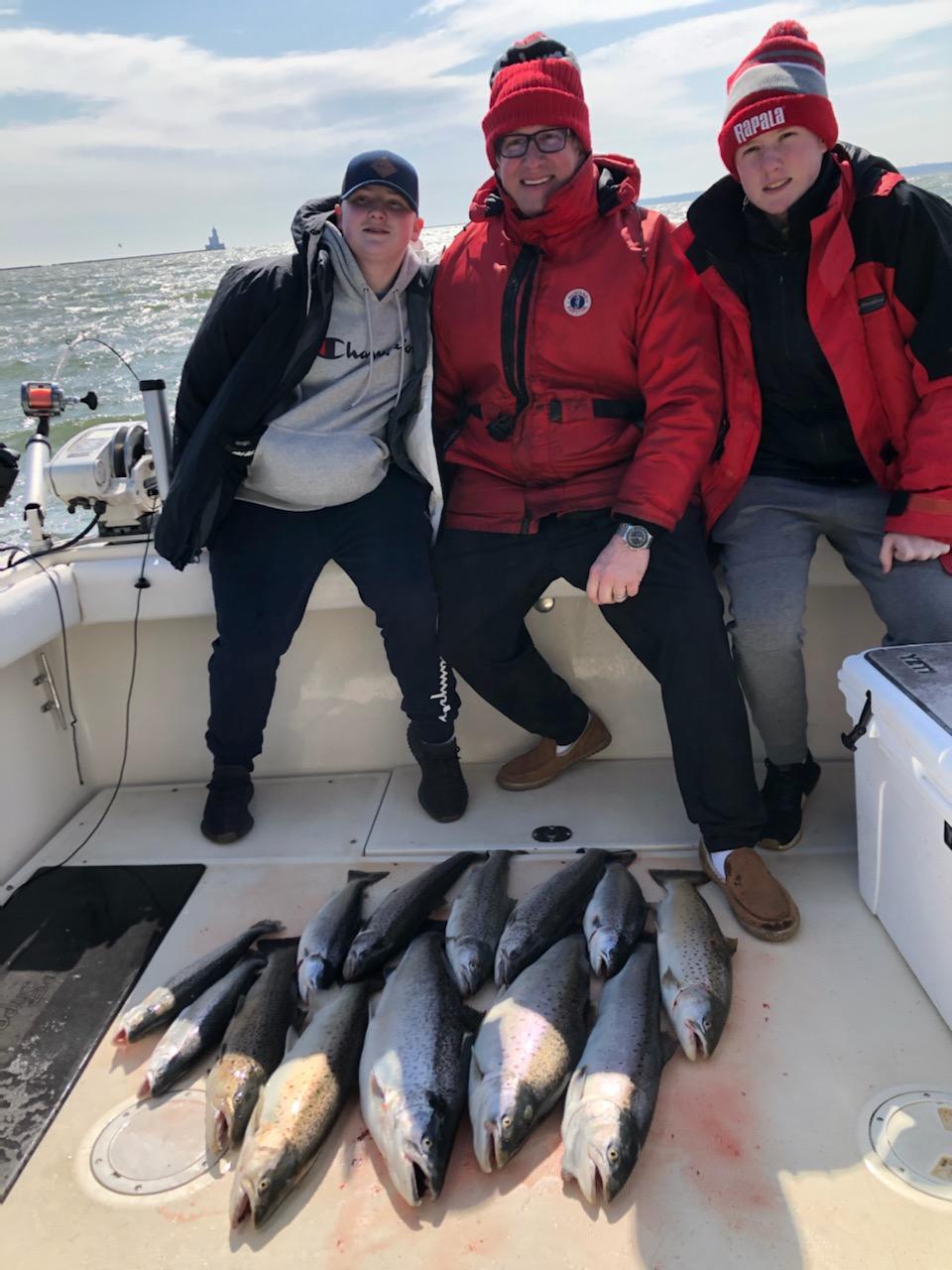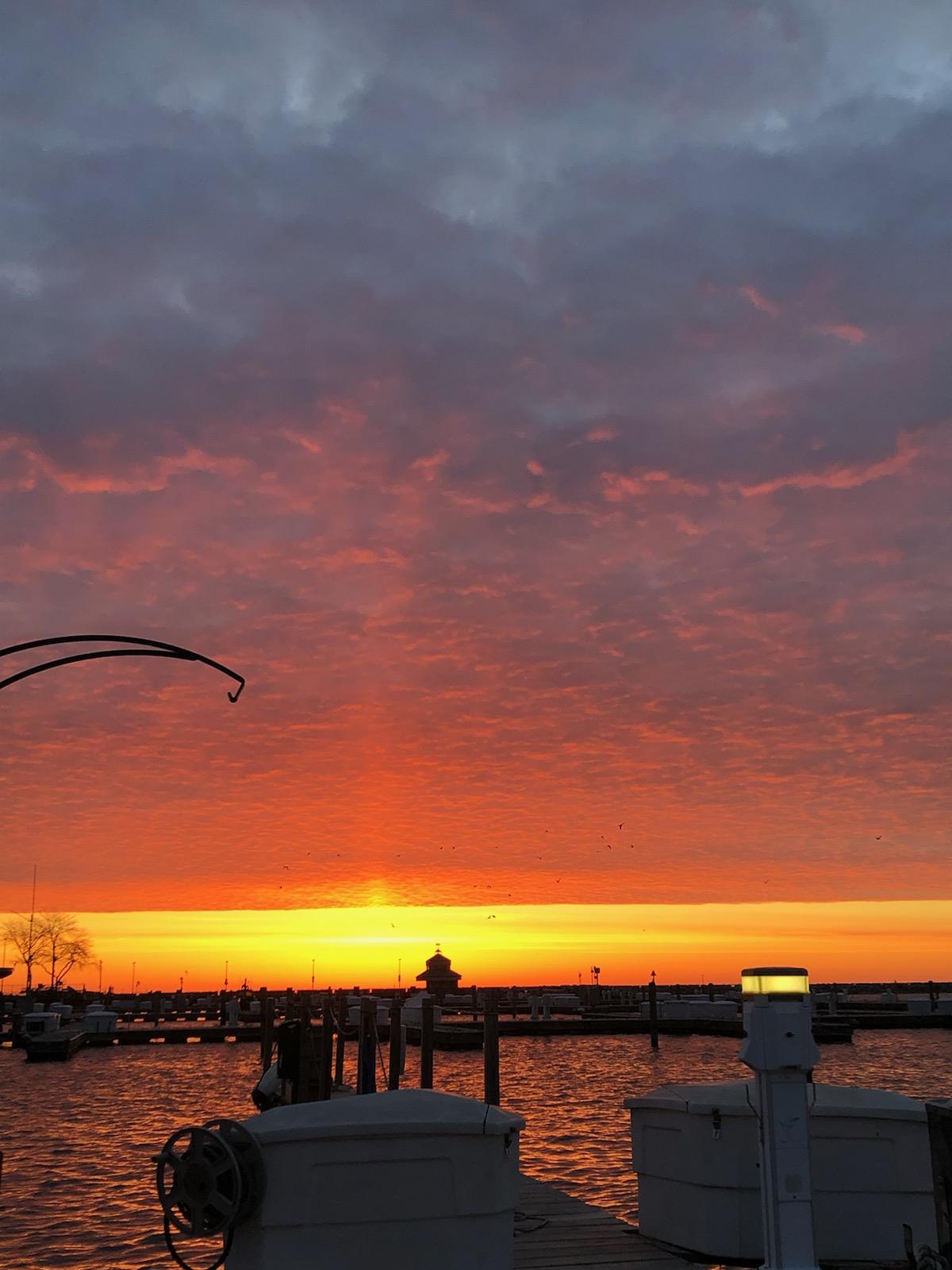 Report for March 28, 2021
We launched the boat on Friday and fished that day and then again on Saturday March 27th. You never know how the weather will be this early in the year but we took a chance because the ice was gone and it paid off. Friday we did a shake down cruise after launching and within 50 minutes went 9 for 16 on Brown trout. This was in the middle of the day. On Saturday we fished 3 hours and caught 15 Brown trout. The biggest was 15 pounds. This is no doubt the best time to catch Brown trout all year. We fished the Milwaukee harbor from the art museum to the discharge. There were lots of marks and bait on the screen The bait was Gizzard Shad and the Brow trout were full of them. Water temps were 40 - 42 degrees in the marina and harbor. The set up was perfect and the fish were biting. We saw all year class sizes and some post spawn fish. As long as the bait keeps showing up and we don't have a huge rainfall this is going to be a good Brown trout spring.
We ran 3 boards with a one, two and three color leadcore on each side. The Stinger Mass Confusion in stinger size was by far the best bait followed by the Stinger UV Watermellon spoon. Riggers down 17 feet also contributed with gold hud or gold NBK spoons. The mono dipsies did not fair so well but Blue Dolphins where on these and will be changed for something gold or copper. Speed and direction did not really matter.
Late March and early April are the best time to target Brown trout and we have boated many 10 to 15 pound fish, with an occasional 20 pound Brown. Several years back we caught a Brown trout that weighed a little over 33 pounds. Weather is always a concern during this time but we are mostly in the Milwaukee harbor, which allows us to run a lot more trips that could be lost to big winds. We also have the cabin enclosed this time of year to block wind and rain. Looks to be a good bite this spring for Brown trout so call Silver King Charters at 414-460-1467 and get in on some April Lake Michigan Charter Fishing. We are in and catching. Below are a couple of pictures from Friday and Saturday. Great picture of Colin holding his limit. Amazing first mate.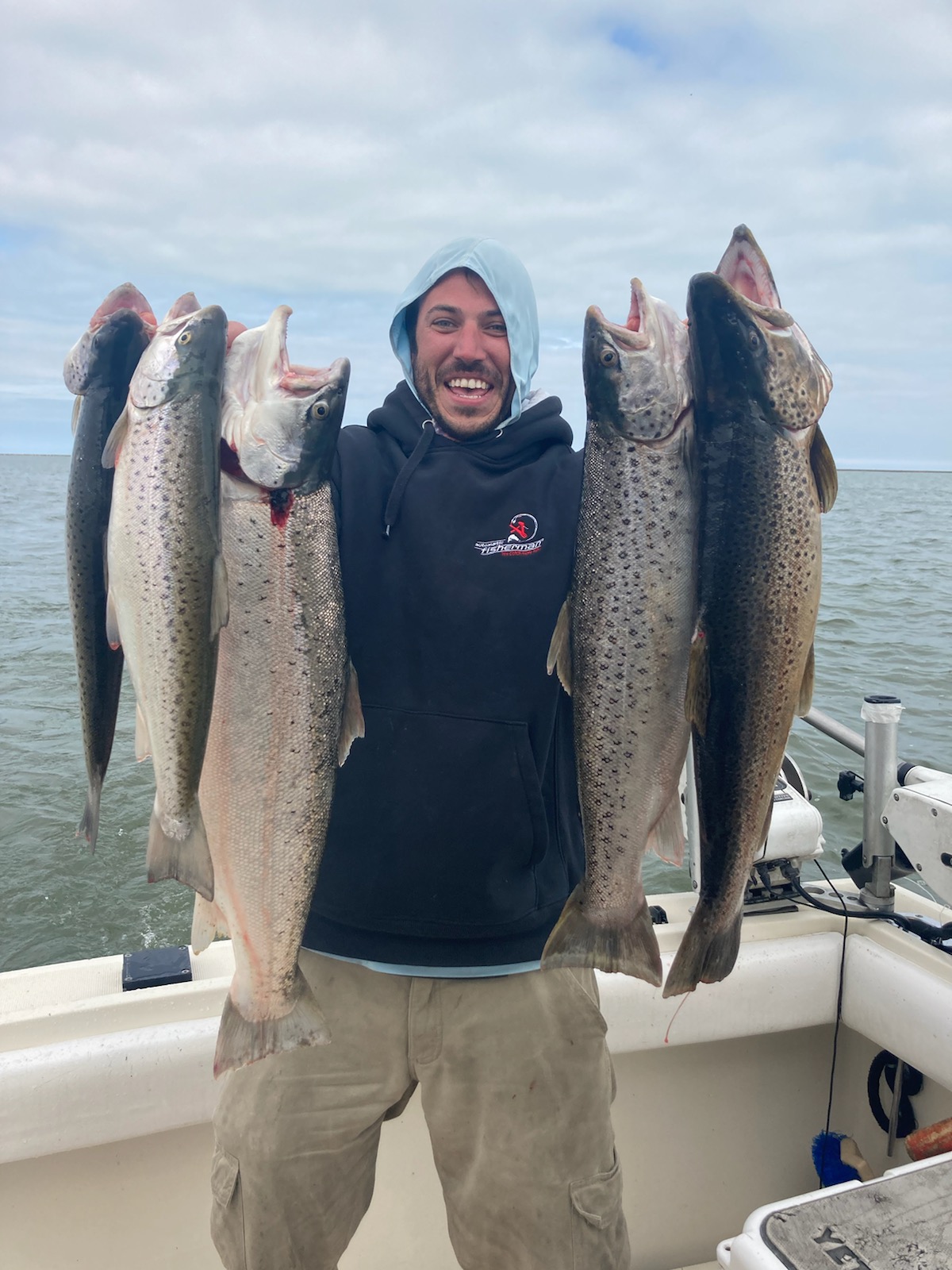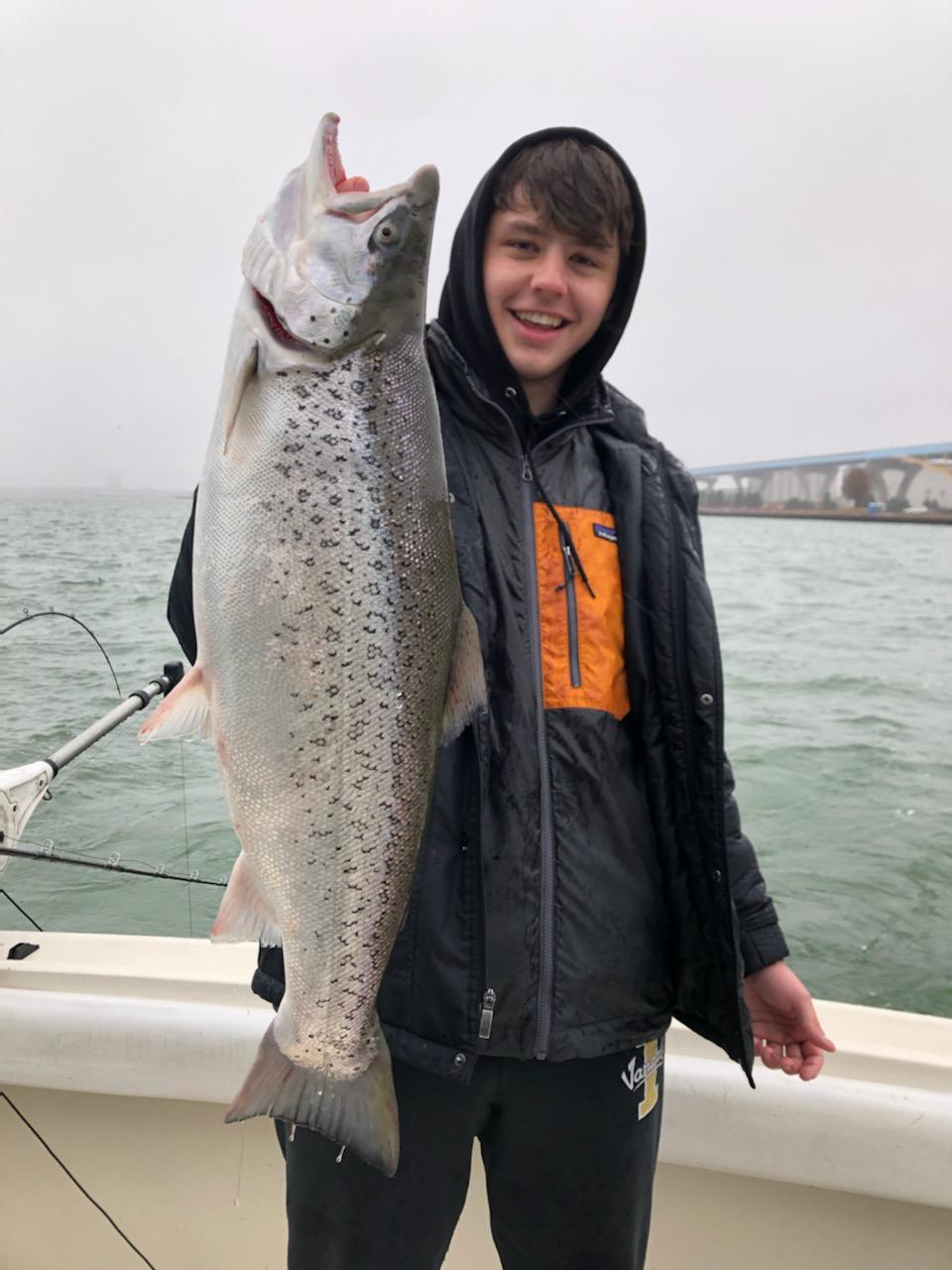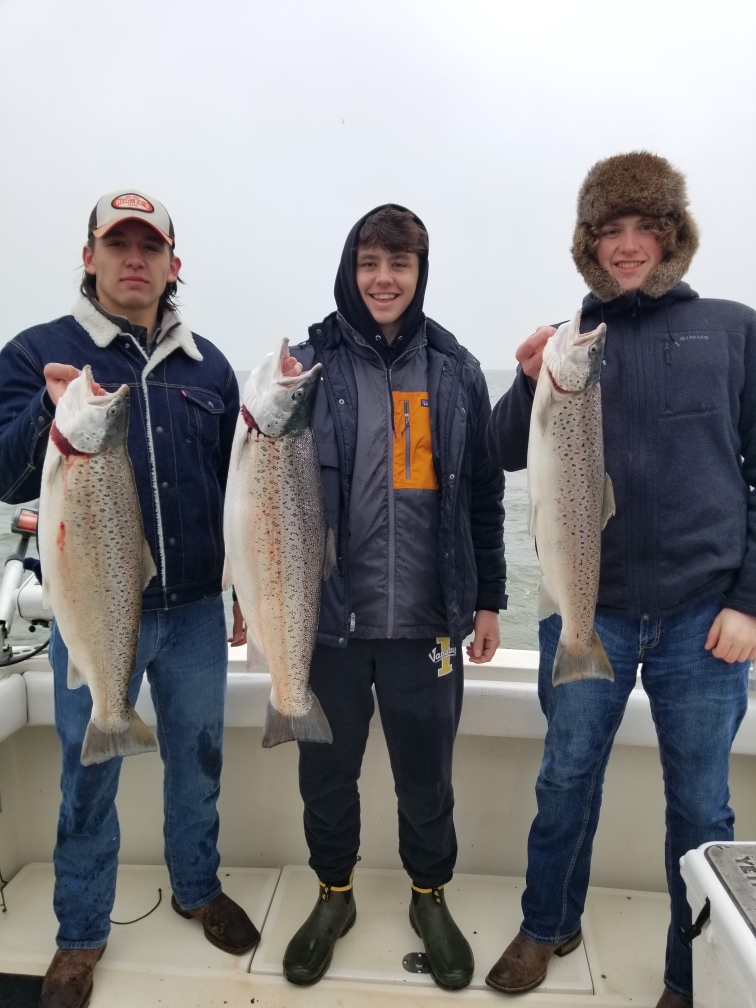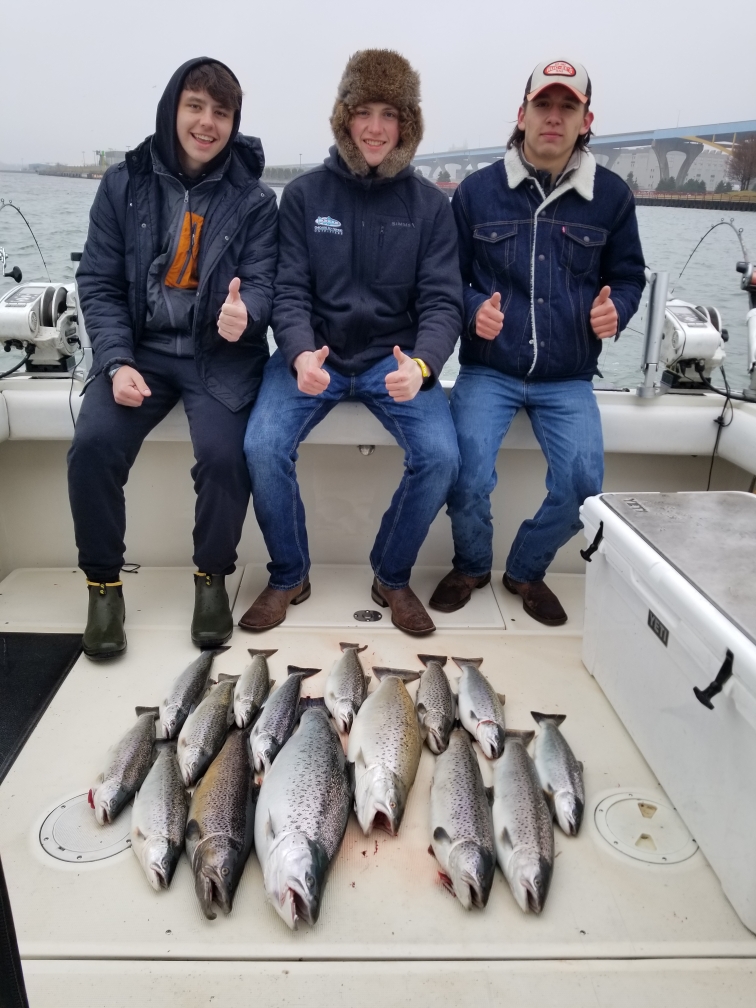 Report for March 7, 2021
March has arrived and brought with it mild temperatures. The winter as a hole was not bad except for three weeks in February. Lake Michigan remained mostly ice free. The current ice coverage on Lake Michigan is 15% and the greatest coverage was 35%. Boats are already out fishing and we expect the remaining ice at the marina to be gone in ten days. We hope to have the boat in the water on March 26th and we are already to fish for March 27th. We have added a new Garmin sonar that is superior to anything we have used before. We did full tune ups on the engines, installed new props and added 8 new Tekota reels to the arsenal. All the reels are reloaded with new line. Last year at this time we did not even know if we would be allowed to charter and we were not able to start until very late May. This season already will be better not having to deal with the the uncertainty of last spring. Brown trout fishing has already been solid for those able to get out. The Oak Creek power plant has been delivering good catches. We expect a solid start to the Brown trout bite. We will be in Milwaukee starting March 27th and will move to Racine for three weeks starting May 17th and we will be back in Milwaukee June 6th for the rest of the season in early November when we pull the boat. That is a long ways off though.
We are expecting a solid Brown trout bite this season. The first three weeks we are fishing Brown trout are the top target. By mid to late April we start to see Lake trout added to the catch as we troll the shoreline and move out of the Milwaukee harbor. Once we hit May we will see a blend of Brown trout, Lake trout and Coho salmon. It is not uncommon the catch Rainbow trout coming out of the rivers after spawning and some Chinook salmon. By this time Alewives have shown up in the harbors and shoreline. This sets up the Coho salmon bite and by mid to late May the bite is heavy on Coho salmon. Every year has a different story as to where and when fish show up but the conversion from Brown trout to a mix of Brown, Lake and Coho to almost all Coho salmon from April through May happens every year to some degree.
We have seen the Coho bite take off right away in the season. In 2012 we started catching Chinooks and it kept going into August. In 2019 the Coho bite was very week but Lake trout fishing was on fire. Tough to say how any season will play out. The Coho salmon use to come up from the southern end of Lake Michigan and this still happens at varying degrees and this is why we go down to charter fish in Racine. Racine is a 45 minute drive south of Milwaukee by car. This distance can make a huge difference for the Coho salmon bite and is why we slip in Racine for several weeks. Over the last 20 years Lake Michigan has become a very clear lake and this may have helped to change the behavior of Coho salmon movements early in the season. Currents in the lake are constantly changing throughout the season and clearer water can affect current and fish movement.
If all goes well we will have an actual fishing report at the end of this month, with pictures of some Brown trout. After all the turmoil of 2020 this is going to be a very fun season of fishing. Being outside soaking in vitamin D and catching fish is a great way to spend the day. I don't believe we have ever been more prepared for a season, so call Silver King Charters at 414-460-1467 and lets start catching some fish. Below are pictures from April and May of past seasons. I have some pics of early season Chinook salmon and Lake trout, along with the usual Brown trout of April and Coho salmon of May.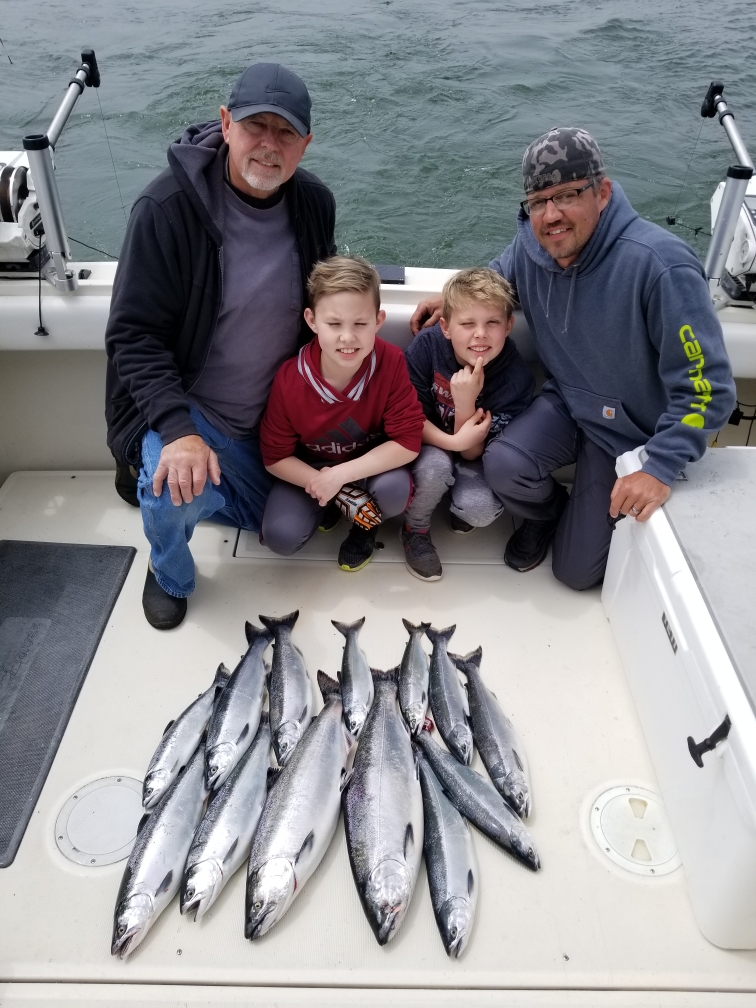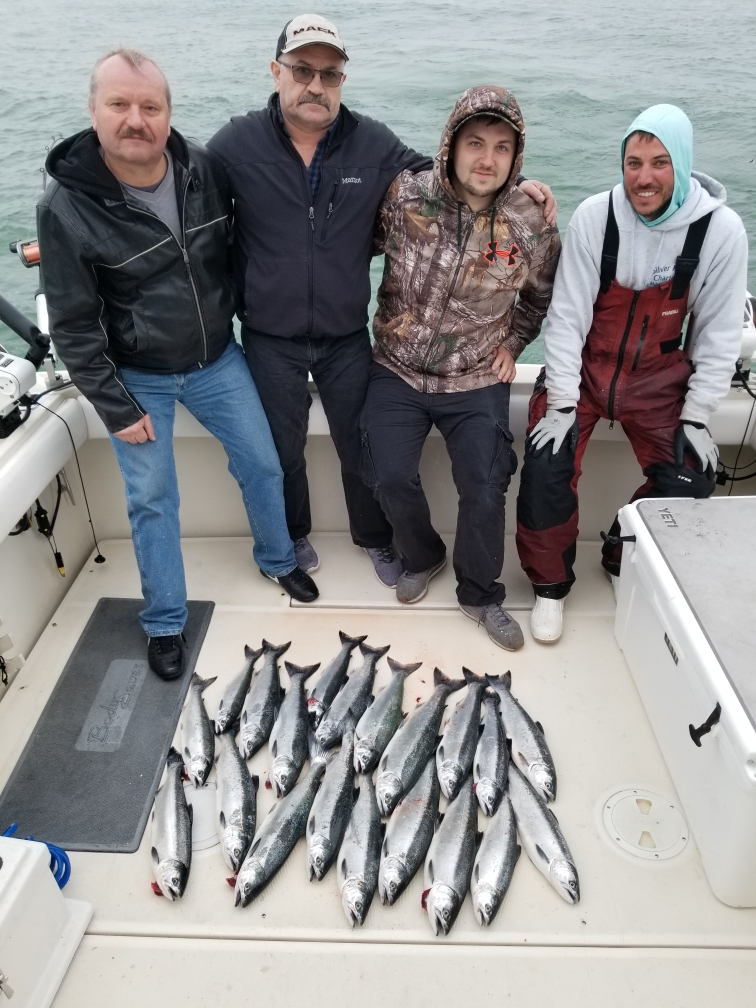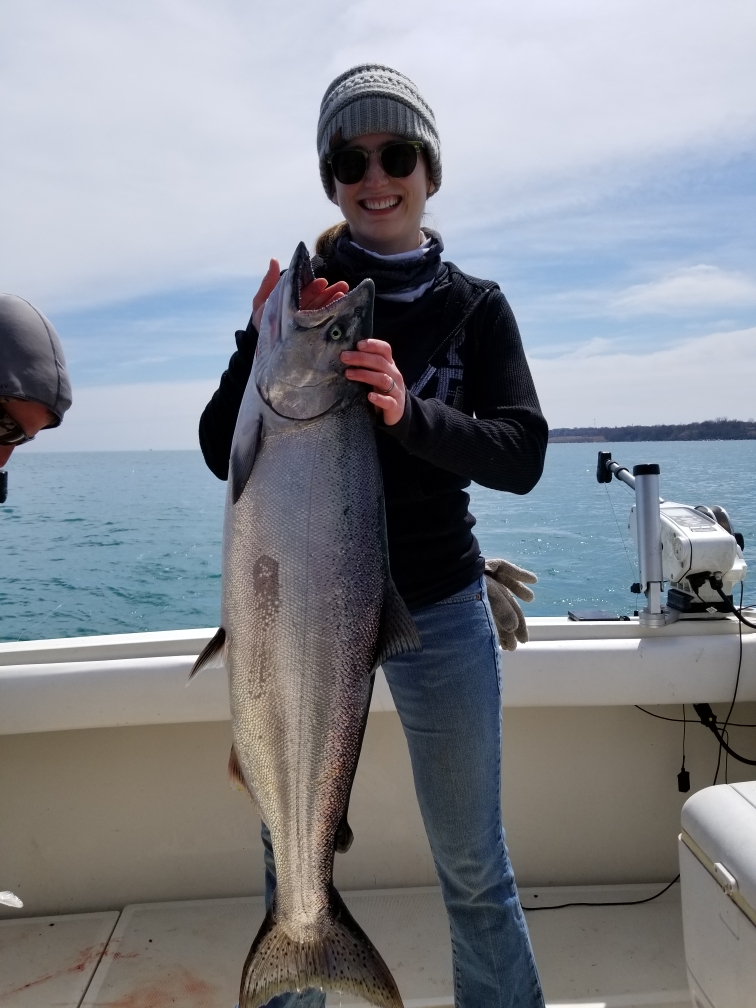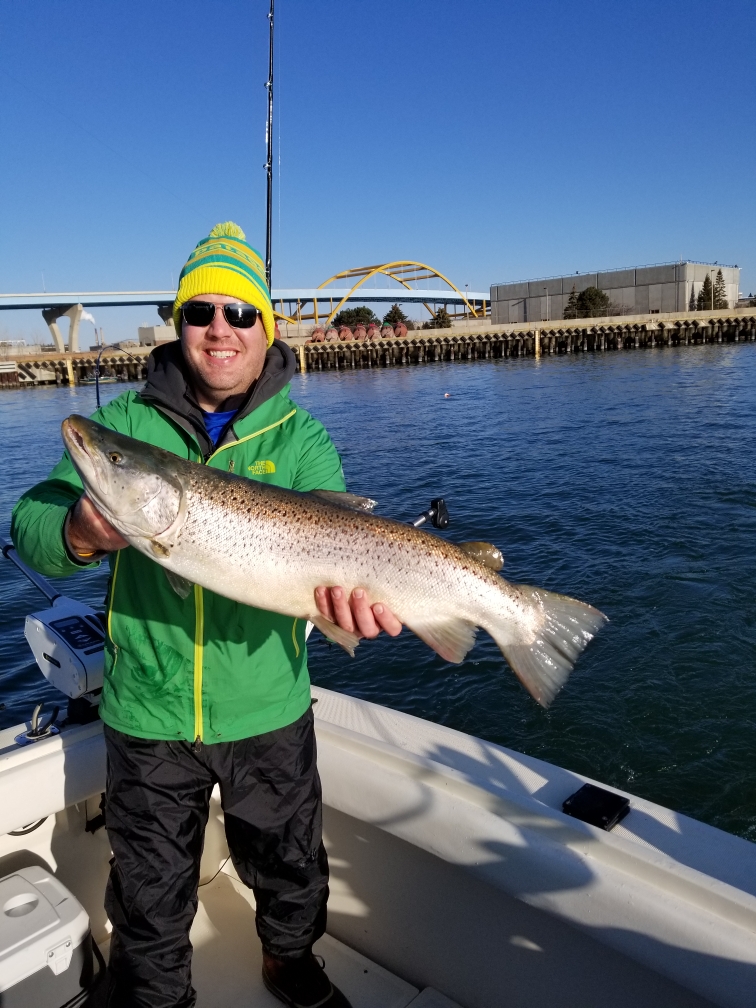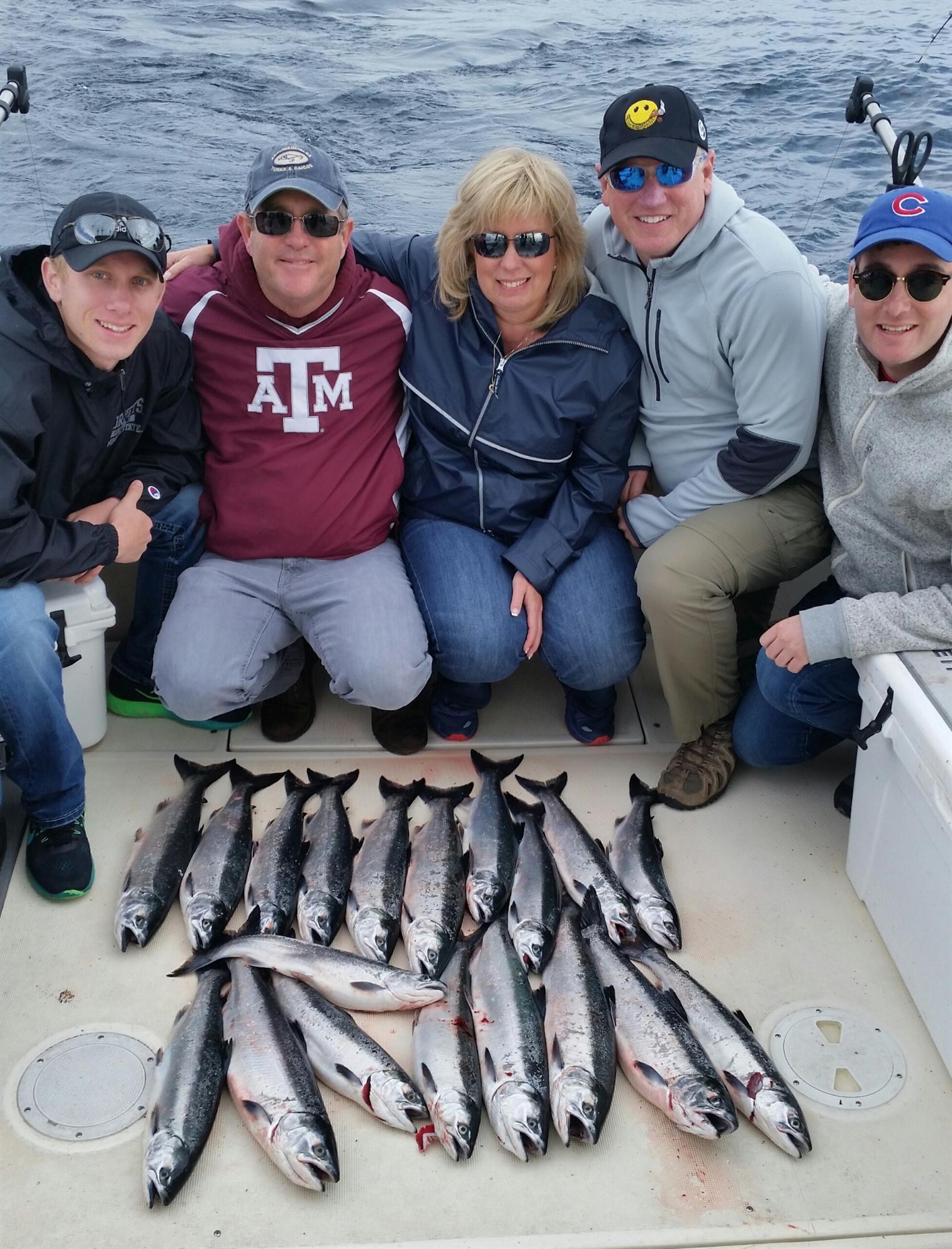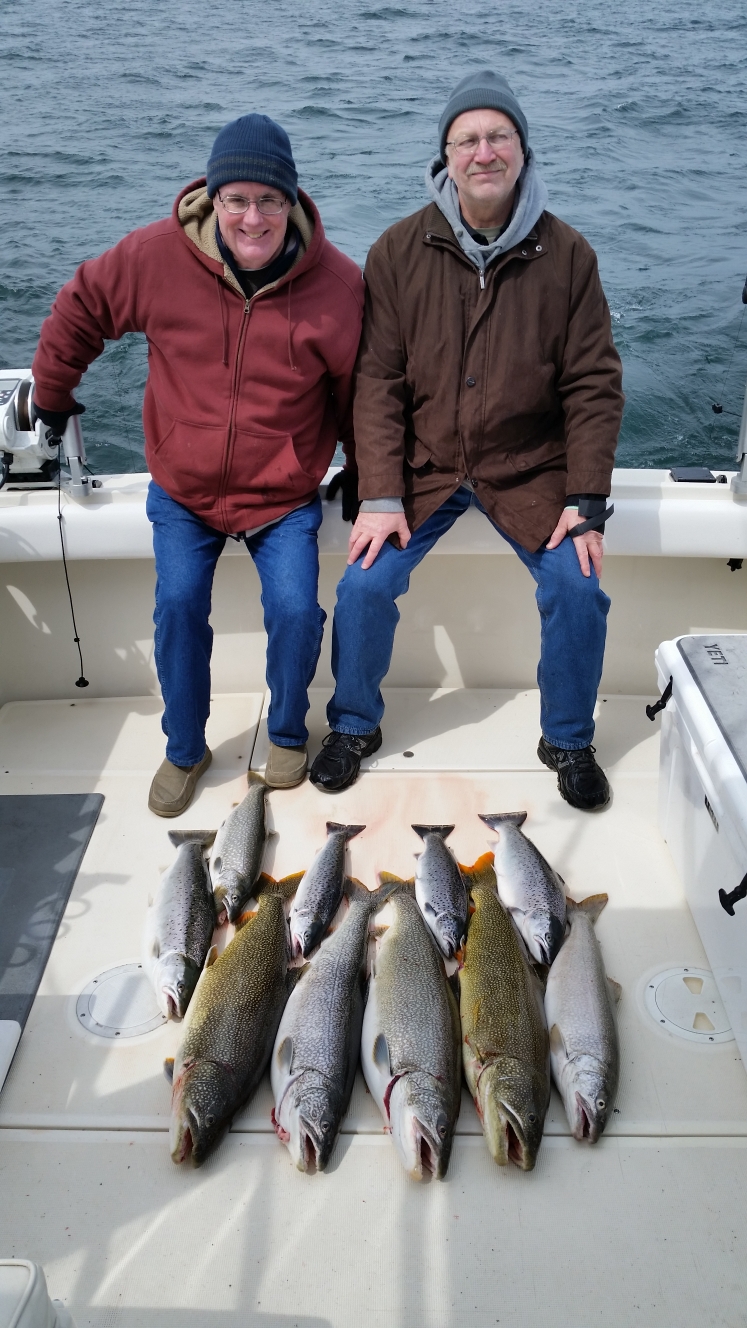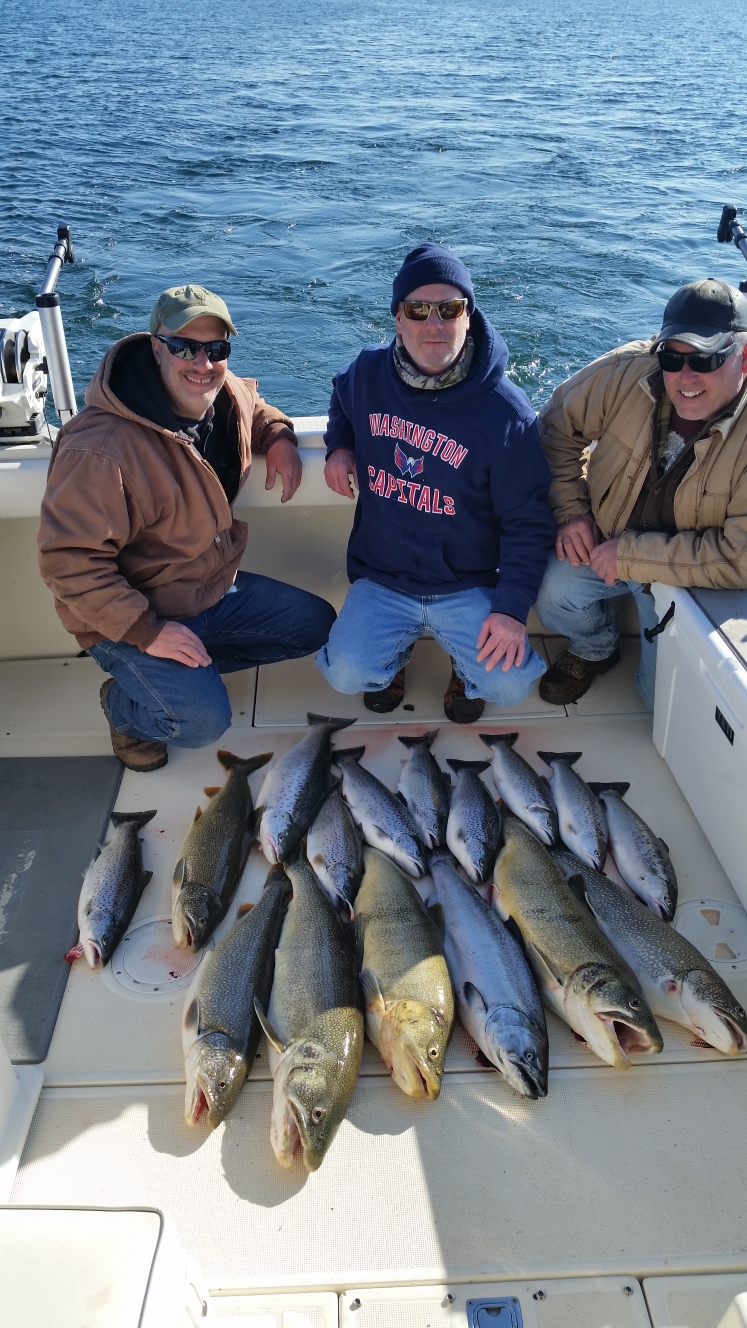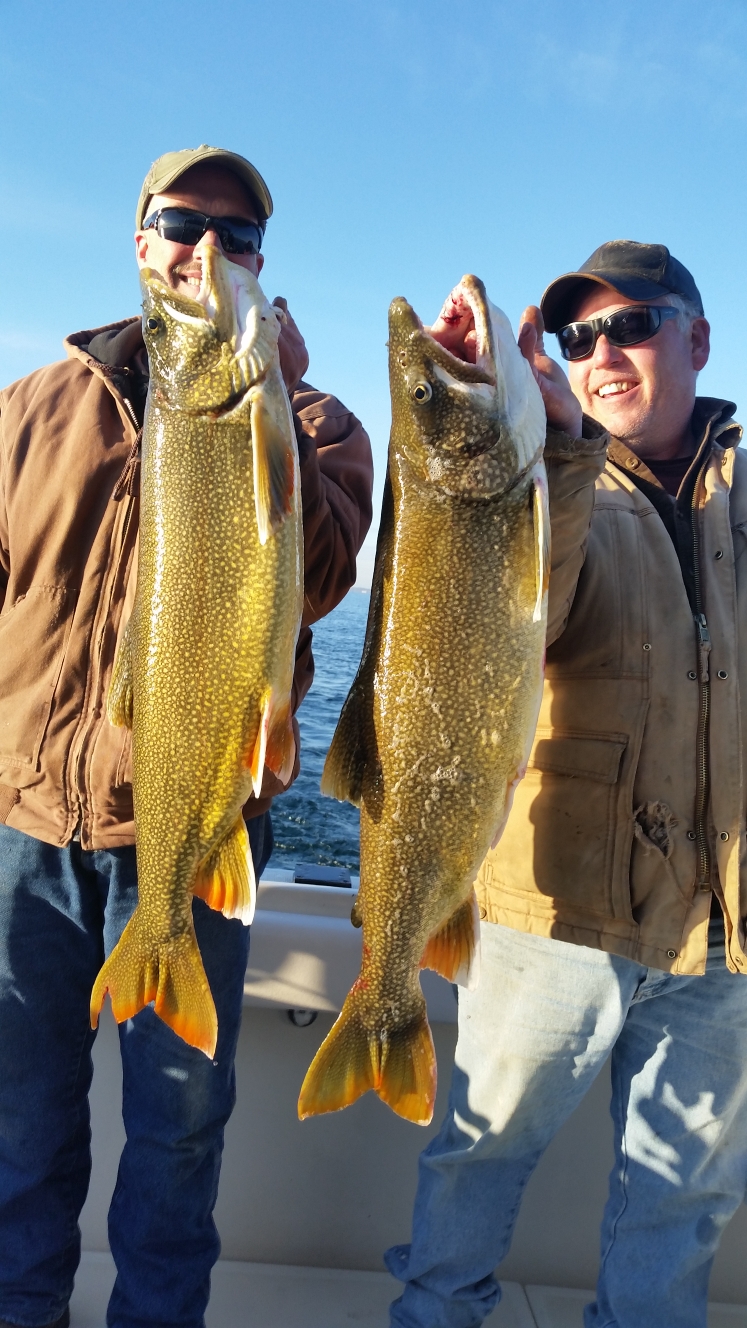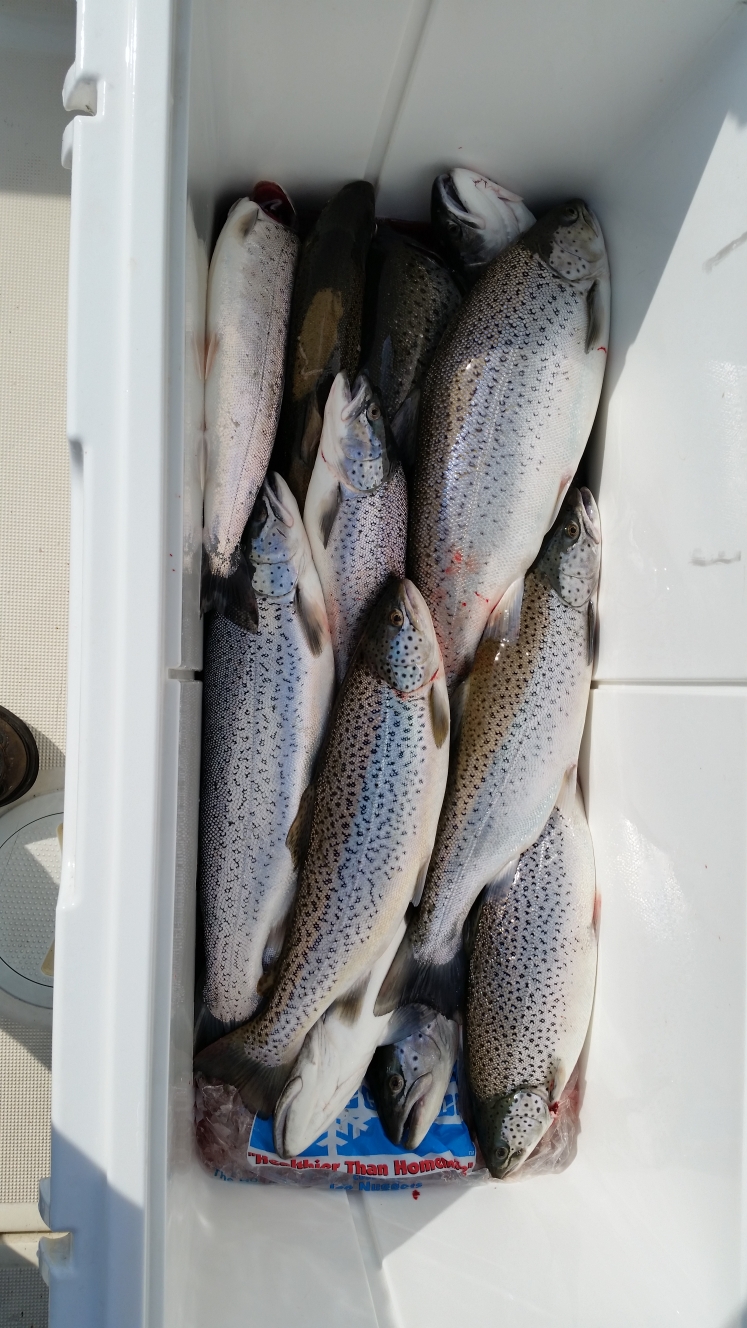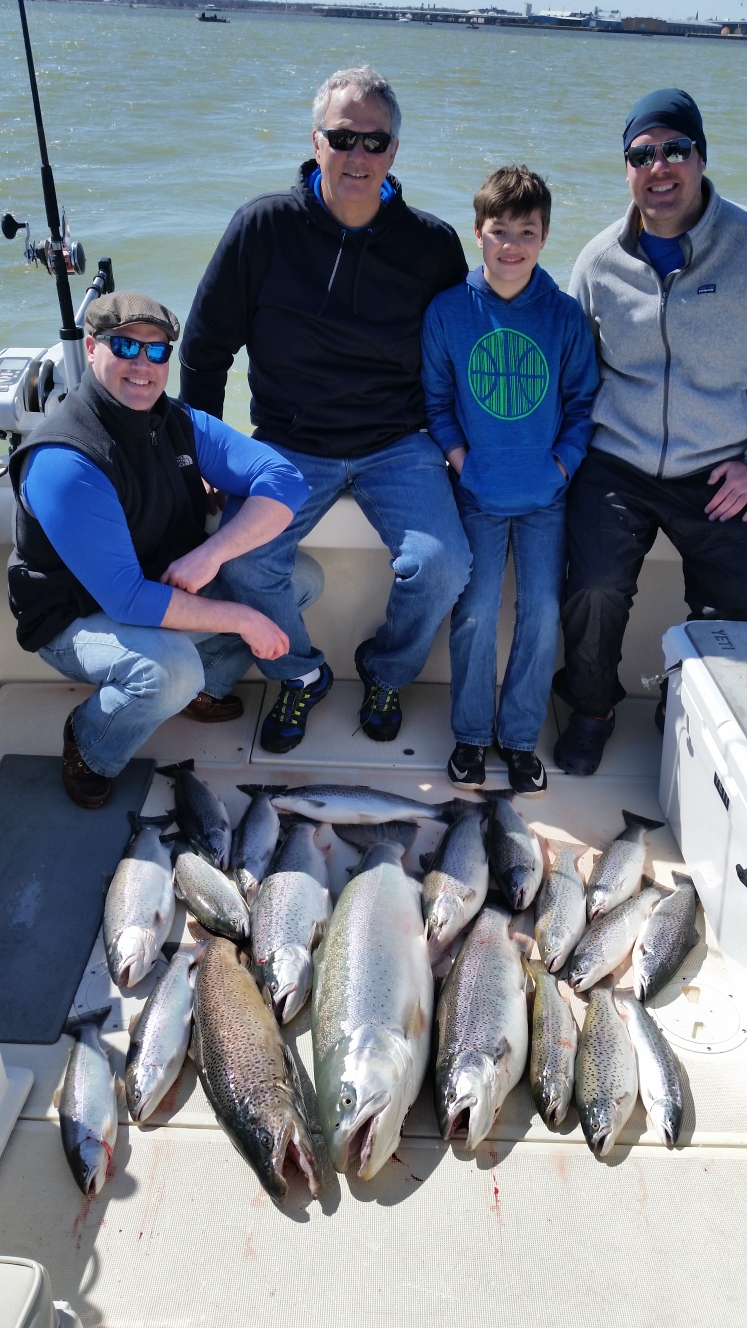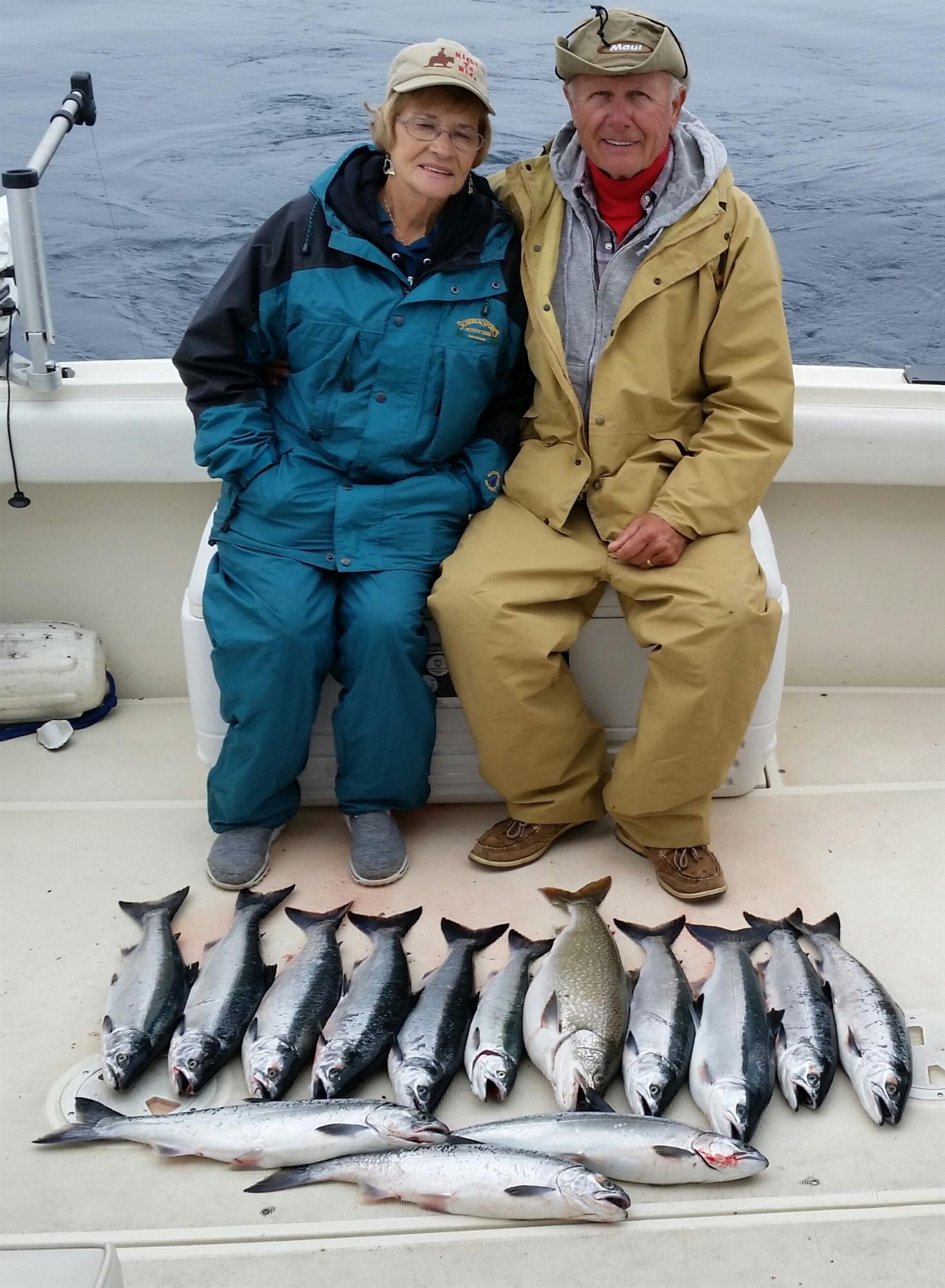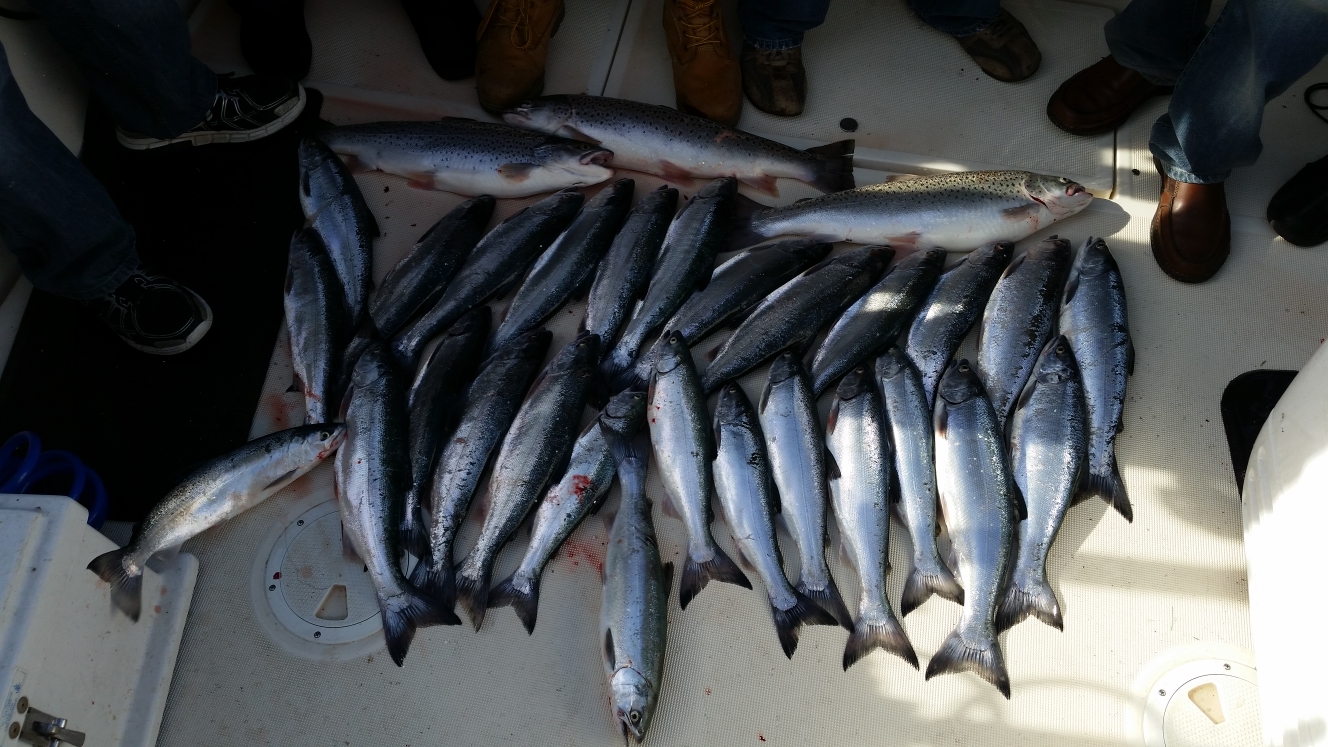 Report for February 4, 2021
Report for February 4, 2021
Winter so far has been mild in Milwaukee but now that it is February winter finally shows up. The low in Milwaukee going all the way back to February of 2020 was 10 degrees. We will be around or under that for the next week. Lake Michigan was less than 10 percent covered with ice going into the month but that is about to change. Because Lake Michigan and especially the southern half has remand ice free until now we hope there is not to much build up and we are able to start running trips in late March. Customers call and ask for the best time to catch salmon. We always reply mid May through late June. This is our highest salmon catch rate. The reason is Coho salmon. This period of time is the best time to target Coho salmon. Since 2007 there has been several reductions on Chinook salmon stockings and we use to load up on them all summer long. There still is some good action for Chinook salmon in the summer but Coho salmon are now the dominate catch for salmon in a season. The Coho stocking has not been reduced. 2.5 million Coho are stocked on average each year lake wide and has been the case for over 25 years. A Coho's life begins in a hatchery sometime in November, where they are raised for a year and a half until they are stocked in spring. Holding them in a hatchery for 18 months gives them a much better chance or survival when they are stocked. They spend their first year in Lake Michigan eating and growing. By the following spring they are ready to be caught. By November of that year they spawn and die, so they spend 18 months in hatcheries and 18 months in Lake Michigan.
Coho salmon average two to three pounds in the early part of the season but near the end of June it is common to see 5 plus pound fish. Coho salmon are a fun fight and our favorite to eat. The bright orange fillets are delicious anyway you prepare them. When we find schools of Coho salmon the action is steady and sometimes very fast to a limit. We will run a spread of 12 to 16 lines and most of the action is in the top 20 feet of water. Our favorite bait is an orange dodger followed by a peanut fly. When the Coho action is in full swing this may be the only bait we use on every set up. We will run 4 riggers and the outside ones will be less than 10 feet down and set less than 10 feet back. We will have a braid and a mono dipsy set up on each side of the boat. Many times your will be able to see the baits because they are set just below the surface. We also run 3 to 4 boards a side. We use keel weights on mono line. Only the back two riggers are not near the surface.
Most of our limit catches will happen during this time of the season. When the Coho salmon show up it can be an unreal bite. During the time of the season there are some tough bites but throughout this period we boat the most salmon of the year and some of the fasted action. Call Silver King Charters to get in on some Coho salmon fishing from mid May through June. Below is some catches from the 2020 season.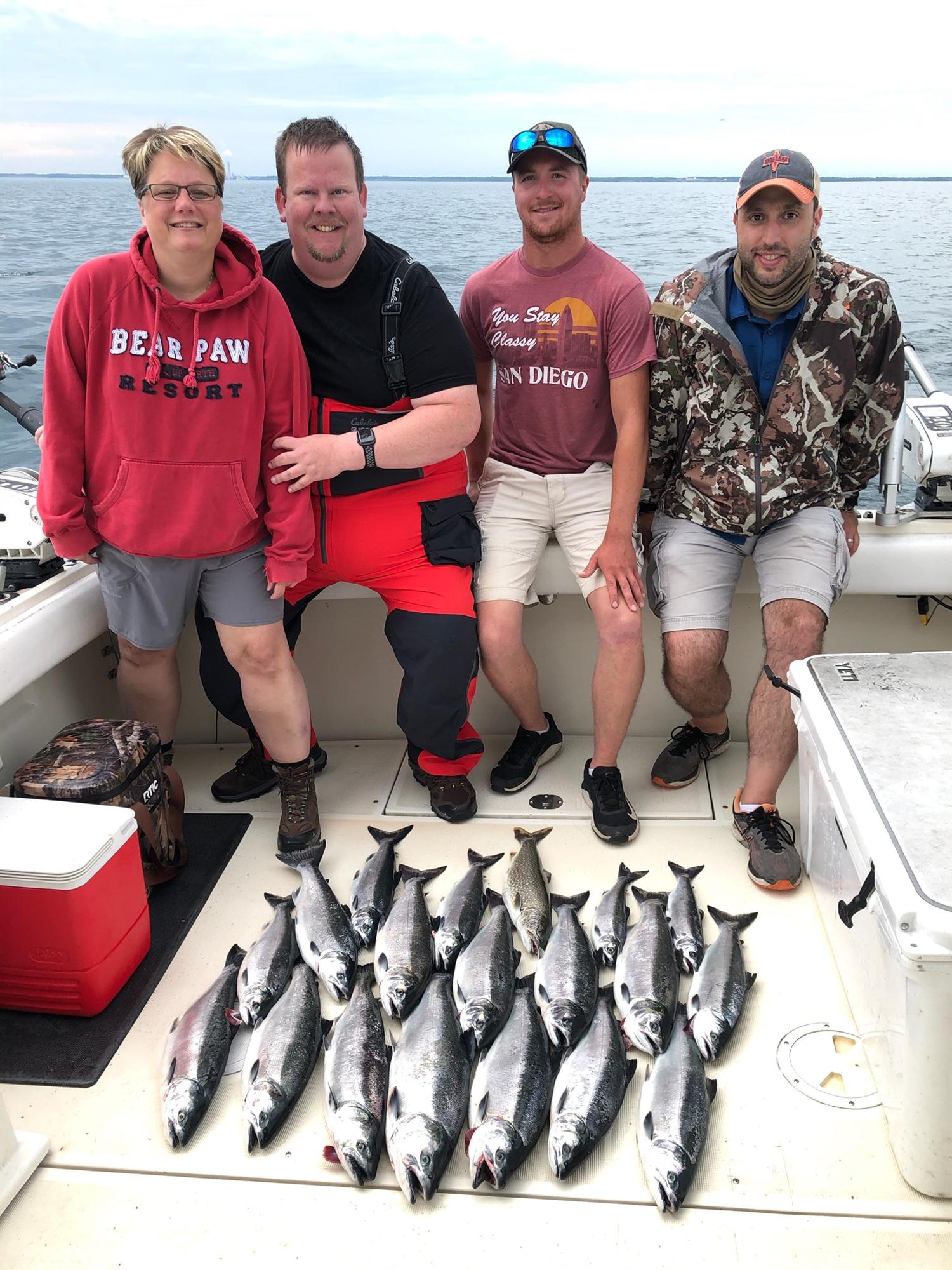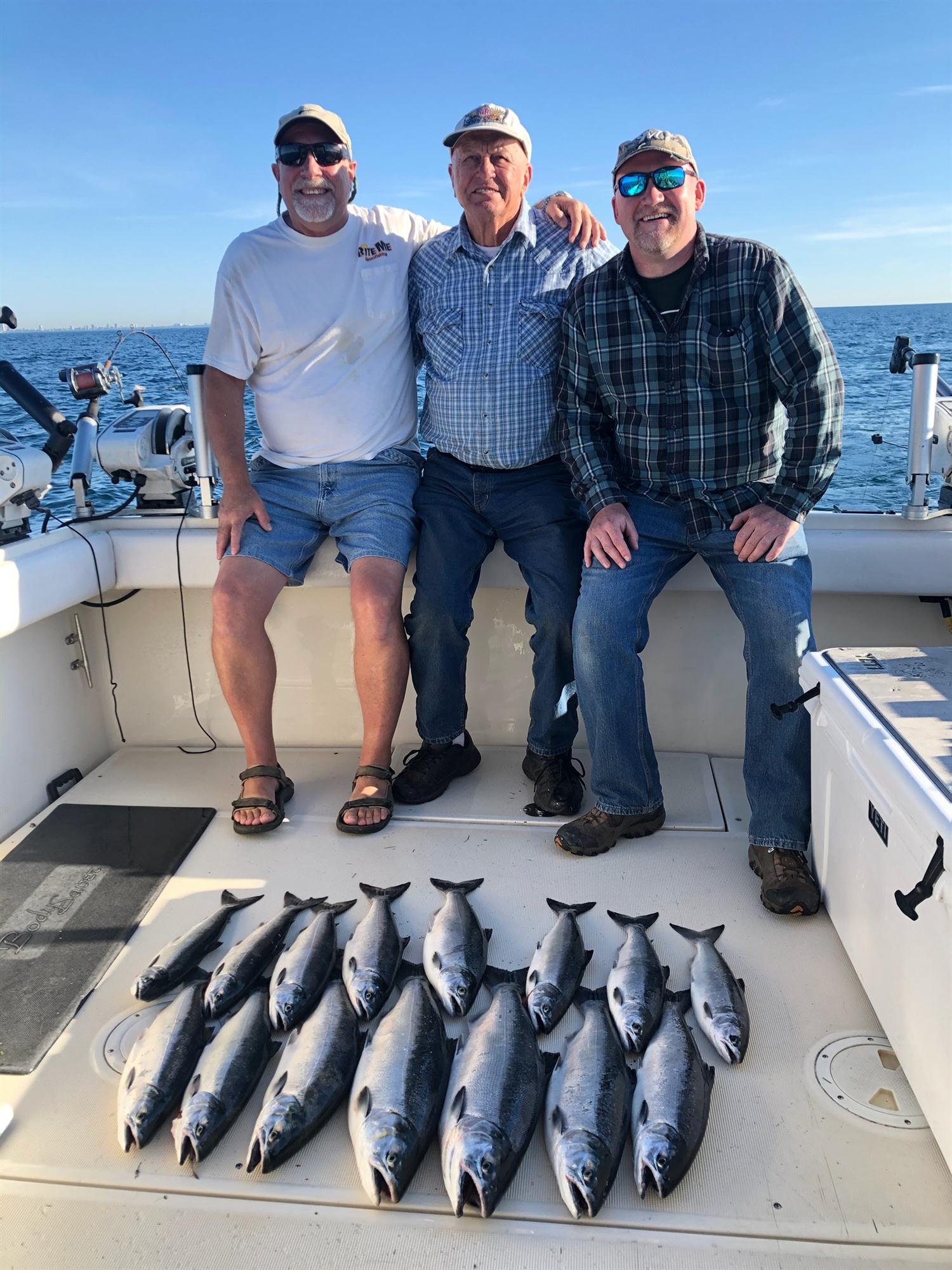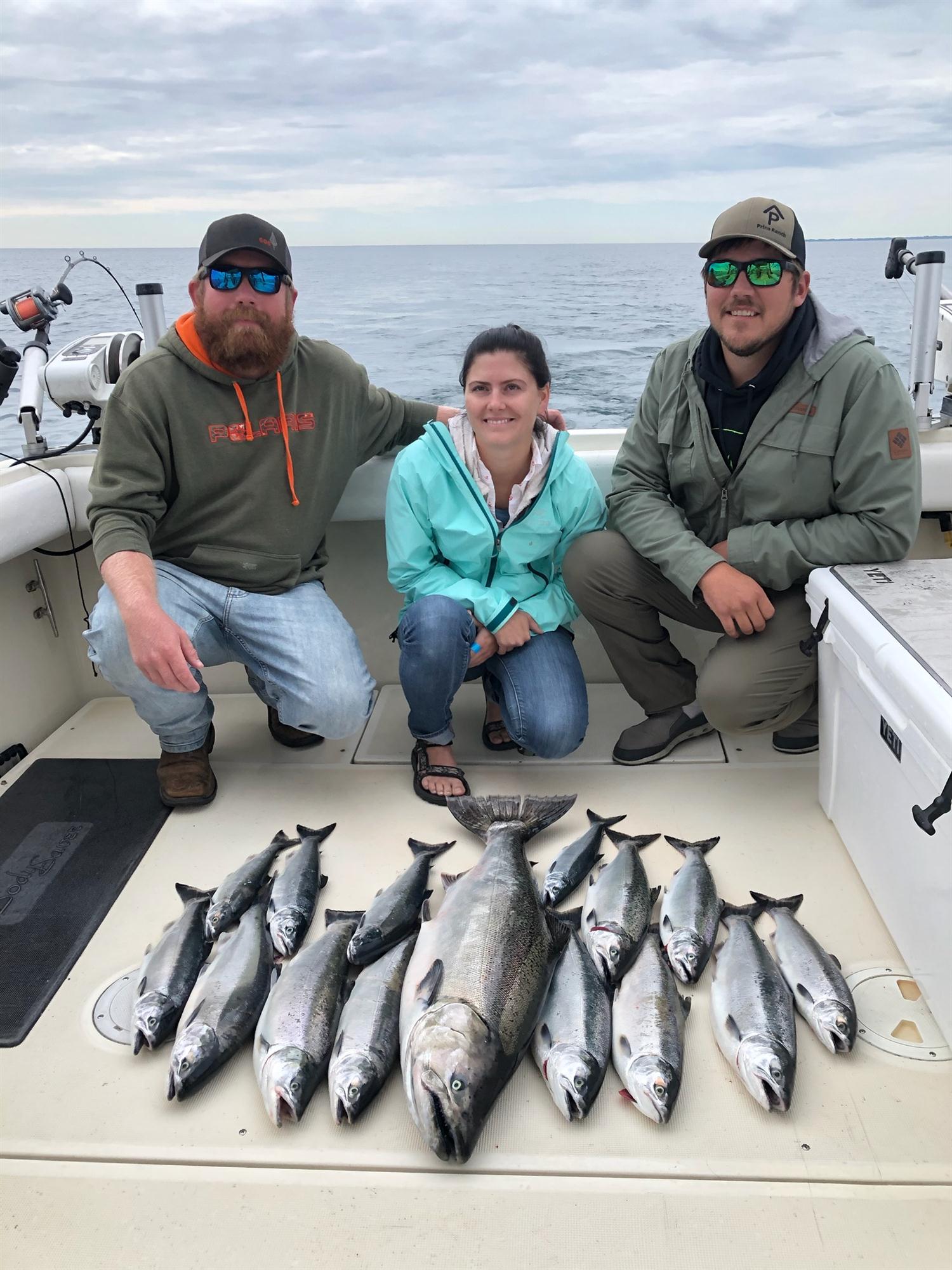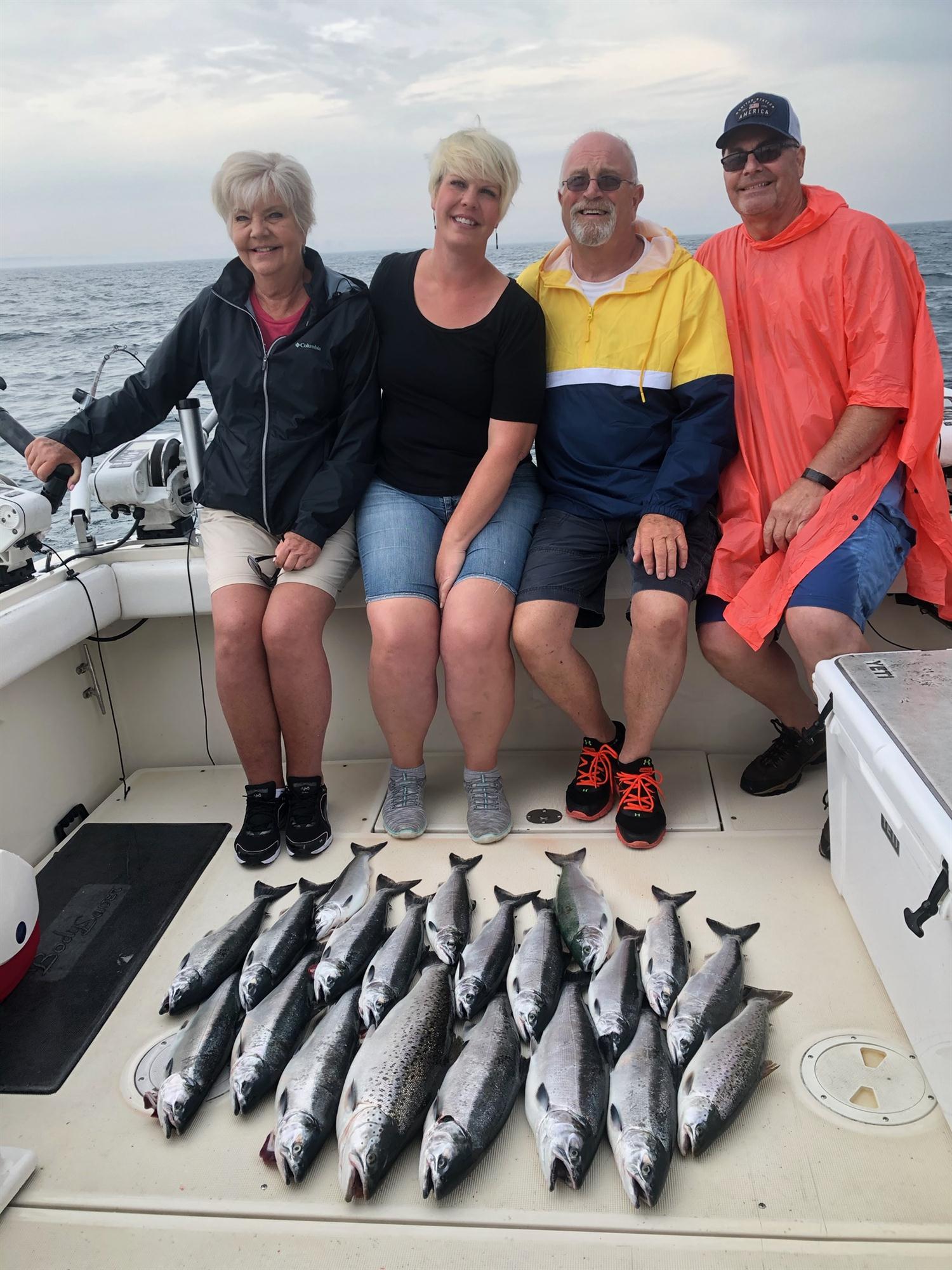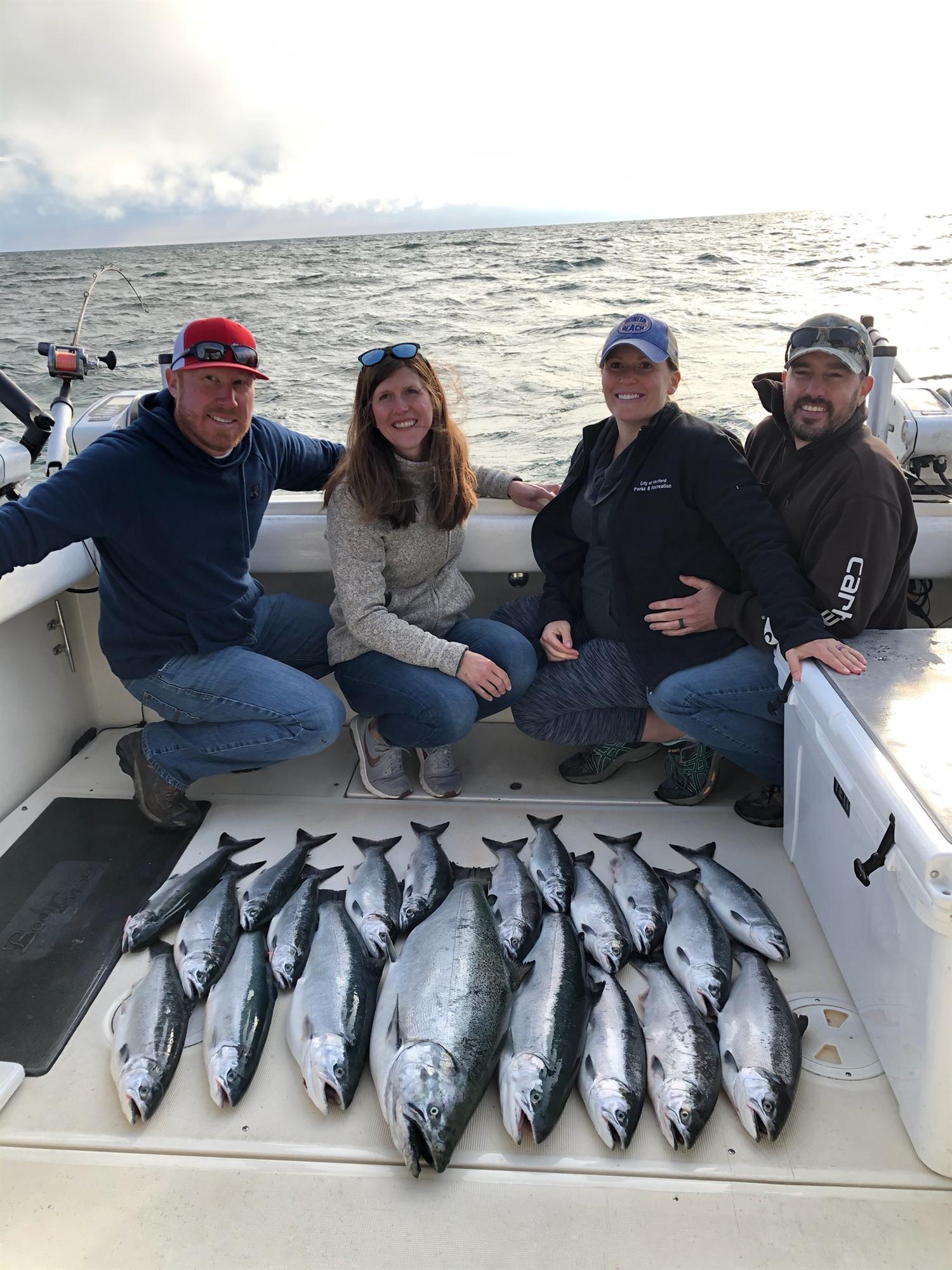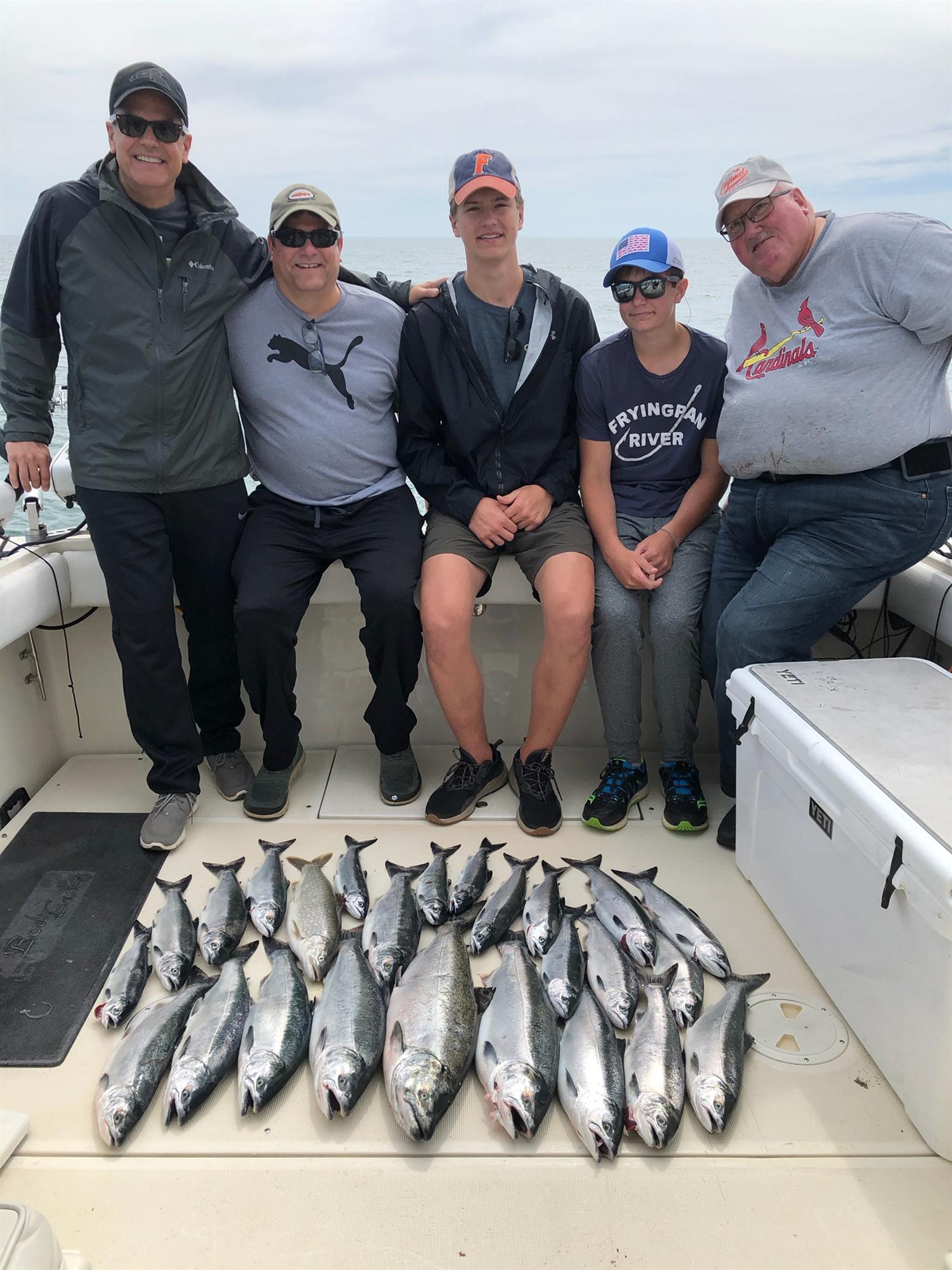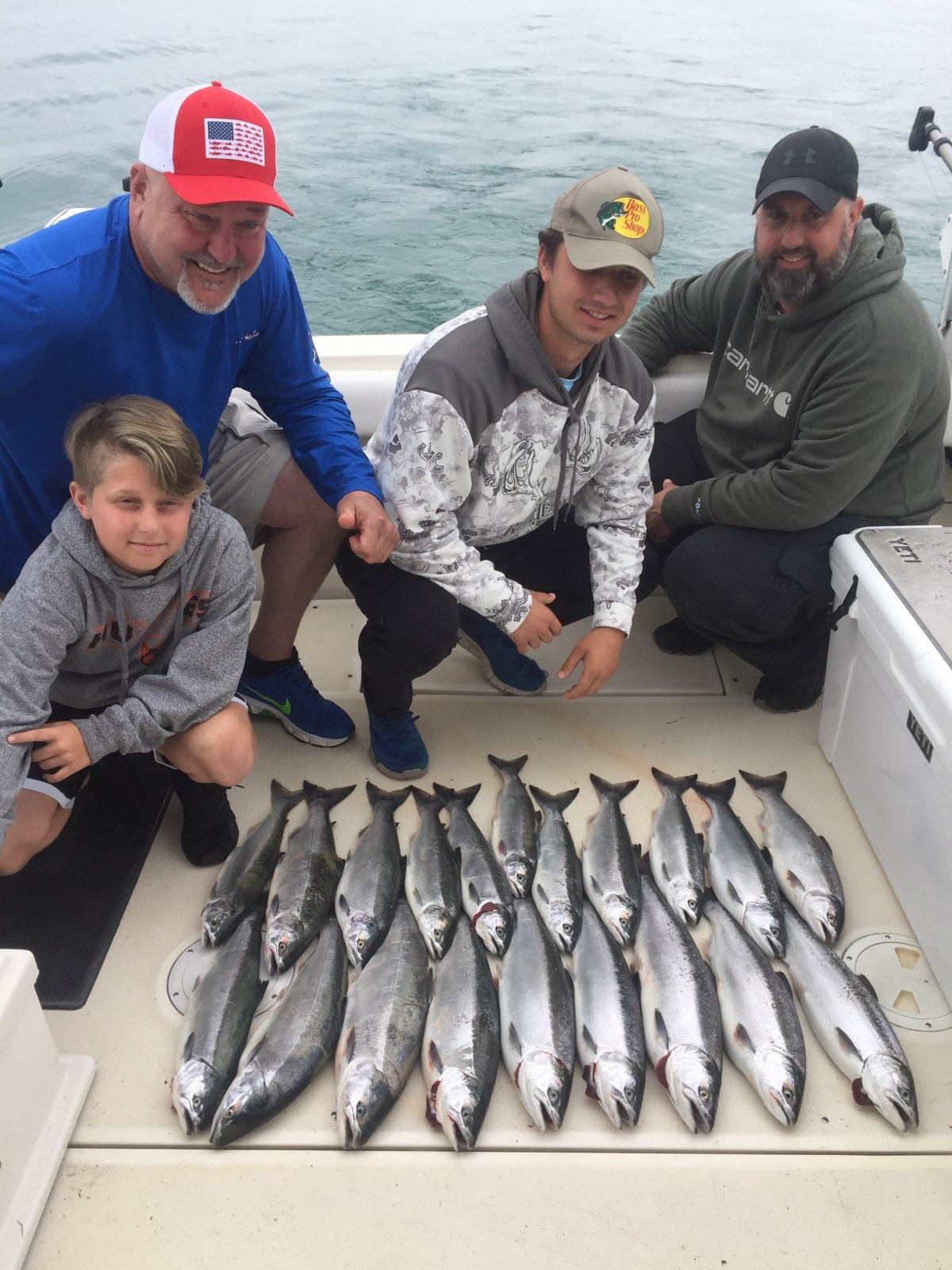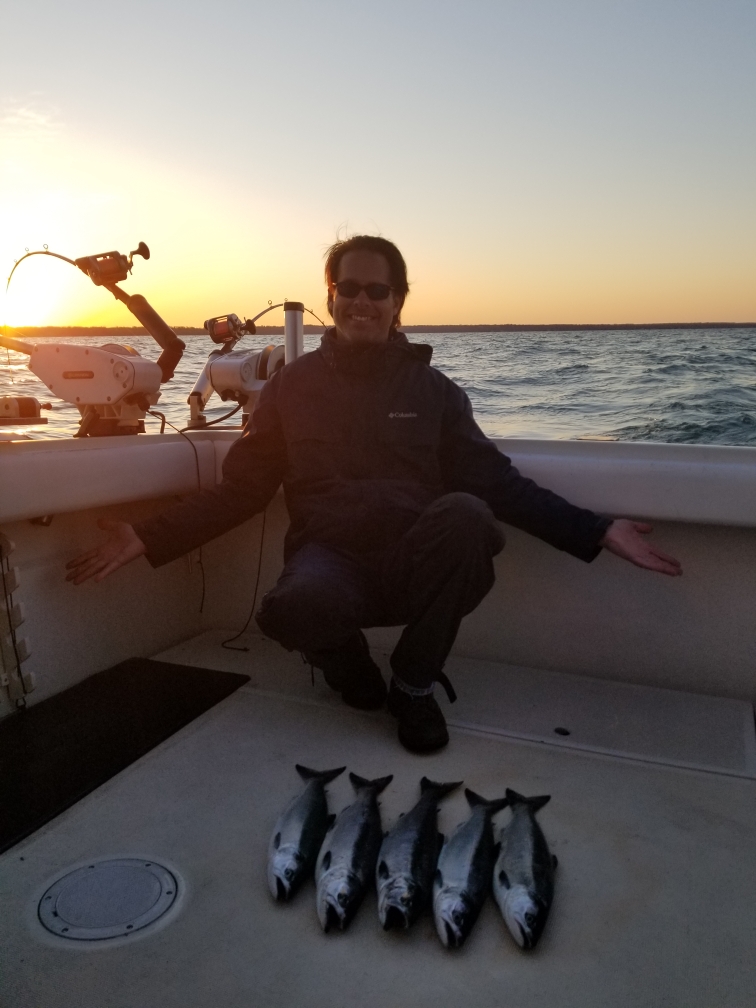 Report for January 10, 2021
Finally we are through with 2020 and we are hope 2021 is not a repeat. Last season when we started out we had hoped to have the boat in and fishing in late March. The ice was gone and the fish were biting. But by mid March it was painfully obvious this was going to be a different kind of year. We start our season Milwaukee charter fishing in and around the Milwaukee harbor. The harbor gives us more controlled seas during early spring and warmer water where the rivers empty out. This creates an ideal area to catch Brown trout. April is our best month to target Brown trout all year. We also fishing along the shoreline in 10 to 30 feet of water. Last season we missed out on this fishing due to the virus and restrictions place on us. We hope to have the boat in the water April 1st this year and be able to run trips. As of right now there is almost no ice cover the lake. Things can change fast but there is a good chance ice will not prevent us from fishing early spring.
Every April sets up a little different due to the unpredictable weather in Wisconsin But every April does deliver our best Brown trout action. We are usually running all spoons. Stick baits are very effective this time of year but spoons are just easier to run and just as effective. We like Stinger spoons the stinger size. Year after year it is gold, copper and orange spoons that are the top producers. Leadcore on boards are the best presentations. We always run 1, 2 and 3 color leadcore and sometimes a 4 color. The next best setup is our mono dipsy rods. These are set at 30 degrees and 30 feet out on the line counter. We will also run 2 downriggers near the bottom but these are the least effective. There was a time we would try to run as slow as we could in early spring but the last several years we really crank the speed. It gives the spoons better action and we cover more water to find active fish. Not uncommon to be running at 3 miles an hour.
The Brown trout stocking was cut back 3 years ago but last year there was an increase by the Wisconsin DNR and we hope this continues. The average sizes for Brown trout caught this time of year is 2 to 8 pounds but we land a lot or 8 to 12 pound fish. The trophies are 15 plus pounds and we boated one last season that was 26 pounds. Our biggest was 33 pounds 4 years ago in the first week of April. After all the restrictions placed on everyone everywhere fishing in April sounds like a great time. Dress warm and be ready to catch fish. We will do the rest. Call Silver King Charters at 414-460-1467. I have attached pictures of Brown trout caught in April along with a picture of McKinley marina yesterday. Not much ice down there.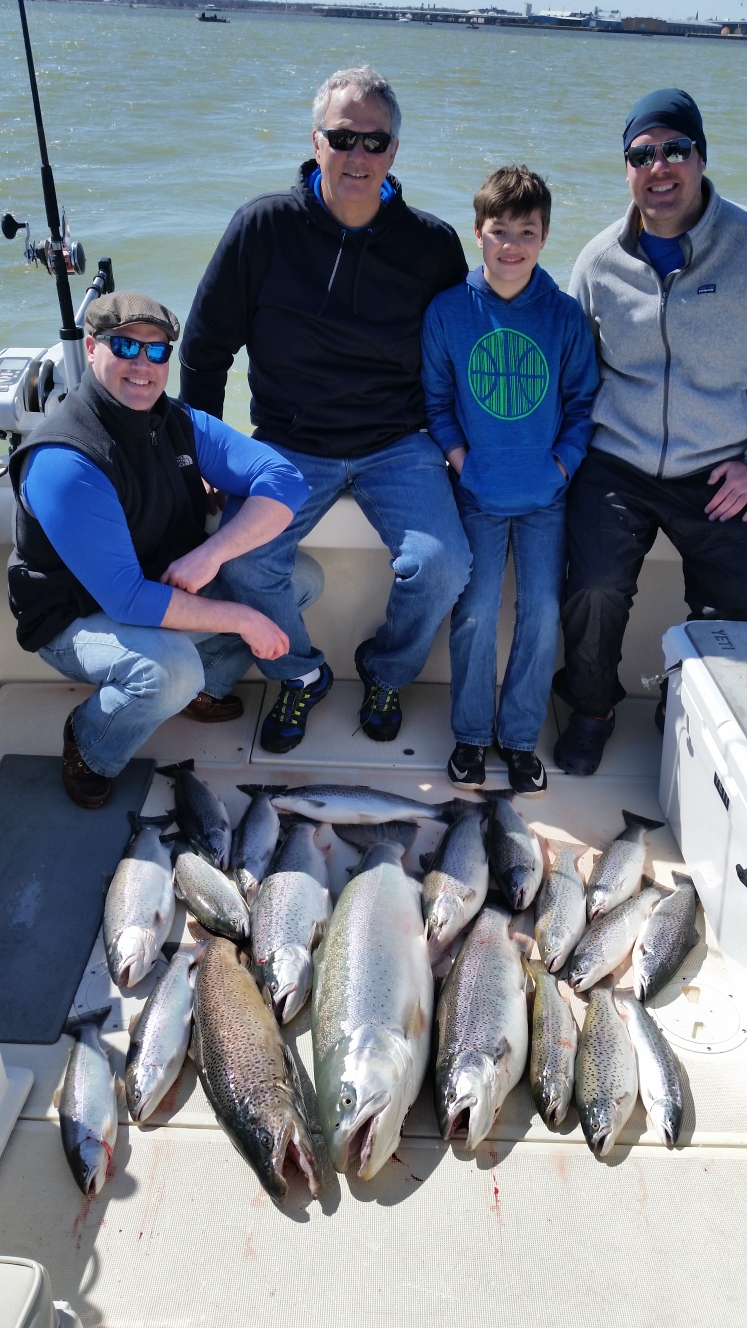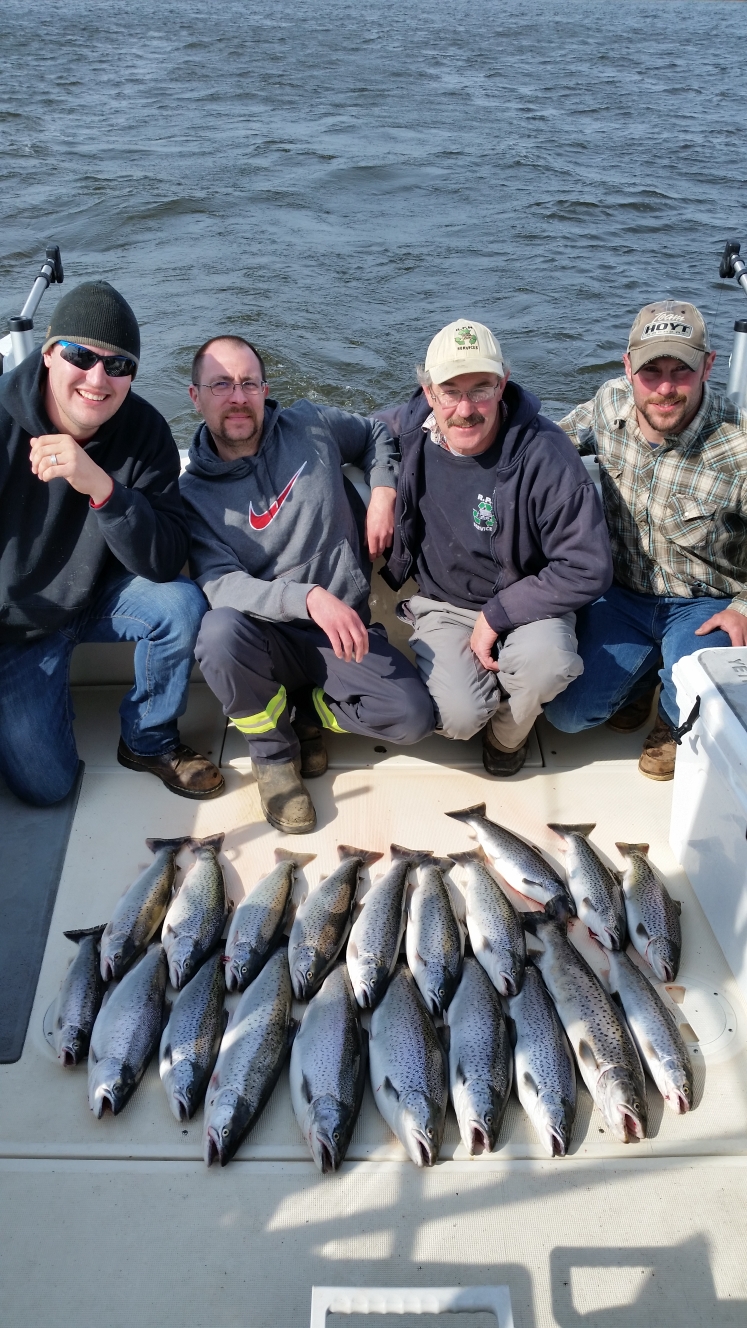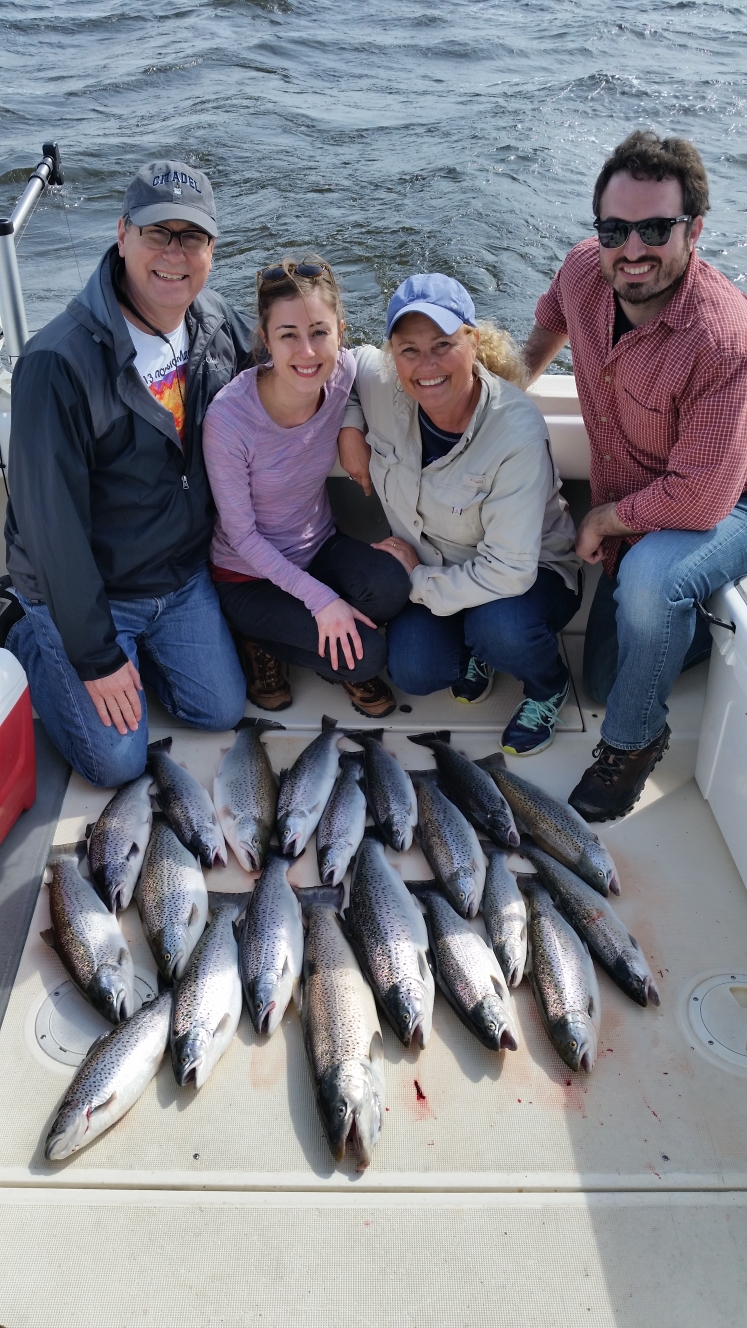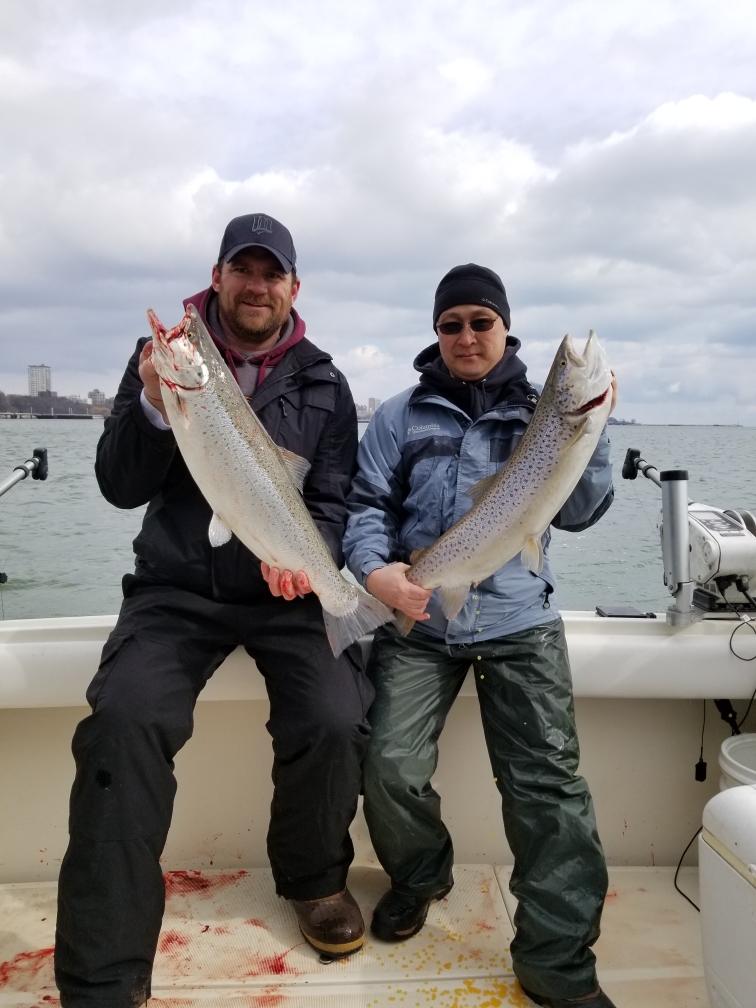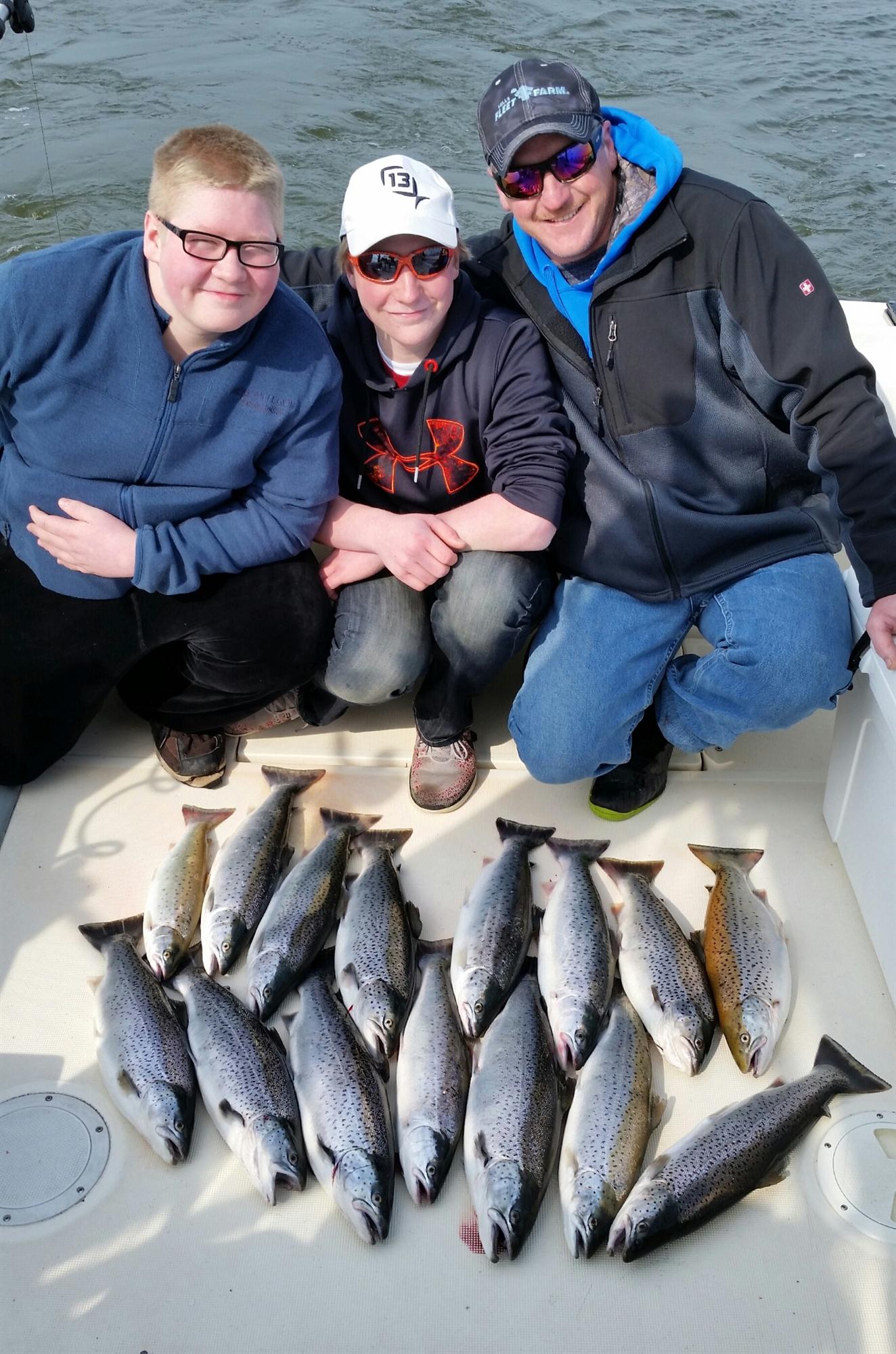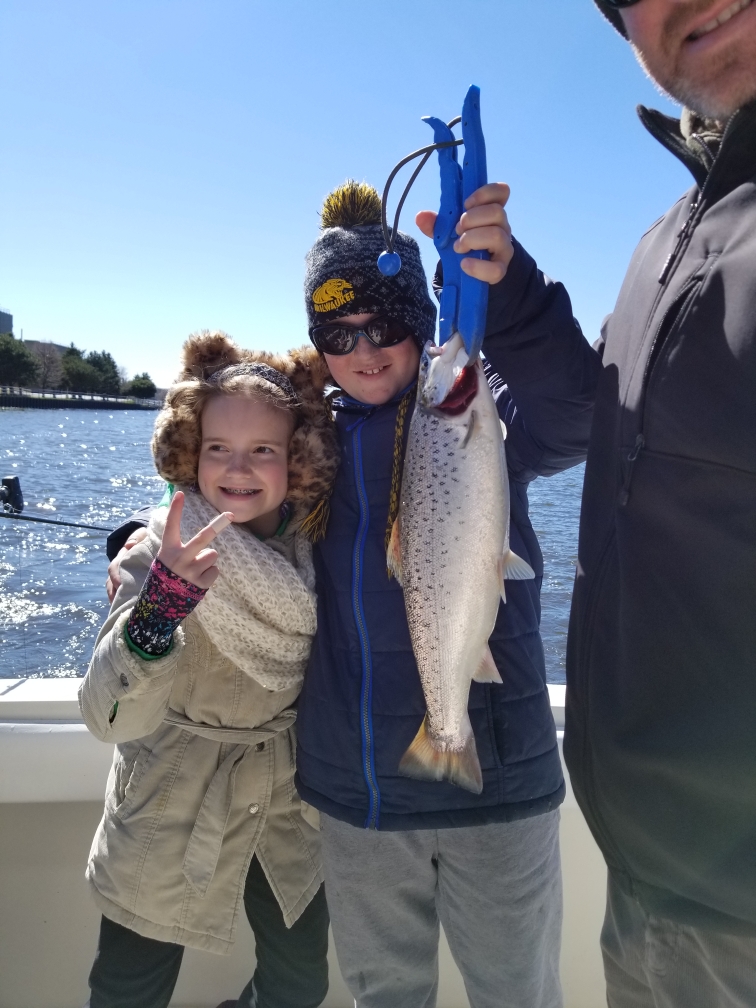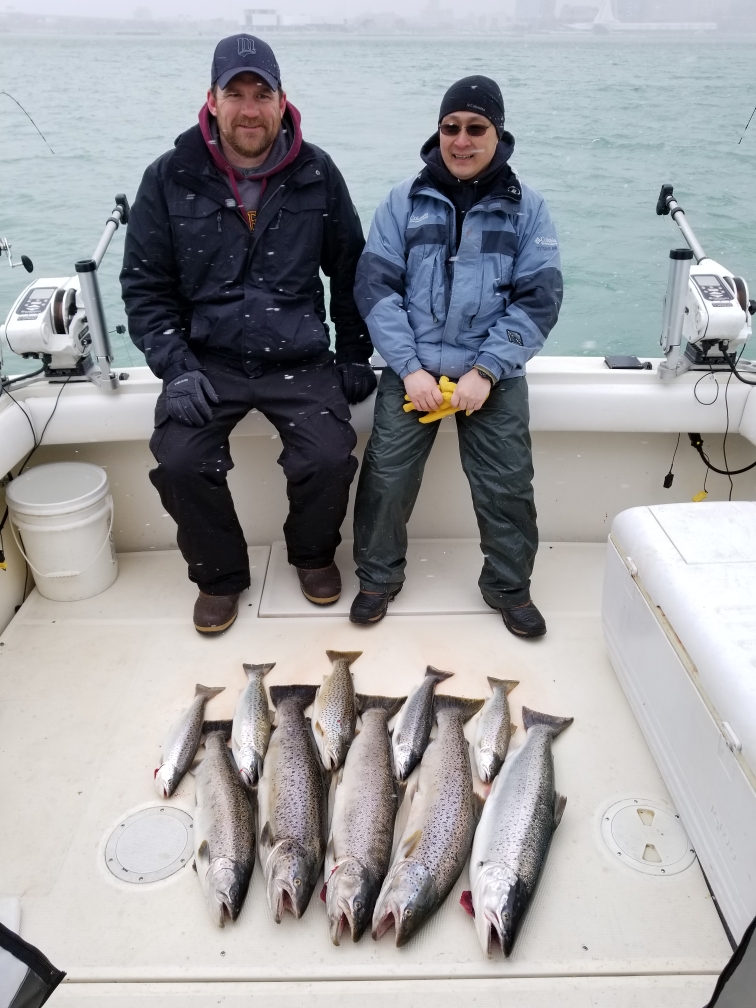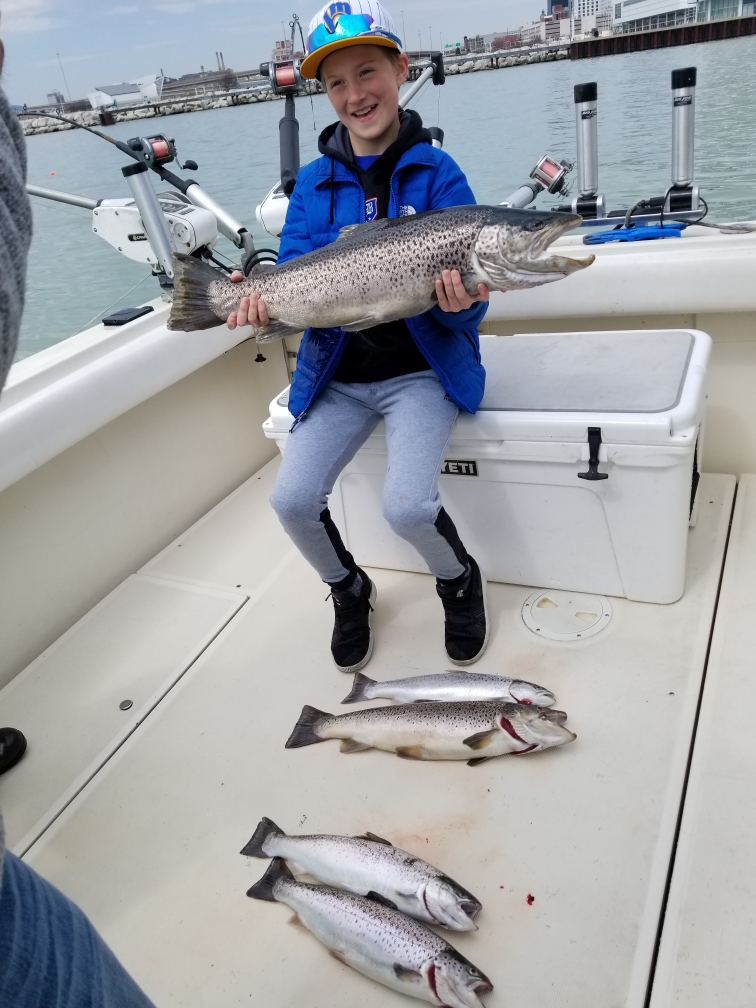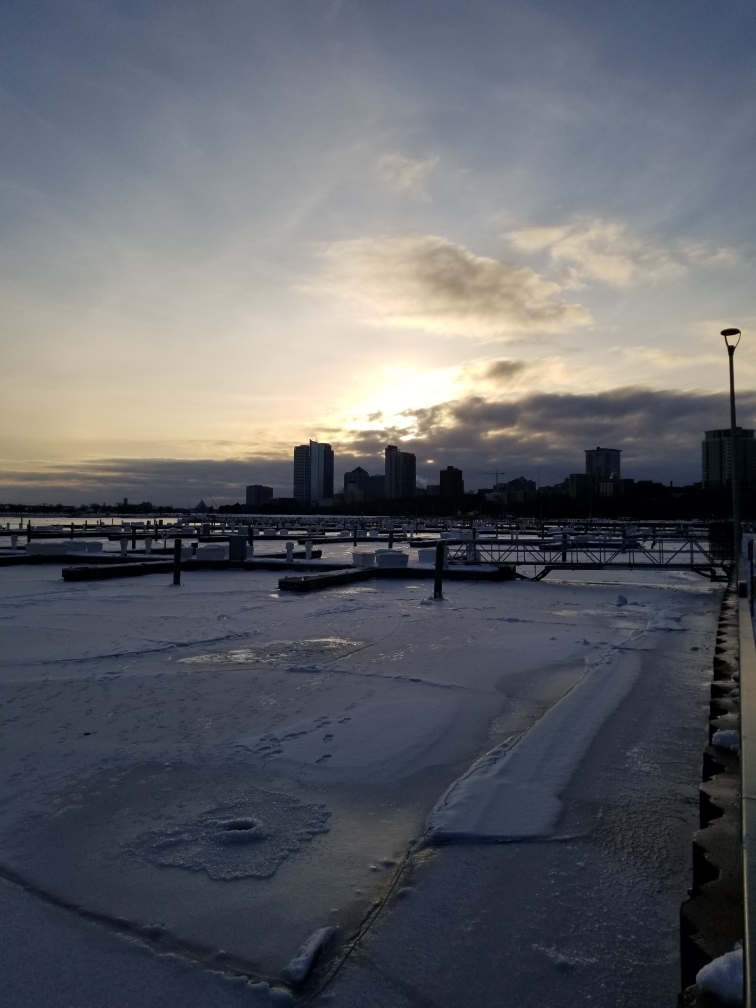 No reports yet this month.
1
2