*Note: Click any month to view reports.
January

February

March

April

May

June

July

August

September

October

November

December
Report for October 2, 2018
September 2108 in in the books and it ended up being pretty good. We did lose half our trips to high winds and because the harbor water was 69 degrees from top to bottom we had to cancel many trips we would have normally run in the harbor. September is usually tied wiht April as the two months we fish the Milwaukee harbor but things half to set up for this to be effective. East winds and lots of rain pretty much eliminated this and we only ran 4 trips in the harbor this September. The Chinook return was not that strong and a lot of the fish either shot up the river or went into the marina section early. This did set up other areas though. We either fished out in 250 to 300 feet of water or north of town in 100 feet of water. Both were productive when we could get out on the lake. We ended the month wihit a 12 fish average per trip. There was a good bite on 2 year old Chinook salmon and this was good to see for next year. We also he a good bite on Lake trout and this really was strong at the end of the month. September is usually a good Brown trout month and we did not boat a single one during the month. Our last trip in September we still had 65 degree surface water but down 40 feet it was 45 degrees in 100 feet.
Milwaukee charter fishing in the harbor was almost all #3 J-Plugs. Chrome and pearl plugs were the best. Riggers set near the bottom took almost all the fish and they were all 4 year old or mature Chinooks. We also had success on Fire Tiger J-13 jointed stick baits on 3 color leadcores. The Chinooks where good size, between 15 to 25 pounds but the bites were few and far between. We spent most of September in 90 to 110 feet north of Milwaukee, with 4 trips in the 250 to 300 foot range. But the best bite was in 100 feet. We ran one rigger at the bottom for Lake trout, using a spin and glow, with a smoke dodger. The last 3 trips of September we increased the spin and glow set up to two riggers and one wire dipsy because the Lake trout bite really took off. But for the most part the second deep rigger had a white flasher and Howie Bull Frog fly. The two up riggers had spoons down anywhere from 35 to 70 feet, depending on the water temperature. The break changed a lot during the month, going up and down with the wind changes. Was as deep as 75 feet and near the end of the month the break was 30 feet down. We had our wire dipsies set at 120 to 250 on the line counters and used whit flashers and either Bull Frog or Little Boy Blue for flies. The boards were all copper from 150 to 350 coppers and everything in between. We had all spoons on these rods. Our best baits were Stinger stingray size NBK, UV Blue Dolphin, Fickle Pickle and Orange Crush. We also liked the Moonshine UV wonderbread. That worked well for the last couple months. Again, it was better than expected September but over the last several seasons we are working to expand a wider bite than just harbor fish that are pre-spawning. The return is less in recent years due to stocking cuts and if things don't set up just right it becomes very hard to get bites.
We are not done Lake Michigan charter fishing yet out of Milwaukee. We will be fishing into early November. The weather can be a problem at times during the end of the season but when we can get out there should still be some real good days of fishing left. We expect to still see young Chinook salmon in the catch. Lake trout and Brown trout will also make up a good part of the catch. The close to shore and harbor fishing should be more reliable as time goes on and the 100 foot contour has delivered over the last couple of weeks. Call Silver King Charters at 414-460-1467 to get in on the last trips of the 2018 season.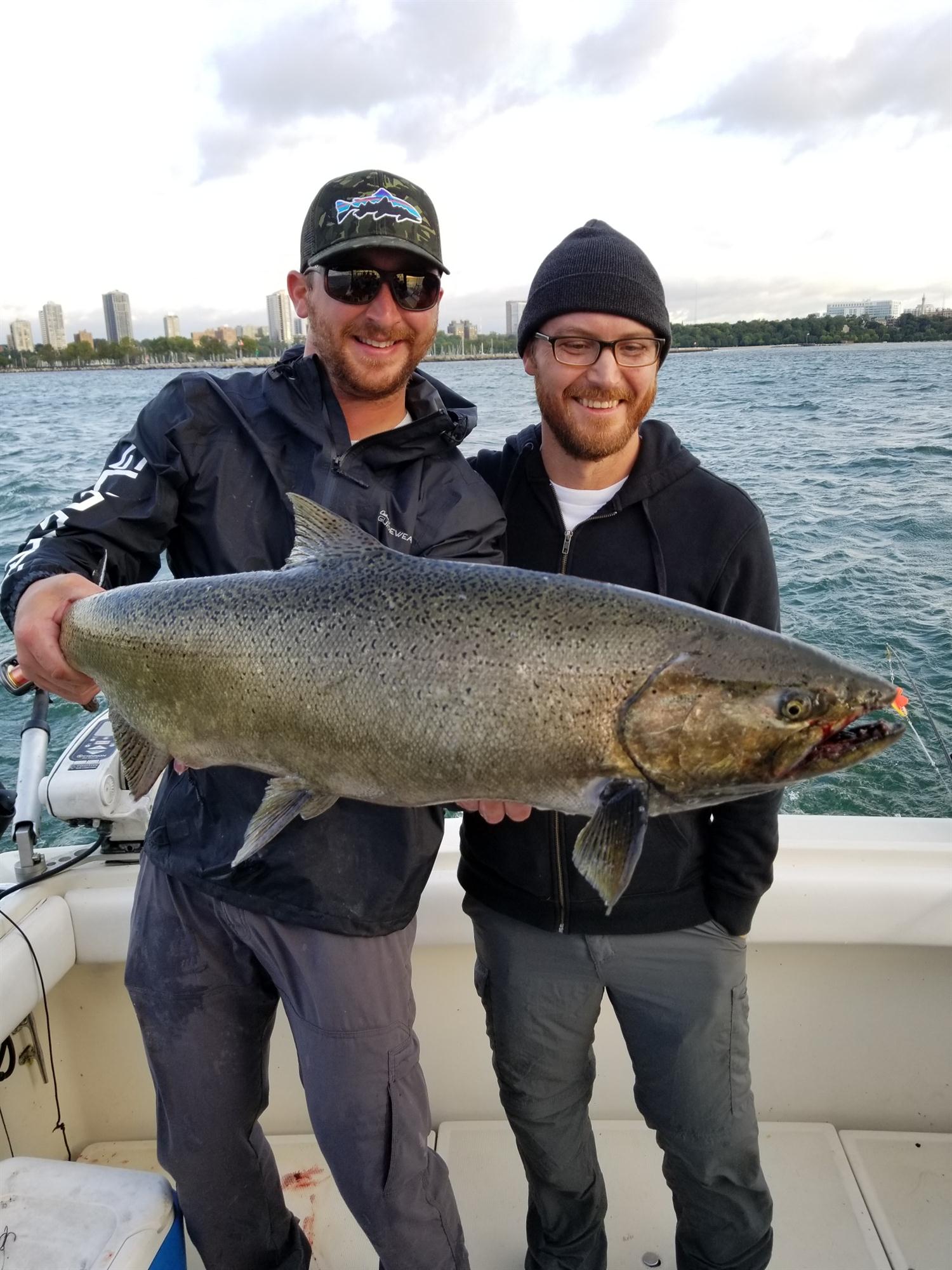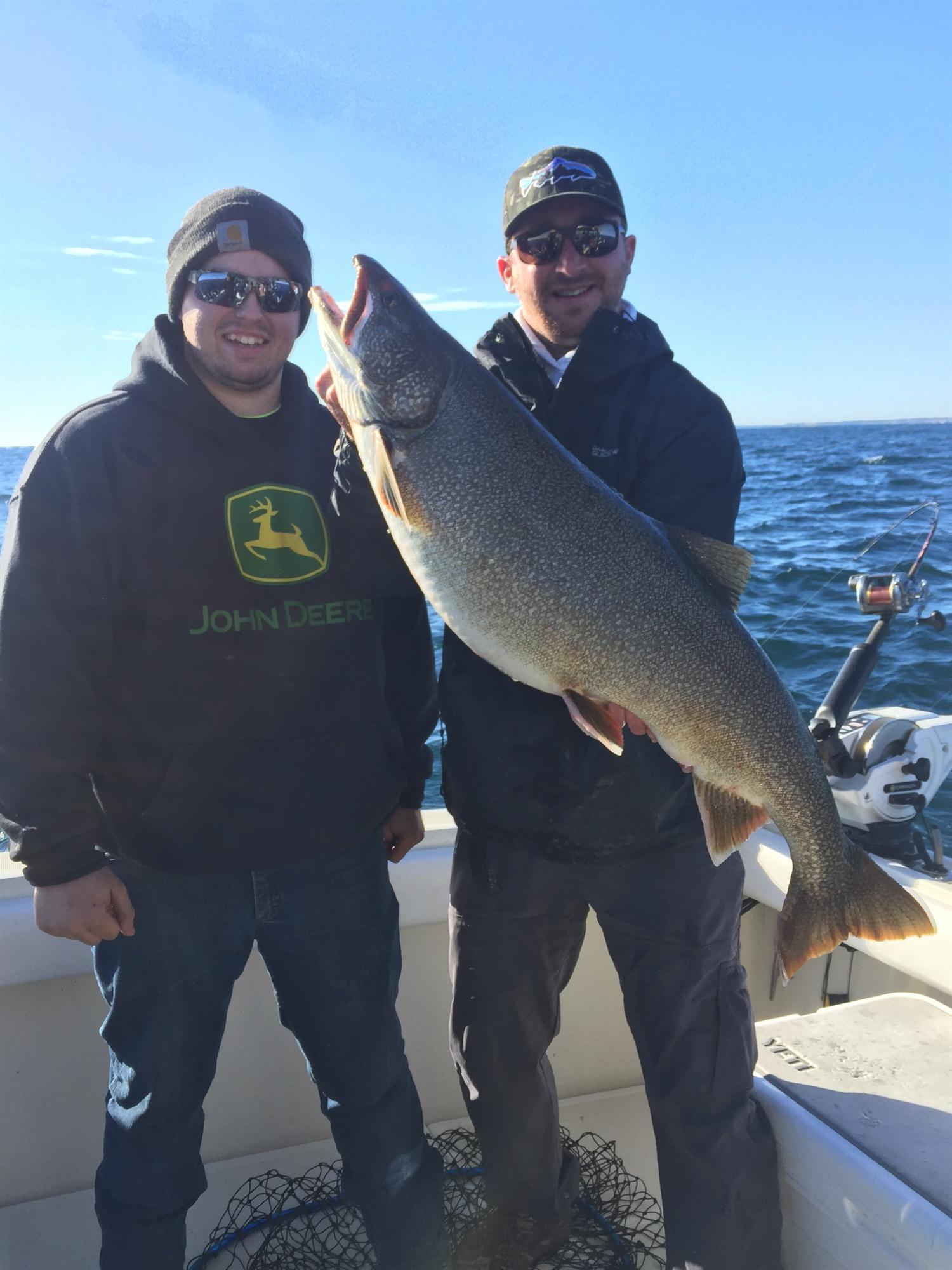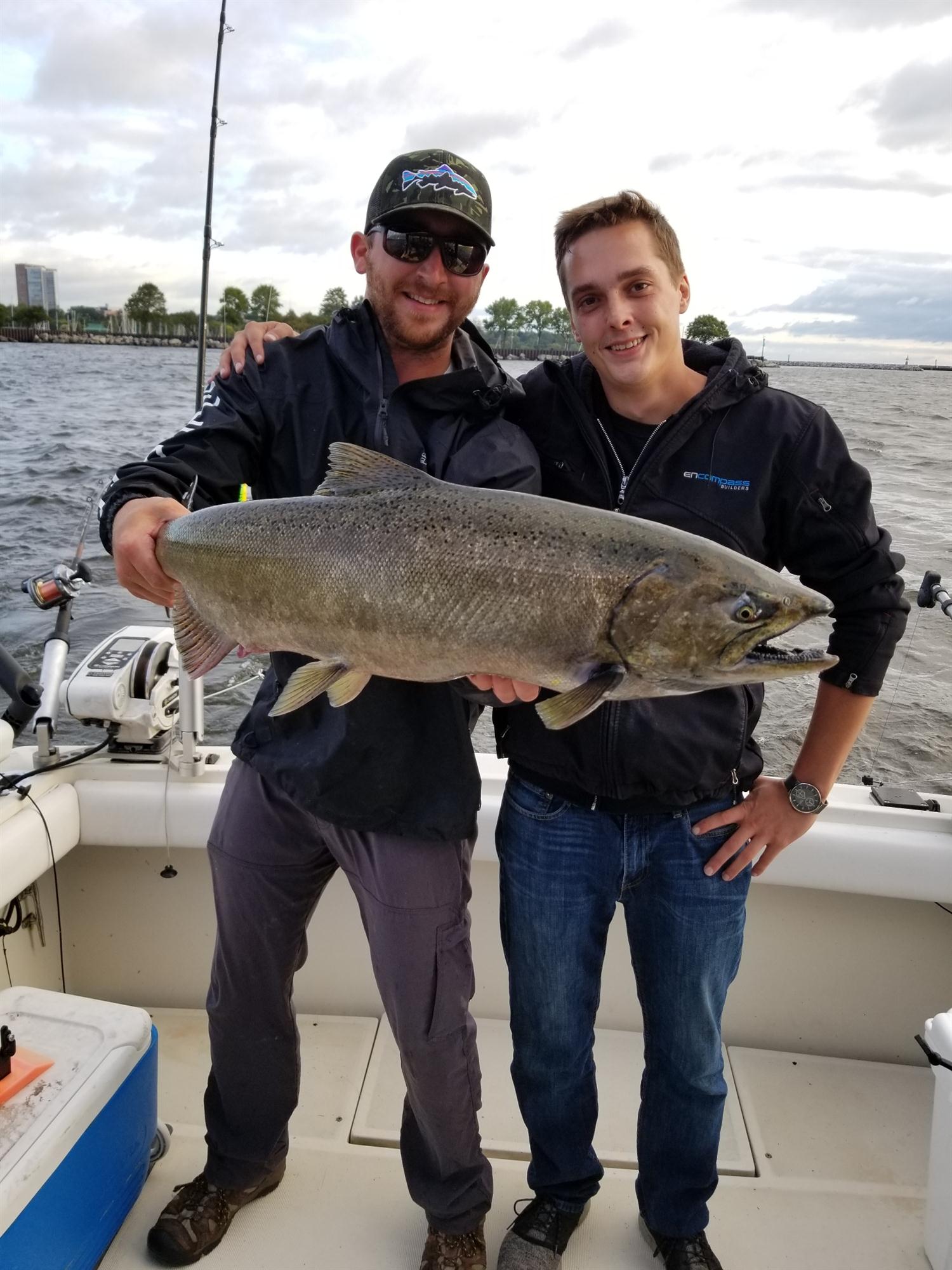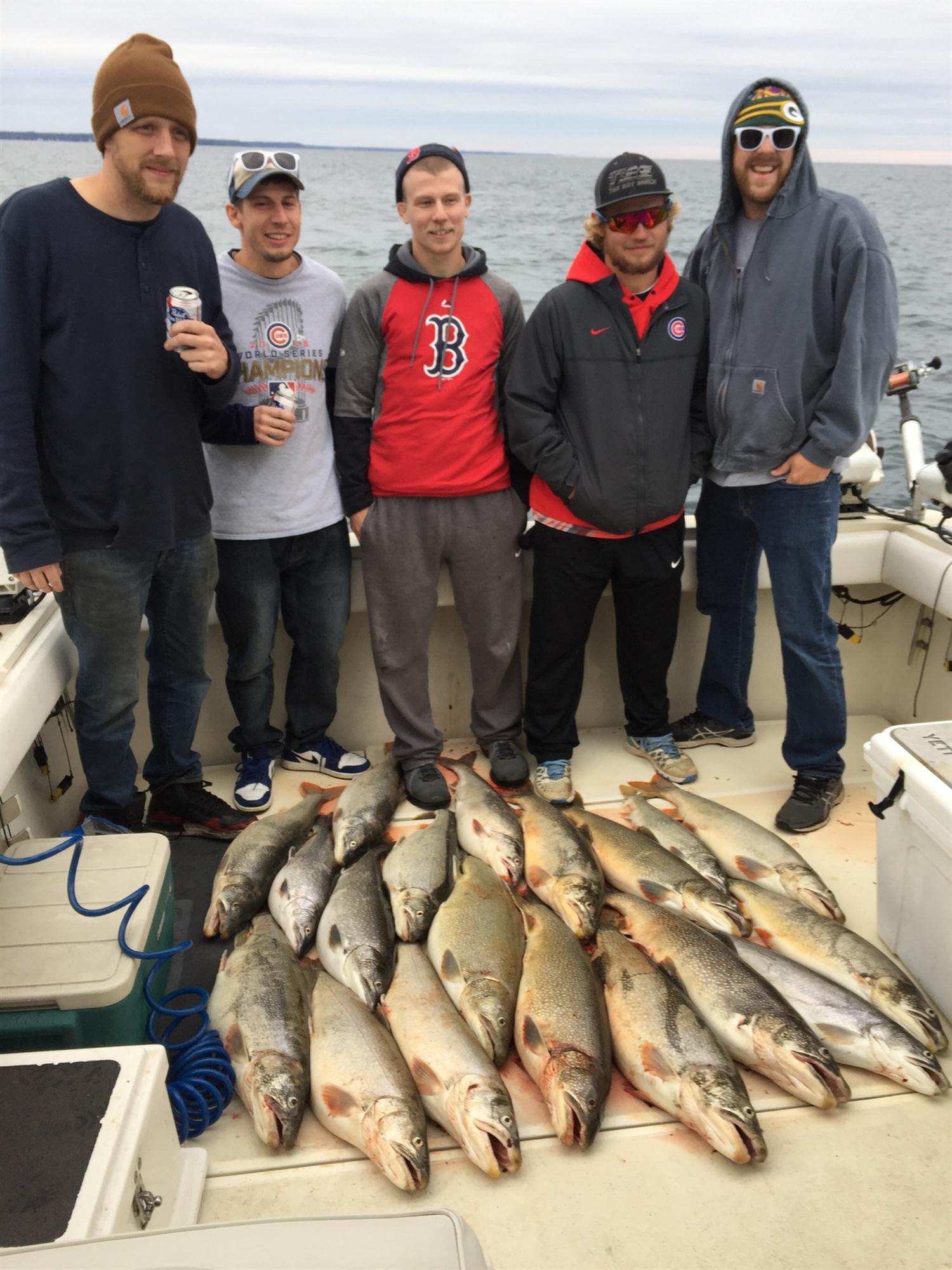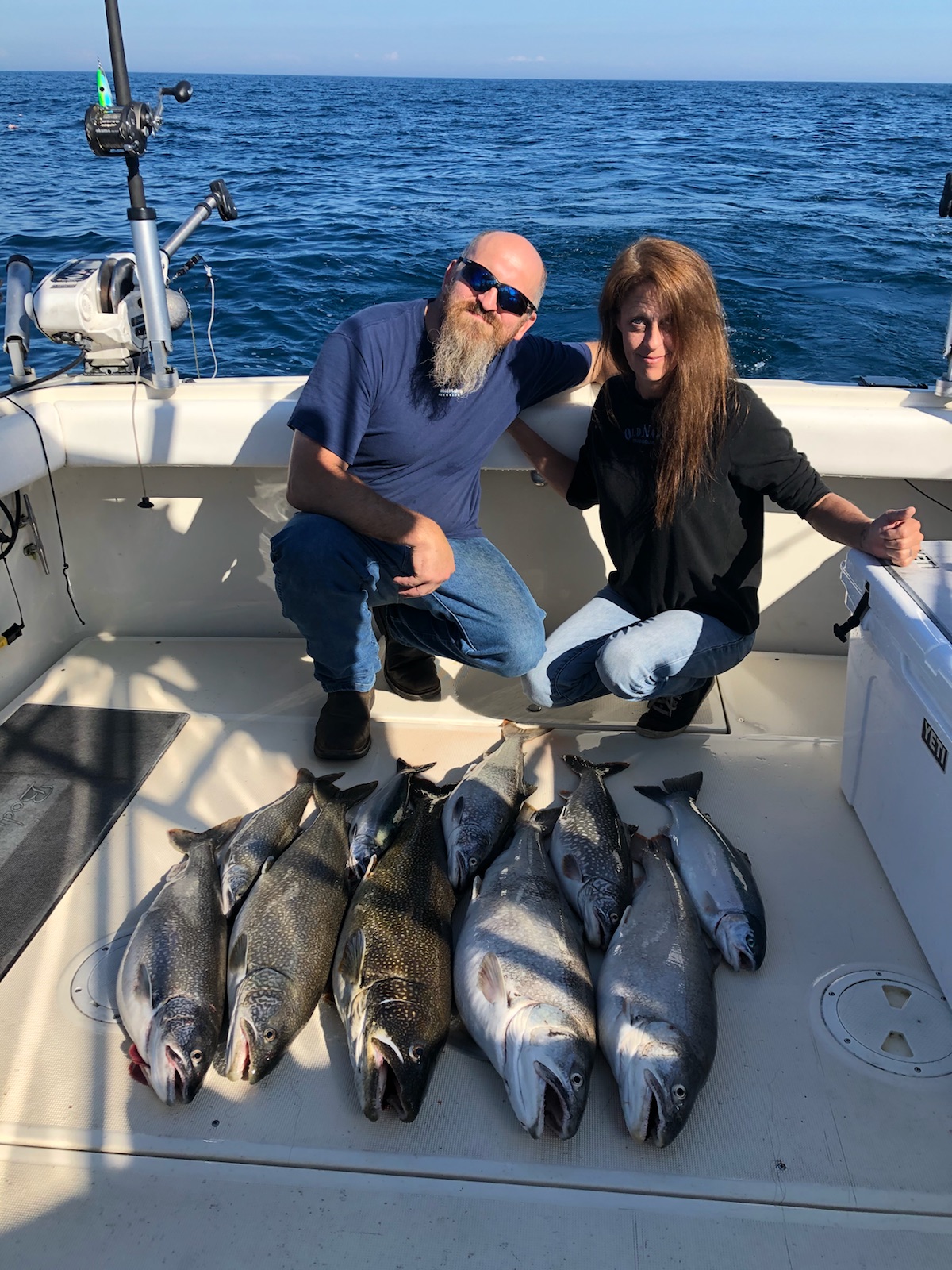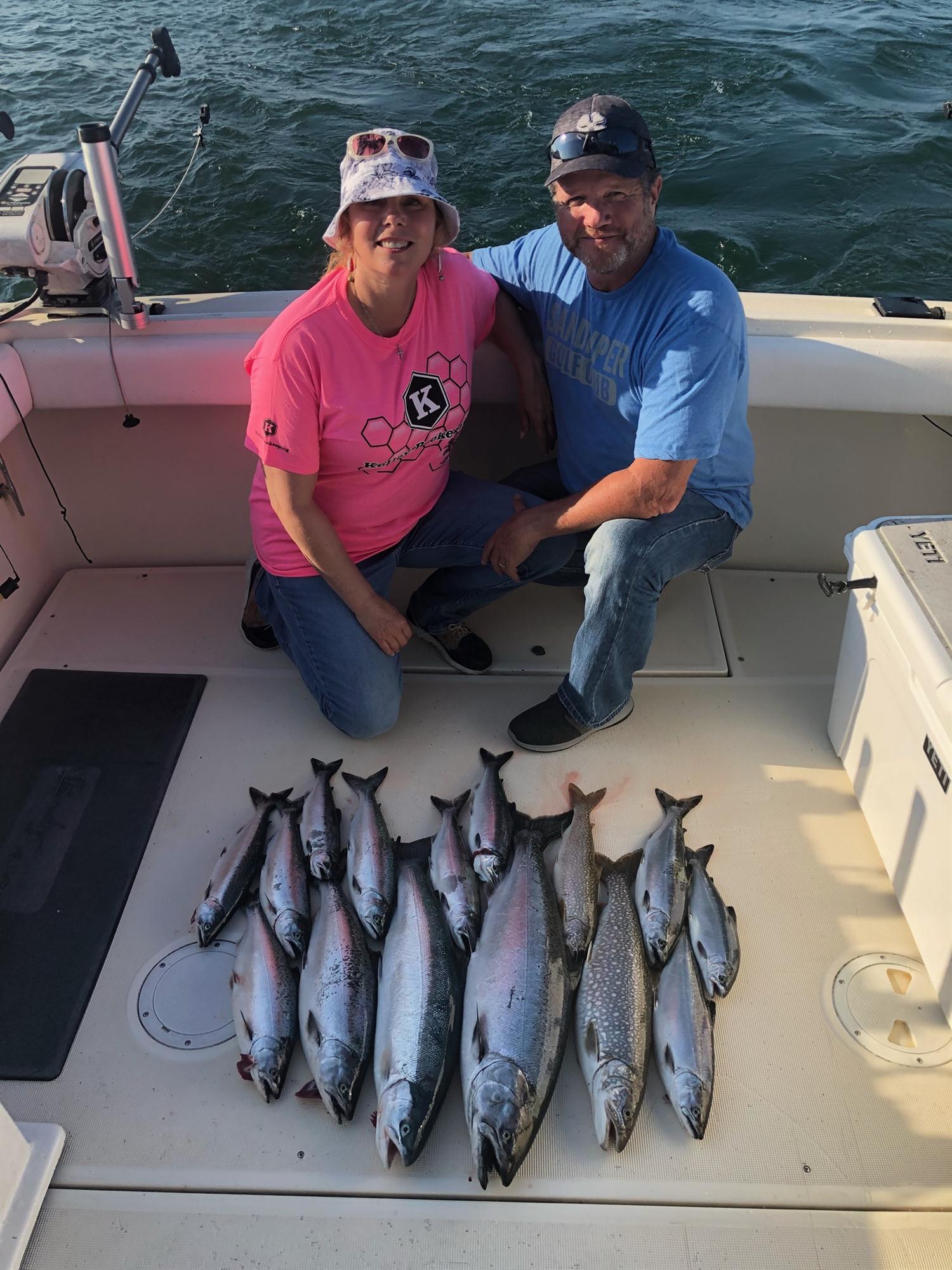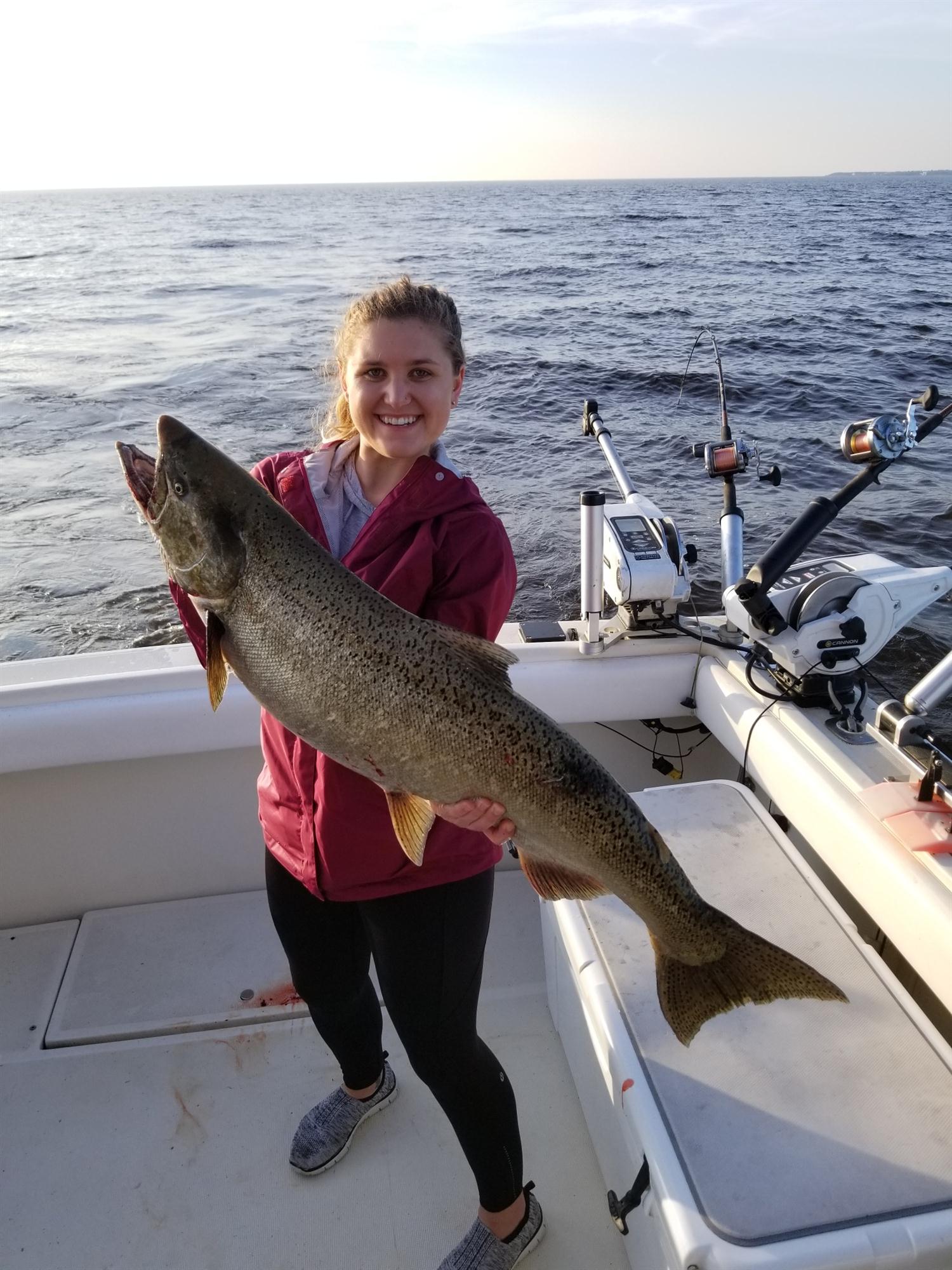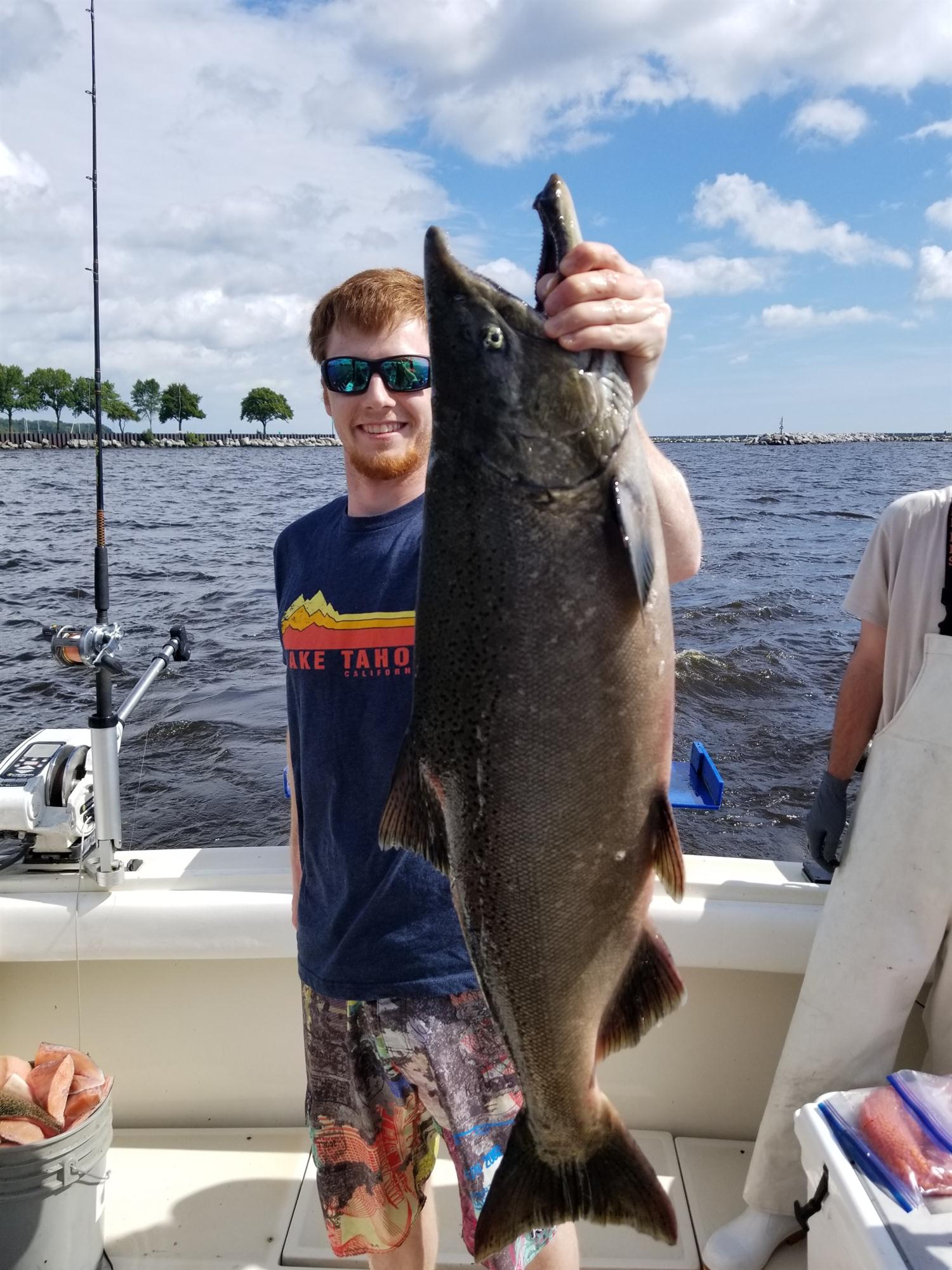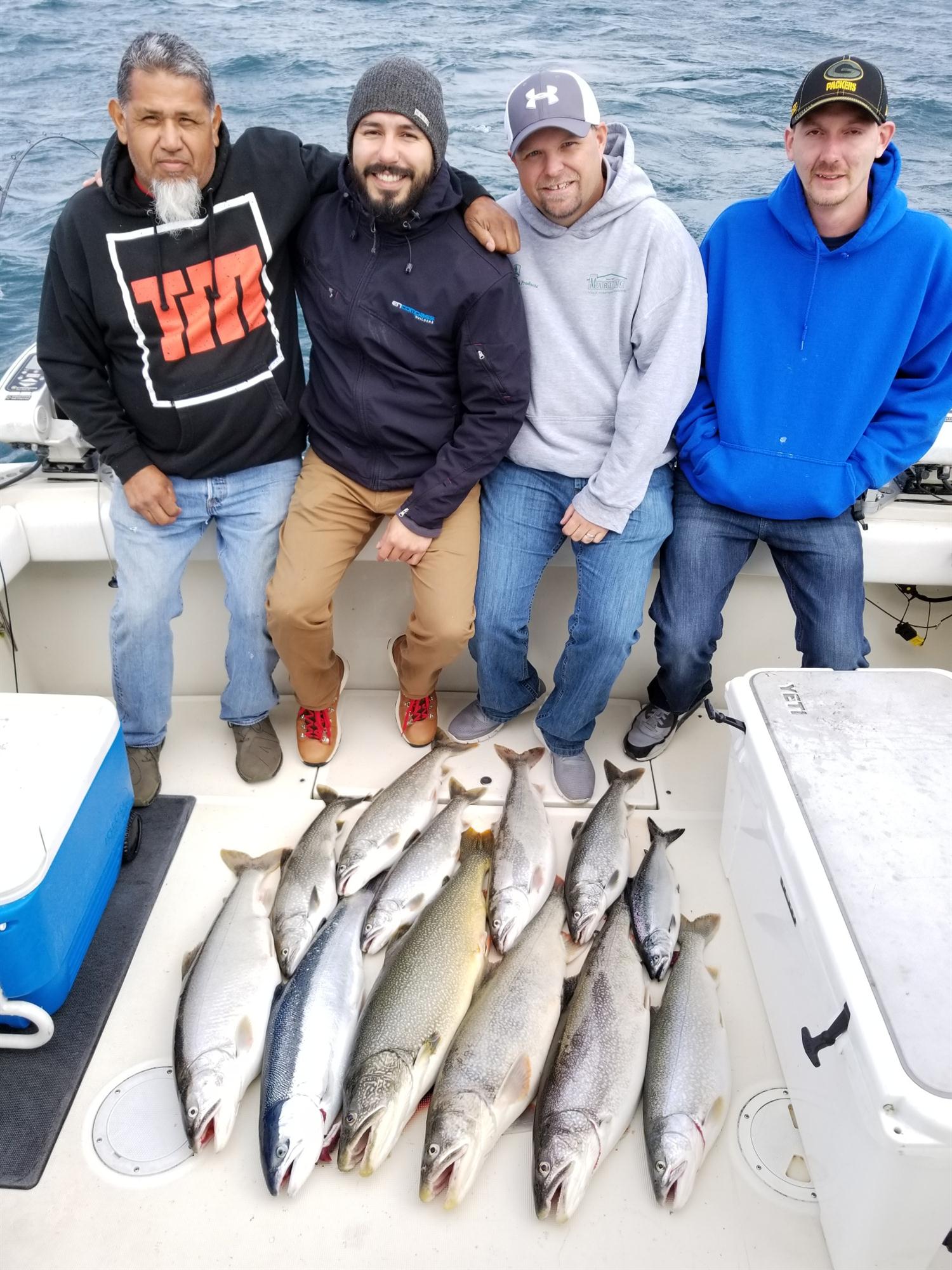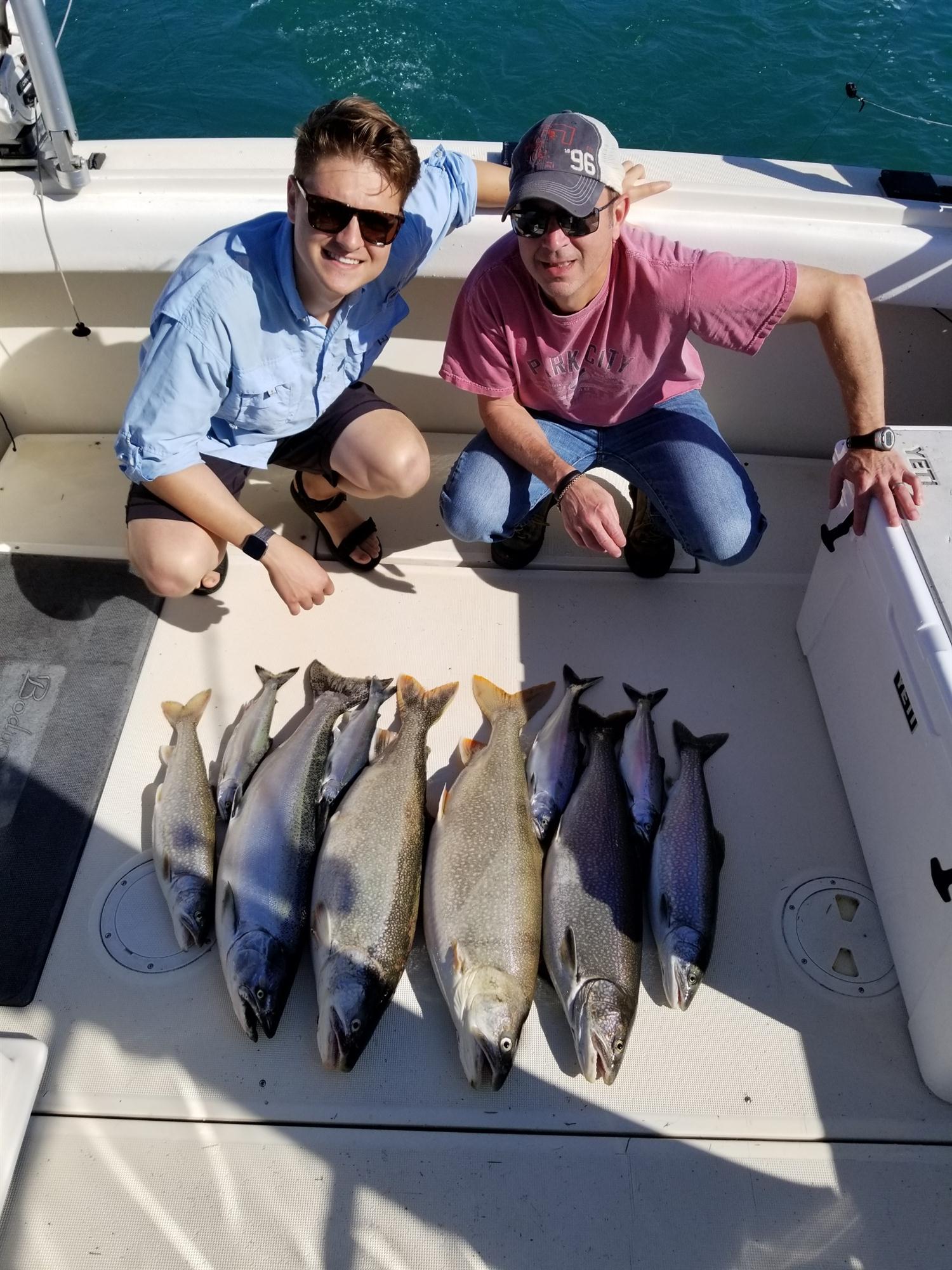 Report for August 21, 2018
We are just about through August and Milwaukee charter fishing has been steady. We are averaging 11 fish a trip during the month and it has been a mixed bag. We caught the grand slam or all 5 species in 2 of the last 7 trips. Lake trout are the top species through the month but we are catching some Rainbow trout and Chinook salmon too. We have been in 340 feet to 30 feet of water and there has not been a hot spot anywhere for long. Two things that standout for the season have been lots of high winds and we have fished deep water for almost 70% of the season. The bite has just been more consistent out deep. We have had seasons we never got deeper that 150 feet of water but this season that is the starting point for most trips. It is just how things have set up. For the strong winds we have had enough of it. Many days this month we have had to deal with wave conditions over 4 feet or better and cancelling trips due to this. But when conditions have been fishable we are catching. Lake trout are everywhere we fish but for the first half of the month it was outstanding trout fishing in 95 to 120 feet of water straight out of Milwaukee. When this fell apart we moved into 30 to 50 feet and caught Brown trout, Chinook and some Lake trout. This held for several days until a big northeaster warmed the water up and sent us back out deep. We took a mixed bag of Steelhead, Coho, Chinook and of course Lake trout, Lake trout are the number one stocked fish in Lake Michigan and they are everywhere. The best depths were between 250 and 320 feet of water. Now the water has begun to cool down and this morning the surface temperature was 65 degrees and down 35 feet it was 48 degrees. We found this to be true from 100 feet to 65 feet of water. This will help a Chinook harbor bite once the water clears up from the big rains.
We have run a lot of different sets during this period but our stud flasher fly combo is the Howie Bull Frog with a white pearl flasher. This has been good on deep riggers and on wire dipsies. This combo is been on since Brew City. The only other bait on these 4 rods would be spin and glows for Lake trout. All the board rods and the side riggers have had spoons on them. We like the Moonshine UV pearl wonder bread the best. We also have run the mixed veggie and NBK green Stingers. For just about all the month the stud board rods are 300 and 350 coppers. A lot of reeling. Today we switched to leadcores for the first time since fishing in 30 feet of water. We liked 3,4,5,6,7 & 8 colors. The wire dipsies were set at 250 feet for a couple weeks today it was 125 on the line counter. We are seeing some good Chinook action now, with some magnum shakers and 4 year old Kings getting ready to stage. If the cold water creeps in just a little more and we can avoid a big northeaster there will be some good Chinook fishing in and around the harbor. We should see some 20 plus pound Chinook this September.
Silver King Charters will be fishing into the first week of November and there is still some good fishing to be had. Give us a call at 414-460-1467 and catch some fish before and after the football games.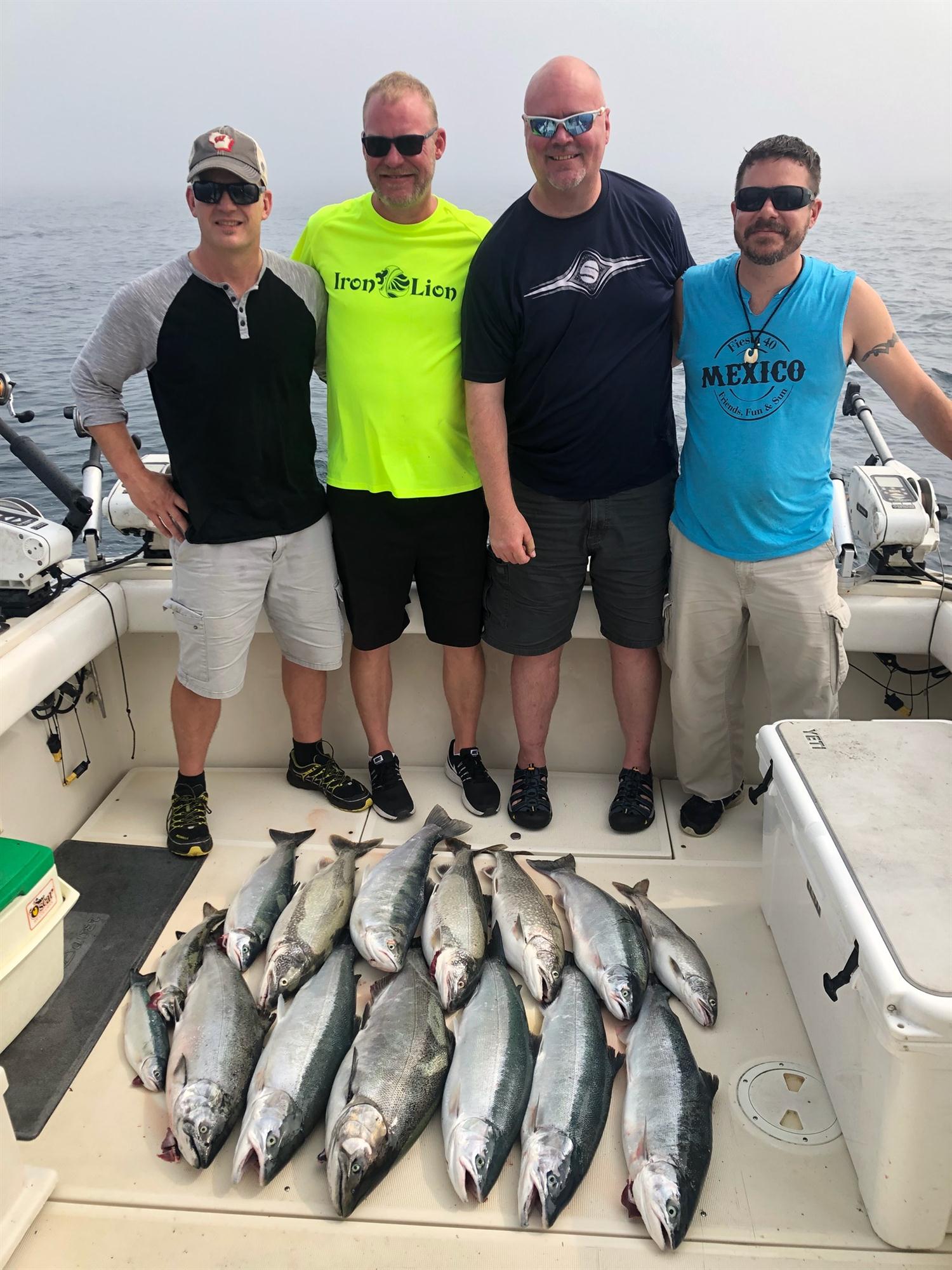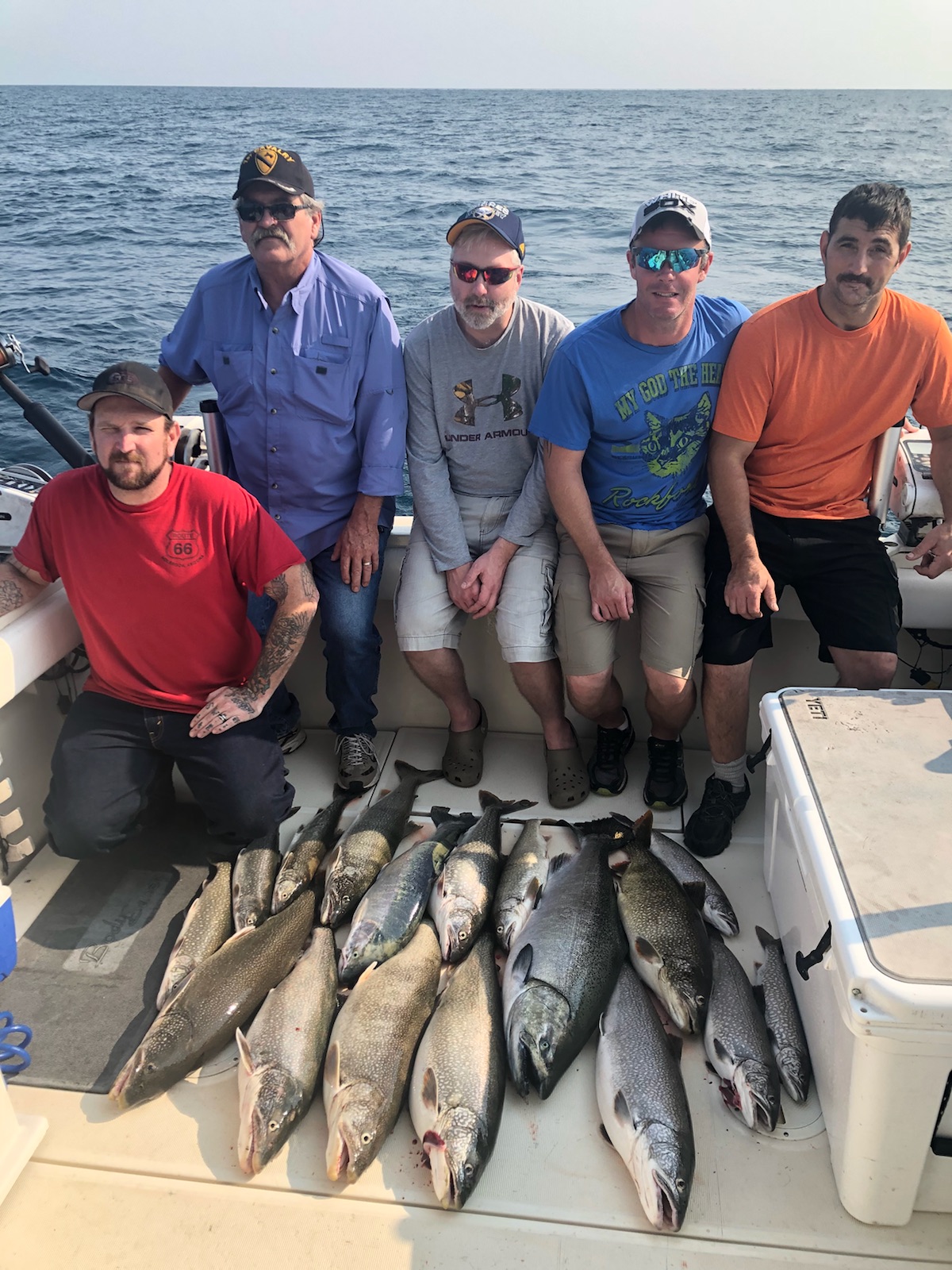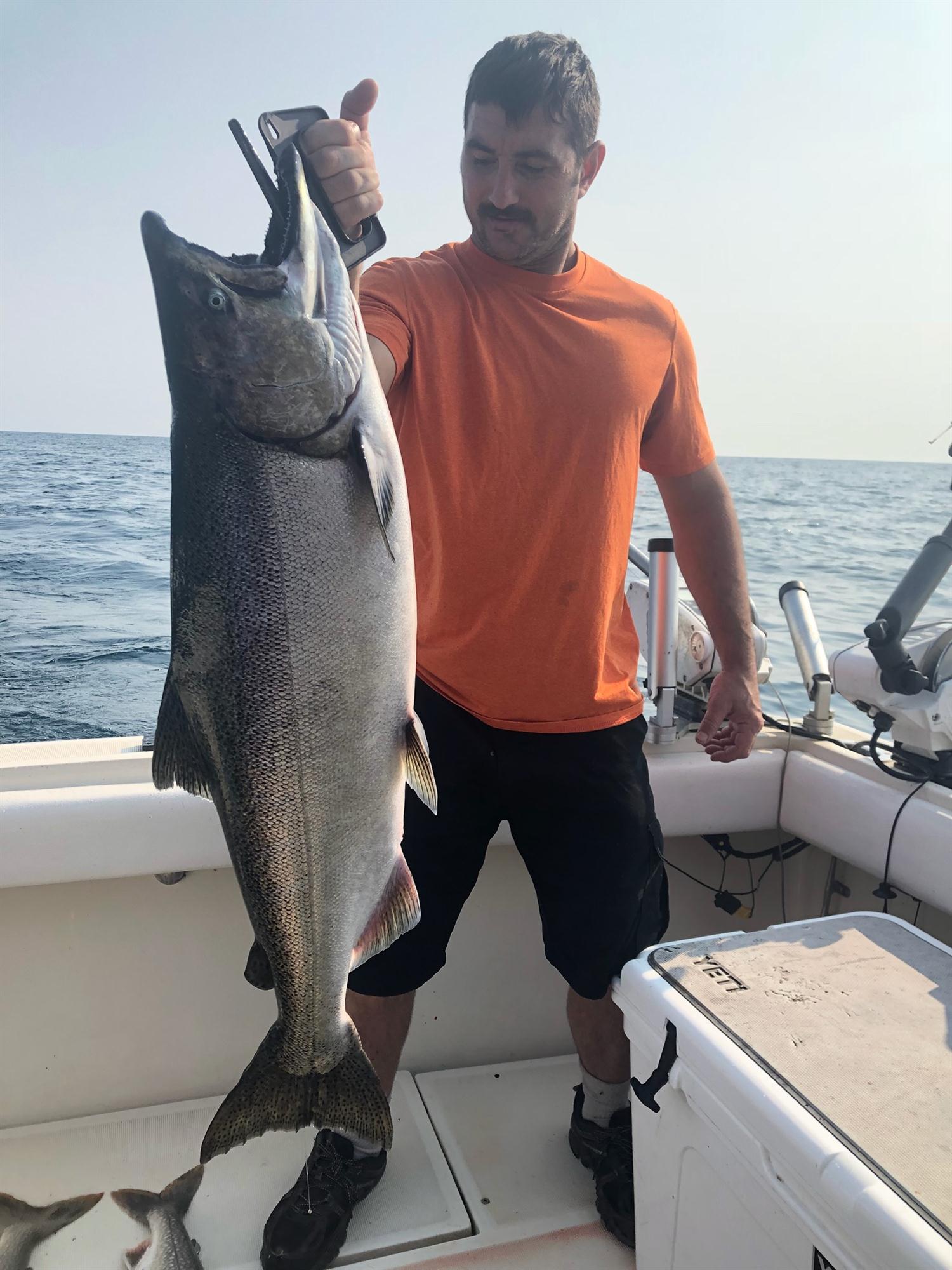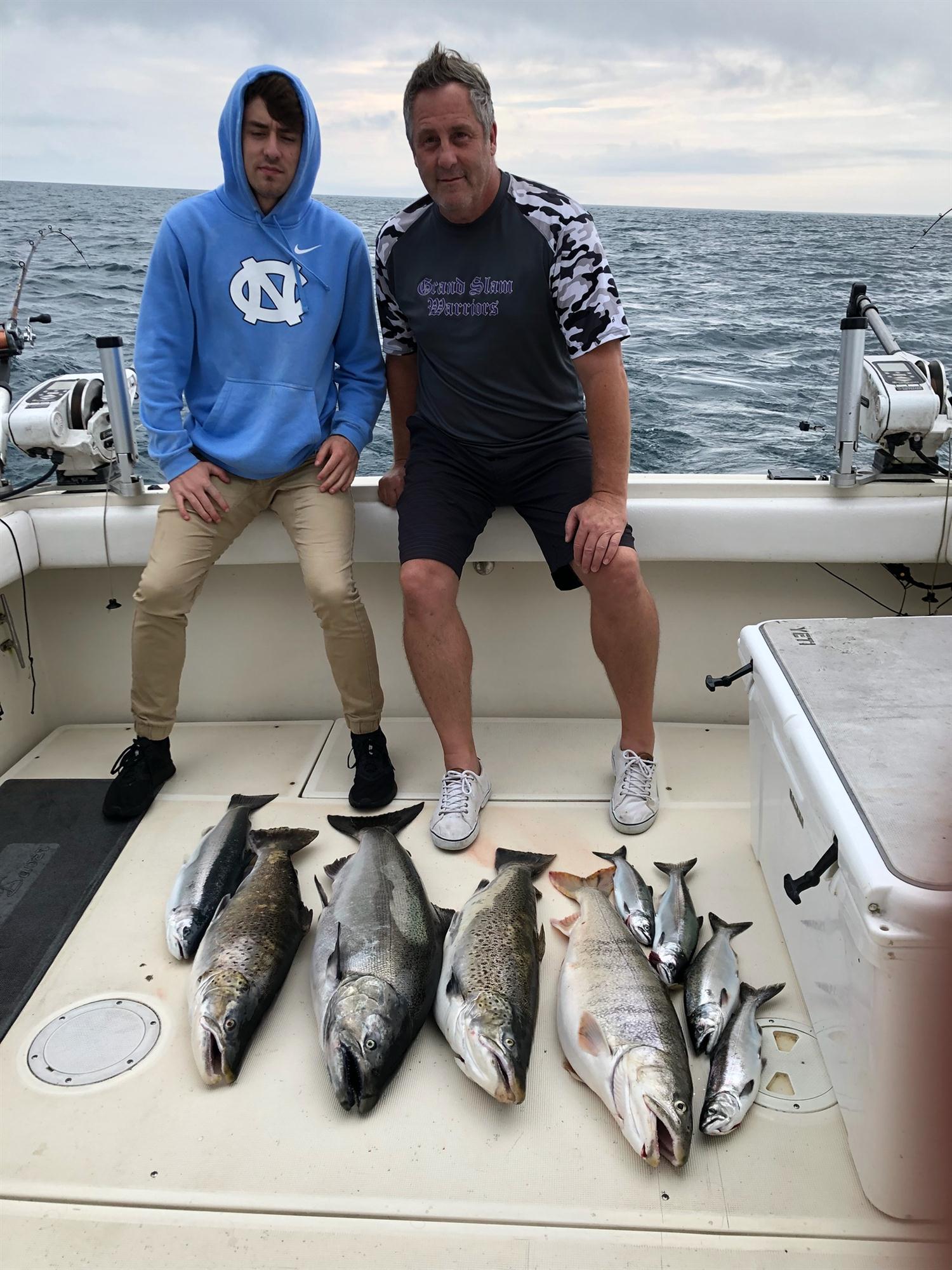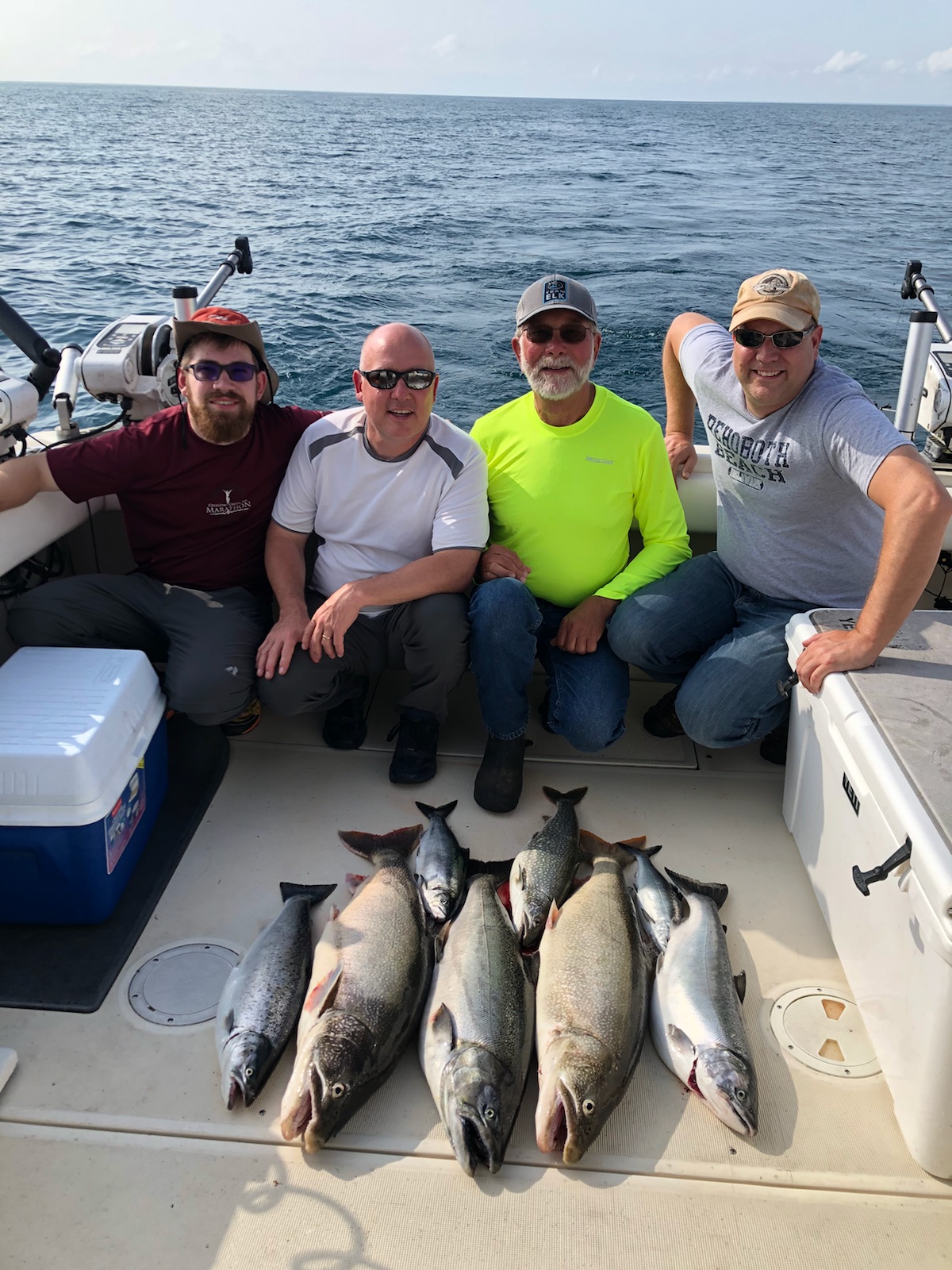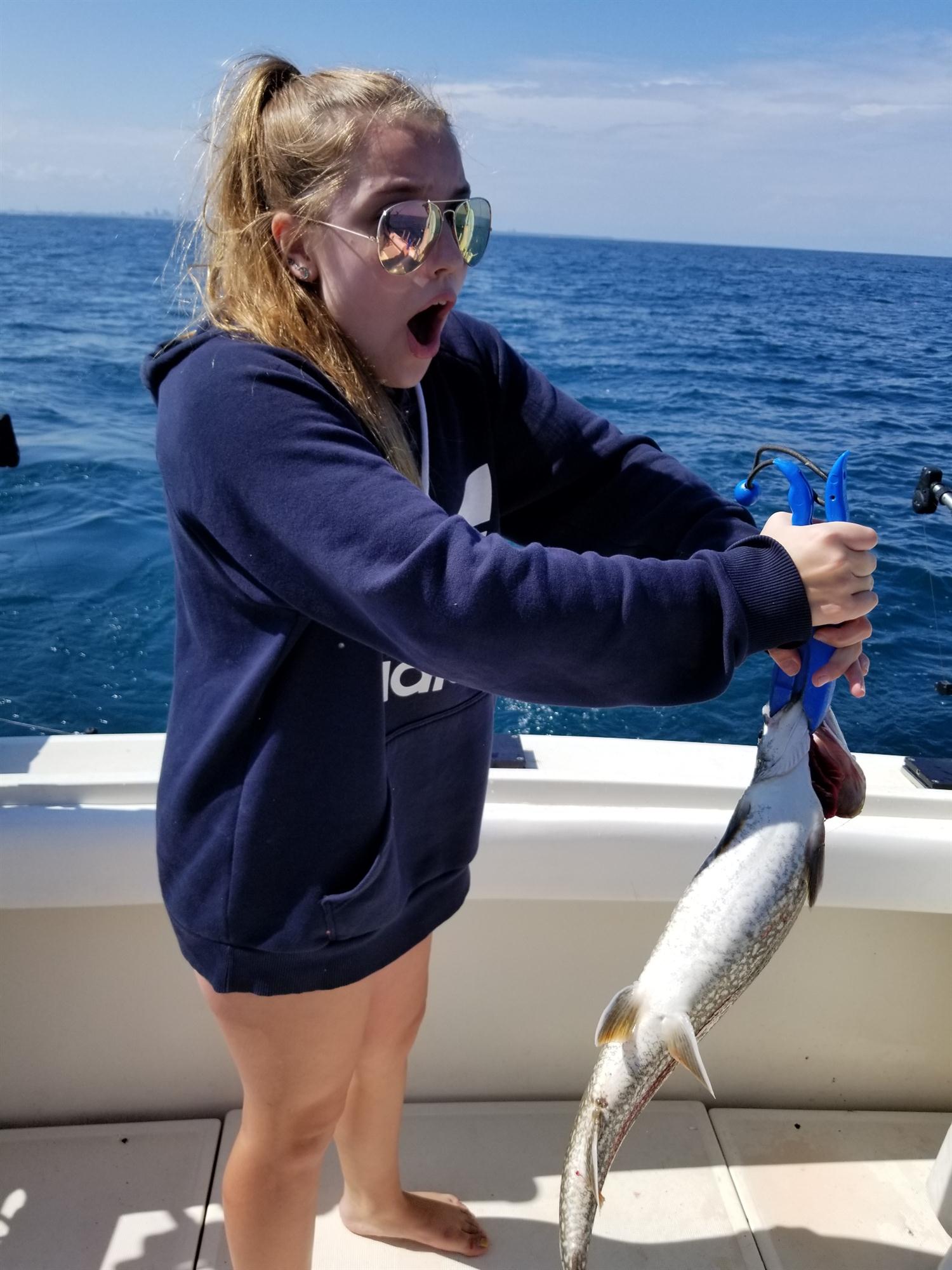 Report for August 8, 2018
We are now through July and I cannot believe how fast the season has gone. I always try to make the most out of each day but I wish I could slow it down some. The first part of July was solid through right up to July 20th when a big northeaster and then the full moon cycle shut things down for several days. We had good mixed bag catches, with Coho salmon at the start of the month and now Lake trout as of the last week being the top catch. This is still a good time to catch Chinook salmon and will remain so through early September. We were fishing in 200 to 300 feet of water over the last two weeks but in the last several days the hot bite is in 90 to 120 feet of water, either straight out of Milwaukee or several miles north. Wee have pulled several Chinook and Lake trout over 20 pounds too. On Saturday we fished Brew City salmon tournament and came in 3rd out of 98 boats. It was a tough field but my brother and I decided to go back to our old formula that we abandoned the last two Brew City tournaments and we went 27 for 28, catching 130 pounds of fish in only 4 hours of fishing time. It was an execution. We have three 3rd place and three 2nd place finishes in this tournament. We also took 5th twice, 7th once, 9th twice and several finishes 13th through 18th. I doubt we will ever capture first place but I will take top 5 all day in that kind of competition. We have won in all other ports from Port Washington to Winthrop but our home port has been a challenge. Great job to Payde Fore 2.
Our plan for Brew City was to fish Lake trout to start and we landed 15 in 45 minutes and kept 7 of them. Our top 5 averaged 14.5lbs. We tried to pull a Chinook on boards during this but failed. The riggers and wire divers on the bottom in 105 feet did the work. We had a different color spin and glow on each rod, along with a smoke dodger. It was good and quick in 105 feet of water straight out. We pulled lines and went straight out to 200 feet of water to catch five silver fish. We ran 4 boards with moonshine wonder bread spoons on 350, 300, 200 and 175 coopers. These had worked during the week but failed on Saturday. We ran two spoons on riggers and flasher flies on the wire dipsies and deep rigger. The wires were set at 200 feet on the line counters and the riggers were 60, 70 and 90 feet down. We had one hit and one Lake trout in the first half hour. We pushed out to 265 feet and this is where we started to get bites. Our rigger with a pearl white flasher and bull frog Howie fly down 90 feet picked off a King. We quickly sent another one down to 100 feet and pulled a Coho salmon. Eventually all riggers and divers had this set up with this combo and we ended up taking 2 Chinook, 1 Rainbow, 1 Coho and 1 Pink salmon in an hour. Right depth and right bait! We now had 10 fish to weigh in and it was 9:30AM. We decided to pull lines again and run 30 minutes up to Fox Point. The home of so many great catches. We set in 130 feet and trolled from the wreck to the Point. Of course during this troll we pulled 3 more Lake trout because they are everywhere but we came for upgrades on silver fish. We got three of them and they were all Chinook. We only could keep three more fish at this point. We took two on wire divers set at 200 feet on the line counter and one on a rigger at 90 feet down. All three were caught on the pearl flasher and Howie Bull Frog fly. The problem was the first two were 9 and 12 pounds. We have been pulling 15 pounders as small ones all month. The last one was 18 pounds. The difference from 1st to 3rd place was our Kings were too small. In tournaments you got to move some to be successful. You also have to guess right. We did and it paid off. Wouldn't change a thing. Willy and I along with our first mates were surgical. What was the formula? Simple only one guy calls the shots and drives. Cannot leave it up to debate. We have done a lot of winning this way.
Milwaukee charter fishing on Lake Michigan still has a long way to go in 2018 and this is the time for big Chinook salmon. There are not a lot of them but there are some monsters. Lake trout fishing is at its best right now and there will be some good offshore days for Steelhead. Near the end of August we will start to land some Brown trout too. This is a great time to book a trip on Lake Michigan, so call Silver King Charters at 414-460-1467 to catch some August fish. The first pic is the Brew City catch and then Colin cutting the Patrick Cudahy sausage. The best prize to get!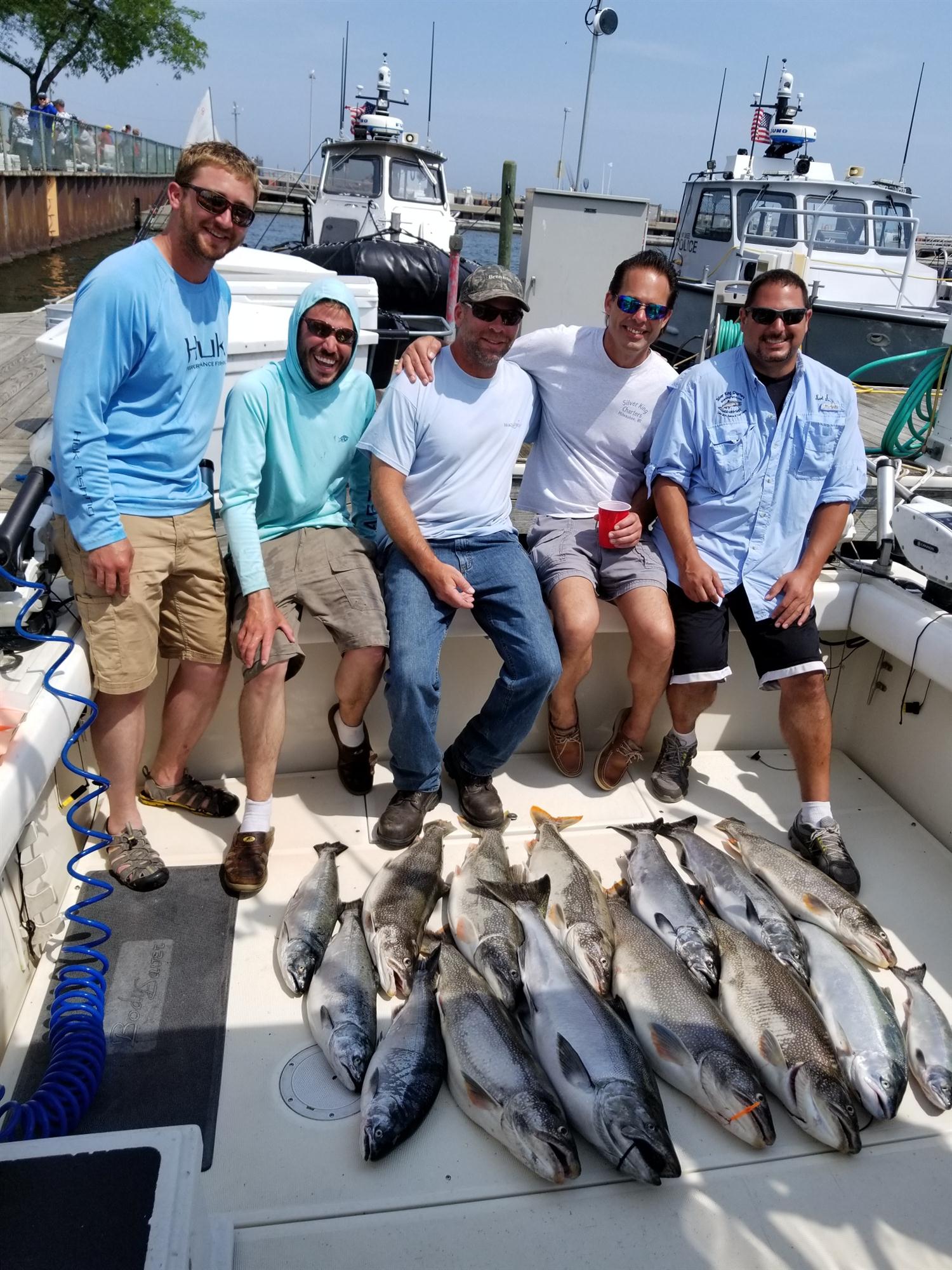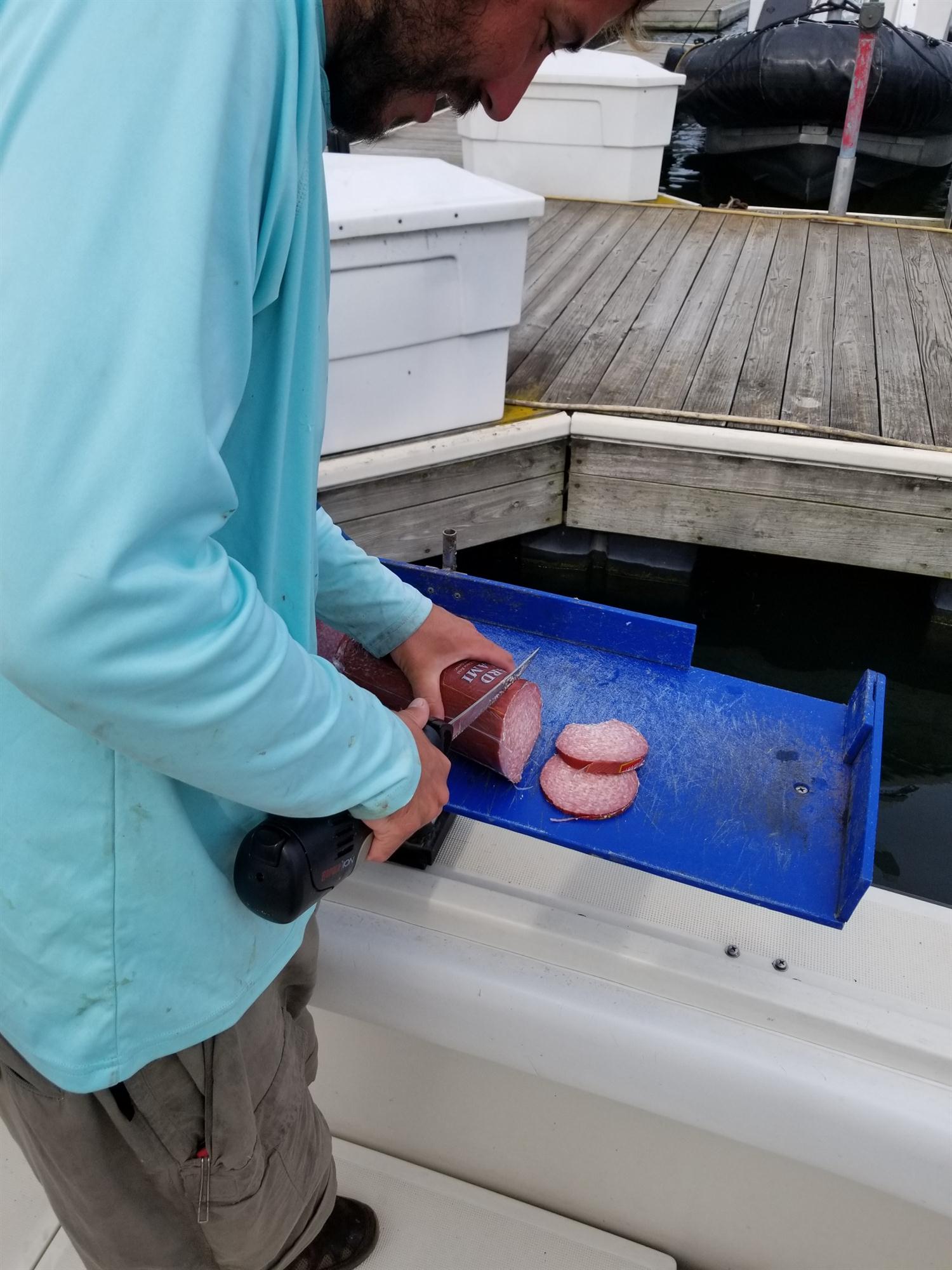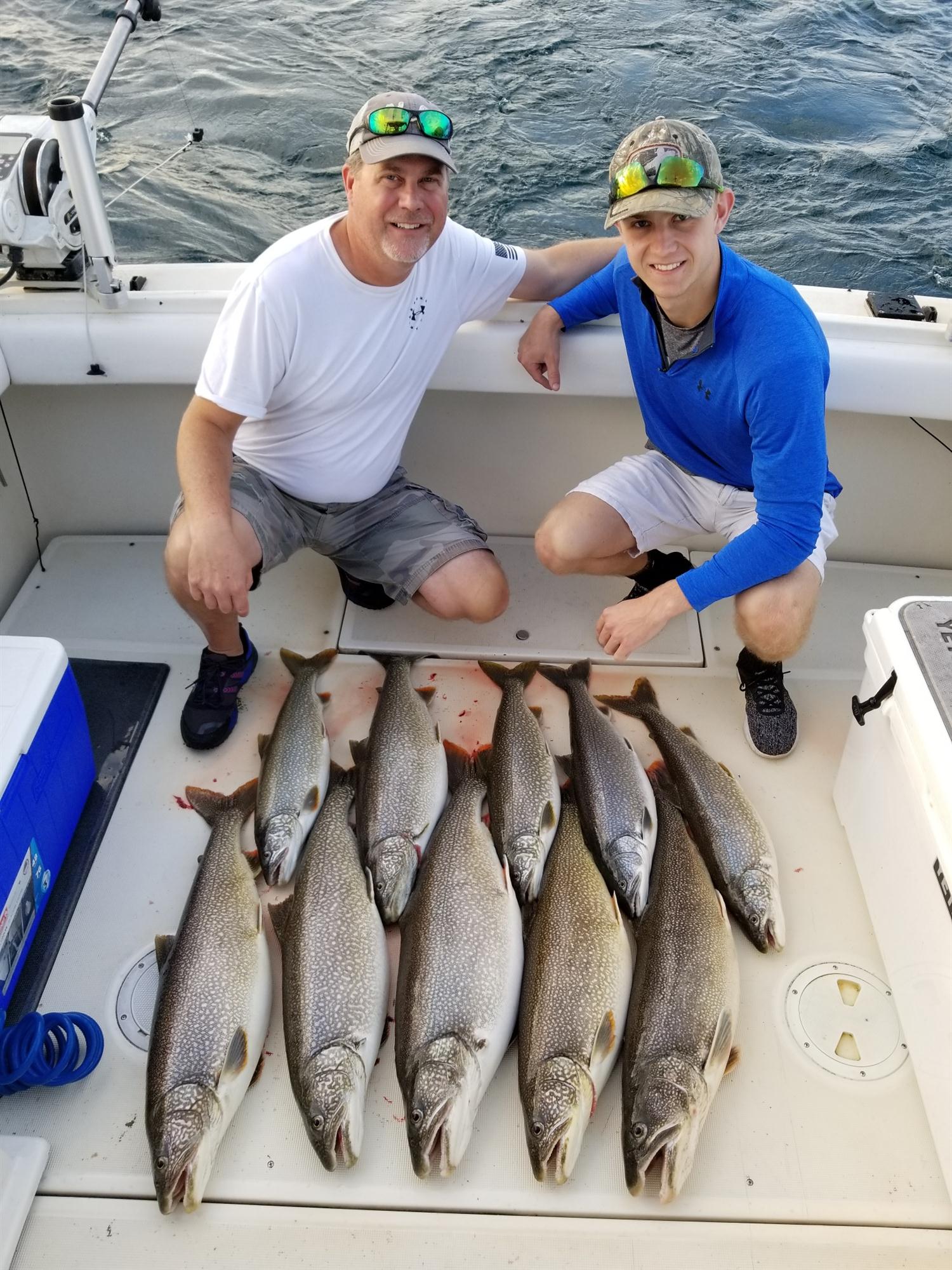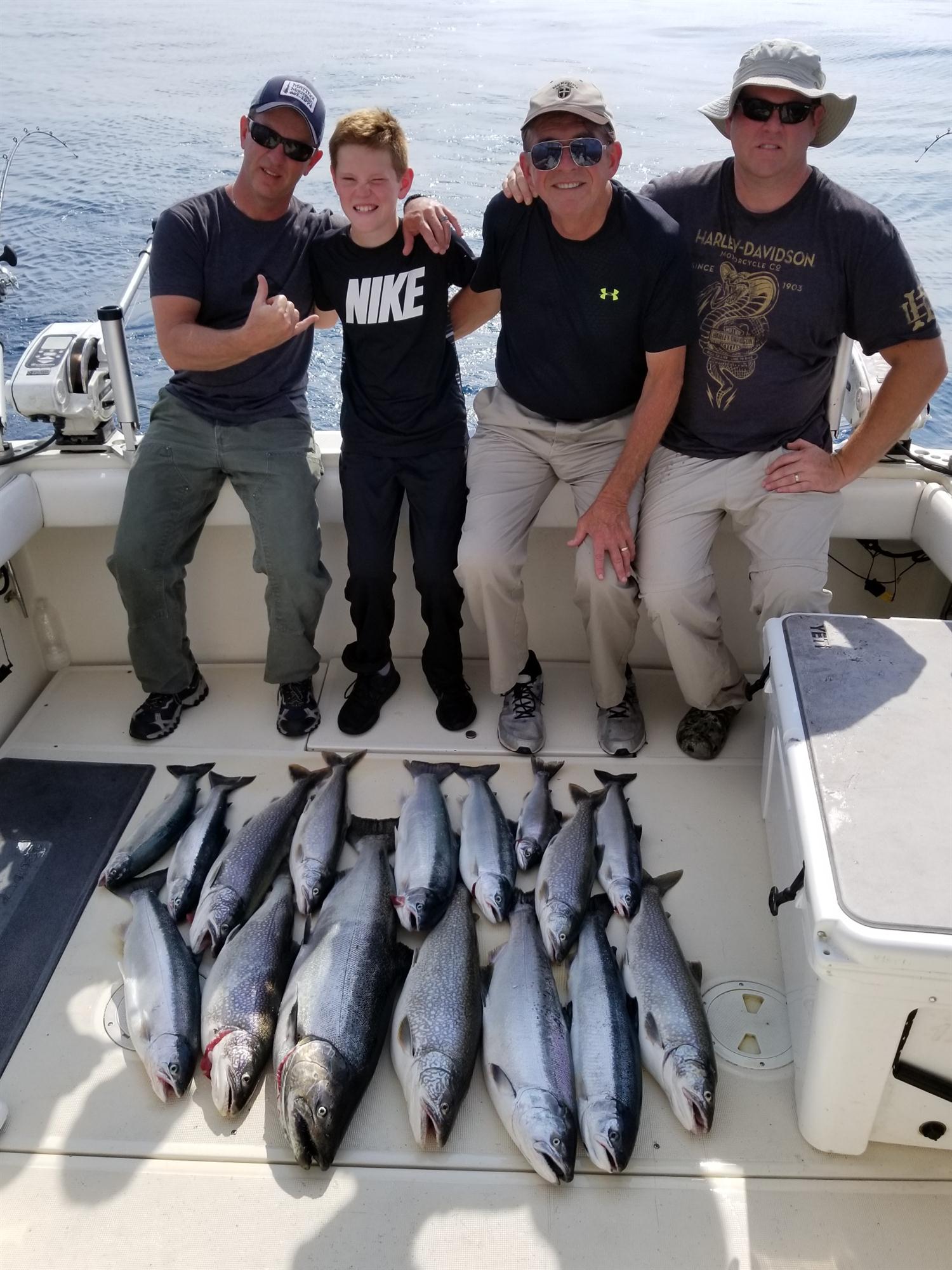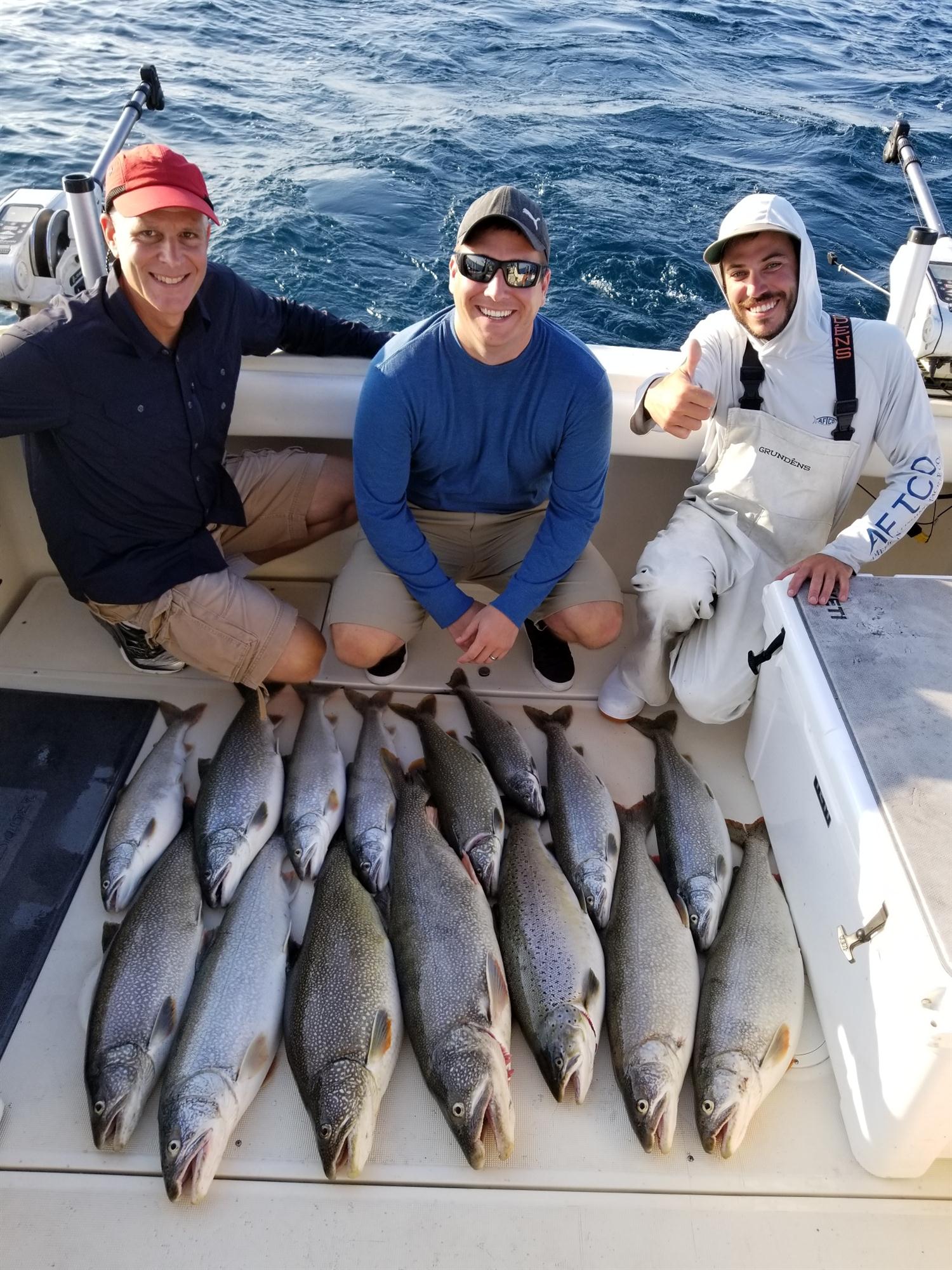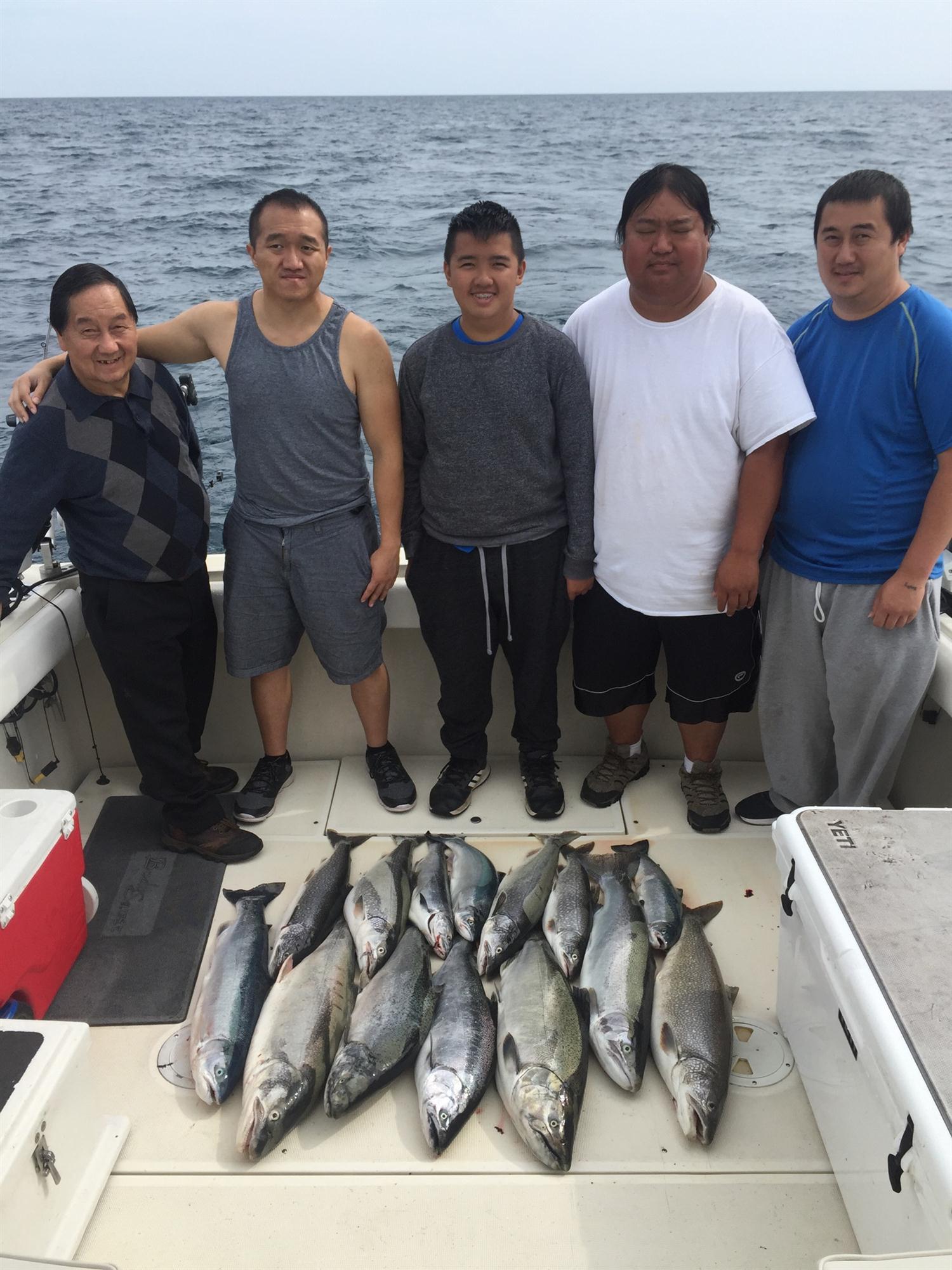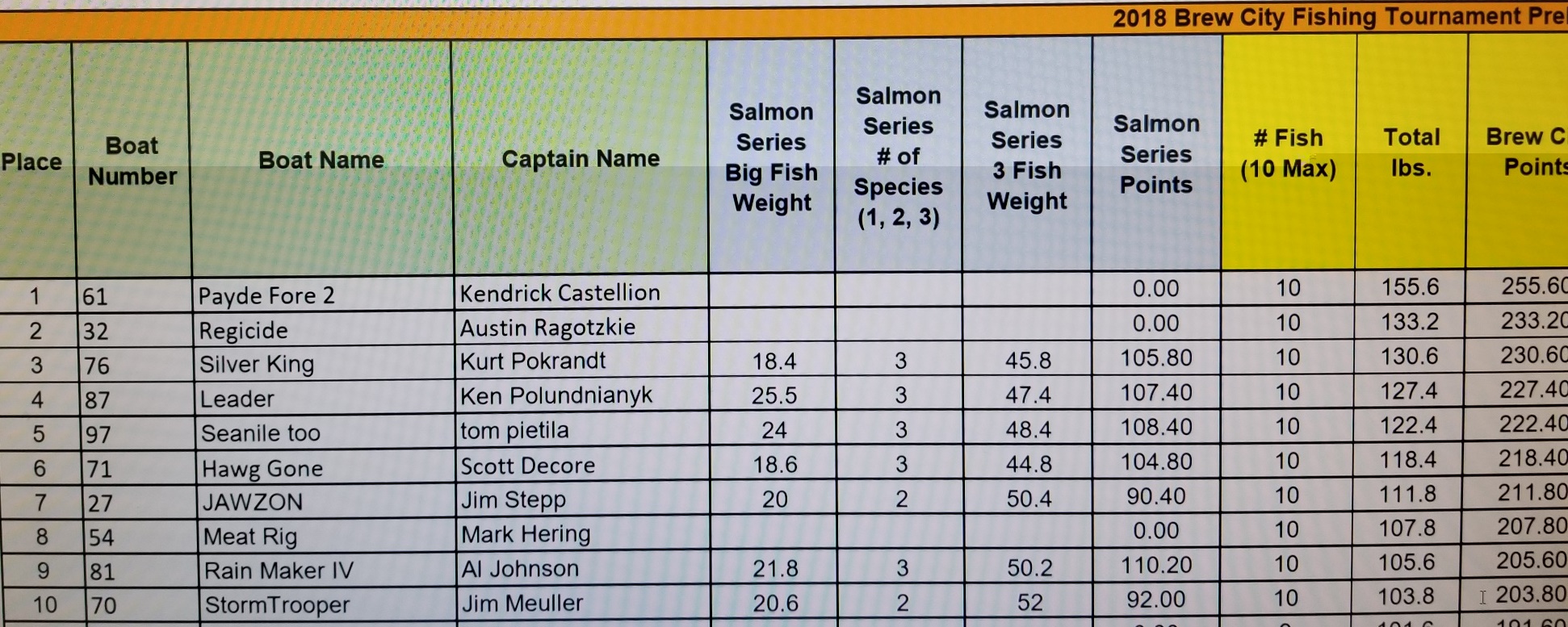 Report for July 24, 2018
We are now through Salmon-A-Rama and tough winds made it very challenging. We were unable to fish 4 of the 9 days and the last 3 days has warmed up the west shores off Milwaukee and south. We fished today and found 60 degree water down 100 feet and 58 degree water down 125 feet. Not ideal but looks like a good batch of west winds coming and this will improve things. We boated 142 fish during Salmon-A-Rama and this was a low for the last 7 years we have fished this with customers. We boated 7 fish 20 pounds or better, with are big being 26.29 lbs. This was good for 26th biggest overall. We felt that all top ten Chinook would be over 30 pounds due to all the reports leading into Salmon-A-Rama but as usual the scale shrinks fish. Only 3 fish were weighed in at 30 pounds and the tenth biggest was 27.5 lbs. We were fortunate enough to win big Lake trout at 23lbs and we took 5th place Lake trout too. This helped us to finish 2nd place in the Pro Top Ten. Craig from Kinn's Catch bested us with a few more big Kings. Great job guys! We only fished Lake trout at the end for 4 trips but in hind site we should have started earlier.
Our breakdown for the catch was much like our season so far: 64 Coho, 44 Lake trout, 24 Chinook, 8 Rainbow and 3 Brown trout. Most of our fishing was done in 70 to 90 feet of water and flasher flies dominated. Only spin and glo's for Lake trout were as good. White flashers with little boy blue on all set ups seemed to be best with the challenging bite. Things have changed greatly with the big northeast blow but flashers are still better over spoons as of today.
We are booked for Salmon-A-Rama starting today for 2019 and it will be from July 13th through July 21st. In seven seasons since the charter ticket has been introduced we have won money for 21 people for an average of 3 a year. Our customers get to keep all the money won, with the exception of the grand prize if $25,000, which we will take $5000. This year we had 4 winners and Gary Seeman netted a $3700 outboard Yamaha motor that he will easily sell for $3200, along with $100 big fish of the day. The breakdown by year is as follows:
2012: Lake trout 4th & 5th place and big fish of the day
2013: Rainbow trout 3rd place, Lake trout 8th place, Coho salmon 9th place, Chinook salmon 9th place and the Lake trout was 9th biggest in tournament overall
2014: Rainbow 1st place, Coho salmon 3rd place
2015: Lake trout 2nd, 5th and 8th places, Super Slam 1st place and 2nd biggest fish overall in tournament
2016: Chinook salmon 3nd place and 3rd biggest in tournament. Big fish of the day and 2nd place in Pro Top Ten
2017: Chinook salmon 4th place and 4th biggest of tournament. BIg fish of the day and 2nd place in Pro Top Ten
2018: Lake trout 1st place and 5th place. Big fish of the day twice and 2nd place in Pro top Ten
We had a great week with a lot of fun folks and we look forward to next year and hopefully we will be lucky enough to keep are winning streak alive. These trips book fast so call today.
Below is a few pictures from Salmon-A-Rama and Colin shows how to hold a fish to look crazy big. Gary and all our customers over the years, thanks so much for fishing with us. The season is not over with by a long shot and Brew City is next. Call Silver King Charters to get in on August and September fishing for big Chinook salmon, Lake trout and Rainbow trout.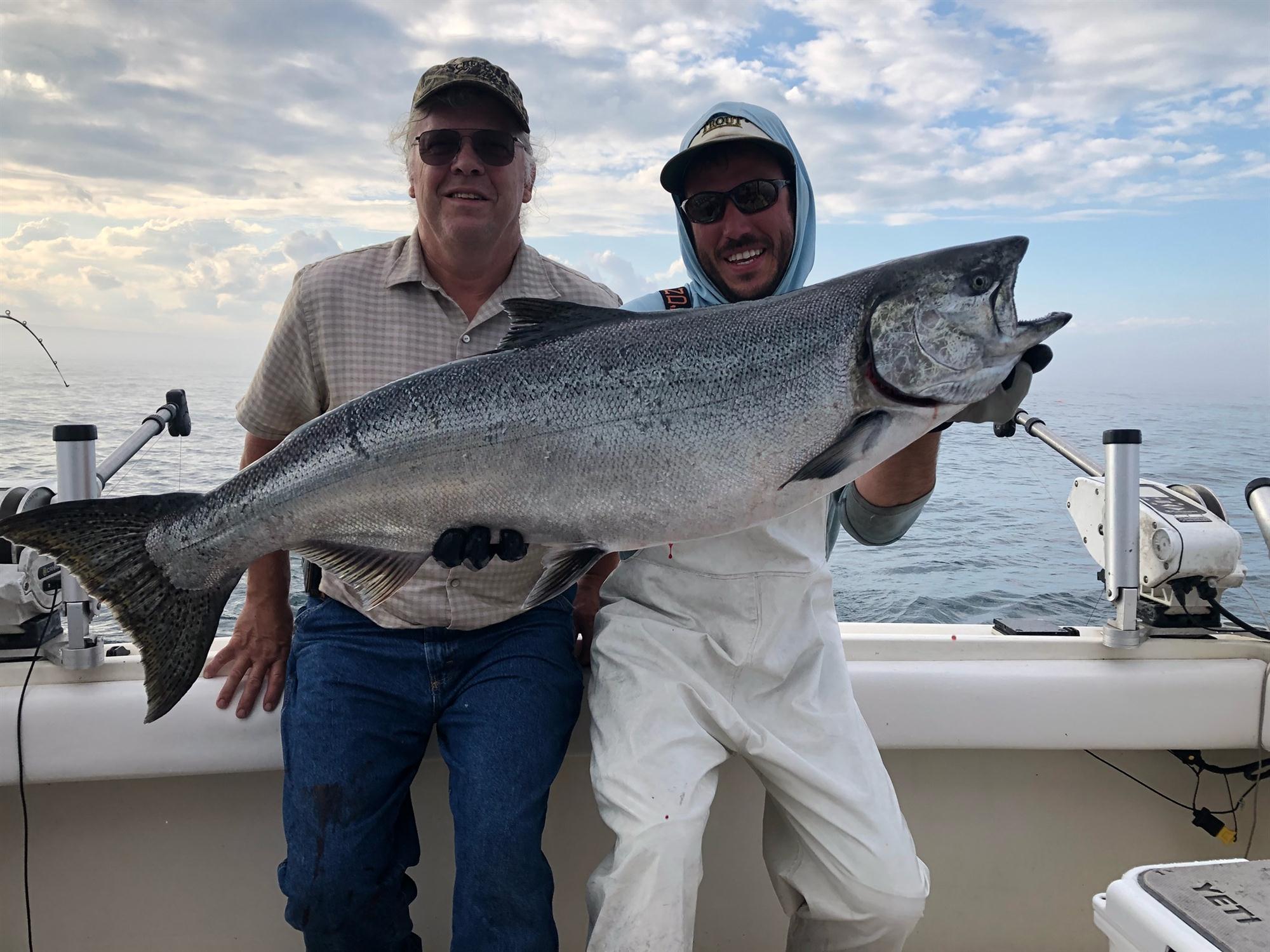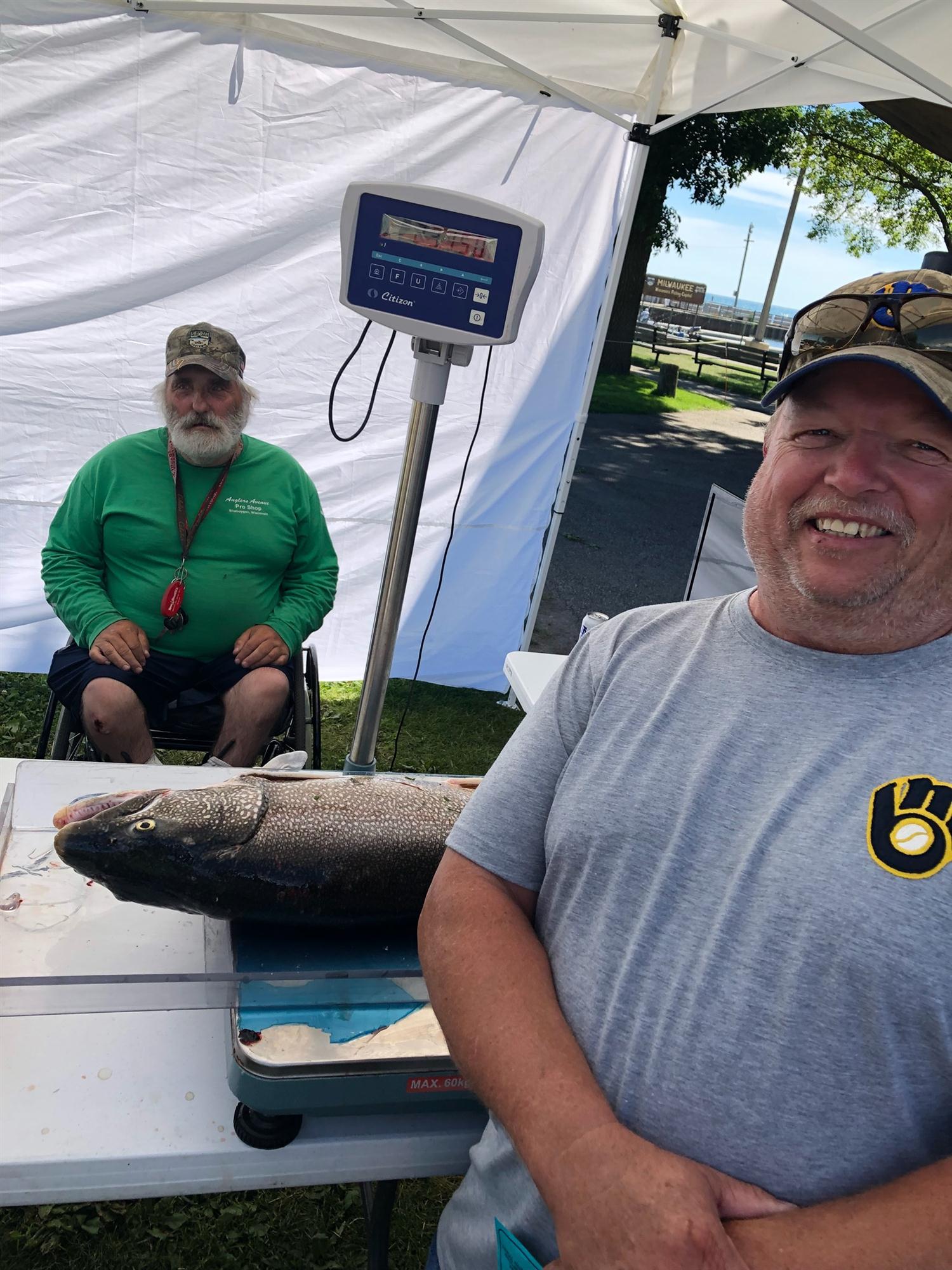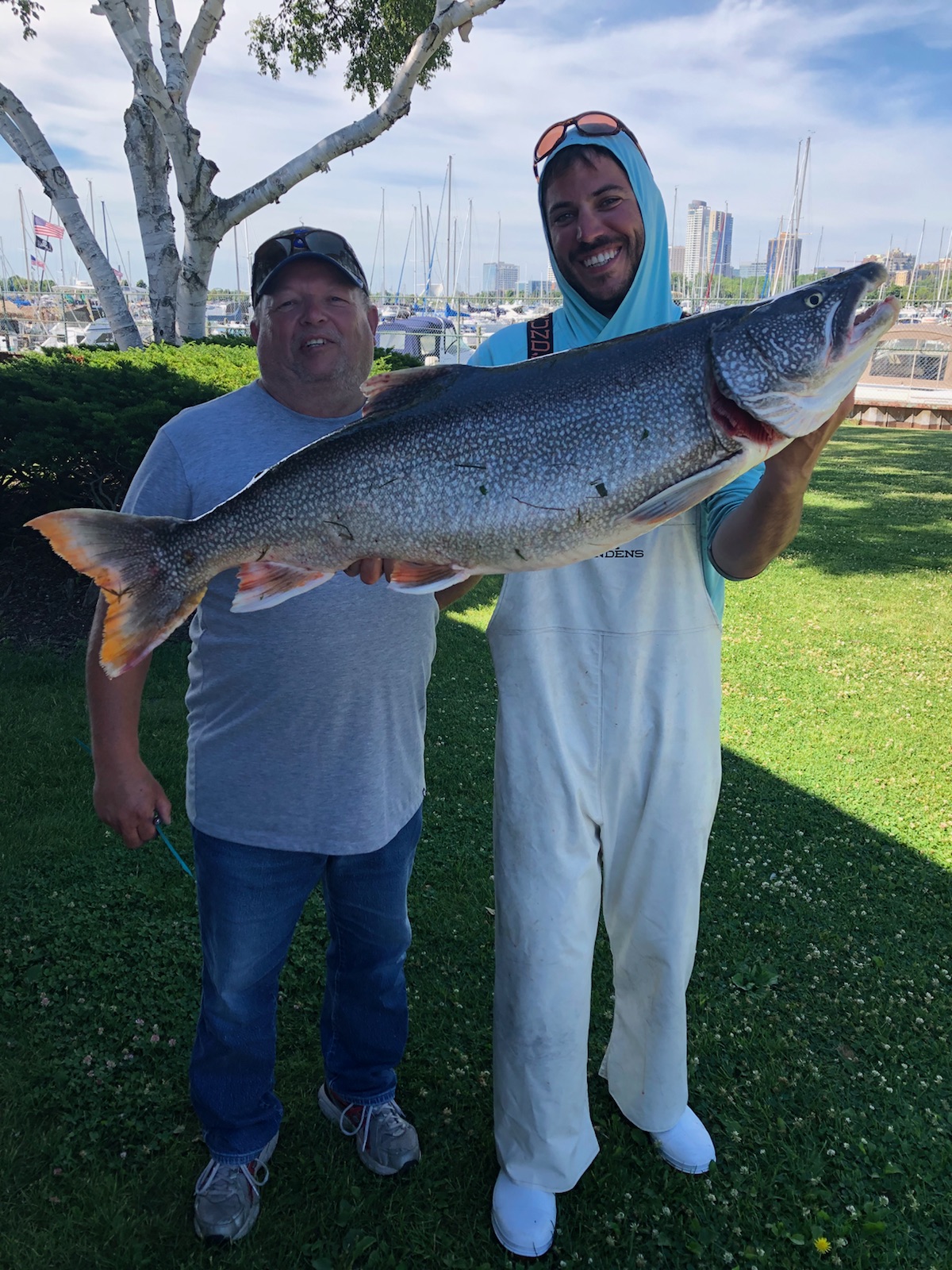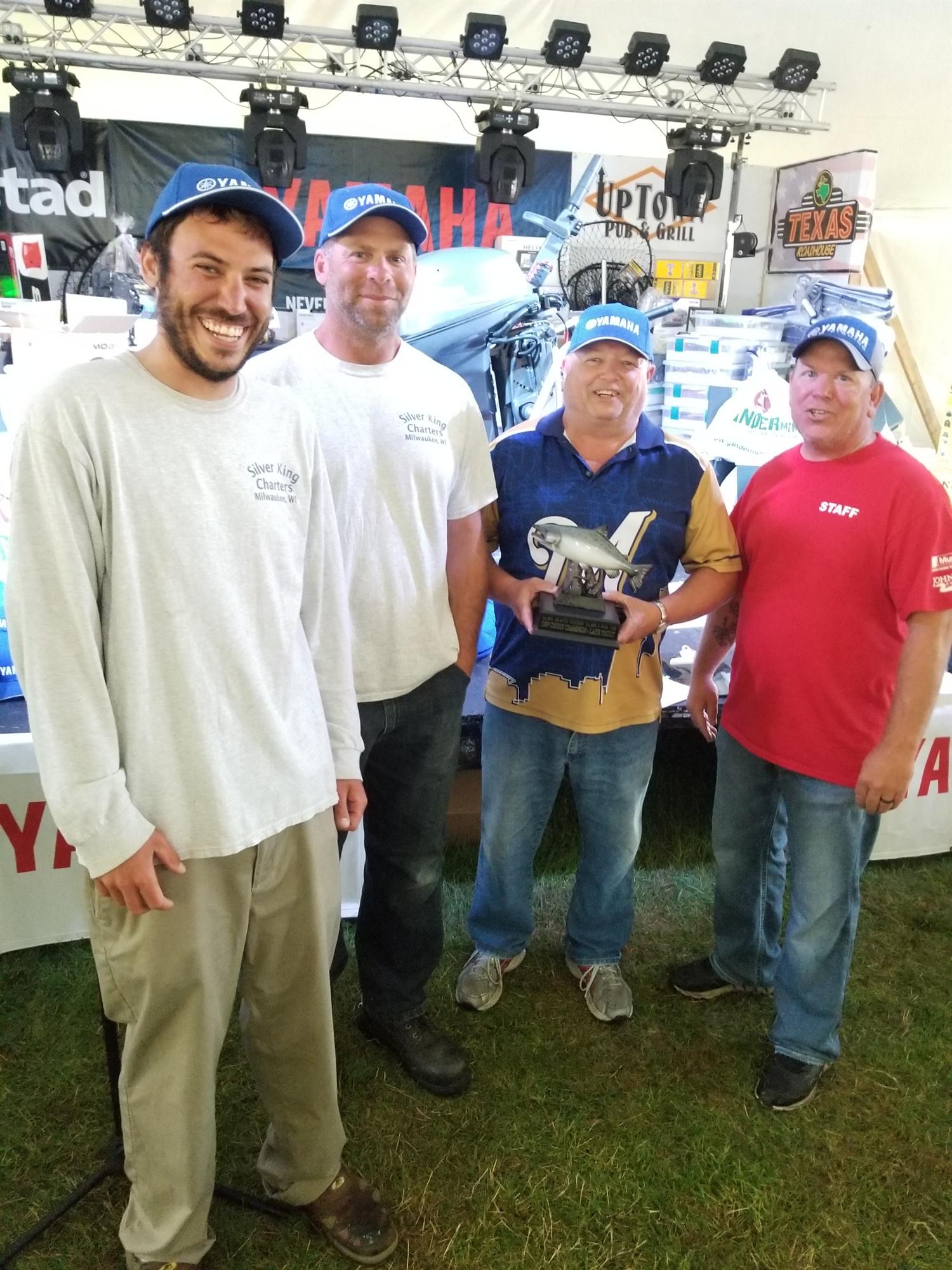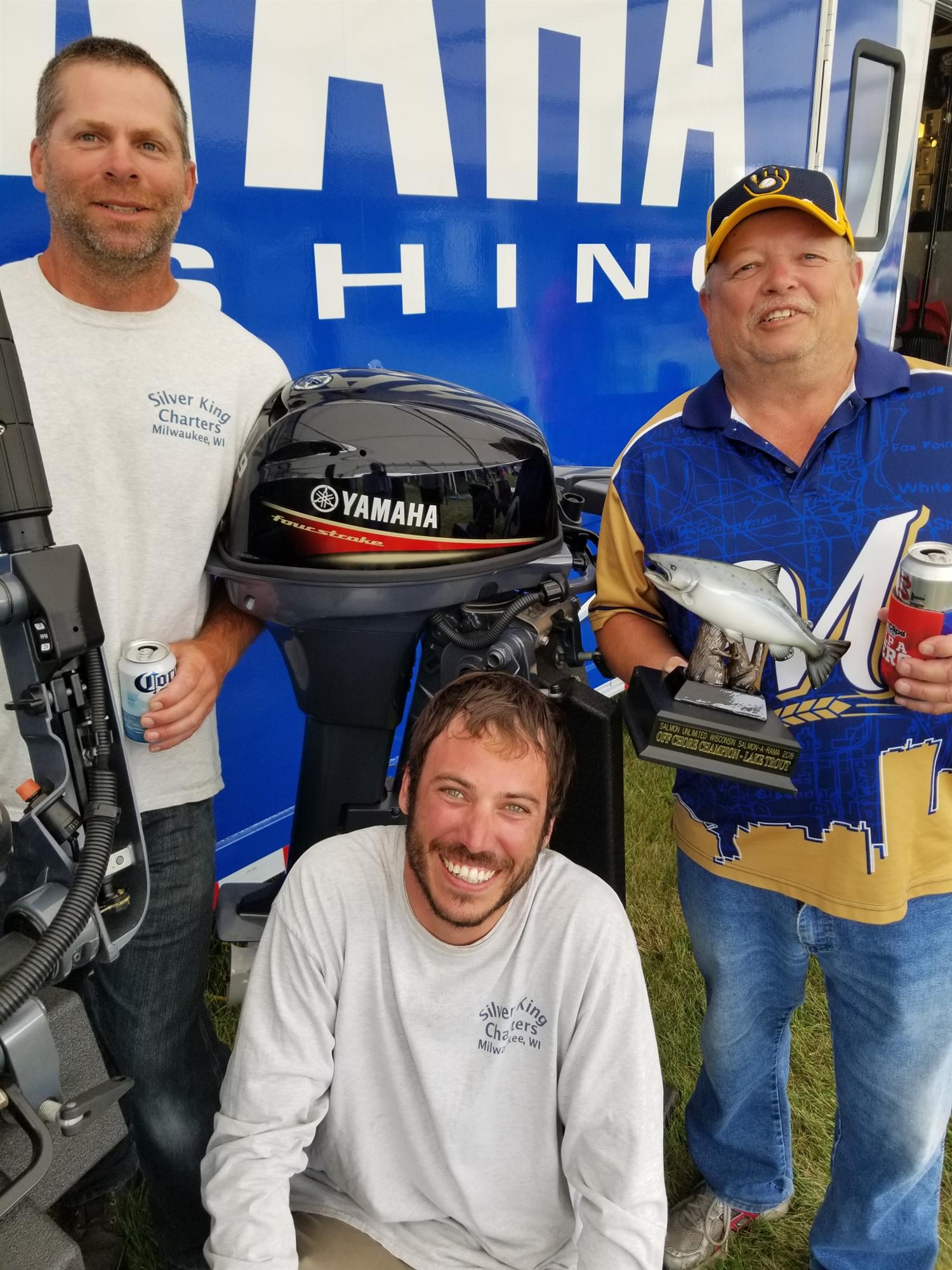 Report for July 11, 2018
We are a 3rd of the way through July and Milwaukee charter fishing has been solid. We have had a few tough trips but for the most part are in double digits for the month and we are averaging 17.3 fish a trip. The story of the season is Coho salmon so far. Are catch has been 65% Coho and only 5% Chinook. The other 30% have been trout. The Coho bite is still making up a good part of our catch but the water is starting to warm and if we don't get a little cool down the Coho bite will slow way down. Today you could see a definite thermocline down 35 feet. It was 69 degrees on the surface and 65 down 35 feet but started to drop there. There is lots of bait around and things are set for some good Chinook and Lake trout action. We are looking for what happened earlier this year in the southern half of the Michigan side. We have been fishing in 165 feet to 250 feet of water in the top 70 feet and north of Milwaukee for all of July. We are catching everything but Brown trout and heavy on the Coho salmon.
The spread still has orange dodger and green half flies on the inside dipsies, 3 color leadcores on boards and a side rigger down 15 feet. These are the most effective rods. The back riggers have white flashers and Howie Bull Frog flies set at 55 and 70 feet. The other side rigger has a chrome flasher and Green Krink Howie fly set at 35 feet. The inside leads are 5 through 9 color, using blue dolphin UV Stinger spoons. The wire dipsies are set at 150 to 175 on the line counter and we have green flashers with Howie Bull Frog flies. This has not changed for the last 10 days and has delivered but I think we are going to start loosing some of the orange stuff if the Coho bite slows.
This is the time of year we have our best opportunity for big Chinook salmon Milwaukee charter fishing. We are hoping it sets up soon. We are taking some big Kings but we want a few more in the catch. There have been many Chinook report at or near 30 pounds and we have had several in the 24 to 26 pound class. Could be some special fish caught next week. Salmon-A-Rama starts this Saturday and we hope to put some of our customers on the board as we have the last 6 years. Call Silver King Charters at 414-460-1467 to book at July or August trip and land a big one! The pictures are from some of our early July trips.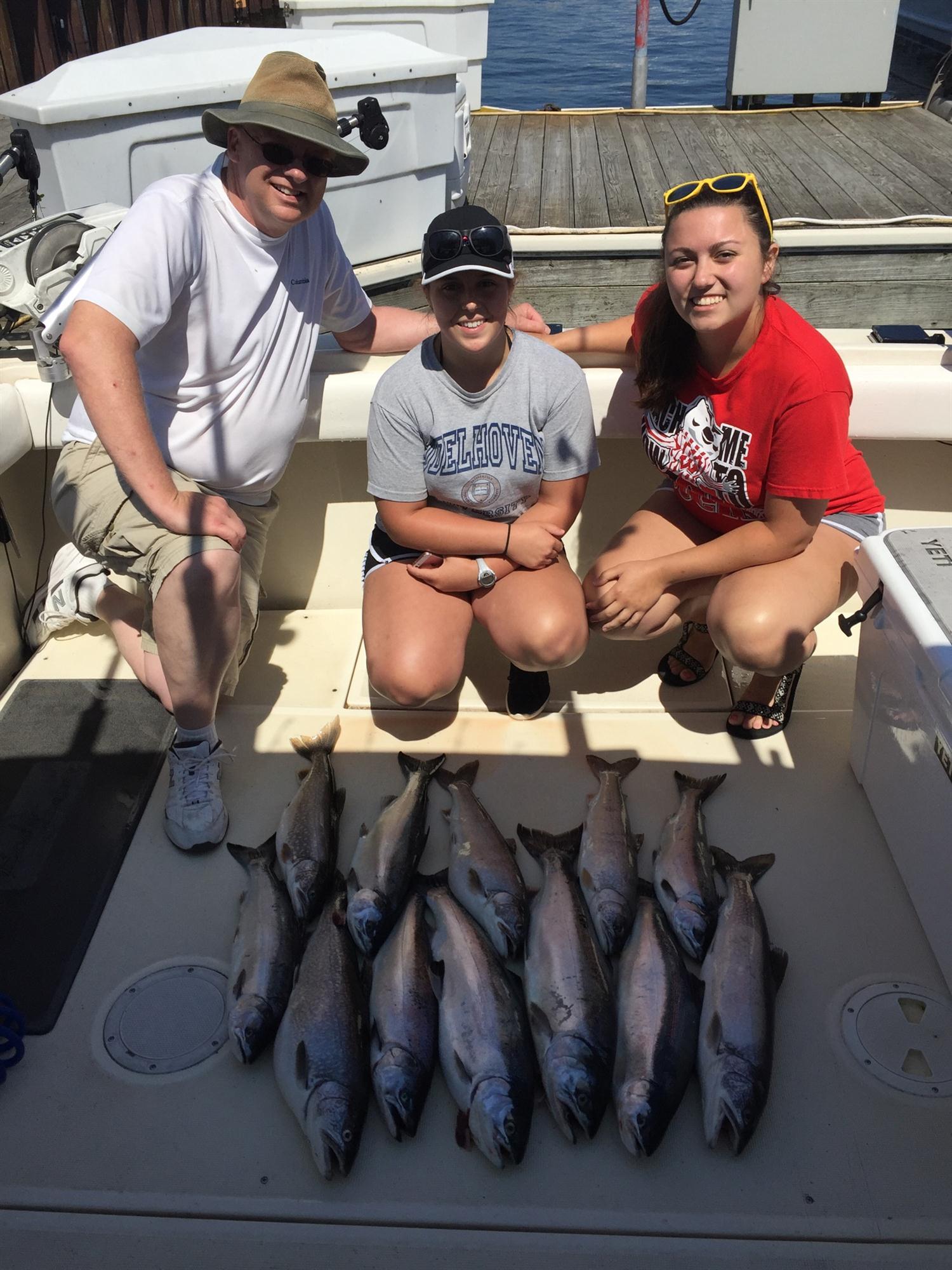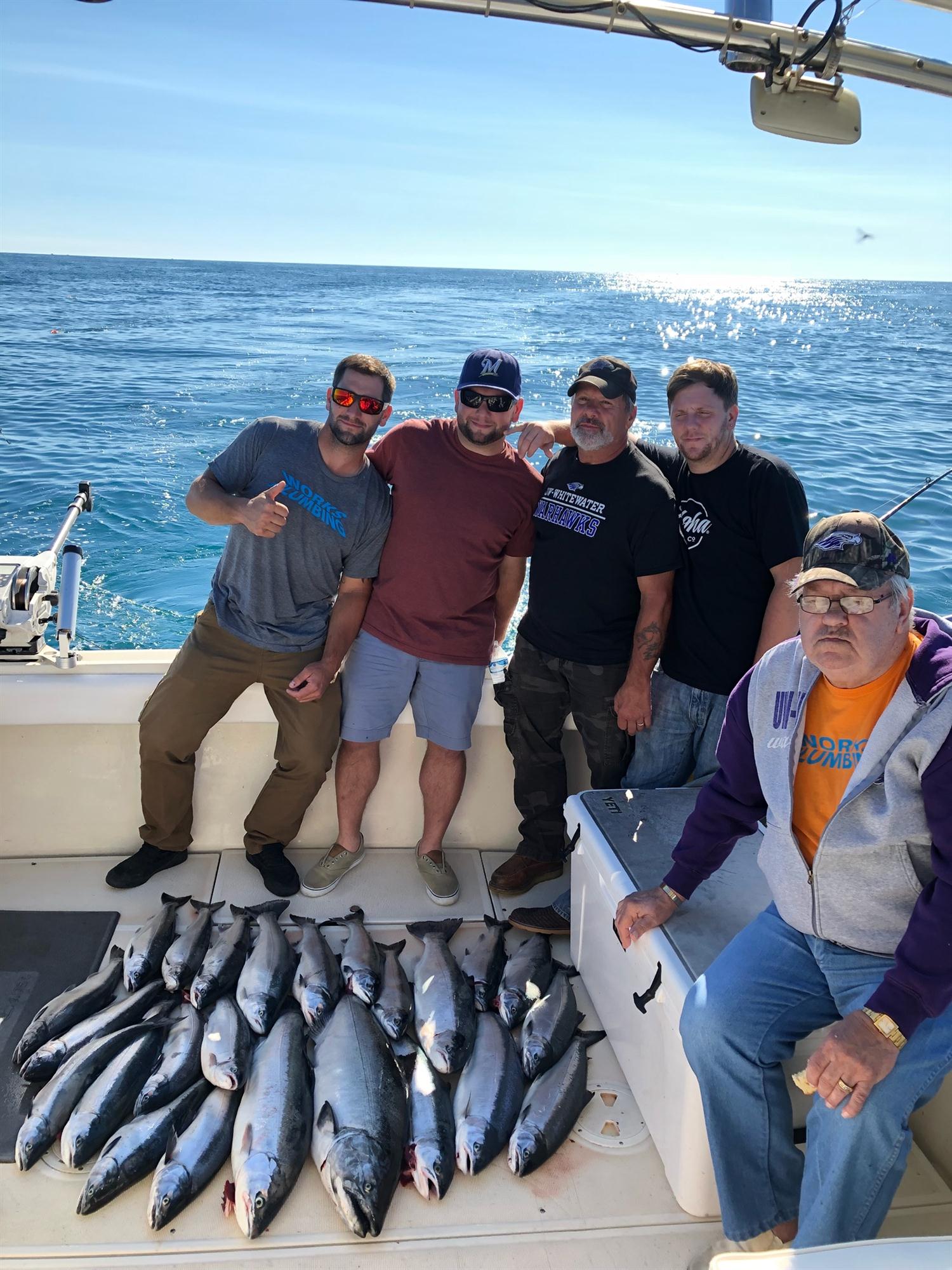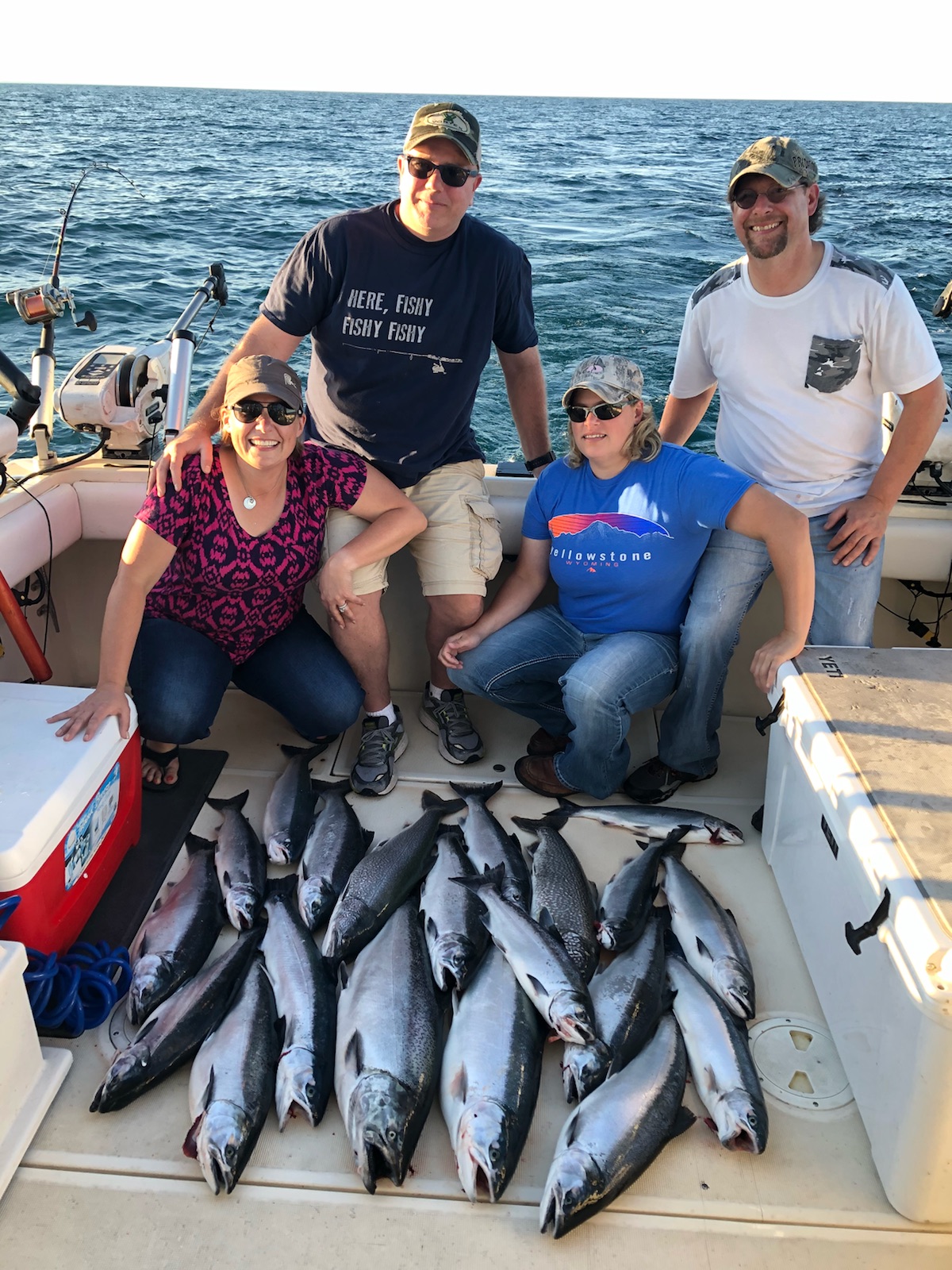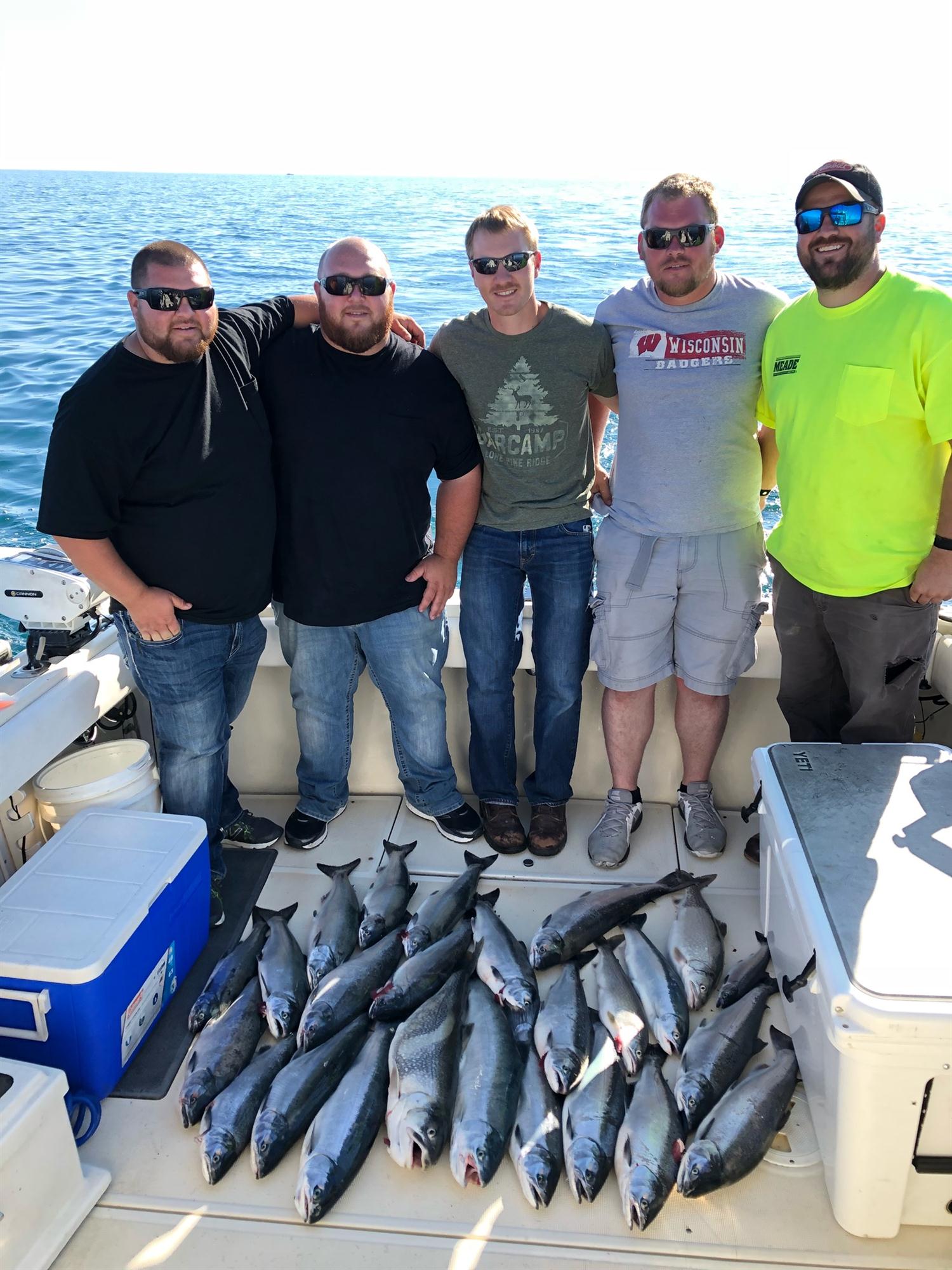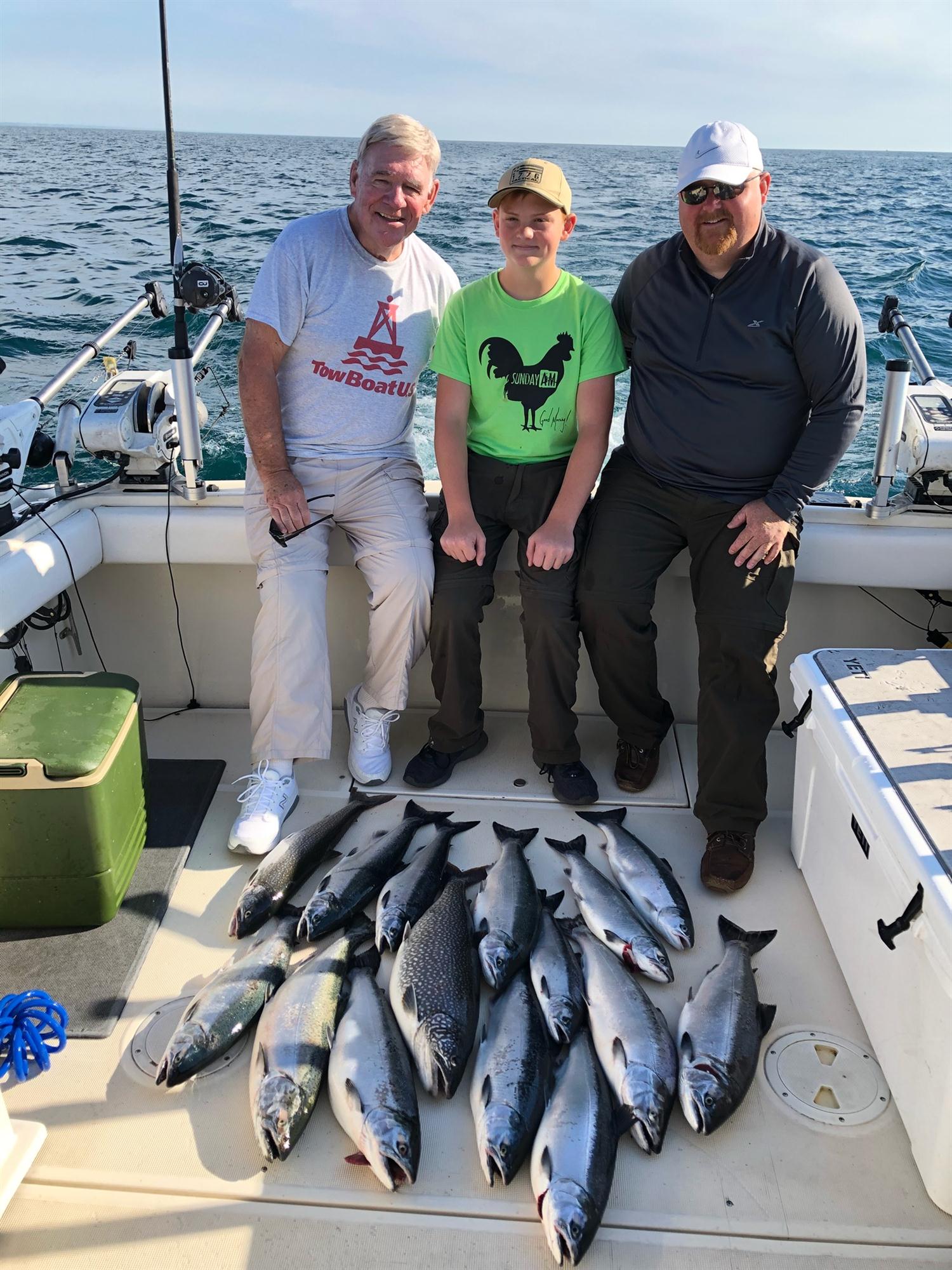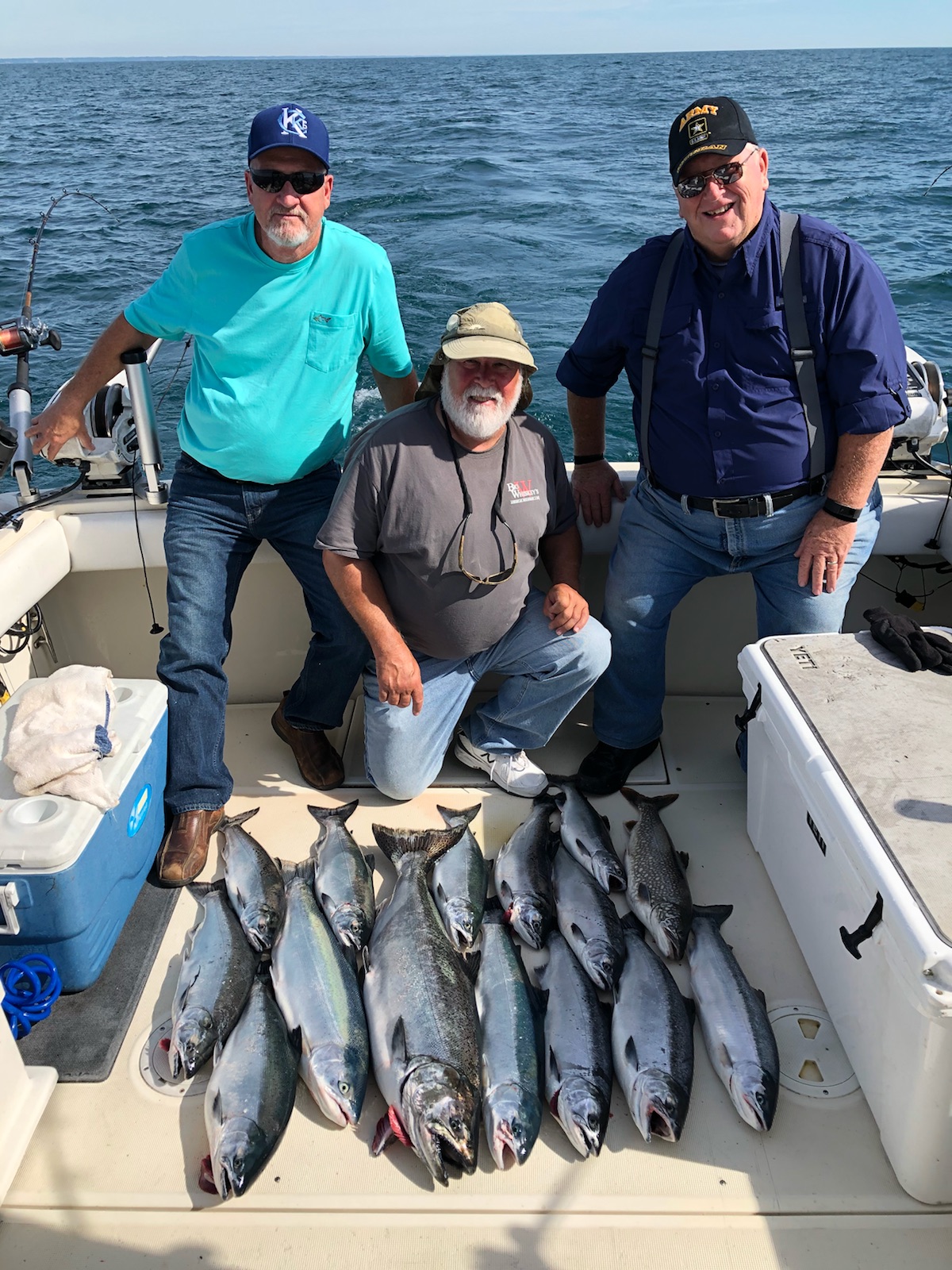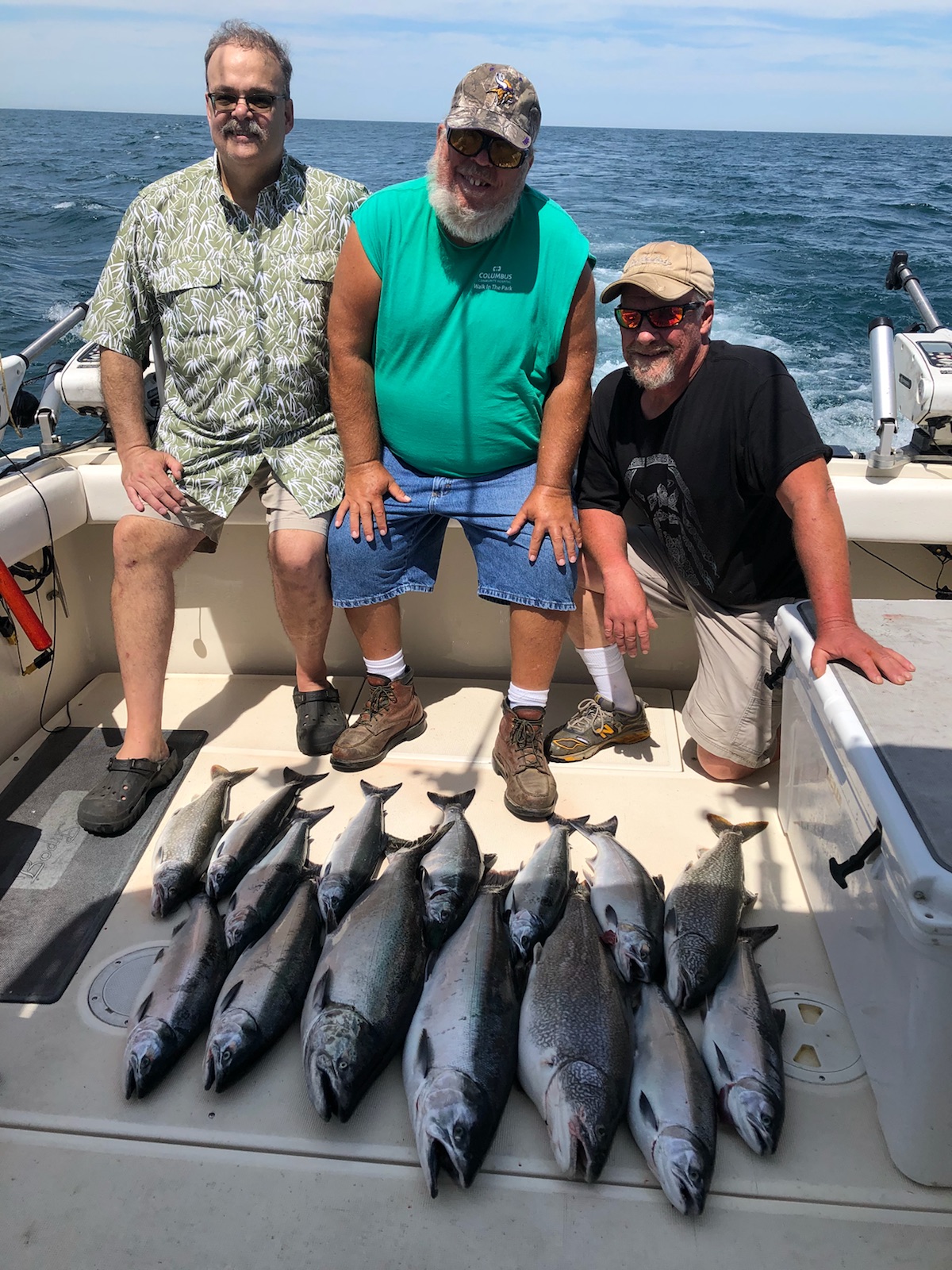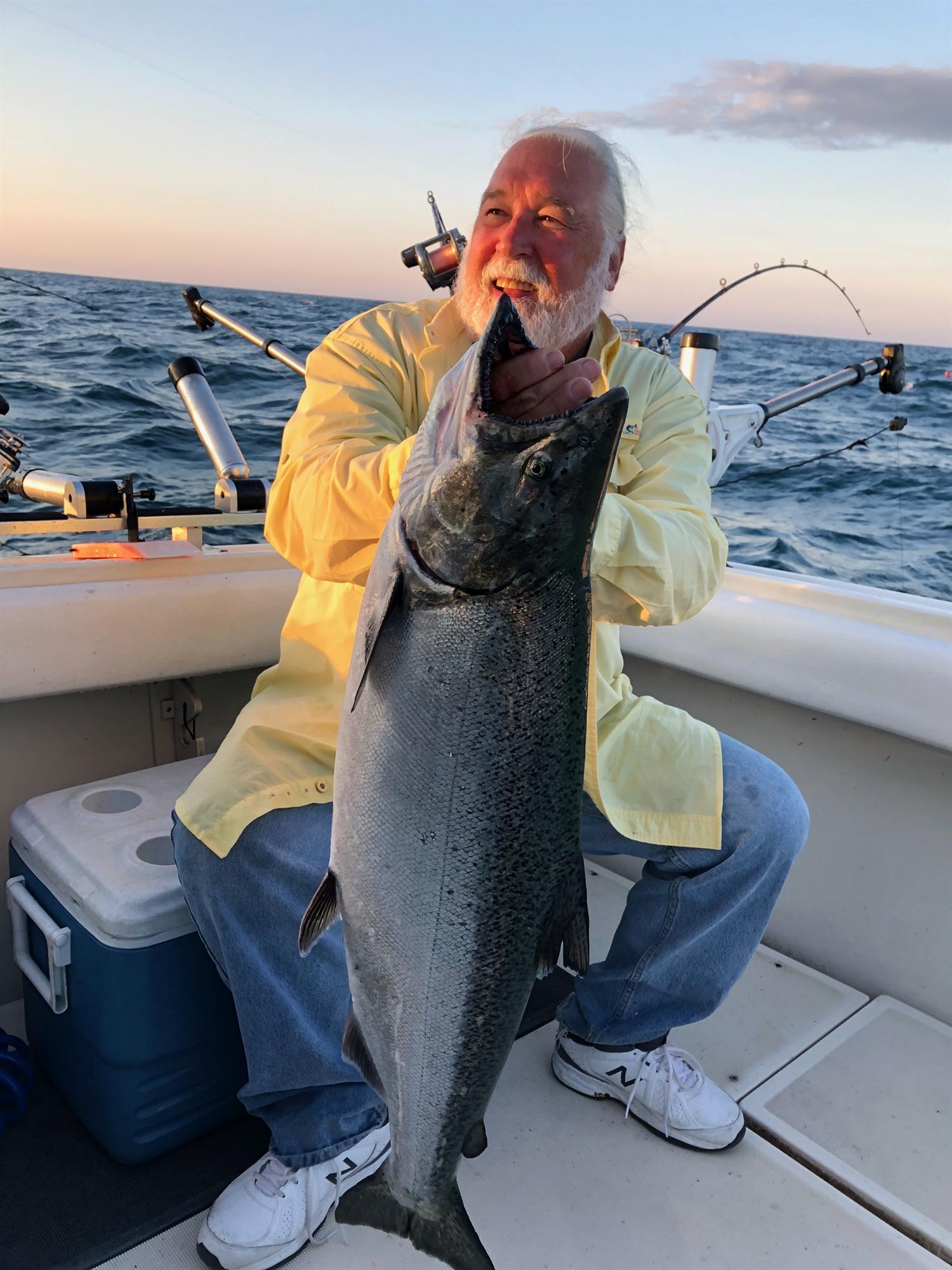 Report for June 27, 2018
June is now in the books and Milwaukee charter fishing has begun to transition out of Coho to a mix of Coho, Chinook, Lake trout and Rainbow trout. A week ago we were targeting Lake trout but have since moved off shore in 150 to 250 feet of water. Constant northeast and southeast winds has taking its toll on bites closer to shore. The water has not gotten super warm but 60 on the surface with 50 degree water right to the bottom in 90 feet. We are in desperate need of some west or southwest winds to turn the 100 foot and shallower bite back on. I have a picture of one of our last Lake trout trips before it fell apart. We are now out in the 200 plus zone and fishing the top 60 feet of water. Surface temperatures have been 51 to 56 degrees out there and we get into 49 degrees down 50 feet. All of our bites are coming in the top 60 feet of water, with a lot of them in the top ten feet. We are catching everything but Brown trout. We pulled a very quick 2 man limit today.
The spread is a blend of orange dodgers on the high boards and inside dipsies, with green peanut flies. We are using 5/8 ounce keel weights on the board rods, with the line 25 feet back from the board. The dipsies are set at 20 feet on the line counter and set at 1.5 on the dipsy. The outside dipsies are wire and 125 on the line counter. We have white flashers and Howie Bull Frog flies. All the riggers have the same flasher fly on them and our set at 25 feet down to 65 feet. The riggers are not as good as boards and dipsies. We are also running a 6, 7, 8, and 9 color leadcore on boards. Spoons on these rods, with NBK or Blue Dolphin Stingers. These are both UV spoons. We have has a couple of tough trips were we fell under 10 fish but for the most part 15 fish plus catches.
I was asked about the Chinook bite and we are catching them. They are very good size this year and we will have some good days on them but they only stock 1.2 million a year now and the rest is natural reproduction of some amount, so there are less around. We will get them but not at 15 to 20 a trip. A really good Chinook day is 10. The first week of July looks to continue with some good catches, so call Silver King Charters at 414-460-1467 today.
We have received some great reviews from actual customers this season and they are much appreciated. We also received a couple poor ones from guys on our dock. To make clear we do not guarantee limits or near limits but we do guarantee a fish during a 5 hour trip or the trip is free. No strings attached. Our goal is certainly more than one but if we fail its free. We are not the cheapest charter on Lake Michigan or even on our dock but we are very reasonable priced. My brother and I both have full time jobs and do not rely solely on charter fishing for are incomes. We charge $530 a trip, including sales tax and will not surprise you with extra charges. We do have a surcharge of $25 for the Salmon-A-Rama week and this is very well noted. We take 5 people of less not 6 and have not advertised 6 for 2.5 years. Some of our repeats bring 6 people but we prefer to run 5 or less. We have seats for 5 people. Final we have 2 new engines with no issues. We spent a lot of money to upgrade our engines and we put 100% of our profits back into our operation. We did have 13 trips affected last year with engines issues but 7 of those we gave to other charters and the 6 we ran we did as well or better than all charters out of Milwaukee on those trips. We know that 90% of our trips come from repeat business and we appreciate this but I felt it necessary to correct some of the guys reviews from our dock. Our goal is safety, a fun trip and catching fish. I have heard to many say people really don't care how many fish they catch but I know for certain they don't mind catching more. Those who fish with us know we never give up. We never got into chartering for the money and I really believe that is what makes us successful. Thanks again for all who fished with us this season and we will keep putting fish in the boat for you.
I have attached pictures from some of our latest catches, including the Whitefish we caught on a spin and glow. The double rainbow was priceless.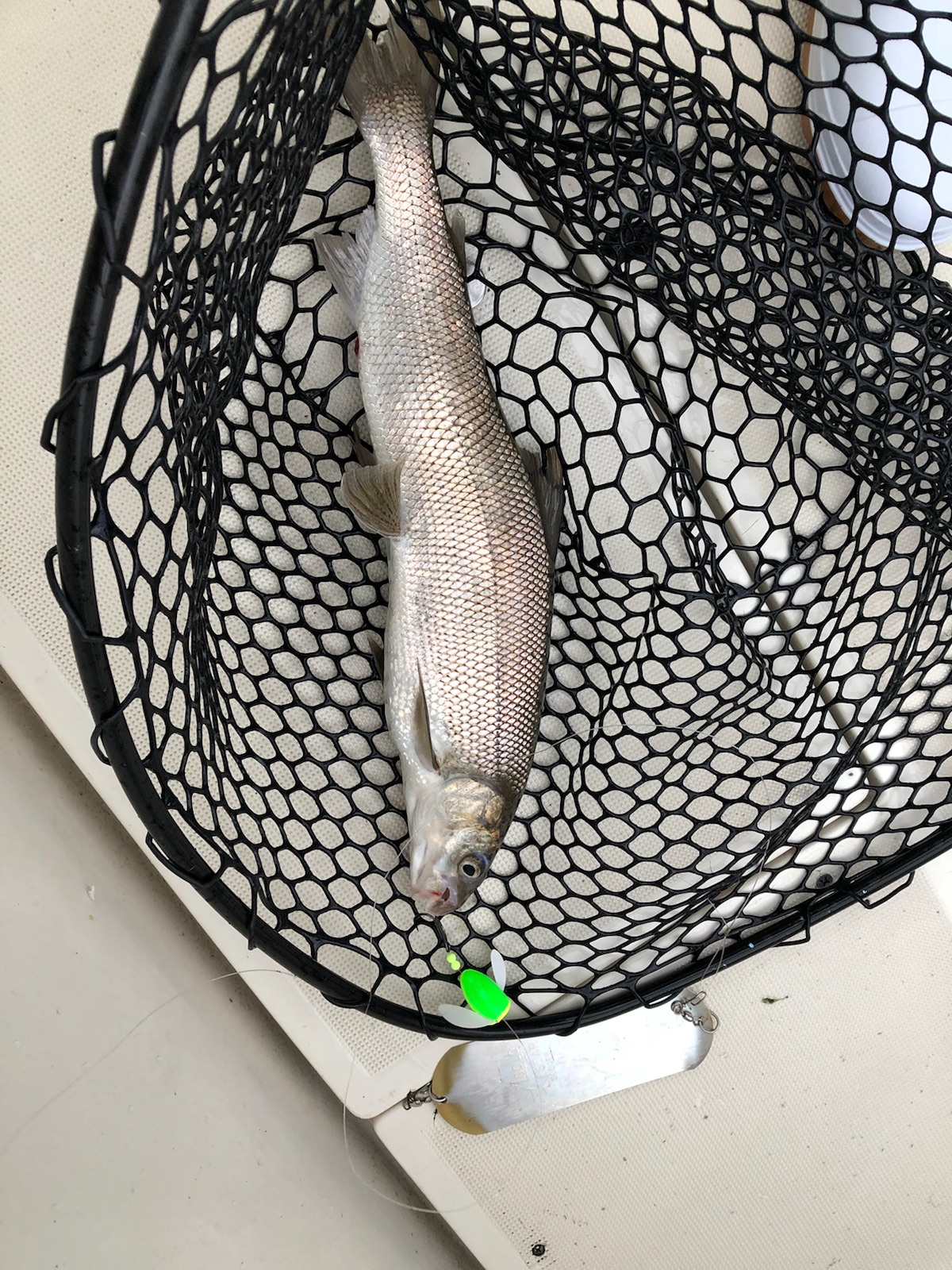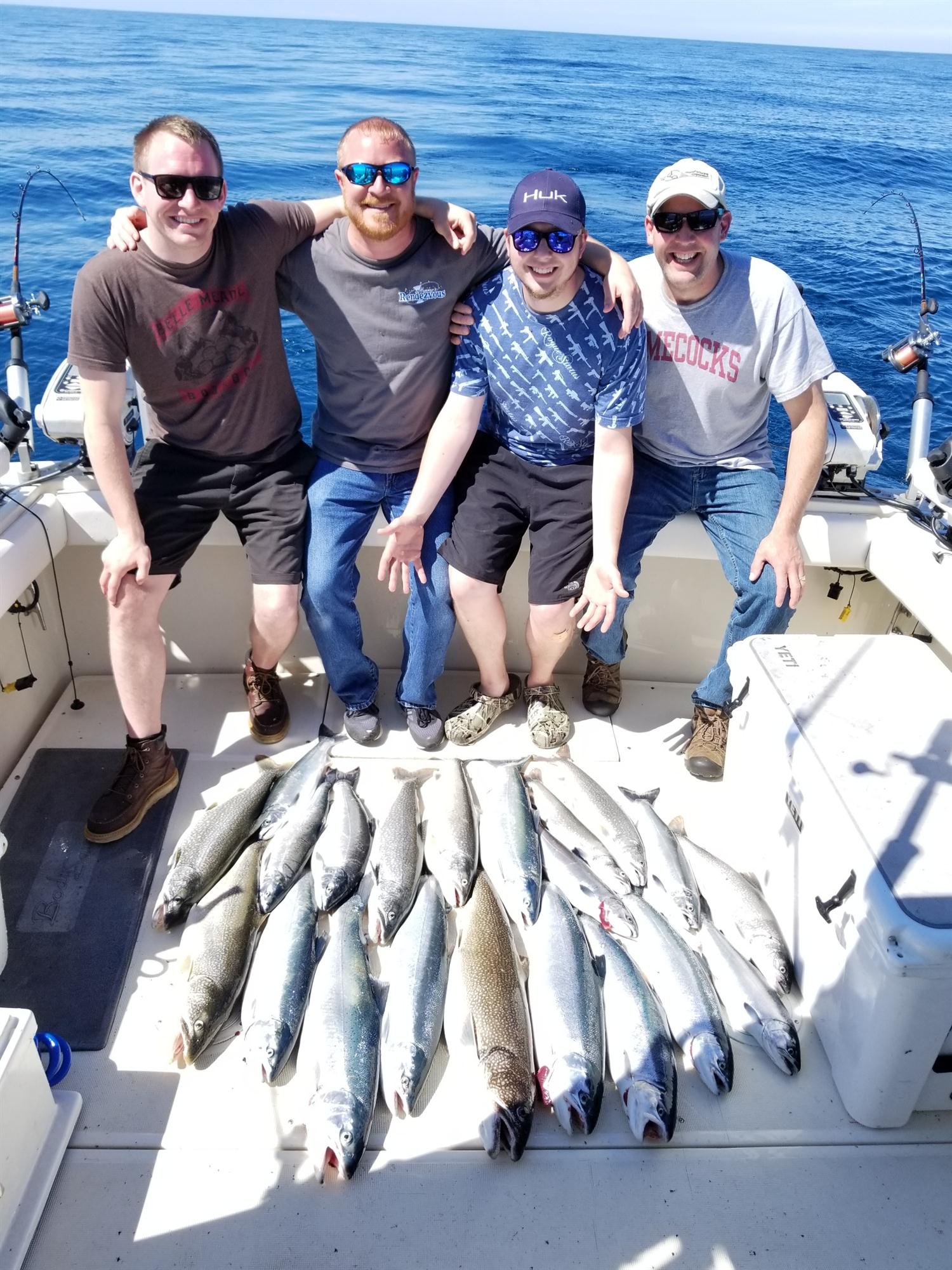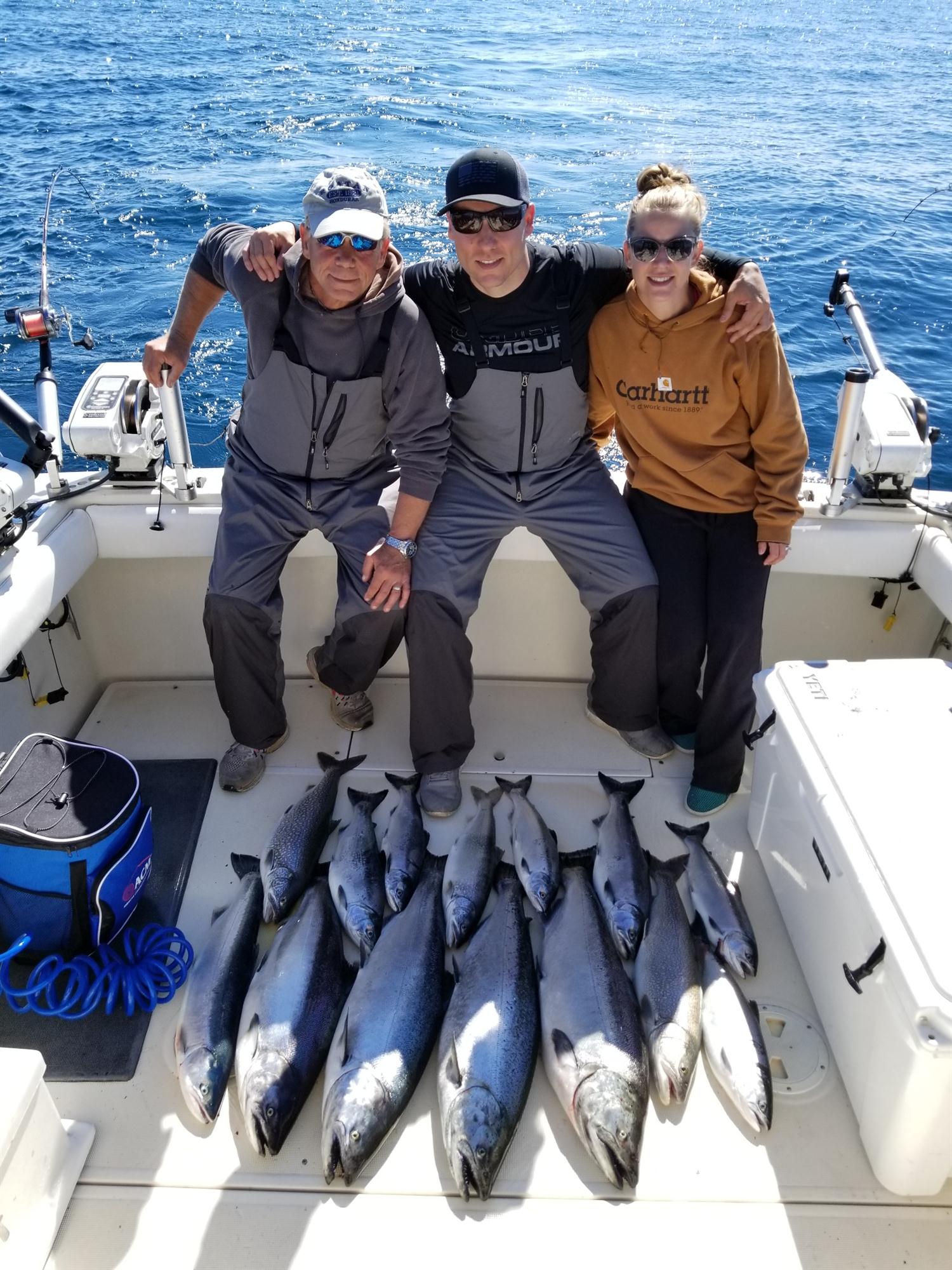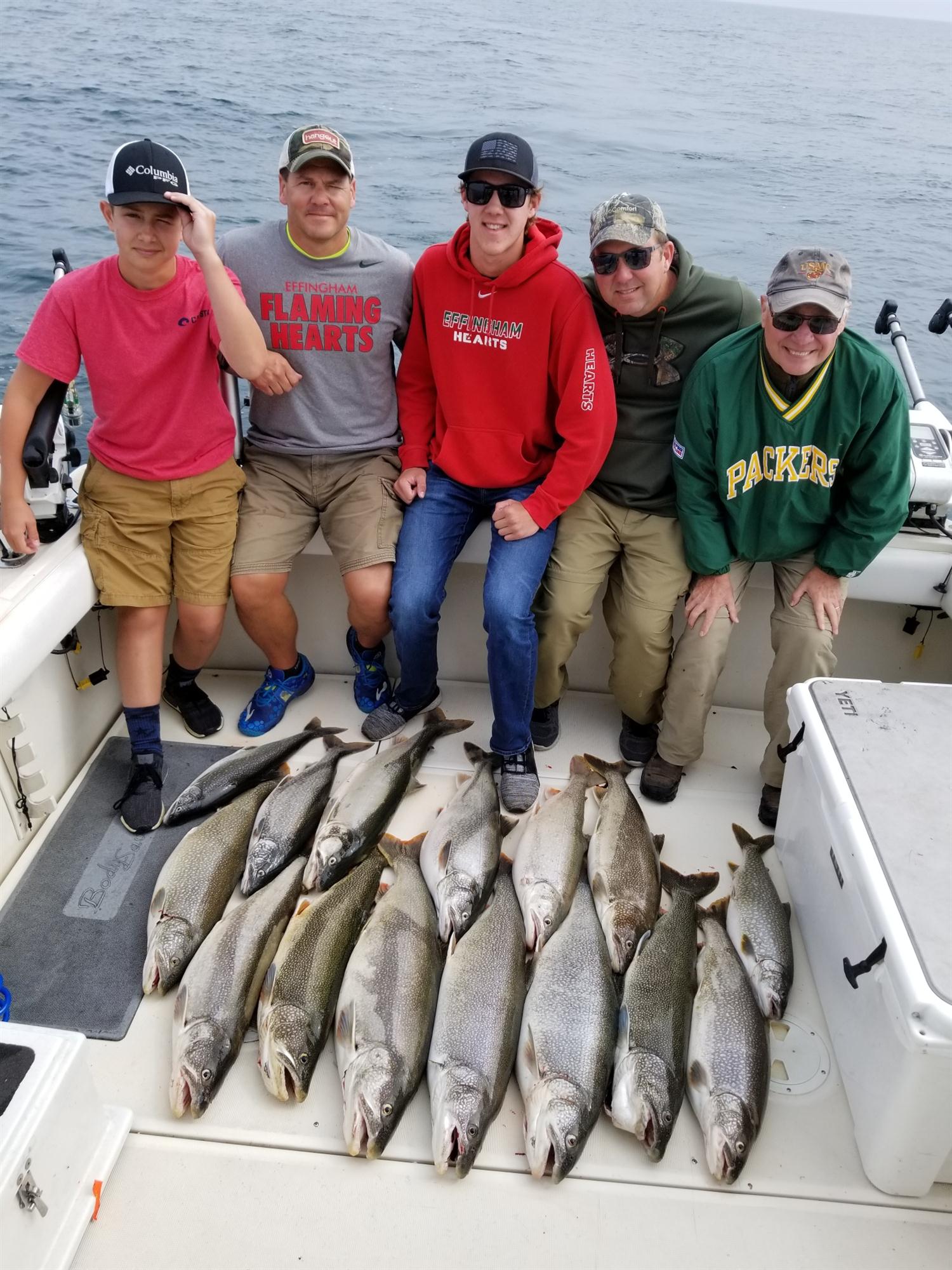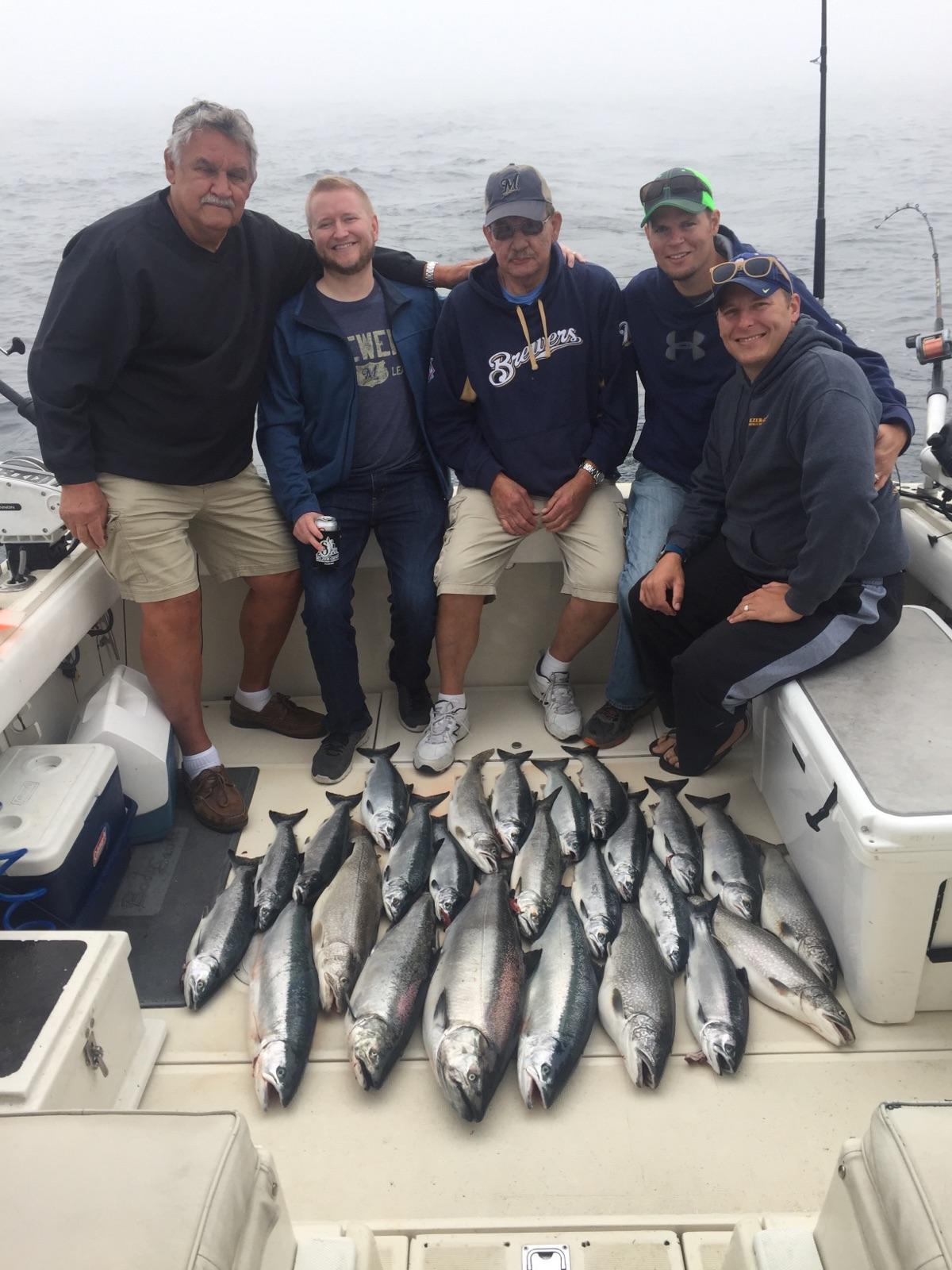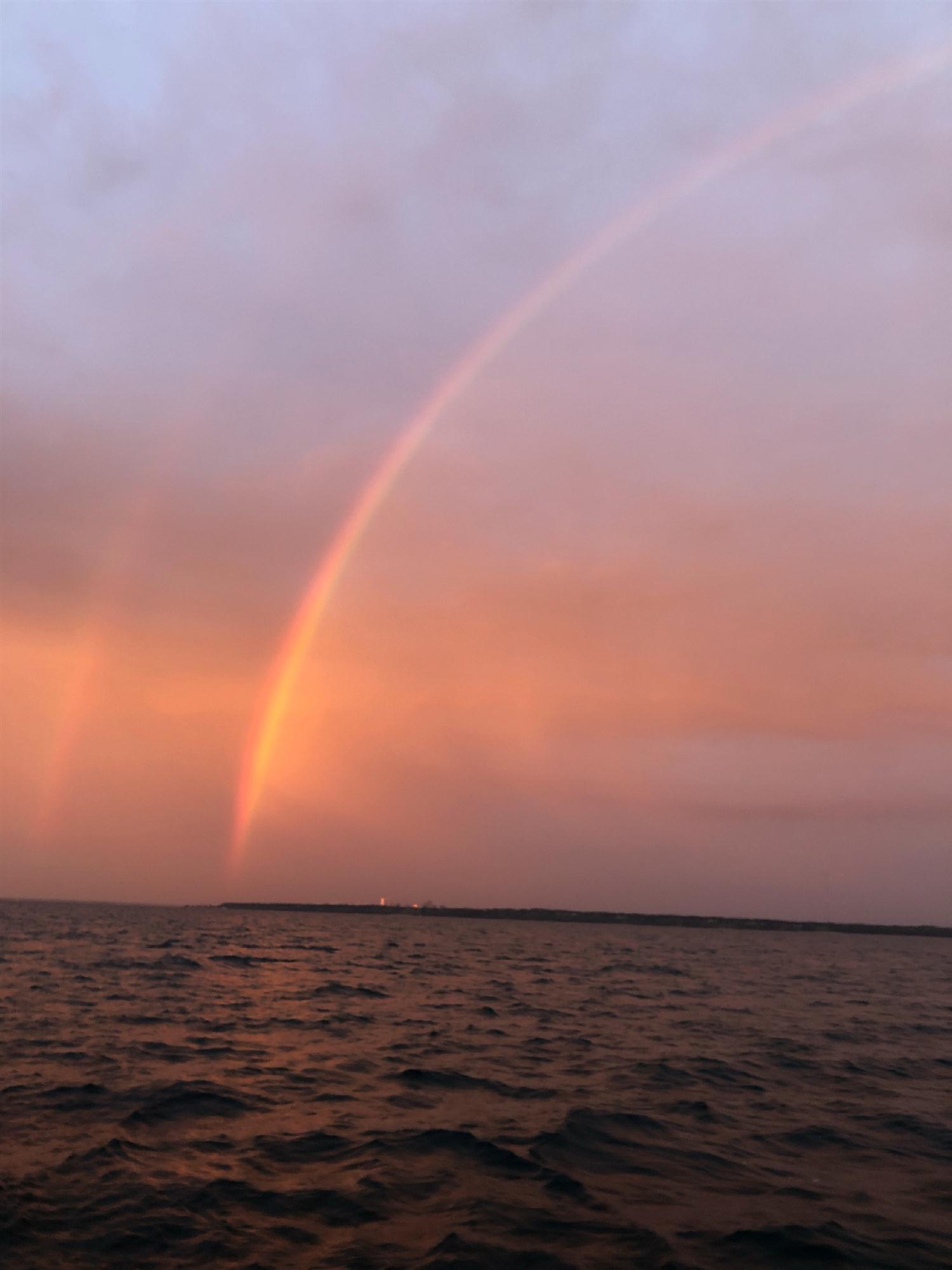 Report for June 19, 2018
Milwaukee charter fishing has changed some in the past several days. As of Saturday morning we were fishing in 170 to 230 feet of water straight out of town. We had been there for several days catching Coho on the surface but this started to fall apart some by mid Saturday, so we decided to start trout fishing mid day and have been there since. We are now working 100 feet of water, with spin and glows on the bottom and orange dodgers on the surface. This mixed spread has been taking some Coho salmon and quite a few Lake trout. We don't think the Coho bite is finished yet but it is slowed down for now. We have taken some really nice fish of late, including a 14 pound Coho, 18 pound Brown trout and 26 pound Lake trout.
The spread right now has inside dipsies, side riggers and board rods all running orange dodgers and green peanut flies. The outside dipsies and back riggers are running spin and glows and smoked dodgers. All are taking some fish the back riggers near the bottom in 90 to 100 feet of water are best. We are pulling up some big Lake trout in the 15 to 20 plus pound class.
Over the next two weeks we will be catching a little of everything but there will still be some good Coho fishing and we should start seeing more Chinook salmon in the mix. The Lake trout fishing should remain decent to very good throughout summer. Call Silver King Charters at 414-460-1467 to get in on early summer action and big fish. There is a picture of the 14 pound Coho below.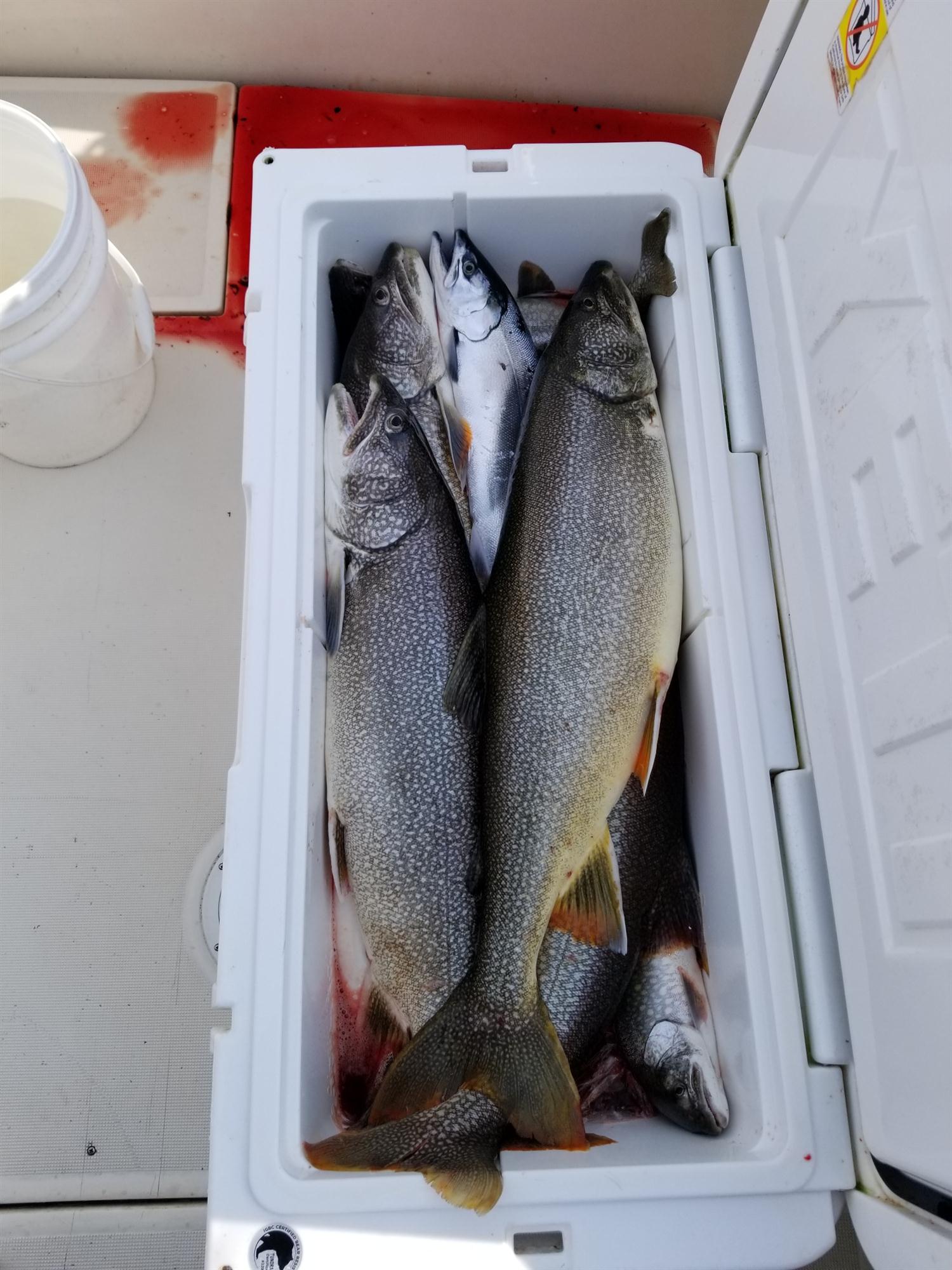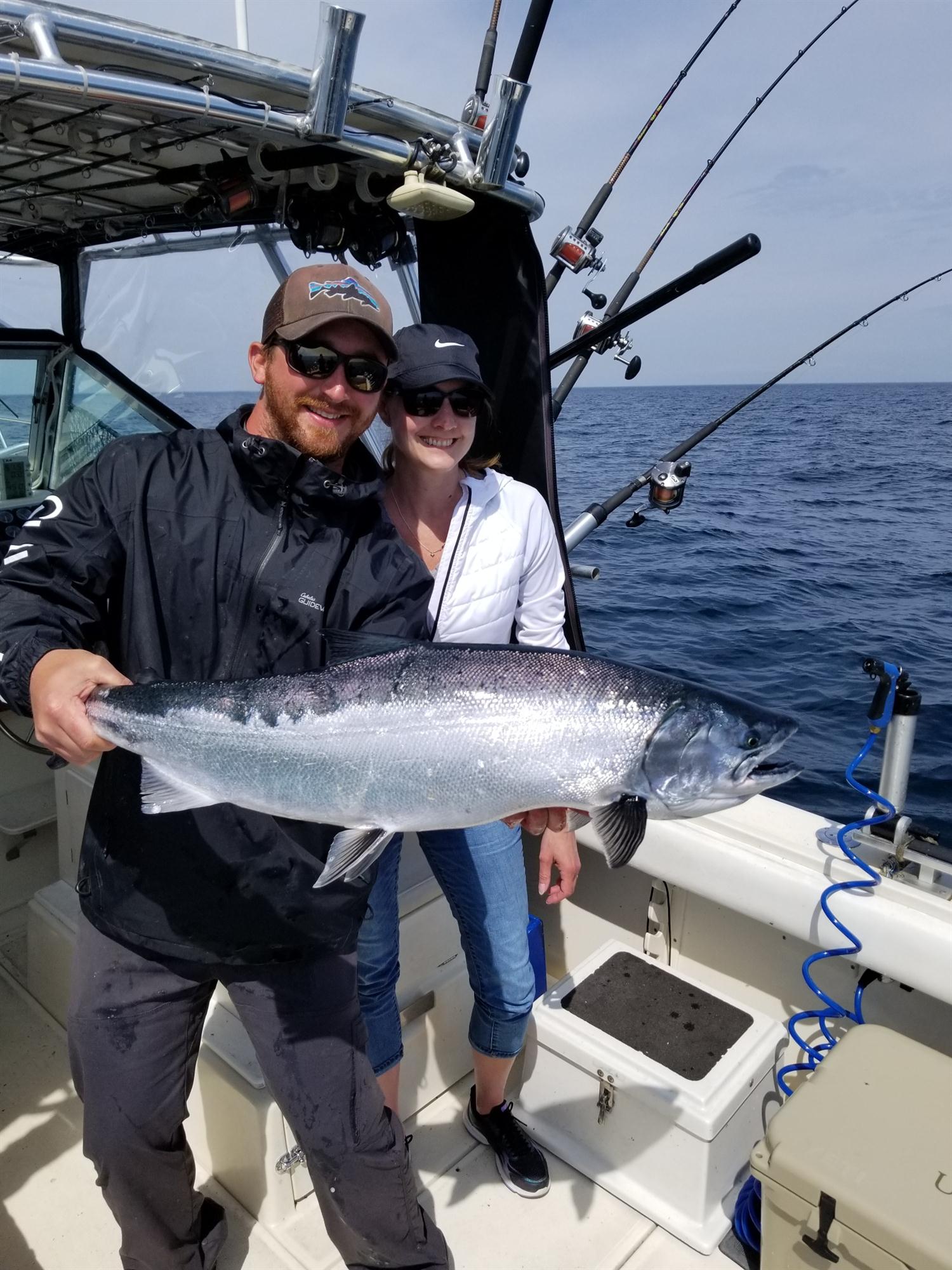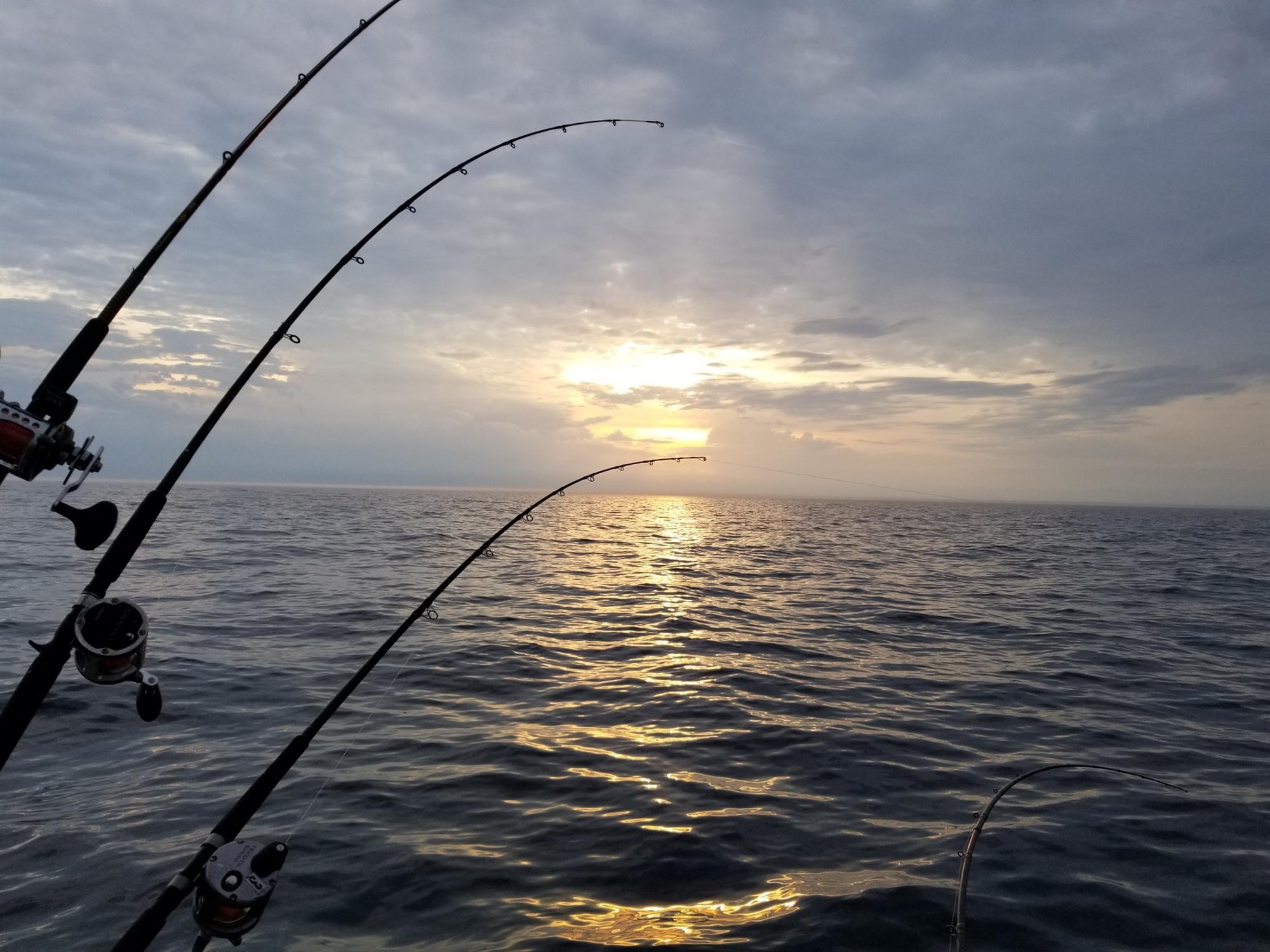 Report for June 10, 2018
Milwaukee charter fishing has been very good this June so far. We had only a couple of tough days and the back end of yesterday was one of them. We had to cancel today due to weather. We have been in double digits or limits for all but one trip this June and 90 percent of the catch has been Coho salmon. They are starting to hit 4 to 5 pounds more consistent and we still have plenty more to catch. In addition to the Coho we are taking 1 to 3 Chinook a trip and some or these Kings are pushing 20 pounds. We boated on yesterday that was 25 pounds. Around Lake Michigan 20 pound Chinooks have been common and there have been some 30 pound Kings pulled. It is going to be a great season for big Chinook. We started the week working 40 to 60 feet of water but ended the week out in 95 to 115 feet just north of the Milwaukee harbor. When we started the week the concern was the surface temps were warming up to fast and would kill the Coho bite at the surface. The exact opposite is the issue now with 47 degree surface temperatures out in 100 feet. Northeast winds have been the story for the last week and every day East winds have influenced the weather. We expect to find a new depth of water locations early next week and continue catching Coho.
Our spread has changed little over the last 3 weeks. Orange dodgers on everything with green peanut flies. We have increased our use of white flashers, with Howie little boy blue or bull frog flies. We have 3 riggers using this at 75, 55 and 30 feet. We are trying to capitalize on the Chinook bite. Everything else in the top 10 feet of water. We find the key is to troll faster to get bites. Simple fishing for now but it will start to change in a couple of weeks.
So each season I stress that mid May through the 3rd week of June is the best catch rate of the season of salmon and it is not over. Call Silver King Charters at 414-460-1467 to get in on the last of the real good Coho salmon fishing of the season. Kings are next but right now we are talking double digit or limit catches. Love those Coho salmon. Below are pictures from last week, including the 25 pound Chinook.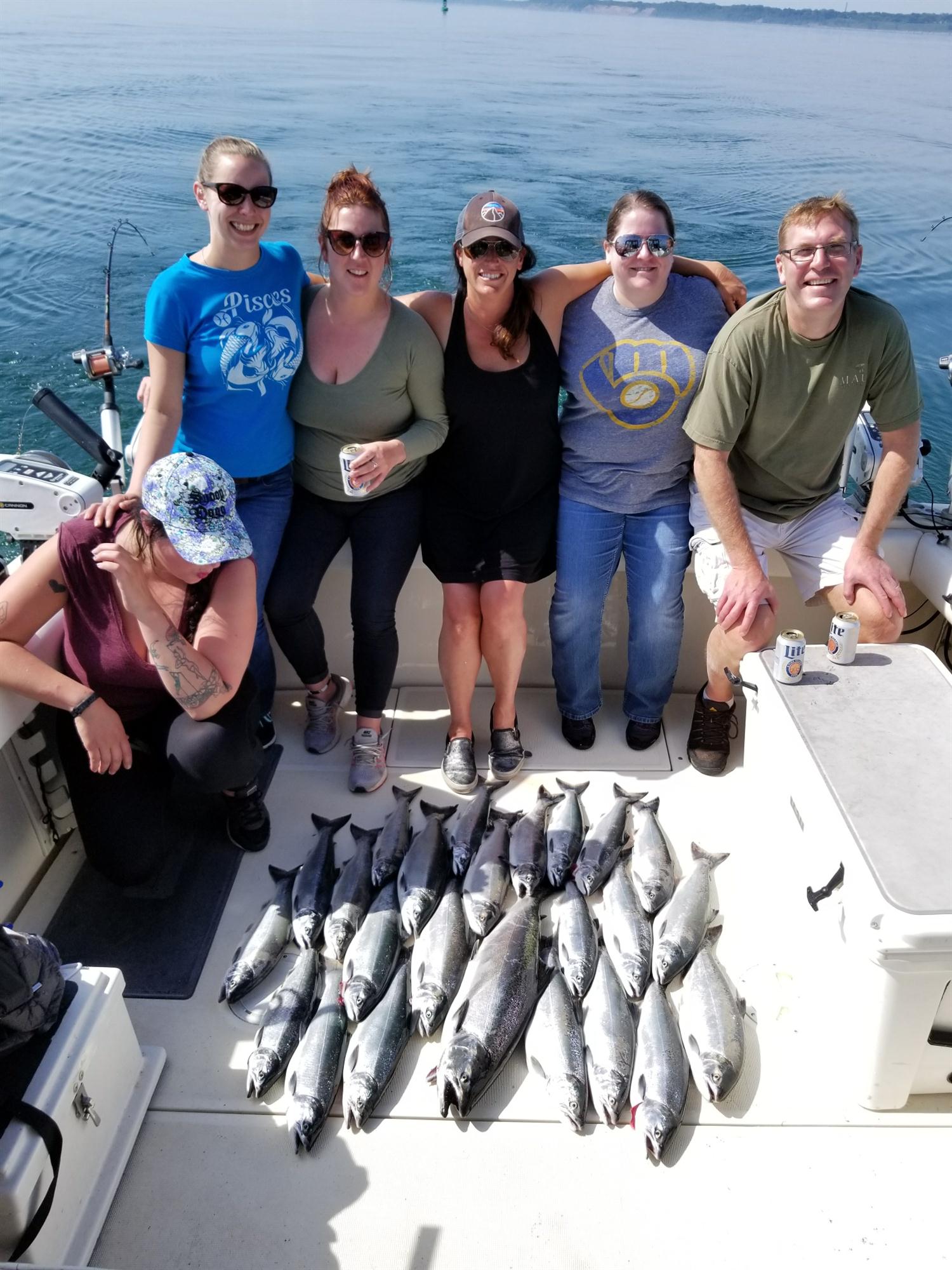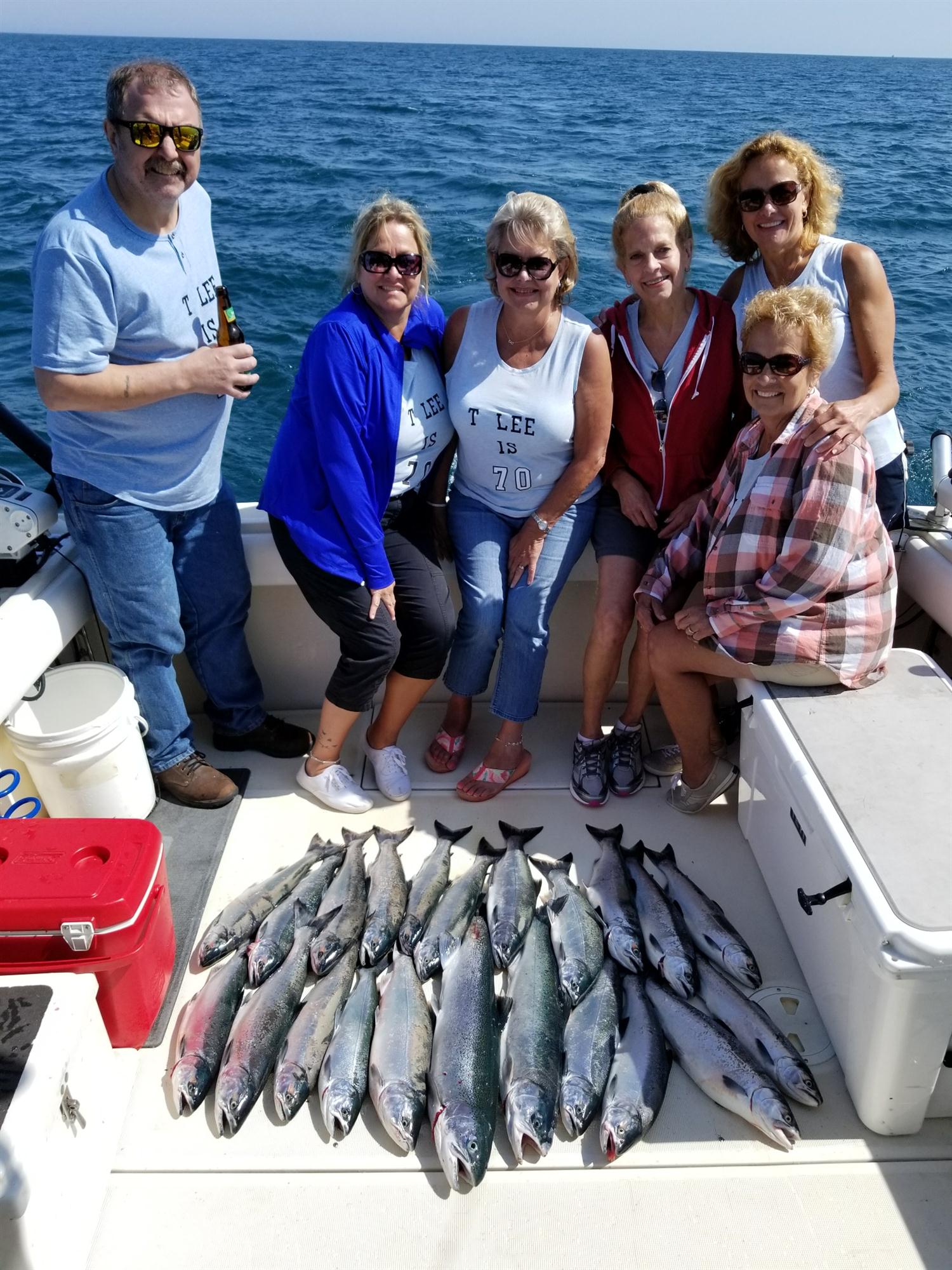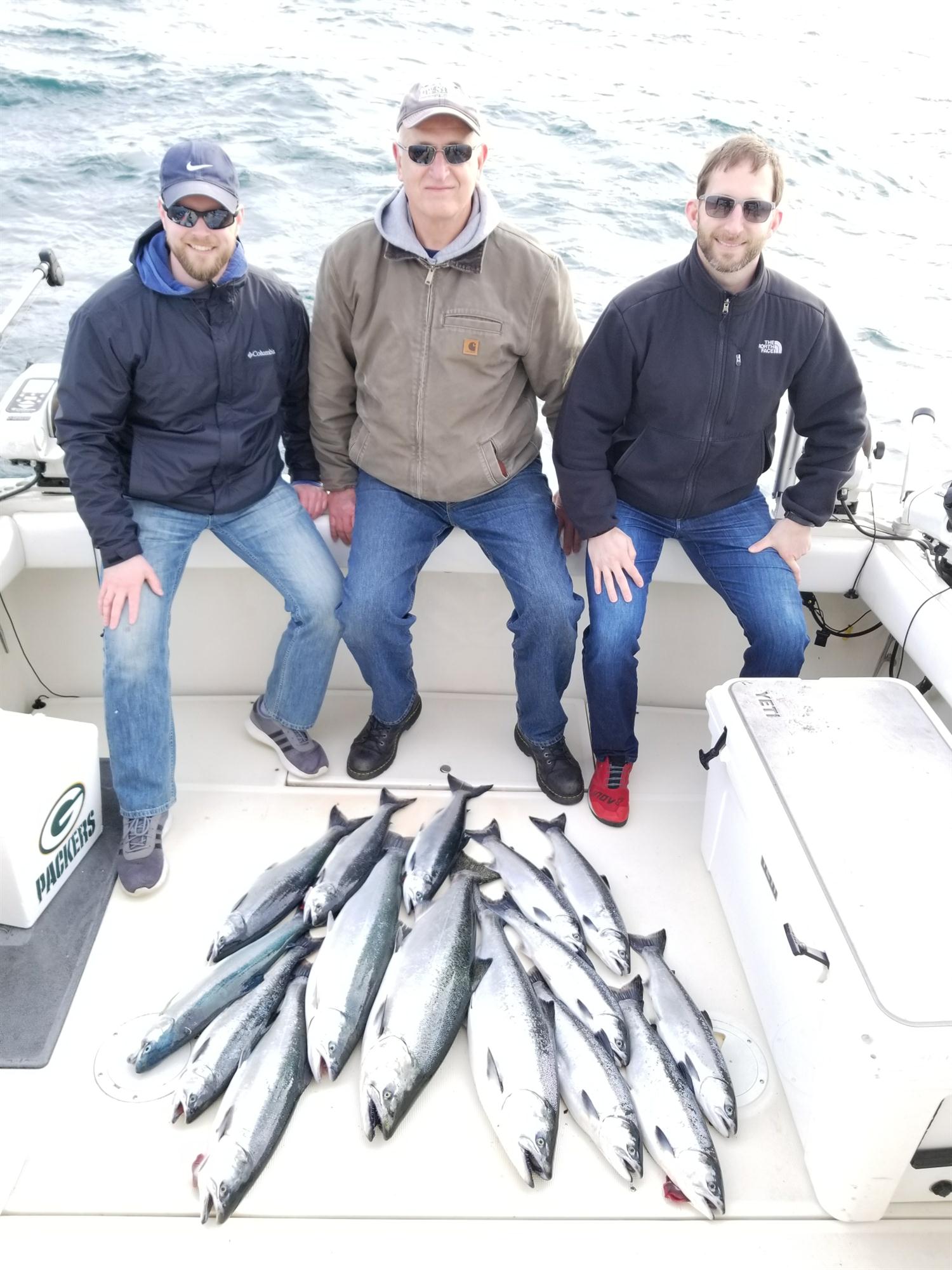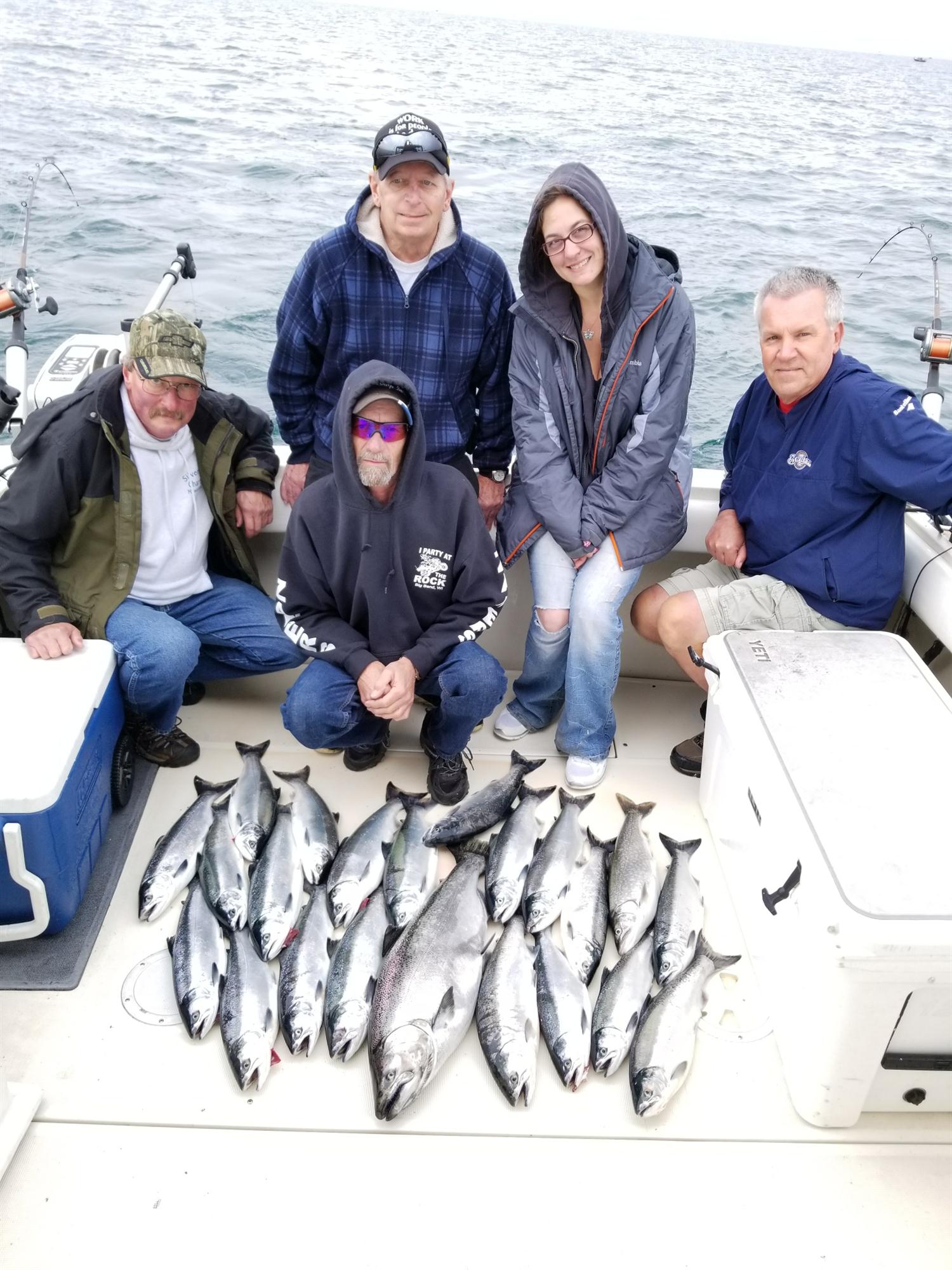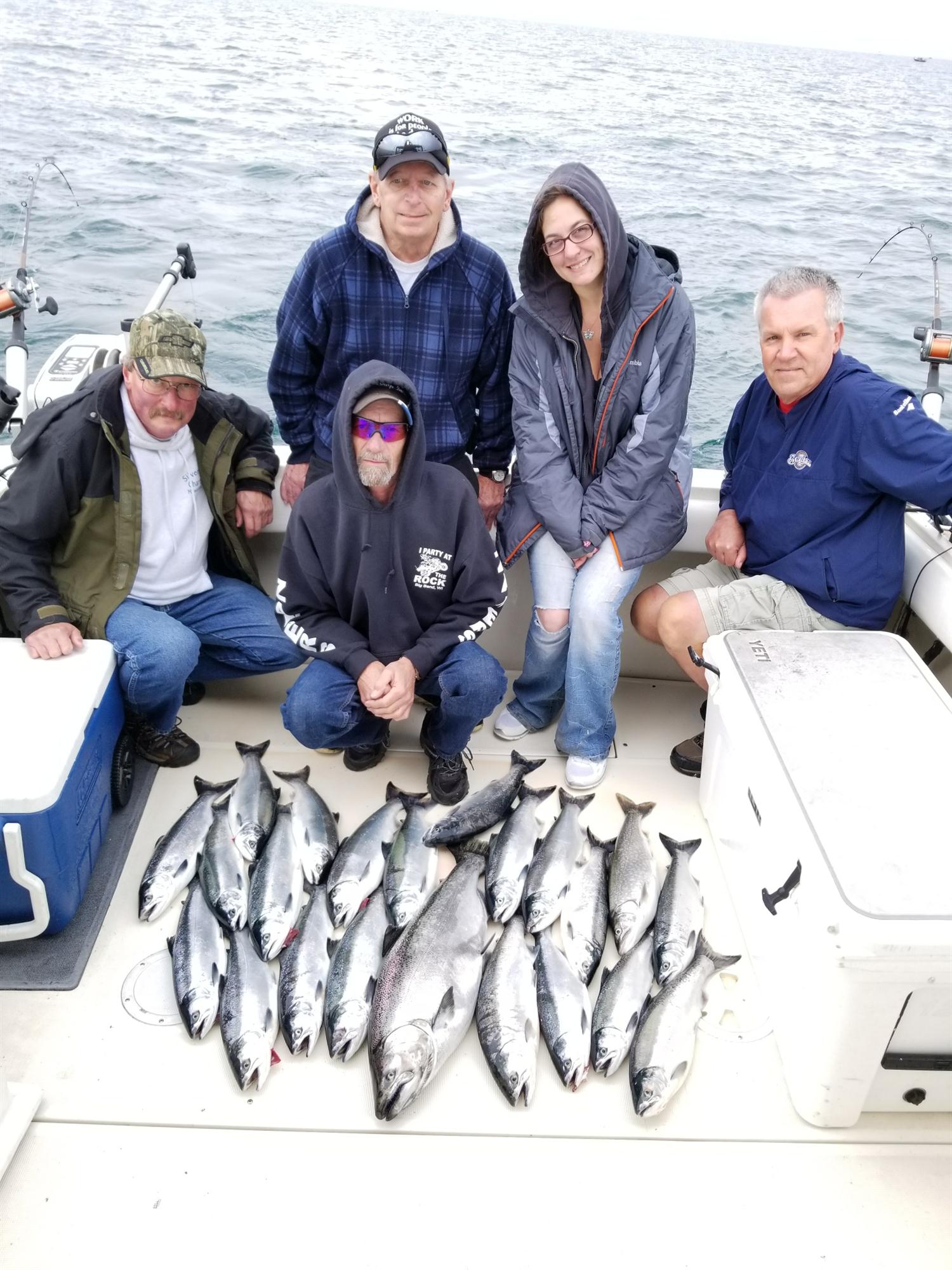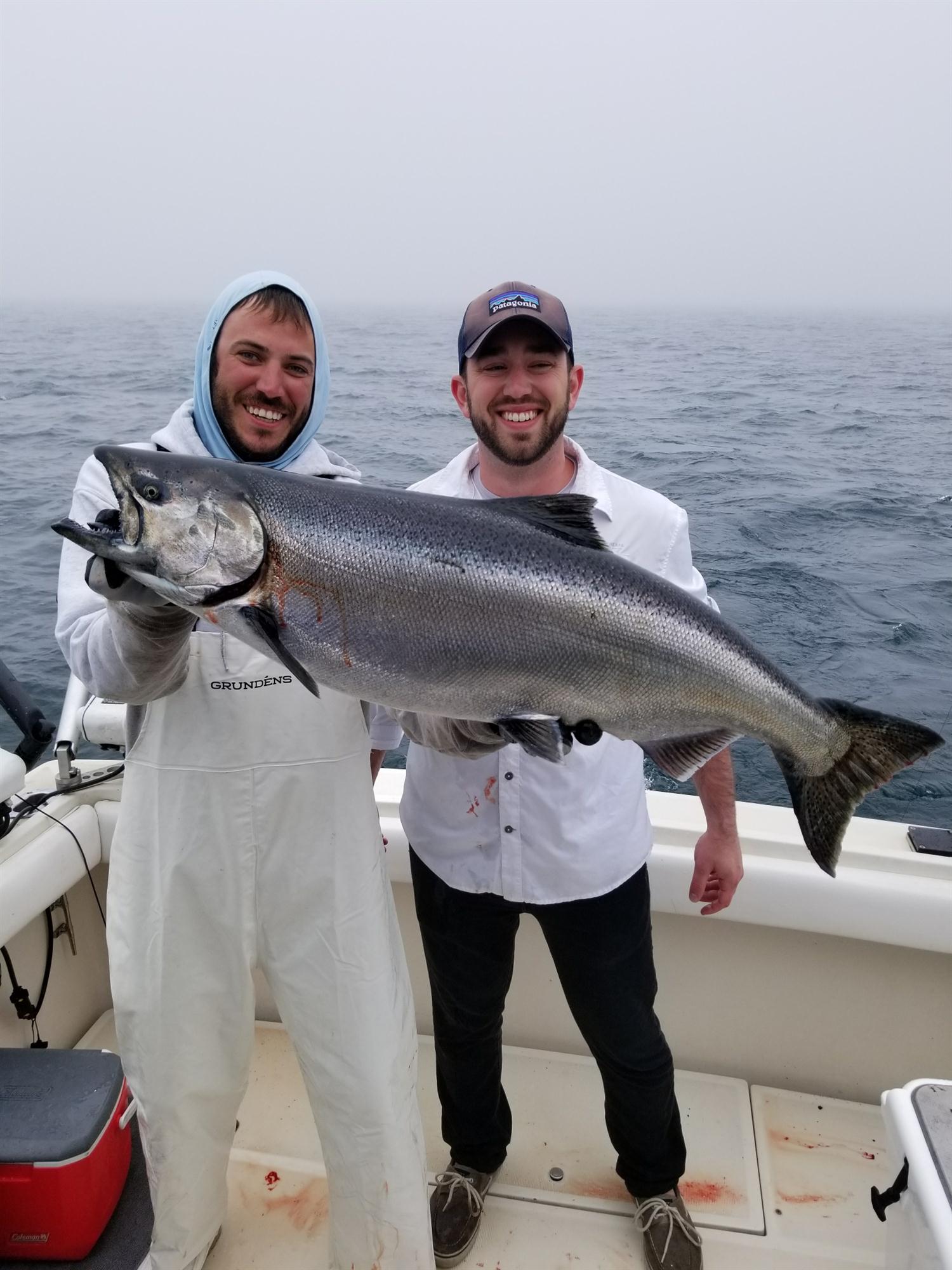 Report for June 5, 2018
Milwaukee charter fishing is as good as it gets right now. We started out June with limit catches and some were very fast. June started with a big northeast blow and this set up the Coho fishing. It was good before it is great now. Last week we were fishing in 150 to 200 feet of water in the top 20 feet. By Saturday we were in 100 feet and by Sunday we started in 70 feet and finished the day in 35 feet of water. The water temps got cold and were as cold as 42 degrees out deep. This pushed fish in close. There is lots of bait and lots of fish setting up a good run of fishing. The catch is almost all Coho salmon but we are pulling some Chinooks on every trip. With all the bait around the fish are putting on weight fast. We are starting to see 5 pound Coho's regularly. I mean this is real good fishing.
Our set up is simple. Orange dodger and green peanut flies on everything. All baits are set in the top 10 feet of water, with the exception of the two back riggers. These are down deeper depending were we fish. White flashers and little boy blue Howie flies are taking the Kings. This is the best time of the season to catches limits of salmon. I cannot stress this enough. It is still fishing and we did have a 4 fish day early last week but for the most part we are catching a lot of fish. Call Silver King Charters at 414-460-1467 to get in on the action now! Our price is $530, including sales tax for a recommended five hour trip. We take up to 5 people max but the price is the same for less and it is just your group. Oh and our engines will not stall. Need to clarify these things sometimes. The pictures are from thi last weekend.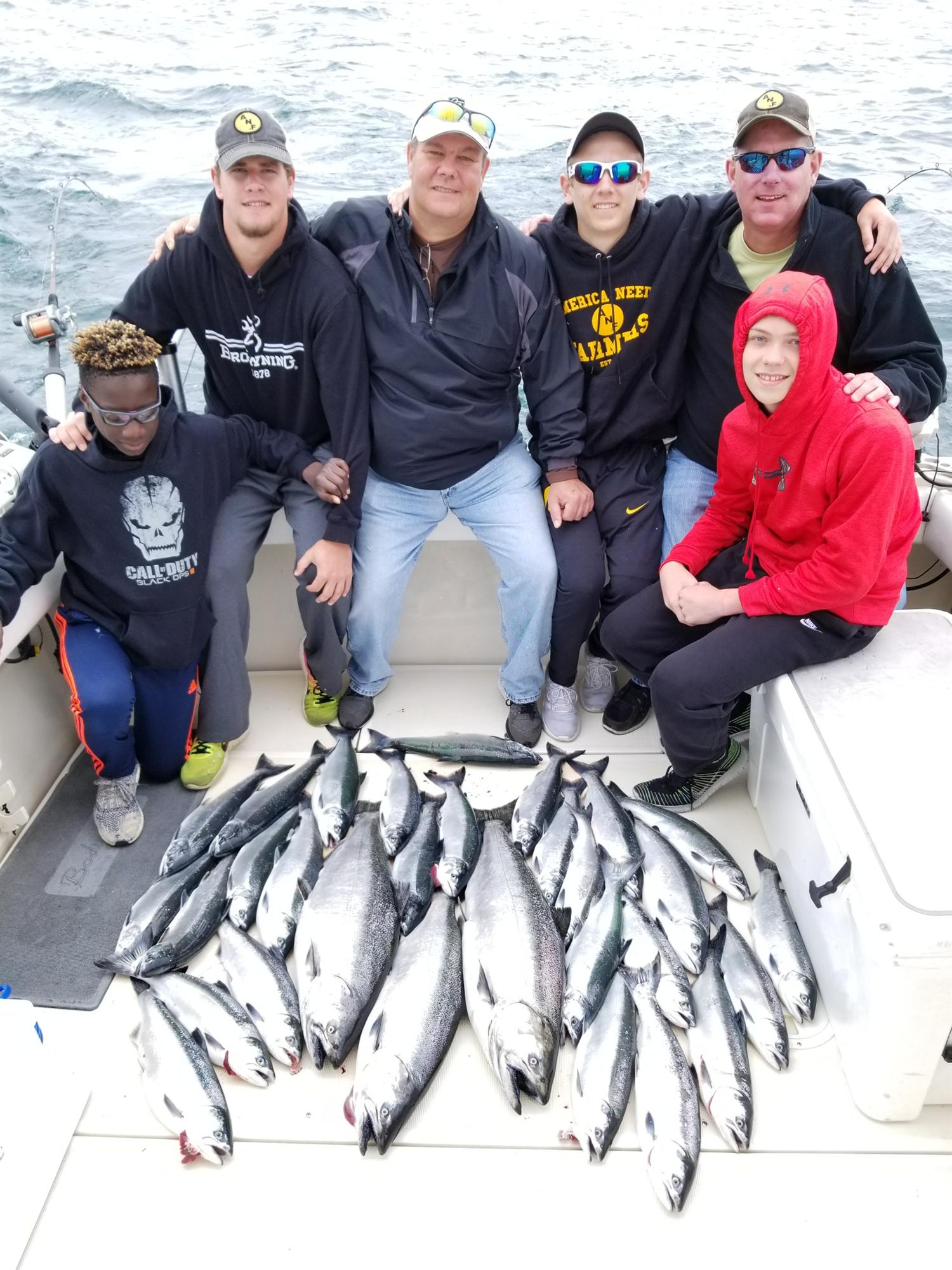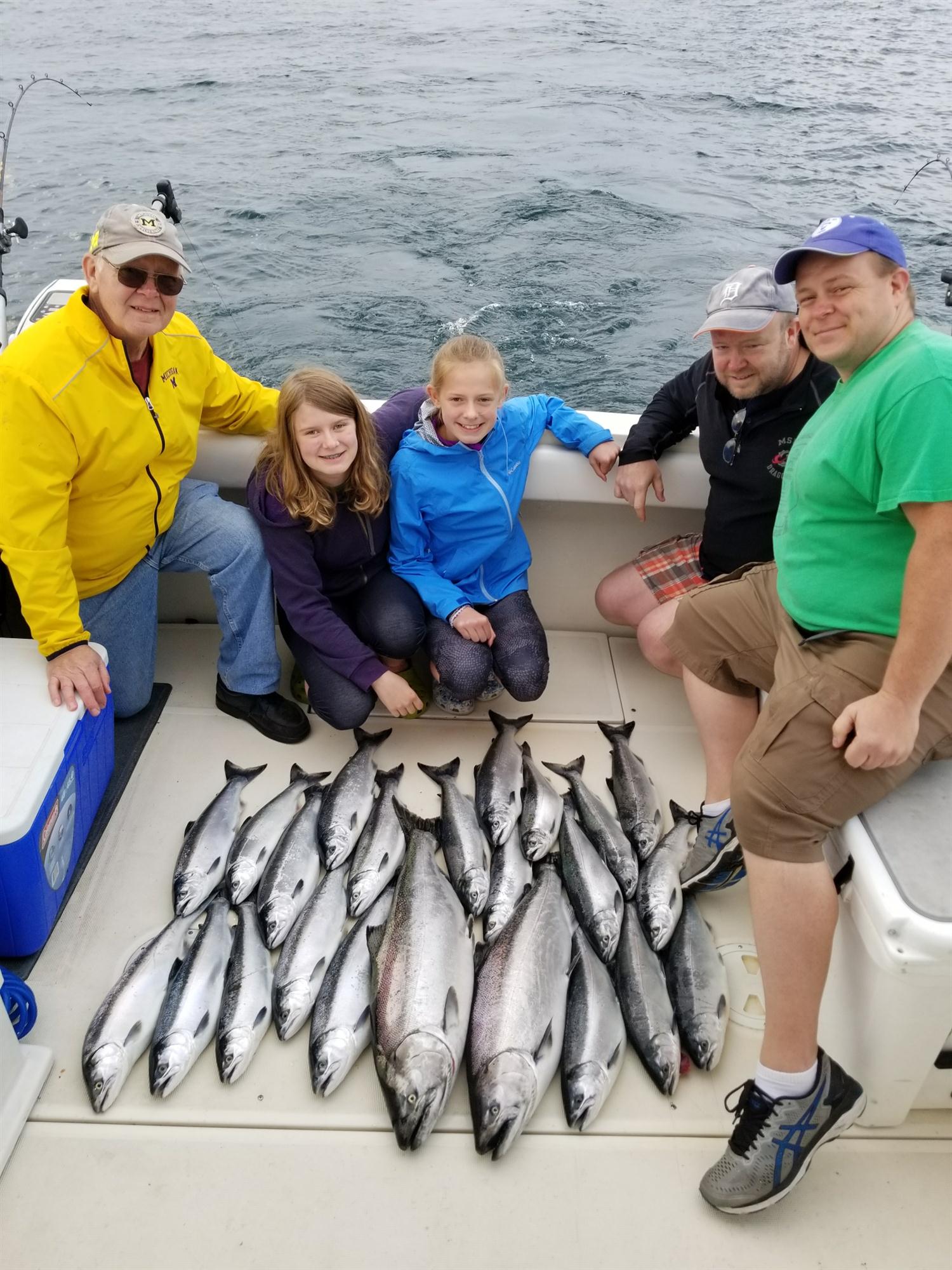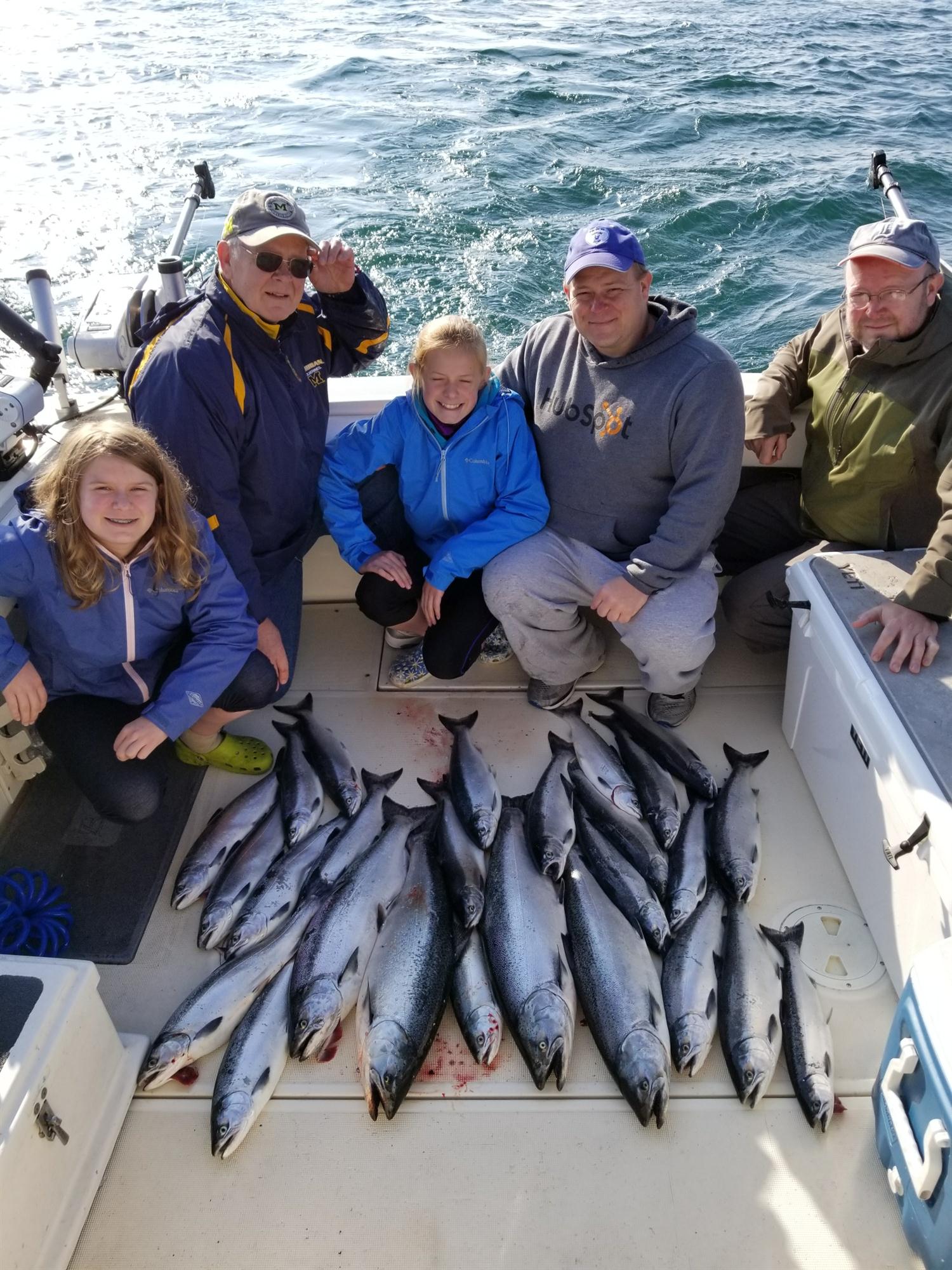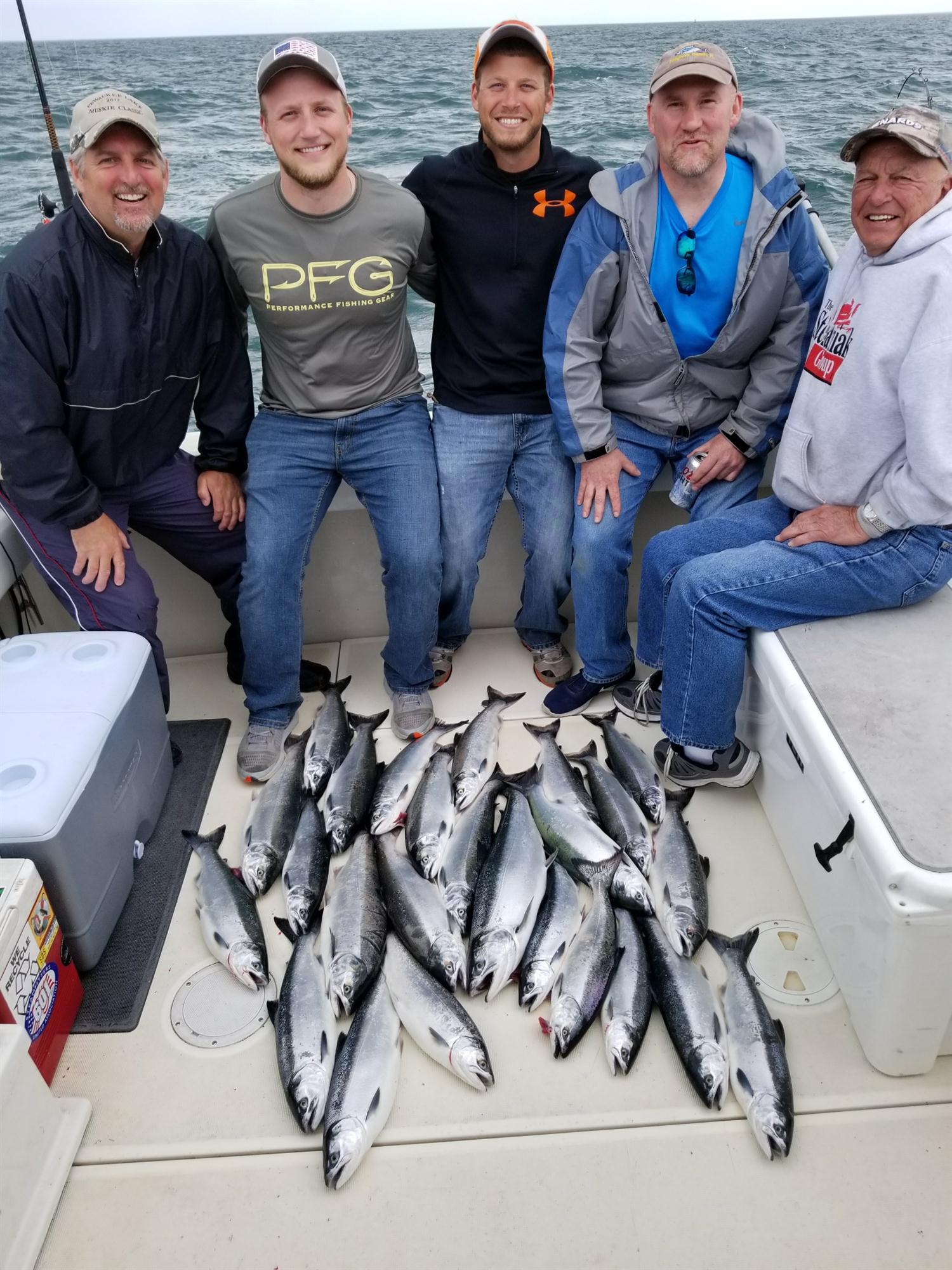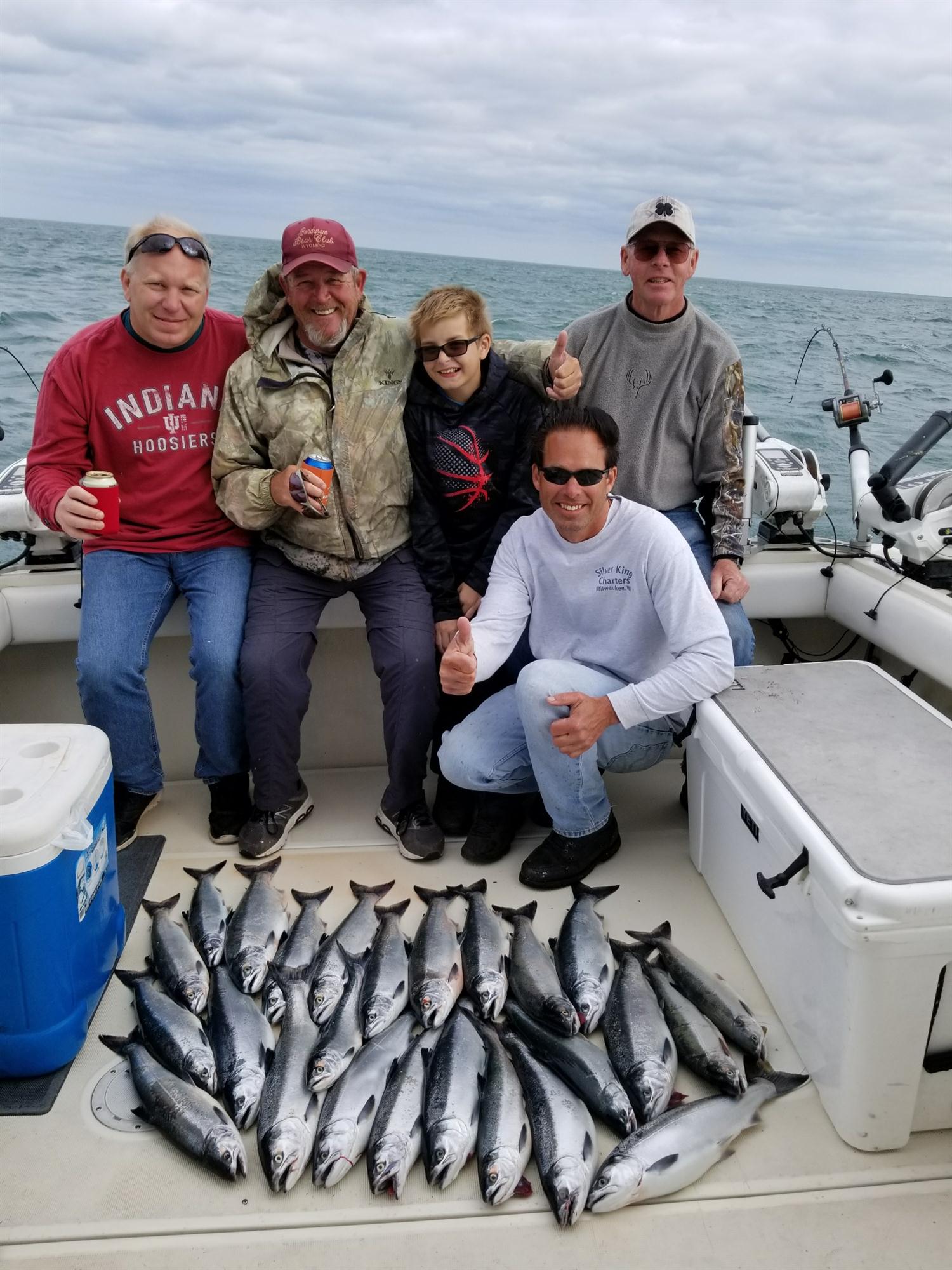 Report for June 1, 2018
We are through May and how time flies. I always say that the best time to catch salmon in numbers is mid May through the third week in June and it held true once again. We started taking limits around May 15th and rolled through the rest of the month ending with a limit or 20 last night. It was heavy on Coho salmon, with a few Rainbow trout, Chinook salmon and Lake trout. We started with some good fishing in the South Gap of the Milwaukee harbor. Quick limits for about a week but then it was 150 to 215 feet of water due east. We fished there for the last 8 days. The run time was 25 minutes but well worth it once we got there. It has been a long time since I have seen bait on the graph like I have this spring. The harbor continues to fill up with alewives to a crazy level. Out deep every fish is coughing up alewives. It shows in the size and health of the fish too. It is very common to here of 20 plus pound Chinook salmon and there are sum pushing 30 pounds already. This will be a year for big Kings!
The bite is in he top 10 feet of water no matter where we fish and the bait of choice is orange dodgers and green peanut flies. We are still running mono on the boards with 5/8 ounce keel weights. We are also running a 3 color leadcore on the inside boards. The dipsies are mon and braid, with two a side. The outside set at 30 feet and the inside at 15 feet. On the up riggers we are 8 and 12 feet down. The two back riggers are set 40 and 75 down with white flashers and bull frog Howie flies. We are taking Kings on these. Speed is key and I don't think you can troll too fast at this time. We are going slow if we are at 2.6 mph. We had to cancel trips today due to a strong northeast wind and this will mix things up but over the next 3 weeks we expect more of the same fishing.
Milwaukee charter fishing is real good right now and this is the time to book. We did not make it to Racine this season although Coho fishing has been very good there too. We are excited about all the big Chinook salmon being caught in Michigan right now because some of this action is headed are way. Big Lake trout are also in the mix now too. Great time to fish so call Silver King Charters at 414-460-1467. This is shaping up to be a real good June. The pictures are from the last two weeks.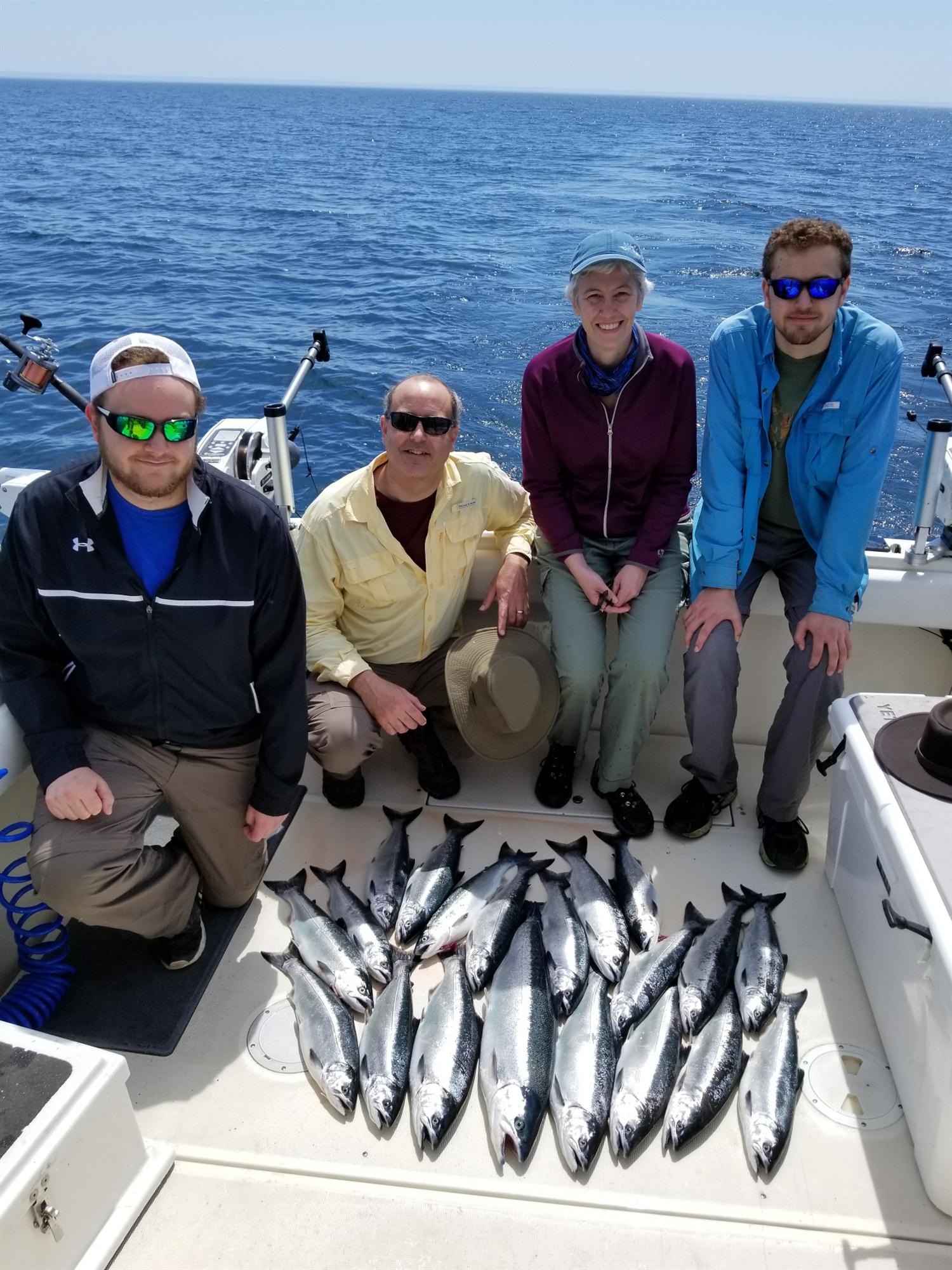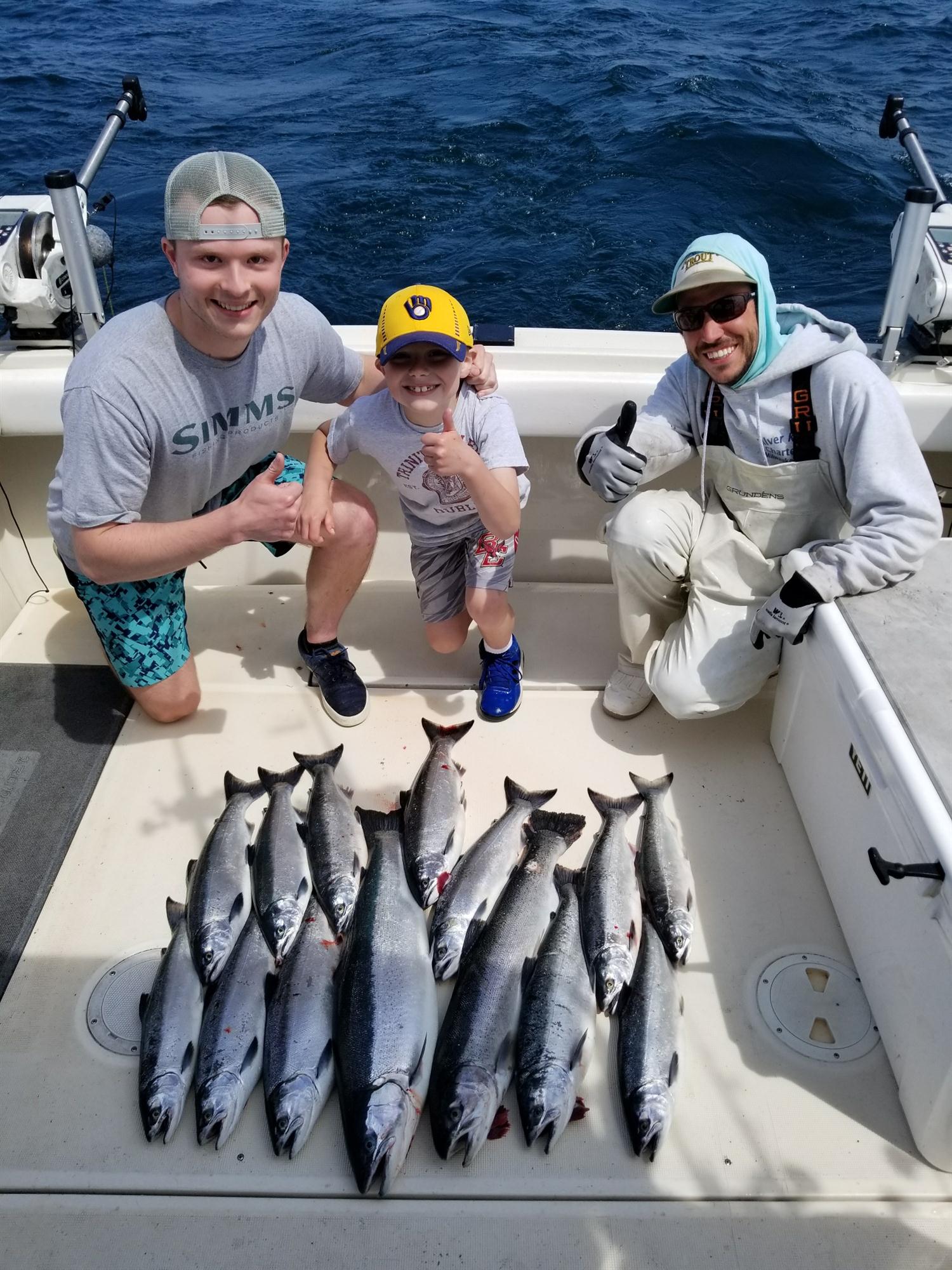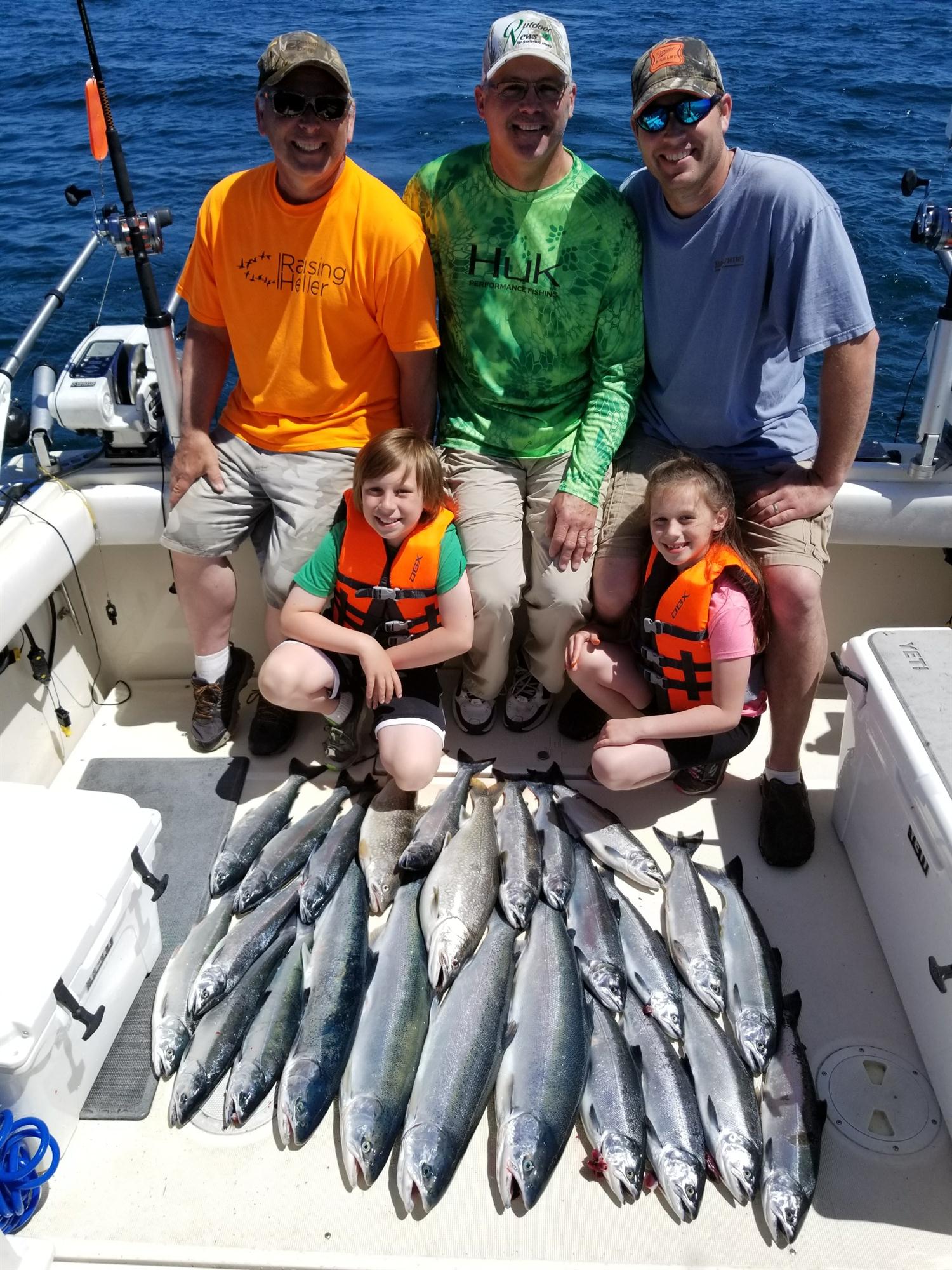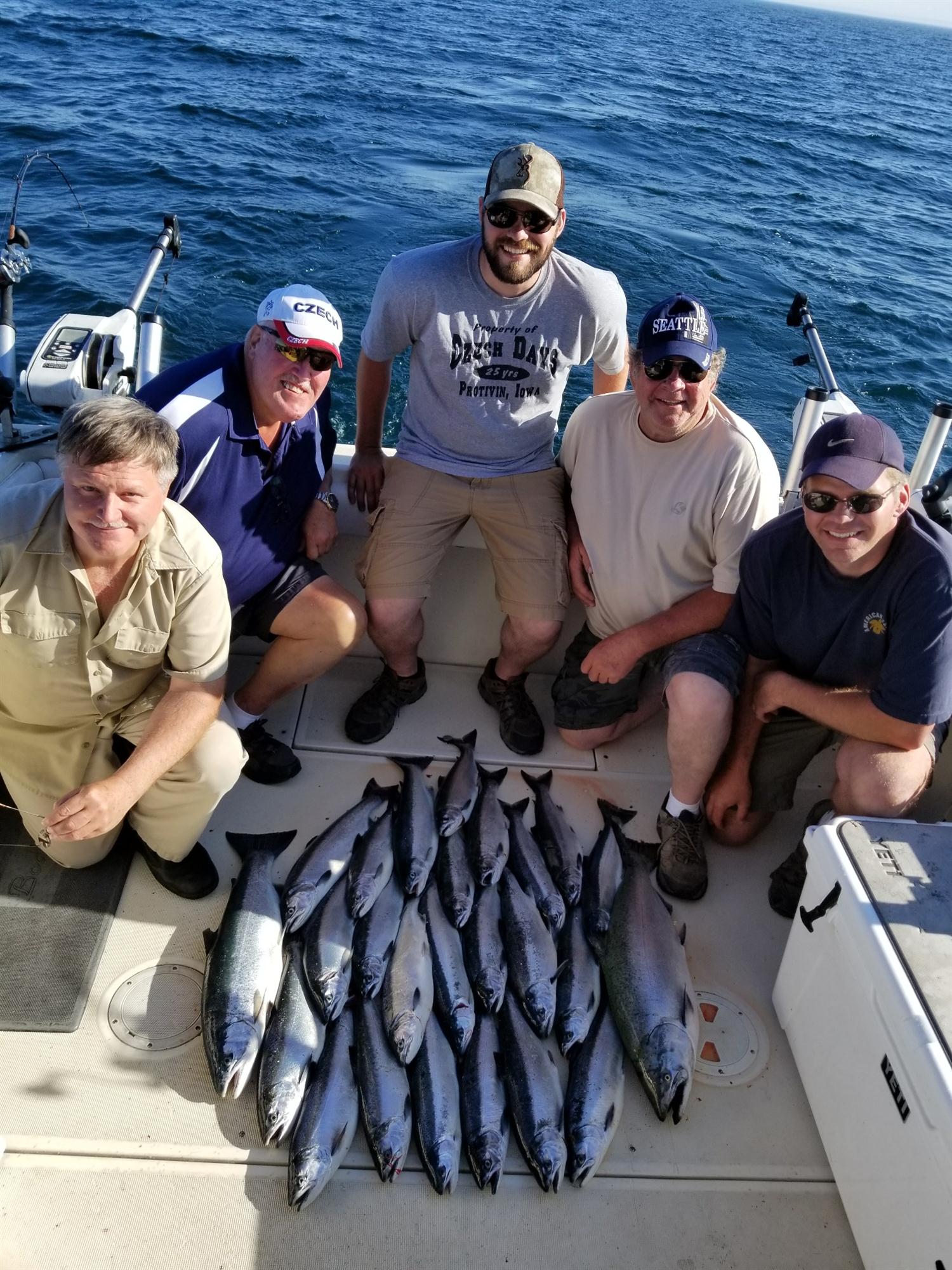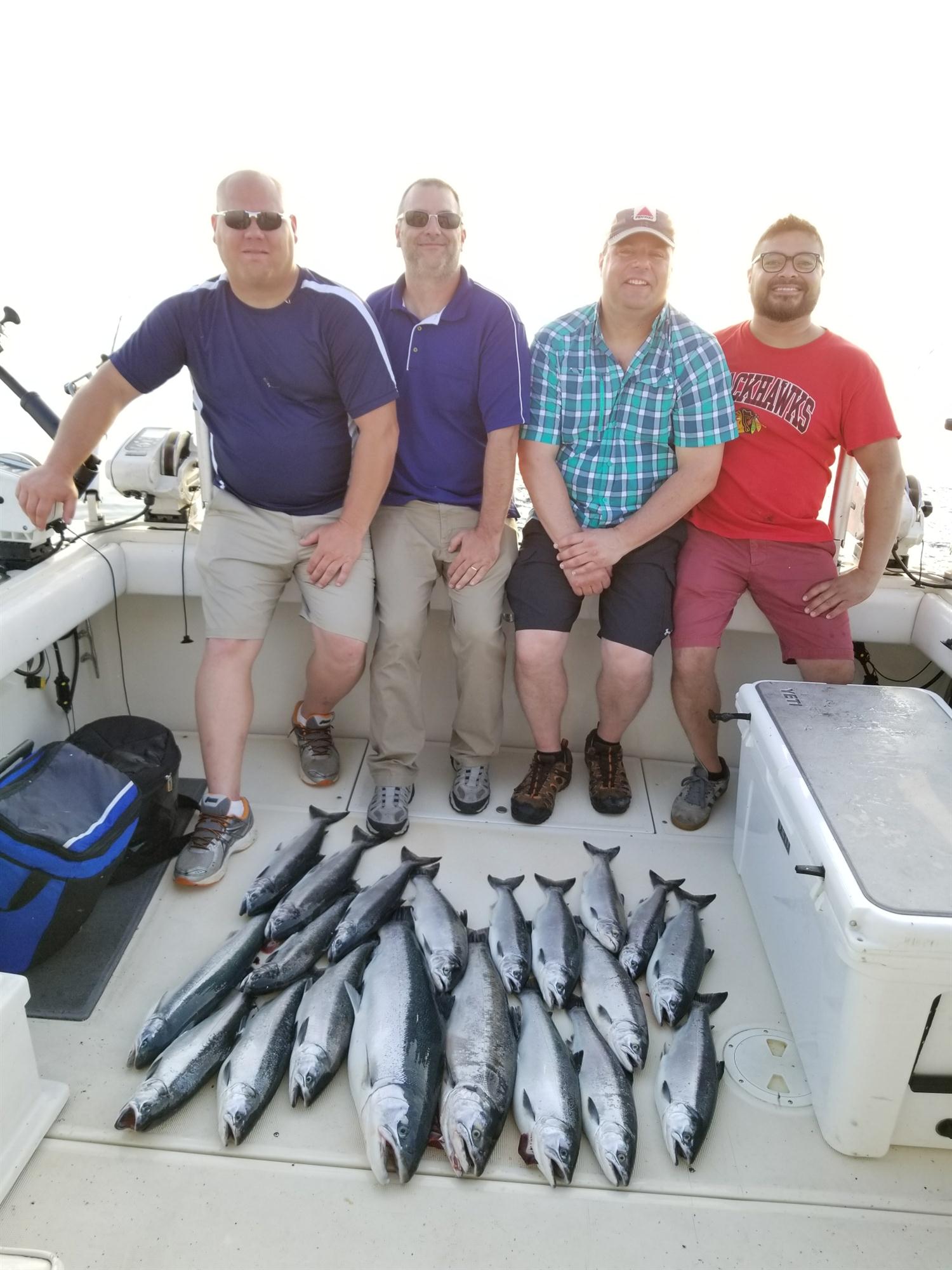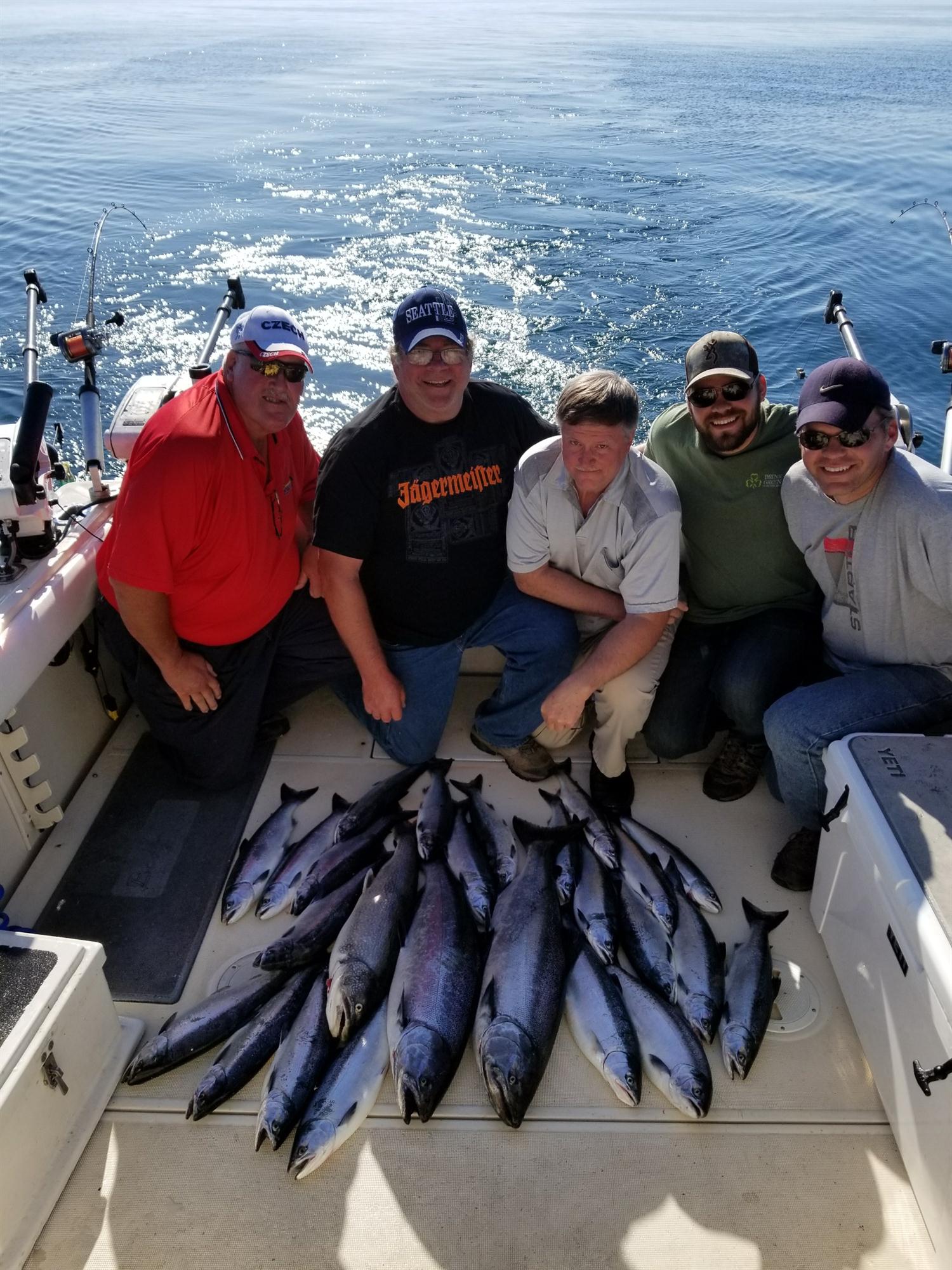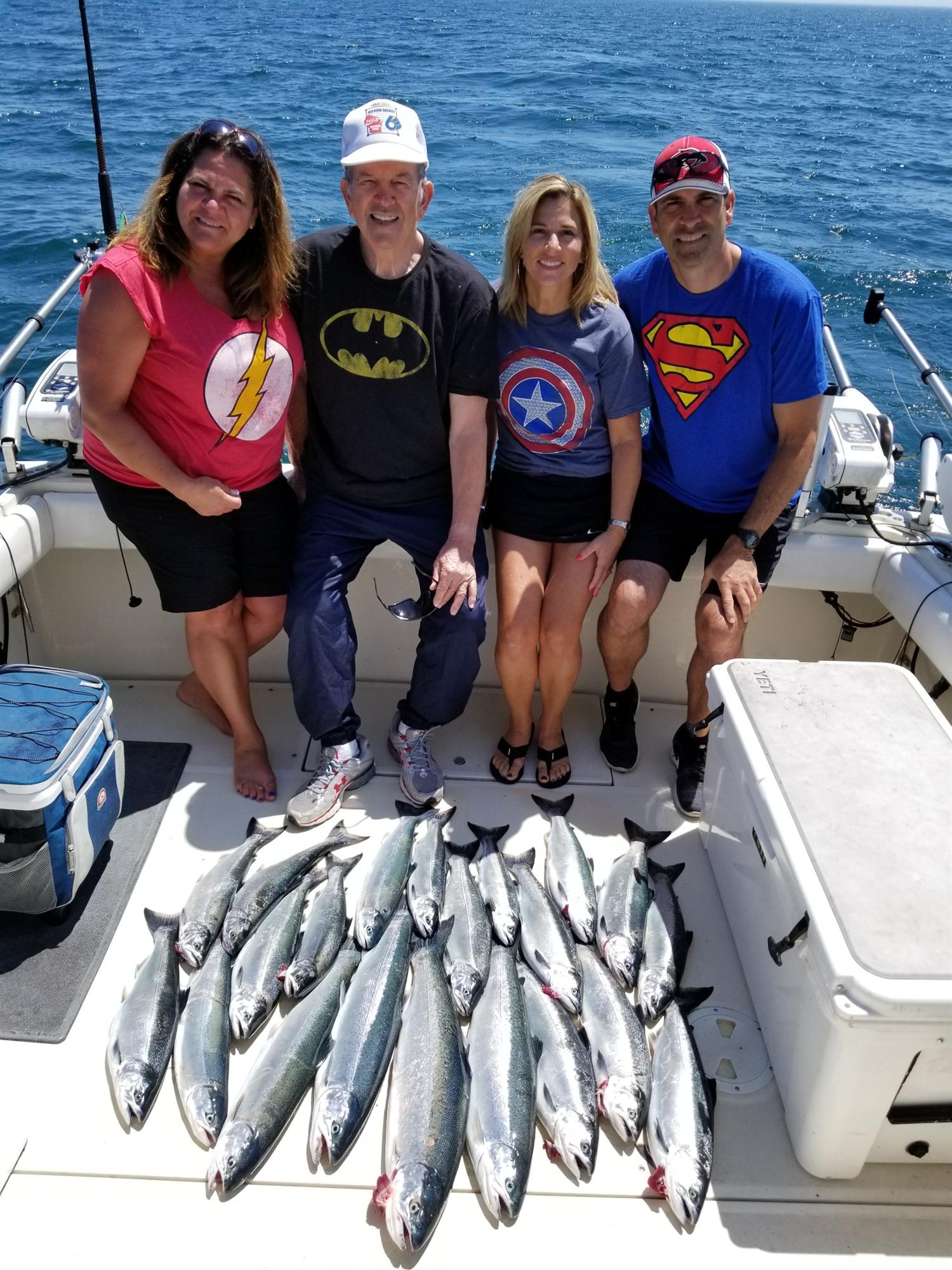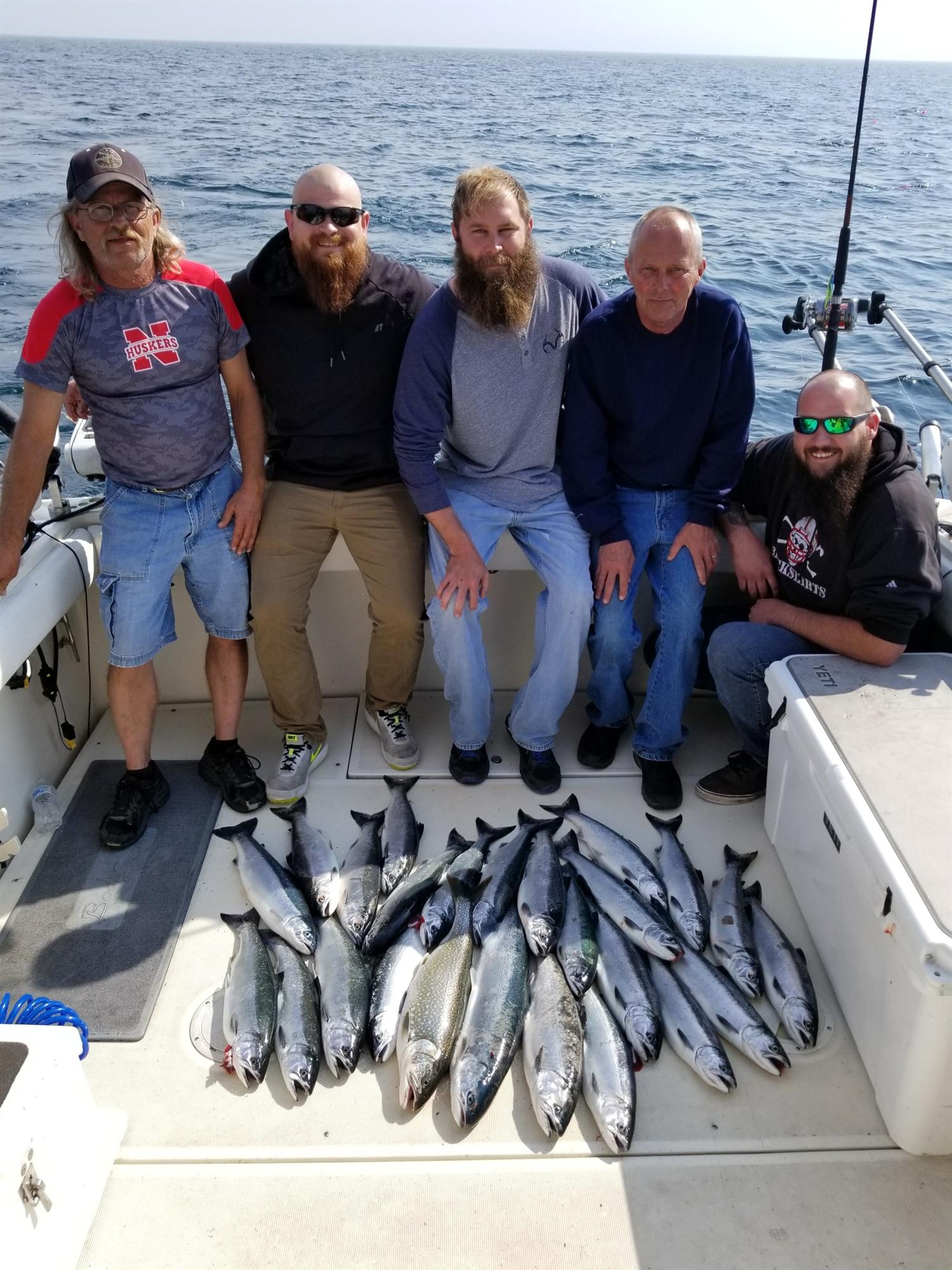 Report for May 20, 2018
Wisconsin charter fishing has been hampered by some tough weather. Since we started on March 30th we have had to cancel more trips then I can remember this early in the season and most of the bad weather falls on the weekends. Lots of strong winds. Even when we go some of those trips have been tough due to weather. But throughout a season things go in cycles and we are due for a great run of good weather. The good news is when we have gone over the last 10 days the fishing has been good and we are catching Coho salmon. We are still Milwaukee charter fishing but if we do Racine at all it will be for Memorial Day weekend and that is it. We are going to make a final decision on Thursday. The Coho fishing has been getting better each day. The bait in and around the Milwaukee harbor has just gotten to be ridiculous now. We have not put much effort to fish anywhere else because of the amount of bait found in this area. The Coho salmon are not in massive schools but there are enough around to catch a bunch. The other early item from this season, other than weather, Coho and bait is the Chinook salmon. We saw how the crazy good fishing was in the early tournaments in St Joseph and Michigan City Michigan. Quick catches of Big Kings with weights averaging in he upper teens and some fish over 25 pounds. We took a 23 pound Chinook Saturday and there are now reports of Kings being caught in multiple ports on the Wisconsin side on a more consistent basis. These fish are big and health, making July and August look fun. We will still be heavy on Coho salmon for the next several weeks and should only get better throughout this period.
We ran all orange dodgers and small peanut flies on every rod this weekend before cancelling on Sunday due to weather. Every bite came in the top 10 feet of water and they were all Coho salmon. We eventually put a UV Blue Dolphin stinger on a deep rigger and it took two Chinook salmon set at 25 feet down. All the action was in 30 to 40 feet of water. We have been trolling fast on these fish at about 2.6 to 2.8 mph. Each trip over the last week has been double digits, with several limits. We expect it to get better. Call Silver King Charters at 414-460-1467 to get in on the best catch rate for salmon of the season. We are just getting into the best time of this part of the season now! Pictures are from the weekend and the one Chinook with the scale attached to it was 23 pounds!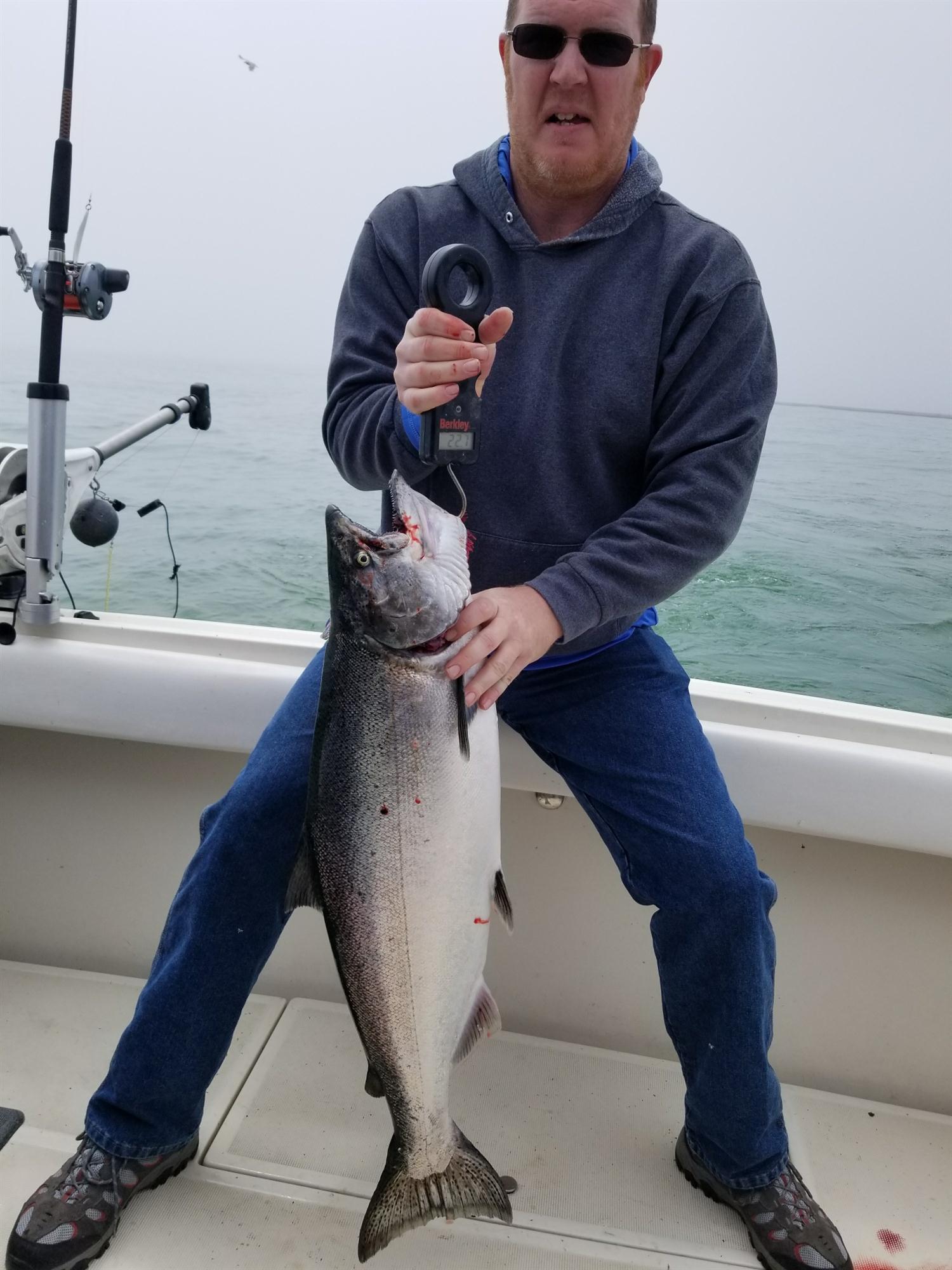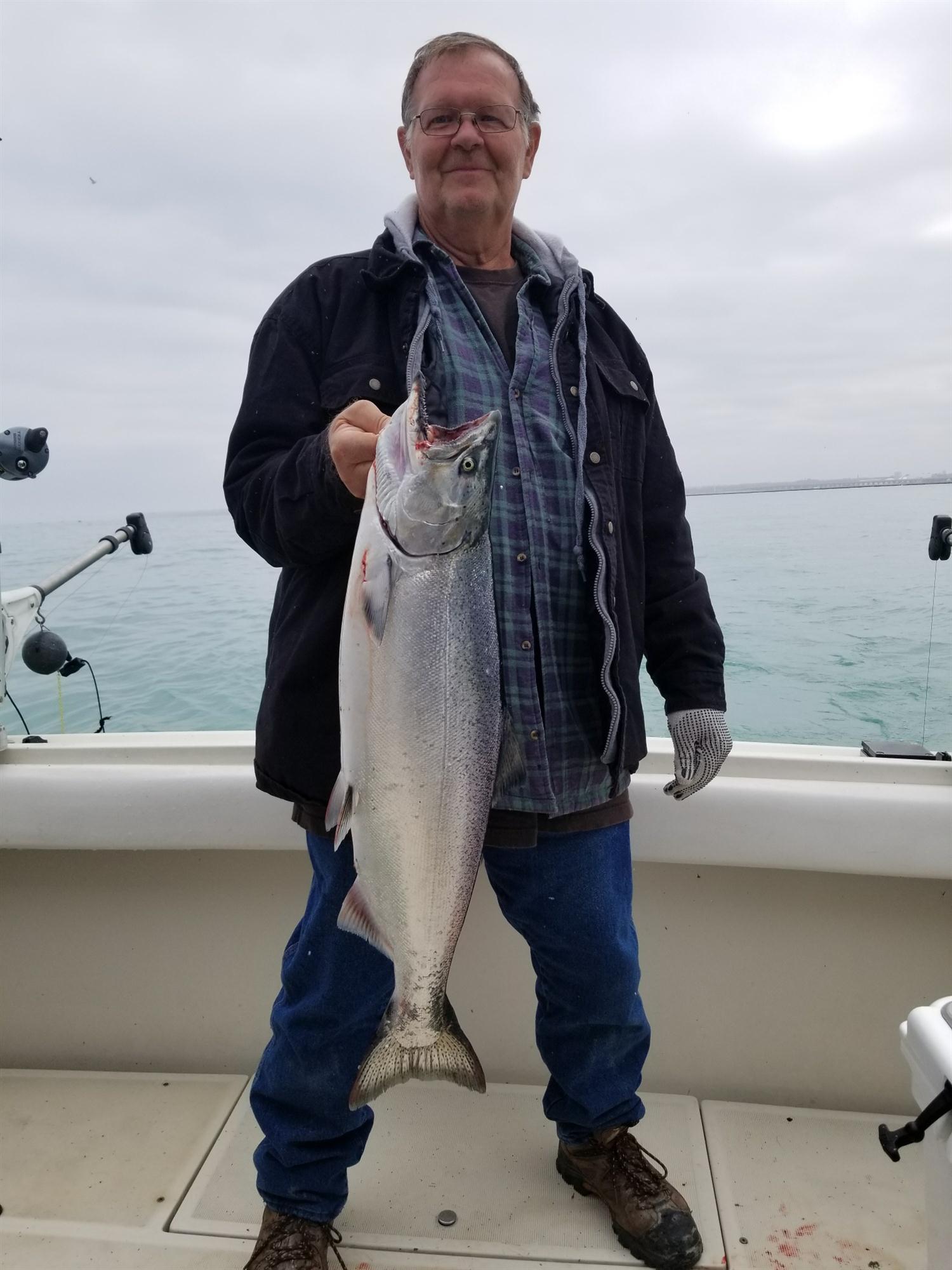 Report for May 18, 2018
Milwaukee charter fishing is heating up. about 10 days ago a massive amount of alewives showed up in the harbor and now the Coho salmon are starting to show up in numbers. This is the most bait I have seen in years and a lot of big mature alewives are around. The graph is sometimes balked out with bait. The Coho bite has steadily improved each day as more fish come in to take part on the bounty of bait. This is not yet the crazy good bite but it is very close to happening. We are starting to get limits and some very quick. The hot set up is a peanut fly on a orange double zero dodger. It is on everything. The Coho have ranged from 2 to 4 pounds but will only be growing with all the bait around. This is shaping up to be a good bite. We have not 100% ruled out Racine charter fishing yet but right now it looks good in Milwaukee.
The orange is on dipsies set just under the surface. On riggers set 5 to 10 feet down. On boards from the surface down 8 feet and these are all mono. We are fishing in 30 to 50 feet of water. The hot bait is pictured below with several nice recent catches. We expect to catch a lot of Coho salmon coming up in the next 6 weeks. Call Silver King Charters at 414-460-1467 to catch salmon now. This is the best fishing for numbers the entire season!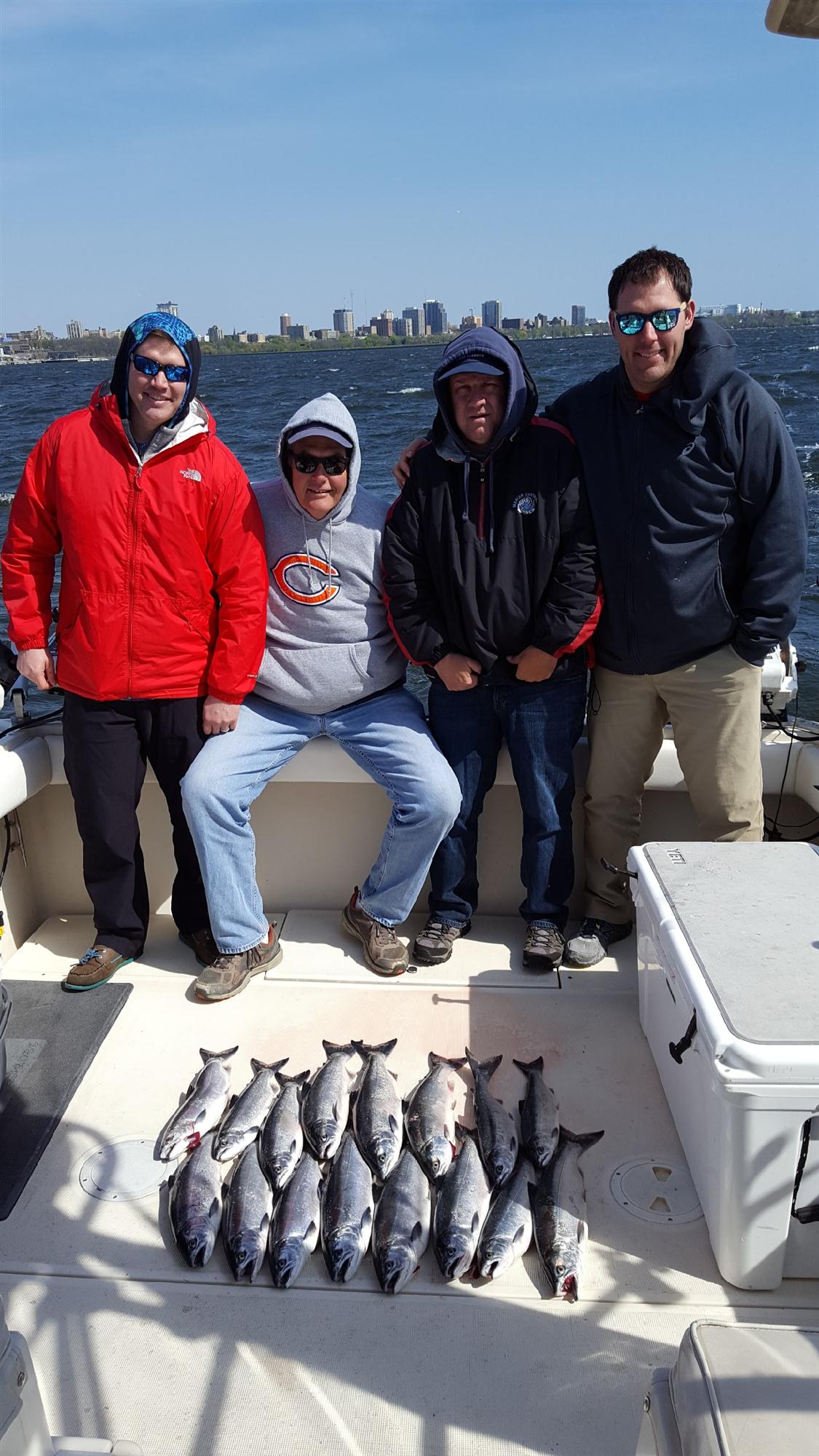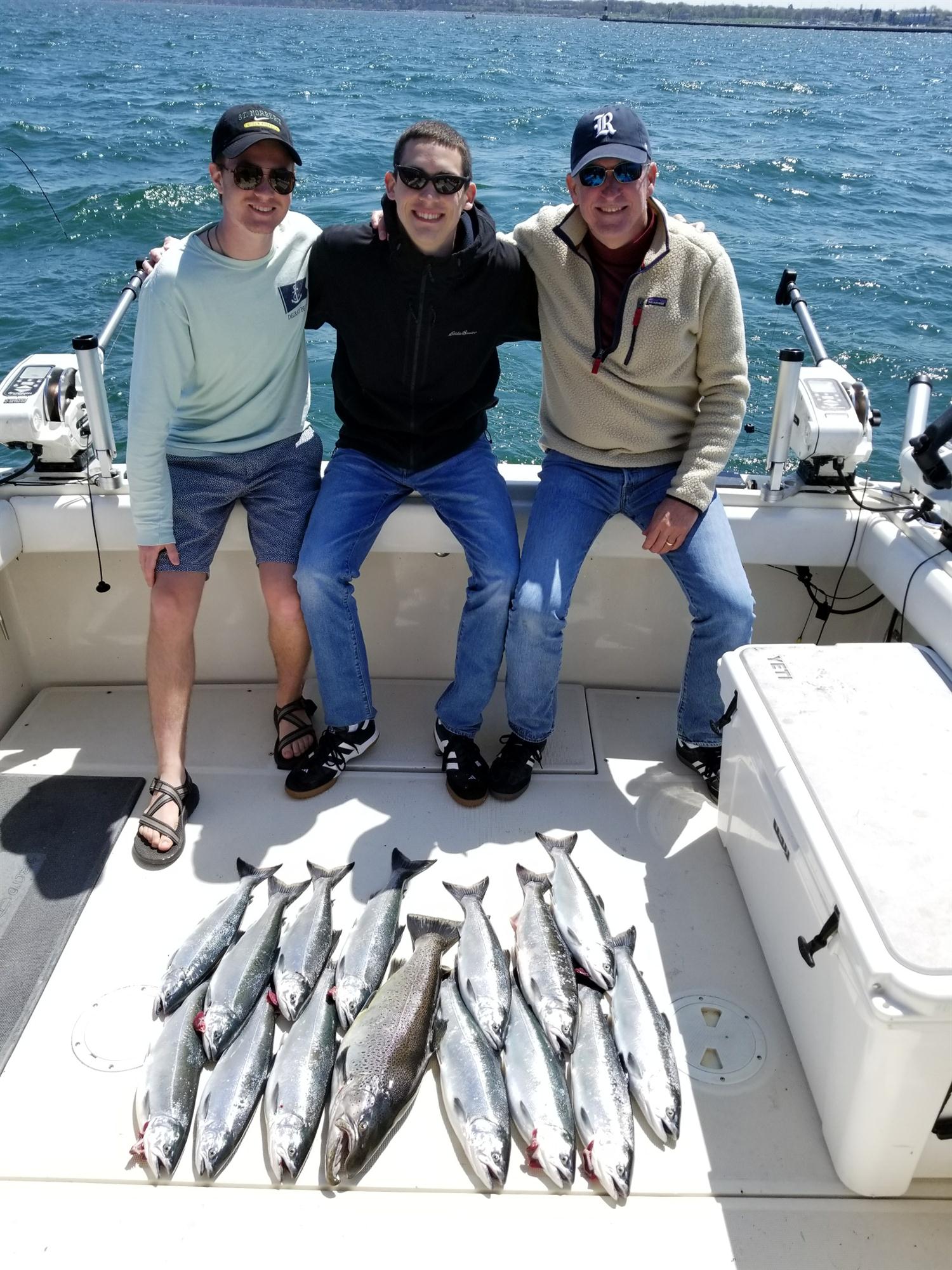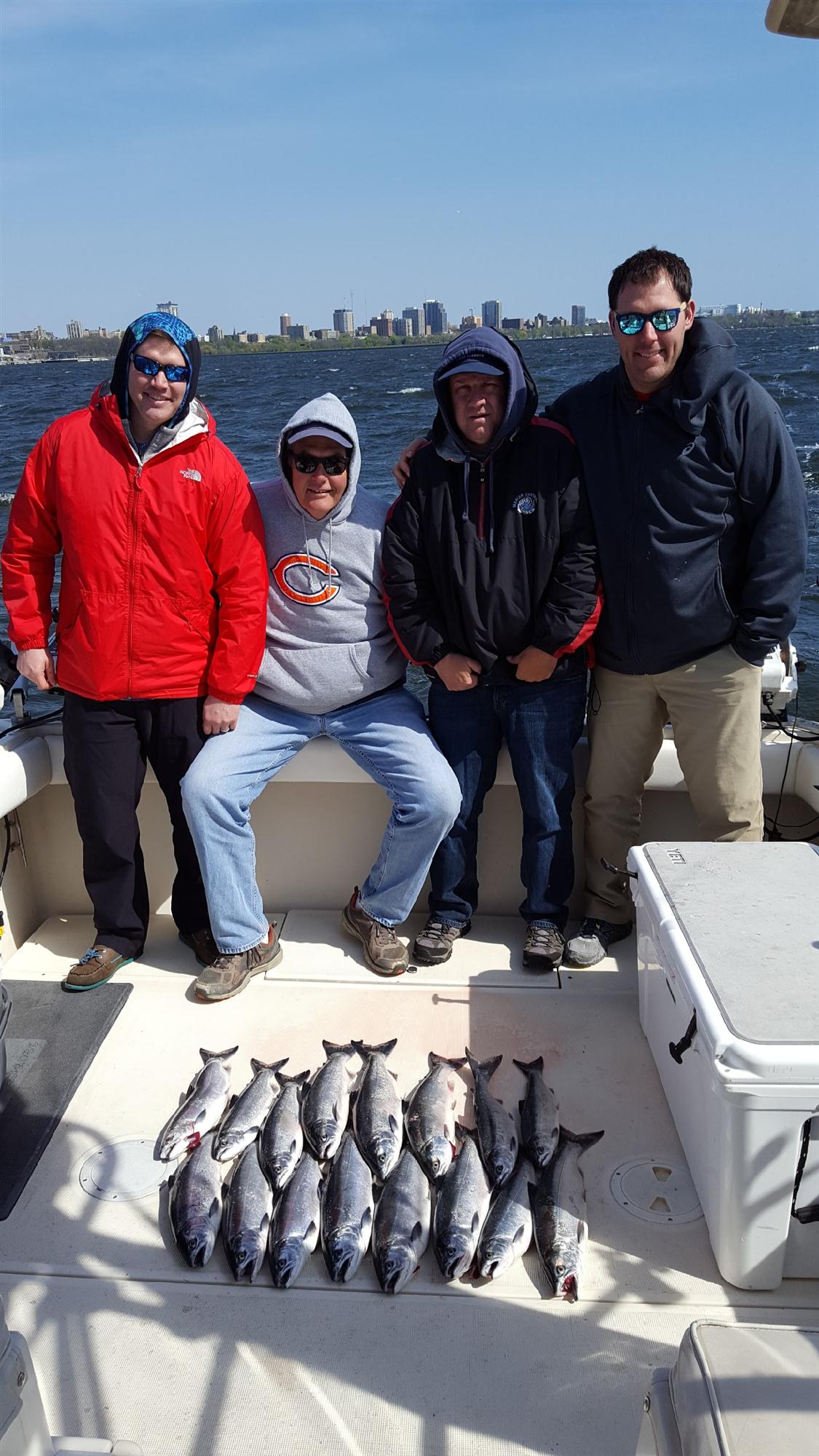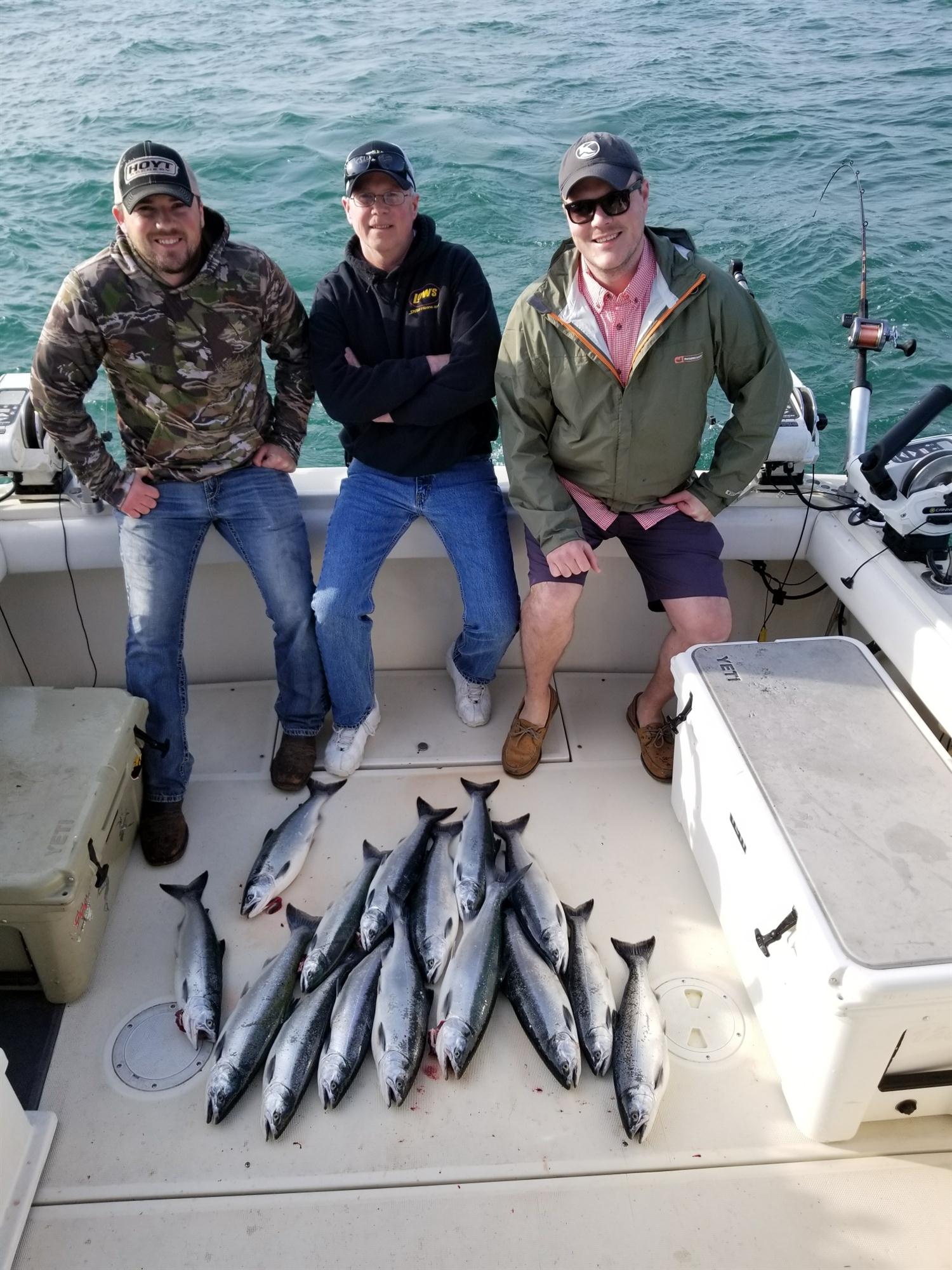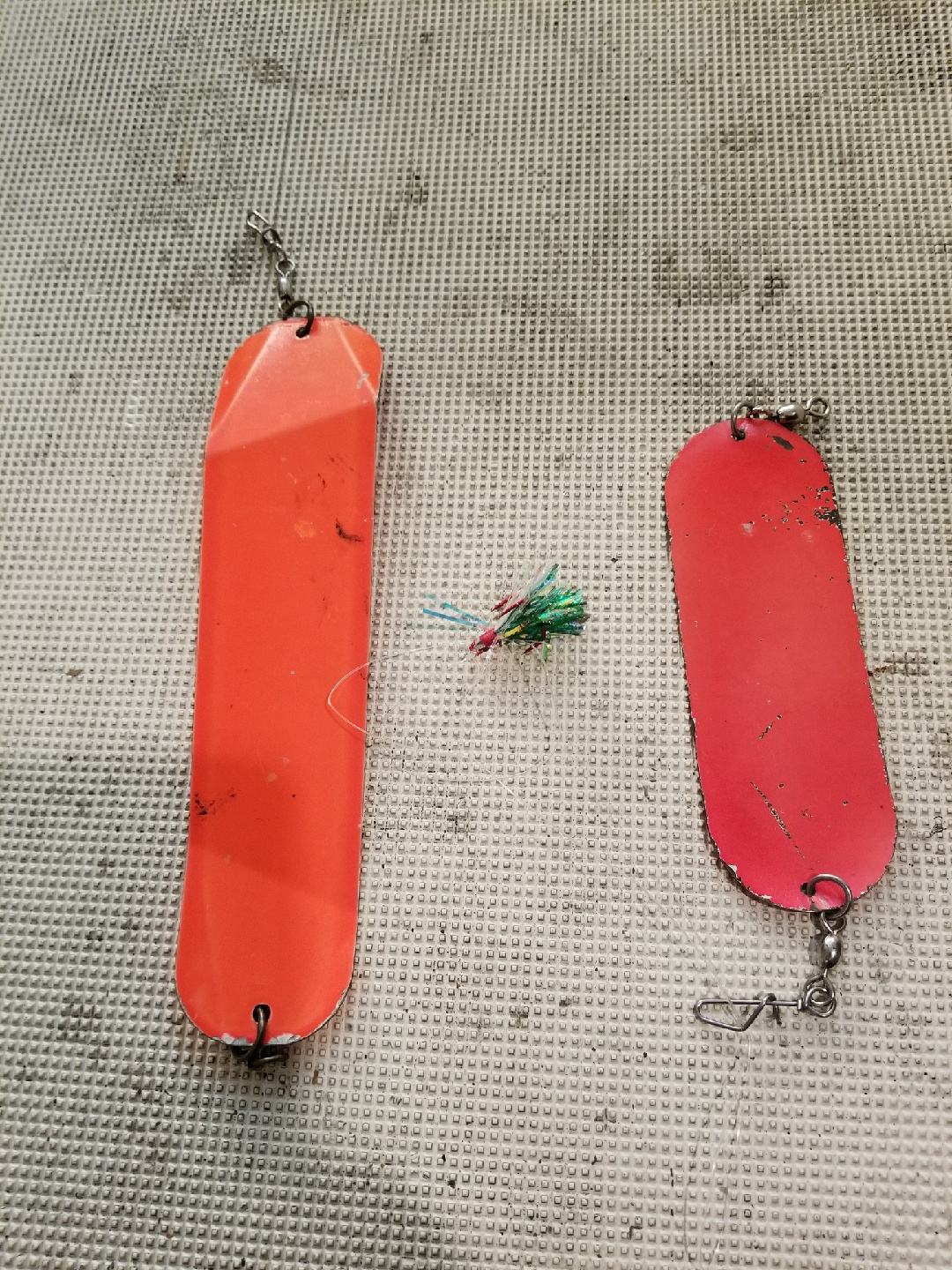 Report for May 9, 2018
Milwaukee charter fishing in May has been up and down so far. The fishing has not set up yet or should I say the Coho salmon are not here in numbers. The bait just showed up in the harbor this Sunday and we are starting to take a few Coho but the next several days will tell how good the bite will be. If we don't see improvement we are moving to do some Racine charter fishing. The Coho salmon have started down south but it has only been over the last several days it has been good. One way or the other we will start taking good amounts or Coho salmon. The bite of late has had a little of everything but still May has been more Brown trout than anything. We have taken 20 Coho so far this month but we are seeing the big schools yet. We have boated several nice 15 to 18 pound Chinook salmon, along with a few Rainbow trout. Most of our fishing has been around the harbor but we have gone down to the Oak Creek power plant and as far north as Atwater beach. We have yet to fish beyond 50 feet of water but all this is about to change.
We are still mostly spoons, with Mass Confusion Stinger standing out the best. Some Coho were caught on orange dodgers with a generation X peanut fly or a green peanut fly. Soon this will be the set up on all the rods. Other than that we did not have a red hot set up this last week. The water temperature in the harbor is up to 55 degrees on the surface and just outside and along the shore it is between 45 to 48 degrees. The Milwaukee harbor is so loaded with big alewives we snagged 18 in less than 45 minutes this morning anywhere we went, so we had to get out of the harbor. The fish will be right behind this bait.
Call Silver King Charters now because it is about to go off. The best catch rates of the season start now and go right through mid to late June. We cannot emphasis this enough: The best catch rate for salmon on Lake Michigan is mid May through the 3rd week of June. Call us at 414-460-1467 to get in on the action.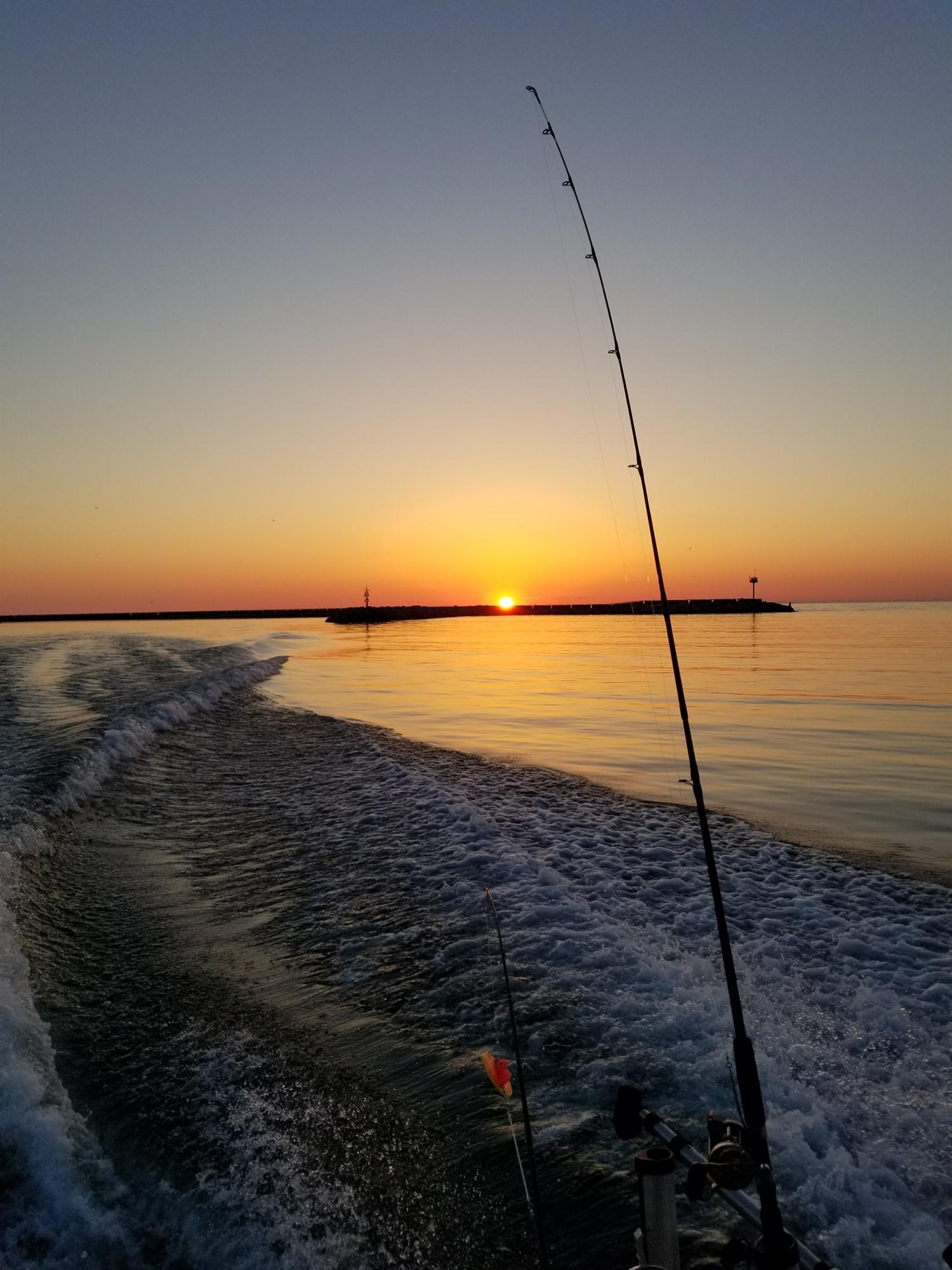 Report for April 30, 2018
Silver King Charters first month of Milwaukee charter fishing this season has come to an end and it went by fast. We fished a lot of Aprils and tough weather is a part of the month but this April will be remembered for strong winds, very cold temperatures and snow. Hopefully at least the snow is done for. As I right this report it is 70 degrees outside but Saturday and Sunday morning it was only 30 degrees when we started to fish. We had some up and down trips, including on 1 fish effort but at the end we did have several limit catches and managed 10 fish a trip. We will take that considering the weather. we landed 2 Rainbow trout, 2 Chinook salmon, 1 Coho salmon, no Lake trout and the rest were all Brown trout. May will start with a blend of species but Brown trout, Lake trout and Coho salmon. But somewhere in May it will be 90% Coho salmon. This weekend Coho salmon started to show up in catches and we are starting to gear up for what we hope is going to be a lot of salmon caught over the next 7 weeks.
We fished Saturday and Sunday in the harbor and caught a lot of Brown trout. We did boat are second Chinook of the year on Sunday near the south gap. Most of the action came on one and two color leadcores with singer size Mass Confusion copper spoons. The Chinook came on a gold Singer Hud off a mono dipsy. The water temperatures at the surface in the harbor where between 40 and 52 degrees. Right outside the harbor we saw 42 degree surface temps. Bait fish are starting to show up in the harbors now and water temps going up we are going to be in for some good fishing. Saturday was too rough to fish out on the Lake so the harbor was our only option but the fishing was good. On Sunday we went back to the harbor and it was tougher. Could have been due to the full moon and wind switch. Most of the action was around the river mouth or south of it and dirty water did make the bite a little more challenging.
May is the start of our highest catch rates of the season. I cannot emphasis this enough: from mid May through the late June is the highest catch rate of salmon on Lake Michigan. Coho salmon are the number one stocked salmon in Lake Michigan and this is the best time to catch them. Call Silver King Charters at 414-460-1467 to book a trip during this time to get in on your best opportunity to catch good numbers of salmon. The pictures are from this last weekend. The one picture shows how aggressive Chinooks can be, with a Gold Hud Stinger spoon buried in his mouth.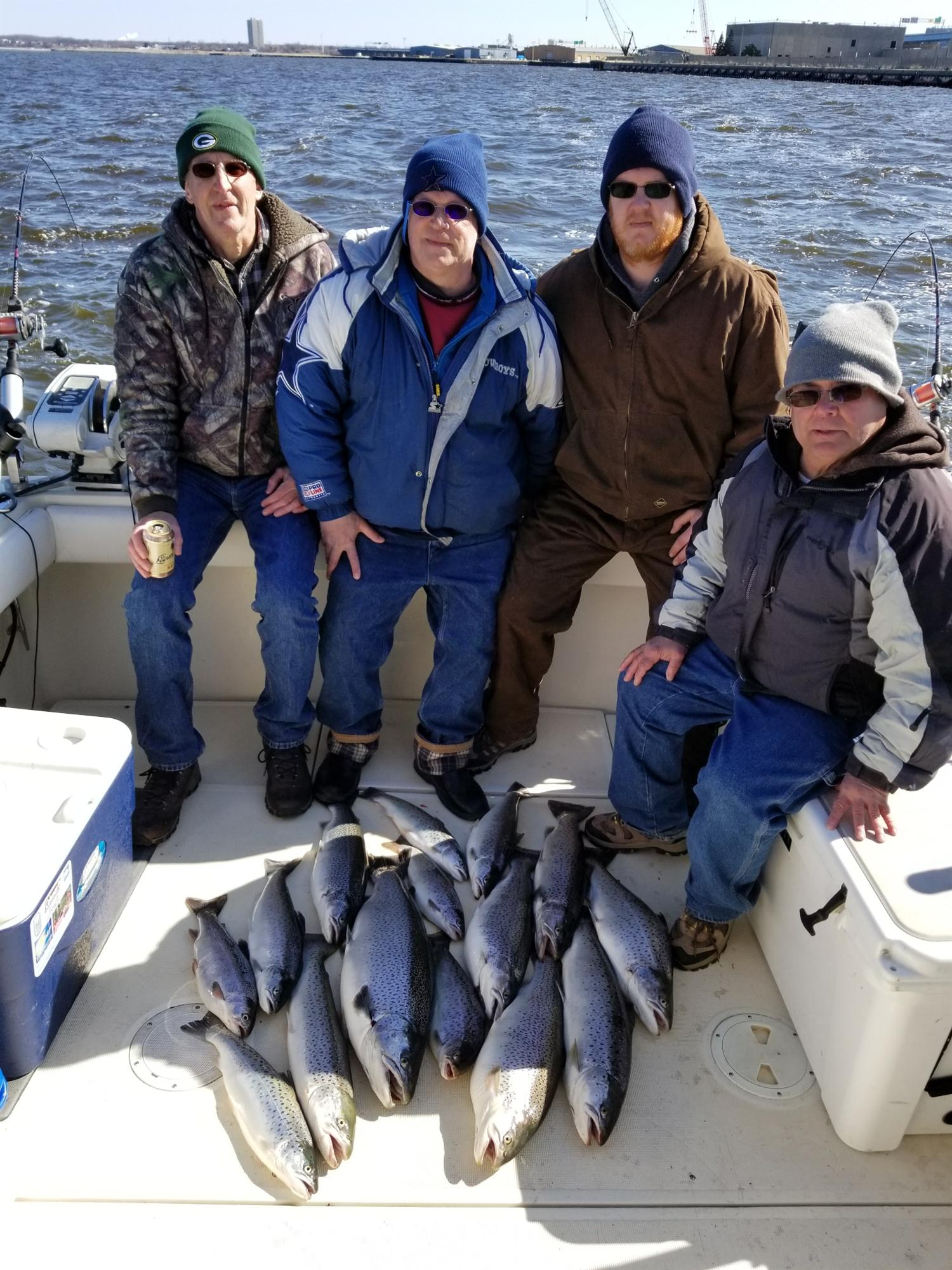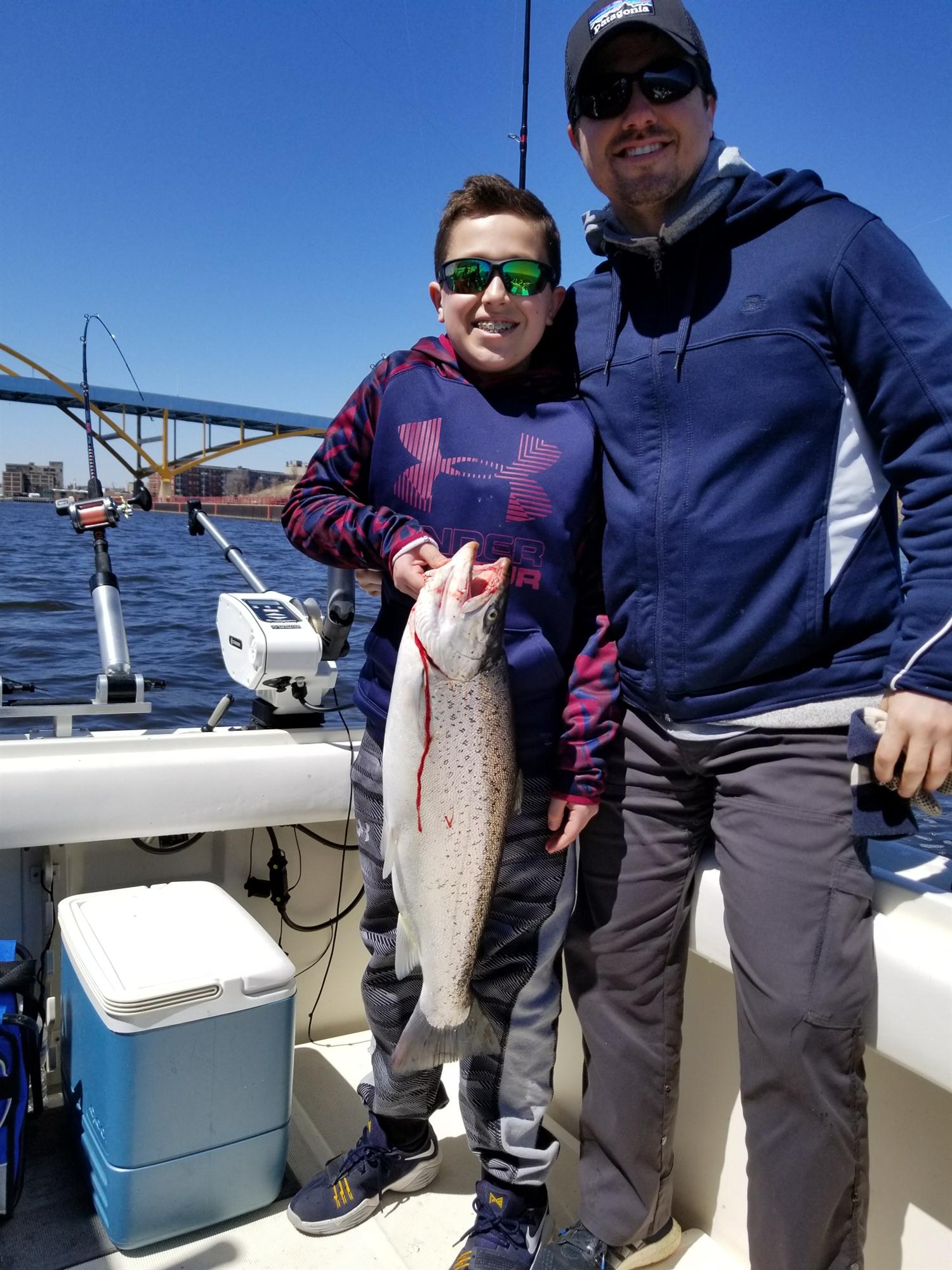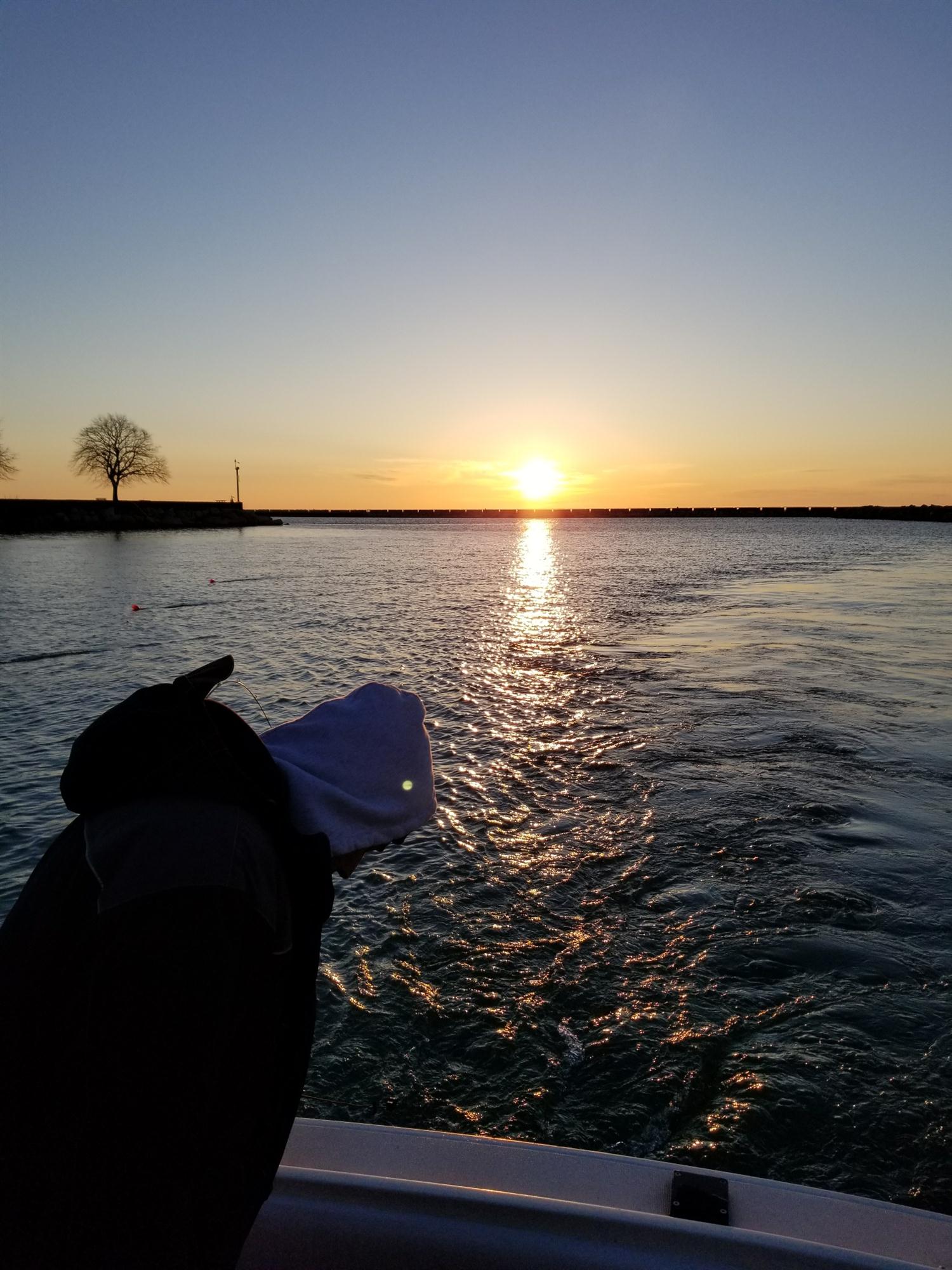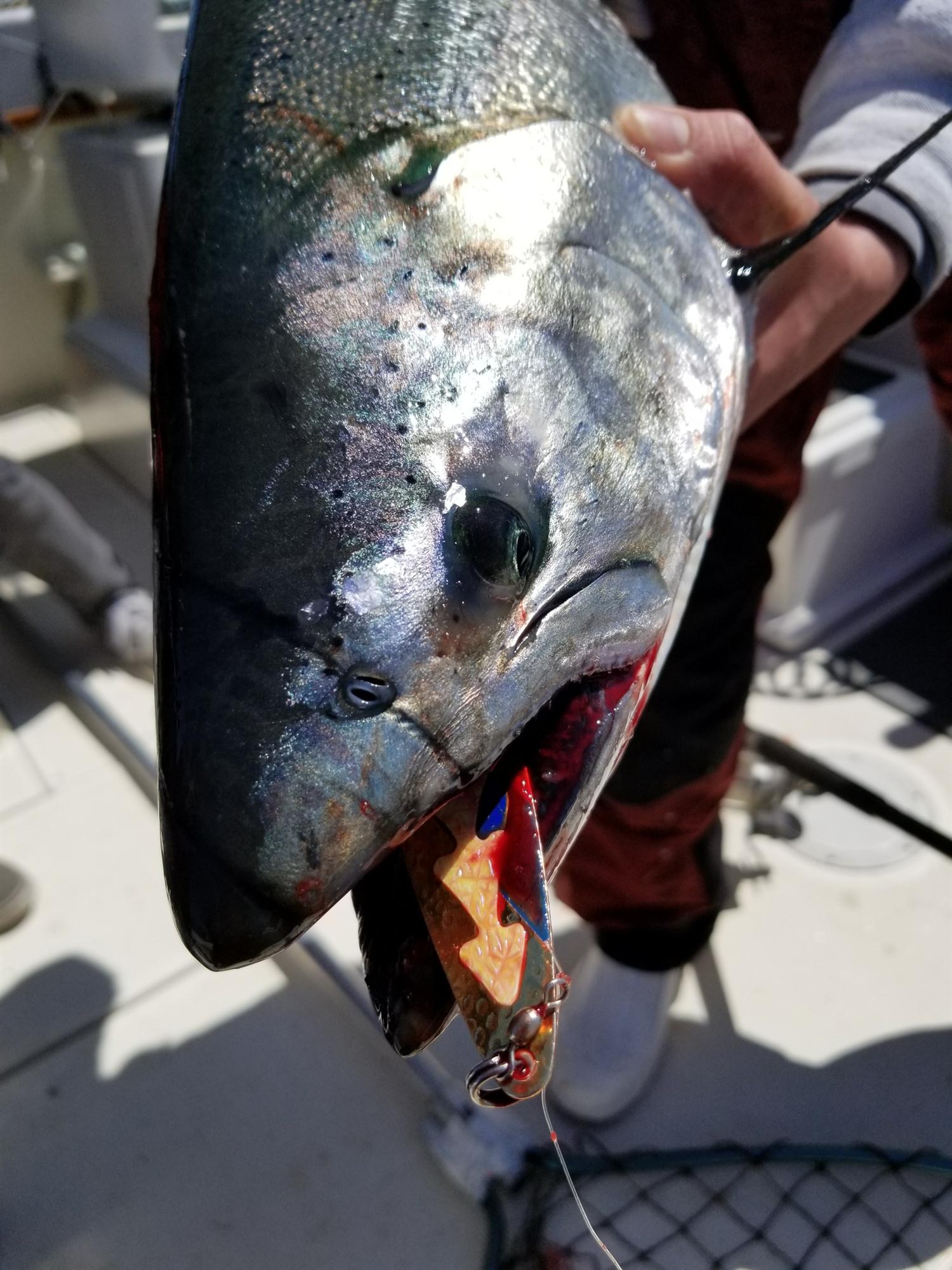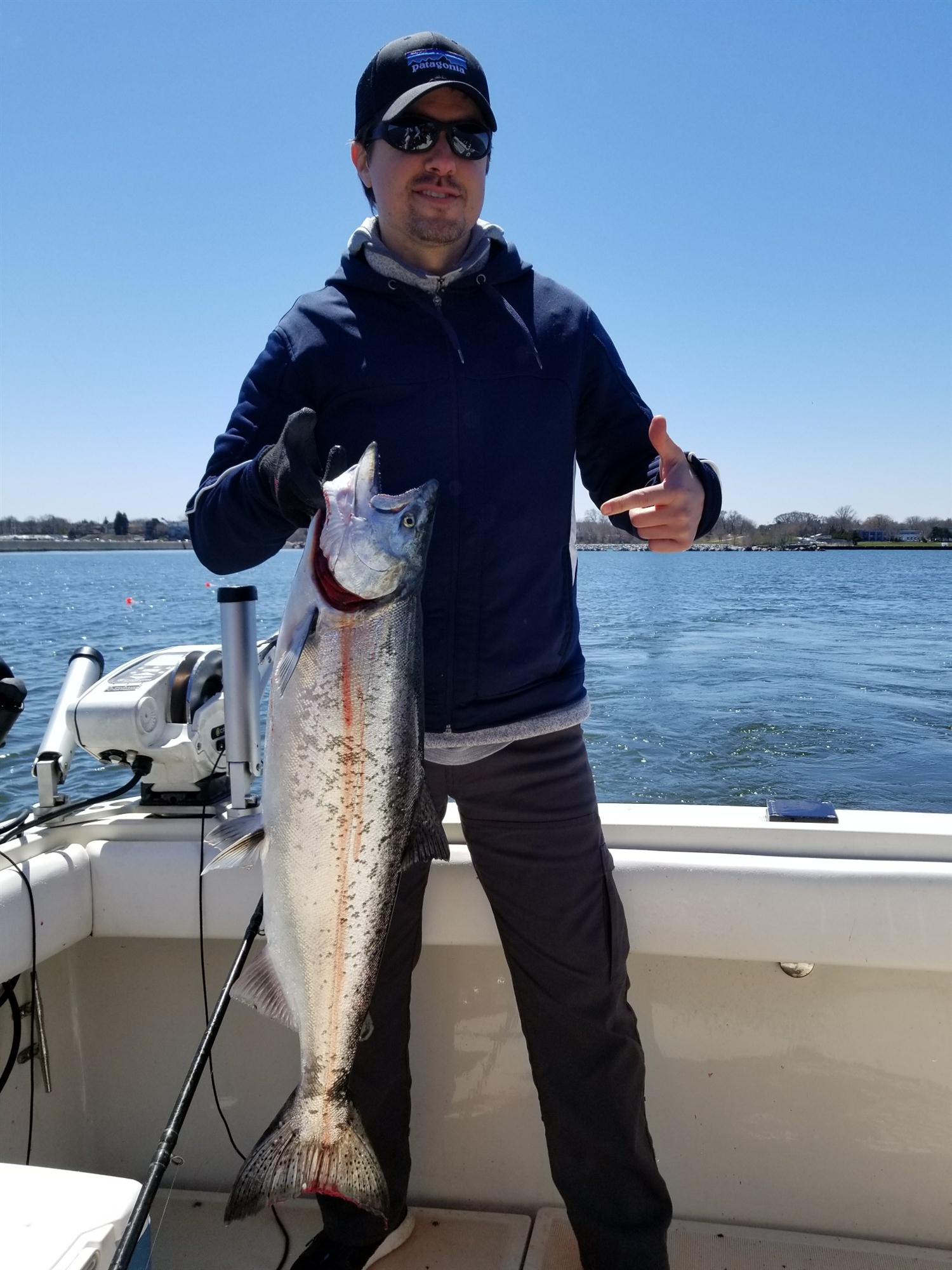 Report for April 25, 2018
We got back to fishing last weekend after the horrific blow and snow of last weekend. There was no way we could have fished two weekends ago with gust of 50 mph out of the northeast, snow of over 6 inches and temperatures below freezing. The snow is all gone after the worst storm of the entire winter and Lake Michigan fishing is starting to take off again. We fished Friday, Saturday and Sunday. The water was no warmer than 40 degrees on the surface and we didn't see that until Sunday. Both Saturday and Sunday we experienced a very thin layer of ice that covered most of the area of Milwaukee we tried to fish. The harbor was ice free but too murky. The water and air temps were above freezing but there was a very thin ice layer everywhere. I heard that because there was no wind or clouds at night that this ice forms because of evaporation or radiant freezing that is common on ski hills at this time of the year. Freaked me out but I think we are done with ice on southern Lake Michigan now.
The bite got better each day we fished and the best spot was south of Milwaukee in 10 to 30 feet of water. We mostly caught Brown trout but we did land our first Chinook salmon of 2018. It was 17 pounds and gave an excellent fight. It hit a UV Blue Dolphin Stinger spoon on a rigger. The best spoon was a green natural born killer Singer on the mono dipsies set at 20 feet on the line counter. Boards took a few with one and two color leadcores and stinger confusion spoons. The bite was tough but we were able to get some good size fish on all trips.
The rest of this week looks more favorable, with water clearing and warming up. We expect the Milwaukee harbor area to pick up this weekend and the Lake trout bite to become a little stronger. I have attached pictures of the Chinook, along with some nice Brow trout and the ice sheet. Call Silver King Charters at 414-460-1467 to get in on the last of April Brown trout action and the beginning of the May Coho salmon bite. Lets hope we have seen the last of the snow.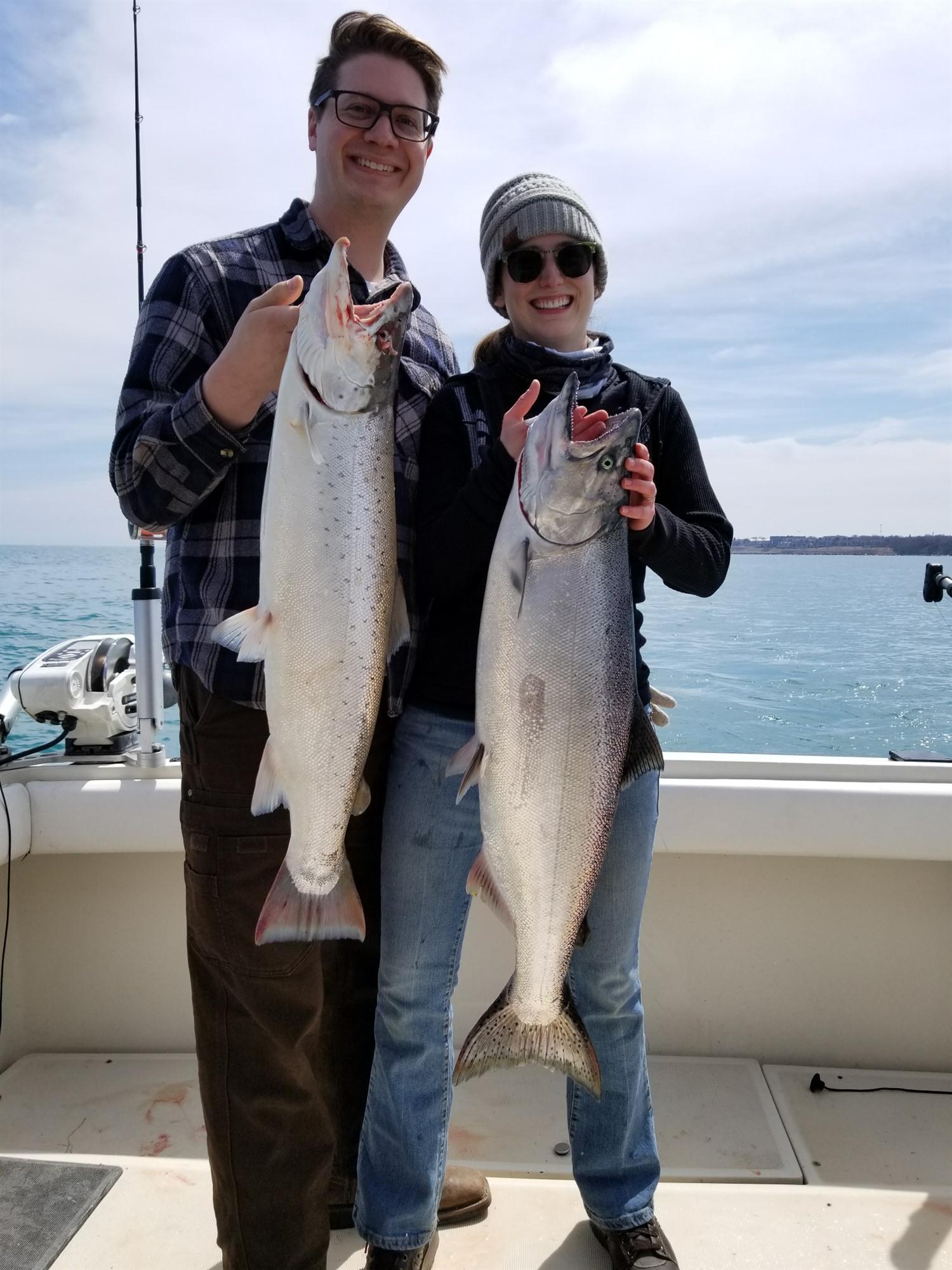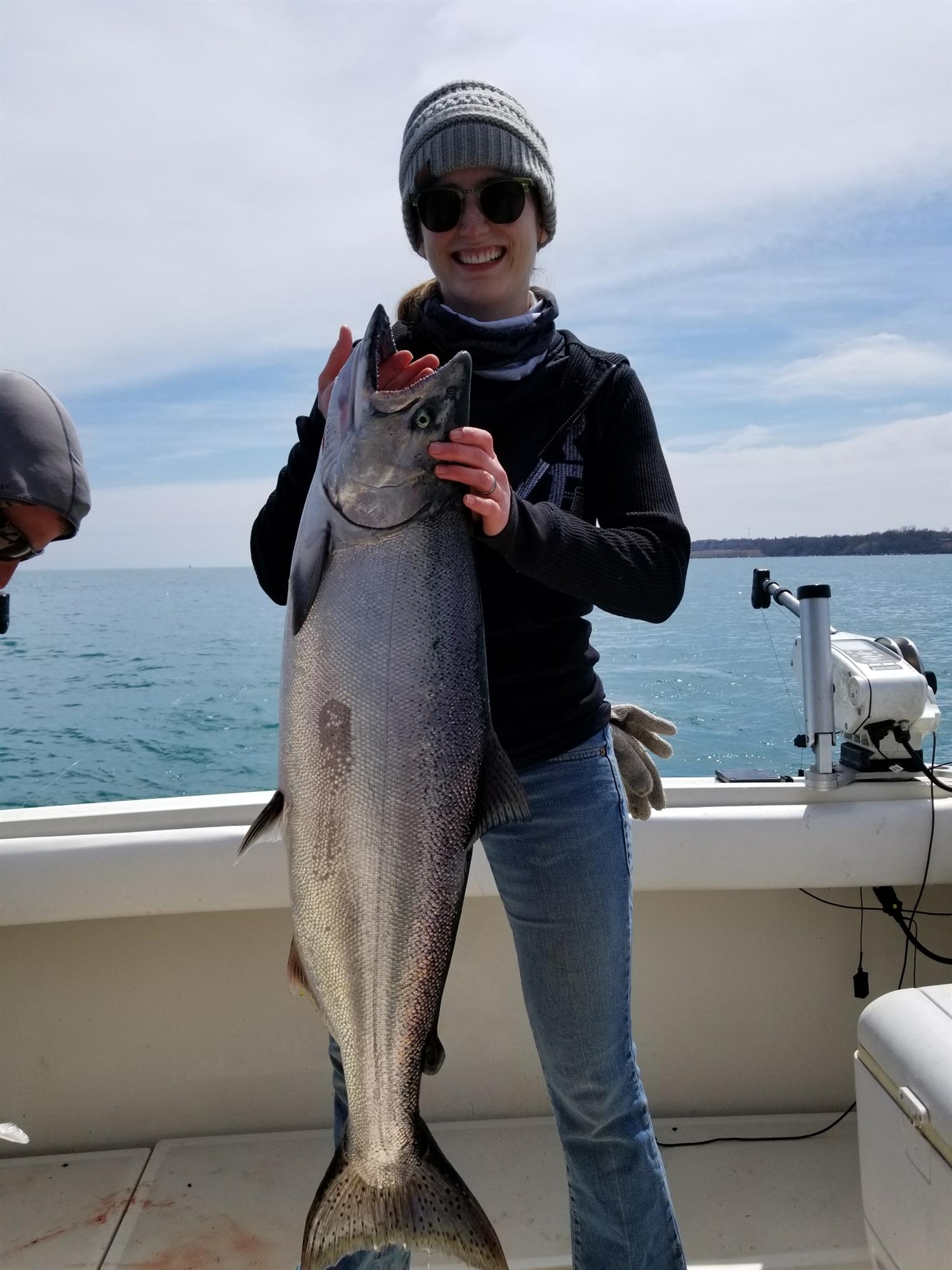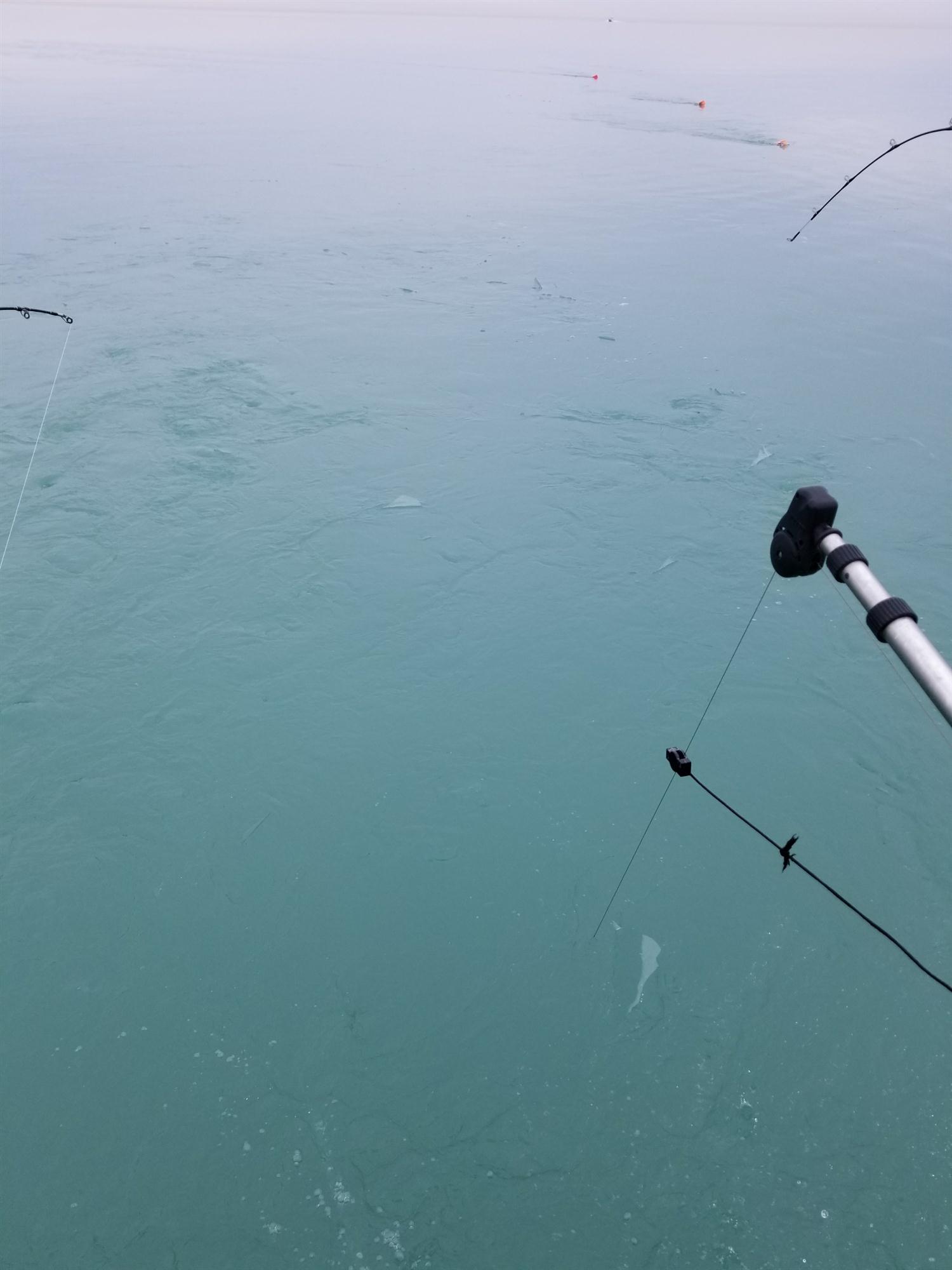 Report for April 14, 2018
Milwaukee charter fishing and in general Wisconsin charter fishing on Lake Michigan has gotten off to a slow start. Last year at this time fishing was on fire but due to vey tough weather conditions it has not been to consistent this season. We had our second weekend in the last 3 get blown away by gale force winds. The first time was out of the south but this time it is out of the northeast, with some gusts reaching 50 mph. Things were just stating to really take off as the bite was getting good but it will be several days before this will start up again. We were out mid week and took a fast limit of Brown trout around the Main gap of the Milwaukee harbor. We also caught our first Coho salmon too. The bite was near the bottom and our back riggers did most of the work down 28 feet in 30 feet of water. The water temperature was up a couple of degrees on the surface to 40 degrees. The gold hud stingray from Stinger was the best by far. We did not get any hits on the surface. We had heard the bite was good along the shore and Oak Creek power plant too. The bite was really starting to go but this last gasp of a winter has slowed things down. The one picture attached is a wave going over my car by the break wall today in the parking lot by my slip. Yeah, no fishing this weekend.

The good news is the best of April is still to come. Some great action is going to happen baring any hurricane winds. The water is just starting to warm a little and a little is all we need. Timing is everything on Lake Michigan. We look to finish strong this month and though we have averaged 10 fish a trip and a couple limits so far it should get better these next couple weeks. We look to add Lake trout and Coho salmon to the catch but Brown trout will still be number one. Call us at 414-460-1467 to book a trip with Silver King Charters this April and fish the best time of the year for Brown trout.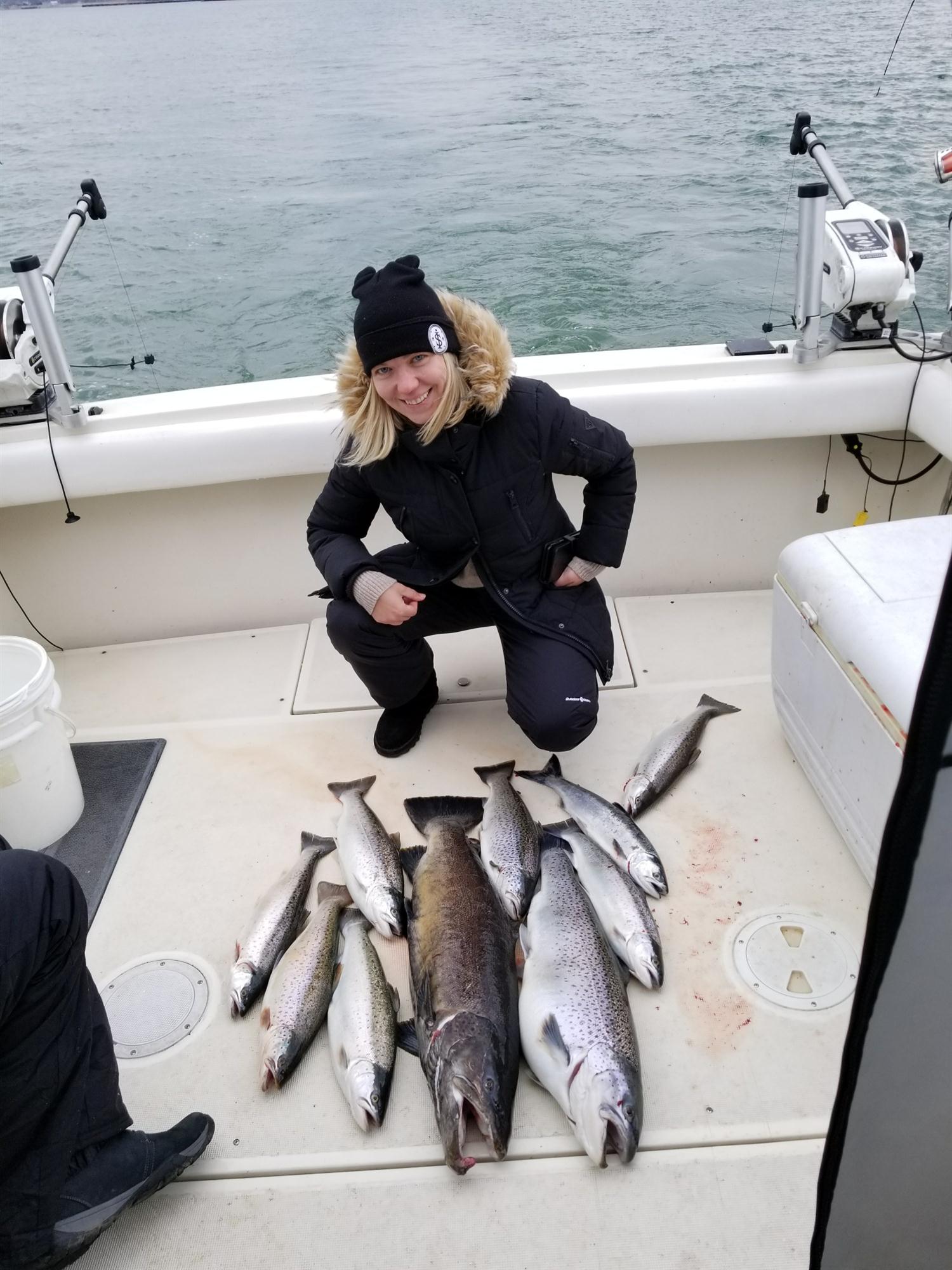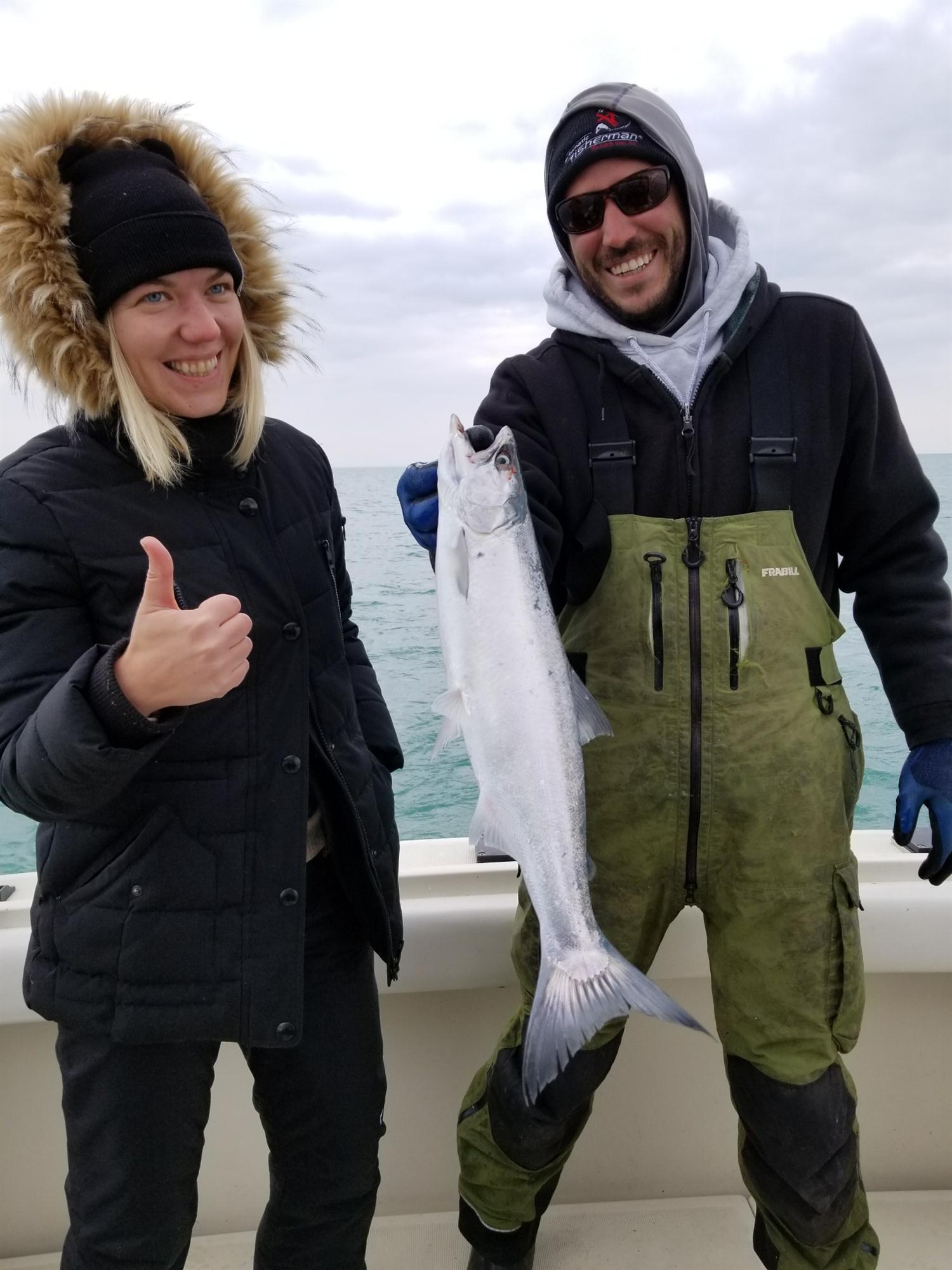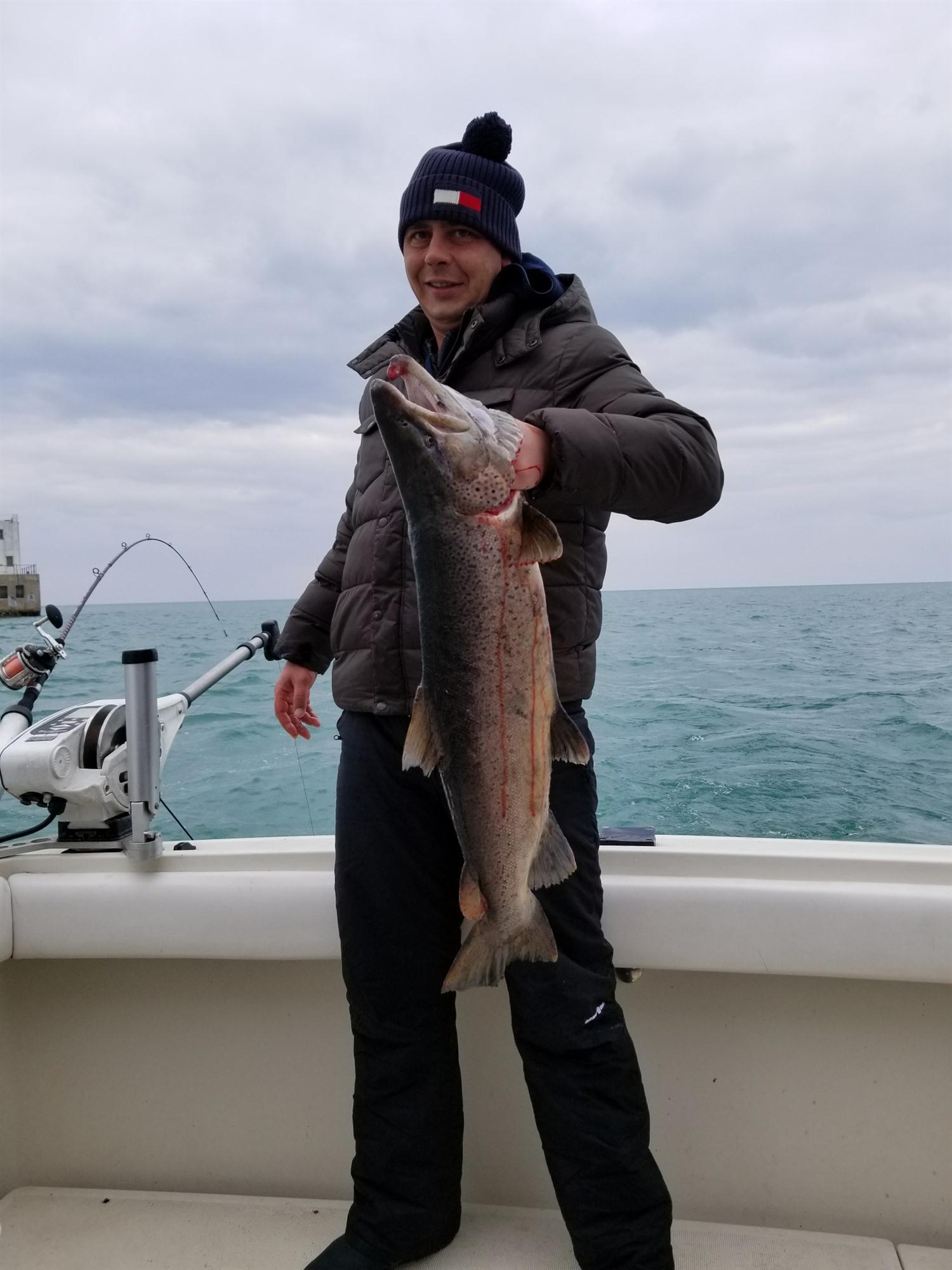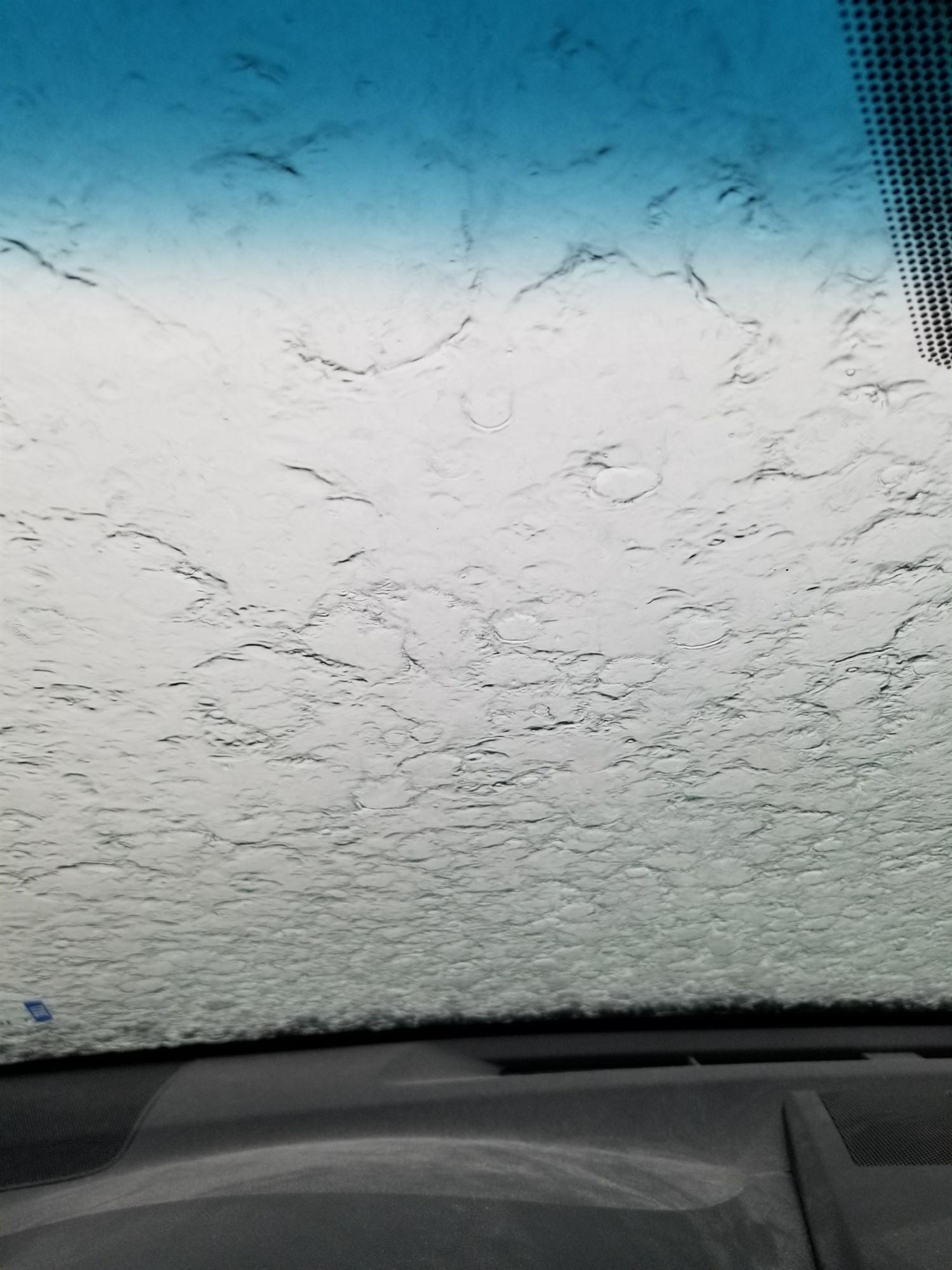 Report for April 9, 2018
We have officially started the Milwaukee charter fishing 2018 season and for the third straight season we took a limit. The weekend saw a double digit average on Brown trout. We did pick up one Rainbow. We fished mostly the Milwaukee harbor but did take a few passes through the Main and North gaps. Saw marks but the water was too murky to get bites there. The surface temperatures were from 37 to 39 degrees everywhere we fished. Even by the river mouth. Very could water still. I think the warmest air temperature was 35 degrees on Saturday. Our best action came near the bottom and we fished in 17 to 35 feet of water. Not too many marks but there are fish around and we had over 45 hook ups.

Our top producer was the gold Hud Stingray from Stinger. The Hud was the stud. It worked best on the two deep riggers and the two 3 color leadcores. The action was not fast but we kept poking away. The water and air temperature is about to start warming up and this will produce a better bite for sure. We are expecting 50 and 60 degree weather with some rain and this will do the trick.

This is the best time of the year to catch Brown trout and we have already caught some big ones. Call Silver King Charters at 414-460-1467 to get in on April Lake Michigan charter fishing. I have attached some pictures from this weekend and I hope the last snow I fish in.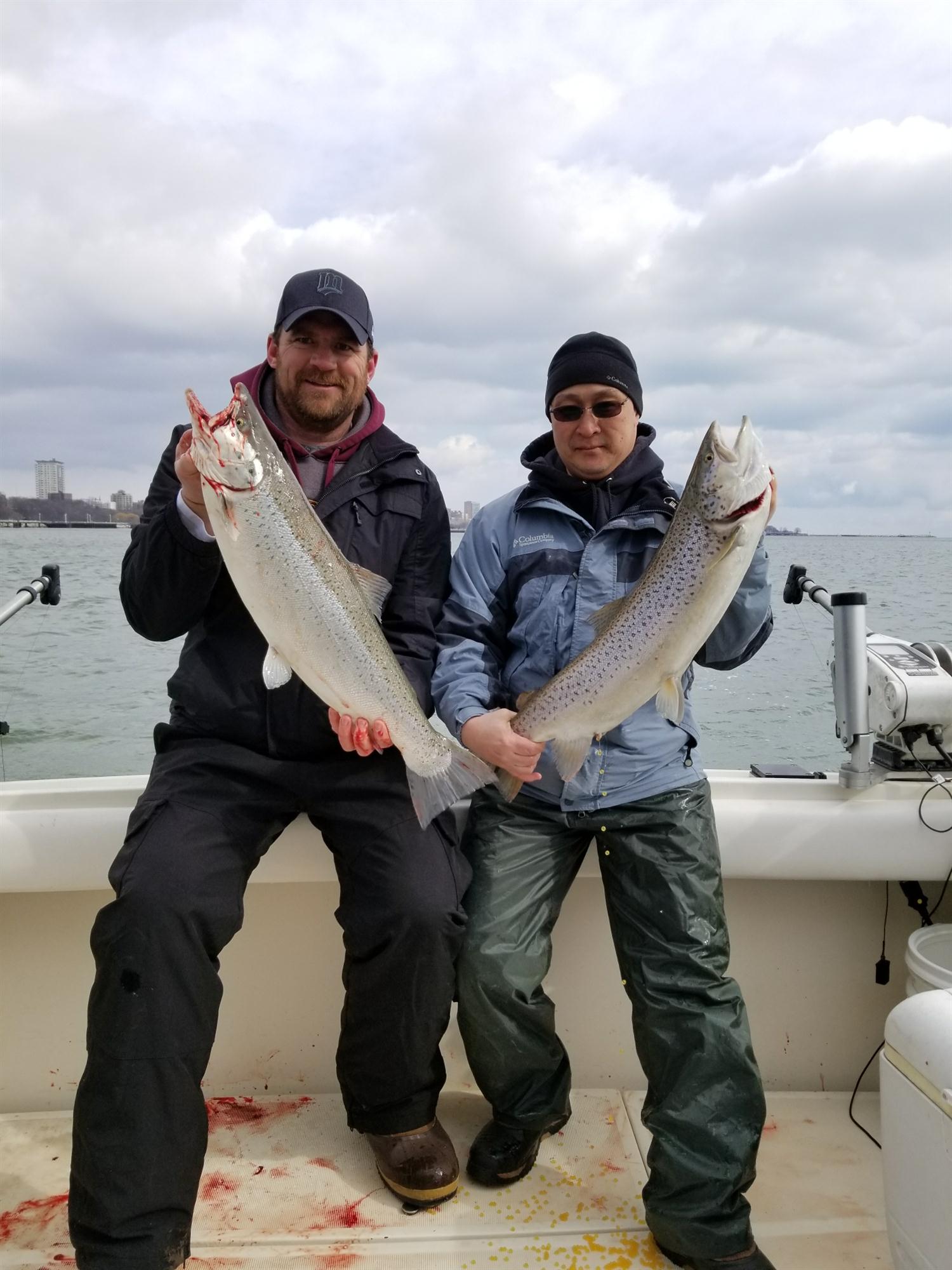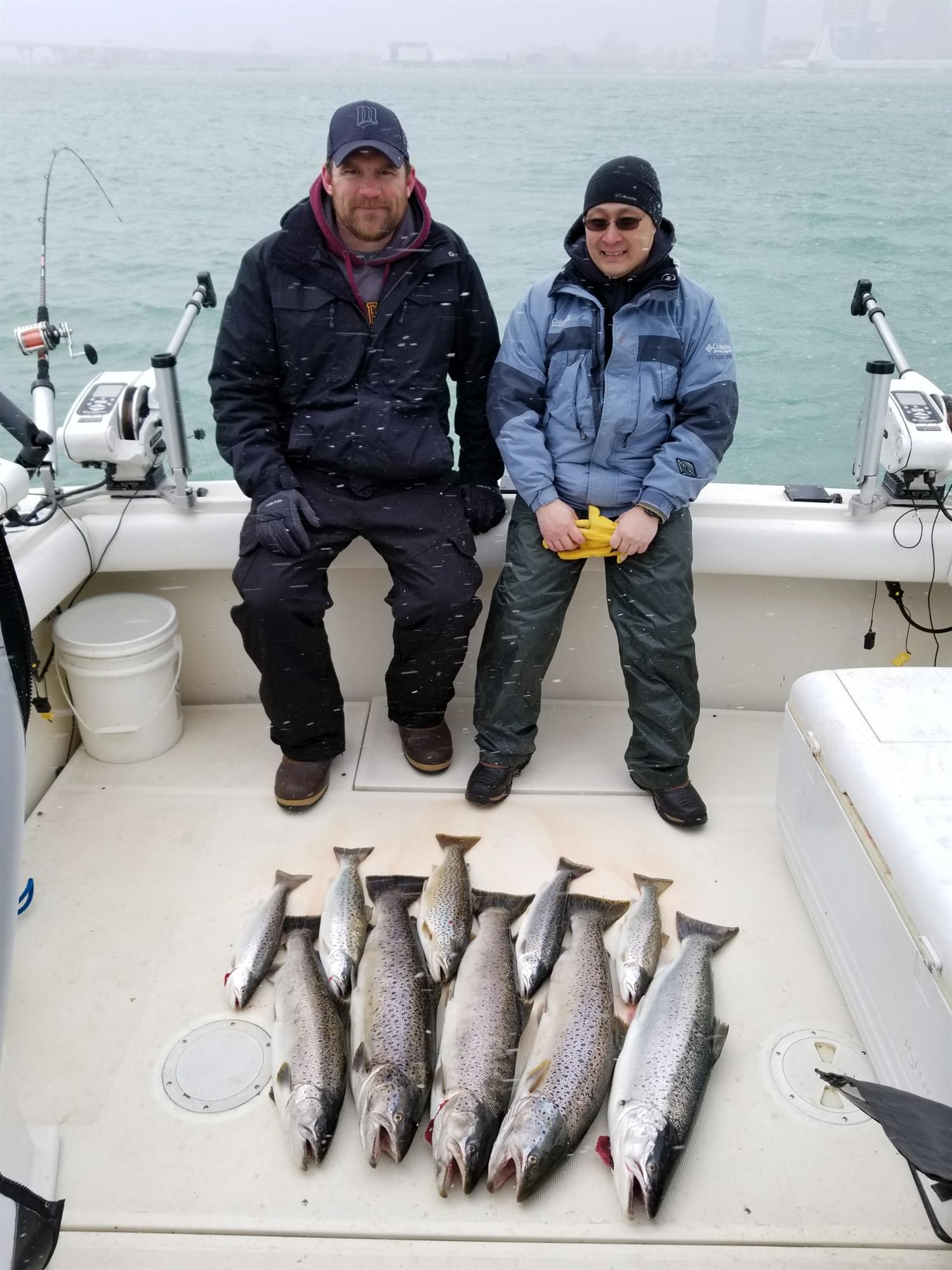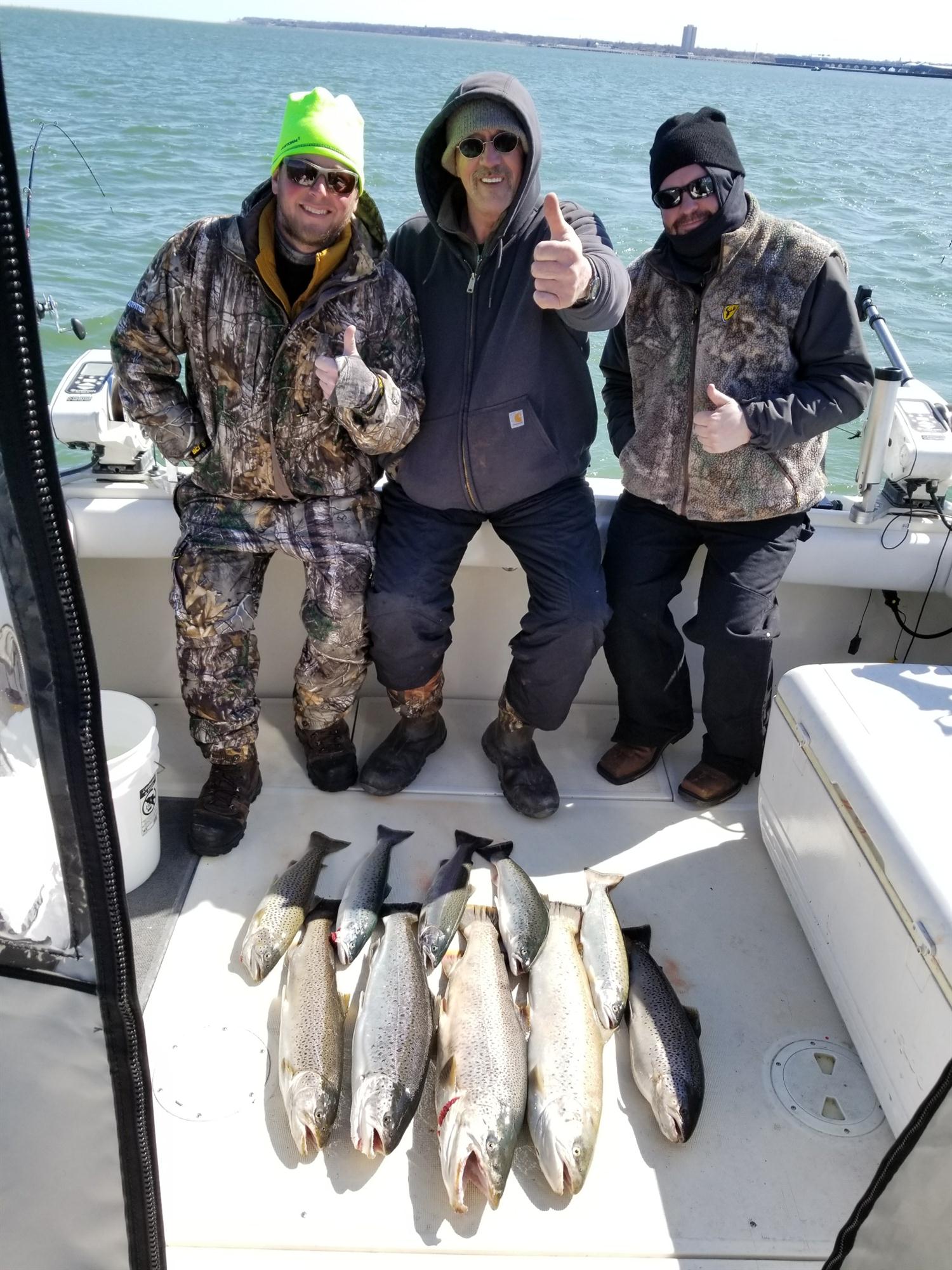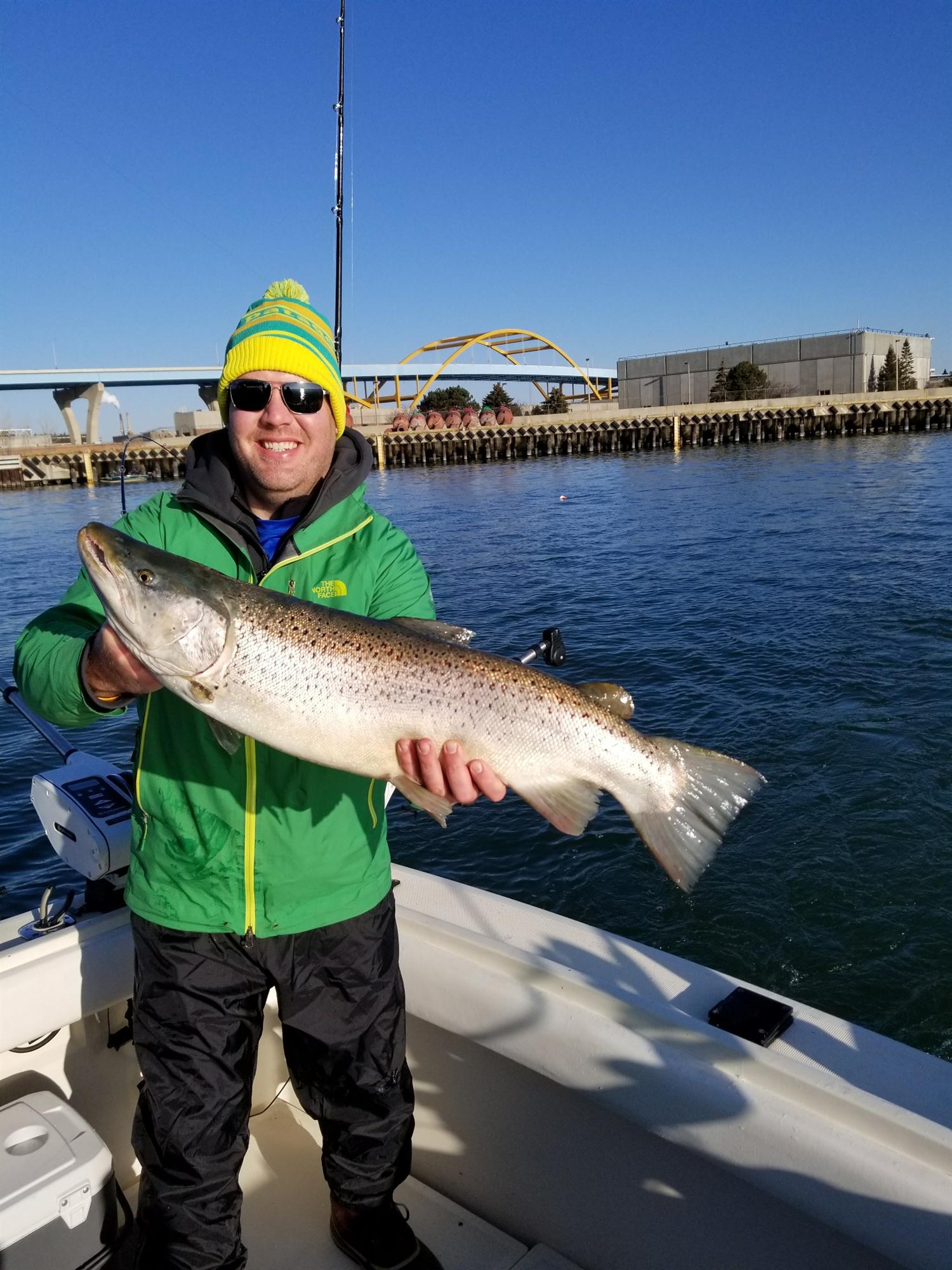 Report for March 31, 2018
We just put the boat in the water yesterday and were going to fish today. Had the crew down but just couldn't pull the trigger. Gale force south winds and we decided wisely to reschedule. The Brown trout bite is good though right now but mother nature is still liking winter at times. Boat is running great and thanks to a great mechanic Mike we have our second new engine in and she runs sweet. We are going to start catching fish here real soon so I need to finish breaking down last year. I will tackle August in this report. When Chinook salmon our scarce we turn to Lake trout and that was what happened in August. We had a big northeast blow at the end of July and our King fishing never quite recovered after that. Our breakdown was 64% Lake trout, 24% Chinook salmon, 8% Brown trout, 4 % Rainbow trout and only 3 Coho salmon. We have had years where Lake trout were top dog for the season but only August did we really rely on them.

The good news was there where a lot of 20 pound fish around in both Chinook and Lake trout. We came close to 30 pounds in both species. We almost exclusively fished 100 to 115 feet of water straight out off Milwaukee. The hot set up was downriggers right on the bottom with spin and glows, with smoked dodgers. Took all the Lake trout. It was a bunch of everything for the rest of the species. We did hit the harbor at the last week of August as cold water returned for several days but it did not last. When we had the chance though we used plugs on the riggers and white flasher and bull frog flies on the wire dipsies. Brown trout and Chinook salmon came in the Harbor. We average 10 fish a trip in August but some of those coolers of Lake trout were incredible. Thirteen pound averages were common. In 2016 we had a great Rainbow trout bite out deep and boated 400 in 17 days but this did not materialize in 2017.

I have some pictures of August last year and a picture of our boat motoring in the harbor yesterday. We cannot wait to get into the April Brown trout action. Call Silver King Charters at 414-460-1467 to get in on April Milwaukee charter fishing for Brown trout. Wish we could have gone today Ross but we made the right decision.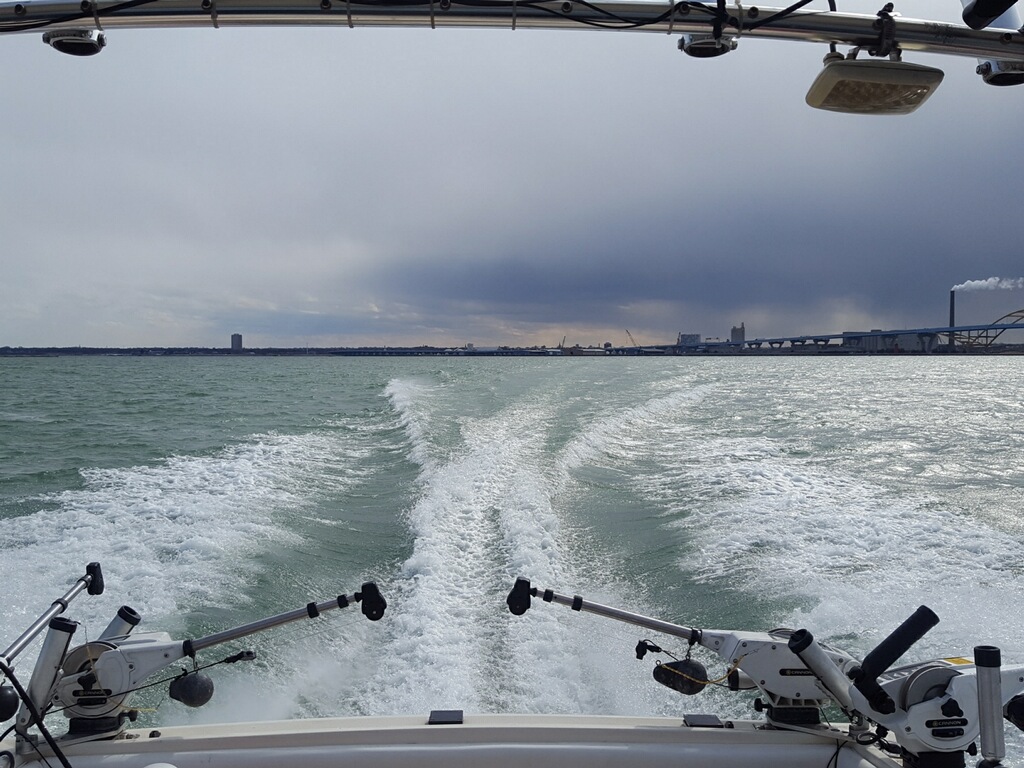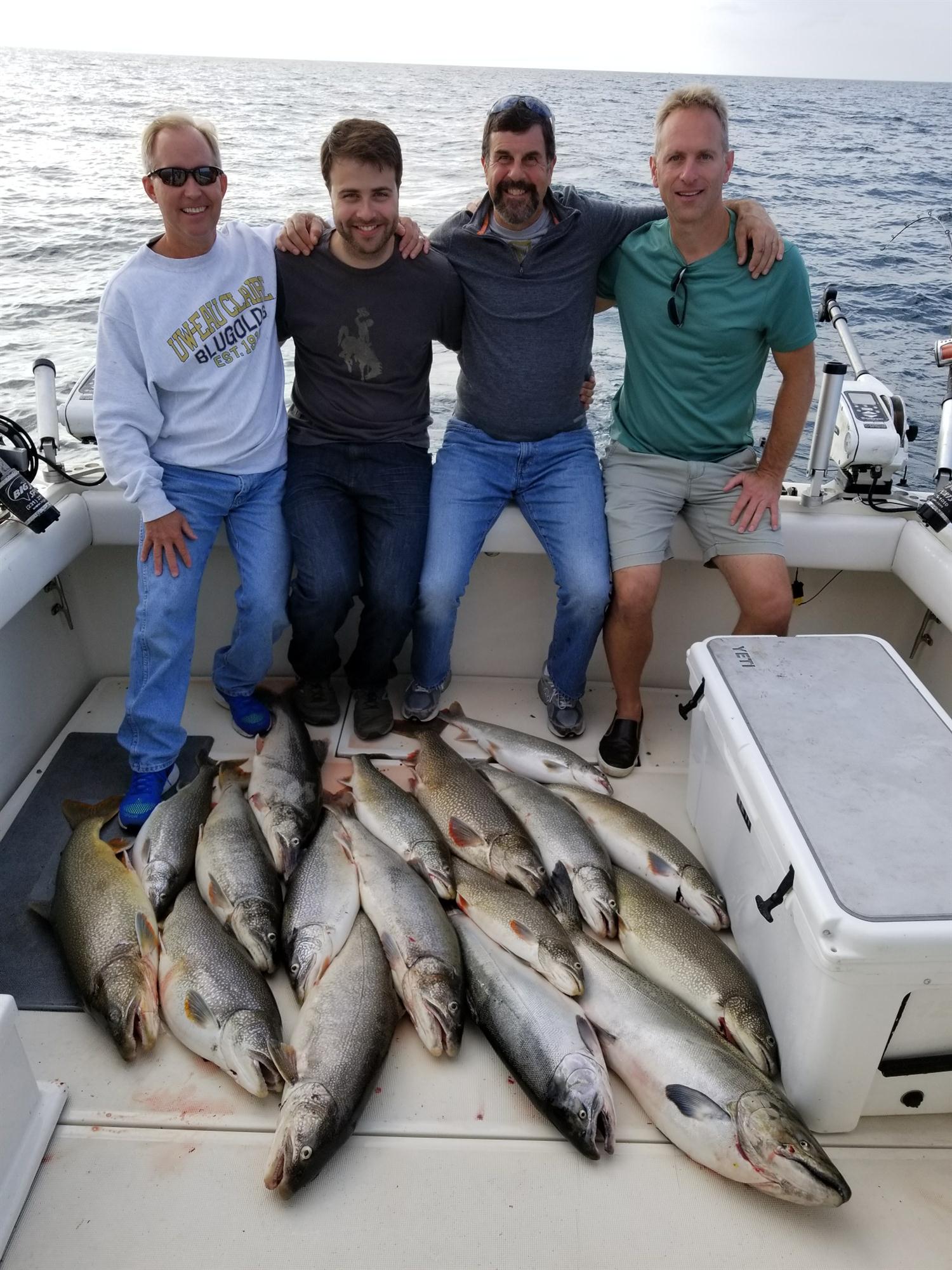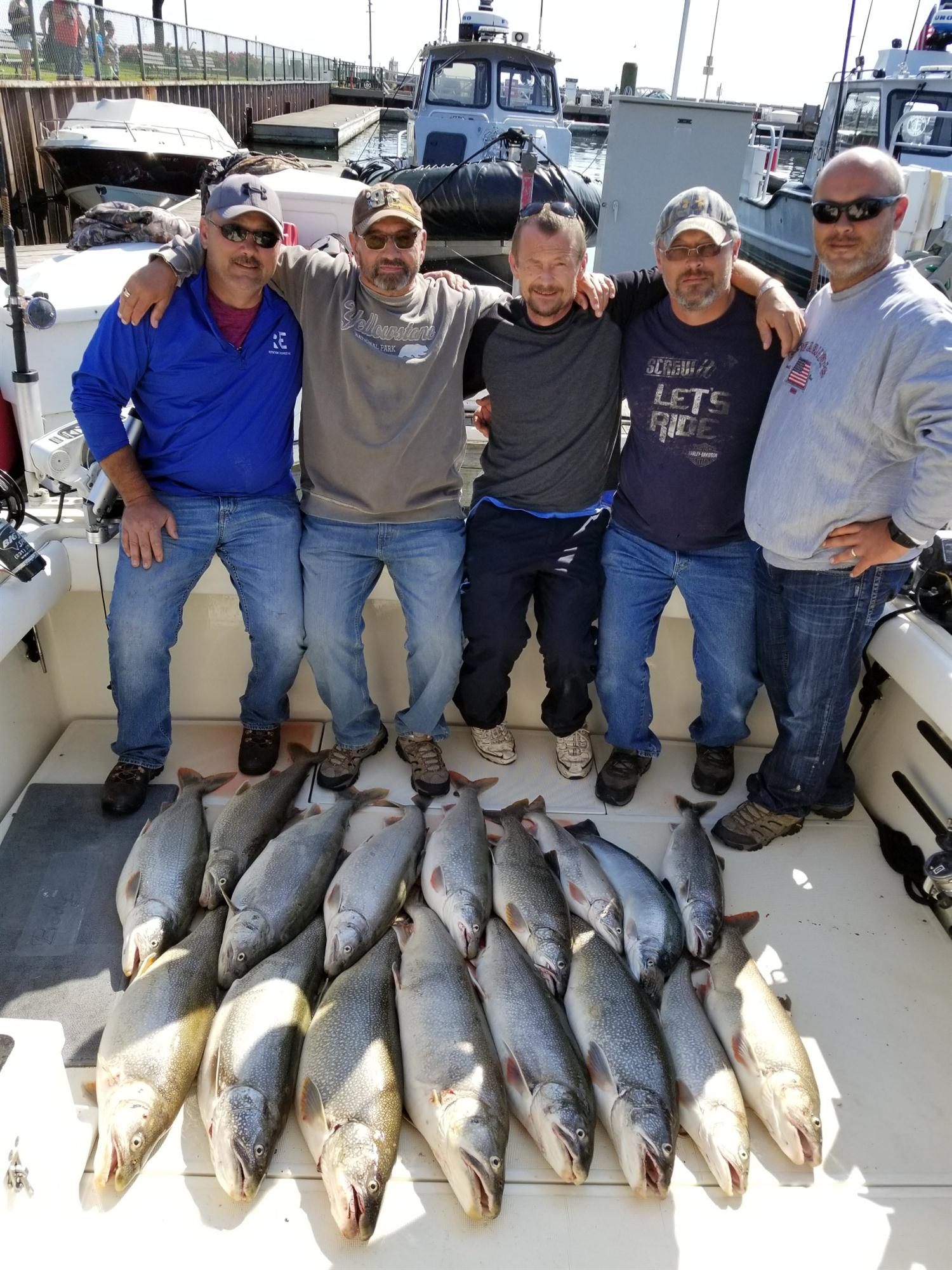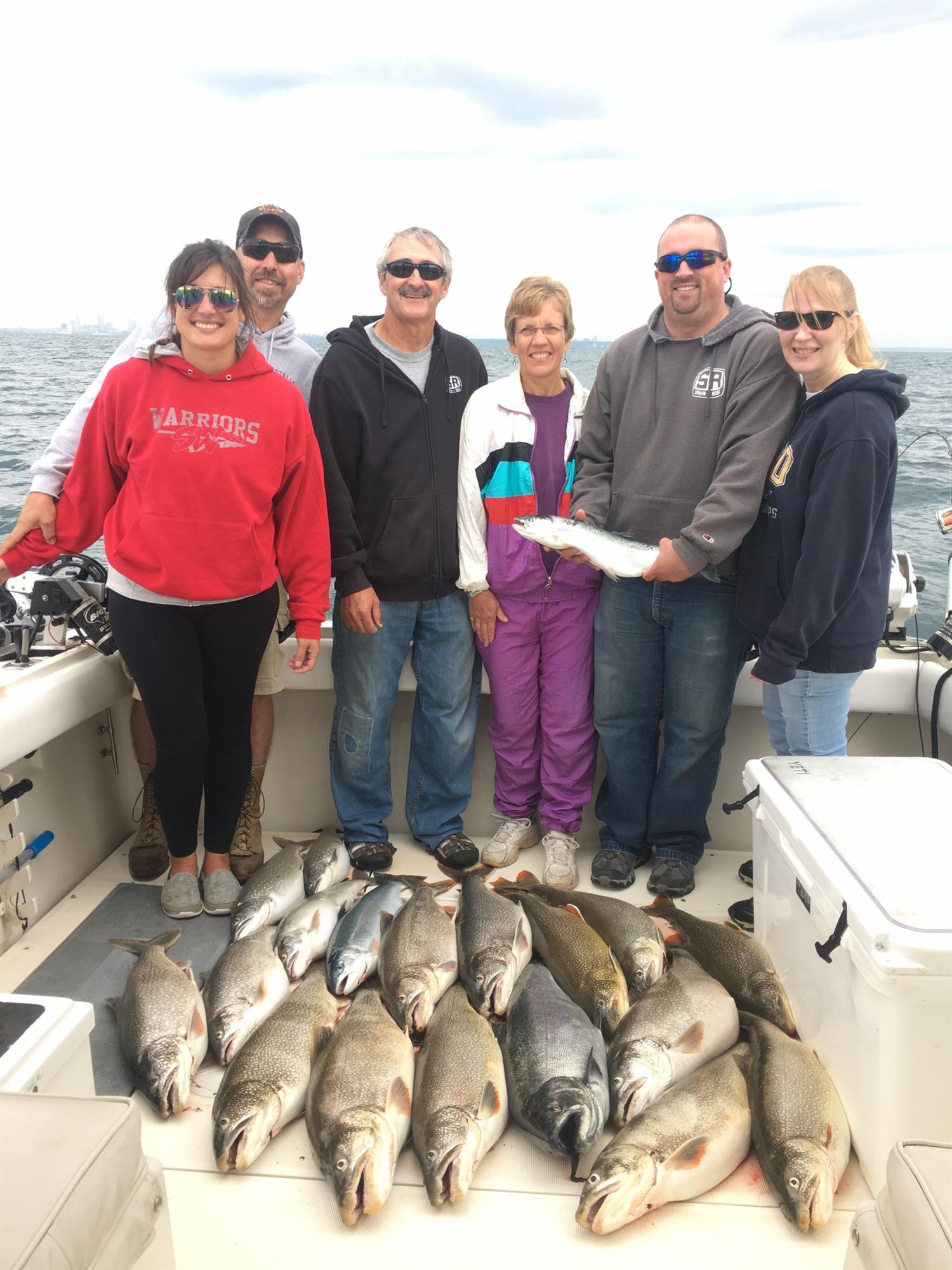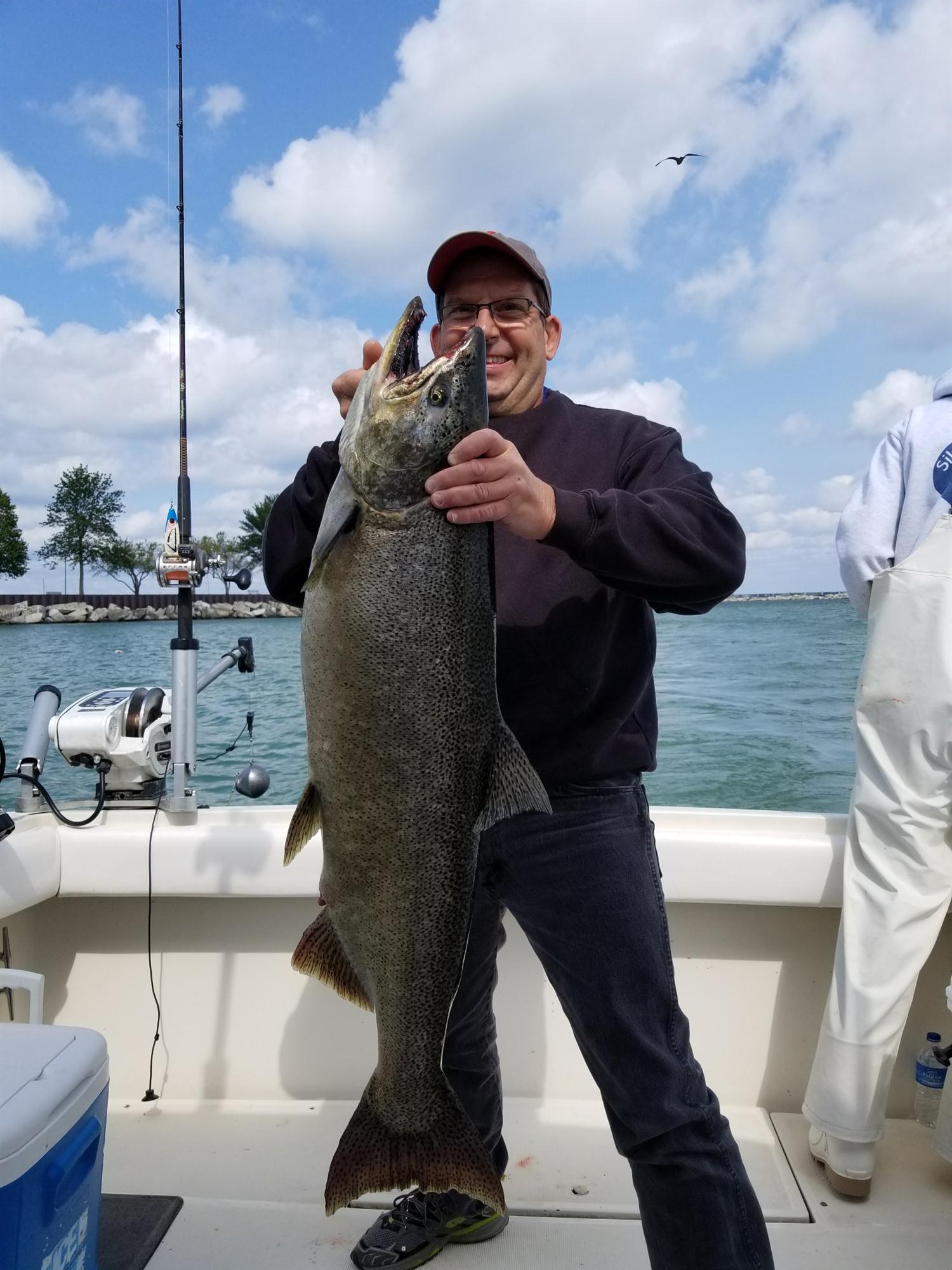 Report for March 19, 2018
Book your April Brown trout trip today. Call 414-460-1467
We are just 10 days away from the start of the 2018 season. We are looking forward to another good April fishing for Brown trout. I am going to breakdown our July from last season in this report. July is the best month to catch Chinook salmon. The way Lake Michigan is stocked now there are fewer Chinook roaming the lake. Typically Lake Michigan sets up with a thermocline by July and there is a temperature break from warm to cold water. It makes it easier to then target fish, especially Chinook. By mid August the salmon start to head back to the ports they were stocked in and this greatly reduces the amount of Chinook in our area. The good thing about charter fishing Milwaukee is that there is a lot of bait and structure to attracted Chinook while they are still roaming Lake Michigan in search of food.
Last July broke down like this: 37% Chinook salmon, 30% Coho salmon, 18% Rainbow trout, 15% Lake trout and just 2 Brown trout. May and June are the best times to catch salmon in numbers but July is King month and combined with Coho salmon the catch was 67% salmon. This is not always the case in July but it always is the strongest month for Kings. We hit double digit catches on 70% of the July trips but limit catches start to drop back in July. The size on the other hand goes up. We boated 33 fish over 20 pounds and had one Chinook miss 30 pounds by 2 ounces. That Chinook took 4th place overall in Salmon-A-Rama and we boated 9 Chinook over 20 pounds that week. This can be a strong month on Rainbow and Lake trout but last season the Coho bite stayed strong until mid July and was a good Chinook bite. Salmon comes first on the Silver King.
Our number one set up during this time was the Howie little boy blue fly and a white flasher. This was on our wire dipsies and riggers much of the month. We liked Modified Blue Dolphin Stinger spoons on the cooper boards. Most of our fishing was done in 80 to 100 feet of water, with the best bite from 30 feet down to near the bottom. The stocking has hurt total catches some but has brought back the size in Chinook and there is nothing better than catching a four year old Chinook in the middle of July on Lake Michigan. Wire dipsies were the top producer on big Kings.
July is the month for King salmon, so call Silver King charters at 414-460-1467.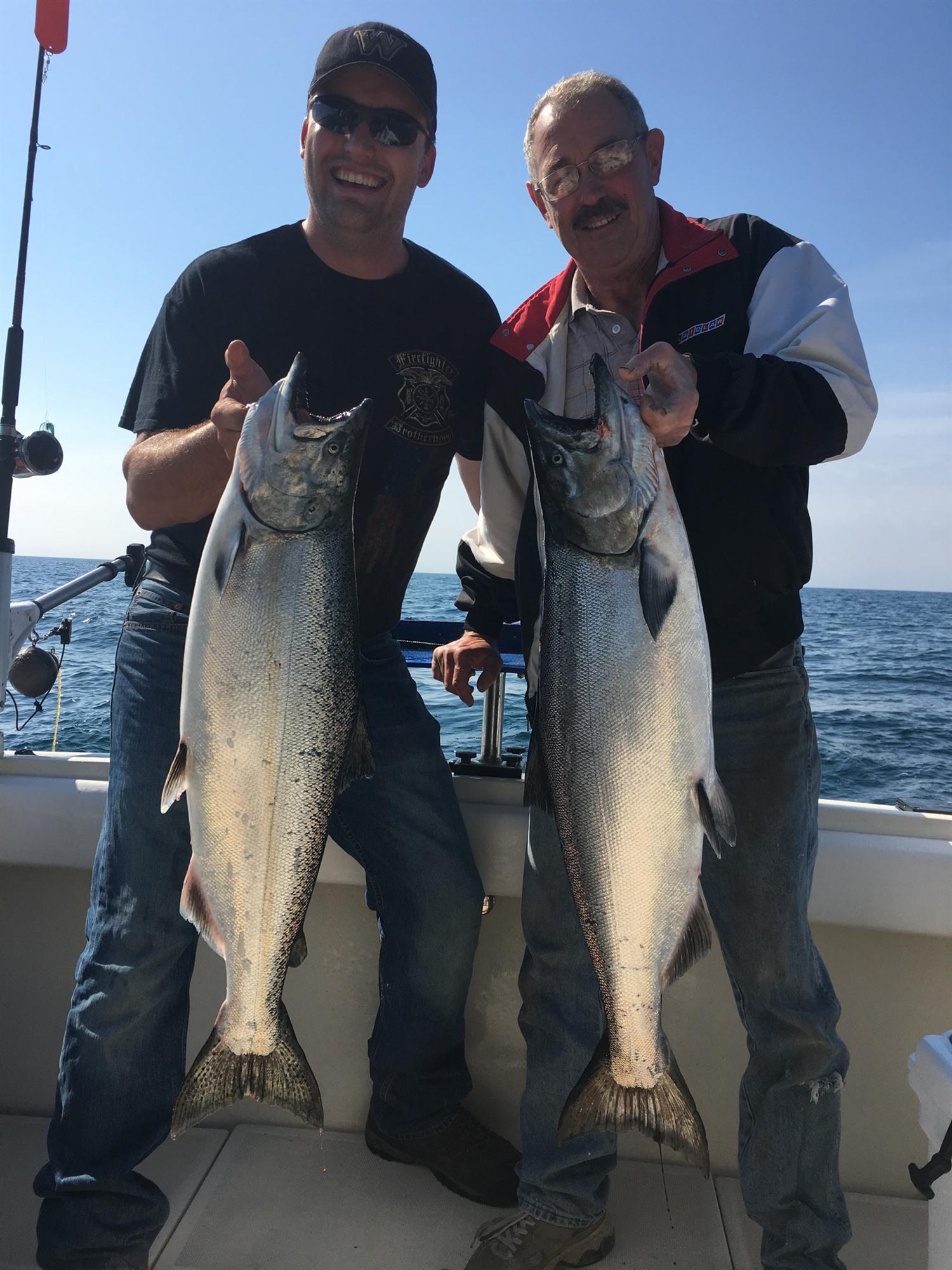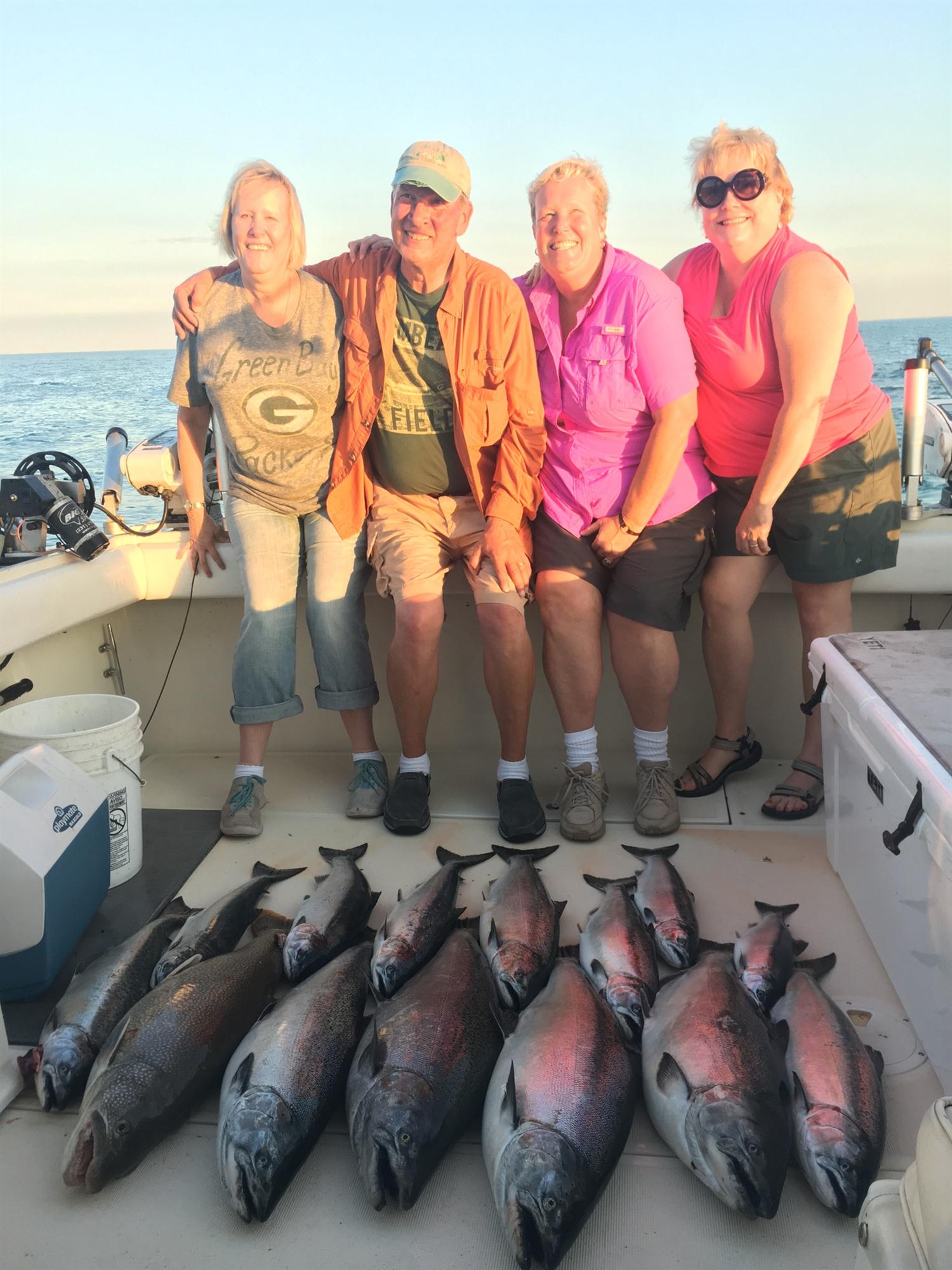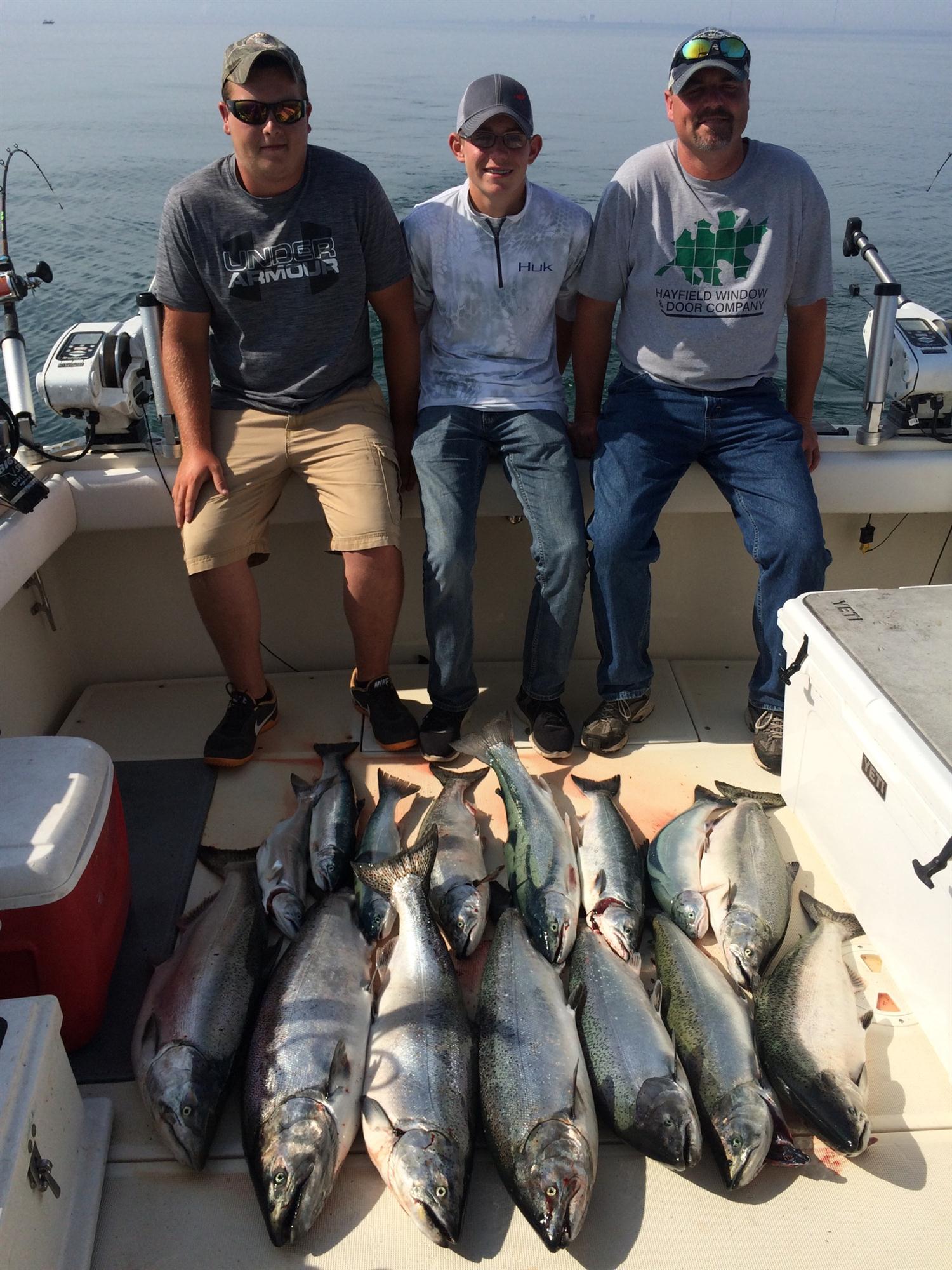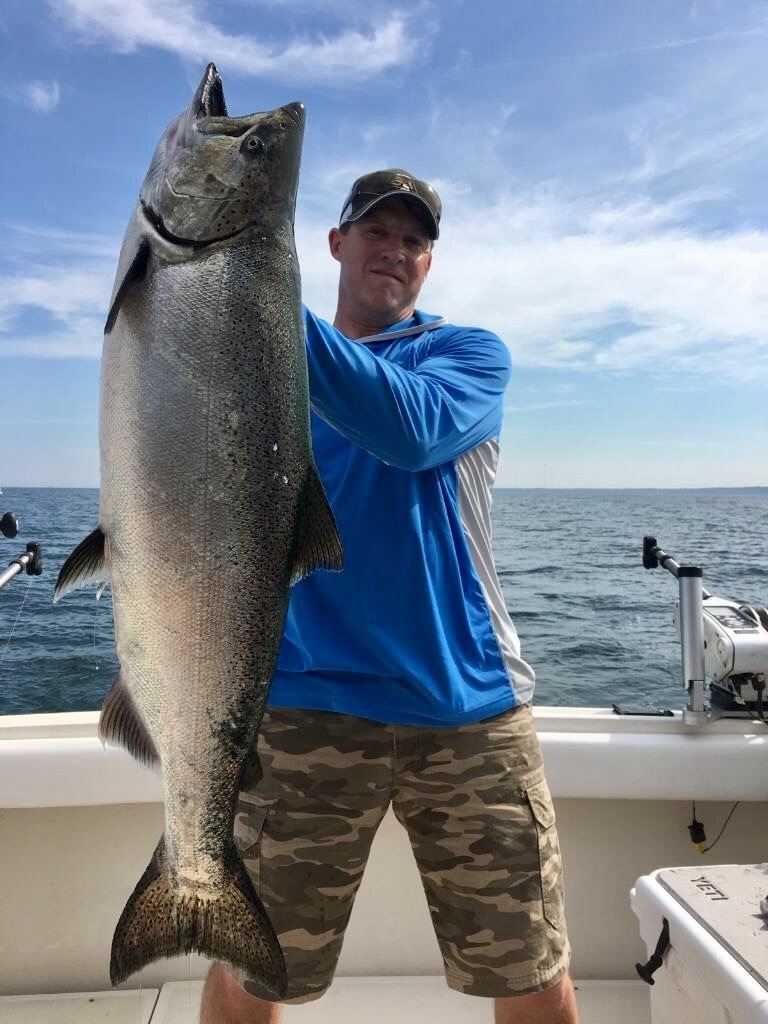 Report for March 13, 2018
The 2017 total stocking numbers for Lake Michigan were released. This is the total stocking numbers for all four states boarding Lake Michigan. The total salmon and trout stocked was 9.82 million. This is the lowest it has been going back to 1995 on the chart below and probably since the beginning of the 1070's. I have circled this in red, along with the total number of Brown trout stocked. The Brown trout have dropped due to Wisconsin stopping the stocking of the Wild Rose strain of Brown trout. Hopefully this will be brought back. I have circled the Chinook salmon total in yellow. This was reduced again but it could have been far worse. The original plan was to stock less than 800,000 lake wide but thanks to the WLBA Wisconsin didn't reduce its stocking of Chinook. It sounds like Michigan will increase their stocking of Chinook for 2018. The Coho salmon are circled in green. Number is steady as it has been for the most part since Coho were first stocked in Lake Michigan. For Lake trout circled in purple the numbers are down but most of the ones cut were fingerlings that have less chance of survival. The Rainbow trout are not circled and have remained the same.

So what does this mean to you for your Lake Michigan charter fishing trip with Silver King Charters. Well not much for 2018. Most of these fish will not be caught for another year, so the 2016 and 2015 numbers matter more. The 2017 Coho will be a target though this spring and the number is good. We always say to come in May and June to have your best chance to catch salmon. Coho have not been reduced and this is the time to catch them. The Chinook salmon are healthy and up in size from what we saw in last years catches and we expect the same in 2018. How many we catch and how frequent depends on how the lake sets up but July through mid August is your best chance. In 2016 there were a lot of Brown trout stocked in Milwaukee. We expect April to be good for Brown trout fishing this year. Lake trout will be solid, since they are the top stocked fish in Lake Michigan. We can now catch 5 Lake trout per person per trip:) Again thanks to the WLBA. Rainbow fishing will depend on how the offshore fishing sets up but should be good from late June through August.

All and all the numbers are a little lower but we expect to be catching a lot of fish over the course of 2018. Call us at 414-460-1467 to get in on early Brown trout action in April. We boated many last April, including a 33.5 lb Brown trout. Milwaukee charter fishing starts March 31st for Silver King Charters!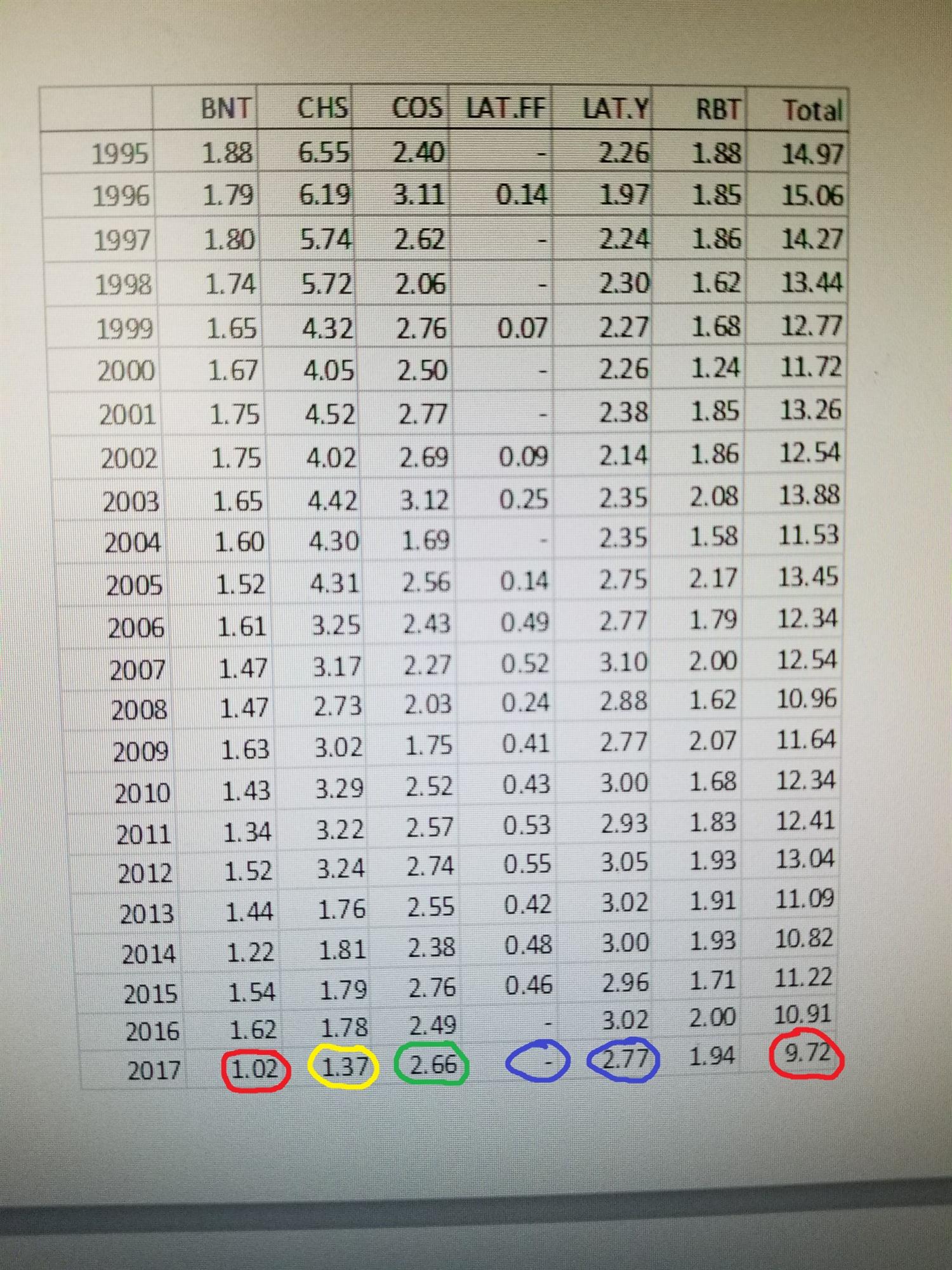 Report for March 2, 2018
I was going to do a breakdown of our July in 2017 but I have some good news to report. Last season was the first time since I have fished Lake Michigan that we could keep 5 Lake trout. Over the years the limit had been 3, 2 or even 1 Lake trout a trip. Last year an emergency ruling was put in place that allowed us to keep 5 Lake trout a day and the season was open year around. Great news because it is the number one stocked fish in Lake Michigan and it is also by far the most populated in the lake. The reason for the increase was primarily forage or bait fish. Since 2007 Chinook stocking have been reduce to help save the fragile bait population. At the same time the Federal government increased the Lake trout stocking. Made no sense but the idea was to stock more to help natural reproduction to take hold for the Lake trout. In the end it created a bigger burden on the bait fish. I can tell you personally I have never cleaned a Lake trout that was not stuffed full of alewives and to a sick level. I have counted 40 plus alewives in bigger Lake trout and I have seen some with over 100 bait fish in them. A Lake trout does not stop and the huge population feed hard. The one exception I have found is during the fall when Lake trout spawn. Only then do they slow down on their massive drive to feed.

So the emergency ruling came to an end in 2017 and the DNR was going to go back to the 2 fish limit. But thanks to the Wisconsin Lakeshore Business Association the emergency ruling will become law. Meaning we can keep 5 Lake trout and fish year around for them. It has not been signed yet but we should be good to go by the beginning of the season. I am a member of the WLBA and it is comprised of all the people who rely and fish Lake Michigan in Wisconsin and even other states. If you care about maintaining a world class fishery for Lake Michigan this is the organization to join. I was skeptical at first but the proof is in the results. If the WLBA was not around Chinook stocking levels in Lake Michigan would be below 600,000 and probably be discontinued. But last year the WLBA fought to stop the continued reduction for Wisconsin and was able to keep our stocking totals at 800,000 for Chinook, while other states cut. The WLBA has also begun the fight to increase hatchery space and bring in private hatcheries to assure fish our raised to stock. This has been a tough fight for those in the front line but all of us who join can help then out big time.

I have been an active member of one of the Lake Michigan fishing clubs. My hope was when I became a board member that I could get all the clubs in Wisconsin and eventually all four states to join as one. This way we could have a unified voice to keeping our fishery strong. Didn't work out the way I thought. Way too much division for people who love to catch salmon and trout. But a ninth our miracle happened when a bunch of concerned people involved in the fishery said enough was enough and formed the WLBA. They went to the decision makers at the state level and began to take action to save the fishery from some poor choices. There is no doubt that the fishery must be managed properly but should be managed to provide a diverse fishery. Now most of the clubs that could not unify with one another are joining the WLBA and hopefully by year end all will join.

Several years back the Wisconsin fishery manager was at a meeting talking about stocking options for Lake Michigan. The one thing I remember him saying was he strongly believed we could have it all. The stocking of Brown trout, Rainbow trout, Lake trout, Coho salmon and Chinook salmon. But done right. The over stocking of Lake trout at the expense to the other diverse species was a poor decision and allowing us to catch 5 a day at least brings a little balance to it. There are a lot of moving pieces to the fishery and they are constantly changing but to have the great fishery of Lake Michigan disappear should be unexceptable to all. The more that join the WLBA the more good ideas to keep this great fishery of ours going for years to come. Below is some pictures of 20 plus pound Lake trout we caught. My favorite picture here is the 10 fish limit of Lake trout a couple caught on a day that Lake trout was all that was biting last year. Having the 5 fish limit gives you more opportunities to catch more fish. We put in March 30th so call us at 414-460-1467 to catch the first fish of our season on March 31st, 2018.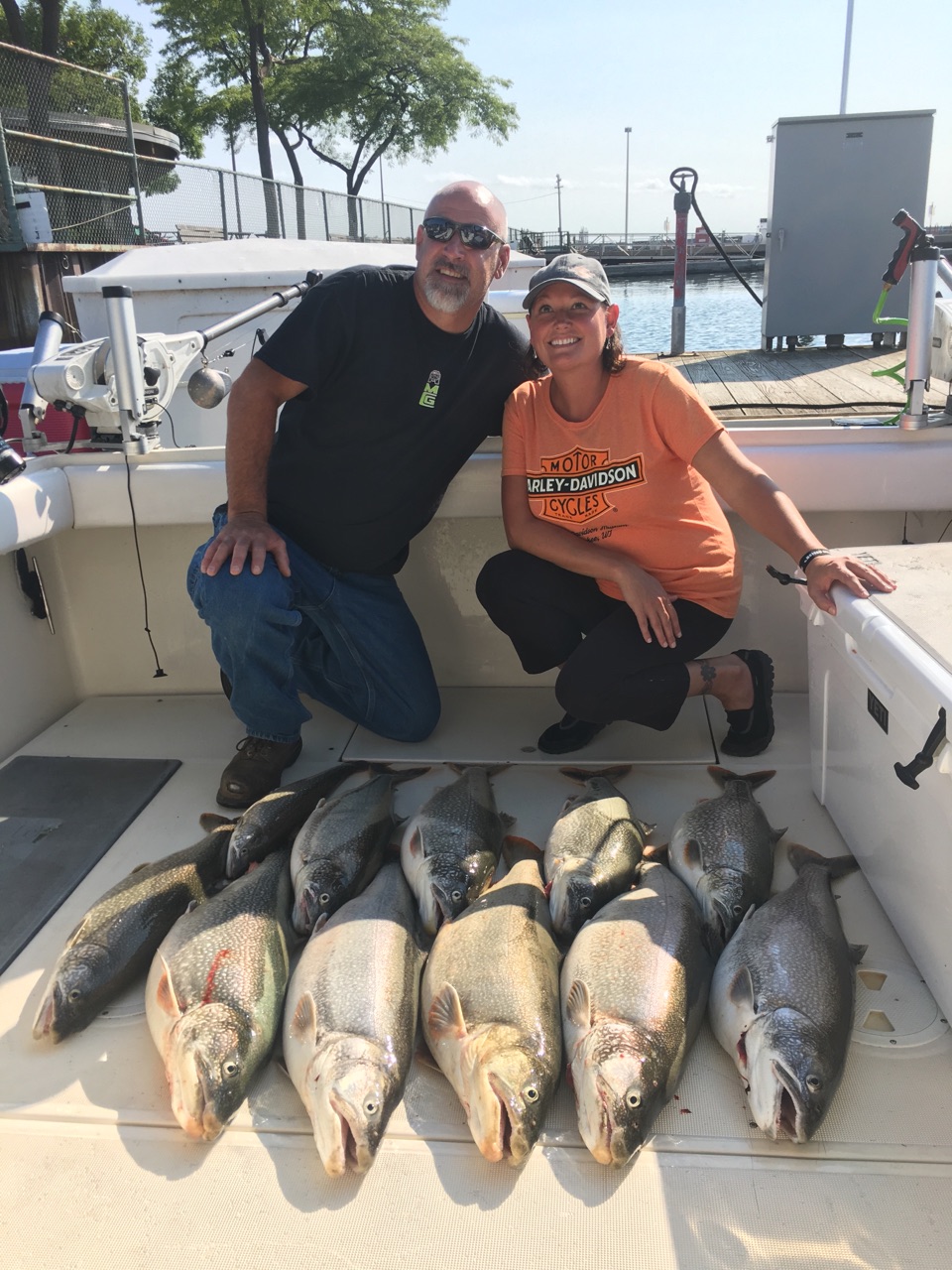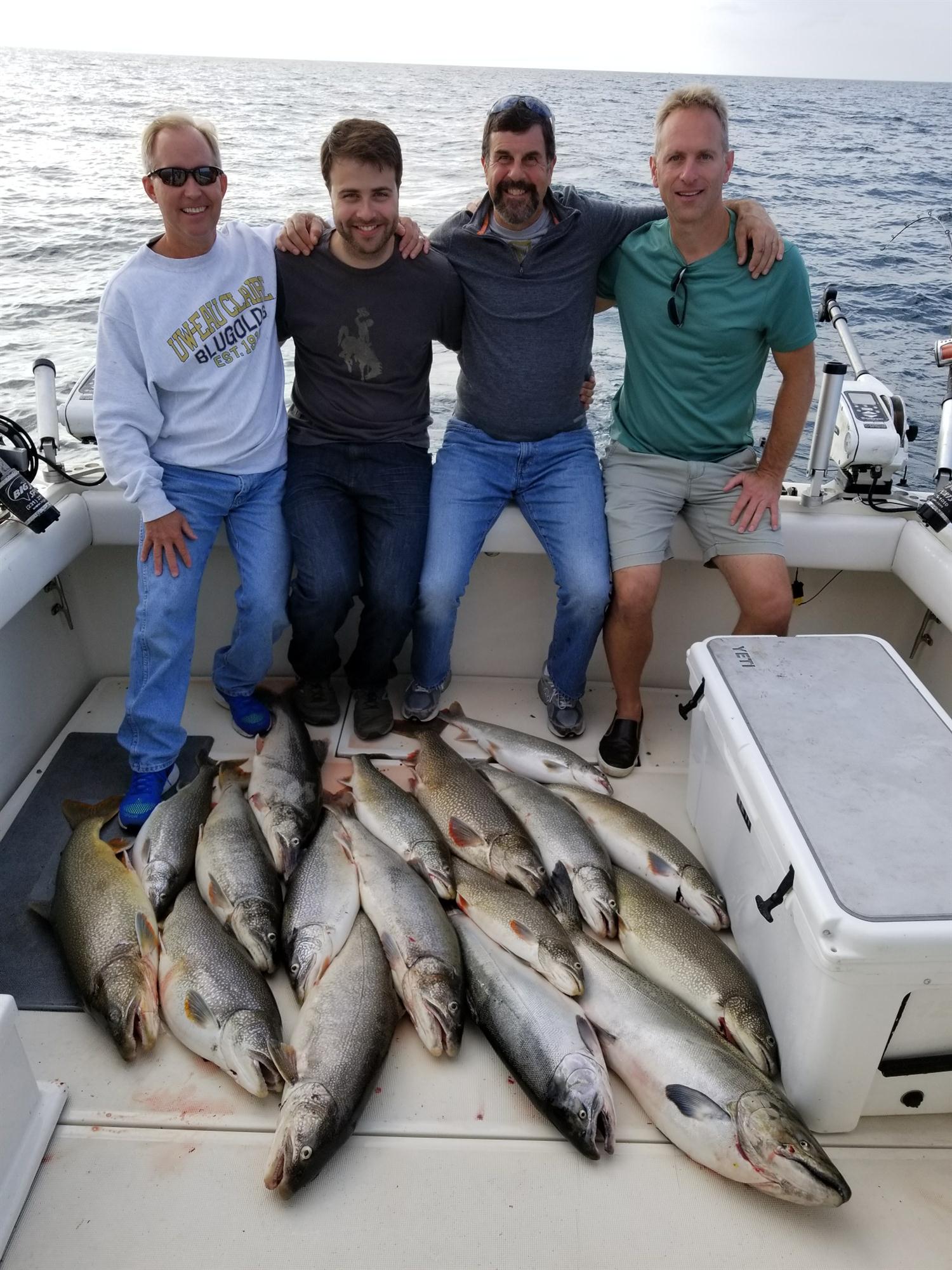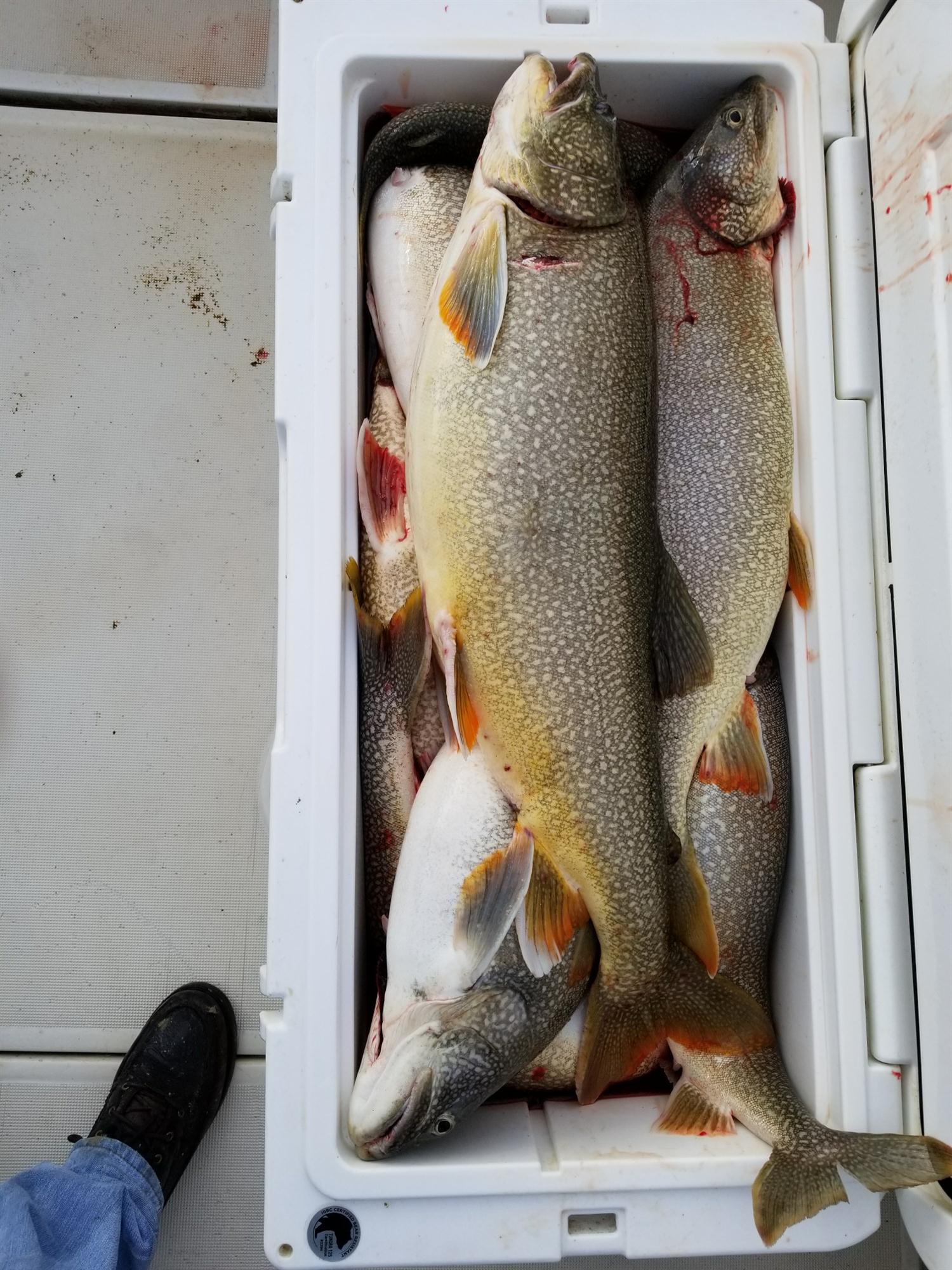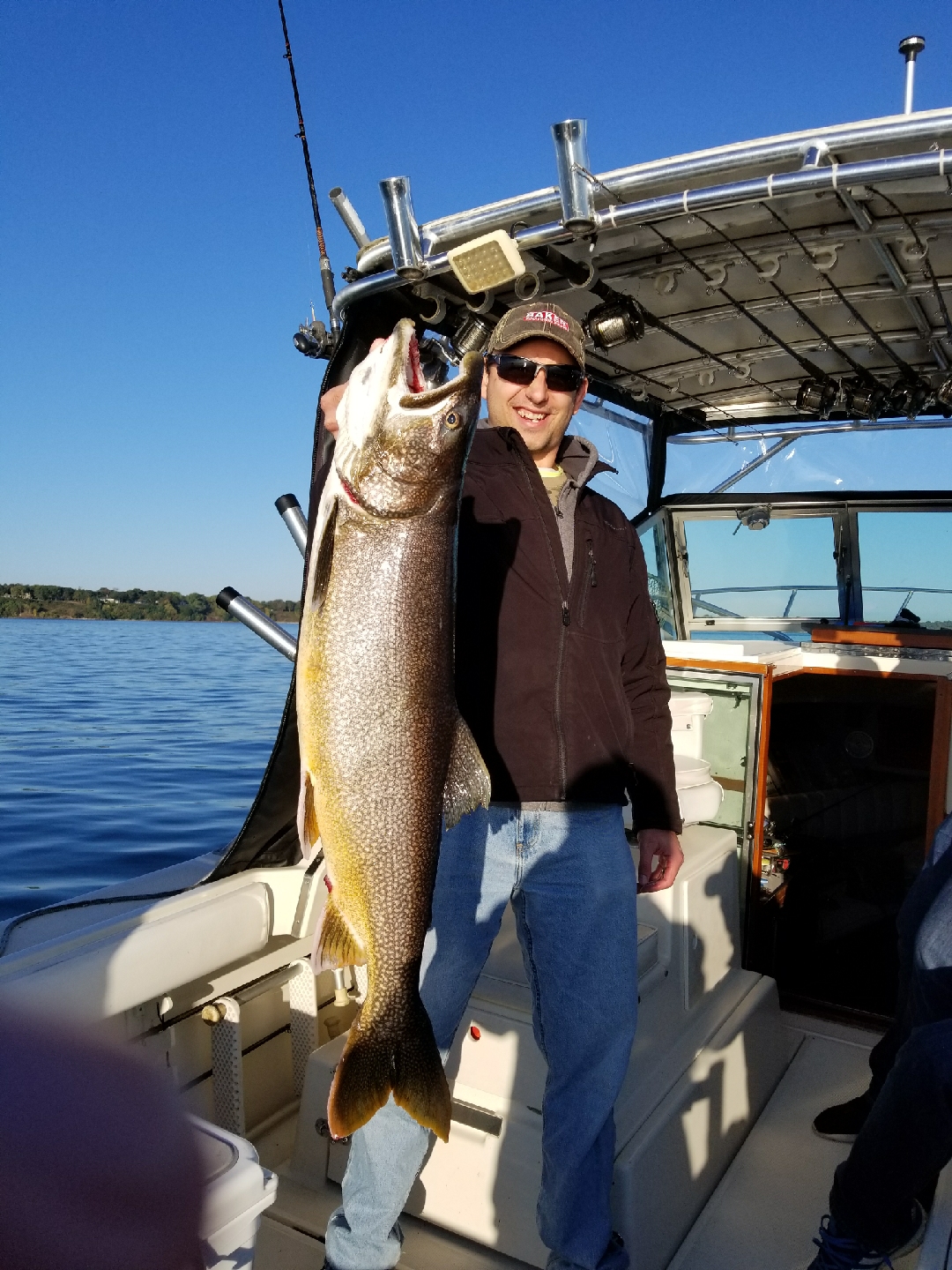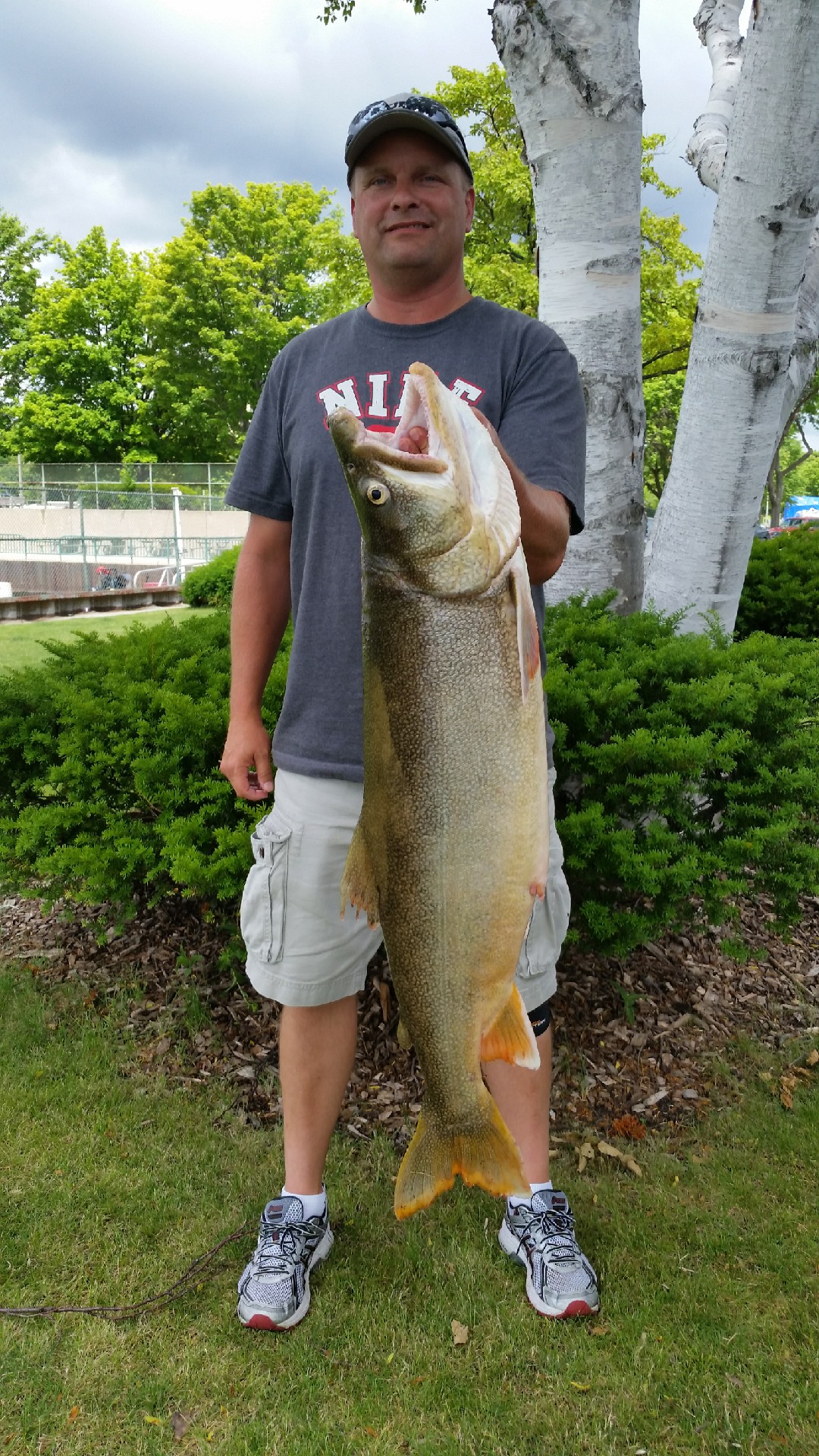 Report for February 18, 2018
We are more than half way through February and very close to fishing. We will have a second new engine installed, along with 2 more digitroll Cannon downriggers and a whole bunch of new goodies. When we start it will be about the Brown trout in April but today I will recap June of last season. We did go down to Racine as we usually do in May and then we return sometime in mid to late June. There was a season we stayed until the first week of July. The reason is Coho salmon. They typically migrate from the southern end of Lake Michigan and that is why we go to Racine. This puts us closer to fish and if we need to we will go all the way to the state line to catch fish. But the last two seasons it has been as good in Milwaukee and Port Washington as it has been south, if not even better. Why? Well there are lots of factors that determine fish movement. Water temperature, current, bait and how fish our stocked. More Coho salmon are now being stocked north of Milwaukee and this may explain some or the reason why Coho salmon fishing has been stronger north of Wind Point. The winters have been very mild the last two years and there has been a lot of bait found off the shores of Milwaukee and Port Washington the last two years. Three seasons ago during one of the DNR's trawls to find out the status of bait in Lake Michigan they had their biggest haul of alewives off Port Washington. It was huge. The DNR said it was an anomaly and it may have been for the over lake but that many alewives in one area is going to attract fish.

In 2106 we stayed in Racine the whole 7 weeks and did good but we could have done better up north. In 2017 we spent just 9 days before coming back to Milwaukee and we were there for all of June and the rest of the season. Milwaukee charter fishing was on fire from mid May through late June. Fishing is typically strong during this time due to the Coho salmon bite. June ended up being our best month for total fish. The breakdown was 77% Coho salmon, 13% Lake trout, 5% Chinook salmon, 5% Rainbow trout and only 1 Brown trout. Come in April for the Brown's:) As you can see by this breakdown how important the Coho salmon are this time of year and how important it is to be where they are. That is why we will move this time of year to Racine if we need to. Too much of the bite relies on the Coho. A must stock fish for the DNR and currently the second only to Lake trout in stocking numbers. More than half our trips ended in a limit catch. Great eating fish and fun to catch. If you are looking to catch big numbers of fish numbers Mid May through late June is the time to fish. I cannot stress this enough. The size come in July and August.

So to put in more concise it was outstanding Milwaukee charter fishing in June. Our top bait was the half cut fly, which is a size up from the peanut fly. Our favorite color was green and we used it with an orange dodger. At this time of the season we had 6 boards with this set up and they were from the surface down 20 feet. As the water warmed we went way from keel weights and started using leadcore and copper on the boards. Anywhere from 2 to 8 color leadcores and 30 to 150 feet on the coppers. The lead used double zero dodgers and the copper used B&B dodgers. All orange in color. The dipsies where still orange on both sides set at 25 to 60 feet on the line counter. Both side riggers where orange but one now had the larger orange dodger on it down 20 feet. The two back riggers were now tipped with white flashers and the Howie Bull frog fly. We did use some spoons on inside boards and times and some wire dipsy set ups, using Spin Doctors and bull frog flies. But for the most part it was orange and green. The Coho candy!

We fished all over with this set up. In front of the harbor gaps, between 80 to 120 feet of water and in 10 to 20 feet of water along the shore. The Coho schools constantly moved throughout the month and a hot spot didn't last long but before long it was hot again. When you take a couple of passes through an area without a Coho bite they probably are not there and it is time to move and we did a lot of that throughout the month. But when you got on a school it was great action. There was certainly off days but it was not until the last week of June that we failed to hit double digits in our catch.

The 2018 season is just about to start and April looks to be setting up for some great Brown trout action. But Mid May through most of June is the best time to catch a Coho salmon on Lake Michigan. Give us a call at 414-460-1467 to hook up on some early season action charter fishing Lake Michigan. Below is some picture for hot baits and fish caught last June.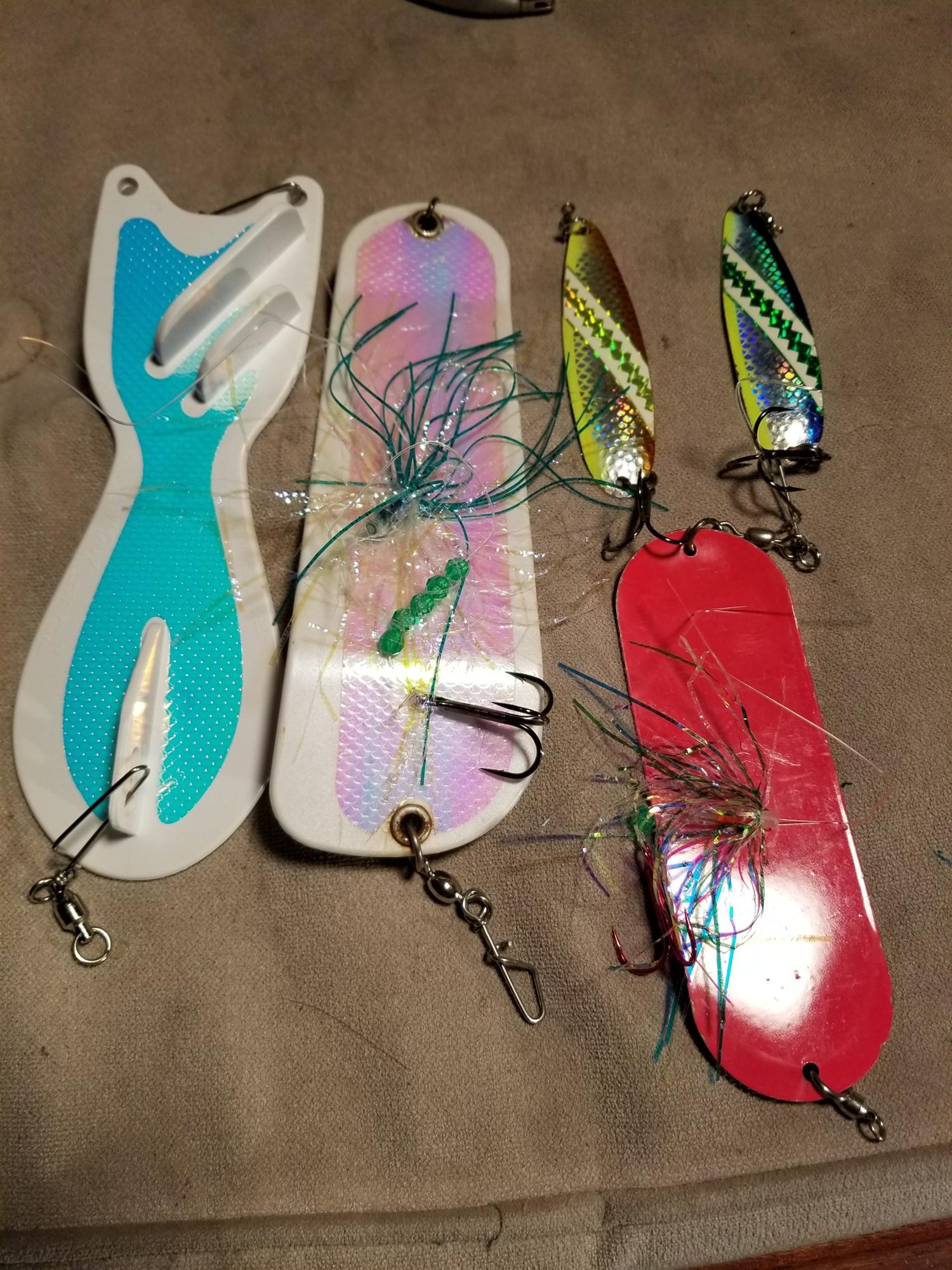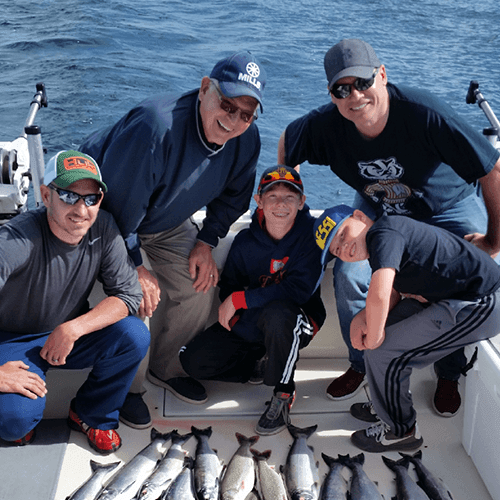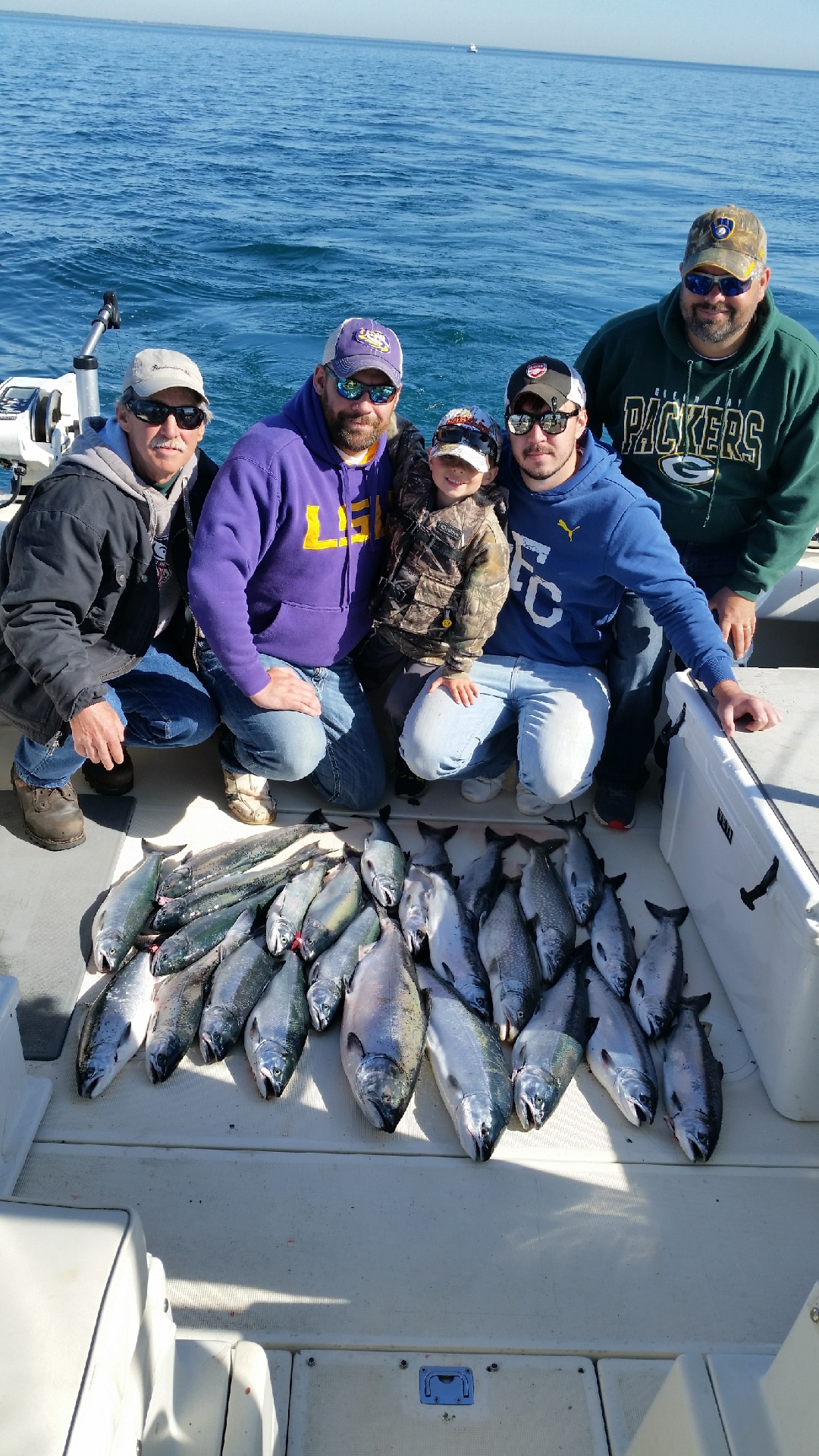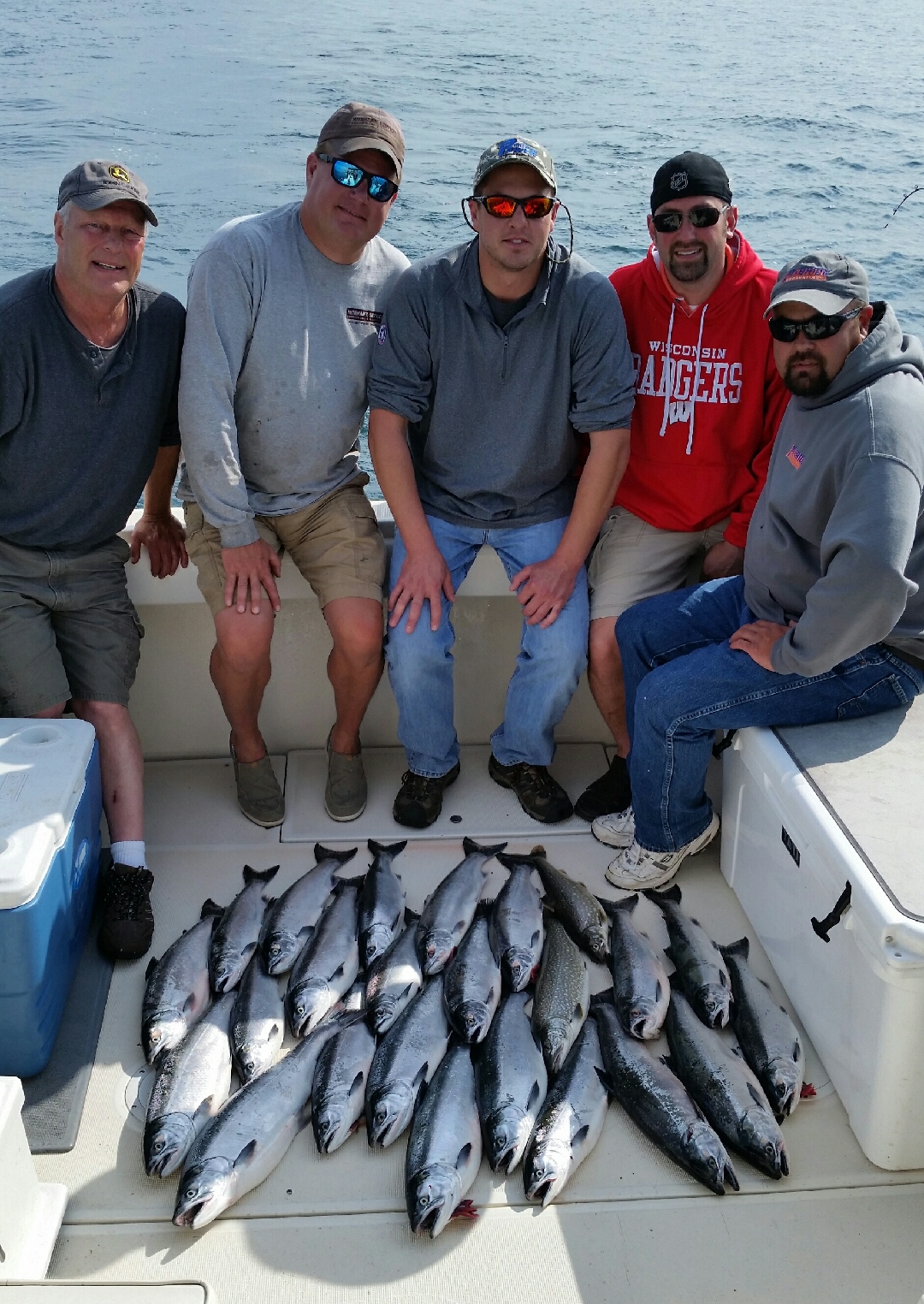 Report for February 15, 2018
Well we are half way through February and we have 40 degree air temperatures. We are getting close to the season starting and we hope to be in the water in 44 days, catching Brown trout. Since my last report we had what is now referred to as the polar vortex. The good news is that it didn't last long and we didn't see below zero temps for more than a couple days. Lake Michigan did become just over 50% ice covered but this was short lived and we are now back to 31%. The winter never was too cold for too long. Hopefully the spring is not too harsh and we are able to fish a lot in April. Wind and rain can make it challenging during April, mudding the shoreline and harbor.

The lake wide stocking numbers have not been released yet but Wisconsin's Lake Michigan stocking numbers are out. They breakdown like this:
Chinook: 813,386
Coho: 445,814
Brown: 368,509
Rainbow: 423,843

Total: 2,051,552


The Federal government may have stocked another 300,000 for the state on the refuge but this is not confirmed yet. This is in addition to the 3 million Lake trout that have been stocked every year over the last decade and a half. These numbers are about the same as last year but there are no more German Brown trout being stocked. All Brown trout stocked are now Seeforellen strain. I hope that the state starts stocking the German strain again because they are a great shoreline fish and provide a great fishery in April and late fall. Milwaukee received 35,000 yearling and 20,000 fingerling Seeforellen Brown trout. For the Coho salmon there are about 2.5 million stocked lake wide but the state of Michigan stocks the bulk of these. It is a crucial species to the fishery, since the Chinook stockings have been reduced. The Coho is less burned on the bait population and it would be great if Wisconsin could stock more of them. More Coho salmon are stocked north of Milwaukee now and the last two seasons it has been excellent Coho fishing right out of Milwaukee. The Coho migrate from the south to the north during the early part of the year. It is tough to say how it will set up each season due to weather and current but we will be where the Coho set up this season.
The Lake Michigan total stocking numbers will be out in March and this gives a more clear picture of the fishery. These are fish from the ocean and travel throughout Lake Michigan, so there are more fish to catch then the totals Wisconsin stocks. There is also some natural reproduction on Lake trout and Chinook that help add to the numbers. The fish stocked in 2017 will not be part of the catch until the spring of 2019 but it is good to know we will have fishery that is still strong going forward. I will break down what happened last June next week. June is a great month for Coho salmon and we start to get into a little more Chinook salmon during this month. We have the engine on order, new Cannnon downriggers mounted and several new real and rod combos. Call Silver King Charters at 414-460-1467 and book your Lake Michigan charter fishing trip. Help us to save the alewives by catching some trout and salmon. Below is the current NOAA map of ice coverage for the Great Lakes.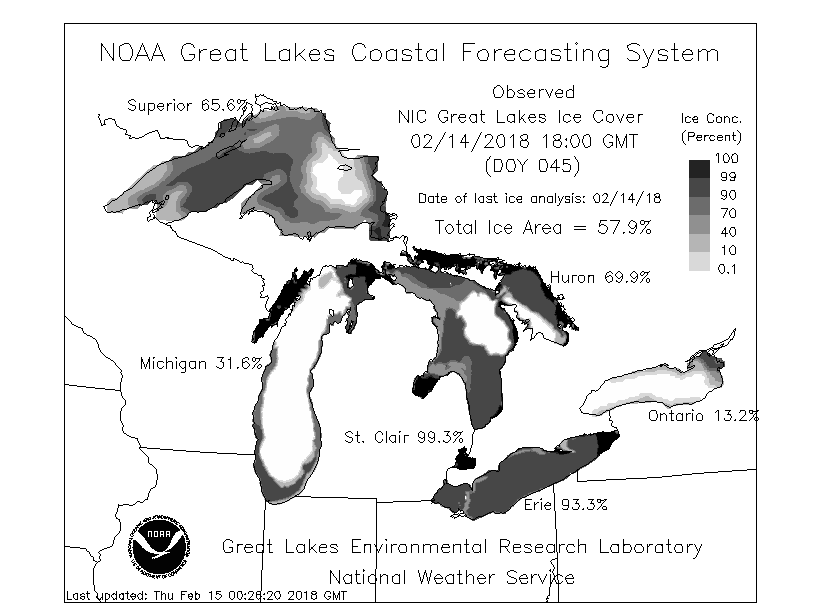 Report for January 23, 2018
This winter has not been to bad for Southeastern Wisconsin. Drought situation with several warm ups have kept the snow totals low. The great news is that Lake Michigan is only 11% covered with ice currently and 20% was its worst in early January. There are several good factors about this. One is there is a very good chance we can start fishing on April 1st. Some years there is too much ice for us to get in the marina. But more importantly a less harsh winter bodes well for the newly hatched or stocked fish in the lake. Much better survival. A wet spring is also important. This winter is by no means over but by mid February the worst of the ice building will be past us and things are looking good for not too much greater ice build up. We are well into our build up for 2018. The only thing really left is to install the new engine. Probably will be in March sometime but we are very excited to have two brand new engines going into the season. Every year I put all our profits back into the business to make sure each year runs as smoothly as possible. For my brother and I it is more of a passion to fish then a job.

Last update I recapped April. Today I will go through May. In May we had our highest catch rate for the year at 18.1 fish a trip. May and June are typically going the be the best catch rate due to the way Lake Michigan has been stocked in recent years. Coho salmon is the number one stocked salmon in Lake Michigan for the last decade and this is the time to catch them. Only Lake trout have a greater stocking number each year. We limited out more than 50% of our trips during this month. The breakdown was 82% Coho salmon, 8% Chinook salmon, 4% Rainbow trout, 3% Lake trout and 3% Brown trout. The Coho salmon are a great fish to target in May and when you get on a school it can be fast action. Over the years we have been down in Racine to get the best bite on Coho but the last two seasons Milwaukee and Port Washington were the hot ports. Tough to say which ports will be hot this season but we will be where ever they set up. The last two season had mild winters and more Coho are being stocked north, so this may contribute to better fishing further north than Racine down to Chicago.

The first 10 days of May where tough. Wind was bad and things didn't set up. We had only 3 trips we didn't make it to double digits in May and two came in this first week. But like always by mid May the Coho where all over the place. We started in Racine and the action was ok. We only spent a week here though. We were running out to 200 plus feet of water and out of Racine that is a distance. My last trip I got smoked on a two boat trip and had enough. Went back to Milwaukee and went 13 straight trips with limits and everyone finished early. Great action. I cannot stress this enough: If you want to catch a lot of great eating fish the best time to go is mid May to Mid June. It is still fishing and there are tough days but the catch rate is this period is on average the best. The stocking numbers on Coho salmon has been an average of 2.5 million a year for over 25 years. These fish are raised in hatcheries for more than a year and stocked in the spring. The following spring is when we start to catch them and they spawn that fall. Coho average 2 to 3 pounds in the early spring and by mid summer range 4 to 10 pounds depending on the bait. They are fun to catch and the best eating fish out of Lake Michigan. Some years we get summer Coho at 15 pounds plus and boated several last year over 10 pounds. Our big was 13 pounds and can be found in one of the pictures below.

Early in the season we ran a lot of spoons. Stinger UV Blue Dolphin and Modified Blue Dolphin were best. We also had success on the Gold Hud orange and chartrusse. Once we were into the Coho it was orange dodgers and peanut flies. We ran a side of boards with orange B&B dodgers with 26" 30lb fluorocarbon leader and green peanut flies. The other side of boards was orange double 00 dodgers at a 17" lead and peanut flies, using 30 pound test fluorocarbon leaders. We had leads from the boards on the B&B's from 12 to 50 feet. We used 5/8 ounce bead chain keel weights about 6 feet back from the dodger and ran these 12 to 60 feet back from the boards. We had one mono and one braid dipsy on each side of the boat. Orange dodger and green peanut fly on all four set ups. We had the mono at a 30 degree set and the braid at a 15 degree set. The outside was 30 to 40 feet on the line counter and the inside was 10 to 15 feet out on the line counter. The two outside riggers where set with an orange dodgers and green peanut flies set 5 and 8 feet down and 5 and 10 feet back. The two inside riggers usual had spoons and one was a gold hud and one a UV Blue Dolphin. Didn't change a thing for the last 3 weeks of May. Rolled around the gaps to 100 feet to 10 feet along the shore and just kept catching Coho salmon. Wiped them out!

Love this time of year because it is simple. Don't have to over think it. Just have to find them. I have some pictures of the baits and fish. I also put on picture from NOAA on the current ice cover for the Great Lakes. Call us to book a mid to late May trip and as long as mother nature isn't too nasty you will not be disappointed. Call us at 414-460-1467 to book a trip for the highest catch rate of salmon for the season.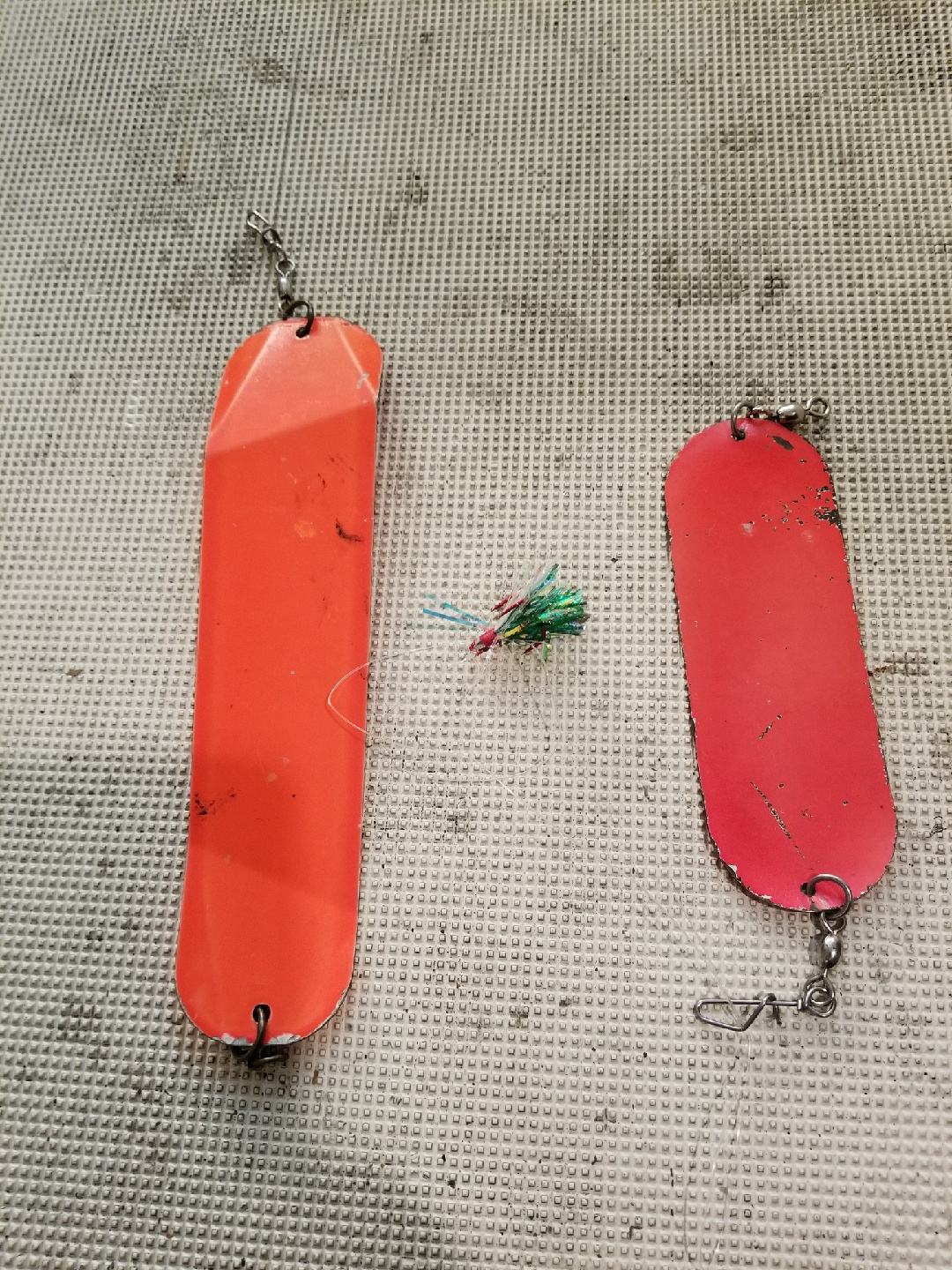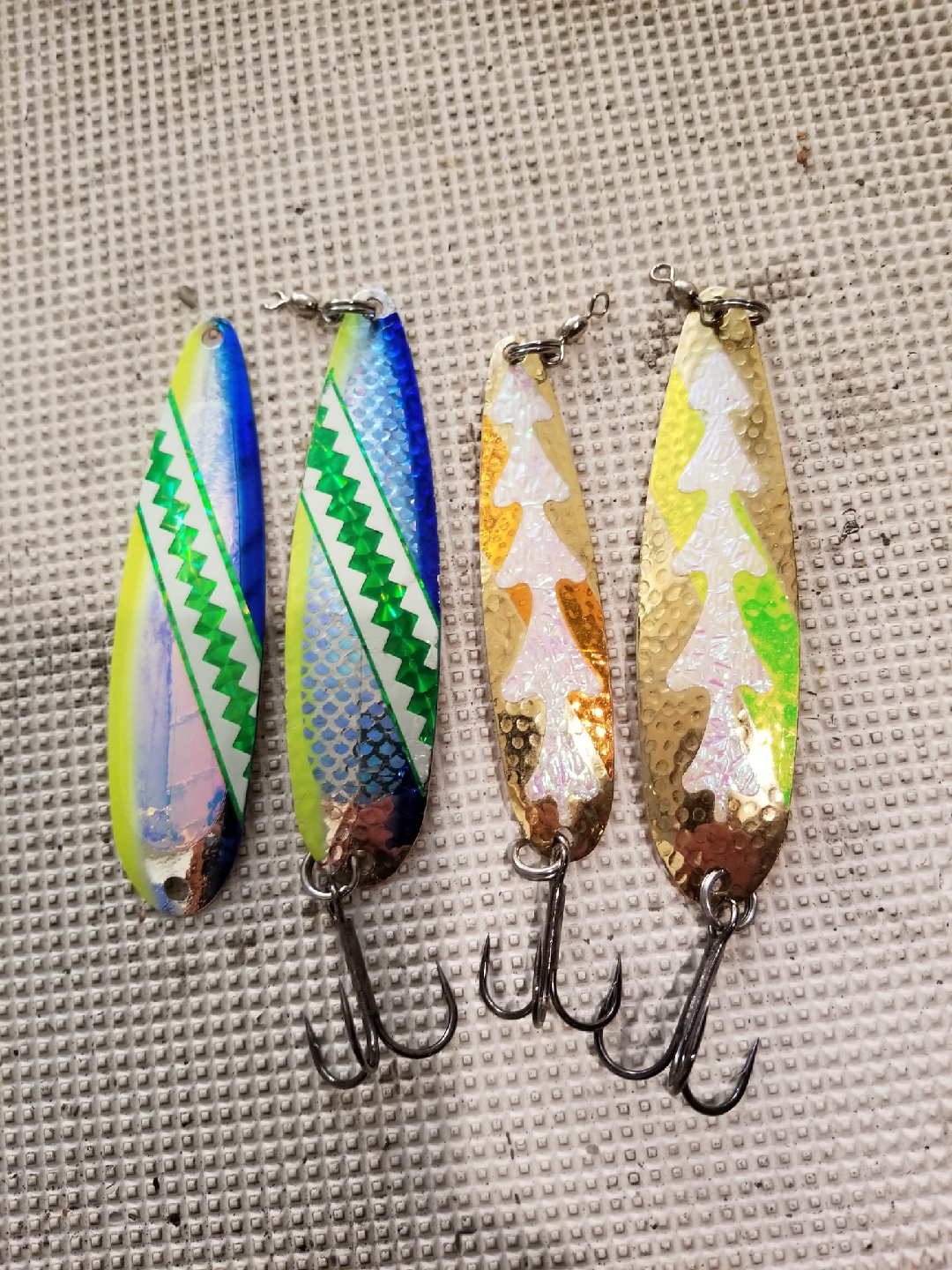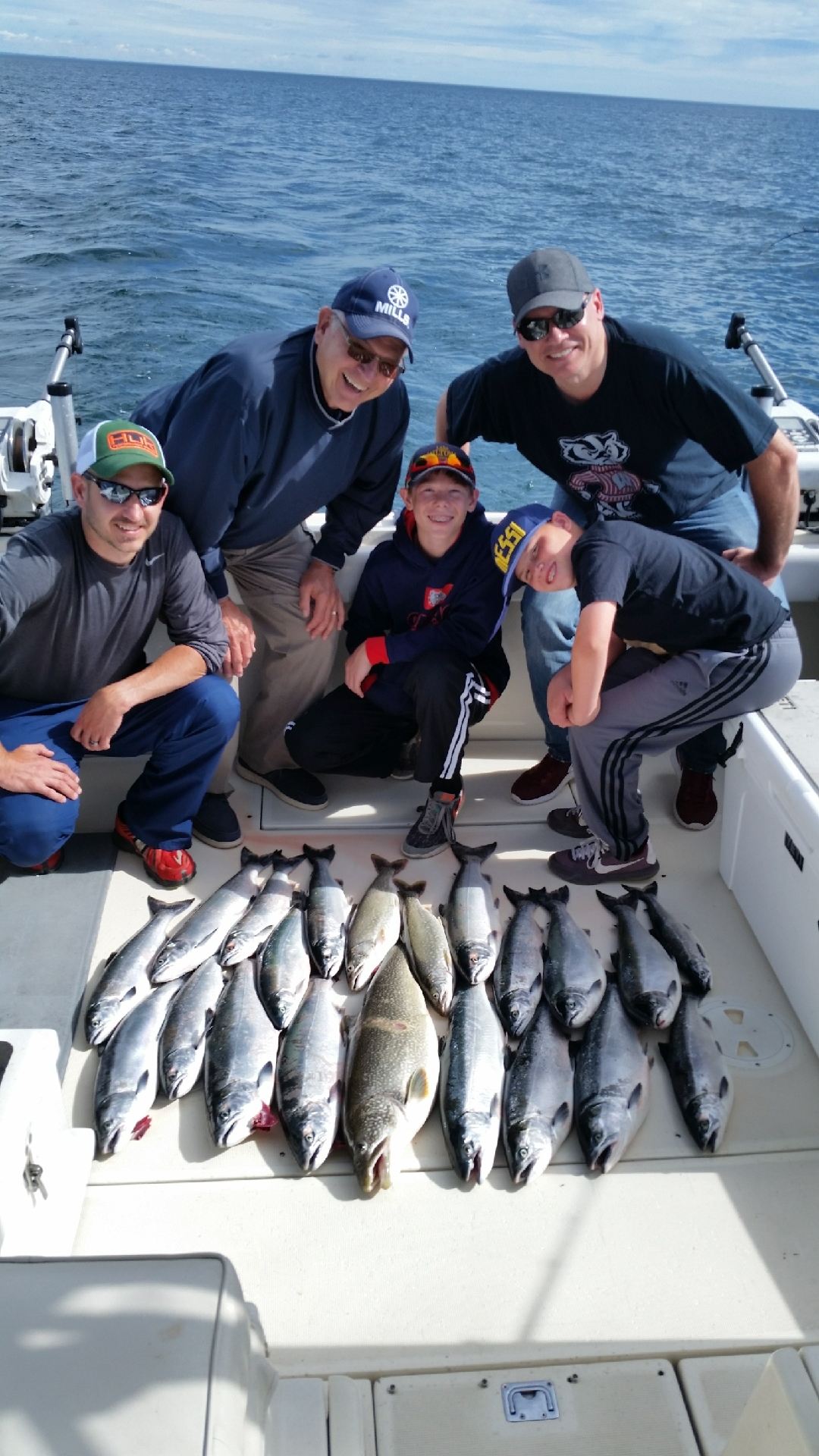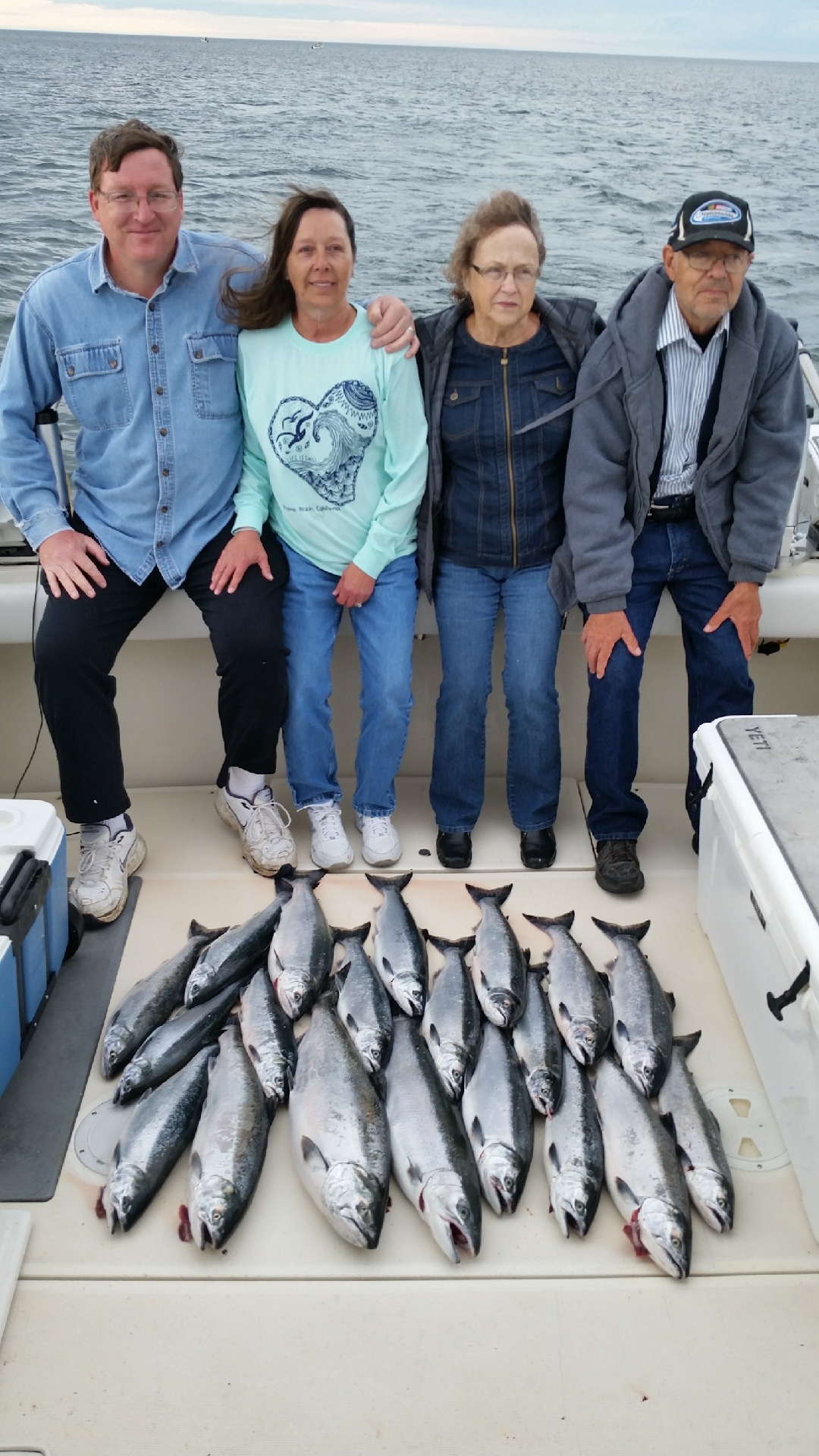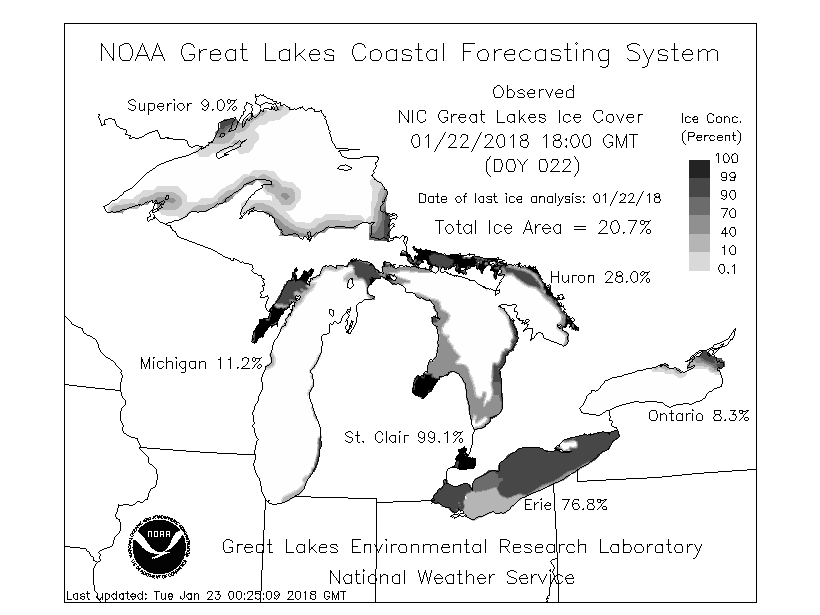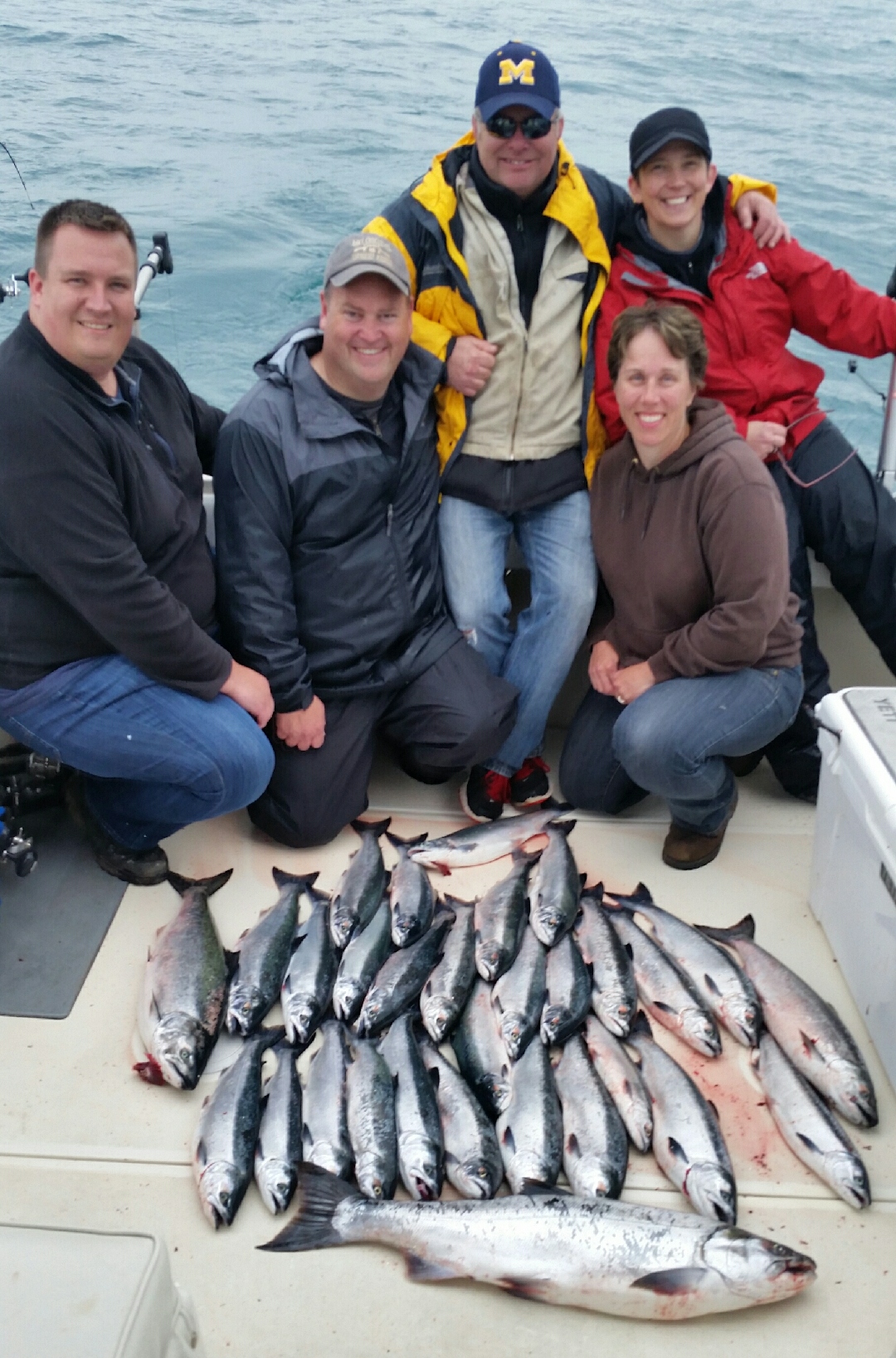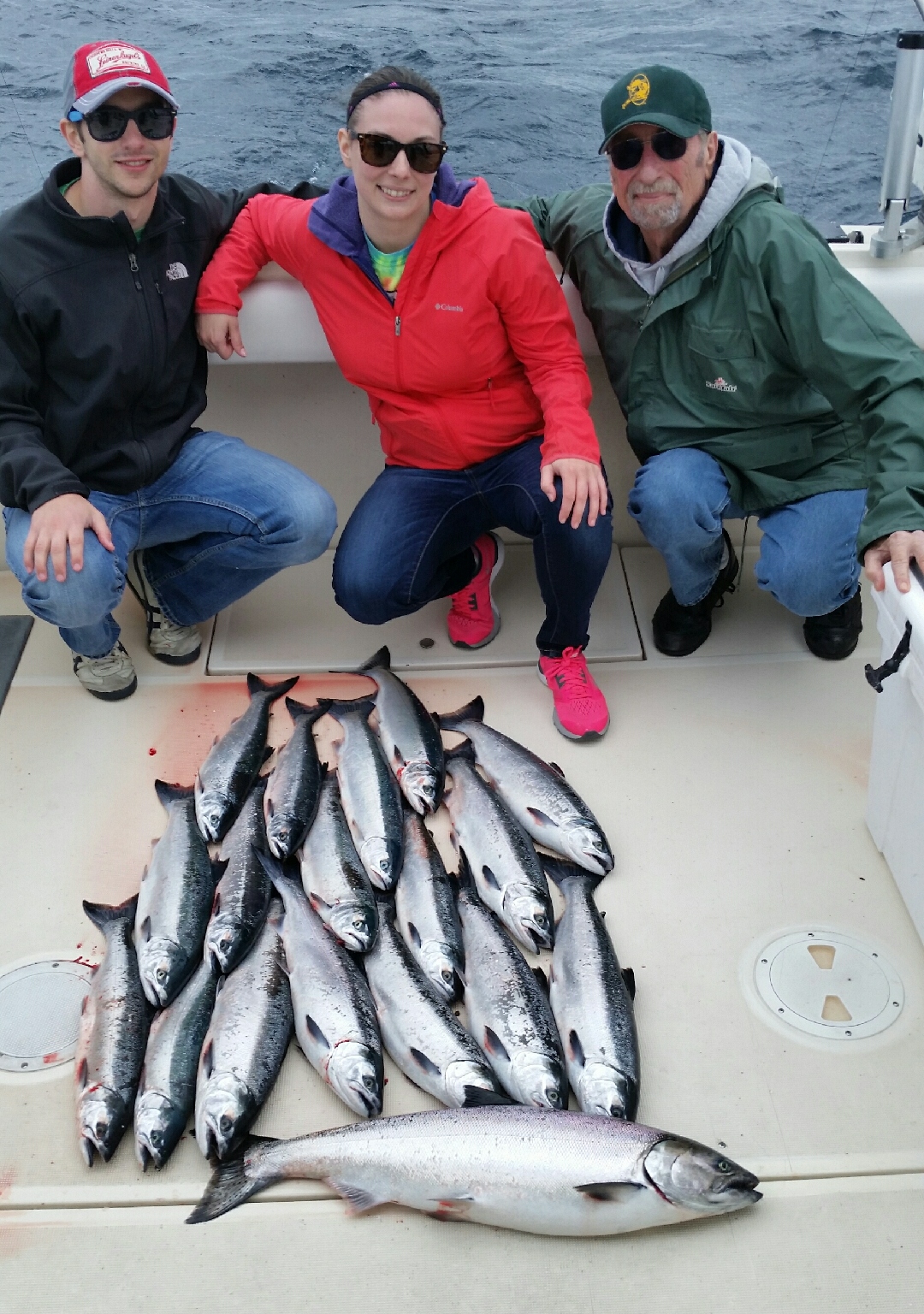 No reports yet this month.