*Note: Click any month to view reports.
January

February

March

April

May

June

July

August

September

October

November

December
Report for October 31, 2020
Happy Halloween to all as we close out October. We will be pulling the boat on November 6th and we hope that 2021 season is a little better for all. October looked to have a potential for a great Chinook bite at the start of the month much like last year. We were getting a good King bite leading into October but after almost 10 straight days of west winds the water froze out and the Chinooks took off. Because of so many west wind days we were forced to fish the shoreline but this is typical of October. But it pushed into a great bite. We spent almost the entire month south of town by the Milwaukee reef just inside the green can and fished from there to about 2,5 miles south just before Grant park. We stayed in 15 to 30 feet of water and caught all five species but the bulk of the catch was Lake trout. The trout were spawning on the reef and made for some decent fishing. We boated several 15 pound Lake trout and one Brown trout over 24 pounds. Near the end of the month and today we fished the Milwaukee harbor and the south end was the best.
The spread we used never changed for the entire month. Two riggers down 14 feet with gold Natural Born Killer green tape Stingers. This has become our favorite spoon in October for shoreline Lake trout. We ran all spoons in October and the stinger size. They did not want large spoons. We ran two mono dipsies with one NBK like the riggers had and one yellow tux. Both of these were set at a 3 setting and 30 feet out on the line counter. We ran on, two and three color leadcores on he boards. The one colors had mass confusion copper spoons from Stinger. This is another spring and fall shallow water favorite. The yellow tux Stingers on the two colors and the gold NBK green Stingers on the three colors. In the harbor we added two more riggers down 25 and 28 feet. The best spoons where a Moonshine flounder pounder and the glow watermelon Stinger. Never changed a thing all month and the set just kept catching fish.
We are going to fish a few more times in first week of November and then that is it. The weather looks to be nice the first week of the month. Start calling Silver King Charters now at 414-460-1467 to book your 2021 trip. We expect a lot more people to want to fish next year as we all get use to living with the damn virus!!! The picture are from some October trips this year. We are not done yet but just 6 more days.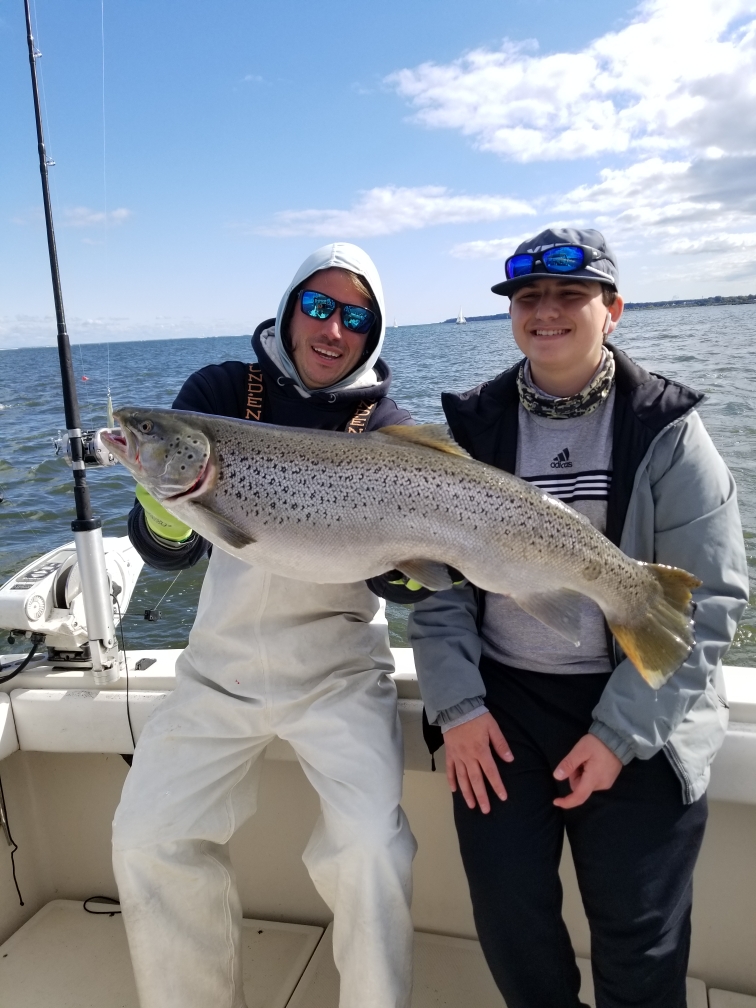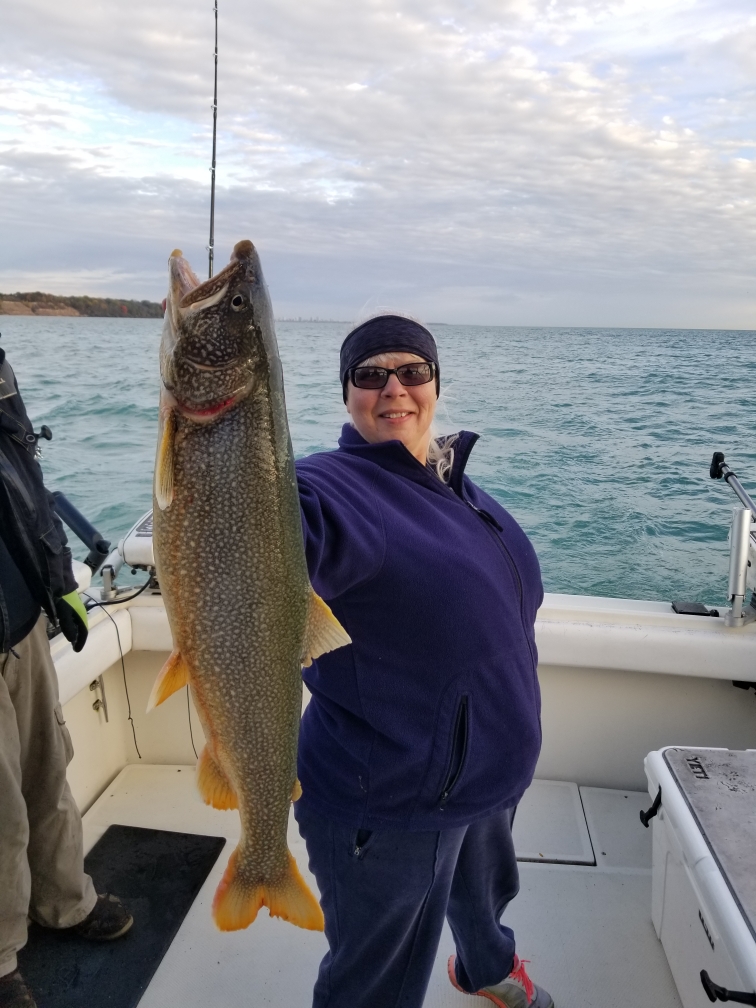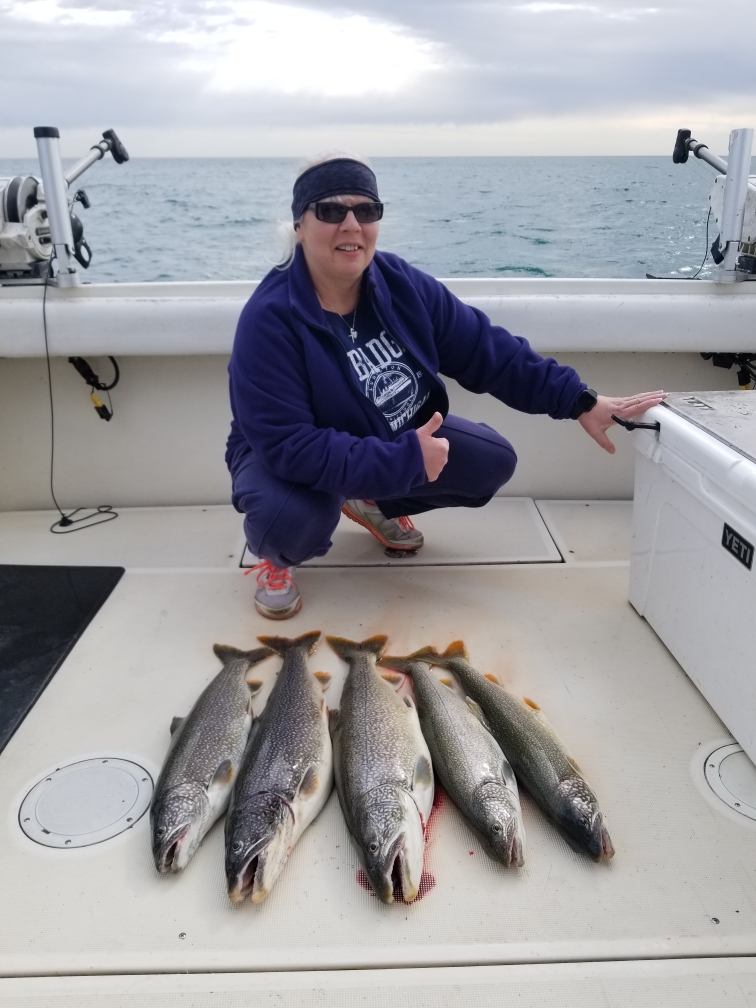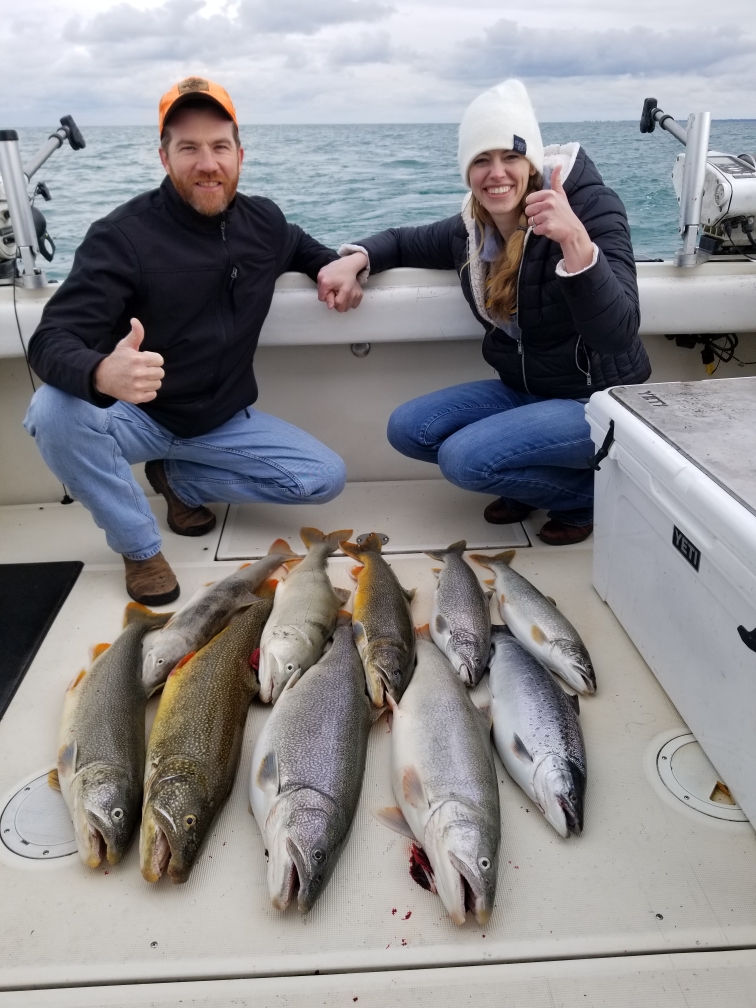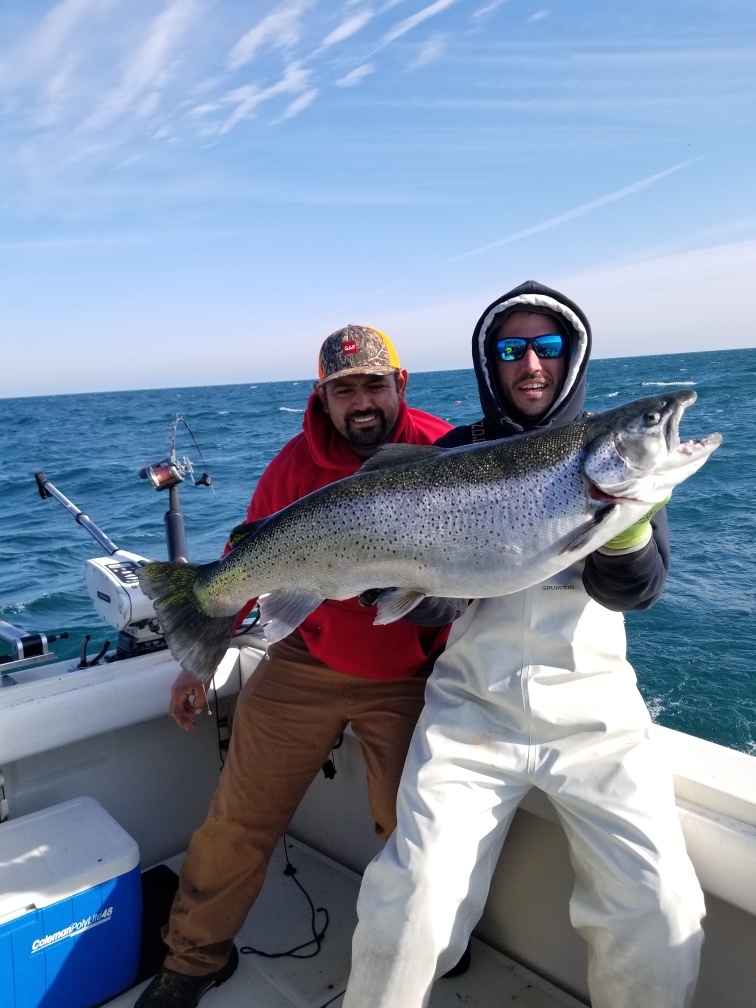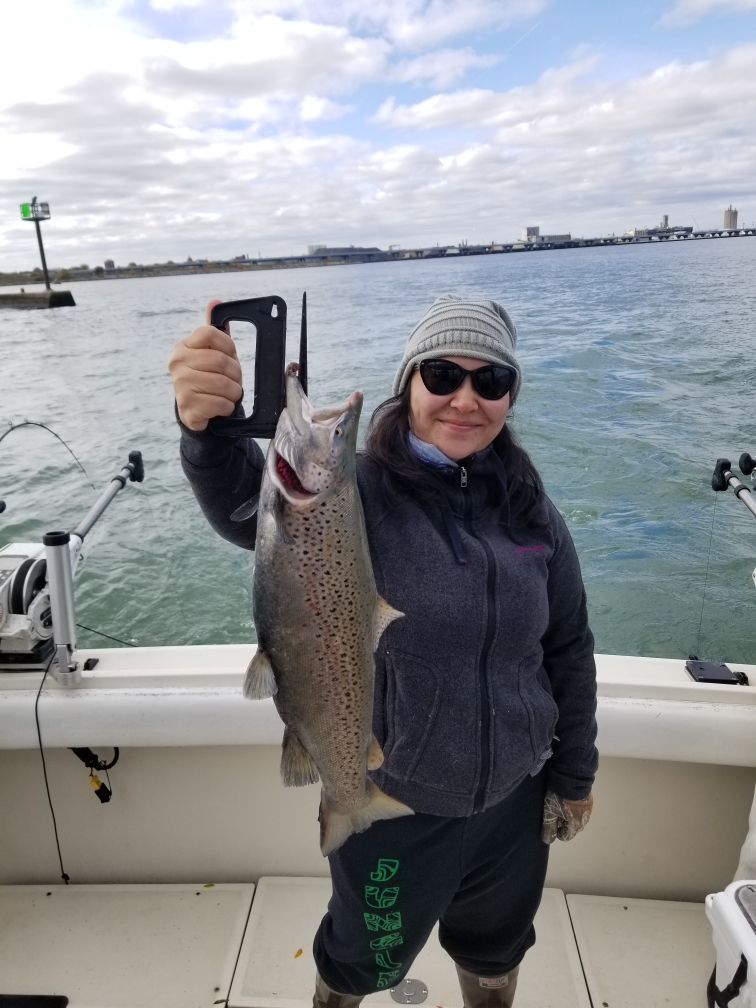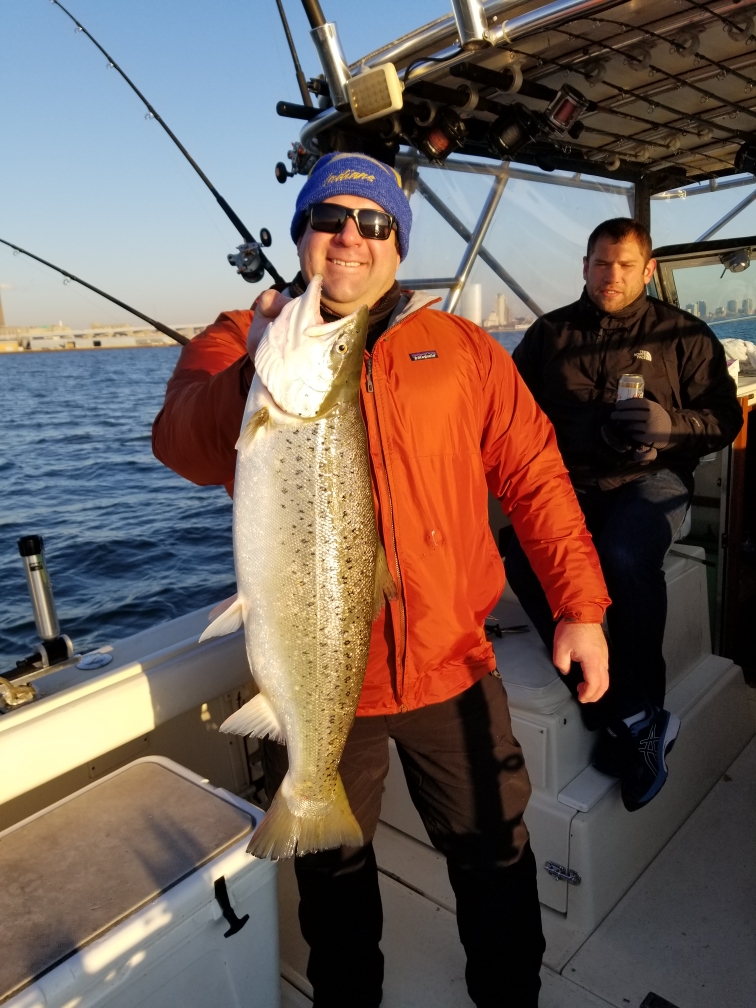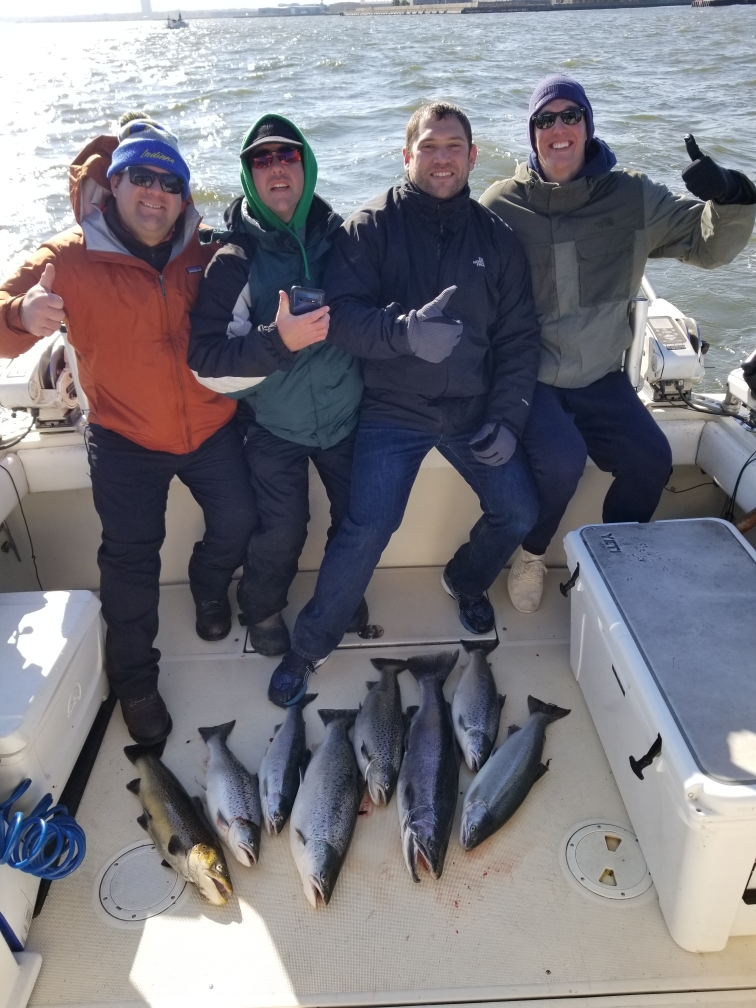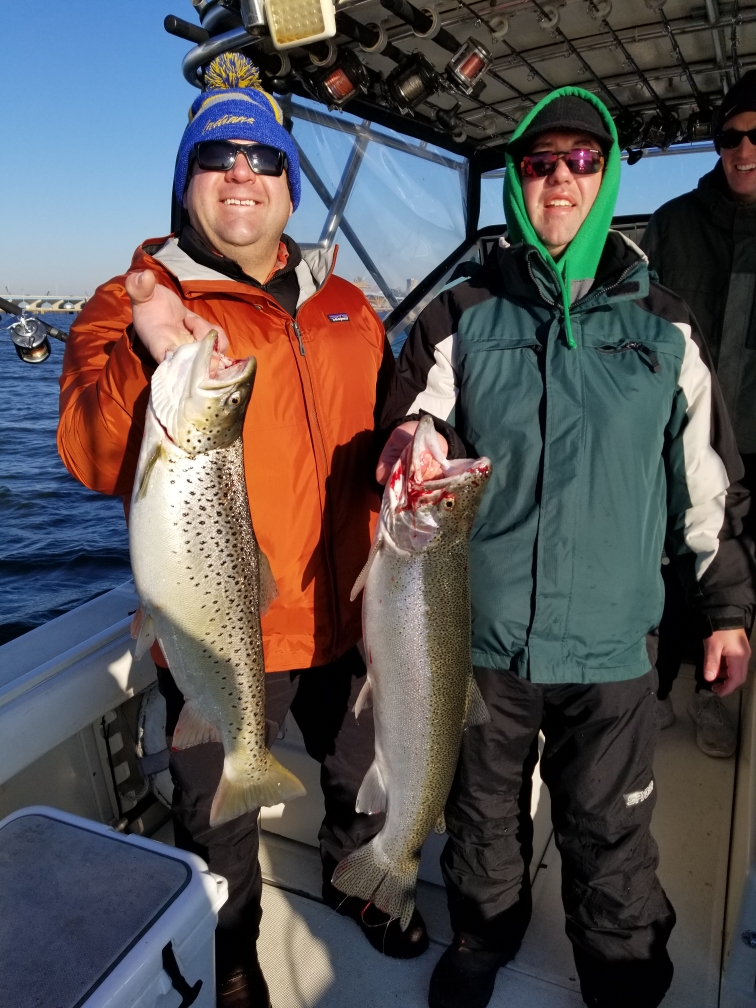 Report for June 10, 2020
The season always seems to speed by once it starts and with all the things going on right now we really only have just started. We missed out on some real good early season action but it is not even summer yet and the Coho salmon bite is on. We have already boated more Coho salmon than all of last year but 2019 was very bad for Coho. The action has been steady. Not lights out limit fast but very solid. We have had catches of 6 to 39 Coho in a trip over the last 3 weeks. We expect the action to continue through June. The Coho salmon have not lined up to make it easy. They are spread out from 100 to 230 feet of water. We have been fishing a 5 mile stretch straight out of the Harbor of Milwaukee. We had some good action down by Bender Park for the last part of May but we have been out deep all of June. We have caught some Chinook, Rainbow and Lake trout during this time but it is mostly Coho salmon. The surface water was warming up to above 60 degrees but our best bite was still in the top 15 feet of water.
Our spread is simple right now with orange dodgers and green peanut flies on everything. We run 5/8 ounce keel weights on the mono boards set 20, 30 and 45 feet back. We also run a 3 and 4 color leadcore on boards too, We are using 2 dipsies a side set at 20 and 40 feet on the line counter. These rods are taking over 50% of the fish we catch. The outside downriggers are set 12 and 20 feet down. The two back riggers are the only rods we don't use orange on. We have a flasher fly combo we switch out constantly and a Stinger UV Blue dolphin on these set 35 and 45 feet down. We have caught a Chinook every third trip on these and we hope to start seeing some more Kings around soon.
There will be a lot more good Coho catches to come and if the fish bunch up it could get ridiculous. If you want to catch salmon the next several weeks are the time to do it. Call Silver King Charters at 414-460-1467 to get out on Lake Michigan, catch some fish and have a great time. The action has been good this season and we couldl all use a break from the real world right now. I have attached some pictures of recent catches and our favorite Coho salmon set up.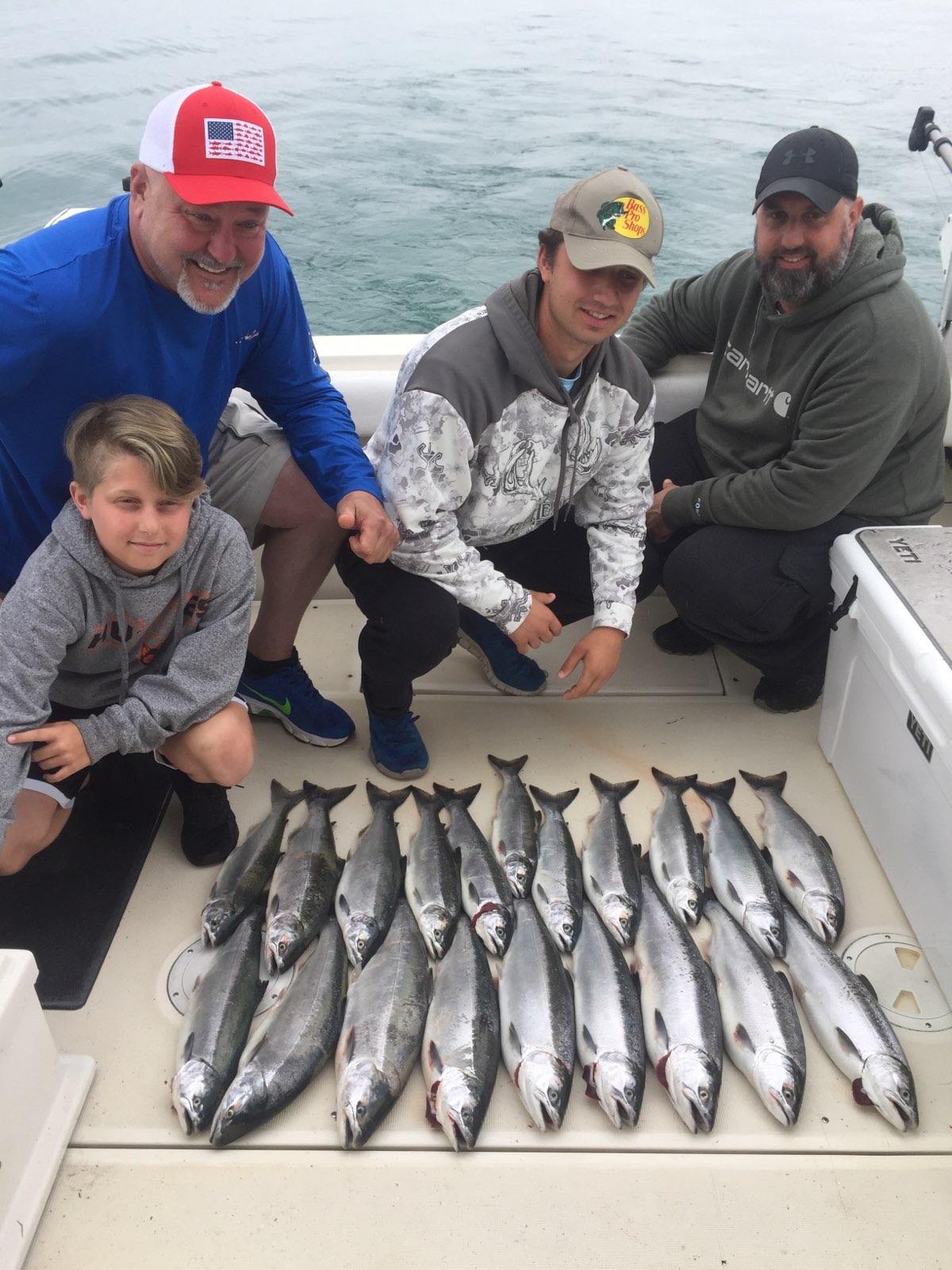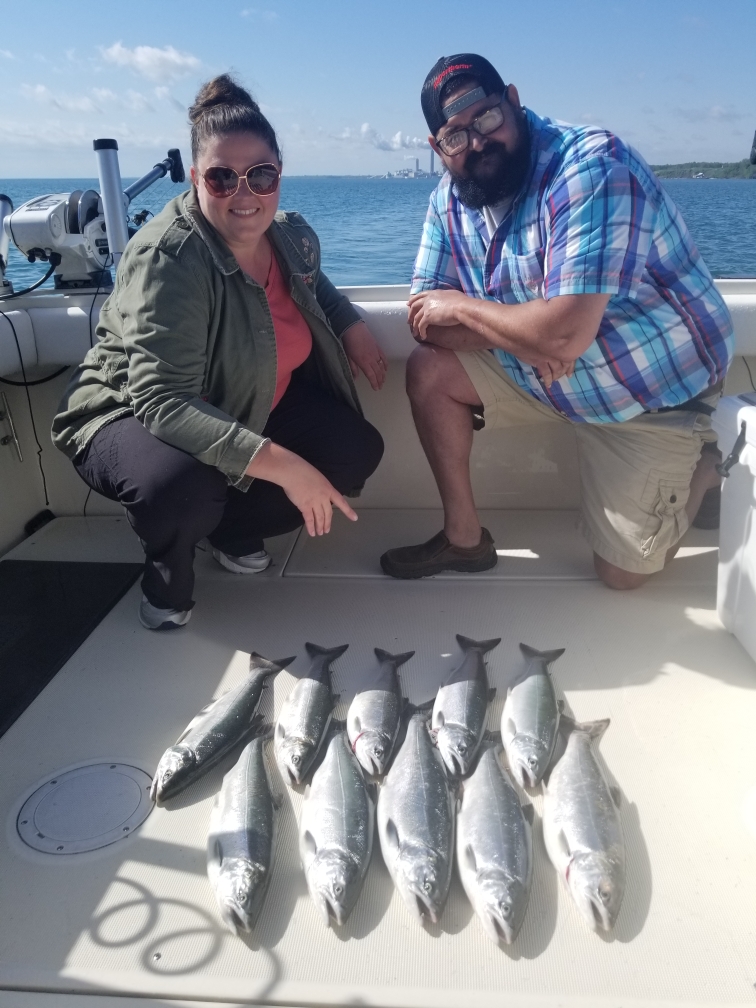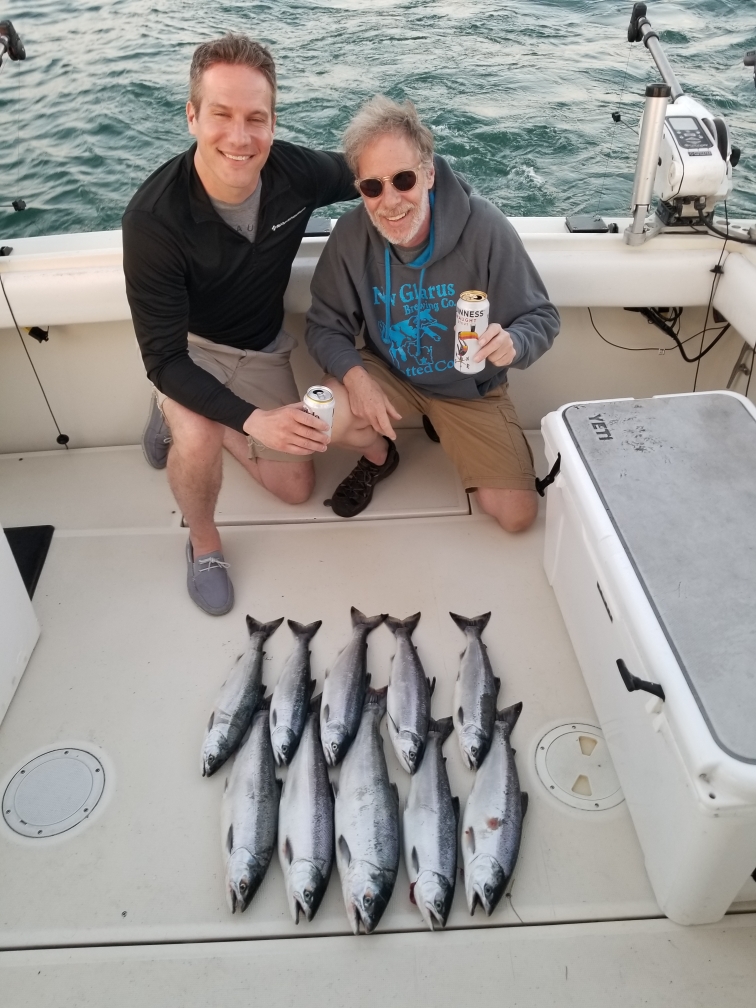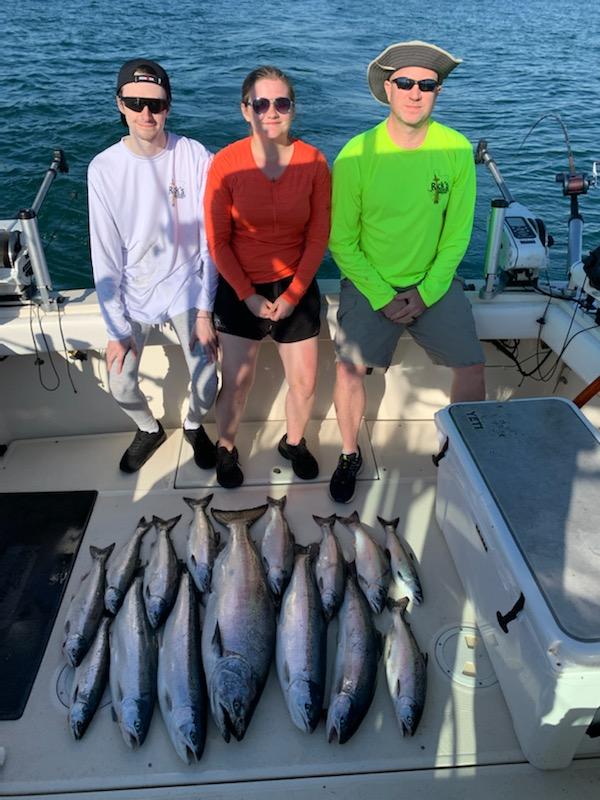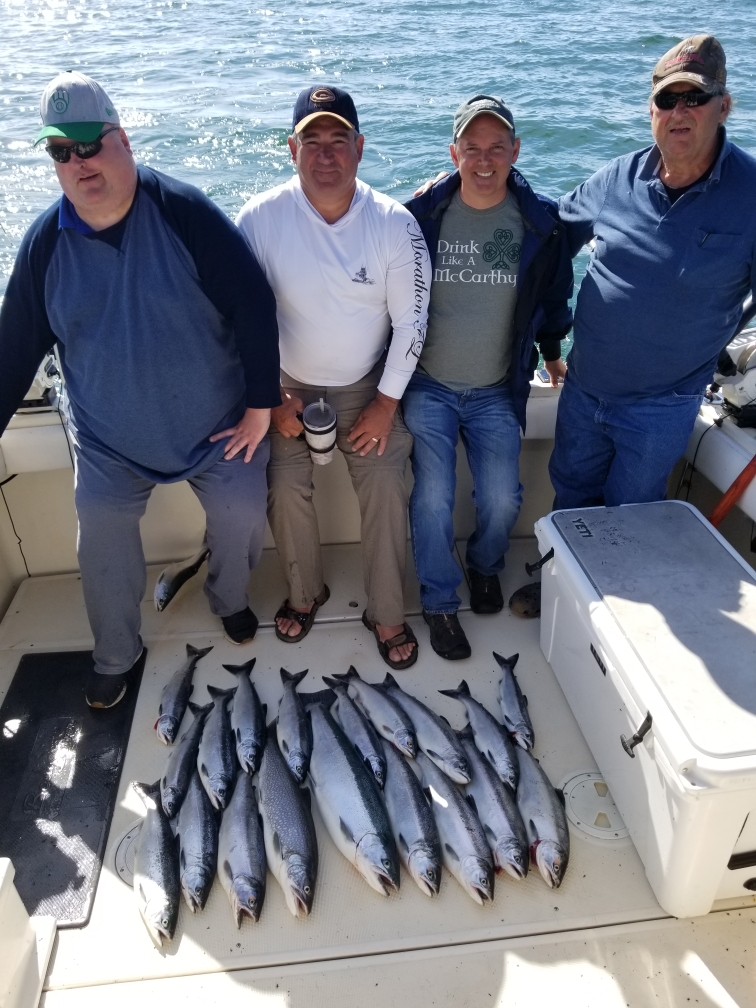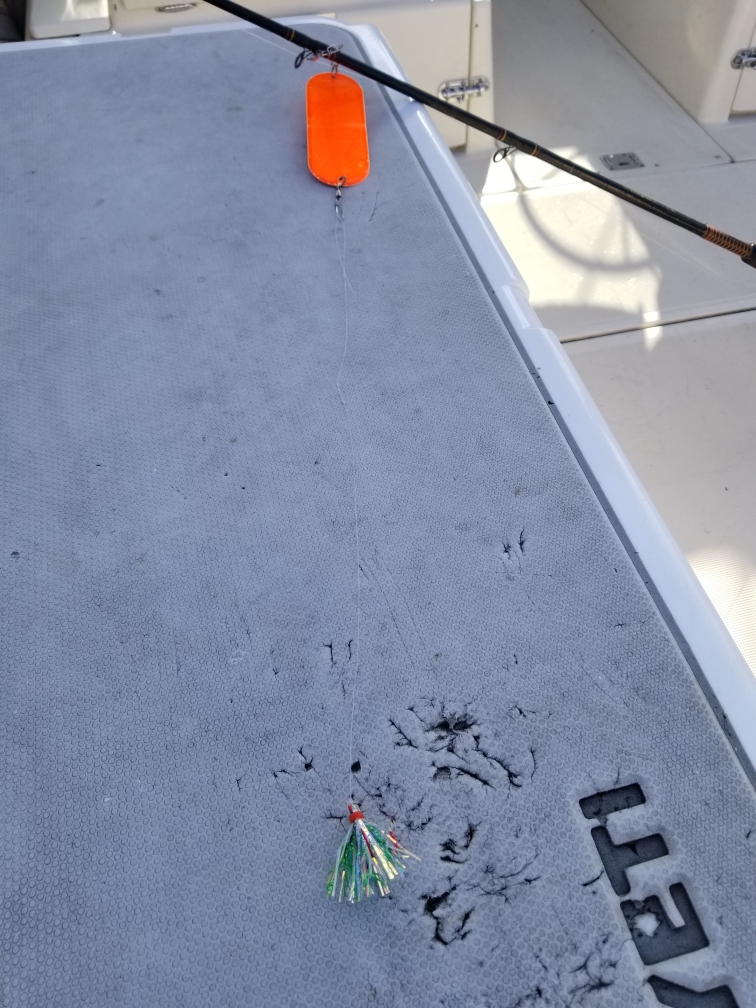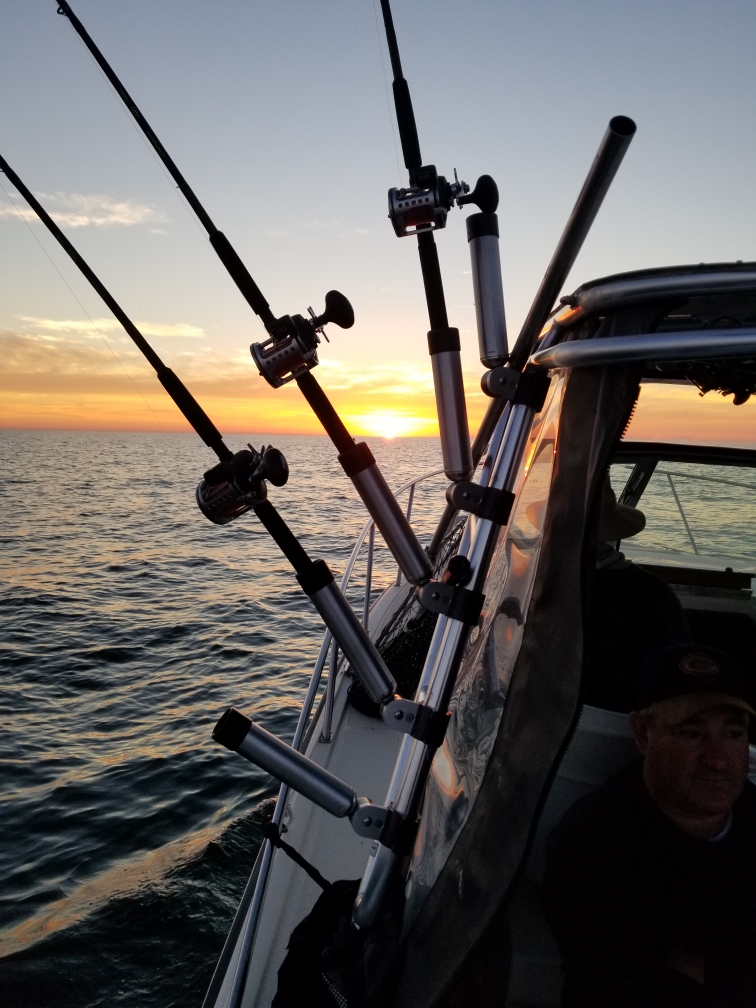 Report for May 28, 2020
We are nearing nearing the end of one of my favorite months of Lake Michigan charter fishing but with COVID-19 going on we did not fish as much as we would have hoped. The second part of May was full of rain and strong northeast and east winds that left water very muddy next to the shore and for the most part out to 70 feet of water. This mud has since spread out to cloudy the water as far as 275 feet of water in places. This has reduced areas to fish. Our best fishing for the past week has been in 60 to 80 feet of water a mile north or south of the green can off the Milwaukee reef. We have pulled Coho, Chinook and Lake trout in our catches. The Coho bite fell apart by Sunday and the Chinook bite by Monday. We moved to the Main and South gaps of the Milwaukee harbor Wednesday and Thursday as the water cleared just enough and started to catch limits of Coho salmon. There is a lot of bait tight to the walls and the surface temps are 54 degrees. There are not a lot of fish close to shore but it is a decent bite and they are salmon. We did fish a trip off Bender park and the boils in 15 to 20 feet of water too and the water was clearer and it was a steady bite of Coho. We feel there is a consistent bite all along the shore line now as the water is starting to clear up. That is were the bait is most consistent too. The Coho bite is just starting to get good off Milwaukee and there has been good Chinook action on most of your trips. We have pulled 6 Kings over 20 pounds. Lake trout are everywhere but we have not really put a lot of fire power toward them.
Our spread is fading to orange as i right this but we have had good success on 4 - 10 color leadcores. Most of our Chinook and Lake trout are coming off these rods. The Stinger UV Blue Dolphin and the UV Green NBK in the sitngray size is best by far. These same spoons on riggers set 20 to 55 feet down are producing to. We have run wire divers with regular clear dipsies dialed in at the 3 setting and out 60 to 90 feet. We use a green blade with glow tape and a Howie Bull Frog fly. This is tking Kings and Lake trout. But as we move to shore it is orange on the boards. The Jensen dodgers on one side with keel weights and B&B dodgers on the other side. They are set back 15. 40 and 60 feet. We are using inside and outside dipsies at 15 and 30 feet. We have two outside riggers with set 6 and 8 feet down. All orange, all green or Willy peanut flies and they all producing.
If the Coho are going to really set up the next three weeks are going to be very good and it looks like it is starting to. The water in 200 plus is still a little too cold but it could be soon when a line of fish sets up there too. The catches have been good and double digits, with some limits. This is the best tome for good salmon catches and the weather is stating to become really nice. Lake Michigan charter fishing is a fun experience any time but after being stuck at home and social distancing for the last 3 months this is a great way to have fun. Call Silver King Charters at 414-460-1467 to get out on the water, catch some fish and drink your favorite beverage. The fish are biting now! Below is some pictures for recent catches and a 25 pound Lake trout we caught Monday. There is also a picture of our top Coho fly.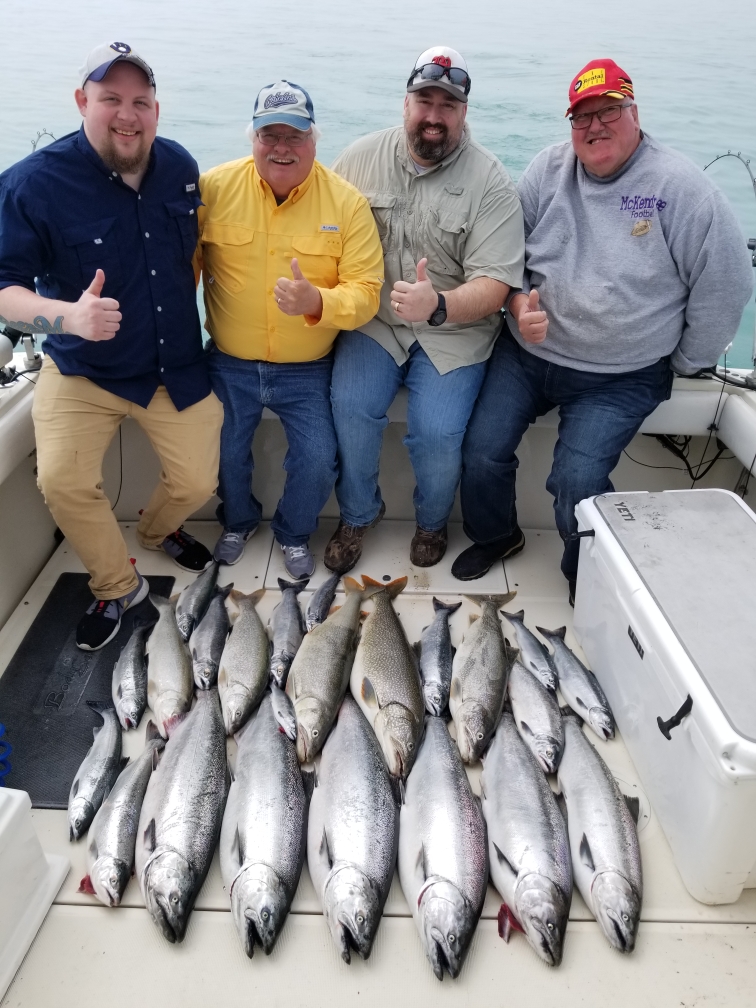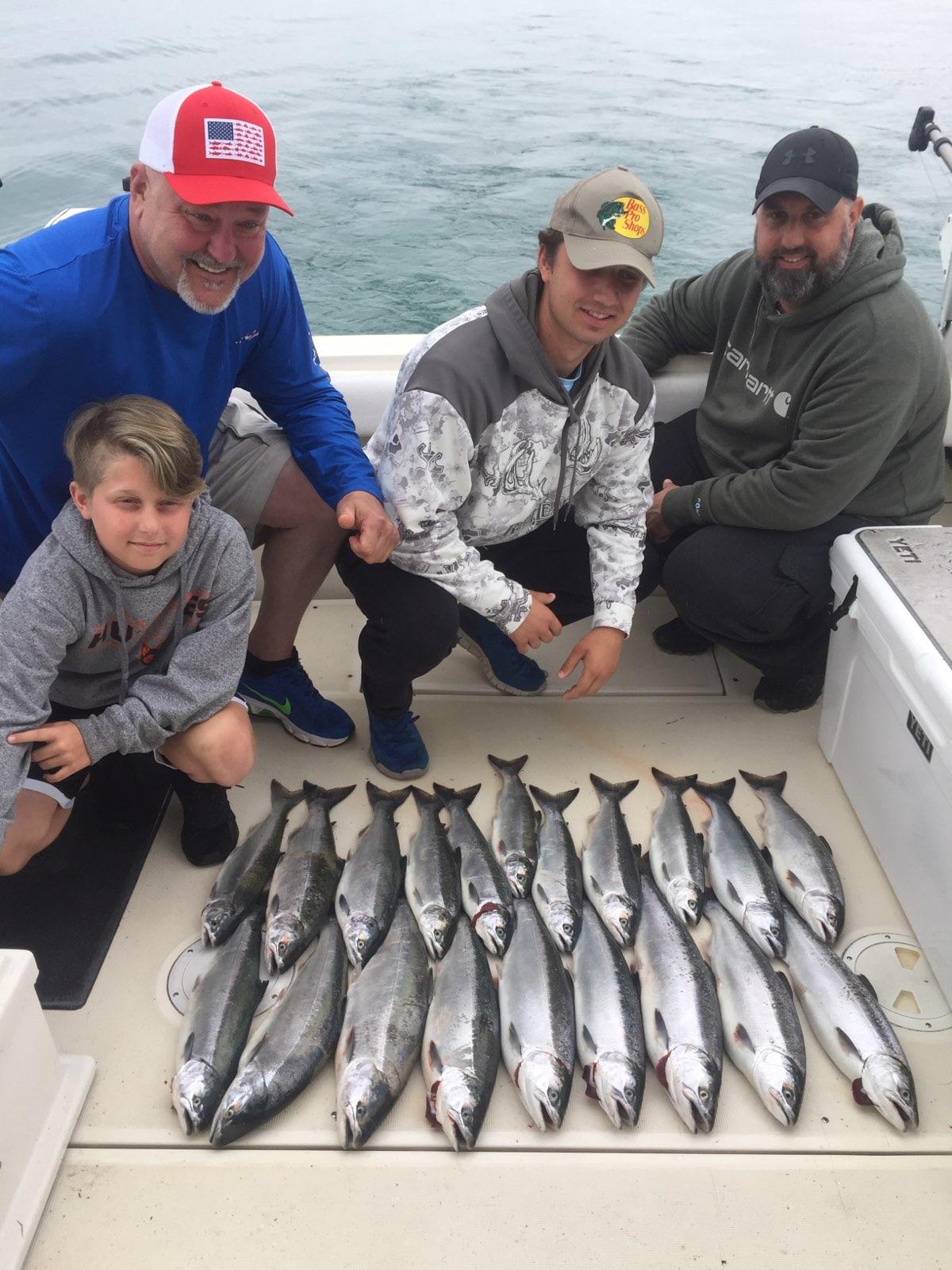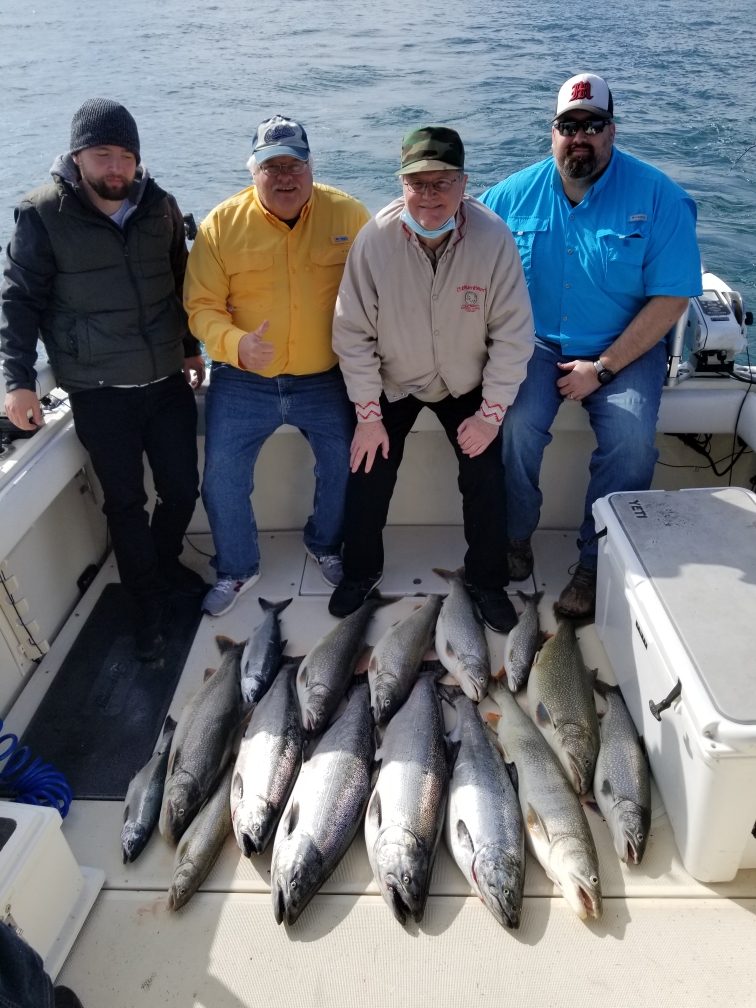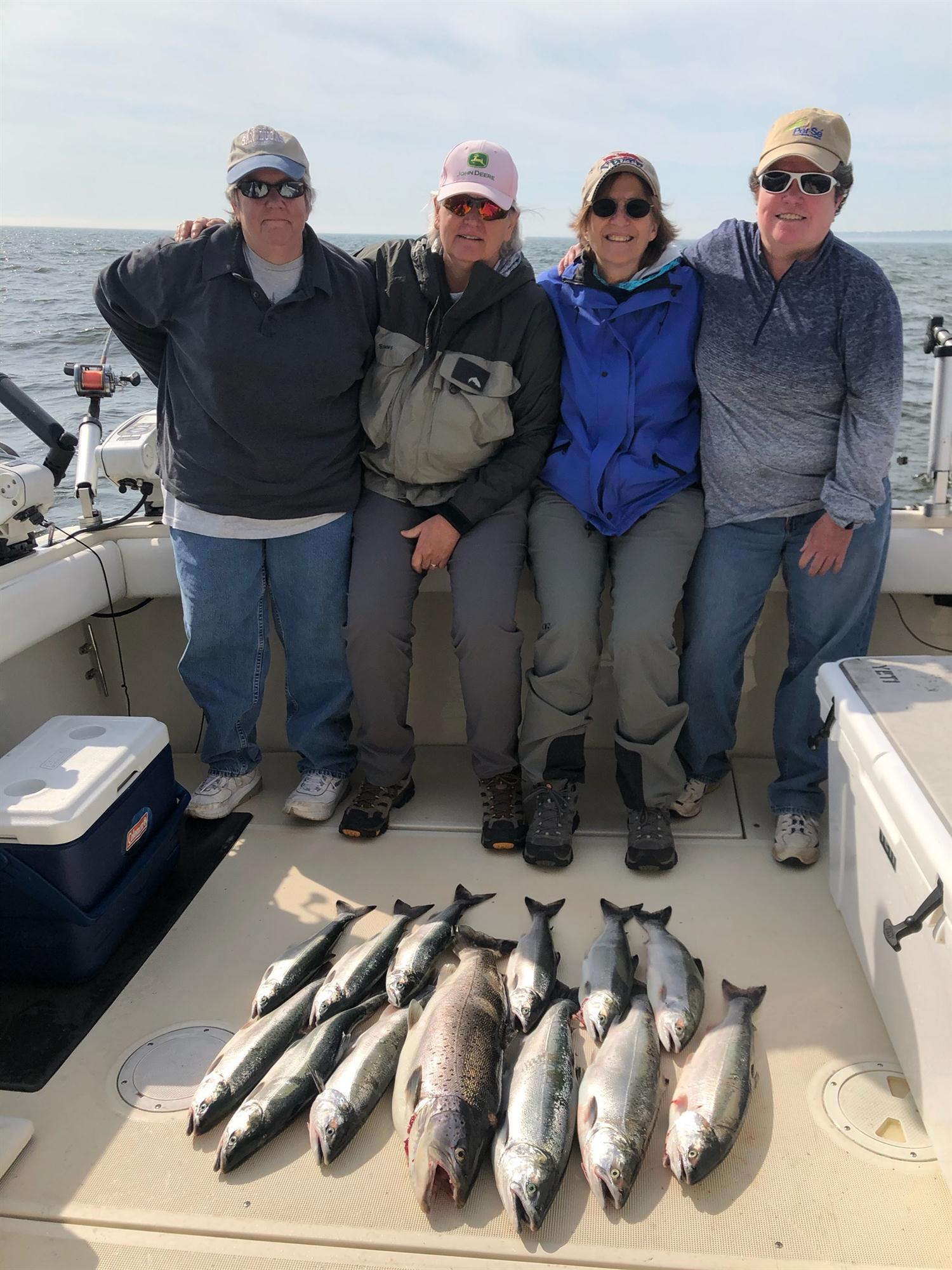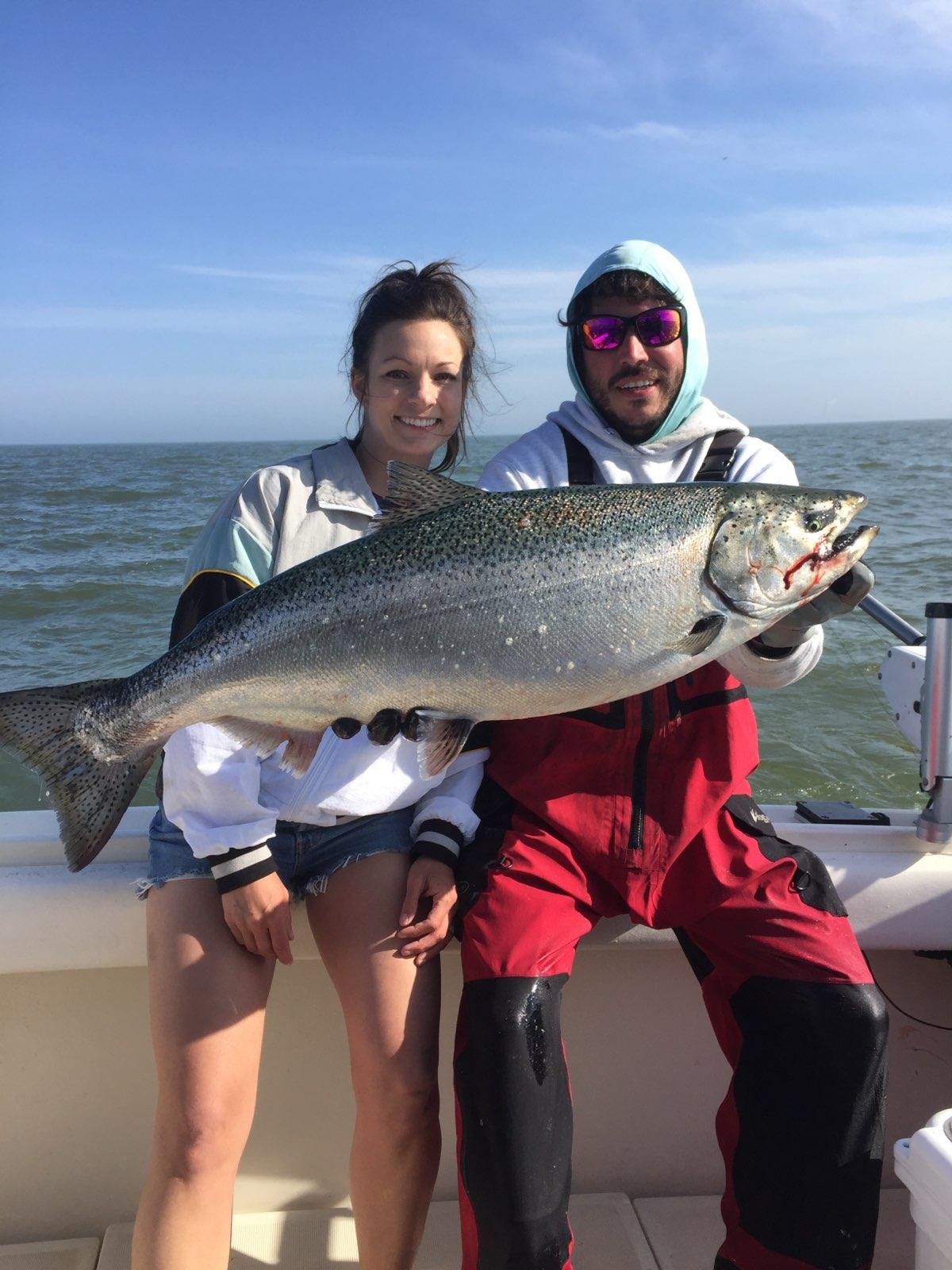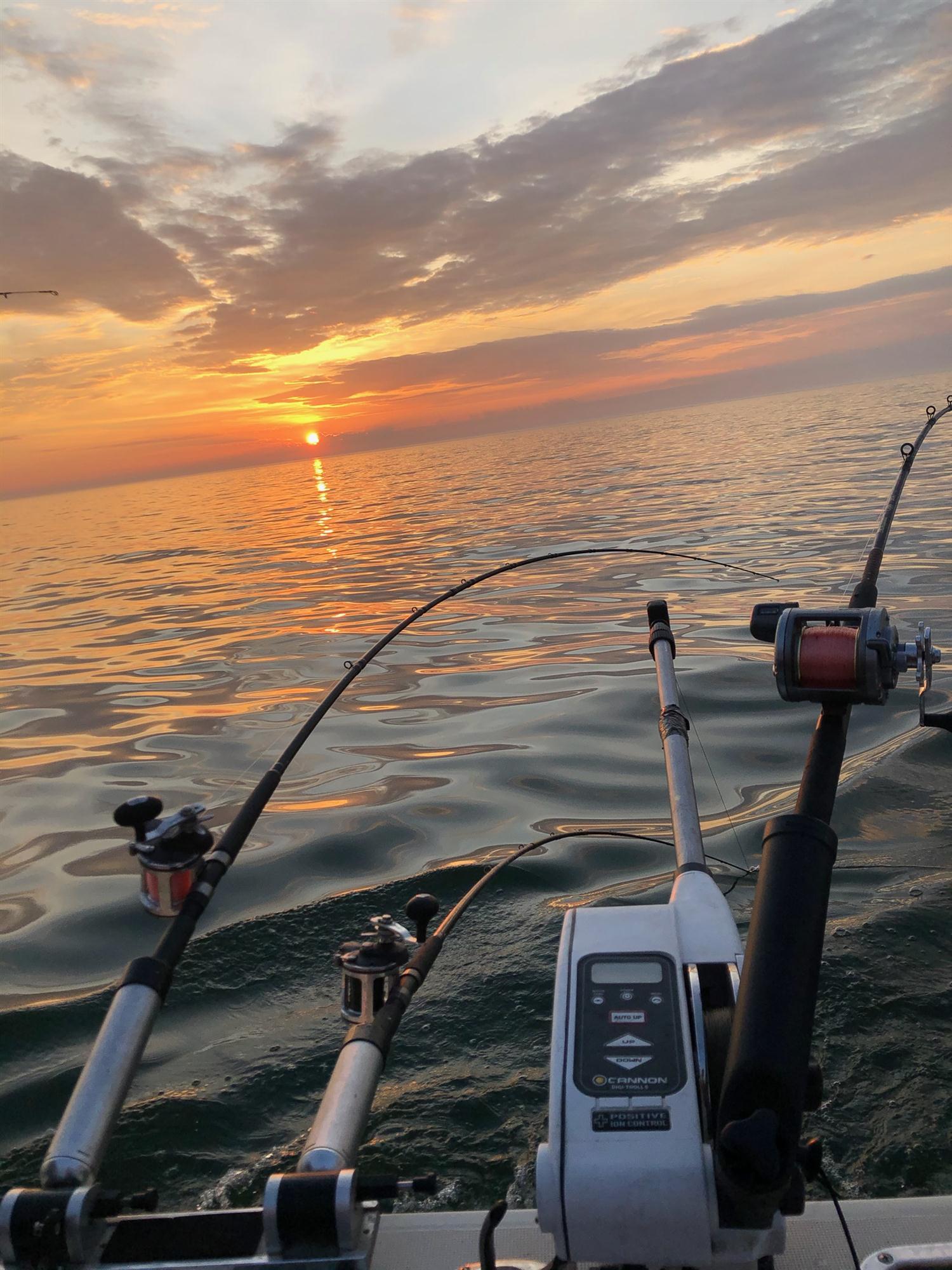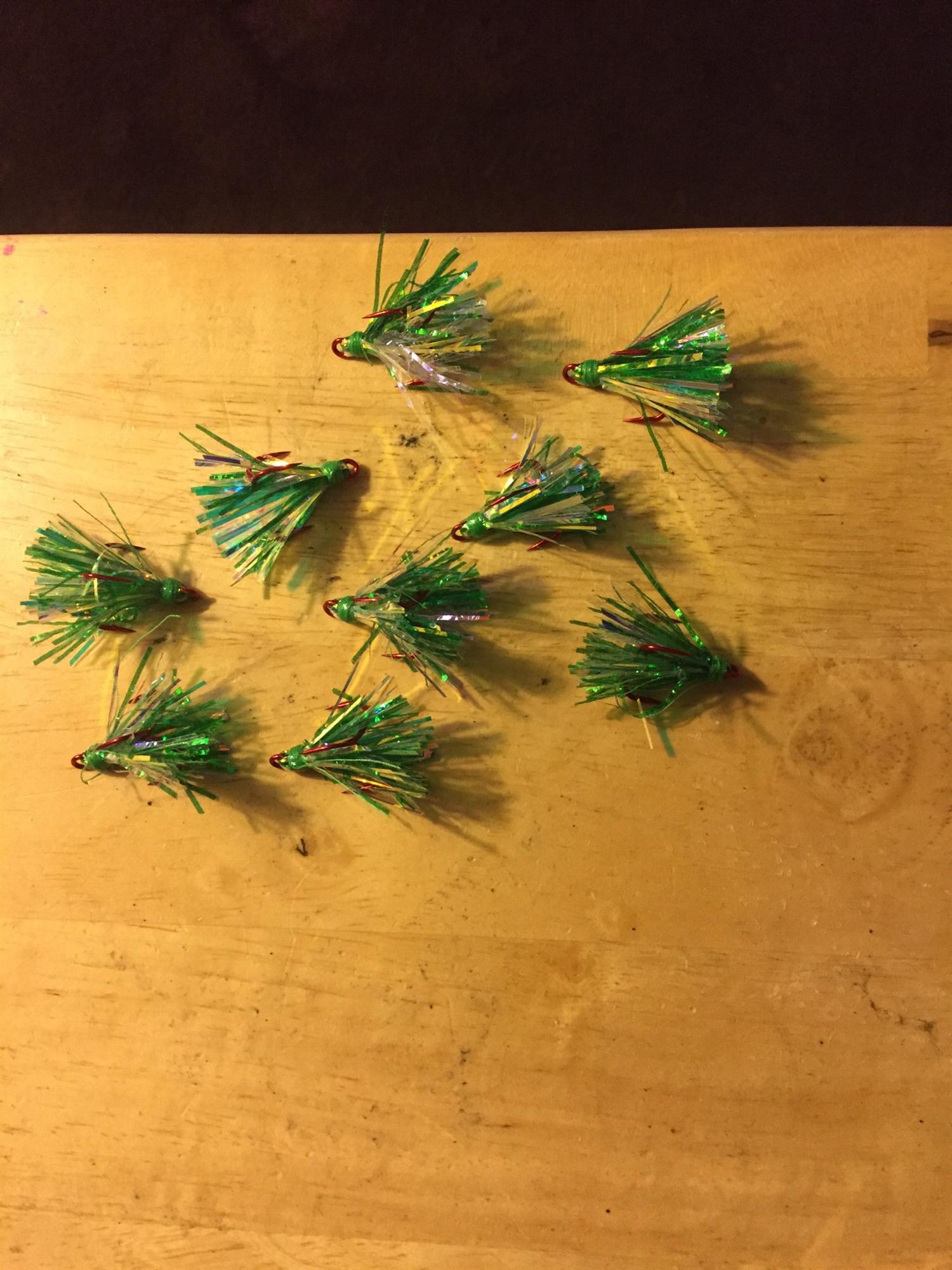 Report for May 17, 2020
The best time of the year to catch big numbers of salmon has arrived. Mid-May through Mid-July is Coho salmon time and along with some Chinook salmon is the best time to catch salmon in numbers. We hope all of our customers are staying healthy amidst the COVID-19 outbreak but I don't want to talk too much about this, since that is all anyone is talking about. We know what it is and what to do to prevent it. The state of Wisconsin is finally easing restrictions and for the most part charter fishing is open on Lake Michigan for the Wisconsin side. Silver King Charters will be doing its part to keep you safe. We will be disinfecting the boat after each trip, provided plenty of hand sanitizer and the crew will be wearing face masks when needed. We will encourage all our customers to bring masks and use when needed. We believe charter fishing on Lake Michigan can be done safely and with many other events cancelled this summer it is a great way to have some fun. You can drink adult beverages too!
We have been out several times in the last ten days and we have been able to put Coho in the boat each time. We have not been able to get into a groove yet but we are about to hit the water hard now. What we can say is there is a lot of bait around. Nearshore at times the graph cannot read bottom. We were in 50 feet of water and our graph read 20 feet for a long time. I though the thing was broken but we also snagged 12 alewives during this period. We ran several Coho set ups and had consistent action on them. The water around the Milwaukee harbor has been too muddy to fish, along with the shoreline, so we found the best action to be in 40 to 60 feet of water. This is were the water clarity began to turn green. We caught Coho, Chinook and Lake trout in this depth. The action was from the filtration plant up to Fox Point. The surface water temperature was around 44 degrees but Friday it was up to 49 degrees and 44 degrees down 30 feet. We did go out to 200 feet one day straight out the north gap and found surface temperatures at 39 degrees. This was a week ago and I am sure it has warmed up some.
We took the Coho salmon on orange dodgers and Gen X or green peanut flies. We had this on a rigger two dipsies set at 30 feet on the outside and 20 feet on the inside. We had 3 mono boards, with 5/8 ounce keel weights, set 20, 40 and 50 feet back from the boards. All of these set ups took Coho. We have not had our normal time on the water and our catch rate on Coho salmon is down but the potential is there to boat double digit catches of Coho salmon right now out of Milwaukee. If the water clears up a little close to shore there could be a great bite but with the strong east and northeast winds plus the rain I think offshore will be the answer this Memorial Day weekend. We have been catching some nice Chinook salmon each time out and Friday we boated 4 Kings all over 15 pounds. These fish are very healthy and put up and very tough fight. We have been running some flasher and fly sets but the Chinook want spoons. The UV Blue Dolphin and Gold Hud Stinger spoons in the Stingray size are the ticket. Riggers set from 40 to 55 feet down and 5 or 7 color leadcores are the best set ups right now. Of course the Lake trout are being caught and I believe if we targeted them specifically we could take 20 trout easily in a trip. A good back up for sure. But we want to catch salmon right now.
After this blow that is happening right now we will try out deep. Over the years out of Milwaukee somewhere between 150 to 250 feet or water can be an amazing bite for Coho salmon and Memorial Day weekend usually starts it off. The water is warming up, the bait is everywhere and we are already catching good numbers of salmon. Now it is time to dial in on them and the end of this upcoming week is shaping up to be a good one for fishing starting Thursday. We understand there is a lot gong on and it is affecting all business. This is the first Memorial Day that we have any spots open in a long time. We think the weather and the fishing are going to be good. Call Silver King Charters at 414-460-1467 and lets start having some fun catching fish and drinking the beverage of your choice. We will fillet your fish and you can grill them out that night.
I have attached a few pictures of fish we have caught recently, a picture of our favorite peanut fly and the stocking numbers for Lake Michigan in 2019. The overall number is the lowest since in many years, maybe going back into the 1970's, but some of this decline is due to reduction in Lake trout stocking and this is a good thing. All the species are at low numbers to previous years, with the exception of Rainbow trout. There is a lot to be said about these numbers but the most important thing to be noted is the health of the salmon and trout in the lake currently. You don't catch a Chinook salmon that is 20 to 30 pounds that are eating water, so the reductions in stocking over the last 13 years have helped. It is now time to start putting more fish in the lake and reducing Lake trout stocking. With 2.4 million Lake trout stocked in 2019, which was lowest Lake trout stoking since 2004, and the increase stocking of Chinook salmon of 2.3 million lake wide in 2020 we are heading in the right direction. Not sure but 2.5 million Chinook, 2.5 million Coho, 1.5 million Brown trout, 2 million Rainbow trout and 2 million Lake trout stocked each year seems to be good numbers for a healthy and productive fishery in the lakes current state,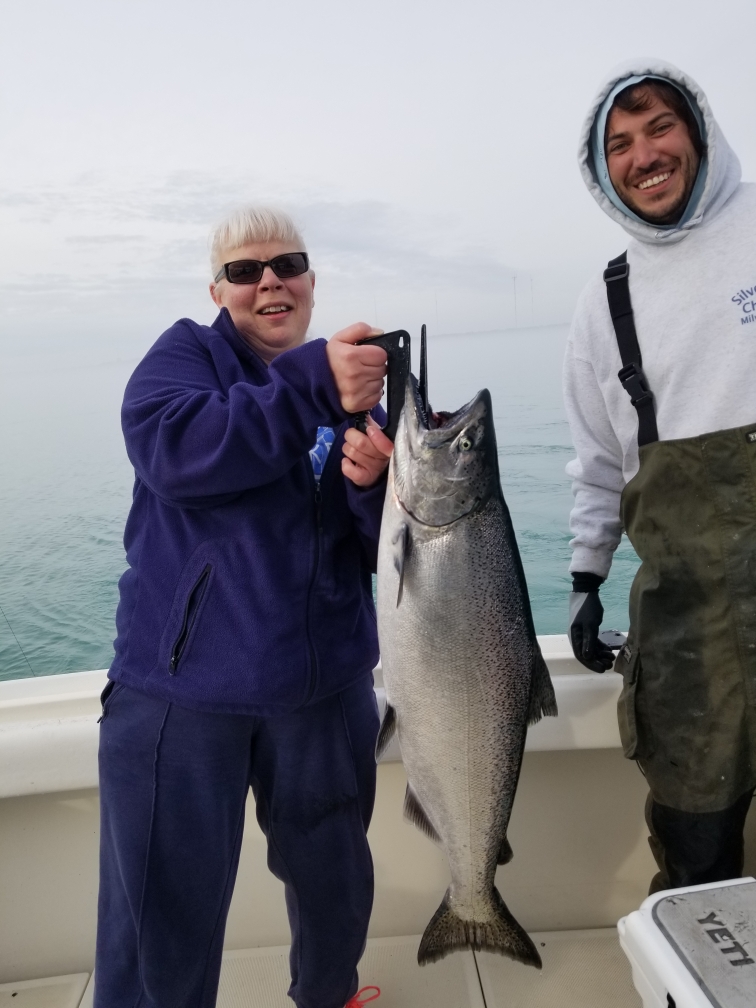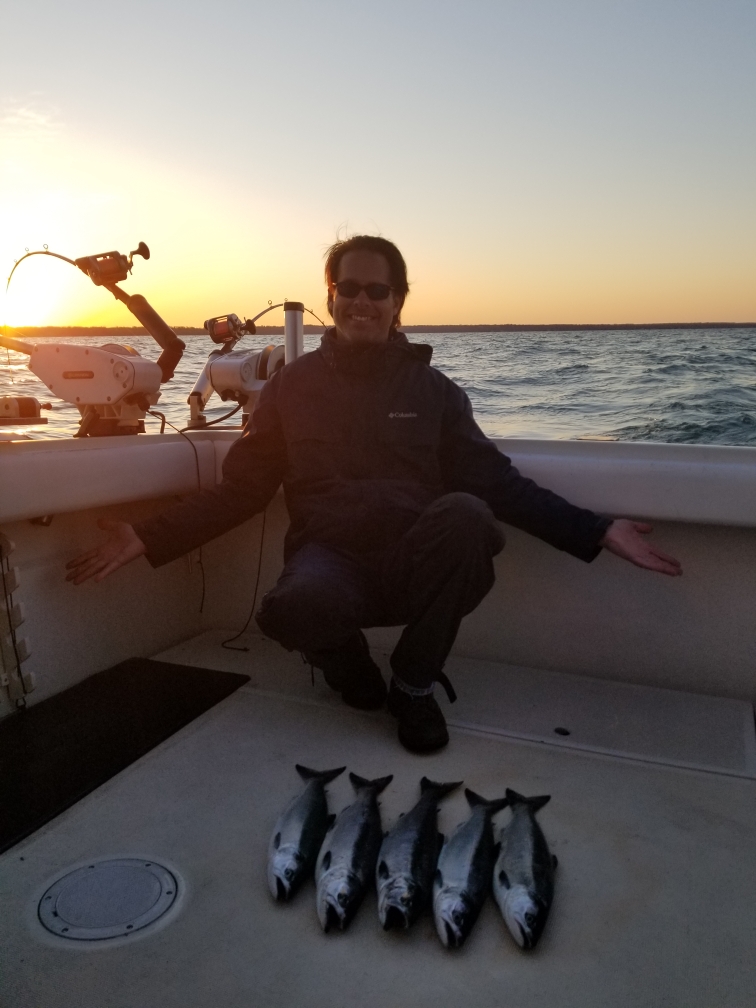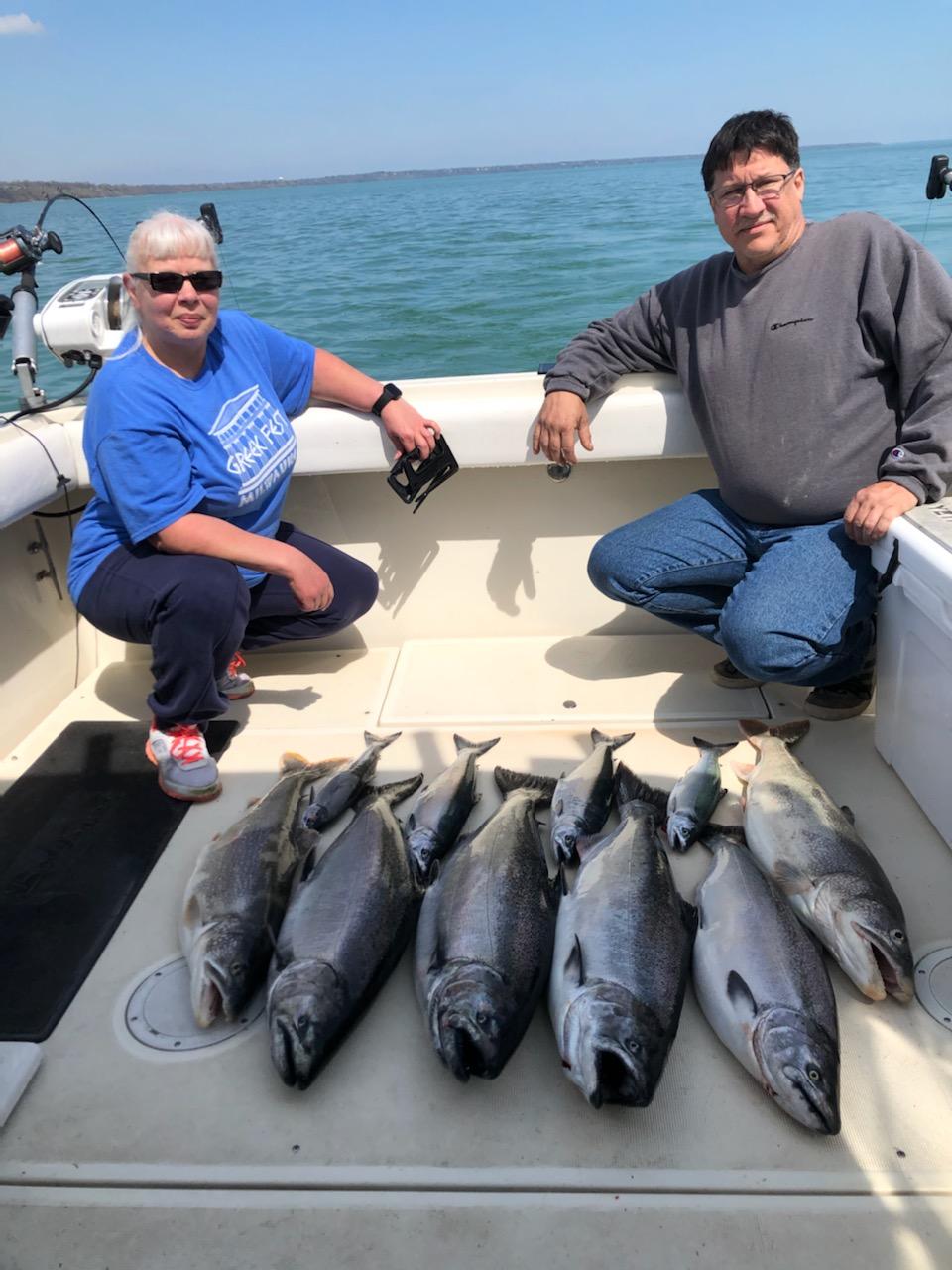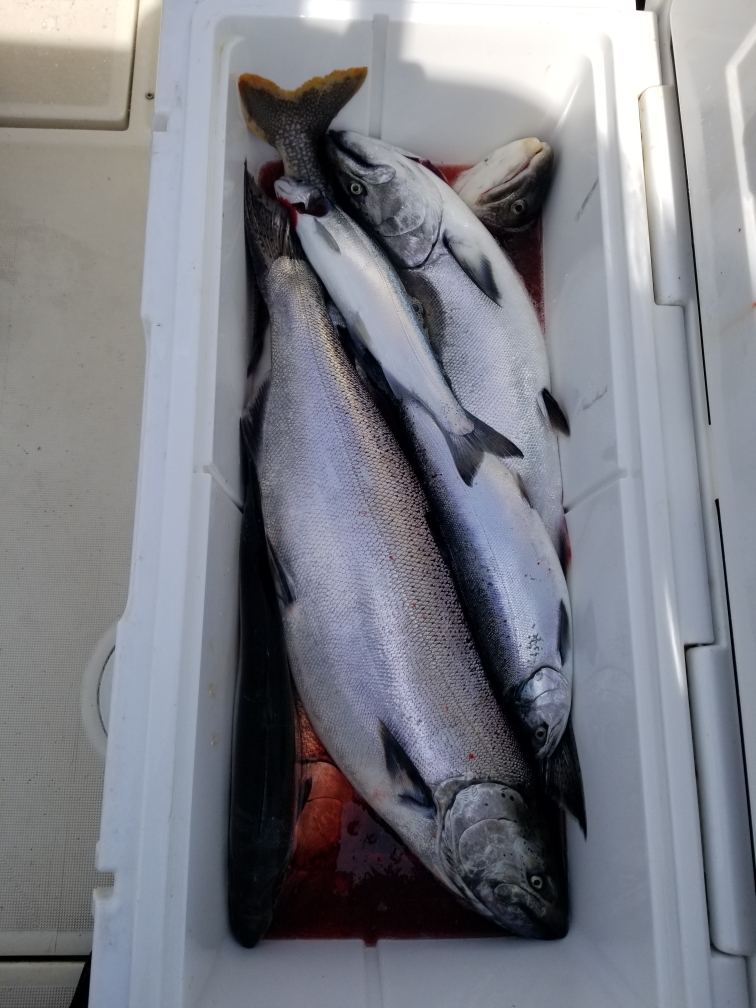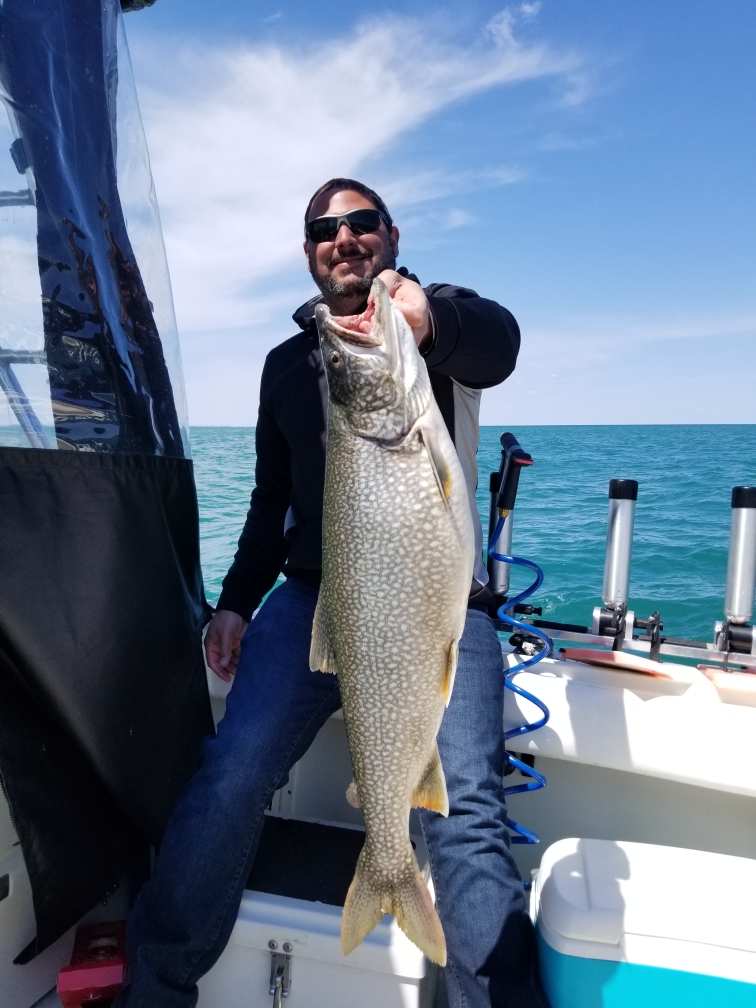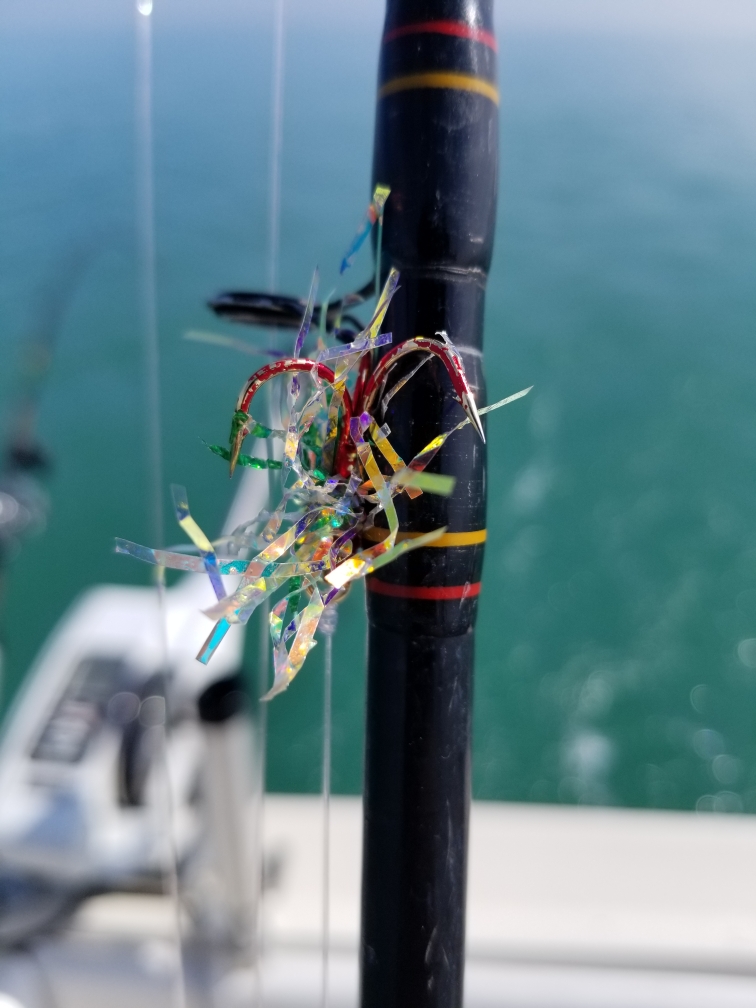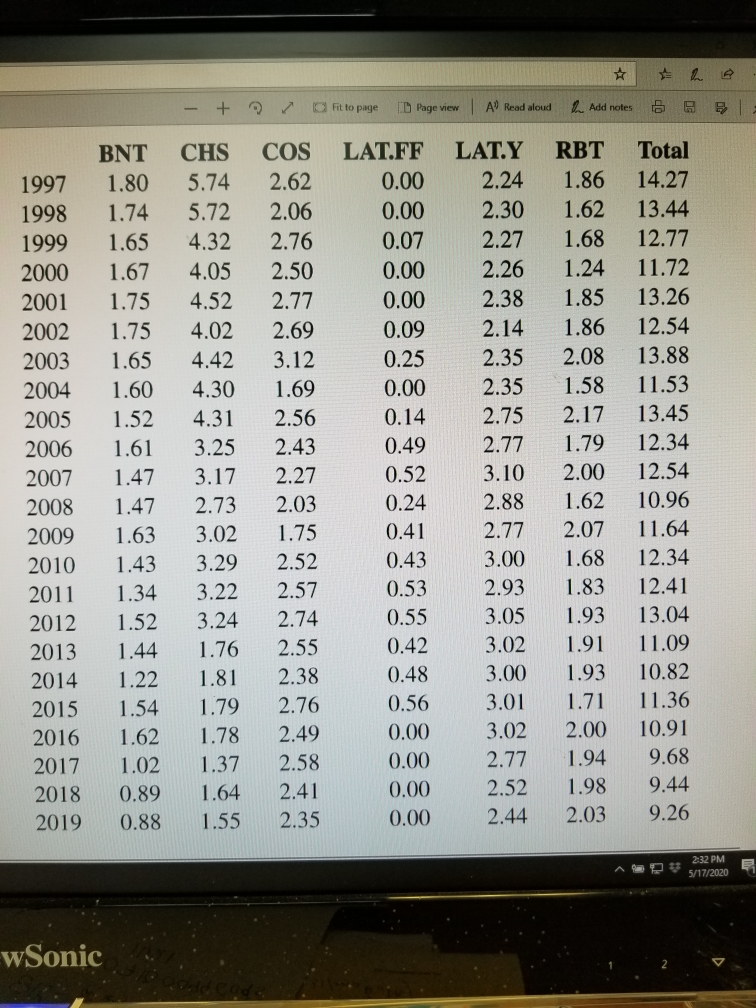 Report for May 3, 2020
We should be at the beginning of the best Lake Michigan charter fishing for salmon of the entire year. The fishing is there but the go ahead by the states is not. There is some hope though as Ohio opened up chatter fishing on Lake Erie. We believe sometime this month we will get the go ahead for our Wisconsin Governor. We were out fishing Saturday and had some Coho action off Wind Point in 89 to 90 feet. There has been good or even great Coho action south of Wind Point in 50 feet or less. Been a good start for sure down south and we expect a very good season on Coho salmon, unlike last year. The water was 42 degrees at the surface and 39 degrees down 30 feet. We fished in deeper water due to water clarity in shallow. The bait is loaded in close as the alewives have moved in. The smelt run keeps improving each year and the alewives that have showed certainly have not dropped off from last year. We are slipped at South Milwaukee Yacht Club. I have a huge thanks out to these guys for letting us slip at the marina. We still cannot slip at McKinley marina as it is the only marina not open on the Wisconsin side of Lake Michigan. We hope they open soon. So there is a lot of stuff going on with COVID-19 right now but the fish, lake and the rest of nature just keeps rolling.
We have been out several times since early April. We have run Coho set ups each time but yesterday was the first day they were hit. Orange dodgers and green or Gen-X peanut flies were hit. Boards with 5/8 ounce keep weights about 30 feet back from the board or on mono dipsies 30 feet out on the line counter were all hit. We had about 10 bites and boated only 5 Coho but they were decent size compared to early April. We ran a smoked dodger and Milwaukee Special spin & glow on the bottom for 20 minutes and took 2 Lake trout. That was it but we will start fishing on a more regular basis now.
Call Silver King Charters at 414-460-1467. We will be running trips soon and that great Coho action we are use to seen at this time of year is shaping up to be very good. I know there is still a lot of uncertainty in the air with the virus issues but we are going to have to get on with our lives soon and due to all the cancellations of concerts, sports and festivals you have to do something fun. Lake Michigan Charter fishing will be back and if is a fun adventure. You can also enjoy some adult beverages with family and friends, while catching fish. I don't have much in pictures from yesterday but I kept a few Coho salmon from the trip and ate them last night. Simple nothing better than Coho caught that day.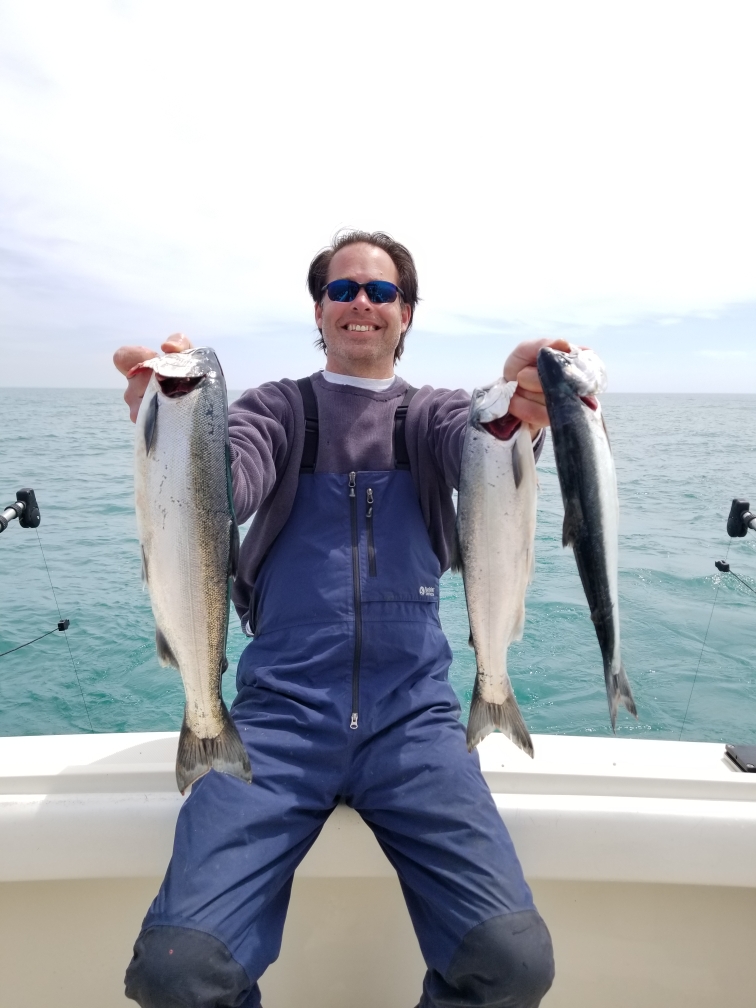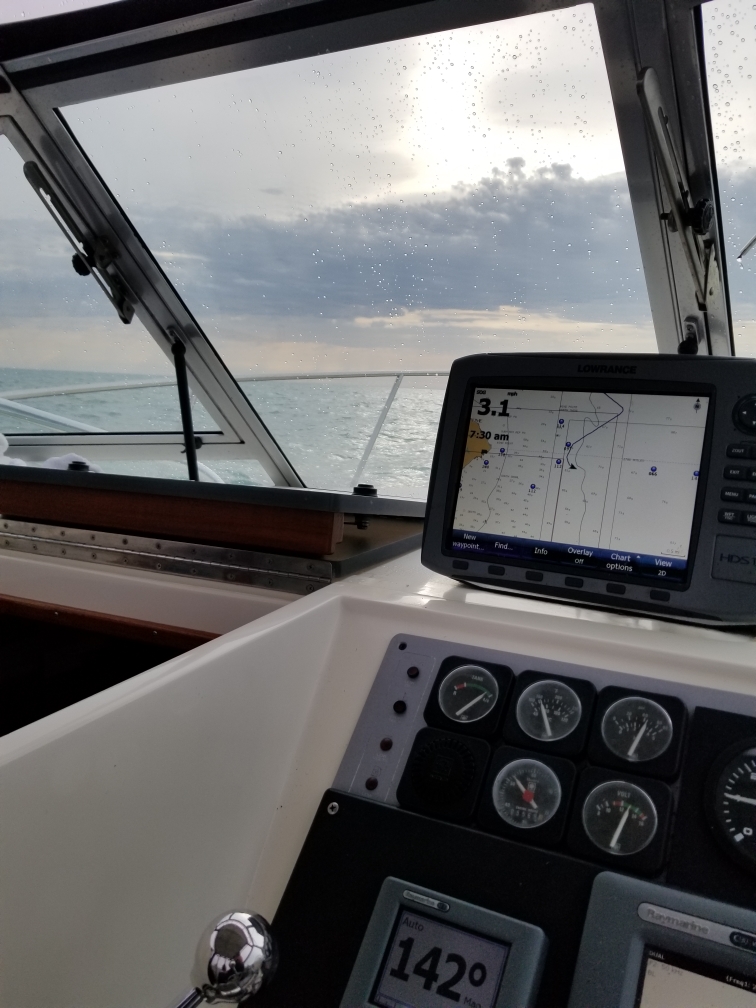 Report for April 28, 2020
Well April is almost finished and I should be writing about the best April in years but instead we are still waiting on our go papers from the Governor. The weather and the fishing was so right this April and the few times we went out we caught fish with ease. The Coho bite is on fire sown south and it is torture not to be able to take people out. Of course their a lot of people suffering right now both health wise and economic wise with the COVID-19 pandemic. But we cannot wait to take people fishing and forget about it for just a little while and catch some fish. Things are stating to loosen up as state parks and boat launches open up. We expect they will let us charter soon and I am sure there will be restriction put on us. We want to make sure our customers are safe when they fish with us so the boat will be wiped with down disinfectants after each trip, we will have hand soap, we will be wearing masks until things are under control. We want you to feel safe and we want to feel safe too so make sure everyone in your crew does not have flu like conditions when you come. So we just have to wait until the state lets us start chartering.
We have been out and things are looking up. The Coho bite looks to be a good one this year. The Chinooks that are around look healthy and big. There is still a good Brown trout bite and of course plenty of Lake trout, if you can believe it. The bite down in Illinois has been real good for Coho and we have already been catching them in Milwaukee but the big schools are not here just yet. Water temperatures are warm and we have seen 45 degrees on the surface near shore. It is set up good and waiting for our customers to catch a lot of fish. I don not know when we will be able to start but the earliest is May 1st. We hope it is not much longer than this. We believe we can run trips safely with minimal risk of spreading the virus. Let us just say that going to the grocery store is probably 10.000 times worse.
Call Silver King Charters at 414-460-1467 to book a trip and we will get you catching fish. We will play whatever music you want on SirusXM and bring something to drink, kick back and enjoy life. We will fish hard for you and make your time away from all of the virus stuff special. The pictures are from our last fun trip. I have my mask on and it really was not that bad. I am holding a 15 pound Chinook salmon. I think we will catch a few more salmon Milwaukee charter fishing this year.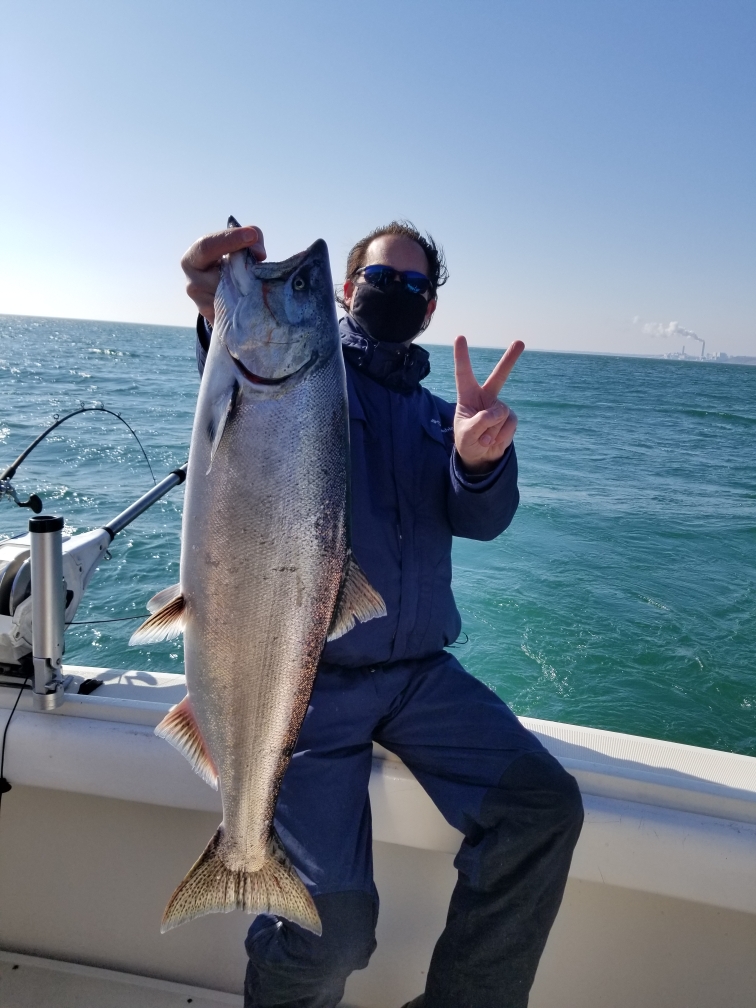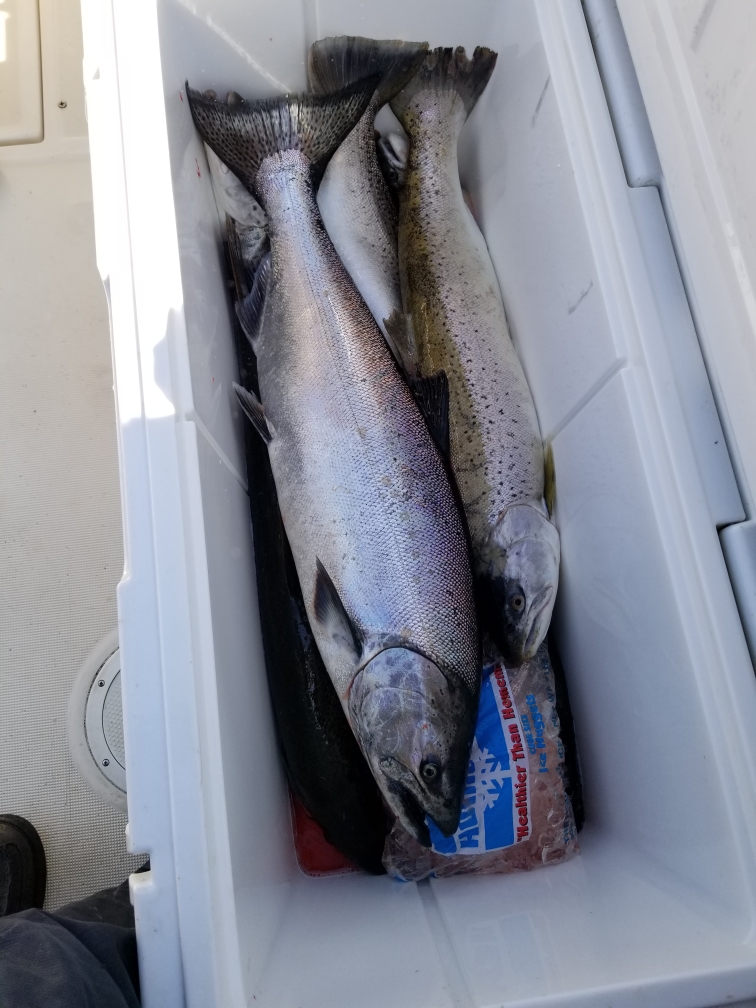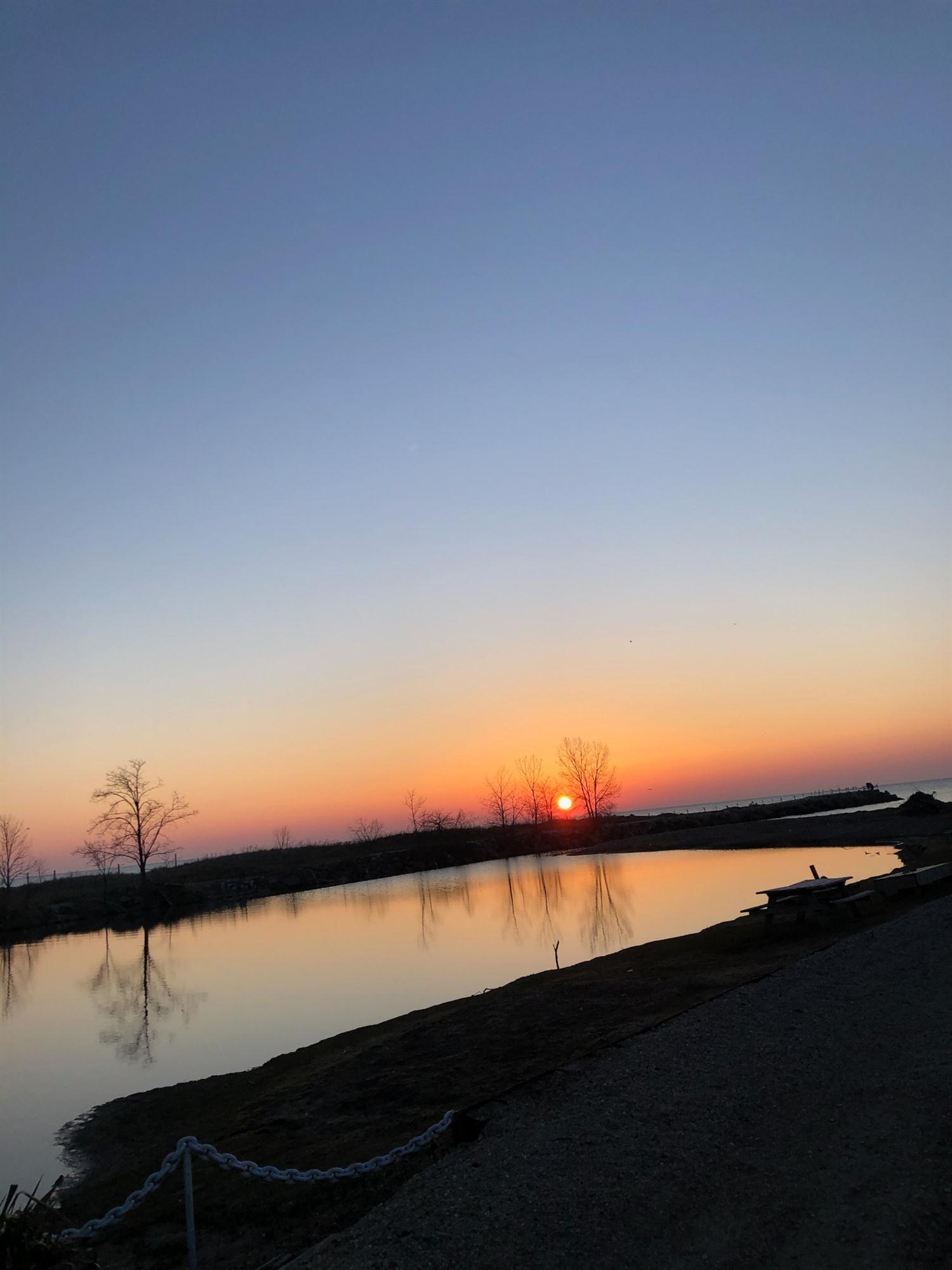 Report for April 11, 2020
Well COVID-19 has put the skids on just about everything. Lake Michigan charter fishing has been shutdown. For Wisconsin this will not be revisited until late April and then we will see. The most important thing I could say in this report is Social Distancing!! Do it and we will be back in business sooner for all business. We know that it will be sometime before stadiums are full, festivals are a go and live concerts start to happen but for charter fishing I think we will be back sooner. The great thing is it is a small group of your choosing. I know people will be itching to get out and do stuff. Lake Michigan charter fishing is the ticket. You get outside, catch fish and have a few beverages with friends and family. The best fishing of the year is in front of us and we have the boat in the water. My brother and I have fished a couple of times and it has been good. A mixed bag of Brown trout and Coho salmon. The water temperature has been in the low forties where we have fished. We have worked the shoreline from the Oak Creek power plant to the Main gap of the Milwaukee harbor and have caught fish everywhere. We finally have a good spring and the fish are biting and we cannot run a trip. Well there are a lot of people suffering worse and we just keep it in perspective.
The little fishing we have done has been in 20 feet or less along the shore, with the exception of the harbor gaps. The closer to shore the better. We have heard Flicker Shads are the way to go but we don't like to mess around with that. We ran all spoons, with a couple of orange dodgers and peanut flies out. We are only running 6 rods, so it is a little tougher to dial in to a hot bite. The one color leadcores were the best by far. We had small copper Mass Confusion Stingers on these and these rods where hot. We caught both Coho salmon and Brown trout on them. The gold NBK green was good on a two color. We ran the orange dodgers on a dipsy and mono board and had just one hit on them over the last two trips. It was board heavy bite and very close to shore. We have seen a lot of Coho salmon caught and hopefully this translates into a great May and June for them. Water is warm for this time of year and we have seen some good amounts of bait. The smelt run seems to be decent for where it fell to. But the police shut this down when the groups of people grew to big.
So it is hard to say when we will be able to start Lake Michigan charter fishing up. I think sooner than later. We are hoping early May. When the state says go we are in the water already ans set to fish. Bring the beverage of your choice, some good friends and be ready to catch fish. We will filet them and you can have fresh fish on the grill that night. I have a feeling there will not be a lot of the bigger events happening this summer but you will be able to get on the water and catch salmon and trout. Lets get through this nasty virus asap and give Silver King Charters a call at 414-460-1467. We will be rolling right through October. Going to make this a fun season! Picture of a rain storm that hit as the sun was popping out and a picture of a 33 pound Brown trout we caught in April 2017 around this time. Stay healthy and safe.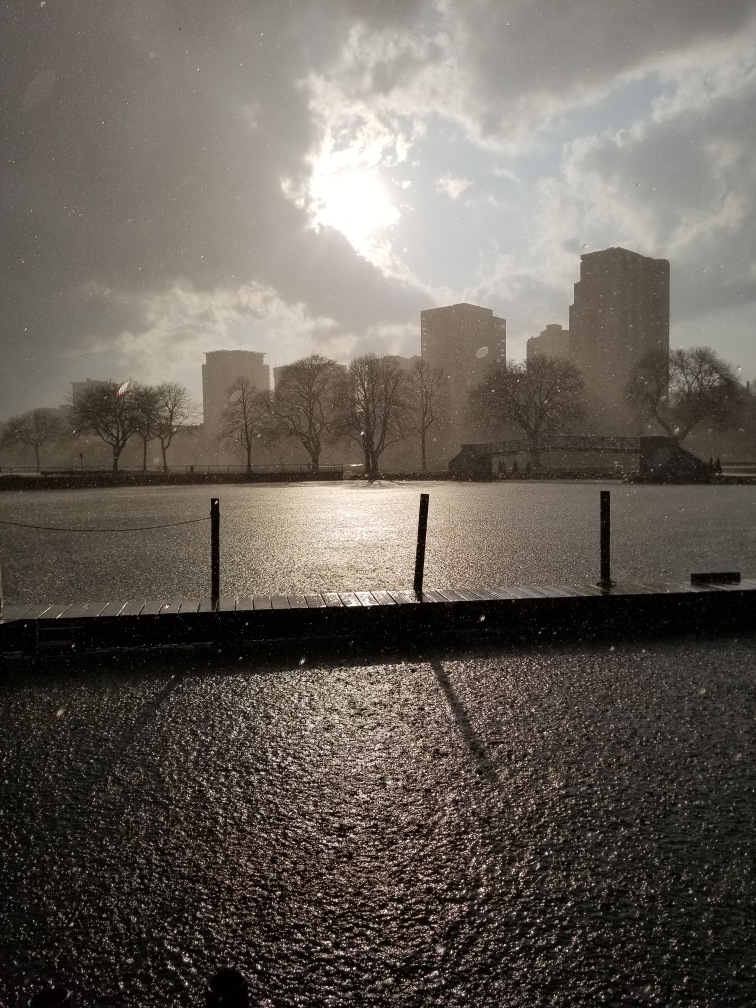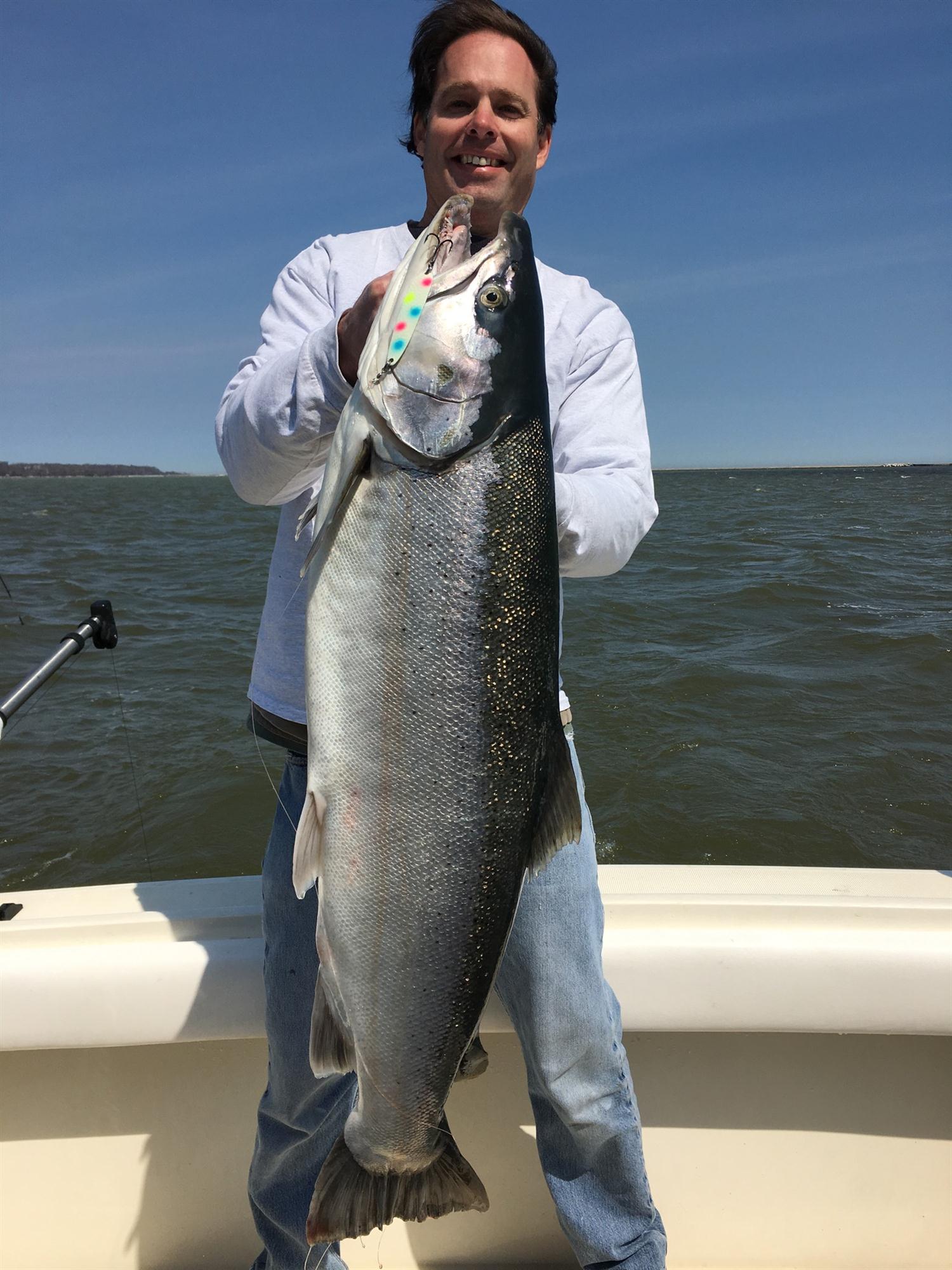 Report for February 26, 2020
We hope to have the boat in early this year. The goal is March 27th and fishing on March 28th. The reason we think this will happen is there has not been much ice around. Lake Michigan has been less than 20 percent covered with ice at any time this winter and right now in the southern end of the lake it is just harbors that have ice. There have only been 5 years since 1975 with the same or less ice coverage during a winter. So unless we get an unexpected long freeze we will be fishing early. The benefits to these less cold winters are survival of little stuff in the lake. Young stocked fish and fish that just hatched last spring. The lake level is also at an all time high for this time of year and was at record highs all last year. This means that more nutrients is getting in the lake. This is a good combination for survival. We saw bigger fish last season and it looks like this trend should continue. A mild winter should only improve this trend. Milwaukee charter fishing in April is our best month for Brown trout fishing. We have had Aprils where we had some great Coho and even Chinook catches but normally we are strong on Brown trout and Lake trout.
We are typically fishing close to shore or in and around the Milwaukee harbor in 15 to 40 feet of water. The harbor and river hold warmer water and have better action. We will also fish the Oak Creek power plant when weather permits. This also has warm water discharges. Lake Michigan is already warmer than usually right now. We are typically running boards with 1, 2, and 3 color leadcores. We also run mono dipsy's and shallow downriggers. We like to use spoons this time or year but stick baits are also effective. Our favorite spoons Stinger Gold Hud, UV Blue Dolphin, NBK Green and the Copper Mass Confusion. We catch a lot of Brown trout on these spoons. The Brown trout run between 2 to 12 pounds and we have caught many in that went 15 pounds or more. Our biggest in April was 33 pounds. When the water sets up right this can be as productive as any time during the entire season.
It is setting up for an early bite this year although it still may be cold out while we are fishing the action should warm you up. Dress warm and give Silver King Charters a call at 414-460-1467 to get in on the best Brown trout action of the year during April. This is one of my favorite times of the year to fish. We will be in Milwaukee the entire month. I attached a couple of pictures of fish caught the first week of April in past years.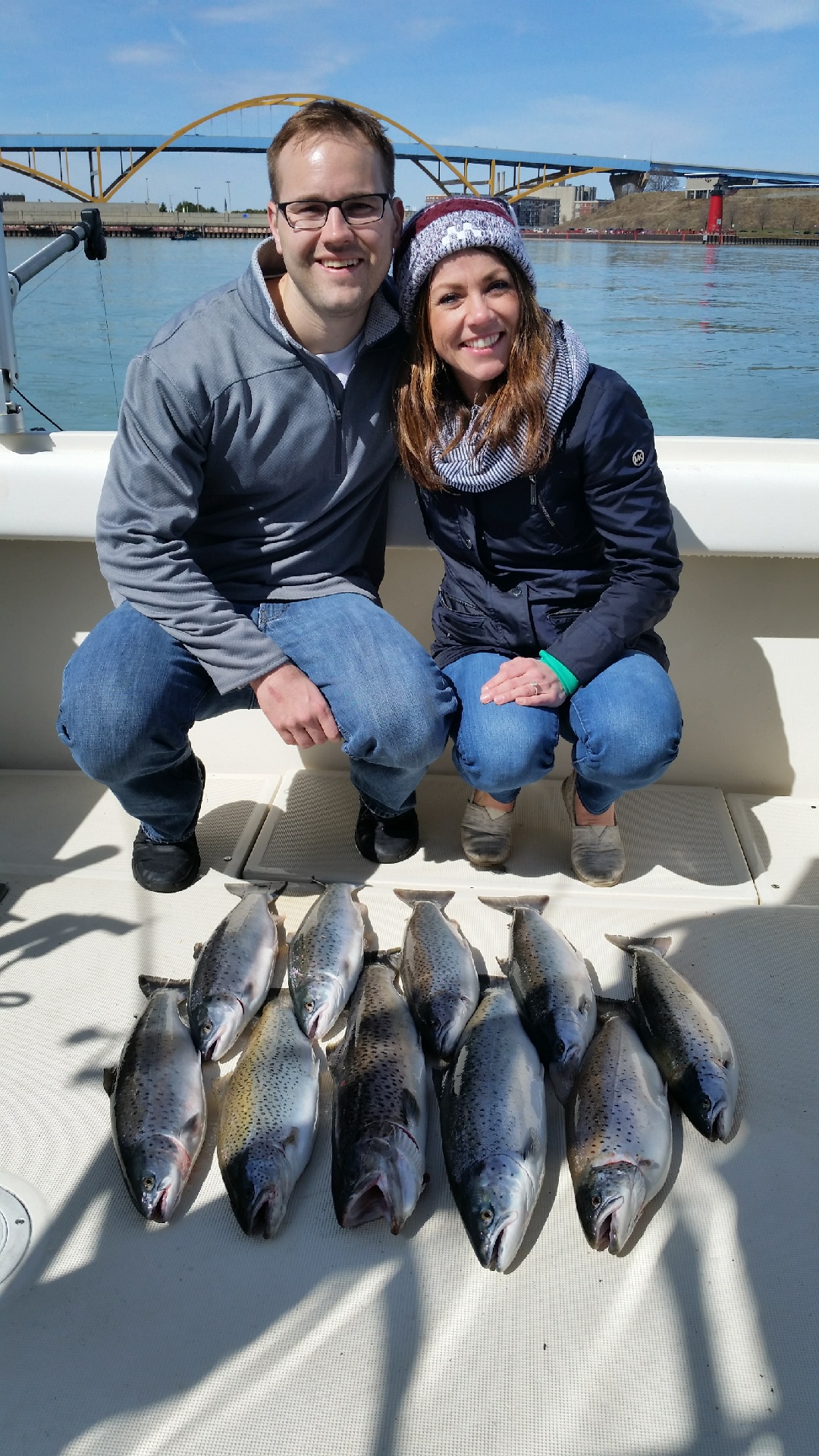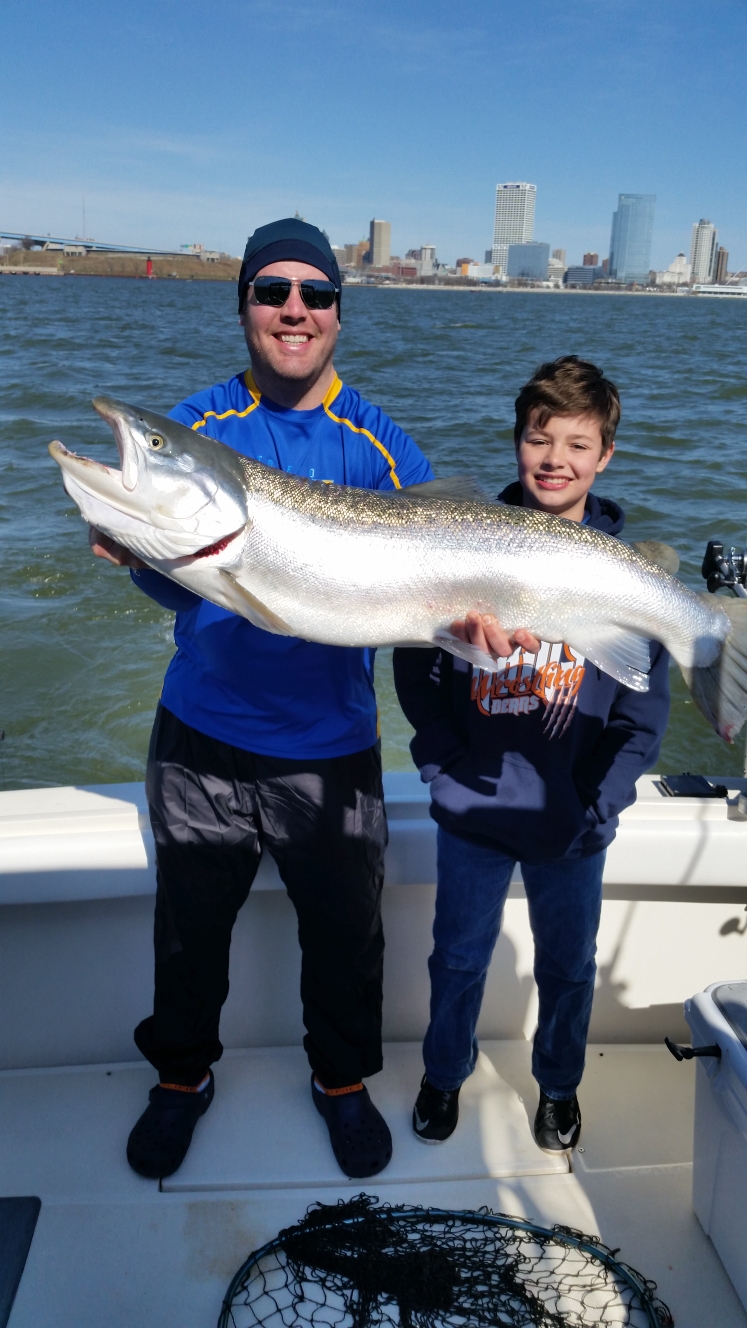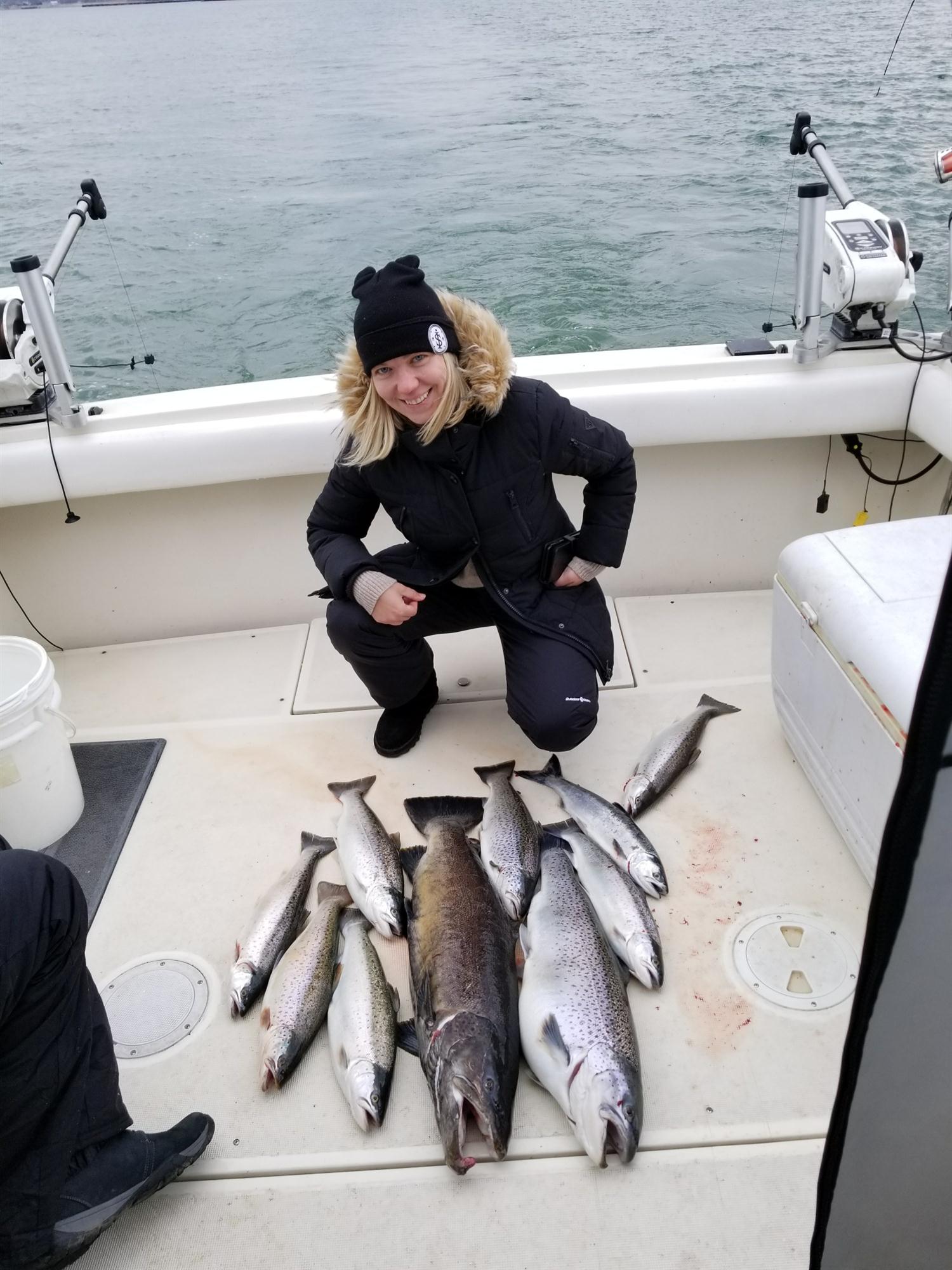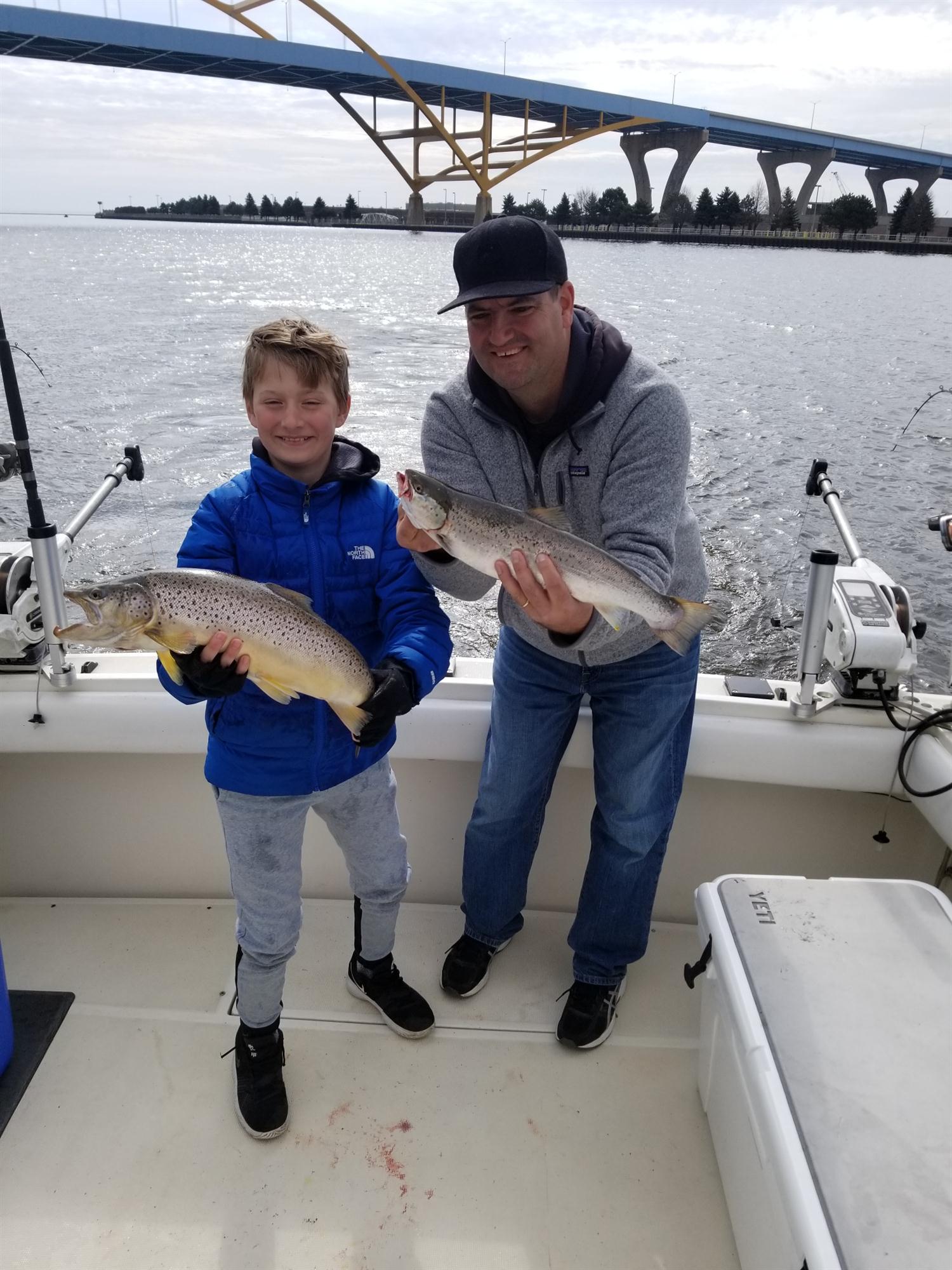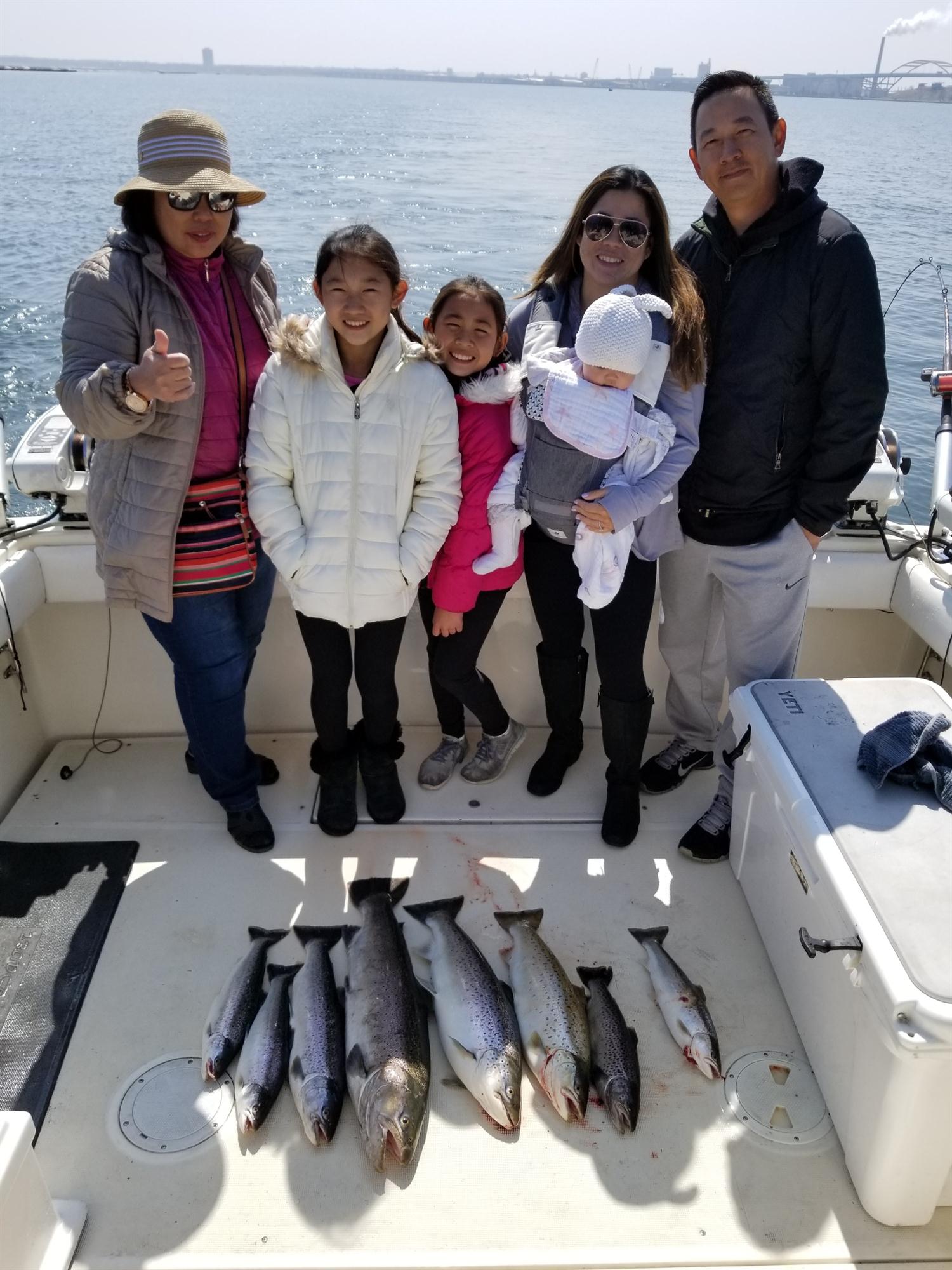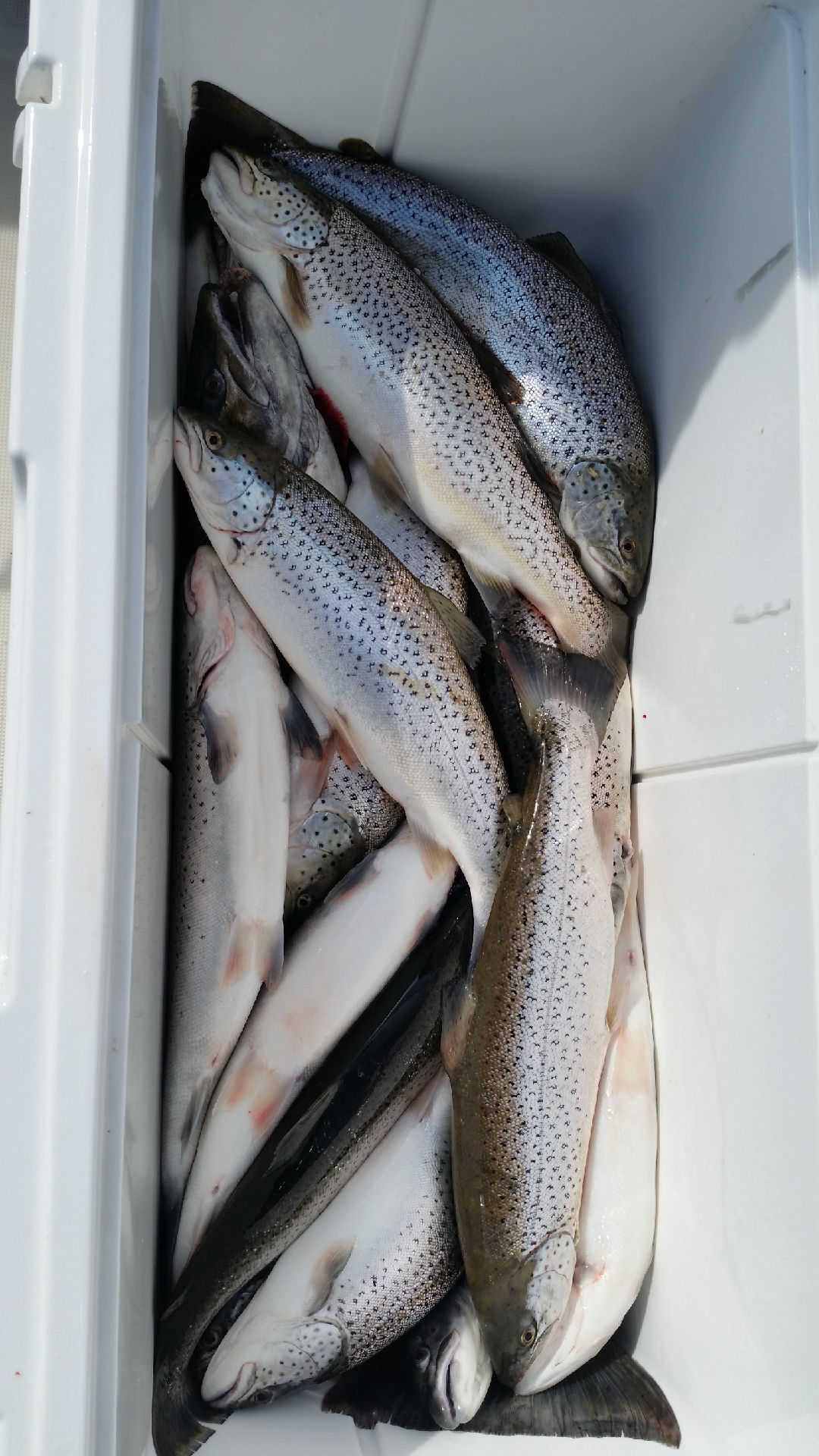 Report for January 9, 2020
Silver King Charters is getting ready for the 2020 season, which is only 50 days away. Last April we had some great catches of Brown trout and look forward to that early spring action this year that may start the last week of March. To all that fish with us I am sure we have brought up the shortage of Chinook salmon in Lake Michigan. In 2013 it was decided that the lake could no longer sustain the current stocking levels of Chinook, which was 3.24 million stocked in 2012. The alewife population was down and the thought was natural reproduction of Chinook salmon account for more than half the population of Chinook in Lake Michigan. By 2018 there was talk of eliminating Chinook stocking in Lake Michigan completely. A goal of some groups for many years. But many fought back on this idea and even asked for increases. During the 2018 and 2019 seasons the Chinook that were caught were big. A 20 pound Chinook became average and 30 pound Chinooks were the new big fish. It was obvious that some of the facts we were told were off about bait population and natural reproduction. Yes the fish were bigger but the catch rate was way down. Lake Huron, which is connected to Lake Michigan and fish can swim back and forth from did crash and the Chinook population did fall to almost nothing due to very little food. It was a good idea to take steps to prevent the same from happening in Lake Michigan. But for now it looks as if Lake Michigan has reached a balance with the mussel invasion and more fish can be put back into the lake. So what does this mean for the 2020 stockings. Well do to a lot of pressure from groups in Wisconsin, primarily the WLBA the stocking reductions were halted and now will be increased. We were dangerously close to having no Chinooks stocked but the tide has turned. The combined stocking of all four states surrounding Lake Michigan for Chinook salmon will now be at least 2.2 million, which is up from the all time low in 2017 of 1.37 million. This is a big increase and we have not seen this many Chinooks stocked since 2012. There were many who were involved in this increase but I believe if the WLBA did not exist then neither would Chinook stocking in Lake Michigan. Silver King Charters is a huge supported of them.
The stocked fish in 2020 will not help our catch rate this season but for seasons to come it will only get better. Lake trout stocking, which has been incredibly reckless over the last 15 years is still a problem. The Lake trout stocking for the first time in years has been reduced a small amount but one can only imagine how many are in the lake currently. I can say this with certainty that if you added up all the Brown trout, Coho, Chinook and Rainbow trout in the lake currently it would not come close to equaling the Lake trout heard and that is way under stating it. Lake trout live for a long time, eat constantly and have several restricted areas you cannot fish for them. There should be no more than 2 million total a year stocked in the lake!
Lake Michigan charter fishing has some how weathered several major crisis over the years but still remains a world class fishery and for the immediate future things are looking up. With the way last year ended, with and incredible Chinook bite we are looking for some what of an improved King bite in 2020. Lake Michigan has not come close to freezing over and an early spring is almost certain. At least one where we can get in the water. The early bite of April is one of my favorite times to fish, with short run times and the best Brown trout fishing of the year. Call Silver King Charters at 414-460-1467 to get on the books for some Milwaukee charter fishing in 2020. The pictures are a sunrise and sunset from a couple of days ago. There is barely any ice left in the harbor now.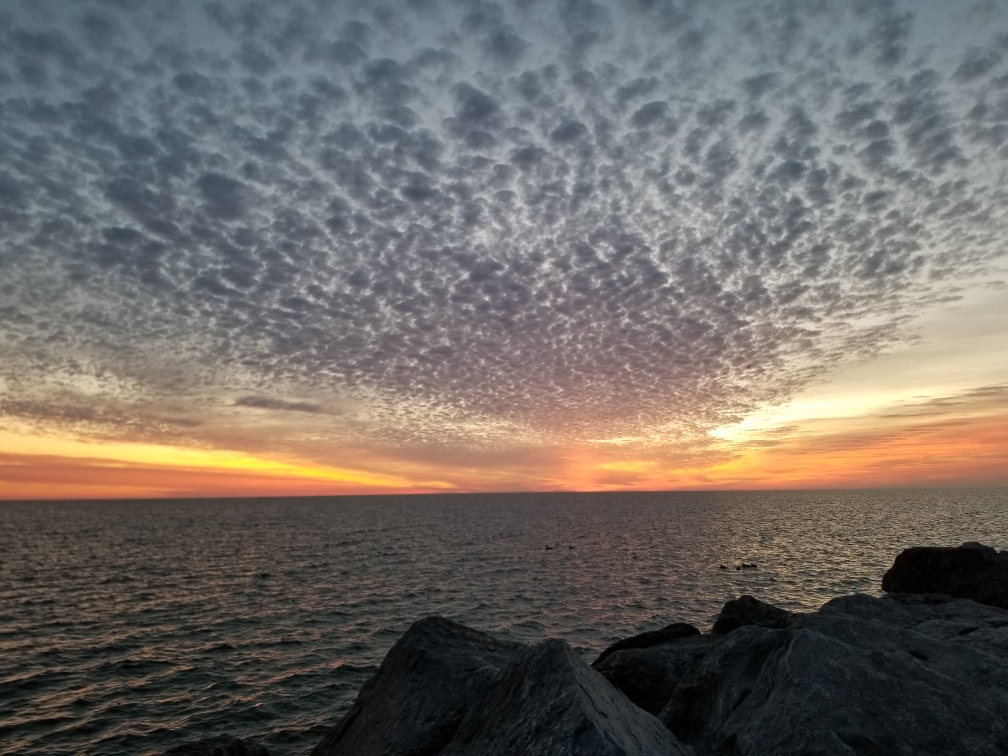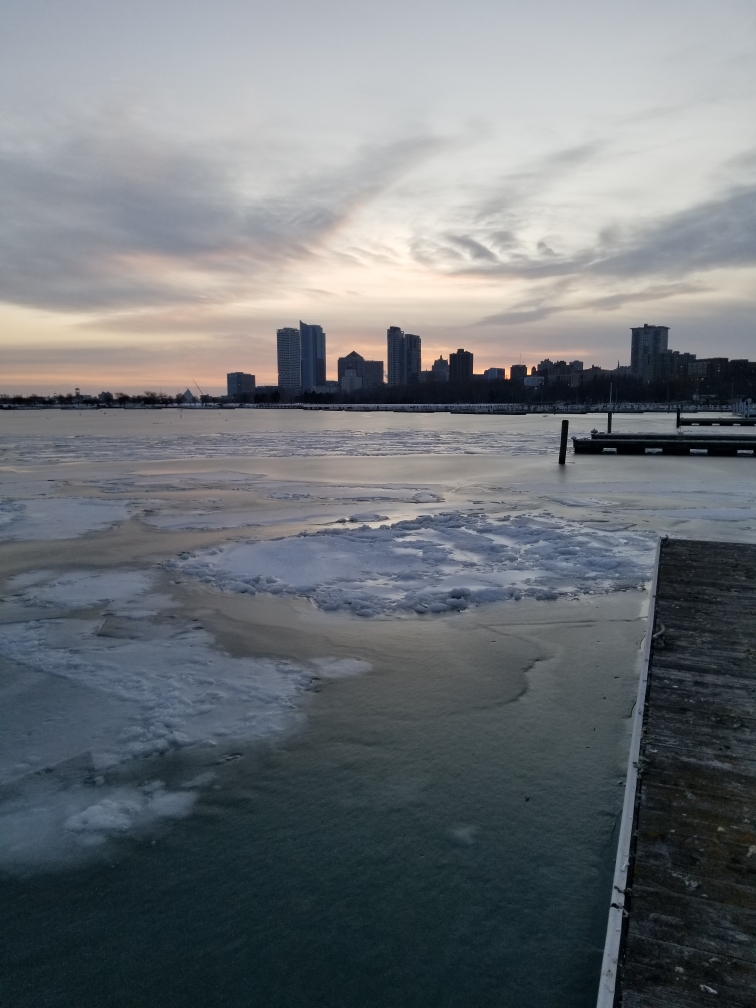 No reports yet this month.