April Charter Fishing at Silver King Charters on Lake Michigan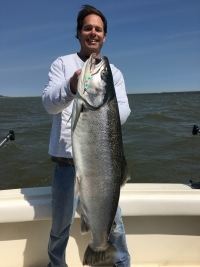 All though the weather may be chilly the fishing can be hot. We target Brown Trout primarily during this period. We do catch some other species too like Lake trout but the top fish is Brown trout and this is one of the best month to catch one.
We catch them from 2 pounds to 33 pounds like the one boated in 2017. We fish in one of the best areas to target Brown trout on Lake Michigan. In and around the Milwaukee harbor. The expansive harbor allows us to catch fish even on bad wind days, giving us calmer seas and warmer water to land fish.
The shoreline also has ideal structure for trout in Milwaukee. We are usually fishing in 10 to 40 feet of water, using spoons and stick baits to catch fish. Bundle up and get in on some early spring action.
Contact Silver King Charters now to book an April adventure on Lake Michigan to hunt down brown trout.