September Charter Fishing on Lake Michigan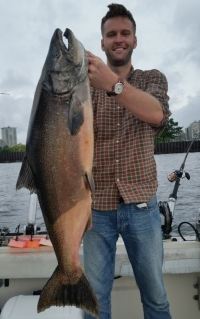 This is when mature fish start to stage or get ready to spawn. Big Chinook salmon come back to the ports they were stocked in.
The first half of the month is the best for this action. We call it combat fishing!
We are fishing in and around the harbor and the Chinooks are explosive. The number of fish caught during this time is not great but the size and fight is. We will also catch Brown trout during this period. The second half of September we are back out on the lake fishing for Brown trout, Lake trout, Rainbow trout or 2 and 3 year old Chinook salmon.
The depth of water will vary to water temperature and spoons, with some flasher flies as the top baits.
Contact Silver King Charters for an action-packed September day on Lake Michigan fishing Chinook salmon, Brown trout and Lake trout.