July Charter Fishing on Lake Michigan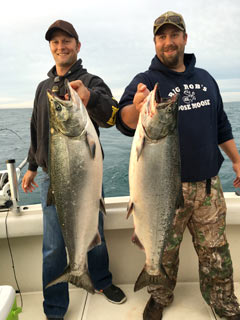 We start the month still catching Coho salmon but they are dropping off considerable. This month is a mix of Chinook, Coho, Lake trout and Rainbow trout. This is when we start adding more size to the catches. May and June are known for numbers July and August are for size.
The salmon are putting on the pounds by this time and it is a great time to catch big Lake trout. We also start to develop an offshore bite for Rainbow "Steelhead" trout. Mature Chinook average 12 to 20 pounds, with some reaching 30 pounds. There are not as many Chinook as Coho in Lake Michigan but the fight is second to none for the King salmon. This is one of the best month to hook up with a Chinook salmon.
The weather is at its best and big fish are waiting to be caught. We will be fishing from 30 to 300 feet of water depending on the species but we are usually in 70 to 120 feet of water on average The baits will be flasher flies and spoons. We also offer the Salmon-A-Rama special this month and Captain Willy is a trophy hunter during this week.
Contact Silver King Charters for an adventurous July day catching Chinook, Coho, Lake trout and rainbow trout.