August Charter Fishing on Lake Michigan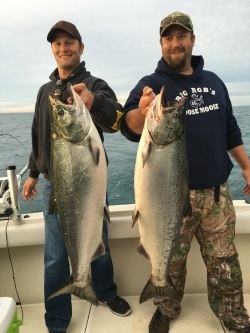 This is the month when Chinook salmon are at their largest and they are feeding heavy before spawning.
It is also a great time to catch big Lake trout as they get ready to spawn too. We catch most of our 20 plus pound fish in late July and August. The catch rate is down from earlier in the year but this is your best opportunity to catch a trophy fish.
We are primarily targeting Chinook salmon, Lake trout and Rainbow trout. We are usually in 50 to 150 feet unless there is a good Steelhead bite our in 200 to 300 feet. Flasher flies, spoons and plugs are the top baits.
Contact Silver King Charters and catch some big Chinook salmon and lake trout on Lake Michigan on a warm August afternoon!