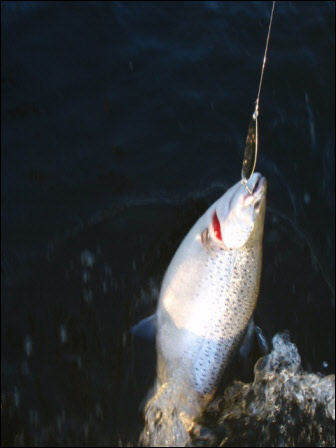 Spring Brown trout coming to the boat while Charter Fishing Milwaukee Wisconsin
Silver King Charters offers spring Brown trout fishing in March and April from its small boat of the fleet the "Fish Call". Captain Willy Pokrandt runs five hour trips for 1 and 2 people out of a 18 foot Wellcraft. The picture above shows a nice 5 pound Brown trout caught one of these trips.
Charter fishing Milwaukee is outstanding in early spring and the harbor in Milwaukee Wisconsin is one of the best Brown trout fisheries in the world. Silver King Charters can put you on these fish right at the begining of the season. Each year there are 20 to 30 pound Brown trout caught and the potential of a new Wisconsin let alone Lake Michigan is certainly found in these waters each spring.
Brown trout spawn in the fall and do not die after doing so. This allows Brown's to continue to grow for longer than Chinook salmon which die when they spawn after four years. Brown trout do not grow as fast as salmon but with the longer life they do start to pack it on and during many big fish contest they take first place over the mighty Chinook salmon.
The early spring finds the greatest concentration of Brown trout for the whole year and with Milwaukee harbor and the surrounding area packed with bait fish these trout go into a feeding frenzy. No other time during the season are Brown trout more prevalent while charter fishing Milwaukee and few places can even equal the number of Brown trout you will be fishing for.
Our 18' Wellcraft boat the "Fish Call is ideal for targeting these fish and is fully rigged as our bigger boats the Silver King and Silver King Two. All the best equipment and electronics are used to search and catch these trout. We offer a No Fish- No Pay policy for all our five hour spring trips, so we make sure to use only the best equipment to assure you catch fish. Although we have four downriggers aboard and dipsy diver set up too it is the board rods that do most of the damage and we usually run three boards aside while trolling. This is the one time of the year that we may not troll. Sometimes it is more productive to tie off on the pier heads that are boat access only and use spawn, jigs or other imatation baits. If we decide this is the best approach for the day it will be outstanding fishing and real hands on. I think people enjoy these trips more than trolling.
Wisconsin charter fishing starts up in all the port up and down Lake Michigan but Silver King Charters is very fortunate to have one of the best early spring fisheries. The big harbor, which is enclosed by a large break wall allows us to fish even on days you would be able too out on the lake during the summer. Few trips are ever cancelled because of this feature. The Milwaukee river also feeds right into the harbor offer good temperature change. There is endless structure in and around the harbor that suits the Brown trout at all times. There is also a discharge near the river which is a very stong atraction for the fish.
When we are trolling stick baits are the primary choice and small spoons will also be used. This fishing can be incredible fast passed to the point of fish hitting every time you start letting out a bait. There are slow days too but all in all Brown trout fishing during this period can get just ridiculous. There are many 10 to 15 pound fish taken every spring but we see an occasional 20 pounder every year. The Milwaukee harbor produce several real big brown trout every year that range in the low 30 pound range. It will not be long before the first 40 pound Brown is caught and we hope that one of our clients will land it.
When you book a trip to charter fishing Milwaukee Brown trout it is important to dress warm. We have a bimini top to protect from rain but this can be a cold time of the year and temperatures can be in the low 30's at the start of trips. Conditions vary from day to day but it is best to prepare for the worst. Silver King Charters regular season trips are for all types of people looking to experience a fun day of salmon fishing. These early spring trips are for the hardy and more experienced fishermen and women. The weather is less favorable and the boat is smaller. There will be trips that you get directly involved. This is a great time for anyone but those with experience really get a rush fishing for Brown trout. Setting lines grabbing, the rod when it goes off and jigging if we are still fishing really is a great time for people. Especially when the Brown's are coming one after another, which happens many times in the spring.