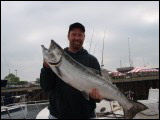 Milwaukee Charter Fishing
This is a beautiful 21lb Chinook Salmon caught while charter fishing Milwaukee aboard Silver King Charters in mid-July. Milwaukee charter fishing is has some of the most outstanding Chinook Salmon fishing on Lake Michigan during July and August.
Mature Chinook Salmon range from 12 to 15lbs this time of year and can get up to 30lbs. This is the target fish for July and August aboard Silver King Charters while charter fishing Milwaukee, Wisconsin.
The Chinook Salmon is temperature sensative and its preferred water temperature is between 42 and 55 degrees. This helps to narrow down where the fish will be located in the water column on Lake Michigan. Therefore, it is crucial to have a temperature probe in the water at all times giving you digital readout of the water temperature below. You cannot afford to be without a unit like this while charter fishing Milwaukee and Silver King Charters has the best unit on the market to accurately gauge water temperature.
Speed is also very important while trolling for Chinook Salmon. Depending on the day and the current of the lake, your lure speed needs to be anywhere from 1.9 to 2.7 mph. The same unit I use for temperature is also a speed gauge and is attached to the downrigger ball to accurately give me the speed down where my lure is. This is another critical piece of information while Milwaukee charter fishing Chinook Salmon.
I use the Fishhawk temperature and speed unit to extract these two critical pieces of information aboard Silver King Charters and have just recently purchased their newest unit in 2008. This helps to take some of the guess work out of charter fishing Milwaukee Chinook Salmon and putting more fish like the one you see in this picture in the boat for you.
So give Silver King Charters a call today at (414) 460-1467 and book a charter to catch a Chinook Salmon this summer while charter charter fishing Milwaukee Wisconsin.