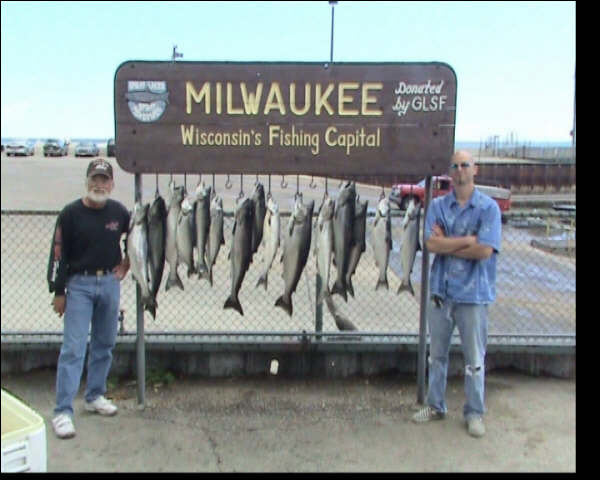 Jason and Uncle John with a nice catch of Coho and Chinook Salmon from their Milwaukee Charter Fishing Trip
Jason and his Uncle John from Florida booked a charter to fish Salmon on Lake Michigan. Jason had been out on the Silver King before and new the routine. John was originally from Wisconsin and a good fisherman but it had been a while since he fought a big Salmon. I thought Jason would have the advantage over his Uncle.
They booked their charter for late June. This is the time when the Coho Salmon bite starts to slow and the Chinook Salmon start showing up in good numbers off the shores of Southeastern Wisconsin. This can be spotty fishing for a week to ten days but when you hit it right the Salmon fishing is outstanding for both Chinook and Coho.
My brother Willy, who works many charters for me, was aboard for this Charter. Willy has his own boat and is an excellent tournement fisherman for Salmon. As we were motoring out he said to Jason and John that this was going to be a fun charter. Both these guys were having a great time and we hadn't even set a lines yet.
After a 20 minute run north of the Milwaukee Harbor we began to set lines in 105 feet of water. Both my brother and I set lines at the same time to give them as much fishing time as possible. We had two dipsy set in minutes and one went off. Uncle John took the honors and began fighting the fish like a pro. We set the four back downriggers before the fish was ready for the net. Willy netted the fish, which turn out to be a nice 8 lb Chinook Salmon.
It was now Jason's turn and the back rigger went set right at the bottom or 95 feet down. The fish had serious weight and began to take a long run. I felt confindent in Jason, since he had been out with us before, so Willy and I started to set board lines. While the board lines were going back another dipsy rod went and John started to fight his second fish. Jason turn to coach John and lost his fish. "Need to stay focused", John said, as we boated his second fish. This one was a nice 5 lb Coho Salmon. It was a beautful calm morning and it looked like this would be a good charter trip on Lake Michigan.
Two downriggers popped next and we had a double header. Jason and John decided to have a race on who would land their Salmon first. Bad idea for Jason because he horsed his fish too hard and losted it. John landed another nice Coho. John was now 3 for 3. I told Jason not to worry and the bigger ones were coming.
Ten minutes later we had another double header. One came off a board using 7 color leadcore and the other on a dipsy rod. John tooked the dipsy and made short order of another Coho Salmon. Jason began to fight the leadcore rod and had the fish 20 feet from the boat when it popped off. I was begining to think Jason was snake bit.
Jason was determined to land the next fish and then the leadcore went off again. From past experiences I new this was not Jasons favorite rod to fight a fish on. Twice while fighting the Salmon Jason thought he had lost the fish. Sometimes a Trout or Salmon will run the boat and it feels like you have lost the fish but you must keep reeling. These Salmon move fast! Jason kept with the fish and after 15 minutes landed a 12 lb Chinook Salmon. The biggest of the trip, so far. Jason fell into his chair and cracked a beverage saying, " That's how you do it!" Jason probably should have been a little more humble, he lost 2 out of the next three.
It turned out to be a great charter trip on Lake Michigan. They landed 7 Coho Salmon and 8 Chinook Salmon. The fish were biting fast and we let them catch my brothers five fish too. John had a great time and plans on charter fishing Lake Michigan next year. I know that no matter how the fish are bitting it will be a fun trip. But John better watch out, Jason took a couple more trips this year and he won't be loosing too many more Salmon.