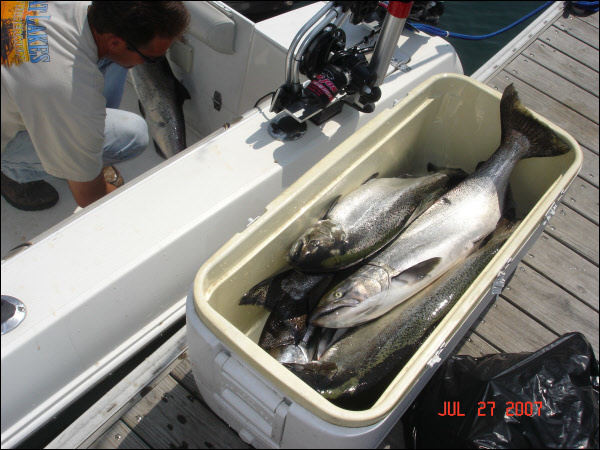 Box of "Kings" Chinook Salmon Caught On A Milwaukee Charter Fishing Trip in July
This is what charter fishing in Milwaukee Wisconsin is all about. This picture shows another solid trip, with a cooler of big Chinook Salmon caught during a July morning trip aboard Silver King Charters. We found the King Salmon immediately after we started fishing and landed 20 fish within 3 hours of fishing.
We are running Milwaukee fishing charters or participating in Lake Michigan Fishing Tournements at least 5 days a week, and this allows us to stay on top of fish for our clients. We offer a No Fish - No Pay policy, so it is important for us to deliver. Silver King Charters also believes you will come back if we put you on fish.
Some days Charter Fishing Milwaukee can be easy as going back to the same spot for several days like we did on this trip. But when weather changes the conditions and fish are on the move it is important to stay on top of them daily. Lake Michigan Salmon Fishing is about eliminating empty water and most of the lake is void of fish. You must continue to track the movement of Salmon or the box will be empty.
When the fish are on the move it is important to start early, so you can capitalize on the early bite. After that we start reducing empty water and tracking fish. Once the fish start to find an area with food and good water temp they will stay located in this area until conditions change. Silver King Charters stays on top of fish movement so you can end up with a box full of Salmon and Trout during your trip Milwaukee Charter Fishing.
Silver King Charters offers one of the best rates for Charter Fishing Milwaukee and one of only a couple of Charters that guarantees a fish or your trip is free. Call Silver King Charters today at 414-460-1467 and book a trip to fish Lake Michigan and catch your box full of Kings.